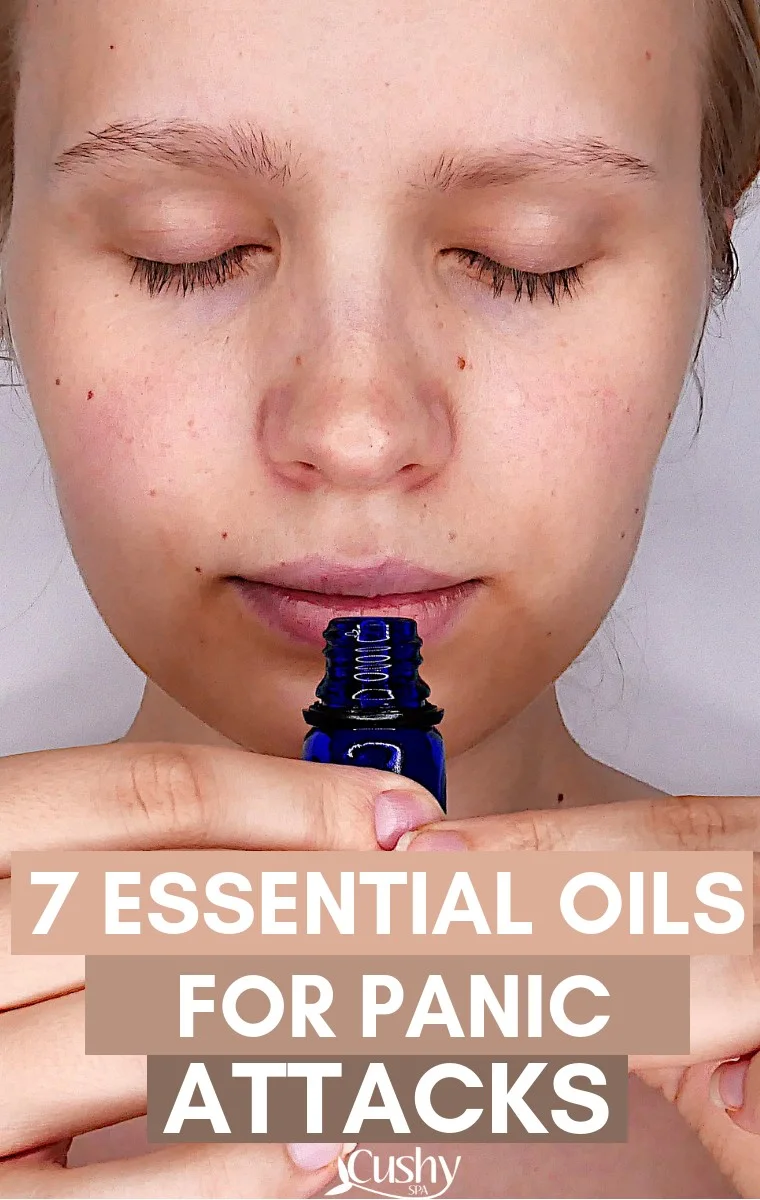 A panic attack is a vigorous wave of terror. It is consuming and heart- wrenching. Moreover, sometimes it causes paralysis.
This blog is supported by readers purchasing featured products. When you buy products with my links, I earn a commission at no extra cost to you. Here is my full affiliate disclosure.
Some might experience it once (usually due to a stressful situation). But, others often have to go through repeated episodes.
Panic attacks hit without warning, and their symptoms vary in intensity. Expect increased heart rate, sweating, choking, nausea, numbness or shaking.
Shortness of breath is also common. Some might feel like they are going crazy and have no control over what's happening.
These symptoms usually last for about 20 minutes. Overall, it's an involuntary physiological reaction.
How to Treat Panic Attacks?
There are different medications that help with treating a panic attack. But, natural remedies offer a different way to deal with them.
Also, they spare you from the unpleasant side effects.
Essential Oils Can Help!
After a panic attack wears off completely, you're left with an unexplained feeling of helplessness. It's such a terrifying experience! The worst of it is that you're afraid of it happening again.
This state of mind is tiring and consuming, and that's when essential oils can come to use. Their relaxing and calming properties will help to bring comfort to your mind and body.
But, do realize that counseling and medical help is something that you truly need. Essential oils are just the tools to help you relax. In reality, to deal with the problem, you first have to find the root of it and tackle it with someone's help.
So, what are the best essential oils for panic attacks?
7 Best Essential Oils for Panic Attacks
Here is a list of essential oils that can help you relax and get into a peaceful state of mind. You can use these oils for massaging too!
1. Lavender Essential Oil
It's one of the most popular essential oils out there. It has a calming and relaxing effect and releases the tension from the nerves. It helps with sleep, irritability, nervous stomach and panic attacks.
The "Handbook of Essential Oils: Science, Technology, and Applications, Second Edition" states that aromatherapy has a significant effect on heart rate. In fact, multiple studies suggest that.
Using lavender essential oil regularly will help you to stay more relaxed. Additionally, release nerve tension.
2. Rose Essential Oil
This essential oil doesn't just smell good. That's for sure. One of its most significant properties is its ability to soothe the nervous system. Thus, it helps with driving away panic attacks.
According to a study, inhaling rose oil for ten minutes lowers anxiety levels. In fact, bathing your feet in warm water with a few drops of the oil can soften your feet too.
Speaking of the study, this experiment had two groups, each consisting of ten women. A group received a placebo treatment; where they had a water foot bath and performed breathing exercises. Rose essential oil showed benefits in reducing anxiety levels significantly.
3. Bergamot Essential Oil
This floral and aromatic oil often comes with Earl Grey tea. But, you can simply add a few drops of the oil in any hot drink of your choice. Just make sure to enjoy its benefits and interesting smell.
It improves blood circulation and thus energizes both your body and mind. Bergamot oil becomes even more effective when blended with lavender oil.
An interesting study that took place in 2011 showed that a blend of bergamot and lavender oil was able to relieve anxiety. But, be aware that bergamot oil can cause sunburn and increases the risk of rash.
Thus, it's best to use it if you're not planning on spending a lot of time in the sun.
4. Ylang Ylang Essential Oil
Ylang Ylang essential oil eases heart palpitations and general tension. Moreover, it's sedative and can beat insomnia in no time.
In 2006, Geochang Provincial College in Korea conducted a study. Using ylang-ylang oil resulted in a reduction of psychological stress, blood pressure, and serum cortisol levels.
So, if you suffer from low blood pressure, it might be a good idea to steer away from this one. Additionally, skin irritations are possible.
5. Vetiver Essential Oil
This oil can bring you tranquility, calmness, and peace of mind. It tones up almost all the systems of the body. That includes the circulatory, the digestive, immune, excretory, respiratory, endocrine and most importantly the nervous system.
The oil also reduces hypersensitivity and aids in relaxing the nervous system. It's a natural sedative that will send you straight to sleep. Thus, it might be a good idea to use it in case you are having any trouble falling asleep.
6. Roman Chamomile Essential Oil
Roman chamomile has a very distinguished yet subtle smell. It helps anxiety, overthinking, and stress. While it calms you down, it also has energizing properties.
Ingesting Roman chamomile in the form of capsules eases panic attack symptoms. It's also not irritative on the skin, and, in fact, it benefits it due to scar healing and antibacterial properties.
There is a tiny chance of allergy though. Especially if you are allergic to ragweed.
7. Frankincense Essential Oil
Frankincense is best used along with lavender and bergamot oils. You can always mix up oils of your choice until you get a blend that truly suits you.
It has positive effects on depression and promotes feelings of ease, spirituality, and mental peace. When diffused into the air, it tones and opens up the respiratory system; which allows deep breathing and induces tranquility.
How to Use Essential Oils for Panic Attacks?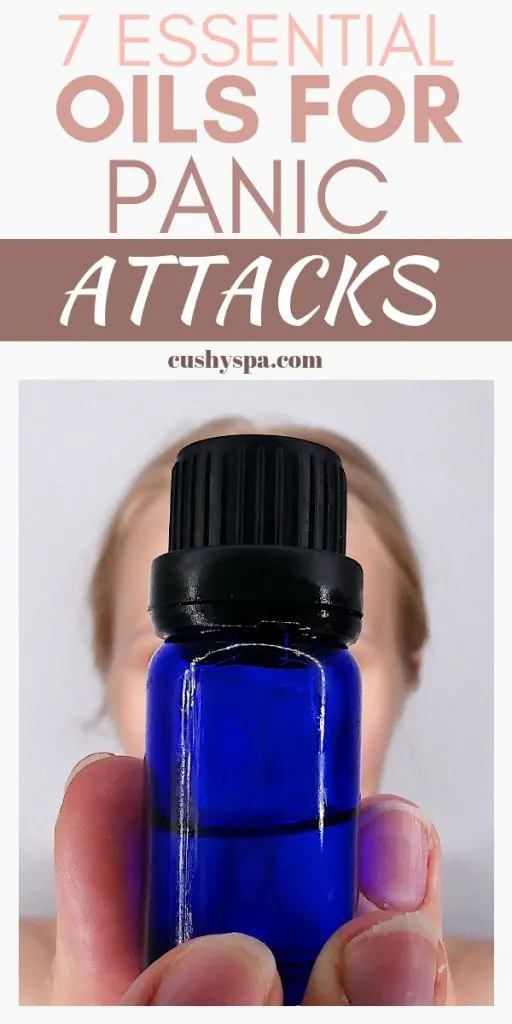 Here are some of the ways you could incorporate essential oils into your life and use them when panic attacks seem to get over your body.
The methods are quite simple and you don't really need to overcomplicate anything.
Carry a Roll-on Bottle of Essential Oil
When buying the roll-on oil bottle, make sure to get one that's opaque. Preferably, a travel-sized one, because it is easy to carry around. You can either use one essential oil from the list or make a blend of your favorite ones.
Obviously, it's also important to choose a carrier oil to dilute the essential oils. My favorite one is coconut oil because it has a long shelf life.
Additionally, it pampers the skin and maintains the essential oils' natural aroma. You can also buy fractioned coconut oil if you're afraid to stain your clothes. For every spoon of carrier oil, add two drops of essential oil.
Simply roll the oil blend on your wrists, neck, back, behind your ears and even at the bottom of your feet.
If you keep on using these oils every day, you'll calm down your nervous system. And lower the probability of panic attacks.
Consume Essential Oils Orally
Even though there are many essential oils that are safe to ingest, and even aid digestion, it is important to make sure the oil you have is pure and safe.
Some brands available in the market are blended with synthetic fragrances. They are harmful when taken orally. Buy high- quality oils to prevent any unwanted side effects. A highly effective way to ingest essential oils is to add only one drop of oil into a glass of water.
You can also add a teaspoon of natural honey for extra benefits and sweetness. You can also add two drops of the oil under the tongue. That's because essential oil can get through the thin skin to capillaries. The oils then get distributed to the whole body.
Also, most essential oils are available in capsules for people who don't like the taste.
Aromatherapy
Diffusing essential oils is a very common way to treat anxiety and panic attacks.
When you inhale the aroma of essential oils, tiny molecules enter your nasal cavities. They then go to your lungs, alveoli, and then get into the bloodstream just like oxygen.
Aromatherapy offers a fairly fast way for the essential oils to get absorbed. That's why they're usually good at regulating blood pressure, and tranquility. For greatest results, use essential oils in a humidifier, a vaporizer, a diffuser, or hot water.
If you don't have any of the previous, you can simply place the oil blend in front of a fan! All you have to do is breathe!
Essential Oil Blends for Panic Attacks
Here are some essential oil blends you may want to try. Each is for different use.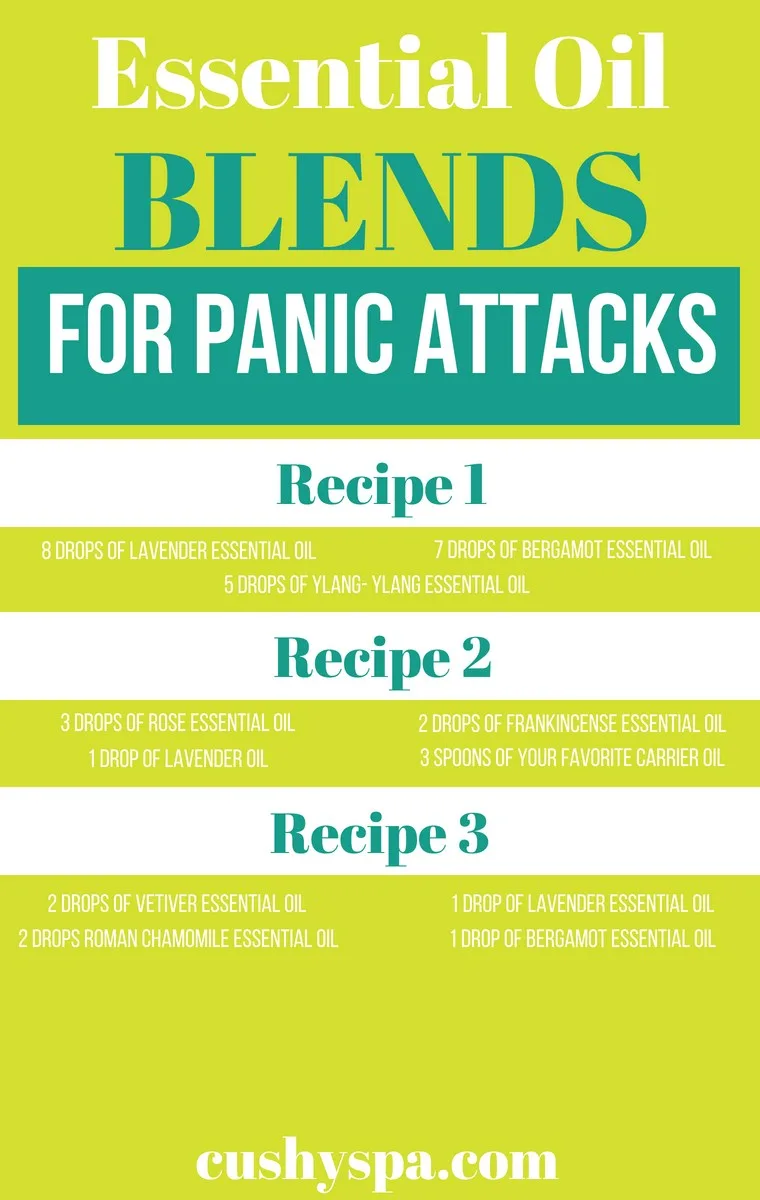 Recipe 1
This blend is specially made for a diffuser because it has 20 drops of essential oil. If you want to use it in a roll-on bottle or for a massage, simply divide it by four (plus the carrier oil). It's a strong sedative, so be ready to fall asleep!
8 drops of lavender essential oil
7 drops of bergamot essential oil
5 drops of ylang-ylang essential oil
Recipe 2
I love to add this blend to the water in my tub. It energizes me in the morning while reducing anxiety. You can also massage it into your wrists for extra benefits!
3 drops of rose essential oil
2 drops of Frankincense essential oil
1 drop of lavender oil
3 spoons of your favorite carrier oil
Recipe 3
This is a general stress-relieving blend that I use almost always. It simply keeps my anxiety levels down.
2 drops of Vetiver essential oil
2 drops Roman chamomile essential oil
1 drop of lavender essential oil
1 drop of bergamot essential oil
Conclusion
We all know how hard it is to fight the battle against anxiety, which can result in panic attacks. The experience is unforgettable, frightful and dreadful. Even though it lasts for 20 minutes, it lingers for hours and even days.
A very natural way to deal with these things is to give yourself time to relax and use products to enhance that. I hope this list of the best essential oils for panic attacks will come to use in your life because you can never spend too much time taking care of yourself!