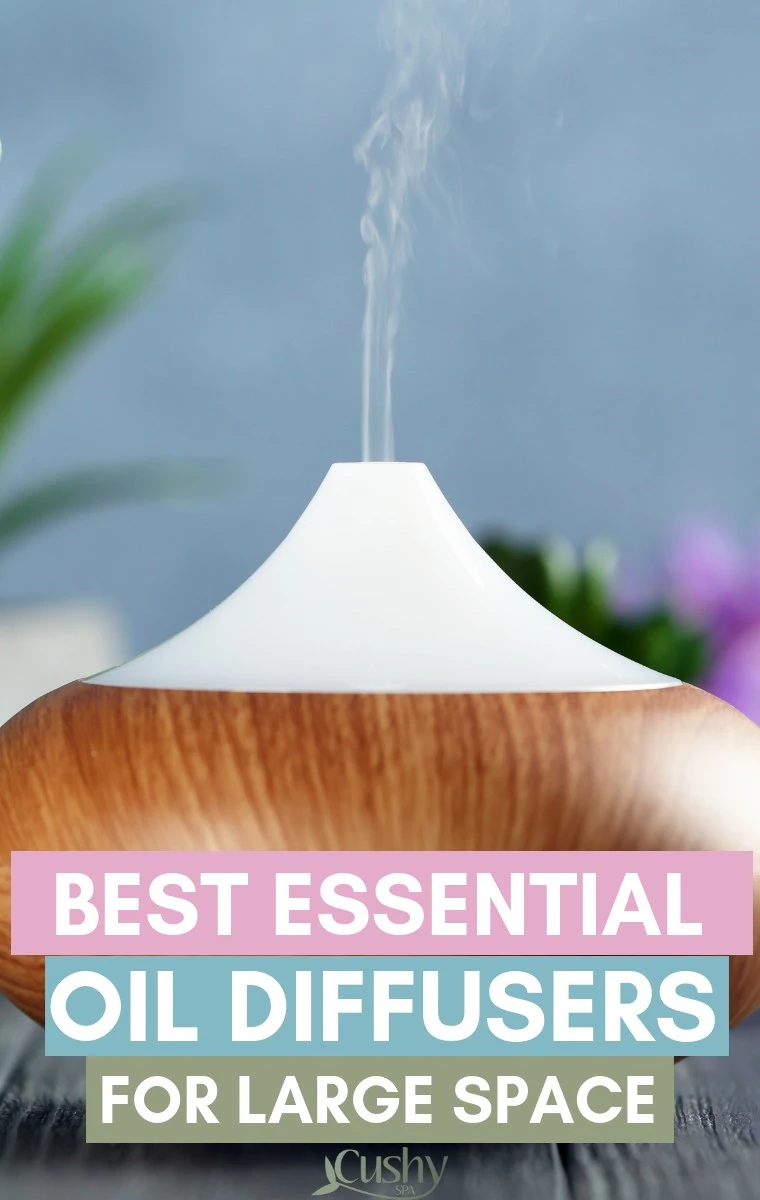 If you've been exploring my blog, you probably have an understanding of essential oil benefits. Of course, just knowing that isn't enough. It's important to know how you can incorporate them into your daily lives!
Yes, that's where aromatherapy comes in. Just a whiff of the essential oil is enough to seep its goodness into your system. It will help you with getting rid of stress and promote calm behavior.
I think aromatherapy might help you to look forward to getting back home. Thus, it's a good idea to get the best essential oil diffuser for a large space. Especially if you want to spread that aroma all around the house.
What's the Best Essential Oil Diffuser for Large Space?
If you want to learn more about each diffuser, keep on reading!
Some of the Best Diffusers on Amazon (5* to 4*)
2. URPOWER 1000ml Diffuser Humidifier​
3. BellaSentials Essential Oil Diffuser​
Quick Navigation
How to Choose an Essential Oil Diffuser for a Large Space
Here are 4 features that you should look for when buying a diffuser for large space. I've added a little summary of values for these features for each product.
Timer
Timers are very handy if you want to keep your diffuser on only for a couple of hours. They help to save essential oils (which can be expensive) and energy. Some of the diffusers don't have timers and thus run until the water completely evaporates.
Running Time
Running time is especially important for large spaces. You don't want to keep on changing the water every couple of hours. The best diffuser should have a long running time. At least 8 hours so it can effectively cover a large space for long periods of time.
Volume
Volume correlates directly to running time. The bigger the volume, the longer the diffuser will work for. But, do remember that some diffusers have lower volume but manage to spread the aroma longer distances. That's because they have slightly more powerful motors. VicTsing 300ml is a good example of that.
Coverage
Most companies tell you how much of the space approximately the diffuser can cover. The number is not always entirely correct but it'll help you to get an idea of which product might work for you.
Do Essential Oil Diffusers Really Work?
They do. Diffusers can spread essential oil particles all around your room and bring health benefits to you and your family members. Thus, it's worth using them not only for fragrance but health too.
Types of Essential Oil Diffusers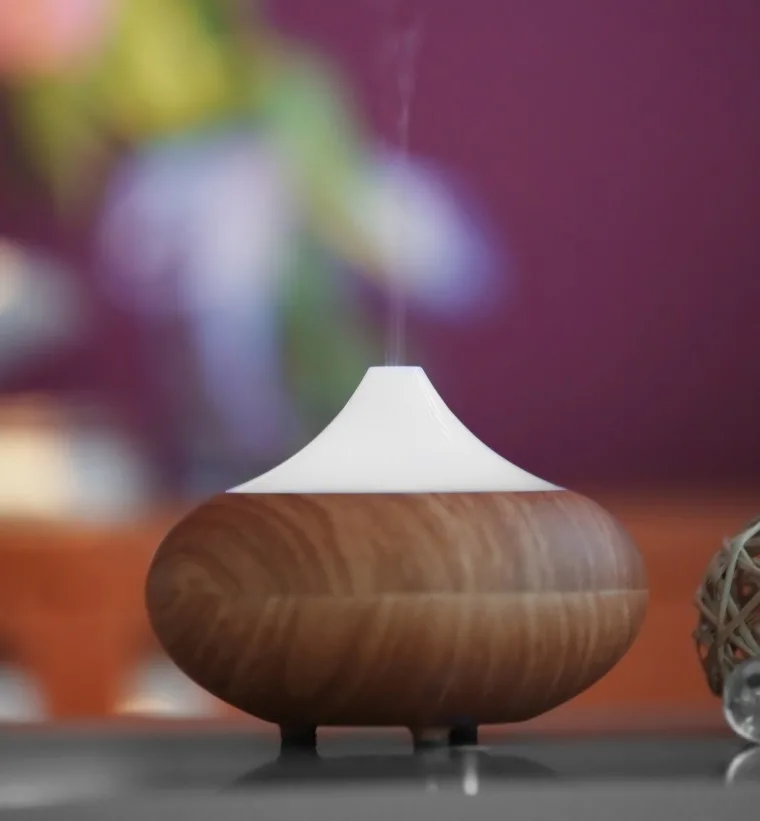 There are four main types of diffusers. Understanding how each diffuser works will help you to choose the right product.
Ultrasonic or Humidifying
Electronic frequencies generate ultrasonic waves. These break down water and essential oil molecules to form a fine mist.
Need to be cleaned often because of the contact with plastic.
Adds moisture even though the efficacy of diffusion is diluted.
Nebulizing
Works on the system of pressure and vacuum controlling oil and air, similar to a perfume atomizer.
Does not need heat or water.
Diffusers are made of wood and glass.
Heat
Requires heat for evaporation and diffusion.
May change chemical composition if the temperatures are too high.
Least expensive from the diffusers available.
Evaporative
A fan blows the air through a filter on which the essential oil is dabbed. The blowing wind increases the rate of evaporation.
Less expensive but it leads to uneven diffusion that's caused by the difference in volatility of various essential oils.
Aromatherapy Diffuser Reviews
Here come all the reviews. In case you have any questions, please ask them in the comment section!
1. Best Essential Oil Diffuser for Large Room – VicTsing 300ml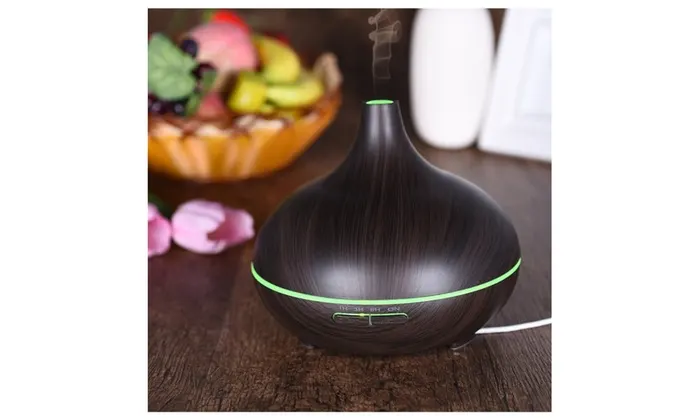 Click Here to Check Price on Amazon
Can I just begin by pointing out how CUTE this humidifier looks? Seriously, its vibrant colors with the woodgrain patterns are enough to energize you. It's just an adorable accessory that can look great in your room!
Anyway, the looks aren't everything. It has a volume of 300 ml, which makes it suitable for large rooms. You can also switch between the high and low settings depending on your room size.
It generates about 30ml of mist per hour. In terms of run-time, this humidifier is a beast as it can work for around 10 hours without needing to refill it.
Additionally, you can choose between 4 different time settings: 1 hour, 3 hours, 6 hours and steady on.
Since this humidifier makes use of ultrasonic technology, it's not just quiet but also produces smooth and ultra-fine mist.
It can help with your insomnia quite a bit if you use it in the night time. Also, it shuts off immediately after the device runs out of the water. The humidifier has cool LED lights that can change their colors (there is 7 of them).
You can use it as a night light by the bedside. If you're not a fan of the lights, you can always turn them off.
Very important! It's amazing for covering very large areas! However, you will need to refill it much more often than the other diffusers I recommend.
It might take some time getting used to. Apart from that, it works very well.
Features
Running time: 6-8 hours
Volume: 300 ml
Coverage: Up to 1200 sq ft.
Timer: Yes
2. Extra Large Oil Diffuser – URPOWER 1000ml Diffuser Humidifier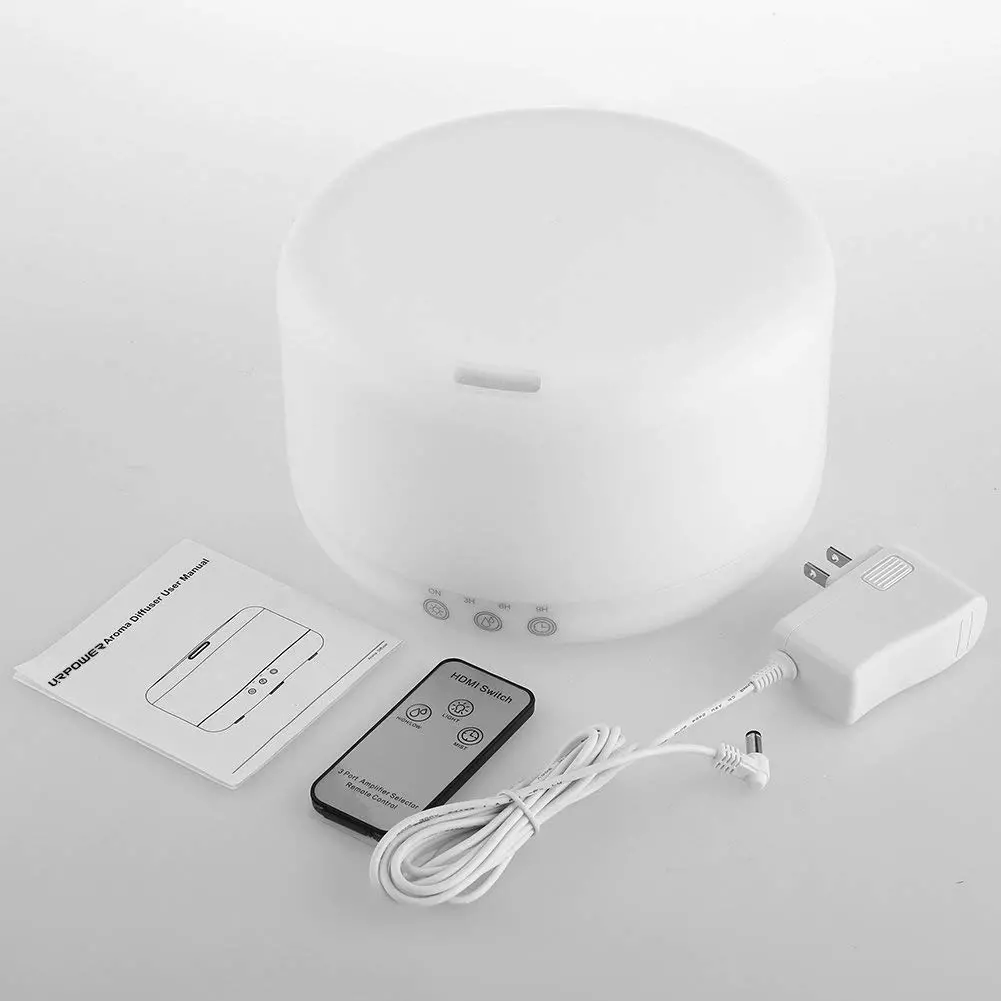 Click Here to Check Price on Amazon
URPOWER essential oil diffuser and humidifier come in two sizes: the 500ml one and the 1000ml one. It's a three-in-one device that can act as a diffuser, humidifier, and can also be used as a nightlight. It also uses ultrasonic diffusing technology.
Because of its large capacity, it can be used in a large space. Using the 'Mist' button, you can program the diffuser to run for 3, 6, 9 hours or steadily on until it auto-shuts down. That usually happens when it runs out of the water. It can last for up to 20 hours depends on what intensity of mist you choose.
Additionally, you can control the intensity of the spray. Since this diffuser holds a greater amount of water, it naturally produces a stronger mist too.
But, the device needs to be cleaned more often than the other devices. In fact, you should probably do it every day.
The diffuser also has a 7 LED color display that switches seamlessly from color to color. If you are looking for a diffuser/night light for your little one, this could work well.
The lights can be used even without turning the diffusion on. So, it has a clear edge over VicTsing model. Although, you should probably know that lights cannot automatically shut down.
Another advantage is definitely the capacity. Thus the essential oil diffuser is the best one for a 1000 square feet space (mostly because of how long it can work).
Just be careful and keep the lower vents open while using it. Blocking the vents will lead to strain on the motor and, subsequently, the device might underperform. The instructions aren't well translated, which might be problematic. Yet, the device is pretty easy to use, so you should be fine.
Features
Running time: 10 – 20 hours
Volume: 1000ml
Coverage: Up to 700 sq ft.
Timer: Yes
3. Quietest Diffuser – BellaSentials Essential Oil Diffuser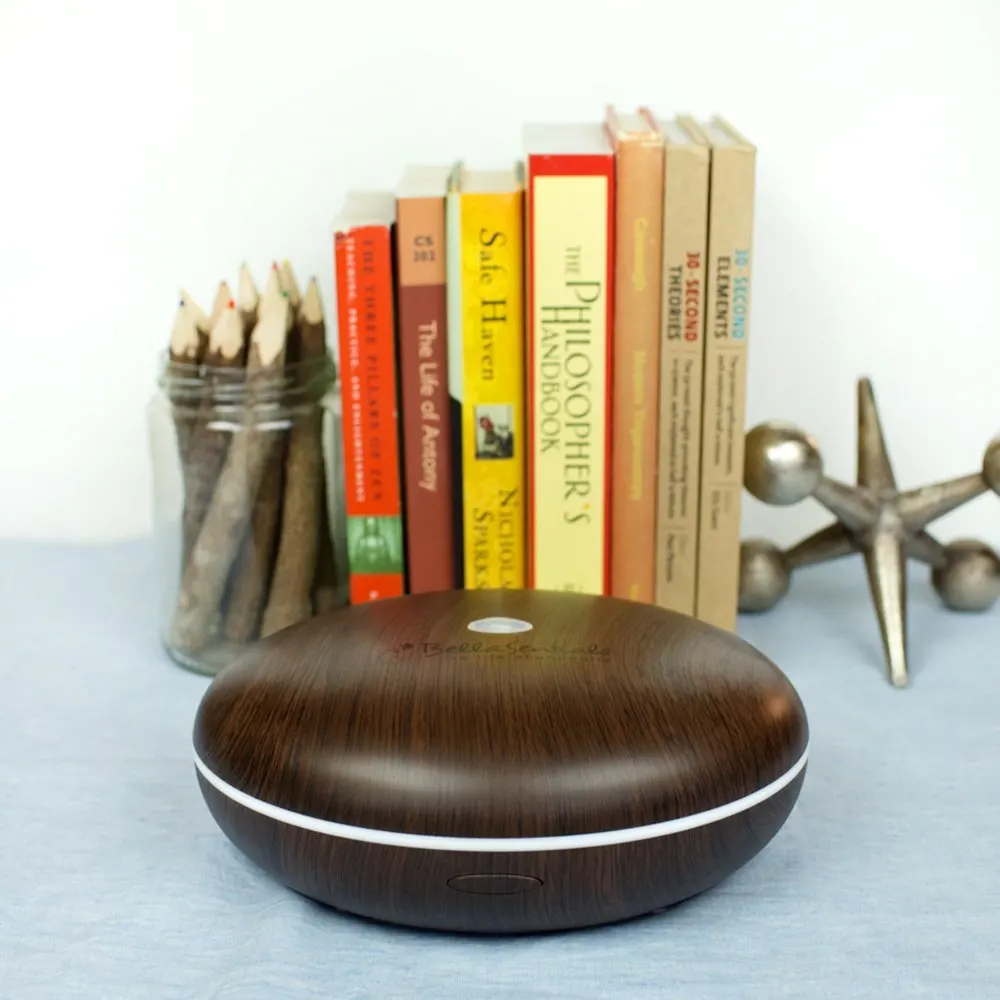 Click Here to Check Price on Amazon
This is yet another attractive diffuser (maybe woodgrain makes everything look better!). It's effective even over the 200-500 square feet area. Its volume is around 350ml.
The product is essentially just a diffuser and can only provide slight moisture. Like all ultrasonic diffusers, this one hardly makes any noise. In fact, the slight noise it has could very much help with your sleep! The product has soft lights, which can otherwise be turned off if not in use. Although, the colors keep switching rather quickly so it may make you more anxious than relaxed.
Also, the button for switching colors can be a tiny bit hard to press. However, that's nothing major.
As the name suggests, it's a long-lasting diffuser that can run for 10 to 12 hours. It looks great and the dark bamboo may actually complement your furniture.
However, the chiseled appearance has a downside – trying to open the lid can sometimes become a problem. Another issue with this diffuser is that the high and low settings have no distinctive feeling.
Not having a timer puts it at quite a disadvantage because then you just have to wait for the water to run out or actually go and manually turn it off. A valuable accessory that comes along with this diffuser is the measuring cup, which ensures that you don't overfill it. Overall, the diffuser does its job and looks great.
Features
Running time: 10 hours
Volume: 350 ml
Coverage: Up to 500 sq ft
Timer: No
4. Cheapest Essential Oil Diffuser – ASAKUKI 500ml Premium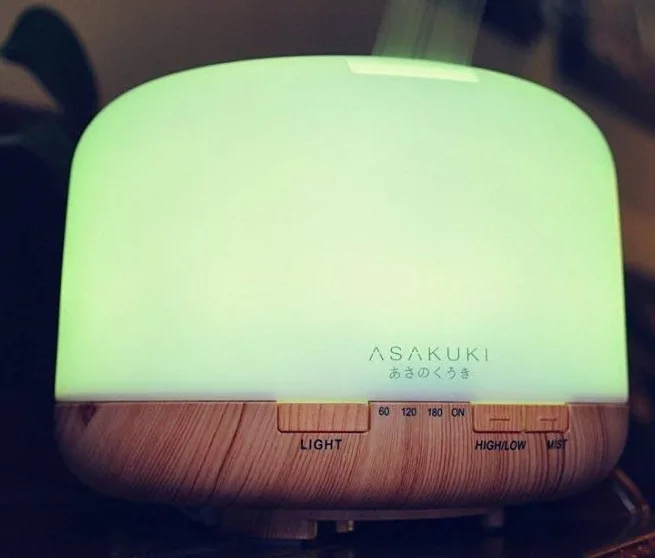 Click Here to Check Price on Amazon
If you're looking for the slightly cheaper diffuser, ASAKUKI is a good option. It has a high volume of 500 ml and can cover up to 320 sq ft. of space. This diffuser is also a humidifier. Thus, works well in dry winter days.
When it comes to the diffuser, you can control the mist from high to low. High – being 50 ml/hour and low being 30ml/hour. That's a fairly nice feature that will help you have a little bit more control over the diffusion process. If you want the diffuser to work for 10 hours straight, fill it up fully and put it on the high level of mist. Otherwise, it can work for 16 hours with a low setting. However, I'd recommend using the high setting if your room is bigger. Overall, adjust to your tastes.
You still have an option to keep the diffuser on for 60, 120 or 180 minutes. Depending on which option you choose, the diffuser will automatically shut off right after that time. Also, you can keep it on constantly until it runs out of the water. Afterward, the diffuser will automatically shut off.
Additionally, it has 7 LED lights that automatically switch between each other. But, you can also keep it on one color or no color at all.
The only downside, the cord plugs into the machine from the bottom. That means that you have to lift the diffuser each time you want to plug it in and use it. That poses some risks of spilling the water from the reservoir and making a mess.
Oh yeah, and the machine beeps way too much when switching the settings around. If you don't suffer from Misophonia, you should be alright though!
Features
Running time: 10-16 hours
Volume: 500ml
Coverage: Up to 320 sq ft.
Timer: Yes
Is a Diffuser the Same as a Humidifier?
You're probably wondering how an essential oil diffuser is any different from a humidifier. Are they the same? No. Here's why:
The primary role of a humidifier is to introduce humidity into the air. Also, humidifiers generally have a larger water holding capacity. Diffusers, on the other hand, can hold a smaller amount of water.
An essential oil diffuser can be more cost-effective if your primary requirement is to evaporate the essential oils.
Diffusers simply aromatize the area and have a cooling effect. Humidifiers, on the other hand, warm up the room.
Benefits of Using an Essential Oil Diffuser
Still not sure whether you should use a diffuser? Then there are some of the things you might want to know.
If you apply essential oils topically, you're the only person who feels the effects of it. With an oil diffuser, you could use almost the same amount of essential oil and aromatize the entire room. That means that your friends/family will get to experience the benefits too.
Diffusing essential oils are both useful for your lungs and your skin. It relaxes, soothes, and rejuvenates it.
This is especially helpful if you suffer from any allergies. Essential oils discourage the growth of mold, fungus, and bacteria. They release pollen and spores, which might cause allergies (source).
Imagine having to come home after a tiring day at work or school. You'll be welcomed by the pleasant smells that will boost your mood and spirits. Who wouldn't want that?
How to Take Care of Your Essential Oil Diffuser
No matter what material your essential oil diffuser may be made of, you can make it last longer by cleaning it. Regular maintenance of the device is a must, and if you want to save money, you shouldn't ignore it.
Here are some things you should probably have in mind.
It is important to clean the diffuser regularly to prevent the build-up of any sort. It is also vital to rinse out and clean the diffuser after every use. Read the instructions to learn all the how-tos.
Clean the diffuser before switching oils.
If you wish to use a quick trick to clean your diffuser, this is what you can do. Fill up the diffuser with water, add 10 drops of pure white vinegar. Run the diffuser for 3-5 minutes and then drain it completely. Get a cotton swab dipped in white vinegar and use it to reach the tricky corners and crevices. Rinse the diffuser one more time and wipe it dry.
If you switch regular tap water with distilled water, your diffuser will last longer.
Avoid using harsh cleaning products on it.
Conclusion
I hope you've been able to find the best essential oil diffuser for large space that would fit in nicely in your home.
I feel lucky to have found aromatherapy so early in my life, and I do hope you're going to feel the same way after trying it yourself. Let me know if you have any questions in the comment section and I'll happily answer them.
Picture credits: