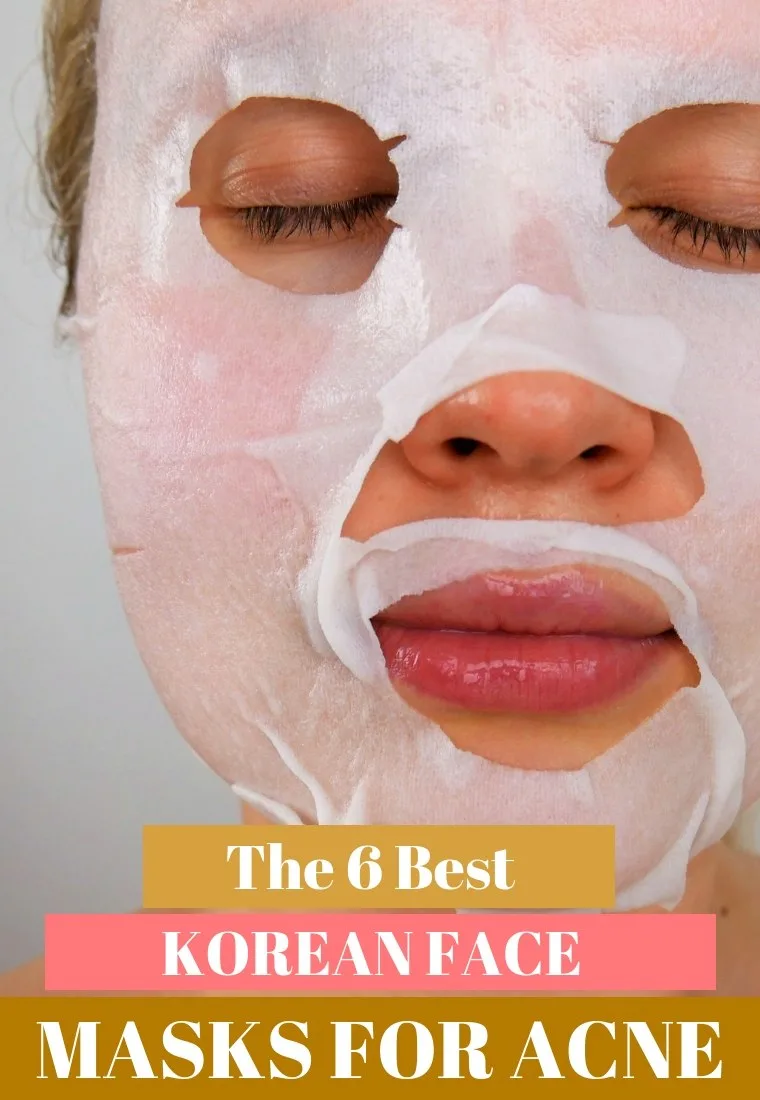 I'm sure you've noticed that a lot of Korean women have very smooth skin. Something to envy for sure.
Apart from just the genes, their porcelain skin is a result of rigorous skincare regimes.
This blog is supported by readers purchasing featured products. When you buy products with my links, I earn a commission at no extra cost to you. Here is my full affiliate disclosure.
Perhaps that's the reason why Korean skin and hair care routines are now becoming fairly popular both in Europe and the US.
Many, including me, find them very effective too. If your face is riddled with acne, you already know how difficult it might be to pick out a cleanser or a moisturizer that wouldn't clog up your pores.
Not only just cleansing of the pores but also preventing further breakouts is necessary. I'll share 6 best Korean face masks for acne that I think are truly exceptional just now.
What's the Best Korean Face Mask for Acne?
I've done a little bit of research, asked around and here's the list of the products that I think could help.
Do have in mind that everyone's skin is different. So, what might work for one person might not necessarily do justice for another.
But, that's the reason why I'm recommending a couple of products and not just one.
Here Some of the Best Face Masks on Amazon (5* to 4*)
**Check below to see more detailed reviews. You can also click above to see customer reviews on Amazon.
Why K-Beauty?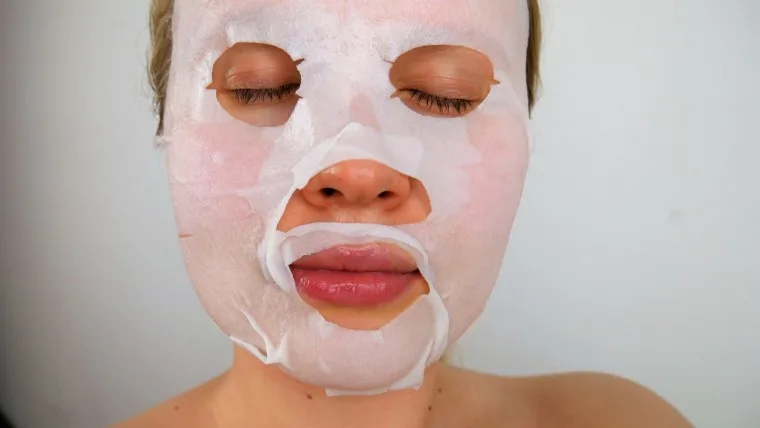 So, I'm pretty sure that by now you must be scratching your head and wondering what's with all the hype around Korean beauty (or K-beauty as it's popularly known)? If you quickly traced back their history, it'd reveal that Korean men and women, both, have valued their skin greatly from ancient times.
It's evident from the fact that they have rigorous skincare regimes that could be 10 steps long! But apart from the historical aspect, here's why K Beauty is not just a crazy trend but a beauty phenomenon.
Constant Evolution
The Korean beauty industry is constantly trying to improve the products and meet consumer needs. That can especially be seen in the focus on the extensive acne treatments.
Intuition and Innovation
The Koreans are very efficient when it comes to conceiving new ideas and releasing them into the market. They base it on their intuition and the feedback they receive, even if it's negative criticism.
Beautiful From Within
This is the starkest difference between the Western mode of using makeup and K-beauty. While Western modes largely rely on covering up problem areas and blemishes, K-beauty products aim to treat the root of the cause.
Dr. Jart Dermask Micro Mask Sheet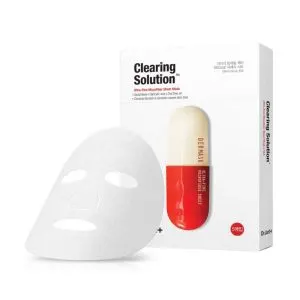 Click Here to Check Price on Amazon
If you're into horror films, then this mask will oddly remind you of Michael Myers from the Halloween franchise. But don't go just by the looks, because the mask can help your skin out quite a bit.
This ultrafine microfiber sheet mask contains Glutathione, which aids in getting an even skin tone. If you have irritated, red skin, the Glutathione soothes it. As for the whiteheads and pimples, salicylic acid takes care of that.
The other ingredient, Tea Tree oil, is possibly the best home remedy for acne as well (source). It dries out the excess natural oils from your skin, which very often are the main cause of acne, and gives you clearer skin.
The serum nourishes the skin and lightens acne scars. Thoroughly clean your face and apply a toner.
Peel off the film from the mask, align, and apply it to your face. Let it sit for about 10-20 minutes and then remove it.
Pat your face until the serum is absorbed and your skin will feel as good as new! If you have extremely sensitive skin, you might love this one.
It's gentle on your skin and unlike most sheet masks that tend to be dense and greasy, it sits on lightly. Since the masks come in pre-cut sizes that are supposed to fit all faces, it might be tricky to put them on your face.
Overall, it's one of the best sheet masks for acne prone skin you'll find.
Korean Face Mask by Sano Silk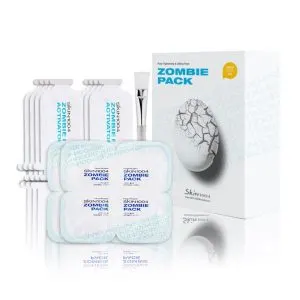 Click Here to Check Price on Amazon
While the Korean skincare routine for acne may be rigorous, Sano Silk tries to cut down the steps with its all-in-one facial mask.
It contains a range of various botanical ingredients that are free from parabens. Also, all ingredients are 100% vegan as well as cruelty-free.
It has a gel-like texture, which makes it easy to apply. The mask comes with a handy brush that you can use to apply a thin and even layer on the face. Allow it to dry for 15 minutes and then rinse it off.
You'll enjoy the herbal smell and the cooling effect of the gel on your face. But, you might experience a slight tingling in your skin. Thus, don't keep the mask on for longer than 20 minutes.
Apart from clearing acne, this face mask reduces hyperpigmentation. It'll also help your skin to look a bit younger.
I must say, that's a win-win for all your facial needs. However, be careful while applying it on the thin skin under your eyes. The mask can get a bit uncomfortable.
Also, using the mask can make your skin feel a little dry so don't forget to finish up with a toner and moisturizer.
Skinfood Black Sugar Strawberry Mask
Click Here to Check Price on Amazon
Skinfood is one of the most well-known brands out there. The Black Sugar Strawberry mask might not have a long list of ingredients, but it does have just what is necessary.
The black sugar is rich in minerals such as calcium, magnesium, phosphorus, iron, and potassium. Furthermore, it contains vitamins like niacin, pantothenic acid, and riboflavin.
Black Sugar is an organic scrub that helps with exfoliating your skin and clear the pores. The strawberries contribute towards the fruity smell as well as contain vitamin C and antioxidants. They help your skin to revive and produce collagen.
The ellagic acid present in the strawberries stops the excess oil production and prevents acne.
If you have sensitive skin, mix a portion of this mask with some water or toner and massage it into your face.
Avoid the eyes and mouth. Let it stay for 10 to 15 minutes and rinse it off with warm water.
Don't be alarmed if it foams up when you're doing it, it should come off pretty easily. Since this face mask also dries out the skin, you should conclude the routine with some toner and moisturizer.
The sugar and strawberry seeds are actually visible when you open the tub, assuring you of the product is organic.
It can double up as your exfoliator if you have sensitive skin. And a final note: no matter how tempting it smells, do NOT eat it.
Vita Lightbeam Essential Mask
Click Here to Check Price on Amazon
If the humiliating breakouts are not enough, the acne scars and hyperpigmentation can be your source of embarrassment.
However, this mask can make it feel lighter and brighter. The product can be used daily.
Moreover, what sets it apart from most other cotton sheet masks is the fact that it's made from cellulose. Thus, these masks fit better on your face and don't drip all over your neck, in fact, you can stretch it and cover your jawline completely.
Vitamin C, Tocopheryl Acetate, and Gamma Oryzanol have skin lightening properties. Vitamin C is the reason why it can help with collagen production and therefore fine lines too.
Panthenol helps to calm the skin down and avoid irritations. The mask also hydrates and moisturizes your skin, so pick this up if it gets dry and uneven.
Interestingly, MediHeal, the producer of the Vita Lightbeam Essential Mask, was founded in Seoul University. Thus, you can feel safe in the hands of trusted medical experts.
In fact, since I am so particular about ingredients and have been keeping on their products. I have noticed that they've gradually decreased the quantity of alcohol, which often causes dry skin.
Therefore, it looks like the composition of their products is constantly changing to achieve better results.
CELDERMA Korean Mask Sheet Pack
Click Here to Check Price on Amazon
The CELDERMA Korean Sheet Mask helps to get rid of acne scars, hyper-pigmentation and reduces pore size.
If you're one of those who can't make up their mind when it comes to choosing mask ingredients, then here's the fun bit. This pack of 12 contains 3 types of masks: Jasmine, Hyacinth, Chamomile and Lotus extract.
So, you can use this to bring variety in your skincare routine. Not just in terms of fragrances, it affects the skin benefits too.
The Chamomile mask helps with soothing any kind of skin irritation. Hence, curbing any active skin breakouts, while the Hyacinth mask allows the skin to retain moisture and lock it in.
On the other hand, Jasmine masks help with moisturizing the skin and Lotus extracts purify it. Since it's loaded with serum, you may even save some to topically apply it over acne-affected regions.
None of these masks have an overpowering smell, which makes it all more delightful. Since these face masks are cotton, they might be quite runny and the serum is likely to drip everywhere.
Innisfree It's Real Squeeze Mask Sheet
Click Here to Check Price on Amazon
If you thought that the previous option of 4 types of sheet mask was a lot, what would you think of 4*4?
No kidding, the Innisfree Its Real Squeeze Mask Sheet comes in SIXTEEN types.
These are Green Tea, Cucumber, Bamboo, Aloe, Manuka honey, Kiwi, Shea Butter, Acai Berry, Pomegranate, Blackberry, Tea tree, Bija, Lime, Strawberry, Rose, and Rice.
This set of masks can basically be your arsenal to tackle almost all your skin problems. Test them all to see what suits you best.
Since we're focusing on acne prone skin, the green tea, lime, strawberry, and tea tree face masks would be ideal for taking the skin problem.
The Lime and Strawberry are rich in Vitamin C, which will lighten the skin, thus, camouflaging the acne scars. This vitamin also encourages collagen production (source) which helps with any scars.
As I've said before, the healing qualities of the tea tree oil make it an effective natural remedy against acne. Green tea reduces the production of sebum without drying out your skin (source).
Most of the other ingredients hydrate the skin, which is again indirectly helpful in preventing acne formation.
A word of warning, most of these face masks contain alcohol so they might feel tingly.
For those who have sensitive skin and wish to use alcohol-free products, you can buy individual packets of Kiwi, Acai Berry, Rice, Shea Butter, and Blackberry. All the masks are paraben free.
Pin It!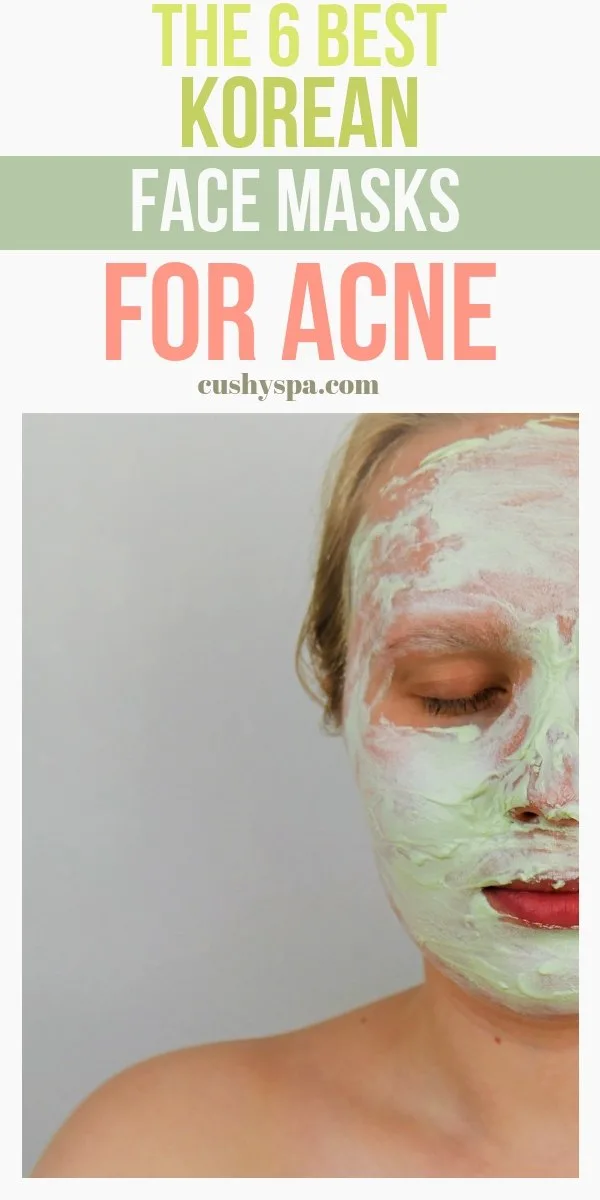 Conclusion
Now that you've read my reviews, I hope you found truly the best Korean face mask for acne. All of them are slightly different.
That's the reason why you should be able to find something that specifically suits you.
If you have any questions regarding the products, comment below and I'll do my best to answer.