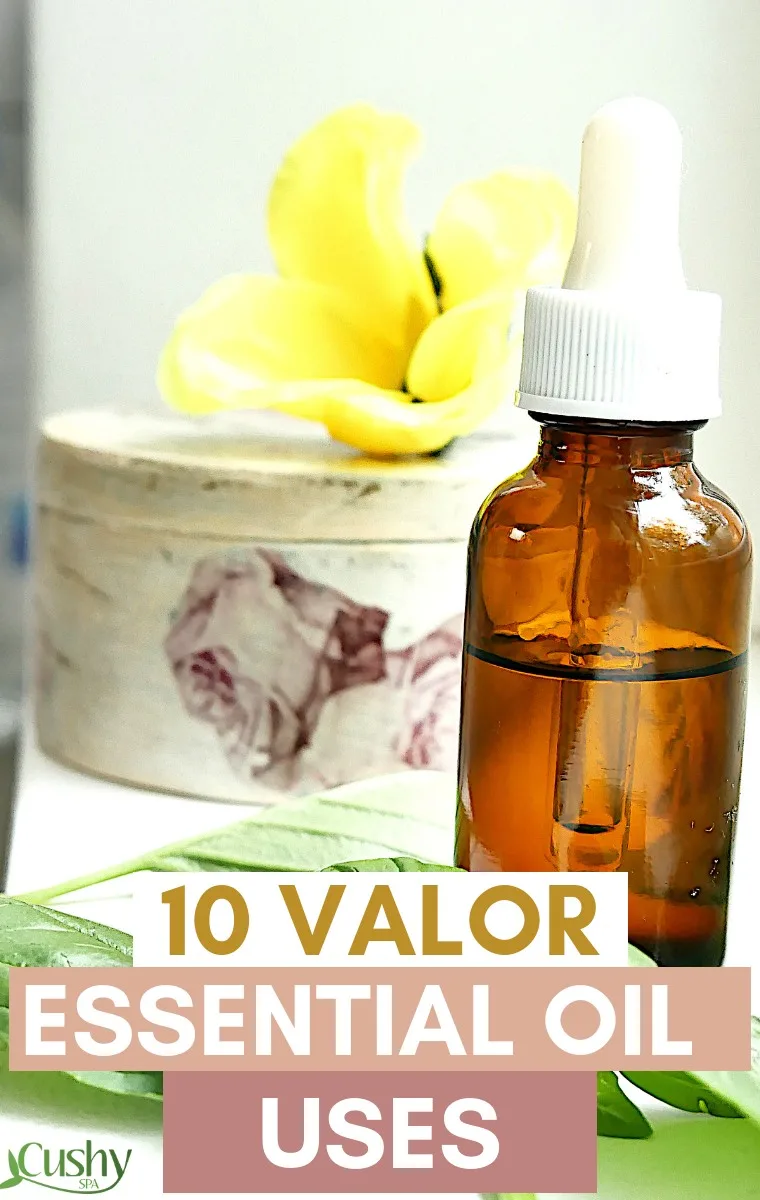 I have talked about the benefits of essential oils. In fact, I'm on the only person on this planet who loves them science does too (source).
This blog is supported by readers purchasing featured products. When you buy products with my links, I earn a commission at no extra cost to you. Here is my full affiliate disclosure.
While these essential oils may not be the panacea curing every disease, they definitely do have a lot to contribute to your wellness. More excitingly, there are many ways essential oils can come to use.
Some of the examples: eucalyptus works as a natural pesticide. On the other hand, thyme – as a natural preservative (source).
The beauty behind essentials oils is that they can be used for so many things. That includes cleaning, skincare, hair care, physical health, mental health, etc.
I suffer from mild to severe anxiety and exams are one of my triggers. During my examination, I would be a nervous wreck and it was truly affecting my self-confidence.
That's when I started aromatherapy and used essential oils to calm myself down. After I noticed positive effects, a friend suggested that I try Valor.
Valor means courage, and it stands for confidence and self-esteem. Needless to say, I was absolutely hooked right by the name. Who wouldn't?
Since most available Valor essential oil contains carrier oil it can be applied directly. What I really like about it is that it is a balanced blend of various essential oils.
The oils compliment each other not just in smell but also in their properties. I've been using it for quite a while now and I've noticed quite a few Valor essential oil uses that I thought I should share with you.
What is Valor Made From?
Valor is obtained from a blend of Frankincense, Spruce, Rosewood, Blue Tansy essential oils. These essential oils are combined with a carrier oil, for example, almond or coconut oil, making it easier to use it topically.
In some cases, you'll notice that Rosewood is replaced with Geranium essential oil. Geranium oil helps to revitalize body tissues and improve blood circulation (source). Additionally, sometimes one of the ingredients can be Camphor Wood essential oil.
DIY Valor Essential Oil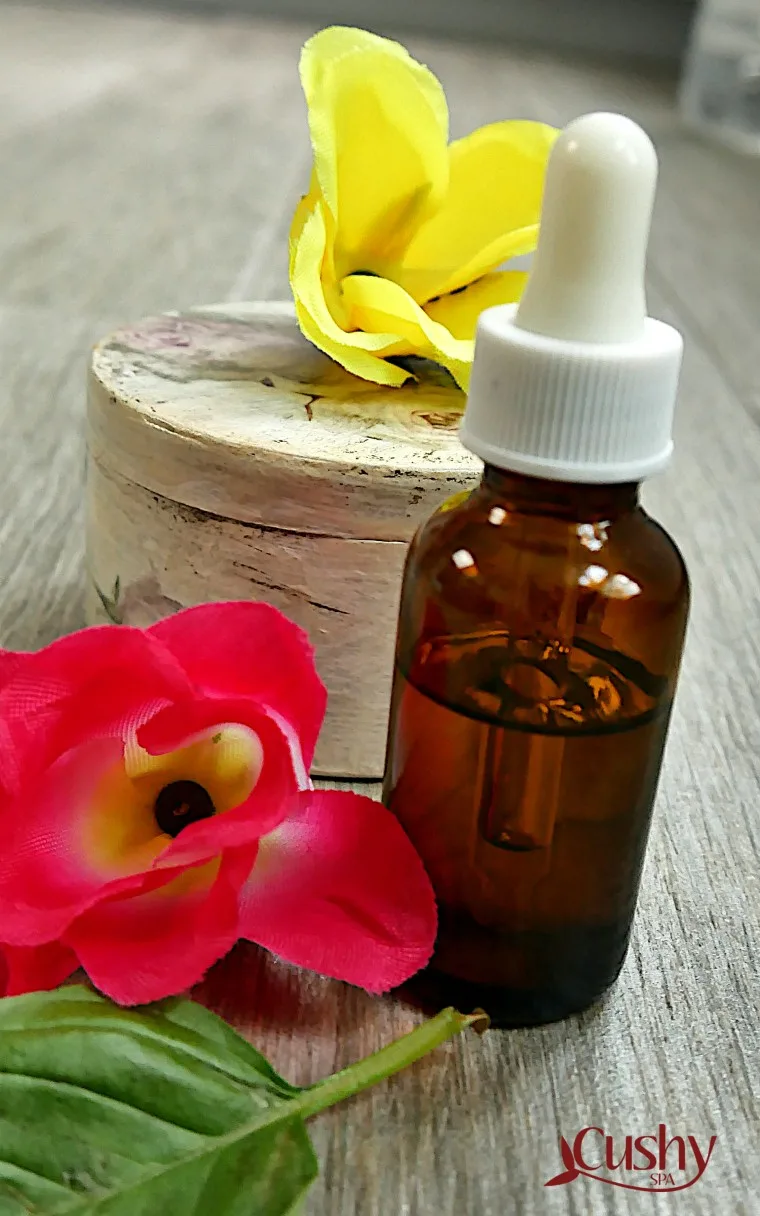 Often, I attempt to replicate products that you can make right at home and Valor is no exception. DIY Valor is something you might enjoy making too. Therefore, I thought I would share a little recipe with you. Here's one.
You Will Need
8 parts Spruce essential oil (Picea mariana)
4 parts Frankincense essential oil (Boswellia carteri)
4 parts Blue Tansy essential oil (Tanacetum annuum)
1 part Rosewood essential oil (Aniba rosaeodara)
4 parts carrier oil (almond, coconut, or any vegetable oil)
Dark tinted bottle (blue or brown) to protect the oil from direct sunlight.
First, add the carrier oil in the tinted bottle. Afterward, add all the essential oils. Screw the lid as tightly as you can and shake the bottle vigorously. Store in a cool, dark, and dry place.
What Exactly Makes Valor Oil So Good?
Here are some of the benefits each of the ingredients bring to the whole formula.
Frankincense Essential Oil
This oil offers monoterpenes, triterpenes, and ketones. That can prevent the formation of cancer (source) and diabetes mellitus (source)!
Frankincense oil also stimulates the brain, relaxes the nervous system. It helps with those mood swings.
Blue Tansy Essential Oil
It consists of azulene and other similar antioxidants. They help the skin to look younger and also keep it moisturized. It's also anti-inflammatory, thus can be rubbed into sore muscles to relieve the pain, etc.
Rosewood Essential Oil
This oil contains linalool acid, alpha-pinene, myrcene, limonene, and camphene (source). Alpha-pinene is highly anti-inflammatory and has anti-microbial properties too (source). Limonene, on the other hand, can come to use when cleaning your home.
Rosewood Essential Oil
This oil contains linalool acid, alpha-pinene, myrcene, limonene, and camphene (source). Alpha-pinene is highly anti-inflammatory and has anti-microbial properties too (source). Limonene, on the other hand, can come to use when cleaning your home.
Spruce Essential Oil
The oil is rich in sesquiterpenes which are highly anti-inflammatory.
Carrier Oil
Each carrier oil is different based on which one you choose. Normally, most oils used as carrier oils, offer a rich supply of fatty acids. Coating your skin with an oil can help with keeping the moisture in.
Pin It!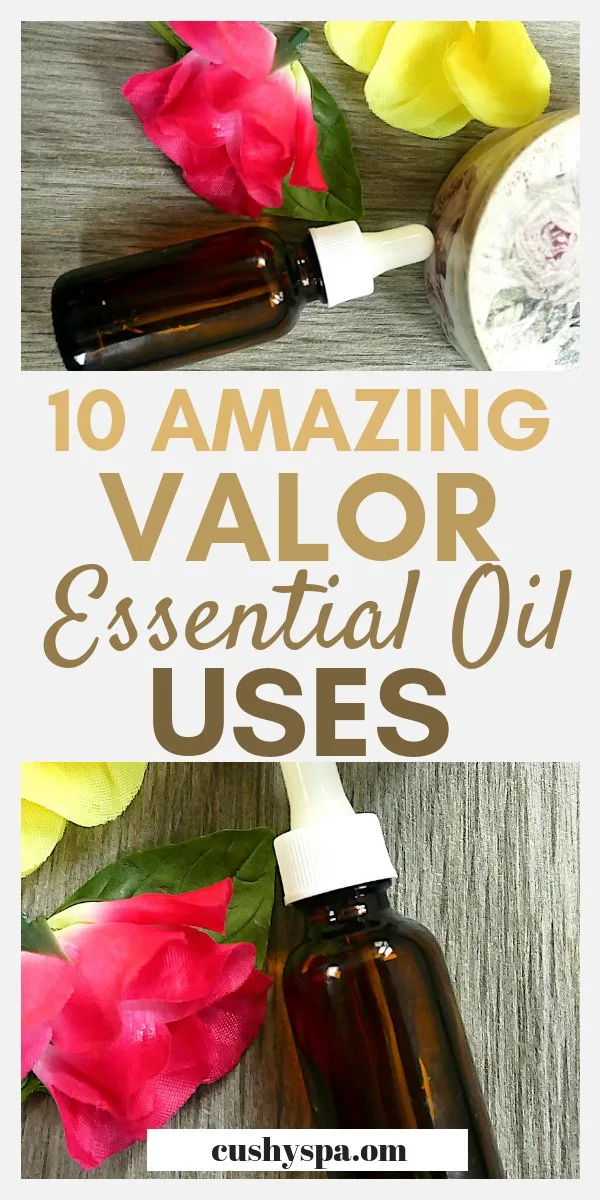 Valor Essential Oil Benefits
Valor can help in myriad ways. Here are some of them.
Relaxes body and mind.
Alleviate joint pain.
Eliminate stress.
Boosts energy.
Improves mood.
Strengthens the immune system.
Heals respiratory infections.
Relieves pain and headaches.
Get rids of bad odor.
Can be used as a cleaner.
Valor Essential Oil Uses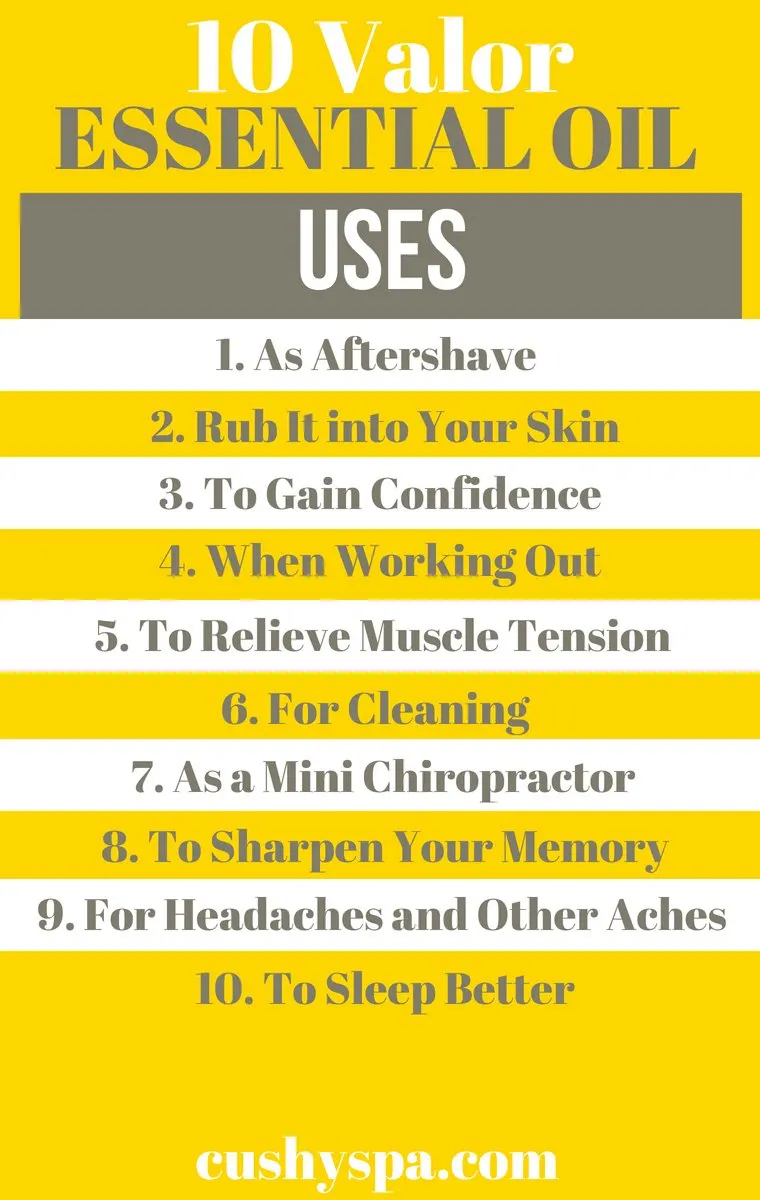 As you have seen, Valor essential oil comes with a lot of benefits. Thus, try to use valor essential oil in different ways, here are 10 valor essential oil uses.
1. Use It as Aftershave
While it may be a tad more expensive than a traditional aftershave, it can definitely outweigh it in terms of benefits. You can always use it occasionally when you wish to pamper your skin.
It not only smells heavenly but also has healing properties (source) so all the nicks and cuts will patch up soon.
It'll make your facial skin smooth and just lovely. All in all, making a DIY aftershave using valor essential oil is easy.
Mix 10 drops of valor, 15 drops of eucalyptus oil and 2 drops of peppermint essential oil. Afterward, add it all to 1/4th cup of coconut oil. That's it, you're done!
2. Rub It into Your Skin to De-Stress
We are all living a stressful life. It is next to impossible to get one moment of peace, but here's the deal, with valor, you can carry your one-way ticket to de-stress land right in your pocket!
What I normally do is use it as a vapor rub. You can apply some to your feet, chest, neck, or wrists. Afterward, all you need to do is just breathe.
3. Use It to Gain Confidence
Like I've said, valor's helped me greatly with my anxiety. Feeling relaxed helps not to care about things that much and gives you some confidence and self-esteem. Yes, it's simple as that.
4. Use It When Working Out
Now here's a secret tip from my boyfriend. He applies 1-2 drops of valor on his heals before he begins working out. It helps with smelly feet and gives a sense of relaxation. Then, it's not hard to give it all in the gym.
5. Use It to Relieve Muscle Tension
If you suffer from cramps, stiffness, and tension, then valor can come to your rescue. It helps to relax your muscles. All you need to do is apply some of the oil on the areas that feel sore.
You'll get a sense of warmth that will ease out the muscular strain. Whether it's just your neck or your jaw, a few drops can be helpful.
6. Use It for Cleaning
Valor has anti-fungal, antibacterial, and antiseptic properties. These can be helpful when you're cleaning your home. It's safe to use on most surfaces. Moreover, even diffusing valor can make your house feel odorless and gives a lasting impression of cleanliness. Thus, that's something you could consider incorporating into your cleaning regime.
7. Use It as a Mini Chiropractor
Valor is capable of imparting a sense of balance in your energies. If your spirit feels restless then apply a few drops of valor oil on the soles of your feet and the spinal column. It will improve your spinal alignment by simply helping your muscles relax.
8. Use It to Sharpen Your Memory
Valor essential oil can sharpen your memory due to its energizing properties. If you are in need of a memory boost or are struggling with ADHD and Autism, just a few drops of valor can make a small difference.
You can use it as a vapor rub, apply it elsewhere, diffuse it, or scatter it over your pillow. It helps you focus and keeps your nerves intact. It simply helps to think straight.
9. Use It for Headaches and Other Aches
The pain of any kind can definitely bring life to a standstill. If you suffer from constant headaches, backaches, or even joint aches, you can topically apply valor over the affected area.
Valor has been used to ease even arthritic pain. But, there are no studies that would prove its effects.
10. Use It to Sleep Better
Valor not only takes care of your mental health but also induces a deep and uninterrupted slumber. If you are suffering from insomnia or any sleep disorder, valor might be helpful.
And if your sleep is interrupted by your loved one's snores, some say that valor has a solution for that too. Apply it on your big toe and that should help. But, I wouldn't trust that information so much, but you can always try and see what'll happen.
From my own experience, breathing in some valor helps with overall breathing. That improves sleep too.
How to Use Valor?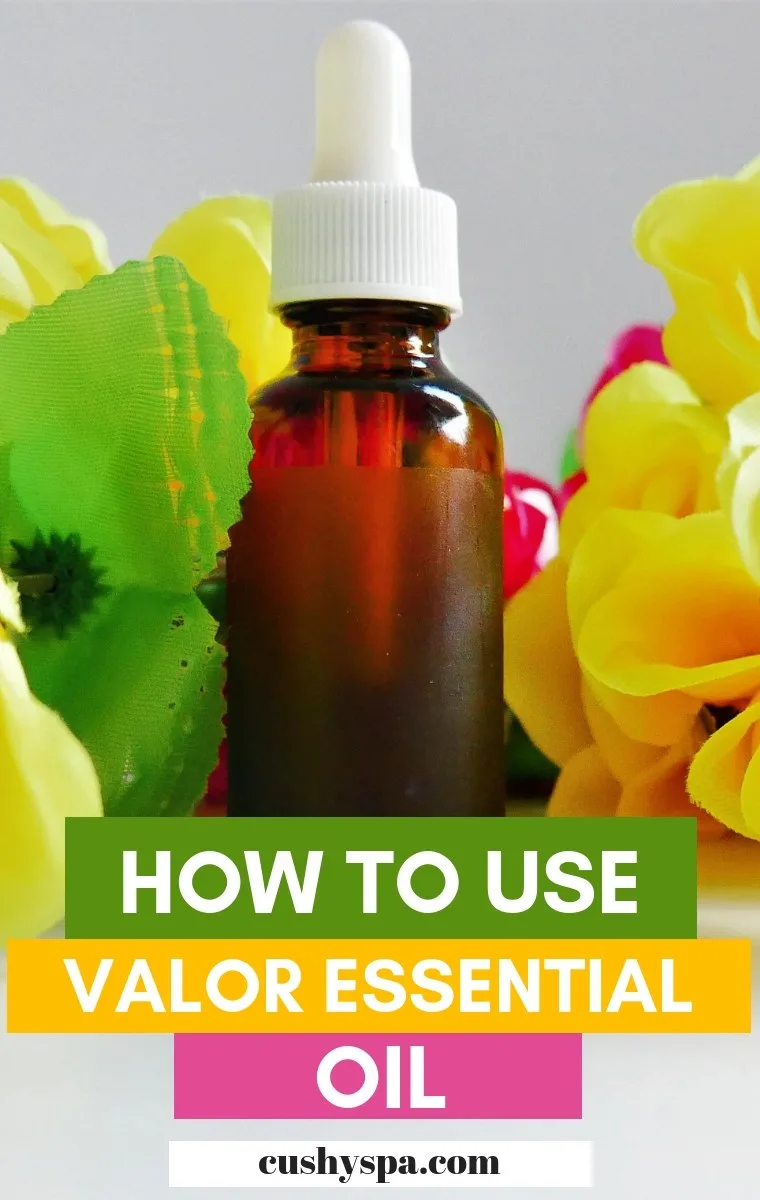 There are a few ways you can incorporate valor essential oil into your life. I've mentioned some of them already. However, I thought more detail on that can never hurt.
Direct Topical Use
You can apply 2-4 drops of Valor essential oil directly to targeted regions. A few dabs here and there anywhere on your body can help with muscle pain and boost your mood.
On Clothing
Sometimes, due to skin sensitivity, some people cannot apply valor directly to their skin. Here's a trick that may work: you can dab some of it on a piece of clothing.
A corner of your bedspread, or over a thick jacket could do just fine. Overall, make sure that you don't come into direct contact with the oil.
Aromatically
Why restrict the courage just to yourself when you can spread it around the house! Add 3-4 drops of valor to your diffuser and it'll make your house smell good. Everyone will be left feeling recharged and full of zest.
Conclusion
A simple essential oil blend can come handy both for you personally and everyone else. Hopefully, now that you've read about valor essential oil uses, you have a better idea of how you could incorporate it into your life.
The benefits of this oil are obvious and beautiful, so do make use of them. Other than that, do let me know in the comment section if you have any questions or concerns. I'll do my best to answer and give you more tips if needed. All in all, have a lovely day and take care!