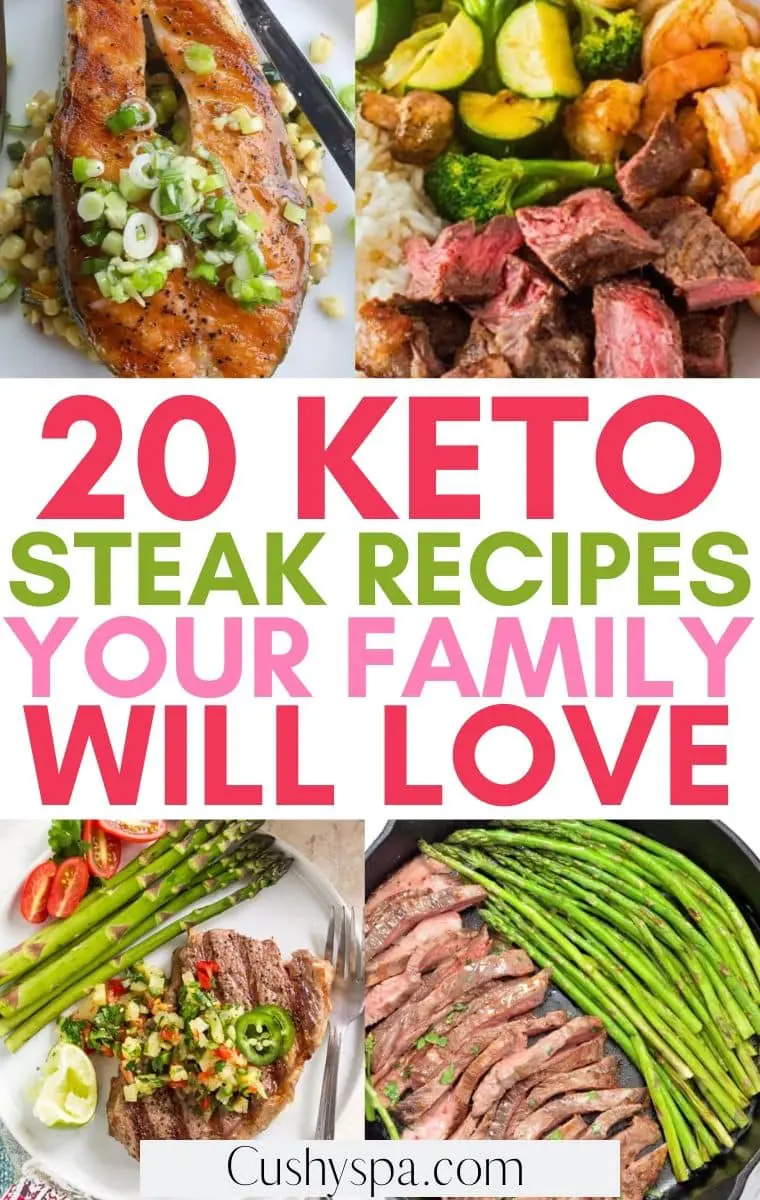 On a keto diet, meat is king. And the king of those meats is steak.
Besides having no carbs, steak is an excellent source of fat and protein. So, it's sure to keep you in ketosis and help you maintain strong muscles.
It's also a good source of B vitamins. So, it's good for your brain.
But besides being nutritious, steak is just plain delicious. Who doesn't love a chunky piece of steak?
Today, I'm sharing 20 keto steak recipes. They're not only delicious but good for you too. So, dig right in!
1. Ranch Spiced Steak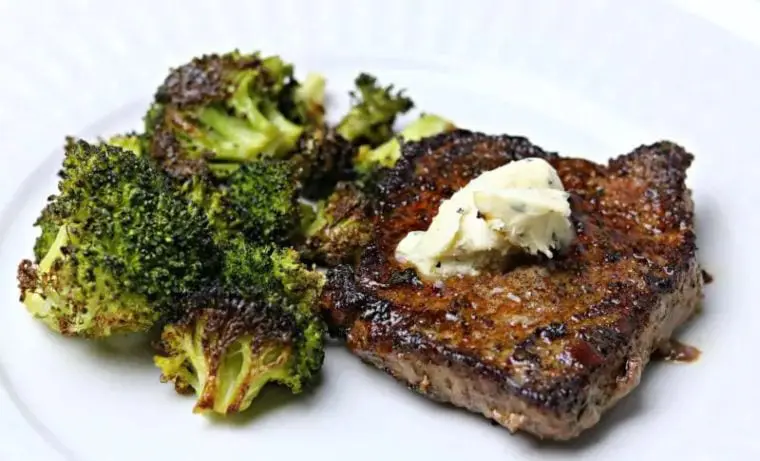 Credit: drdavinahseats.com
Steak is great just the way it is. But, it's amazing how seasoning can totally transform your steak from ho-hum to AMAZING!
And this homemade ranch seasoning mix does just that. It's made of 7 different spices that are sure to make your steak finger-lickin' good.
Aside from your homemade ranch seasoning mix, you'll be using smoked paprika. Smoked paprika gives your steak that nice smoky taste without having to barbecue it.
You'll want to measure the spices just right. To do that, all you need is a good set of measuring spoons which you can find here.
Making this steak is super easy too. Just pat your steak dry and add your seasonings.
Then sear your steak in butter. Yum!
Per Serving:
Calories: 247
Fats: 15g
Protein: 25g
Net Carbs: 0g
2. Greek Yogurt Marinated Boneless New York Strip Steak Recipe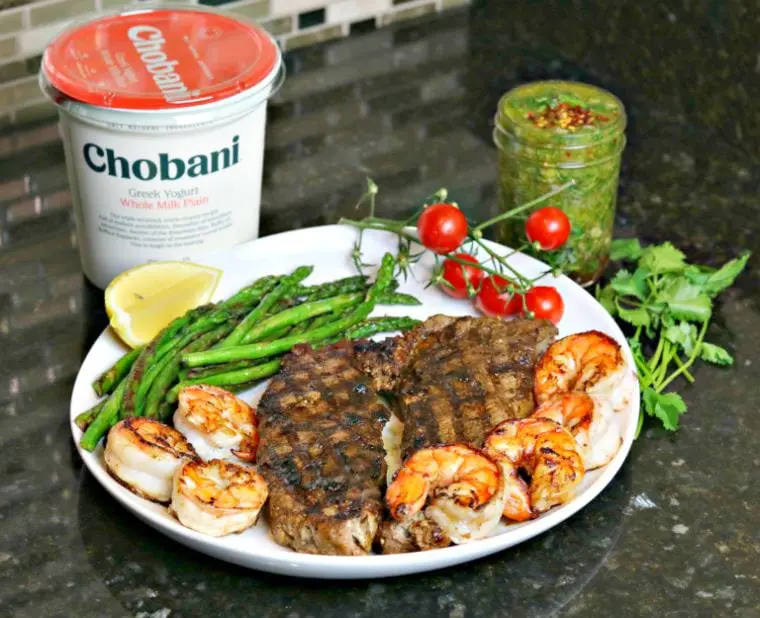 Credit: drdavinahseats.com
Nothing kills a steak more than it being too dry. You know, those steaks that taste like cardboard.
This steak tastes like anything but cardboard. It is juicy and packed with flavor.
That's because you marinade it in Greek yogurt and spices. The acidity in the yogurt adds moisture to the meat.
Besides how juicy and tasty this steak is, you'll love the grill marks on the steak. It's just like dining at your favorite steak house.
Now, there's no need to light up your barbecue. All you need to do is place your steak on a cast iron grill pan. You can also use it to make bacon and other meats too.
Serve with roasted asparagus. You can get a good quality iron grill pan here.
Per Serving:
Calories: 455
Fats: 33g
Protein: 35g
Net Carbs: 1g
3. Keto Salmon Steak Sheet Pan Dinner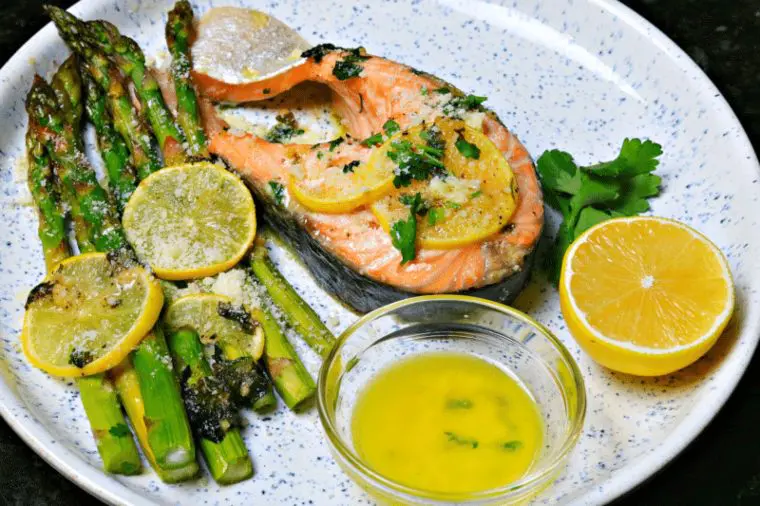 Credit: drdavinahseats.com
Beefsteak is good. But sometimes, you need a change.
This salmon steak is a pretty delicious change. Besides being delicious, salmon is an excellent source of brain-boosting omega-3s.
Succulent, juicy salmon steak and fresh asparagus is baked in a yummy garlic butter sauce. Eating healthy can't get much better than this.
To make the garlic butter sauce, all you have to do is melt some butter and olive oil in a microwave. Then add garlic, parmesan cheese, onion powder, fresh parsley, and lemon juice…it's that easy.
What I love most about this meal is that it's a one-sheet pan dish. So, you spend less time cleaning up pots and pans, and more time relaxing with loved ones.
Check out more ketogenic fish recipes here.
Per Serving:
Calories: 372
Fats: 27g
Protein: 27g
Net Carbs: 6g
4. Grilled Strip Steak With Pineapple Jalapeno Salsa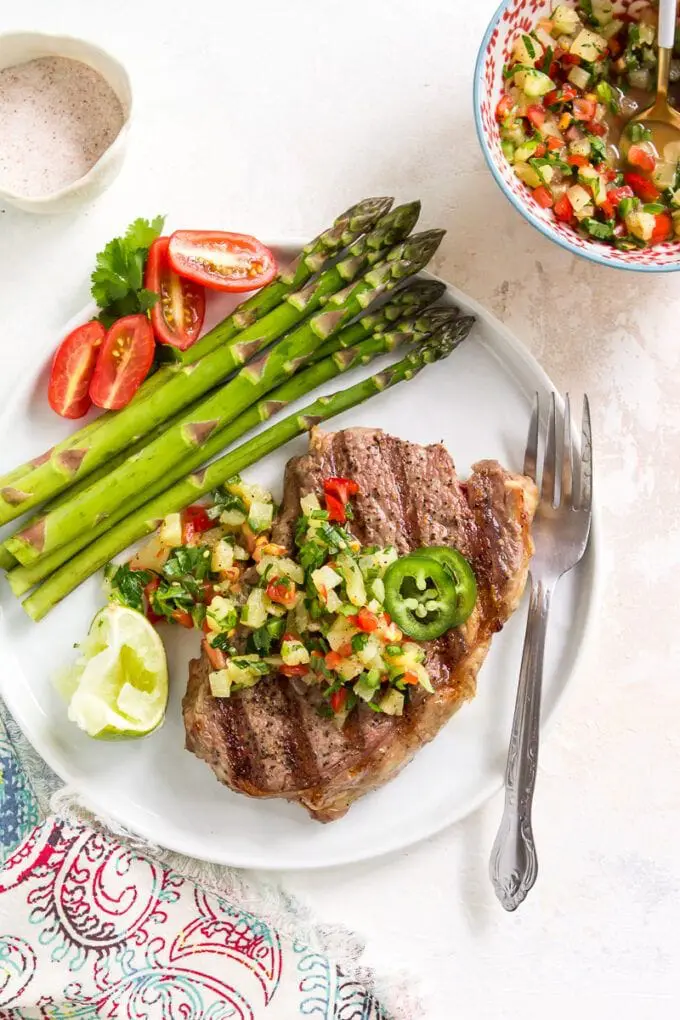 Credit: acleanbake.com
Hamburgers and hot dogs are great for the hot days of summer. But sometimes, you want to leave those for the kiddos, and have something a bit more "adult-like."
This grilled steak with salsa definitely fits the bill. The steak is extra juicy and nicely grilled.
While the pineapple adds some sweetness and tang, and the jalapenos add some heat-something, the adults will really appreciate.
Not sure when your meat is done? Just use a handy meat thermometer, which you can find here.
Then check the internal temperature based on the degree of doneness. For instance, if you like your steak rare, your steak is done when it reaches an internal temperature of 125 degrees Fahrenheit.
Serve with a side Garden salad. Check out more keto salads you can serve this with.
Per Serving:
Calories: 590
Fats: 39g
Protein: 51g
Net Carbs: 4g
5. Garlic Butter Steak Bites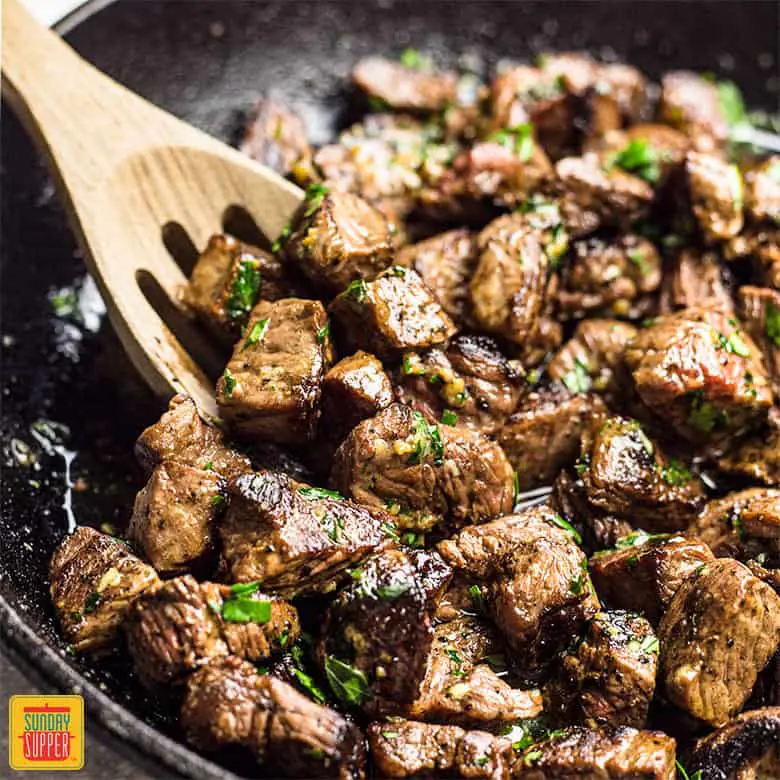 Credit: sundaysuppermovement.com
Everybody loves game day. It's the perfect time to cheer on your home team and enjoy time with your buddies.
But with game day, come thoughts of what to serve. After all, you can't have a game day without some munchies, right?
These steak bites are the perfect game day munchies. They're beautifully seared on the outside and tender on the outside… Just the way steak bites should be.
And they're pretty tasty too. That's because you're cooking them with some garlic butter.
These bites go well with some air fryer zucchini fries.
Per Serving:
Calories: 249
Fats: 12g
Protein: 33g
Net Carbs: 0g
6. Caprese Grilled Filet Mignon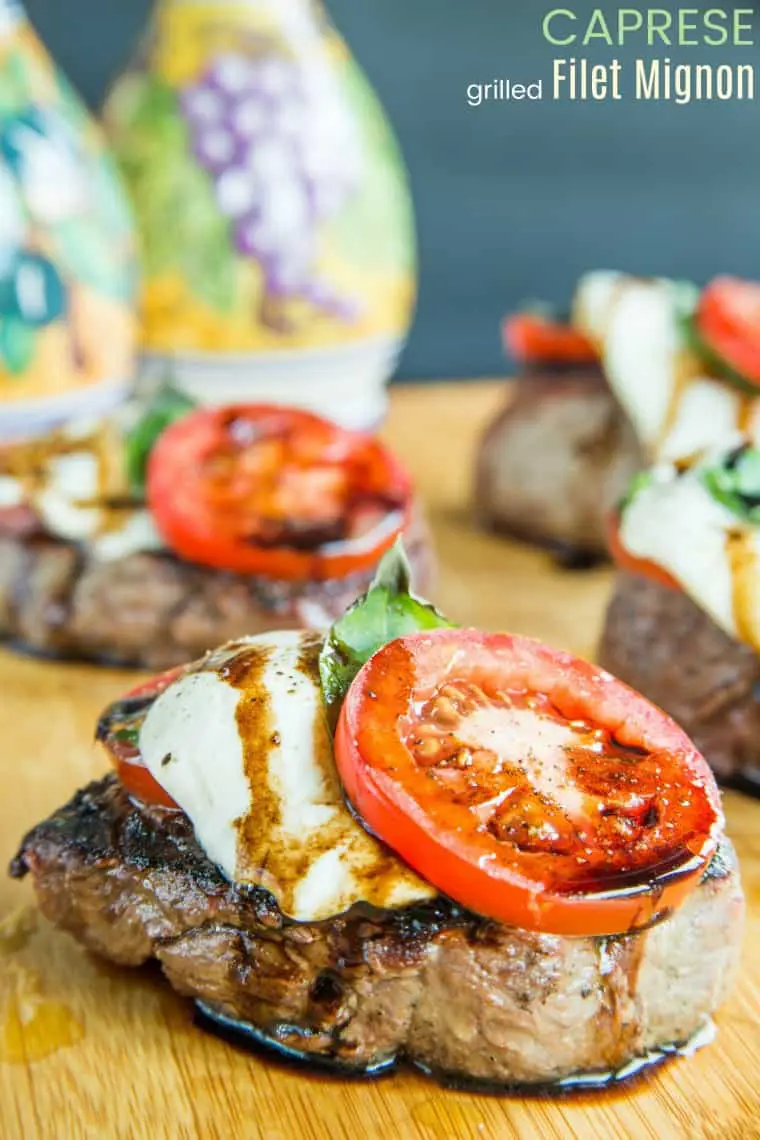 Credit: cupcakesandkalechips.com
It can be hard to figure out what to serve your honey for date night. Particularly if you're on a keto diet and he/she is not.
But the last thing you want to do is make two different meals. That takes the whole fun out of date night.
This Caprese Grilled Filet Mignon solves that problem. What can be more romantic or elegant than an Italian inspired Filet Mignon?
This nicely grilled filet mignon is topped with juicy Roma tomatoes, fresh mozzarella, and a bit of reduced balsamic vinegar; it's a party in your mouth.
After this tasty meal, your honey will be asking: "What's for dessert?" This is a lovely keto dinner meal, so definitely give it a try.
Per Serving:
Calories: 614
Fats: 50g
Protein: 37g
Net Carbs: 8g
7. Hibachi Steak & Shrimp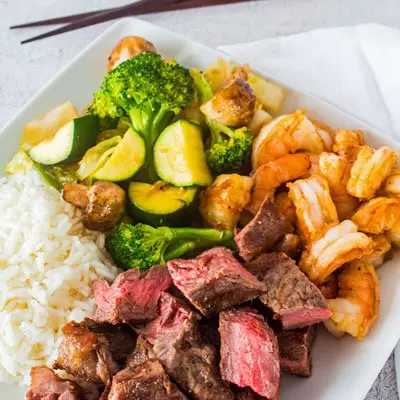 Credit: bakeitwithlove.com
It's time for some steak and shrimp served Japanese style. Hibachi is just a method of cooking food on a high-heat metal cooking plate, just like you see at Japanese restaurants.
This Hibachi style platter is pretty authentic. The shrimp and steak are nice and succulent.
What makes it authentic is the cooking oil. For the cooking oil, you'll be using a mixture of sesame seed oil, olive oil, rice cooking wine, and soy sauce.
So you get that nice umami taste that you expect from Japanese cuisine.
And to make it a complete meal, just break out some low carb veggies. A great combination would be mushrooms, Chinese cabbage, and broccoli.
Toss them in your cooking oil and cook on an electric griddle. I like this one here because it is ceramic so it is non-stick but doesn't have toxic coatings.
Per Serving:
Calories: 560
Fats: 32g
Protein: 59g
Net Carbs: 1g
8. Cast Iron Skillet Steak With Garlic Butter Asparagus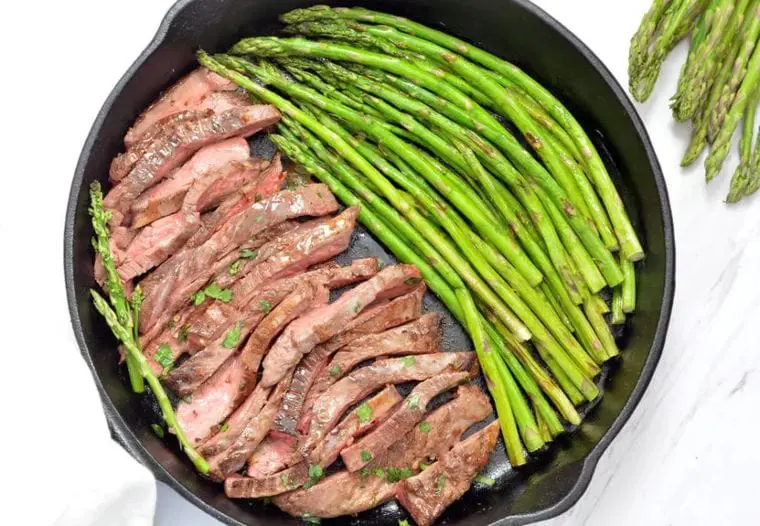 Credit: lighterkitchen.com
We could all use more veggies in our diet-myself included. And what better way to cook your veggies than in garlic butter?
On the menu for dinner is lightly seasoned steak and veggies. The steak has a nice sear on the outside and is tender on the inside.
While the asparagus is sauteed in a delicious garlic butter sauce. Besides being yummy, asparagus is good for you too.
It's packed with fiber, as well as an immune system boosting vitamins A and C.
What's even better about this meal is that you just use one pan for cooking. So, clean ups a breeze.
And if you love your veggies, feel free to add some red peppers as well for extra vitamin A.
Per Serving:
Calories: 634
Fats: 46g
Protein: 50g
Net Carbs: 3g
9. Steak Pizzaiola Recipe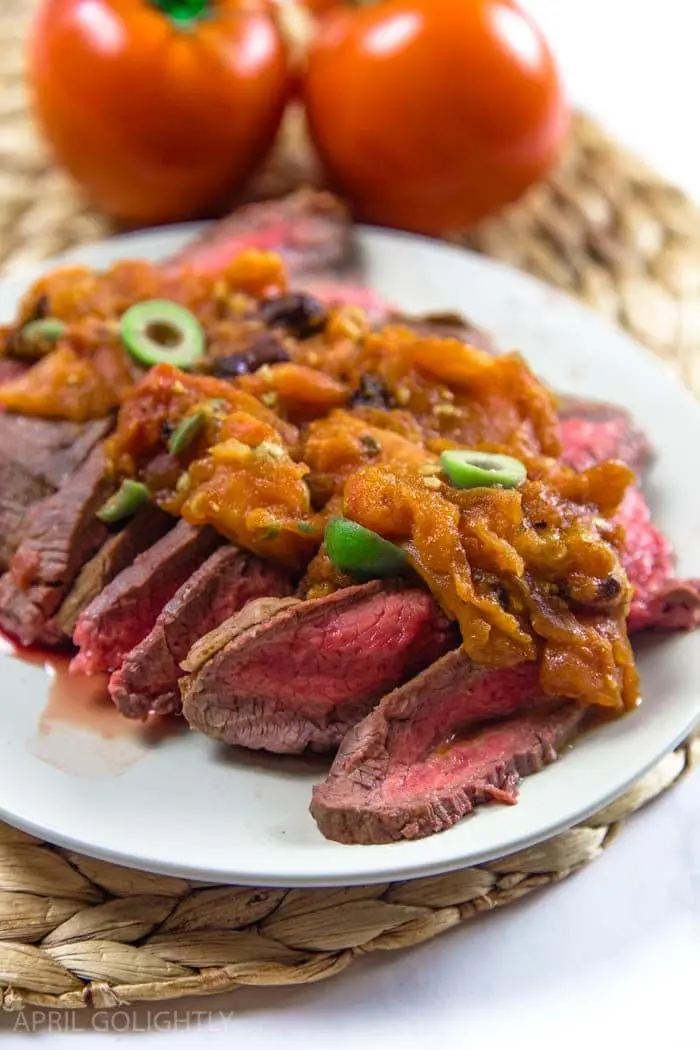 Credit: aprilgolightly.com
I'm a big fan of Italian food like I'm sure many of you are. But Italian food tends to be carb-heavy because of all the pasta.
Pizzaola, if you haven't yet tried it, isn't pizza like the name seems to imply. It's just meat served pizza style.
So, it has all the sauciness of pizza without all the carbs.
And this one doesn't disappoint. This steak is melt-in-your-mouth goodness.
It's topped with a sweet and tangy tomato sauce, and two different kinds of olives to boot. You'll be in Mediterranean heaven.
Still, need some noodles? Not to worry. Just spiralize some zucchini using a spiralizer. Here is a good spiralizer you can get.
Then sautee your zucchini noodles in some olive oil for 2 minutes. Top with some Parmesan cheese. Buon appetito!
Are you loving the flavors of pizza? Check out these keto pizza bites!
Per Serving:
Calories: 154
Fats: 7g
Protein: 14g
Net Carbs: 7g
10. Steak And Cauliflower Soup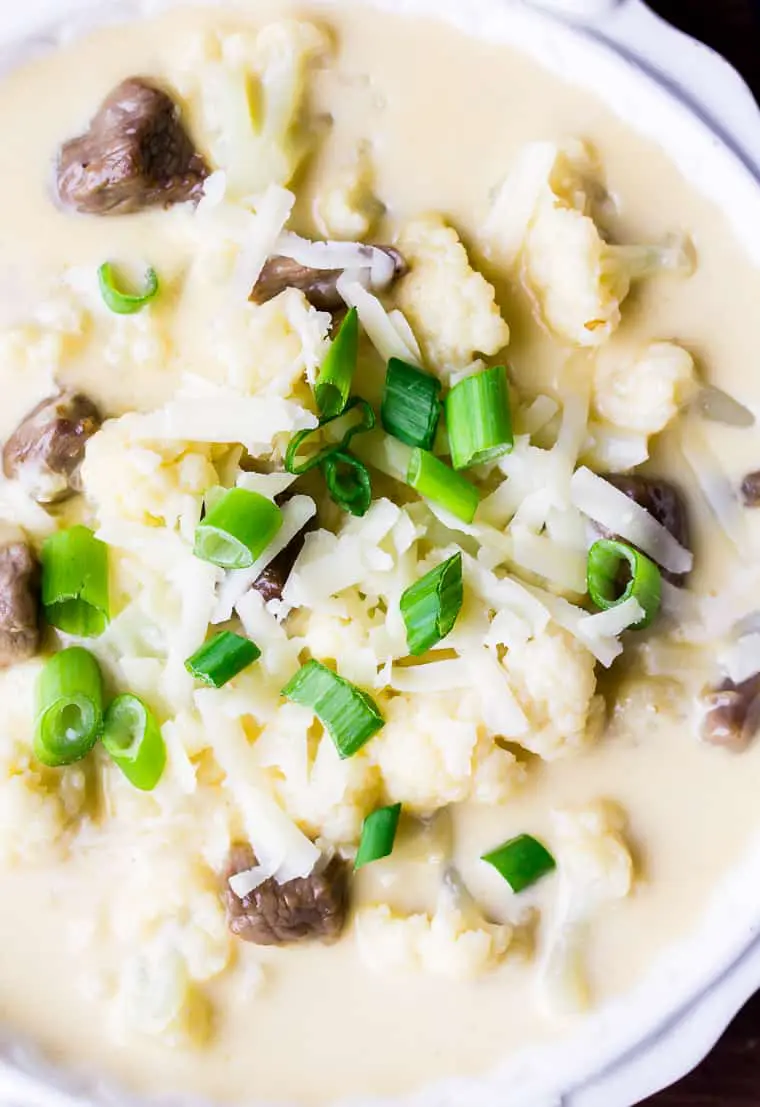 Credit: deliciouslittlebites.com
Life can be tough. So, sometimes you just need some comfort food to cheer you up.
But, by very definition, comfort food is packed with carbs. Until now…
This soup is a keto take on traditional steak and potato soup. Instead of potato, you use cauliflower so you save tons of carbs.
And it is just as comforting and delicious. You have tender pieces of steak and cauliflower in a creamy base, along with melted ooey-gooey cheese.
All topped with some green onions for freshness. Check out more keto cauliflower recipes and low carb soup ideas here!
Per Serving:
Calories: 698
Fats: 56g
Protein: 40g
Net Carbs: 6g
11. Cajun Garlic Butter Steak Bite Meal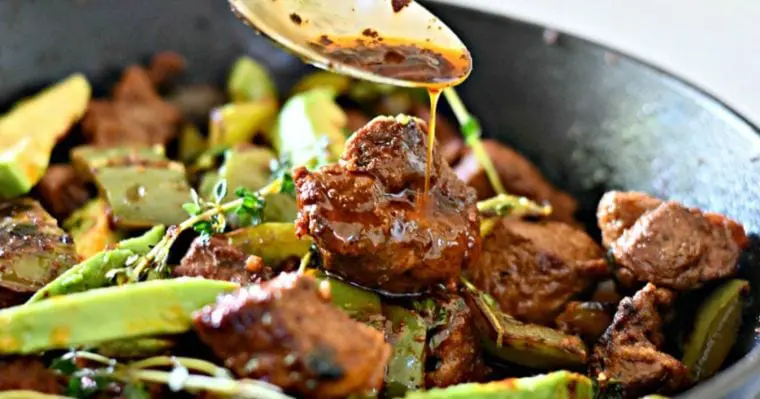 Credit: hip2keto.com
We all live busy lives, myself included. And the last thing you want to do after supper is washing a ton of dirty pots and pans.
That's why I love this meal. It uses only one pan, so you have less to clean up.
It is also as delicious to look at as it is to eat. The steak bites are nicely caramelized and so flavorful. That's because you use 8 different spices to flavor your steak.
It has a bit of heat, but not too much, so it is kid-friendly. If you like it spicier, just add extra cayenne powder.
The secret to the steak bites being nicely cooked is that you use a cast-iron skillet. Cast iron skillets are great at distributing heat evenly, so your food is cooked well throughout.
If you don't already have a cast-iron skillet, you can get a good quality one at a great price now.
You'll also be sauteeing some green bell peppers. But for extra color and nutrition, you can add red and yellow bell peppers too.
Per Serving:
Calories: 469
Fats: 34g
Protein: 32g
Net Carbs: 4g
12. Grilled Salmon Steak With Herb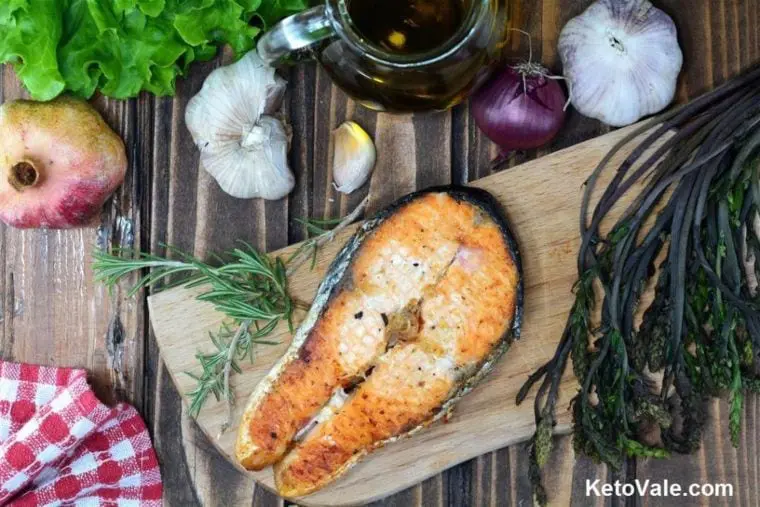 Credit: ketovale.com
Garlic butter is great with salmon steaks. But sometimes, you just want the taste of the salmon to shine through by itself.
This grilled salmon does just that. It is lightly marinated in a basic marinade of olive oil, garlic cloves, lime juice, salt, pepper, and fresh herbs.
So, you taste just the salmon. Perfect if you're a fish purist.
And it only contains 1 gram of net carbs too. Awesome for those evenings when you've almost hit your daily net carbs allowance.
This is also a lovely meal for keto lunch.
Per Serving:
Calories: 382
Fats: 28g
Protein: 30g
Net Carbs: 1g
13. Keto Beef & Broccoli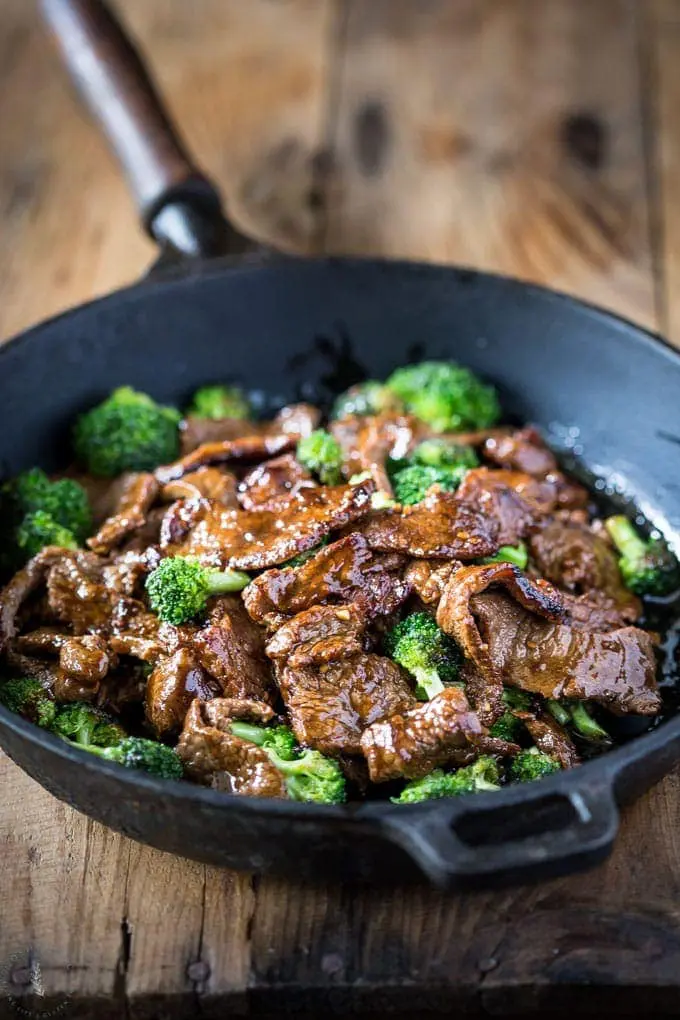 Credit: noshtastic.com
Beef and Broccoli is a staple at your typical Chinese restaurant. But because of the added brown sugar, it is definitely not keto.
So, what do you do when you have a hankering for some beef and broccoli? Make this instead.
It's sweet and savory and packed with umami flavor. And the beef has a bit of heat thanks to the fresh ginger.
You won't believe it's keto.
To add depth of flavor to your beef, you'll be marinating it in a mixture of coconut aminos, freshly grated ginger, and garlic.
Do make sure you use coconut aminos, not liquid aminos. That's because liquid aminos are saltier, and don't have the sweetness that you need for the marinade.
If you need to stock up on some coconut aminos, make sure you get one that is low in net carbs like this one, or else the carbs can add up quickly.
Serve with some cauliflower fried rice. To make cauliflower rice, you'll need a food processor like this one here.
Per Serving:
Calories: 364
Fats: 26g
Protein: 23g
Net Carbs: 6g
14. Keto Garlic Butter Surf & Turf Recipe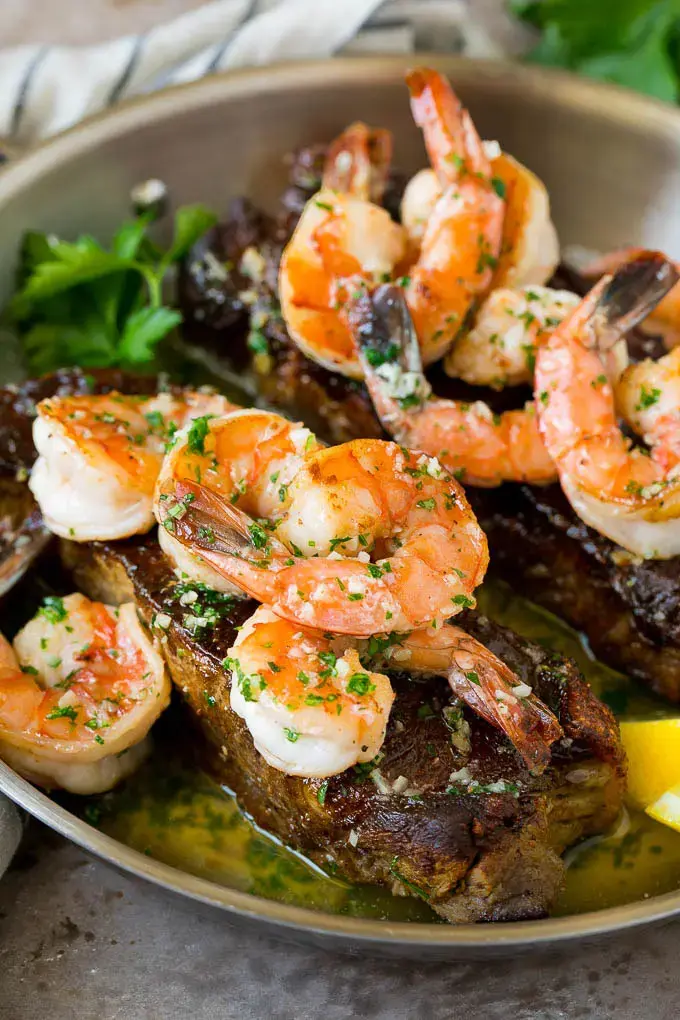 Credit: dinneratthezoo.com
Valentine's day is the perfect time to wow your partner. And nothing says wow more than an elegant surf & turf.
On the menu is tender New York strip steak, one of the most tender steaks on the market. Accompanied by succulent jumbo shrimp, all topped with a homemade garlic butter sauce.
And it's super easy to make too. So, you spend less time slaving in the kitchen and more time with your loved one.
Check out more ketogenic dinners you can make in under 30 minutes.
Per Serving:
Calories: 624
Fats: 39g
Protein: 46g
Net Carbs: 1g
15. Keto Skillet Steak Fajitas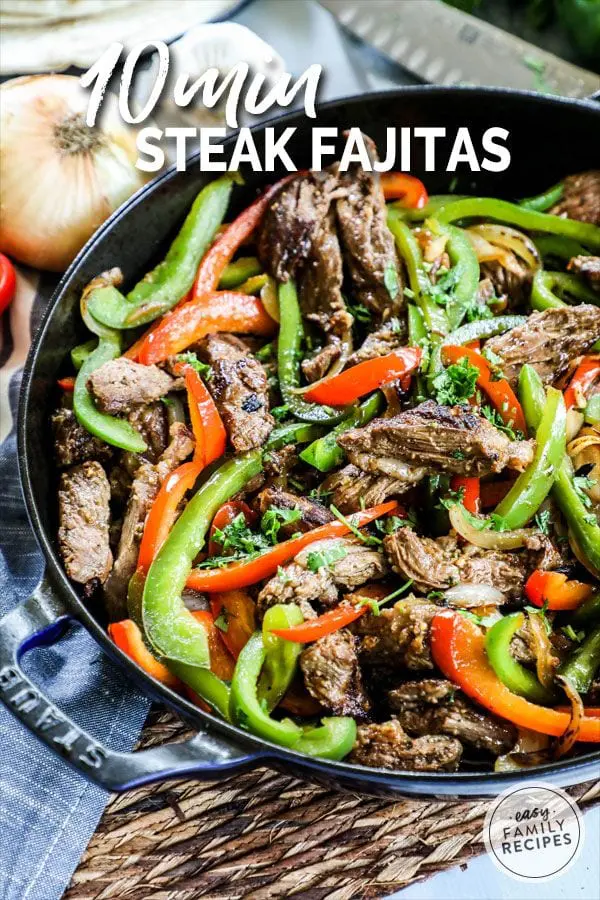 Credit: easyfamilyrecipes.com
In the mood for some Tex Mex? Try these steak fajitas!
They are succulent and juicy and bursting with flavor. The homemade fajita seasoning makes all the difference.
It's a combination of 9 different spices. So get out your measuring spoons!
The red and green bell peppers, along with the sweet yellow onion, add sweetness and freshness, along with a ton of vitamins A and C.
All it takes is 18 minutes to make this meal. So, it's perfect for those busy weekday nights.
Loving fajitas? Check out these low carb chicken fajita meal prep bowls!
Per Serving:
Calories: 320
Fats: 18g
Protein: 34g
Net Carbs: 6g
16. Keto Steak & Egg Breakfast Bowl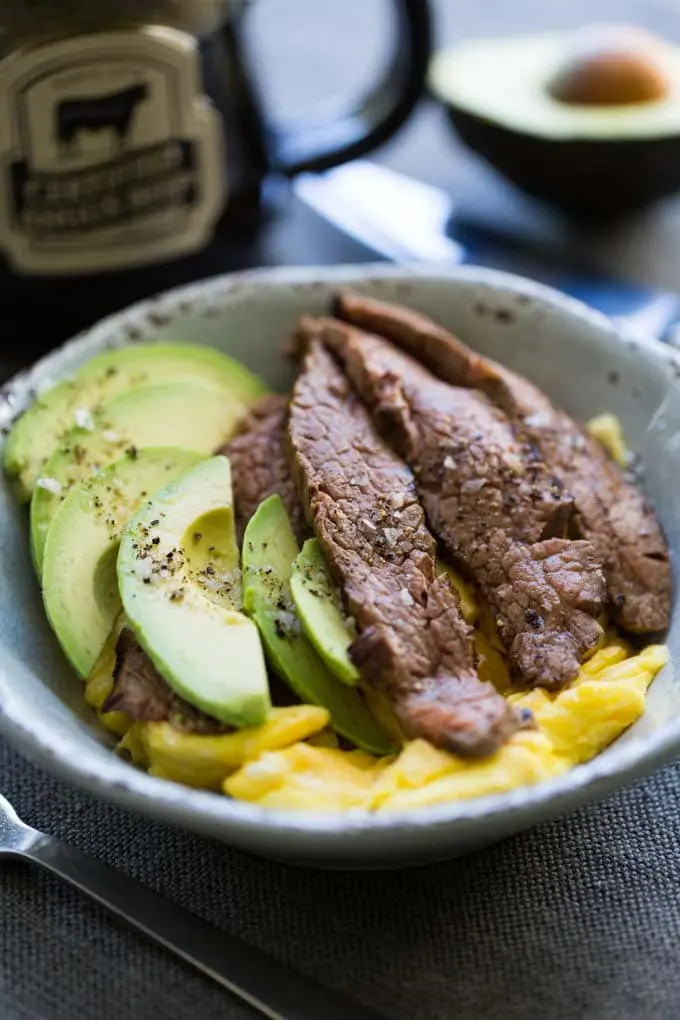 Credit: recipeforperfection.com
I know what you're saying: "Steak for breakfast?". Yes, you can have steak for breakfast.
Just like you can have pizza for breakfast. But that's a story for another day.
The steak is nicely marbled, extra juicy, and has a bit of heat…perfect if you like it spicy.
The scrambled eggs are buttery and creamy. And the freshly sliced avocado adds another layer of deliciousness.
As an added bonus, one serving provides 36% of your daily potassium needs. So, this breakfast is perfect if you're battling the keto flu.
Check out more ketogenic breakfast recipes here.
Per Serving:
Calories: 692
Fats: 51g
Protein: 45g
Net Carbs: 7g
17. Bacon Cheese Walnut Crusted Steak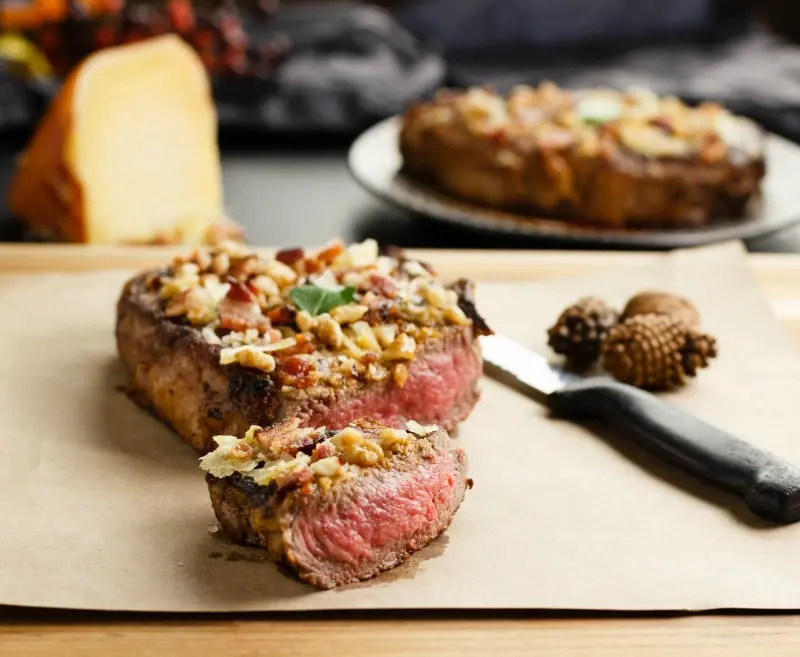 Credit: beautyandthefoodie.com
Your basic steak is good and all, but sometimes you want a change. A crusted steak, for example.
But your typical crusted steak is crusted with breadcrumbs. Just ¼ cup of breadcrumbs has 14 grams of net carbs.
And as delicious as a crusted steak is, it's not worth all the carbs. This crusted steak tastes amazing, and it won't hurt your waistline.
That's because you're crusting your steak with delicious ingredients that are keto-friendly. Ingredients like crisp bacon, toasted walnuts and cheese that are sure to delight your taste buds.
The best part? It has only 1 gram of net carbs. So, you're sure to stay in ketosis.
Check out my parmesan crusted pork chops that are keto as well!
Per Serving:
Calories: 345
Fats: 23g
Protein: 30g
Net Carbs: 1g
18. Keto Baked Stuffed Flank Steak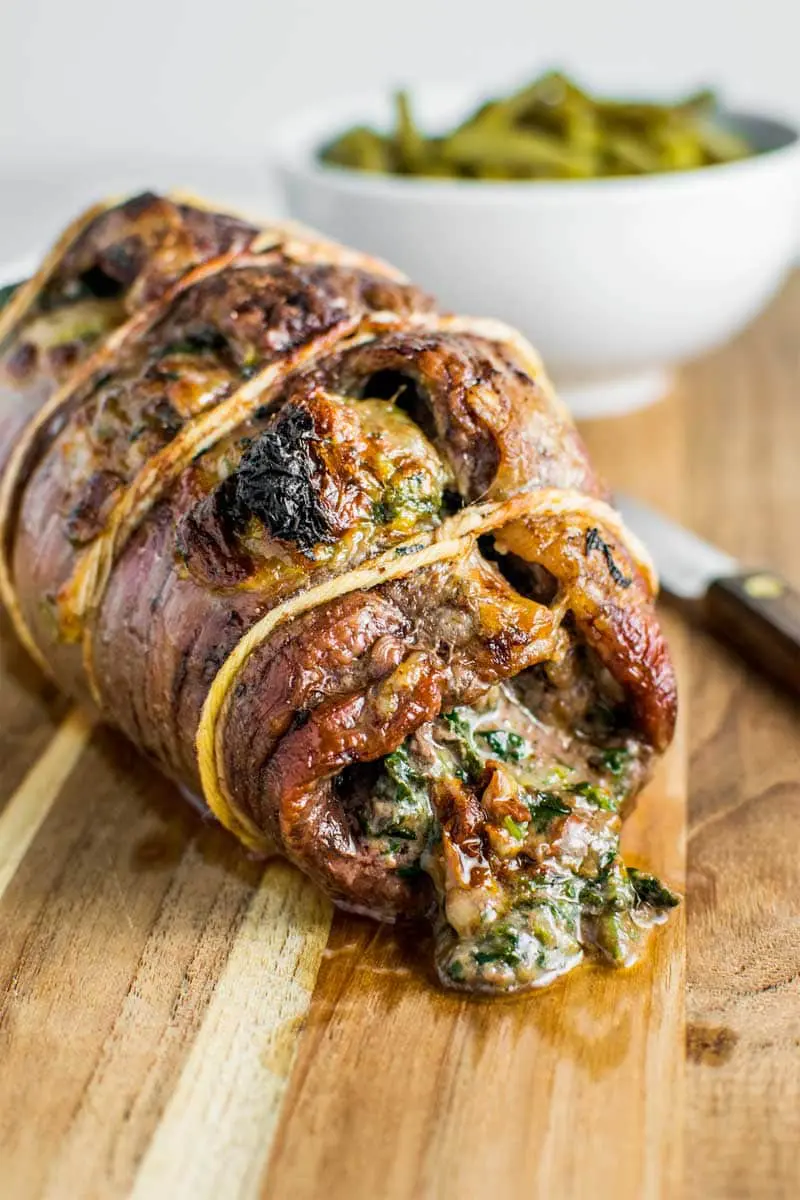 Credit: homemadehooplah.com
Sometimes you need something pretty fancy. Fancy enough to impress your dinner guests.
This stuffed flank steak is sure to get everyone talking. And licking their plates.
After all, everyone has heard of stuffed chicken. But stuffed steak… Now that's a new one.
This stuffed steak is just as good as it sounds. Moist steak surrounds a delicious filling of spinach, cheesy mozzarella, and tangy sundried tomatoes. Yum.
And it is not as hard to make it as it sounds. All it takes is 10 minutes of prep time. Then, you let your oven do the cooking.
Per Serving:
Calories: 288
Fats: 14g
Protein: 27g
Net Carbs: 9g
19. Grilled Flank Steak With Avocado Chimichurri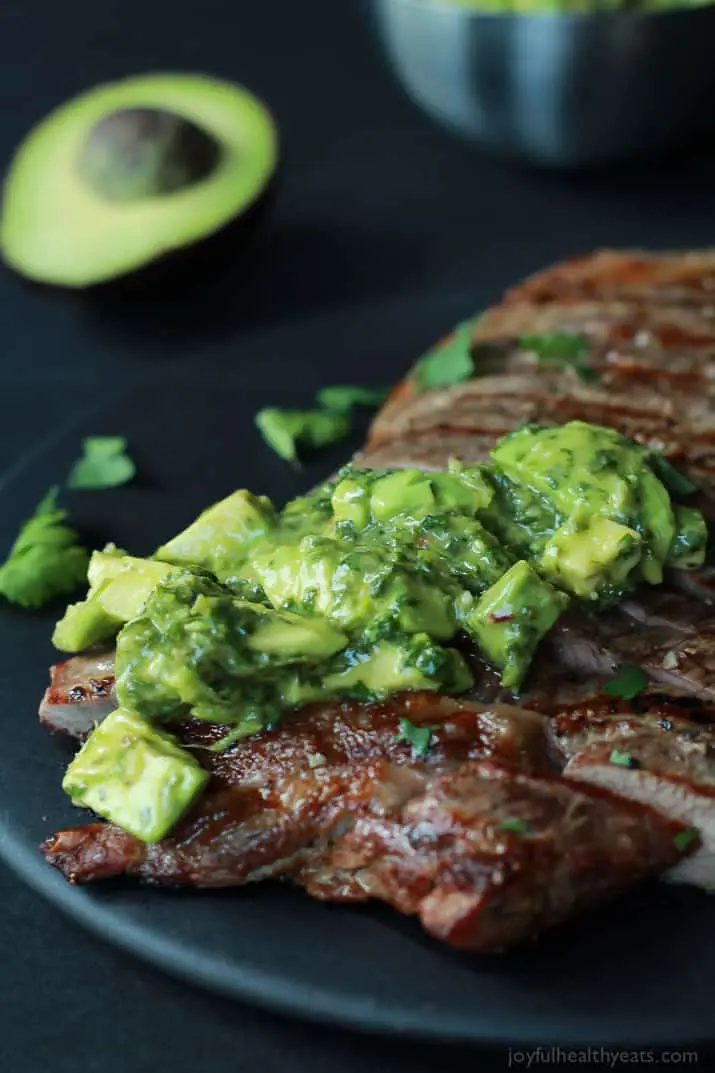 Credit: joyfulhealthyeats.com
Summer is coming, and it's time to fire up the grill. And what better way to welcome summer than grilling some steak!
This lightly seasoned steak is juicy and tender. But the icing on top of the cake is truly the chimichurri.
The fresh lime juice and red wine vinegar add tanginess. While the avocado adds creaminess, balancing out the acidity of the chimichurri.
And the red pepper flakes add a hint of heat. You'll want this chimichurri on everything.
Making it is easy too. All you need to do is place your ingredients in a food processor and process until smooth. This food processor here should do the trick.
Serve with your favorite grilled low carb veggies.
Per Serving:
Calories: 444
Fats: 32g
Protein: 34g
Net Carbs: 2g
20. Grilled Salmon Steak With Green Onion Vinaigrette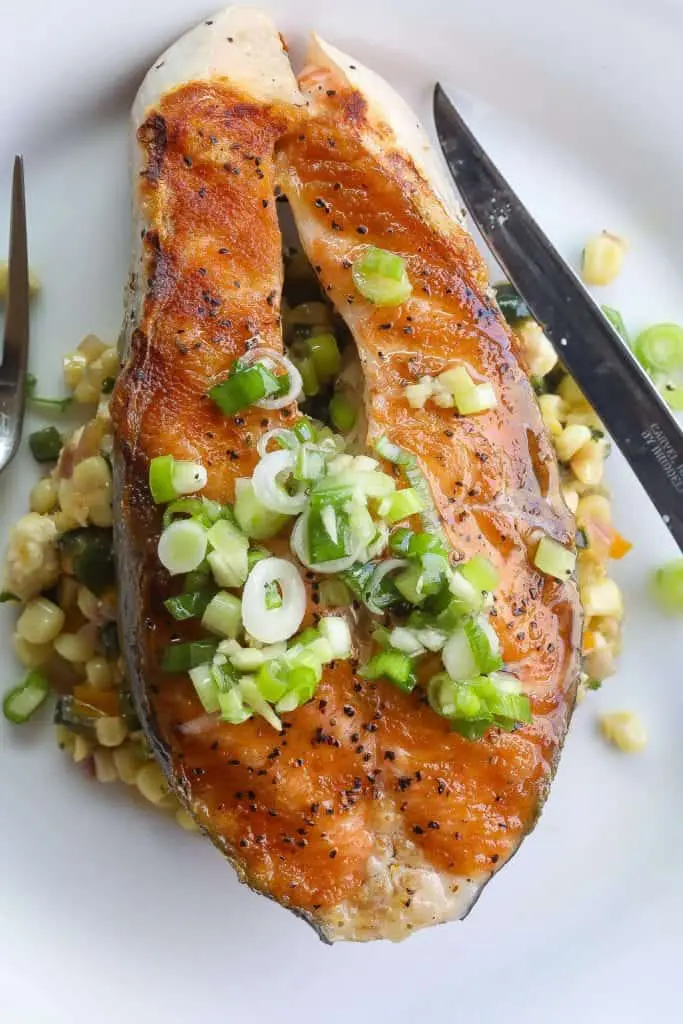 Credit: foodfidelity.com
And talking about firing up the grill, there are lots of foods you can grill. One of them is salmon steak.
Besides being delicious, salmon is a good source of potassium. On a keto diet, you want to have enough potassium in your diet.
This comes in handy when you first start the keto diet. Potassium helps combat the keto flu.
This grilled salmon steak is lightly seasoned with salt and pepper. It's moist on the inside and nicely grilled on the outside.
What takes it over the top is the green onion vinaigrette. It's sweet and tangy and spicy and really transforms the salmon.
With a vinaigrette like that, you'll want to eat salmon steaks more often. And you can, even in the winter.
Just make sure you have an indoor electric grill like this, so you're not trying to fire up your outdoor grill in the winter.
Per Serving:
Calories: 241
Fats: 14g
Protein: 23g
Net Carbs: 4g
Conclusion
Which one of these ketogenic steaks is your favorite? Let me know which ones you're going to make next time you're cooking dinner!