It doesn't matter whether you're just beginning your keto diet or have been living that low-carb life for a while now. Starting your day with a low-carb meal can be a challenge. Especially if you're used to eating cereal, porridge, and other high-carb meals for breakfast.
If you've been eating low carb for a while now, you might simply get bored of eating the same thing all over and over again. That's where getting more recipes into your keto meal plan can be useful.
Today I'm sharing 20 different ketogenic breakfast recipes to start your days with! Try them, improvise, and have fun experiencing new flavors.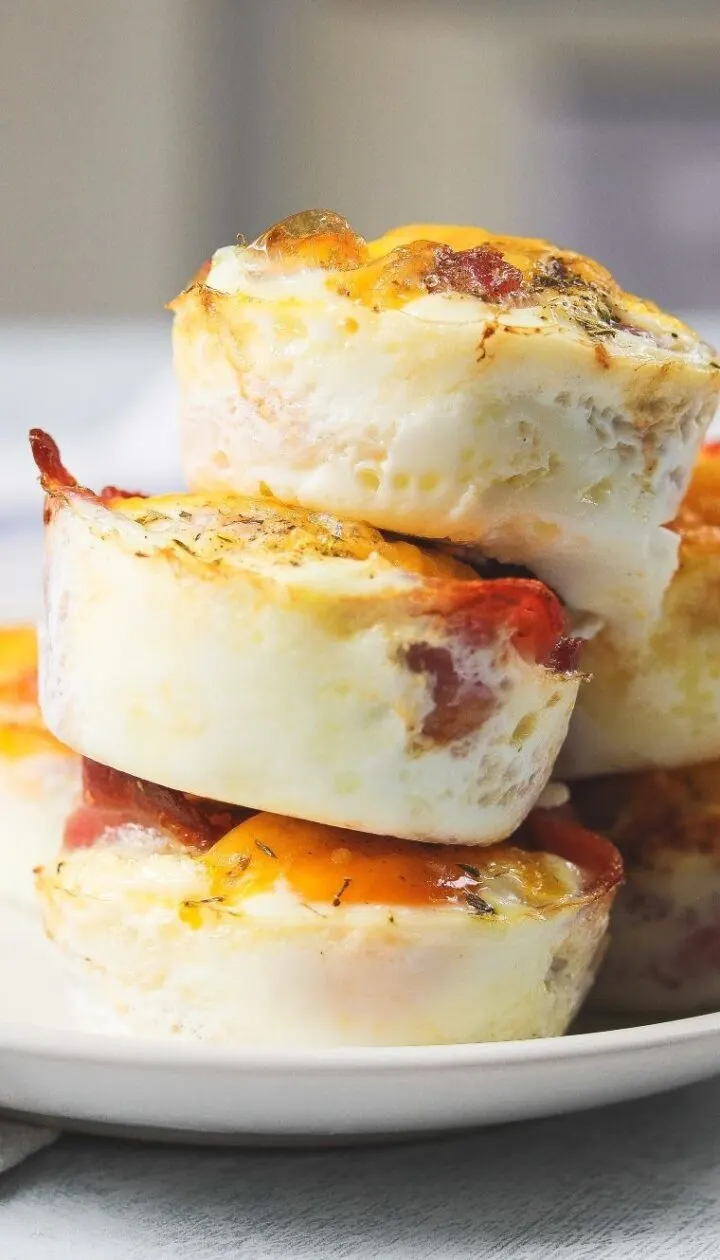 Love bacon and eggs? Why not combine the two to make these absolutely delicious savory treats?
Perfect for the whole family, filling and salty! Satisfying and yummy.
Best of all, you can store them in a food container and skip cooking for the next couple of days.
Per Serving:
Calories: 209
Fats: 17g
Net Carbs: 1g
Protein: 11g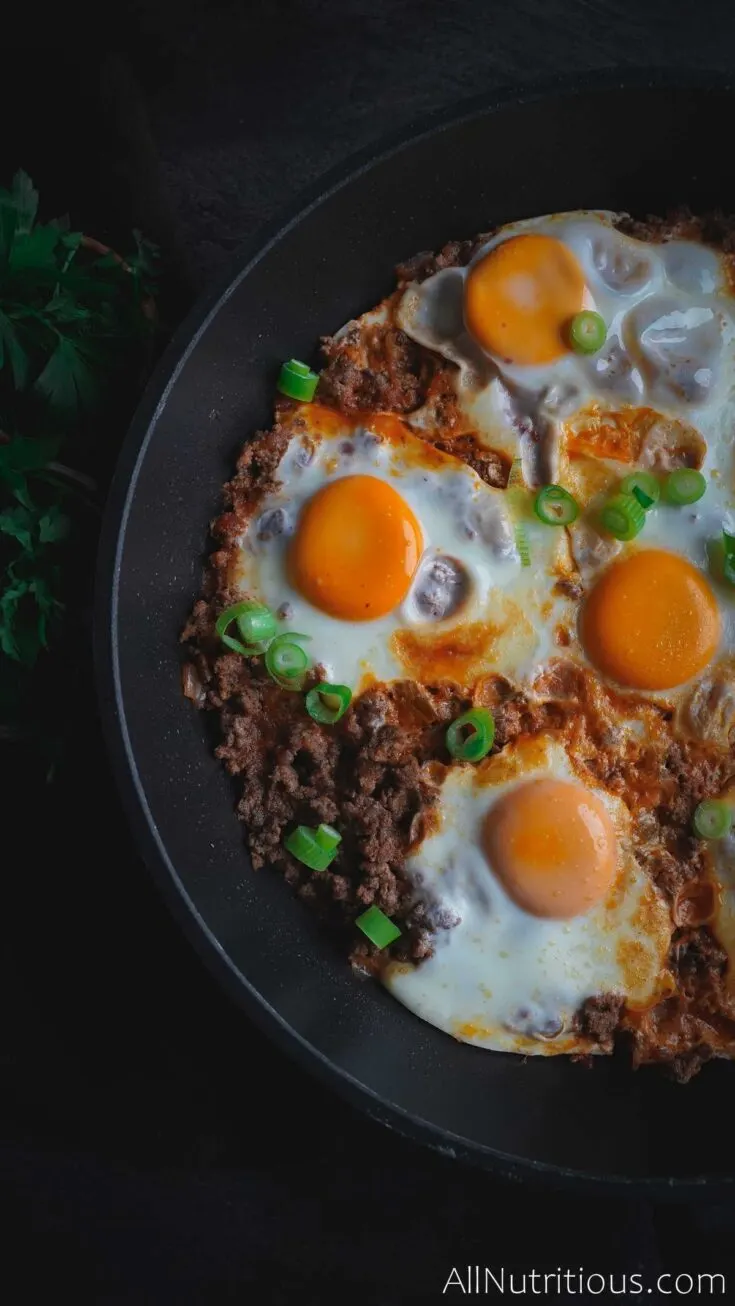 This is hands down one of my favorite breakfast skillet recipes! Tomatoey, filling and nutritious.
The recipe only requires 3 ingredients and takes 19 minutes to make. Most of it is just it cooking while you're enjoying your life!
A perfect breakfast for two or the whole family, safe to say!
Per Serving:
Calories: 274
Fats: 20g
Net Carbs: 2.4g
Protein: 19g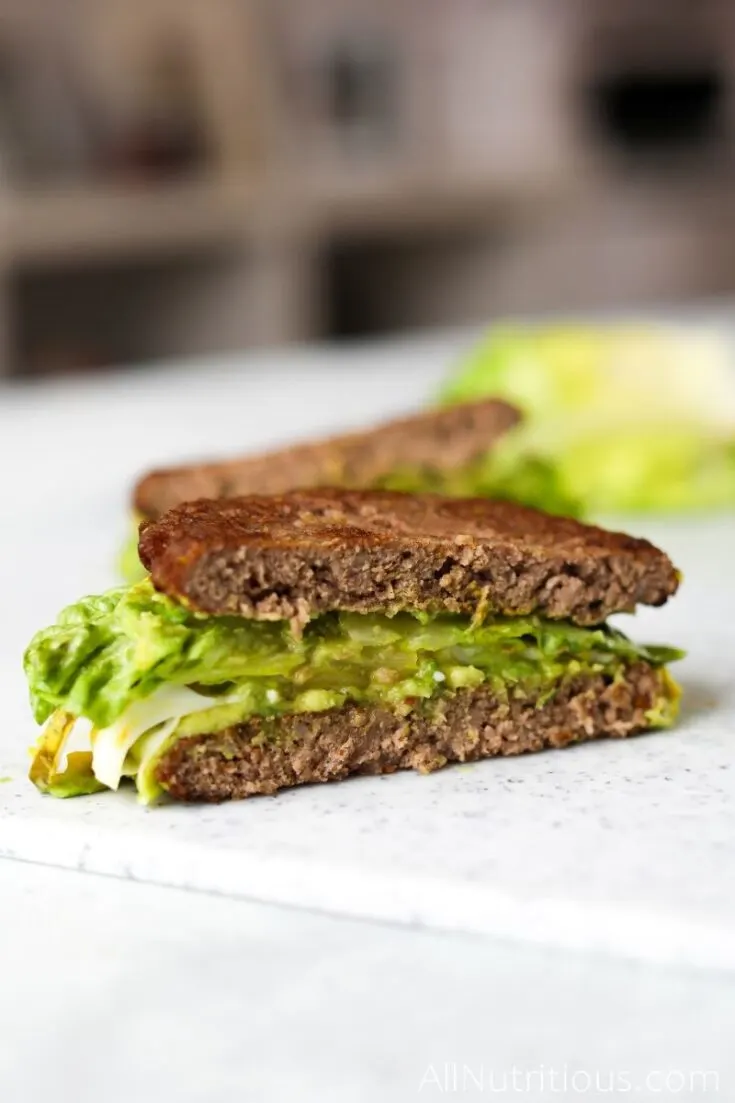 Credit: allnutritious.com
If you're new to the keto diet, you probably already miss your sandwiches. Since you cannot really eat regular bread, unless you make it low carb bread yourself, you might think that sandwiches are no longer an option.
Well, that's not the truth. This sandwich is a real fat bomb that will keep you full for the whole day. So, give it a try, improvise, and find the right sandwich recipe for you.
Per Serving:
Calories: 664
Fats: 51g
Net Carbs: 3.1g
Protein: 43g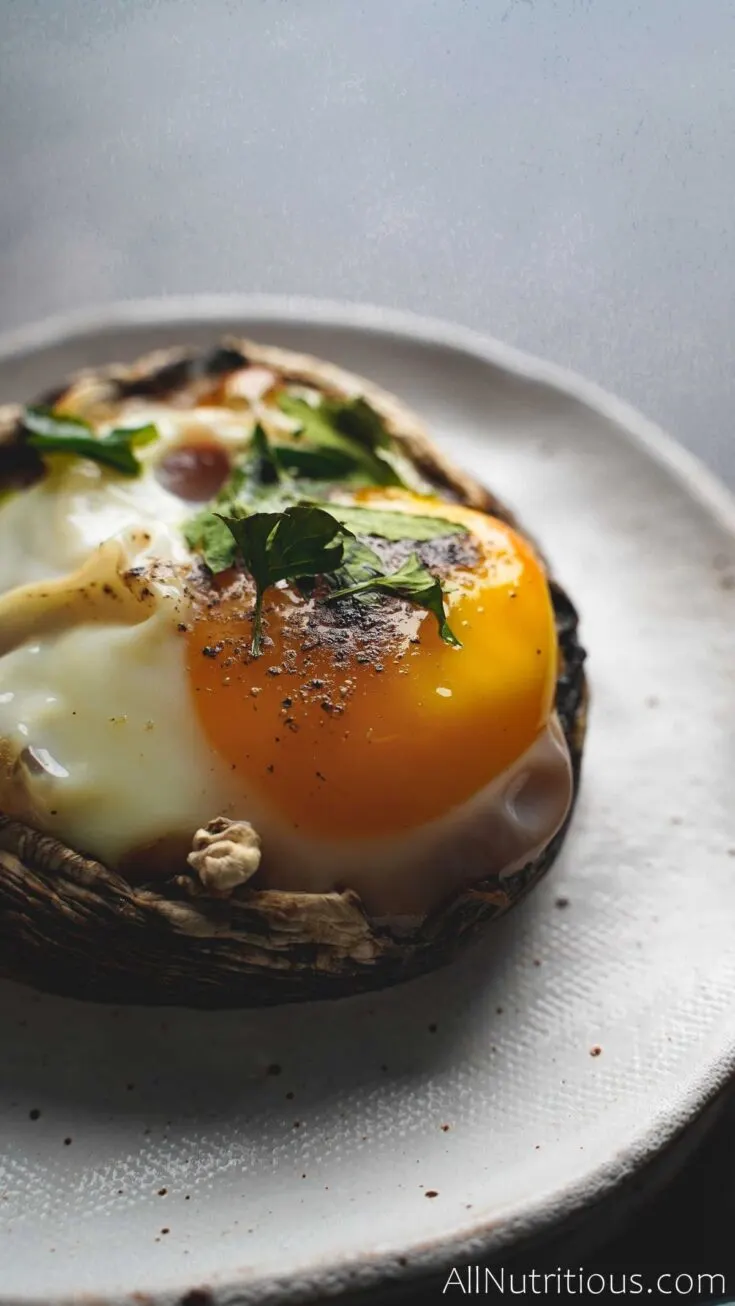 For all the egg lovers out there, mushrooms are amazing to incorporate into your breakfast. These mushroom egg cups are just that.
Flavorful, savory and delightful. Cook them up for the whole fam and enjoy it for brunch even!
Per Serving:
Calories: 138
Fats: 6.9g
Net Carbs: 2.6g
Protein: 15g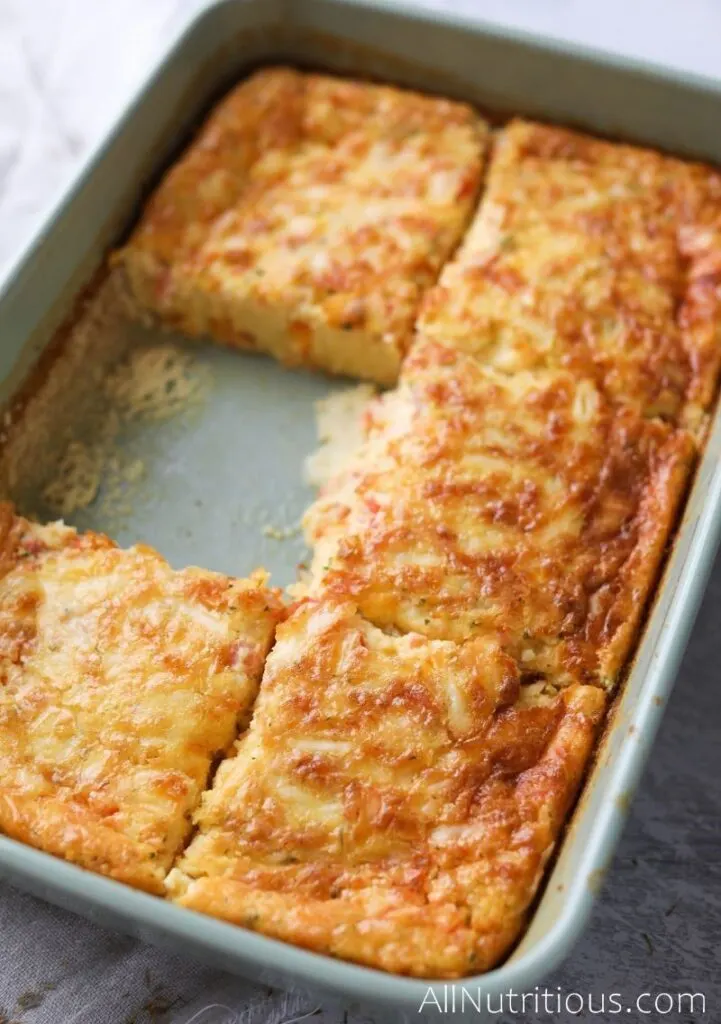 Let's bring French back into our cuisine! This cheesy, tomatoey quiche is easy to make and is just so yummy.
If you've got a food processor, this is going to be a piece of cake. Enjoy the savor and surprise your guests!
Eggs definitely don't have to be boring!
Per Serving:
Calories: 573
Fats: 52g
Net Carbs: 4.1g
Protein: 23g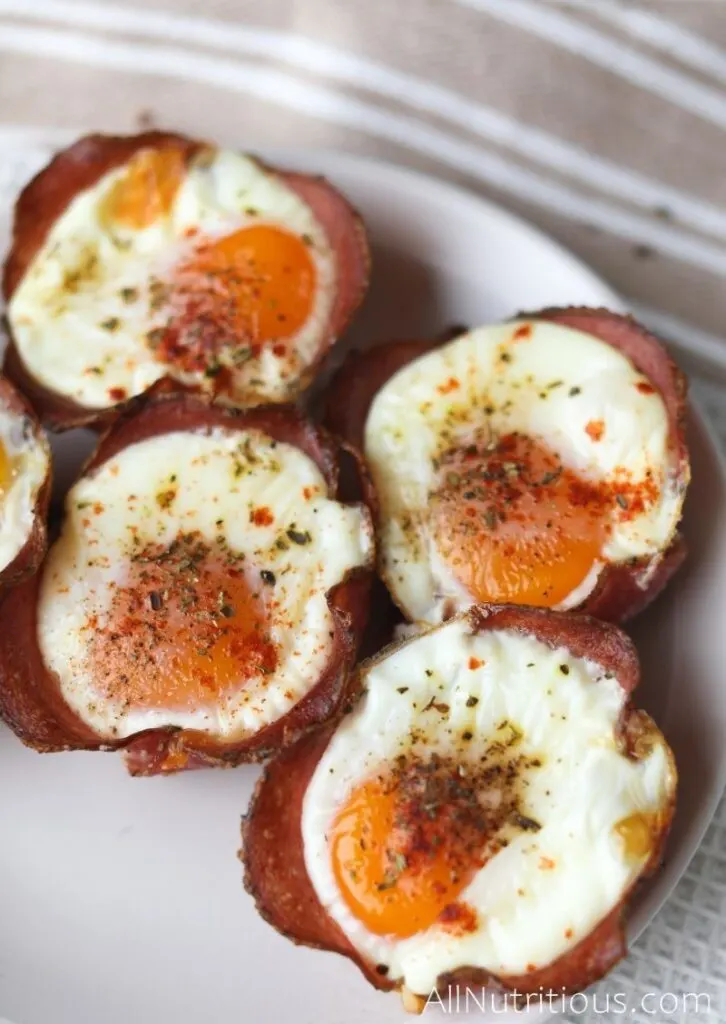 Another version of baking your eggs in the oven when you're tired of the regular methods. Salami and eggs are a perfect combo of salty and savory.
Enjoy them with a little bit of ketchup and a green salad – a perfect combo when you're on a low carb diet.
Per Serving:
Calories: 260
Fats: 20g
Net Carbs: 1g
Protein: 17g
7. Crustless Quiche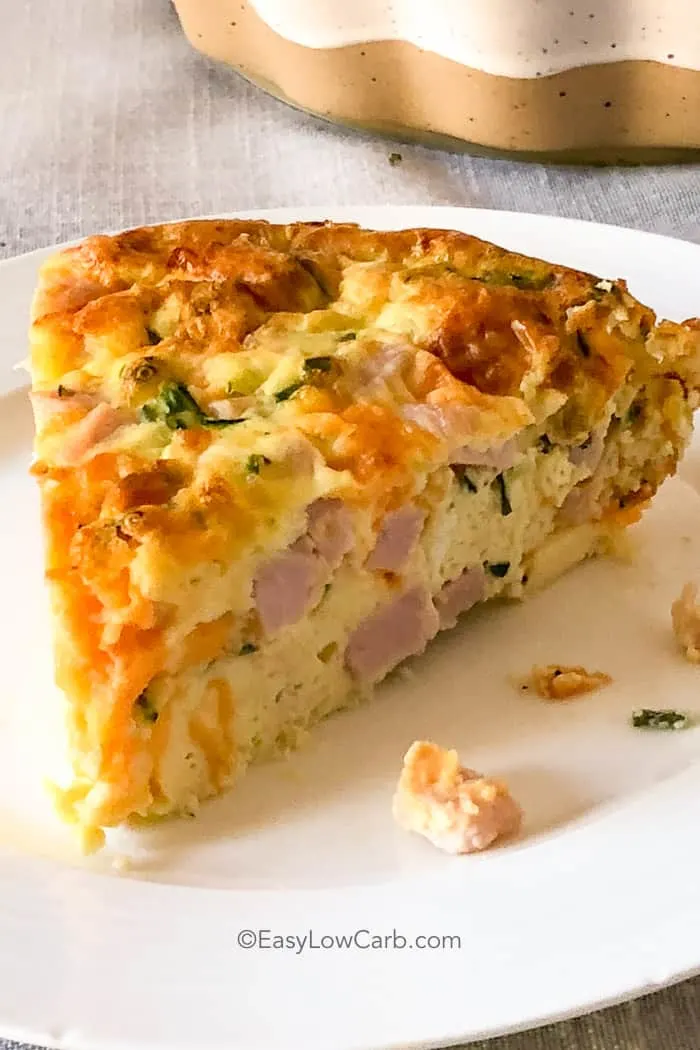 Credit: easylowcarb.com
Love a quiche? Try this low carb crustless quiche for breakfast. That's especially if you prefer eating something savory rather than sweet in the mornings.
While regular quiche usually contains flour which is high in carbs, this one doesn't. And that's the reason why it doesn't have the crust either.
But, don't worry, it does taste delicious. So, your family is most likely going to approve of it.
Per Serving:
Calories: 235
Fats: 19g
Net Carbs: 1g
Protein: 13g
8. Ham and Cheese Rolls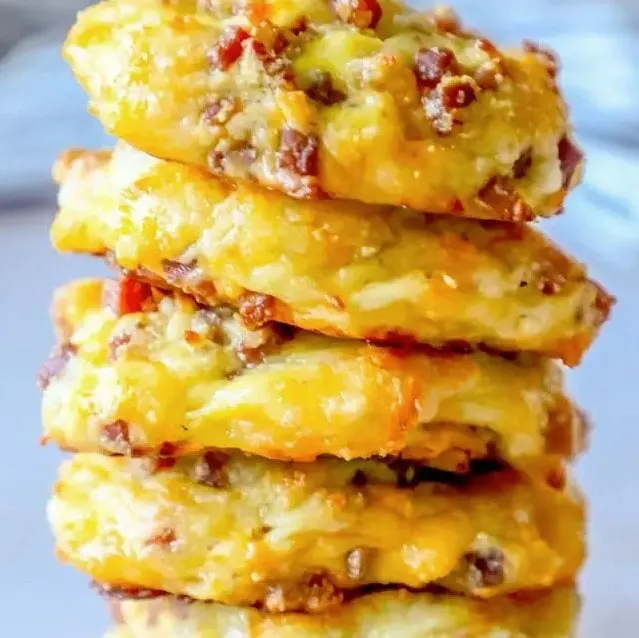 Credit: yummly.co.uk
If you're looking for something easy and quick, try this recipe. Well, you won't be able to make these cheese rolls in under 5 minutes since they cook for 15.
However, you definitely won't spend a lot of time actively making them. Check these breakfast recipes that are ready just in under 5 minutes.
These ham and cheese rolls can also be served as ketogenic snacks.
Per Serving:
Calories: 150
Fats: 10g
Net Carbs: 2g
Protein: 13g
9. Egg Muffin Breakfast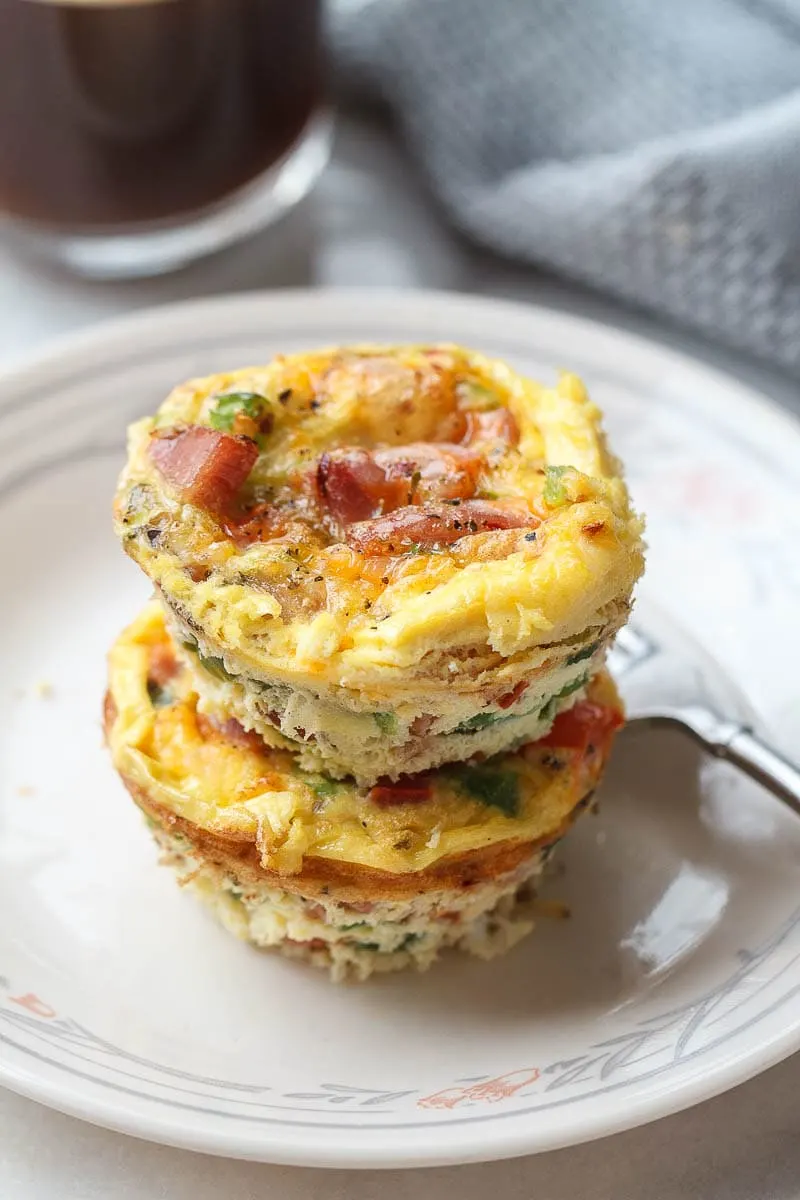 Credit: eatwell101.com
These savory egg muffins are just perfect for breakfast. If you're tired of regular fried eggs, this recipe will offer a nice change.
Get some Italian seasoning, crushed chili flakes and you're good to go. Plus, you can cook a bunch of these for the whole family.
So, it's great for even more special occasions when there are more heads in the house.
Per Serving (Calculated):
Calories: 170
Fats: 11g
Net Carbs: 2g
Protein: 14g
10. Blueberry Cream Cheese Muffins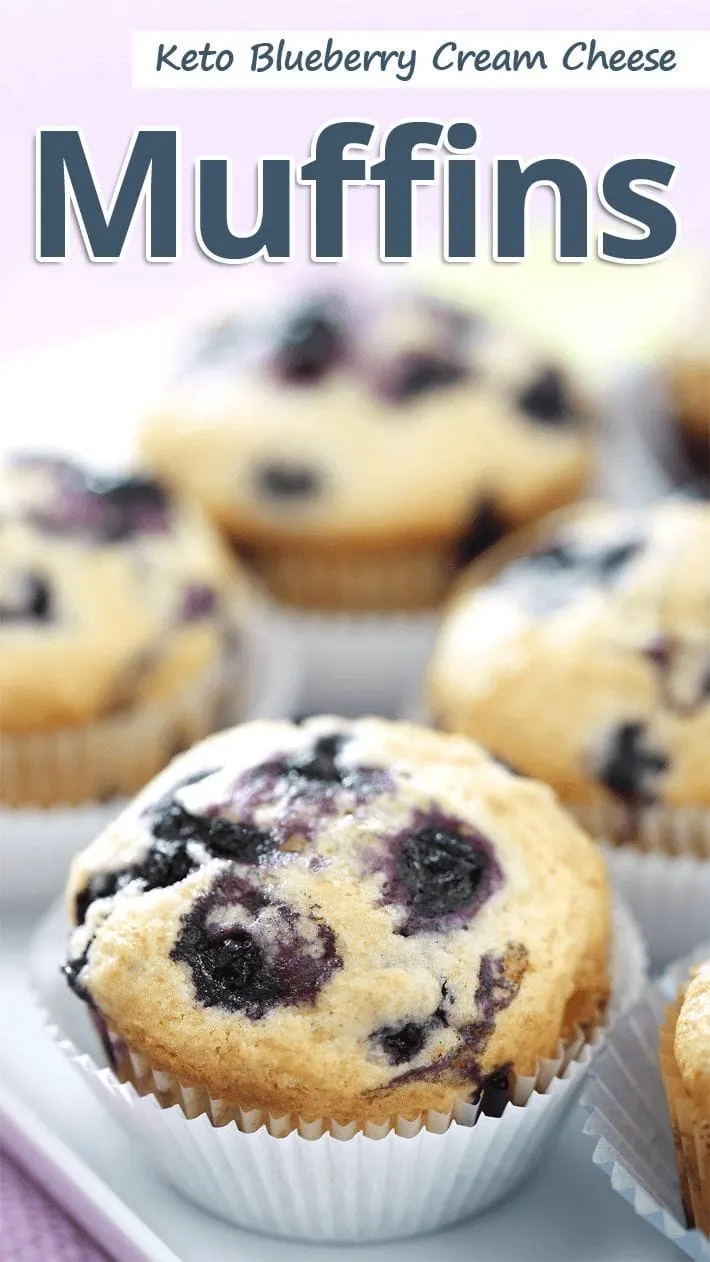 Credit: recommended.tips
Now, if you're ready for a change and want to start your morning with something sweeter, try these muffins. Use erythritol as a sweetener to make sure these muffins taste great.
Erythritol is the healthiest sweetener out there and has no negative side effects. You can get it here.
Otherwise, I suggest these muffins if you have kids who love their sweets in the mornings. This is a much healthier yet totally sweet option for them as well.
Per Serving:
Calories: 159
Fats: 14g
Net Carbs: 2g
Protein: 4g
11. Cauliflower Hash Browns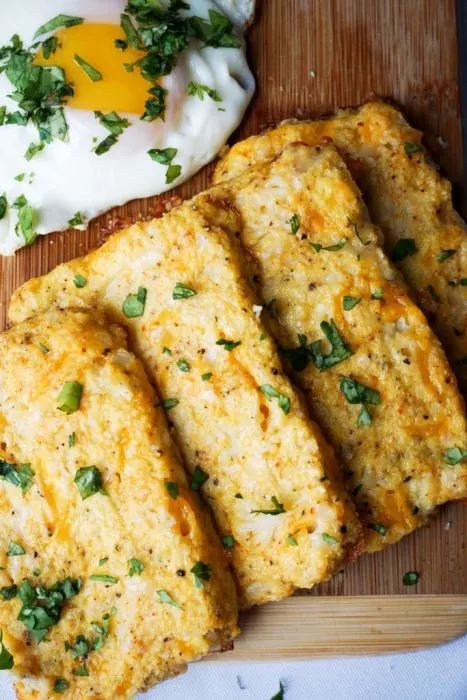 Credit: ketoconnect.net
Do you sometimes just feel like starting your day with a hash brown? Especially if you wake up a bit later and have a slow start?
Well, then you're going to absolutely love these low carb hash browns. Use cauliflower to make them and feel free to improvise to find the perfect set of flavors for you.
Per Serving:
Calories: 164
Fats: 11.25g
Net Carbs: 3.2g
Protein: 7g
12. 3-Minute Cinnamon Roll Mug Cake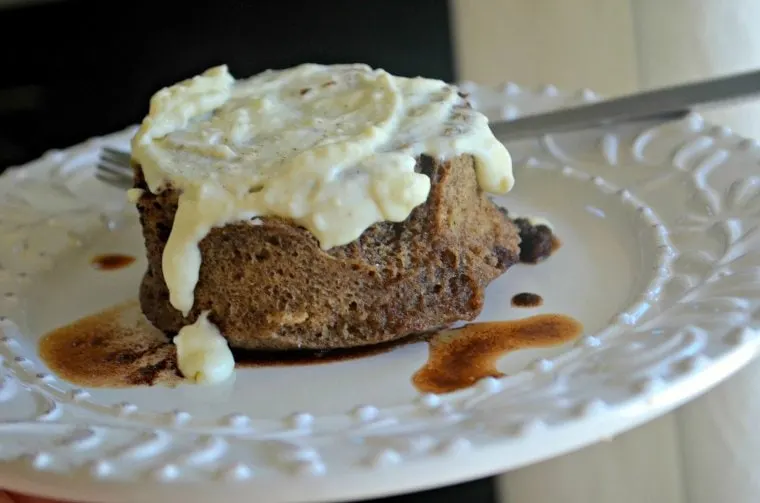 Credit: hip2keto.com
A little bit of almond flour (here's a good quality one I recommend), a good sweetener (like this one here), and you can have a delicious cake in the morning even when you're on the keto diet.
What I also love about this mug cake is that it's very quick to make. Just in 3 minutes, you can have it ready on the table.
Kids will love it too! Which is always a win-win situation.
Per Serving:
Calories: 600
Fats: 60g
Net Carbs: 4g
Protein: 13g
13. Coffee Cake Muffins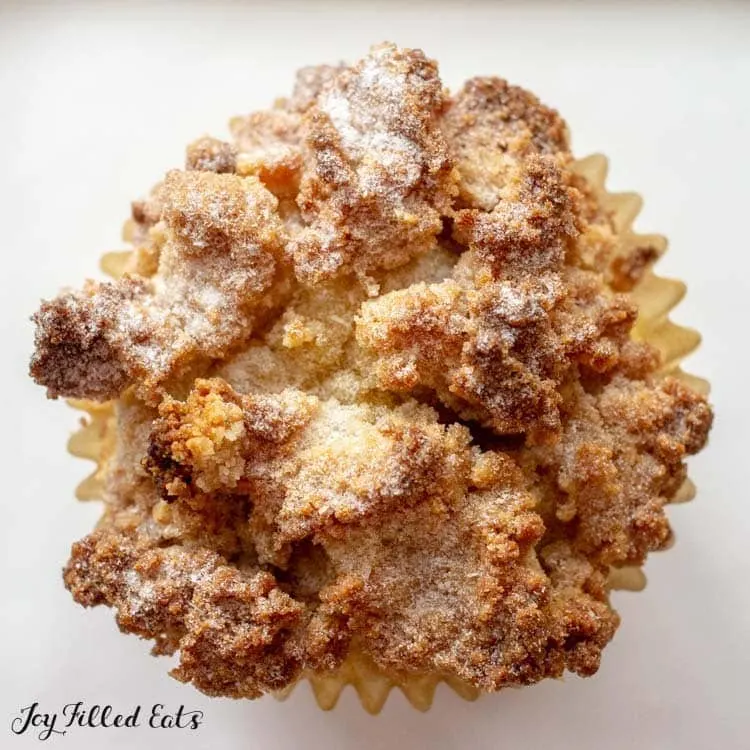 Credit: joyfilledeats.com
This is another perfect almond flour recipe that you should definitely try. The coffee cake muffins actually don't contain any coffee.
However, they go amazingly well with it. So, make your coffee and start your morning with a sweet ketogenic treat.
Per Serving:
Calories: 222
Fats: 18g
Net Carbs: 5g
Protein: 7g
14. No-Bake Granola Bars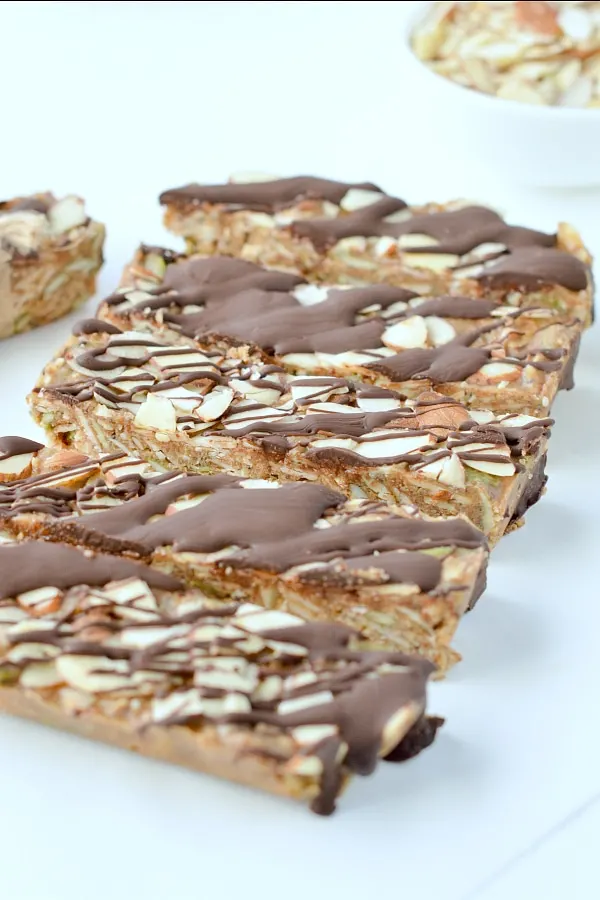 Credit: sweetashoney.co
These granola bars are not only great for bringing to work for lunch but meal prepping in general. What's even greater about them is that your kids will love them.
So pile up on unsweetened coconut flakes, erythritol, flaxseeds and chia seeds. When it comes to the products, I recommend these organic chia seeds, these coconut flakes, these flaxseeds and erythritol from here.
Per Serving:
Calories: 306
Fats: 28.1g
Net Carbs: 2.8g
Protein: 7.9g
15. Bacon Cheeseburger Quiche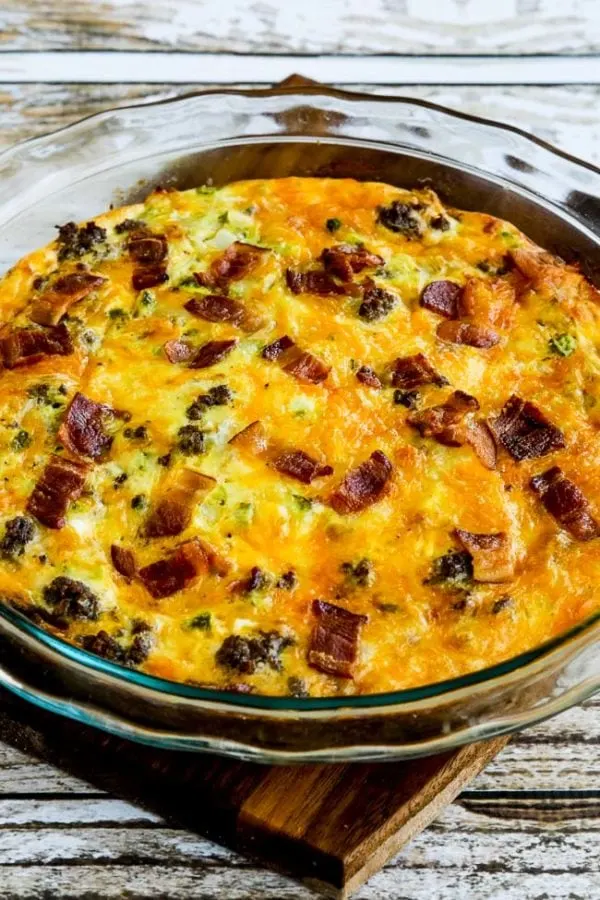 Credit: kalynskitchen.com
If you are just one of those people who loves to fill themselves up in the morning, you're going to love this cheeseburger quiche. It's also great for the days that start way later than the workdays.
So, if you had a celebration the day before or just spend way too long watching your favorite Netflix series, this is the meal to cook the next day. It does contain beef, which has a high carbon footprint, so be aware of that.
Reducing the consumption of high carbon footprint meats such as lamb and beef is essential if we want to save the environment. So, do have that in mind.
Per Serving (Calculated for 6 Servings):
Calories: 468
Fats: 34g
Net Carbs: 2g
Protein: 36g
16. Waffle Iron Cauliflower Hash Browns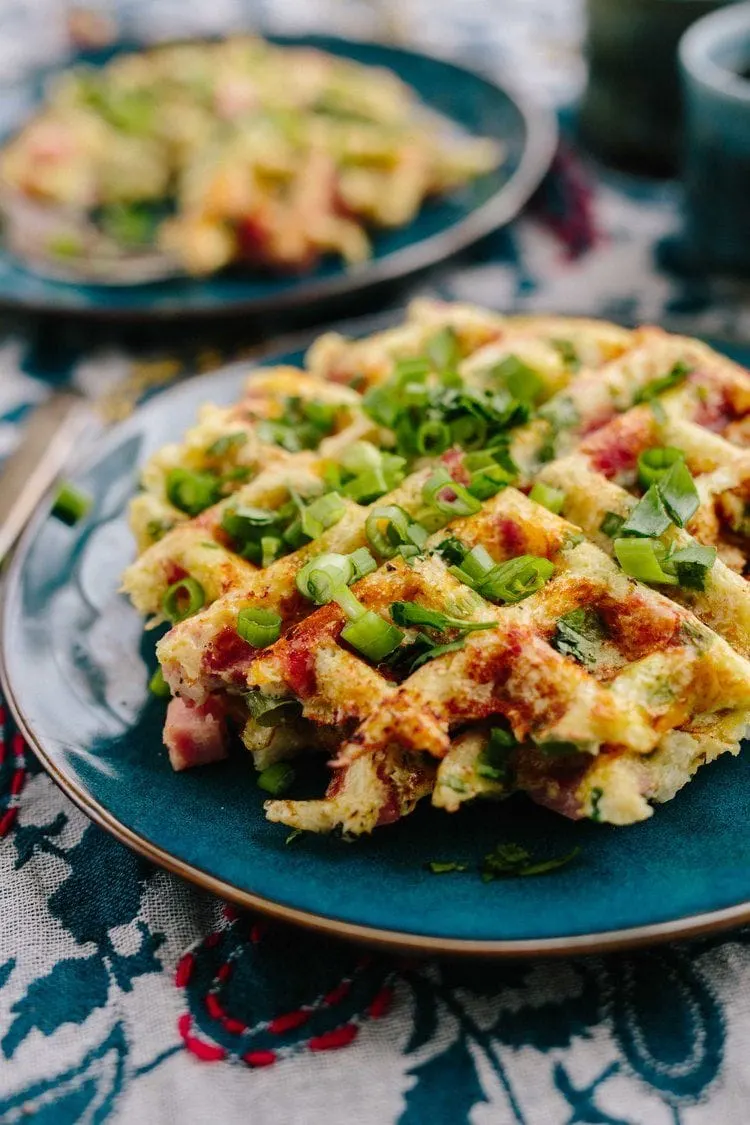 Credit: brookelark.com
If you love your waffles and your hash browns and don't mind the cauliflower, I've found you the perfect recipe. It combines them all!
It's truly an amazing savory breakfast idea that will leave all of your guests in awe. Not your regular breakfast but definitely worth the time cooking.
Per Serving (Calculated):
Calories: 395
Fats: 27g
Net Carbs: 5g
Protein: 31g
17. Baked Denver Omelet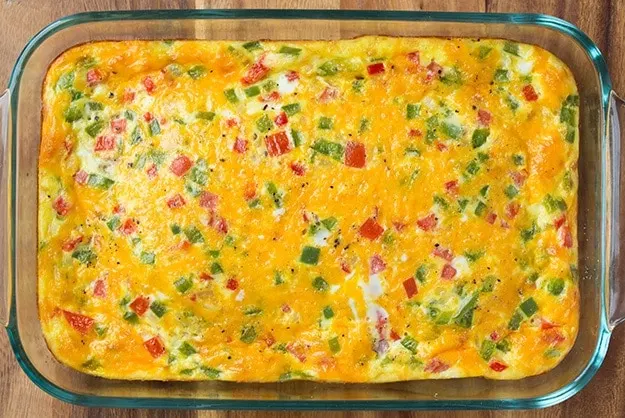 Credit: cookingclassy.com
There is nothing better than an omelet in the morning. This one is slightly different though because it's baked in the oven.
If you, in general, are an omelet fan, you're definitely going to love this recipe. So, don't linger and give it a try.
It only takes 5 minutes to prepare.
Per Serving:
Calories: 212
Fats: 14g
Net Carbs: 3g
Protein: 16g
18. Drop Biscuits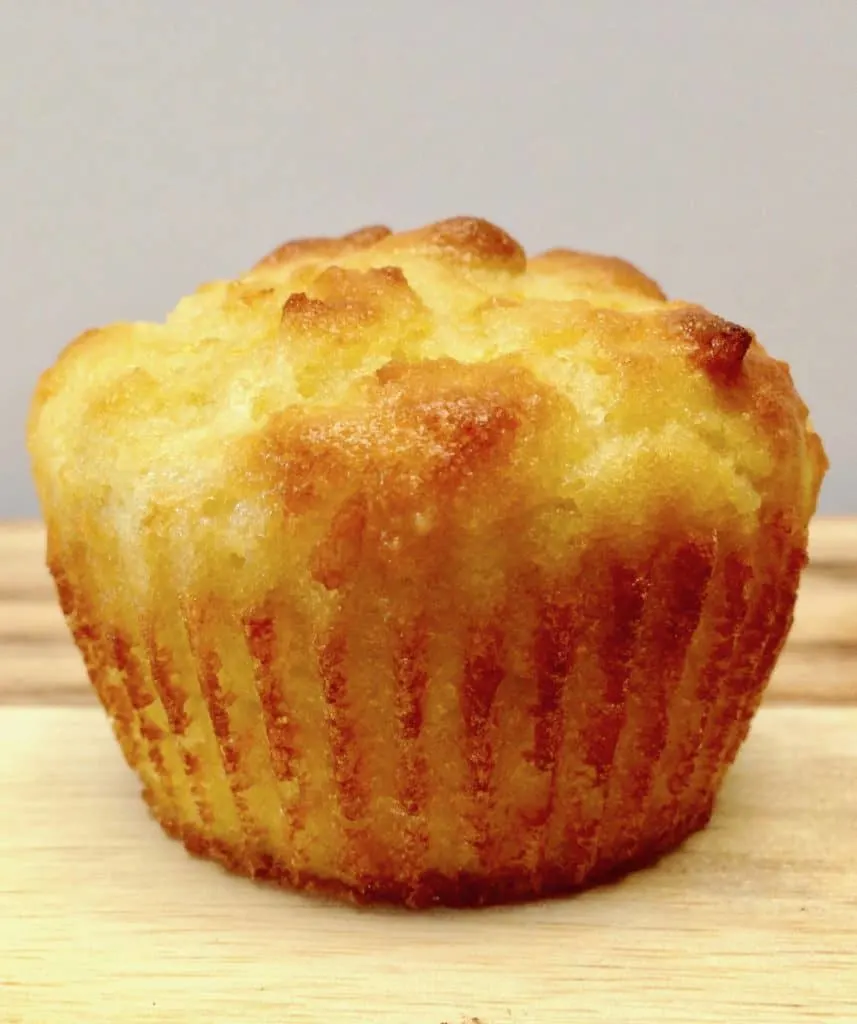 Credit: ketocookingchristian.com
These are quite versatile. You can eat them by themselves or incorporated into a sandwich. Perhaps don't use the sweetener if you want to use them for the latter option.
Anyway, I love how versatile these are. If you feel like making them sweeter, you can always add more sweetener or even incorporate a little bit of cocoa powder.
Don't be afraid to add spices of your own!
Per Serving:
Calories: 144
Fats: 13g
Net Carbs: 2g
Protein: 5g
19. Fluffy Low Carb Keto Pancakes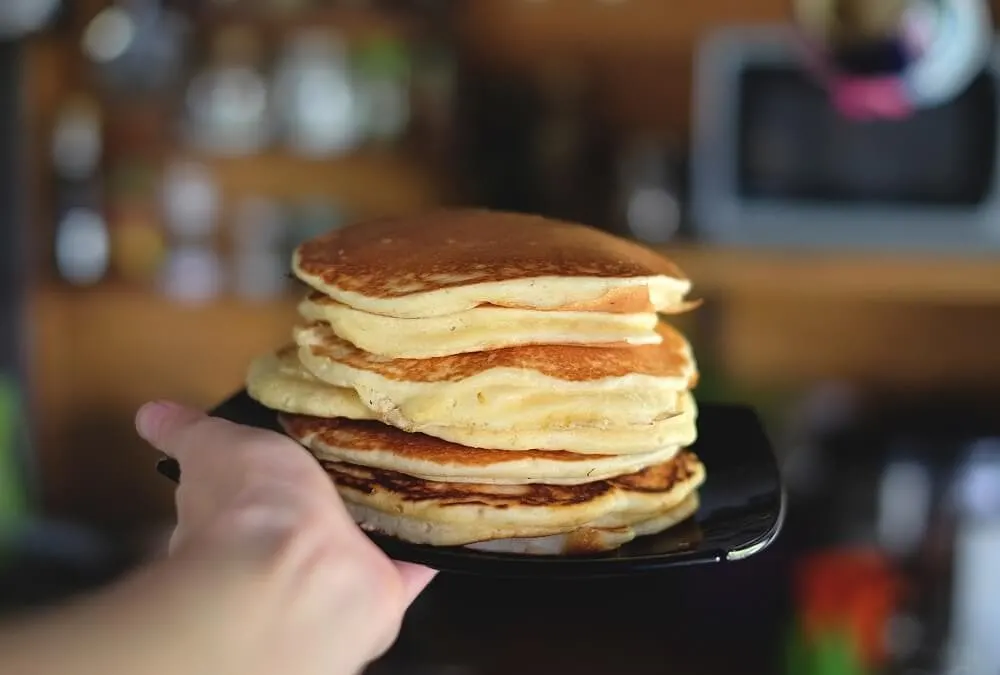 Credit: lowcarbcrave.com
There is nothing better than starting your day with a few pancakes. It's by far my favorite breakfast dish.
The good news is that ketogenic pancakes exist. And these fluffy ones are totally worth trying.
To make them even sweeter, get a low carb sugar-free syrup and enjoy the sweetness. You deserve it.
Per Serving:
Calories: 80
Fats: 6g
Net Carbs: 2g
Protein: 4g
20. Breakfast Bombs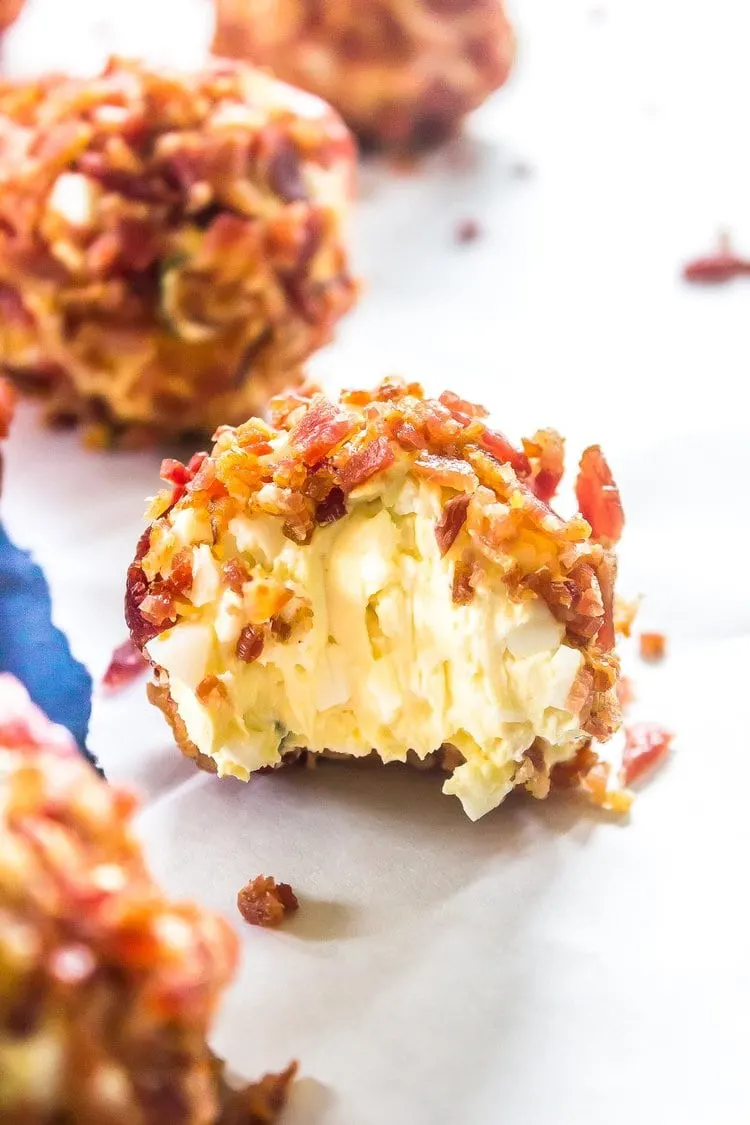 Credit: castironketo.net
I know there are a lot of you out there who absolutely love savory fat bombs. They're not hard to make and totally worth the effort!
The combination of cream cheese, eggs, bacon, and green onions makes these fat bombs simply delicious. I do feel that a lot of dishes can be improved just by adding a little bit of green onion.
Per Serving:
Calories: 208
Fats: 18.8g
Net Carbs: 1.1g
Protein: 11.7g
21. Best Keto Pancakes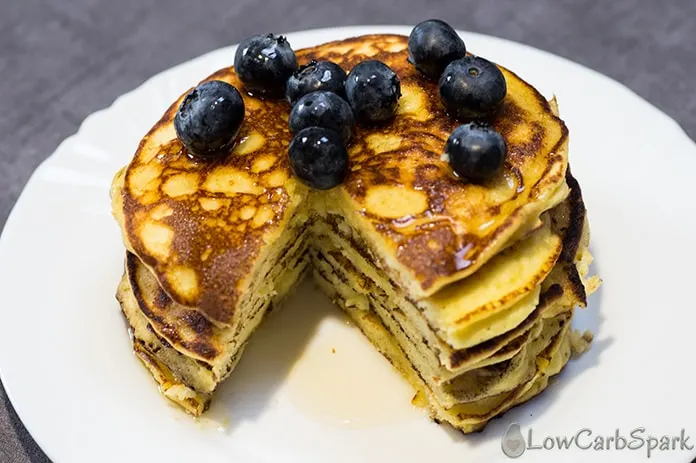 Credit: lowcarbspark.com
These pancakes are truly delicious. To make them, you'll only need coconut flour, so if you're not a big fan of almond flour, that's a nice change.
You can get good quality coconut flour here. Eat these with blueberries – they are low in carbs and high in fiber.
Plus, they'll beautiful add more flavors to the palette. If you're not a fan of blueberries, try raspberries and bring more acidity into the picture.
Per Serving:
Calories: 316
Fats: 29g
Net Carbs: 3g
Protein: 8g
22. Breakfast Pizza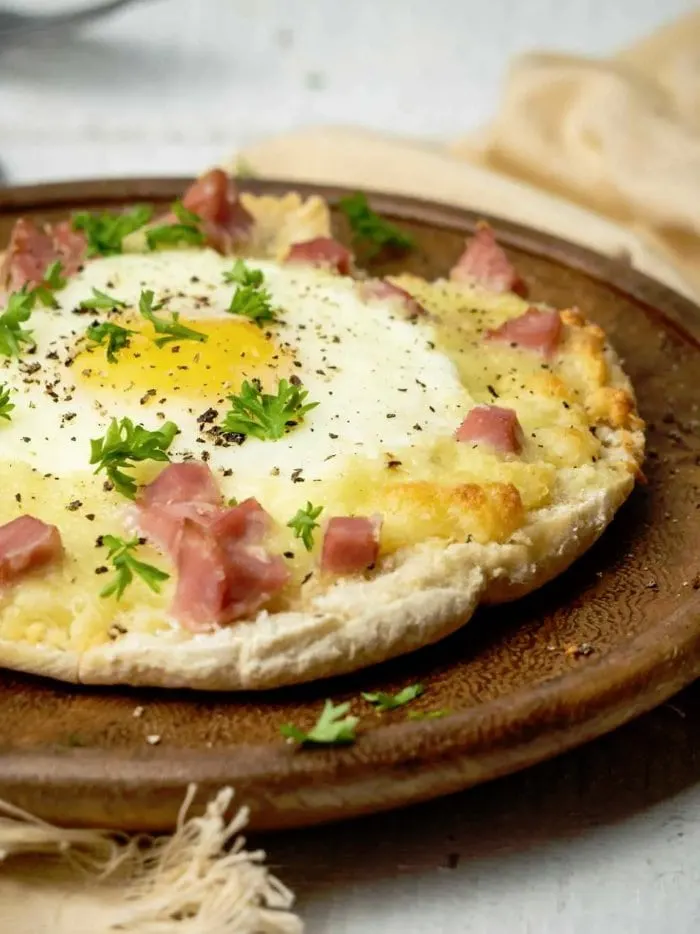 Credit: betterthanbreadketo.com
If you're that kind of gal who starts your day with a pizza, well then it's probably the healthiest pizza you can have for breakfast.
So, if it's just one of those days or if the cravings kick in early on, definitely go for it.
Per Serving:
Calories: 328
Fats: 22g
Net Carbs: 3g
Protein: 18g
23. Breakfast Casserole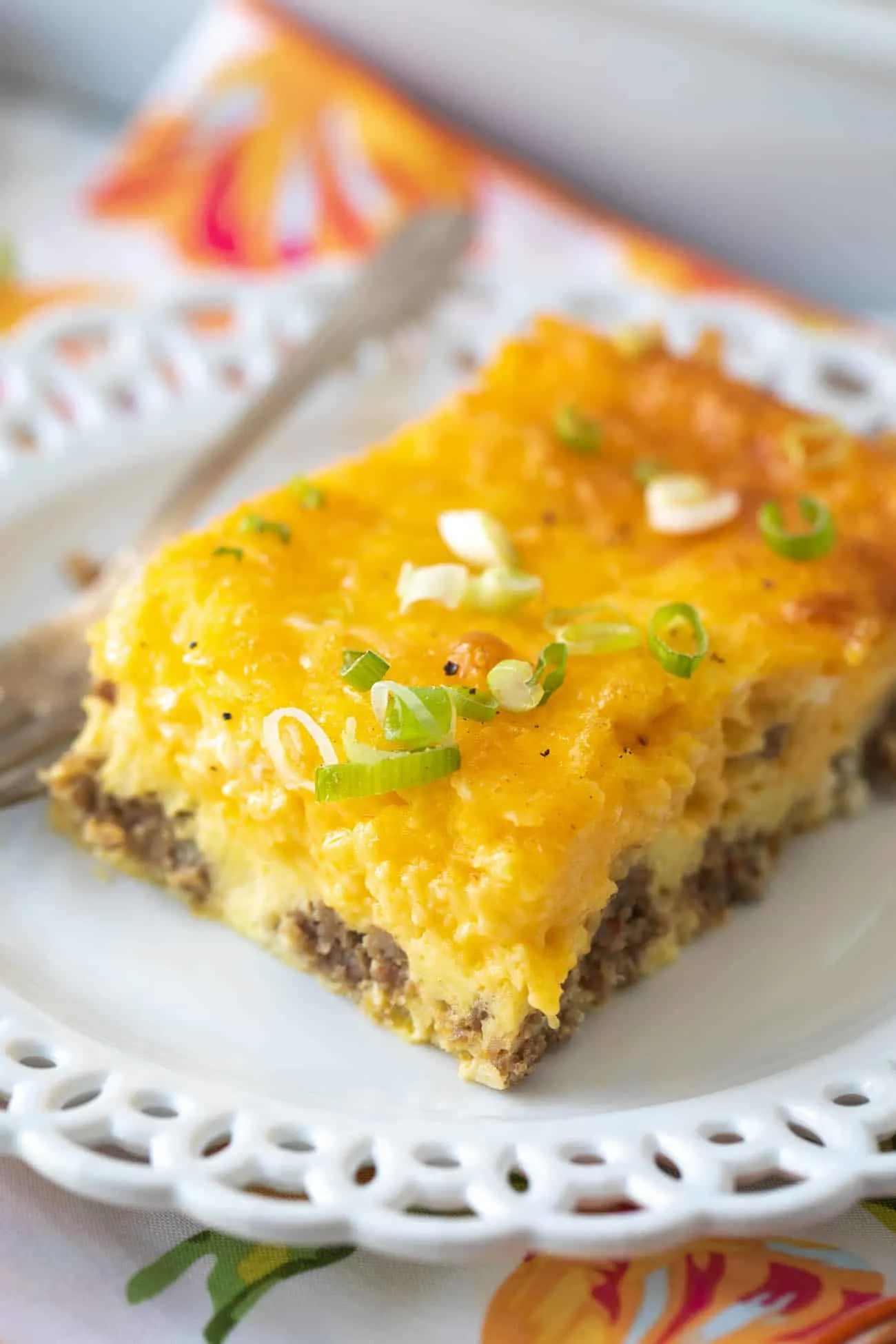 Credit: dearcrissy.com
If you're loving the casseroles, you might want to give this recipe a try. Especially if you have a family to feed!
Trust me, one casserole can feed quite a few. Also, you'll notice that it contains hot sauce.
Don't be afraid to use it. The little amount you're going to need won't make the casserole spicy.
Instead, it'll give the flavor a bit of a much-needed touch.
Per Serving:
Calories: 458
Fats: 38.8g
Net Carbs: 3.5g
Protein: 23.3g
24. Sausage Cream Cheese Rolls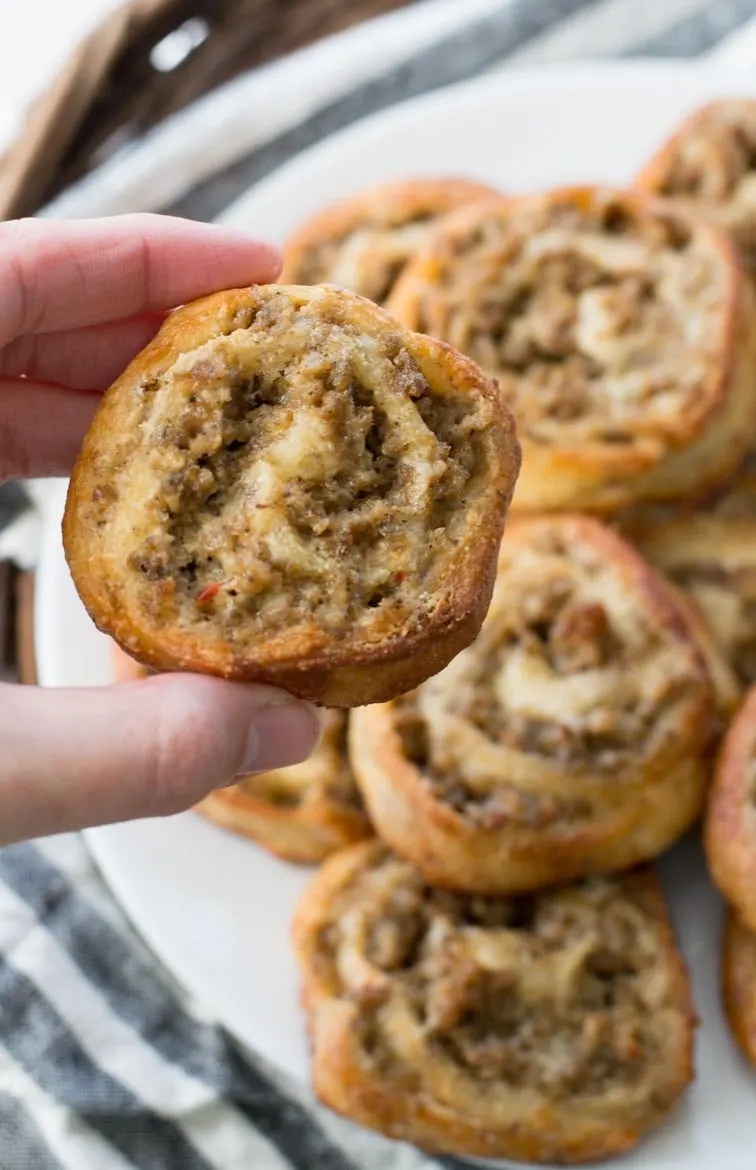 Credit: maebells.com
These savory rolls are great for breakfast or even lunch time. They're truly good for just grabbing and going.
The making of them does require a little bit of technique. So, I'd advise you to make a bunch of them and eat them for a couple of days.
Also, feel free to just freeze them up and cook throughout the week. That'll probably help you save time too. Make sure you get resealable freezer bags for that.
Per Serving:
Calories: 203
Fats: 16.5g
Net Carbs: 2.1g
Protein: 12.4g
Conclusion
Loving the recipes? Share them with your friends and have fun starting your mornings with more interesting low carb meals!