A quick ketogenic dinner for anyone who follows a low carb diet. These parmesan crusted pork chops are flavorful and juicy, go well with a variety of side dishes.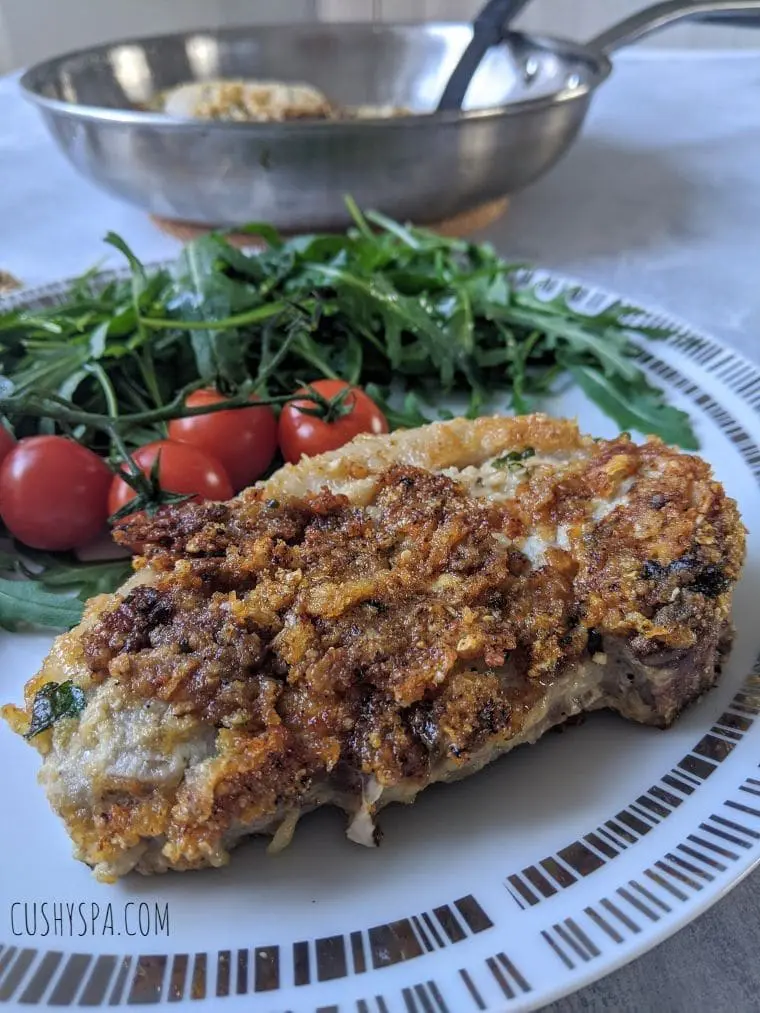 Crusted Pork Chops are the Perfect Quick Dinner
We all live busy lives. We have work to go to, school to attend, or kids to look after.
So, the last thing you want to do at the end of the day is to spend loads of time in the kitchen.
Making ketogenic meals can be even harder if your partner or kids aren't on board with a low carb diet. That can mean making two different meals; one for yourself and one for everyone else.
These Parmesan Crusted Pork Chops are the perfect solution. You can make them in under 20 minutes just for yourself, or half an hour if it's for the whole family.
So, you have time to kick back and relax. And spend time doing what truly matters; hanging out with your loved ones.
These Parmesan Crusted Pork Chops are finger-licking good. They're juicy, tender, and packed with flavor.
And they're totally keto. One serving provides only 4.8 grams of net carbs.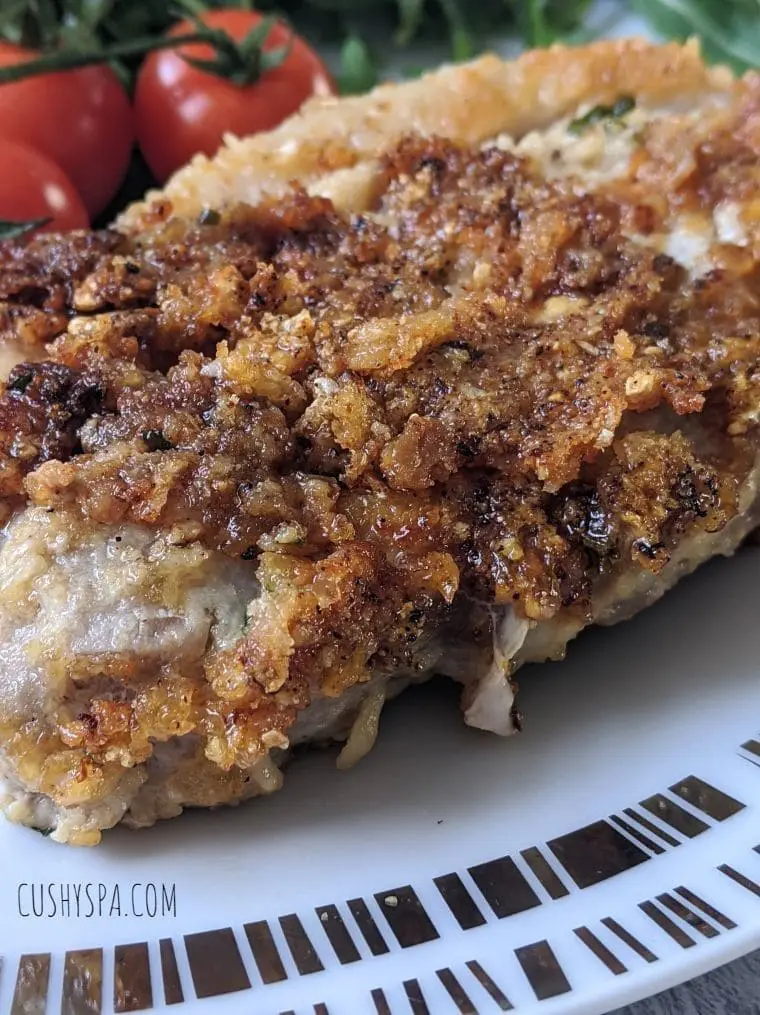 What Keto Substitutes to Use
To keep these pork chops low carb, you use Parmesan cheese and crushed pork rinds to coat your pork chops. These add not only crunch but extra flavor and cheesiness.
In fact, I prefer these crusted pork chops to regular ones. That's because you don't get that flour batter burnt taste that you get with regular crusted Pork chops.
You can even use the Parmesan cheese and crushed pork rinds to coat chicken or steaks if you like.
To crush your pork rinds, you can use a food processor to process them. Here is the one I recommend using.
Or, you can simply place your pork rinds in a Ziploc bag and roll over them with a rolling pin. If you need to stock up on pork rinds, you can get some here.
These pork chops also contain a lot of fat and protein. So, they are pretty filling too.
Besides this, they're pretty nutritious. One serving provides 20% of your daily calcium needs, so it helps keep your bones strong.
It is also a good source of vitamin A and iron, which you need for healthy eyes and good energy levels. So, eat up those pork chops!
Low Carb Sides for Parmesan Crusted Pork Chops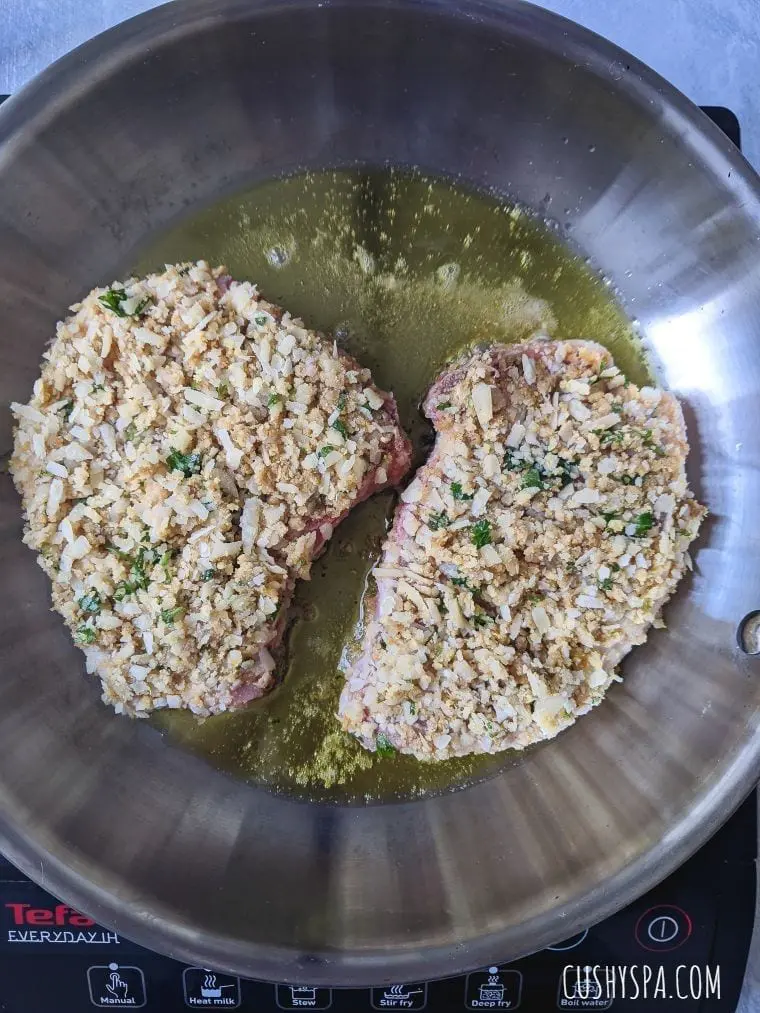 These pork chops are pretty filling just the way they are. But for extra nutrition, I like to add some sautéed low carb veggies.
Sauteed low carb veggies your whole family will enjoy include mushrooms, asparagus, bell peppers, or green beans.
For extra convenience, you can simply steam veggies like cauliflower or broccoli. Steaming is a breeze with this steamer set here. Or just get a steaming basket like this.
Or you can simply roast veggies like Brussels sprouts. One thing I like about roasting Brussels sprouts is that it transforms them from a bitter-tasting vegetable to a sweet one. For more recipe ideas on Brussels sprouts, you can try this Healthy Chicken Fajita Meal Prep Bowl here.
Or simply serve with a nice Garden salad. Check out more keto salad recipes here.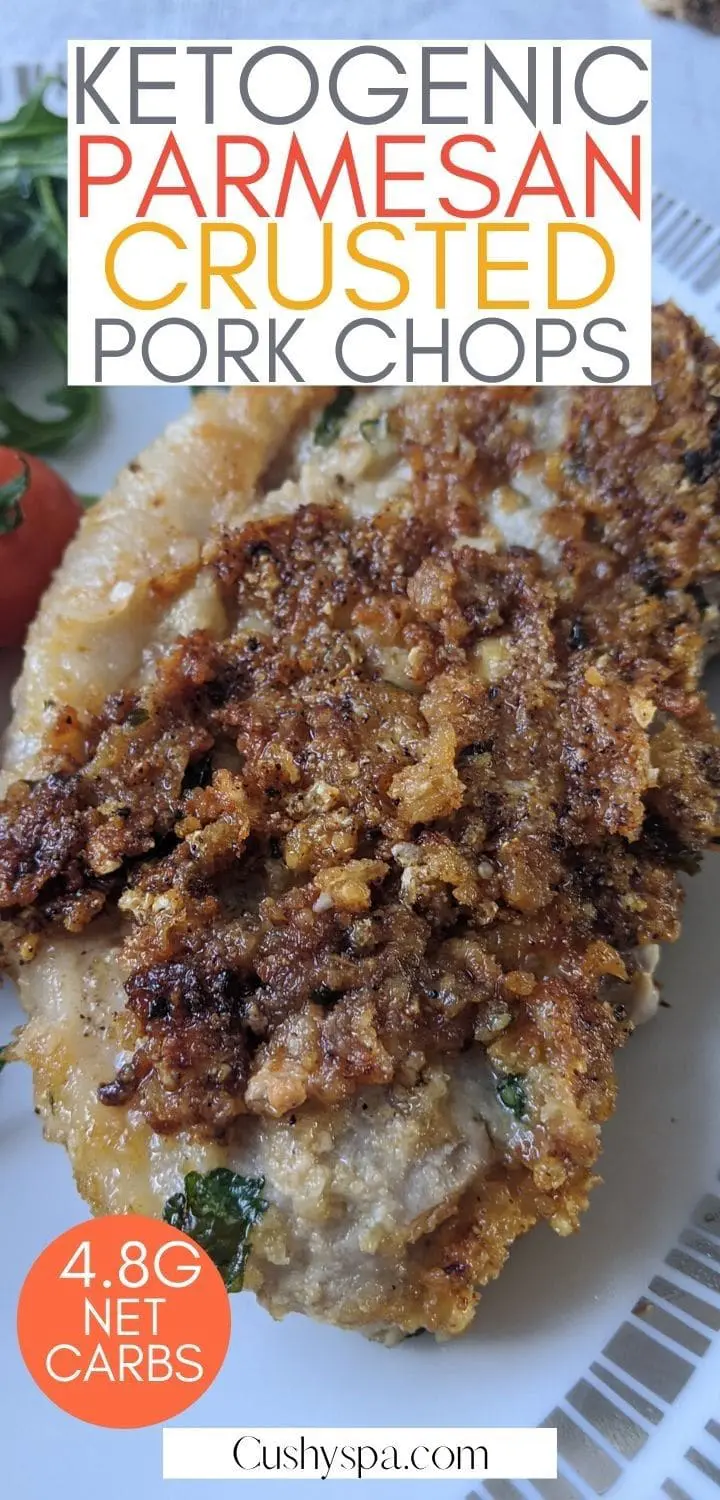 Herbs You Can Use for These Pork Chops
This recipe uses parsley in the Parmesan crust. However, you can use other herbs based on your tastes.
These include sage, thyme, rosemary, savory, and marjoram.
Feel free to play around with the spices too. This recipe uses garlic powder. But if garlic powder is not your thing, you can use spices like Italian seasoning to add some Italian flair or even some lemon pepper.
And to make it creamy, you can even use ranch dressing.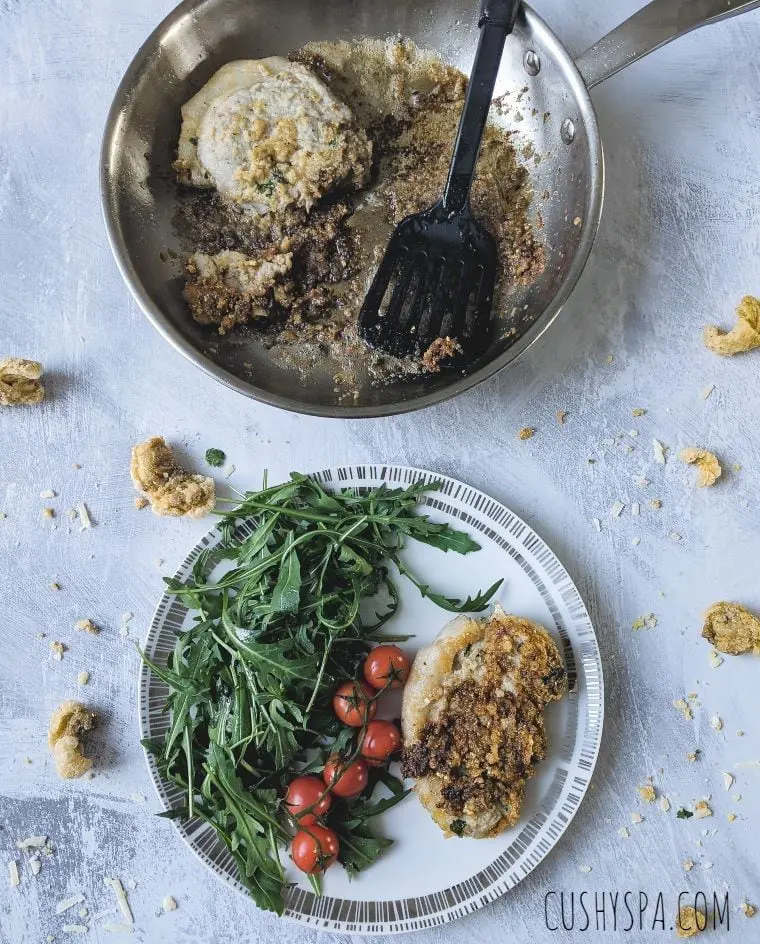 Why Should You Use a Non-Sticky Pan?
Using non-stick pans is essential to keeping the crust on the pork. The only reason I didn't use one was that I didn't have it. Constant moving sometimes means that you don't have the types of pans you want to have in a new place! Don't make the mistake I've made.
Get a cast-iron skillet or any other non-stick pan to fry your pork. It will be much easier to keep the crust on the meat, and it'll taste better. With a regular pan, making the pork right might be a lot harder but definitely possible!
Here is a good quality iron skillet that I recommend. This is the one I'll be getting myself. Bon appetit!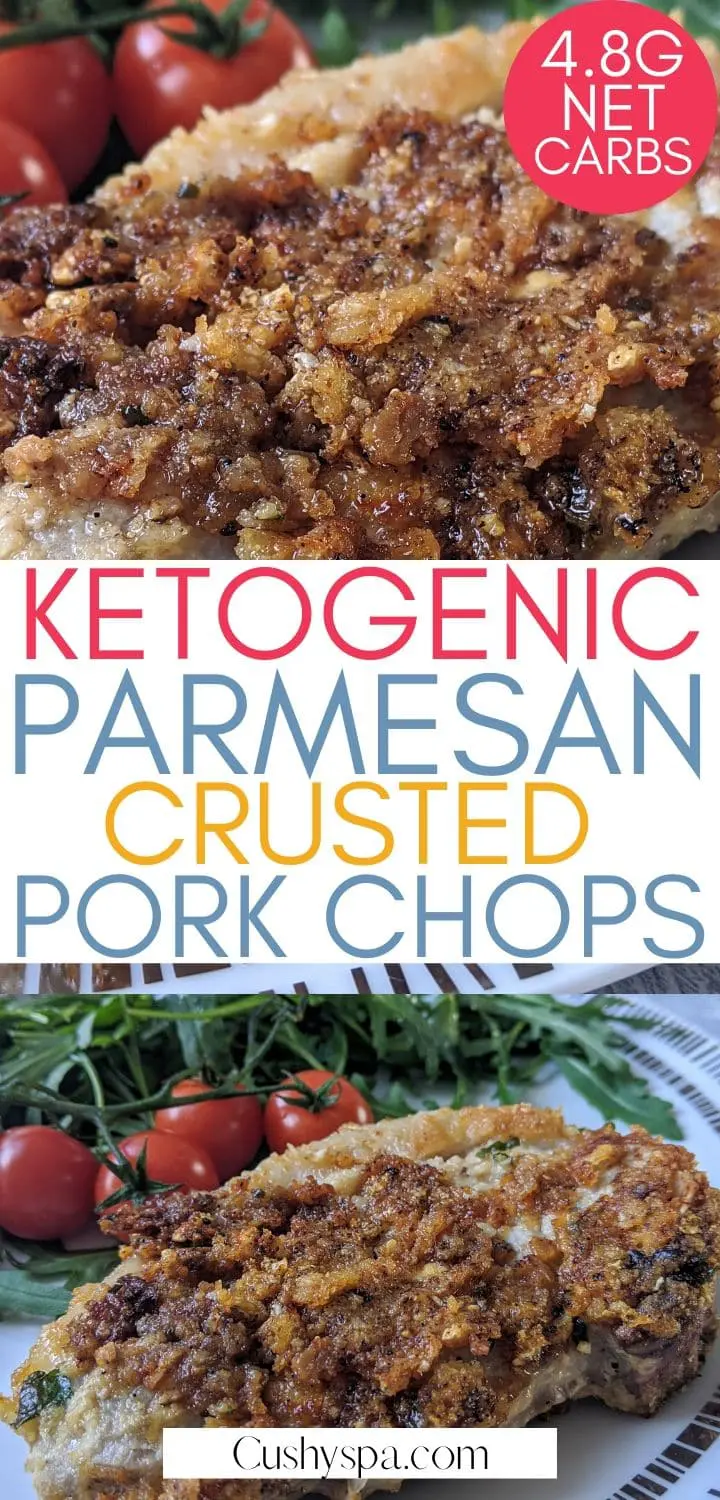 Watch: Full Instructions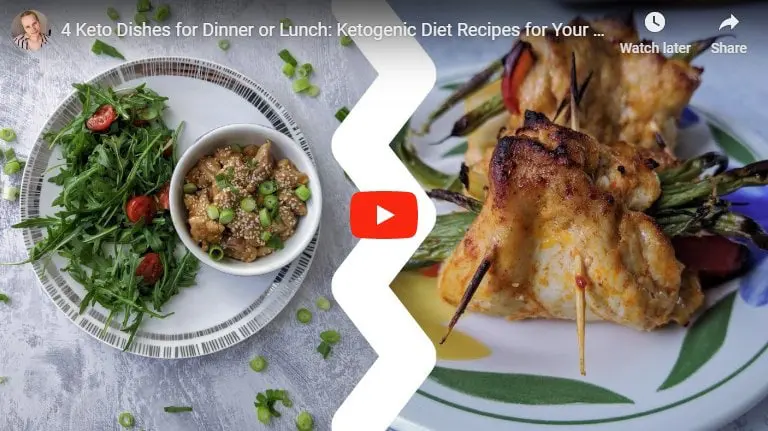 You Might Also Like: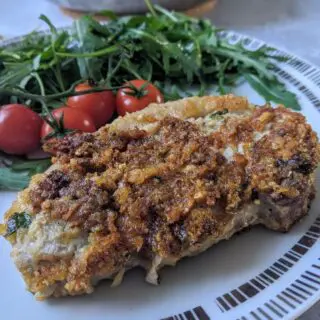 Parmesan Crusted Pork Chops (Keto, Gluten-free)
These pork chops are perfectly soft and crispy, you wouldn't even know they're keto. Make them if you're on a low carb diet or can only eat gluten-free foods.
Ingredients
2 tbsp olive oil
1 pound boneless pork chops (2 chops) (450g)
salt and pepper
Parmesan Crust
1/2 cup Parmesan cheese, grated
1/2 cup pork rinds, crushed
1 large egg, beaten
1 tbsp fresh parsley, chopped
1 tsp garlic powder
1/2 tsp lemon zest, grated
Instructions
Let the pork come to room temperature and pat it dry with a kitchen towel. Make sure to season it with salt and pepper.
Grate parmesan cheese and crush pork rinds. You can do it with a food processor or by yourself on a large enough plate.
Spread parmesan on a large plate or a board, then sprinkle over the pork rinds. Afterward, add garlic powder, chop fresh parsley, grate lemon zest and sprinkle them over the plate or board. Now mix all the ingredients and then spread the mix on the plate.
In a separate bowl, whisk the egg.
Heat up a frying pan, add olive oil to it. Then, take a pork chop, put it in a beaten egg, and make sure it's fully covered.
Place it in the coating of parmesan and cover it as well as you can. Then, add pork chops into the frying pan and start flipping each chop after 3-4 minutes giving a little bit of time in between flipping.
Cook them for another 3-5 minutes until the surface is firm.
Nutrition Information:
Yield:

2
Serving Size:

1 steak
Amount Per Serving:
Calories:

766
Total Fat:

55g
Saturated Fat:

17g
Trans Fat:

0g
Unsaturated Fat:

33.2g
Cholesterol:

256mg
Sodium:

968mg
Carbohydrates:

5.1g
Net Carbohydrates:

4.8g
Fiber:

0.3g
Sugar:

0.2g
Protein:

63g
Nutritional values were obtained with automatic software using the amounts of products used. To get the most accurate representation of the nutritional values, you should calculate them with the actual ingredients used in your recipe. You are solely responsible for the nutritional information obtained to be accurate.