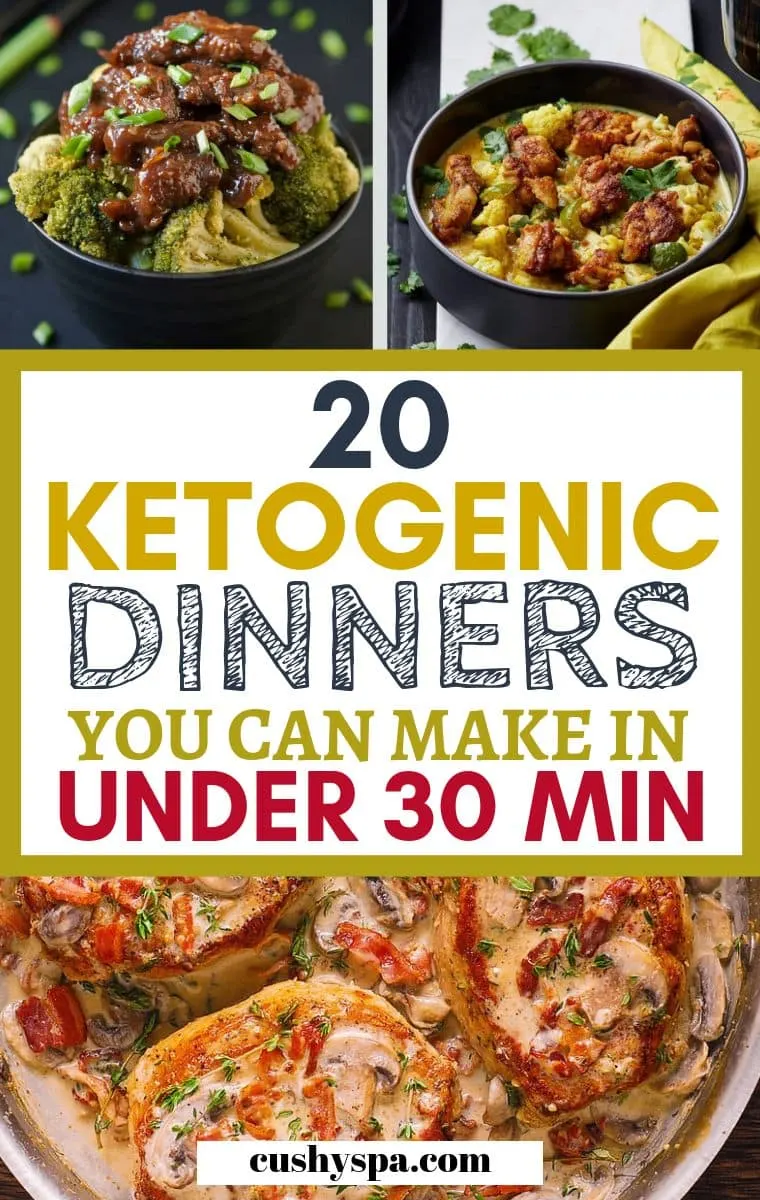 There is nothing better than having a warm, tasty meal with your family in the evening. That's where some of the best conversations can happen.
Overall, dinner time is just important bonding time. If you don't live with your family, it's just a great time to relax, enjoy a meal and reflect on the day.
However, we all get very busy and tired after a long day at work. And making a huge dinner can take hours sometimes.
Today I wanted to share a few keto recipes that can be cooked in under 30 minutes. These will help you to stay on the low carb diet and eat well even when you're super busy.
You can also use them to meal prep for another day. That's so you can have a healthy, low carb lunch at work.
1. Hearty Keto Chili
Source: perfectketo.com
There is nothing better than a warm chili on a cold winter evening. It's perfect for eating when you just want to watch your favorite TV series.
This chili goes well with rice. However, if you're on the ketogenic diet, eating regular rice isn't really an option.
That's when you should consider eating cauliflower rice. All you need to make it is a steamer (you can get a steamer basket that will do the job for as cheap as $15 here) and a food processor.
Food processors are super handy if you cook or want to eat healthier. It just saves so much time! This food processor is one of the cheapest ones but it sturdy and works wonderfully.
So, get your cauliflower, put it into the food processor, and steam the rice. Easy and healthy!
Per Serving (3/4 cup):
Calories: 156
Fats: 8g
Net Carbs: 4g
Protein: 18g
Watch: 4 Ketogenic Dinner Ideas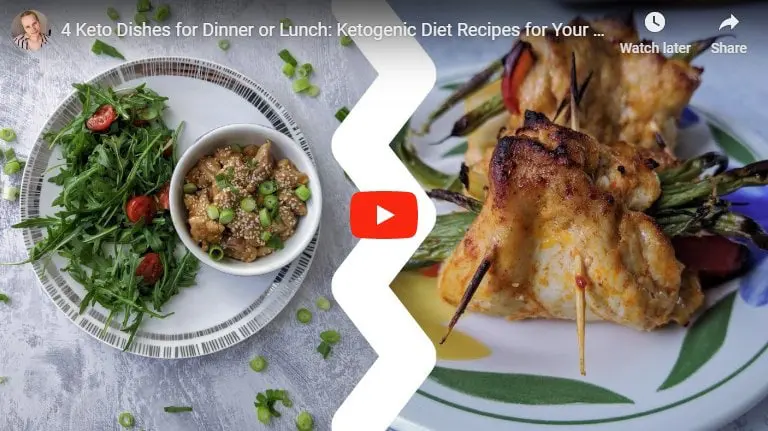 2. Pesto Grilled Shrimp
Credit: closetcooking.com
If it's summertime and you happen to have a grill at home, try this recipe. If you don't own a griller, something as simple as this one will work wonderfully.
A griller doesn't have to be expensive for the job. Anyway, if you love grilled food, you probably have good reasons for that.
Grilled food simply tastes different and depending on whether you cook it inside or outside, it'll taste accordingly. For me personally, there is nothing better than charcoal grilled meats.
Anyway, this shrimp recipe is absolutely delicious. The pesto and the citrusy freshness of the lemon truly make the shrimp taste special.
It's a delicious but relatively simple recipe that will impress anyone. So, if you're thinking of the foods to cook for a home party, this exactly what you want to try.
Per Serving:
Calories: 184
Fats: 11g
Net Carbs: 2g
Protein: 18g
3. Orange Chicken
Credit: ketovale.com
When I first tried orange chicken, I was shocked by how orange flavors suit this meat. If you've never tried it, you simply have to!
I think it's safe to say that orange chicken is one of the most popular dishes at any Chinese restaurant.
That's mostly because the citrusy and yet sweet flavor of the orange makes the meat taste truly special.
The regular recipe is actually not keto-friendly because you need to use cornstarch and flour. So, with this recipe, you need to use coconut flour.
Also, if you like your orange sauce sweet, you'll need to use a sweetener. Erythritol is by far the healthiest sweetener out there that doesn't damage the gut lining. So, give it a try!
Per Serving:
Calories: 314
Fats: 20.2g
Net Carbs: 2g
Protein: 28.5g
4. Pork Chops in Parmesan Cream
Credit: momfoodie.com
For all the pork lovers out there, I have a special recipe. These pork chops with parmesan cream are simply delicious.
The meat itself is soft and melts in your mouth while the combination of garlic, parsley, and pepper give the sauce a beautiful flavor.
Overall, a great dinner dish, especially if you love pork and haven't had it in a while!
Per Serving:
Calories: 571
Fats: 42g
Net Carbs: 7g
Protein: 38g
5. Salmon Patties
Credit: recommended.tips
These are super quick to make. All you need is some canned fish, pork rinds, eggs, yeast, parmesan cheese, and herbs/spices of your choice.
Mix all those up and fry up your patties. It literally takes as little as 15 minutes to make them.
Serve these patties with a little bit of sour cream and green onion to really bring out the taste. Another thing to note, these have 0g of carbs.
So, you can safely eat them in the evening without worrying about going over your carb limit. Truly a good way to keep yourself in ketosis!
Per Serving:
Calories: 121
Fats: 6g
Net Carbs: 0g
Protein: 15g
6. Big Mac Bowl
Credit: homemadeinterest.com
If you are on the keto diet and cannot stop thinking about burgers, it might be the right time to try this recipe. This big mac bowl has all the flavors of your favorite burger.
But, it's much healthier! Overall, what really makes this meal special is the sauce.
It's homemade and obviously a much healthier option of what you'd otherwise get in a fast-food restaurant.
However, that's also the part of the recipe where you can improvise the most. There is nothing more satisfying than making your own low carb sauce and using it with your favorite meals.
Per Serving:
Calories: 581
Fats: 44g
Net Carbs: 9g
Protein: 34g
7. Creamy Parmesan Carbonara Chicken
Credit: cafedelites.com
If you're in need of some crispy, golden chicken tonight, this is your recipe. It comes with a carbonara inspired sauce that gives the ultimate twist to the flavor palette.
I know that there are some hardcore carbonara fans who had to give it up altogether when on a low carb diet. However, it doesn't mean that you completely have to forget the flavors of it.
When your cravings hit, try this carbonara chicken. It contains all the flavors that will genuinely trick your mind into thinking you're eating the real thing.
Per Serving:
Calories: 473
Fats: 37g
Net Carbs: 7g
Protein: 26g
8. Bacon and Mushroom Smothered Pork Chops
Credit: juliasalbum.com
If bacon, mushrooms, and pork are your three favorite words, this is a dinner meal you want to have today. Pork chops are high in fat and protein, so it's perfect for a ketogenic meal.
Mushrooms, on the other hand, are low in carbs and you can incorporate them in any meal you want. But also, they make dinner much more special too.
I think it's not different with this recipe. While it's very easy to make, it does look fancy and delicious.
Also, bacon, cream, and pork are just a combination of ingredients that can make anything taste amazing. So, definitely give it a try.
Per Serving:
Calories: 654
Fats: 43g
Net Carbs: 6g
Protein: 56g
9. Creamy Mustard Lemon Pork Loin
Credit: tasteaholics.com
This pork loin does for a great but simple dinner. The combination of mustard and lemon beautifully adds up to the taste of pork.
Serve it with green beans since they have a good amount of protein but also contain a lot of fiber. So, it's a good side dish for pork.
Per Serving:
Calories: 480
Fats: 30g
Net Carbs: 1g
Protein: 46g
10. Chicken Curry Stew
Credit: dietdoctor.com
If you feel like you're missing out on Indian cuisine when you're on keto, here's some good news. You can absolutely make a keto-friendly curry.
This is not exactly a curry since it's a stew. However, the flavors will totally satisfy your taste buds.
I know that because I'm a huge Indian food fan! The stew comes with a creamy curry base while cauliflower, pepper, and chicken give it a very much needed texture.
Here is a nice curry spice mix. If you don't feel like making your own curry powder, this one will make the curry stew taste great.
At the end of the day, the key to the great curry is the spices!
Per Serving:
Calories: 781
Fats: 68g
Net Carbs: 9g
Protein: 33g
11. Keto Mongolian Beef
Credit: ketovale.com
If it's the time to bring some Asian vibes into your kitchen, try this recipe. Mongolian beef is popular in Chinese and Taiwanese cuisines.
Usually, Mongolian beef is served with rice or noodles and it also contains quite a bit of brown sugar. Well, none of these ingredients are keto-friendly.
So, this recipe is a slight twist on the original. Still, the meal if full of vitamin and antioxidants.
To make sure the recipe goes well and it's a good version of the original, you'll need Erythritol, xanthan gum and coconut aminos.
These will ensure the sweetness, the consistency and won't increase the carbs in the recipe.
Per Serving:
Calories: 318
Fats: 19.2g
Net Carbs: 2.3g
Protein: 31.2g
12. Beef Stroganoff
Credit: headbangerskitchen.com
We're going to bring all the memories back with this one. This beef stroganoff is very easy to make, it'll take you as little as 20 minutes.
It doesn't require a lot of ingredients either. At the end of the day, it's a Russian classic, and as far as I know, Russians don't make anything too complicated.
Overall, a delicious meal for a lazy evening. Finally, get some sour cream and green onion ready to make sure it tastes just right.
Per Serving:
Calories: 590
Fats: 43g
Net Carbs: 6g
Protein: 50g
13. Turkey with Cream-cheese Sauce
Credit: dietdoctor.com
Simple yet elegant and delicious. Overall, a great dish for someone who loves turkey.
While it's easy to make and takes little to no time, it's overall a great dish for an evening with guests. Mostly because you can have any side dish with this one and it'll taste good.
So, if you're making a couple of meals for the evening, bring some variety on the table with this recipe. It's good even for the most special celebrations.
At the end of the day, turkey is such festive meat to eat!
Per Serving:
Calories: 793
Fats: 67g
Net Carbs: 7g
Protein: 43g
14. Cheesy Turkey and Broccoli Bake
Credit: easyhealthllc.com
There is nothing better than a low carb bake for the dinner. First, these tend to be very nutritious.
Second, they require little to no time to make. Third, they look pretty impressive and are full of flavors!
This low carb cheesy turkey and broccoli bake is no different. The casserole is super soft with a little bit of crust on the top.
Also, the turkey and broccoli offer a nice texture to it. Once you use your favorite spices and herbs, the meal cannot get any better.
Per Serving:
Calories: 278
Fats: 17g
Net Carbs: 2g
Protein: 25g
15. Broccoli Cheddar Soup
Credit: heyketomama.com
If you're craving for potatoes or potato soup, try this broccoli cheddar soup. It's creamy and filling.
But, it's also great at killing any of the cravings you might have! I feel like the texture of broccoli perfectly suits the soup.
You don't feel like you're just eating a bunch of fat, which, I believe, is important for a delicious soup.
Per Serving:
Calories: 285
Fats: 24g
Net Carbs: 2g
Protein: 12g
16. Chicken Soup
Credit: lowcarbmaven.com
Chicken is such interesting meat. You can make so many dishes with it and it'll taste absolutely amazing.
This chicken soup is great for a cold and flu season. It's not a heavy soup like the others because it's waterier and has quite a bit of vegetable.
However, it's absolutely worth trying at any time of the year. The most important bit here is to use keto-friendly vegetables.
Celery, onions, and carrots are all low carb veggies that are great for any ketogenic soup. With a few herbs and spices, you can truly make the soup taste great.
Try it, especially if you're a big fan of vegetable soups and have a hard time adjusting to creamy soups.
Per Serving:
Calories: 274
Fats: 15g
Net Carbs: 6g
Protein: 26g
17. Tomato Feta Soup
Credit: cookinglsl.com
Sometimes there is nothing better than just having a little bit of soup in the evening while watching your favorite TV series. Especially when it's cold outside!
While most soups contain potatoes and therefore are full of carbs, it doesn't mean you cannot have a soup when you're on the keto diet. This Tomato feta soup is full of fats and will fill you up for the rest of the day.
Great if you like flavors of tomatoes, pesto, and basil. A little bit of garlic and onion bring the soup to a whole new level too.
Try it, improvise and share it with your family. Soup is simply the type of meal that everyone in the family tends to love, even the little ones.
Per Serving:
Calories: 170
Fats: 13g
Net Carbs: 8g
Protein: 4g
18. Easy Mozzarella Chicken
Credit: cafedelites.com
This is an easy keto chicken dinner recipe that I absolutely love. If you're a fan of everything that comes with tomato sauce and mozzarella, you'll understand why.
If you like lasagna and Italian cuisine flavors, this is a recipe to try. The chicken turns out to be soft here, however, the cheese ends up having a little bit of crispiness which makes the whole meal a lot better.
We're all about that crispiness, aren't we? Also, even though the chicken only takes around 30 minutes to make, it's full of flavors.
So, if you have a spice that you absolutely love, try to incorporate it into the recipe! Improvise and enjoy this flavor bomb.
Per Serving:
Calories: 309
Fats: 9g
Net Carbs: 6g
Protein: 37g
19. Healthy Cobb Salad
Credit: lowcarbmaven.com
This is a ketogenic salad you most definitely need to try. Especially if you're a fan of arugula and blue cheese.
I think these two ingredients are truly the reason why the salad stands out. Overall, it's very refreshing, full of fats and, therefore, very filling.
What's good about this type of salad that it's both great in summer and winter time. Since cheese, avocados, tomatoes, chicken and even arugula tend to taste good at any time of the year.
Also, since it's a cobb salad, the natural taste of the ingredients is truly what matters here. If one ingredient is off, the whole salad is ruined.
That's not the case here though! So, give it a try no matter the time of the year.
Per Serving:
Calories: 573
Fats: 46g
Net Carbs: 6g
Protein: 32g
20. Roast Pumpkin & Feta Salad
Credit: aussieketoqueen.com
If it's autumn or winter, pumpkins are definitely in season! You might be making pumpkin pies, cooking pumpkin stews or just baking pumpkin all by itself.
Well, here is a lovely ketogenic dinner idea – pumpkin and feta cheese salad. The roast pumpkin here really brings some natural sweetness to the salad without making carbs go through the roof.
Also, the avocados, cherry tomatoes, cucumbers, and spinach are all keto-friendly veggies. So, these will bring in some fiber and healthy fats into the salad.
Definitely worth a try if you need something quick for the dinner. Also, salads are hard not to like! So, that's something even children (if you have any) will gladly eat.
Per Serving:
Calories: 198
Fats: 16g
Net Carbs: 5g
Protein: 6g
Conclusion
Are you going to try any of these keto recipes? Let me know in the comment section!
Also, sharing is caring! If you did enjoy a recipe or two, make sure you share this post with your friends. It's free!