Loving the keto lifestyle or just looking for ways to eat more low carb foods? Then, you're in the right place.
Today I'd love to share with you some of my favorite comfort foods – soups. These ketogenic soup recipes are great for family occasions, cold winter days or any other times when you feel like eating comfort food.
If you do love soups or stews, it's probably a good idea to either get a slow cooker or an instant pot. These devices offer a quicker and easier way to cook any type of meals.
With all of that said, let's just jump straight into it! Today I'm sharing 15 low carb soup recipes with all the macros. I've also made sure there is something for everyone, so do check all of them out.
1. Jalapeno Popper Chicken Soup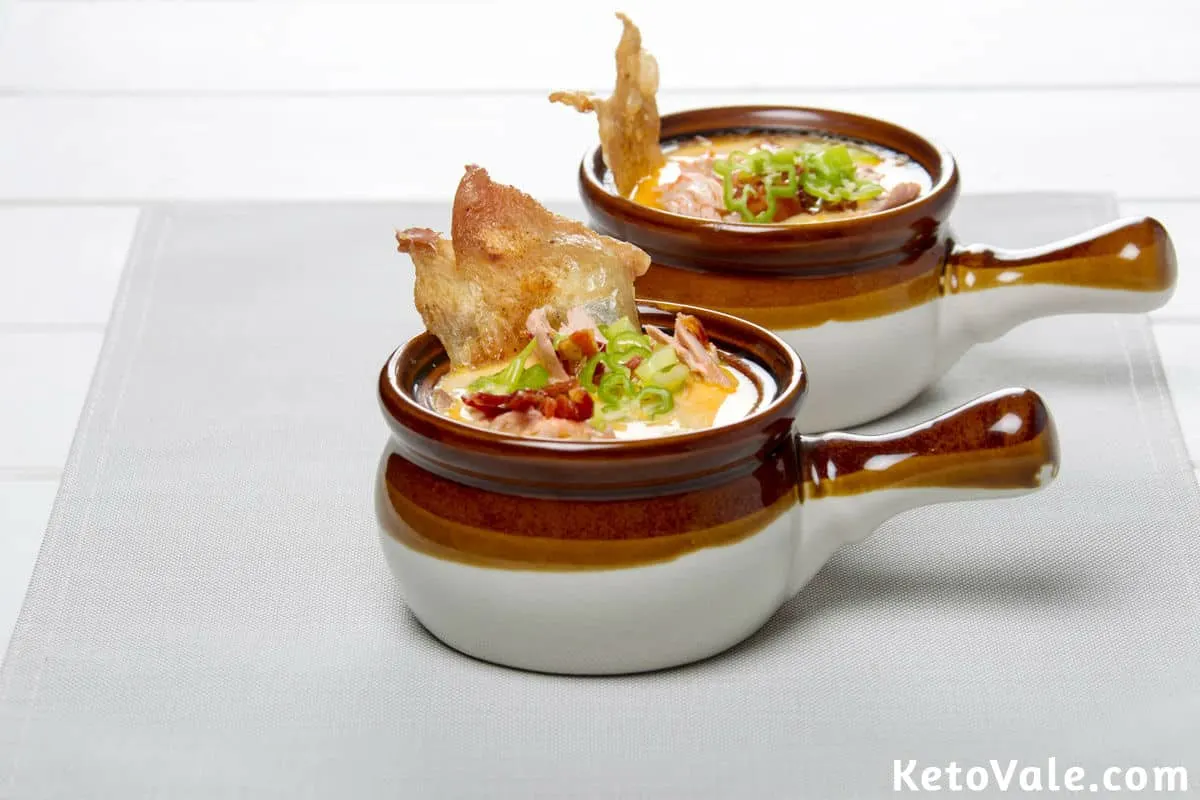 Source: ketovale.com
Here is a simple yet delicious soup that's perfect for cold winters. It's creamy and full of essential fats as well as proteins.
It's simple to make, however, it does have a few steps to it. For example, you'll need to oven cook the chicken which may take up more time than usual.
So, it's definitely not the fastest soup to make but it's certainly delicious.
Per Serving:
Calories: 526
Fats: 39.7g
Net Carbs: 2.5g
Protein: 38.8g
2. Egg Drop Soup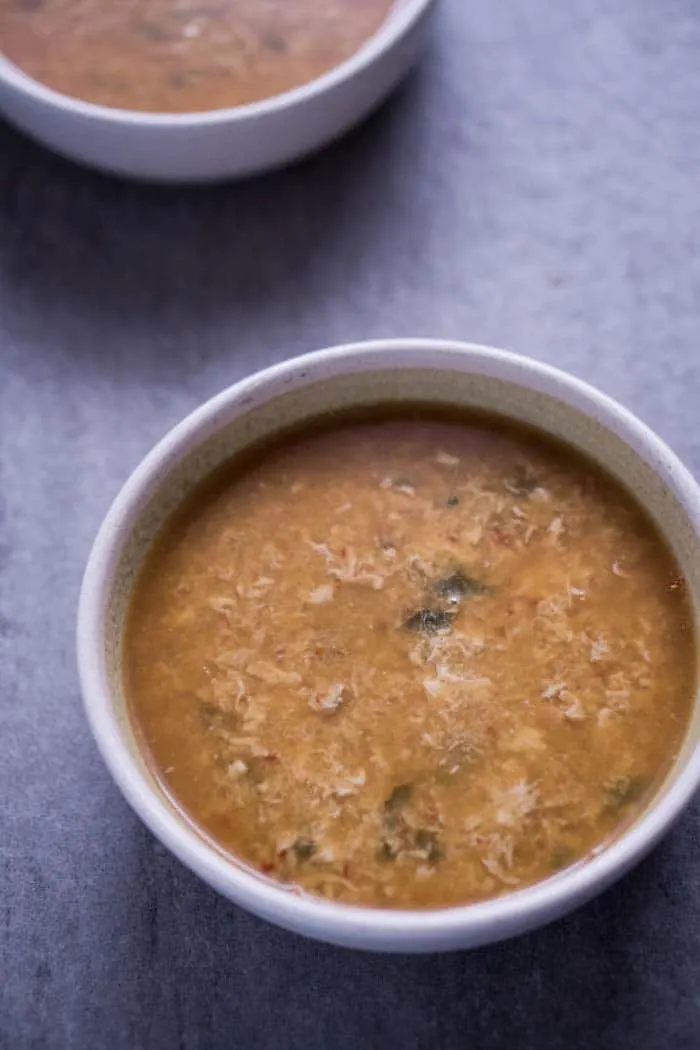 Source: ketogasm.com
If you've ever tried egg drop soup, you know that it usually contains starch – the ingredient you simply shouldn't consume when you're on the keto diet.
This is a starch-free version that's great for anyone on a low carb diet. If you're a bit of an egg fan and love to have them almost every day, this recipe offers a new way to incorporate them into your meals.
So, keep this one for when you get bored of eating eggs for breakfast and want to try something different for lunch or dinner.
Per Serving:
Calories: 89
Fats: 4g
Net Carbs: 2g
Protein: 8g
3. Sausage Soup with Peppers and Spinach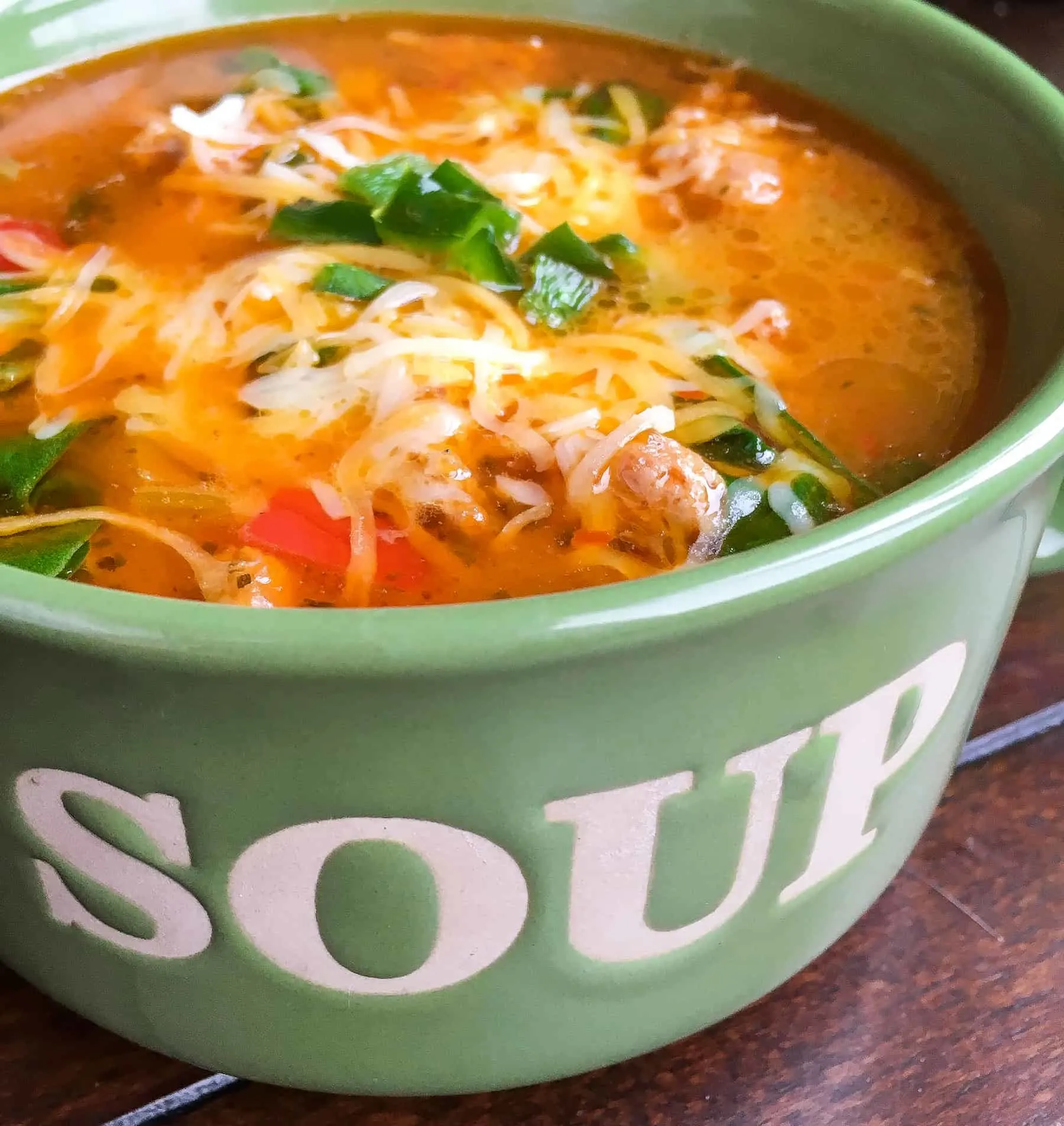 Source: thebeauticle.com
Tired of eating your favorite sausages the same way all the time? Try something different!
Make this sausage soup with your favorite Italian sausages, add peppers, spinach, and other low carb vegetables to get the sense of what the soup can be like.
Get creative and don't be afraid to improvise.
Per Serving:
Calories: 397
Fats: 33.5g
Net Carbs: 2.6g
Protein: 18g
4. Broccoli Cheese Slow Cooker Soup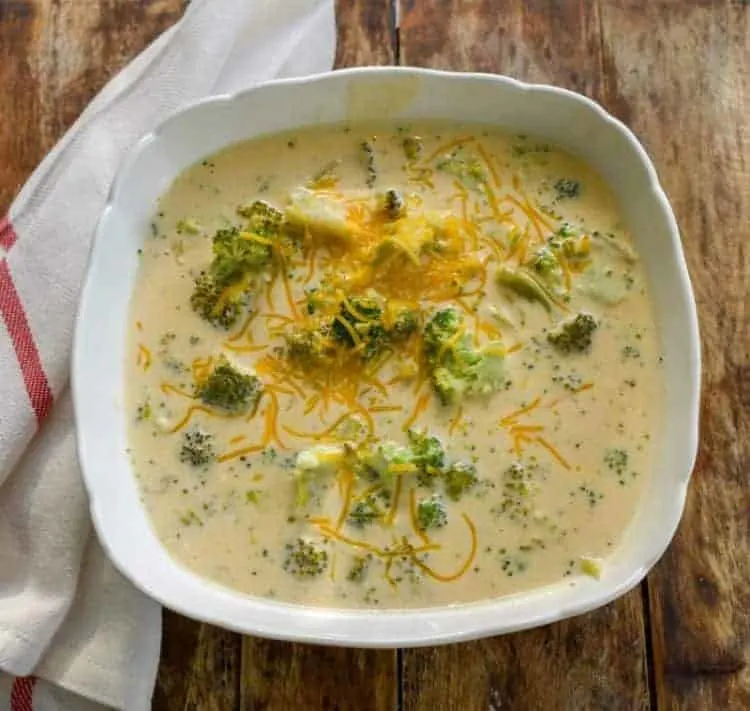 Source: fittoservegroup.com
This broccoli soup is a healthier low-carb version of the regular recipe that Hilda has always loved. However, this definitely one of those soups that everybody in the family will love.
So, if you're looking to make something quickly, low carb, and kid-friendly, go for it. That's especially the case if your family loves broccoli in general.
Per Serving:
Calories: 230
Fats: 20g
Net Carbs: 2.8g
Protein: 9.8g
5. Cheeseburger Soup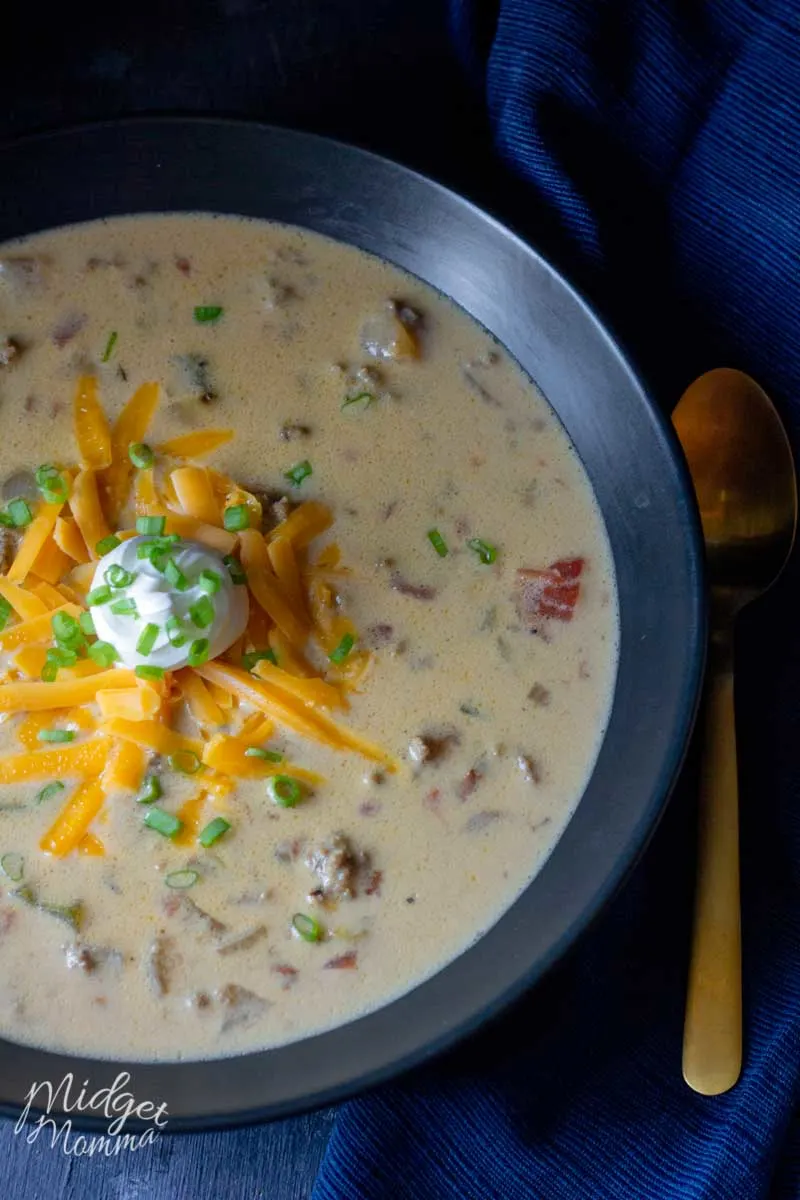 Source: midgetmomma.com
If you are a big fan of cheeseburgers and looking for different ways to get the feeling of this dish, try the recipe. The soup is great for meal prepping and can be frozen.
Here are a few great containers you can use for meal prepping the soup specifically. If you do choose to freeze the soup, you'll need to defrost it overnight first.
Definitely, something to have in mind!
Per Serving:
Calories: 378
Fats: 27g
Net Carbs: 6g
Protein: 25g
6. Pork and Tomato Soup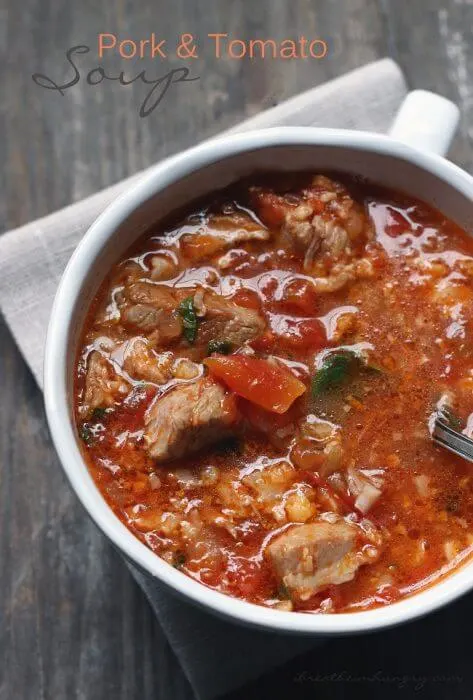 Source: ibreatheimhungry.com
If you're tired of chicken and cheese at this point, try this tomato and pork soup recipe. A combination of herbs, spices, tomato, and pork can make for a delicious soup.
Make it as chili as you want and enjoy the flavors! Generally speaking, if you love tomato soups, you can improvise quite a bit with those.
That's mostly because tomatoes are low carb and thus great for any ketogenic meal.
Per Serving:
Calories: 326
Fats: 22g
Net Carbs: 3g
Protein: 21g
7. Cauliflower Cheese Soup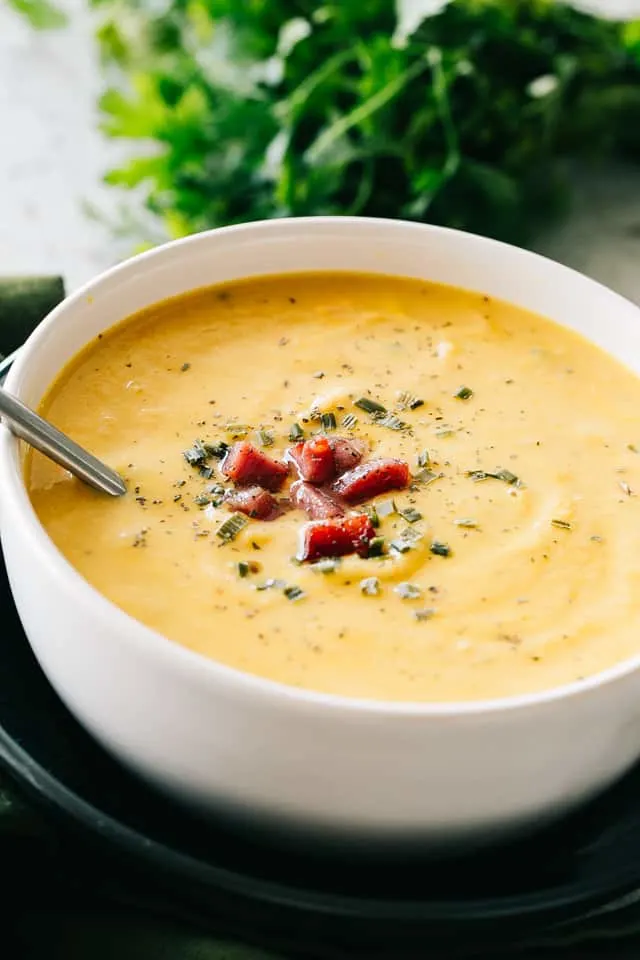 Source: diethood.com
If you're the type of person who loves to incorporate cauliflower into your meals instead of other more carbsy options, you're going to love this soup. Yes, I'm talking to all the cauliflower rice lovers out there!
Try this recipe and truly play with flavors! You have nothing to lose.
While many soups are mainly combinations of meat and cheese, this one is slightly different. There is a good ratio of veggies, cheese, and meat, so you get the good of all the worlds!
That also means that you can play a lot more with the texture and taste too. Increase/decrease the amount of cheese or meat or even veggies and see how the taste changes.
So, definitely play with the ratios!
Per Serving:
Calories: 293
Fats: 25g
Net Carbs: 7g
Protein: 9g
8. Shrimp & Bacon Chowder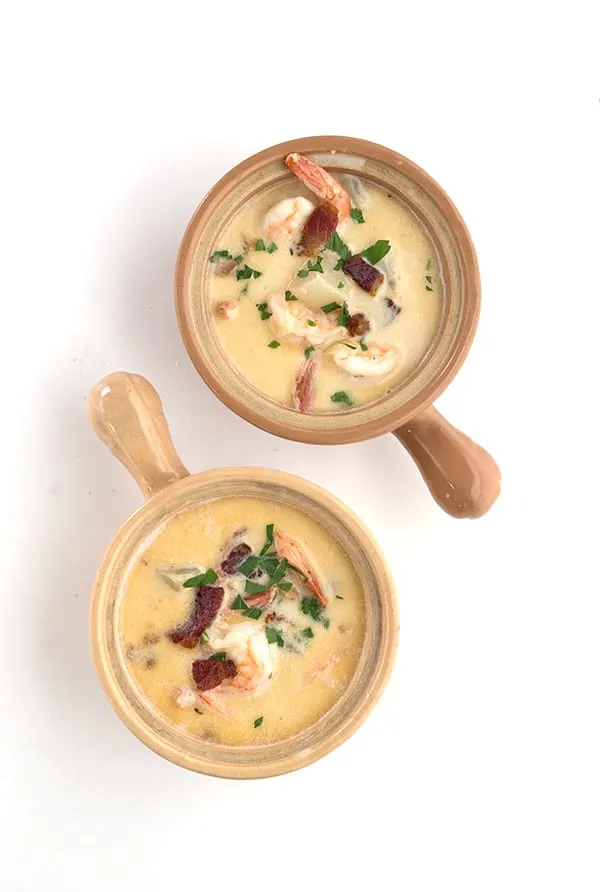 Source: alldayidreamaboutfood.com
I love this recipe because it shows precisely that you don't need to have potatoes in the soup for it to be very filling. In this recipe, the vegetable used instead is a turnip.
Turnips are 2 times lower in carbs but still have that rich texture potatoes do. So, that's definitely something to have in mind when you're cooking up your next low carb meal!
Per Serving:
Calories: 391
Fats: 31.9g
Net Carbs: 5g
Protein: 16.5g
9. Creamy Chicken Egg Drop Soup With Spinach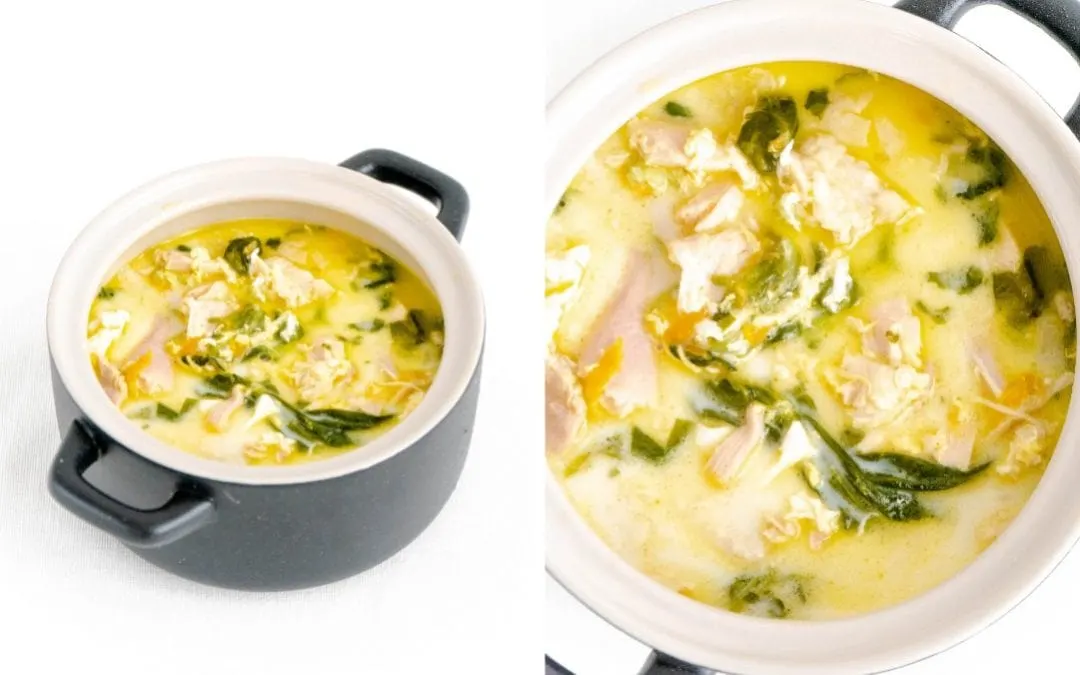 Source: hungryforinspiration.com
The original recipe of this soup had potatoes and noodles in it. Both of which aren't exactly keto-friendly.
That's where eggs and spinach come in useful. I'm sure you wouldn't think these could taste anything like potato or noodles.
However, with the power of spices, the feel and a decent texture of a product is all we need to trick our taste buds. So, this is definitely a soup you can have when you catch a cold or feel a bit under the weather.
Per Serving:
Calories: 336
Fats: 24.3g
Net Carbs: 3.6g
Protein: 17.9g
10. Chicken Fajita Soup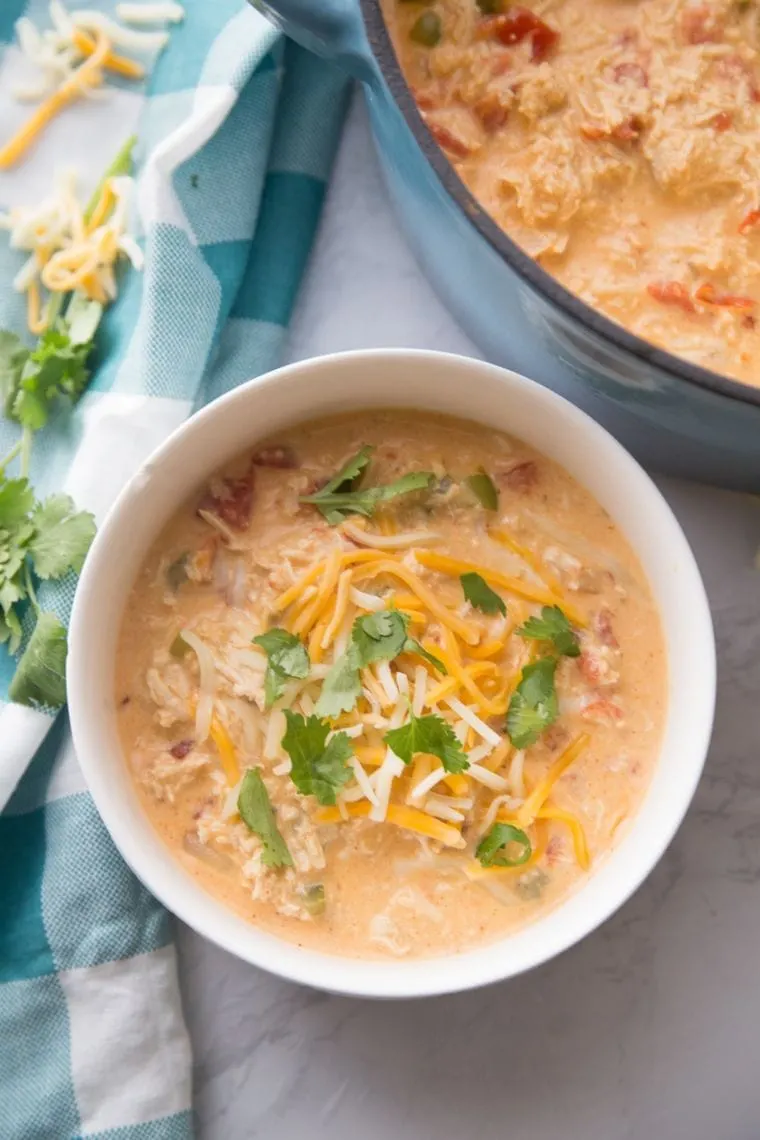 Source: kaseytrenum.com
As you probably already know fajitas don't have anything in common with soups. So, you can only imagine how intrigued I was by the name of the soup.
This soup is truly more like a proper meal since it's very thick and full of flavors. I highly recommend bringing this one to work if you need a low carb lunch.
It should be easy to store in a container and easy enough to eat when you're extra busy. On top of all that, it's super easy to make as most soups are.
Per Serving:
Calories: 306
Fats: 17g
Net Carbs: 8.2g
Protein: 26g
11. Creamy Reuben Soup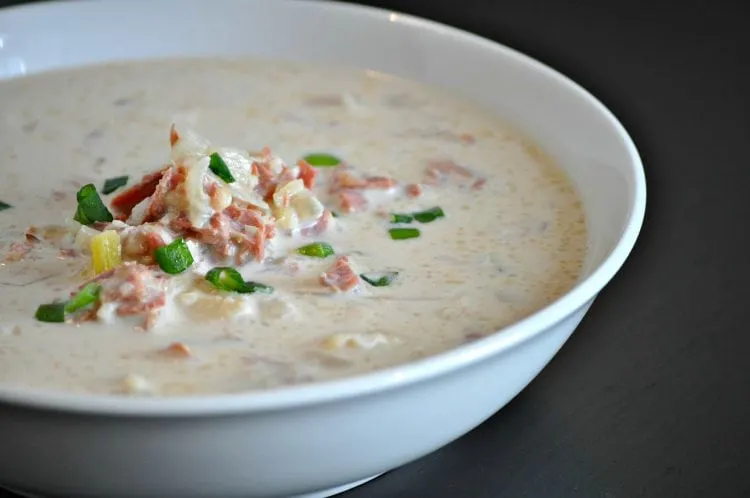 Source: peaceloveandlowcarb.com
This is a perfect slow cooker recipe, you definitely need to give a try to. If you don't own a crockpot yet, here is a low budget one I recommend.
However, you could just as well make this one happen with an instant pot. Especially if waiting for 6 hours doesn't quite work with your agenda.
The recipe is mainly made out of beef. For beef lovers out there, it's a great option.
However, do remember that beef production has a much higher environmental impact than that of other meats (excluding lamb). So, think about that if you happen to cook beef more often than not.
Per Serving:
Calories: 225
Fats: 18.5g
Net Carbs: 4g
Protein: 11.5g
12. Bacon Cheddar Soup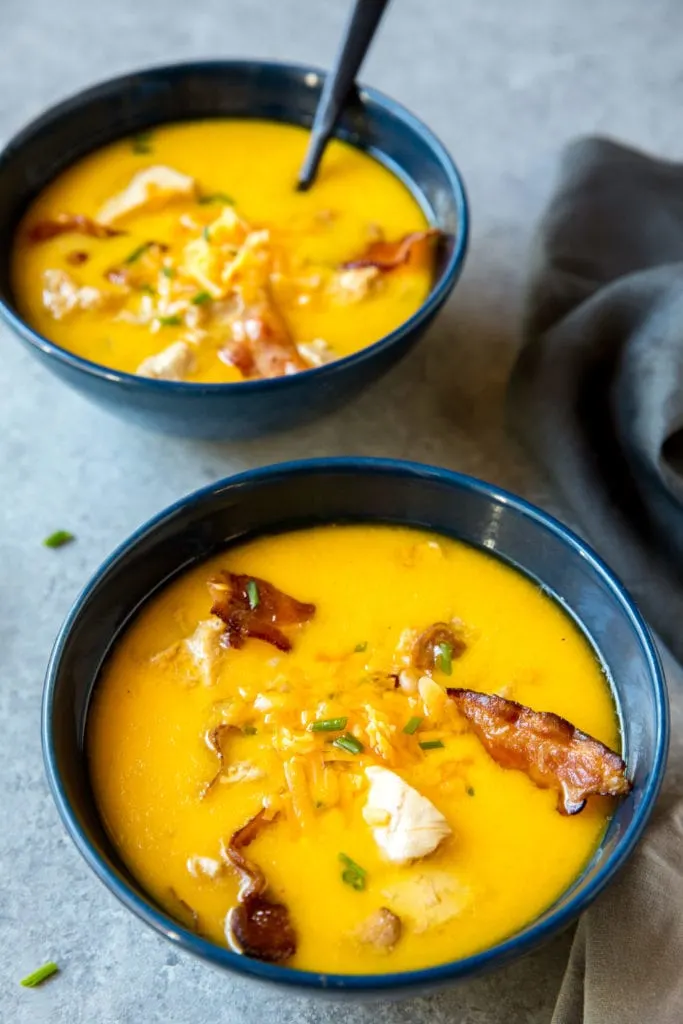 Source: ketoconnect.net
This soup is great if you truly need to serve something more interesting for your guests. It looks impressive and tastes just as good.
Wondering whether you'll like it? If a combination of chicken, bacon, cheddar, and cream sounds compelling enough, you're going to love it.
Per Serving:
Calories: 502
Fats: 29.6g
Net Carbs: 2.75g
Protein: 32.6g
13. Coconut Soup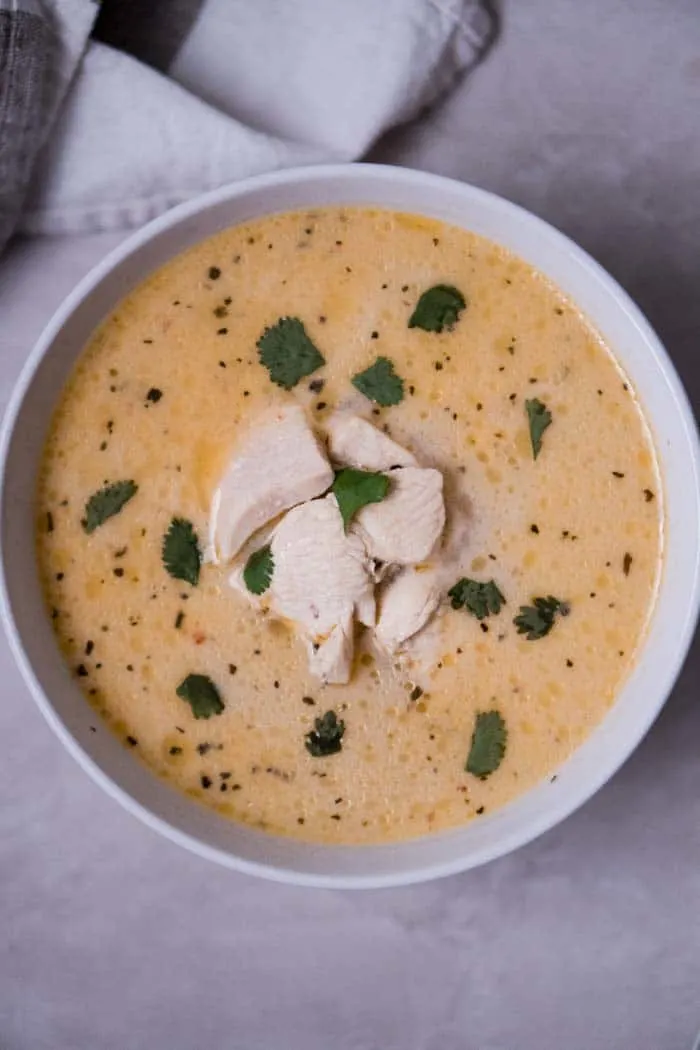 Source: ketogasm.com
Here is a great opportunity to bring Thai flavors into your life. Especially if you're a fan of coconut and wants to try new things with this product.
The combination of garlic, ginger, basil, lime, and coconut creates this melodic taste that you wouldn't find anywhere else. Give a try, introduce the soup to your family and, who knows, they might like it!
Per Serving:
Calories: 227
Fats: 16g
Net Carbs: 3g
Protein: 18g
14. Lobster Bisque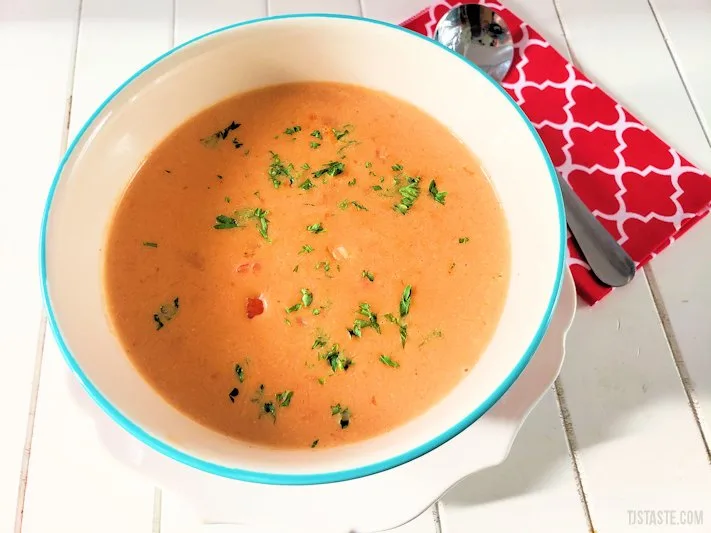 Source: tjstaste.com
This lobster bisque is smooth and creamy. Also, it does contain a little bit of salt which makes it even better.
This is a great recipe for those days when you're just bored with eating the same thing over and over again. So, it's just a good opportunity to incorporate more seafood into your diet.
That's especially good to consider when you're on the keto diet and end up eating the same products all the time. Spice things up!
Per Serving:
Calories: 195
Fats: 13g
Net Carbs: 6g
Protein: 7g
15. Broccoli Cheese Soup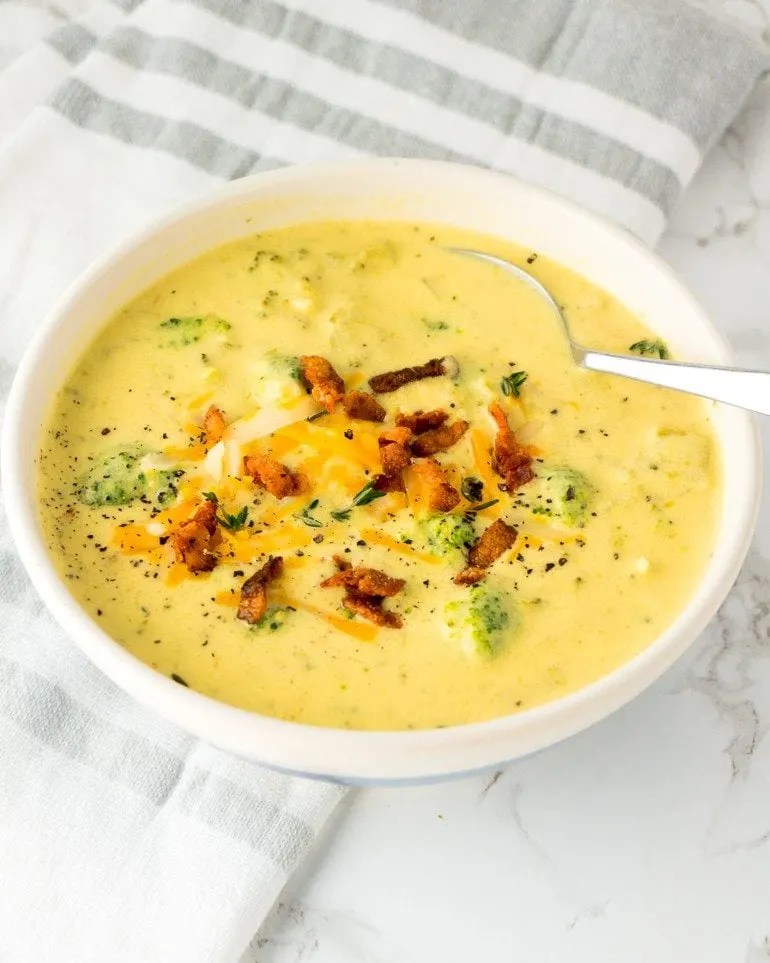 Source: greenandketo.com
If you're on the ketogenic diet, you often end up eating meals with meat. Whether it's ketogenic chicken dish or a just a low carb meal.
Thus, it can be very refreshing to eat something without meat. This recipe is exactly great for that!
The only suggestion here is to use crumbled bacon as a garnish but that's not necessary.
Per Serving:
Calories: 385
Fats: 35g
Net Carbs: 5g
Protein: 14g
Conclusion
If you're living the keto lifestyle, make sure to check out my other posts: keto meal prep ideas, keto snacks and more. You never know, you might be a click away from your new favorite recipe!