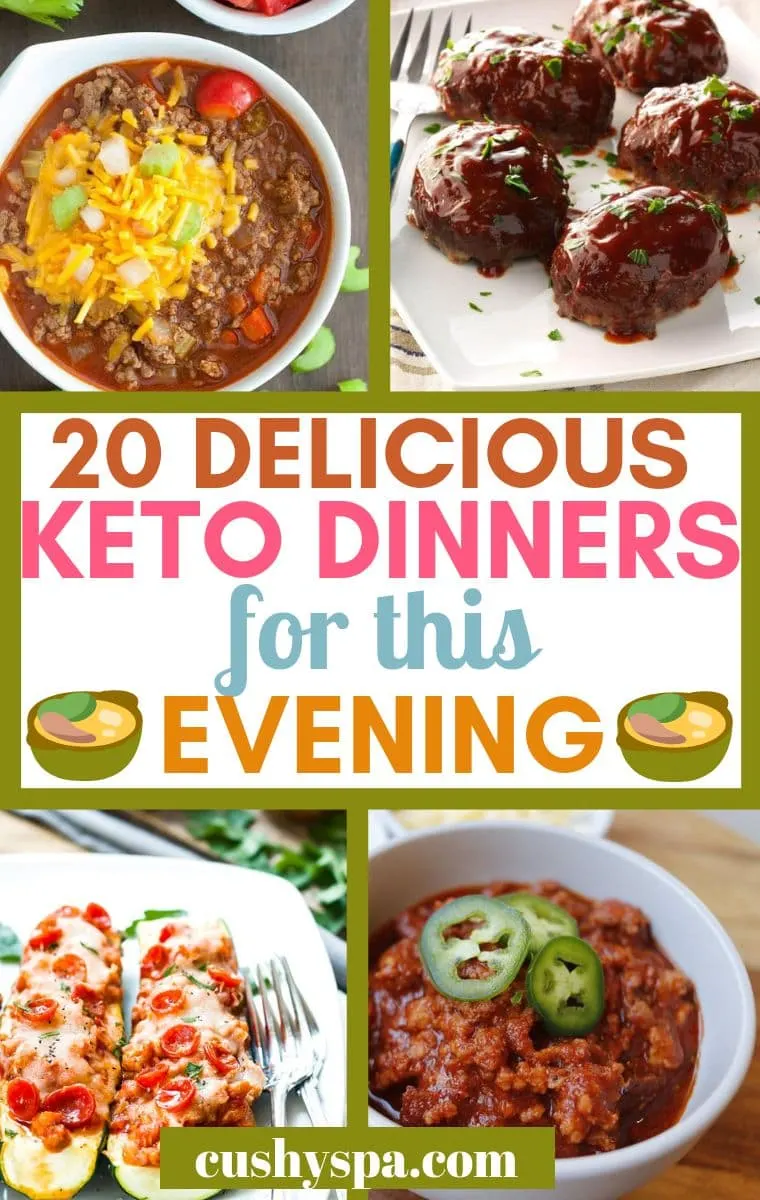 Dinner is one of the most important meals of the day. That's mostly because it's the only time of the day when we can truly sit down with either our friends or family and talk.
In a way, it's the most bonding dish. So, a delicious meal and positive conversations can truly set you up for the next day!
When you're on the keto diet, it might become a little bit more challenging to get dinner with your friends. Especially if you end up in a restaurant where the food choices are full of carbs.
Thus, it might be a good idea to invite your friends over and cook something for them!
20 Delicious Ketogenic Dinner Ideas with Recipes
Today, I'm sharing 20 keto dinner meals with recipes that you can make at home and eat with your beloved ones. Some of these recipes are very easy and take little to no time to make.
Other meals might be a little bit more intricate, so you should go after them when you have a little bit more time on your hands.
1. Green Chilli Chicken Bake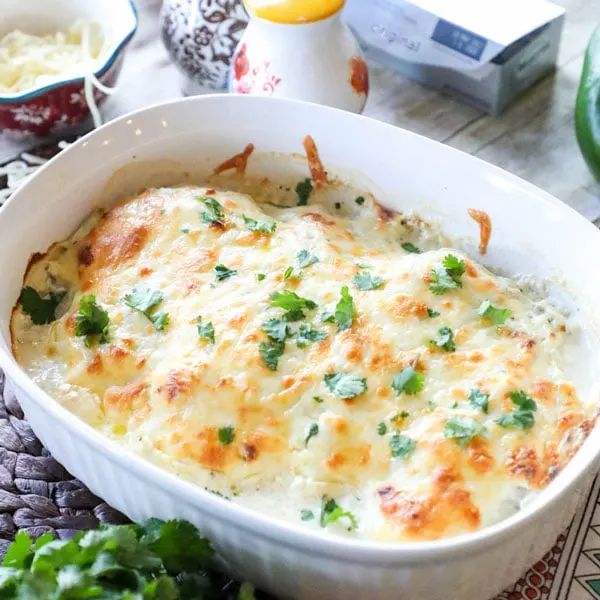 Source: thepinningmama.com
If you're looking for an easy dinner that doesn't take ages to clean up after, this is your go-to keto dish. Turns out that green chilies, cumin, garlic, and cream cheese is a delicious combination.
That in turn, gives the chicken that extra beautiful flavor that will simply make you melt. You'll notice that in the recipe the chicken is served with rice.
I'd instead suggest eating it with a bit of green salad and cherry tomatoes. You can always opt-out for cauliflower rice if you're feeling the cravings.
You could also just try this zero-calorie rice.
Per Serving:
Calories: 253
Fats: 16g
Net Carbs: 2g
Protein: 26g
More keto recipes you might like!
2. Creamy Asparagus and Shrimp Alfredo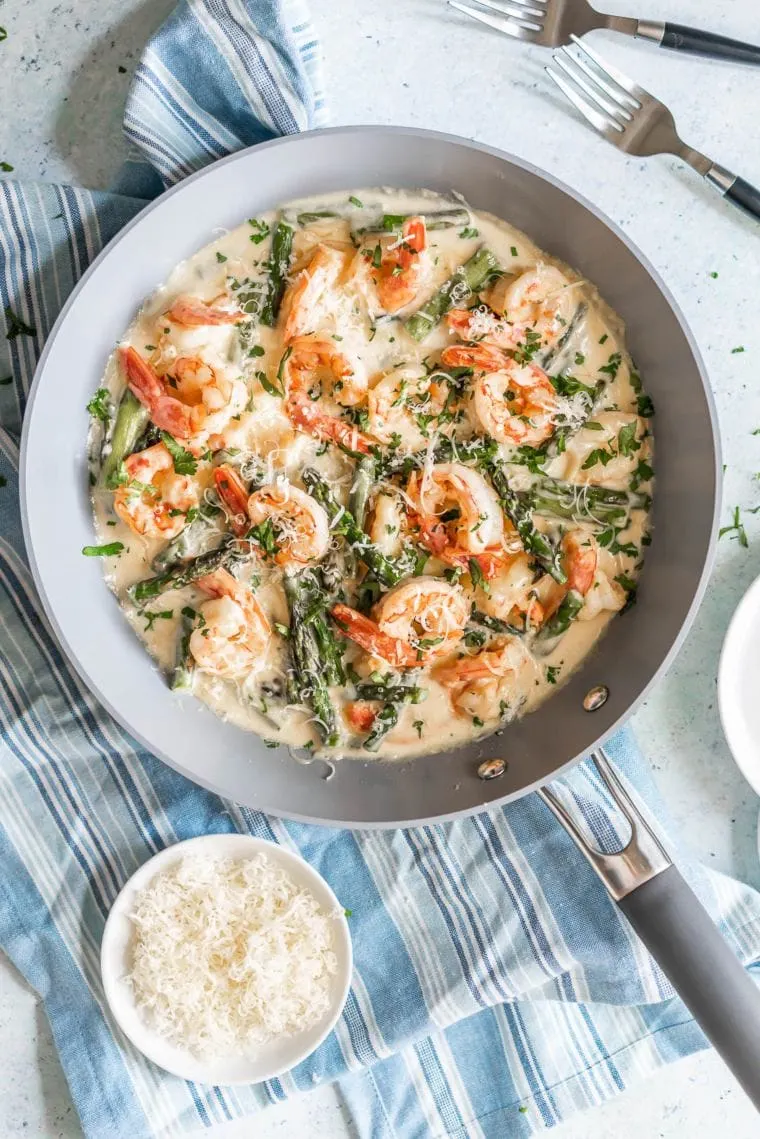 Source: healthstartsinthekitchen.com
As much as this dinner looks fancy, it actually takes only around 10 minutes to make. It's one of those gourmet dishes you want to serve to your friends without knowing them that it was a piece of cake to make it.
The recipe contains 5 ingredients: butter, shrimp, asparagus, cream, and parmesan cheese. So, you're going to get loads of healthy fats and protein.
I mean and let's be honest, the recipe is simply delicious!
Per Serving:
Calories: 412
Fats: 33g
Net Carbs: 3g
Protein: 26g
3. Egg Roll in a Bowl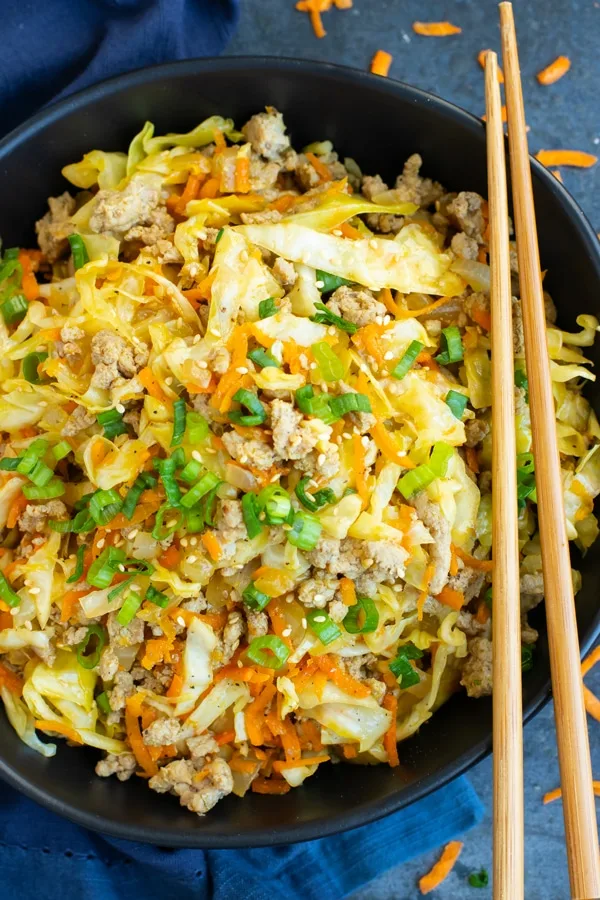 Source: evolvingtable.com
The egg roll is an easy dish to make. However, it's not fancy in any way. So, you probably don't want to serve that to your friends.
However, it's indeed one of those nutrient-rich meals that are also very easy to make. All you're going to need for it is pork, carrots, cabbage, ginger, soy sauce, and garlic.
Since you have the freedom to really improvise with this one, you can adjust it to both your and your family's tastes.
Note: that's not the type of dinner you can eat every day when you're on the ketogenic diet. That's mostly because it contains 11g of carbs per serving (you want to stay under 25g).
However, if you love egg rolls and miss them from time to time, this is a great option.
Per Serving:
Calories: 315
Fats: 18g
Net Carbs: 11g
Protein: 24g
4. Pizza Zucchini Boats with Pepperoni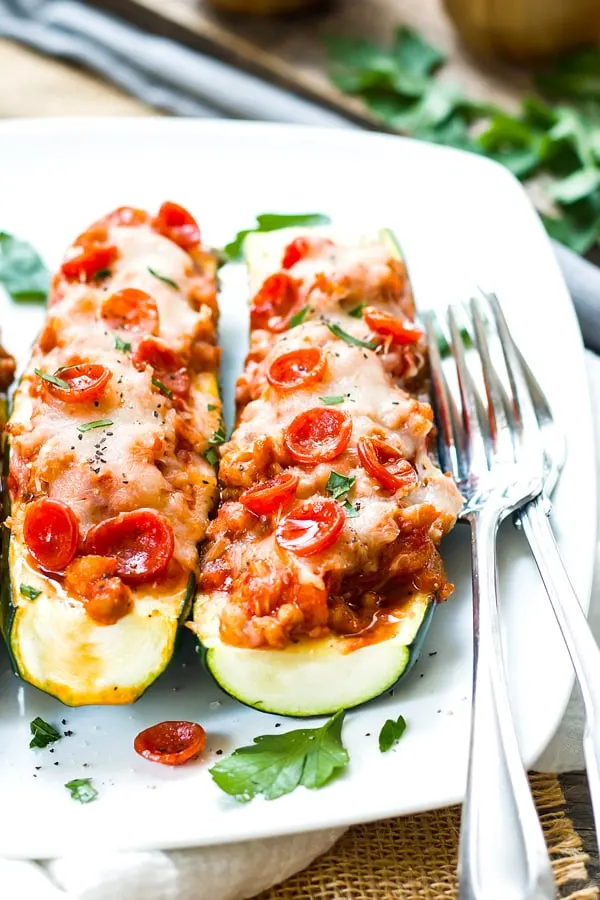 Source: evolvingtable.com
If you're up to for a light dinner, this is the dish you want to make it. Plus, everyone will love it!
Do you know the mini pizzas that you so often can find in the shop? That's a version of that but it's also keto-friendly and probably more delicious!
If you're inviting a lot of people over for dinner, you could just put a few of these little pizzas on the table. They are easy to share, and this is the sort of food you can eat while standing.
Hey, kids will love it too!
Note: this is not something you should eat every evening when you're on the keto diet. However, if you're missing pizza flavors or just want something different, it's a good option.
Just make sure you eat more fats in the first part of the day.
Per Serving:
Calories: 779
Fats: 62g
Net Carbs: 11g
Protein: 39g
5. Creamy Garlic Chicken & Broccoli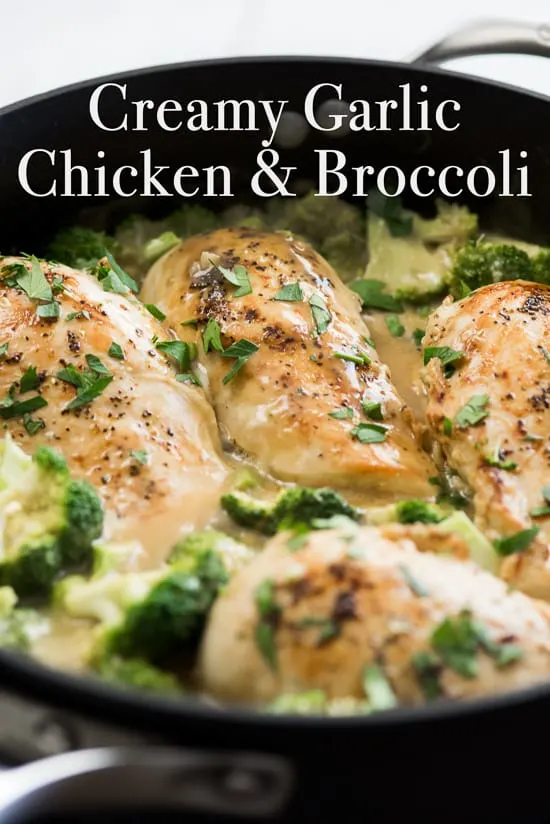 Source: bestrecipebox.com
Broccoli is just one of those amazing vegetables that's low in calories and has quite a bit of fiber. It's also a good source of protein as well as vitamin C.
That said, I think we don't incorporate broccoli into our diet as much as we should. And you don't need to eat it steamed, there are ways to use it in meals too!
This keto chicken and broccoli dish is a good example of that. It's creamy and delicious.
Per Serving:
Calories: 363
Fats: 23.3g
Net Carbs: 3.7g
Protein: 33.08g
6. Low Carb Chili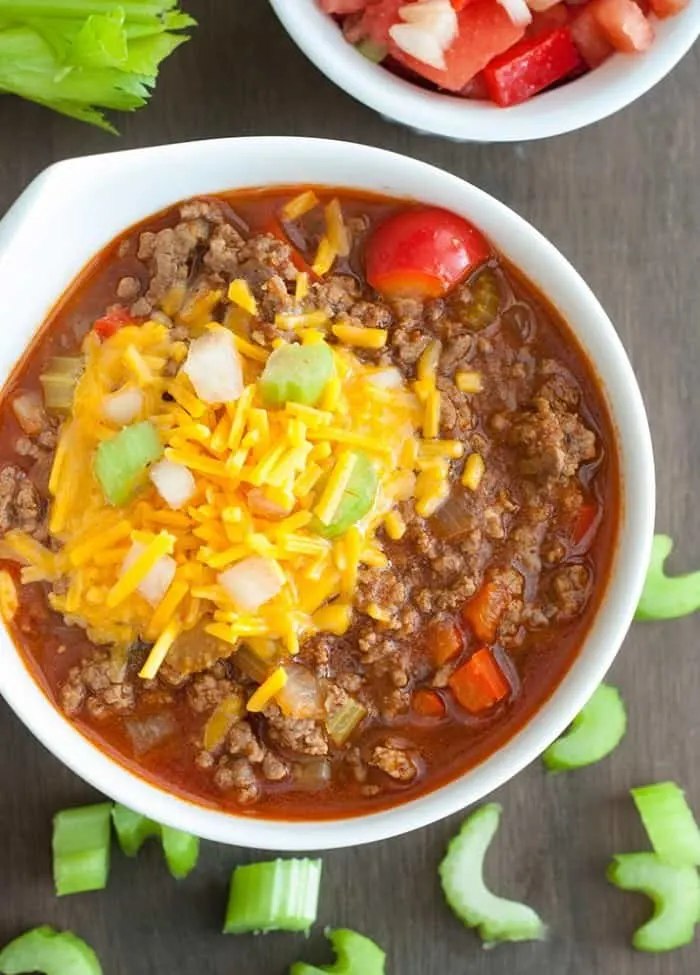 Source: the-lowcarb-diet.com
Keto chili is absolutely delicious no matter whether you're on a low carb diet or not. It's a dish that will warm you up in the cold winter evenings and energize you in summer.
Chili is also great with cherry tomatoes which are keto-friendly. So, you should definitely try it with them.
It does take over an hour to cook it, however, the end result is definitely worth it.
Per Serving:
Calories: 348
Fats: 23.3g
Net Carbs: 3.7g
Protein: 33.08g
7. Zucchini Lasagna with Ground Beef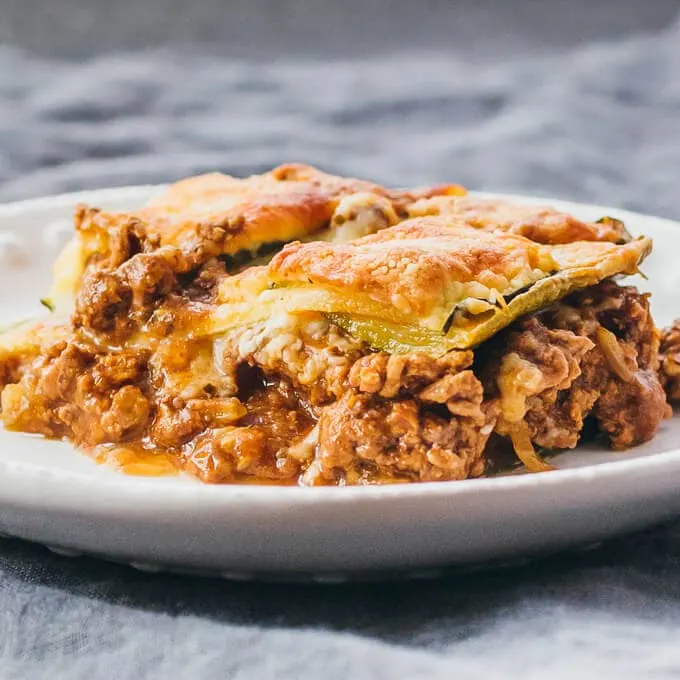 Source: savorytooth.com
If you are a big fan of Italian cuisine and have recently turned keto, you'll realize that a lot of foods you could eat before are no longer allowed. What I love about food is that we can always make versions of the dishes we love.
This recipe is exactly that. Make your own zucchini lasagna that's low in carbs. But, it does taste just like the real thing. Also, you can always adjust the spices to truly get the feeling of the lasagna.
It's a great dinner choice if you have more family over or if you need a meal for a couple of days. You can cook a lot of it. However, it'll take you probably more than an hour.
So, it's definitely not a quick dinner recipe. Note: once again, it's not an everyday meal.
However, if you're missing out on Italian flavors, this is a great option for a dinner once in a while.
Per Serving:
Calories: 280
Fats: 15g
Net Carbs: 9.5g
Protein: 25g
8. Chicken Parmesan in a Skillet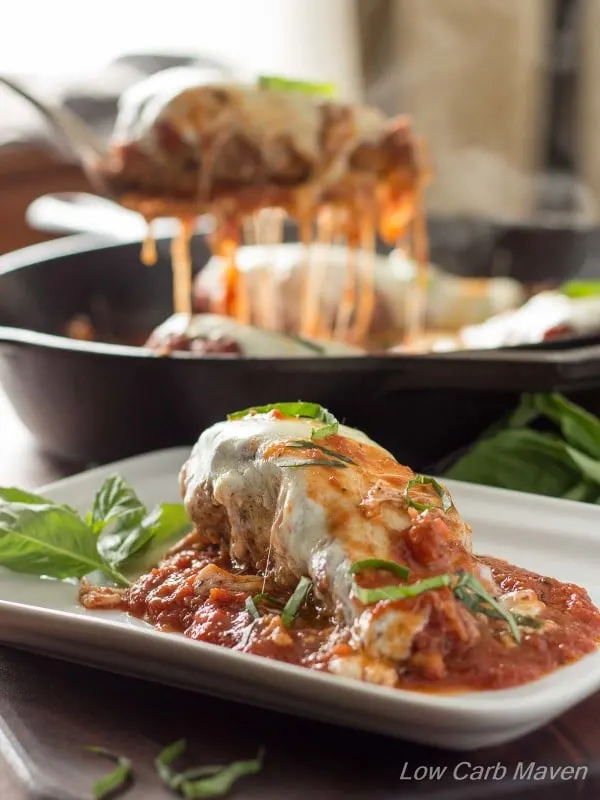 Source: lowcarbmaven.com
Parmesan and chicken are probably one of those combinations out there that not many can say no to. Let's just put it that way, it's delicious!
This dish will literally melt in your mouth. It's just one of those cold-weather dishes that you cannot wait to eat for dinner.
The sauce will make the chicken just right. However, it'll still stay crispy. Overall, a must-try no matter whether you're on a keto diet or not!
Per Serving:
Calories: 350
Fats: 19g
Net Carbs: 6g
Protein: 37g
9. Pesto Caprese Chicken Casserole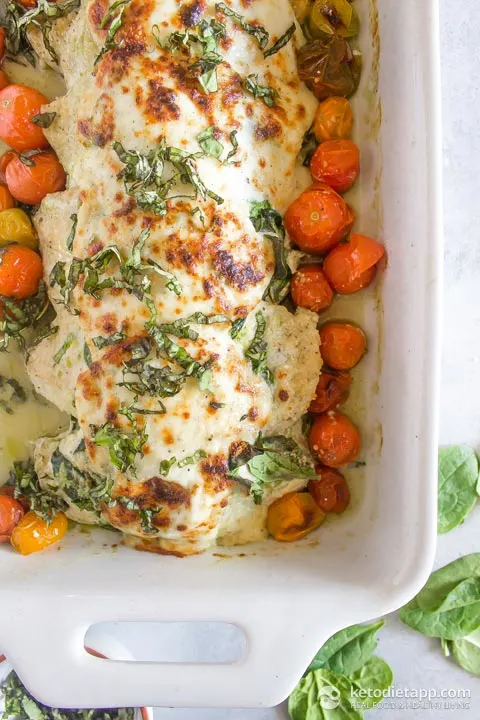 Source: ketodietapp.com
Another chicken recipe here – casserole. If you're a big fan of pesto and love Caprese salad, you'll love this dish.
The flavors introduced into the recipe make it just right. It's a lovely meal to make and it'll serve a family of 8.
So, do keep this recipe for special occasions. Your guests will be impressed!
Per Serving:
Calories: 486
Fats: 28.9g
Net Carbs: 3.2g
Protein: 55.07g
10. Bunless Burger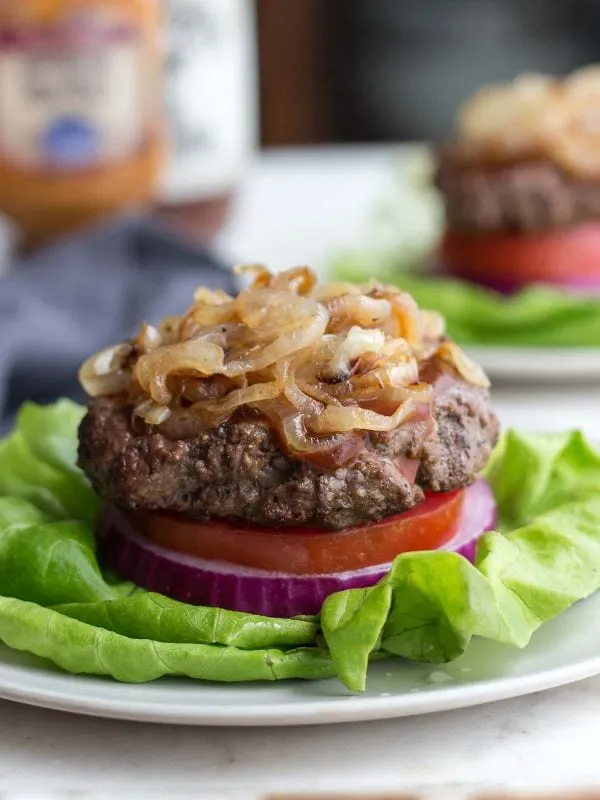 Source: lowcarbmaven.com
Yes, you've read it right. A bunless burger is a must-try for any keto lover!
If you are a big fan of burgers and it's something you or your family misses all the time, try this recipe. It's easy to make, doesn't take long at all and the veggies you use with it will enrich your diet with vitamins.
One note, you'll need a grill for this one! There is nothing better than grilled beef!
Here is an affordable indoor grill that I personally like. Great for those who don't have an outside place to grill the meat.
Per Serving:
Calories: 479
Fats: 40g
Net Carbs: 2g
Protein: 26g
11. Spicy Mustard Thyme Chicken & Coconut Roasted Brussels Sprouts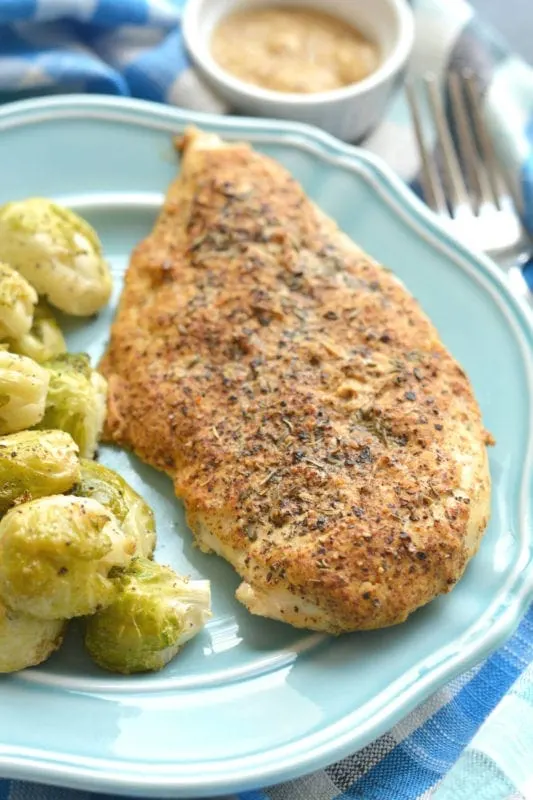 Source: mealpreponfleek.com
This is an elegant dish you can serve on special occasions too. The meal is a little bit spicier and coconut-infused Brussel sprouts give an interesting twist to it.
If you want to avoid the carbs, lower the amount of sprout Brussels you're going to eat. That's because they're the main source of all the carbs in this dish.
Per Serving:
Calories: 132
Fats: 4g
Net Carbs: 8g
Protein: 16g
12. Easy Stovetop Indian Curry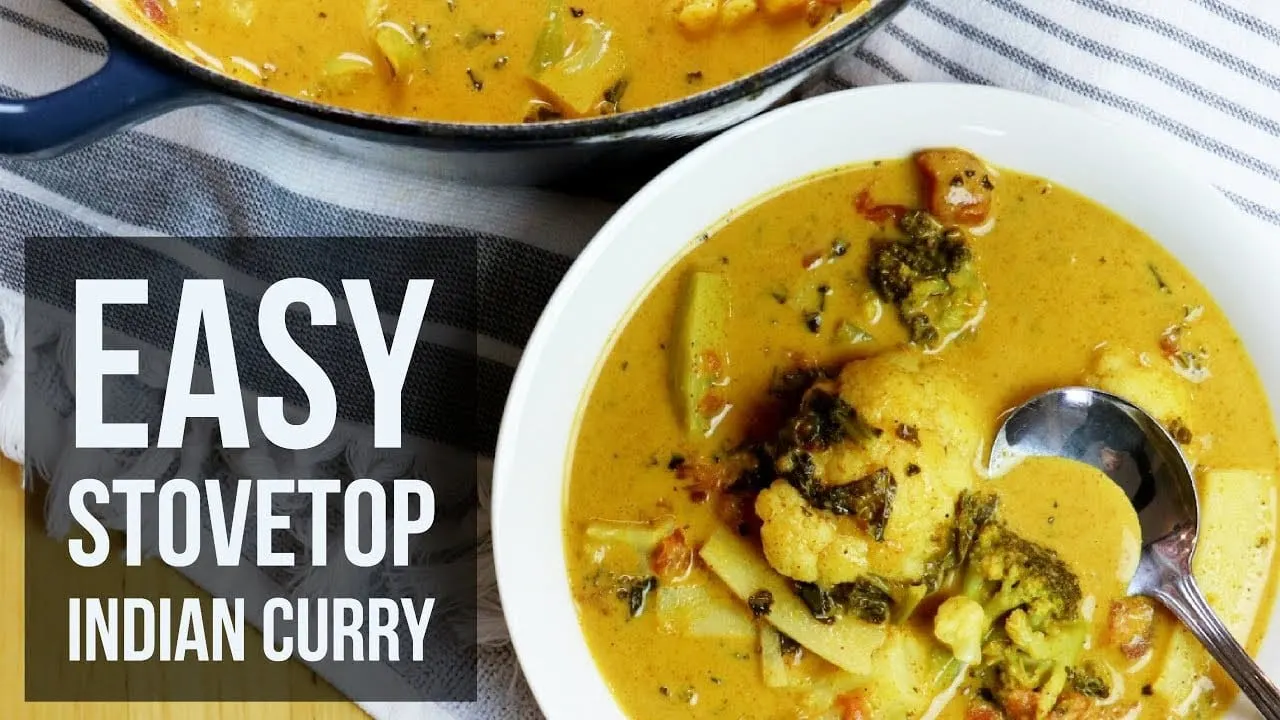 Source: forkly.com
If you're a big fan of Indian cuisine, then you must try this little curry recipe. While it's low carb, it's also vegan, so you can eat it on your no-meat days.
It only takes around 30 minutes to make and it tastes delicious with cauliflower rice or just regular cauliflower. Curry has worked quite well for me with broccoli too, so give that a try.
As most curries are, this one is very simple. There isn't a lot of chopping that needs to be done. So, most of the time is going to be spent on cooking it.
Per Serving:
Calories: 298
Fats: 26.48g
Net Carbs: 6.76g
Protein: 7.13g
13. Swedish Meatballs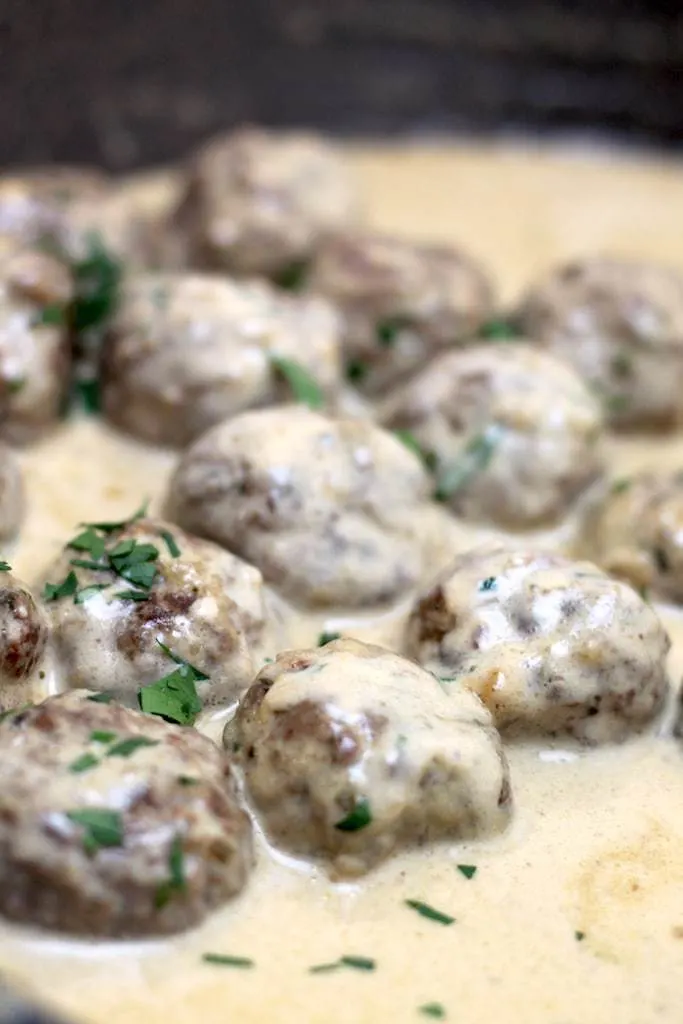 Source: lowcarbyum.com
The famous Swedish meatballs are known around the world. In fact, if you want to try the real ones, go to Ikea. They have a little food area where they serve them.
Obviously, Swedish meatballs wouldn't be as good without mash. So, make your own cauliflower mash to keep it simple and keto-friendly.
Eat this dinner when you're down to consume more calories that day because it is quite filling.
Per Serving:
Calories: 630
Fats: 57g
Net Carbs: 4g
Protein: 25g
14. Cheesy Cauliflower Rice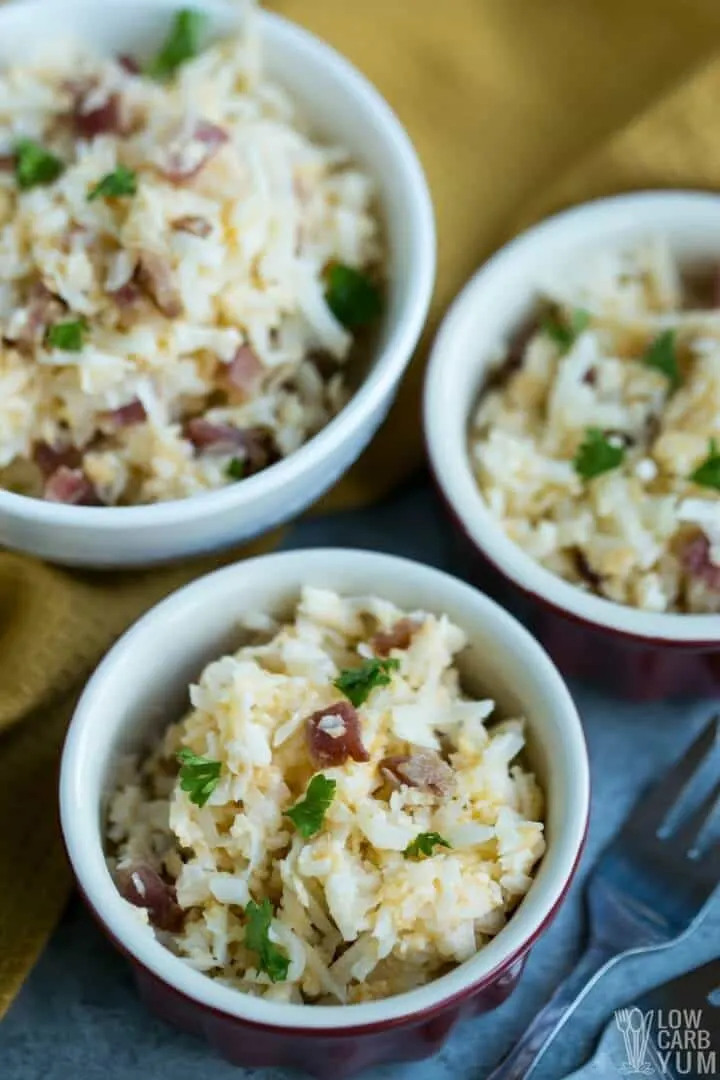 Source: havebutterwilltravel.com
If you're looking for a simpler dinner option, you can try making cheesy cauliflower rice. The good thing about this dish is that you can meal prep it for other dinners too.
Let's be honest, not all of us have time to make dinner every day. So, making something simpler like cauliflower rice can save you tons of time and free you from stress.
Try it, if it's not enough on its own, make some spicy chicken and have this rice on the side.
Per Serving:
Calories: 168
Fats: 13g
Net Carbs: 4g
Protein: 7g
15. Chorizo Chilli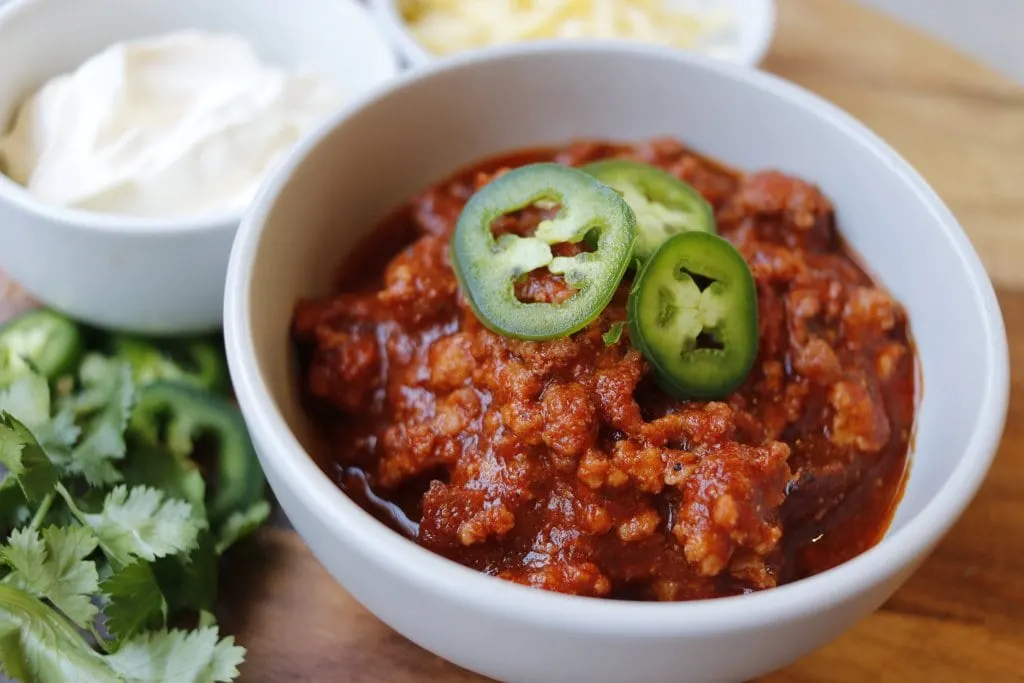 Source: thepinningmama.com
This is another chili recipe, that's a little bit more interesting. You could try it once you get tired of eating the same chili all the time.
The dish contains a mix of beef and pork mince as well as chorizo sausage. If you are an absolute fan of chorizo, this recipe offers a great way to incorporate it into your dinner.
This chili has a little bit of flavor twist on it just because of the sausage. So, it's definitely a must-try.
Per Serving:
Calories: 594
Fats: 18g
Net Carbs: 7g
Protein: 31g
16. Chicken and Mushroom Dish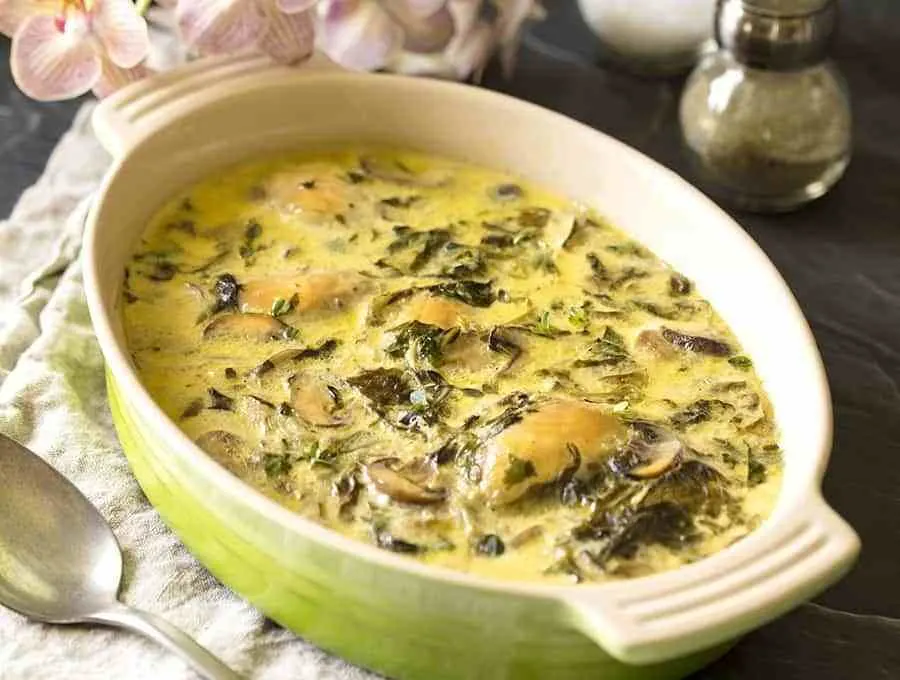 Source: twosleevers.com
When you get tired of mushroom recipes during the mushroom season, this is a good dish to make. It has some garlic in it, so you get to experience the scents that come out when you cook the mixture of chicken, mushroom, and garlic.
It smells amazing, I'll tell you that. Note, you'll need a slow cooker for this one. If you'd like to get more ideas for a crockpot keto dish, check this article here.
Per Serving:
Calories: 330
Fats: 21g
Net Carbs: 7g
Protein: 25g
17. Vegan Thai Soup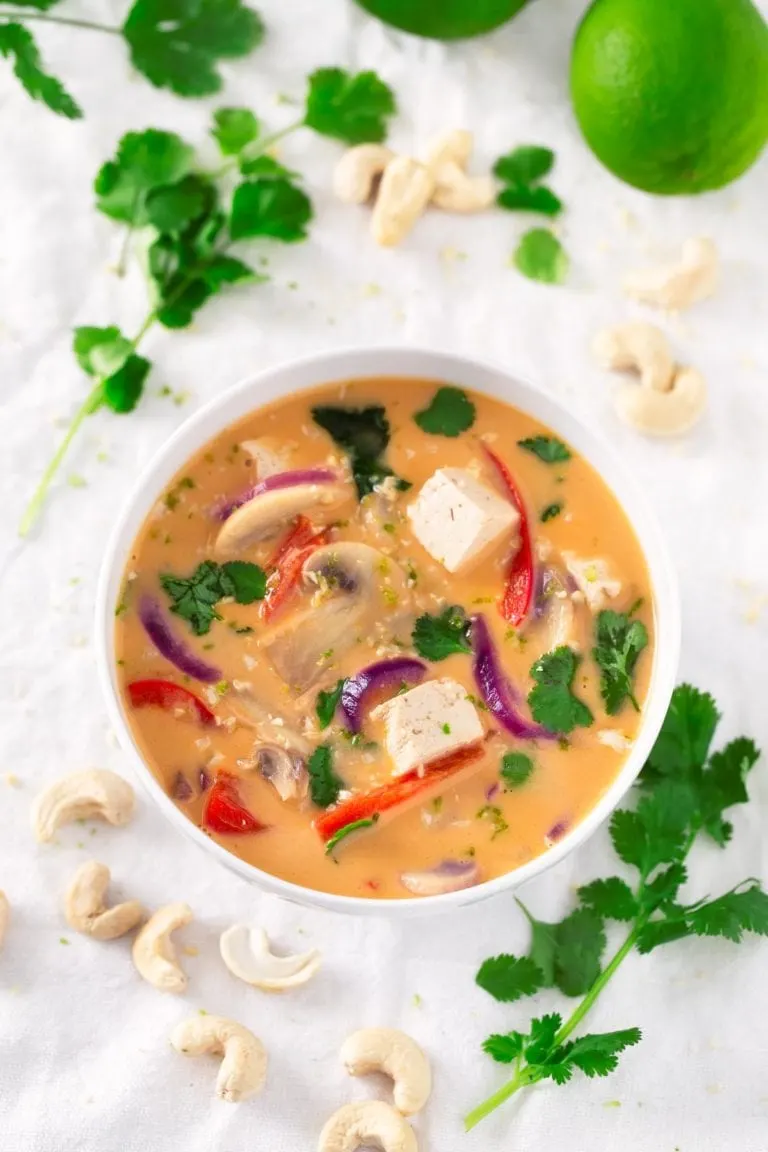 Source: simpleveganblog.com
We can all agree that there is nothing quite as special as a soup for dinner. Especially when you're worn out and cold.
This vegan Thai recipe is keto-friendly. So, you can offer it both to your vegan friends and keto loving counterparts.
However, don't eat too much of it because it has a little bit more of net carbs. That's just to make sure that you stay under your daily carb limit.
Note: I'm including this recipe for a bit of variety. It doesn't mean that you should eat this soup every day, because it's going to be hard to stay within your net carbs limits.
It's a good option when you're tired of meats and dairy products. And, once in a while, it might happen.
Per Serving:
Calories: 339
Fats: 27.6g
Net Carbs: 12.4g
Protein: 14.8g
18. Barbecued Onion Meat Loaves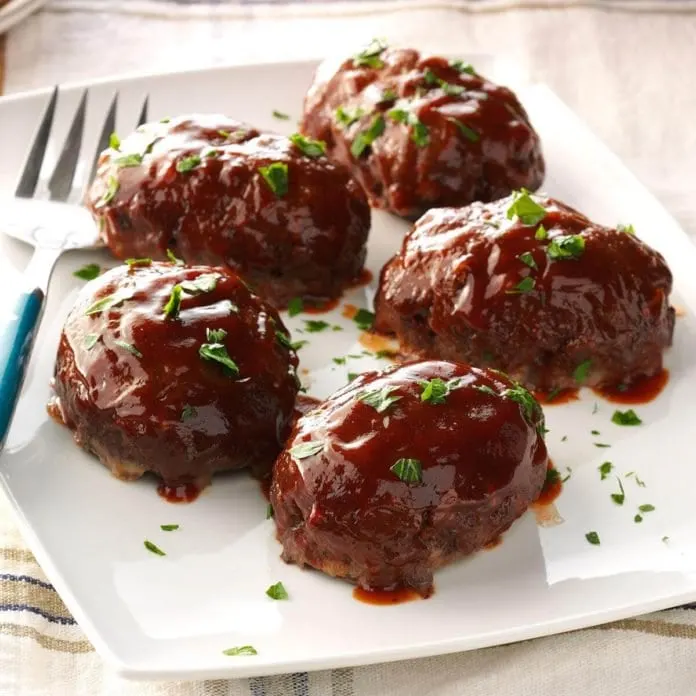 Source: tasteofhome.com
Barbecue sauce is the best. Love it or hate it, it's addictive. The good thing is that you can always get a healthier version of this sauce and incorporate it into healthy meals.
So, when you start missing the taste of this sauce, make this dish. I'll tell you the secret – onions make the meat taste good.
So, in addition to the onion soup mix, cut the onion into tiny pieces and add them to the meat. It'll taste even better!
Per Serving:
Calories: 234
Fats: 10g
Net Carbs: 8g
Protein: 25g
19. Spicy Pork & Green Chili Verde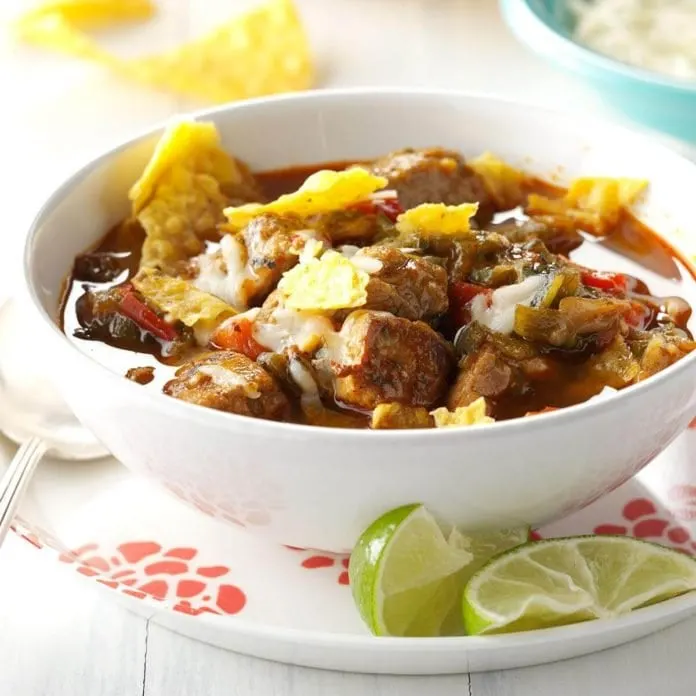 Source: tasteofhome.com
Here is another delicious keto dinner meal – it's spicy pork. If you love pork with sweet chili sauce, you could try this instead to lower the carb intake.
It very simple, the pork gets soft and juicy. Thus, it's a lovely meal to have in the evening.
Per Serving:
Calories: 235
Fats: 9g
Net Carbs: 10g
Protein: 25g
20. Vegetarian Keto Burritos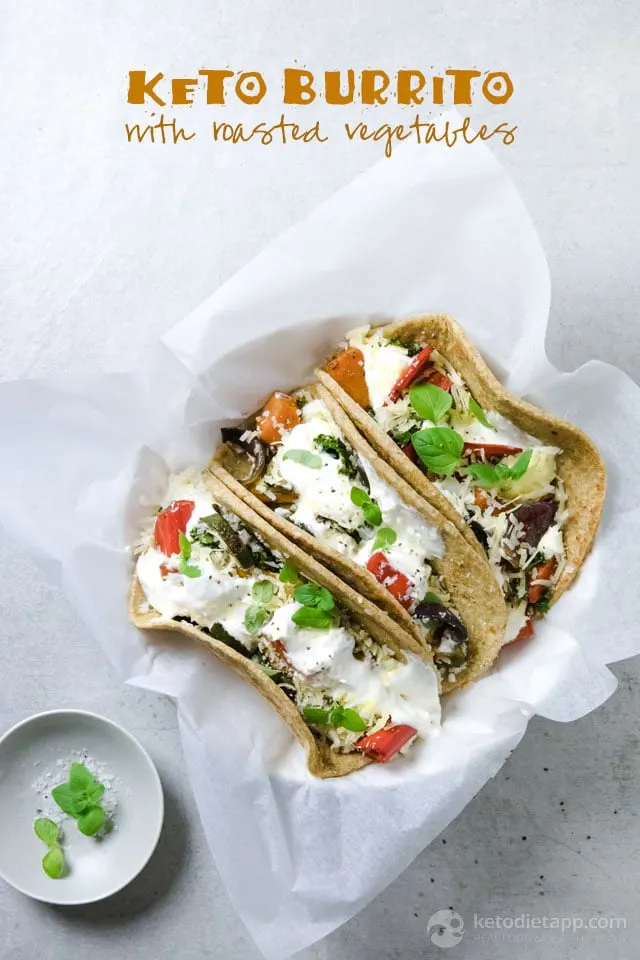 Source: ketodietapp.com
If you love burritos and you're up to make your own tortillas, try this recipe. Tortillas in shops are usually high in carbs and contain preservatives.
You'll need to use a mix of coconut and almond flour to make tortillas for the burrito. That alone can take you a couple of hours. Here are a few good quality flour products: coconut and almond.
The filling is relatively easy to make, and you have a lot of freedom with what you want to put in it!
Per Serving:
Calories: 385
Fats: 31.5g
Net Carbs: 9.3g
Protein: 12.3g
Conclusion
If you need more tips on how to stay on the keto diet, try this ketogenic meal plan and read this little article on keto diet hacks.
Other than that, have a good, lovely dinner with your friends and family! Also, let me know if you have any other keto favorites of yours that are worth sharing!