Crispy, flavorful, and delicious, these keto pizza bites will come in handy when you're craving for pizza but are on a low carb diet. They're easy to make and mimic the taste of pizza just right, without the unnecessary carbs!
These keto pizza bites are keto, low carb, and gluten-free.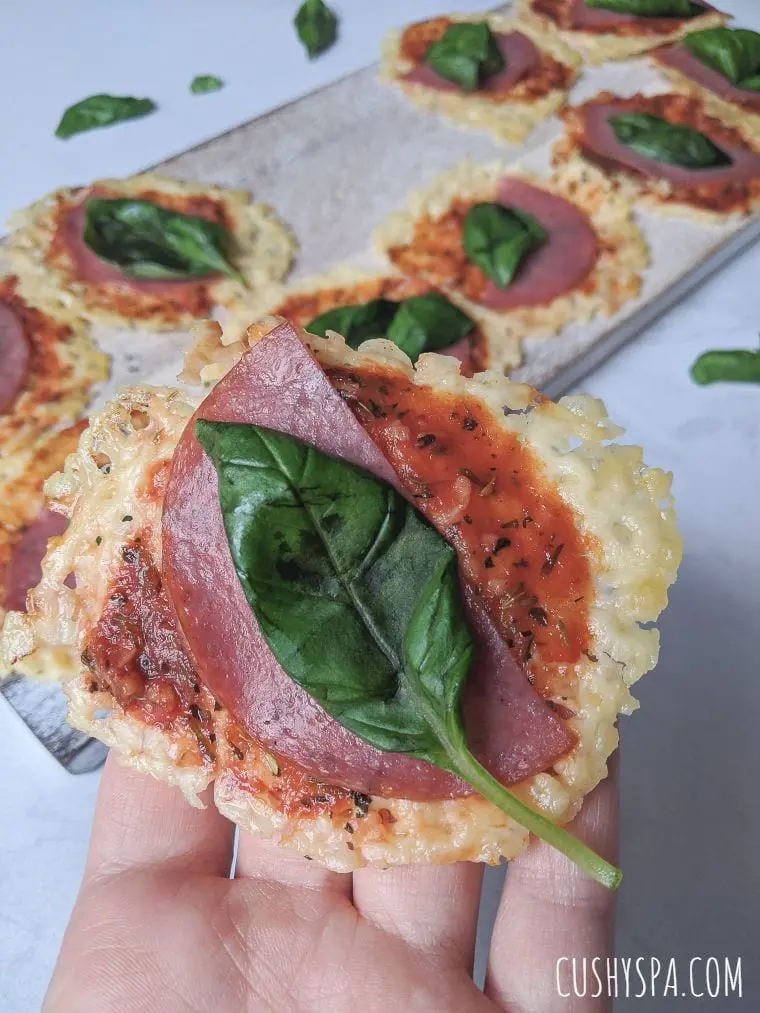 Pizza is one of those comfort foods that bring teams, families, and even strangers together! Yes, it's that magical!
Unfortunately, pizzas are loaded with carbs (and not the good ones) that are a big no on a low carb or ketogenic diet. Have fun keeping your net carbs under your limit if you eat pizza!
However, that's where creativity comes in handy! You can easily enjoy the taste, the smell, and the crispiness of a pizza without actually having a pizza.
These keto pizza bites are just for that! They are the perfect snack or appetizers for gatherings or just your regular Monday.
You'll be able to keep yourself in ketosis while snacking on your favorite treats! And you know what's even better?
Your carb-loving friends and family members, including the little ones, won't be able to say no to these. They taste just as delicious as they look!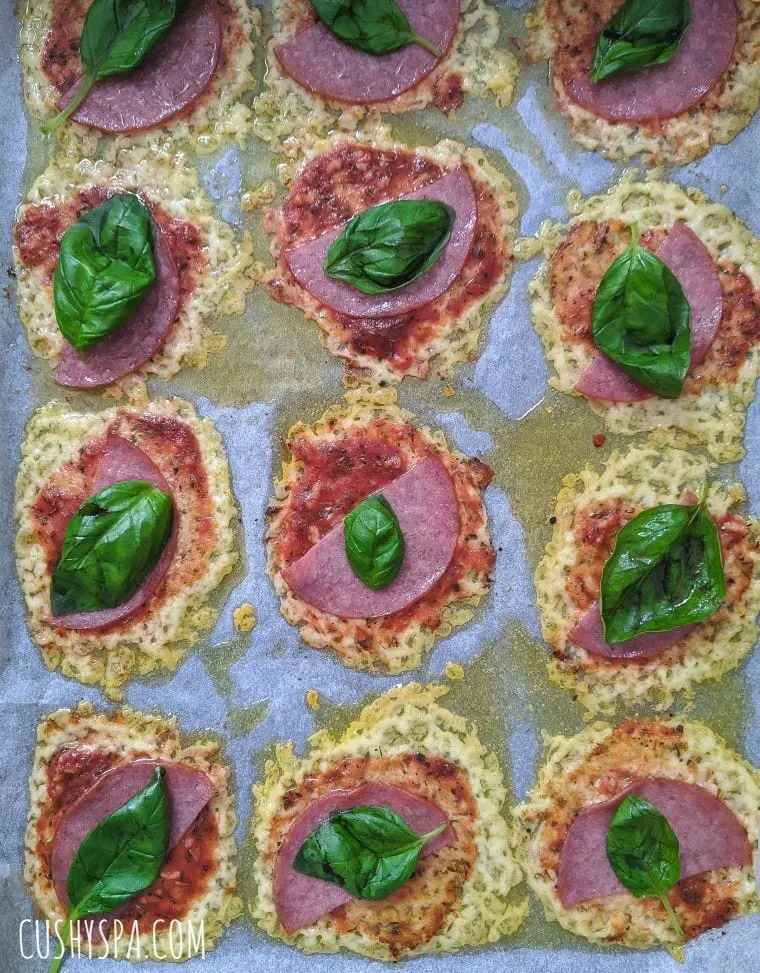 How to Customize These Keto Pizza Bites
In my opinion, most products out there have pretty good substitutes that you can always use. Yes, the taste of the final result will be slightly different, but that's not a bad thing!
I thought I'd share a few possible substitutes you can use, in case you're missing one of the ingredients! Sometimes you just want your snacks/appetizers to get on the table quickly, and going to the supermarket to get something seems counterproductive.
Cheese
For this particular recipe, I'm using cheddar cheese. However, you could easily use shredded mozzarella as well. Might even taste better!
Seasoning
I have used basil, but you could easily switch it up with oregano or even thyme. Sometimes you have to work with what you have in your kitchen!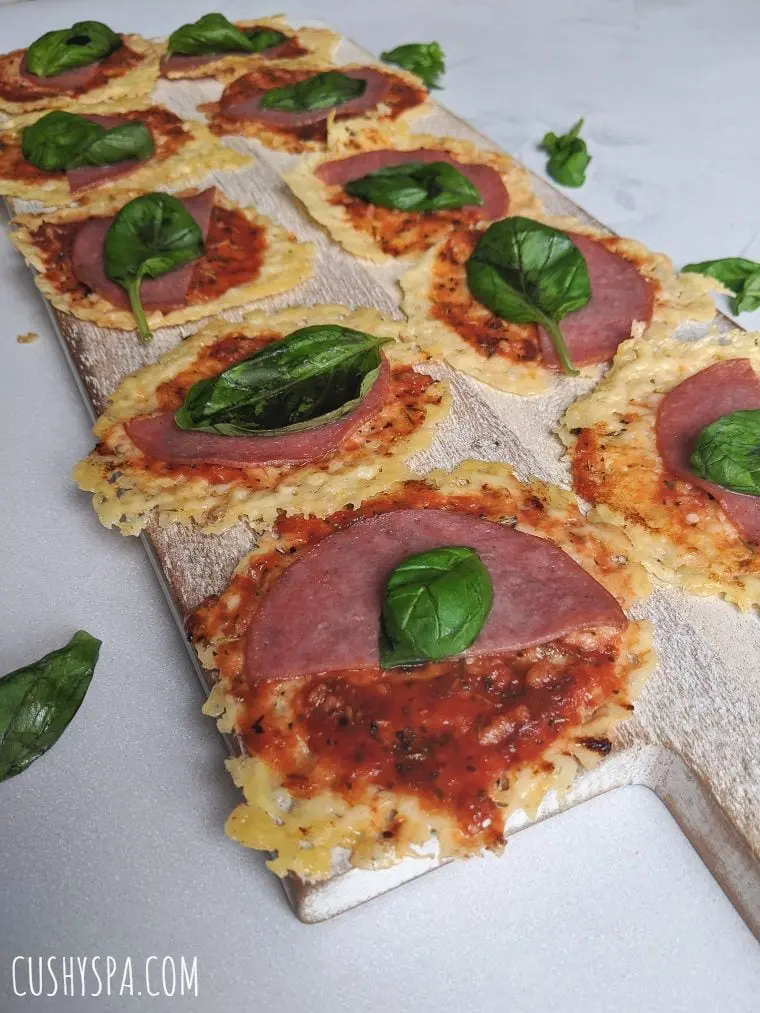 Meats
For the recipe, I'm using salami, but you could also go for pepperoni. I have also seen people make little bites like that with spicy sausage. In my opinion, this recipe could go well even with a little bit of ham.
Whenever you are choosing meats, it's better to go for smaller cuts. However, you can always cut them up yourself. That's not a biggie!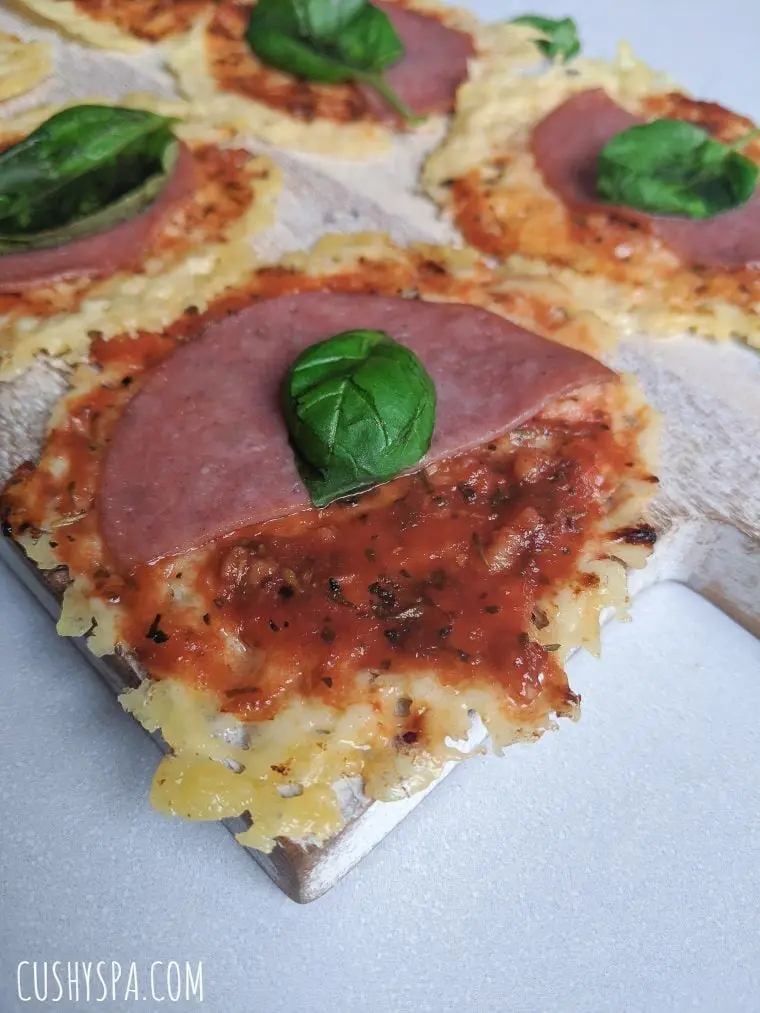 Other Recipes You Might Like:
15 Low Carb High Protein Snack Ideas – quick and easy high protein snacks that you can eat while on a low carb diet!
25 Tasty Keto Snack Recipes – these recipes are great for meal prepping and stay in ketosis while on a ketogenic diet.
30+ Delicious Keto Snacks – these snacks require no cooking at all. It's good to know what foods you can have when you're just looking for a quick snack to munch on.
Watch: Keto Snacks You Can Make at Home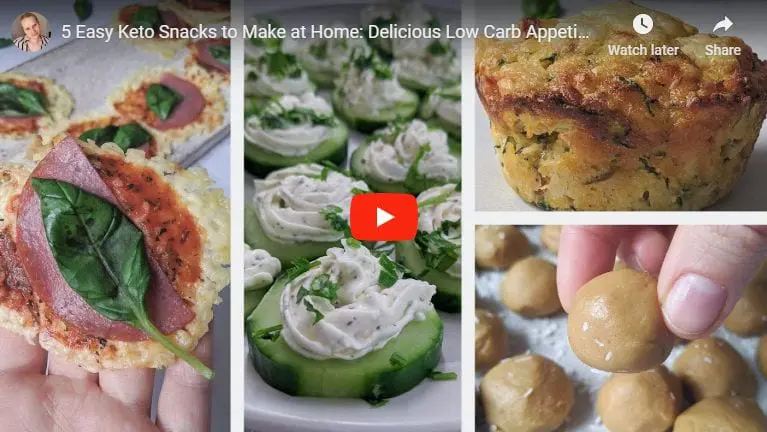 Parmesan Crusted Pork Chops – an original recipe! Enjoy these pork chops and have them for dinner or lunch.
Sweet Chilli Chicken Stir Fry – one-pan stir fry that you can have for dinner!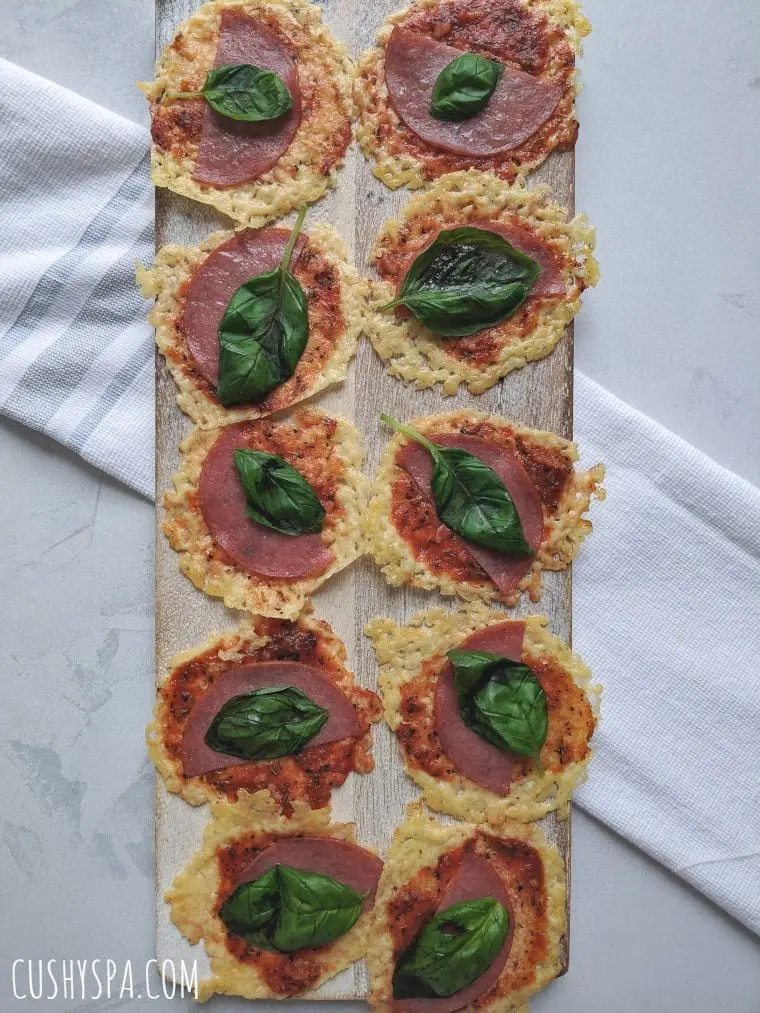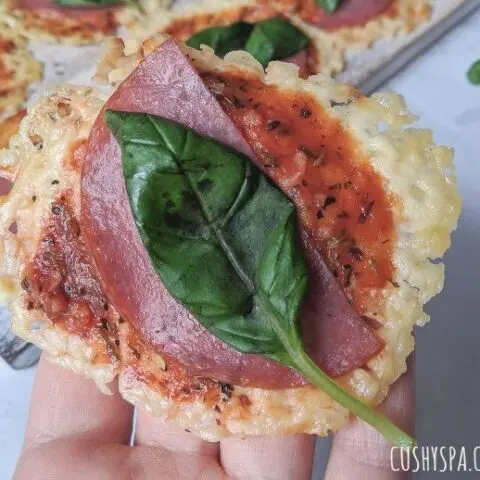 Keto Pizza Bites – Quick and Easy (VIDEO)
These keto pizza bites are a wonderful treat for when the cravings kick in. These snacks will help you stay in ketosis and keep up with your carb limits.
Ingredients
6 slices of salami
10.5 oz. cheddar (shredded)(300g)
4 tbsp tomato passata
1 garlic clove, pressed
¼ tsp basil
¼ tsp thyme
A few basil leaves (garnish)
Instructions
Preheat the oven to 375 F (190 C). Line the baking tray with parchment paper.
Mix tomato passata with basil and thyme. Use a garlic press to mince garlic and add it to tomato passata. Mix as well as you can.
Grate cheddar and place it on the tray, dividing it into 12 servings. Do keep them apart so that the cheese has enough space to spread when melting. Bake in the oven for 8 minutes.
Take the tray out, cut salami into halves. Cover each base with tomato passata mixture and place salami on top. Bake for another 4-5 minutes. Decorate with basil leaves and leave them to cool down, so the cheese hardens up.
Nutrition Information:
Yield:

12
Serving Size:

1 pizza bite
Amount Per Serving:
Calories:

95
Total Fat:

7.1g
Saturated Fat:

3.8g
Trans Fat:

0g
Unsaturated Fat:

2.7g
Cholesterol:

25mg
Sodium:

288mg
Carbohydrates:

1.3g
Net Carbohydrates:

1.1g
Fiber:

0.2g
Sugar:

0.5g
Protein:

6.6g
Nutritional values were obtained with automatic software using the amounts of products used. To get the most accurate representation of the nutritional values, you should calculate them with the actual ingredients used in your recipe. You are solely responsible for the nutritional information obtained to be accurate.