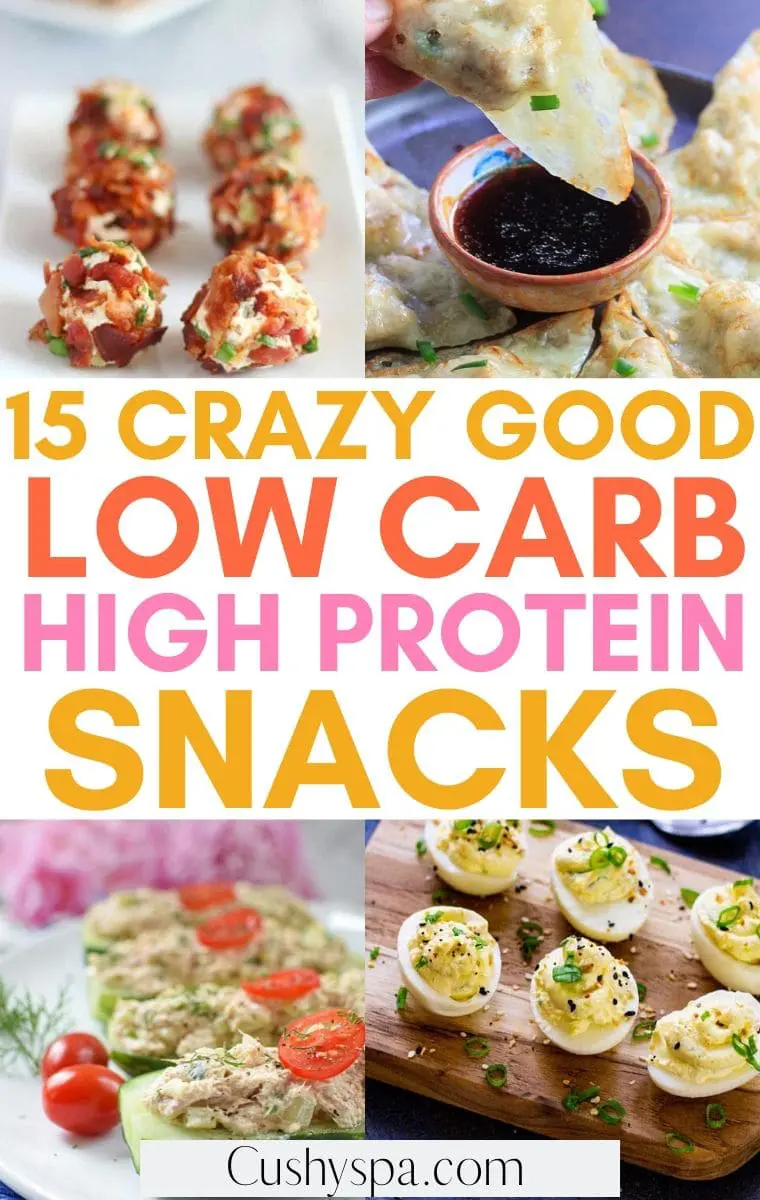 A low carb diet is a great diet to help you lose weight fast. Add exercise, and you're on the way to watching the pounds melt off your body.
By sticking to a low carb diet, you can turbocharge your weight loss. But did you know that making your diet high in protein can help you lose weight too?
That's because of all the macros (protein, carbs, and fat), protein makes you full the most. Also, adding more protein to your diet boosts your metabolism.
So, today I am sharing low arb high protein snacks. They are not only delicious but will help you lose weight faster. To keep your snacks fresher, longer be sure to pack your snacks in air-tight BPA free storage containers like these glass containers here.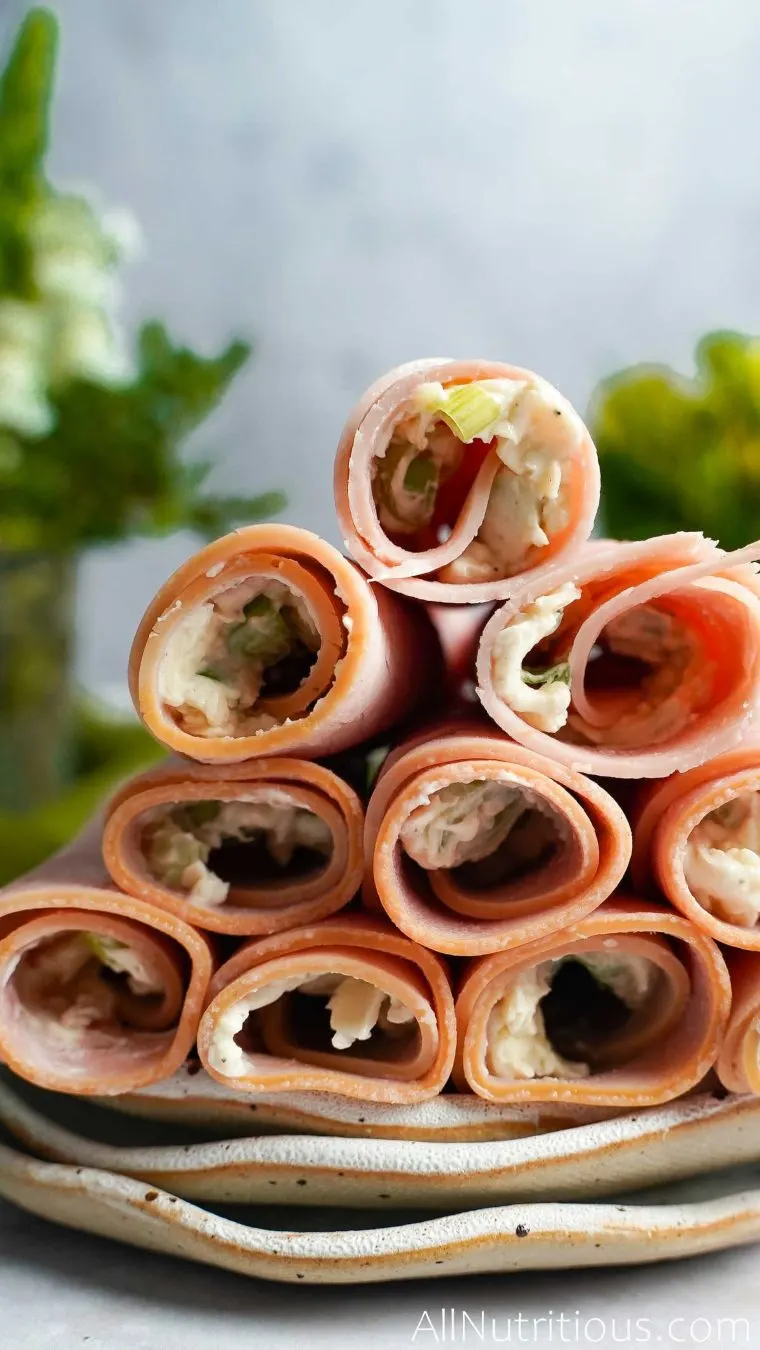 When you're on a low-carb diet but looking for a quick savory snack – ham roll-ups are perfect for that. Simple, cheesy, and yummy.
It is a perfect savory snack you can quickly make and even serve for the whole family. The good thing about ham is that it has a ton of protein, so perfect post-workout to let those muscles build up!
Per 3 Roll Ups:
Calories: 360
Fats: 17g
Protein: 48g
Carbs: 3.9g
Fiber: 0.2g
Net Carbs: 3.7g
These crispy cheese chips are savory, yummy, and such a delight. A favorite for many – it doesn't even feel like you're eating a snack for a diet.
I always make these for parties, and they get gobbled up quickly! So, safe to say this is the snack you want to make when you just need to satisfy that inner itch.
Per Chip:
Calories: 85
Fats: 7g
Protein: 4.8g
Carbs: 0.7g
Fiber: 0.1g
Net Carbs: 0.6g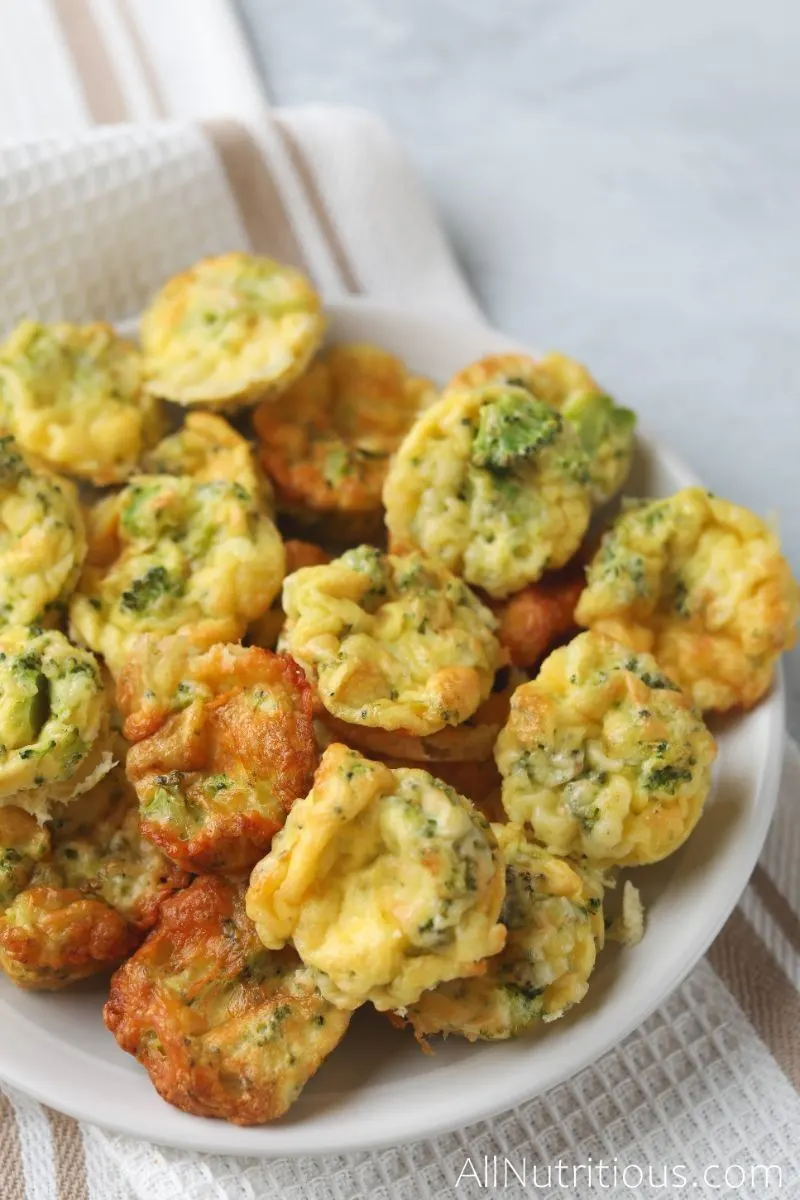 Get some vegetables into your diet with these delicious snacks! Simple, delicious, and yummy.
These egg bites are easy to meal prep, and have them ready whenever. Enjoy these little snacks whenever you're at work or at school.
Perfect for breakfast too!
Per Bite:
Calories: 31
Fats: 2.5g
Protein: 1.6g
Carbs: 0.5g
Fiber: 0.1g
Net Carbs: 0.4g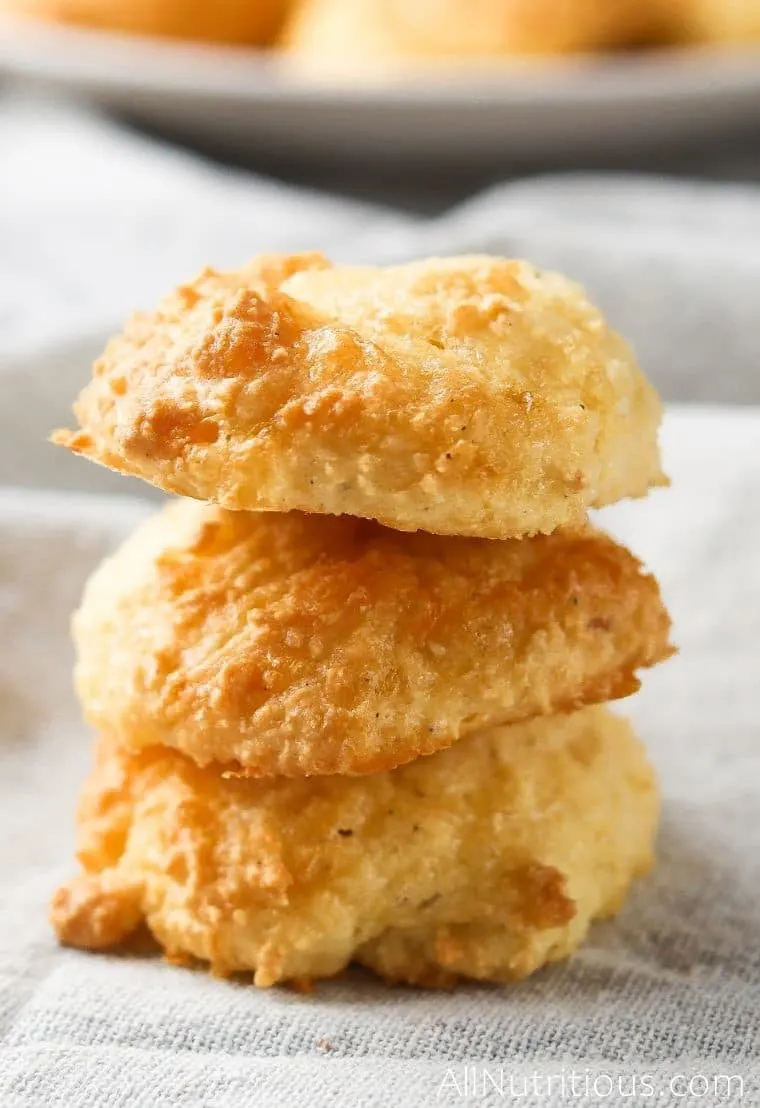 These are my absolute favorite cheese snacks! Crispy on the outside, softer inside! They are perfect with a cup of tea or coffee.
These savory, crispy, and salty bites are the perfect snack when you're craving chips or anything unhealthy. Will fill you up!
Per Bite:
Calories: 103
Fats: 8.3g
Protein: 5.6g
Carbs: 1.9g
Fiber: 0.8g
Net Carbs: 1.1g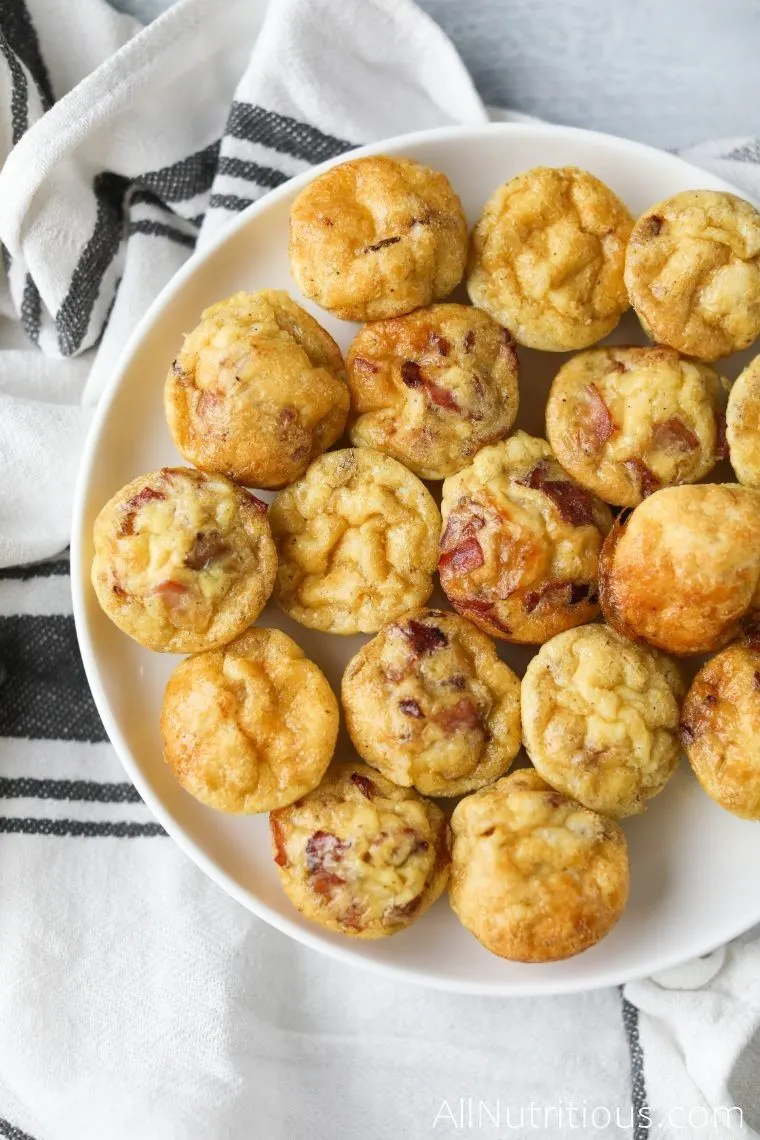 On a keto diet? These low carb high protein snacks are just what you need. Perfect if you love eggs and need something for breakfast!
They are quite yummy and full of nutrition!
Per Bite:
Calories: 43
Fats: 3g
Protein: 3.4g
Carbs: 0.5g
Fiber: 0g
Net Carbs: 0.5g
6. Peanut Butter Chocolate Bars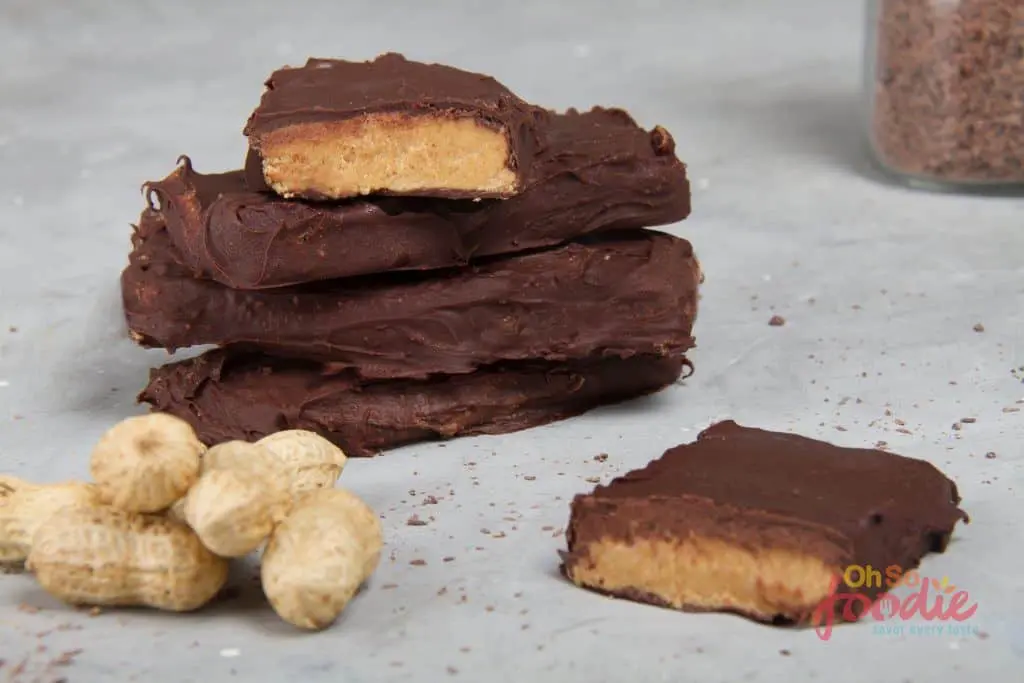 Credit: ohsofoodie.com
Protein bars are great snacks for workouts, or frankly any time at all. And these protein bars don't disappoint.
They are full of peanut butter and chocolate goodness. They are also super easy to make; all you need are 4 ingredients.
The secret to these protein bars being low carb is that you use Stevia to sweeten them. So they have way fewer carbs than traditional protein bars.
And to boost the protein content, you use vanilla protein powder. Make sure that your protein powder is not only high in protein but also low in carbs. I recommend this low carb Perfect Keto vanilla protein powder here because it contains only 1 gram of carbs per scoop.
These protein bars are great just as they are. Or, you can enjoy them with a nice cup of coffee or tea.
Per Serving:
Calories: 242
Fats: 17.5g
Protein: 15.6g
Carbs: 8.4g
Fiber: 1.9g
Net Carbs: 6.5g
7. Poppable Pork Shots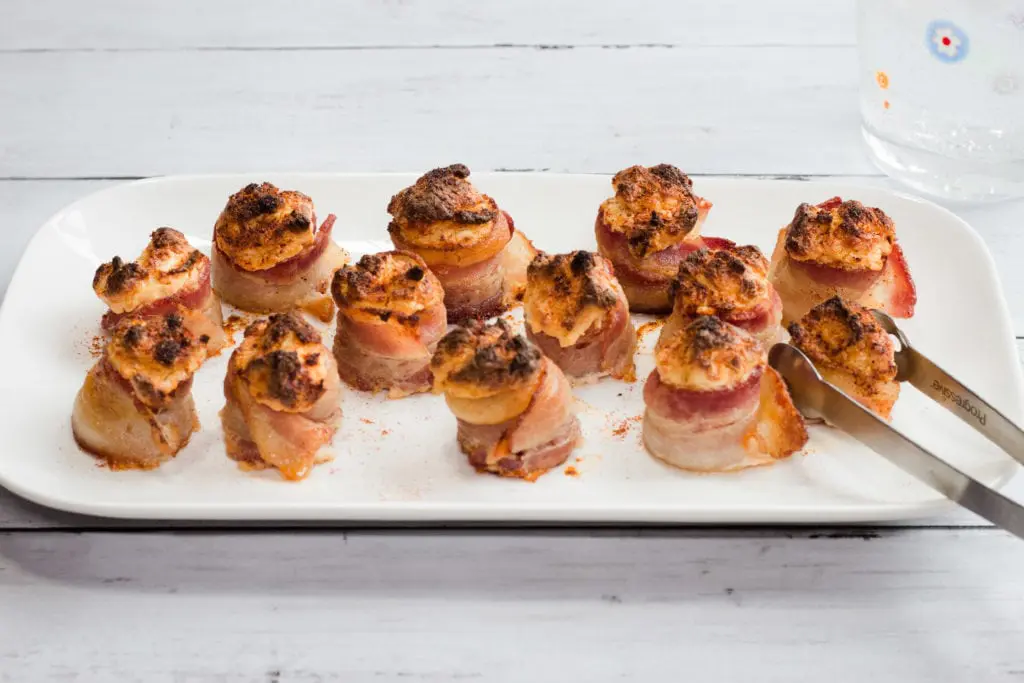 Credit: ketocookingwins.com
Shots are a sure-fire way to get you out of ketosis, and gain weight. But not these ones!
These shots are oh, so yummy, yet so good for you. Smoked sausage wrapped in crispy bacon and topped with a cheesy, creamy sauce with chipotle chili for extra smokiness and heat…you can't go wrong with that!
Not only are these pork shots low in carbs, they are also high in both protein and fat. So, they make for a pretty filling low carb snack.
These little cuties are the perfect appetizers to serve your guests on game day. You can even serve them at cocktail parties too.
Serve with a creamy low carb dip.
Per Serving:
Calories: 291
Fats: 15g
Protein: 12g
Carbs: 3g
Fiber: 0g
Net Carbs: 3g
8. Tuna Salad Cucumber Boats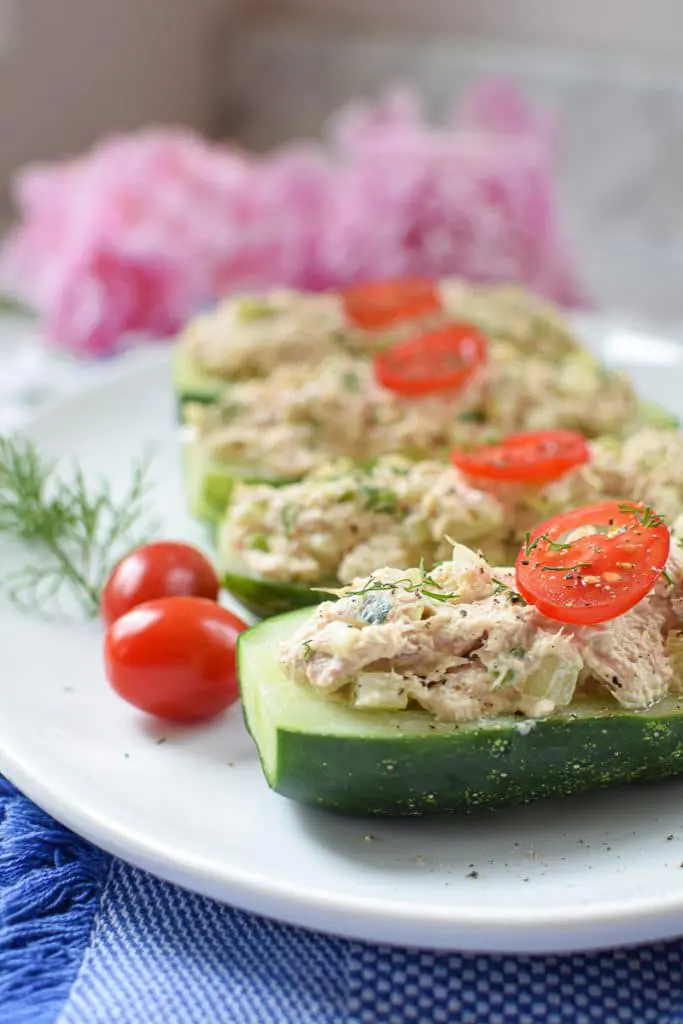 Credit: emilykylenutrition.com
Tuna is packed with protein and has zero carbs, so it makes for the perfect low carb, high protein snack. As a bonus, it is chock full of omega3s, which are good for your heart and brain too.
However, you usually put tuna salad in bread. So, that adds on the carbs.
This recipe ditches the bread. Instead, you put your tuna salad in pretty boats made of scooped out cucumber.
This makes your tuna salad extra refreshing. In fact, I prefer these to tuna salad sandwiches.
The tuna salad is super creamy and really good for you too. That's because you use both mayonnaise and Greek yogurt, which is rich in gut-friendly probiotics.
These cucumber boats make a nice snack. But you can even use them as a nice light lunch too. Check out more low carb salad ideas here!
Per Serving:
Calories: 180
Fats: 1g
Protein: 23g
Carbs: 7g
Fiber: 2g
Net Carbs: 5g
9. Paneer Heriyali Tikka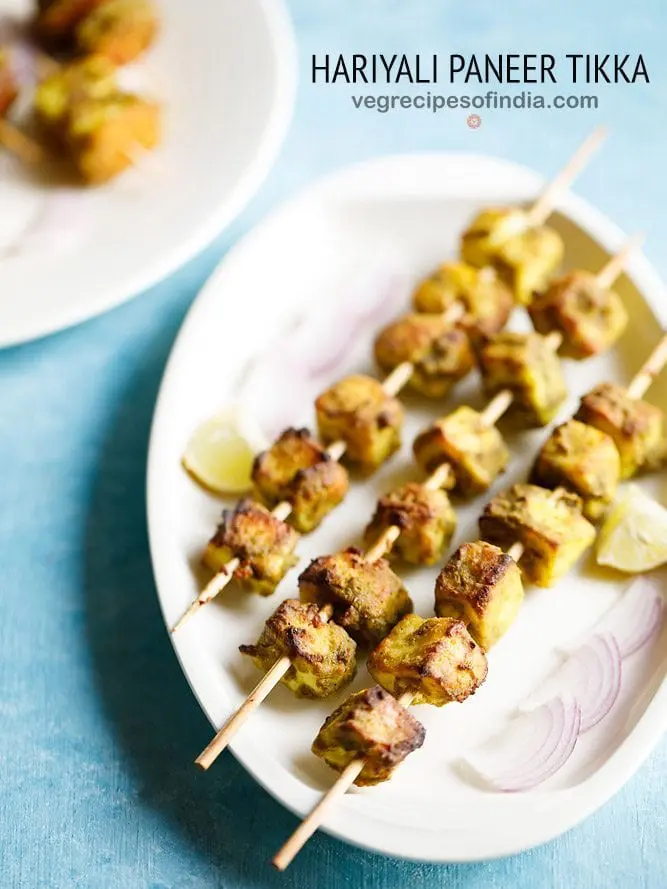 Credit: vegrecipesofindia.com
Are you craving Indian food? This dish is sure to satisfy your cravings.
This paneer tastes just like the paneer you would get at your local Indian restaurant. That's because the paneer is marinated in tons of Indian spices.
Spices like turmeric, carom seeds, cumin powder, and garam masala. So, it is full of aromatic flavor.
Now you will want to marinate your paneer for at least 30 minutes. That's so the paneer can soak up all those wonderful aromatic spices.
Not only is this paneer tasty, but it is also good for you too. One serving provides 35% of your calcium needs.
Serve with some lemon and onion slices.
Per Serving:
Calories: 250
Fats: 20g
Protein: 10g
Carbs: 6g
Fiber: 0g
Net Carbs: 6g
10. Air Fryer Chicken Wrapped In Bacon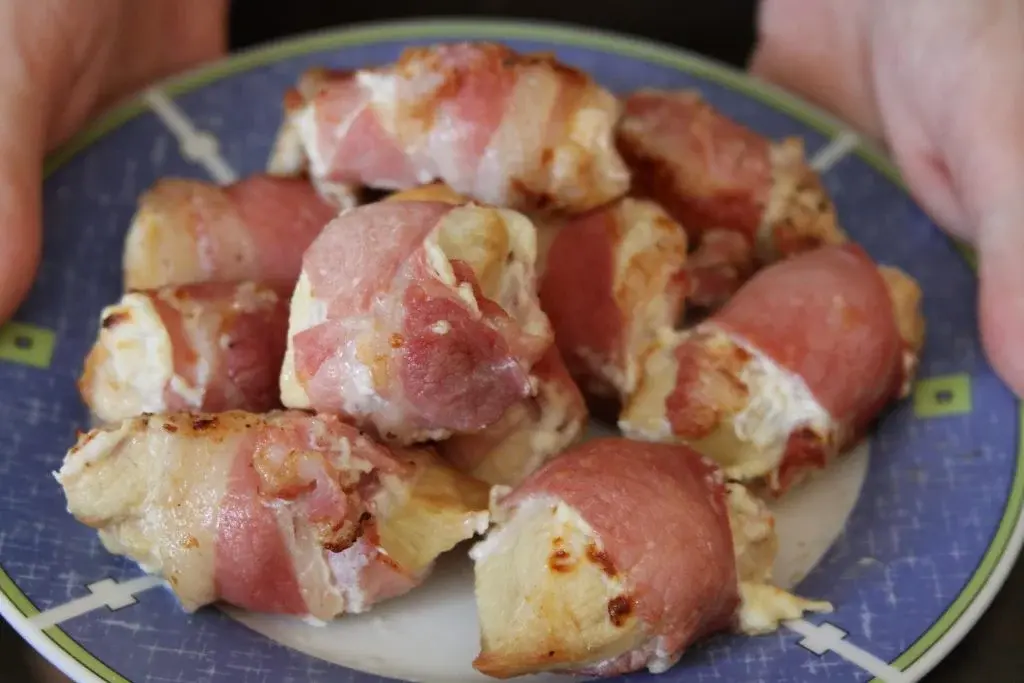 Credit: recipethis.com
Snack time can be a hassle, particularly when you're trying to make a snack that both you and your kids will love. However, you can't go wrong with bacon.
Tender chicken breast wrapped in soft cheese and crispy bacon. It is sure to delight your taste buds.
And since it is really high in protein, it makes the perfect snack for growing kids. You will want to make this dish again and again. Check out more ketogenic chicken recipes if you fancy this one.
Making it is super easy. All you do is cut your chicken breasts up into pieces, add some salt and pepper.
Then slather some cheese on your chicken breasts and wrap in bacon. Then, you let your air-fryer do the frying.
Air frying is the perfect way to get the fried taste without all the grease. So, it is much healthier for you. Don't have an air fryer yet? You can get one here.
Per Serving:
Calories: 648
Fats: 37g
Protein: 70g
Carbs: 4g
Net Carbs: 4g
11. Collagen Cookie Dough Keto Protein Balls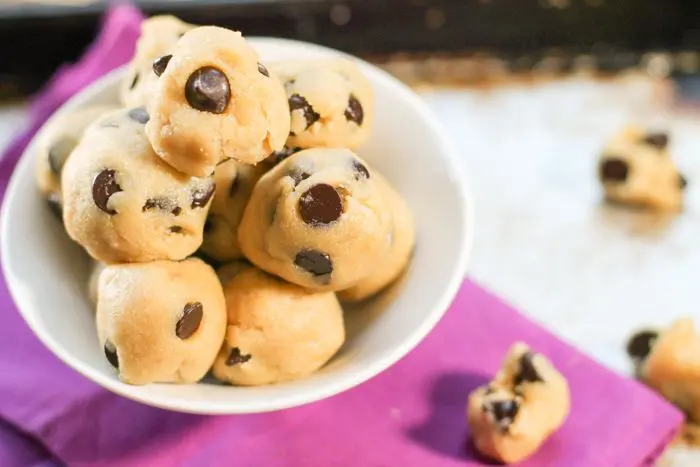 Credit: tessadomesticdiva.com
The best part of making cookies as a kid with my mom was licking the cookie dough off the spoon. It sure was delicious!
But gone are those carefree days. We now have carbs to worry about, right? However, you can still have cookie dough as an adult. Just make it low carb.
These keto protein balls are oh, so yummy and packed with chocolate chip goodness. Yet, they are healthy.
To make them high in protein, you use collagen. Collagen has many health benefits.
For instance, it may help reduce wrinkles and reduce your risk of osteoporosis. It even helps reduce inflammation. If you would like to give it a try, this is the collagen protein powder I recommend once again.
These protein balls also contain MCT oil, which helps boost your ketosis. So, they make you a fat-burning machine! You can stock up on MCT oil here. This MCT oil powder is great for adding to your recipes and helping yourself get into ketosis.
These protein balls contain just 108 calories, you can have a few, without feeling guilty. Enjoy with a nice hot cup of coffee or tea.
You can have these cookie dough balls as a ketogenic dessert too!
Per Serving:
Calories: 108
Fats: 8g
Protein: 4g
Carbs: 4g
Fiber: 1g
Net Carbs: 3g
12. Instant Pot Deviled Eggs With Sour Cream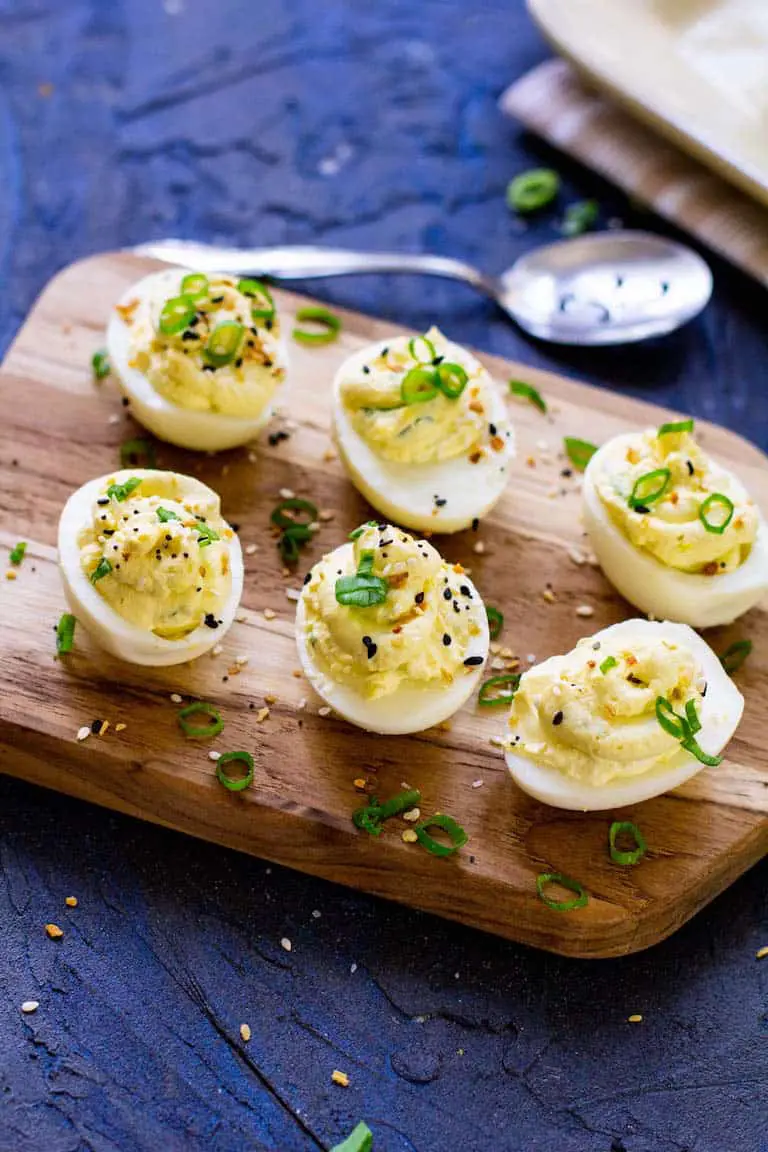 Credit: recipesfromapantry.com
I love hosting dinner parties, as I am sure many of you do too. But, the hardest part of hosting parties can be finding the perfect appetizer.
Well, these instant pot Deviled Eggs with sour cream are sure to be a hit. They offer a different spin on your classic deviled eggs.
The sour cream pairs nicely with the onion powder and chives. And the addition of the Everything Bagel Seasoning adds a nice crunch. Yum!
And compared to "regular" deviled eggs, they take a fraction of the time to cook. That's because you use an instant pot, which you can find here for a reasonable price.
So, you spend less time slaving in the kitchen. And more time hanging out with your guests.
Per Serving:
Calories: 37
Fats: 3g
Protein: 3g
Carbs: 1g
Fiber: 0g
Net Carbs: 1g
13. Life-changing Chicken Salad Bites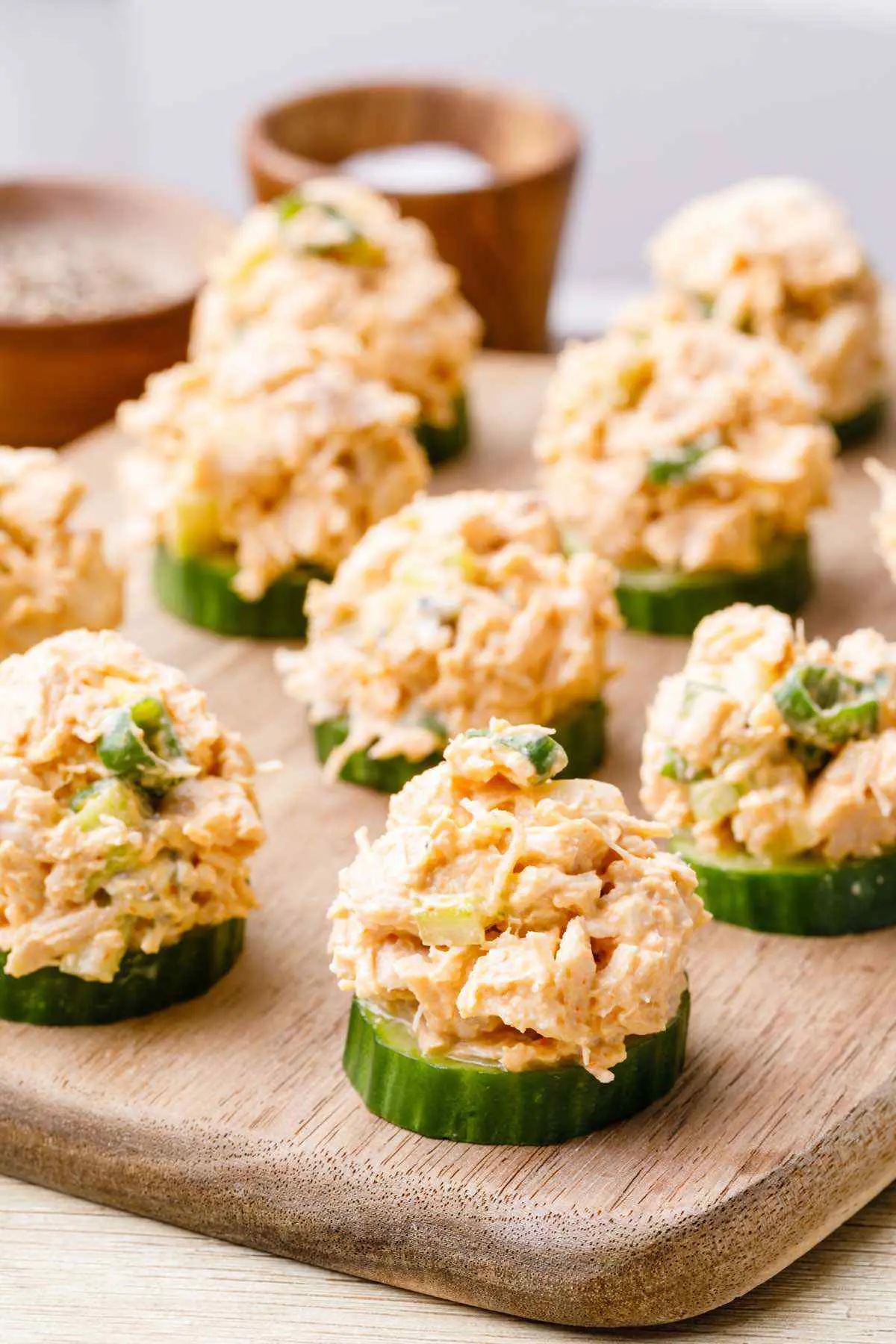 Credit: healthysubstitute.com
Chicken salad is another one of those classic foods that are packed with protein. Even more so when you use chicken breast to make it.
Just one ounce of chicken breast contains 17% of your daily protein needs. Not only that, but it is also a good source of selenium, a powerful antioxidant.
But, when you add bread and make chicken salad sandwiches, then up go the carbs. So, how can you get all that yummy deliciousness of chicken salad without adding bread?
By making these delicious chicken salad bites. This chicken salad is extra creamy thanks to the cream cheese and sour cream.
Frank's red hot sauce adds a nice kick, while the blue cheese just melts in your mouth.
Best of all, there are hardly any carbs in these bites. That is because you use cucumber slices to hold your chicken salad.
They are also low in calories. So, go ahead and eat one or two!
Per Serving:
Calories: 91
Fats: 4.1g
Protein: 11.5g
Carbs: 1.6g
Fiber: 0g
Net Carbs: 1.6g
14. Turkey Bacon Ranch Pinwheels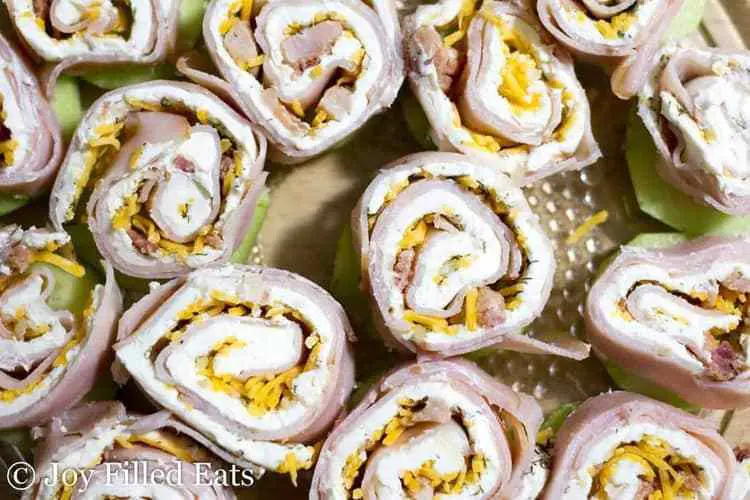 Credit: joyfilledeats.com
Gameday is a day you just want to kick up your feet and relax and enjoy the game. But what's game day without food?
These pinwheels are simply heavenly. They are packed with flavor and yummy ingredients like bacon crumbles, cheddar cheese, cream cheese, deli turkey, and seasonings.
The creaminess of the cream cheese and cheddar cheese nicely balance the crunchiness of the bacon crumbles.
All it takes is 5 minutes of prep time, and you've got great game day food. Now, that is how I like to roll.
These could do for a good keto lunch too!
Per Serving:
Calories: 141
Fats: 12g
Protein: 5g
Carbs: 2g
Fiber: 0g
Net Carbs: 2g
15. Air Fryer Hard Boiled Eggs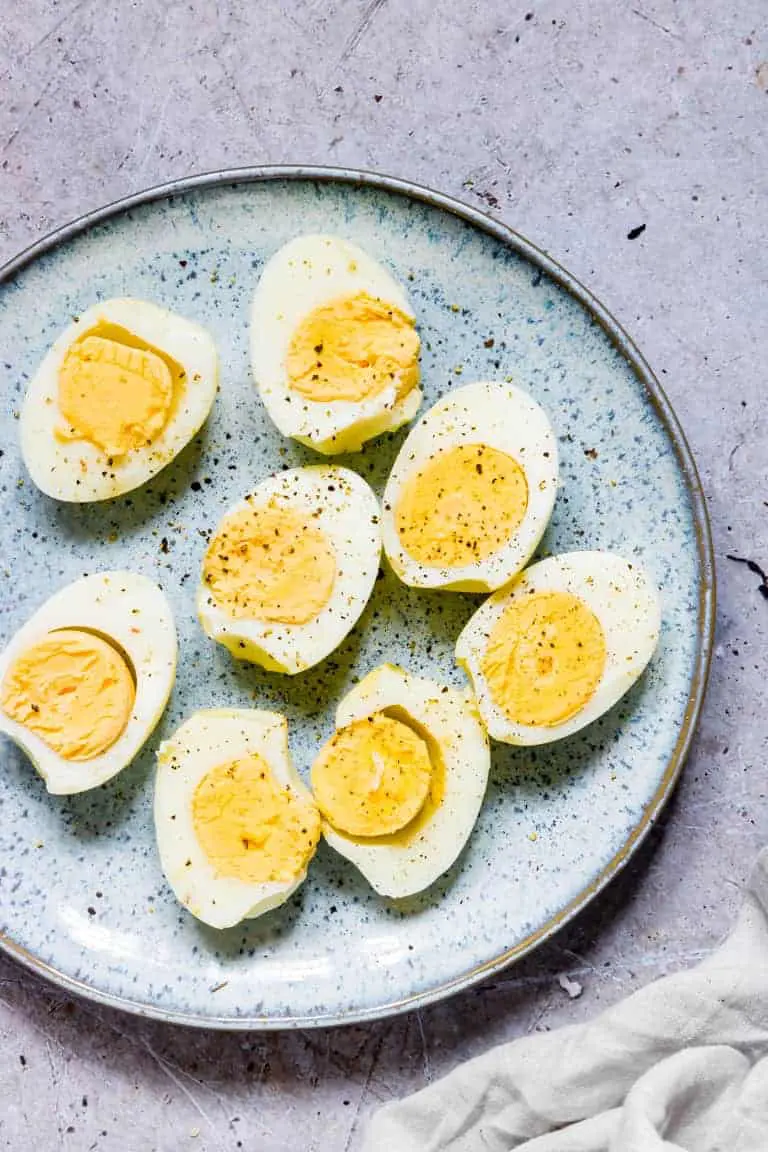 Credit: recipesfromapantry.com
Sometimes, you just want to keep snacks extra easy. And there's definitely nothing wrong with that.
Hard-boiled eggs are the perfect low carb, high protein snack. One large hard-boiled egg provides 13% of your daily protein needs and contains virtually no carbs.
It is also an excellent source of selenium too. But the traditional way of making hard-boiled eggs can be a pain.
You have to boil your water, and then once you put your eggs in, you hope that your eggs don't crack and make a mess.
Using an air fryer to make hard-boiled eggs is pretty fuss-free; no boiling water needed. Just preheat your air fryer and put your wire rack in your air fryer basket, then put your eggs on top.
Then cook for 16 minutes…it's that easy.
Per Serving:
Calories: 125
Fats: 8g
Protein: 11g
Carbs: 2.25g
Fiber: 0g
Net Carbs: 2.25g
16. Italian Sub Roll-Up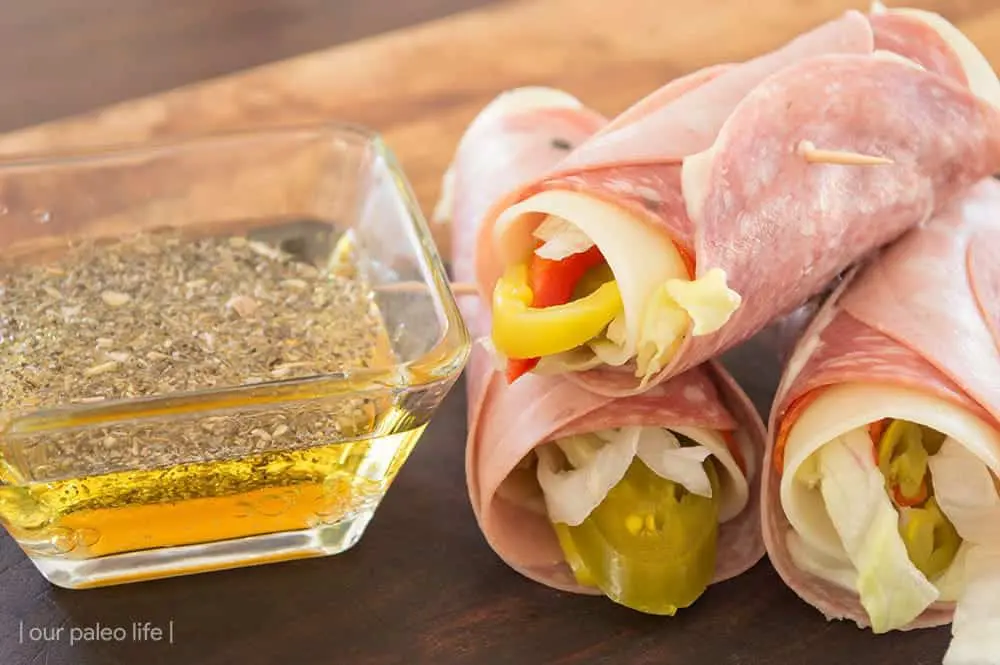 Credit: ourpaleolife.com
When you think of subs, you don't automatically think low carb. That's because of the bread.
However, sometimes you're just craving an Italian sub. This sub-roll-up will help satisfy your cravings.
They're super tasty and contain less than 1 gram of net carbs. The apple cider vinegar and Italian seasoning add a nice zing. While the shredded lettuce balances out the meatiness of the dish.
The secret to keeping them low carb is that you use your deli meats to roll up your fillings.
These roll-ups use traditional Italian meats like Genoa salami, Mortadella, Sopressata, and pepperoni. But, feel free to change them up if you like.
If you like it spicy, feel free to add some jalapeno peppers. Bon appetit!
Per Serving:
Calories: 234.3
Fats: 20.6g
Protein: 10g
Carbs: 0.9g
Fiber: 0g
Net Carbs: 0.9g
17. Keto Fried Mozzarella Bites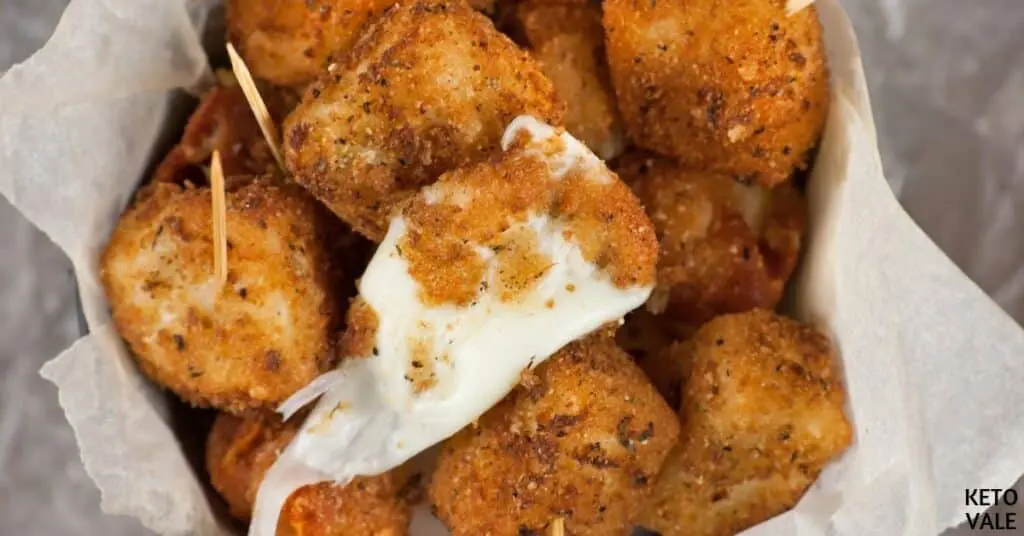 Credit: ketovale.com
Craving some more Italian inspired snacks? Then, try these keto fried mozzarella bites!
They are nicely browned on the outside. And are filled with ooey gooey cheese…perfect for popping in your mouth.
And they are totally keto. That's because you use coconut flour instead of regular flour as your batter.
Besides being low in net carbs, coconut flour also contains MCT oils, which are good for ketosis. If you need to stock up on some coconut flour, here is the one I usually use.
Serve with some keto marinara sauce. Check out more low carb coconut flour recipes here.
Per Serving:
Calories: 316
Fats: 20g
Protein: 19g
Carbs: 13g
Fiber: 7g
Net Carbs: 6g
18. Easy Keto Potstickers with Asian Dipping Sauce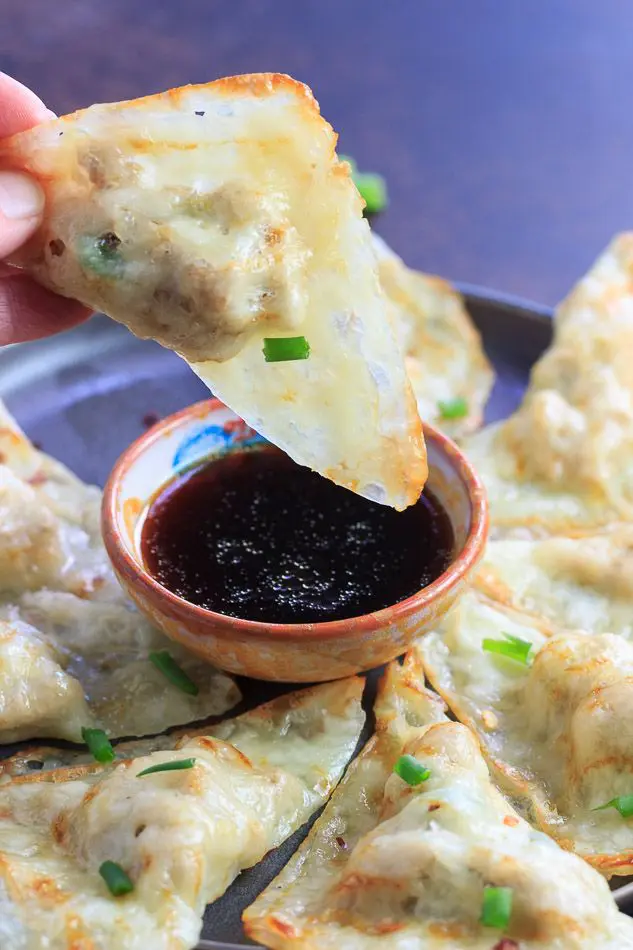 Credit: beautyandthefoodie.com
Is Chinese food calling your name? Then, satisfy your cravings with these keto potstickers!
Now your traditional potstickers use wontons made using regular flour. And as we all know, regular flour equal carbs, tons of them.
In fact, just 30 grams of regular flour contains a whopping 22 grams of net carbs. That is more than your daily net carbs limit!
However, these keto potstickers use melted cheese slices instead of regular flour. So, you're not only getting fewer carbs but more protein and fat as well.
And the filling is super flavourful. The tamari sauce and sesame oil add some umami, while the fresh ginger adds a gentle heat… it tastes just like what you would get at your Chinese takeout.
Making these potstickers takes less than 20 minutes too. So, it is much quicker than ordering in.
Per Serving:
Calories: 143
Fats: 11g
Protein: 8g
Carbs: 1.5g
Fiber: 0g
Net Carbs: 1.5g
19. Dill Pickle Fat Bombs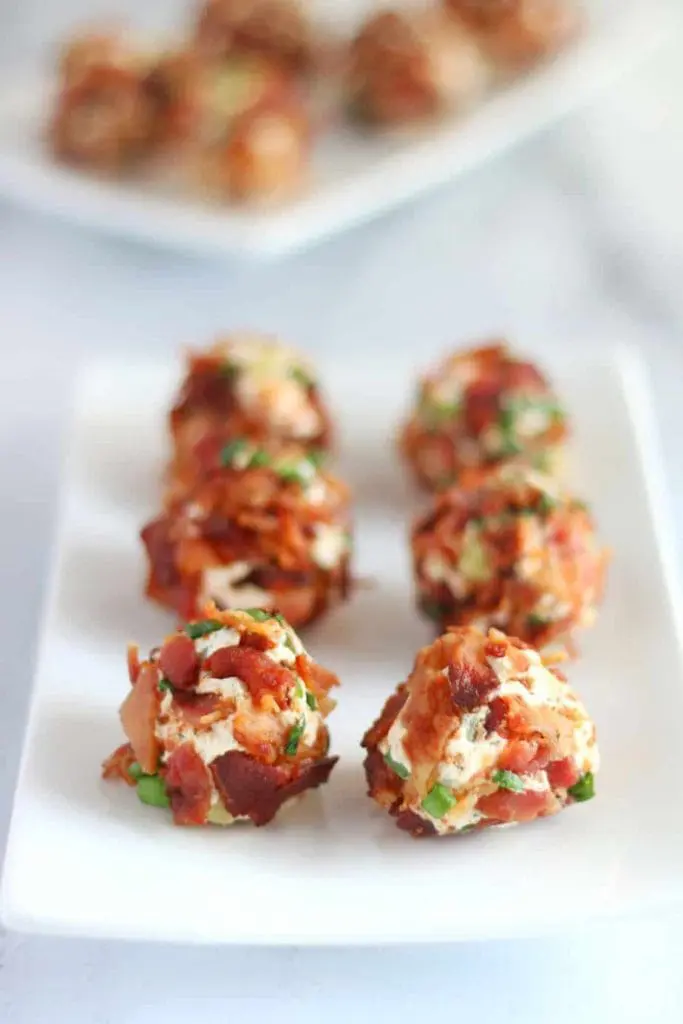 Credit: officiallyglutenfree.com
Sometimes, you're running behind on your fat goals and need a little oomph. These fat bombs are for one of those days.
They are a scrumptious way to hit your fat goals. They are packed with tons of dill pickle flavor.
The cream cheese and cheddar cheese make them extra creamy. Meanwhile, the crispy bacon adds some crunchiness and loads of flavor. After all, who doesn't love bacon?
And since these fat bombs are also high in fat, you can even use these as a post-workout snack. Your workout buddies will be jealous…so be nice, and bring a couple to share.
Per Serving:
Calories: 114
Fats: 39.9g
Protein: 4.3g
Carbs: 1.8g
Fiber: 0.2g
Net Carbs: 1.6g
20. Keto Stuffed Lasagna Bell Pepper Boats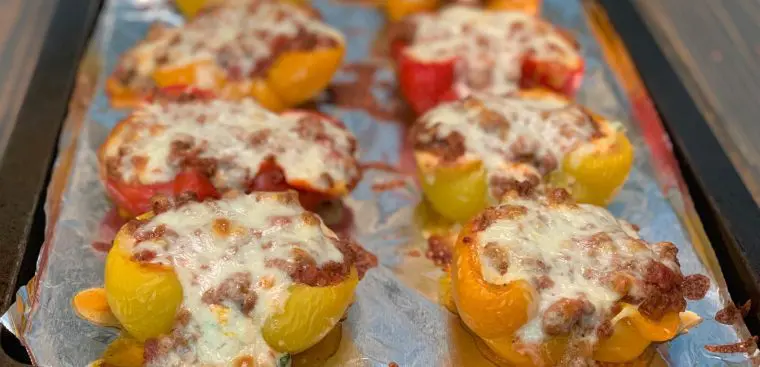 Credit: hip2keto.com
Do you miss lasagne now that you're on a low carb diet? There's no need to miss it anymore with these lasagne bell pepper boats.
They make a great snack or even a nice light dinner. They are extra cheesy because you're using three different kinds of cheese: ricotta, Parmesan, and mozzarella.
The freshness of the bell peppers nicely balances out the meatiness of the ground beef and ground Italian sausage. The Italian seasoning further ramps up the Italian flavors …this is sure to become one of your favorite snacks.
And since they are high in fat and protein, they are pretty filling too. So, you can eat just one and feel full.
To make these Bell pepper boats, you will need to remove the seeds and ribs from your Bell peppers. To make this easier, you can just use one of these handy Bell pepper corers.
Love this recipe; you might enjoy making these low carb dinners then!
Per Serving:
Calories: 341
Fats: 23g
Protein: 22g
Carbs: 10g
Fiber: 2g
Net Carbs: 8g
Conclusion
Enjoying these low carb protein snacks? Which ones are you favorite, what are you going to make?