Quick low carb sweet chili chicken stir fry you didn't know you needed. It only takes under 30 minutes to make and is an excellent option for either a low carb dinner or lunch. You can easily pack it up and bring it to work as well!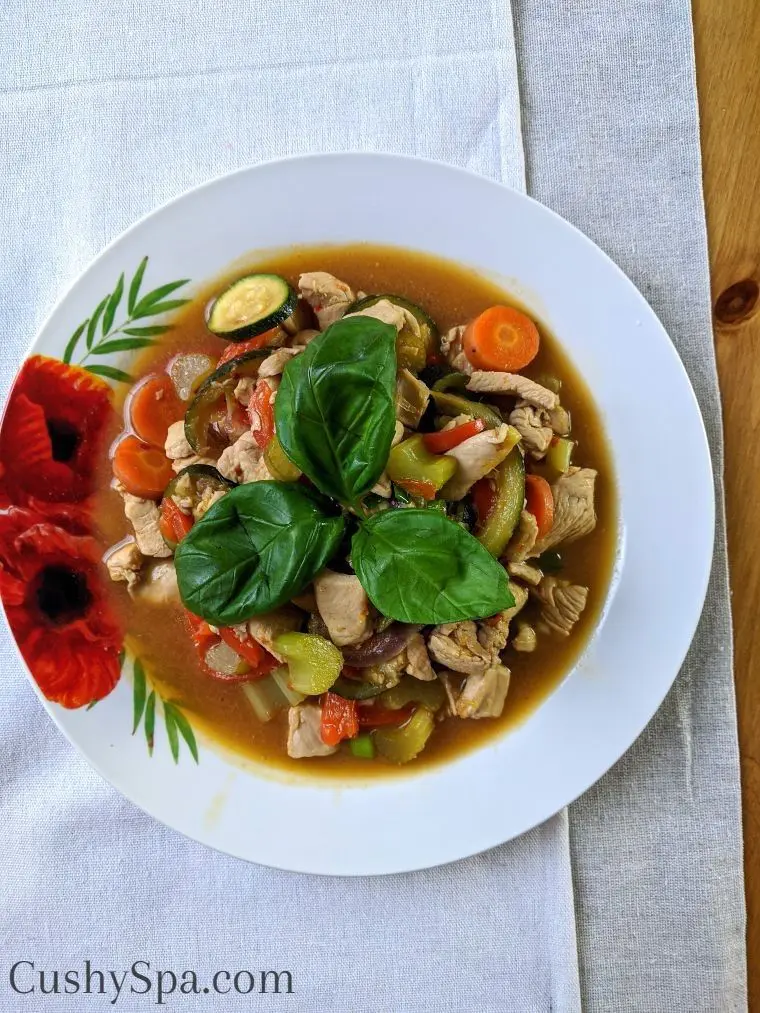 Chicken Stir Fry
After a long day at work, all you want to do is kick off your shoes, sit down and relax.
But, unfortunately, you still need to make supper…it won't magically appear by itself. So, your next option is takeout.
On a low carb diet, however, takeout can be a minefield. The pickings can be slim, and even those that you think are safe choices can have hidden carbs… especially the sauces.
So, you have a choice. You can slave in the kitchen, or just order takeout, and get back on your diet the next day.
But, I have a better option for you: make my sweet chili chicken stir fry.
It takes less than 30 minutes to make. Even better, all it takes is one skillet.
So, you're not left with tons of pots and pans to wash after dinner.
It's also packed with nutrition. The chicken meal provides tons of protein and some fat.
So, it's great for you and great for growing kids.
Meanwhile, the veggies provide fiber, vitamins, and minerals, and antioxidants.
In fact, you get a whopping 5.25 grams of fiber. That is more than 20% of your daily fiber needs.
Fiber is not only great for digestion, but it also helps you feel full too. So, when you eat this meal, you feel satisfied and less likely to grab that high carb cookie for dessert.
Besides that, it contains only 20 grams of net carbs. That is way less than takeout.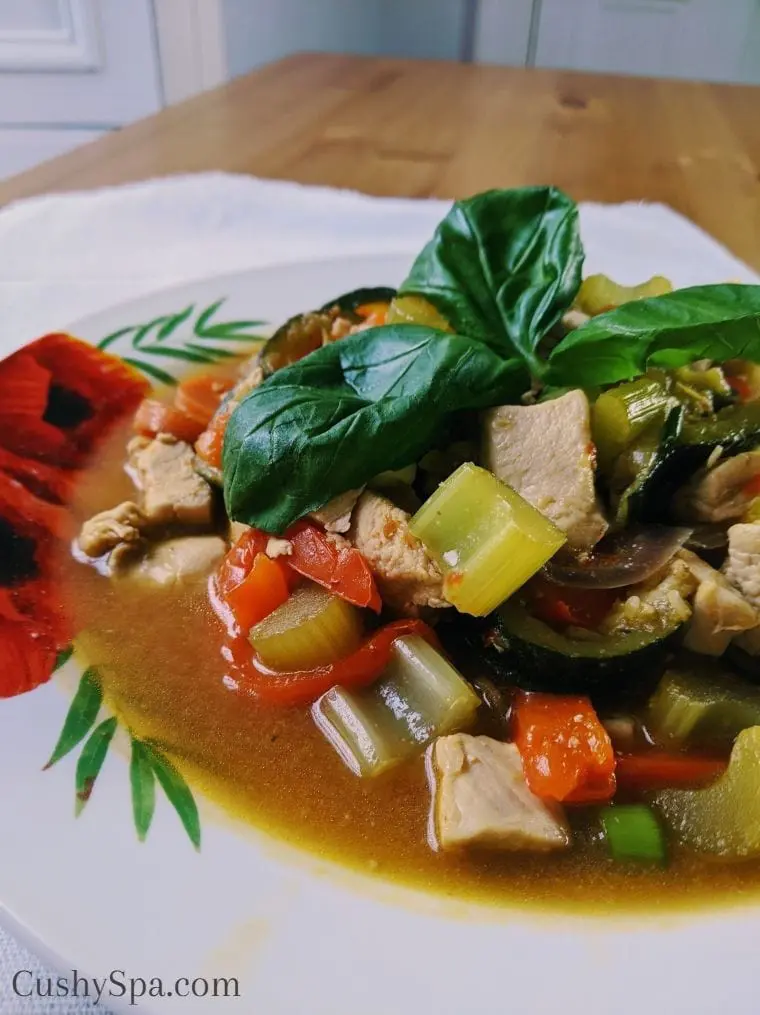 Low Carb Sauces for Chicken Stir Fry
The tender chicken pieces are bathed in a yummy sauce.
The low carb sweet chili sauce adds sweetness. And the red chili pepper flakes and ginger add a bit of heat.
The soy sauce adds a nice umami flavor, while the chicken broth adds savory notes.
It is also an excellent dish for meal prep as the leftovers making fabulous lunches or even future dinners.
So, feel free to double or even triple the recipe if you like. And to keep your leftovers fresh, it's a good idea to store them in some glass storage containers like these.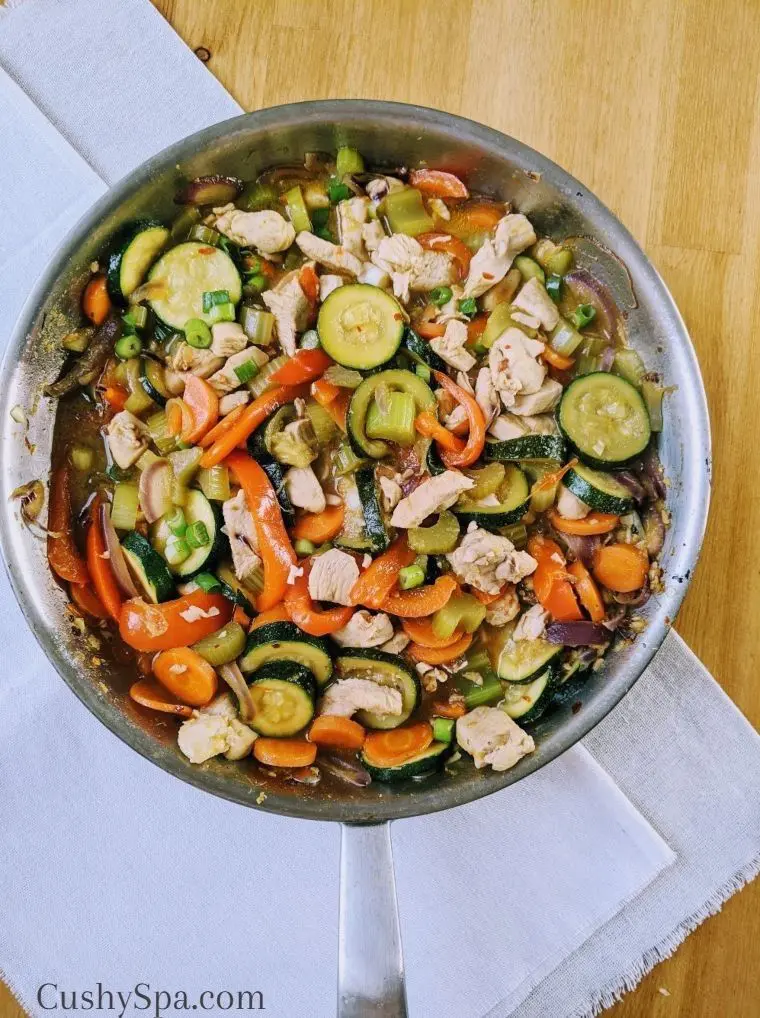 What Vegetables to Use for a Stir Fry?
To make the stir fry, you will need these vegetables:
Garlic
Technically, garlic is both a vegetable and a spice. Besides adding flavor to the stir fry, garlic has a ton of health benefits.
It can lower your cholesterol and blood pressure. It
Garlic also has antimicrobial effects and can help your immune system. So, lay on the garlic, and forget about the garlic breath!
Red Onions
Besides adding a bit of sweetness to the stir fry, red onions are also good for you. Red onions contain antioxidant anthocyanins that can lower your risk of heart disease.
Anthocyanins can also protect you against diabetes and certain cancers. In addition, they have anti-diabetic compounds that can help you control your blood sugar.
Eating red onions can even help you have stronger bones and boost your gut health as well.
Red Bell Peppers
The red bell peppers give the stir fry a lot of crunch and color. They are also quite nutritious.
One medium raw red bell pepper, for instance, provides a whopping 75% of your daily Vitamin A needs, as well as 253% of your daily vitamin C needs.
You need Vitamin A for healthy eyes, and vitamin C to help fight colds.
They are also good sources of vitamin B6 and folate. They also contain the antioxidant quercetin, which may reduce your risk of heart disease and cancer.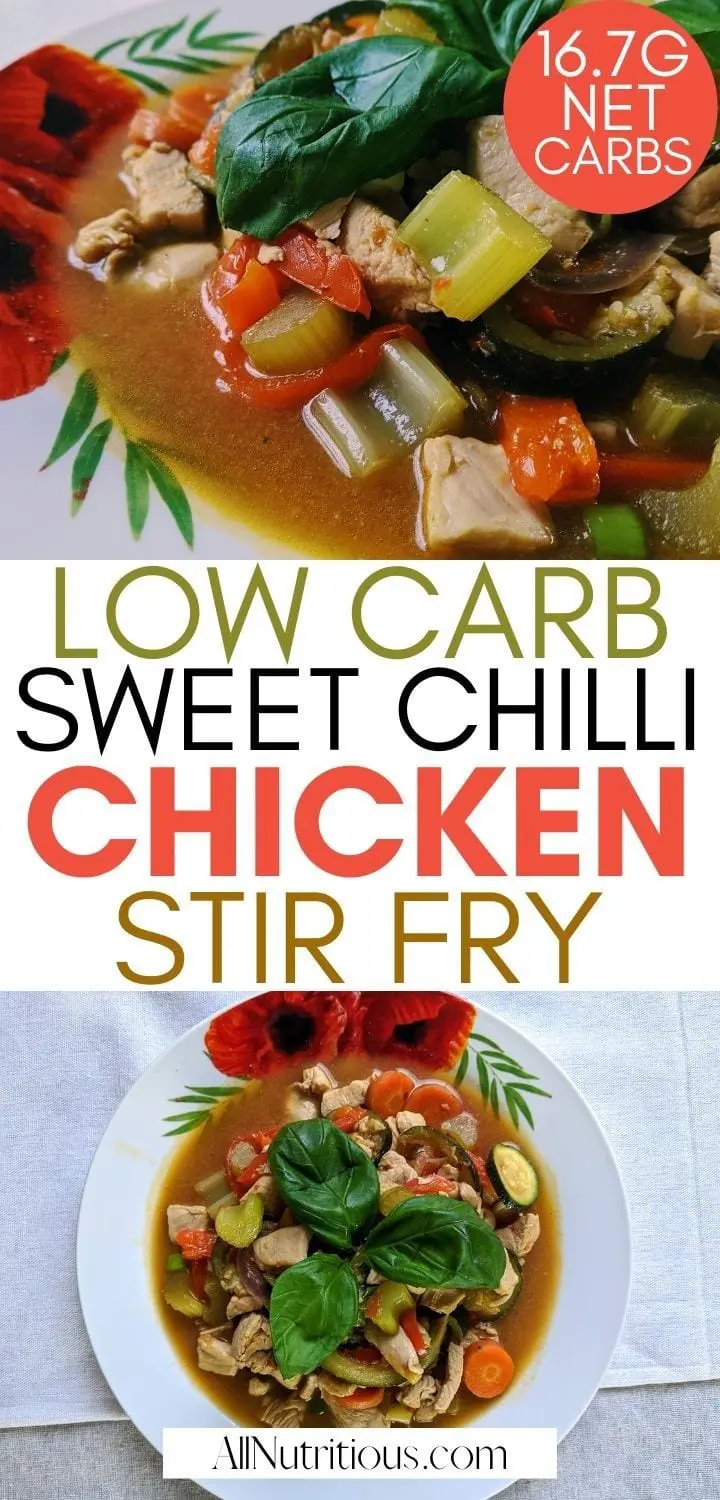 Zucchini
Besides adding vibrant green color to the stir fry, zucchini is an excellent source of vitamin A and contains a number of other vitamins and minerals as well.
It is also rich in carotenoids, which are antioxidants that are good for your heart, eyes, and skin, and may reduce your risk of prostate cancer.
Celery
Celery adds a nice light green color. Besides being pretty low in calories, it is a good source of vitamin K, which you need for your blood to clot when you bleed.
Celery also reduces inflammation in your body, which in turn may prevent diseases like arthritis and osteoporosis.
Carrots
The carrots add tons of crunch and color. They are also pretty good for you too.
For instance, 1 medium raw carrot provides a stunning 204% of your daily vitamin A needs. Eating carrots may also lower your cholesterol levels.
Green Onions
They add crunch, color, and a slight onion flavor to the stir fry. And like "regular" onions, they have a ton of health benefits, including helping lower your blood sugar.
Handy Tips
So, you see that this stir fry has a ton of veggies that are good for you. Now, cutting veggies can be a chore, so for extra convenience and to save time; you can use a food processor to do the work for you. I recommend this food processor as it is pretty powerful, and there is a great deal on it right now.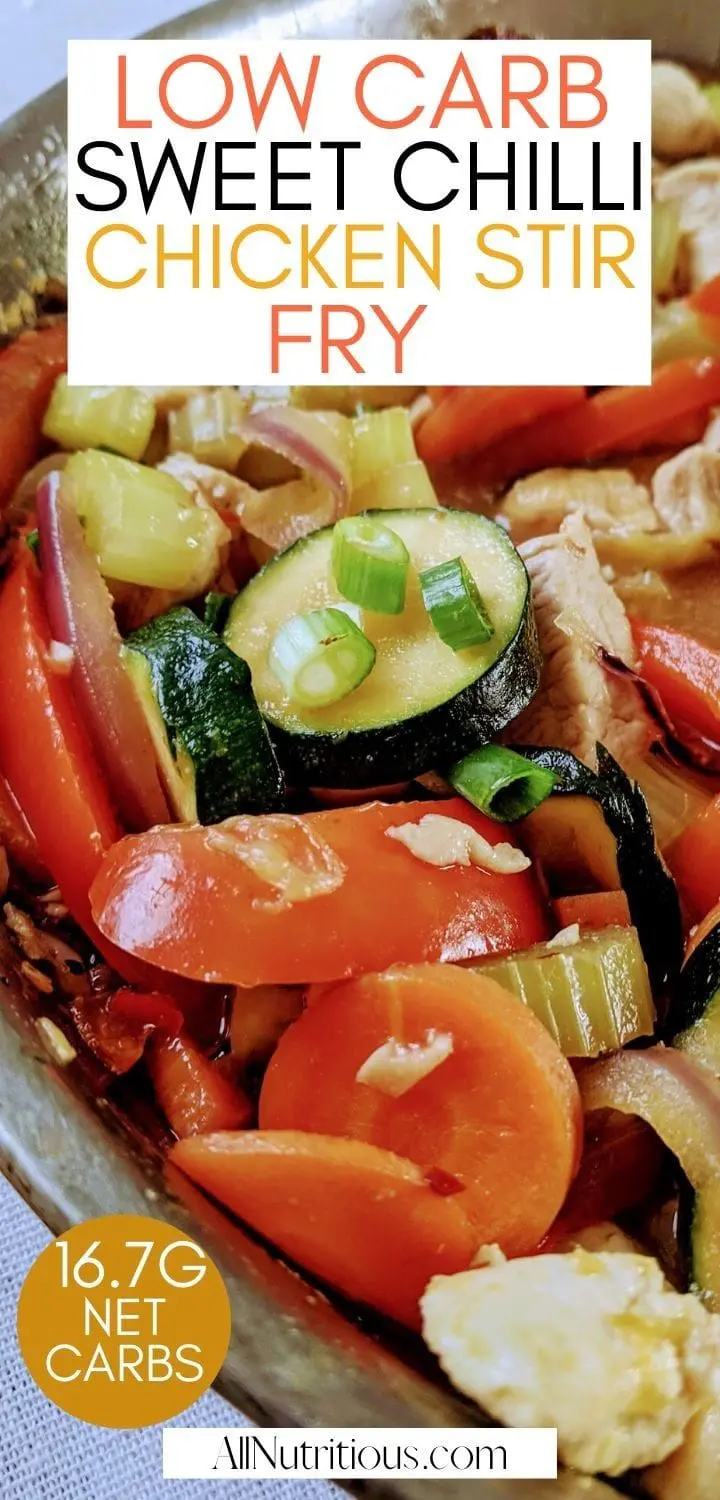 Low Carb Sides to Have With Sweet Chilli Chicken Stir Fry
This stir fry is great on its own, but if you like you can have sides like zucchini noodles, cauliflower rice, Shirataki noodles, and even keto bread. Here are some great recipes for keto bread.
You can also keep it super simple and get some cabbage or lettuce, and make wraps.
How to Keep the Stir Fry Low Carb
To keep the carb count down, you want to use low carb veggies. Besides using the vegetables I used, you can use other low carb veggies like mushrooms, broccoli, cauliflower, green beans, and even snow peas.
You also want to avoid using flour in the stir fry. If you prefer the sauce a bit thicker, feel free to thicken it with low carb flours like almond flour and coconut flour.
Coconut flour contains about 60% less net carbs than regular flour. And since it is pretty absorbent, you won't need much of it to thicken the sauce. You can find some here.
Almond flour is also quite good. It contains about 80% less net carbs than regular flour.
You would use just as much almond flour to thicken your sauce, as you would regular flour. If you need to stock up on some, you can get some here.
You could also just use psyllium husk!
You also want your sweet chili sauce to be low carb. Regular sweet chili sauce can contain tons of sugar, which means tons of carbs. If you're looking for a delicious low carb sweet chili sauce, you can find one here.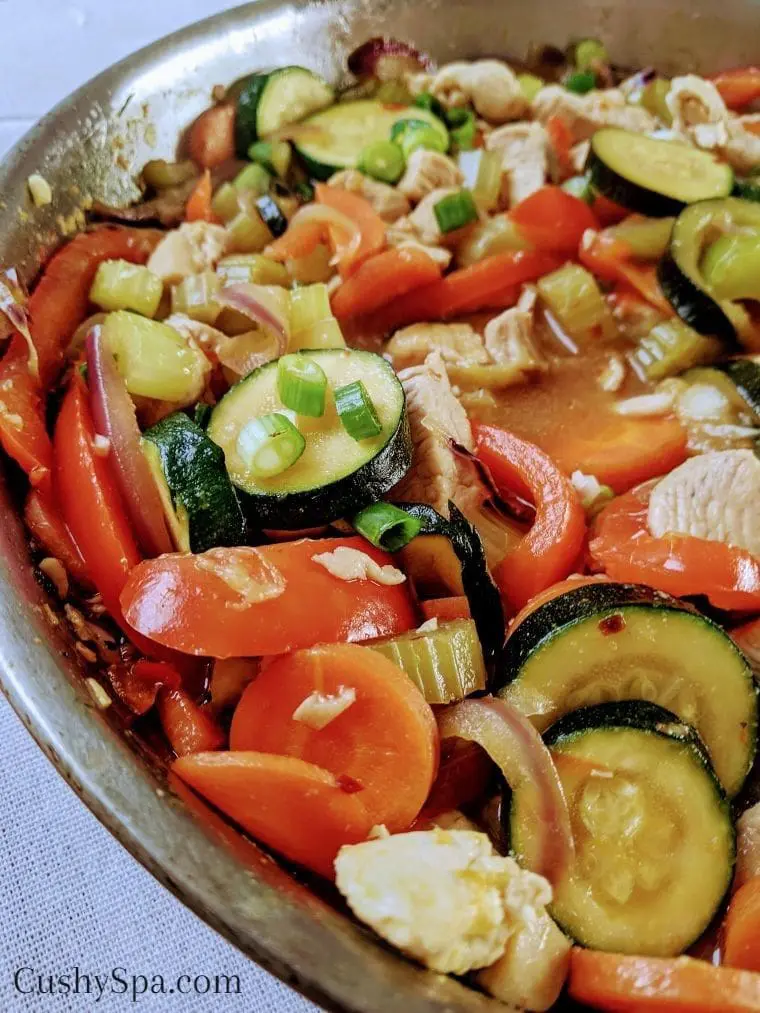 Other Recipes You Might Like: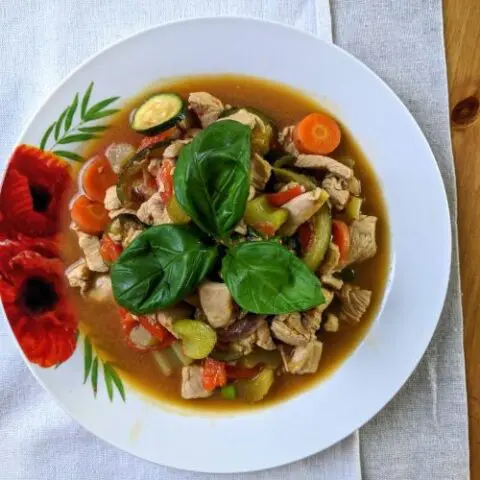 Sweet Chilli Stir Fry Chicken (Low Carb, One-Pan)
Make this low carb sweet chilli chicken stir fry that's so easy to make. It's a perfect lunch or dinner idea when you're on a low carb diet.
Ingredients
2 tbsp olive oil
1 pound skinless, boneless chicken, diced
2 tsp minced garlic
2 tsp minced ginger
1 small red onion, cut into thin wedges
1 red bell pepper, sliced
1 tsp red chili pepper flakes
3 tbsp soy sauce
1 1/2 cups chicken broth
3 tbsp low carb sweet chili sauce
2 zucchinis, sliced
3 celery stalks, sliced
2 carrots, sliced
1 green onion, sliced
3 basil leaves
Instructions
Heat up the oil in the frying pan. Afterward, add chicken and cook chicken for around 5 minutes until it's fully cooked. Then, remove the chicken, make sure you leave the mixture of juice and oil in the frying pan.
Now add garlic, ginger to the frying pan, and cook for 1-2 minutes. Add red onions, bell peppers, and chili pepper flakes. Cook for another 3 minutes.
Add all the vegetables and cook for around 3 minutes. Make sure they don't start burning.
Add the chicken back and pour in the chicken broth. Let it simmer for 5 minutes or so.
Stir in the soya sauce and sweet chili sauce, feel free to adjust measurements to your taste and let it cook for another 5-10 minutes. That' until the stir fry gets thicker.
Sprinkle over the green onion.
Serve it with rice or eat it on its own to keep it low carb. You could also eat it with cauliflower rice.
Nutrition Information:
Yield:

2
Serving Size:

1 bowl
Amount Per Serving:
Calories:

514
Total Fat:

22g
Saturated Fat:

3.9g
Trans Fat:

0g
Unsaturated Fat:

15.5g
Cholesterol:

162mg
Sodium:

2293mg
Carbohydrates:

23g
Net Carbohydrates:

16.7g
Fiber:

6.3g
Sugar:

13g
Protein:

56g
Nutritional values were obtained with automatic software using the amounts of products used. To get the most accurate representation of the nutritional values, you should calculate them with the actual ingredients used in your recipe. You are solely responsible for the nutritional information obtained to be accurate.