Staying on a ketogenic diet is a challenge but it can become even more of a challenge when you are busy with work. All of a sudden spending an hour to cook a healthy meal might no longer be an option.
However, you still want to stay within your carb limits and continue your diet! That's where being able to meal prep and freeze a meal can come in very handy.
Before I jump into the keto freezer meal recipes, I'd like to remind you what it is that you might need to freeze up whatever you want:
Freezer friendly containers – these are the absolute best when it comes to freezing meals. Especially if it's meatballs, lasagna or other dishes that you want to keep in shape.
Reusable silicone food storage bags – buy reusable bags to reduce the amount of waste your household produces. These bags are great for marinating meats and keeping them frozen. All you have to do is open the bag, pop the food into a crockpot and cook it up. Food storage bags are a must to have at every household!
Now, here are 25 freezer meals you can try if you're on the keto diet!
1. Cauliflower Walnut Taco Meat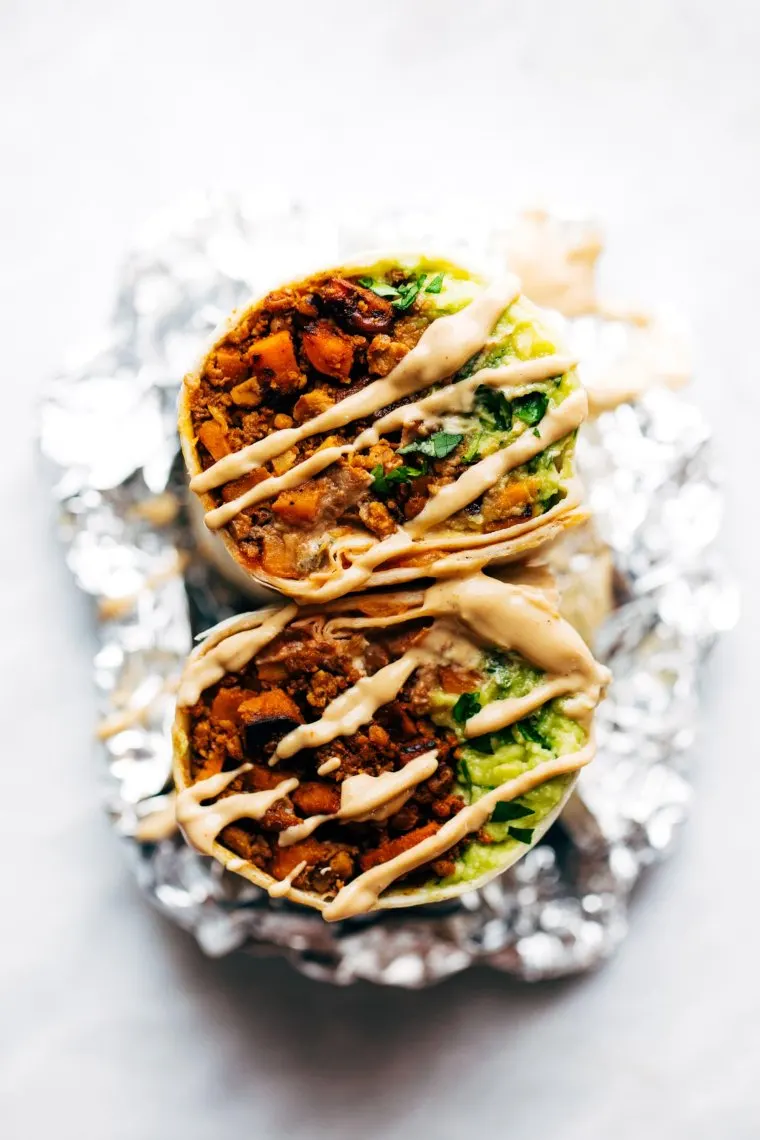 Credit: pinchofyum.com
Had to share this recipe because it's keto and vegetarian. Yes, cauliflower walnut taco meat actually has no meat in it but does have the amazing meaty texture that you might genuinely love.
Cook it up and feel free to freeze it for later. You can serve it in tacos, salad leaves or with other ketogenic sides. You could check out some of these keto salads that might go well with this freezer meal.
Per Serving:
Calories: 282
Fats: 25.9g
Net Carbs: 5.9g
Protein: 7.3g
Watch: 4 Ketogenic Meal Ideas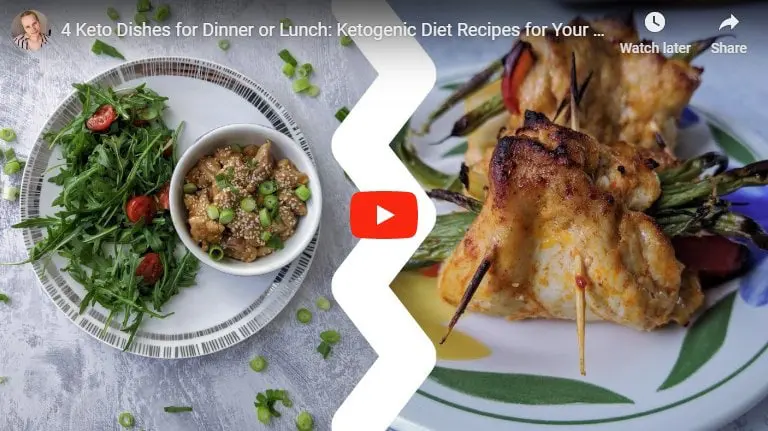 2. Pesto Meatballs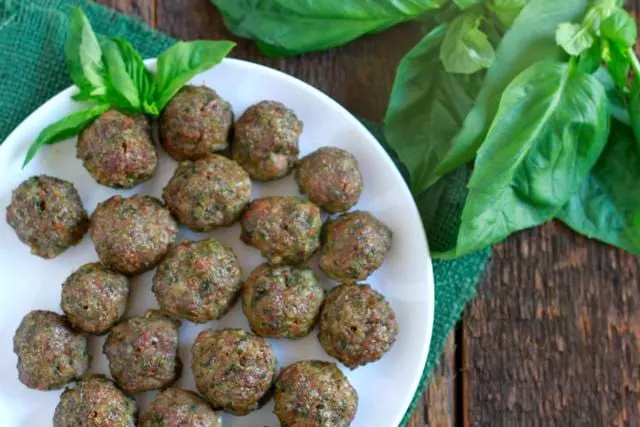 Credit: savorylotus.com
Show me a person who doesn't like meatballs! I assure you, it's going to be hard to find one!
So, that's where making meatballs come in handy. It's great for family celebrations, events, or just friend gatherings.
You can freeze them up, meal prep them, and eat them whenever you want! Great for a ketogenic lunch too!
Also, don't forget to get good quality coconut oil for this recipe. That's the one I recommend. Unrefined sea salt will make these meatballs even more delicious.
Per Serving (4 meatballs):
Calories: 232
Fats: 16g
Net Carbs: 0.2g
Protein: 10g
3. Cabbage Lasagna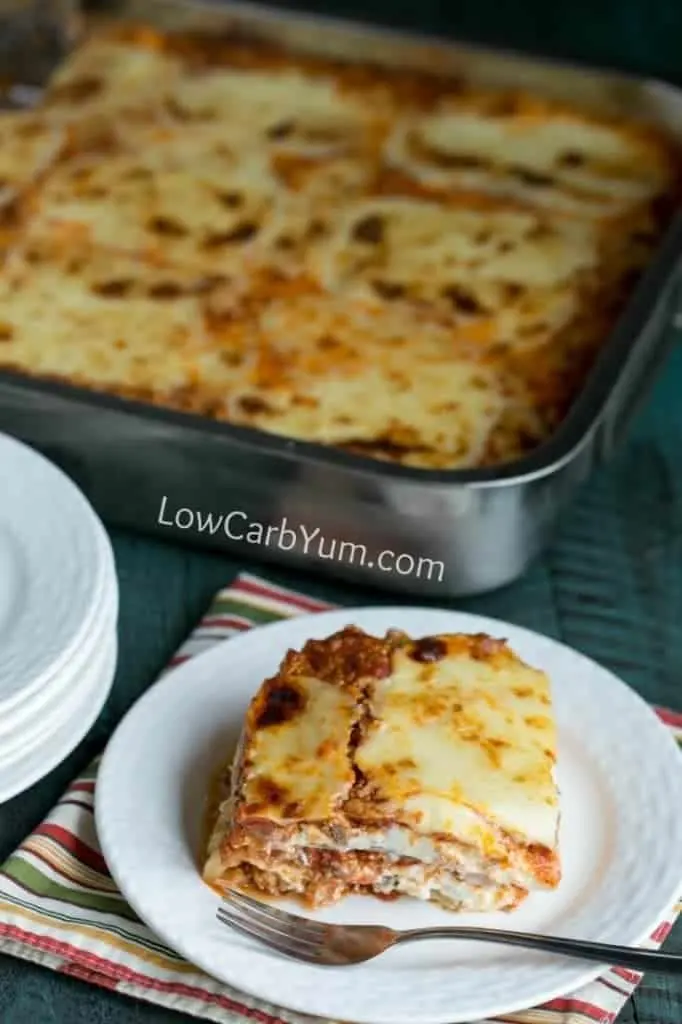 Credit: lowcarbyum.com
If you've always been a fan of a good lasagne, you're going to love this recipe. Especially if Italian cuisine has always been your favorite but you need to eat a low carb diet now.
This cabbage lasagne uses, as the name suggests, cabbage instead of lasagne noodles. That's how you avoid eating a bunch of unnecessary carbs.
What's also great is that lasagnas are easy to freeze! So, definitely give this recipe a try.
Per Serving:
Calories: 451
Fats: 34g
Net Carbs: 8g
Protein: 27g
4. Easy Spiced Pork Chops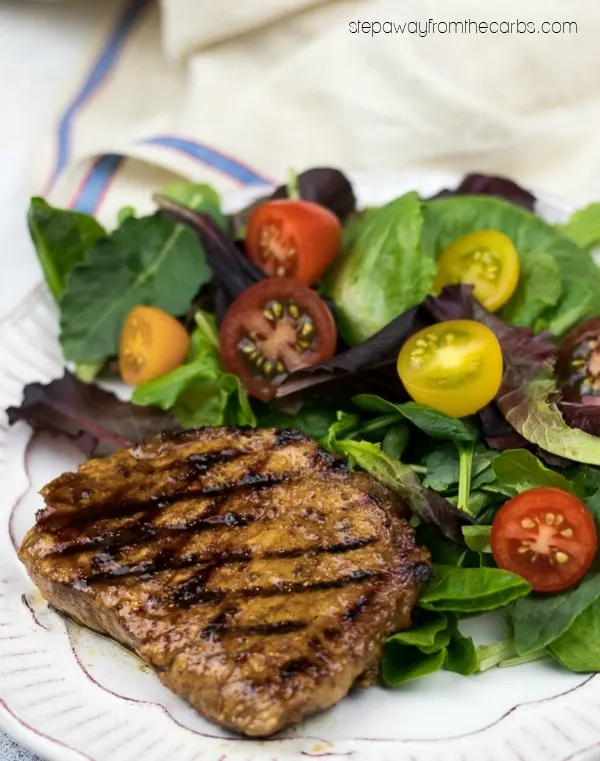 Credit: stepawayfromthecarbs.com
Spicy pork chop with a little bit of green salad and a few cherry tomatoes might be just what you need to get through the day. Eating pork is great when you're on a low carb diet because it is very low in carbs.
Also, pork chops are extremely easy to cook. You don't need to be a cooking guru to serve a delicious meal when you have a few pork chops at home.
Don't forget to get Worcestershire sauce because it's essential to the recipe!
Per Serving:
Calories: 277
Fats: 16g
Net Carbs: 1g
Protein: 29g
5. Slow Cooker Tuscan Chicken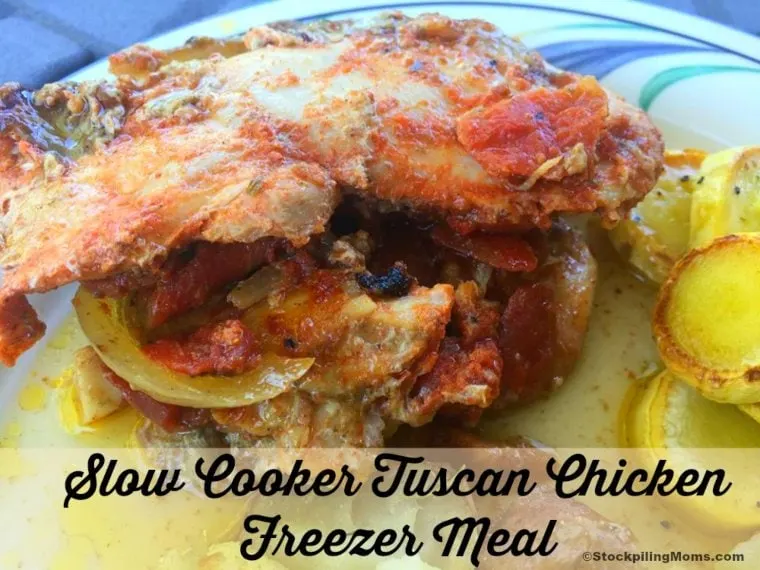 Credit: stockpilingmoms.com
There is nothing quite as delicious as Tuscan chicken. Also, you can easily adjust spices and play with flavors here to get to something that you can genuinely enjoy eating.
Don't forget to get good quality reusable food storage bags for your freezer. These are the ones I recommend.
Per Serving:
Calories: 336
Fats: 12g
Net Carbs: 6.3g
Protein: 25.1g
6. Smoky BBQ Ribs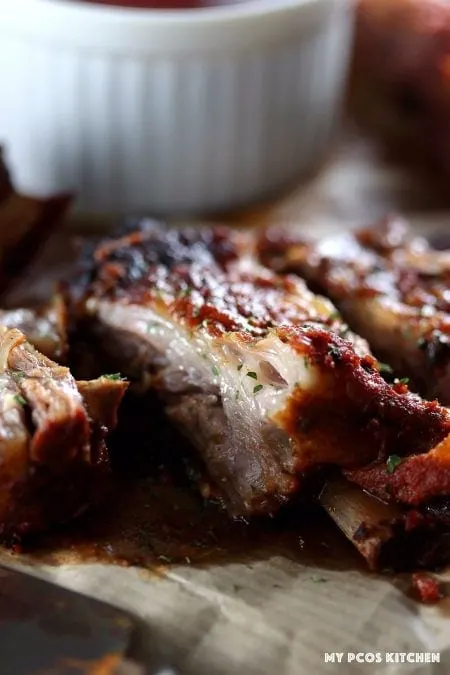 Credit: mypcoskitchen.com
Smoky ribs might be exactly what you need for tonight's dinner. They're not hard to make, you can easily keep them frozen and cook them either in an instant pot or oven in minutes.
Preparation truly doesn't take long. This particular recipe uses a slow cooker but feels free to use a pressure cooker if you have one.
Feel free to use a little bit of powdered erythritol if you want to introduce some sweetness into the flavor palette. It'll help you to keep the recipe low carb.
Here is the sweetener I recommend. Also, here is a low budget but sturdy crockpot in case you don't have one.
Per Serving:
Calories: 804
Fats: 63g
Net Carbs: 3.6g
Protein: 46.4g
7. Cheesy Chicken Broccoli Casserole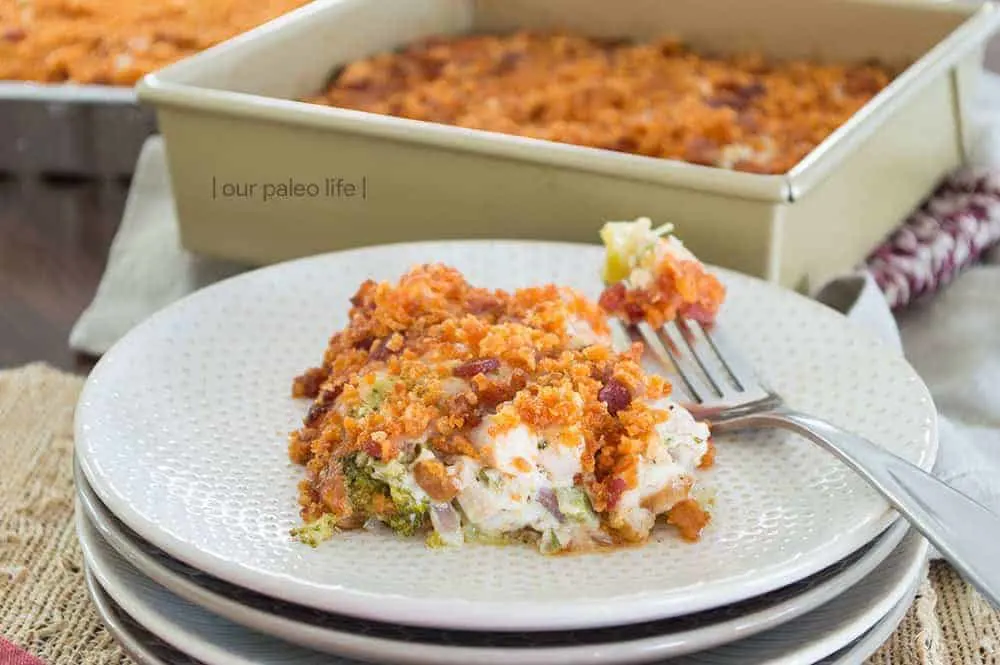 Credit: ourpaleolife.com
You'll notice that I've written a whole post on ketogenic casseroles before. First of all, casseroles are great for family dinners and they're relatively quick to make.
On top of that, casseroles are just very easy to freeze and serve later. You can also use them for meal prepping.
So, definitely check out this chicken broccoli casserole recipe. Especially if you want to find a sneaky way to make kids eat more green veggies that also happen to be low carb.
Per Serving:
Calories: 484
Fats: 45g
Net Carbs: 3g
Protein: 15g
8. Mexican Casserole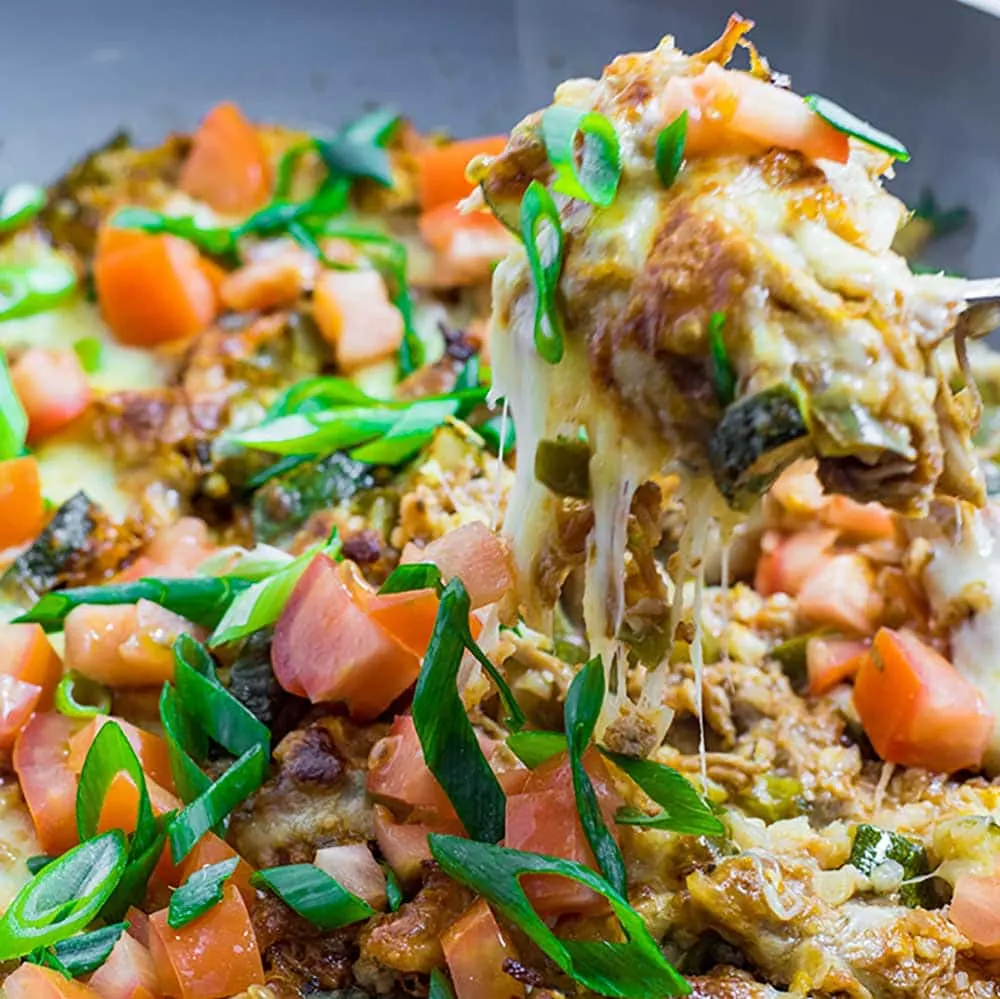 Credit: myketokitchen.com
Missing Mexican flavors while you're on a low carb diet? Try this casserole recipe.
It's low carb, full of beautiful flavors and will definitely satisfy your Mexican food cravings. On top of all that, the recipe is relatively simple but definitely special enough to serve for family.
Per Serving:
Calories: 206
Fats: 15g
Net Carbs: 1g
Protein: 9g
9. Zucchini Gratin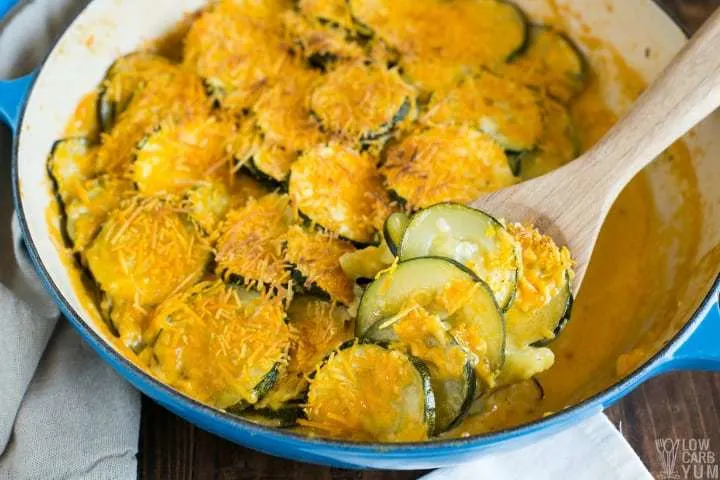 Credit: lowcarbyum.com
If you love potatoes and truly miss them with your regular low carb meals, give this recipe a try. A little bit of butter, cream and cheddar cheese with zucchinis can create a flavorful palette you haven't experienced before.
If you cut your zucchinis and freeze them, you'll be able to use them in this recipe and get similar results. So, definitely freezer-friendly!
Per Serving:
Calories: 152
Fats: 12g
Net Carbs: 2g
Protein: 7g
10. Buffalo Chicken Wings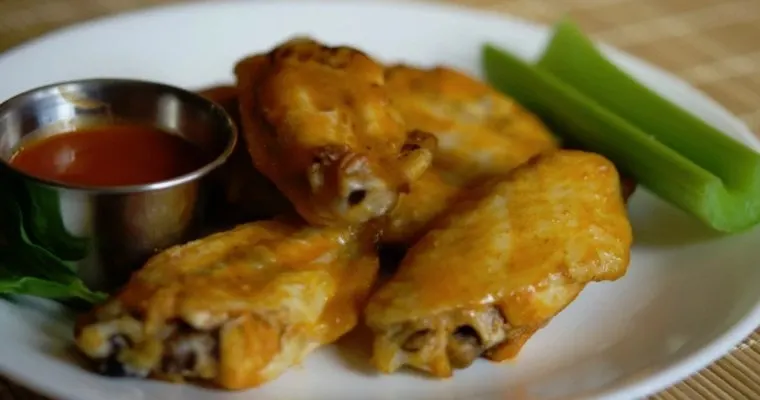 Credit: onceamonthmeals.com
These buffalo chicken wings are the absolute best. If you love chicken wings in general, you'll most surely love the recipe too.
All you have to do is make the sauce, add it to the freezer bags and make sure it coats the chicken wings well. You can freeze the wings then and use them whenever you feel the need for a quick little dinner.
You can either cook them in the oven or keep them soft by using an instant pot. Either way, totally delicious!
Here is a low budget and a good-quality instant pot.
Per Serving:
Calories: 400
Fats: 33g
Net Carbs: 2g
Protein: 20g
11. Crockpot Beef Stew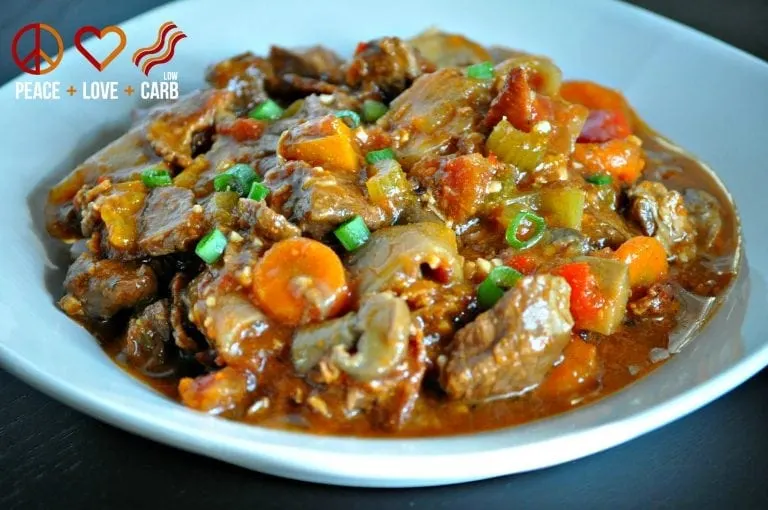 Credit: peaceloveandlowcarb.com
If you love stews, you're going to love this recipe. It does contain beef, which is high in fats. However, do remember that beef also has a very high carbon footprint, so it's truly not the meat you want to eat every day if you're environmentally conscious.
What I love about most stews is that they're so easy to freeze. You can just throw them into a crockpot whenever you want to have a healthy dinner.
Easy, efficient and, most importantly, healthy!
Per Serving:
Calories: 235
Fats: 15g
Net Carbs: 4g
Protein: 22g
12. Crockpot Carnitas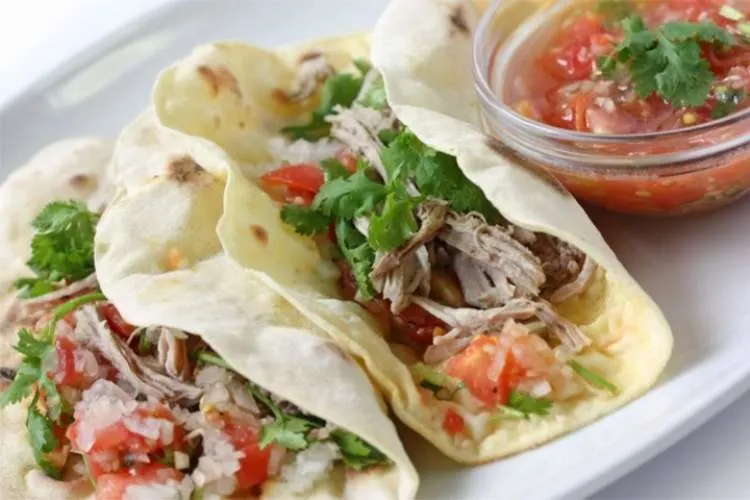 Credit: slenderkitchen.com
This carnitas will melt in your mouth. You can make tacos, burritos, and enchiladas with it.
If you love traditional Mexican cuisine and enjoy simmered tender meats, give the recipe a try. I promise you won't regret it!
Per Serving:
Calories: 173
Fats: 3g
Net Carbs: 2g
Protein: 30g
13. Eggplant Parm Lasagna Casserole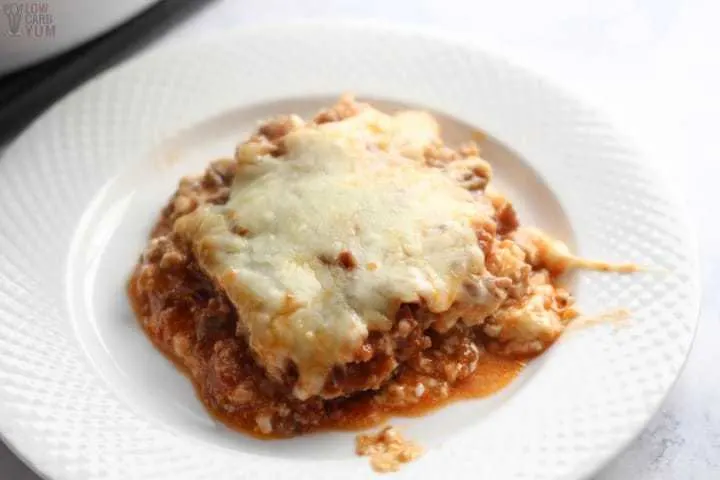 Credit: lowcarbyum.com
If you do want to bring Italian cuisine back to your home even though you're on the keto diet, this is the recipe to try.
Eggplants are keto-friendly, therefore feel free to incorporate them into your favorite keto meals. Also, there are ways you can use it to make ketogenic snacks as well.
Either way, try this lasagne casserole because it's truly delicious. Especially if you're a fan of Italian flavors.
Per Serving:
Calories: 376
Fats: 27g
Net Carbs: 4g
Protein: 22g
14. Crockpot Chicken Tikka Masala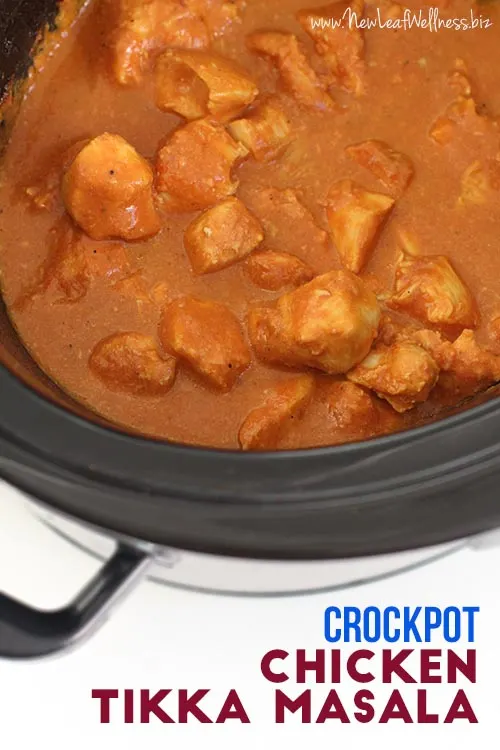 Credit: thefamilyfreezer.com
If you're an Indian cuisine lover like me, you're truly going to appreciate this recipe. There is nothing better than being able to just throw a mix of curry into the crockpot and get it done.
You will need to ditch the rice though. I recommend getting a food processor like this one here and a steaming basket to make delicious low carb cauliflower rice.
Also, when you're following the recipe, ditch the honey as it's too high in sugar.
Per Serving (Calculated):
Calories: 359
Fats: 12g
Net Carbs: 10g
Protein: 37g
15. Crockpot Broccoli Cheddar Soup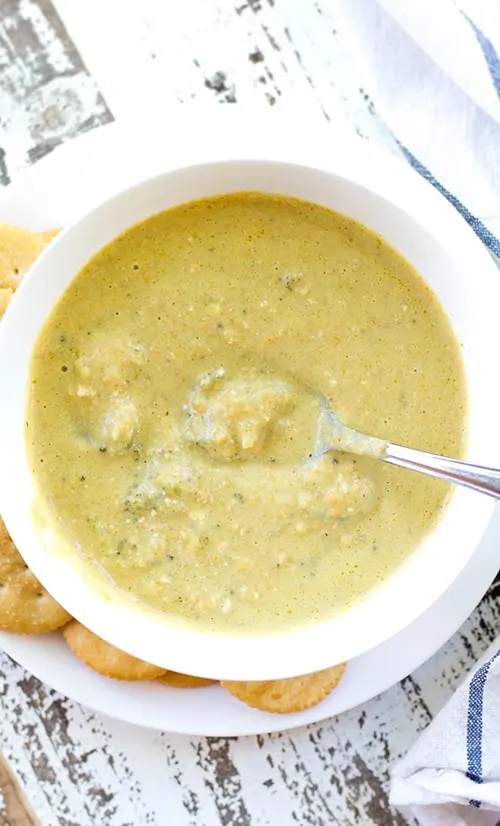 Credit: thefamilyfreezer.com
Sometimes a ketogenic soup is all that you need. Especially when you are on a low carb diet and don't get to eat soups as often.
You can significantly lower the number of carbs if you use almond flour instead of wheat flour. The calculations below are made with wheat flour in mind.
Per Serving (Calculated for Wheat Flour):
Calories: 345
Fats: 26g
Net Carbs: 12.5g
Protein: 14.5g
16. Pork Chops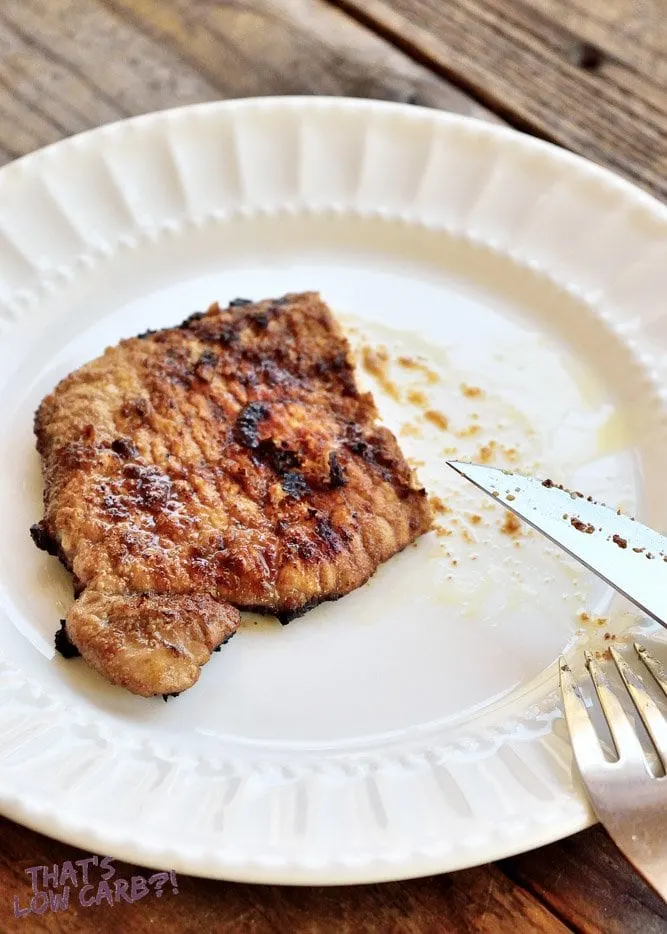 Credit: thatslowcarb.com
I've loved this 5 low carb pork chop recipes. These seasoning combinations are absolutely delicious.
The calculations below include calories for 1 pork chop and the seasoning.
Per Serving (Calculated):
Calories: 347
Fats: 19g
Net Carbs: 0.5g
Protein: 40.8g
17. Crack Chicken in the Crock-Pot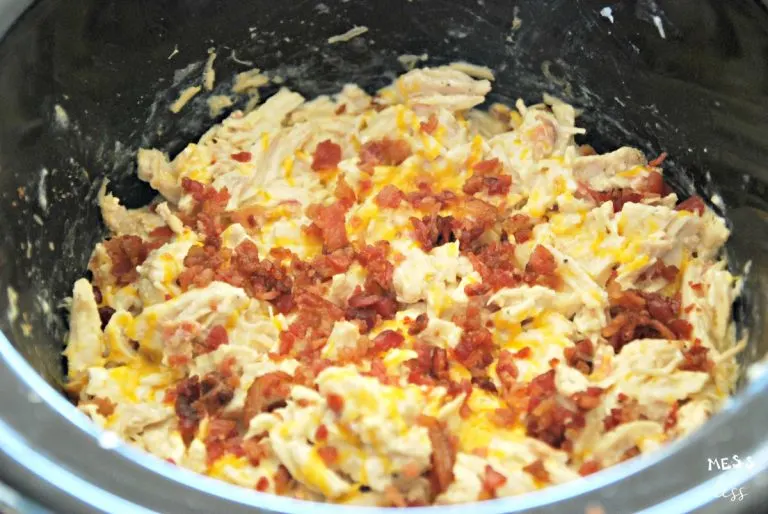 Credit: messforless.net
Crack chicken is just one of those meals that you can serve with your favorite side dish. Many love it so you won't go wrong if you make it for a celebration.
Also, the only slightly different thing you might need for the recipe is hidden valley ranch mix. You can get it here.
Per Serving:
Calories: 347
Fats: 23g
Net Carbs: 1g
Protein: 30g
18. Crockpot Vegetarian Creamy Tomato Soup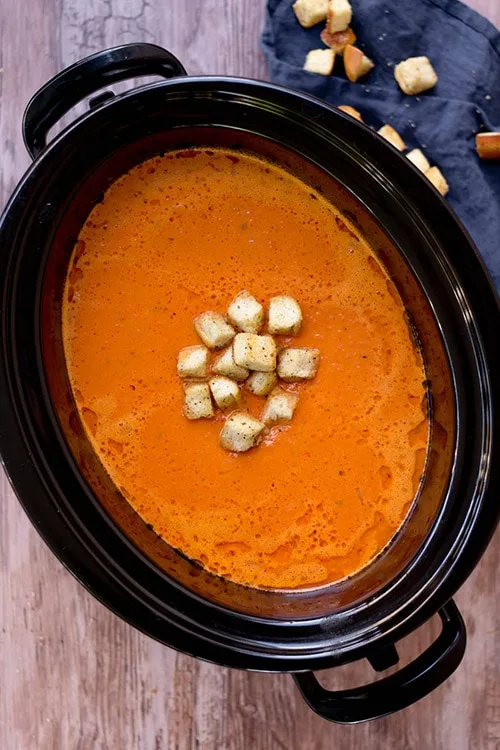 Credit: thefamilyfreezer.com
Sometimes you might get tired of all the meat, that's when eating a low carb soup that's also vegetarian is a good choice.
With a slice of ketogenic bread, you'll have a nice dinner for sure. However, you might want to check your carb limits since vegetarian dishes are usually higher in carbohydrates.
Per Serving (Calculated):
Calories: 687
Fats: 69g
Net Carbs: 15g
Protein: 5g
19. Daikon "Potato" Sausage Casserole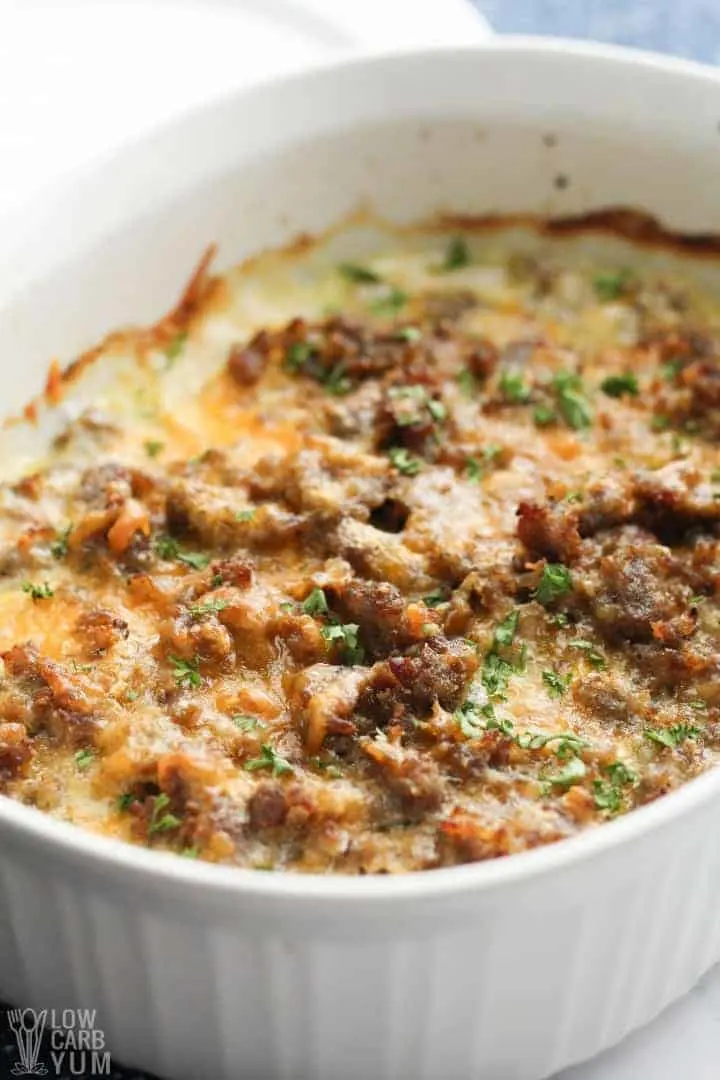 Credit: lowcarbyum.com
So, if you're craving a dish with potatoes, this is the recipe to try. This casserole has mock potatoes that are actually just slices of daikon.
The recipe is great if you really want a hefty meal that would fill you up for a while. You will need a thickener for this casserole, so make sure you get xanthan gum.
Per Serving:
Calories: 248
Fats: 18g
Net Carbs: 1g
Protein: 13g
20. Bacon Ranch Chicken Casserole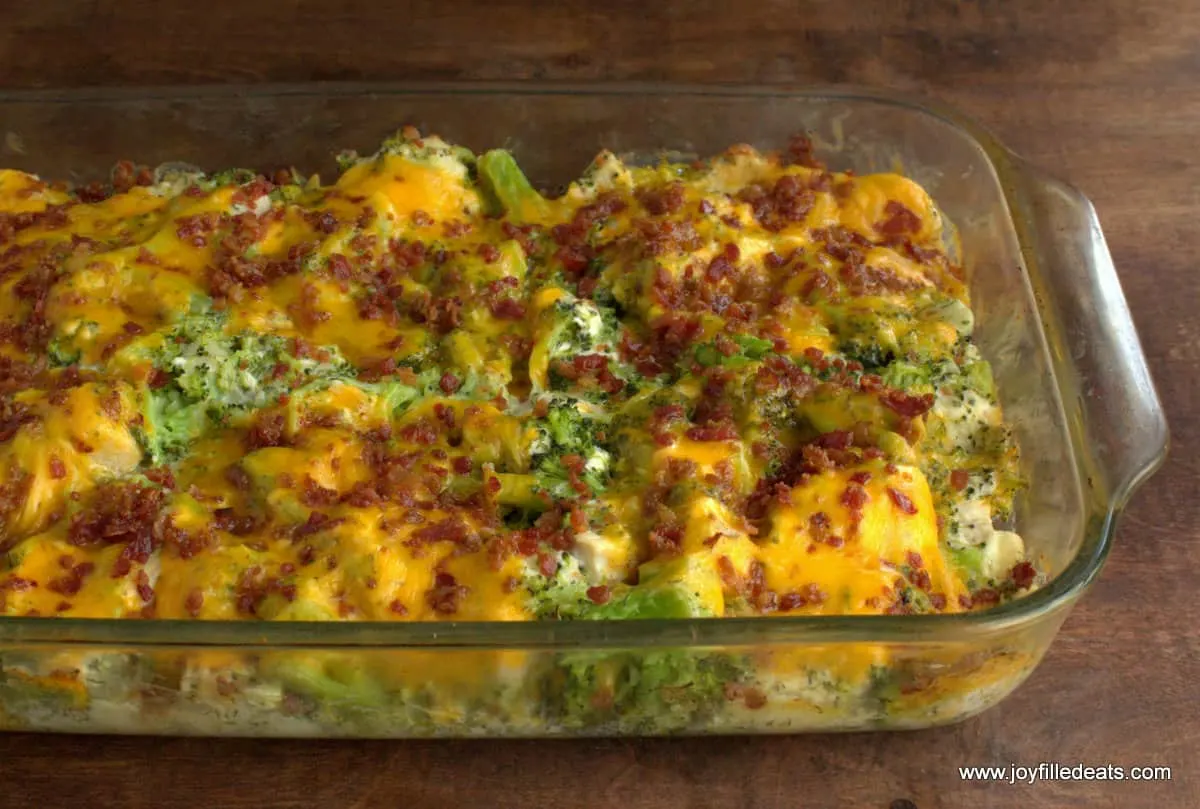 Credit: joyfilledeats.com
Making a nutritious dinner can be difficult but also it can be very easy. That's if you do it right!
This recipe will show you how to do just that. It's a great way to incorporate broccoli into your diet too without feeling like you're eating them all the time.
The only unusual thing you might need to buy for the recipe is bacon crumbles. You can get them here.
Per Serving:
Calories: 498
Fats: 36g
Net Carbs: 4g
Protein: 37g
21. Keto White Chicken Chili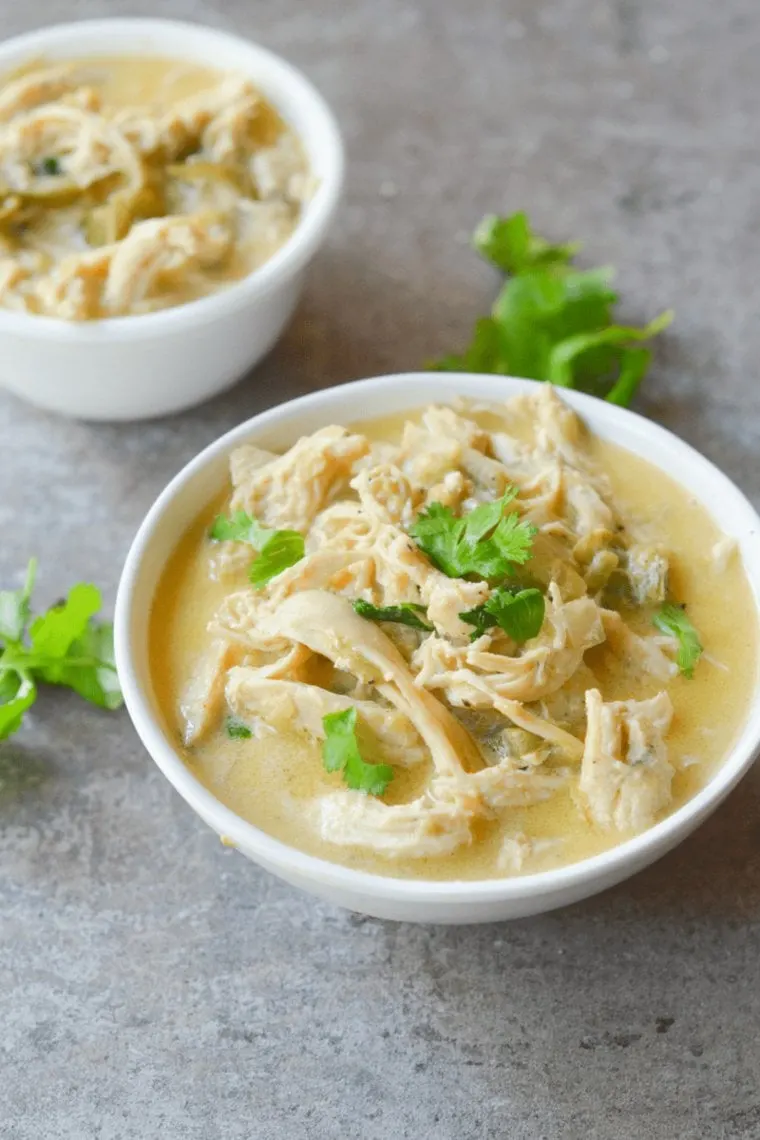 Credit: heyketomama.com
In need of some comfort food, try this recipe. It's truly the filling keto crockpot meal you might need in your life.
It's creamy, it's warm and chili at the same time. You can truly play with flavors here and find the palette that suits your needs perfectly.
Per Serving:
Calories: 481
Fats: 30g
Net Carbs: 4g
Protein: 39g
22. Slow Cooker Lemon Pesto Chicken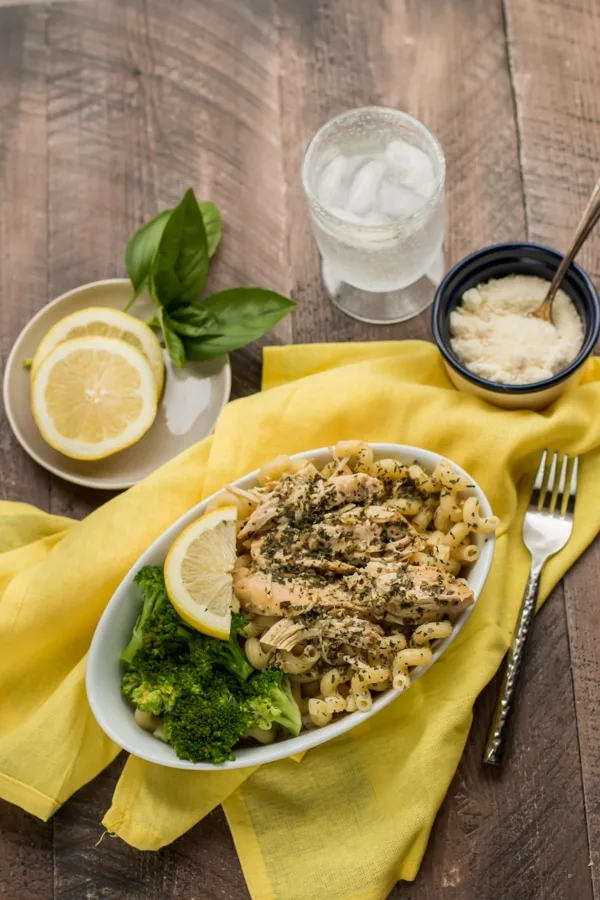 Credit: themagicalslowcooker.com
This meal is super easy to make and you can freeze the chicken up for long periods of time. Certainly, an easy way to get dinner to the table.
The lemon juice here truly adds to the flavors. It gives the chicken some acidity.
If you like your chicken a little sweeter, you can always squeeze in a little bit of orange juice too.
Per Serving (Calculated):
Calories: 243
Fats: 7g
Net Carbs: 1.4g
Protein: 41g
23. Meatballs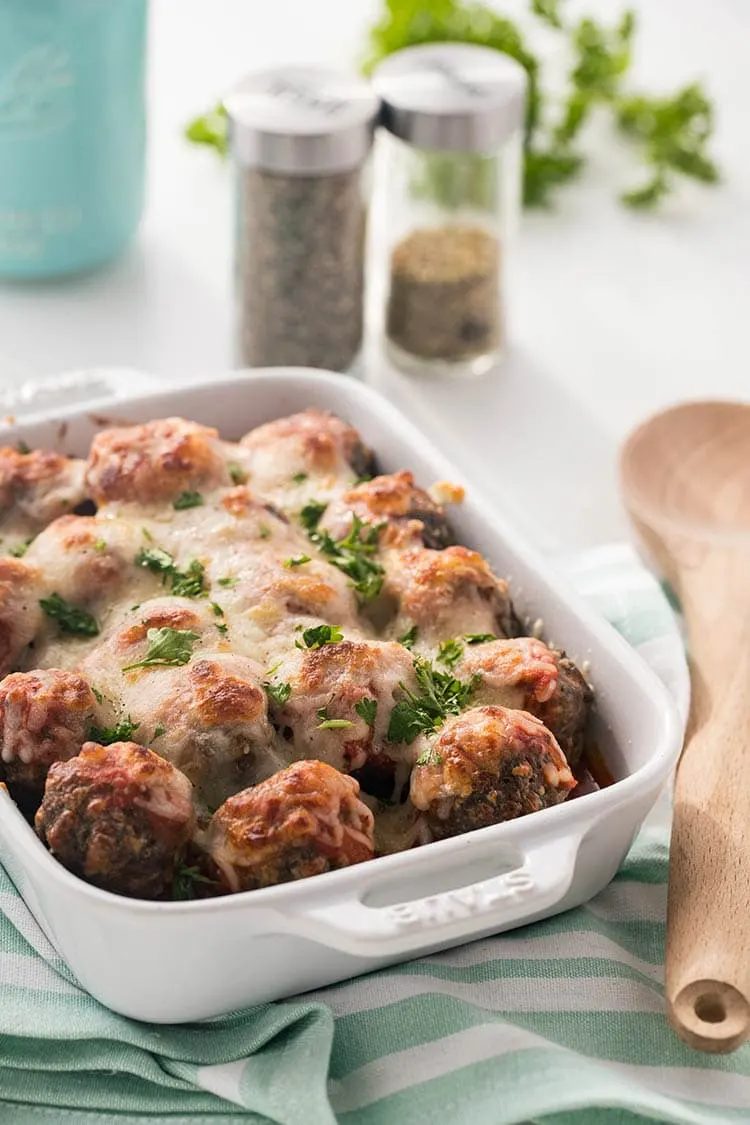 Credit: makeaheadmealmom.com
These meatballs look absolutely delicious. Also, they taste just as good.
The beautiful combination of spices and herbs makes them absolutely delicious. However, the real key here is the combination of shredded mozzarella and Parmesan.
Give these meatballs a try and feel free to meal prep them for the rest of the week.
Per Serving (1 meatball):
Calories: 205
Fats: 15g
Net Carbs: 1g
Protein: 17g
24. Paleo Low Carb Stuffing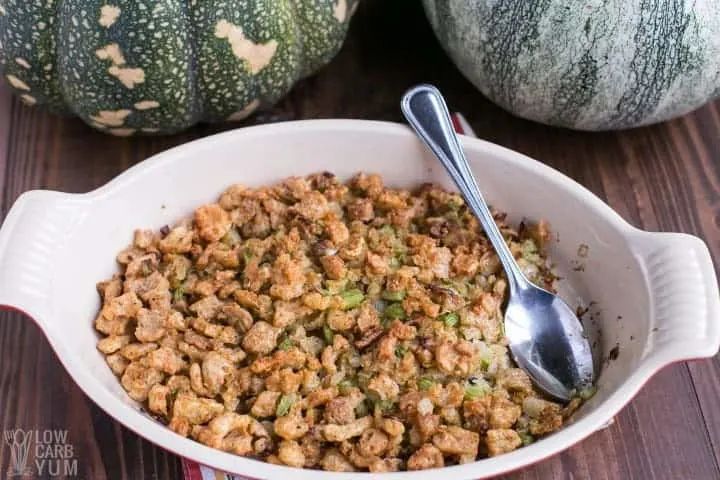 Credit: lowcarbyum.com
This low carb stuffing is great as a side dish. It's especially nice for bigger occasions and family gatherings.
However, it's just as an amazing freezer meal that you can have on regular days. Make sure you keep the rest of your plate low carb and enjoy eating the stuffing.
Serve it with green beans with a few chops of pork. You could even use the recipes I've mentioned above.
Per Serving:
Calories: 128
Fats: 9g
Net Carbs: 1g
Protein: 8g
25. Low Carb Goulash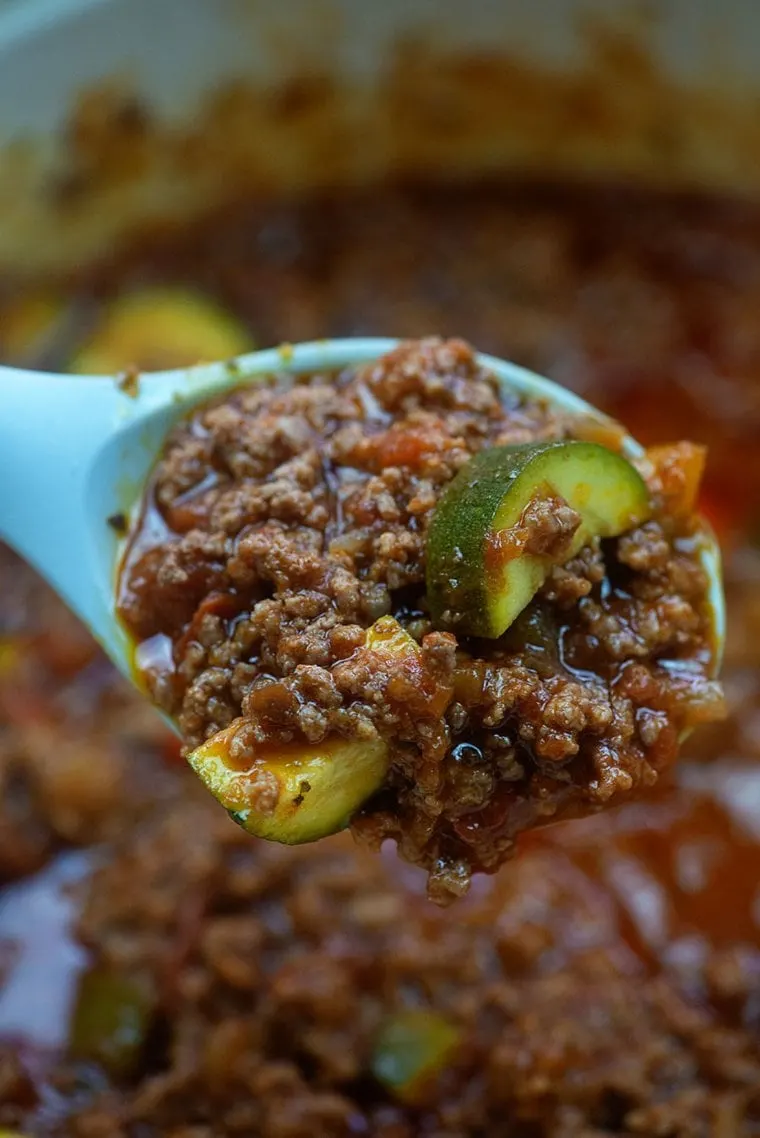 Credit: thatlowcarblife.com
Goulash originally comes from Hungary. However, it's a very popular dish in Eastern Europe.
It's just one of those dishes you'll love having on a cold, dark winter evening with your family and loved ones. However, do have in mind that this recipe contains beef which has a high carb footprint.
So, that's not necessarily the dish I'd recommend having every day for environmental purposes.
Per Serving:
Calories: 239
Fats: 16g
Net Carbs: 5g
Protein: 18g
Conclusion
Have you enjoyed these keto freezer meals? Sharing is caring, so make sure to push those share buttons.