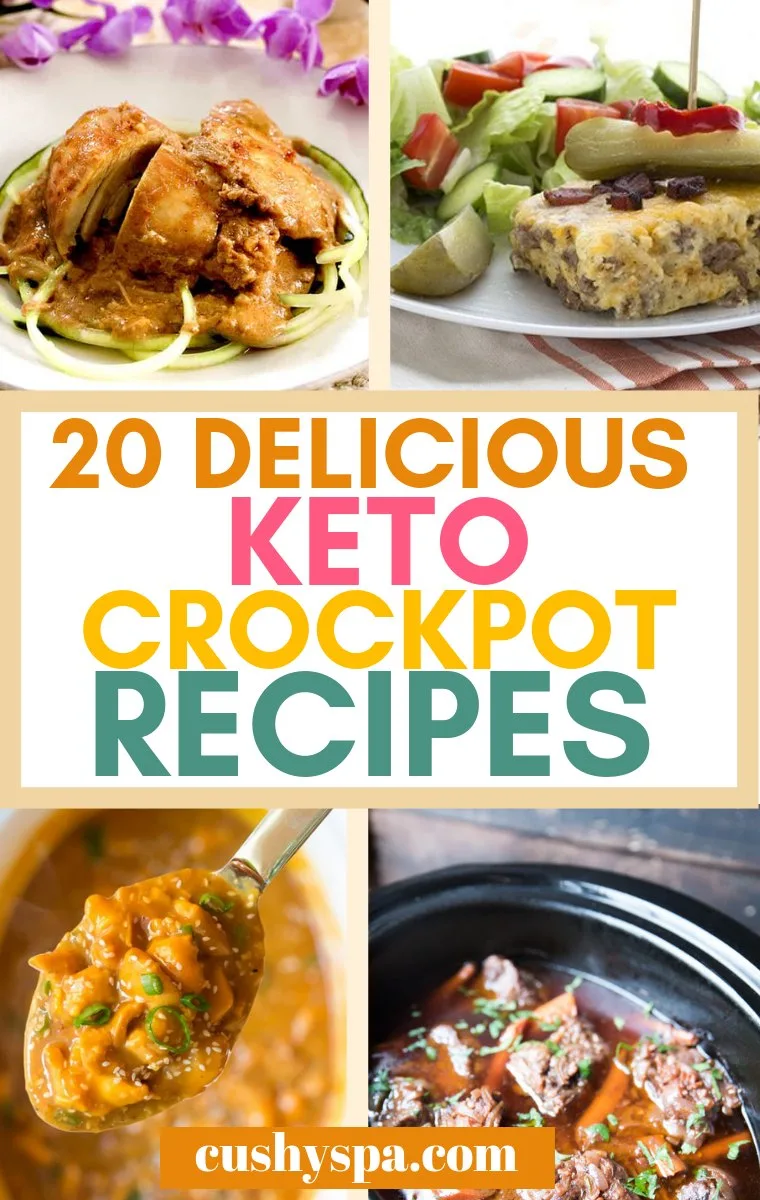 There is nothing better than having the freedom to do something else while you're cooking. So, whoever invented a slow cooker, thank you!
I'm a big fan of making food that cooks itself. That's mostly because I don't have time to stay in the kitchen stirring food!
If you feel the same way and you're on the keto diet, you're absolutely going to love these recipes! Especially if you have a big family and need to cook in bulk.
For all those, who are looking for ways to meal prep for the week without spending too much time on it, these crockpot recipes might be exactly what you're looking for.
Benefits of Crockpot Meals
I thought I'd try by telling you why you should regularly make crockpot meals. There are just so many benefits that you need to be aware of!
It saves you a ton of time! You can work and stay productive while the food is being cooked.
Less expensive meat cuts that tend to be harder get tender in a slow cooker. So, you can buy cheaper meats and still make a delicious dish.
It uses less electricity than an oven!
The food you're going to cook with a crockpot will be way more flavorful. That's because all the spices will have the time to infuse the meats.
If you don't own a slow cooker yet, here is one that's cheap and sturdy.
20 Crockpot Recipes for Those on Keto Diet
All of these are keto-friendly. The highest in carbs dish here has 15g of net carbs.
However, there are a bunch of recipes that barely have any carbs in them. So, let's just jump into it!
1. Cheesy Adobo Chicken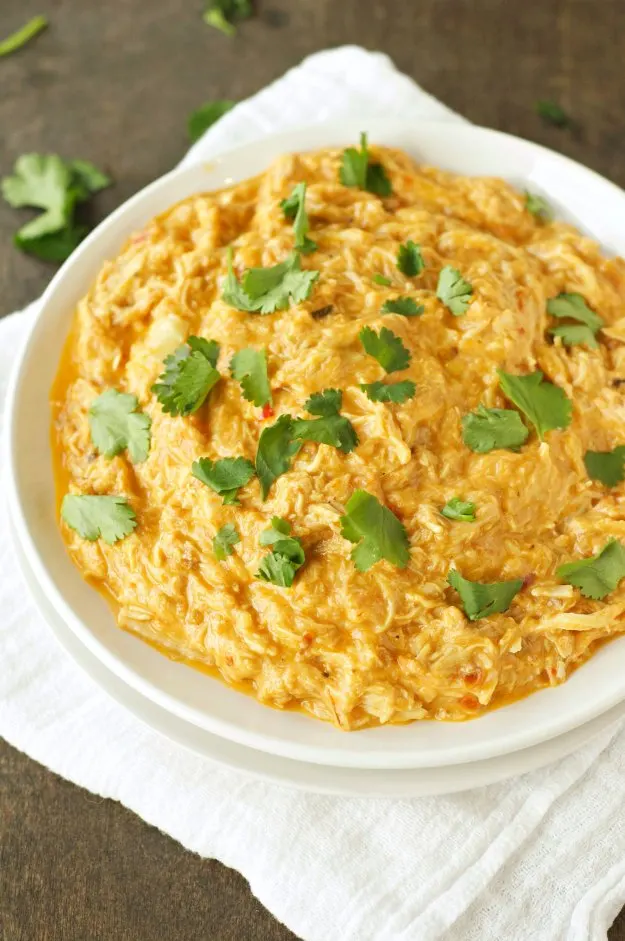 Credit: slowcookergourmet.net
This is a perfect keto dish no matter the season. You can make it spicier if you want since chicken can taste good both ways.
If you're a fan of cheese, this one is truly for you. It does require a little bit of work with pulling the meat off the bones. However, it's definitely worth it.
Per Serving:
Calories: 321
Fats: 20g
Net Carbs: 6g
Protein: 26g
Watch: 4 Ketogenic Meal Ideas
2. Paleo Pork Roast with Chimichurri Sauce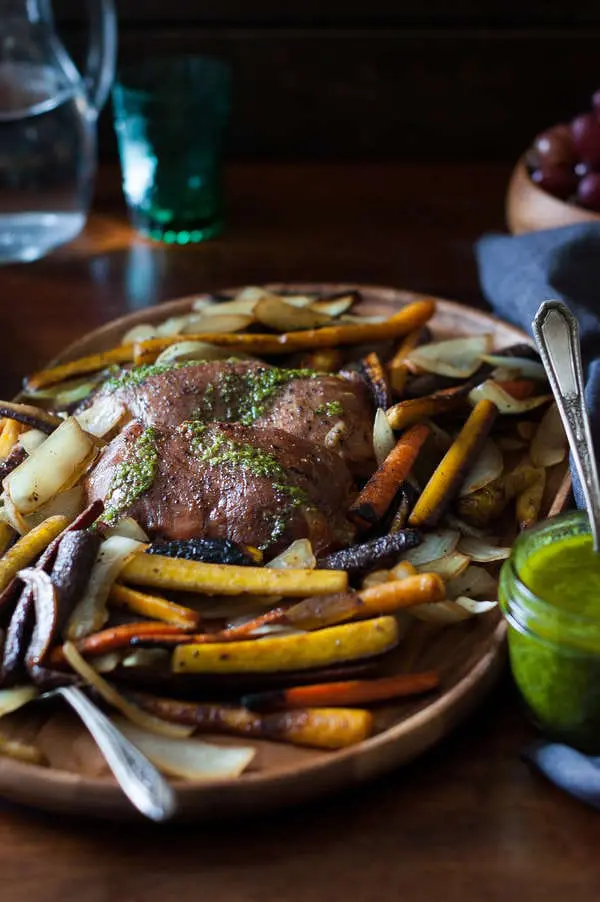 Credit: mynaturalfamily.com
If you're a fan of pork and Chimichurri sauce, you're going to love this recipe. Do note that Chimichurri is sugar-free, that's why it's keto friendly.
Overall, the recipe is very simple. The only thing you'll really need to make is the chimichurri sauce. But, it's definitely going to be worth it!
Per Serving:
Calories: 171
Fats: 6.4g
Net Carbs: 4.4g
Protein: 22.2g
3. Low Carb Chili Dog Bake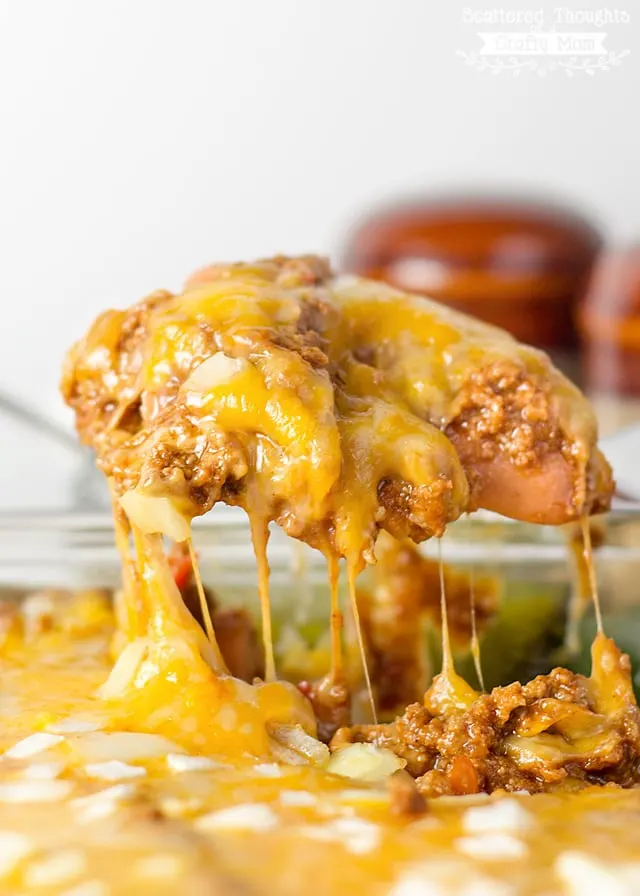 Credit: scatteredthoughtsofacraftymom.com
This recipe is delicious, and it doesn't matter whether you're on the keto diet or not, you won't even notice. It's a great dish for summer. Especially if your kids are big fans of hot dogs.
Per Serving:
Calories: 523
Fats: 40g
Net Carbs: 8g
Protein: 33g
4. Low Carb Chilli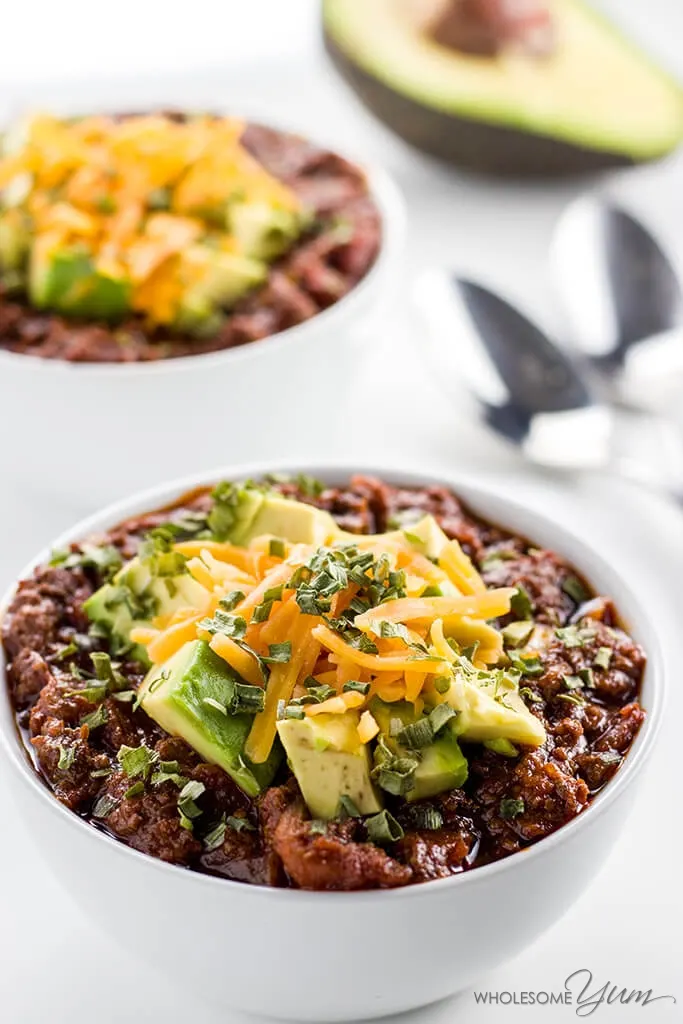 Credit: wholesomeyum.com
Chilli is such a delicious dish. It's easy to make and you can play with it so much.
It tastes well with most salads too. Also, it's pretty easy to bring for lunch to work, which is even better.
The recipe is full of fats and protein. Thus, eat with joy!
Per Serving:
Calories: 306
Fats: 18g
Net Carbs: 10g
Protein: 23g
5. Keto Instant Pot Crack Chicken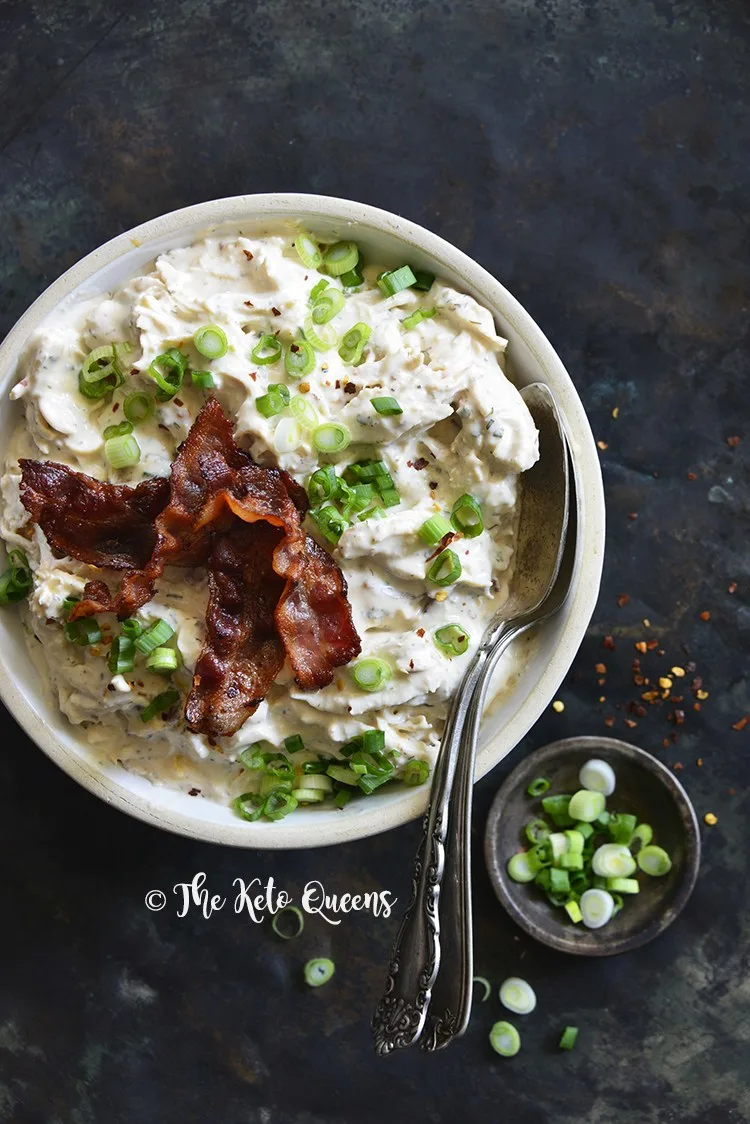 Credit: theketoqueens.com
While this dish probably shouldn't be eaten on its own, it's great with zucchini noodles, baby spinach, and cauliflower rice. To make zucchini noodles you'll need a spiral slicer. This one is cheap and sturdy, so definitely recommend it.
All these are keto-friendly and will make the dish even more delicious. That's definitely one of those recipes that simply melts in your mouth.
Per Serving:
Calories: 437
Fats: 27.6g
Net Carbs: 4.3g
Protein: 2.1g
6. Garlic Parmesan Chicken Wings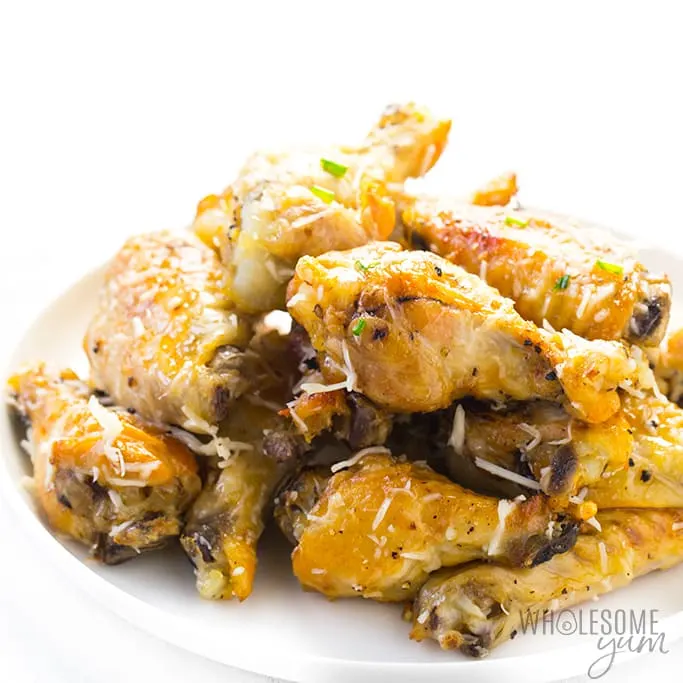 Credit: wholesomeyum.com
If you're the biggest fan of garlic and chicken wings, this is the recipe for you. There is nothing quite like chicken wings – they're delicious.
And that's probably the reason why people love them. While you might think that these wings won't be crispy, that's not true.
They are indeed crispy. Thus, it's one of my favorite recipes for sure.
The dish is very high in fats and proteins and has absolutely no carbs. So, keep on eating those and don't worry staying below your daily carb allowance.
Per Serving:
Calories: 426
Fats: 34g
Net Carbs: 0g
Protein: 27g
7. Orange Chicken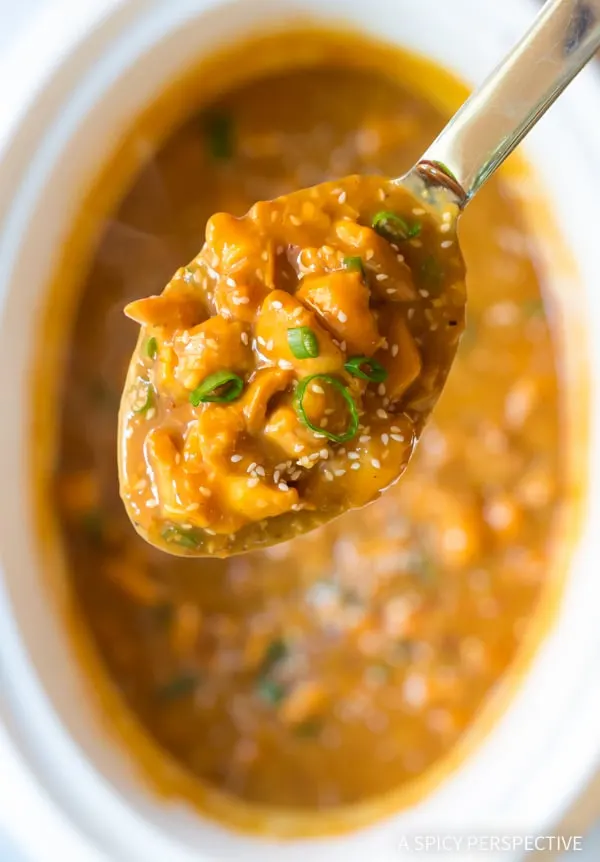 Credit: aspicyperspective.com
If you've never tried chicken with orange-based sauce, you're missing out on life. I'm saying that because I didn't know I was missing out on it until I tried it.
The truth is orange and chicken is such a beautiful combination that makes the chicken taste truly sinful. Try this lovely crockpot recipe to understand what I'm talking about.
If you're looking to make something special for your family, this is your go-to dish. But, feel more than free to treat yourself even on regular days.
Per Serving:
Calories: 450
Fats: 31g
Net Carbs: 12g
Protein: 29g
8. Chicken Cacciatore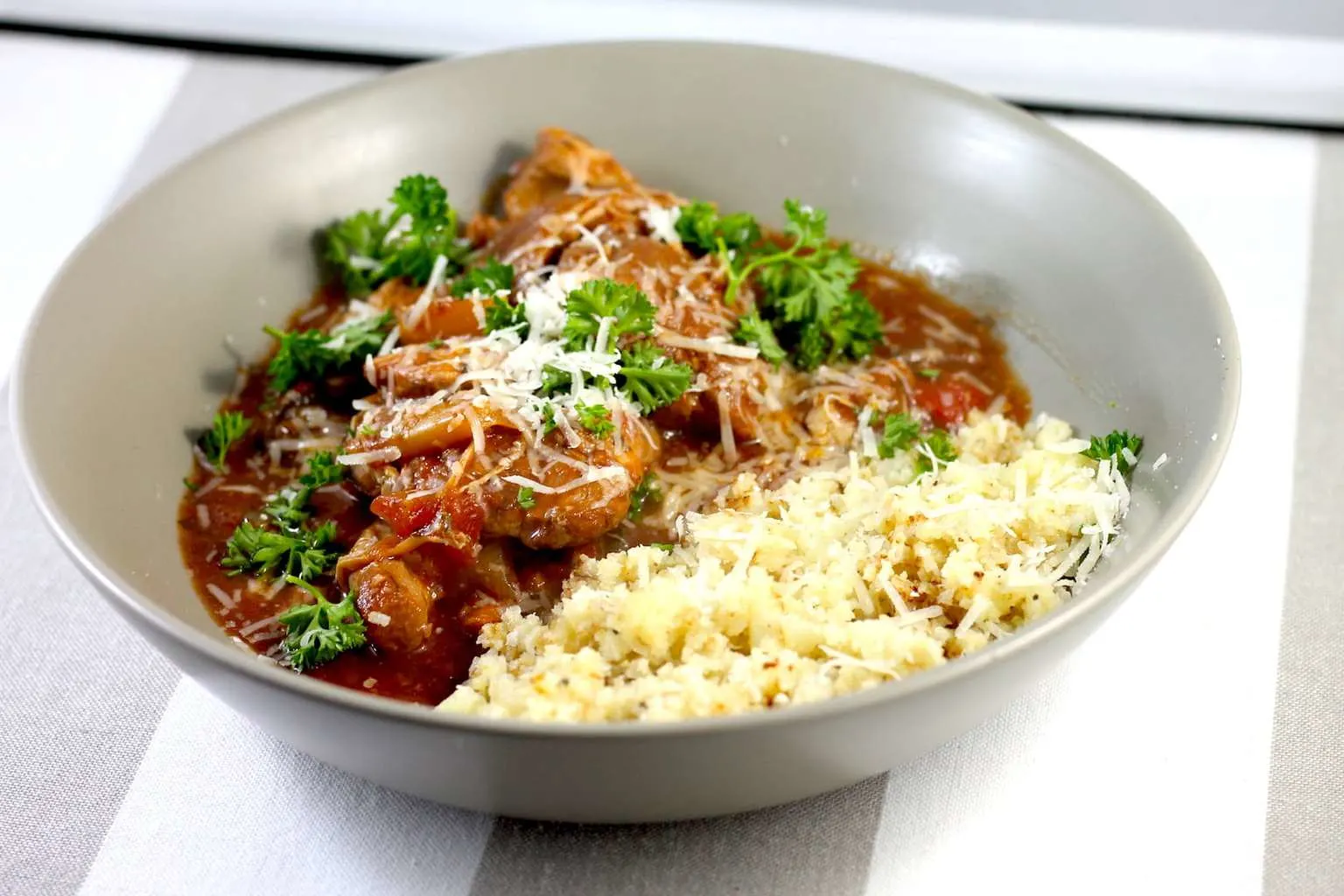 Credit: aussieketoqueen.com
This dish can do for a perfect filling dinner. You should serve it with cauliflower rice to make sure it's absolutely keto-friendly. You'll need a food processor to make it. Here is a powerful one that's actually affordable.
It has quite a bit of vitamin C and calcium too. Overall, this chicken cacciatore simply looks delicious and you can probably impress your guests with such a healthy, good-looking dinner.
Per Serving:
Calories: 816
Fats: 56g
Net Carbs: 12g
Protein: 53g
9. Easy Crockpot Chicken Fajitas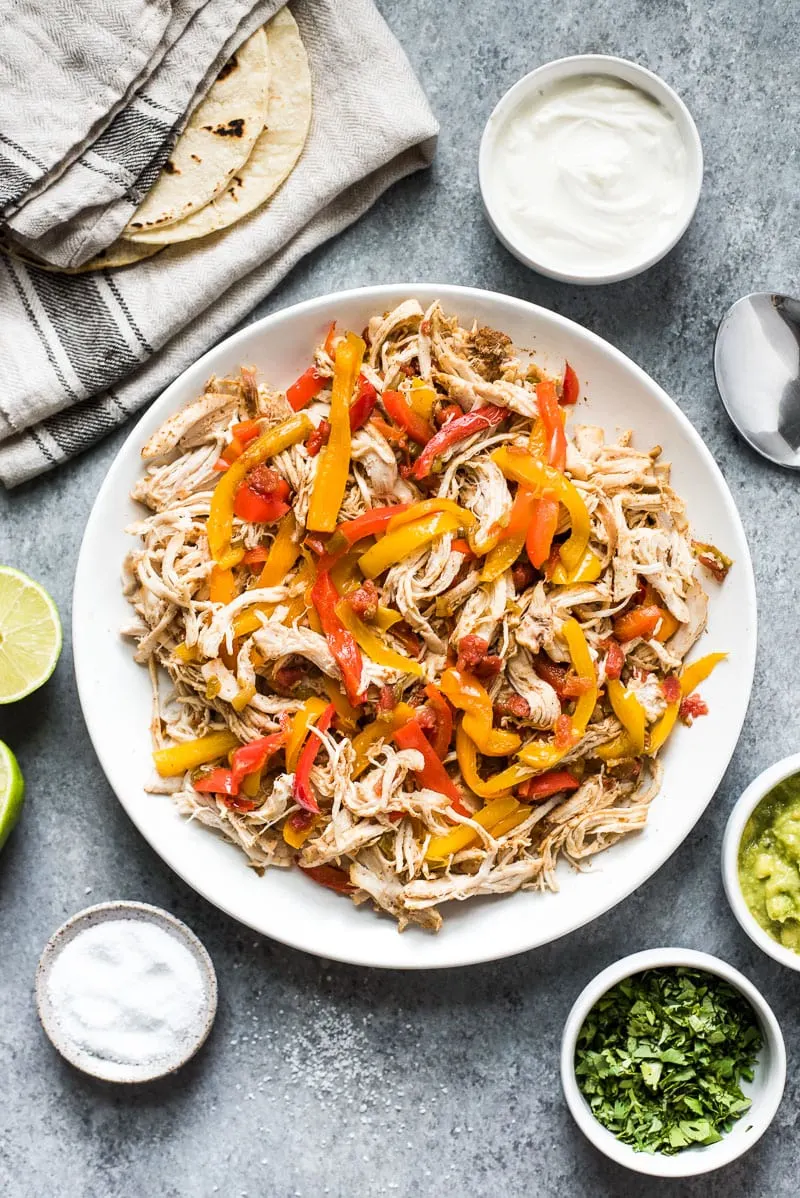 Credit: isabeleats.com
A fan of chicken fajitas? Me too! These make for a perfect lunch meal!
While most chicken fajitas are served with rice and tacos, you should cut on those. Either use cauliflower rice or lettuce to keep net carbs low.
Overall, truly a meal for a good, tasty lunch. It's full of vitamin C too!
Here is a good quality crockpot you can use for the recipe.
Per Serving:
Calories: 140
Fats: 3g
Net Carbs: 5g
Protein: 23g
10. Beef Short Ribs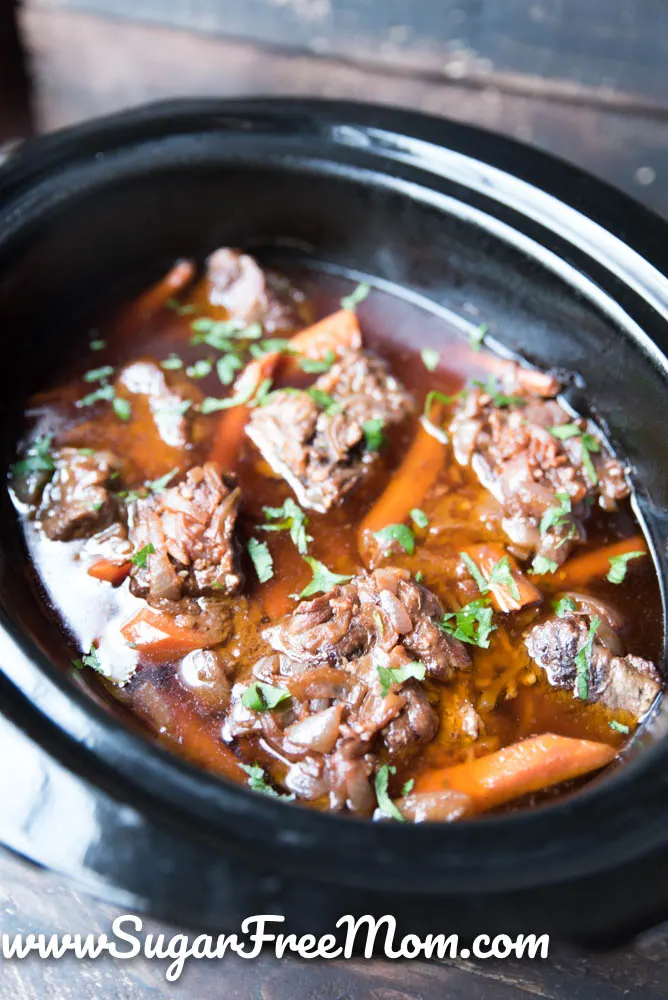 Credit: sugarfreemom.com
These beef short ribs are very tender and just lovely. It's the sort of dish you want to have in the evening with your family.
Eat it with mashed cauliflower to truly get the feeling of the whole meal. Also, it'll help to keep those carbs low.
Overall, it's an easy-to-make recipe that you should absolutely try if you're a fan of beef.
Per Serving:
Calories: 489
Fats: 42g
Net Carbs: 3g
Protein: 16g
11. Cheesy Chicken Recipe with Bacon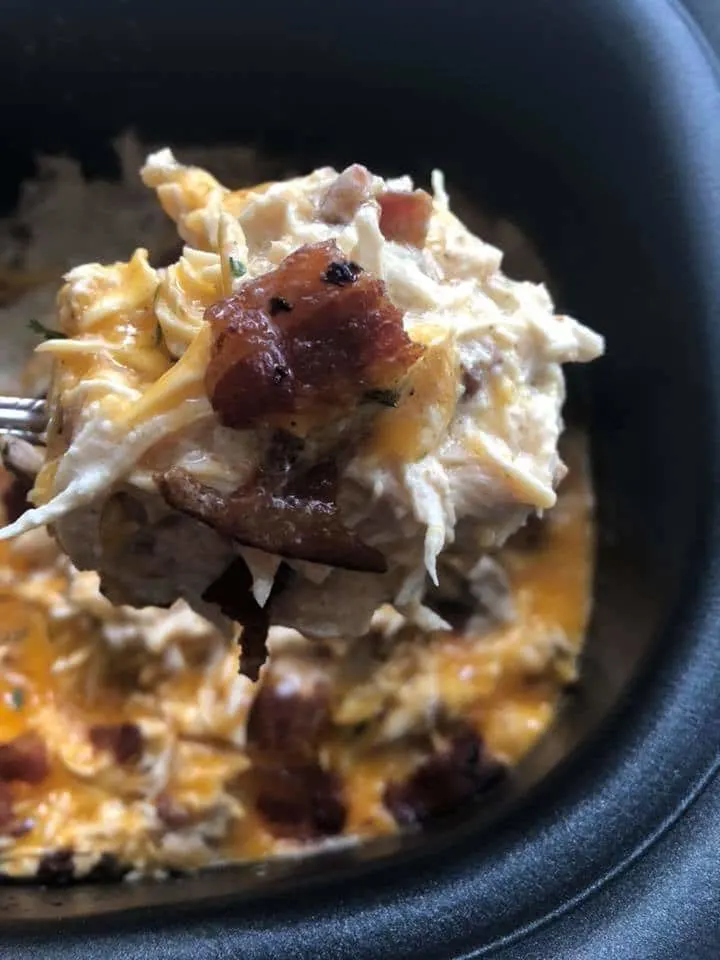 Credit: kaseytrenum.com
If creamy chicken is something that makes you hungry, this is the go-to recipe for you.
I know some of you definitely enjoy the chicken and bacon combination. So, I thought it would perfectly fit your taste buds.
The good thing about this recipe is that you can play with its spiciness and creaminess. Add more cheese if you like your chicken creamier.
Per Serving:
Calories: 369
Fats: 30g
Net Carbs: 2g
Protein: 21g
12. Taco Soup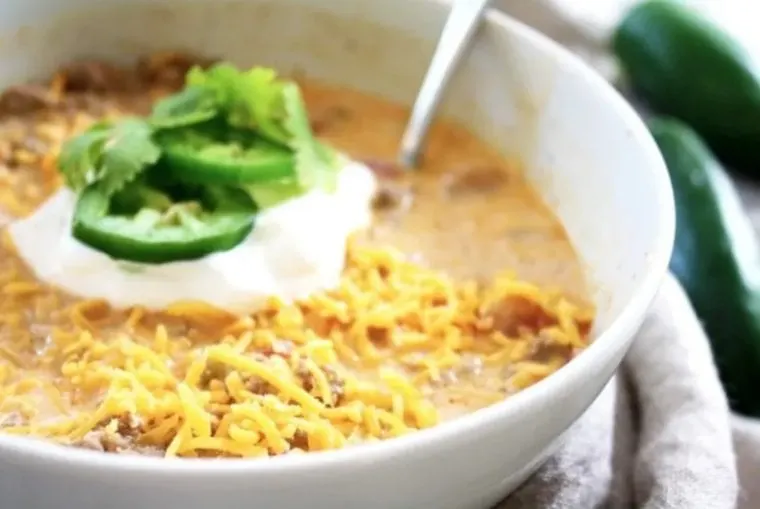 Credit: perfectketo.com
There is nothing like warm soup on a cold winter evening. Overall, soups offer a good way to get in those liquids too.
Let's be honest, we don't drink nearly as much water in winter as we do in summer. That needs to be changed!
Anyway, enjoy this little keto soup recipe. Make it as spicy as you want!
Per Serving:
Calories: 398
Fats: 29g
Net Carbs: 6.9g
Protein: 28.5g
13. Bacon Cheeseburger Pie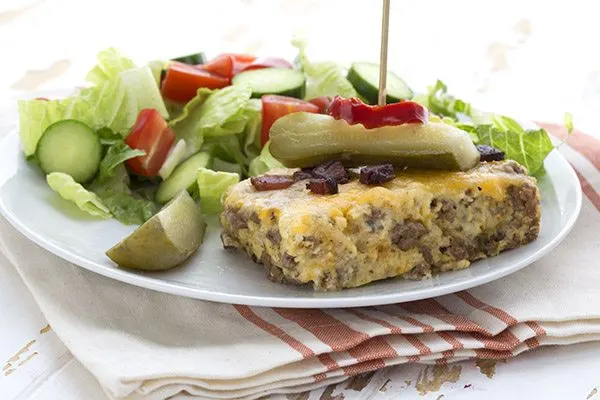 Credit: alldayidreamaboutfood.com
This is one of those super low carb recipes that you might as well just try. If you are a cheeseburger fan and miss the taste of it, this dish might help.
The key to this pie is the quality of the beef. The leaner the beef, the better the dish will taste (at least from my own experience).
Do add more garlic if you're a fan of it. It'll help your immune system during the winter and make the whole pie so much better.
Per Serving:
Calories: 376
Fats: 25.93g
Net Carbs: 1.46g
Protein: 28.21g
14. Low Carb Taco Soup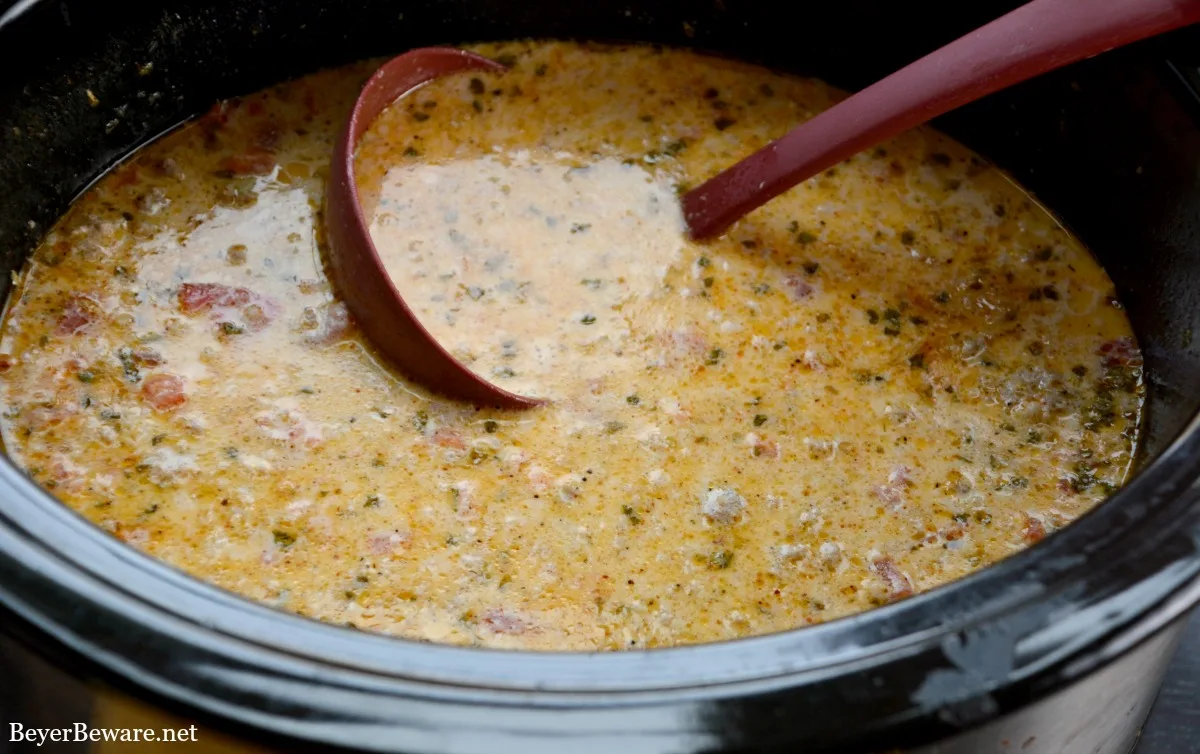 Credit: beyerbeware.net
Here is another keto soup recipe that's great when it's getting cold outside. It's very simple and doesn't require a lot of work.
Overall, a great lunch dish to make. Especially if you have little to no time to getting that food on the table.
Another great thing about soups is that you have the freedom to play with spices and adjust the recipe to your liking. Also, it's just one of those dishes that most of the family members will love!
Per Serving:
Calories: 547
Fats: 43g
Net Carbs: 4g
Protein: 33g
15. Beef Short Ribs with Creamy Mushroom Sauce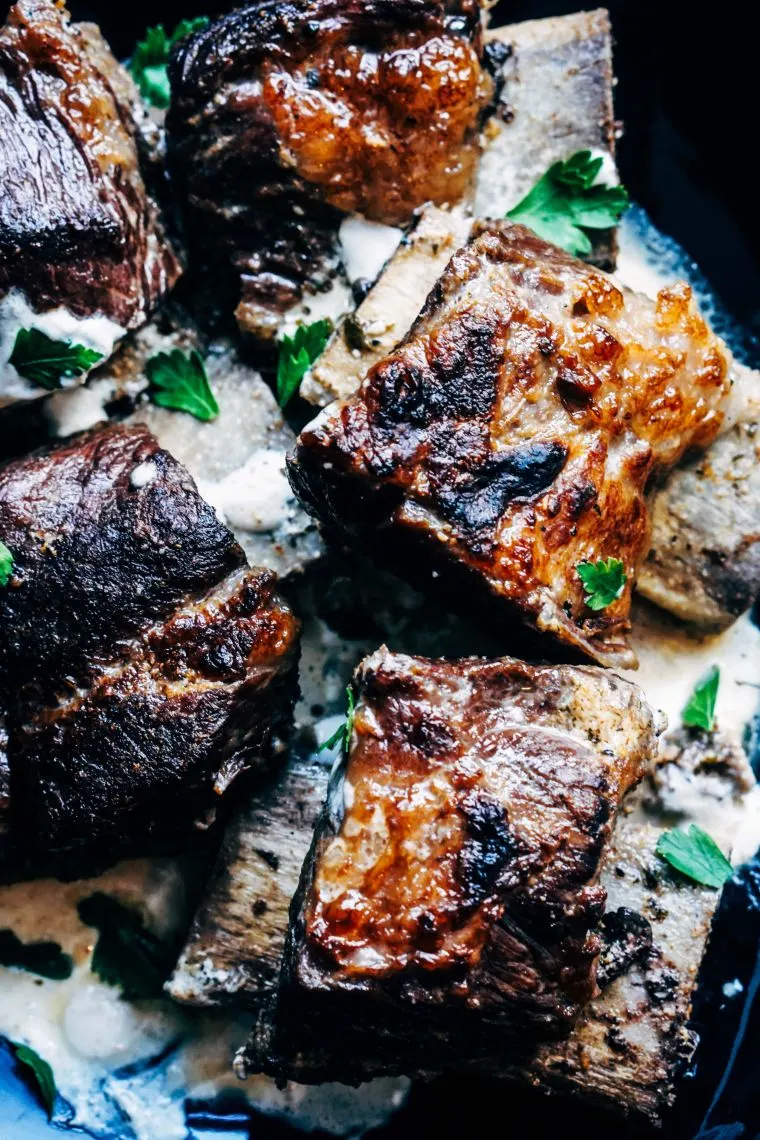 Credit: ketogasm.com
The beef in this dish is tender and juicy. So, it'll melt in your mouth, unlike any other meal.
When it gets colder outside, and you need a filling dinner that doesn't require a lot of attention to make, this is your go-to meal. While a beef steak is absolutely great now and then, you need to have the skill to make it right.
You've guessed it right, you don't need to know much to make this meal. Just toss in all the ingredients and enjoy the flavors.
Per Serving:
Calories: 365
Fats: 33g
Net Carbs: 1g
Protein: 13g
16. Pork Chops with Spice Rub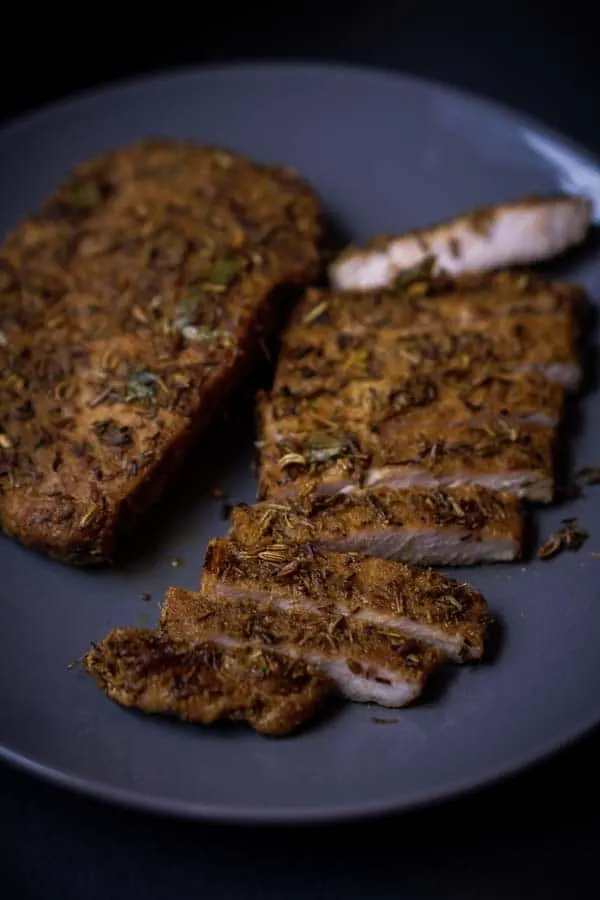 Credit: ketogasm.com
If you're a fan of pork chops, this recipe is just for you. The chops turn out to be super moist and delicious.
You won't need to spend a lot of time preparing the meat. All you have to do is rub in the spices with a little bit of oil into the pork.
Leave the rest for the crockpot. That's the beauty of having a slow cooker! You truly don't have to do much to get the food ready!
Per Serving:
Calories: 247
Fats: 15g
Net Carbs: 1g
Protein: 24g
17. Madras Beef Curry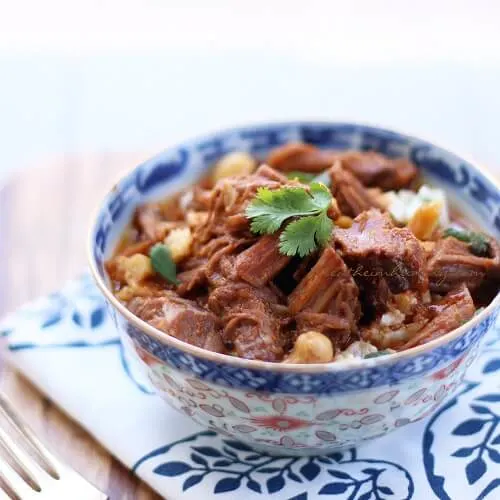 Credit: ibreatheimhungry.com
If you're a big fan of curries (like myself) you've probably tried them all. Indian and Thai curries. Made out of meat or seafood.
The good news is, even if you're on keto, you still can eat curry with cauliflower rice. And here is a recipe exactly for that.
This Madras Beef Curry is sweet and spicy, and cashews add a little bit of crunchier texture to it. In case you didn't know, most curry dishes taste amazing with nuts!
Per Serving:
Calories: 351
Fats: 22g
Net Carbs: 5g
Protein: 26g
18. Thai Chicken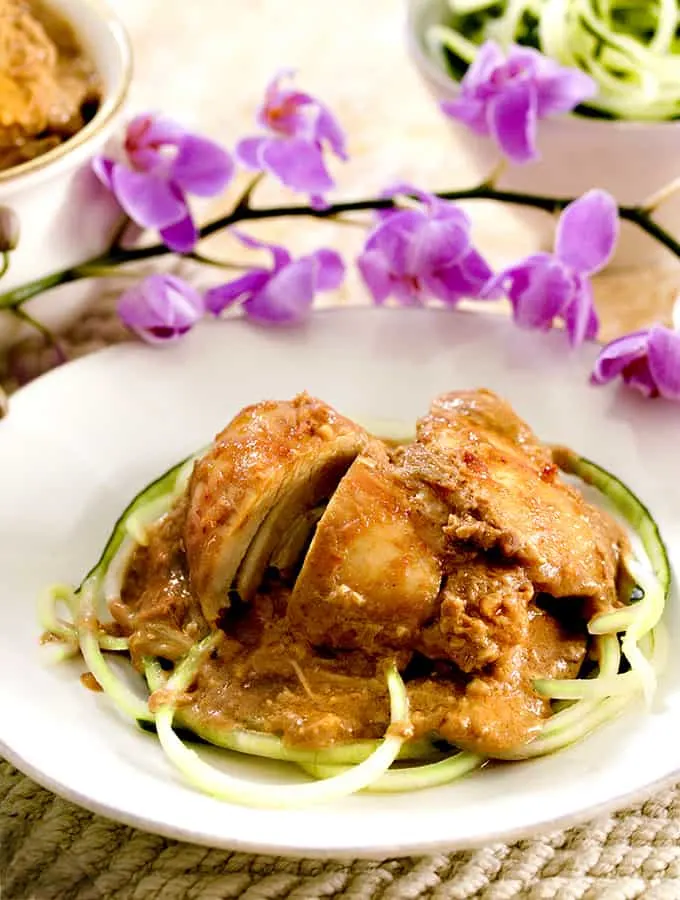 Credit: twosleevers.com
Now, this recipe is a little higher in net carbs. However, that's mostly because it is sweeter than most of the dishes I've mentioned before.
It contains a little bit of sweet chili sauce as well as peanut butter. So, it can certainly do for a beautiful treat on the holidays.
However, don't limit yourself just to them. Try this dish on the weekends too! It's totally worth it.
Per Serving:
Calories: 232
Fats: 16g
Net Carbs: 15g
Protein: 9g
19. Pumpkin Custard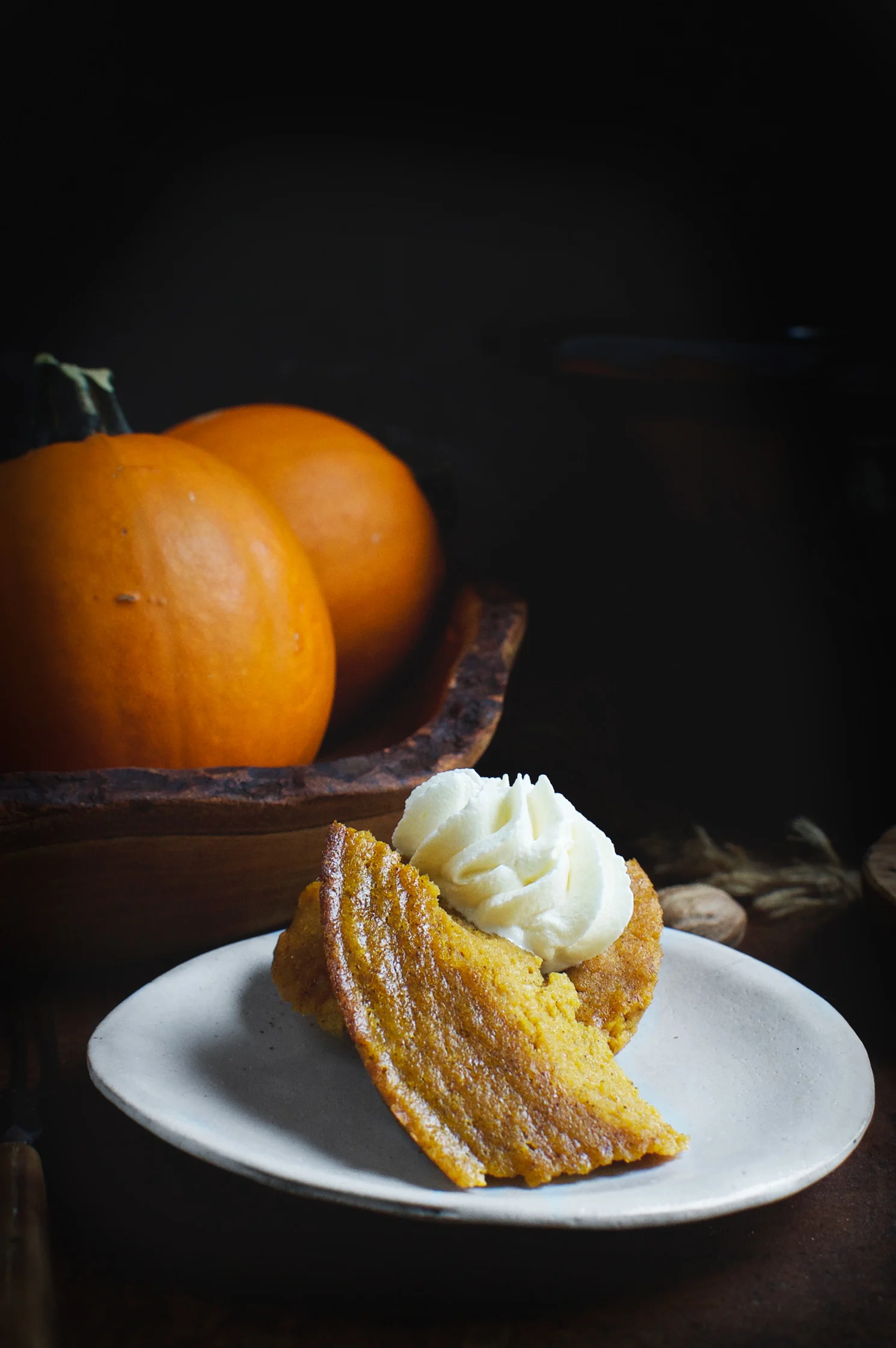 Credit: simplysohealthy.com
A fan of a pumpkin? Here is a slow cooker keto recipe just for you. It's truly a perfect dessert for any keto lover.
So, if you have friends who happen to be on a keto diet, make them this pie. They'll be grateful!
Per Serving:
Calories: 147
Fats: 12g
Net Carbs: 4g
Protein: 5g
20. Easy Pulled Pork Recipe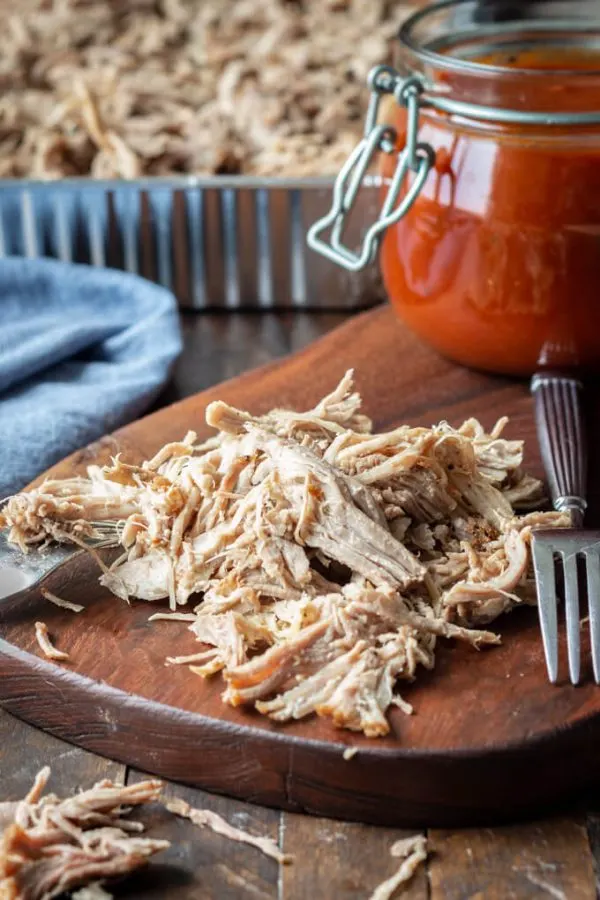 Credit: lowcarbmaven.com
This pulled pork recipe is great for meal prep. It's fairly simple and you can eat it with whatever you want really.
I personally like it with a bit of salad. Also, this recipe is great because it gives you the freedom to really adjust it to your liking.
Thus, add your favorite sauce to the pork and you're good to eat it for a couple of days!
Per Serving:
Calories: 264
Fats: 21g
Net Carbs: 1g
Protein: 18g
Conclusion
I hope you've enjoyed some of these keto crockpot recipes. Learn more about keto diet by reading this article about keto hacks or follow this keto meal plan.
Let me know if you try some of these meals at home!