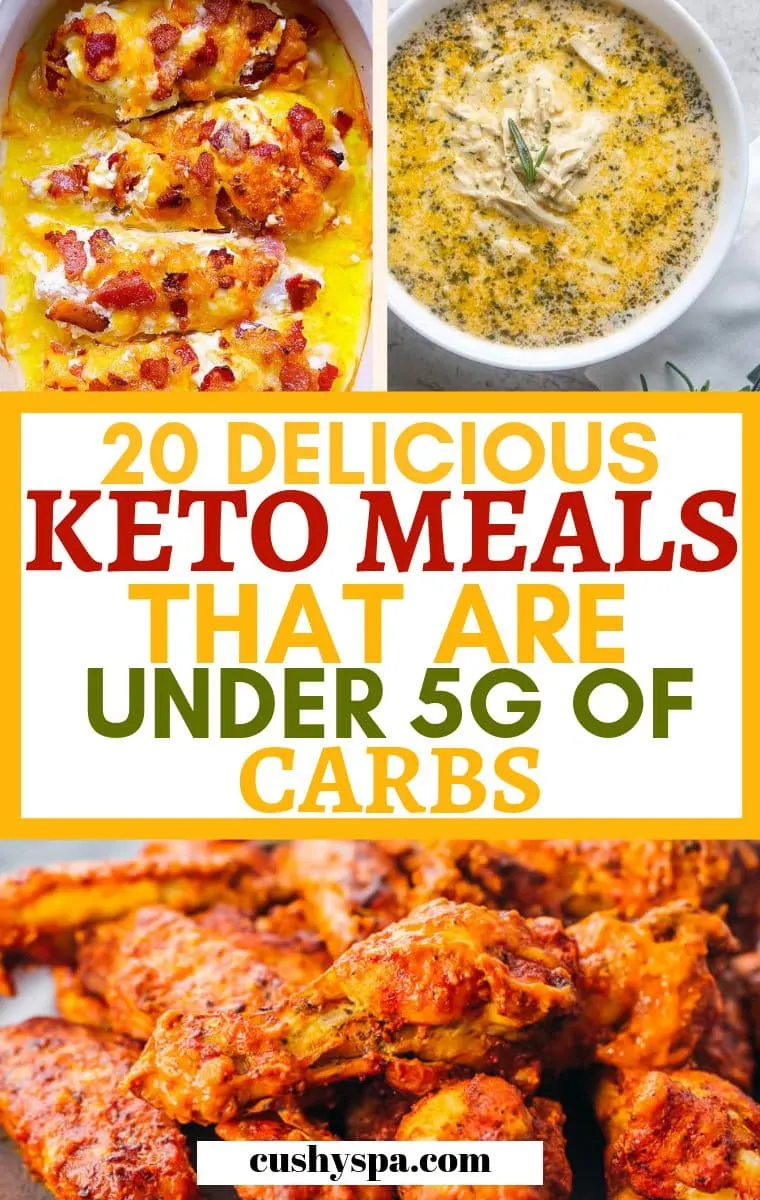 When you're on the keto diet, staying under the carb limit can become difficult. Meal after meal, snack after snack and they add up.
If you're struggling to lose weight while on the diet, it might actually mean that you're consuming too many carbs. You can quickly check a recommended Net Carb intake based on your weight, height, and how quickly you want to lose weight here. This calculator can be a lifesaver if you're not sure where to start!
Today, I thought I'd share a few keto meals that are very low in carbs. We're talking less than 5g of Net Carbs per meal.
Therefore, these meals are safe to eat on a daily basis. And, they'll help you to keep your Net Carb intake just on point.
20 Keto Meals That are Very Low in Carbs
Don't forget to look out for keto tips and tricks. I suggest some of the better products for the meals or what to eat them with to keep your caloric intake low.
Look out for adjustments too!
Watch: 4 Ketogenic Meal Ideas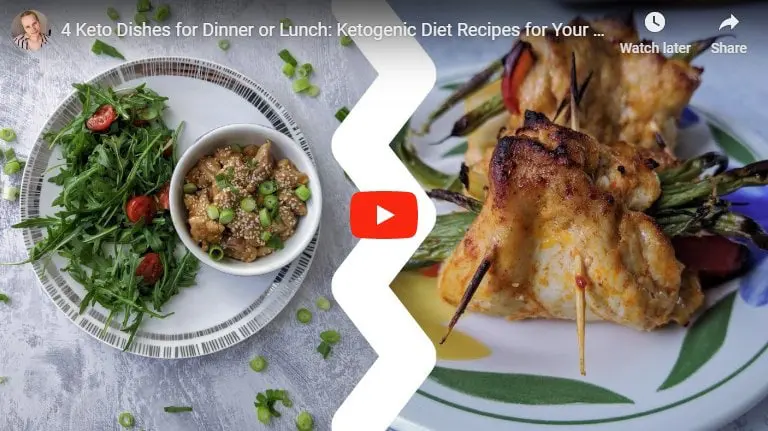 1. Baked Salmon in Foil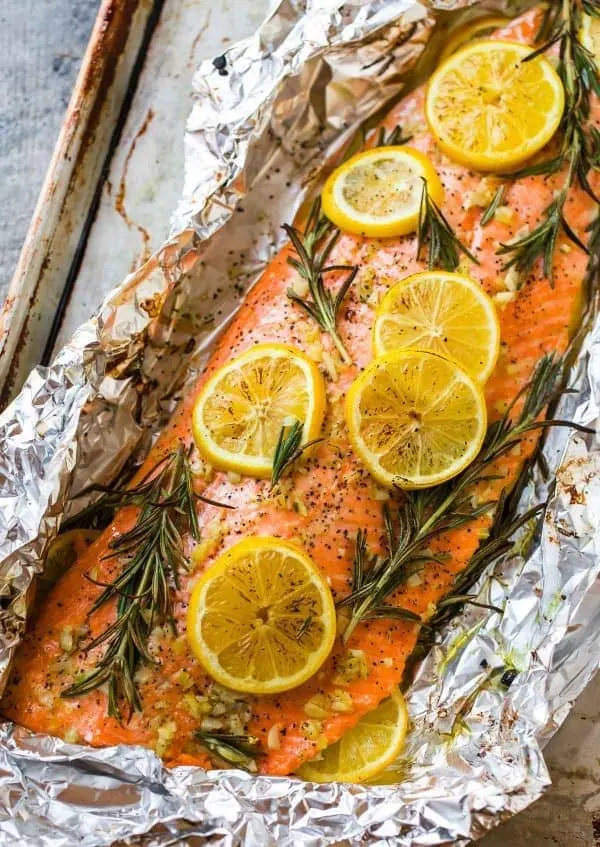 Credit: WellPlated.com
Fish is one of the healthiest foods on the planet. There's been quite a bit of research that shows a direct correlation between fish consumption and life length.
If you're interested, feel free to read this paper on how fish consumption may prolong life. Anyway, you should try consuming more of it and that's the reason why I'm introducing this recipe!
This one is very easy to make, you don't need to be a kitchen guru to make it happen. All you need is a good quality salmon, a few spices, herbs, and a few small lemons.
Wuala! Enjoy the taste!
Per Serving:
Calories: 180
Fats: 6g
Net Carbs: 3g
Protein: 28g
2. Bacon, Cream Cheese, Cheddar Chicken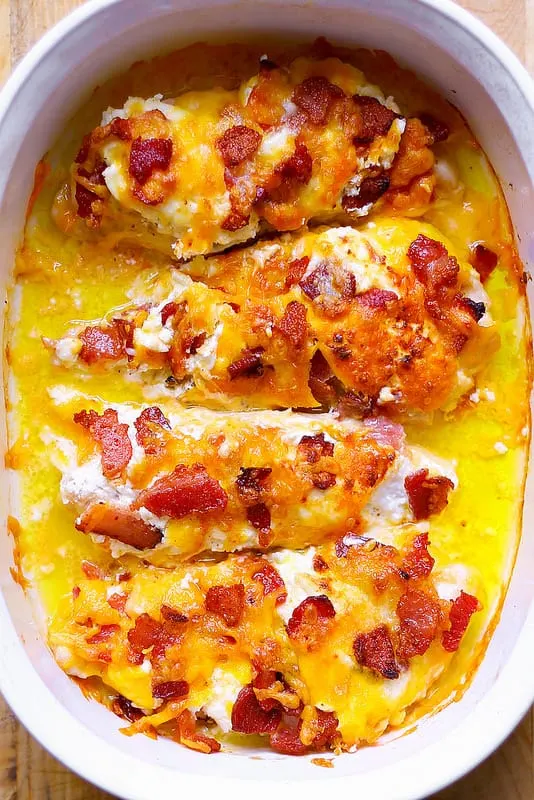 Credit: JuliasAlbum.com
Creamy and full of protein and fats. That's how I would describe this dish. It's absolutely delicious and crispy.
There is nothing quite as tasty as a combination of bacon, chicken and cream cheese. If you've tried it, you'll know what I mean.
I suggest serving this one with some baked broccoli or fried cauliflower rice. To make it, you'll need a sturdy food processor like this one (great for a low budget) and a steamer basket (this one is extra cheap).
You can always get an electric steamer too, especially if steaming vegetables is your thing. It's very healthy and great for the keto diet.
You'll notice that on the keto diet, you'll eat much more broccoli, cauliflower, green beans – all of which either need cooking or steaming.
Per Serving:
Calories: 602
Fats: 47g
Net Carbs: 2g
Protein: 39g
3. One Skillet Chicken with Lemon Garlic Cream Sauce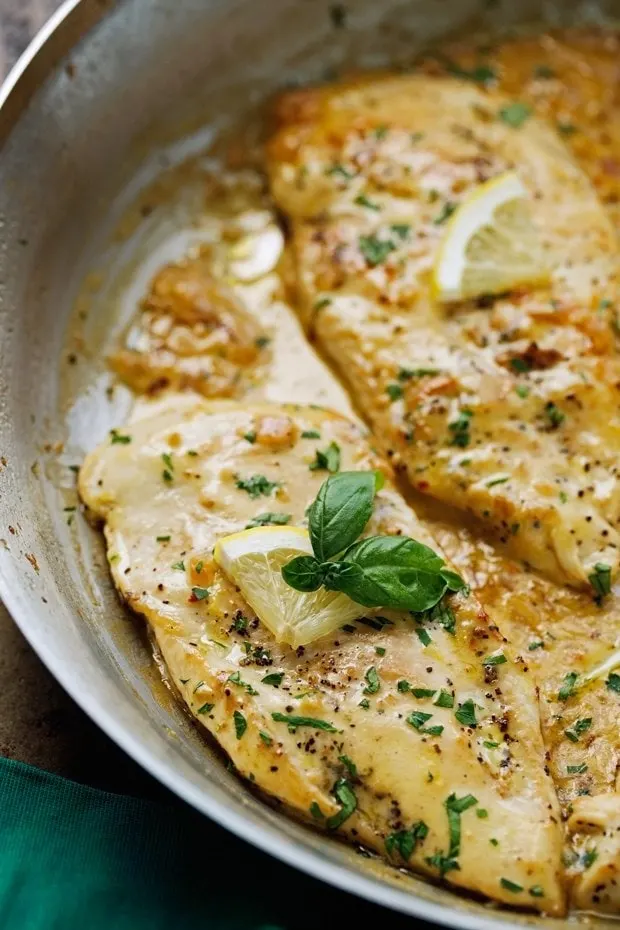 Credit: littlespicejar.com
If you're a fan of chicken breasts or boneless chicken thighs, try this recipe. The recipe requires just one pan and a little bit of your time.
The garlic and lemon combination here truly brings out the taste of the chicken. It's flavorful and you can play with the garlic to either strengthen the taste of it.
The sauce is truly the key here. So, make sure you get it right. But, also, don't be afraid to add some of your favorite herbs to it.
Simple but delicious. You can serve this keto dish with steamed cauliflower or cauliflower rice.
Per Serving:
Calories: 302
Fats: 16.1g
Net Carbs: 4g
Protein: 33.9g
4. Basic Bulgogi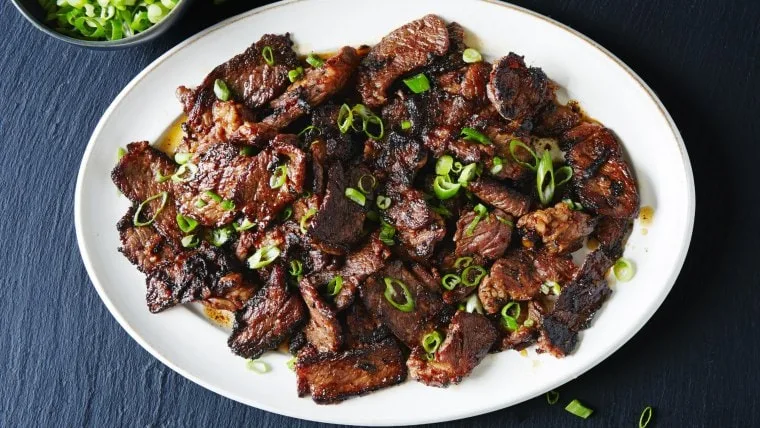 Credit: bonappetit.com
Bulgogi is made out of marinated strips of either pork or beef.
It's most often is grilled on the barbecue, but you can totally stir-fry it at home in a pan. And, trust me, it's absolutely worth it.
Especially if you're a big fan of Korean cuisine and love to bring a little bit of spiciness into your life. For this recipe, you either need to use pork or boneless chicken.
The pork has more fats than chicken, so it's great for the keto diet. However, if you're looking for a dish higher in proteins, then use chicken.
It's especially great if you're working out and need to hit a certain protein amount. NOTE: the recipe suggests using brown sugar, don't do it.
Instead of brown sugar, use granulated Lakanto Sweetener which's a perfect brown sugar substitute. It's completely natural too.
Per Serving:
Calories: 310
Fats: 20g
Net Carbs: 4g
Protein: 28g
5. Creamy Ranch Pork Chops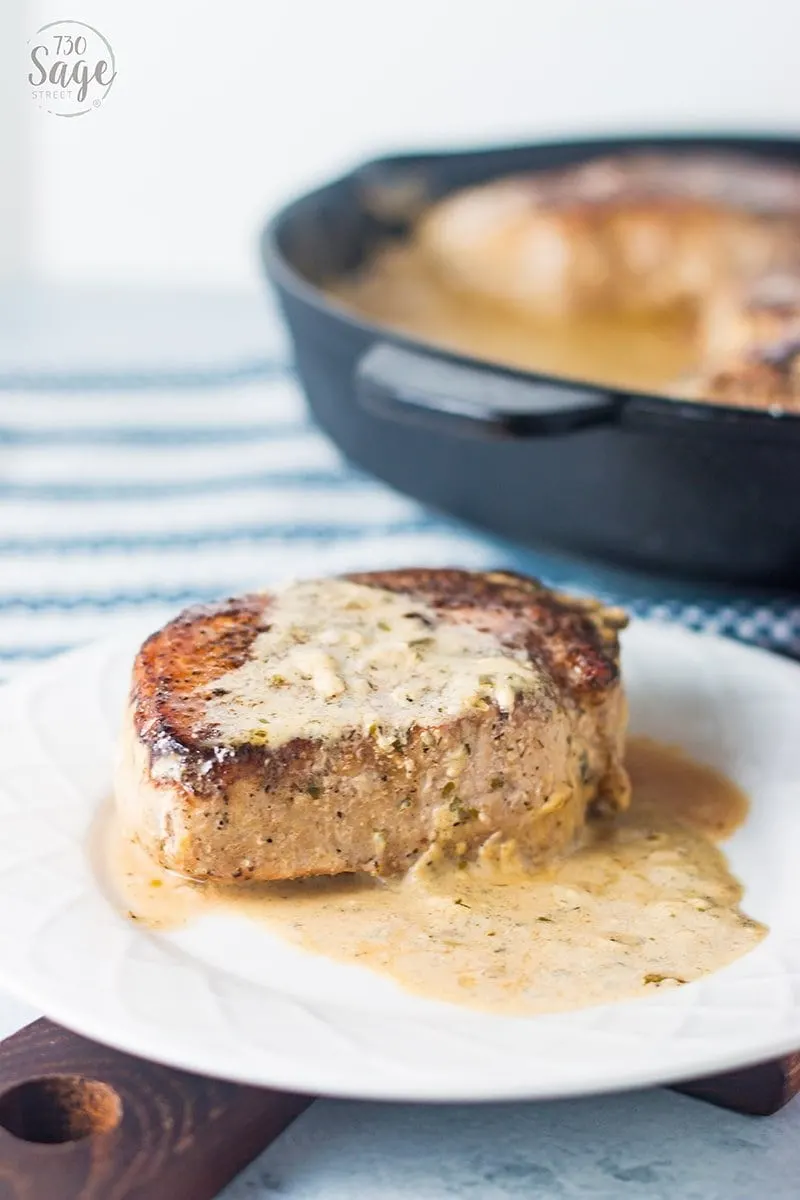 Credit: 730sagestreet.com
This recipe is absolutely delicious, and I think the name for it says it all. It's a fairly simple recipe.
However, it'll probably impress a guest or two. All you need for this one is good quality pork chops and a couple of other products for the sauce.
The key here is ranch seasoning which the author makes herself. If you have no time to make one yourself, try this ranch seasoning.
Overall, it's an absolutely delicious recipe that only requires 5 minutes of preparation. What's great about it is that even absolute cooking noob can make this one and it'll taste amazing.
Per Serving:
Calories: 477
Fats: 39g
Net Carbs: 0g
Protein: 25g
6. Meatloaf Minis with Low Carb Ketchup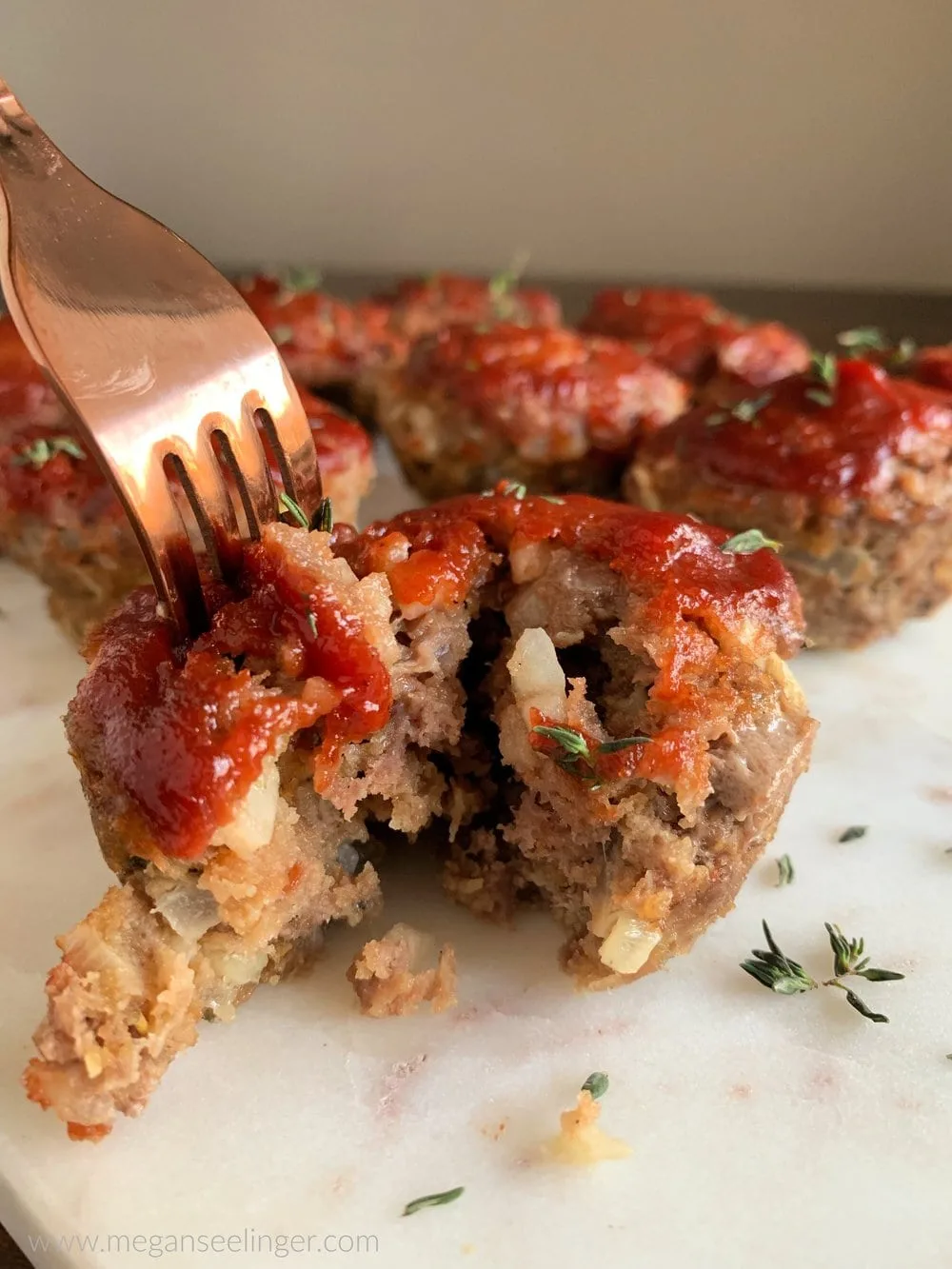 Credit: meganseelinger.com
Meatloaf is definitely one of those dishes that can make your mouth water. If you grow up eating it, you're probably going to be making it for the rest of your life.
Why? Because it's the type of meal that truly makes everyone feel at home. It's great for regular days, great for celebrations and any other occasions.
So, you're probably already thinking that meatloaf needs to have breadcrumbs and ketchup – none of which are keto-friendly. And you're absolutely right!
Megan came up with this ingenious recipe that uses pork rind breadcrumbs instead of regular ones (0 g of carbs by the way!). Also, this organic ketchup has only 3g of carbs in 1 tablespoon of the sauce.
So, definitely give it a try!
Per Serving:
Calories: 171
Fats: 10.8g
Net Carbs: 2.4g
Protein: 15.7g
7. Instant Pot Chicken Wings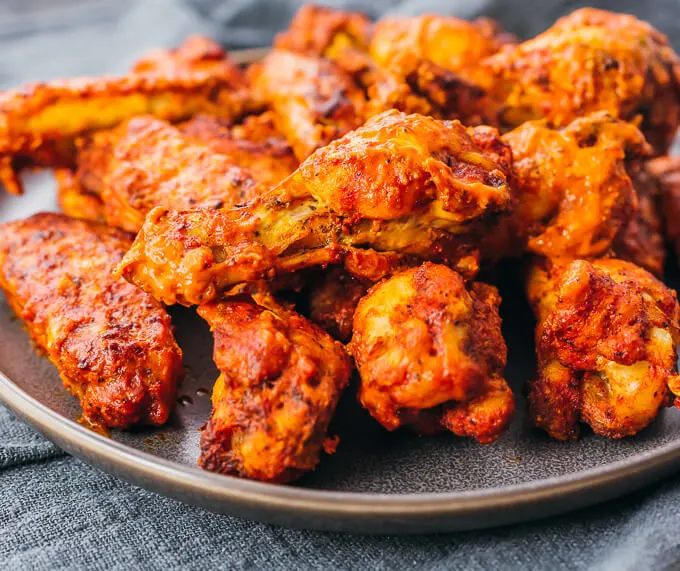 Credit: savorytooth.com
A fan of chicken wings but worried about high sugar sauces that these often come with? Well, then just try these chicken wings with this low carb BBQ sauce that has only 1g of carbs per 1 tablespoon.
The chicken wings themselves are easy to make. The only thing you'll need, other than sauce, chicken wings and spices, is an instant pot.
This instant pot is sturdy and of good quality. When it comes to the meal itself, the chicken wings are soft, thus truly just melt in your mouth.
They taste great with a bit of broccoli, celery sticks or baby carrots. Also, feel free to eat it with a keto-friendly salad.
Something as simple as a mix of cherry tomatoes and rocket salad would beautifully suit the dish too.
Per Serving:
Calories: 450
Fats: 19g
Net Carbs: 2g
Protein: 63g
8. Baked Garlic Parmesan Chicken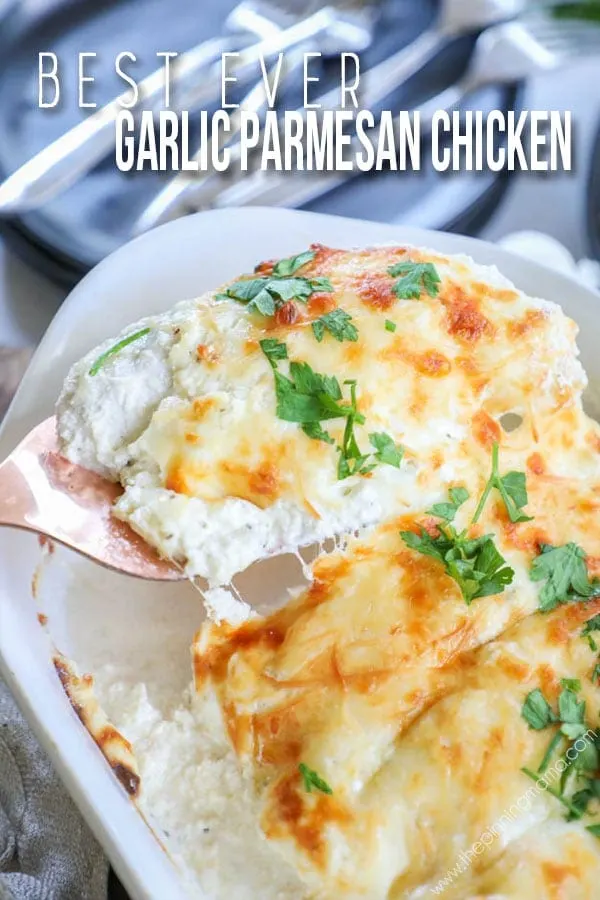 Credit: thepinningmama.com
Parmesan chicken is my favorite and that's probably the reason why I'm including it in all my food listicles.
So, if you're a fan of cheese and chicken, definitely give it a try. The chicken truly melts in your mouth and the parmesan creates such a flavorful crust that's hard to resist.
This recipe requires only 10 minutes of preparation and you'll have it ready for the whole family just in under 50 minutes. Not bad, isn't it?
Per Serving:
Calories: 318
Fats: 21g
Net Carbs: 3g
Protein: 30g
9. Instant Pot Chicken Tacos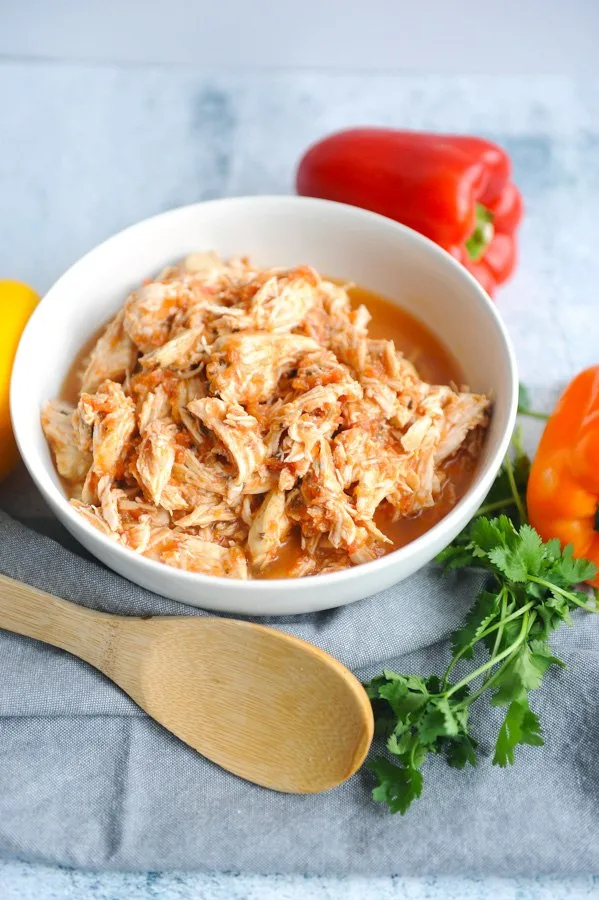 Credit: mommafitlyndsey.com
Easy to make and great for a busy week-day. Simply put chicken breasts, fresh salsa, garlic, and salt into the instant pot and let it cook.
Then, just shred it and you'll have your chicken tacos. This fresh salsa recipe is relatively low in carbs so give it a try.
Make sure the salsa you make is low carb to keep this recipe keto-friendly. Since that's exactly what could either make or break the recipe.
Per Serving:
Calories: 129
Fats: 2.6g
Net Carbs: 2.8g
Protein: 22.1g
10. Creamy Garlic Chicken Soup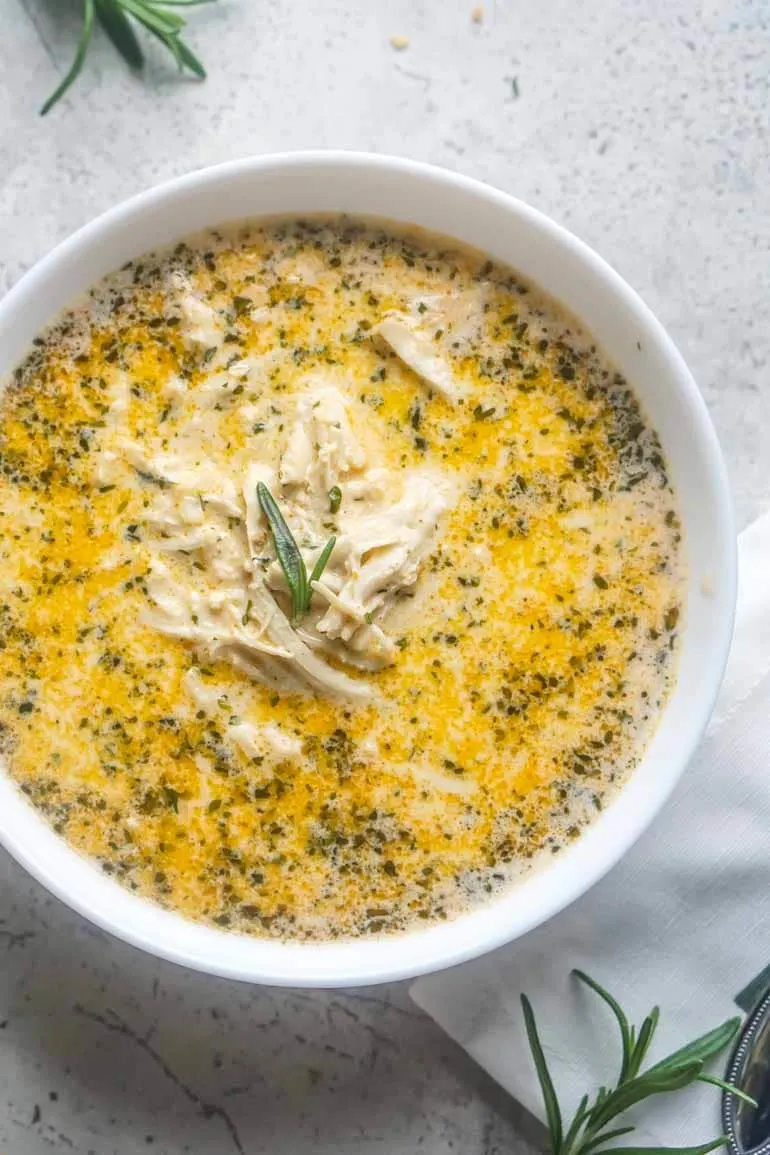 Credit: ketogasm.com
For all the soup lovers out there, here is a keto soup that's very low in carbs. It is very creamy and has quite a bit of fat in it, so make sure you don't eat it before going to the gym.
Soups, in general, tend to fill us up much more so it can be hard to keep all it down during an intense workout.
Otherwise, the garlic and the chicken truly taste amazing and makes your heart skip a beat. Haha.
Per Serving:
Calories: 307
Fats: 25g
Net Carbs: 2g
Protein: 18g
11. Cheesy Mexican Chicken Skillet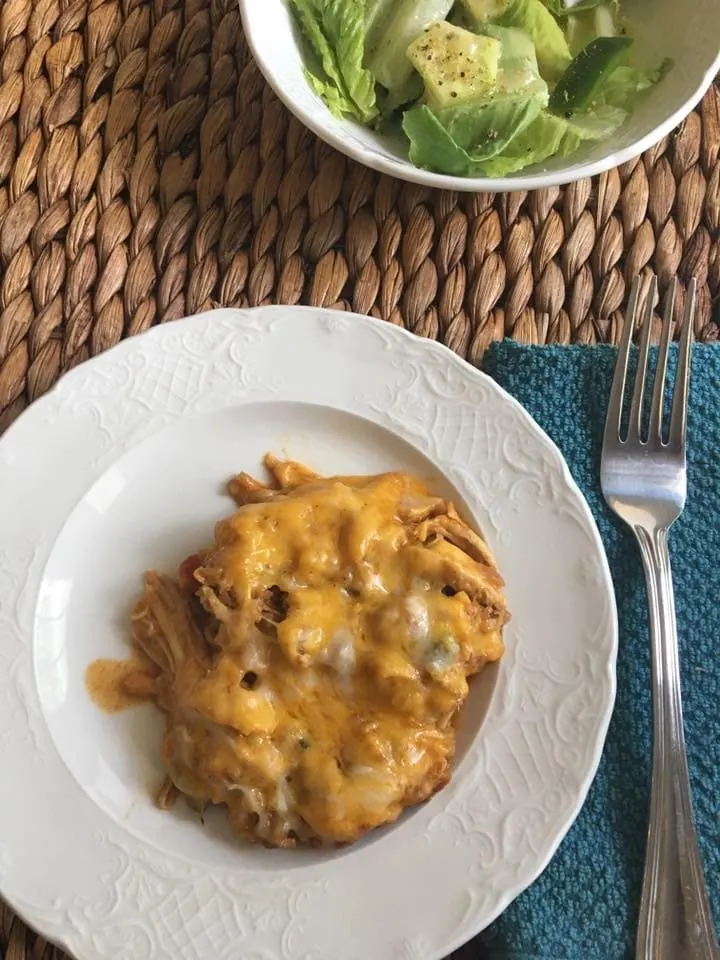 Credit: kaseytrenum.com
If you're missing Mexican flavors and want to try a new keto-friendly recipe, here is a perfect meal for that.
This cheesy Mexican chicken skillet is delicious and tastes amazing with some green salad.
The avocado egg salad I mention below would be great here too. This one will truly melt in your mouth and fill it with flavors.
So have fun making it and enjoy the taste! Especially Mexican cuisine happens to be your favorite.
Per Serving:
Calories: 295
Fats: 20g
Net Carbs: 4g
Protein: 22g
12. Greek Chicken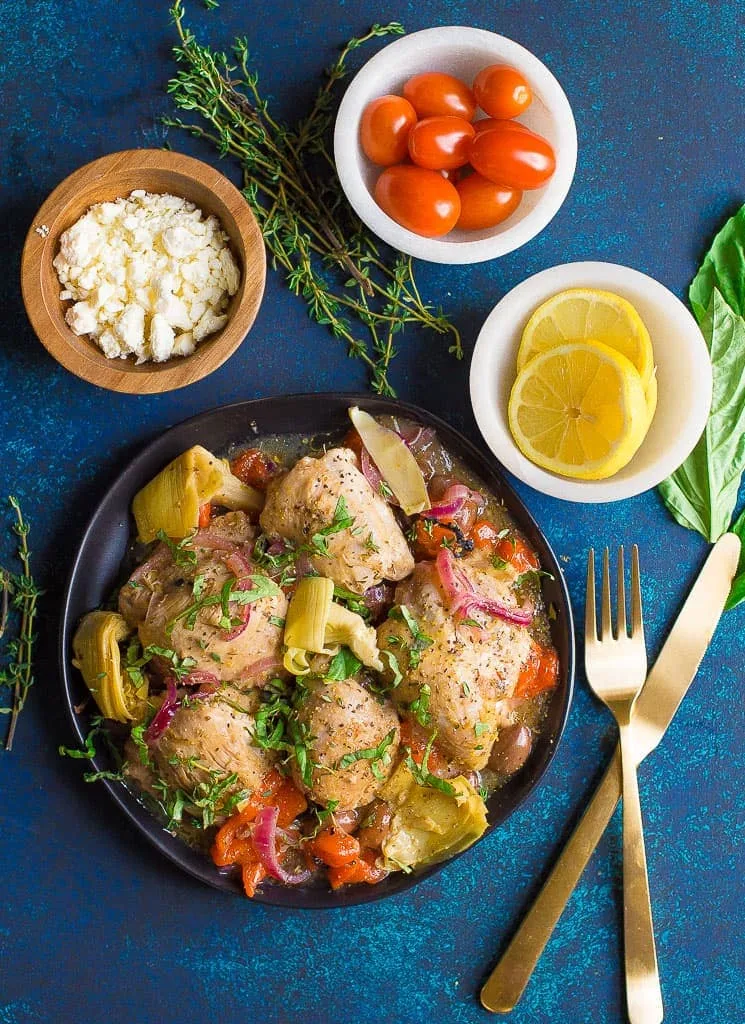 Credit: wholesomelicious.com
Bring Greek cuisine flavors into your home with this Greek chicken recipe. It's very filling, absolutely delicious and makes any home a better place to live. Literally!
I love the fact that the recipe has a lot of veggies and a good amount of meat too. So, you get all the vitamins and fiber in one go.
It's truly a hearty dish that works both for lunch and dinner. The whole family will enjoy it, I promise!
Per Serving:
Calories: 452
Fats: 36g
Net Carbs: 3g
Protein: 26g
13. Crock Pot Chile Verde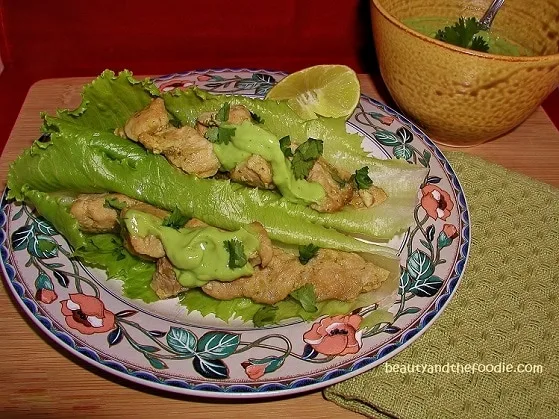 Credit: beautyandthefoodie.com
Love this super simple, budget-friendly recipe. These tacos come with avocado and lime sauce.
Tastes absolutely delicious with chicken but feel free to try it with pork too. The recipe suggests using butter but olive tastes just as good.
Especially if you love your avocado with natural oils. Also, when it comes to the recipe, make sure you mix in as much garlic as you can. It truly makes the meal extra special.
Per Serving:
Calories: 206.7
Fats: 8g
Net Carbs: 1.8g
Protein: 29g
14. Avocado Egg Salad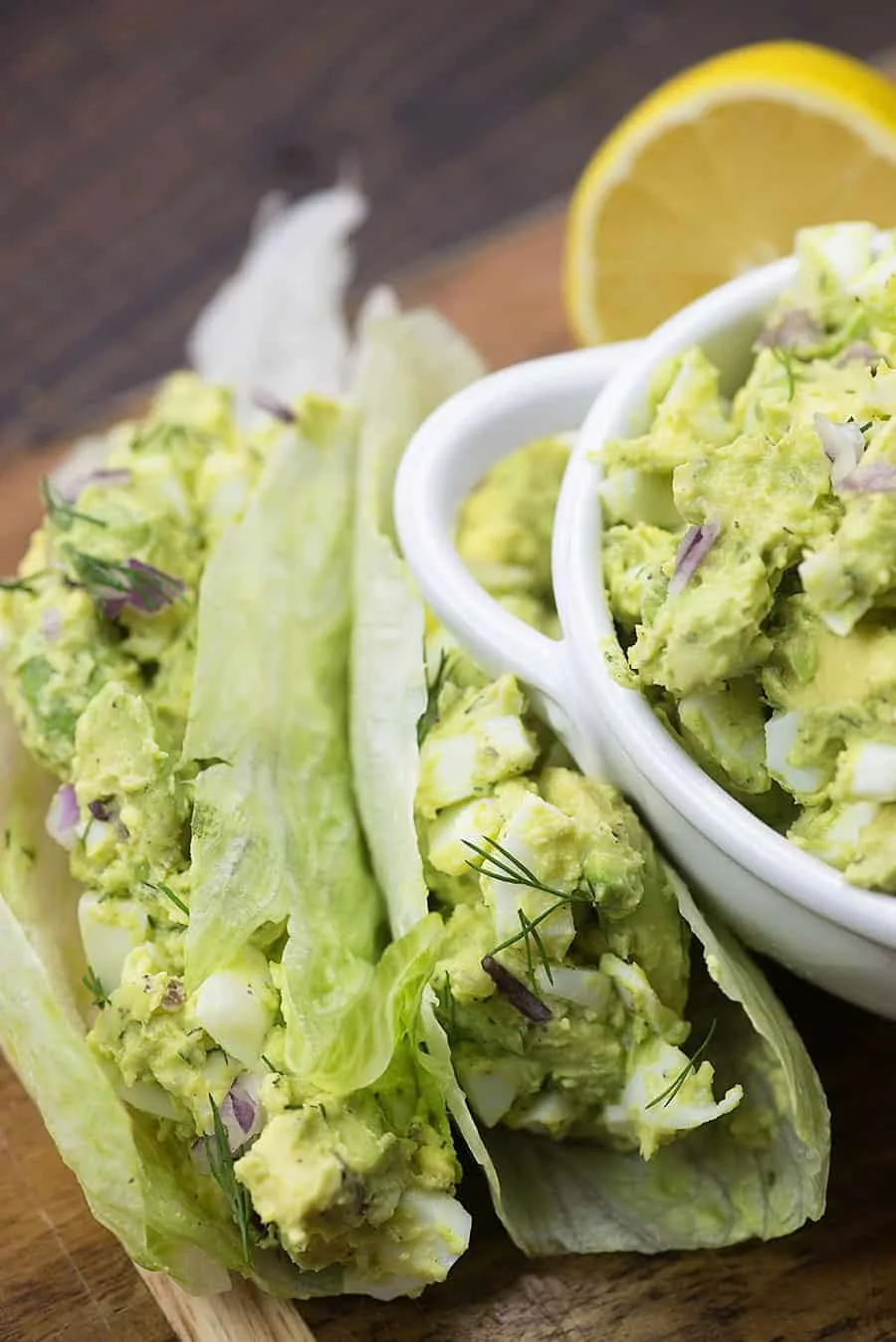 Credit: thatlowcarblife.com
This salad is absolutely loaded with healthy fats and protein as well as dietary fiber. A small bowl of the salad can fill you up for a couple hours.
I think it's great if you need a fast snack or as a side for your favorite meat or fish. Tastes delicious with lettuce.
Per Serving:
Calories: 160
Fats: 12g
Net Carbs: 3g
Protein: 7g
15. Turkey Bacon Ranch Pinwheels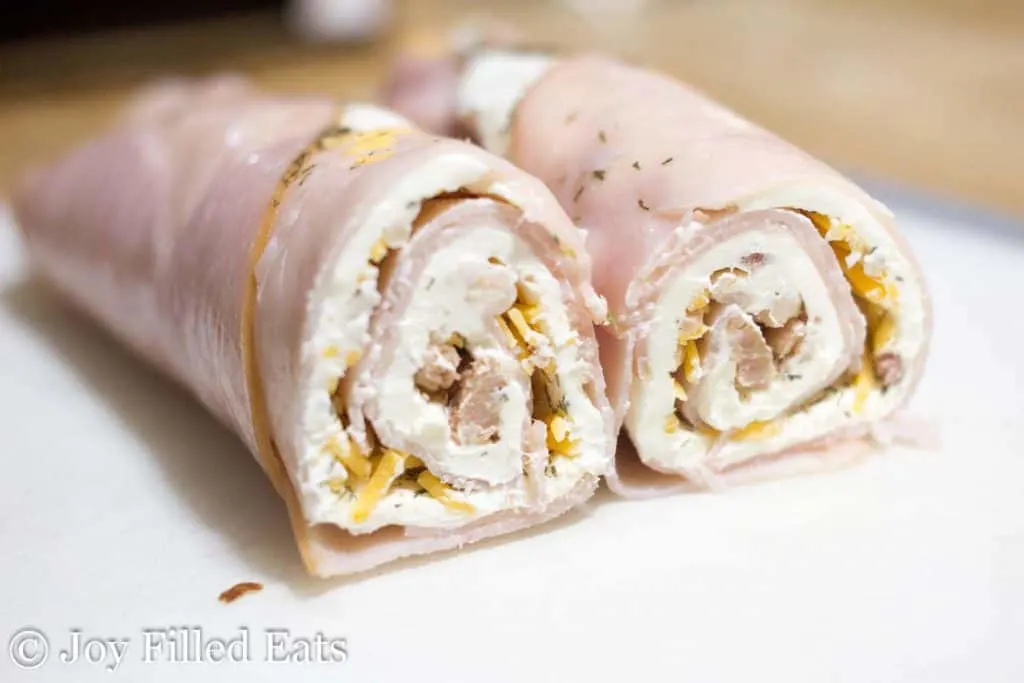 Credit: joyfilledeats.com
These are great for a celebration or gathering, especially if you have a crowd to feed. Overall, great treat no matter whether you're on the keto diet or not.
These pinwheels take little to no time to prepare and you can bring them to work. It's the sort of meal you can make in 5 minutes in the evening to make sure you have something for lunch next day.
So, they're good for meal prepping. Thus, make sure you incorporate these into your keto meal plan as a snack or even a full lunch.
Per Serving:
Calories: 141
Fats: 12g
Net Carbs: 2g
Protein: 5g
16. Creamy Swiss Chicken Bake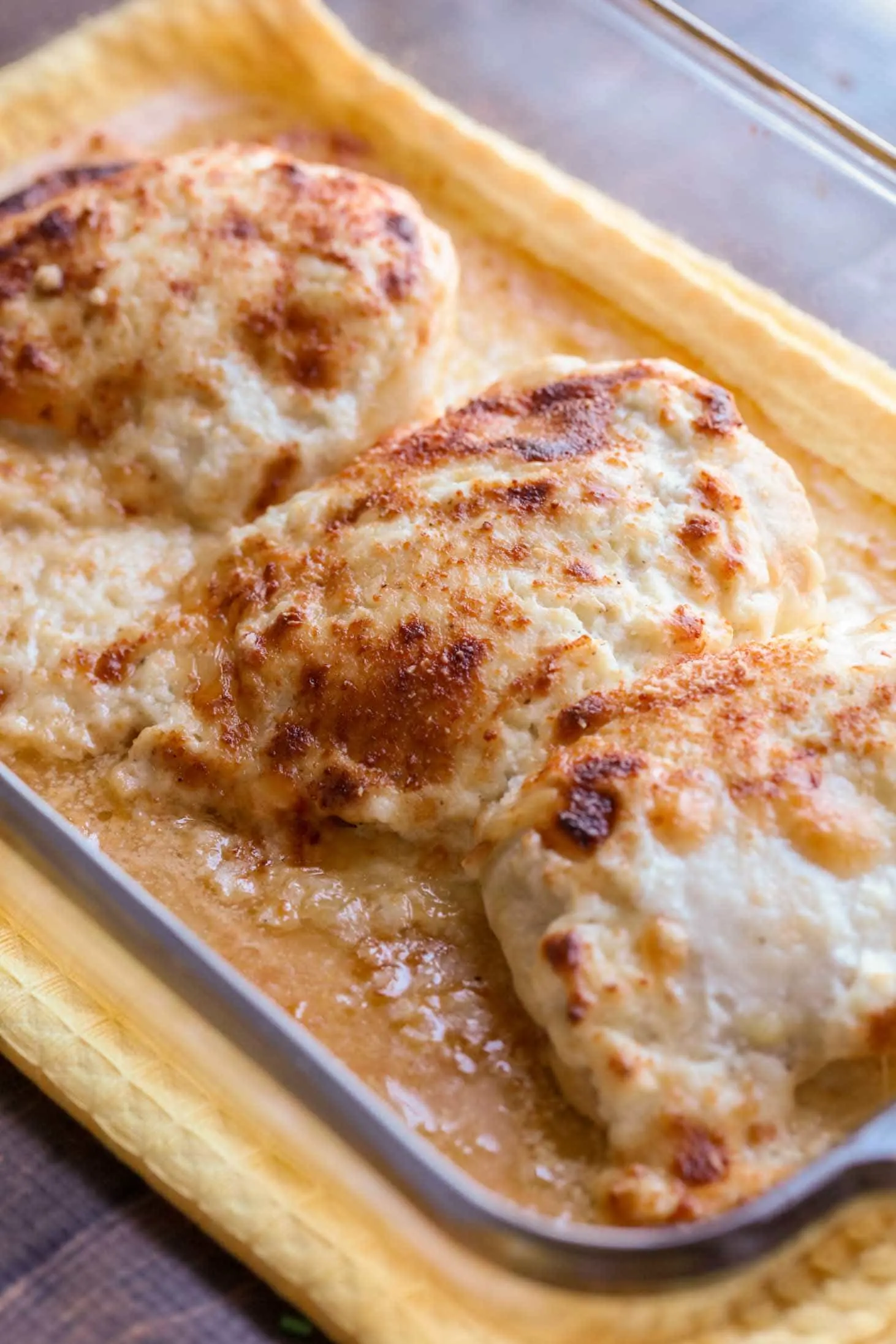 Credit: lilluna.com
If you need more keto chicken meal ideas, check my blog post on that. I think chicken is just such a flexible product to work with.
Therefore, you can create a variety of meals that taste different.
Play with flavors, spices, herbs and you never know when you're going to come up with your new favorite recipe.
Perhaps this is one of them? This creamy swiss chicken bake is very easy to make, melts in your mouth and yet has a little bit of crunchiness created by cheese.
Parmesan truly makes the chicken taste amazing. So, give it a try. Also, serve it with a little bit of salad, cherry tomatoes or cauliflower rice.
Just make sure you don't use regular rice.
Per Serving:
Calories: 693
Fats: 45g
Net Carbs: 3g
Protein: 63g
17. Easy Broccoli Salad with Bacon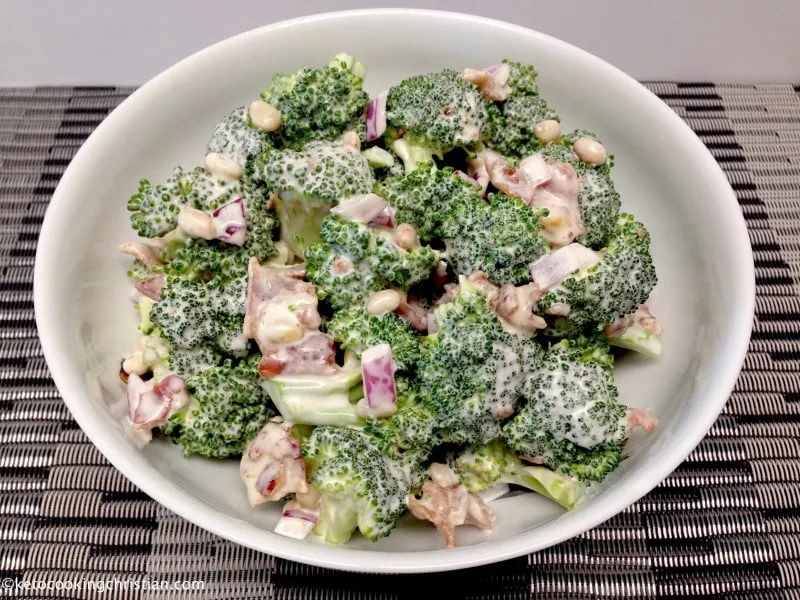 Credit: ketocookingchristian.com
If you thought that most salads are high in carbs, you're wrong. This broccoli and bacon salad is very low in carbs and tastes absolutely amazing.
Moreover, it's easy to make and is packed with flavors. You can either mix in raw broccoli or steamed ones.
I'm not a fan of raw broccoli, so definitely recommend steaming them up. However, it's really up to you. And, it's definitely worth trying it both ways.
Per Serving:
Calories: 315
Fats: 31g
Net Carbs: 2g
Protein: 7g
18. Swedish Meatballs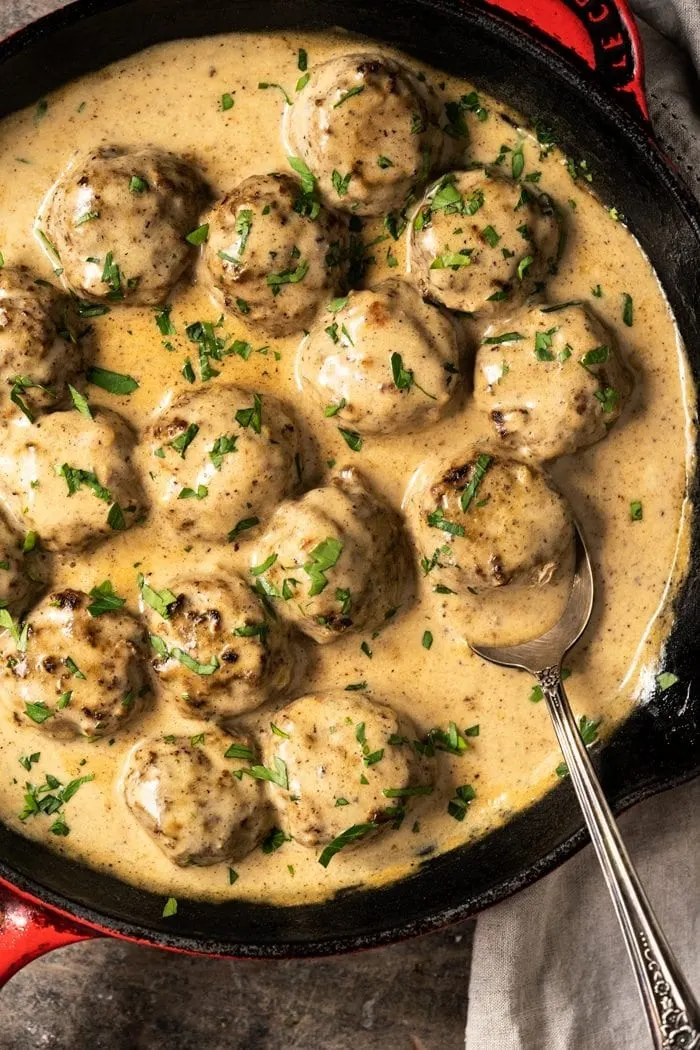 Credit: gnom-gnom.com
If you've ever been to Ikea, you'll know what Swedish meatballs are all about. They are so delicious and definitely worth trying at least once in a lifetime.
Well, today we're not going to go to the Ikea. But, you can surely bring Swedish cuisine to your home.
Try these juicy and flavorful meatballs and let your taste buds feel what meatballs can really taste like. They're going to melt in your mouth and you're going to love it.
Also, it happens to be a great option for those on the keto diet. Why? Because it's a keto version of the traditional Swedish recipe.
Per Serving:
Calories: 399
Fats: 34g
Net Carbs: 2.75g
Protein: 17g
19. Buffalo Chicken Meatballs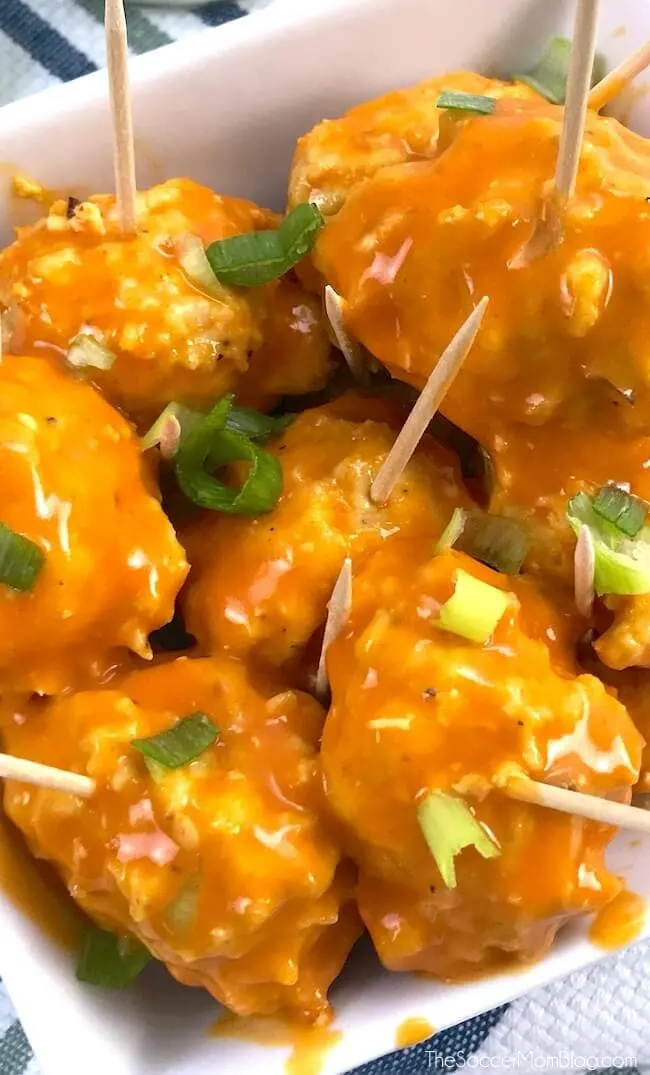 Credit: thesoccermomblog.com
This one is for the times when you really want a delicious and definitely not healthy treat. These buffalo chicken meatballs will make your cravings go away without you needing to cheat.
The key to these buffalo meatballs is the almond flour. Using it instead of regular wheat flour saves you from a ton of carbs.
I recommend using this almond flour. However, you can use any as long as there is no added sugar.
Use your favorite hot sauce with these and make sure it's low in carbs. At the end of the day, the chicken meatballs are delicious because of the sauce, so make the right choice.
Per Serving:
Calories: 557
Fats: 48g
Net Carbs: 3g
Protein: 25g
20. Stuffed Sausage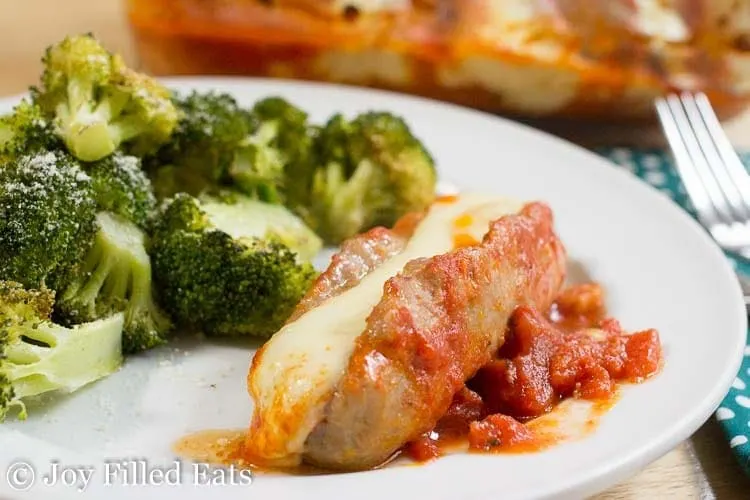 Credit: joyfilledeats.com
I didn't know you could stuff a sausage until I found this recipe. Stuff an Italian sausage with mozzarella cheese, put it into the oven and enjoy the delicious meal.
When you bake the sausage it gets a little bit crunchy, so it perfectly goes with the soft cheese inside it.
It creates this interesting dynamic that makes your brain cells melt (not literally, of course).
Marinara sauce beautifully finishes up the recipe and makes it a nice lunch or dinner meal for the family.
It only takes 5 minutes to prepare and even the biggest cooking noob can make it happen.
So, definitely recommend it for when you just don't feel like cooking at all and still want something delicious.
Per Serving:
Calories: 557
Fats: 48g
Net Carbs: 3g
Protein: 25g
Conclusion
Loved these super low carb keto meals? Share the post with your friends or share your own favorite recipes in the comment section below.