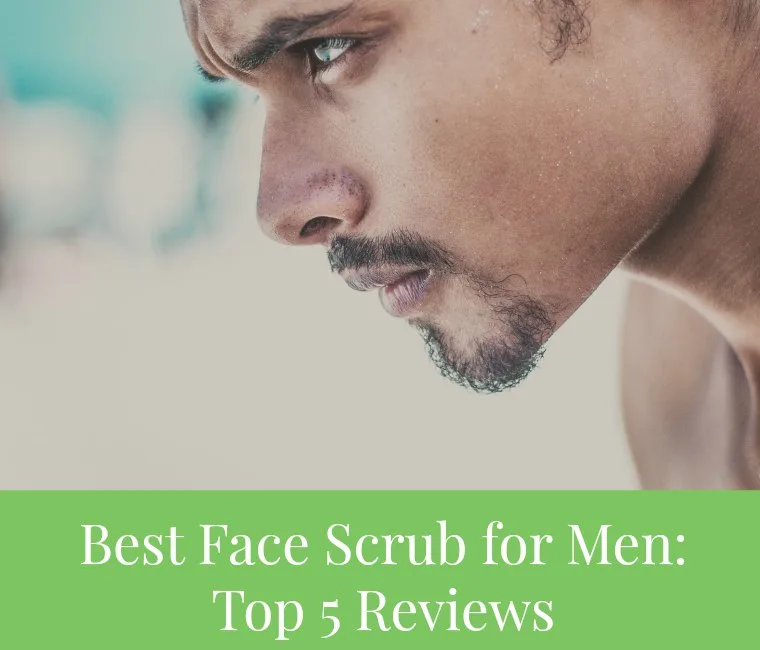 The truth is – skin cells die and it takes approximately 1 month for the epidermis layer to fully renew (source).
That means that millions of cells constantly die and your skin frequently sheds. However, often the problem with the face is that dead cells get trapped inside the pores with sebum.
This blog is supported by readers purchasing featured products. When you buy products with my links, I earn a commission at no extra cost to you. Here is my full affiliate disclosure.
For those who don't know, it's just oil that our glands extract (source). That's especially a big problem for men who have oily skin and large pores.
That's because such a mess usually results in blackheads or even acne. That's where facial scrubs come in.
Constant exfoliation and cleansing can improve anyone's skin condition if the products used are right for the person.
That's the reason why I thought I would review the best face scrubs for men, at least in my opinion, so you can choose which one might suit you.
Is It Hard to Find a Face Scrub for Men?
I think it's pretty easy to get a product like that nowadays. The market obviously has many more scrubs to choose from that are specifically dedicated to men.
Although don't get so sucked up with titles since all the facial scrubs, no matter whether they're for women or men, do the job they are supposed to do.
Although, men facial scrubs might have a more appealing fragrance or look to them. That's mostly the reason why I tried to review the products that are specifically for men.
I've asked around and gathered some of my friends' experiences and hopefully, that will help you out a little bit.
Top choices in the market right now:
1. Brickell Men's Renewing Face Scrub for Men
Click Here to Check Price on Amazon
I'll be honest, I've made my boyfriend by this one since he has very sensitive skin. However, this product is natural and organic.
So, I thought it would be pretty safe even for him. The results so far have been great and his skin hasn't reacted badly or anything.
I think this one might be good for someone whose skin gets easily irritated. This scrub might be a good option if you suffer from blackheads, ingrown hair, and oily build up.
The face scrub, as expected, is effective in sloughing away all the dead skin, sebum, and any other face impurities that may be present on the surface of your skin.
Read More: Interested in Getting a Facial? Read this!
It contains a host of natural and organic ingredients like avocado butter, pumice, and aloe vera.
The scrub is also fortified with vitamin E while the pumice, coffee extract, green tea, and jojoba beads act as the grit. The carrier is a no-fuss gel and the scrub feels good on the skin.
It gives a mild wash so if you have sensitive skin, then this scrub will suit you fine. All the natural particles remove the dead skin and unclog your pores.
My boyfriend usually uses this scrub to exfoliate before a close shave. It makes skin smooth and ready for an easy shave.
For me, it's the fresh scent of this scrub that entices me. That's something you might like too.
2. Lab Series Invigorating Face Scrub for Men
Click Here to Check Price on Amazon
Lab Series has been producing shaving products for long and that's the reason why they've also come with a facial scrub.
We all know that exfoliation can help with getting a close, clean shave. The Invigorating Face Scrub has an energizing gel that's great with heating up that skin a little bit.
It's free from fragrance and does not contain any oil as a base. That might be both a good and a bad thing.
Those with drier skin might prefer using an oil-based scrub while this one might work much better on oily skin.
Be aware of how often you use the scrub since you might over dry your skin and cause more damage than good.
The face scrub has little grit and foams up quite well. It is very mild when it comes to abrasiveness.
Grittiness is created by crushed apricots. They get rid of all the dry and flaky skin.
If your skin is prone to zits and mild acne breakouts, then this face scrub might actually come to your rescue.
However, don't expect it to help with blackheads that much. A warm shower will be much more effective in this case.
3. Rugged & Dapper Facial Cleanser for Men
Click Here to Check Price on Amazon
When my brother touched his teens, he purchased the Rugged & Dapper Facial Cleanser to clear his skin up. It actually worked surprisingly well and he has been using it ever since.
The product is a combination of an energizing face wash and an exfoliator that can be used on a daily basis.
The exfoliator removes the excess oil, dirt and unclogs pores to prevent acne, while the face wash rehydrates the skin. It contains a bunch of natural ingredients, which is always encouraging.
These include Willow Bark, Burdock Root, and Aloe Vera. The face scrub is also fortified with Vitamin C.
Which I think is great, consider the fact that vitamin C promotes collagen production (source).
I think it's natural not to want to have wrinkles, and keeping your skin smooth and tight is important for your overall self-confidence.
The tea tree oil reduces the production of natural oil (sebum) and kills the bacteria that cause acne.
Read More: How to Do Facial at Home?
If you're looking for a versatile product, that's the one you need. You'll gradually notice your skin tightening, giving it a youthful appearance.
It's also very mild on the skin and can be used regularly as a part of your skincare regime. You can finish off the cleansing process by applying a layer of moisturizer.
The fact that it's not at all abrasive also means that it works well on sensitive skin. It's a plant-based product and that's a good thing!
Natural ingredients tend to be more nourishing and provide long-lasting results when used regularly. Therefore, you should definitely consider this to pamper your irritable skin.
The fragrance is pleasant and gentle; it won't overpower your nostrils either.
4. Majestic Pure Activated Charcoal Body and Facial Scrub

Click Here to Check Price on Amazon
Activated Charcoal continues to make huge waves in the skincare industry. It's singularly responsible for absorbing dirt and oil from your skin.
The Dead Sea salt acts as the grit to gently exfoliate your skin. Together, they exfoliate, detoxify and moisturize your skin with essential vitamins and minerals.
The Dead Sea salt contains Magnesium, Sulphur, Calcium, and 21 other essential minerals that your skin can benefit from.
If you're looking for a face scrub that can suit your dry skin, then you should give this a try.
It leaves behind a thin layer of oil after deep cleansing which is quite good for those with that type of skin.
If you aren't a big fan of the oily residue, you can still get rid of it easily using a regular face wash.
It can be used on your body too, especially for breakouts on the arms and back. That's a feature I admire and I think it can come to use to anyone.
Obviously, don't use it if you have any cuts, nicks, or open wounds because this will sting and burn.
5. Microdermabrasion Face Scrub & Cleanser
Click Here to Check Price on Amazon
This product is made from chlorophyll which soothes skin rashes (source), superfruit extracts, and other ingredients that hydrate skin.
It has peppermint oil and therefore smells like it. I really like the fragrance. It gives a minty fresh feel to the scrub but also soothes your skin if you're suffering from breakouts.
It gently cleans your skin while also exfoliating and moisturizing it. If you're a young boy entering your teens and do not know how to deal with pimples, you should give this face scrub a shot.
It tackles skin blemishes, acne breakouts, and blackheads. Additionally, it's quite mild with fine grit.
So, even if you have sensitive skin, you do not have to worry about harming it. Moreover, all the ingredients are made out of herbaceous plants, which have some beautiful properties.
You don't have to rub your skin hard to get the desired effect either.
How to Use a Face Scrub
Now that you've seen all the products and probably have chosen the best scrub for men, let's go through these steps to figure out what's the best way to use it.
Obviously, you should do whatever feels right to you but having in mind a few of these steps might help with an overall improvement of the results.
Rinse your face with lukewarm water to open up your pores.
Squeeze out a dime-sized amount of facial scrub and apply it to your skin.
Gently rub the scrub over your face. You can move your fingertips in a circular motion to massage your skin.
Pay close attention to areas on your face where the pores are large. That is, your nose, the sides of the nose, forehead, below the lower lip and the chin.
Make sure that you're not scrubbing too hard. Just gently massage your skin.
Rinse your face with lukewarm water again and remove the entire residue of the face scrub from your skin.
Splash some cold water on your face to shrink your facial pores.
Pat your face dry with a towel.
You may now apply some moisturizer or lotion to retain the moisture on your skin.
This also works as a pre-shave regime. However, don't use cold water until you've finished shaving.
You want your pores to be open for the razor to get closer to the skin and the roots of the hairs. If you apply face scrub on your whiskers and other facial hair, the tough hair will then soften up.
It'll make it easy for you to have a clean and effortless shave. Exfoliations also help with lifting the hairs away from the skin.
That can come in handy when shaving. You can use the same type of routine to exfoliate other parts of your body too since the idea is kind of the same?
When Not to Use Facial Scrubs
It's not recommended to use facial scrubs when your skin is already irritated or you have some open wounds or cuts.
That can cause a lot of pain and you never know what might happen once the scrub gets into your bloodstream.
Pain is usually a bad sign whenever you use a scrub, therefore you should always wash it off if it doesn't feel right. Don't overstretch your limits, because it can hurt your skin.
Sometimes the product might not match your skin sensitivity. Therefore, you should search for alternatives even though it hurts to not use a product that you've just spent $10 on.
Give it to your friend, perhaps he'll like it!
Read More: How Often Should You Use Facial Masks?
Use Them Moderately
A lot of things can be healthy and bring out great results if used in moderation. However, us, people, sometimes don't know when to stop.
That's very natural knowing how we are. Although, do try to control yourself and, most importantly, observe your skin and see how it responds.
You can exfoliate your skin every 3 days or twice a week. However, even then check whether you're not overdoing it.
You might not be doing it enough either!
Conclusion
Whether you are a newbie who's about to begin to use face scrubs or a pro that has been using them for years. I hope you found the facial scrub that suits you and your needs.
Do let me know if you have any questions regarding the products or the tips I've given you. I'll be more than happy to comment on that.
Most importantly, take care of your skin and have fun exfoliating!
Sources:
https://www.aad.org/public/skin-hair-nails/skin-care/exfoliation