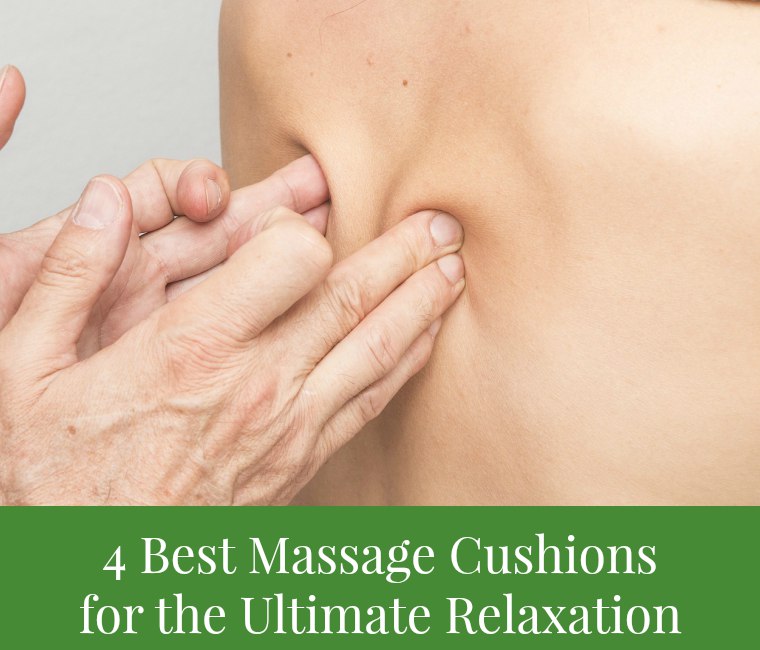 I am a busybody that likes switching from chores to chores. There are already a lot of tasks that I have to balance, my social life, academics, home, work, and so much more.
Honestly, some days it can definitely take a toll on my well-being. I'm sure many of you will relate to it.
This blog is supported by readers purchasing featured products. When you buy products with my links, I earn a commission at no extra cost to you. Here is my full affiliate disclosure.
Have you ever had that moment when you just feel like dropping on the bed and letting the world pass you by rather than keeping up with it? The stresses of these facets of life can certainly leave you exhausted.
It's essential that the body rejuvenates to maintain good physical and even emotional wellness. While the idea of getting a massage to relax may definitely seem alluring but I, for one, definitely resent the bills that follow.
In my pursuit of finding peace, I came across a range of best massage cushions.
Why Massage Cushions?
On further exploration, I realized how they are far more convenient than a spa session or even a therapist. The sudden spurt in technology has resulted in a variety of top-notch best massage cushions flooding the market.
They may seem like a steep initial investment, but they pay off well in the long run. They're more affordable than massage chairs or inversion tables.
They're compact and can be taken wherever you go, so you can get instant relief to your woes. Massage cushions offer flexibility that very few other devices have, and you can use them to target your problematic areas effectively.
Best Massage Cushions Out There
Once I jumped down the rabbit hole, I realized that I could use the information I gained to create a handy list to help those facing the same issues I underwent to decide which product would suit my needs most.
Here are my top 4 choices.
**Check below to see more detailed reviews. You can also click above to see customer reviews on Amazon.
Gideon Seat Cushion Vibrating Massager
Click Here to Check Price on Amazon
I hold the Gideon Seat Cushion Vibrating massager in high regard ever since I've purchased it. It has 10 vibrating points that can alleviate pain in most portions of the body.
These massaging points are for the upper back, lower back, hips, and thighs. Plus, you can control whether you wish to massage all the points simultaneously or just certain sections.
This one really offers some relief. Personally, this works best for me also because of the heating action. The optional heat therapy helps with overall pain.
It has 4 massaging functions: Pulsate, Rolling, Tapping and Kneading. Each of them has 4 intensity settings.
The massaging cushion comes with the corded keypad which makes it pretty easy to control everything. Additionally, it's super easy to use.
I think it's very easy to get used to it. Since the massage cushion has a strapping mechanism and can run on DC current, it's easy to use while on commute.
Pros
Cons
Final Thoughts
Considering that it runs on AC and DC power, it's quite portable and one can use it at home, at work or even while traveling. That's a major plus.
It has something for everyone. Good for chronic pain for sure.
The fact that you can control the intensity, the type of massage, and even the targeted region, makes it suitable for the entire family. The only downside I have experienced is that if I strap it on a harder chair, the vibration can be quite uncomfortable.
Otherwise, it's really versatile and can work on anybody pretty well.
Zyllion ZMA14 Shiatsu Neck and Back Massage Cushion
Click Here to Check Price on Amazon
I've talked quite a lot about shiatsu massagers and Zyllion might be the brand that you already remember. Shiatsu works on the principle of deep knead massaging and I would only recommend it to those who can stand an intense massage.
You'd be surprised by how many of us cannot! What I really like about this product is that the massage rollers travel up and down the back.
But that's not all, you can even adjust the position of the massage rollers to pay attention to certain problematic areas. The cushion also has shiatsu nodes present in the neck region for a soothing neck massage.
I'm sure anyone can appreciate that flexibility. It comes with a heating option, which shuts down automatically after 20 minutes to conserve electricity and avoid overheating. It is a good feature given that it prevents any accidents from taking place in case you turn it on and forget about it completely.
Read More: Best Neck Massagers You Should Probably Try
It's made of leatherette. That certainly adds value to the comfort it offers.
Moreover, the massage cushion also comes with elastic straps, which can be used to secure them to sofa, dining, and office chairs. They offer a 90-day money-back guarantee, which is long enough to make up your mind whether you like the product or not.
They also offer to pay the return shipping costs in case something like that happens. The company also offers a 1-year warranty.
Overall, all of these things are great, especially if you're just trying out the cushion for the first time and not really sure what to make out of it.
Pros
Cons
Final Thoughts
The deep tissue massage is not everyone's cup of tea, in fact, some people might bruise. So you do need some tolerance before purchasing this item.
Definitely a good choice for those who like the rollers. They do feel pretty good.
The warranty and money back guarantee shows the confidence manufacturers have in this product and that's definitely something to consider. On the other hand, the user manual that comes along is not really self-explanatory so you might have to tinker around with it before you understand how to operate the remote control.
Seat Vibrating Massage Cushion
Click Here to Check Price on Amazon
This massage cushion is furnished with 3 functions: Vibration, Tapping and Shaking. It has 5 massage modes and 4 selective massage zones.
The 5 vibrating massage motors offer 3 different intensities that you can choose as per your preference. Moreover, it has a heating function that acts on the lower back to provide relief to sore lower back muscles.
The remote control is connected to the massage cushion through a cord. It comes with an auto shut-off timer.
However, with this one, you can actually choose how long you want to keep it on: 15 minutes, 30 minutes, and 60 minutes. It's quite cool to have control over time.
Obviously, it is a clear advantage over the Zyllion model that's operative only for 15 minutes.
Read More: How to Give a Full Body Massage
The massaging modes include pulsating, tapping, rolling, automatic, and kneading. The 4 independent massage zones include the upper back, lower back, thighs, and hips.
You can turn on the massage zones individually or use them in combination. You can secure this cushion to any chair using the elastic straps too.
It comes with the AC adapter and the Car Cigarette Lighter charger so you can always charge it on the go. It's recommended to unplug the device from the outlet when not in use. So just you know!
Pros
Cons
Final Thoughts
This is definitely one of the more affordable cushions. It performs well and is quite versatile for the price.
My biggest concern with this massage cushion is that it does not seem to be very comfortable. Furthermore, the elastic straps aren't really good at attaching the cushion to anything, which kind of defeats the whole purpose of buying a massaging cushion!
But I think considering the price that it comes for, there can be a few things that can be compromised with. Hence, if you are on a tight budget, this might actually be a fair deal.
Otherwise, if you have a bit more cash to spare, you can give the Gideon Seat Cushion Vibrating Massager a chance.
Gideon GD-MSG-CS2 Luxury Massaging Cushion
Click Here to Check Price on Amazon
The Gideon GD-MSG-CS2 gives a vibrating massage coupled with deep kneading shiatsu. It contains 4 shiatsu massaging nodes that travel up and down along the back.
You can control the movable massage nodes to act upon your problematic areas. The rolling balls offer a deep tissue massage and can relieve muscle tightness and stubborn knots.
The 3D nodes can target the full back, the lower back, the upper back too. You can choose between the different speeds: vigorous workout or the relaxing massage.
On the other hand, the seat offers three different intensities. The vibrations can be set at low, medium, or high.
Additionally, you can use shiatsu massager and the vibrating massager simultaneously or in a mutually exclusive manner. The rolling massage is particularly helpful in maintaining and fixing the posture.
So, if you suffer from a bad back, you can go for this massage cushion. It's quite good since it actually improves posture. Apart from the usual up-down motion, the rolling massage also moves laterally.
Based upon your preference, the rolling massage nodes can move away or towards your spine. The optional heating mode can only be turned on when one of the massage modes is in operation.
It's obviously portable, and you can make use of it at home, while working, or traveling. You will find the AC and DC adapters in the box.
It also auto shuts down to prevent overheating. You can schedule it to turn off after 5, 10, or 15 minutes.
Having the ability to decide how long you wish to run the session gives this device an edge over the Zyllion model.
Pros
Cons
Final Thoughts
My boyfriend enjoys the deep kneading action that this device comes with. The good thing about this particular product is that you don't always have to go for deep kneading.
Let's be honest, it's not for everyone and not for every day. Therefore, the option to go with vibration only, really comes in use.
That's something you should probably consider. Especially if you're sharing the device with your other family members who might like a different type of massage.
Some like it softer others like it rough! Ha ha! Anyway, you get the idea.
Read More: Back Massagers to Try
Do Such Massage Chair Pads Work?
I'm sure that definitely has crossed your mind at one time or the other. And that's absolutely understandable.
First of all, massage chair pads are much cheaper than the actual massage chairs. Secondly, they take less space and that's something to admire.
Not all of us have big houses with enough space for anything, right? In regards to the results you can expect from these devices, I can probably tell you that they might not be as effective as ones given by giant massaging chairs.
However, the experience is truly admirable. I personally found a lot of comfort in having a cushion myself since it does help me to relax in the evenings.
However, they're not for everyone. As much as cushions are effective, finding the right product for you personally is often the key to achieving good results.
How does a Massage Seat Cushion Work?
As you might have noticed all the devices work slightly differently. However, all of them need to be strapped to either a chair or a sofa before usage.
Many of them have remote controls and you'll need to look at instructions to exactly figure out what's what. Don't forget to plug them in if they don't have built-in batteries, and that's kind of that!
These devices are really simple to use considering what benefits you actually get. Nothing too complicated for sure! 🙂
Conclusion
I do hope you've liked my review on the 4 best massage cushions, at least in my opinion. Do let me know if these reviews helped you to choose the products that would specifically suit you.
Comment below if you have any other feedback. Talk about your own experiences with any type of electronic massagers!
Sources and Additional Reads:
https://www.ncbi.nlm.nih.gov/pubmed/28177937
https://books.google.co.uk/books?id=Mx_CCwAAQBAJ&pg=PA866&lpg=PA866&dq=massaging+scholar&source=bl&ots=PyiCs6kc2v&sig=ZZ_kj-rip1DfKdDDntFDnr1dFUw&hl=lt&sa=X&ved=0ahUKEwiZ55m2pe7YAhWGjqQKHUnSDTYQ6AEIZzAH#v=onepage&q=massaging%20scholar&f=false
https://books.google.co.uk/books?id=IfyQ6JDmWAAC&pg=PA275&lpg=PA275&dq=massaging+scholar&source=bl&ots=BXIBwM6r6P&sig=kQ-7cPESUXBArsQfujWRTfWzyEA&hl=lt&sa=X&ved=0ahUKEwiZ55m2pe7YAhWGjqQKHUnSDTYQ6AEIYzAG#v=onepage&q=massaging%20scholar&f=false