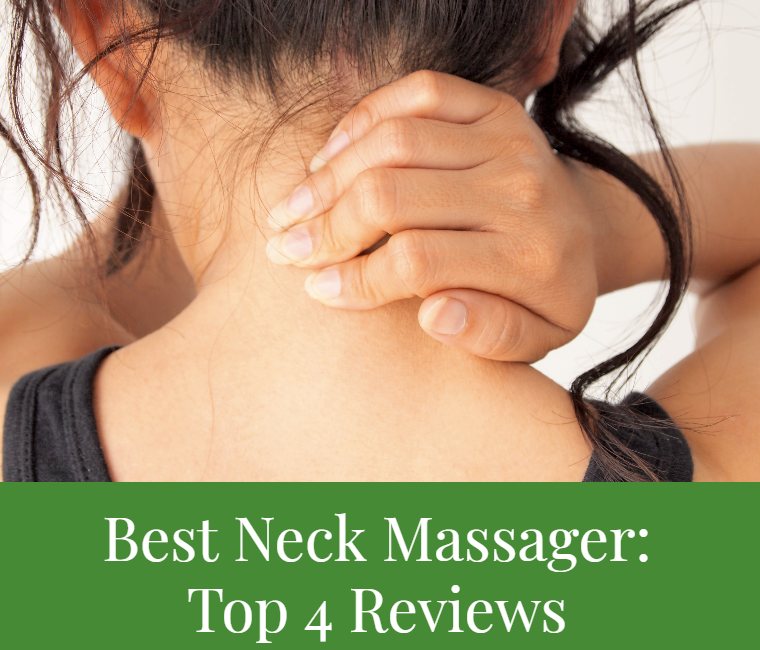 Discomfort in the neck and shoulder areas is definitely a pain! We all have experienced it and I know that everybody hates it with the same intensity as I do.
It's crippling and extremely bothersome. The worst part about a neck or shoulder ache is that you just cannot possibly avoid it! In one way or the other, we are bound to our desks either studying, working on computers or driving cars on long commutes.
Essentially these activities are something you just cannot pass up on and that makes it all the more annoying. You cannot rely on someone to keep relieving the stress in your neck and shoulders and obviously, you cannot just waltz into a massage parlor without thinking about your budget.
Hence, getting the best neck massager might just be the thing you need to alleviate pain on a daily basis.
This blog is supported by readers purchasing featured products. When you buy products with my links, I earn a commission at no extra cost to you. Here is my full affiliate disclosure.
The Best Neck Massager Might Be Helpful
I've assembled a list of what I believe to be one of the better gadgets currently offered by the market. A few of them are owned by my friends. Read more below to get an idea of what each massager is like.
**Check below to see more detailed reviews. You can also click above to see customer reviews on Amazon.
Shiatsu Neck and Shoulder Massager by Belmint
Click Here to Check Price on Amazon
First things first, do not think that this device can just be limited to the neck and shoulders. In fact, it is capable of providing a full body massage!
This gizmo can relieve pain in your abdomen, thighs, lower and upper back, and feet too. The sheer versatility of this neck massager is primarily why this features first on my list.
It's equipped with 8 deep kneading shiatsu massage nodes to give you a complete and personalized massage right at your own home. Actually, it's lightweight and portable, so you can even use it at work or while traveling.
This device has variable speed and comes with 2 pre-set speed settings. It has an optional heating function that helps soothe the aching muscles too.
The heat will definitely contribute towards relieving the tension and the knots. You can change the direction of the massager to ensure that you are not stuck with a monotonous, unidirectional massage.
That can get boring. The nodes knead the body while effectively improving blood circulation that tackles the knots and stresses in the muscles.
With the handheld feature, you can control the exact location where you want to apply the pressure. It gives you more control, which I'm sure, anyone can appreciate.
Pros
Cons
Final Thoughts
This is the most affordable model that I have come across. It definitely feels like a value for the money.
The massager is relatively cheap. However, it does the job quite well.
My mother has one of these and I've never heard her complaining. Additionally, the price makes it and easy and fast investment that works for years.
The infrared heating helps with injuries and common pains. It even comes with a DC card adapter that my mother has found very useful.
Can be useful if you're going for a long car trip. All in all, the Shiatsu Neck and Shoulder Massager is a sweat deal for the price and quality that it offers.
Nekteck Shiatsu Deep Kneading Massage Pillow
Click Here to Check Price on Amazon
Nekteck Shiatsu Massage Pillow claims to melt away all your stress. It's another multipurpose device capable of targeting pain in your calf, abdomen, back, and of course, neck and shoulders.
The control panel is easily accessible and comprises the functions of Power On/Off, Direction, Speed, and Heating. The 8 Shiatsu massage heads offer a deep kneading massage that will alleviate all forms of pain, stress, and ache.
The fabric material is ultra-soft and therefore acts as a soothing surface.
What I really like about this massager is that it has a built-in power off unit that shuts down the heating when it's just too much. It also has an automatic timer which shuts it off after every 10 minutes.
So, you can set it up and enter a deep slumber without having to worry about your electricity bills! It also keeps on changing massaging direction every minute.
You can adjust directions manually too. Overall, this massager is a little more advanced, you have a lot more control but the gadget does a lot for you automatically too.
Pros
Cons
Final Thoughts
While it is a decent purchase, I have noticed that it is a little too strong for my liking. The company claims that since deep kneading can be intense, users should make use of a towel as a buffer.
For me, it took a while to find the sweet spot between too abrasive and can't feel it. However, my boyfriend absolutely loves it.
I suppose some people like it a bit rough, others – like me – not so much. But apart from that, it's actually worth the price.
It is really good when it comes to relieving the knots. I found it quite helpful.
It also doesn't really overheat and that works well for a pleasant massage since getting overheated with these gadgets has always been a big problem for me.
Zyllion ZMA 13BK Shiatsu Pillow Massager
Click Here to Check Price on Amazon
Zyllion is a company committed to making therapeutic health care devices affordable and it stays true to its mission. ZMA 13BK Shiatsu pillow massager is a good example of that. It's capable of giving a spa treatment right from the comforts of your home and is equipped with 4 deep kneading massage nodes.
These nodes automatically change direction after every massage session. While these massage heads alleviate the muscle stress, the heating function soothes and relaxes the muscles and improves blood circulation. It comes with the 20-minute auto shut-off feature.
That's to prevent overheating. However, it can get hot in 15 minutes, which might lead to having an uncomfortable massage at the end of that period.
Adjustable straps are very convenient and enable you to secure the massager to your chair, car seat, sofa, or work station. Super convenient!
It is made out of leatherette, which makes it super easy to clean. Certainly, something anyone can appreciate.
It has a slim and ergonomic shape that helps it to adjust to your curves. I was pretty surprised to find out that it takes up only 3.5 inches of space! Talk about a big surprise in small packaging!
I think it could do for a great gift. Also, it runs on 110-120V and 220-240V and you will find the AC wall charger and DC car cigarette lighter socket adapter in the box.
Furthermore, it comes with a 1-year warranty and 90-day money back guarantee. And it doesn't even cost a lot! In fact, it's one of the cheaper options out there.
Pros
Cons
Final Thoughts
I am not so sure how the fabric cover may fare against the rotating motion of the massaging nodes. But a friend of mine who used this product regularly found the fabric frayed.
When she brought it to the company's notice, they immediately replaced the product. She was very happy with the premium customer service provided by the company so I shall give them brownie points for that.
Another concern that I have is how the product may not be suitable for everyone since the design has fixed curves. It may be difficult to use for some people, especially for the neck area.
The massage balls have fixed positions and cannot be moved around. Although if 'one size fits all' goes well for you, then it shouldn't be a concern.
If you're looking for a massager mainly aimed at your back and calves especially while traveling, then this is definitely a device you should be having.
The fact that it's affordable is yet another plus. Overall, it's cheap and you can just get it, try it and return if it doesn't suit you.
Nursal Cordless Shoulder Massager
Click Here to Check Price on Amazon
This one is cordless and that's precisely the reason why it made it to the list. I picked Nursal Cordless Shoulder Massager mainly because it offers a battery backup of 2 hours on a full charge, which can come to be super useful.
Since it runs on a Lithium-ion powered battery, you can recharge without too much of a hassle. Say goodbye to replaceable batteries and having to look for them!
This one is versatile too. You can use to massage other parts of your body like your upper and lower back shoulder, thighs, and calves.
Apart from being driven by a battery, it's also designed to be light in weight and has a very sleek appearance. All of that makes it really convenient to carry around.
With this by your side, you don't have to worry about your whereabouts and can ease your muscular pain at any place.
Read More: How to Massage Your Feet?
It also has a heating function and a manual control panel. You can regulate the speed and direction of the massage. However, there are some restraints.
It has two constant speeds that have been set and you can switch between them for a customized massage. The heating improves blood circulation too.
It has an automatic shutdown feature that activates after 15 minutes. This conserves your batteries as well.
Even though it's cordless, you'll find the AC charger (for the wall plugin source) and a DC charger (for charging it in your car) in the box. It just makes it so much more convenient being able to charge it anywhere.
Pros
Cons
Final Thoughts
While the gadget is on the more expensive side, I would say it's worth it. The cordless feature makes it extremely portable and even if you run out of juice, you can charge it at work, home, or even in your car.
You have some control over the massager. Given that it has an auto shutdown feature, you don't have to worry about turning it on and forgetting about.
It's a good feature since you can easily forget and drain that battery for no reason. What I like the most about it is the generous length of the arm straps.
Most other massagers tend to have shorter arm clasps which are super uncomfortable. That's definitely a feature to look out for.
Is a Neck Massager Really Worth It?
If you're still wondering whether buying a neck massager is really worth it, then you should probably consider some of these things. Living with pain isn't easy and not everyone can afford to go to spas every week just to relieve some of that pressure in your muscles.
It only makes sense to make an initial investment and get a massager that would do it automatically. Your neck and shoulders will be grateful in the long run.
Also, all of that in the comfort of your home! What can be better than that? Well, a lot of things. However, that's definitely a choice to consider.
Read More: Benefits of Facial Massage
Conclusion
All in all, I know that neck pain and shoulder stiffness can be an obstacle to living a comfortable life. Problems like these should not be ignored.
For most of us, dropping by a massage parlor or having a spa day may not be economically feasible. Plus, we are always looking for a solution right in the comforts of our homes.
Appointments can make you wait but discomforts require immediate attention. Therefore, you cannot put a pause on life because of this pain nor should you have to bear it out of helplessness.
Why should you put up with the pain when there is an option to get rid of it? I hope you found the best neck massager specifically for you and your needs.
I do believe a gadget like that can make someone's life much more pleasant and easier.
Sources:
https://en.wikipedia.org/wiki/Massage