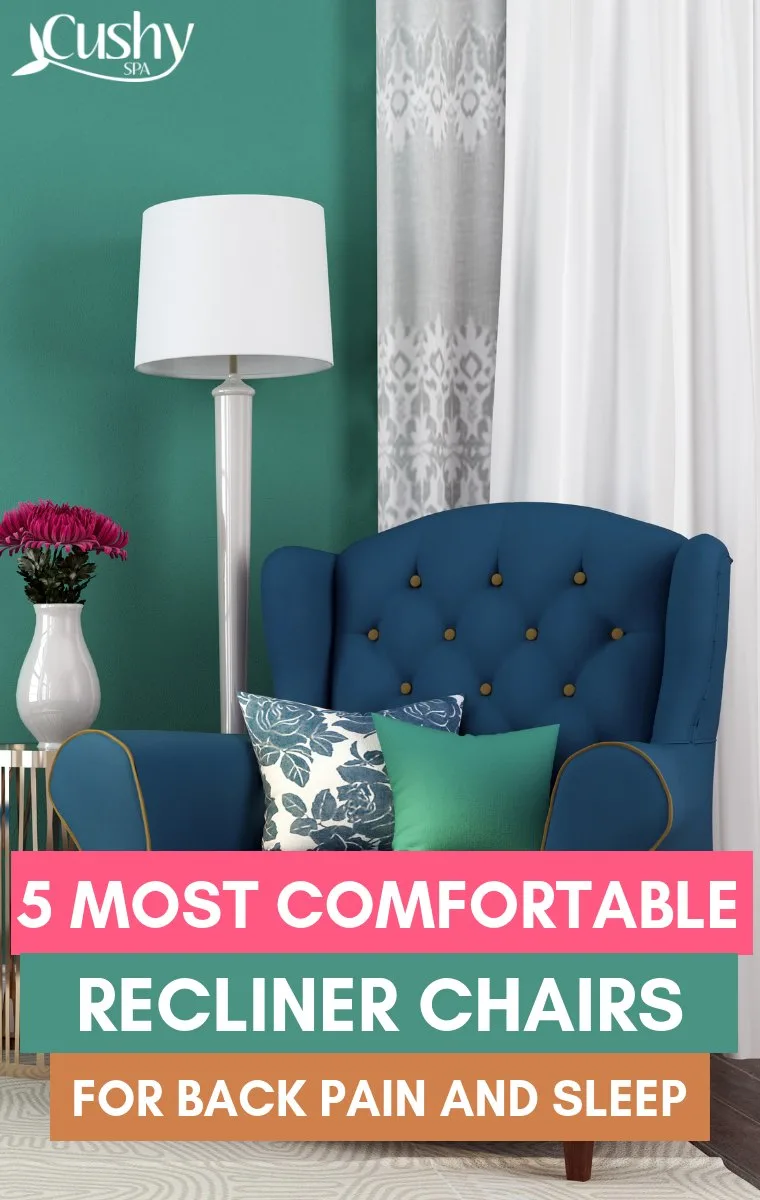 A recliner chair can truly make home a more comfortable and cozier place. It's a simple piece of furniture that can take your interior design to the next level and even offer health benefits.
Since there are multiple types of recliner chairs, it's important to know what it is that you need. I've reviewed a few types of the most comfortable chairs, so look out for the features that you're specifically looking for.
This blog is supported by readers purchasing featured products. When you buy products with my links, I earn a commission at no extra cost to you. Here is my full affiliate disclosure.
Some of the Top Recliners:
Navigation
Types of Recliners
There are multiple types of recliners. Each of them has slightly different functionality. I'll let you know what type of recliner each product I recommend is.
Massage Recliners
As the name suggests these recliners have the massage functions. It can massage your back, legs and, in some cases, your neck.
It's a good choice for someone who suffers from back pain. Overall, it's a nice addition to your home if you want a new way to relax.
Do understand that massage chairs are usually larger and higher in price.
Rocker Recliners
These recliners rock and recline, as the name suggests. It's a good choice for someone who struggles to fall asleep.
Studies show that rocking induces sleep. Overall, I think it's a must for all mothers. There can be nothing more calming than rocking yourself with your baby.
Contemporary Chairs
Contemporary chairs offer a beautiful addition to your home. They're designed in a way so that they look aesthetic.
Overall, contemporary recliners are for those who want this piece of furniture that's a lovely addition to your interior design. And, it's functional!
Wall-Huggers
Wall-hugger recliners are usually smaller in size. They're a good addition to a small space.
These recliners are usually lower in price too. They make you sit up straight.
I would recommend it to someone who needs a comfortable recliner to work in. It's very comfortable and can make your day a little bit more productive.
Most Comfortable Recliner Reviews
There are a couple of recliner models out there: massage, rockers, contemporary and assistance chairs. Here are my top picks in some of these categories.
1. Leather Recliner Chair – Homall Single
Click Here to Check Price on Amazon
This chair is made out of PU leather, which basically consists of Polyurethane on a thin layer of leather. So, don't get me wrong. It's nothing like leather.
However, the PU gives the chair a shiny, sleek look that can fit in any environment. The recliner isn't huge, so you can easily place it in a bedroom or living room.
While it might look like a regular chair, you can pull out the footrest and adjust the back. Then sit back and relax. The footrest is covered with a thick layer of foam and hold with a steel frame. So, it's pretty sturdy.
Overall, it's one of the cheaper options out there and would suit someone who needs it to fit into a small-sized space.
Type: wall-hugger.
Features:
Holds up to 265 lbs of weight.
Not powered.
Can go to almost full recline (so you're good to sleep on it).
Doesn't push your head forward too much.
Weighs around 55lbs.
Doesn't rock.
The headrest is pretty short.
Easy to assemble.
Small and yet comfortable.
2. Most Comfortable Recliner to Sleep In – Esright Massage
Click Here to Check Price on Amazon
This recliner chair is covered with PU leather as well. However, there are multiple models covered in other fabrics. Do remember that some of them tend to get stained much easier.
Compared to Homall's recliner, this one is much bigger, so you'll need more space for it. But, it also means that it holds up more weight too – probably up to 320 lbs.
Since this is a massaging recliner, it runs on power and has 5 control modes as well as 2 intensity levels. It also comes with 2 cup holders and even storage bags. Thus, it's a pretty good option for relaxing in the evening.
You can enjoy getting a massage while watching your favorite show. Anyway, it's definitely one of the best recliners for sleeping, if that's something you're looking for.
The product has in-built massaging features which obviously make it a more expensive option. However, if you're looking for a full package of perks and have some extra space at home, it's well worth the investment.
Type: massage recliner.
Features:
360-degree swivel.
Has a remote controller.
2 levels of massage intensity.
It has a heating function.
Might be too small for someone 6 feet.
No kneading, only vibration.
3. Macedonia Mid Century Modern Recliner
Click Here to Check Price on Amazon
This recliner can be a super stylish and comfortable addition to your home interior. It's covered in high-quality fabric with colors ranging from grey to red as well as buttons. It's also very sturdy and holds up to 300 lbs.
Depending on the fabric color, the price of the recliner slightly varies. While it's above average for a fully manual chair, the design is what really makes it stand out here. It's an overall super comfy and beautiful chair that your guests will want to sit on.
Type: contemporary recliner.
Features:
Doesn't rock.
Cushions cannot be removed to clean them up.
Small sized, thus can fit in small spaces.
High-quality fabric.
Very sturdy.
4. Baby Relax Mikayla Recliner
Click Here to Check Price on Amazon
Here is another beautifully designed recliner that comes in 4 colors. While it's mostly made for nursing, it can comfortably fit anyone's home.
That's considering its design as well as comfort. It can truly look like a regular chair until you pull out the footrest and recline it.
The price is on a higher end, but the product is sturdy and can truly help both mothers and fathers relax with the babies in their laps. Great for cuddling. It also doesn't take up a huge amount of space.
Type: rocker recliner.
Features:
Easy to assemble.
The fabric is easy to clean.
Footrest might be difficult to get down.
Great for someone as tall as 6'2".
Comfortable armrests.
It can rock.
5. Best Recliner for Back Pain – Best Choice
Click Here to Check Price on Amazon
Covered in PU leather and easy to clean. On top of that, it's a truly good massaging chair. Comes with 9 intensity levels and 2 modes.
It also has a kneading function. Something that not a lot of recliner chairs have. The only downside is the footrest that comes as a separate piece. But, then it makes it more durable.
The price is truly great for a massaging chair. Obviously, that's mostly because the chair isn't very compact. However, the built-in functionality is truly impressive and worth the investment. A good choice if you're looking for the best recliner for back pain.
Type: massage recliner.
Features:
Has a built-in kneading functionality.
The design isn't necessarily very appealing.
Requires a large space.
Footrest comes as a separate piece; however, you don't need to use it.
It doesn't rock.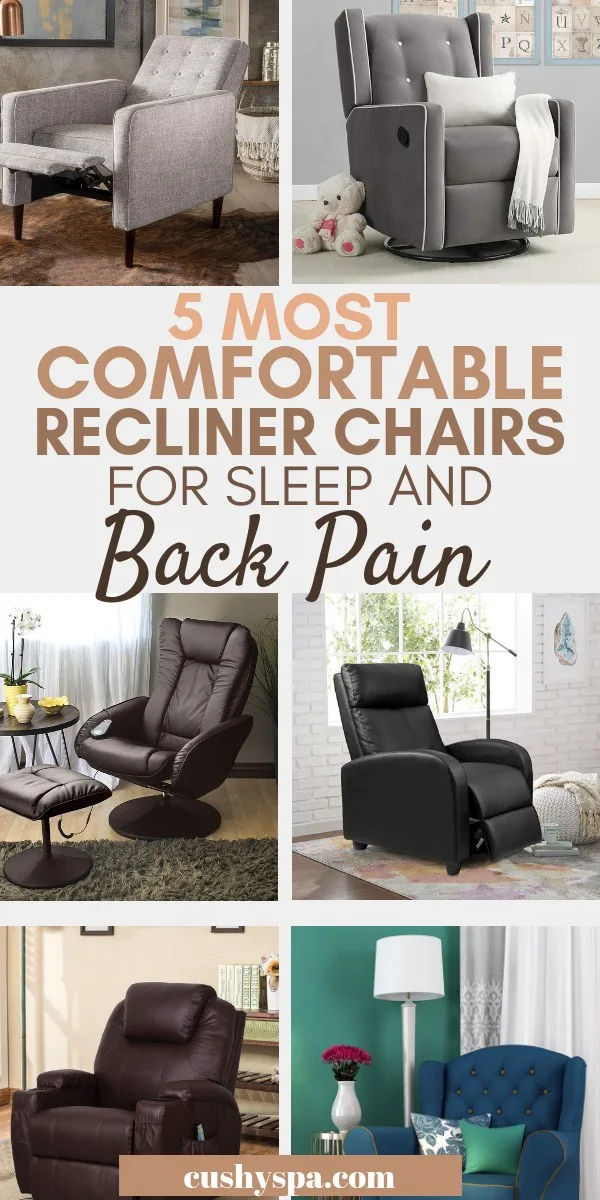 How to Choose the Most Comfortable Recliner Chair
Here are some of the features/things you should consider when buying a recliner chair. At the end of the day, you should focus on what it is that you need the chair for.
Material
The chairs might either be covered with faux leather, real leather or just microfiber fabric. If you want to match your interior design, your decision might be based on that.
Otherwise, leather is almost always easier to clean than most of the other fabrics, so you should probably take that into account.
Manual vs Powered
Powered chair recliners have built-in massage functions that prove to be beneficial for people with muscle pain and help to relieve stress.
That might be a great option for someone who doesn't like to be touched (source). One study even used massage chairs in cancer hospitals to improve the mental state of the carers (source).
Manual massage chairs are simpler. However, they often look more appealing to the eye. They are more likely to cost less too.
Thus, it's really up to you whether you're looking for a full body massage, a back massage or just a comfortable chair to sleep on.
For a Small or Large Space?
Obviously, space is a huge factor when you're buying a new piece of furniture. Gladly, there are quite a few options both for larger and smaller spaces.
Simply look out for dimensions to make sure that you can easily fit it in your space. You can always find something that will fit your space.
Prices
Price is an obvious aspect of buying a chair that you need to consider. Do realize that a recliner chair is an investment that can both improve your sleep quality and get rid of common back and feet pains.
How Much is a Good Recliner?
Speaking of the price, the cost of good recliners can vary anywhere from $150 to $400. The price will mostly depend on the recliner's features and the fabric it's made of. If you're looking for a massaging chair, the price might be even higher than $400.
Conclusion
When it comes to finding the most comfortable recliner, simply think about what features you're looking for. Obviously, price is another important factor. And, often that's how you're going to base your choice. Other than that, comment below if you have any questions about the products. I'll do my best to answer them.