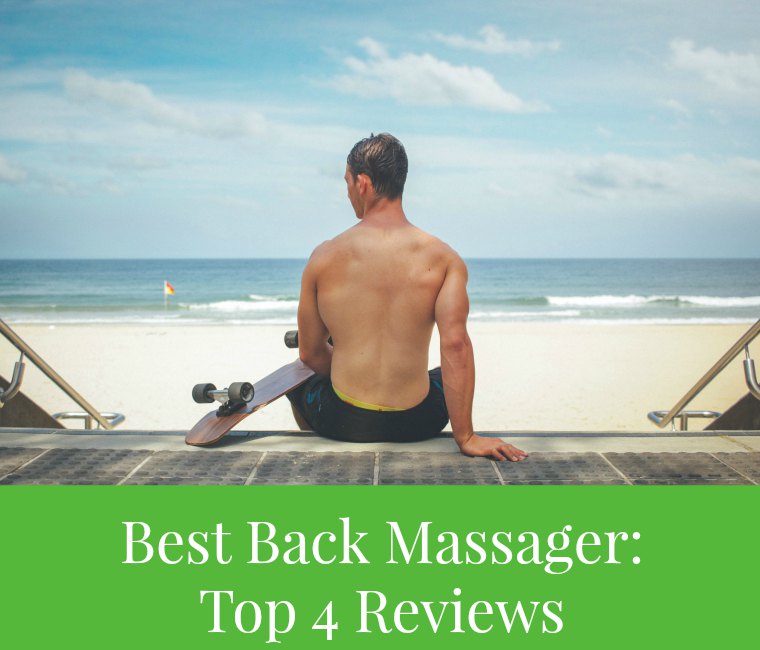 Backache is one of the most common problems, and there might be many reasons why someone may be plagued with it. Sometimes I suffer from it too just because of having to sit for hours to no end. You could be having pains for a lot of reasons as well.
Getting older doesn't help with it either! After all, it's a universal problem that can put normal life on hold. However, from what I've learned, getting a back massage from time to time can help significantly.
While you cannot always expect someone to give you regular massages, it makes more sense to purchase a back massager to do the work. I've done my research in hopes to help you find the best back massager, and here are a few of them.
This blog is supported by readers purchasing featured products. When you buy products with my links, I earn a commission at no extra cost to you. Here is my full affiliate disclosure.
Find the Best Back Massager That Suits Specifically You
We all have different needs and different lifestyles. I've picked top 4 massagers that I've been recommended myself. Each device is slightly unique and falls into different budget ranges.
Do read the detailed reviews down below to get an idea of what each item is really like.
**Check below to see more detailed reviews. You can also click above to see customer reviews on Amaz
Gideon Powerful Vibrating Massager Seat Cushion
Click Here to Check Price on Amazon
Gideon is a well-known brand in the market of pain relief and massagers. The Gideon Vibrating Seat Cushion Massager has 8 vibrating points that target commonly affected areas. It's effective especially in the back and the thighs and has the capacity of releasing stress, tension, and knots.
My boyfriend bought this for himself because of the penetrating massaging feature. Another good thing that he likes is the optional heating.
The infrared radiation helps to recover from muscular injuries faster. It loosens up stiff muscles too.
The good thing about the cushion is that you can just turn on the heating without the vibration, and let your muscles loosen up after an intense workout naturally.
Using this back massager is quite easy; it has 8 predefined massaging functions. To make the operation even simpler, it comes with a corded control panel with an LCD display.
The backlit LCD display makes it convenient to use even in complete darkness. It also has the straps making it easy to attach the massager to any chair.
You can strap it to the car seat and enjoy a good, relaxing ride. The gadget comes with AC/DC adapter too.
Pros
Cons
Final Thoughts
This massager works on the principle of vibrations rather than the deep kneading massage some other cushions offer. It really depends on what you're looking for.
Vibrating cushions tend to be more comfortable. However, if you're longing for a deep tissue massager, then this gadget might not be the best choice.
It might be too soft for your liking in that case. Also, since the 8 massaging points are fixed on the cushion, it can be tricky to align the spots with your body.
That can be both annoying and tricky. It has 8 programmed massaging functions and different heating settings as well, which is quite cool because you get a choice.
NURSAL Back Shiatsu Massage Seat Cushion
Click Here to Check Price on Amazon
I've come across NURSAL back massager some time ago. Of course, the first thing that attracted me towards this massager was the fact that it was a Shiatsu massager.
Something both me and my boyfriend needed. It claimed to replicate the feeling of a massage therapist's hands.
The gadget pays special attention to the neck and the back. The main problematic areas for most of us. Also, it has 4 deep kneading massage nodes present in the neck region.
The massager can operate clockwise and anti-clockwise. As for the back massage, it comes with four 3D rolling balls that can move up and down your back.
You can also fix the position of these rollers to focus on the more problematic areas. These massaging nodes can perform three main functions: waving, kneading, and shiatsu massage.
The massage cushion comes with three massage variations that pay attention to the full back, upper back, or the lower back. The massage intensity at the seat cushion is available in three modes, namely Low, Medium, and High.
It's quite handy since you might feel differently at various times of the day. You can turn on or turn off the heating feature as per your preference too.
The timer shuts down the massager automatically after every 15 minutes to prevent any mishap and, also, to conserve power consumption.
Pros
Cons
Final Thoughts
This one may be a little heavy on the wallet but you pay the price for the control you have. It has many features thrown in that make it easy to adjust the massage according to how you feel that day.
It's best for those who like to get a powerful massage with deep penetration into the tissue. It works well on the tension and knots.
Additionally, you can adjust the placement of the massaging nodes to target the problematic areas on the back. The neck massaging portion only offers the shiatsu kneading massage.
However, there are 3 various functions for massaging the back. Quite good if you have some serious back issues.
Five S FS8801 Shiatsu Neck and Back Massager
Click Here to Check Price on Amazon
So far, we've seen massage cushions, but the medicine for backache can come in smaller packages too. This is where the Five S FS8801 neck and back massager comes into the picture.
This is a portable gadget that you can use on other parts of the body! Apart from the back and neck, it offers pain relief for the shoulders, waist, arms, legs, and feet.
It's a good alternative if you think that massage cushions are a bit bulky. The FS8801 has 8 kneading rollers that offer a soothing deep tissue shiatsu massage.
It also has an optional heating unit that beautifully warms your muscles up. The control panel has three main buttons that can be used to: turn the power on or off, turn the heat on or off, and change the massaging directions.
I like the fact that you have absolute control over what body part you wish to use it on. So, it's much more than a back massager.
The versatile use of any product is one feature that really gets me interested. It's portable, however not cordless. Hence, you'll need a power socket.
Another bit of a hiccup is that you cannot control the heat or the intensity of the massage. The only control you have over that is that you can either turn it on or off or change the massaging direction (clockwise/anti-clockwise).
I don't really mind that, but it really depends on a person.
Pros
Cons
Final Thoughts
Although it's one of the most affordable items on the list, I would recommend it only if you're explicitly looking for a Shiatsu massager. Otherwise, I would say you can chip in a little more cash and get a massage cushion that can do the job.
One thing that I like about the massager is that you can press on your knots and intensify the massaging if you're feeling so. That gives some control.
The heating unit might be too powerful, so always use a towel. It also doesn't work without the massaging function and that's quite a bummer.
Anyway, the fact that it has to be plugged in to be might not be big of a problem since the cord is quite long. However, it really depends on where you use it.
Five S FS8812 10-Motor Seat Cushion
Click Here to Check Price on Amazon
The Five S FS8812 is vibration massager and is good for those who're looking for a softer massage as opposed to shiatsu kneading massage. The device comes equipped with 10 vibrating motors that target the neck, shoulders, and the back.
The placement of the vibrating units is divided into 4 regions: Thighs, Lumbar (Lower back), Middle Back and the Upper back (including the neck and shoulders). These zones are marked on the control panel, and you can use it to target problematic areas.
The concentrated massage on different areas can be used individually, all together, or in the combination of two or three zones together. Therefore, it's quite flexible.
You can also switch between the 3 massaging speeds and turn the heating on or off through the same panel. Moreover, heating and massaging can be used independently.
That's a feature that many can appreciate. The gadget comes with 4 pre-set programmed massaging options.
Each has different massaging speed with changes in the zones. You can select between the modes or allow the microprocessor to cycle through all of them.
It automatically fades in and out between the modes. Finally, it's portable and can be used at home, work, or even while traveling.
Pros
Cons
Final Thoughts
Since the price of this is comparable to the Gideon model, it's important to understand the differences between the two to make the choice. Both of them are vibration based massagers.
While the Gideon has 8 modes, the FS8812 has 4. On the other hand, the FS8812 has 4 marked out zones that can be used independently, all together, or in combination. Both have control panels that are unique in their own way.
They also auto shutdown after 30 minutes. They are equally portable and can be used at home or work and while traveling.
So basically, it boils down to what you would prefer between the two.
Read More: Best Neck Massagers You Can Try
How to Give a Back Massage
Having an electric back massager is great but anyone loves a good back massage given by another person. That's mostly because it's such a relaxing and connecting experience, and I'm sure anyone loves having their back massaged.
It's sometimes just hard to find someone else who would be able to do it. Therefore, here are some of the steps to take if you want to give a back massage to someone else.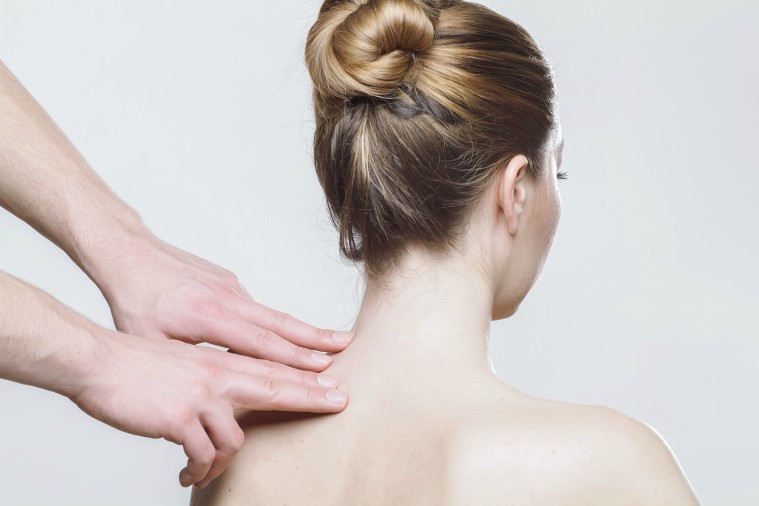 Step 1: Set Up
Setup a massage station at any comfortable location. It's not necessary to have a professional massage table. You could even make use of a bed, a table, or the floor. Just ensure that there is enough padding to offer comfort.
Step 2: Think About the Atmosphere
Set the ambiance. You can do this by playing soft music or by lighting candles while dimming the lights. It's also a good idea to make use of aromatic candles. Ask the person to undress based upon their comfort and drape them in towels.
Step 3: Choose an Oil
Choose massaging oil. It doesn't necessarily have to be an essential oil. You can even make use of vegetable oil (like olive or coconut oil) or easily available essential oil (like almond or jojoba oil). Oils help to make the whole procedure more pleasant and relaxing.
Step 4: Start Massaging
Take a few drops of the oil and rub it between your palms. Begin the massage by spreading the oil on the back, do it along the spine.
Using a gliding motion, move towards the heart and then the shoulders. Apply slight pressure.
Also, pay attention to the shoulder and neck regions.
Read More: How to Give a Full Body Massage
Step 5: Kneading
On one side of the lower back, begin with slight kneading. Follow the circular motion and apply greater pressure than before.
Do the same on the other end. Make use of your fingers, palm, and even knuckles.
Step 6: Cupping
Cup your hands and begin tapping up and down the back. Remember to keep the movement of the hand quickly and the pressure should be light.
This technique encourages blood circulation and has a compressive effect on the muscles.
Step 7: Muscle Lifting
Form a lobster claw and perform tissue lifts on either side of the back. Twist and lift the skin to relax the muscles while alternating between the hands.
Step 8: Move Towards the Head
Now move towards the head of the person. Softly make your way down the back by kneading through your thumbs.
Fan out at the lower back and continue working on the muscles. Be careful to avoid direct pressure on the spine, rather massage the muscles on the sides.
Step 9: Slowly Release the Knots
When it comes to the neck and shoulders, focus on slowly releasing the knots. Grab the shoulders from either side and slowly apply pressure using your thumb and fan out as per your thumb's flexibility. Use circular motion at the base of the neck.
Step 10: Sliding
Finally, come back to the usual position and keep each hand on a different side of the lower back and move them simultaneously to switch over to the other side.
This will have a twisting effect on the lower back. Continue the sliding action as you move upwards along the back up until the shoulder region.
General Tips for a Back Massage
Here are some of the things you should know when giving a back massage. Some of them are more important than others. However, it's always good to have an idea of what's what.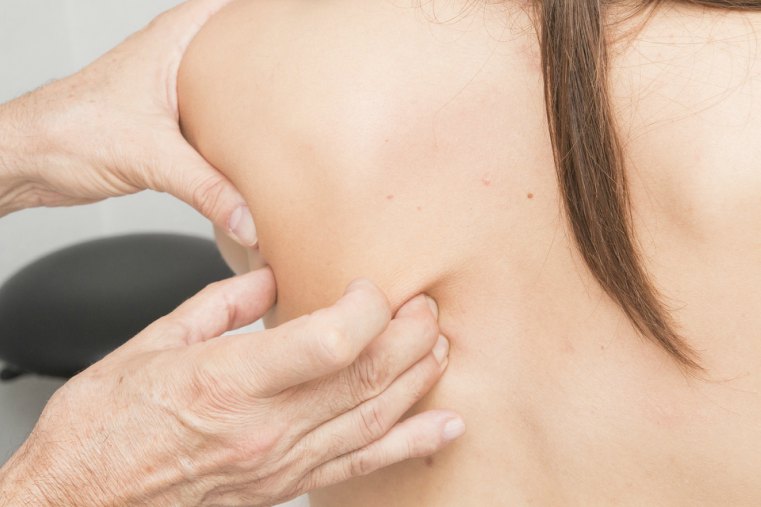 Benefits of a Back Massage
In case you're not sure how a back massage received from an electronic cushion or a person might help you, it might be a good idea to read this section. Massages feel great but they're not just for the pleasure!
Read More: Facial Massage Techniques To Try at Home
Relieves Pain in the Lower Back
Lower back pain is fairly common for those who work desk jobs. That can be extremely uncomfortable and having that pain alleviated is simply a blissful experience.
Relieves Tension in the Upper Back
The upper back is a home for tension build up. The neck and shoulders bear the largest chunk of the tension.
A good back massage can relieve that stress making you feel like a bird about to take flight. Literally!
Releases Endorphins
A wonderful massage can release a range of hormones, especially the endorphins, serotonin, and dopamine. I think these hormones speak for themselves and the pleasure is real!
Improves Sleep Quality
Back massages relieve stress and loosen up the muscles. The state of ecstasy is enough to put one into a deep sleep.
Speeds Up Healing
This is true, especially for athletes. Stiff muscles in the back can impede movement. Therefore, getting a massage can improve the degree of flexibility of the muscles and the joints.
In a way, back massages speed up the healing process too. It also improves the blood circulation towards the back, which in turn enriches the muscles with nutrients keeping them healthy.
Massage Tutorial for Beginners
Conclusion
Living with backache is next to impossible. Irrespective of our occupations, we suffer from them all the time.
Even things like working on the computer or carrying a heavy bag can have a detrimental effect on the back. If you or someone you know suffer from moderate to severe backaches, it is best to seek immediate help.
Of course, it may be unfair to expect your loved one to always be around to alleviate the pain and on the other hand, it may not be feasible to go to the therapist or a spa for a massage session. Thus, it becomes more of a necessity to take matters in one's own hands.
That is where buying the best back massager will come very handy. It'll relieve the pain while maintaining your independence. Hope this helps!
Sources and Other Interesting Reads
https://nccih.nih.gov/research/results/spotlight/070411.htm
http://journals.sagepub.com/doi/abs/10.1177/089801010101900106