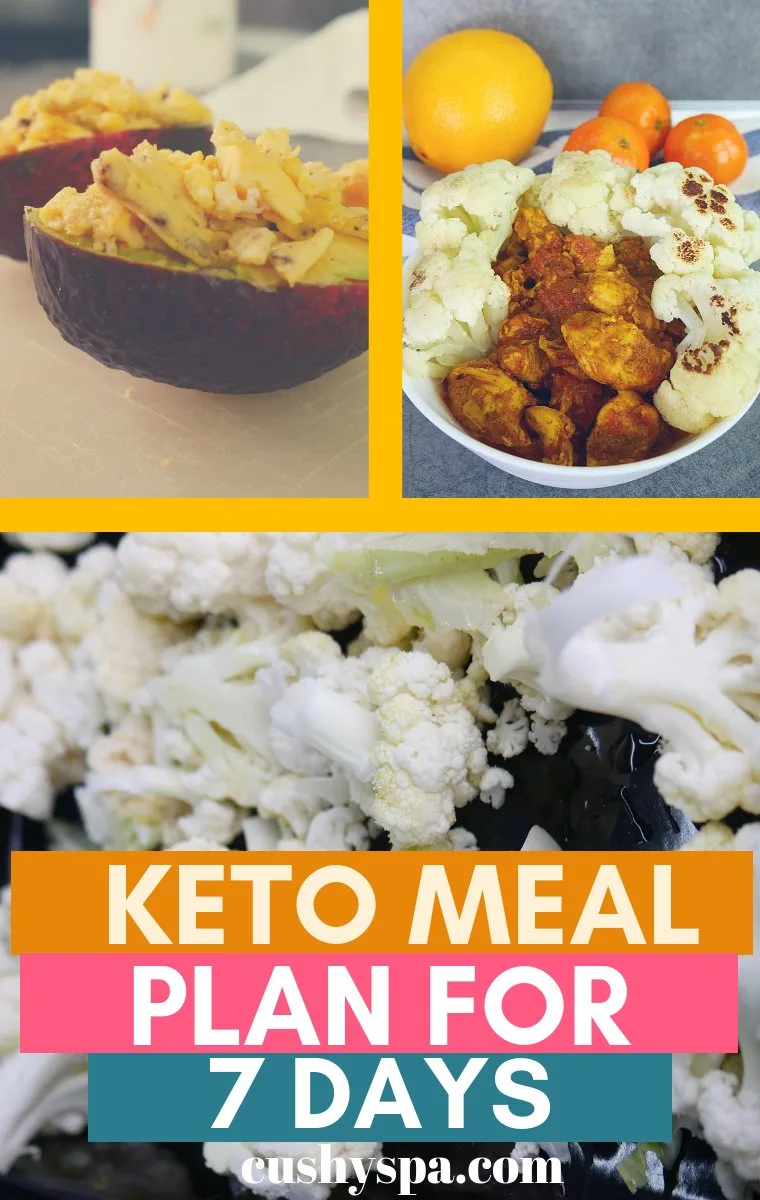 No matter whether you're only starting the ketogenic diet or have been on it for some time now, you can always find new meals ideas for your diet!
Having that in mind, I've created a short 7-day ketogenic meal plan that you can follow. However, you don't have to!
The main goal of this plan is to give you an idea of what you can eat if you're on the keto diet! All the dishes come with step by step instructions as well as nutrition tables.
It's very important to know your macros, especially if you're only starting your keto diet. Otherwise, it might be hard to understand how much of what you should eat.
What You Need to Know About Ketogenic Diet
Being on keto mostly means that you're going to eat very low in carbs, high in fats, and consume quite a bit of protein too.
Keto diet has grown in popularity mostly because people noticed that it helps them to lose weight. In fact, many studies suggest that it can, in fact, be more helpful for weight loss than low-fat diets.
So, at this point, you're probably wondering what I mean by "low in carbs". Well, for that you need to understand that eating a "low carb diet" and eating "keto diet" is two different things.
If you're on keto, you should consume 20g or less of Net Carbs (which equals Total Carbs minus Fiber). For a moderately low carb diet, you should aim for 20-50g of Net Carbs. Finally, 50-100g for a liberal low carb diet.
The reality is, while you might want to go all the way keto to efficiently lose weight, it might not be a suitable choice for you. That depends on your digestive system and your eating habits.
But, you can start eating a low carb diet and slowly cut those carbs to transfer into the ketogenic diet. You'll give your body time to adjust and continue burning fat. Here are a few easy keto hacks that will help you do that.
The menu plan below can be used no matter which diet you're on. These recipes are delicious and you can incorporate them into your diet to get healthy fats and proteins.
Sample Keto Meal Plan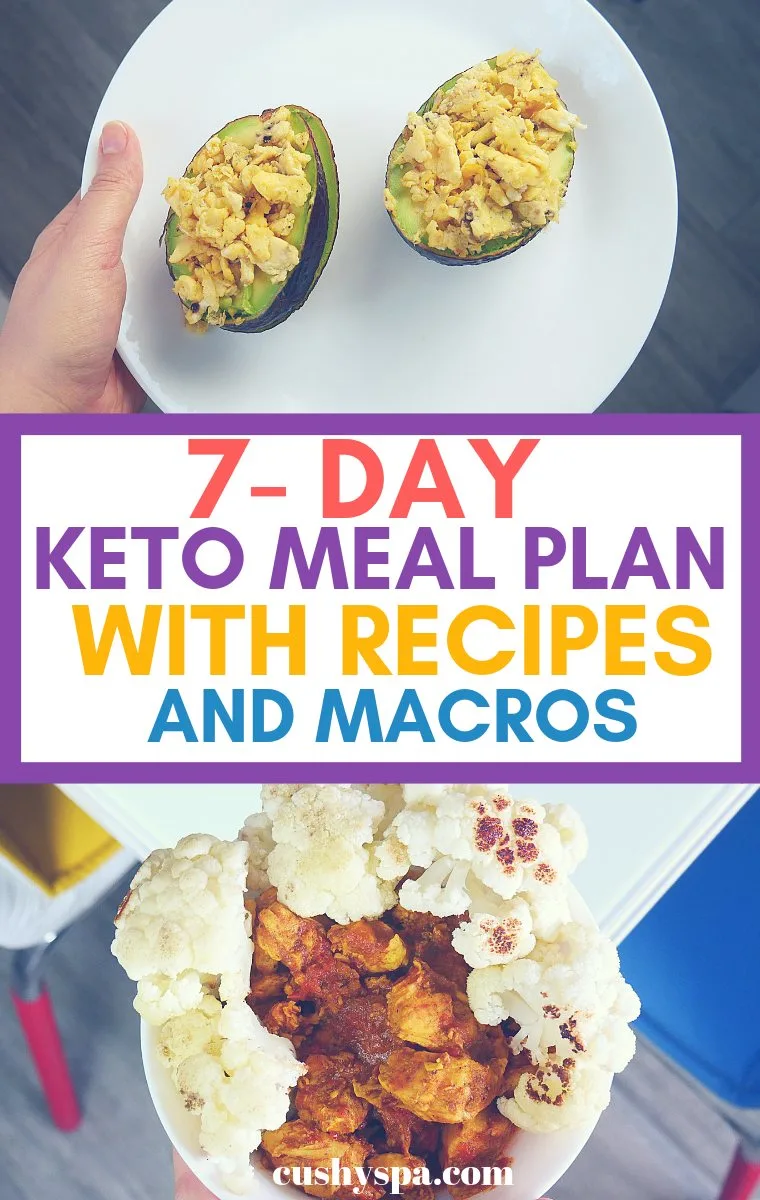 Today I'm sharing a keto plan with recipes and macros. I've also made a video on that, so check it out. Most of these plans consist of 1200-1450 calories. Thus, they're more suitable for women.
You'll notice that some of the recipes themselves don't have nutritional information. Just refer to the tables to get that information. I've calculated it for you!
Each day consists of 3 meals. However, if you want to increase your calorie intake make sure to have a snack or a dessert. After all, you deserve it!
Some of the common ketogenic snack options include:
Nuts
Cheese
Avocado
Seeds
Fat bombs
The list goes on! I'll make sure to write a whole post on that in the future. So, this keto diet plan is not set in stone. Mix and match if you will.
But, it should give you a good idea of what you could eat during the day to make sure you consume very little carbs and continue losing weight.
Day 1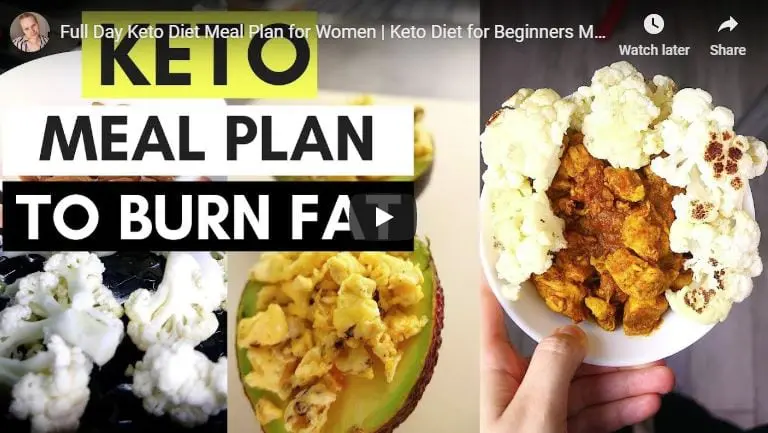 This is the video for the first full day of eating keto. Continue reading if you need all the macros and caloric values.
You'll notice that I'm eating more in the first part of the day. That's just something I like doing from time to time.
So, you don't necessarily need to eat those meals in the same order.
P.S. If you're enjoying the video, subscribe! That's the best thing you can do to let me know that it's useful!
Meal 1 – Avocado Bowl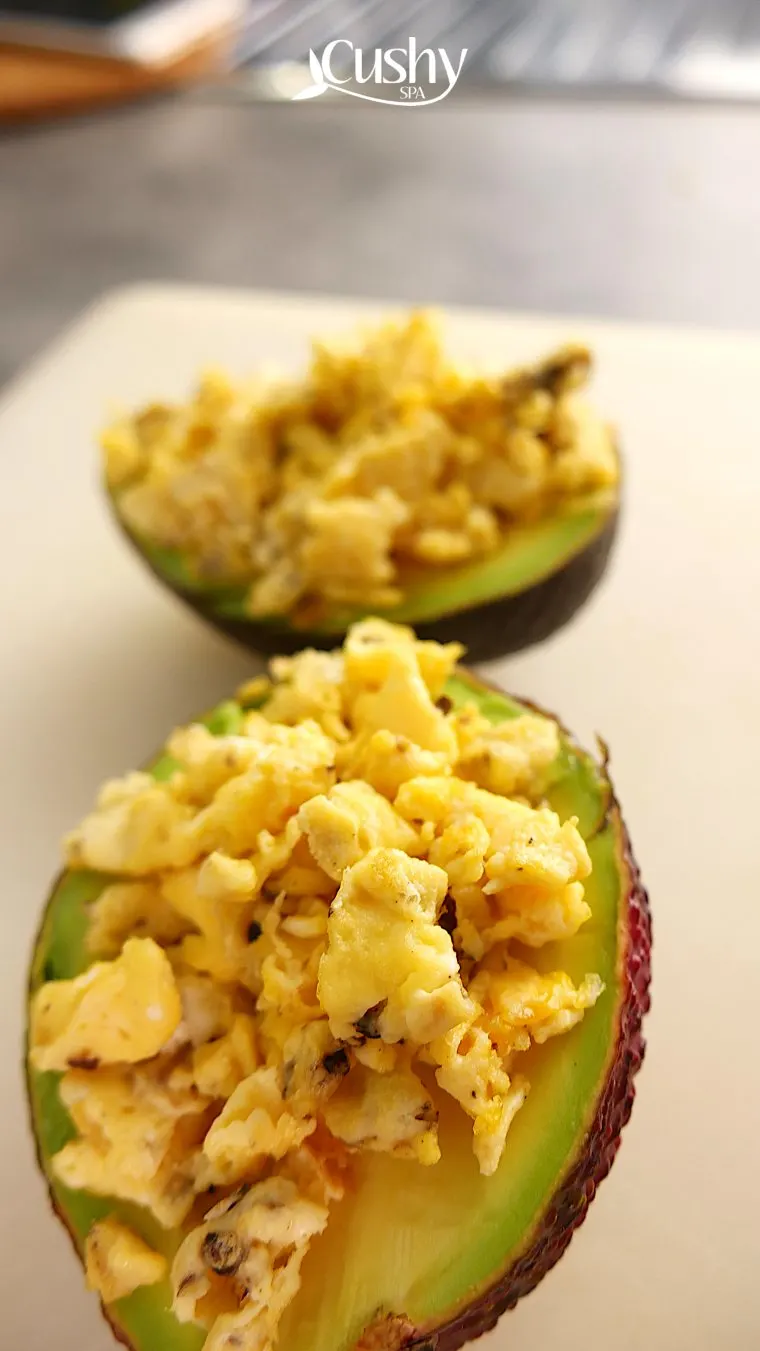 Ingredients
1 avocado
2 raw eggs
1 tsp virgin olive oil
salt
pepper
Instructions
Whisk eggs with a little bit of olive oil. Then, add some oil to the frying pan and fry the eggs. Make sure you add salt and pepper too.
Later, cut the avocado in a half and take out the seed. Afterward, fill up the halves with scrambled eggs.
Meal 2 – Chicken Madras Curry with Cauliflower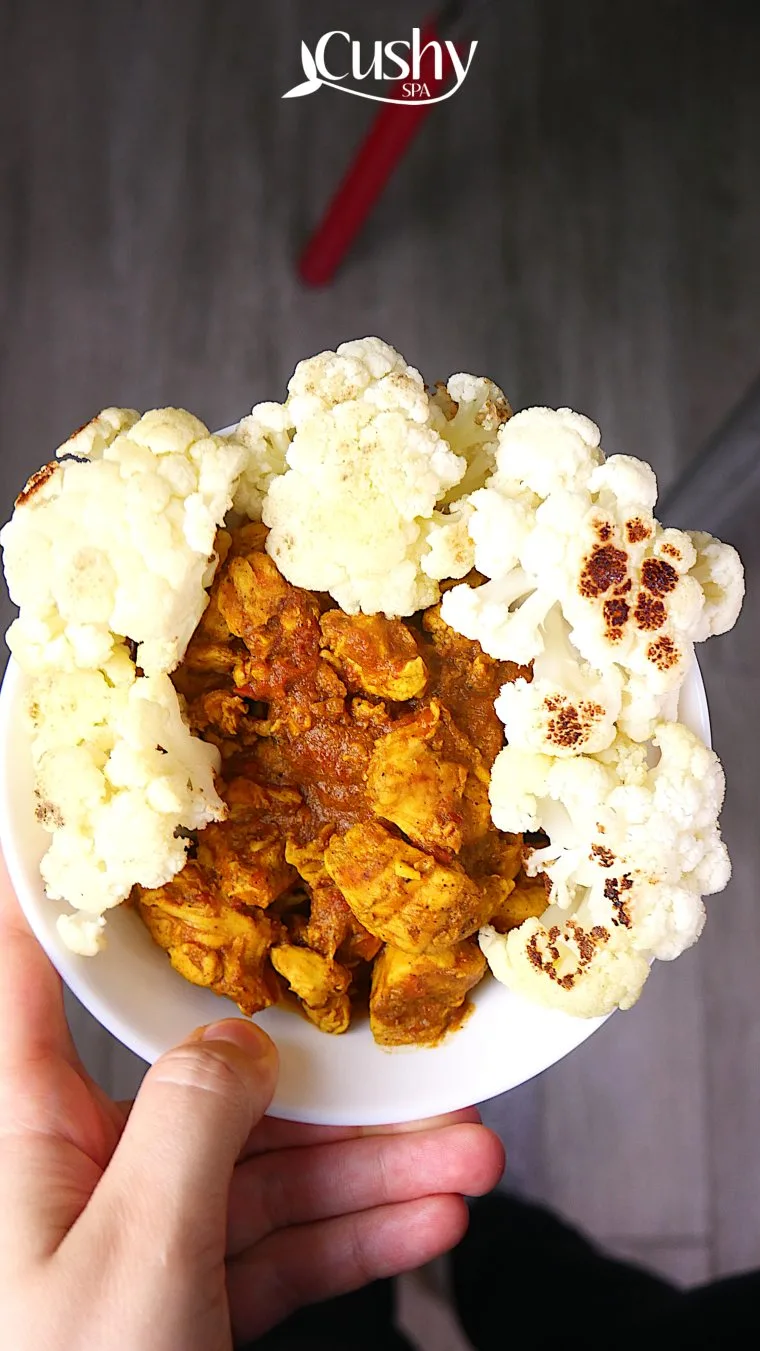 Ingredients
1 onion
4 cloves of garlic
1 thumb-sized ginger
1 fresh chili pepper
4 chicken breasts
2 tbsp virgin olive oil
crushed chillis
salt
pepper
2 tbsp of curry powder
1 can of chopped tomatoes
fresh cauliflower
Instructions
1. Start by turning on the oven. Set it to around 390 F (200 C). Then, peel the onion, garlic, and ginger.
2. Cut all of them with the chili pepper, and add the ingredients to the blender. Also, make sure to add a little bit of water so it blends well.
3. Meanwhile, add a little bit of oil into the frying pan. Let it heat up. Afterward, add the blend and let it cook for 5 minutes so that the water evaporates.4. Now, cut the chicken into small pieces and add them to the frying pan. Right away, thoroughly salt it, pepper it, add curry powder and crushed chilli.5. Stir it until the chicken is fully cooked. Afterward, add chopped tomatoes and sprinkle some black pepper. Stir it all and let it simmer for 20 minutes.
6. Now, wash the cauliflower, cut it and put it on a baking tray. Afterward, thoroughly salt it and oil it. Finally, cook it in the oven for 15 minutes.
1 Serving
a bowl of curry (around 350g)
some cauliflower (around 150g)
Meal 3 – Almonds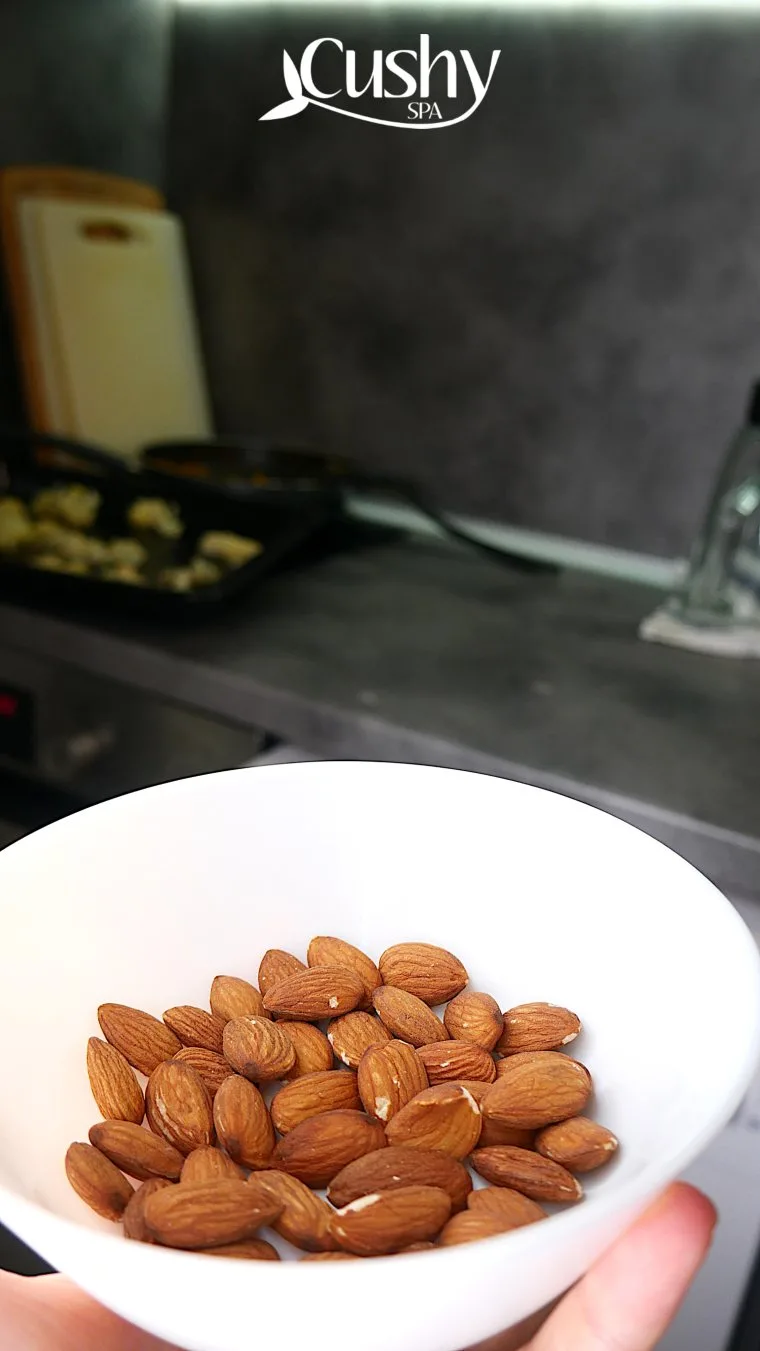 1 Serving
50g of almonds
First Meal:
596 cal
4.5g Net Carbs
55g Fat
14.9g Protein
Meal 2:
560 cal
8g Net Carbs
28.75g Fat
60.75g Protein
Meal 3:
288 cal
5g Net Carbs
24.5g Fat
10.5g Protein
Total:
1444 cal
17.5g Net Carbs
108.25g Fat
86.15g Protein
Day 2
Meal 1 – Low Carb Breakfast Burrito
Meal 2 – 1 Cheesy Spinach Stuffed Chicken Breast and 2 cups of Mixed Greens and Spinach
Meal 3 – a big bowl of Loaded Cauliflower
First Meal:
373 cal
8.8g Net Carbs
32.9g Fat
9.3g Protein
Meal 2:
511 cal
5.5g Net Carbs
33g Fat
44g Protein
Meal 3:
398 cal
6g Net Carbs
34g Fat
16g Protein
Total:
1282 cal
20.3g Net Carbs
99.9g Fat
69.3g Protein
Day 3
Meal 1 – 2 Breakfast Egg Muffins
Meal 2 – 2 Chicken Tenders and 2 cups of Spring Mix Greens
Meal 3 – Chicken Enchilada Casserole
First Meal:
229 cal
3.7g Net Carbs
14.6g Fat
19.6g Protein
Meal 2:
590 cal
9g Net Carbs
29.4g Fat
30.3g Protein
Meal 3:
406 cal
7g Net Carbs
24g Fat
37g Protein
Total:
1225 cal
19.7g Net Carbs
68g Fat
86.9g Protein
Day 4
Meal 1 – Keto Hot Cocoa Pancakes
Meal 2 – Shrimp Scampi Zoodles
Meal 3 – 2 chops of Garlicky Butter Chive Parmesan Pork and 2 cups of Mixed Greens
First Meal:
431 cal
3.8g Net Carbs
14.6g Fat
16.3g Protein
Meal 2:
235 cal
7.65g Net Carbs
9g Fat
29.3g Protein
Meal 3:
635 cal
2g Net Carbs
34g Fat
56g Protein
Total:
1301 cal
13.45g Net Carbs
82.2g Fat
101.65g Protein
Day 5
Meal 1 – Cauliflower Cheese Browns
Meal 2 – Chicken Salad
Meal 3 – Fried Cabbage with Bacon
First Meal:
255 cal
3.4g Net Carbs
18.7g Fat
17.7g Protein
Meal 2:
640 cal
3g Net Carbs
38g Fat
57g Protein
Meal 3:
518 cal
12.75g Net Carbs
45.45g Fat
16.7g Protein
Total:
1413 cal
19.15g Net Carbs
102.15g Fat
91.4g Protein
Day 6
Meal 1 – 3 Savory Breakfast Cookies
Meal 2 – a bowl of Beef Stew
Meal 3 – a big plate (double the serving) of Green Chili Chicken Bake with 2 cups of Spring Mix
First Meal:
378 cal
6g Net Carbs
30g Fat
21g Protein
Meal 2:
432 cal
4g Net Carbs
36.5g Fat
19.25g Protein
Meal 3:
526 cal
5g Net Carbs
32g Fat
53g Protein
Total:
1336 cal
15g Net Carbs
98.5g Fat
93.25g Protein
Day 7
Meal 1 – 3 Avocado Deviled Eggs
Meal 2 – Big Mac Bowl
Meal 3 – 6 Buffalo Chicken Meatballs
First Meal:
216.3 cal
1.8g Net Carbs
18.3g Fat
9g Protein
Meal 2:
581 cal
9g Net Carbs
44g Fat
34g Protein
Meal 3:
427 cal
3.6g Net Carbs
29.82g Fat
33.7g Protein
Total:
1224 cal
14.4g Net Carbs
92.12g Fat
76.7g Protein
More Keto Recipes?
If you're new to the ketogenic diet and want to get more recipe ideas to check out some of my posts:
Conclusion
If you're on the keto diet, don't worry. There are loads of delicious recipes out there that you and your family will love.
In the end, you're probably not even going to feel like you're on diet! I hope this ketogenic diet plan shows you exactly that!