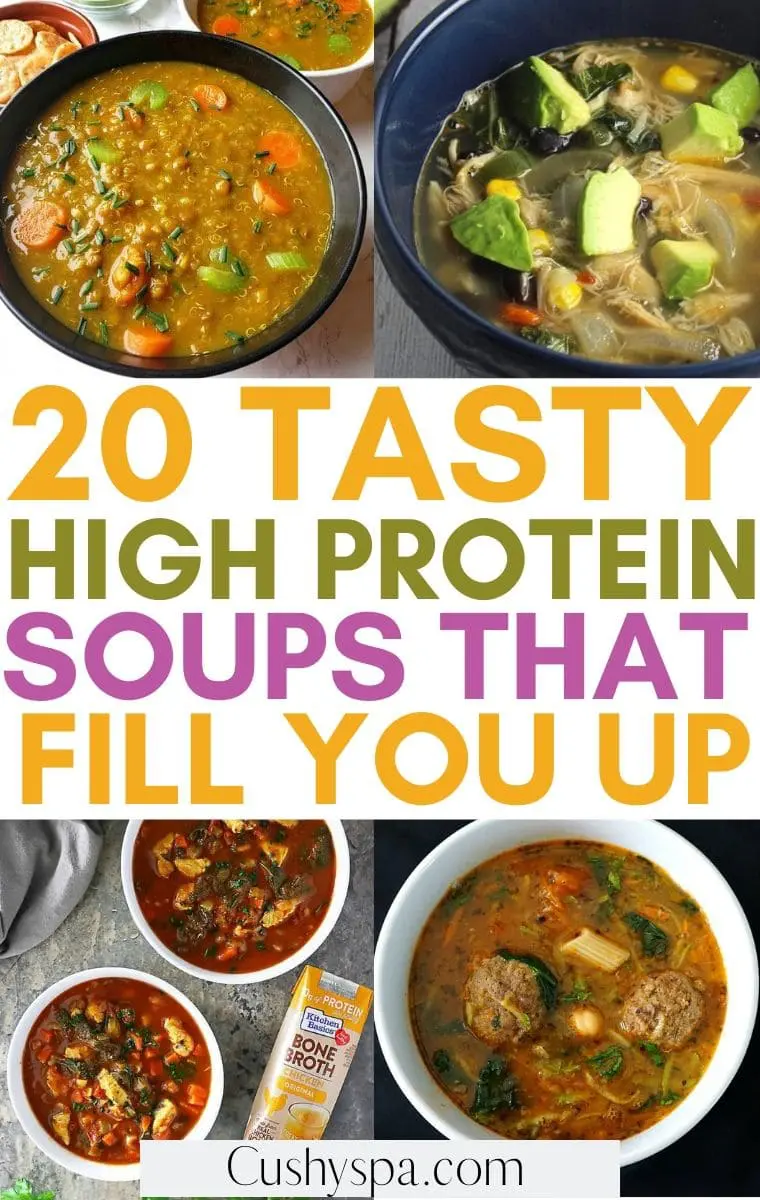 When the cold season is around, it's the time for sweaters, and jackets, and of course, soup!
Nothing warms the soul better than a steaming, hot bowl of soup. But did you know that eating soup may help you lose weight?
When you eat soup, you become fuller. And this makes you eat less food at your next meal.
To get the most bang for your buck, high protein soups are the best. That is because of all the macronutrients (carbs, fats, and protein), protein fills you up the most.
Eating protein also increases your metabolism. This helps you lose even more weight.
So, today I am sharing high protein soups that are not only tasty but will help you beat the winter bulge.
And to store the leftovers, make sure you have some airtight containers to keep your soup fresh longer. I recommend these glass containers here because they are BPA free so that no toxic chemicals will leach into your soup.
1. Mexican Turkey Soup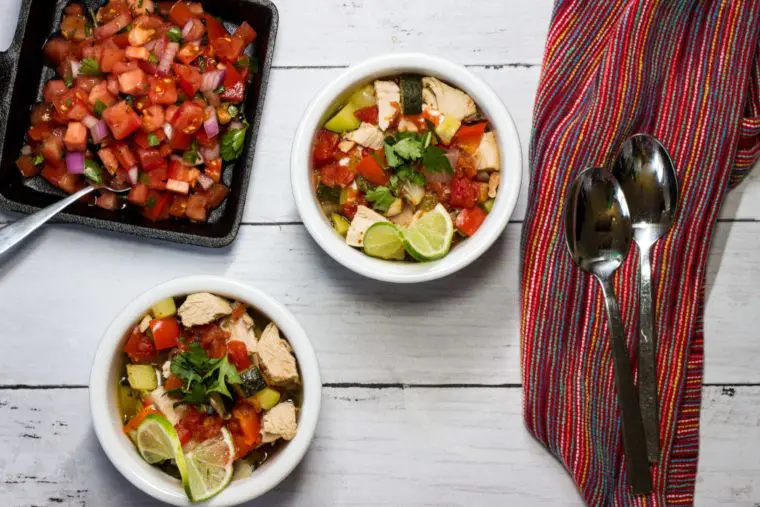 Credit: ketocookingwins.com
If you have some leftover turkey lurking somewhere in your freezer, this one is for you.
What better way to use your leftover turkey than making Mexican turkey soup?
This soup is savory and packed with Mexican flavors. It is sure to transport you to warmer climes.
It has some heat, but not too much. And the lime zest and lime juice complement the savory broth beautifully.
Besides being yummy, it is also low in calories. So, it is a great soup if you're trying to lose weight.
Per Serving:
Calories: 98
Fats: 3g
Protein: 13g
Carbs: 7g
Fiber: 1g
Sugar: 2g
2. Coconut Chicken Soup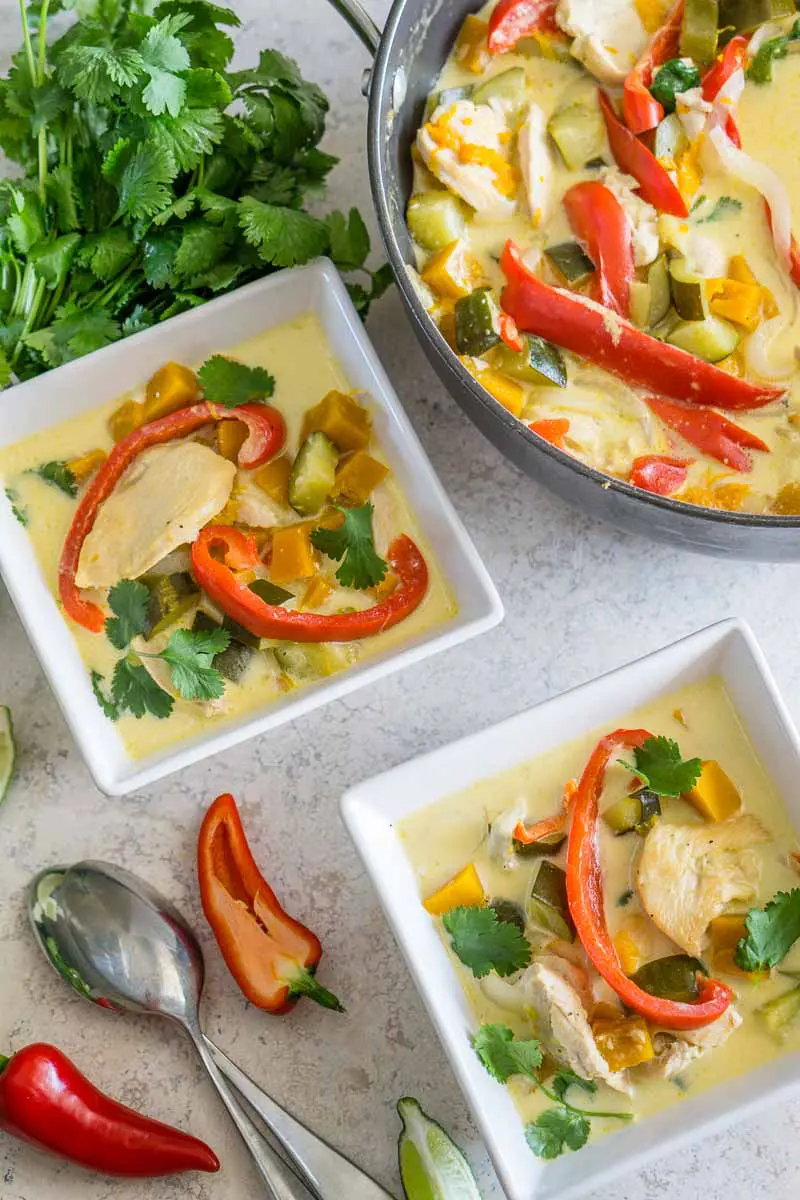 Credit: diabetesstrong.com
Having the winter blues? Here is another soup that is sure to transport you to the tropics!
This soup is simply delicious and smells just as amazing as it tastes. The coconut milk adds tons of creaminess, while the zucchini, pumpkin, and red bell pepper add color and loads of freshness.
Meanwhile, the ginger and the jalapeno pepper add a nice heat. After all, what is a tropical soup without some heat?
Besides being delicious, the soup is packed with nutrition. In fact, one serving provides a whopping 124% of your daily vitamin A needs and 79% of your daily vitamin C needs.
So, it's a great soup to gulp down if you're trying to fight off a cold.
It is also high in both protein and fats, so it is sure to keep you full. And away from those pesky donuts.
Per Serving:
Calories: 231
Fats: 12.7g
Protein: 17.1g
Carbs: 11.6g
Fiber: 1.7g
Sugar: 5g
3. Instant Pot Meatball Minestrone Soup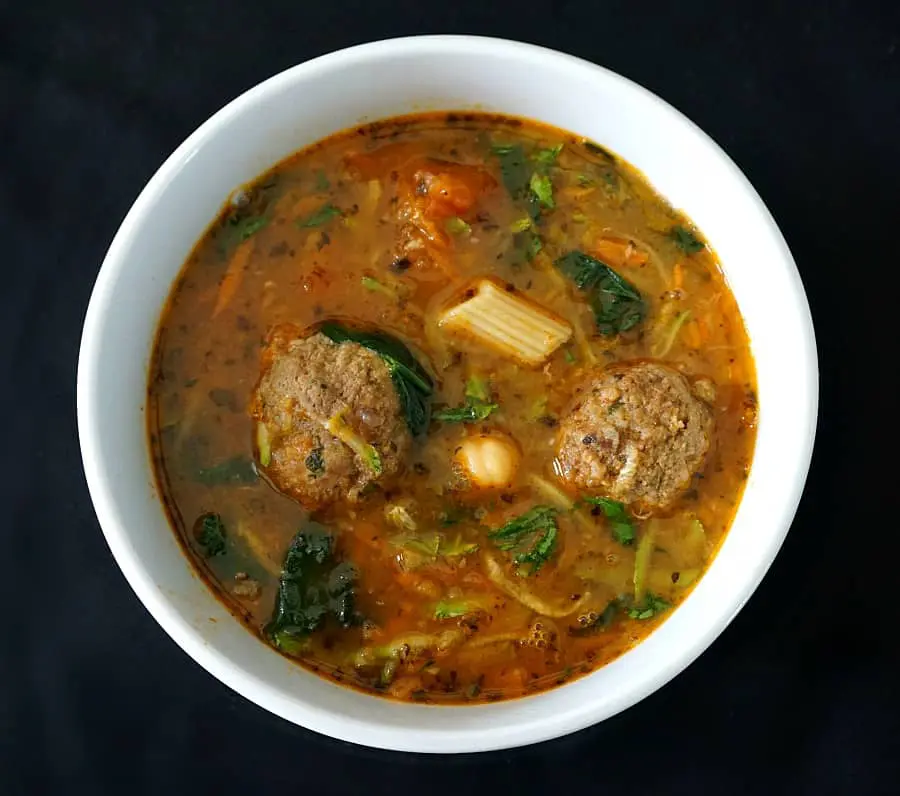 Credit: steamycooker.com
Don't you just love soup that has been simmering on the stovetop for hours…made just the way your grandma used to make it? It just has an incredible depth of flavor, right?
But in today's busy world, that isn't really an option. We all have schedules and deadlines to meet.
This meatball minestrone soup tastes just as good as your grandma's soup. But it takes a fraction of the time to make it.
In fact, it takes only 5 minutes of cook time. The meatballs are juicy, the pasta is perfectly cooked, and the vegetables aren't mushy.
The secret to the short cook time is that you use an Instant Pot. Instant Pots are great not only for soups but for cooking beans and meat in a short amount of time. So, if you'd like to make your life more convenient, you can get a good quality Instant Pot right here.
This soup is a meal on its own, but if you like, you can serve it with some crusty bread.
Per Serving:
Calories: 253
Fats: 11.3g
Protein: 17.8g
Carbs: 24.8g
Fiber: 4g
Sugar: 6.4g
4. Low Carb Sausage and Kale Soup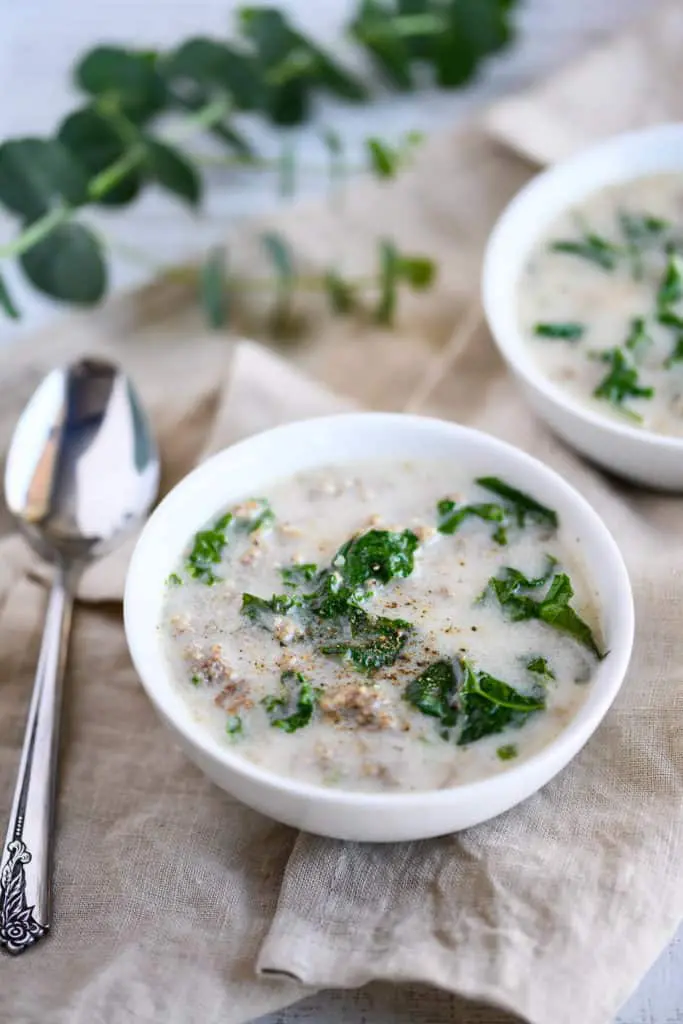 Credit: artfrommytable.com
Keeping your carbs low is also a great way to lose weight. So, if you're watching your carbs, here is a recipe for you.
This soup is packed with-stick-to-your-ribs goodness. It is meaty and creamy and packed with flavor.
It also has tons of kale, which is good for you. For instance, kale is an excellent source of vitamin A and K.
It is also loaded with cancer-fighting substances. So, eat up that kale!
To keep this soup low carb, you won't be using corn starch to thicken it. Instead, you will be using glucomannan. Glucomannan is a fiber found in the Konjac plant.
Besides acting as a low carb thickener, it may even help you lose weight. If you'd like to try some, you can get some here.
Making this soup is super easy. It takes only 15 minutes, and you don't have to chop any veggies.
So, it's the perfect soup for those hectic weekday evenings.
Per Serving:
Calories: 497
Fats: 41g
Protein: 28g
Carbs: 4g
Fiber: 1g
Sugar: 1g
5. Easy Keto Broccoli Cheese Slow Cooker Soup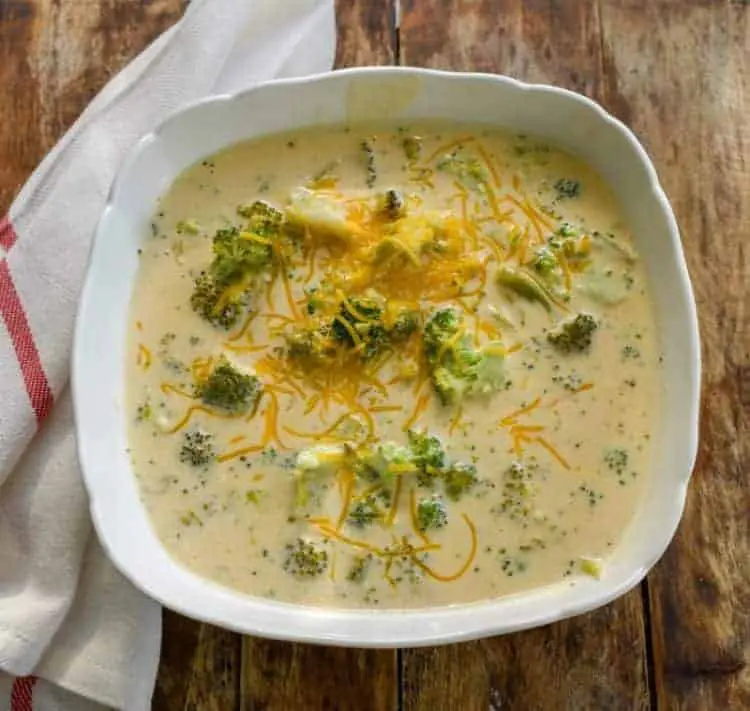 Credit: fittoservegroup.com
Are you having a hard time getting your kids to eat their veggies? Serve them this!
This soup screams ooey, gooey cheesy comfort. Your kids won't mind the broccoli. After all, everything goes well with cheese, right?
And it is loaded with 3 different kinds of cheese; Parmesan, cheddar, and cream cheese. So, it is a cheese lover's dream.
All it takes is 10 minutes of prep time. Then, you let your slow cooker do the rest of the cooking. If you're in the market for a slow cooker, there is a great deal on this one right here.
Serve with a nice keto flatbread. Honestly, this one is a great high protein lunch idea for the weekends.
Per Serving:
Calories: 230
Fats: 20g
Protein: 9.8g
Carbs: 3.8g
Fiber: 1g
Sugar: 0.9g
6. Easy Mexican Bean Soup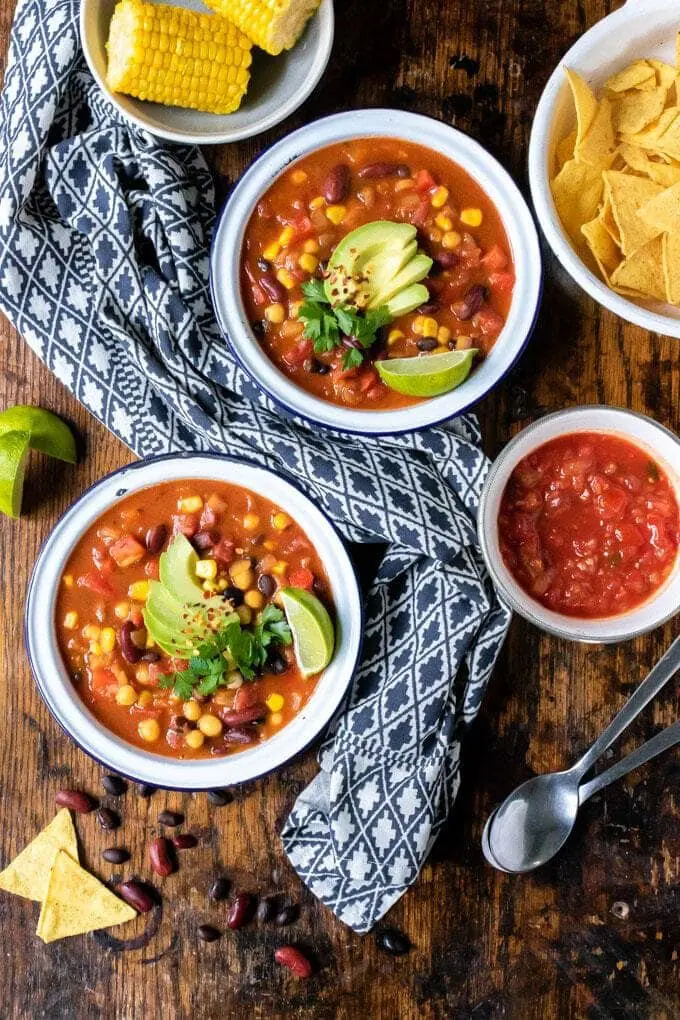 Credit: veggiedesserts.com
Are you vegan or merely trying to add more plant-based options to your diet? Then, give this dish a try!
It is super flavourful and nicely seasoned with Italian spices and some chili flakes for some heat. It is also bursting with beans and veggies.
So, it's packed with fiber. In fact, one serving provides 24% of your daily fiber needs.
It also has a decent amount of non-heme (non-animal based iron) as well.
Now, non-heme iron is not as well absorbed as heme iron. Since vitamin C helps you absorb non-heme iron better, you can serve your soup with lime juice or avocado slices. Yum!
This is also just a wonderful vegan meal prep recipe. Cook enough of it and you can enjoy the soups for the entire week.
Per Serving:
Calories: 176
Fats: 3g
Protein: 7g
Carbs: 31g
Fiber: 6g
Sugar: 5g
7. Lentil Quinoa Soup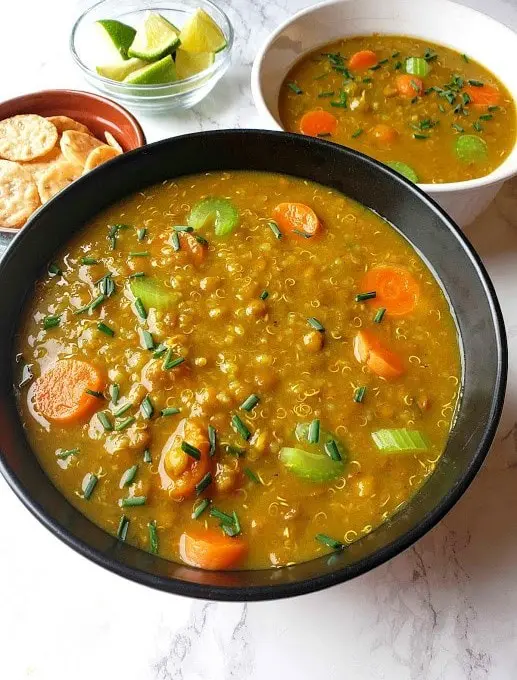 Credit: profusioncurry.com
Are you following a whole foods plant-based diet? This recipe is for you.
Finding recipes that contain no oil can be challenging. This soup is packed with wholesome ingredients like quinoa, lentils, celery, and carrots…and contains no oil at all.
So, it is low in fat and super low in calories. Yet, it eats like a meal!
But being low in fat doesn't mean that this soup isn't big on flavors. The smoked paprika adds a nice smoky flavor, while Trader Joe's Mushroom Umami Seasoning Blend adds tons of Umami flavor and meatiness to the dish. Adding this seasoning is optional, but it truly elevates the dish.
Serve with some toasty warm whole wheat naan bread.
Per Serving:
Calories: 97
Fats: 1g
Protein: 5g
Carbs: 17g
Fiber: 5g
Sugar: 4g
8. Chipotle Chicken and Black Bean Soup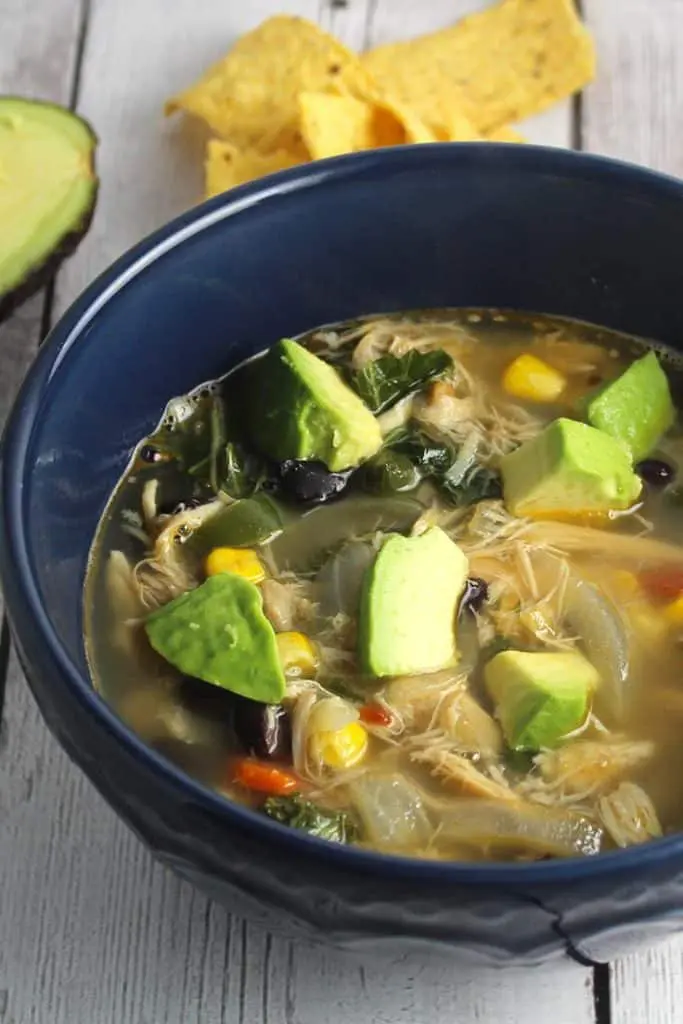 Credit: cookingchatfood.com
I love store-bought rotisserie chicken, as I am sure many of you do too. It's great for those days when you're short on time but want something healthy to eat.
But, what do you do with all that leftover chicken the next day? Make chipotle chicken and black bean soup!
This soup is pretty hearty and filling and has a nice heat. And it is brimming with protein.
That's because you use not only chicken but black beans as well. Black beans are not only a great source of protein, but a great source of fiber as well.
This soup also has a ton of veggies like carrots, kale, and corn. So, it's a great way to eat your vegetables.
Topped with avocado for some creaminess, it is truly a party in your mouth.
Per Serving:
Calories: 356
Fats: 11.3g
Protein: 32.6g
Carbs: 33.2g
Fiber: 10.6g
Sugar: 4.6g
9. Instant Pot 15 Bean Soup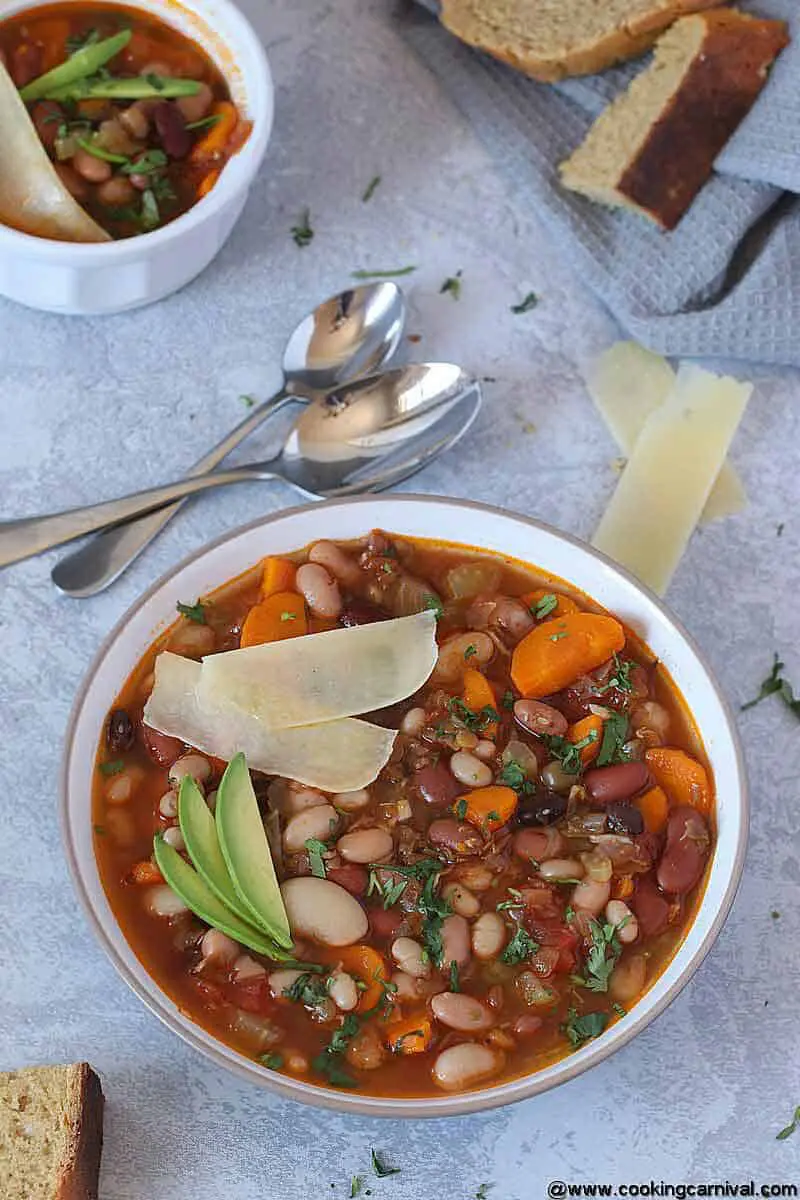 Credit: cookingcarnival.com
Beans are so good for you. Besides being a good source of protein, they offer a number of health benefits.
They are good for your heart and may even reduce your risk of cancer. Eating beans also makes you feel full, which may lead to weight loss. So pass those beans, please!
Dried beans are cheaper than canned beans, and they don't have added salt. However, they tend to take a long time to cook, anywhere from 1 to 3 hours!
This Instant Pot 15 bean soup has 15 different types of beans. So, you are getting many different flavors and textures. And it is nicely seasoned with ginger, garlic, and chili powder.
As a bonus, your tummy will thank you. That's because this soup provides a whopping 60% of your daily fiber needs.
And it takes only 25 minutes to cook. That's because you're cooking the beans under pressure using an Instant Pot. So, if you'd like to enjoy more of the health benefits of beans and save money at the same time, it is a good idea to invest in an Instant Pot. Here is a budget-friendly one that I recommend.
This soup is pretty filling just as it is. But feel free to garnish with some avocado.
Per Serving:
Calories: 319
Fats: 6g
Protein: 15g
Carbs: 54g
Fiber: 15g
Sugar: 8g
10. Ham and Bean Soup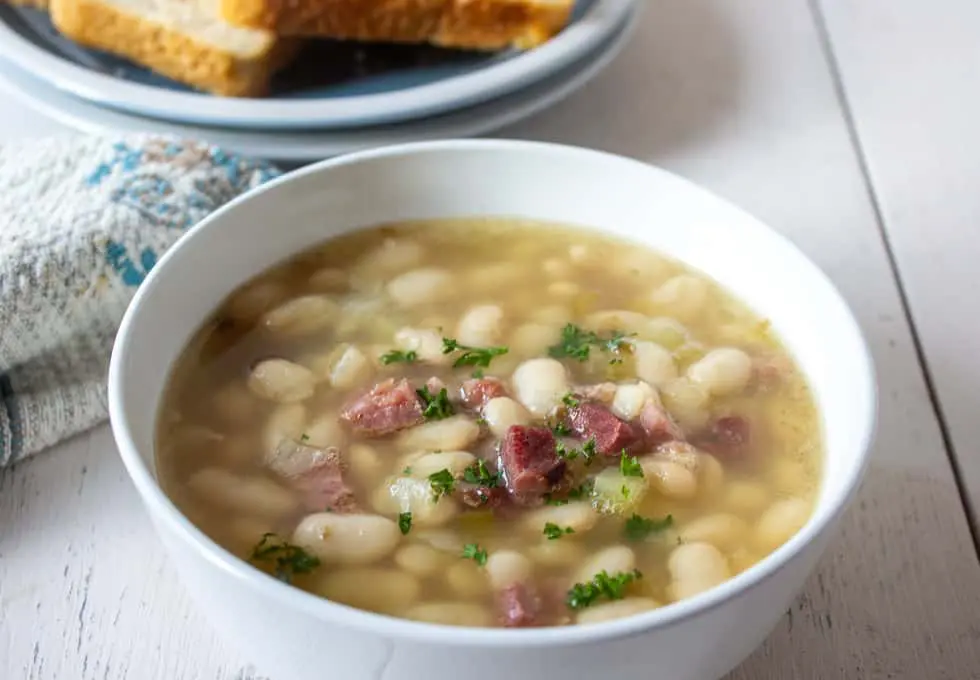 Credit: beyondthechickencoop.com
Do you have leftover ham lying around? Besides being good for ham sandwiches, it is also great for ham and bean soup.
This ham and bean soup is sure to warm you up on a chilly night. The saltiness of the ham nicely complements the creaminess of the white beans.
Meanwhile, the celery adds freshness and extra nutrition.
You'll notice that this soup is very light seasoned, but don't let that throw you off. The chicken broth adds tons of flavor, while the ham adds saltiness; you won't need extra salt.
Serve with a nice baguette to soak up all that delicious goodness.
Loving these high protein recipes? You might enjoy these high protein snacks too!
Per Serving:
Calories: 271
Fats: 6g
Protein: 19g
Carbs: 37g
Fiber: 11g
Sugar: 2g
11. Portuguese Kale Soup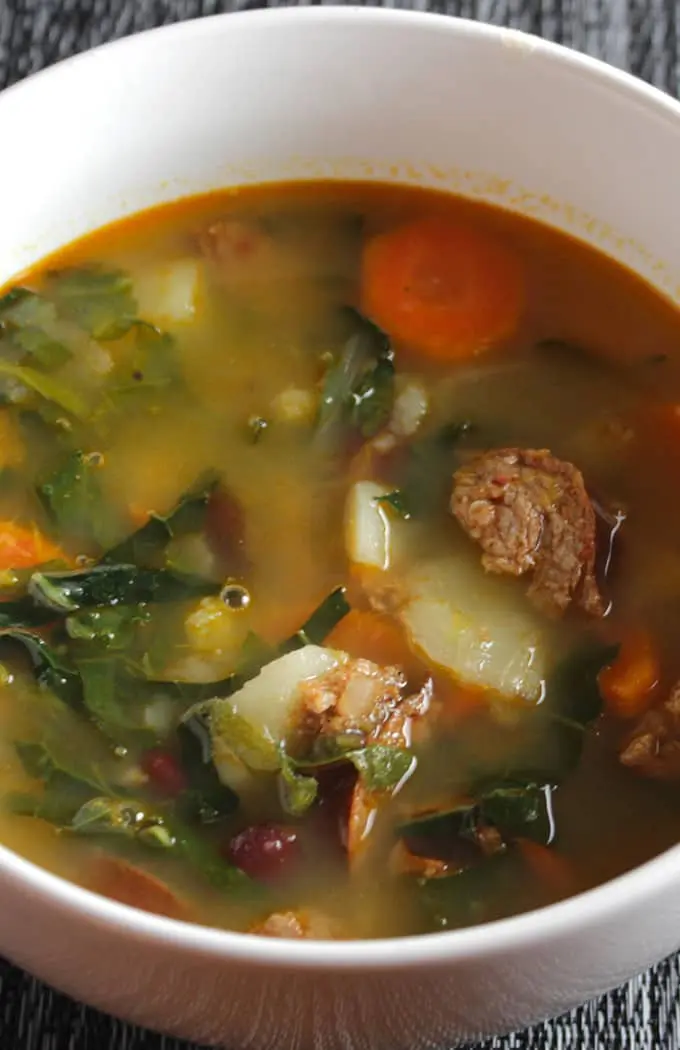 Credit: cookingchatfood.com
Not a big fan of kale? After tasting this soup, you may be a convert!
It is packed with kale, potatoes, butternut squash, red kidney beans, and Andouille sausage. The sweetness of the butternut squash nicely complements the spiciness of the Andouille sausage.
And the freshness of the kale goes well with the starchiness of the potatoes.
Aside from this delicious soup, there are other great ways to add kale into your diet. For instance, you can add kale to your smoothies or make crunchy kale chips.
Per Serving:
Calories: 334
Fats: 5.5g
Protein: 18.3g
Carbs: 55.3g
Fiber: 10.7g
Sugar: 7.5g
12. Slow Cooker Taco Soup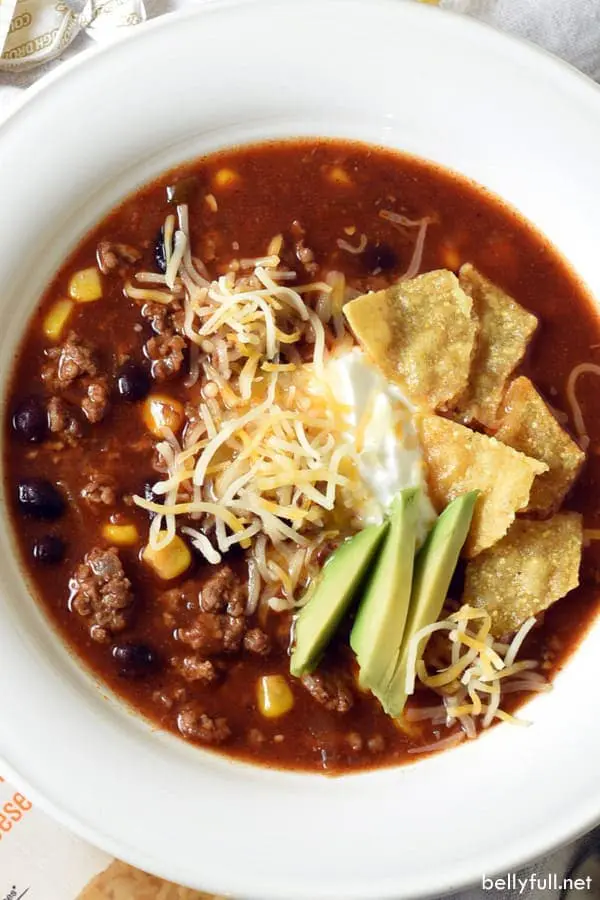 Credit: bellyfull.net
Are you craving some Mexican food? Then be sure to give this soup a try!
It has all the flavors of a taco but in soup form…simply genius.
You have nicely browned ground beef seasoned with paprika and salt and pepper. The corn, enchilada sauce, salsa, black beans, and taco seasoning scream Mexico.
Topped with avocado, sour cream, tortilla chips, and shredded Mexican cheese. It is sure to satisfy your cravings.
And it only takes 5 minutes to prep it. Then, let your slow cooker develop the delicate, rich, bold flavors.
Per Serving:
Calories: 393
Fats: 19g
Protein: 22g
Carbs: 37g
Fiber: 9g
Sugar: 11g
13. Instant Pot Low Carb White Chicken Chili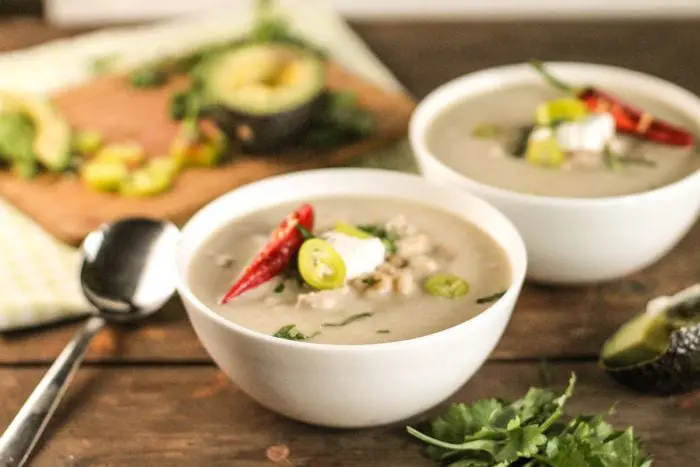 Credit: tessadomesticdiva.com
Traditional chili is good and all. But sometimes you want to change things up a bit.
This white chicken chili does precisely that. It is creamy, flavorful, and packed with chicken.
It is also nutritious too, thanks to the chicken bone broth and cauliflower.
Bone broth has lots of health benefits. For instance, it may protect your joints and heal your gut. If you can't make your own, you can get some organic chicken bone broth powder here.
And talking of cauliflower, you can't even tell it is there. That is because you use an immersion blender to puree the cauliflower in the broth. So, this is a great way to get you or your kids to eat some veggies.
Per Serving:
Calories: 301
Fats: 19g
Protein: 26g
Carbs: 7g
Fiber: 2g
Sugar: 2g
14. Chicken Detox Soup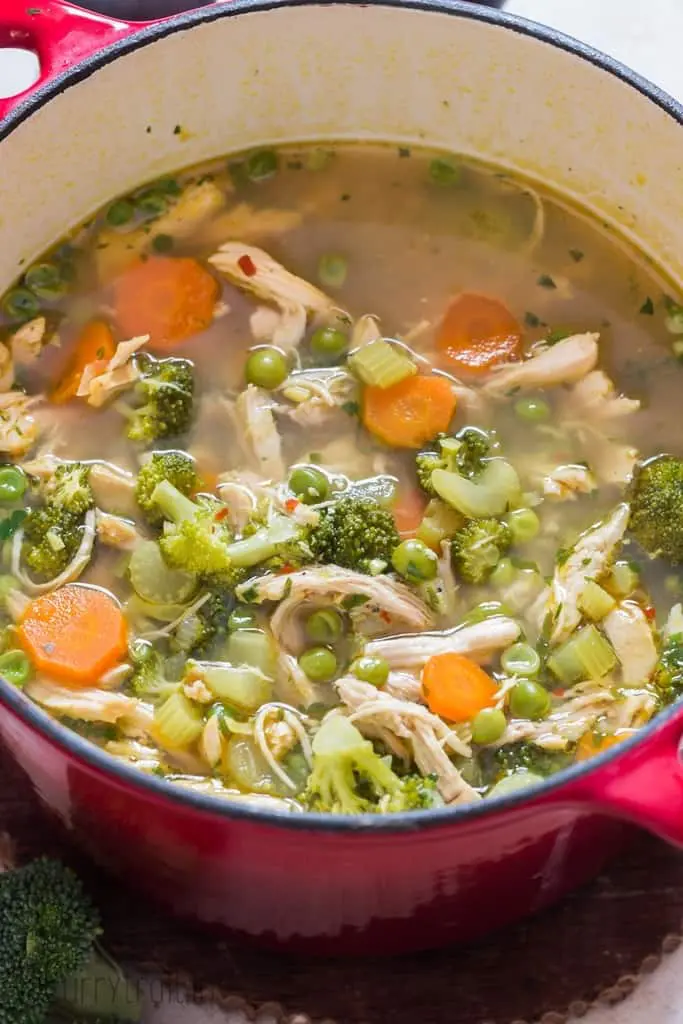 Credit: currytrail.in
After feasting during the holidays, you may be feeling sluggish. This chicken detox is packed with loads of ingredients that will help you detox.
Not only is it packed with veggies for a healthy dose of antioxidants, but it also contains healing spices too.
For instance, ginger not only gives the soup some heat, but it also has anti-cancer and anti-inflammatory properties.
Turmeric also helps with inflammation and may even fight cancer too. And let's not forget about the garlic. Garlic helps lower blood lipids and boosts circulation– so don't worry about garlic breath.
As an added bonus, this soup is very low in calories. So, you can eat to your heart's delight.
Per Serving:
Calories: 179
Fats: 5g
Protein: 17g
Carbs: 16g
Fiber: 3g
Sugar: 6g
15. Meatball Soup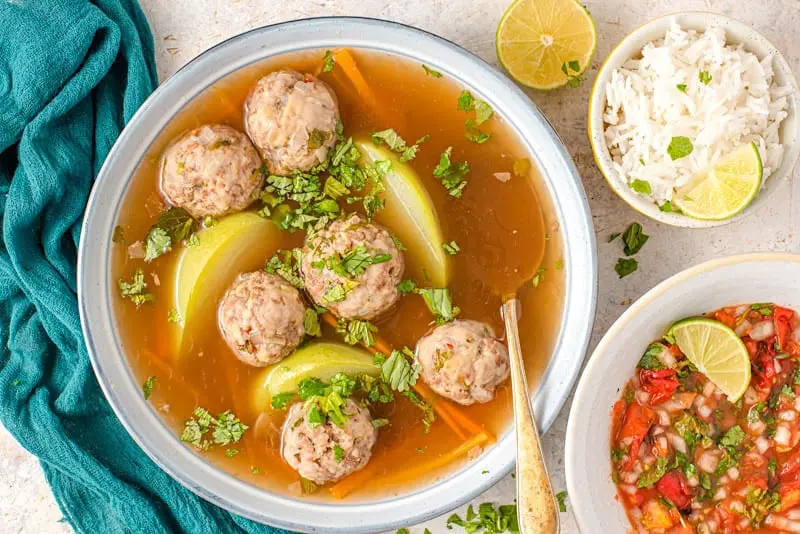 Credit: atastefortravel.ca
What's even more comforting than meatballs or soup after a stressful day? Meatball soup!
Big, juicy, melt-in-your-mouth homemade meatballs sit in a piping hot beef broth. The nicely julienned carrots and fresh mint and cilantro add a pop of color and freshness.
This soup tastes great and is good for you too. In fact, one serving provides 114% of your daily vitamin A needs, which you need for healthy peepers.
And even though you're making the meatballs from scratch, this soup doesn't take long to make. All it takes is 30 minutes, and you have a nice pot of soup that will warm your soul.
Per Serving:
Calories: 310
Fats: 11g
Protein: 35g
Carbs: 17g
Fiber: 3g
Sugar: 4g
16. Italian Sausage Stew with White Beans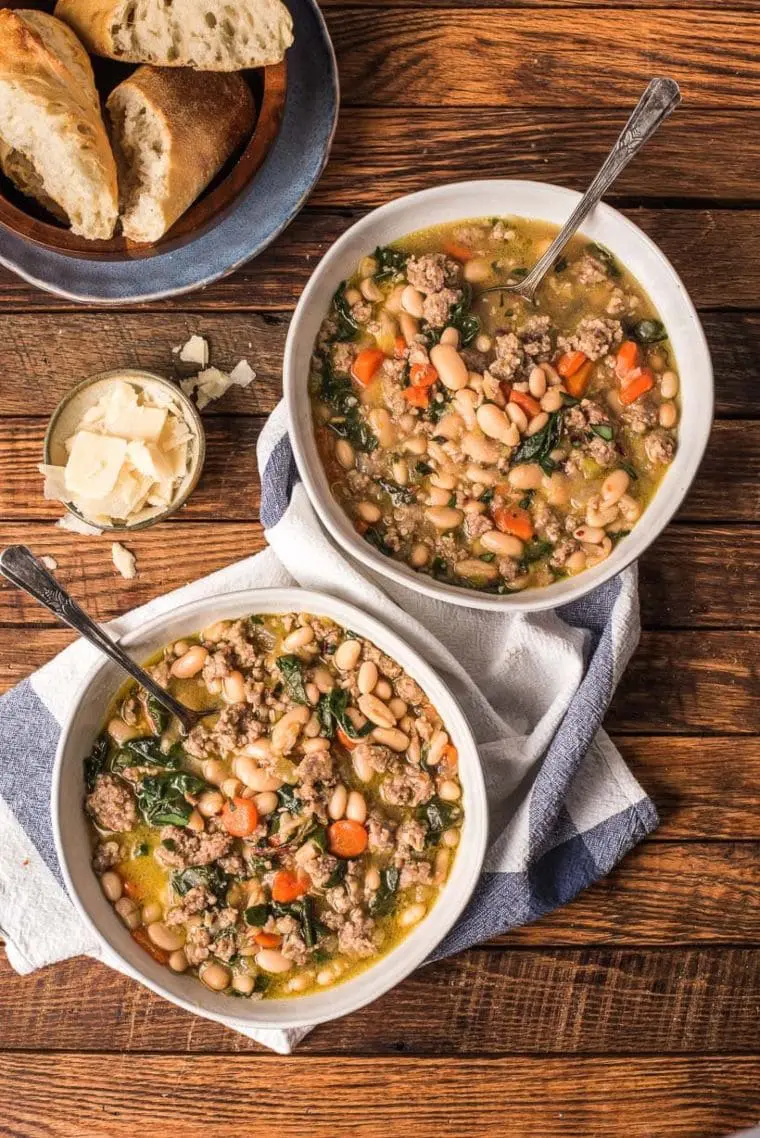 Credit: neighborfoodblog.com
I'm a huge fan of Italian food, as I am sure many of you are. So, if you love Italian food, this stew is sure to make you happy.
It is packed with nicely browned Italian sausage, rainbow chard, and some good old white beans. The chopped celery and sliced carrots add a nice crunch and are the perfect complement to the Italian sausage.
The aroma of this soup is simply amazing too. Your tummy will be growling…good thing it takes only 30 minutes to make.
Serve with some freshly baked Italian bread.
Per Serving:
Calories: 492
Fats: 27g
Protein: 29g
Carbs: 34g
Fiber: 8g
Sugar: 6g
17. Instant Pot Chicken Noodle Soup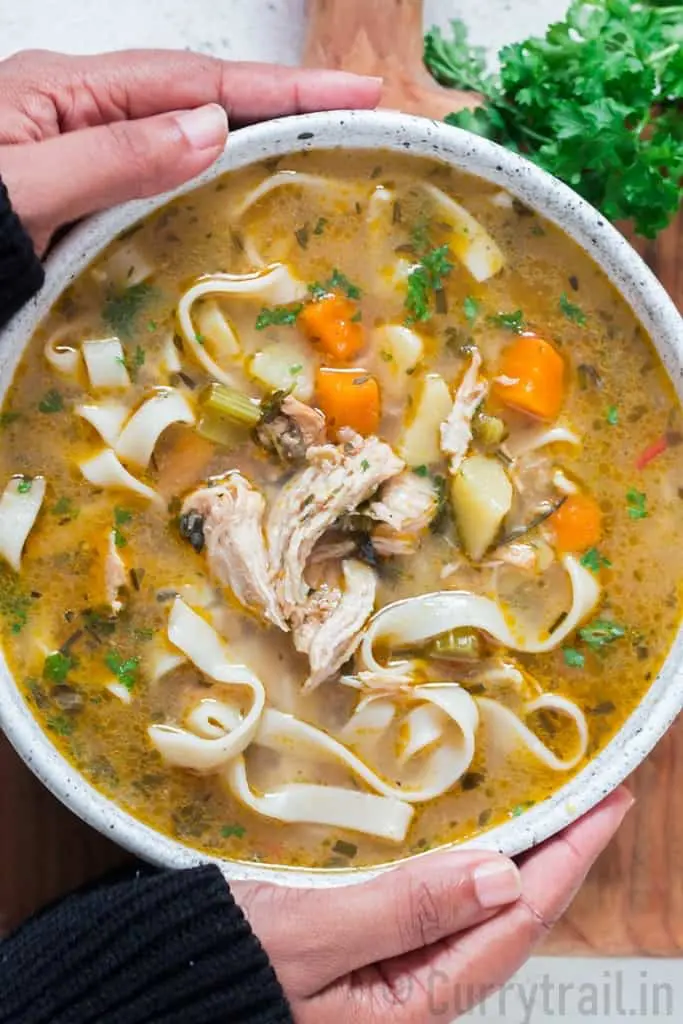 Credit: currytrail.in
Nothing soothes a cold faster than good old chicken noodle soup. And this soup is exactly what the doctor ordered.
It's packed with tender chicken, noodles, tons of veggies, and fresh herbs. It even has potatoes, which not only add extra vitamin C but fill you up too.
This soup uses celery and carrots. But feel free to swap them for your favorite veggies…it will taste just as good.
Top with some fresh parsley, and slurp away.
Per Serving:
Calories: 336
Fats: 14g
Protein: 19g
Carbs: 32g
Fiber: 4g
Sugar: 2g
18. Instant Pot Bacon Cheeseburger Soup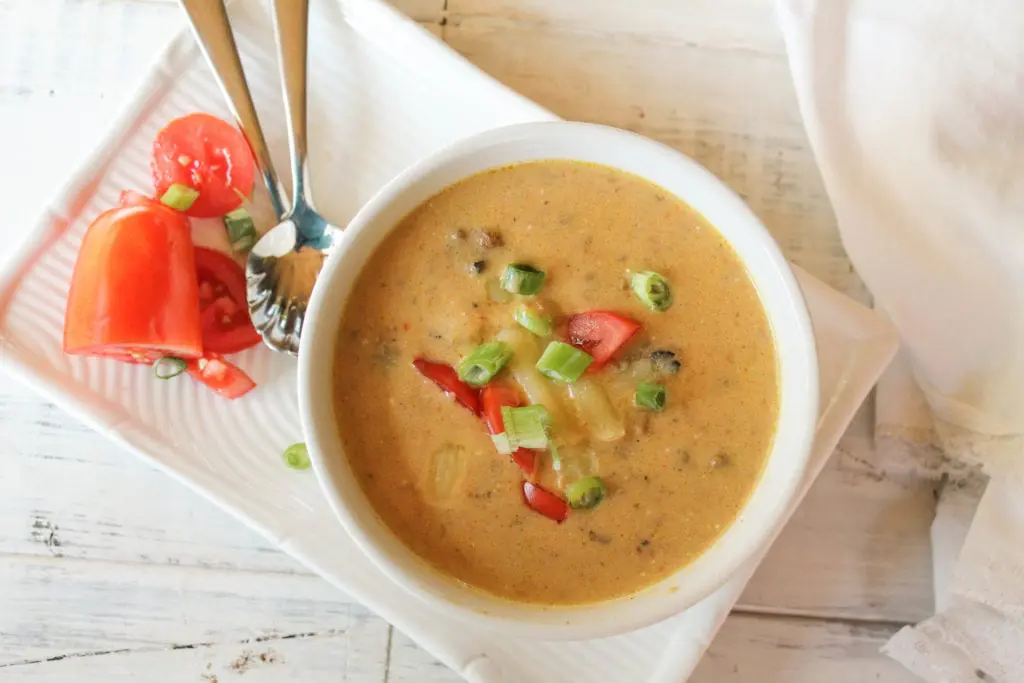 Credit: tessadomesticdiva.com
You had me at bacon. And cheeseburger. After all, who doesn't love a bacon cheeseburger?
This soup is smooth and creamy and packed with yummy ingredients. Ingredients such as nicely browned ground beef, silky cream cheese, and gooey cheddar cheese.
It even has veggies like cauliflower, carrots, cauliflower, and onion. But don't tell the kids…they're nicely hidden so no-one can tell.
To hide them, all you need to do is puree your veggies with an immersion blender. Using an immersion blender is more convenient and safer than blending hot liquids in a blender. If you need an immersion blender, you can get a good quality one at a great price right here.
Per Serving:
Calories: 607
Fats: 47g
Protein: 33g
Carbs: 10g
Fiber: 2g
Sugar: 4g
19. Cabbage Soup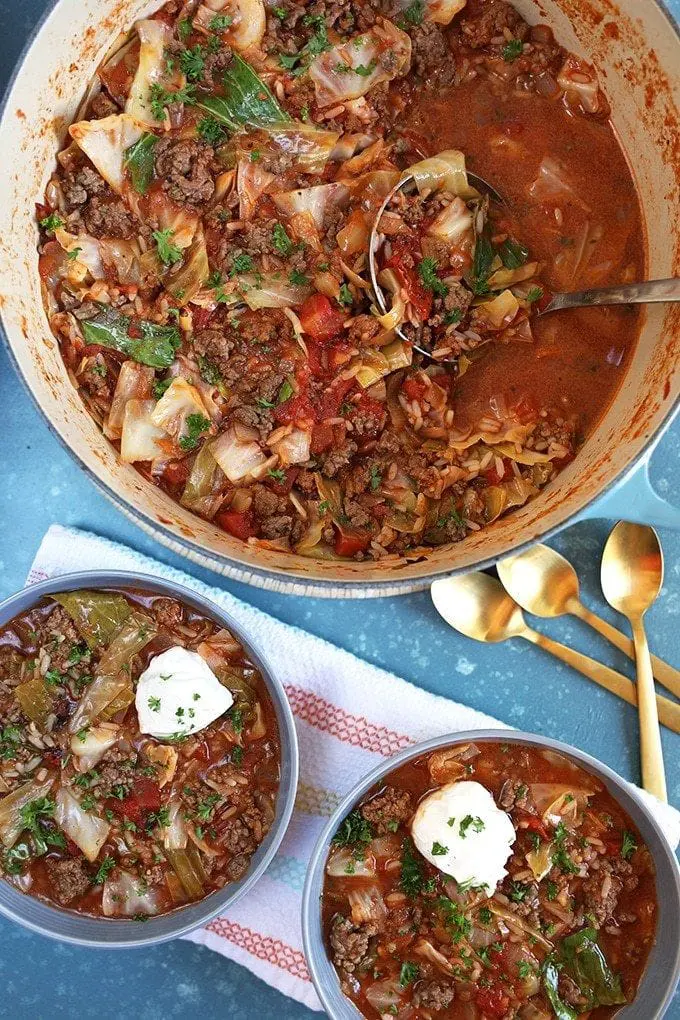 Credit: thesuburbansoapbox.com
Stuffed cabbage rolls are so yummy, yet take so much effort. All the prepping and stuffing…the last thing you want to do after a long day at work.
However, this cabbage soup has all the flavors of stuffed cabbage. Without all the work…now that's how I like to roll.
It's pretty much deconstructed stuffed cabbage in a soup. Just toss your ingredients in your soup pot and away you go.
You have perfectly cooked rice, nicely browned beef, juicy cabbage, and diced tomatoes. All in a tomato base.
The brown sugar and grated apple add a subtle sweetness. Meanwhile, the apple cider vinegar adds some tartness, nicely balancing out the sweetness.
Also, it makes 12 servings and freezes pretty well. So, it's perfect for meal prep too.
Per Serving:
Calories: 266
Fats: 8g
Protein: 20g
Carbs: 27g
Fiber: 2g
Sugar: 10g
20. Chunky Turkey Spinach Soup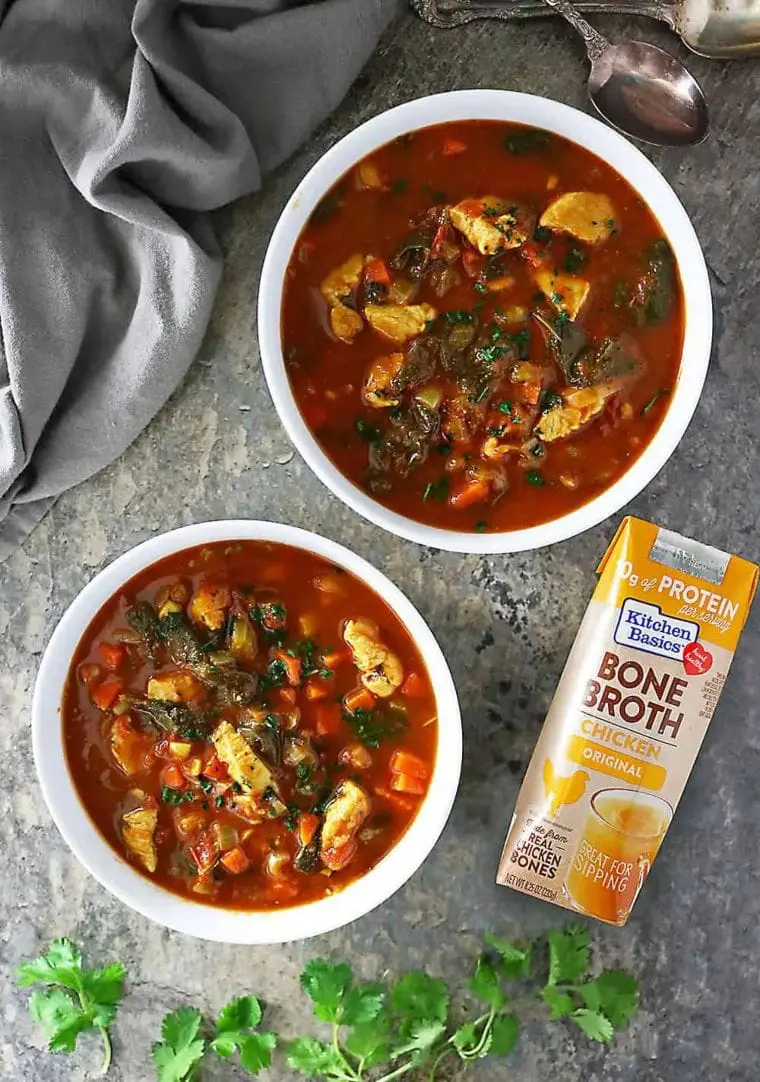 Credit: savoryspin.com
The good thing about Holidays being over is the leftovers. All that leftover turkey, that is!
But instead of making boring old sandwiches, make this turkey soup instead.
It has tender pieces of turkey breast, nicely caramelized onion and garlic, juicy carrots, and celery, all cooked in a delicious chicken bone broth for extra protein.
Add in some crushed tomatoes and some spinach for extra nutrition and color, and dinner is served.
Per Serving:
Calories: 225
Fats: 4.4g
Protein: 28.9g
Carbs: 7.6g
Fiber: 2.1g
Sugar: 4.3g
Conclusion
Do you enjoy any of these recipes? Which one is your favorite? Share them with your family and friends!