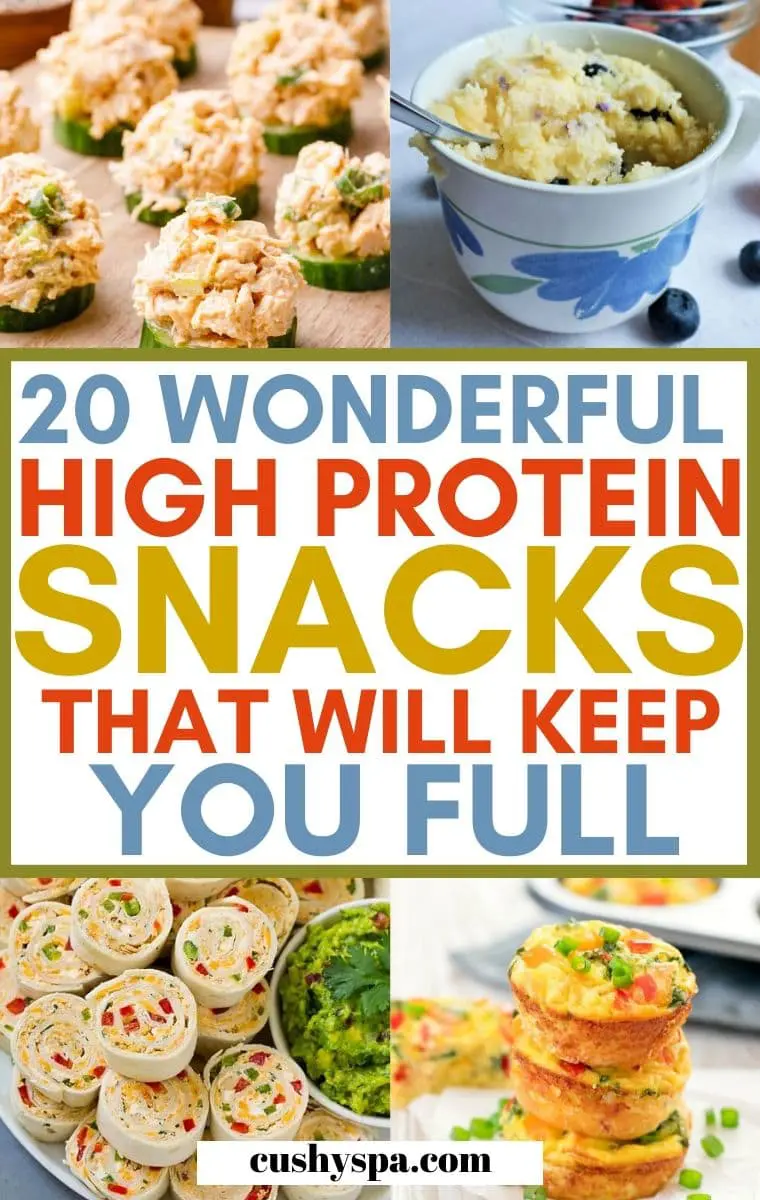 Have a goal of getting fitter and living a healthier lifestyle? Then make your snacks count by making them high in protein!
Protein is more filling than carbs and even fats. And when you're full, you're less likely to binge on unhealthy snacks like donuts and cookies.
So, you don't need to say goodbye to your snacks. Just make sure they contain tons of protein.
Today, I'm sharing 20 high protein snacks. They are not only high in protein but tasty as well.
You'll definitely want to keep these snacks handy. You can store them in these BPA-free storage containers.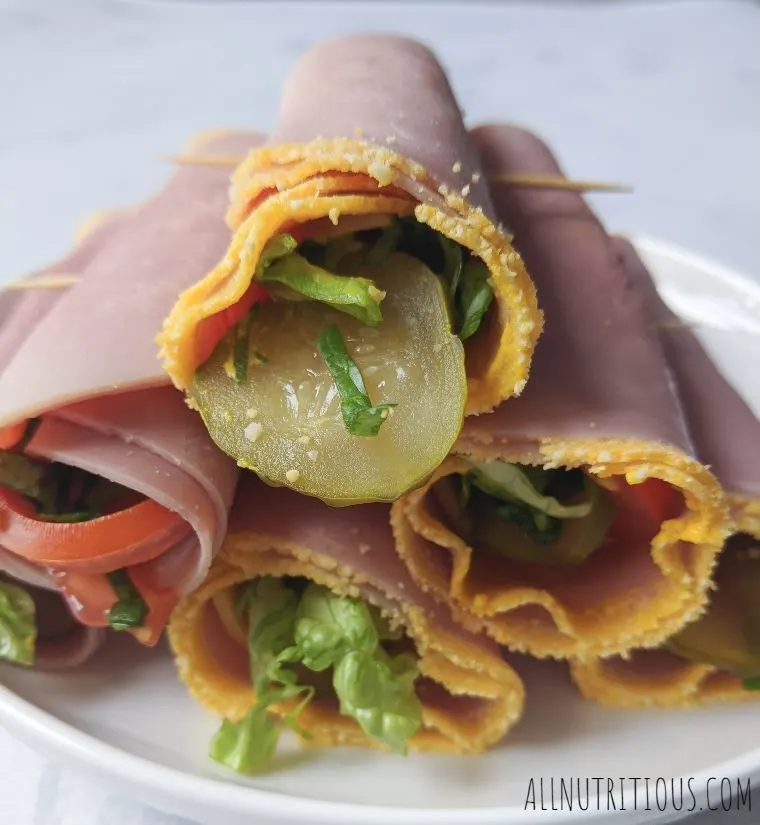 These ham roll-ups are flavorful, savory, and filling. A quick snack you can literally roll up and have for lunch or breakfast!
These are like little sandwiches but with a ton of protein! With 16g of protein per serving – we've got 36% of your total calories coming through protein!
Now that's a good deal. If you love a bit of Yellow mustard, ham, and your regular vegetables, this snack is IT!
Per Serving:
Calories: 176
Fats: 12g
Protein: 16g
Carbs: 2.1g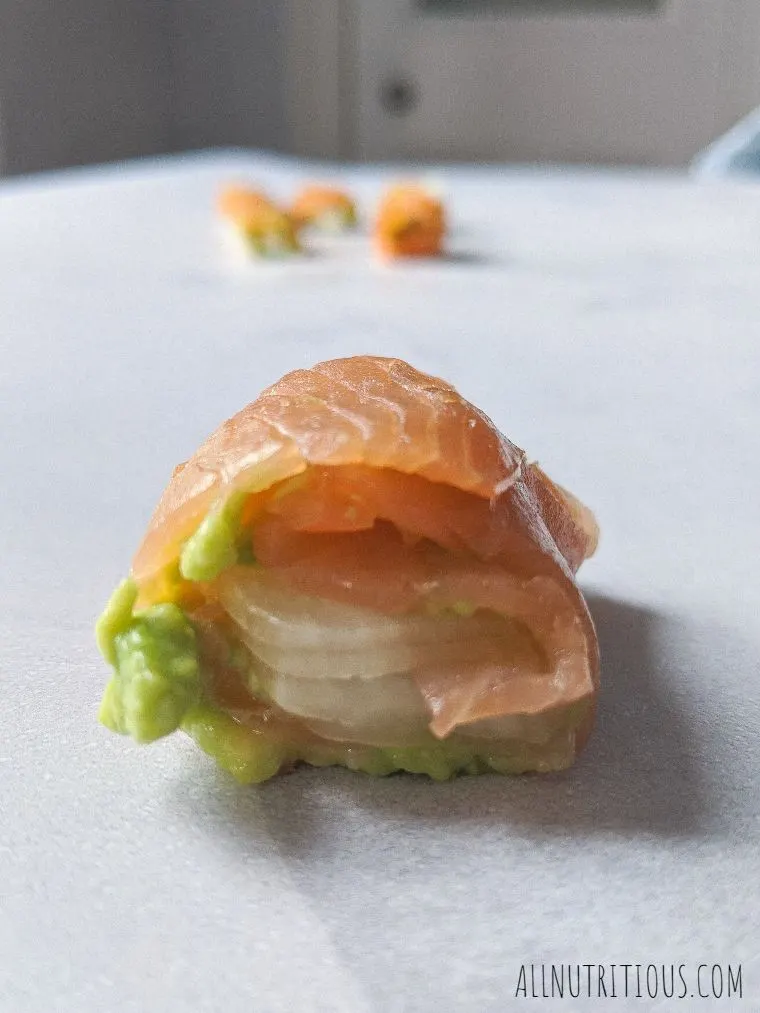 Simple, easy, and nutritious – these smoked salmon appetizers are super savory, yummy, and filling. They're refreshing, filling, and high in fat.
These little bites are quite quick to make and do for a perfect high-protein snack. With 4g of protein a bite!
Per Serving:
Calories: 82
Fats: 5.7g
Protein: 4g
Carbs: 5.3g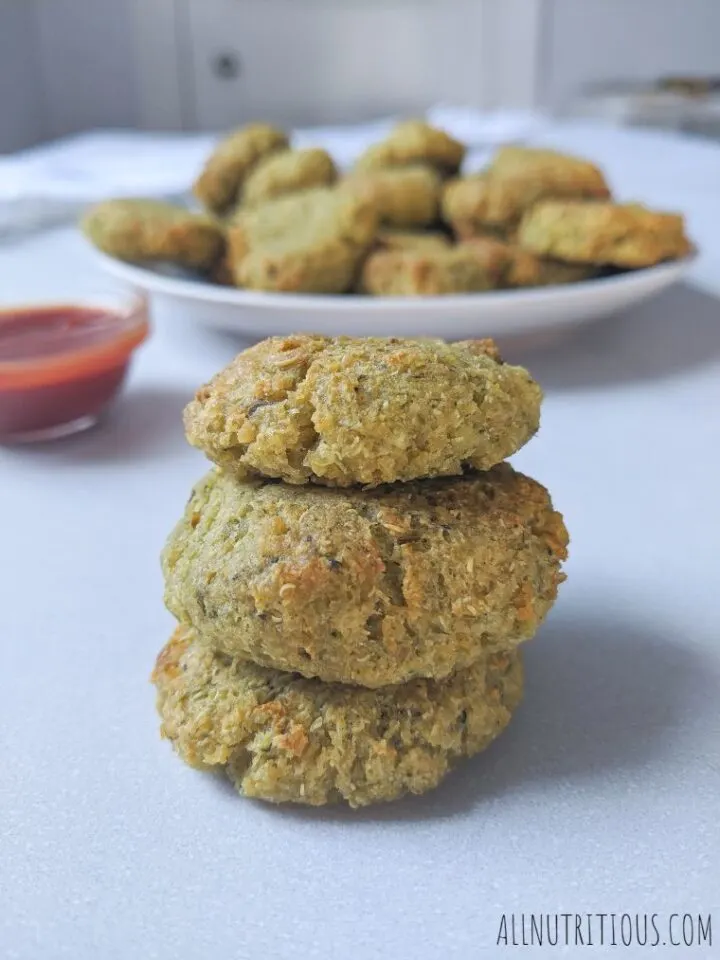 Are you looking for ways to slip more veggies into kids' diets or want to have a snack that's not chips? These broccoli cheese bites are so easy to make, yummy, and delicious.
It is a perfect savory snack you can have with ketchup or tomato sauce. Crispy, moist, soft inside, and just so good!
Feels like fast food yet healthy!
Per Serving:
Calories: 43
Fats: 1.7g
Protein: 2.2g
Carbs: 4.8g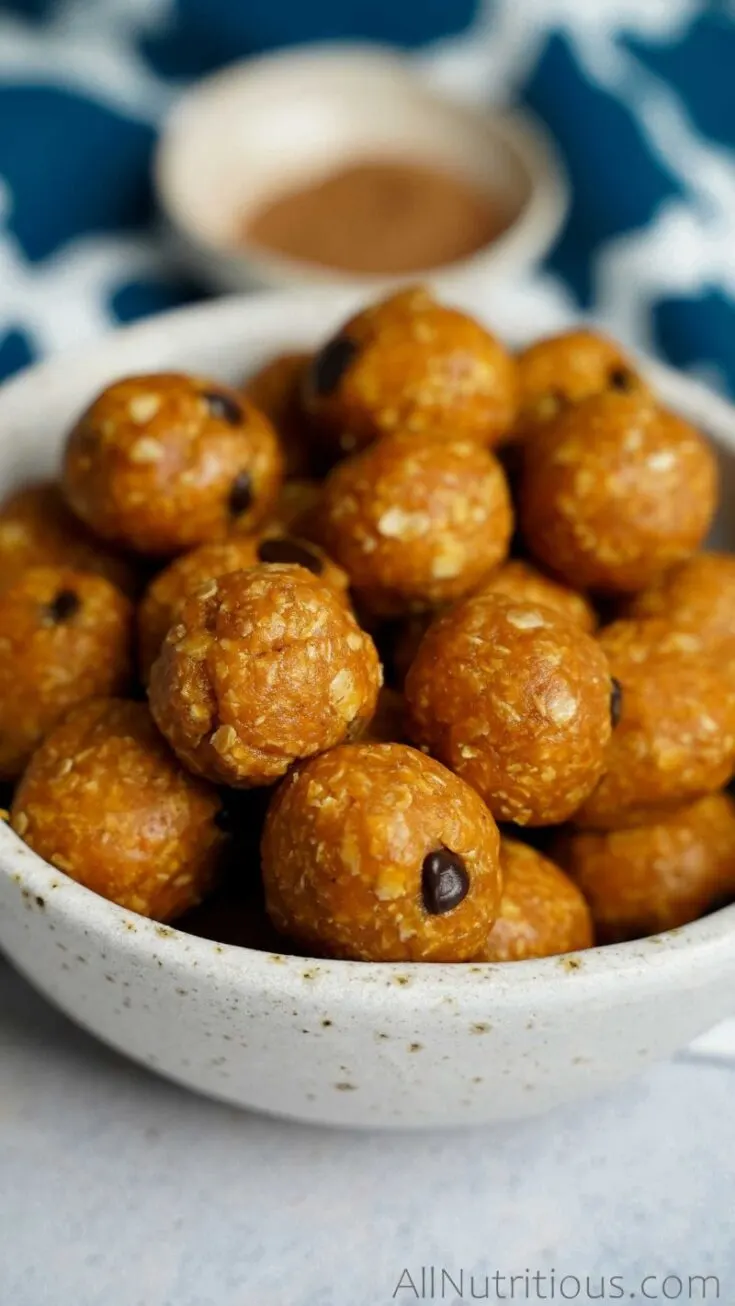 Love a sweet and a little spiced snack? These pumpkin protein balls are easy, delicious, yummy, and soft.
Have them with a cup of tea or coffee and enjoy the pumpkin-spiced flavors! Perfect for a holiday season or just fall/winter!
Per Serving:
Calories: 73
Fats: 3.6g
Protein: 3.6g
Carbs: 7.4g
5. Healthy Cheeseburger Bites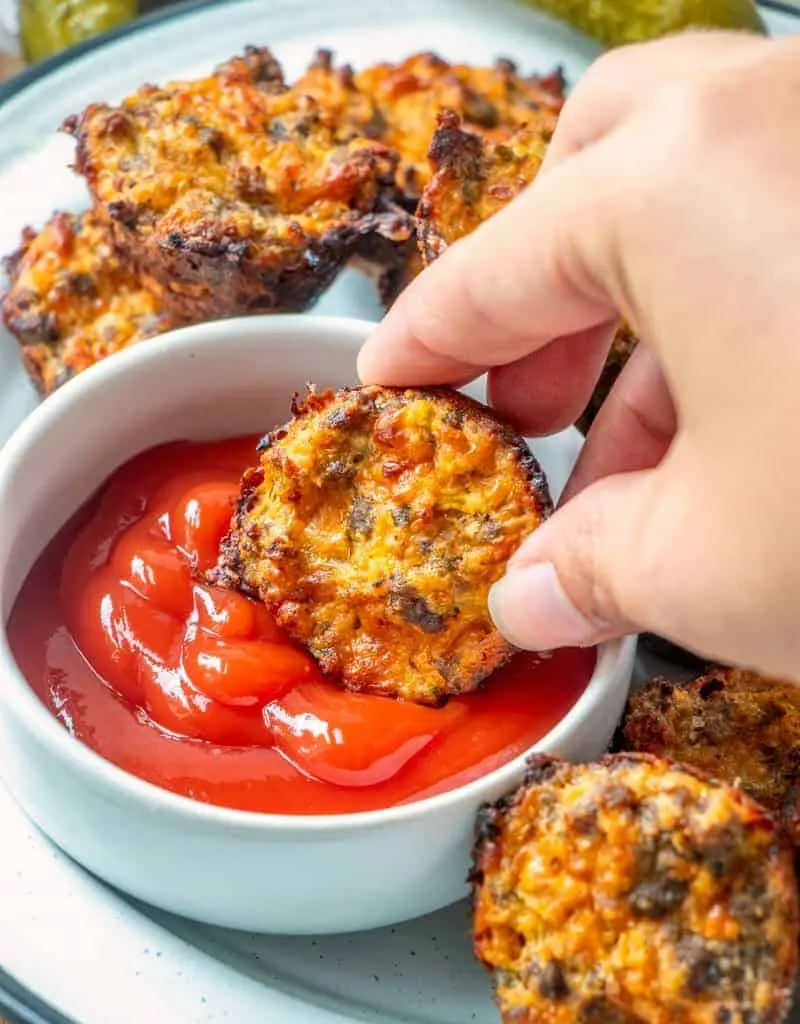 Credit: masonfit.com
Have you crossed cheeseburgers off your diet plan? Well, you can put them back on!
These cheeseburger bites are pretty delicious. They have all of the taste of a regular cheeseburger, without all the calories and carbs.
You and your kids will love popping them in your mouths. And a bonus? They're not as messy either.
Making them is super easy too. Just mix some browned beef, breadcrumbs, egg whites, and cheese.
And we can't forget the condiments either… what would a cheeseburger be without the condiments? Add ketchup, mustard, and dill pickles to your ground beef mixture.
Then place in your oiled mini muffin pan. You want to make sure you use a mini muffin pan, not a regular muffin pan to ensure better portion control. You can find a good quality BPA free non-stick pan here.
Bake for about 25 minutes and they're done. If you're looking for something to serve them with, you can try some zucchini fries.
Now do keep in mind that these cheeseburger bites contain ground beef. Since beef has a high carbon footprint, you may want to eat these less often or make them using ground chicken or ground turkey.
Per Serving:
Calories: 48
Fats: 1.3g
Protein: 6.8g
Carbs: 2.3g
6. Life-Changing Chicken Salad Bites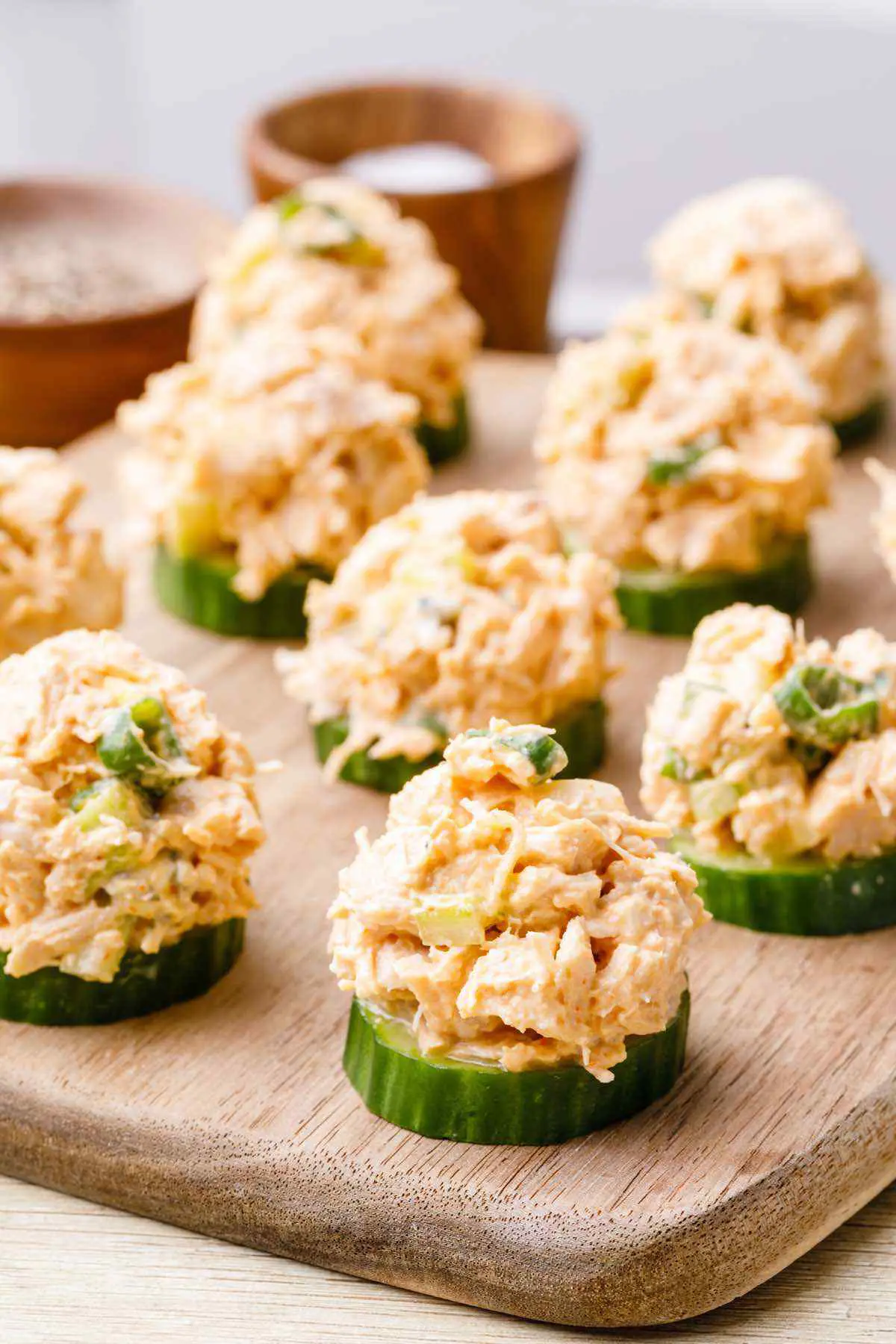 Credit: healthysubstitute.com
Do you love chicken salad? Then you'll love these bites.
These bites are just plain scrumptious. The tender, juicy chicken combined with the creamy dressing and the fresh diced celery is a party in your mouth.
But, unlike chicken salad sandwiches, they won't leave you in a carb coma. That's because you are using cucumber slices, not bread as your "sandwich". That's a little food hack that will make your diet a lot healthier!
The cucumber adds a nice crunch and cleanses your palate too. And Frank's red hot sauce adds a nice kick that you don't expect of chicken salad.
These make pretty amazing snacks, but they would also serve as nice appetizers too.
Per Serving:
Calories: 91
Fats: 4.1g
Protein: 11.5g
Carbs: 1.6g
Sugar: 0.7g
7. 3-Minute Ketogenic Blueberry Mug Cake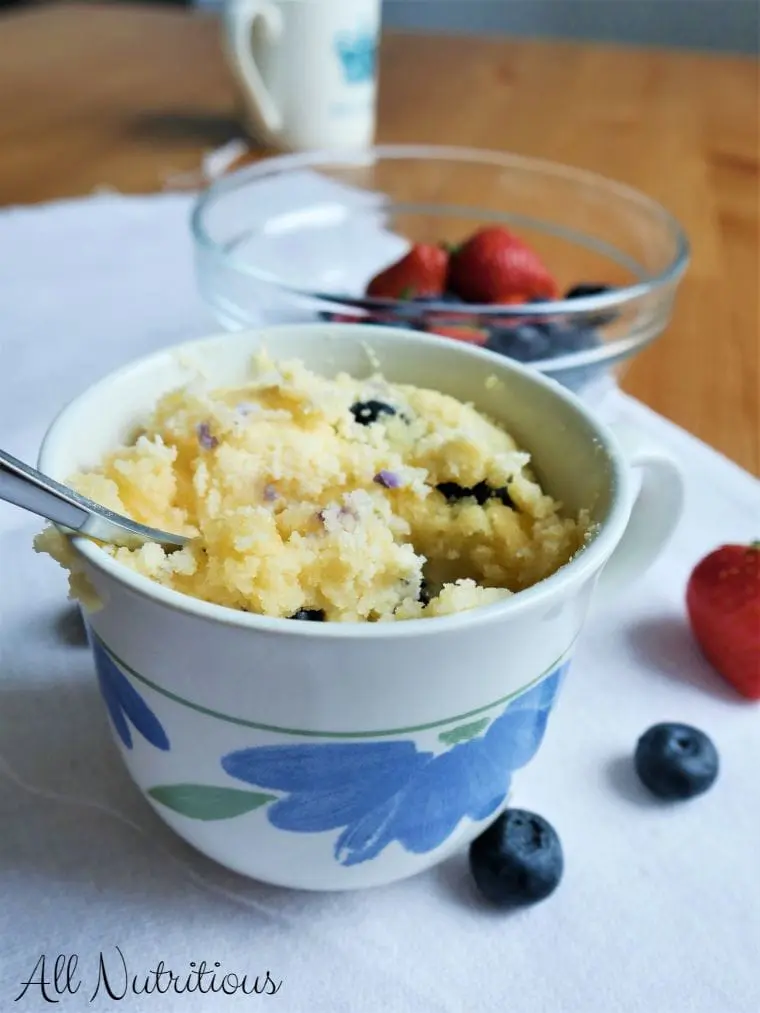 Credit: allnutritious.com
Sometimes, let's face it, you want a cake as a snack. And who can blame you- after all you're only human.
But what do you do when you crave a healthy cake, but don't have the time to make one? Make my 3-minute ketogenic blueberry mug cake!
It's pretty easy to make. And it is pretty good for portion control.
You just make your cake and eat it. No pesky leftovers lying around to tempt you.
And this cake doesn't disappoint. It's nice and moist and bursting with blueberry flavor. The fresh lemon juice adds a nice tartness that balances out the sweetness.
Besides being high in protein, they are also low carb. One entire mug cake contains only 10.2 grams of net carbs.
The secret to it being so low in carbs is that you use coconut flour instead of regular flour. Coconut flour has way fewer carbs than regular flour.
It also contains medium-chain triglycerides that may help you lose weight. And since coconut flour is super absorbent, a little goes a long way. If you'd like to try some, be sure to stock up on some here.
Per Serving:
Calories: 276
Fats: 20g
Protein: 10g
Carbs: 14g
Fiber: 3.8g
Sugar: 6.1g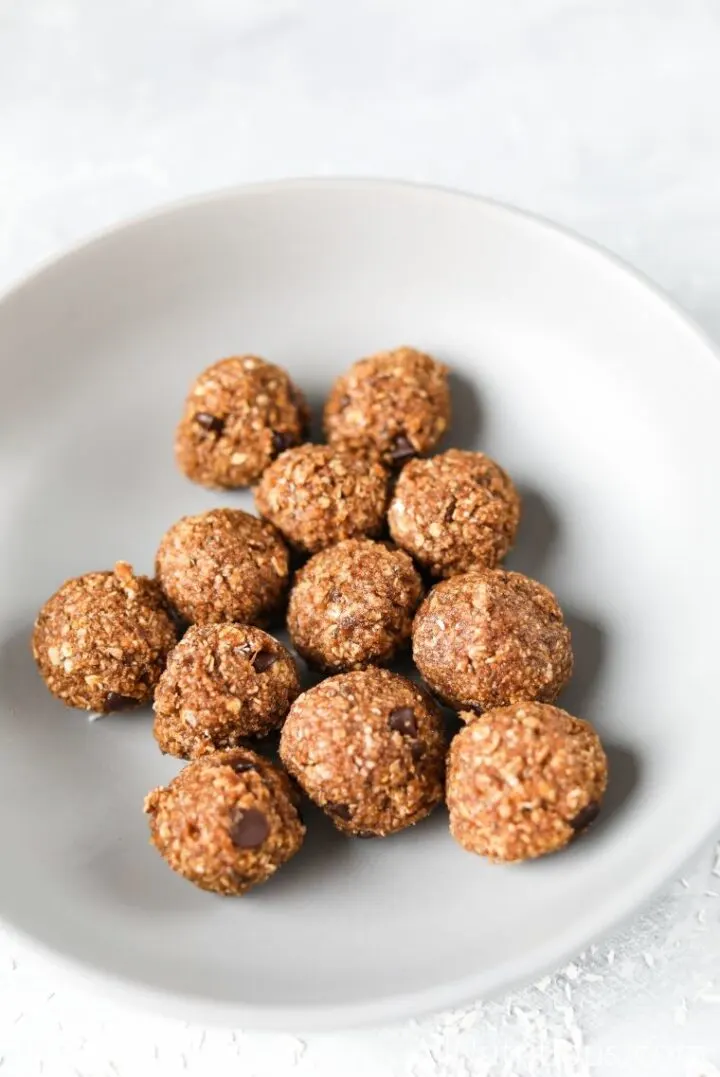 Credit: allnutritious.com
When you're craving for a dessert or a quick snack that's sweet but still has protein in it, these banana protein balls are perfect.
Naturally sweet, moist, chocolatey and yummy. They go well with a cup of coffee or tea.
The beautiful thing about these is that you can pack them up and store in the fridge for a few days! That will keep the whole family satisfied for days.
Per Serving:
Calories: 64
Fats: 2.3g
Protein: 3.3g
Carbs: 8.6g
Fiber: 1.5g
Sugar: 2.7g
9. Apple Tuna Bites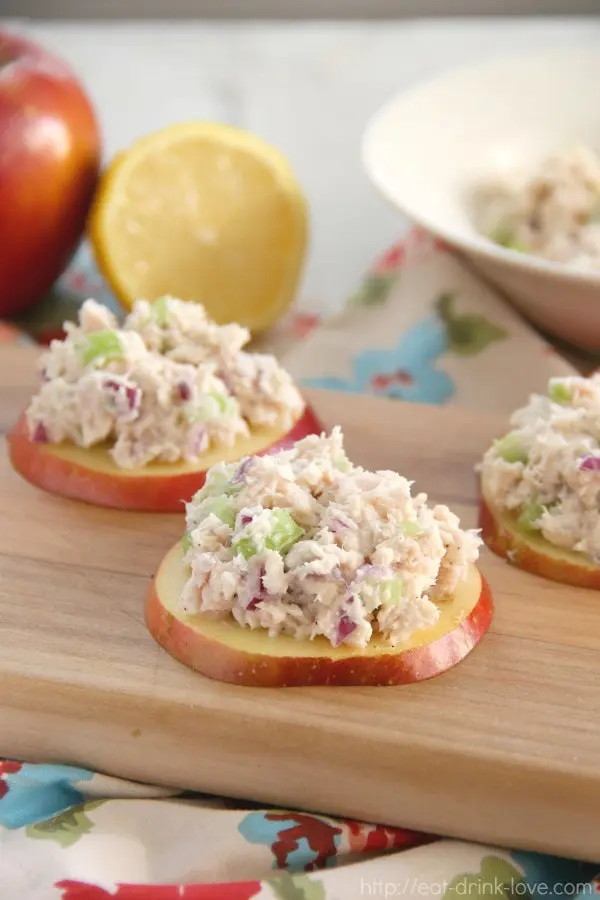 Credit: eat-drink-love.com
Do you love tuna salad sandwiches, but want to skip all the carbs? Then, try these apple tuna bites!
These bites are creamy and juicy and just plain delicious. They are a party in your mouth.
Instead of using bread to make these bites, you use apple slices. These not only cut down on the carbs, but they add a nice freshness and crunch to the bites.
The Greek yogurt adds a nice creaminess, while the red onion adds some brightness and extra sweetness.
And the lemon juice adds some tartness to balance out the sweetness of the apple slices and red onions.
Besides being delicious, they are packed with protein, a whopping 42 grams of protein. So, they make a pretty tasty post-workout snack.
Or a nice snack to serve to your growing kids.
Per Serving:
Calories: 377
Fats: 11g
Protein: 42g
Carbs: 26g
Fiber: 6g
Sugar: 18g
10. Keto Sausage Cream Cheese Pinwheels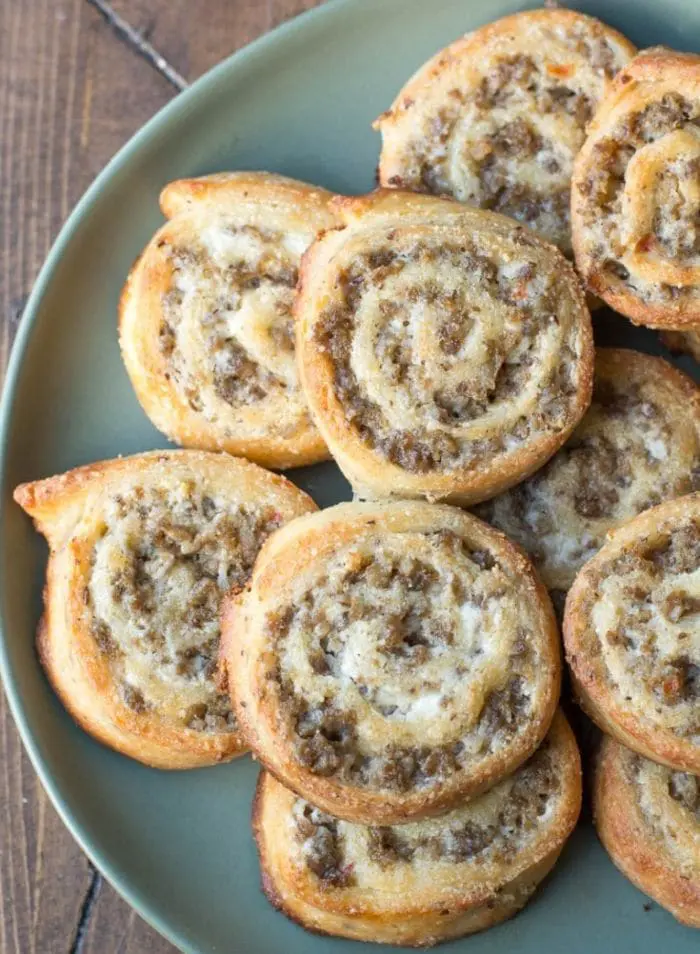 Credit: thebestketorecipes.com
What's not to love about pinwheels? Everything but the carbs that is.
Especially when you're trying to lose weight. The carbs give you a high, then a crash…then you just keep wanting more and more.
These pinwheels have plenty of protein, but very few carbs because you use a fathead style dough to make them.
Fathead dough is simply a keto dough made of cream cheese, low carb flour, mozzarella cheese, and an egg.
Though for this dish, you won't be using an egg as a binder. You'll be using ground flaxseed instead which you can find here.
These pinwheels are pretty tasty and are perfect for pulling apart. The cream cheese adds a nice creaminess and flakiness.
You'll be using breakfast sausage as your filler. But to change things up, you can use Italian sausage instead.
Per Serving:
Calories: 203
Fats: 16.5g
Protein: 12.4g
Carbs: 2.7g
Fiber: 0.6g
11. Taco Pinwheels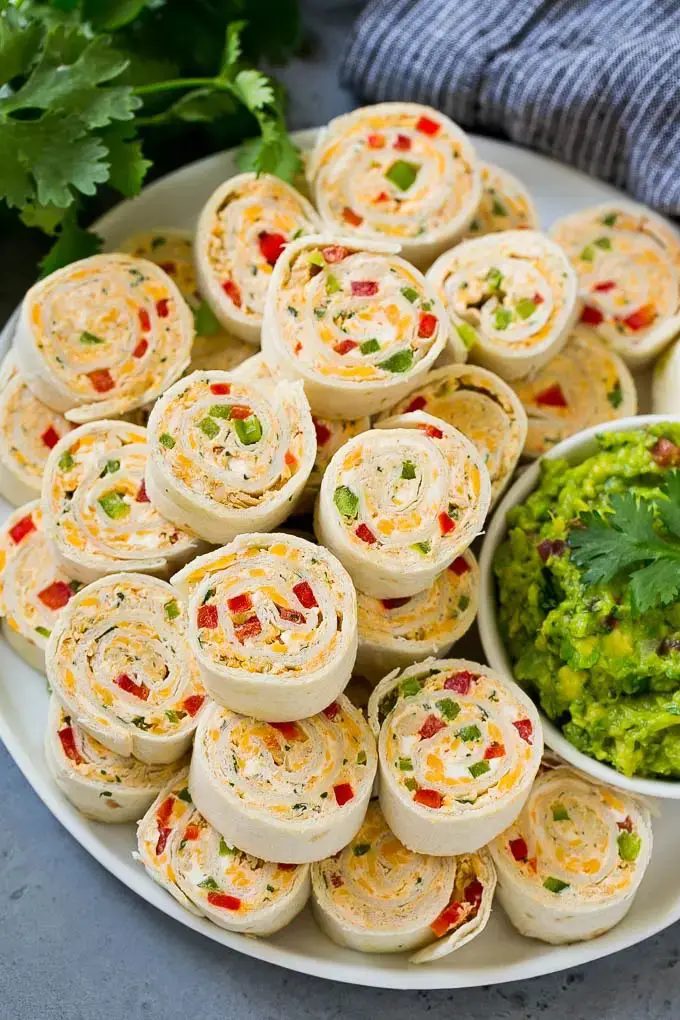 Credit: dinneratthezoo.com
Are you in the mood for some Mexican food? Then, definitely give these pinwheels a try!
They're as beautiful to look at as they are to eat. The cream cheese and cheddar cheese add a nice creaminess.
Meanwhile, the red and green bell peppers add freshness and crunch, beautifully complementing the tender pieces of chicken.
If you're not a fan of bell peppers, that's okay. Feel free to change it up with other Mexican inspired fillings like green chilies or corn.
These taco pinwheels are great just the way they are. But if you like, you can serve them with a side of guacamole or salsa. Yum!
Per Serving:
Calories: 244
Fats: 16g
Protein: 12g
Carbs: 2g
Sugar: 1g
12. Baked Cheddar Parmesan Crisps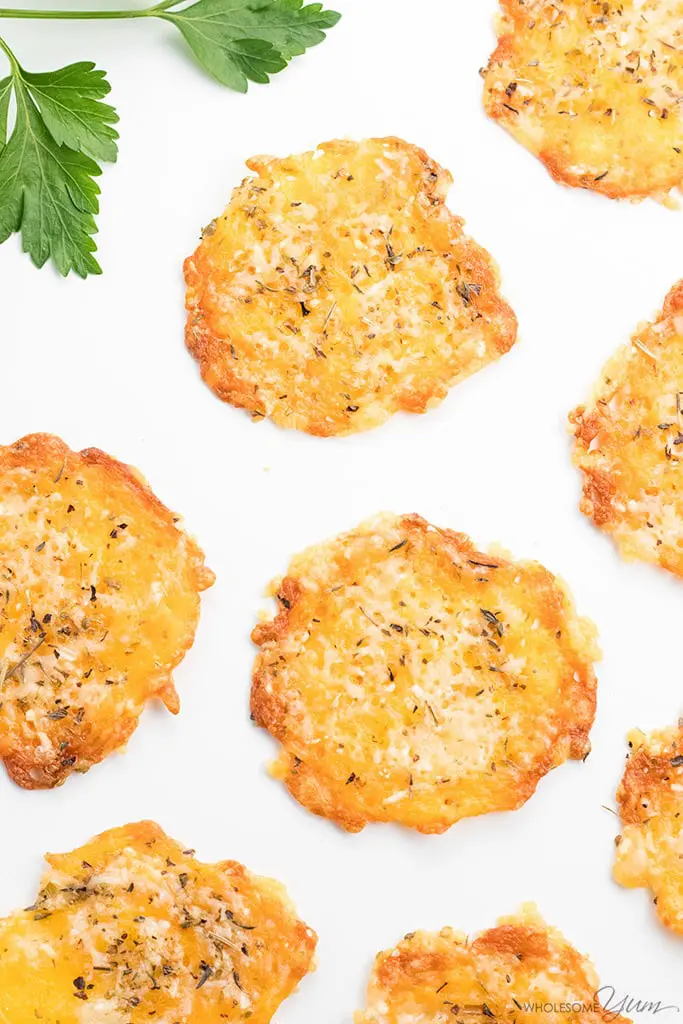 Credit: wholesomeyum.com
I'm a fan of potato chips, as I'm sure most of you are too. They are so tasty- and just plain addictive.
But, they contain hardly any protein. A 150 calorie serving contains only 2 grams of protein.
And a whopping 13 grams of net carbs. And since plain carbs aren't filling, you just want more and more; it's no wonder you pack on the pounds.
These parmesan crisps are nice and crispy and have a nice cheesy taste. In fact, I prefer them to regular chips.
And the best part is they contain a whopping 11 grams of protein. And only 1 gram of net carbs.
So, you feel satiated and don't scarf down a whole pile of them. But what I like most about these crisps is that you only need 3 ingredients to make them: parmesan cheese, cheddar cheese, and Italian seasoning.
Now that is way fewer ingredients than you see in your commercial potato chips! So, all of the good stuff, and none of the bad stuff.
Per Serving:
Calories: 152
Fats: 11g
Protein: 11g
Carbs: 1g
Fiber: 0g
Sugar: 0.1g
13. Fudge Brownie No-Bake Protein Balls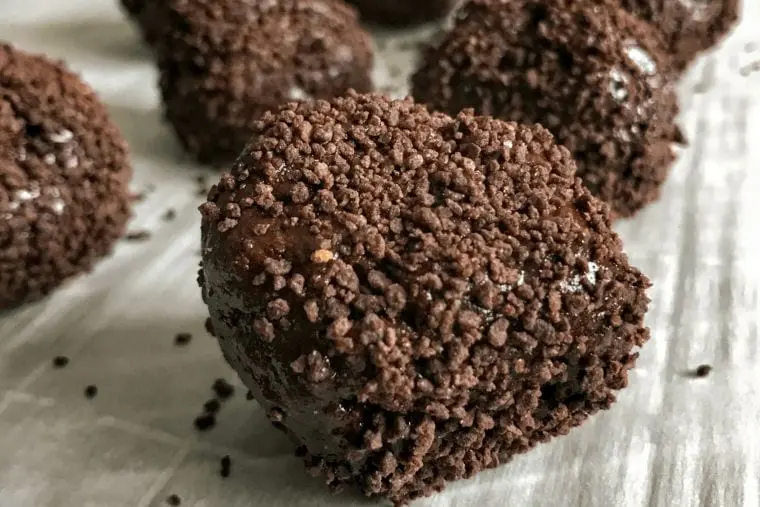 Credit: masonfit.com
Who says you can't eat sweets and still lose weight? With these protein balls, you can satisfy your sweet tooth without ruining your diet.
These protein balls are chocolatey and moist, and just plain decadent. You won't believe that they are good for you.
The secret to keeping them healthy is to use dark cocoa powder and dark chocolate chips. These contain less sugar than milk chocolate.
They also contain more antioxidants, which you need to fight off free radicals. Free radicals are those nasty molecules that can lead to cancer.
And to give these protein balls that boost of protein that will keep you satiated, you add vanilla protein powder.
Per Serving:
Calories: 115
Fats: 3.1g
Protein: 9.8g
Carbs: 11.6g
14. Baked Ham and Egg Cups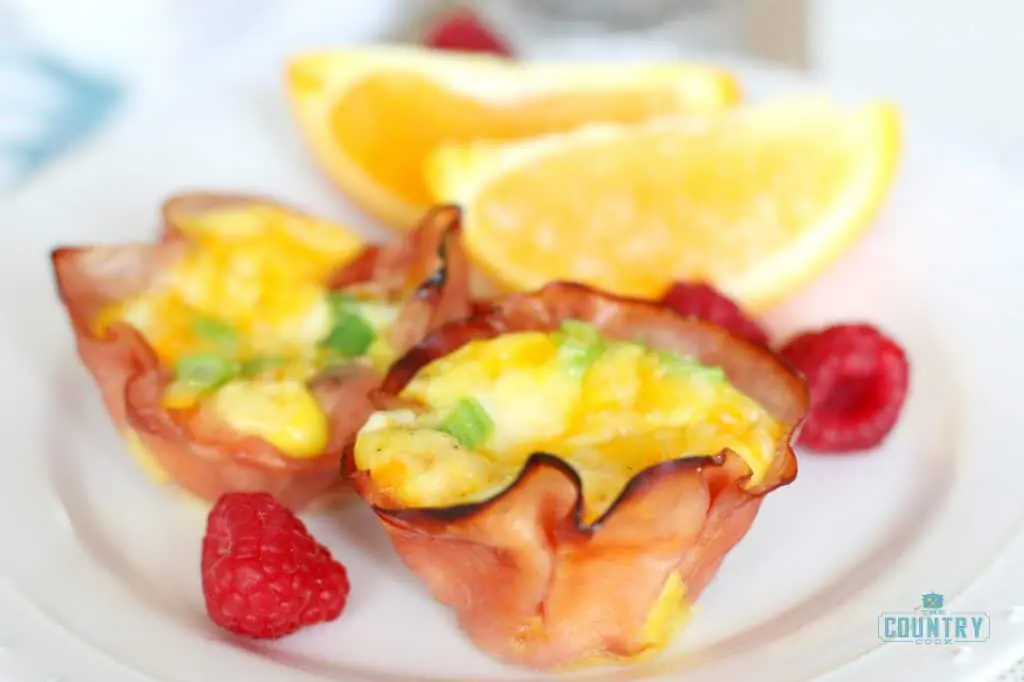 Credit: thecountrycook.net
Ham and eggs go well for breakfast. And frankly, as a nice filling snack.
After all, would you like to eat a carb-heavy doughnut that only makes you crave more and more? Or would you like a snack that tastes like a meal, so you feel satisfied?
Besides tasting like a meal, these ham and egg cups are packed with not only protein but fat. So, they are sure to keep you satiated, and away from those tempting donuts at work.
The eggs are nice and fluffy and stuffed with gooey cheese and fresh green onions. And the ham is nice and crispy on the side.
And if you'd like to change things up, feel free to add diced tomatoes or even crispy bacon.
Per Serving:
Calories: 367
Fats: 25g
Protein: 30g
Carbs: 1g
15. Baked Tofu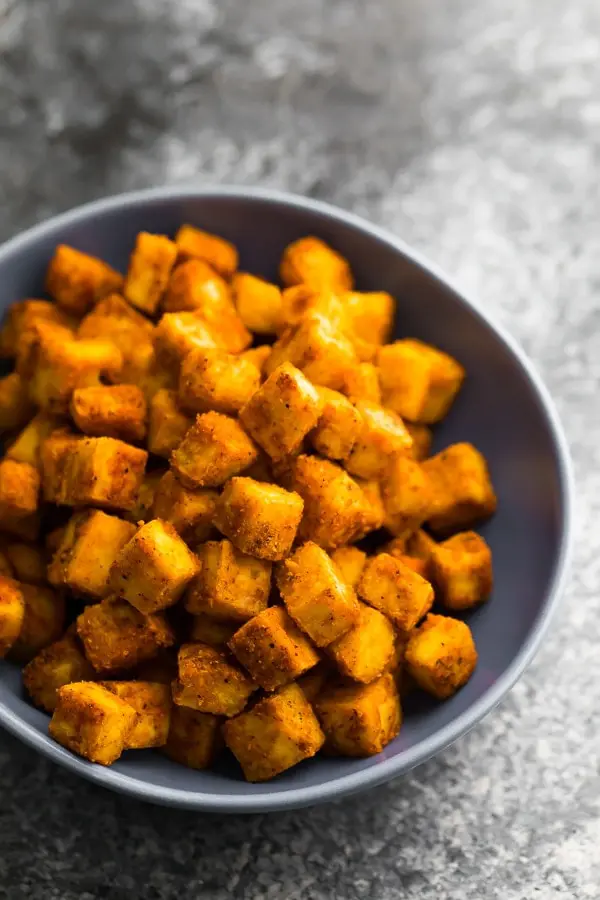 Credit: sweetpeasandsaffron.com
Are you vegan, or just wanting to add more plant-based snacks to your diet? Then, you'll enjoy this snack.
Tofu has a reputation for being bland. But, this tofu is anything but bland. The seasoning gives the tofu a savory flavor.
Meanwhile, baking the tofu transforms it from rubbery to chewy. It is almost crispy, so they are perfect for popping in your mouth.
And if you like it spicy, feel free to add some chili peppers for a nice kick.
Per Serving:
Calories: 103
Fats: 5g
Protein: 7g
Carbs: 6g
Fiber: 0g
Sugar: 1g
16. Zucchini Bites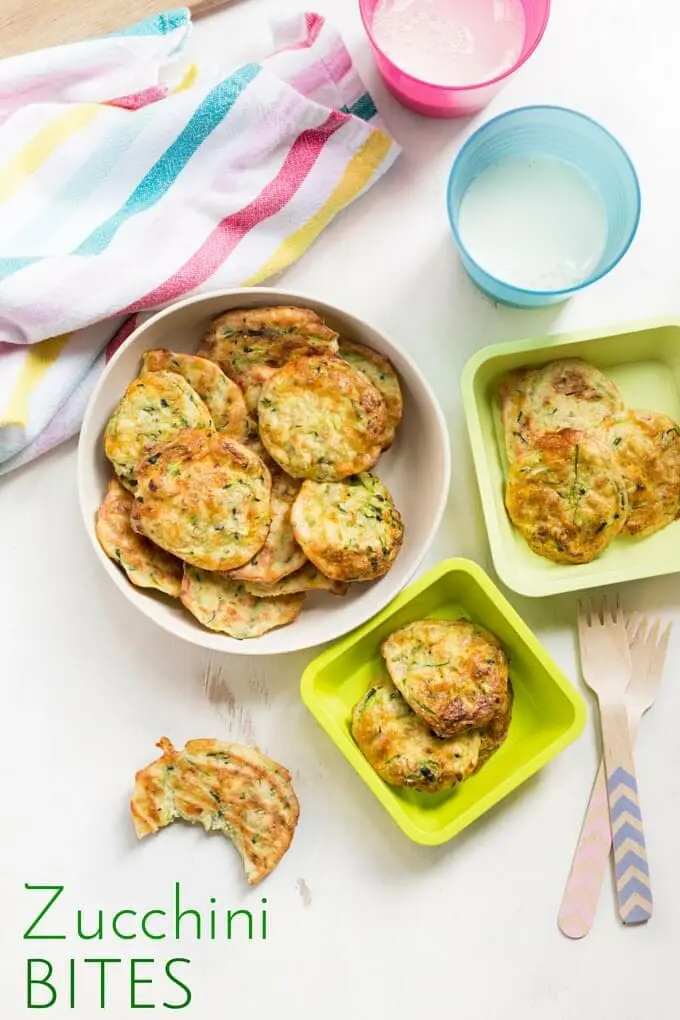 Credit: healthylittlefoodies.com
Wondering how to get more veggies into you or your kids' diet? Try these zucchini bites.
They are nice and cheesy and have zucchini hidden, ahem, mixed into them. And aside for the cheese and zucchini, you just need 3 other ingredients: oat flour, Italian seasoning, and eggs.
Besides being a good source of protein, eggs are also an excellent source of selenium. Selenium is a mineral that is good for the brain and even fertility.
These bites are excellent for meal prep. In under 30 minutes, you'll have 20 bites to pack for you and your kids' snacks.
And to make sure they stay nice and fresh, put them in glass food containers like these. They seal the food better than the plastic ones, so it stays fresh longer.
Zucchinis are also cheaper, so this is a great way to eat healthier on a lower budget.
Per Serving:
Calories: 29
Fats: 2g
Protein: 2g
Carbs: 1g
Fiber: 1g
Sugar: 1g
17. Pumpkin Spice Latte Protein Bars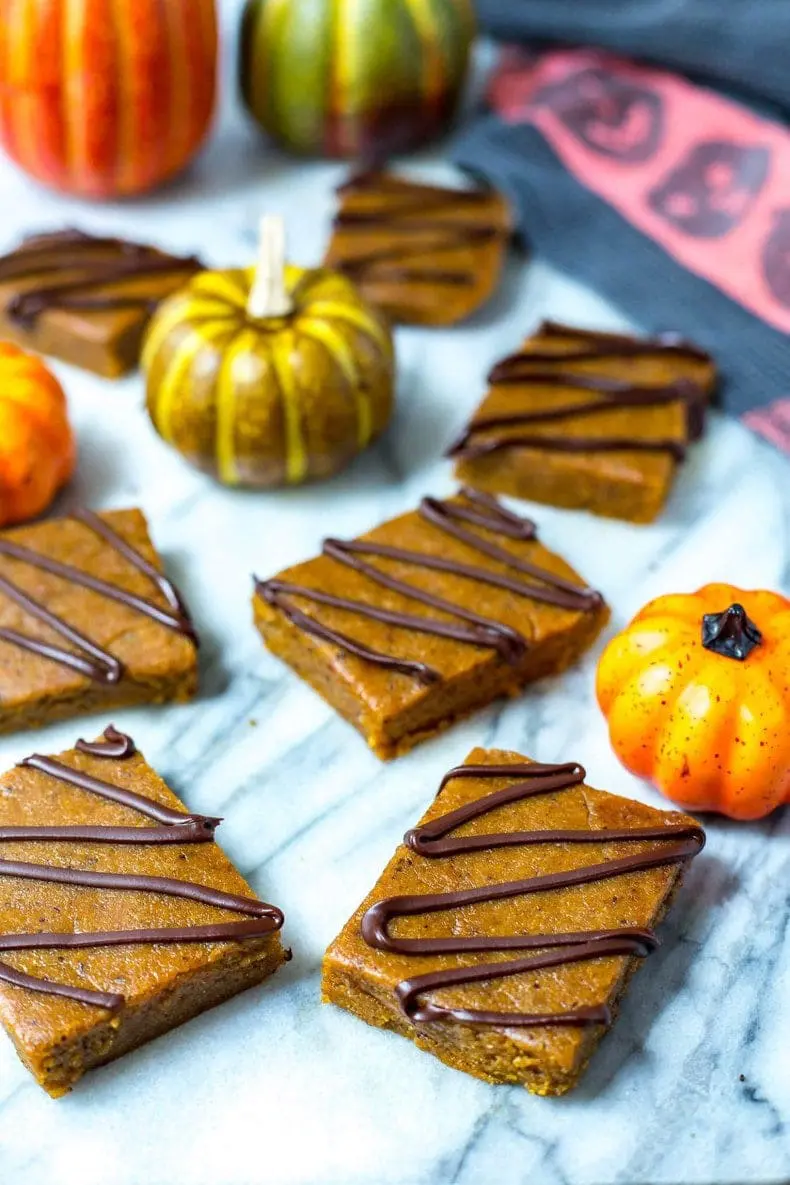 Credit: thegirlonbloor.com
Winter is finally here. So, now is the time for cinnamon and spice, and everything nice.
These protein bars are delish. The tahini and pumpkin puree add moistness, while the honey adds sweetness.
And the pumpkin spice simply warms you up and reminds you of fall. The chocolate drizzle on top finishes the protein bars beautifully.
They are also packed with protein because of the whey protein. This recipe uses vanilla whey protein, which you can find here.
Besides the protein, they are also packed with vitamin A. In fact, one bar provides almost 80% of your daily vitamin A needs. How about that for a power snack?
Per Serving:
Calories: 277
Fats: 11g
Protein: 19g
Carbs: 28g
Fiber: 3g
Sugar: 9g
18. Mini Buffalo Chicken Salsa Dip Jars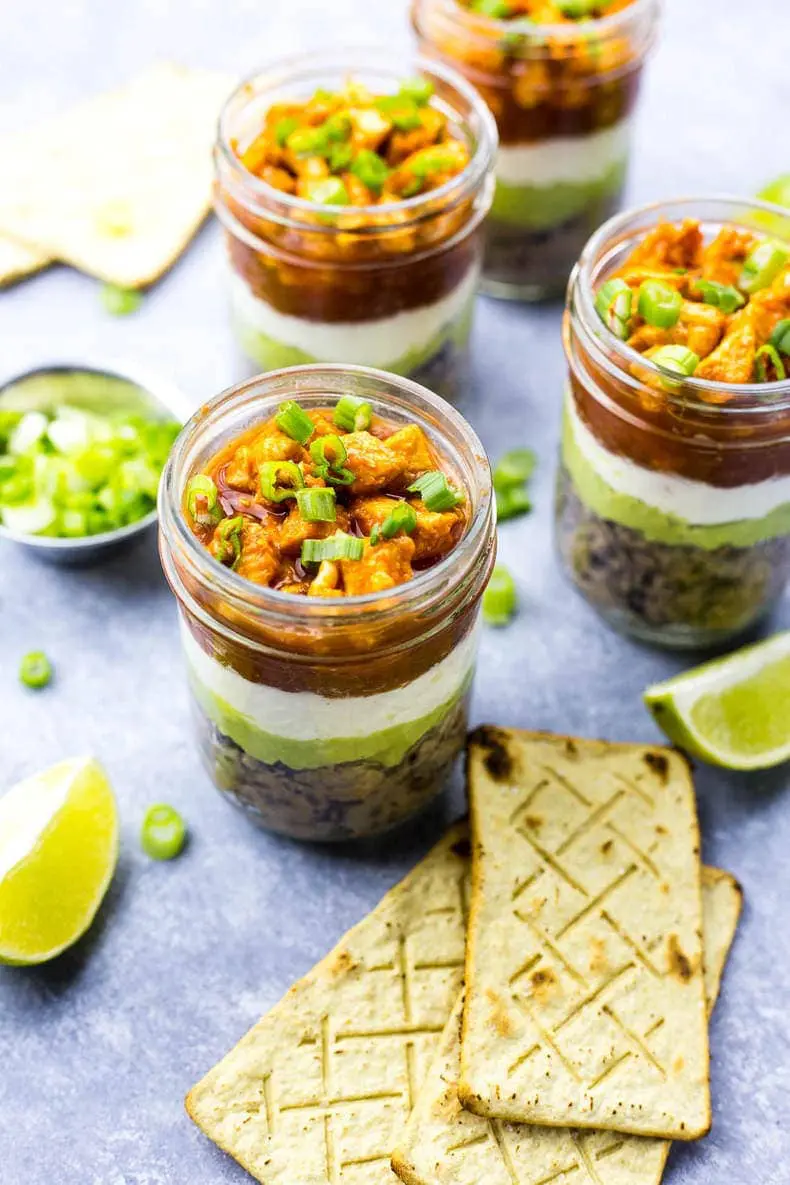 Credit: thegirlonbloor.com
You've heard of layering up veggies in a jar. How about layering up your protein in a jar?
These dip jars have layers of protein-packed foods and layers of fat-packed foods such as avocado. So, they are sure to keep you satiated.
It's a layer of refried beans, followed by a layer of guacamole, followed by a layer of sour cream, followed by a layer of spicy Buffalo chicken. All topped with some thinly sliced green onions.
And it so tasty and yet so satisfying because of all the protein and fat.
Once you make them, no need to dump the jar. Just eat directly from the jar with a spoon, or dip your favorite veggies in it.
Per Serving:
Calories: 278
Fats: 13g
Protein: 20g
Carbs: 19g
Fiber: 6g
Sugar: 2g
19. Healthy Chubby Hubby DIY Protein Bars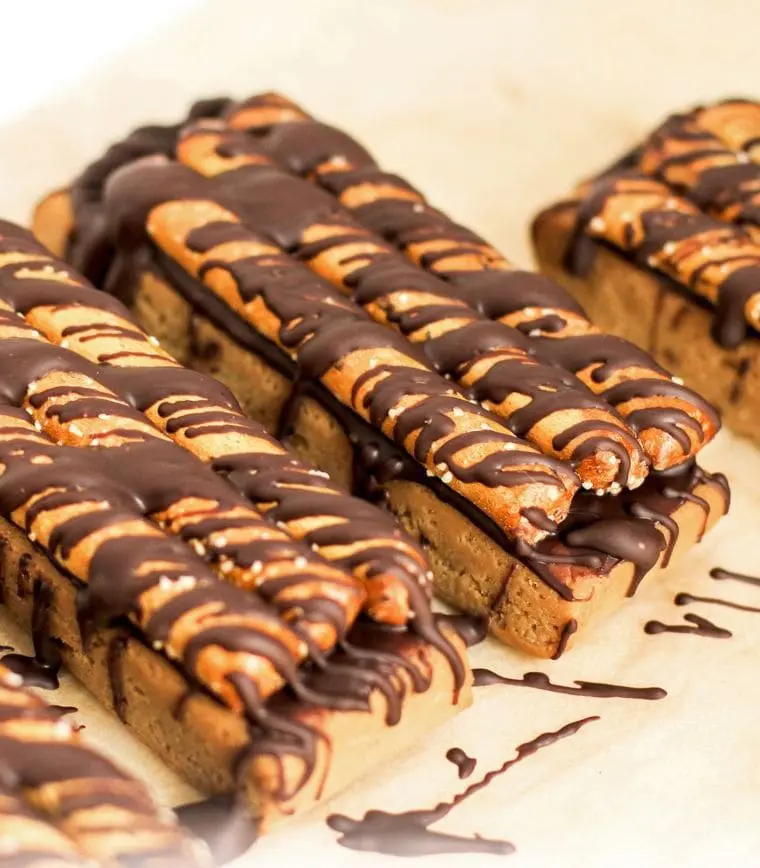 Credit: dessertswithbenefits.com
Are you looking for something salty and sweet? Then, give these protein bars a try.
They have a nice fudgy texture and peanut taste-perfect if you love peanuts. All topped with pretzel rods drizzled with melted bittersweet chocolate.
And they are packed with protein- 18 grams of protein. So, they make the perfect snack on the go.
Now, you will need brown rice protein powder, not regular whey powder for the batter. If you use whey protein, your dough will get really sticky and not become solid enough even after refrigerating it overnight.
Per Serving:
Calories: 250
Fats: 10.5g
Protein: 18g
Carbs: 21g
Fiber: 5g
Sugar: 4g
20. High Protein White Chocolate No-Bake Protein Bites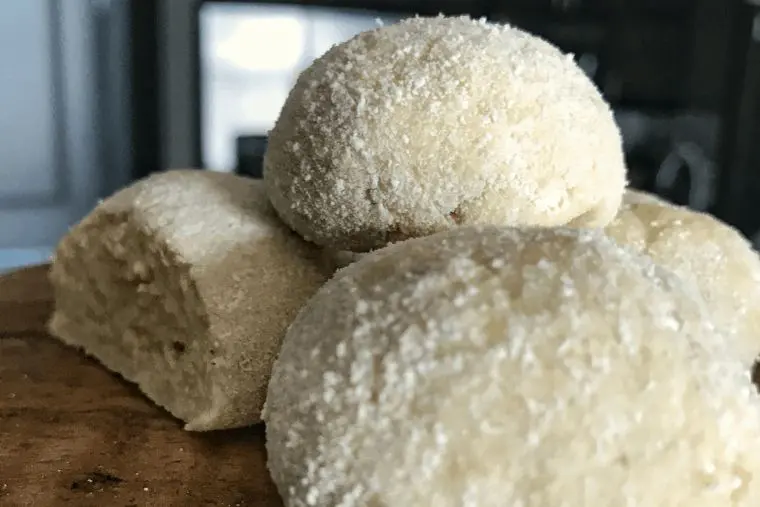 Credit: masonfit.com
Are you more of a white chocolate fan? These bites are for you.
They are soft, tender masses of white chocolate goodness. And they happen to be good for you too!
They are low in calories. So, you can have one or two and not feel guilty about it.
Per Serving:
Calories: 119
Fats: 3g
Protein: 9.6g
Carbs: 13.4g
21. Omelet Muffins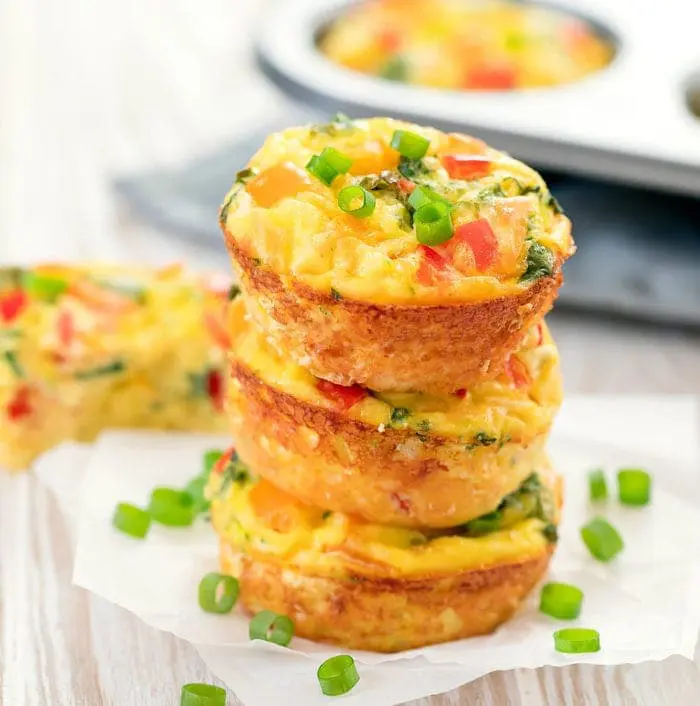 Credit: kirbiecravings.com
Wouldn't you love it if you had a portable omelet? Well, now you do-in muffin form!
These omelet muffins are as nice to look at as they are to eat.
The baby spinach, scallions, and red, orange, and green peppers add color and freshness. Meanwhile, the cheddar cheese adds richness to the muffins.
And with only 1 gram of carbs, they are perfect if you are also following a keto diet. You will definitely want to bring these healthy muffins into work.
For these muffins, you will need a non-stick muffin pan so that your omelette muffins don't stick to the pan that much. You can find a low budget BPA free muffin pan here.
Per Serving:
Calories: 93
Fats: 6g
Protein: 7g
Carbs: 1g
22. Baked Popcorn Chicken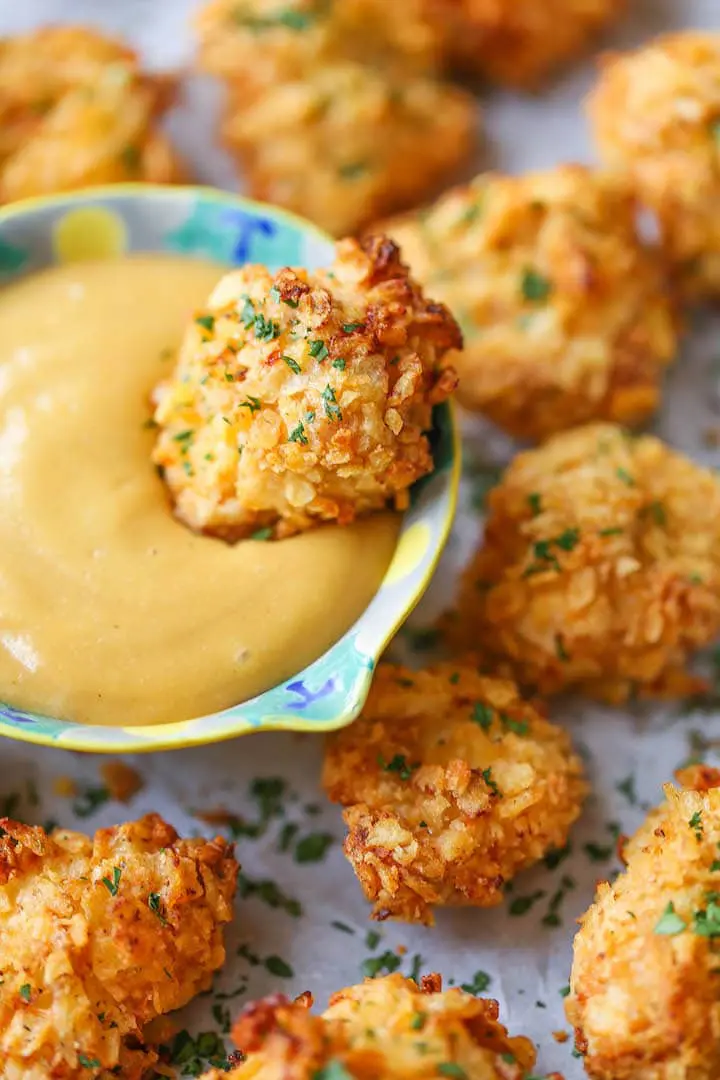 Credit: damndelicious.net
Do you love popcorn chicken, but hate how greasy they are? Then, you'll love this popcorn chicken.
They are moist on the inside and crispy on the outside. And they taste divine.
The secret to them being so crispy is that you are using potato chips as your crust. This recipe uses Sour Cream and Onion, but you can use any other flavors that you like.
This popcorn chicken goes well with a honey mustard sauce.
Per Serving:
Calories: 278.8
Fats: 16g
Protein: 21.7g
Carbs: 11.7g
Fiber: 0.8g
Sugar: 3.5g
23. Cheeseburger Tots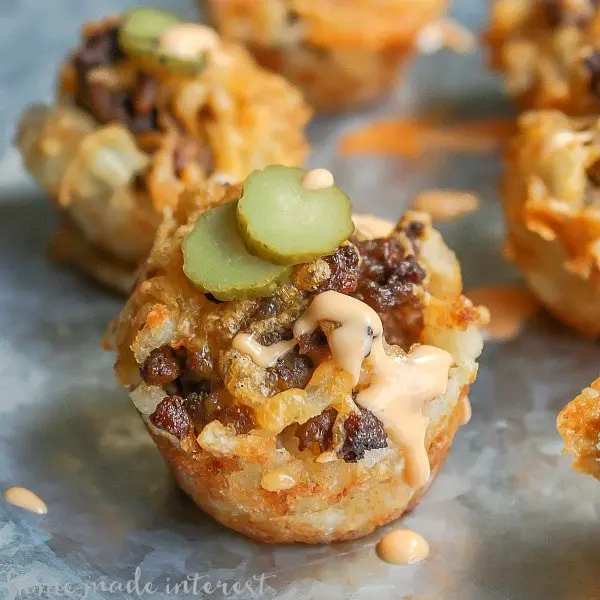 Credit: homemadeinterest.com
Want to transform your tater tots into a high protein snack? Add beef and cheddar cheese!
Eating these tots is like surrounding a cheeseburger in potato goodness. They are so yum.
And the pickles and special sauce are definitely the icing on the top. And if you like it spicy, feel free to add some green chilies on top.
Per Serving:
Calories: 241
Fats: 10g
Protein: 13g
Carbs: 25g
Fiber: 3g
Sugar: 1g
24. Swedish Cocktail Meatballs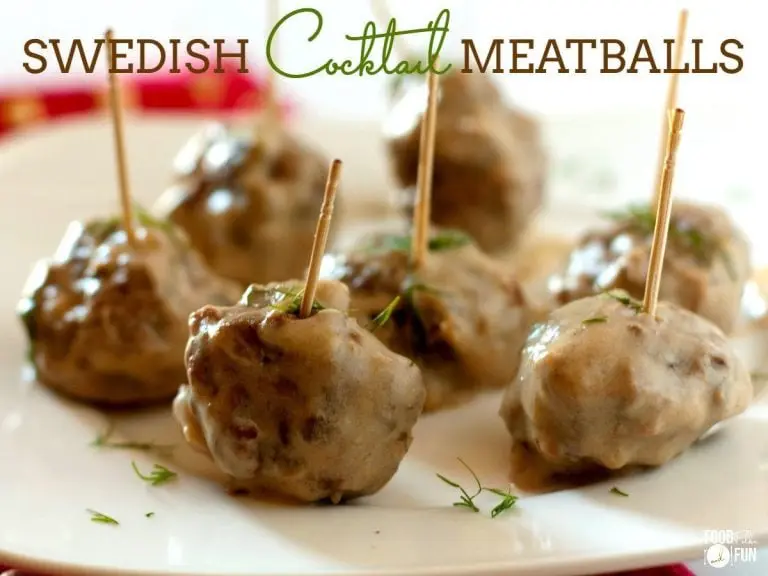 Credit: foodfolksandfun.net
Who says you can't have meatballs as a snack? Well, I'm here to say you can!
These meatballs are moist and juicy and super flavourful. And the sour cream and dill sauce bathe the meatballs in a layer of creaminess.
The secret to them being so moist and juicy is in the cooking process. They have been slow-cooked to perfection for 6 hours in a slow cooker.
Simply make your meatballs, and let your slow cooker do the cooking.
Per Serving:
Calories: 308
Fats: 20g
Protein: 18g
Carbs: 11g
Fiber: 1g
Sugar: 1g
Conclusion
Have you enjoyed any of these recipes? Which one is your favorite? Share it with your friends and family!