Adding protein to your diet to help you keep full and build strong muscle can be a breeze when you incorporate more high protein drinks into your day!
Protein drinks are a great way to add more protein to your everyday diet. Often, you don't need many ingredients.
Protein powder is one of the easiest ways to add protein to your drink. Add some frozen fruit and milk, and you're good to go!
If you prefer not to use protein powder, there are other options. Nut butter, almond milk, and yogurt are ideal choices.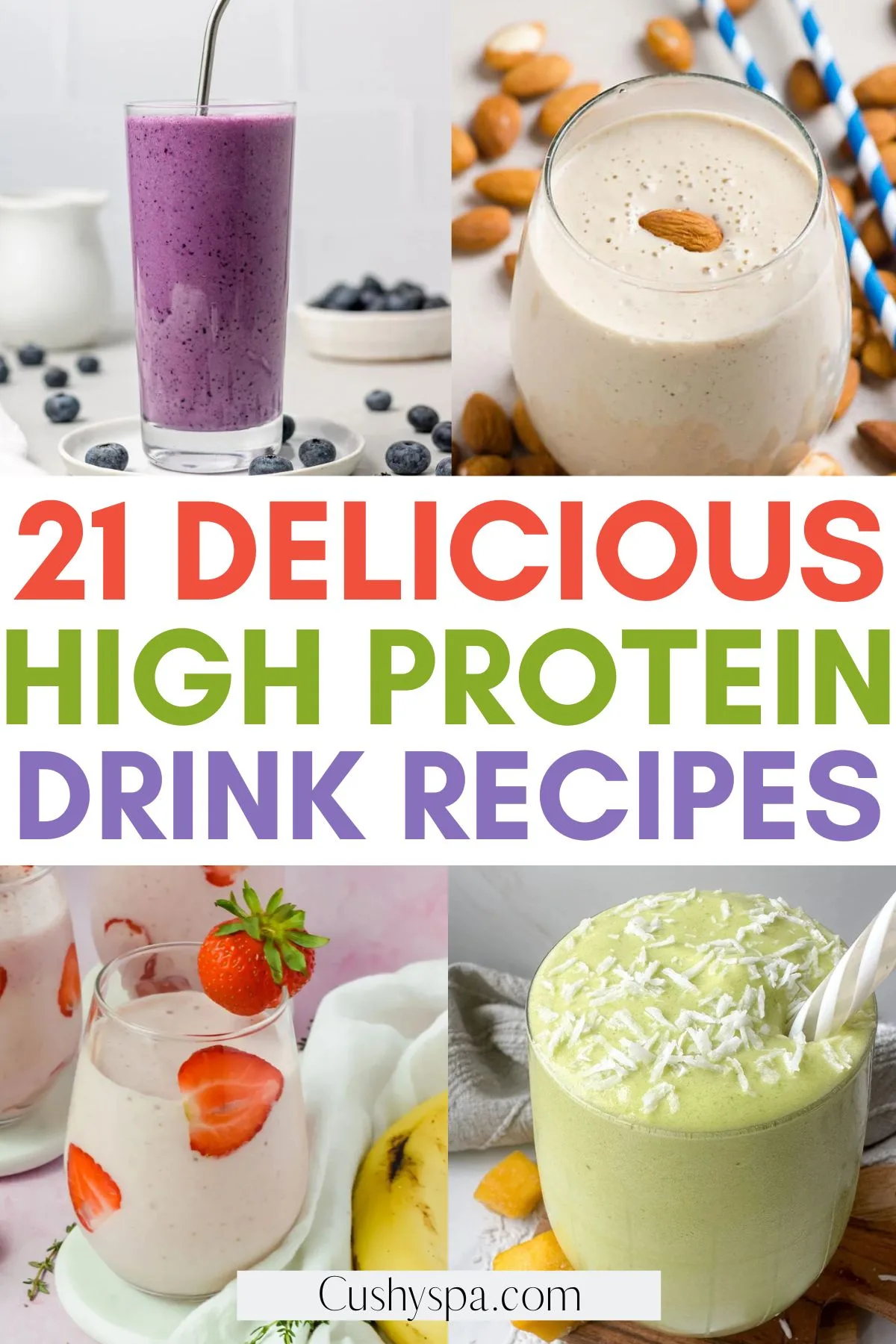 Best High Protein Drinks
You're guaranteed to find a high-protein drink you love from the selection below!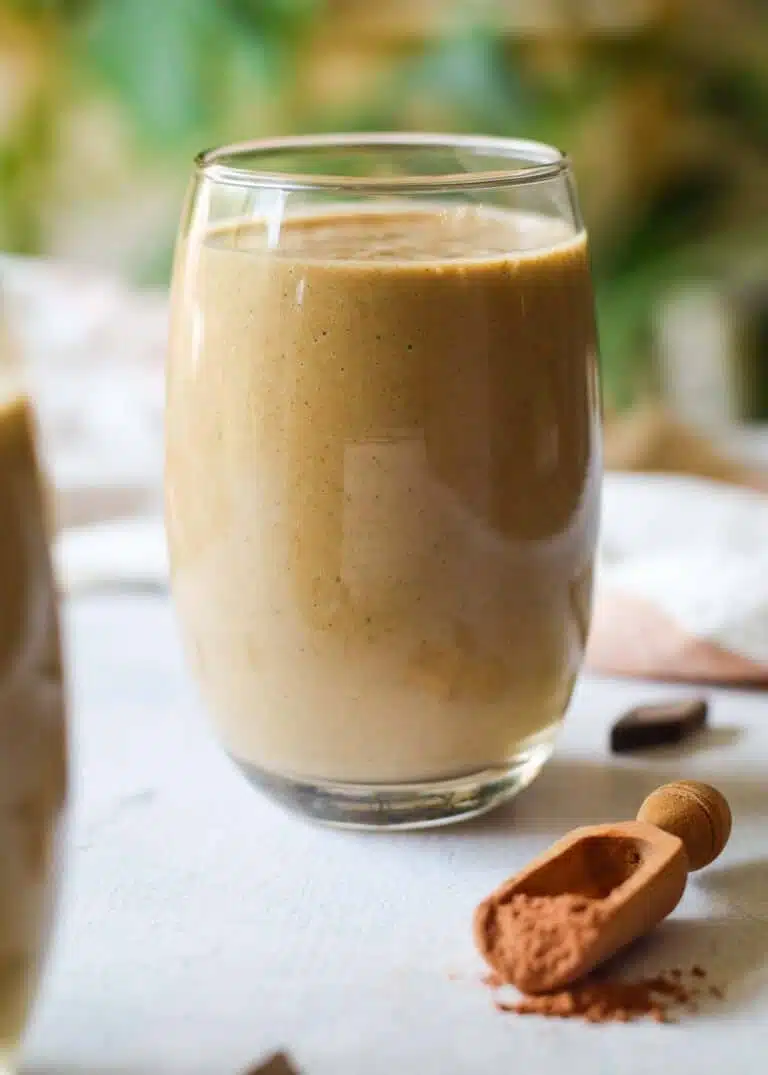 goodfoodbaddie.com
Per Serving:
Calories: 422
Fats: 23.5g
Protein: 26.7g
Carbs: 40.6g
Fiber: 11.2g
Sugar: 18.4g
You might think, "Zucchini in a drink?" This smoothie is silky smooth because of the zucchini in it.
The rich chocolate taste of your smoothie comes from raw cacao. Medjool dates provide natural sweetness.
Use any protein powder you want. You'll think you're drinking chocolate milk when you have this!
These high protein snacks would pair well with this smoothie for a protein packed meal on the go!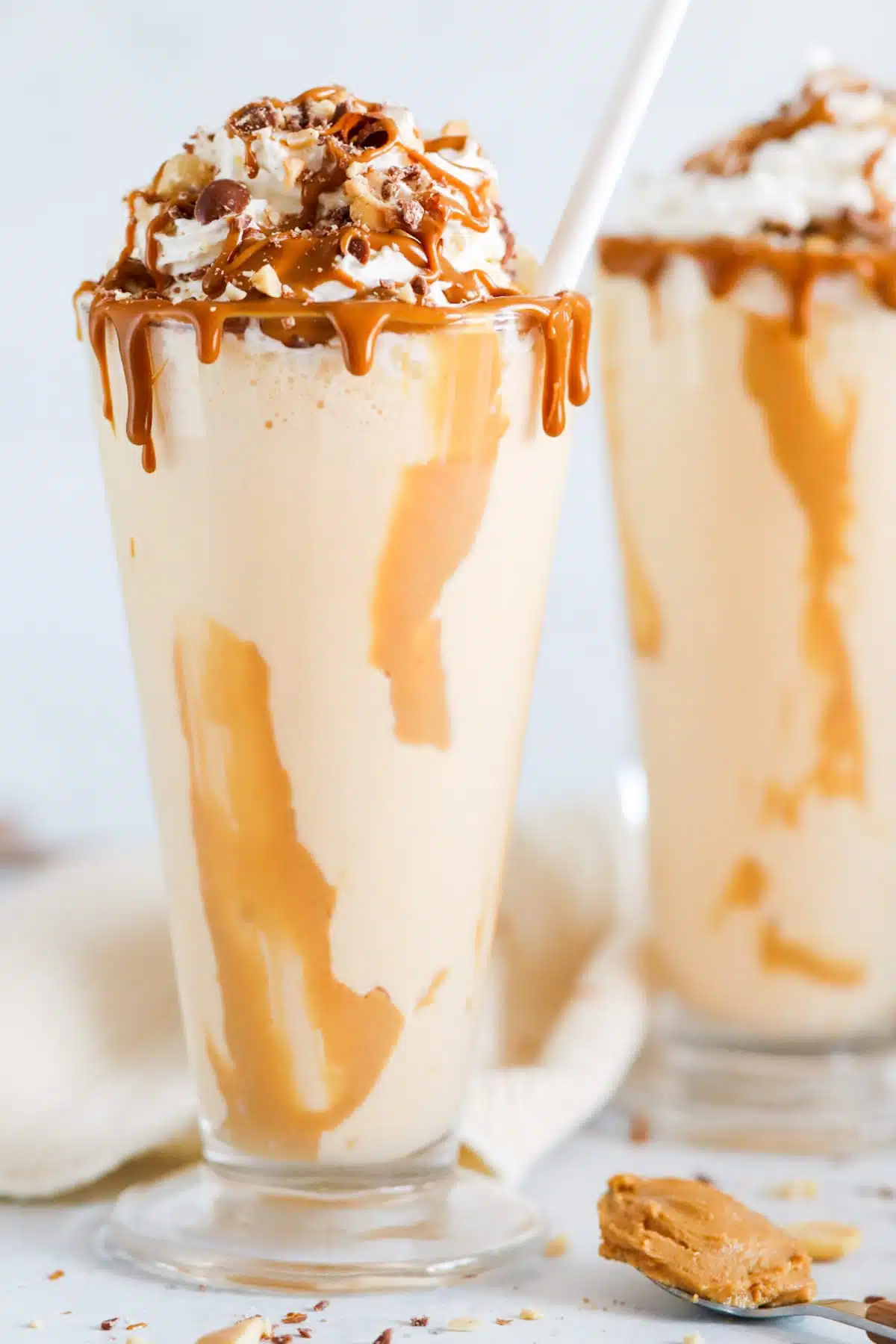 mymorningmocha.com
Per Serving:
Calories: 508
Fats: 33g
Protein: 16g
Carbs: 40g
Fiber: 3g
Sugar: 34g
You're going to need just three ingredients for your peanut butter milkshake! Your protein comes purely from peanut butter.
The other two ingredients are vanilla ice cream and milk. Full-fat milk will make it taste creamier!
Experiment with the ratios of your ingredients. If you like your milkshake thicker, add more ice cream. If you prefer it thinner, add more milk.
Drizzle melted peanut butter over whipped cream for extra nutty flavor!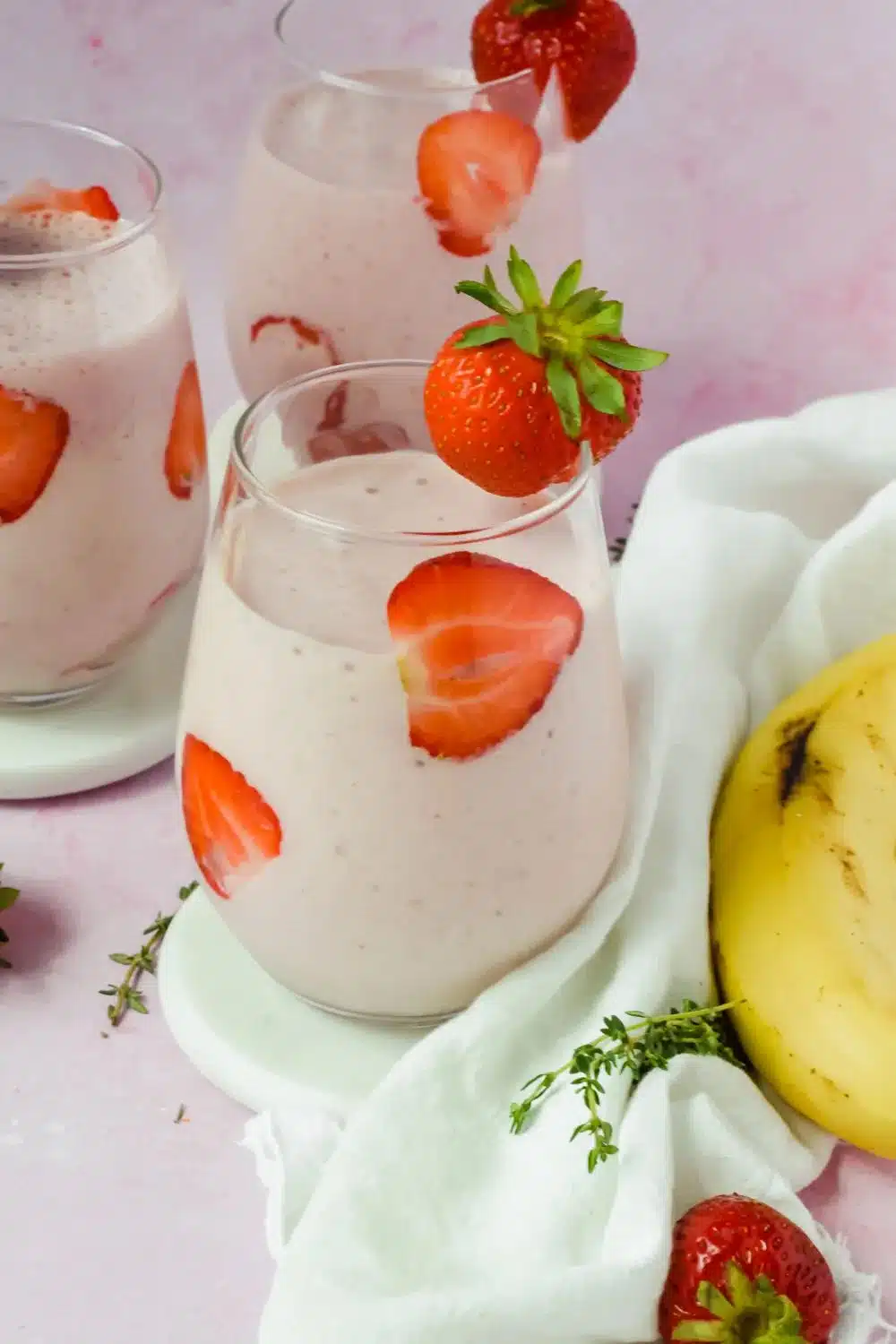 apaigeofpositivity.com
Per Serving:
Calories: 315
Fats: 7g
Protein: 19g
Carbs: 46g
Fiber: 8g
Sugar: 25g
Strawberry and banana taste so good together. So, it is a perfect option for a smoothie.
Vanilla or coconut protein powder works best with these two ingredients. If you use frozen fruits, your smoothie will be thicker and more refreshing.
Milk is the most important thing you need to make your smoothie. Use any you like. However, vanilla almond milk would work well.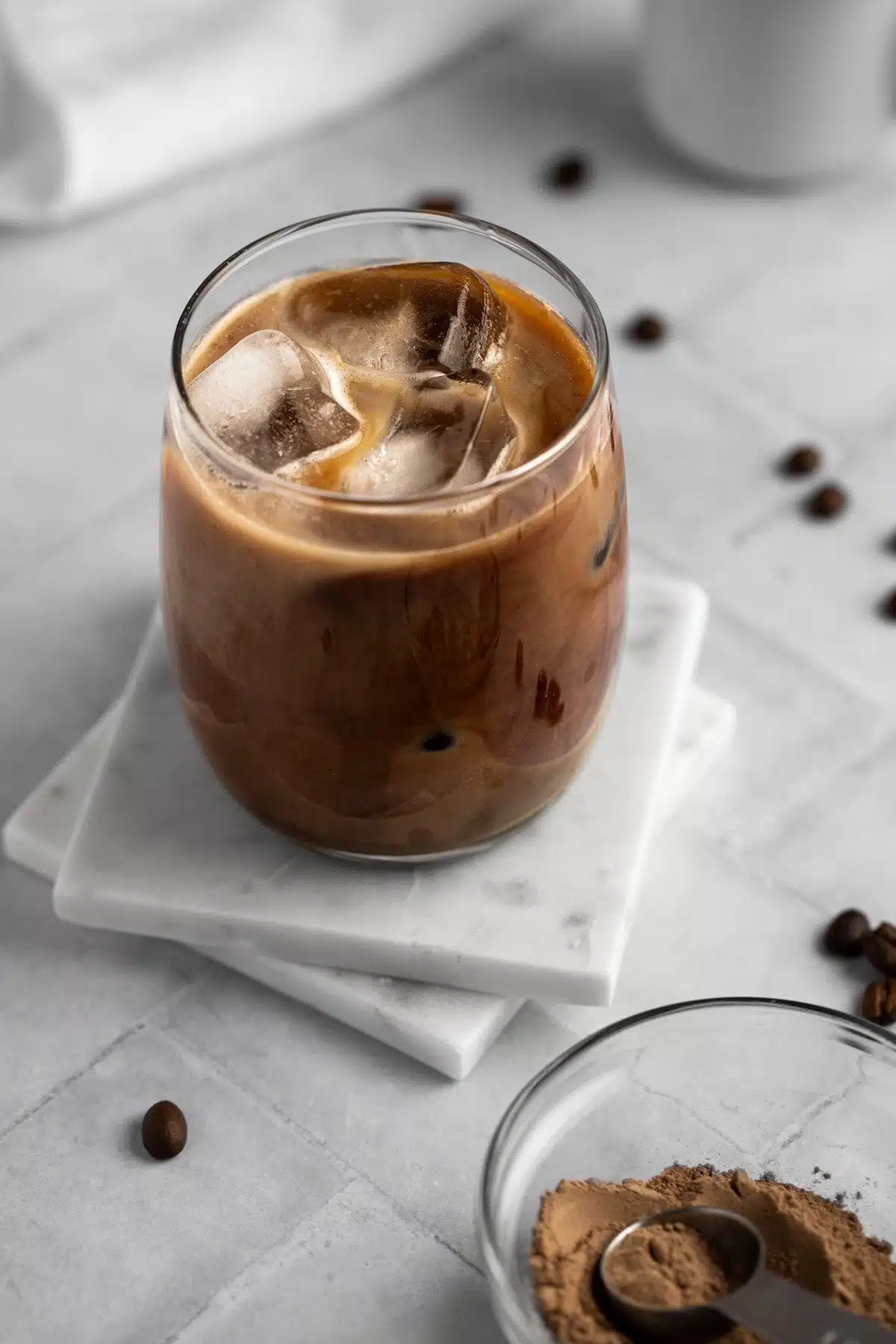 thelittlestcrumb.com
Per Serving:
Calories: 157
Fats: 2.9g
Protein: 17.3g
Carbs: 16.3g
Fiber: 0.8g
Sugar: 14.3g
Iced coffee will wake you up and get you ready for the day. In this version, cold-brewed coffee and chocolate flavors are combined.
You'll get protein from chocolate protein powder. Homemade chocolate syrup enhances your chocolate taste. It takes a little bit of work, but it's worth it!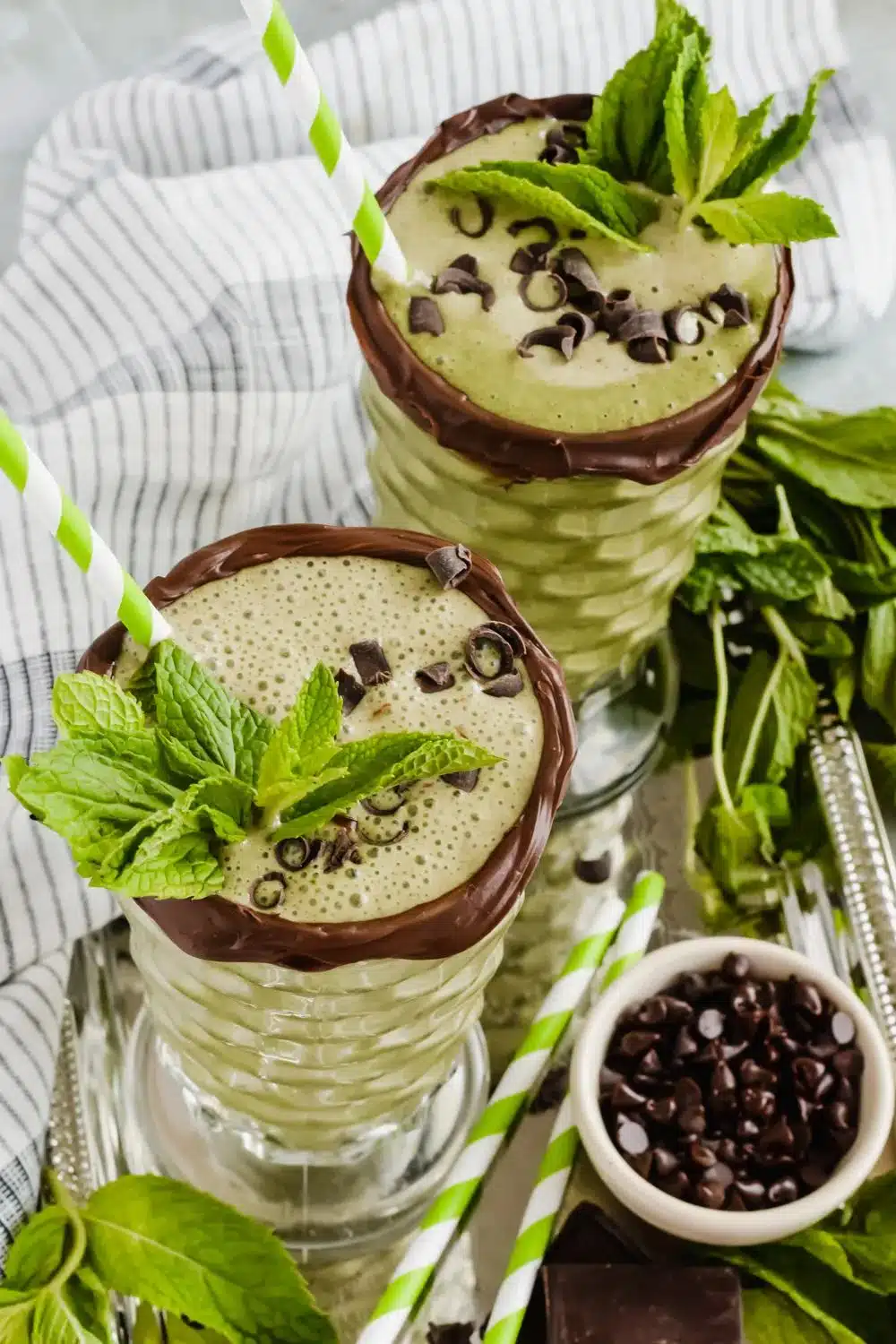 apaigeofpositivity.com
Per Serving:
Calories: 358
Fats: 10g
Protein: 27g
Carbs: 45g
Fiber: 3g
Sugar: 25g
Mint and chocolate are one perfect flavor combination. You'll find both in this yummy smoothie, tasting just like mint chip ice cream!
The secret to the vibrant green color of this smoothie is using spinach. Yes, that's right! Using mint leaves also gives your smoothie a natural minty flavor.
Vanilla protein powder is the best flavor option. Add chocolate chips after blending. This leaves you with delicious chocolaty crunch!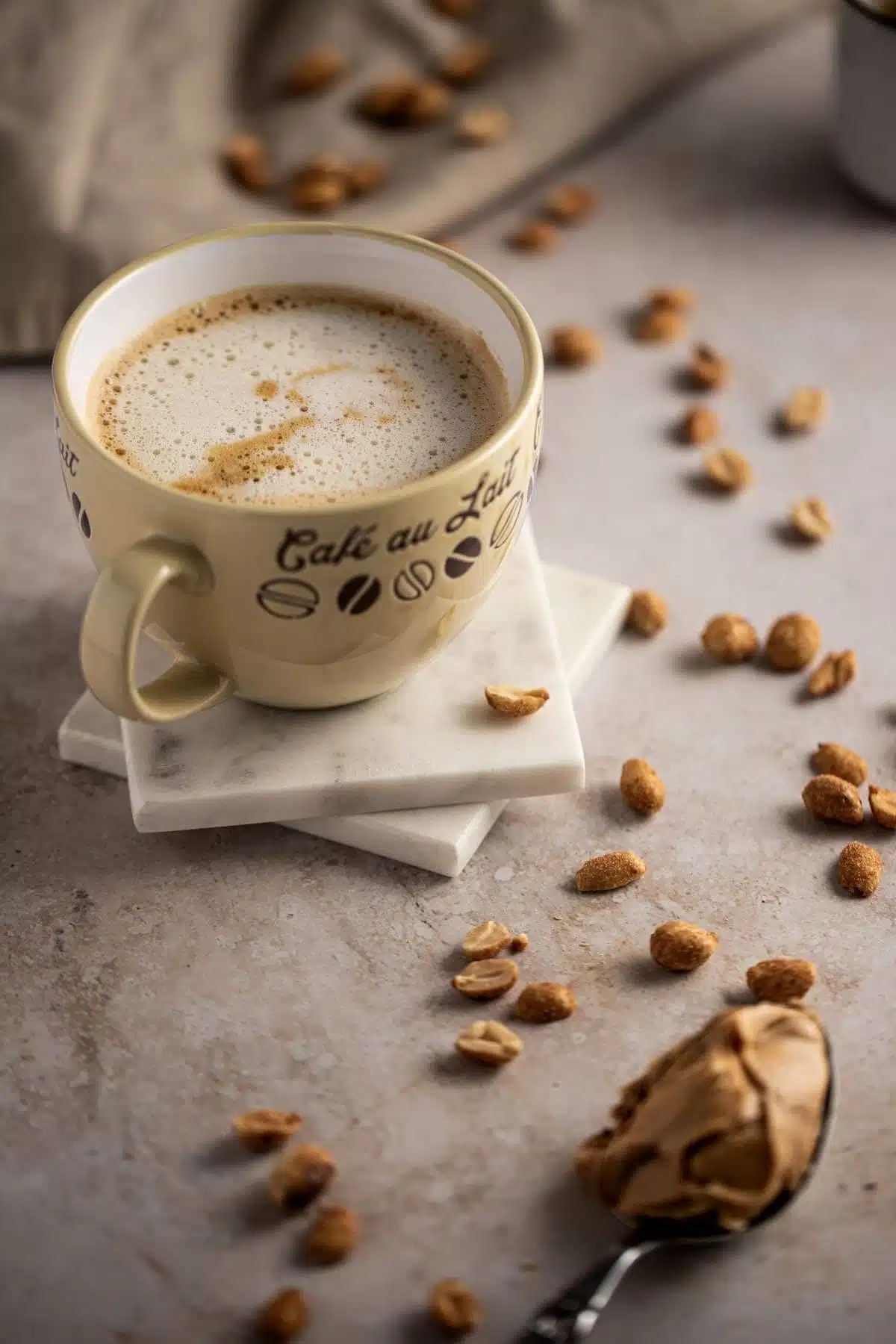 thelittlestcrumb.com
Per Serving:
Calories: 333
Fats: 19.7g
Protein: 13.1g
Carbs: 29.5g
Fiber: 1.8g
Sugar: 24.4g
Hot drinks can also contain high protein. This peanut butter coffee latte is proof. Anything using peanut butter is going to increase your protein intake.
Alongside peanut butter, you will use sugar, milk, and espresso. The peanut butter will add a creamy texture and nutty flavor to your latte.
Some prep is needed for this drink. You'll need to create your peanut butter mix on your stovetop. It will be worth the effort!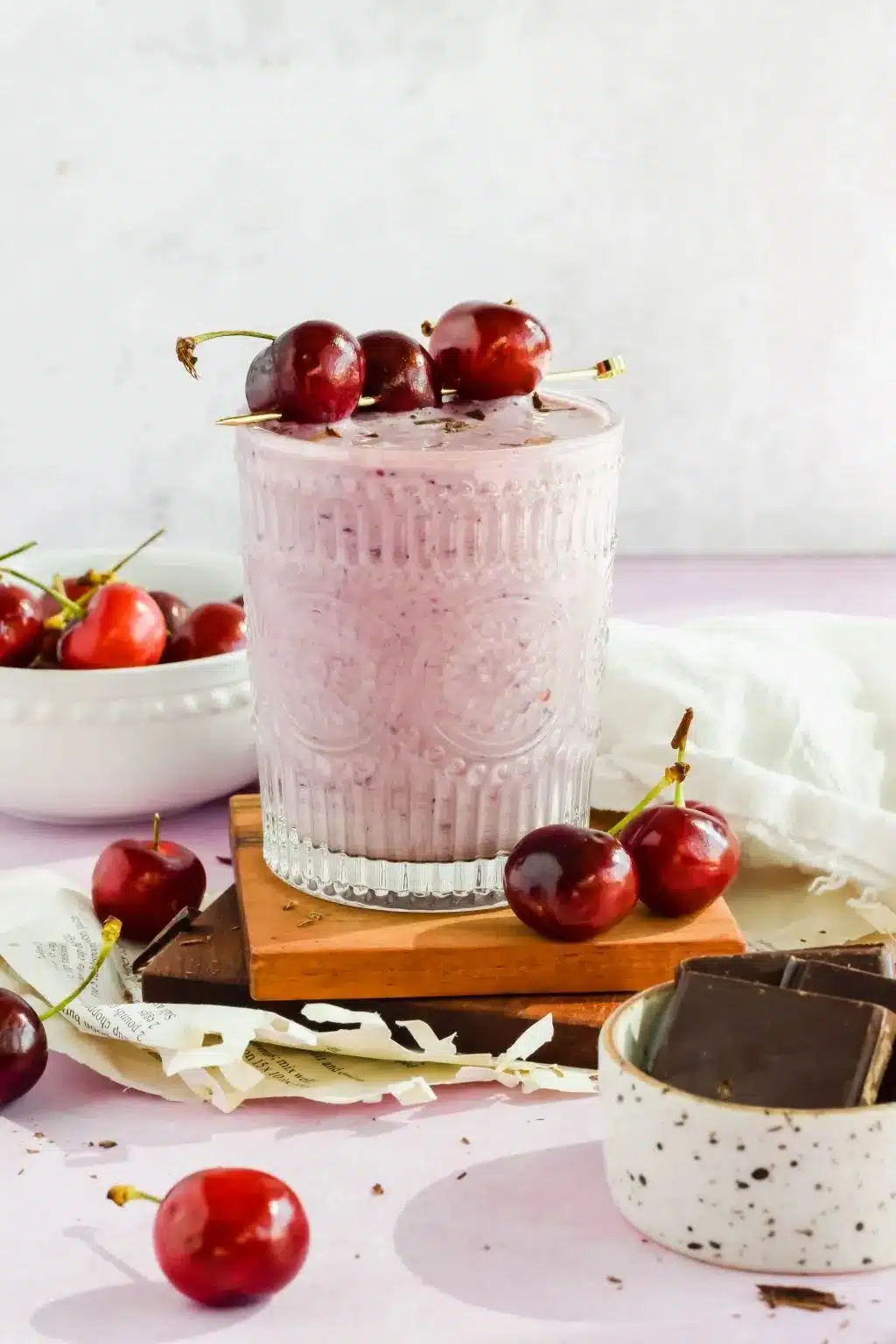 apaigeofpositivity.com
Per Serving:
Calories: 291
Fats: 4g
Protein: 28g
Carbs: 37g
Fiber: 5g
Sugar: 24g
There are so many flavors that go well with chocolate. Cherry is one of them. You'll be surprised by how much like a milkshake this smoothie tastes.
Chocolate protein powder will give you both protein and a chocolate taste. Frozen cherries in your smoothie make it taste fantastic and refreshing!
Use Greek yogurt to get more protein and a nice creamy texture.
This smoothie would pair perfectly with any of these high protein salads for a balanced lunch!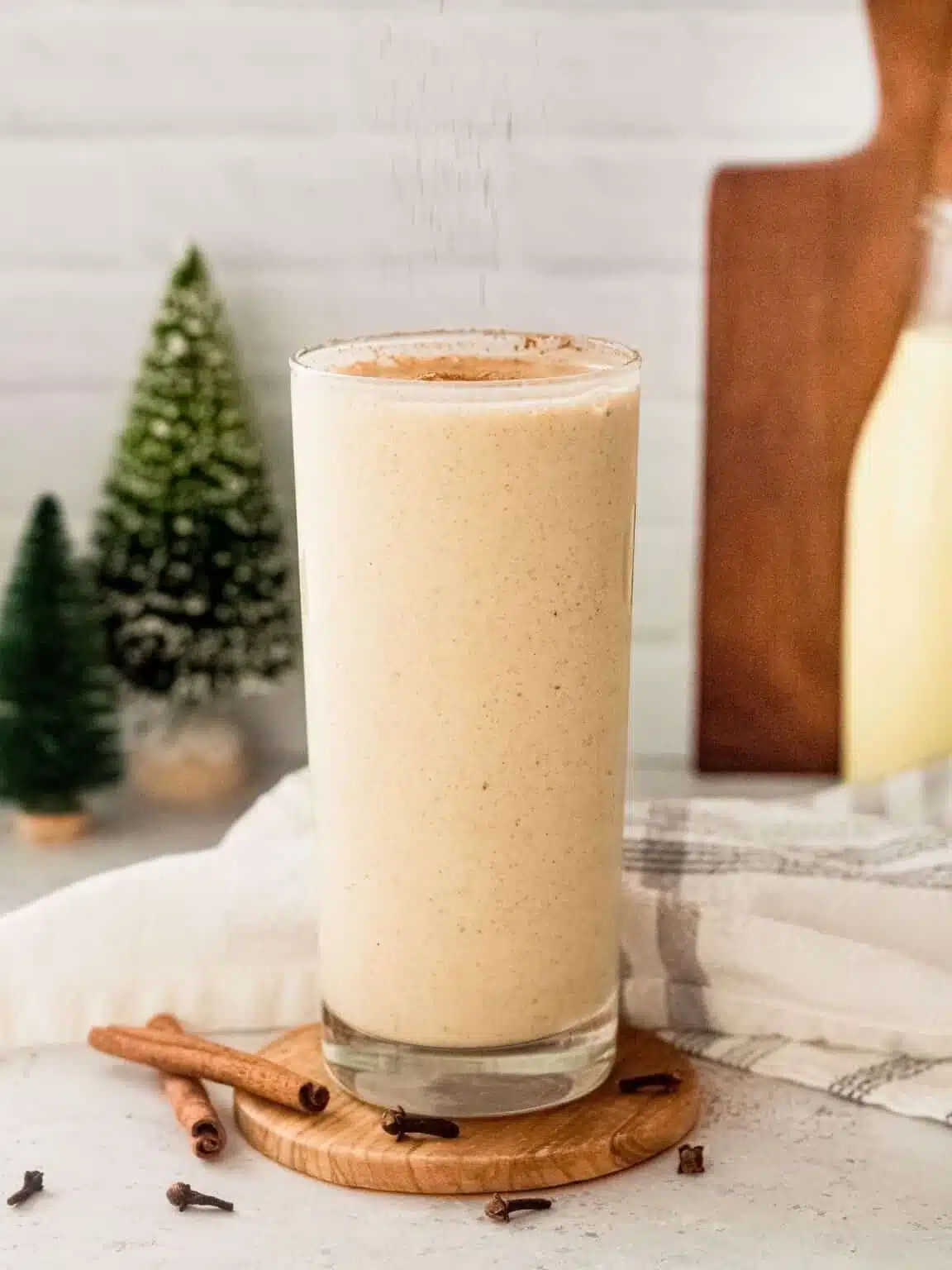 theoregondietitian.com
Per Serving:
Calories: 451
Fats: 15g
Protein: 26g
Carbs: 57g
Fiber: 7g
Sugar:
Eggnog milkshake is the most seasonal drink you'll find on this list! It tastes like dessert; however, it's nutritious enough for a healthy breakfast.
Vanilla protein powder is the best flavor to use for your eggnog drink. Eggnog is essential too!
Sweet frozen banana provides a creamy texture for your milkshake. A sprinkling of pumpkin pie spice delivers a seasonal twist.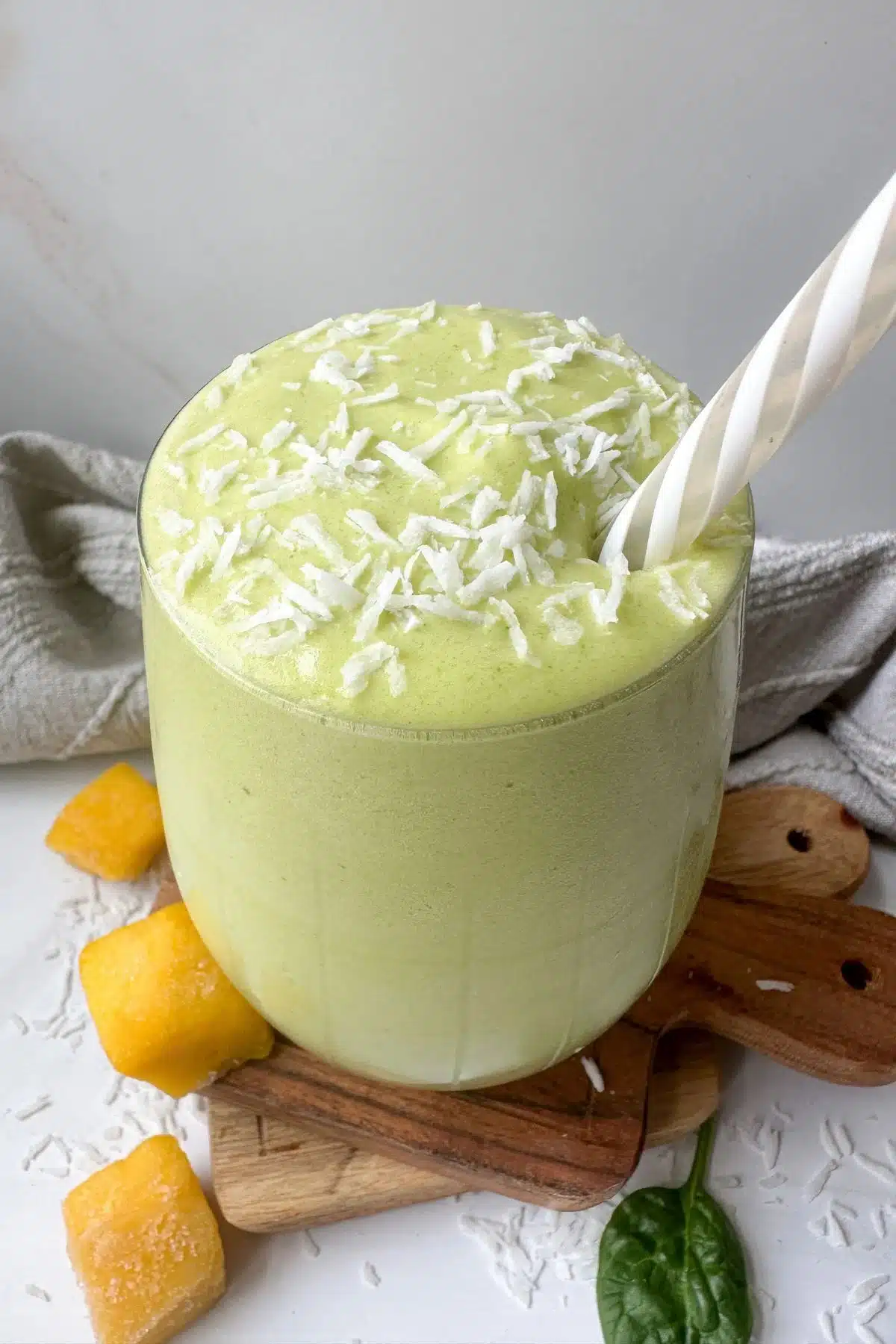 hellofrozenbananas.com
Per Serving:
Calories: 311
Fats: 14g
Protein: 23g
Carbs: 30g
Fiber: 5g
Sugar: 20g
The combination of mango and spinach in this smoothie provides two things. A light summery color and a refreshing taste!
Using frozen mango in your smoothie will help obtain a creamy texture. Vanilla protein powder and shredded coconut add an extra hint of flavor.
Sprinkle shredded coconut on top of your smoothie for a tropical feel!
Add more superfoods to your diet like this spinach smoothie!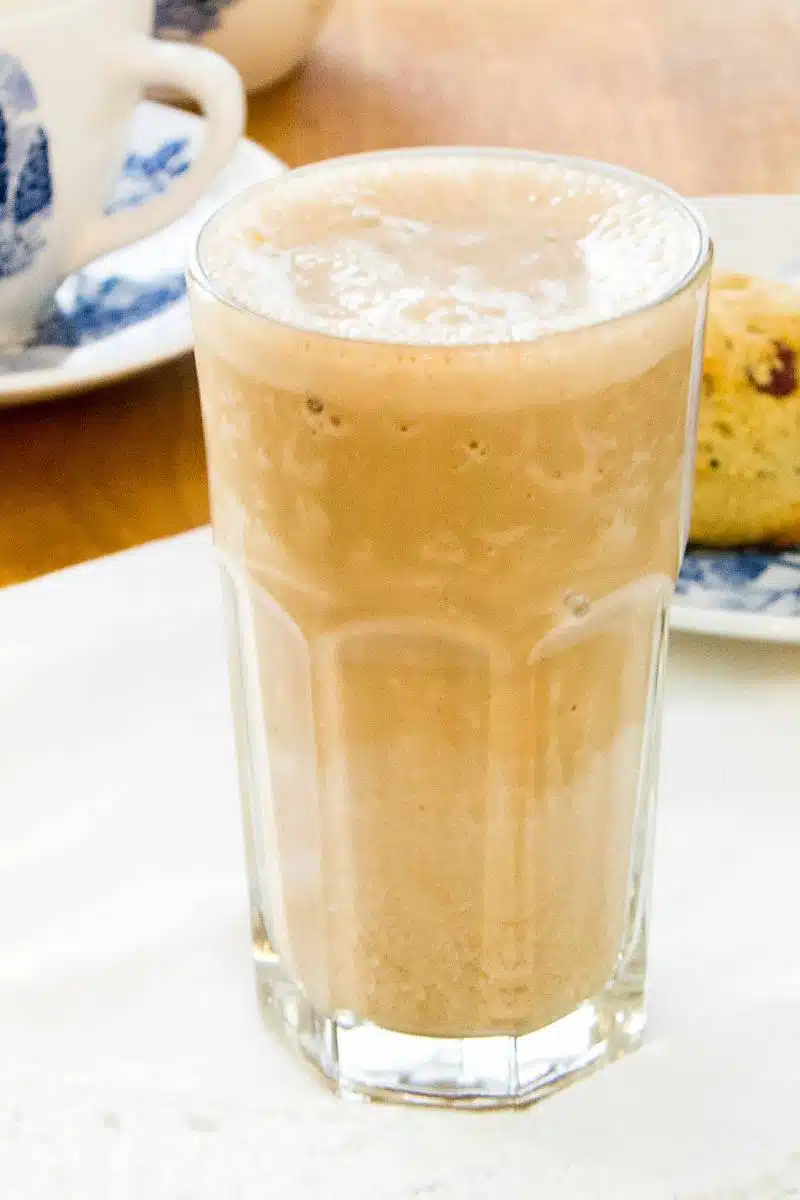 cookeatpaleo.com
Per Serving:
Calories: 302
Fats: 1g
Protein: 49g
Carbs: 20g
Fiber: 2g
Sugar: 11g
This espresso protein shake is the perfect drink to wake you in the morning. Cold and refreshing, it's going to hit the spot!
Frozen bananas provide natural sweetness. This also helps with the thick, creamy texture.
Egg white protein powder delivers your protein. Cashew milk provides a delightfully nutty taste. It's like a coffee shop drink, but you don't need to leave your house!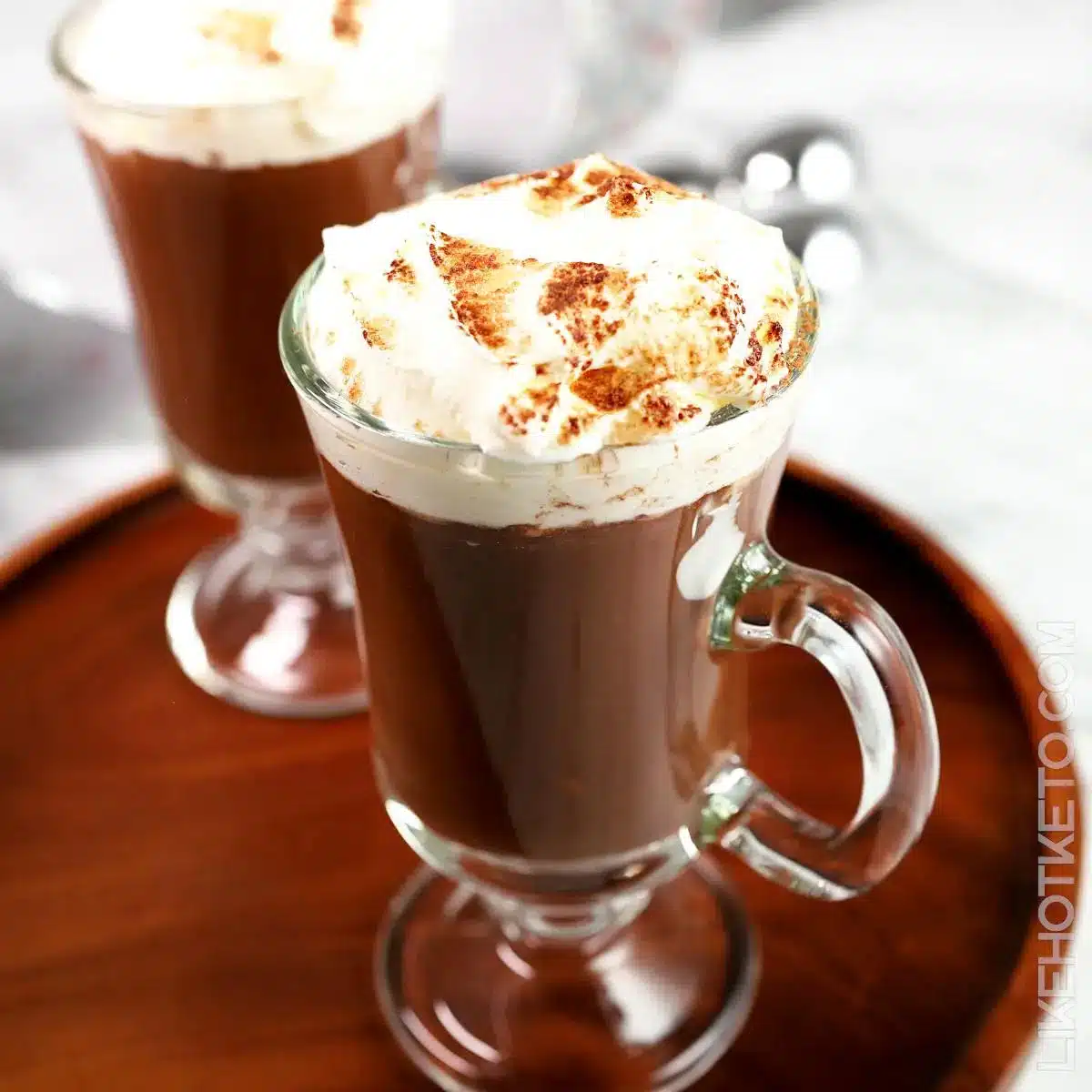 likehotketo.com
Per Serving:
Calories: 150
Fats: 2g
Protein: 32g
Carbs: 5g
Fiber: 4g
Sugar: 0g
It's not usual to use whey protein in hot drinks as the powder curdles. However, using the method here, it is possible to have a decadent drink!
Unflavored whey protein is best to use for this recipe. Your chocolaty taste will come from pure cocoa powder.
You're going to use an unusual ingredient for your hot chocolate. That is xanthan gum. It's going to leave you with a thick, creamy texture. It will be almost like drinking molten chocolate!
You'll love this healthy sweet snack to satisfy your sugar cravings!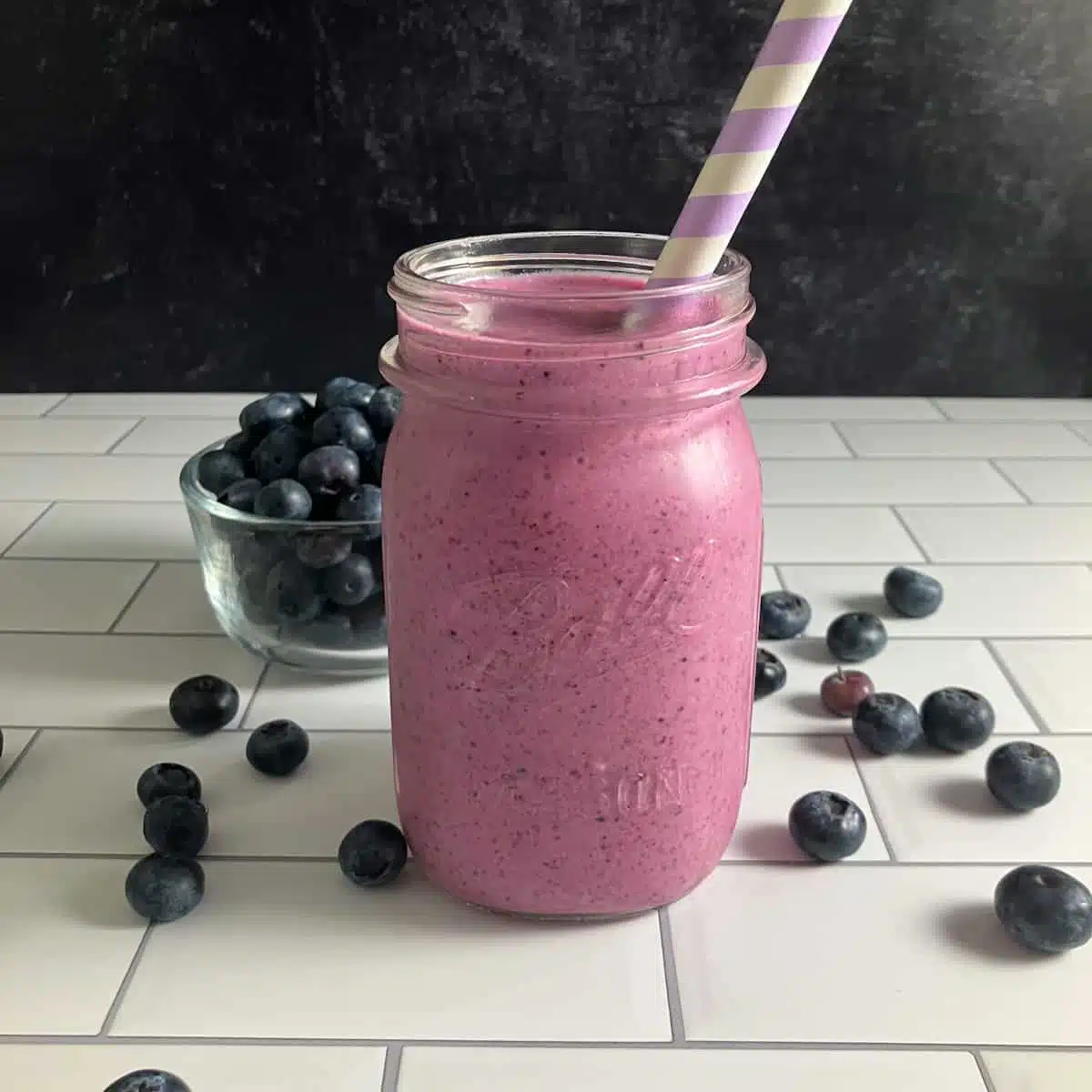 summeryule.com
Per Serving:
Calories: 232
Fats: 5g
Protein: 14.5g
Carbs: 32.8g
Fiber: 4g
Sugar:
This seasonal smoothie is like a taste of summer. Fresh flavors of peach and blueberry combine with a hint of lavender.
You will use an ingredient you wouldn't expect in a smoothie. That is cottage cheese! Using full fat is the best option for maximum creaminess.
Your smoothie may be sweet enough, but if not, add more maple syrup.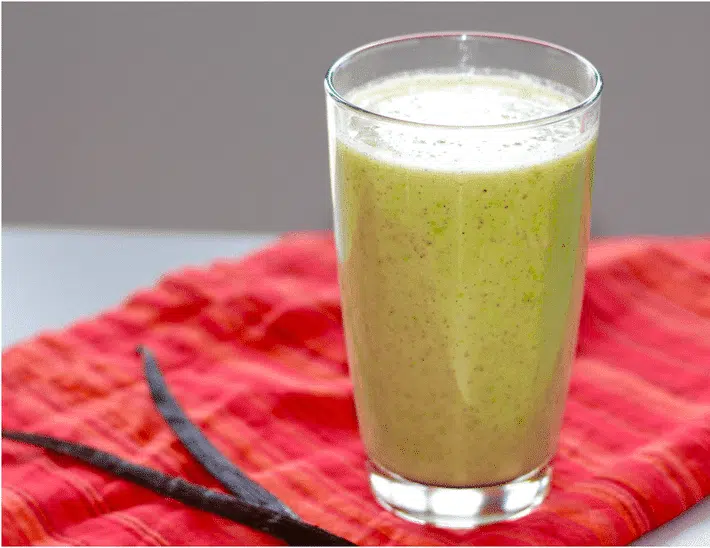 plantbasedwithamy.com
Per Serving:
Calories: 604
Fats: 29g
Protein: 33g
Carbs: 62g
Fiber: 14g
Sugar: 31g
If you like a subtle but sweet smoothie, then this is the recipe you need. Using a vanilla bean is going to offer the taste you want.
Frozen bananas are going to give you a smooth, creamy texture. You won't be using protein powder for your smoothie. Instead, edamame will provide this nutrition!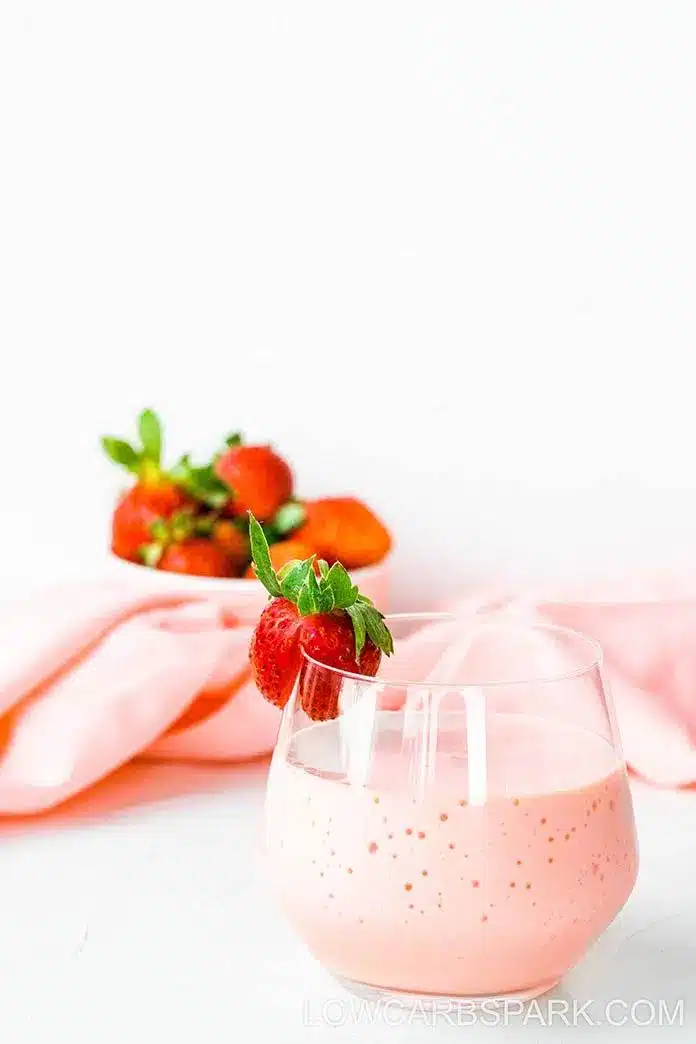 lowcarbspark.com
Per Serving:
Calories: 202
Fats: 14g
Protein: 13g
Carbs: 8g
Fiber: 3g
Sugar:
The cotton candy color of this strawberry smoothie is super eye-catching! It makes you want to tuck into its thick, creamy texture immediately.
Frozen strawberries help with the creaminess of your smoothie. Also, they keep it cold and refreshing to drink.
Use your favorite protein powder. Vanilla or chocolate flavors work well with strawberry!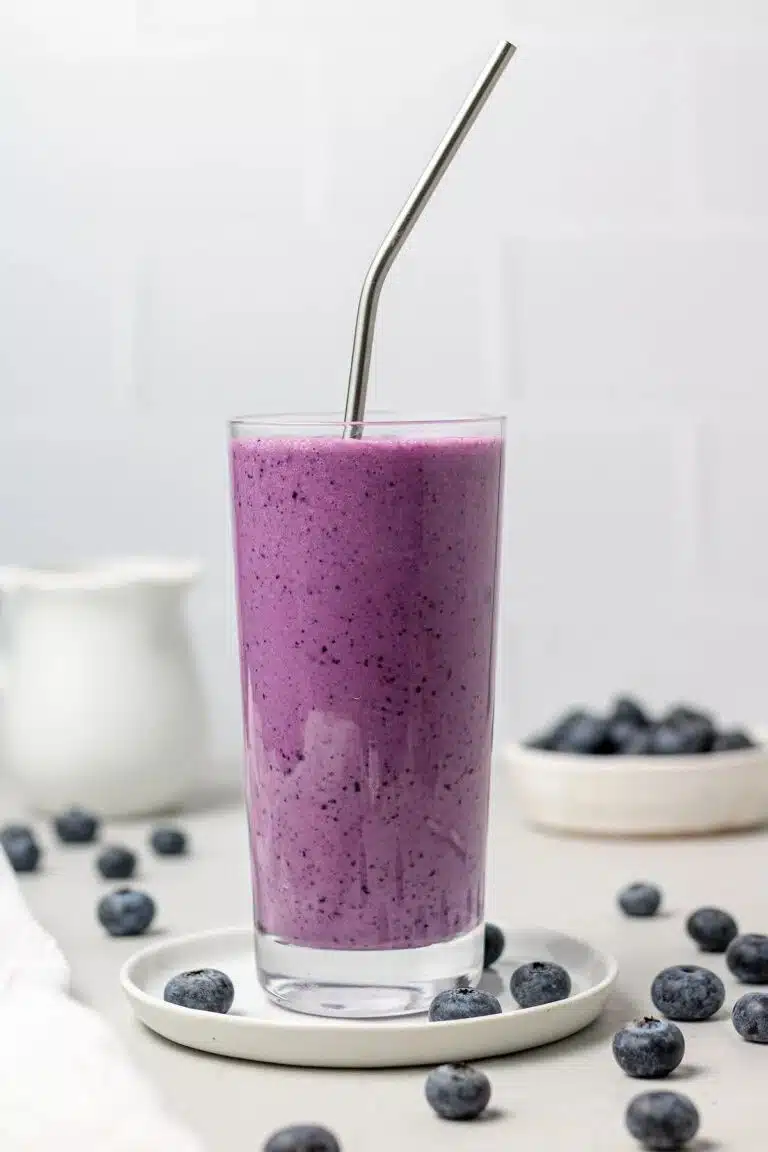 thecleaneatingcouple.com
Per Serving:
Calories: 261
Fats: 3g
Protein: 32g
Carbs: 30g
Fiber: 4g
Sugar: 19g
The vibrant purple color of this smoothie comes from using frozen blueberries! Only three other ingredients are needed to create your drink.
Almond milk and nonfat Greek yogurt are combined with your berries. Vanilla protein powder adds your protein.
Use fresh blueberries if you prefer a thinner smoothie.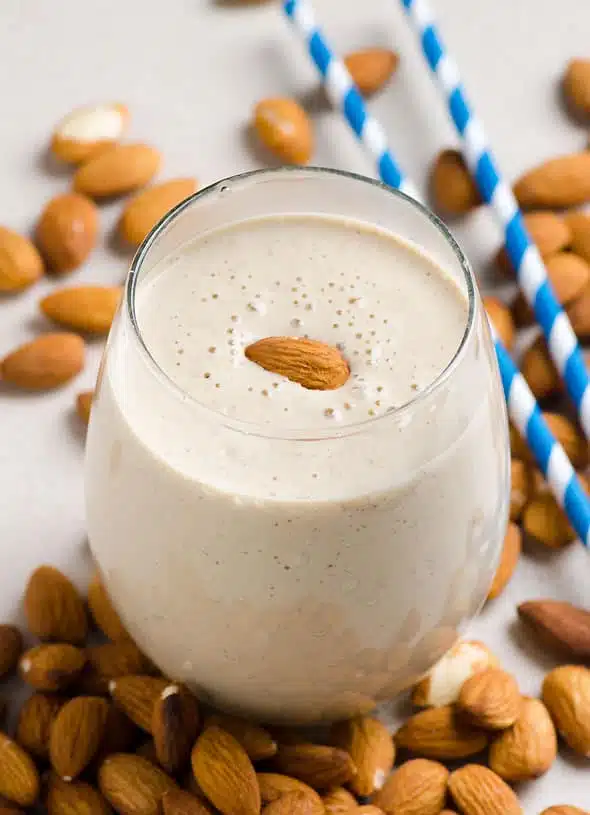 ifoodreal.com
Per Serving:
Calories: 340
Fats: 23g
Protein: 13g
Carbs: 23g
Fiber: 7g
Sugar: 2g
This smoothie is massively nutty, with almonds in multiple forms. You will have a hint of vanilla from your protein powder.
Almond milk, extract, and raw almonds provide a solid almond taste. Using rolled oats will help with the thick texture of your smoothie.
This is your ideal breakfast smoothie with the addition of oats!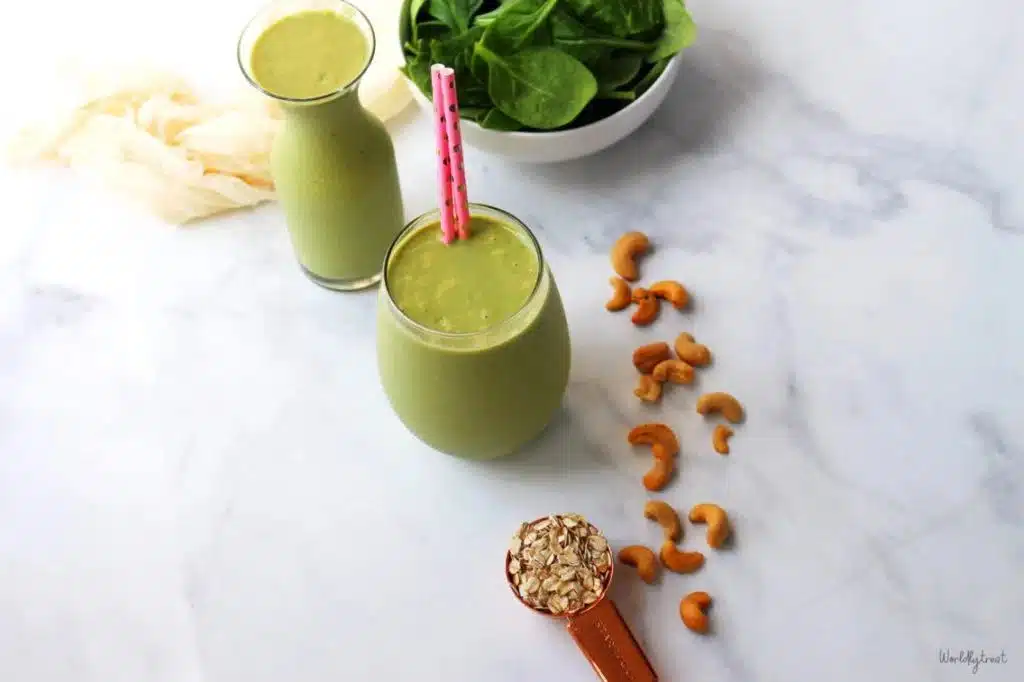 worldlytreat.com
Per Serving:
Calories: 333
Fats: 15g
Protein: 19g
Carbs: 33g
Fiber: 3g
Sugar: 19g
This energy-boosting smoothie will set you up for the day ahead. Baby spinach is your key ingredient for an energy boost. It also provides a vivid green color!
Frozen bananas help to make your smoothie creamy, while honey provides natural sweetness. You can use peanut or almond butter if you don't have protein powder.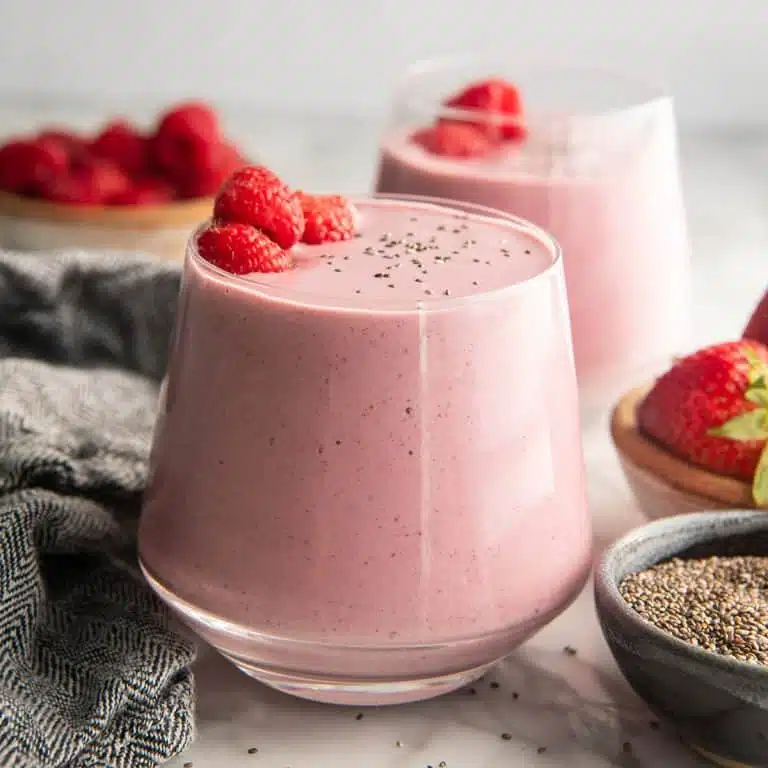 joyfoodsunshine.com
Per Serving:
Calories: 322
Fats: 12g
Protein: 17g
Carbs: 41g
Fiber: 6g
Sugar: 28g
This smoothie includes a delicious mix of berries. By using frozen fruit, you don't need to add ice to keep it cold.
Greek yogurt, almond butter, and vanilla protein powder provide high protein content. For even more protein, add a scoop of collagen too.
This is one of the best healthy snacks to take on the go!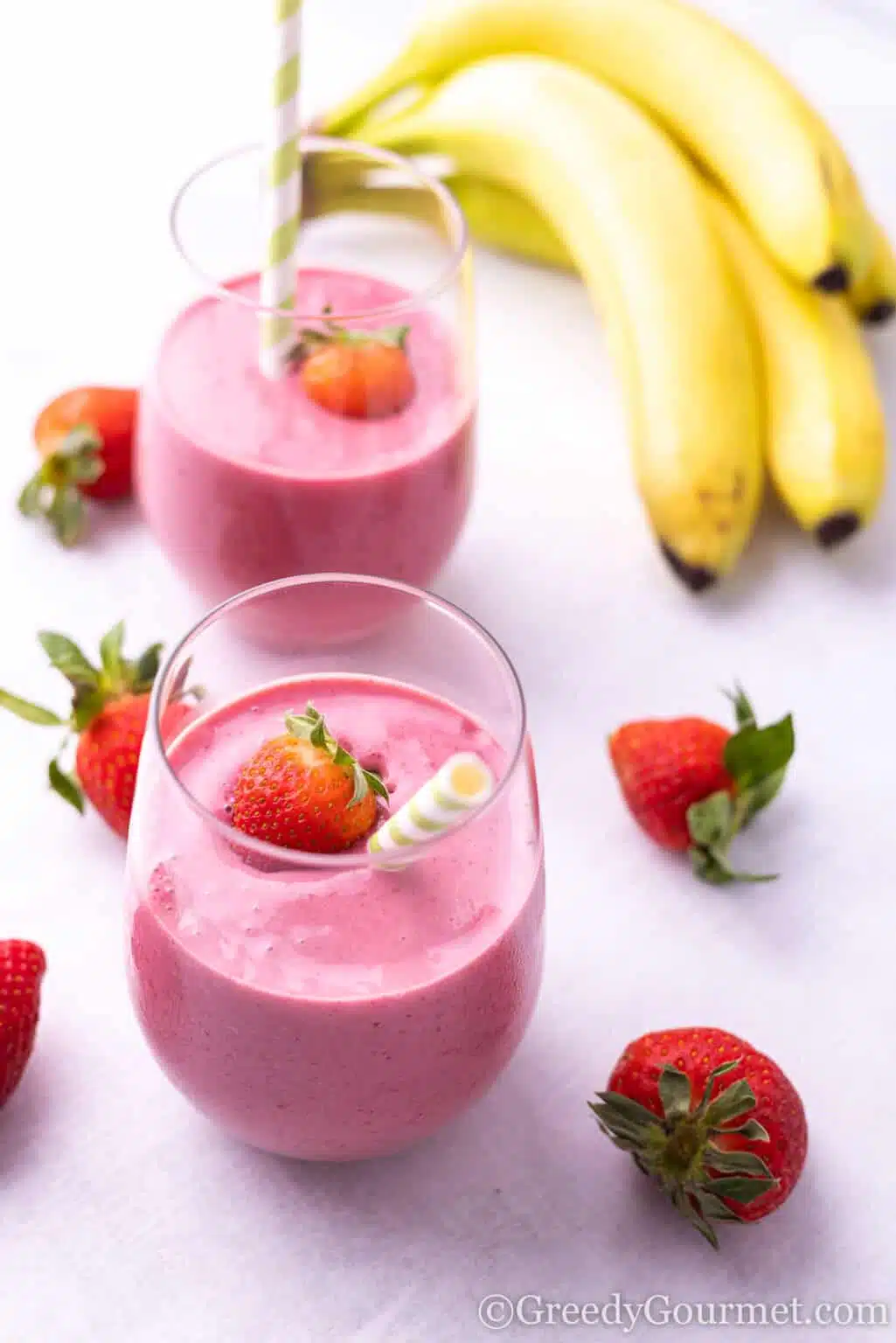 greedygourmet.com
Per Serving:
Calories: 342
Fats: 9.1g
Protein: 15.7g
Carbs: 54.2g
Fiber: 7.7g
Sugar: 38.8g
With this smoothie, you can pack almost all your recommended fruit intake! Strawberries, blackberries, and bananas deliver a refreshing combination.
Almond milk, plain yogurt, and dates are the other ingredients you will use. You can use honey or maple syrup instead of dates if you prefer.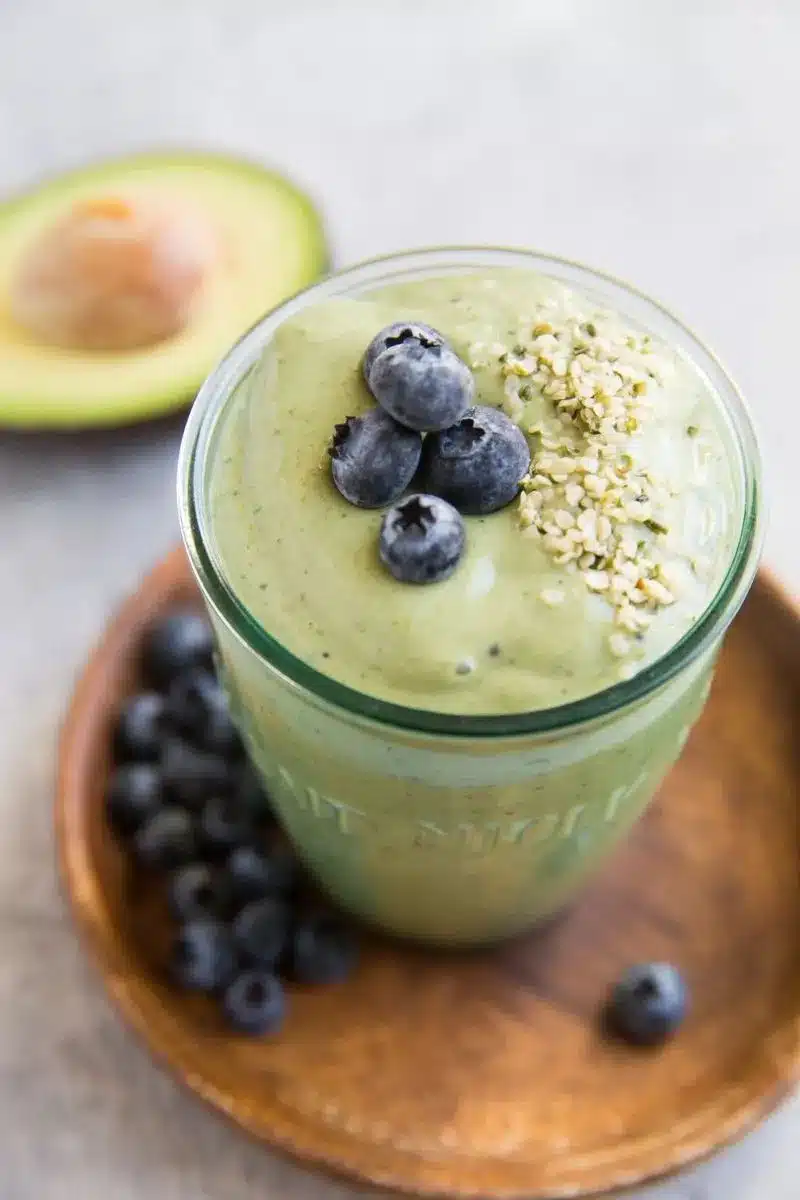 theroastedroot.net
Per Serving:
Calories: 424
Fats: 15g
Protein: 30g
Carbs: 47g
Fiber: 11g
Sugar: 21g
This smoothie is another with a surprising ingredient. In this case, it's avocado! Perfectly ripe avocado lends a thick, creamy texture and a rich flavor.
A banana works with the avocado to provide a thick texture to your drink. Adding a small amount of lemon zest will brighten the flavors in your smoothie.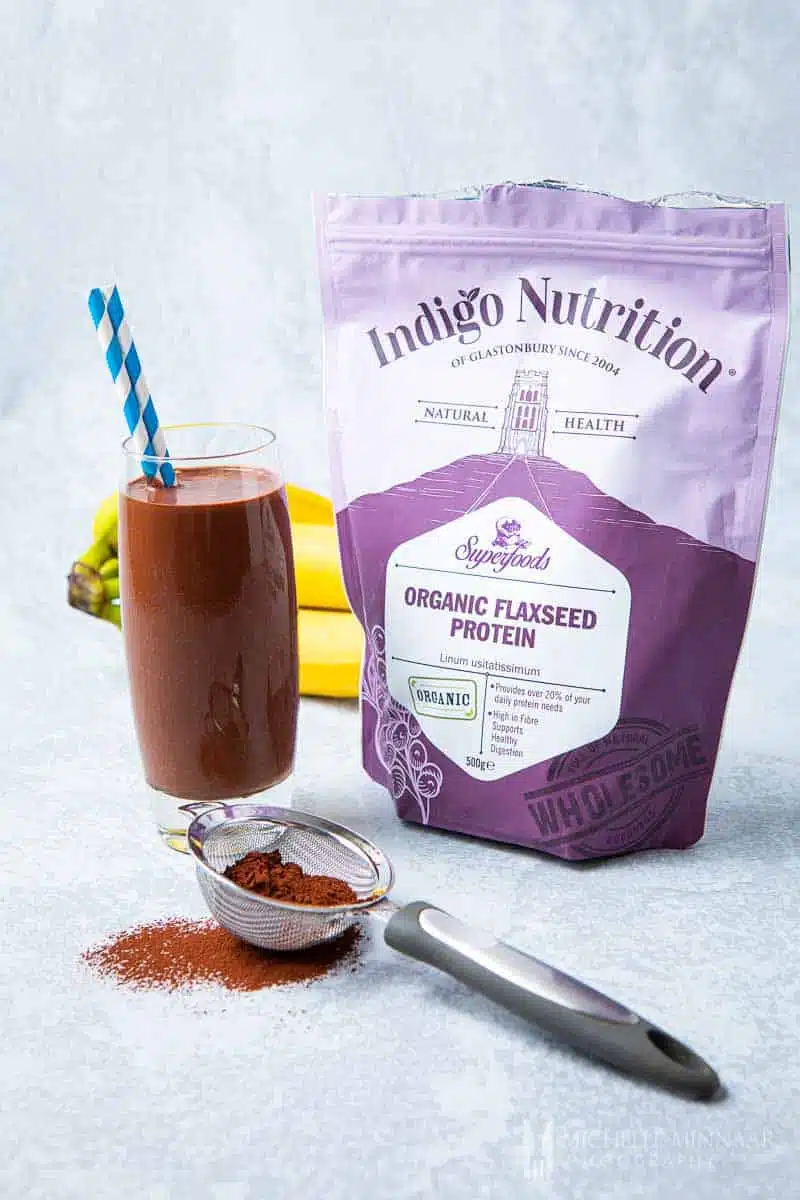 greedygourmet.com
Per Serving:
Calories: 331
Fats: 7.8g
Protein: 25.9g
Carbs: 57.5g
Fiber: 12.3g
Sugar: 16.8g
For this nutty protein-fueled shake, you will use a flaxseed protein powder and almond milk. Added cocoa powder makes you feel like you're drinking a chocolate milkshake!
Frozen banana is a valuable extra ingredient in your drink. It helps to thicken your shake and makes a perfect pairing with chocolate.