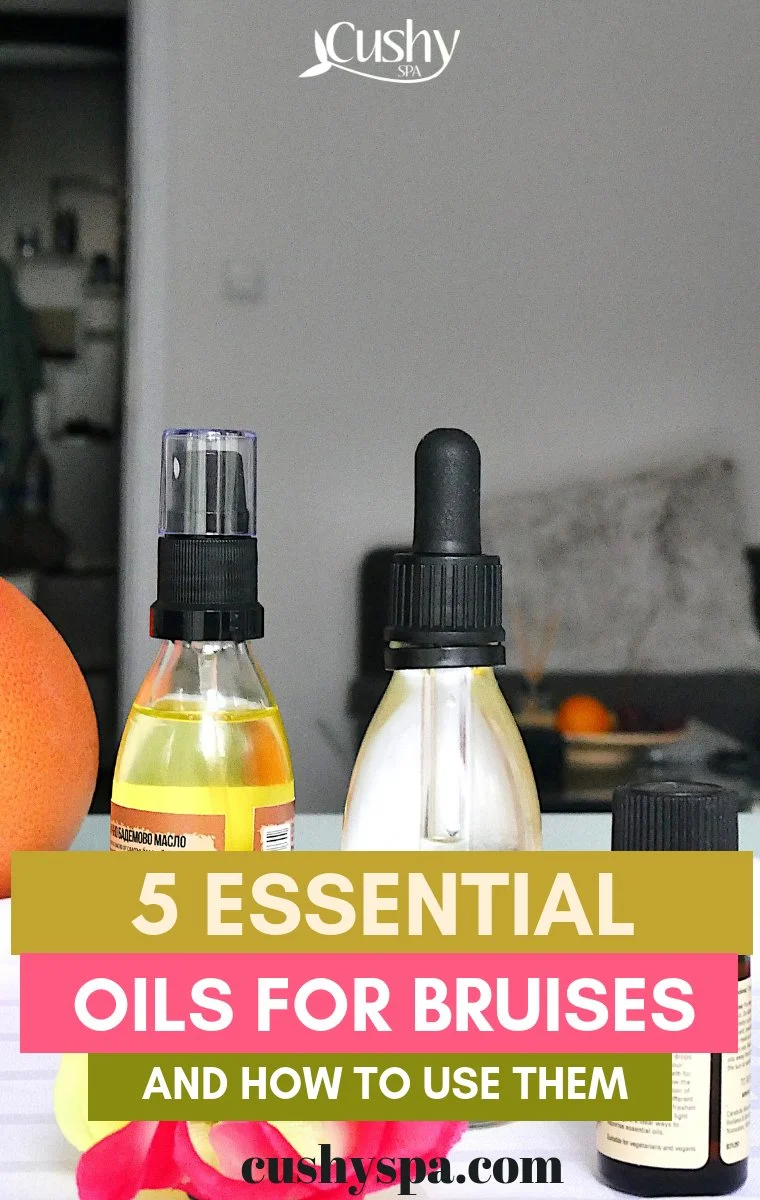 A nasty bruise can be both painful and ruin your appearance. Especially if you want to look and feel good! And while there are no quick one day fixes, you can certainly fasten the healing proses with essential oils.
This blog is supported by readers purchasing featured products. When you buy products with my links, I earn a commission at no extra cost to you. Here is my full affiliate disclosure.
Can essential oils treat bruises? Yes, of course!
Keep on reading if you want to learn what the essential oils for bruises are, how to use them and heal bruising quicker!
Most Common Causes of
Bruises
You accidentally hurt yourself. And, as a result, have got a bruise. That's completely natural and happens to anyone healthy.
Vitamin C or K deficiency might lead to easier bruising (source). That might be best diagnosed by a doctor.
Excess alcohol use. You are also more prone to get a bruise while you're drunk too! It makes sense, doesn't it?
Bruising can also be the cause of a more serious problem: secondary amenorrhea, blood-related diseases, scurvy, etc. Thus, make sure to consult a doctor if bruising is constant.
If you've got a bruise because of an accident, then essential oils can be exactly what you need to speed up healing. They have multiple properties that lead to tissue repair and thus promote easy recovery.
Best Essential Oils
for Bruises and How to Use Them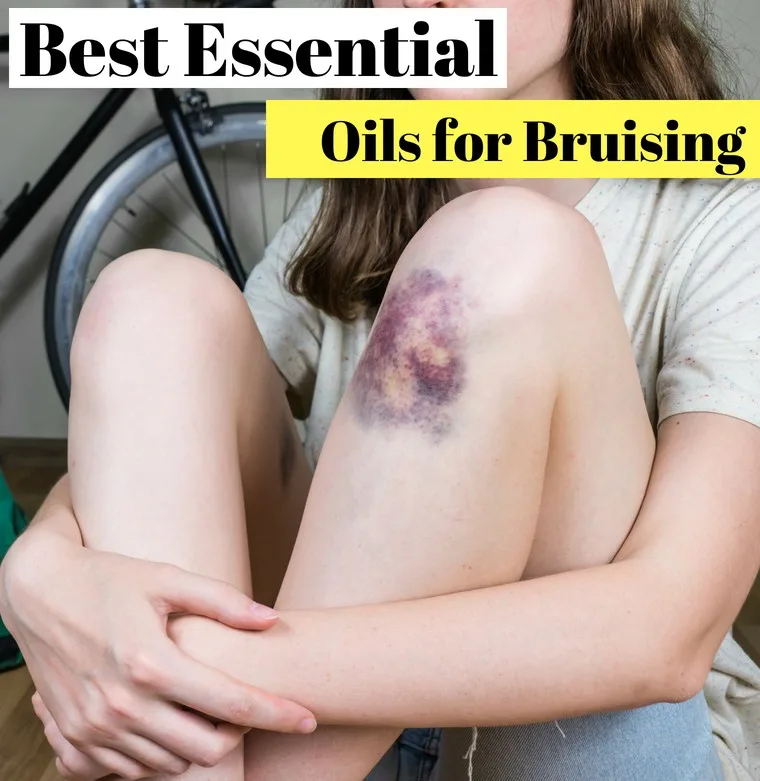 Here is the list of the essential oils you can incorporate into your blends to help those bruises heal. I'll later explain how to use these oils to make sure they actually help.
As you know, essential oils are strong due to their concentration, so they should be used sensibly. Otherwise, you might irritate your skin.
1. Helichrysum
While there is a lack of scientific research done regarding Helichrysum's effects on the skin, there has been no criticism regarding its benefits (source).
The oil heals wounds, scars and has antibacterial properties. Perhaps it's not the most popular essential oil out there but its regenerative properties truly stand out.
That's mostly due to the fact that it contains diketone – a molecule that signals tissue repair.
2. Lemongrass
Lemongrass essential oil is an antiseptic. Studies show that it inhibits skin inflammatory responses and can be potentially used for fungal infections too.
It also has the ability to relax muscles. That's especially important since you might have some tension in there post the accident. On top of that, it smells great!
3. Frankincense Oil
Frankincense essential oil attacks gram-positive bacteria usually found on the skin (source). Staphylococcus aureus that the oil acts on causes skin infections and could potentially inhibit bruise healing.
So, make sure you have some frankincense oil if you want to improve your skin condition!
4. Kunzea Essential Oil
While kunzea essential oil is known as one of the essential oils for itching, it also heals bruises. It's highly antimicrobial and anti-inflammatory.
You can very well use it on sores muscles too. That might be useful if you've got into an accident and bruising is not the only problem you have.
5. Lavender Oil
Lavender essential oil is one of the most popular essential oils out there. It's mostly known for its heavenly scent and the benefits for the skin.
Some of those benefits – promotion of collagen synthesis and differentiation of fibroblasts (source). Thus, it makes for a perfect natural remedy when it comes to healing bruises.
Steps to Quickly Heal Bruises
Here are a few things to have in mind when you're trying to heal a bruise. A few simple tips can sometimes make a huge difference, and I'm sure you all know that.
Step 1: Get Some Ice
First things first, get some ice to put it on the affected area. It'll help to slow down the swelling and reduce the pain if you have any.
If you don't have ice, just get a bag of frozen vegetables out of your freezer and put it on your bruise. Safe and effective!
Step 2: Don't Try to Massage the Area
While it might seem like a great idea to massage the painful area, it isn't really. Why? Well, massaging improves blood circulation.
So, it might actually help the bruise to spread. You want to relax and try to stay as calm as possible. Trust me, exercising won't help either.
Step 3: Apply a Mixture of Essential Oils
Make sure you're not applying essential oils to your skin on their own. Since the concentration is super high, it might irritate your skin.
Take a teaspoon of hemp oil (highly recommended by my readers!) coconut oil, almond oil, hazel lotion or even aloe vera gel and add around 7 drops of essential oil to it. Apply the mixture to your bruise and cover it with a cloth.
You'll notice how quickly the mixture cools down your skin and reduces the overall pain.
Blends for Quicker Bruise Healing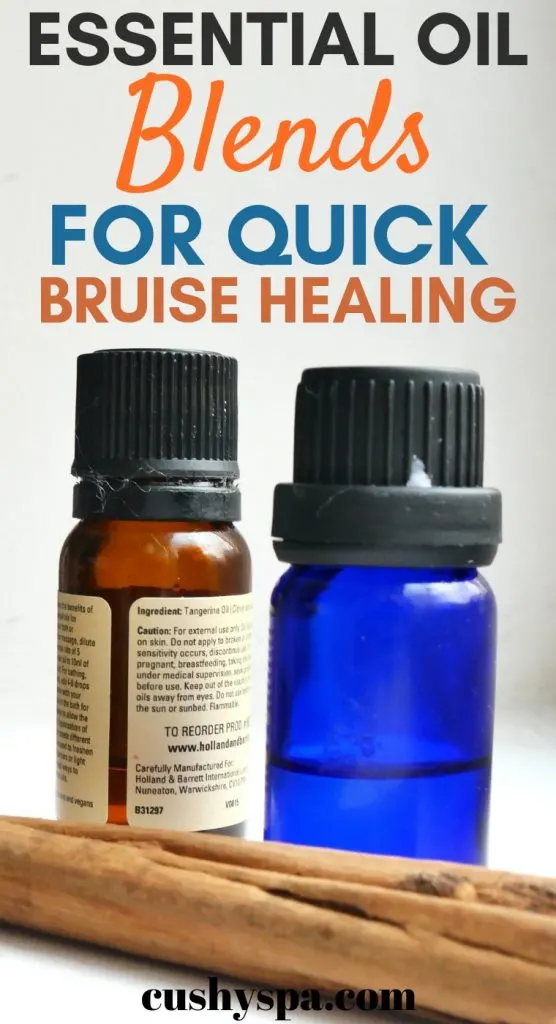 You can also use essential oil blends to heal bruises. These could be even more effective due to a variety of properties each oil has.
1. Essential Oil Blend with a Warm Cloth
You'll need:
A teaspoon of almond oil
3 drops of lavender essential oil
4 drops of lemongrass essential oil
Camomile tea
A little cloth
First of all, make some camomile tea. Let it cool down.
Afterward, wet the cloth with it. In a separate bowl or cup mix almond oil with all the essential oils.
Now apply the mixture to the very surface of the cloth and put it on your bruise. Keep it there for 30-60 minutes.
2. A Blend to Cool Down Your Skin
You'll need:
1 teaspoon of aloe vera gel
3 drops of Helichrysum
4 drops of Kunzea
Simply mix all the ingredients together and apply it to the bruise. Feel free to change the essential oils if they don't really suit your taste (I'm talking about the scent).
Conclusion
So, that was the list of essential oils for bruises! Have you ever tried any of these on your skin?
Do let me know in the comment section. At the end of the day, if you have bruises, make sure to consult with a doctor if it becomes a regular thing.
Finding the root cause behind anything is always the right way to go.