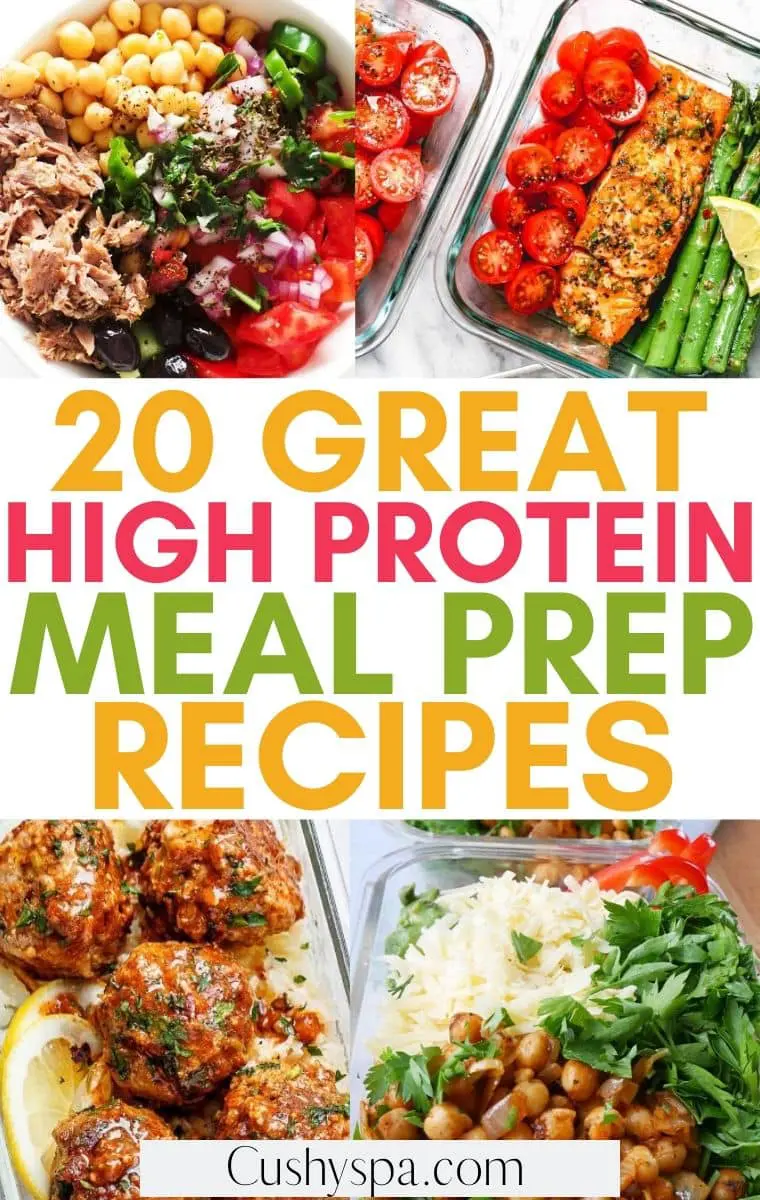 Are you trying to lose weight? Protein is the key.
When you lose weight, you also lose muscle mass. And that's when you get saggy, loose skin- yuck!
By adding more protein to your diet, you increase your muscle mass. And in turn, you look better in your clothes.
Adding more protein can also help you lose weight in the first place too. That's because of all the macronutrients (protein, carbs, fat), protein helps you feel full the most.
And when you feel full, you're less likely to binge on unhealthy foods. Like that bag of chips that is calling your name.
But we all live busy lives, and eating high protein meals can fall by the wayside. So, it's a good idea to meal prep, so you have no excuse not to eat high protein meals.
Today, I'm sharing 20 high protein meal prep ideas. They're not only high in protein but delicious as well.
To store all that prepped food, make sure you have plenty of meal prep containers. If you're running low, here are some good quality meal prep glass containers that I recommend.
So, what are you waiting for? Let's get meal prepping!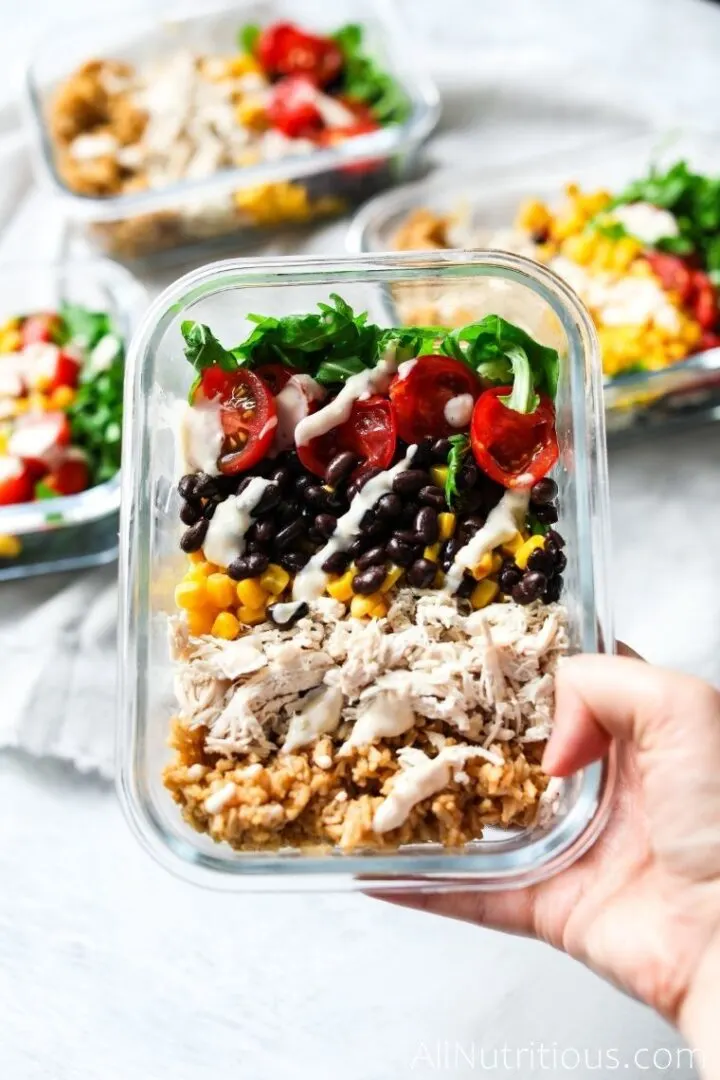 Looking for a healthy version of burritos? I've got you covered!
This delicious chicken burrito recipe is the perfect healthy meal prep you need. It will satisfy you when you're craving fast food and keep you full for the whole day.
You can eat it cold both for lunch and dinner. It's flavorful, nutritious, moist, and so filling! Love it!
All of it with a whopping 37g of protein!
Per Serving:
Calories: 520
Fats: 13g
Protein: 37g
Carbs: 64g
Fiber: 9.5g
Sugar: 4.2g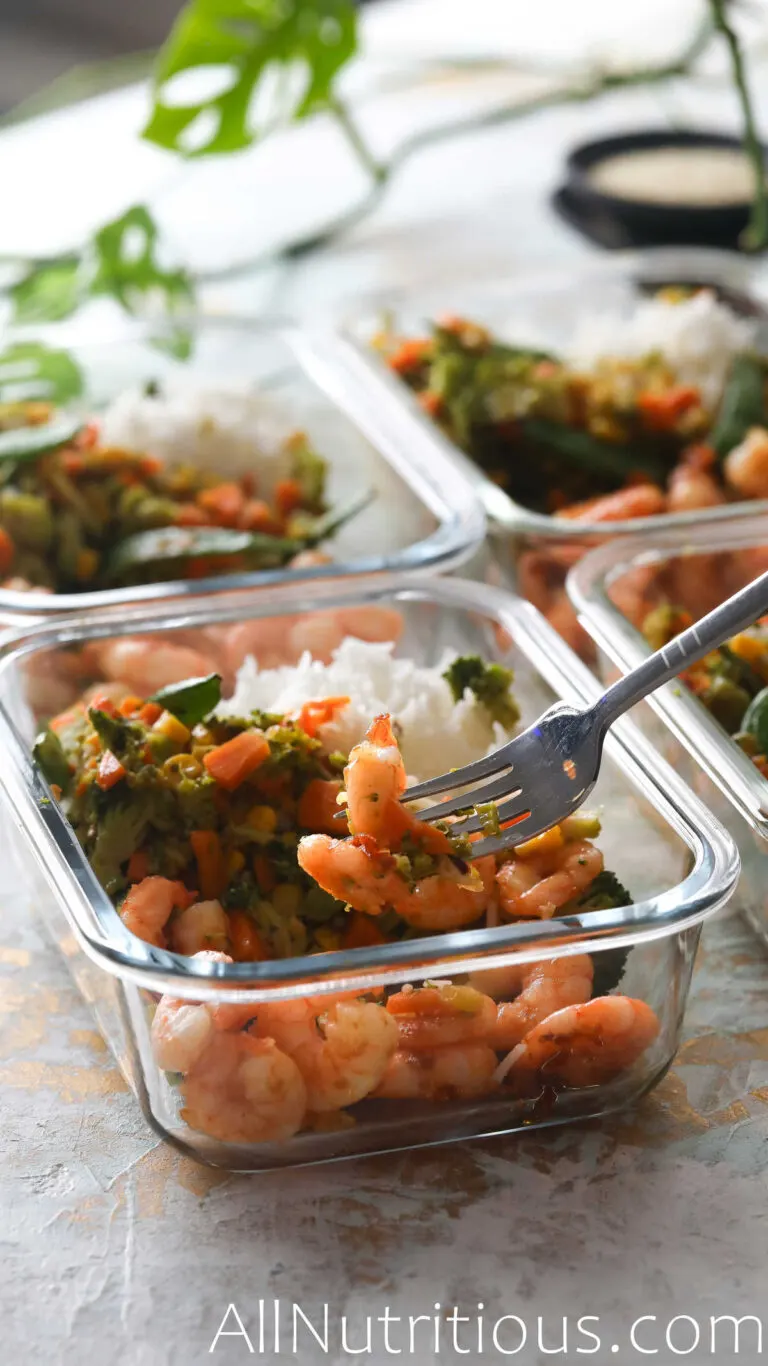 Shrimp makes for a perfect ingredient when it comes to meal prepping. Enjoy this sweet and umami dish, full of Asian flavors yet not too heavy on your stomach.
It's a super quick recipe that's flavorful, yummy, and hits all the right spots. Who wouldn't want that?
Since shrimp is an incredible source of protein, it comes with 26g of protein, double up your shrimp and you'll have much more!
Per Serving:
Calories: 436
Fats: 6.2g
Protein: 26g
Carbs: 72g
Fiber: 7.5g
Sugar: 17g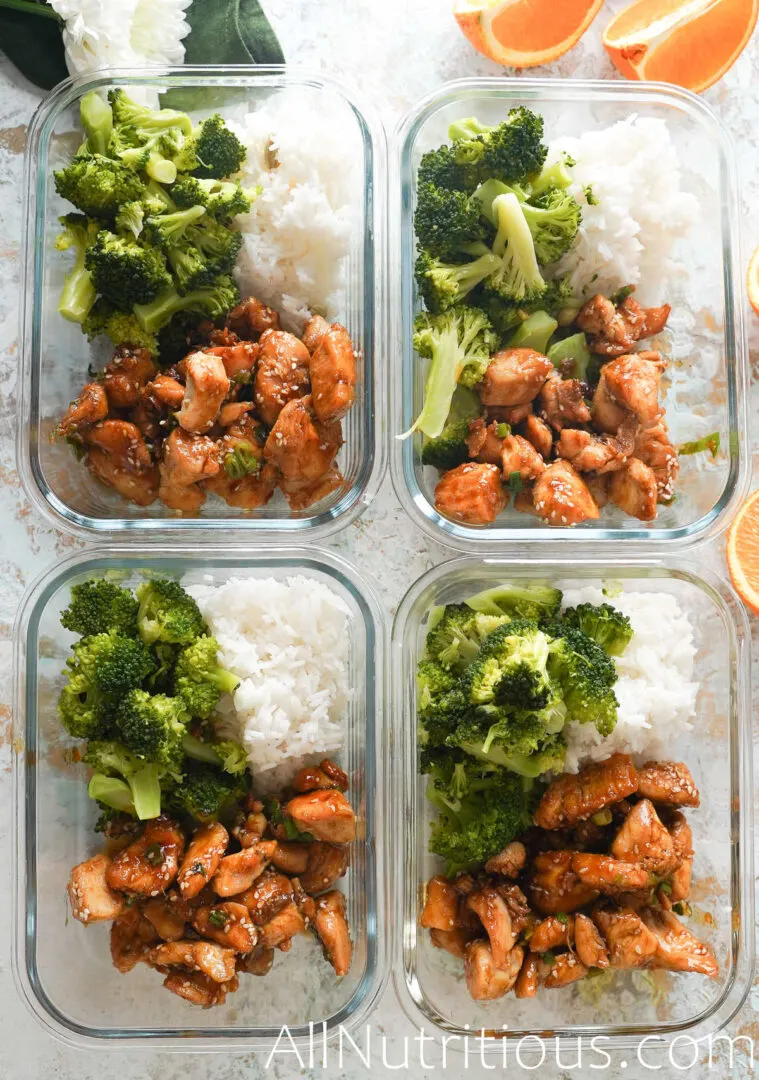 Did you know that orange and chicken make for a perfect flavor combo? I have never known this until I tried it!
So prepare for a sweet, refreshing but filling meal prep recipe! It's sweet and juicy, on top of it all, fragrant!
Cook your rice to perfect fluffiness, and you've got yourself a lunch you'll eat over and over again. It's not a joke!
As you know, chicken makes for a great source of protein, so naturally, this has 62g of protein!
Per Serving:
Calories: 662
Fats: 15g
Protein: 62g
Carbs: 71g
Fiber: 6.1g
Sugar: 21g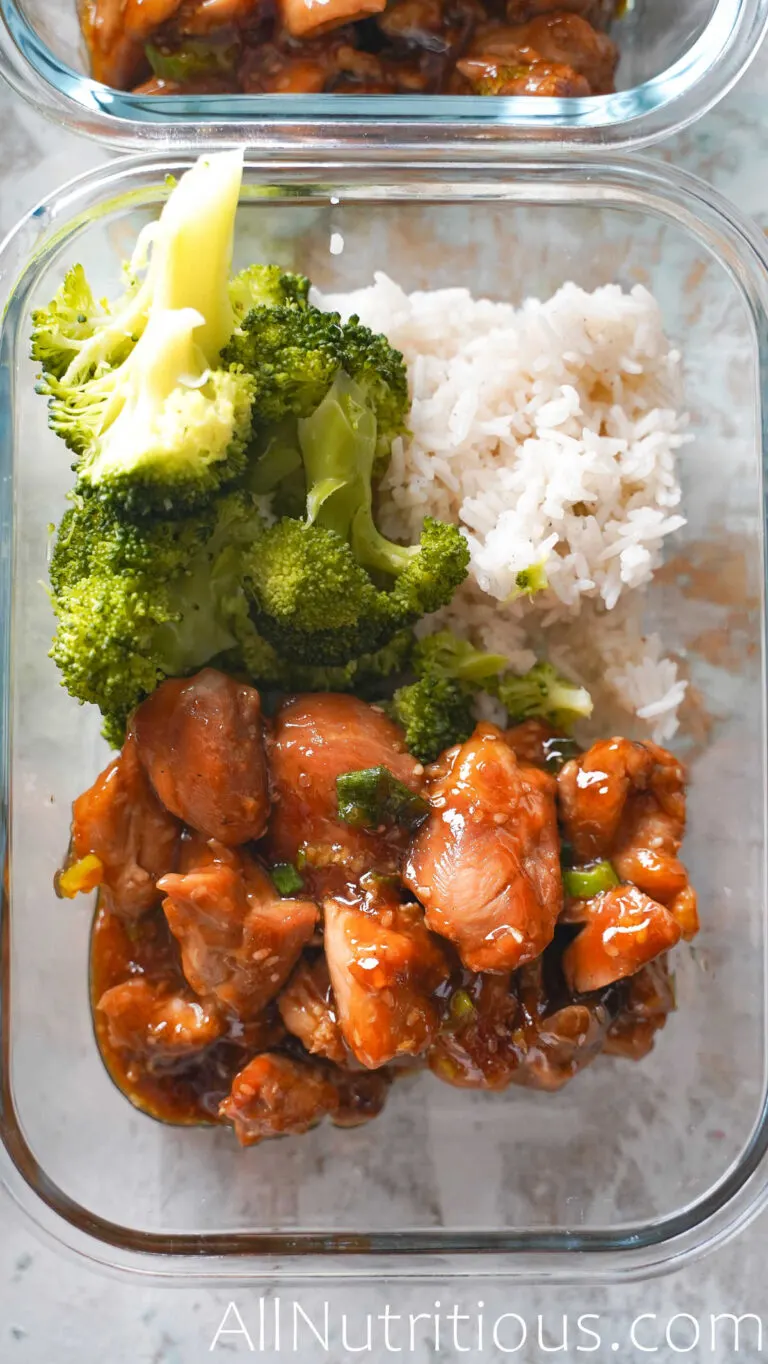 With a whopping 51g of protein per meal prep bowl, this is just what you need. It's a perfect umami meal prep that's super easy to make.
Salt and sweet and filling! Delicious, sweet, and so yummy. You'll gobble it up and won't even notice!
The best thing is you can have it whenever and feel prepared for your next workout!
Per Serving:
Calories: 653
Fats: 20g
Protein: 51g
Carbs: 29g
Fiber: 2.4g
Sugar: 23g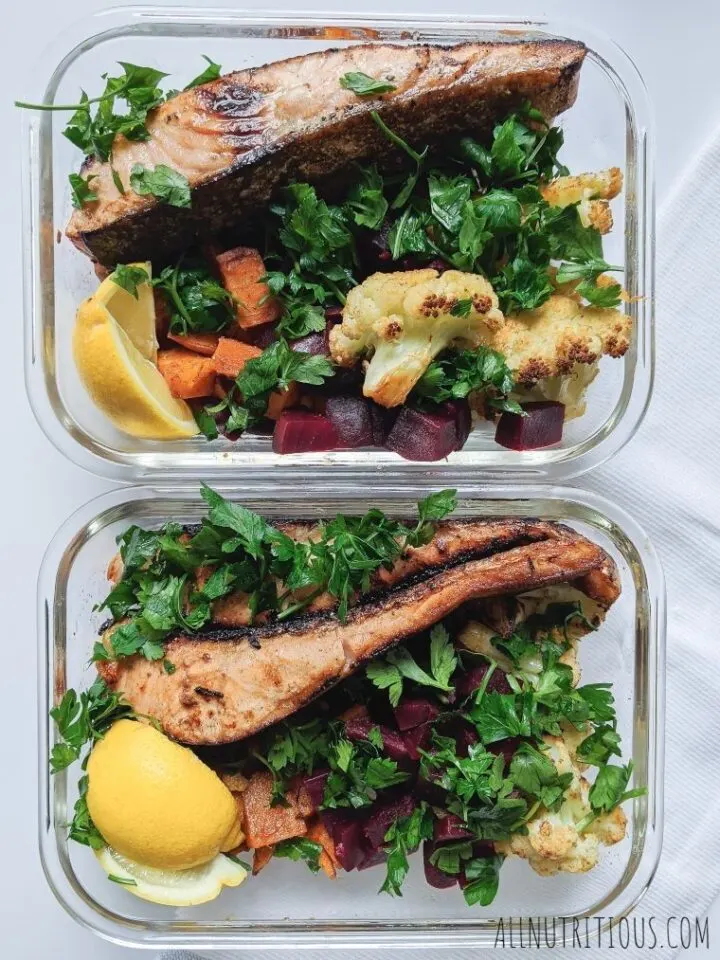 With 54 grams of protein, this nutritious meal prep recipe is one of the most delicious meals I've ever eaten. This is what I make over and over again.
Full of veggies, healthy fats, and protein – all you've got to do is get your oven going and prepare a frying pan for that salmon.
If you're a fish lover, this is easily the best meal prep to try. You can bring it to work. It's umami and naturally sweet with all the veggies.
Per Serving:
Calories: 806
Fats: 45g
Protein: 54g
Carbs: 53g
Fiber: 13g
Sugar: 16g
6. Shrimp Buddha Bowl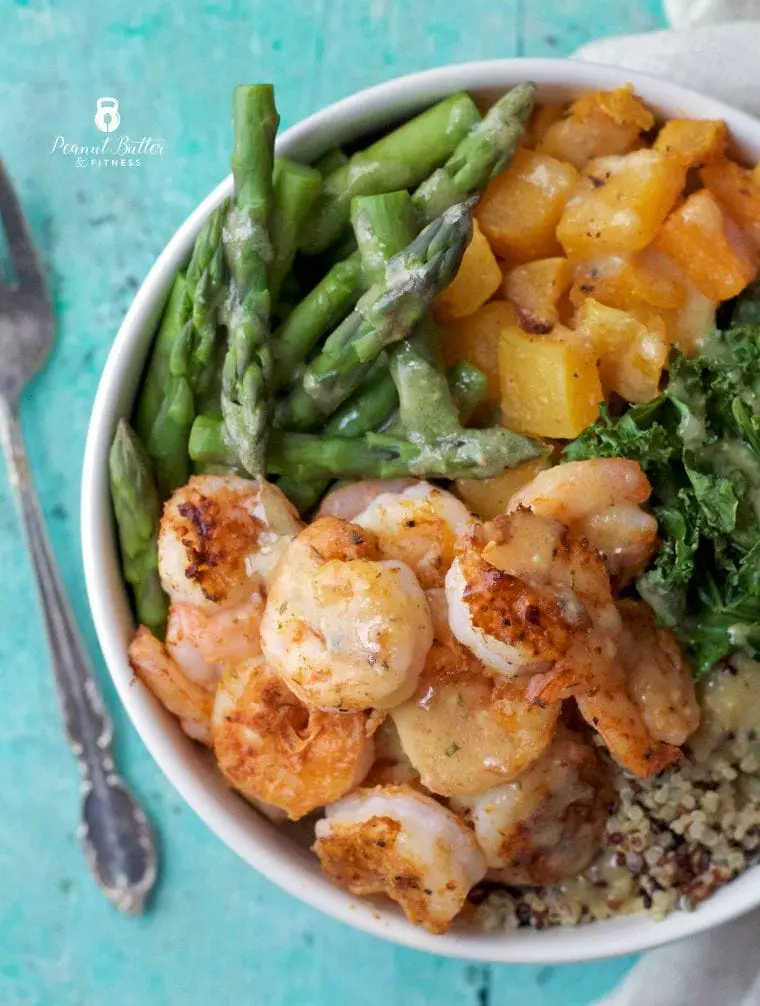 Credit: peanutbutterandfitness.com
If you've been dying to try a Buddha Bowl that is not only irresistible but packed with protein, this is the one to try.
At less than 400 calories, it packs a whopping 40 grams of protein. That's because it contains shrimp and quinoa, which are both low in calories, yet high in protein.
Besides being packed with succulent, smoky shrimp and tri-color quinoa, this Buddha Bowl also has tons of veggies. You have kale, asparagus, and butternut squash all drizzled in heart-healthy olive oil.
What brings it together is the honey mustard dressing. It's tangy and sweet with some heat from the Dijon mustard. If you're not a fan of heat, you can just leave out the Dijon mustard.
This is a great high protein lunch idea.
Per Serving:
Calories: 389
Fats: 13g
Protein: 40g
Carbs: 29g
Fiber: 4g
Sugar: 4g
7. Meal Prep Breakfast Casserole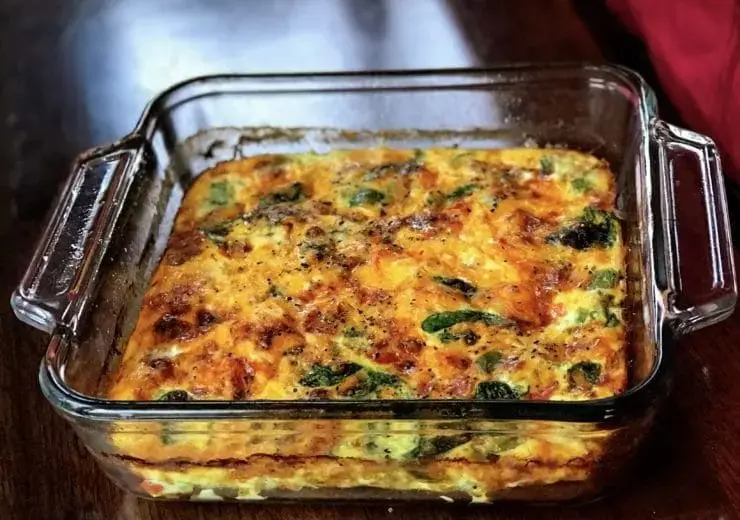 Credit: salads4lunch.com
Breakfast is the most important meal of the day, and for a good reason. Breakfast sets you up for the rest of the day.
Start with a high carb breakfast, and you're bound for disaster. That sugar high will eventually lead to a sugar low, and you are reaching for more carbs… and the cycle continues.
This meal prep breakfast casserole is a great start to your day. It's not only high in protein but low in carbs as well, so you don't get those sugar crashes.
It's also pretty delicious. That's because it's filled with sausage, melted cheese, sauteed onions, and bell peppers.
And the best part is that this casserole makes 12 servings. So, you get a big bang for your buck for your meal prep time.
Too much for you? Not to worry, it freezes for up to 2 months. Just make sure you store your leftovers in good freezer-safe containers like these, so it doesn't get freezer burnt.
Check out more high protein breakfast ideas here.
Per Serving:
Calories: 255
Fats: 19g
Protein: 16g
Carbs: 4g
Fiber: 1g
Sugar: 1g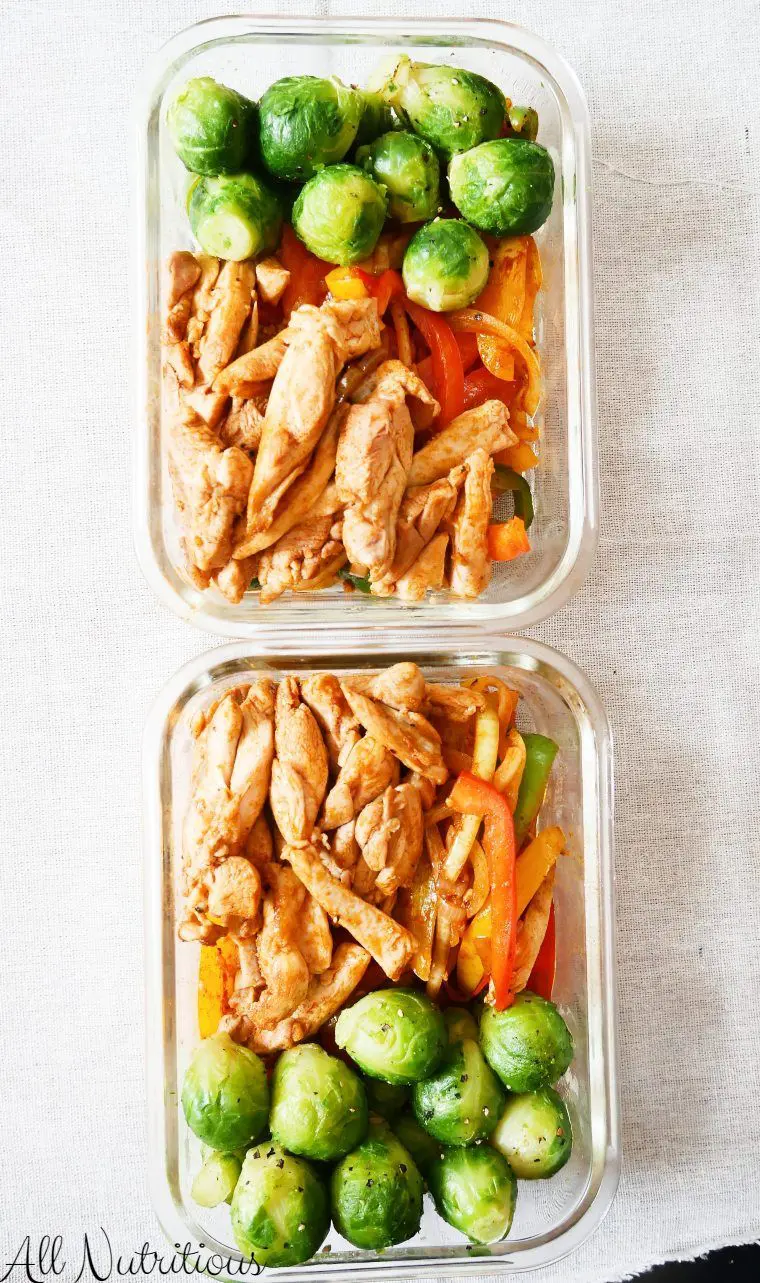 Credit: allnutritious.com
Are you in the mood for Tex-Mex? I've got just the right dish for you.
For the chicken strips, you'll be using chicken thighs. I like using chicken thighs because they have more fat than chicken breasts.
And more fat equals more flavor. They're also cheaper than chicken breasts, so they are pretty budget-friendly.
The chicken strips are pretty flavorful. That's because they are flavored with an assortment of spices. If you like it spicy, though, feel free to add some Buffalo sauce.
And we can't forget about the veggies. Brussels sprouts and a mix of red, green, and yellow bell peppers add color and freshness, and immune-boosting vitamins A and C.
You can eat this meal on its own. But if you like, you can add flour tortillas too.
Per Serving:
Calories: 592
Fats: 32g
Protein: 59g
Carbs: 3g
Fiber: 6g
Sugar: 0g
9. Roasted Veggie & Spanish Rice Meal Prep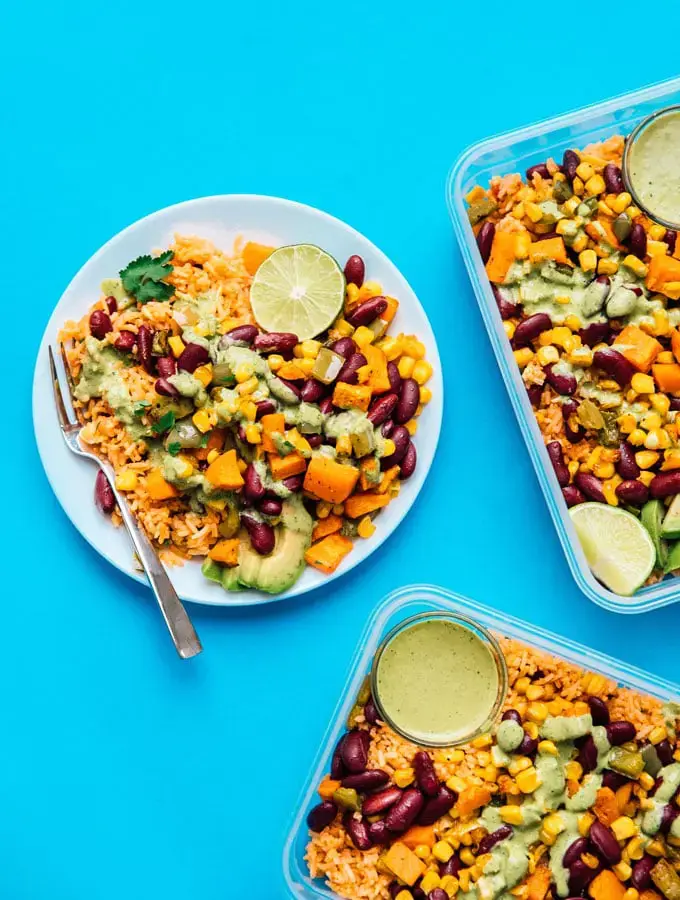 Credit: liveeatlearn.com
I love eating meat, as many of you probably do. But it's good to have some meatless meals… like meatless Mondays.
And this meal prep dish is perfect for meatless Monday. Not only is it high in plant-sourced protein, it's also high in fiber.
In fact, one serving provides almost 90% of your daily fiber needs. And fiber is not only good for your digestion but keeps you full too.
The Spanish rice is nice and tasty, while the roasted sweet potato, corn, and bell pepper are chock full of color and nutrition.
And the cilantro dressing is simply addictive. You've got the creaminess from the Greek yogurt and the sweetness from honey or maple syrup.
Dijon mustard gives some heat, while red wine vinegar gives some acidity.
You'll want to use a good set of measuring spoons to measure out all the ingredients. I like these ones because they don't rust or stain.
Per Serving:
Calories: 836
Fats: 18.5g
Protein: 34.2
Carbs: 149.9
Fiber: 22.3g
Sugar: 28.1g
10. Tofu Nugget & Chickpea Salad Meal Prep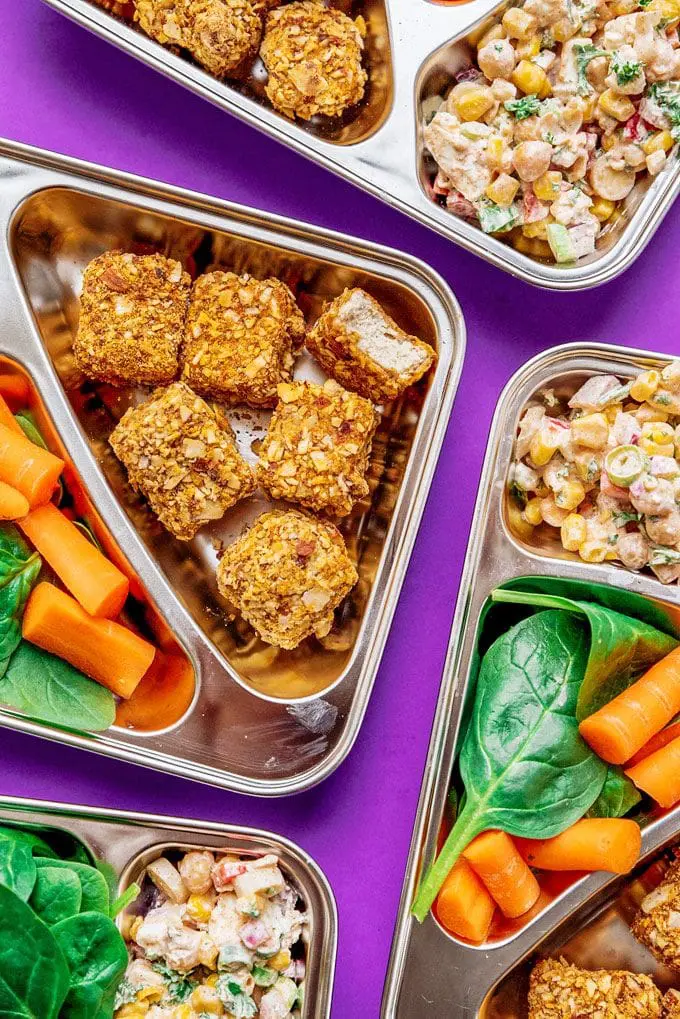 Credit: liveeatlearn.com
Tofu often gets a bad rap. That's because it's tasteless.
But that can be a good thing. Tofu basically takes on the taste of whatever you add to it.
And these tofu nuggets are nuggets of gold. They're crunchy and taste delicious.
That's because you crust them with yummy ingredients, like crushed almonds, salt, pepper, paprika, and nutritional yeast.
So, they're not only packed with protein but vitamin B12; important if you're on a vegetarian or vegan diet.
Now crushing the almonds for your tofu by hand can be a pain. For extra convenience, you can just give them a whirl in a food processor. This one should do the trick.
The chickpea corn salad is just as delicious. It's packed with corn, chickpeas, and bell peppers, as well as some feta cheese for some tang.
So definitely give this dish a try. It might just change your mind about tofu.
Per Serving:
Calories: 624
Fats: 36.2g
Protein: 29.3g
Carbs: 55g
Fiber: 11.9g
Sugar: 89g
11. Caprese Breakfast Egg Cups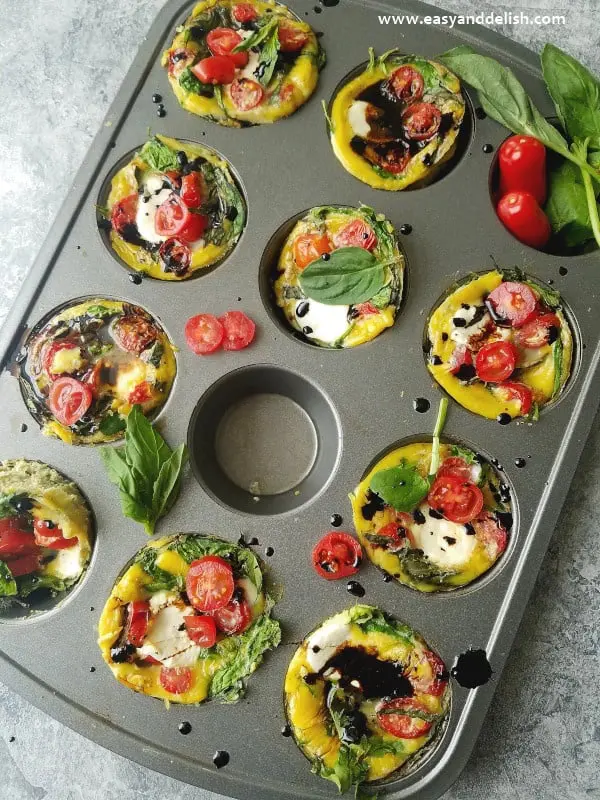 Credit: easyanddelish.com
Eggs are a great start to your day. Not only are they good sources of protein, but they're also excellent sources of selenium, a powerful antioxidant.
But after a while, your basic boiled eggs or fried eggs can get kind of boring. These egg cups are a nice change.
They are scrumptious and have an Italian twist. That's because you're adding baby spinach, fresh mozzarella, basil, and parmesan cheese.
And they're perfect for busy weekdays. In less than 30 minutes, you have 12 egg cups.
So, you have breakfast meal prepped for an entire week. Just grab and go.
To make these, you'll need to lightly oil your muffin tins with oil or cooking spray. This is so your egg cups don't stick. To skip this step, you can just use a silicone muffin pan instead.
Serve with a nice cup of coffee or tea. Yum!
Per Serving:
Calories: 141
Fats: 10g
Protein: 11g
Carbs: 1g
Fiber: 0g
Sugar: 0g
12. Spinach Feta Frittata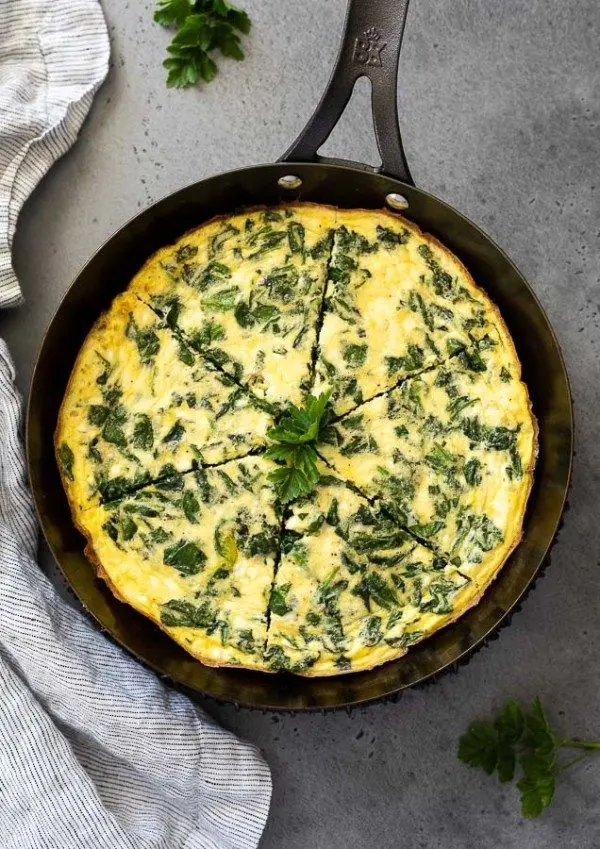 Credit: flavorthemoments.com
Can't get enough Mediterranean food? Here's another recipe for you!
This spinach feta frittata is great for breakfast. Or frankly, any time of the day.
It's packed with tasty Mediterranean ingredients. Like fresh leeks, baby spinach, and crumbly feta cheese…sure to transport you to Greece.
And it's easy to make. All it takes is 10 minutes of prep time, and then let your oven do the cooking.
Per Serving:
Calories: 152
Fats: 10g
Protein: 10g
Carbs: 5g
Fiber: 2g
Sugar: 2g
13. Greek Chicken Meal Prep Bowl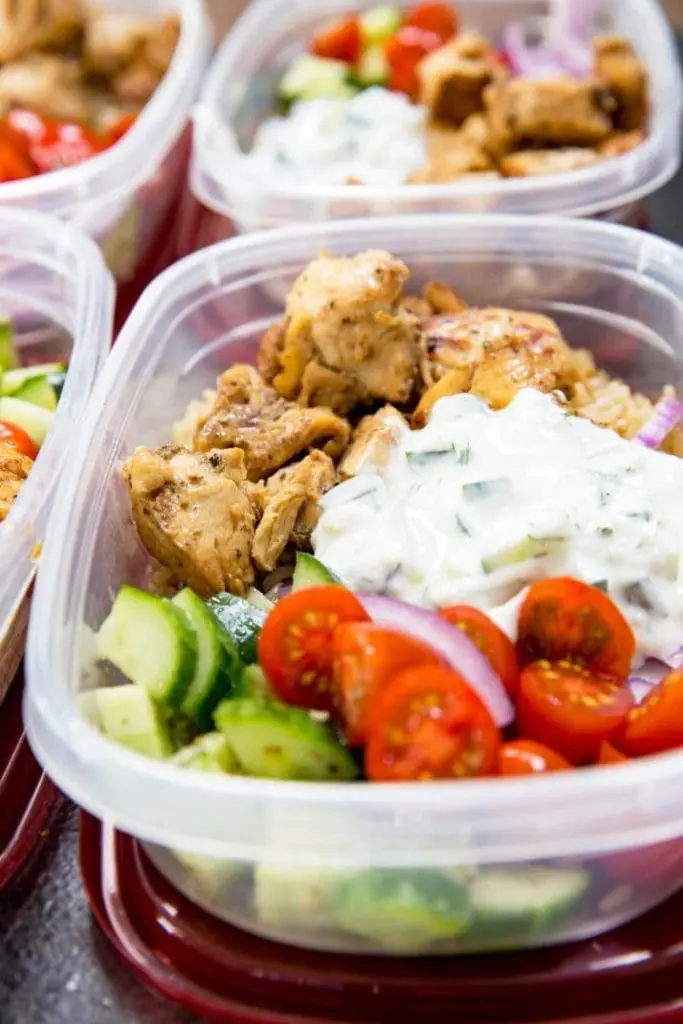 Credit: eazypeazymealz.com
Here's another Greek dish. You can never get enough Greek food, right?
The chicken is juicy and packed with flavor. That's because you marinate it in a Greek-inspired marinade.
The Greek yogurt adds moisture and creaminess. While the red wine vinegar and lemon juice balance the creaminess with some acidity.
The cucumber salad is refreshing and light. And the tzatziki sauce is simply divine.
Your lunchbox will be the envy of your co-workers. So make sure you share.
Per Serving:
Calories: 521
Fats: 21g
Protein: 43g
Carbs: 40g
Fiber: 3g
Sugar: 8g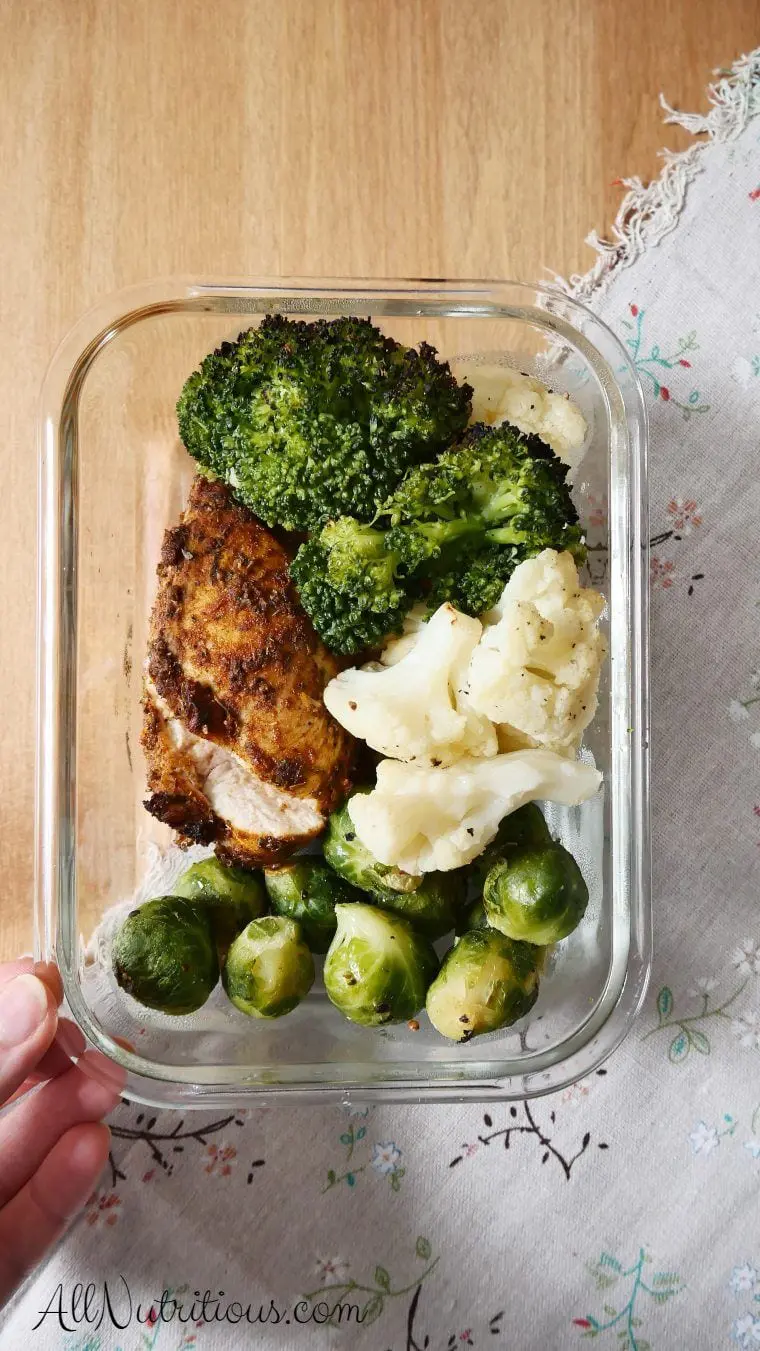 Credit: allnutritious.com
We could all do with more veggies in our diet, myself included. So, if you're looking for a tasty way to get your protein and your veggies in, this meal prep bowl is for you.
The chicken is juicy and bursting with flavor. That's because you marinate your chicken in a mixture of olive oil, spices, and crushed garlic cloves.
And you have a nice assortment of baked veggies like broccoli, Brussel sprouts, and cauliflower.
Not a fan of Brussels sprouts? I totally get you.
Boiled Brussels sprouts can be pretty bitter. However, when you bake them as I do, they actually taste sweet.
They're also pretty cheap. Here are more ways to eat healthy on a low budget! One of them is getting frozen veggies such as Brussel sprouts rather than fresh ones.
Per Serving:
Calories: 474
Fats: 26g
Protein: 44g
Carbs: 19g
Fiber: 9g
Sugar:
15. High Protein Lasagna Stuffed Shells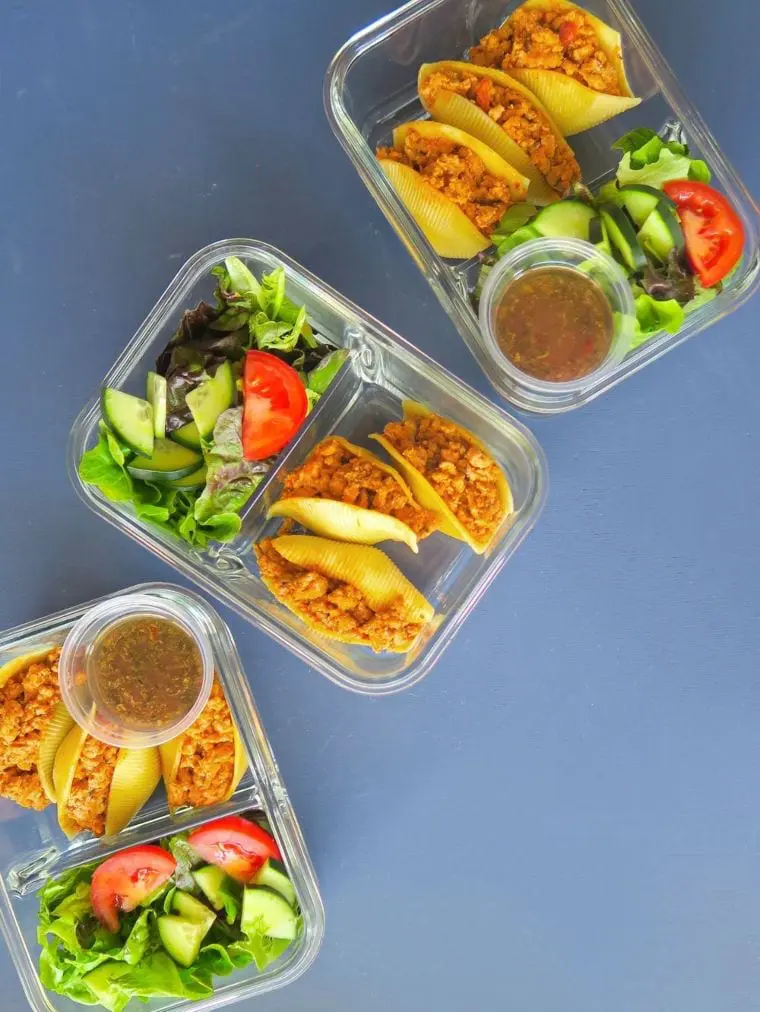 Credit: whatsformealprep.com
Don't you just love a heaping plate of pasta for lunch? But your waistline and brain may not quite agree.
That's because you feel like having a giant snooze fest after all those carbs. And if you keep eating that way, you'll have trouble fitting into your skinny jeans.
With this meal prep, you can eat your cake and have it too. You have your pasta, but not too much, along with a hefty amount of protein.
To do this, you'll be stuffing 4 jumbo shells with nicely browned ground turkey. Then you top them with cheese, tomato sauce and seasonings…it's that easy.
And we can't forget the greens. On the menu is a side Garden salad with Italian vinaigrette.
Calories: 490
Fats: 17g
Protein: 46g
Carbs: 41g
Fiber: 4g
Sugar: 7g
16. High Protein Honey Sriracha Chicken Recipe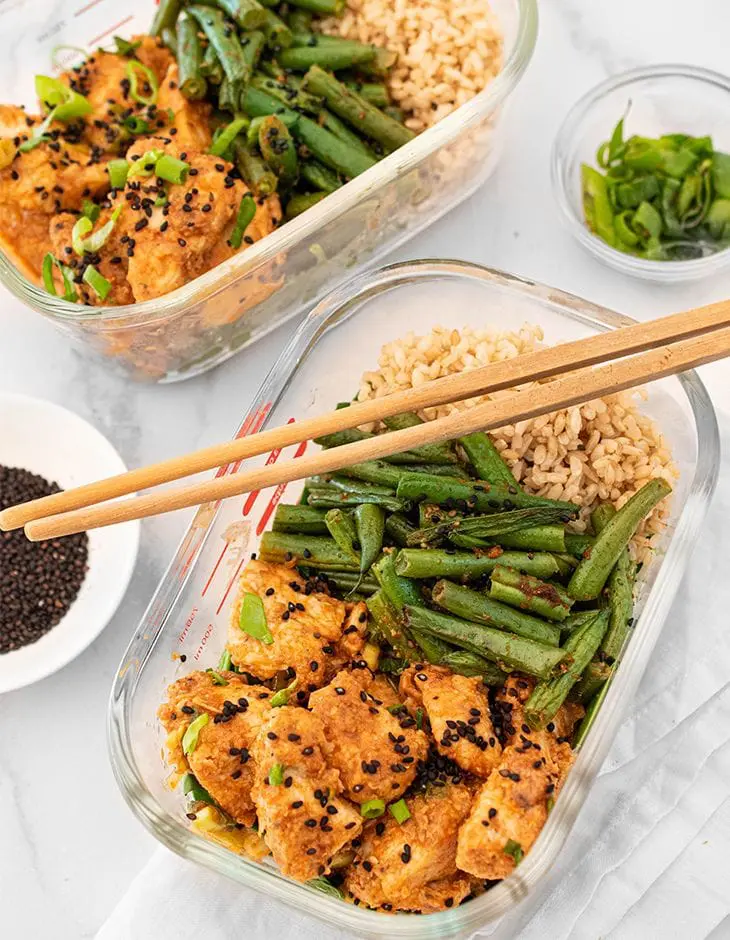 Credit: gymshark.com
Chicken breasts are the perfect diet food. Not only are they high in protein, but they're also low in calories too.
That's because they don't have a ton of fat. But since they don't contain much fat, they can taste like cardboard.
And no-one wants to eat cardboard. These honey sriracha chicken breasts taste like anything but cardboard.
They're spicy and sweet with some zing. That's because of the sriracha sauce.
Making the sauce is pretty easy too. Just mix together some honey, sriracha sauce, apple cider vinegar, and sesame oil.
Together with perfectly roasted green beans, you'll be smacking your lips. Serve with brown rice.
Per Serving:
Calories: 324
Fats: 5.2g
Protein: 52g
Carbs: 17.2g
Fiber:
Sugar:
17. Cashew Chicken Quinoa Bake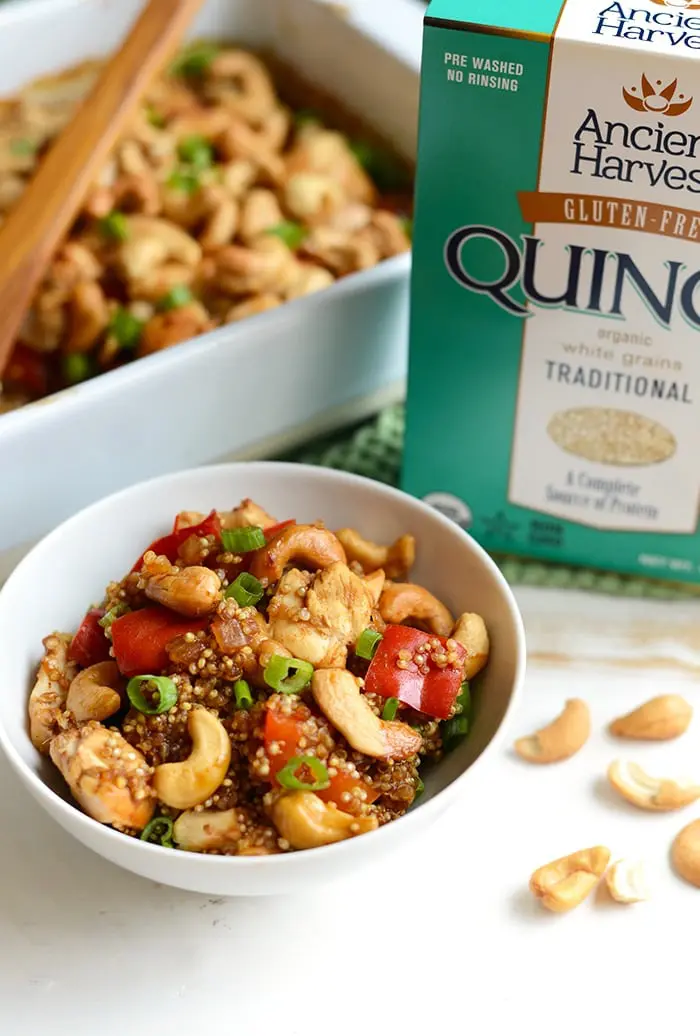 Credit: fitfoodiefinds.com
Now it's time for Chinese food takeout. Yes, you read that, right!
This cashes chicken quinoa bake tastes and smells like Chinese food takeout. But it's much healthier.
That's because you replace the rice with quinoa. Quinoa is not only high in protein, but it's also high in fiber.
So, you feel full longer after eating it. Quinoa is also an excellent source of manganese, magnesium, and phosphorus, which you need for good bones.
What I love most about this dish is that it's a one-dish meal. Just layer your ingredients in a casserole dish and let your oven do the cooking. Easy, peasy chicken dinner.
Per Serving:
Calories: 457
Fats: 10g
Protein: 37g
Carbs: 54g
Fiber: 5g
Sugar: 15g
18. High Protein Artichoke Parmesan Pasta Meal Prep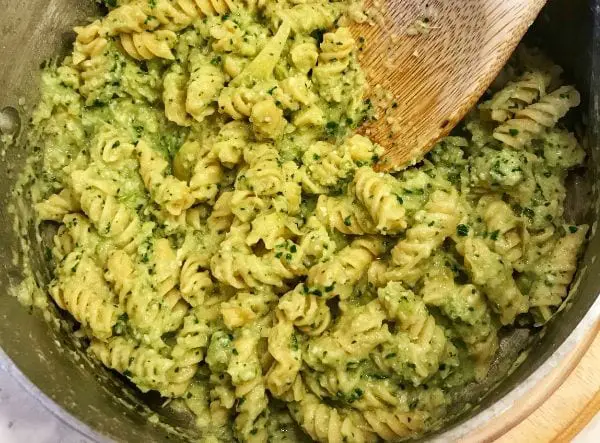 Credit: carrotsncake.com
After a long day at work, all you want to do is relax. And pig out on comfort food.
And it doesn't get much more comforting than mac and cheese. It reminds us of our childhood when we didn't have to do all that adulting stuff, like paying bills.
And we all know how it all goes down: You try to stick to one serving. But despite all your good intentions, you end up eating the whole pot… and that's not good for weight loss.
So what can you do instead? Make this high protein artichoke parmesan pasta instead.
It's creamy and cheesy and hits the spot. The artichoke hearts and kale add extra nutrition too… It's the adult version of Mac and cheese.
It's also high in protein and fiber. So you feel full after just one serving.
The key to it being so high in protein is the pasta you use. You use Banza chickpea pasta.
It has almost double the protein and triple the fiber of regular pasta. And it tastes good too, so it's good for picky eaters. If you'd like to try some, you can get some here.
Per Serving:
Calories: 270
Fats: 9g
Protein: 20g
Carbs: 33g
Fiber: 9g
Sugar: 5g
19. Stuffed Beef Roll Meal Prep Dinner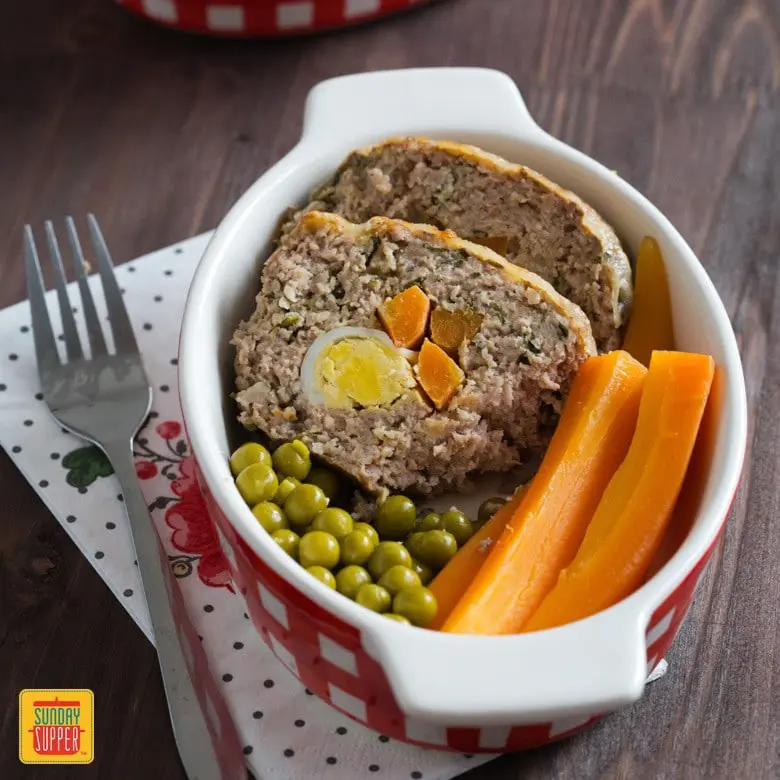 Credit: sundaysuppermovement.com
Talking about comfort food, another classic comfort food is meatloaf. Topped with gravy, it is the ultimate in comfort.
This beef roll is like meatloaf, but with a twist. It's stuffed with yummy and nutritious ingredients like boiled eggs and carrots.
All topped with melted cheddar cheese. You'll love every single bite.
Not only is it delicious, it's nutritious as well. One serving provides almost 30% of your daily iron needs, which you need to keep your energy levels up.
You'll want to make sure that your boiled eggs are hard-boiled, not soft. To take out the guesswork, you can just use an egg maker to boil your eggs.
Per Serving:
Calories: 657
Fats: 44g
Protein: 39g
Carbs: 23g
Fiber: 5g
Sugar: 7g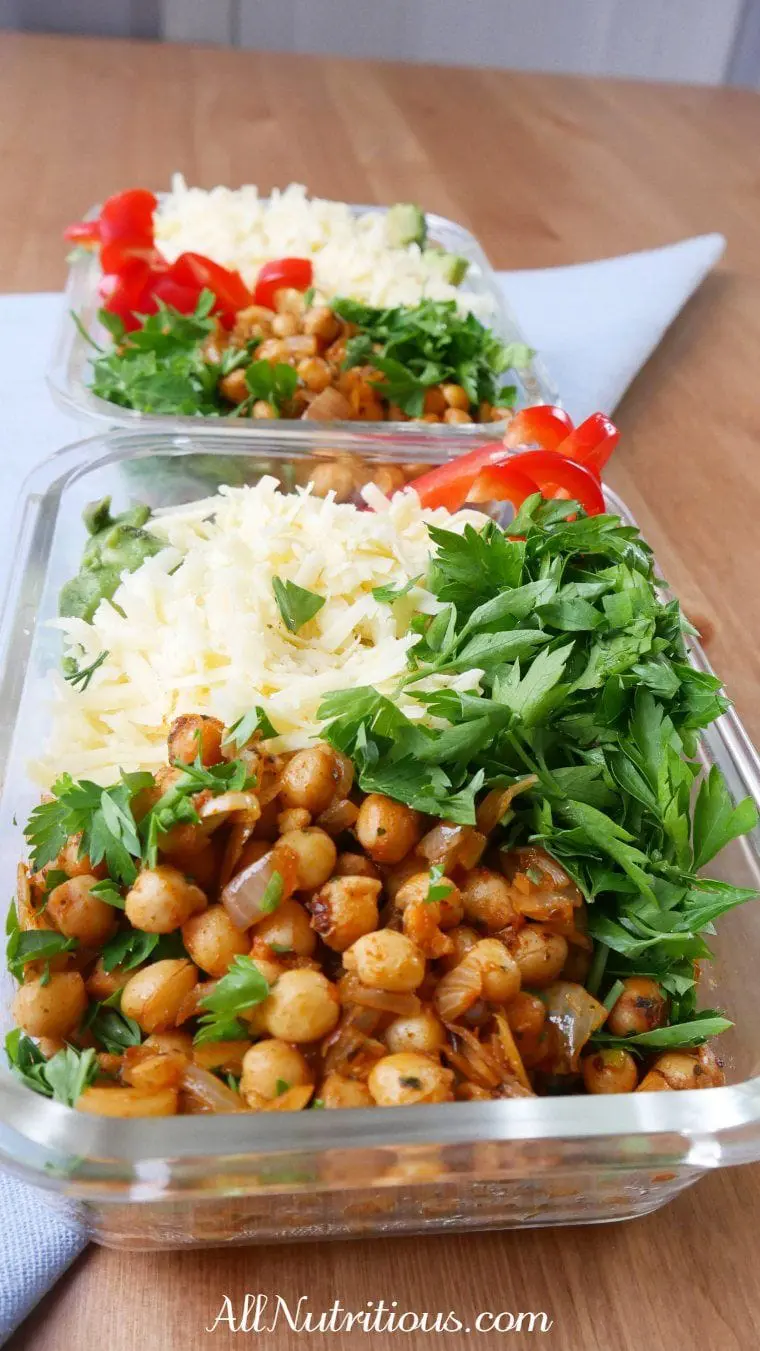 Credit: allnutritious.com
Sometimes, our weekends fly by so quickly. And we don't have much time for meal prep.
If you're having one of those weekends, this dish is for you. It's a spicy and pretty filling vegetarian dish.
The creaminess of the cheddar cheese pairs well with the sweetness of the chickpeas. And the crispy bell peppers complement the creamy avocado beautifully… You won't miss the meat.
All it takes to make this dish is 17 minutes. And you're well on your way to a well-stocked fridge.
Per Serving:
Calories: 736
Fats: 32g
Protein: 30g
Carbs: 89g
Fiber: 24g
Sugar:
21. High Protein Chickpea Tuna Salad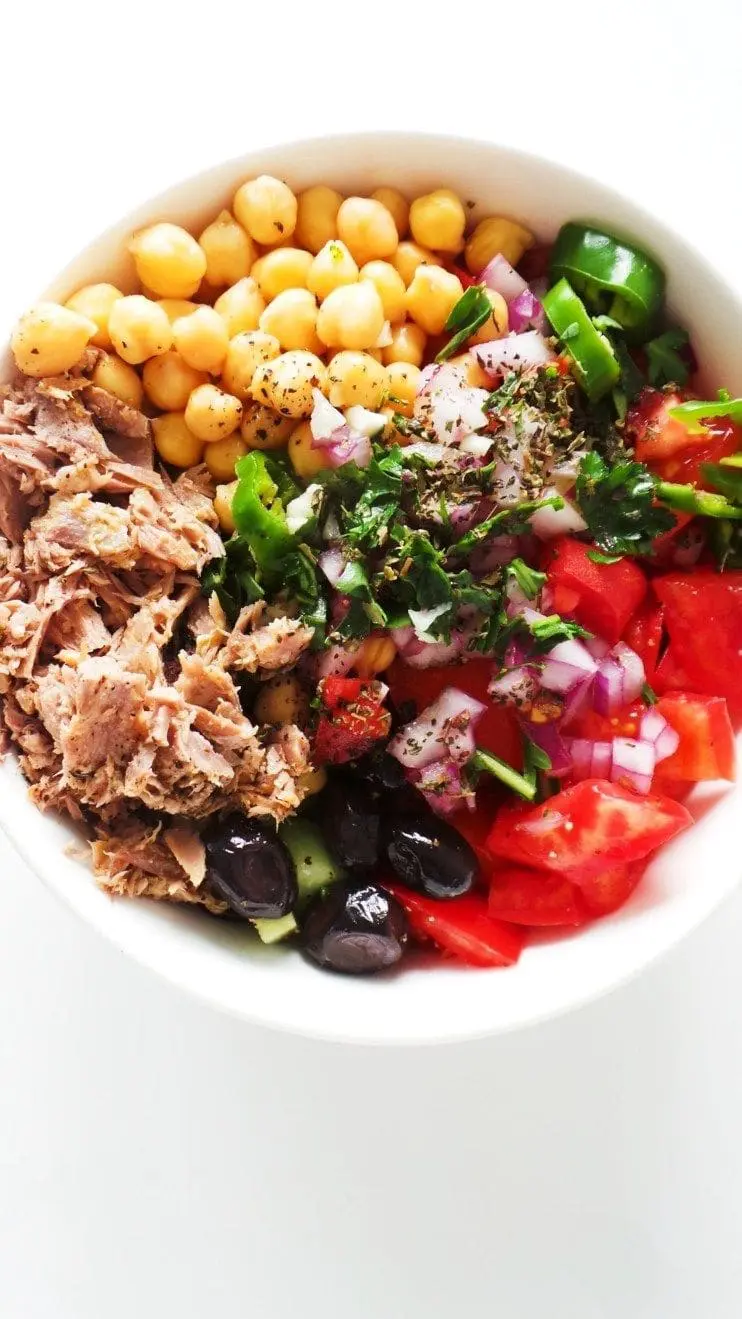 Credit: hh-hm.com
Are you tired of classic tuna salad? This is the way to jazz it up.
It's a tuna salad Mediterranean style. Besides tuna, you've got juicy tomatoes, sweet red onions, briny olives, and refreshing cucumber.
Jalapeno pepper adds some heat, while greens add freshness. But what's even more surprising is that you add chickpeas, and instead of mayonnaise, you use olive oil.
You won't be doing any cooking, just a lot of chopping. But for extra convenience and to save time, you can just use a food processor like this one instead.
Per Serving:
Calories: 415
Fats: 17g
Protein: 27g
Carbs: 44g
Fiber: 15g
Sugar: 11g
22. Garlic Butter Chicken Meatballs Meal Prep Recipe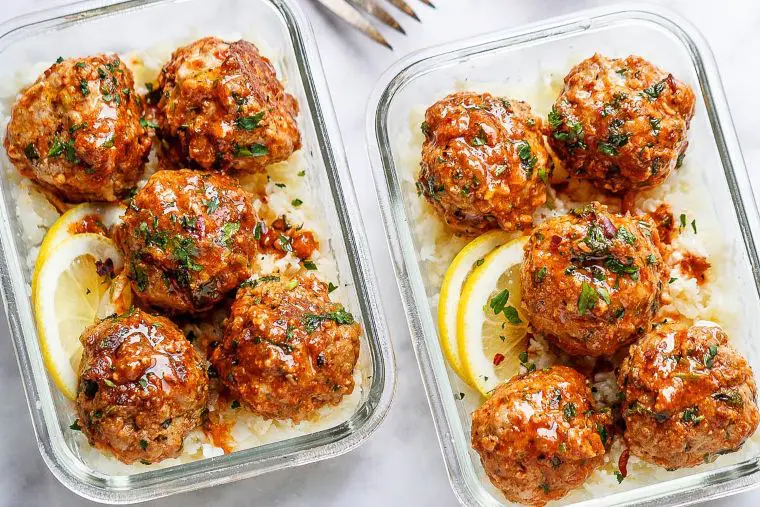 Credit: eatwell101.com
Want meatballs and pasta for lunch, but watching your carbs? Then, give this a try.
Unlike most chicken meatballs, these are pretty flavorful and moist. That's because you use cheese to add moisture and cheesiness to boot.
But that's not all. You're adding garlic, cilantro, Italian seasoning, red chili pepper flakes, and even crumbled bouillon cubes for a powerful punch of flavor… these ain't boring and bland.
And to keep it low carb, you're replacing pasta with cauliflower rice.
Still, miss your noodles? No worries. Just make zucchini noodles instead of using a spiralizer and sautee in some olive oil.
Per Serving:
Calories: 342.71
Fats: 23.84g
Protein: 25.8g
Carbs: 7.96g
Fiber: 2.01g
Sugar: 2.56g
23. Meal Prep Salmon & Asparagus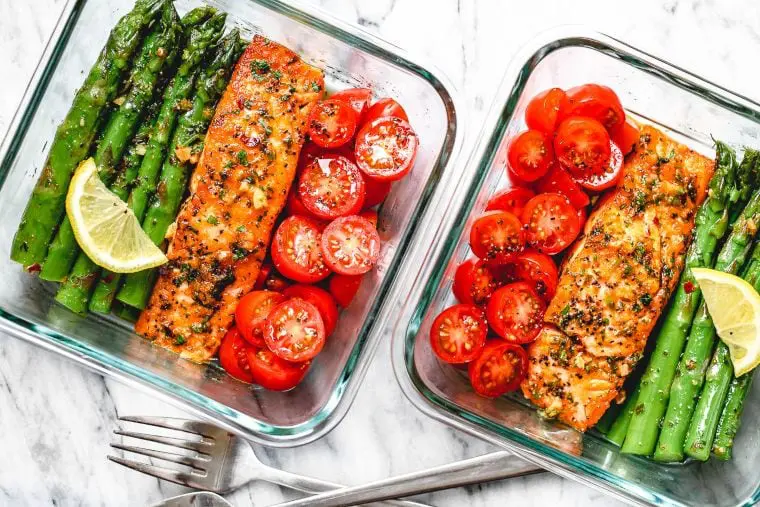 Credit: eatwell101.com
Are there any seafood lovers in the house? This one's for you.
On the menu is salmon that is tender and flaky on the inside, and nicely seared on the outside. Paired with olive-oil marinated cherry tomatoes, sauteed asparagus, and garlic butter sauce.
Not only is it delicious, but it's also pretty nutritious as well. You have tons of brain-boosting omega-3s from the salmon, as well as heart-healthy monounsaturated fats from the olive oil.
Eating healthy doesn't get much better than this. If you love the salmon, you might want to check out these high protein salmon meal prep bowls.
Per Serving:
Calories: 609
Fats: 38.71g
Protein: 42.92g
Carbs: 24.75g
Fiber: 4.09g
Sugar: 14.7g
24. Spicy Slaw Bowls With Shrimp & Edamame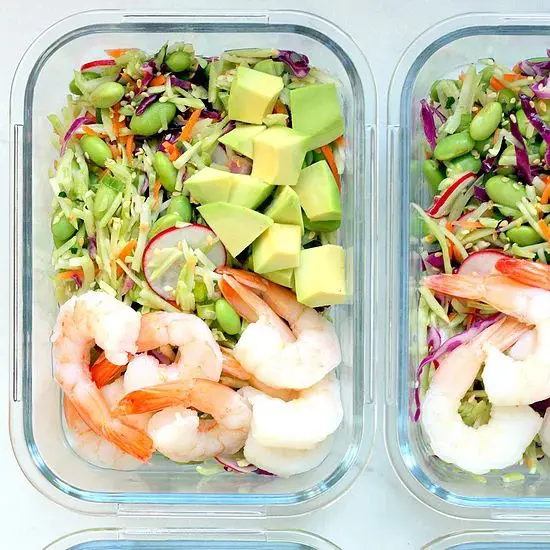 Credit: eatingwell.com
Want a salad bowl that is ready in 1, 2, 3? Then give this salad bowl a try.
This salad takes only 15 minutes to make. So, it's great for days when you don't have much time on your hands for meal prep.
Succulent shrimp is packed alongside spicy coleslaw. The lime juice adds acidity while the avocado adds a nice layer of creaminess, and much needed healthy fats.
Meanwhile, the edamame adds crunch and extra protein.
Per Serving:
Calories: 364
Fats: 18.8g
Protein: 28.1g
Carbs: 19.7g
Fiber: 9.5g
Sugar: 3g
25. Meal Prep Turkey Taco Bowls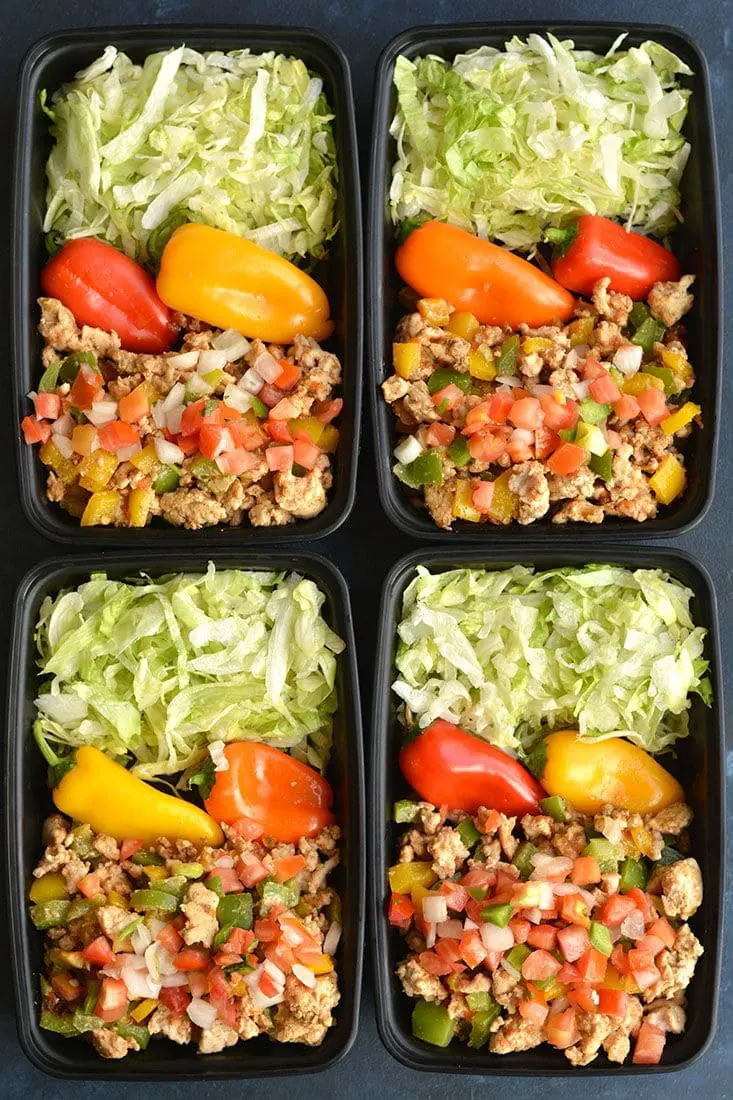 Credit: skinnyfitalicious.com
Ground turkey is a great source of protein. And because it has fewer calories than ground beef or ground chicken, it's great for weight loss.
But if you don't prepare it well, it can be quite tasteless. These turkey taco bowls are anything but tasteless.
The ground turkey is nicely browned and packed with flavor. That's because you use a homemade taco seasoning that adds some Mexican flair.
And let's not forget the veggies. You have beautifully sauteed green and yellow bell peppers, and crispy lettuce to round things out.
Per Serving:
Calories: 143
Fats: 1.6g
Protein: 27g
Carbs: 4.8g
Fiber: 11g
Sugar: 1.7g
Conclusion
Which one of these high protein meal prep ideas is your favorite? Share it with your friends, don't be shy!