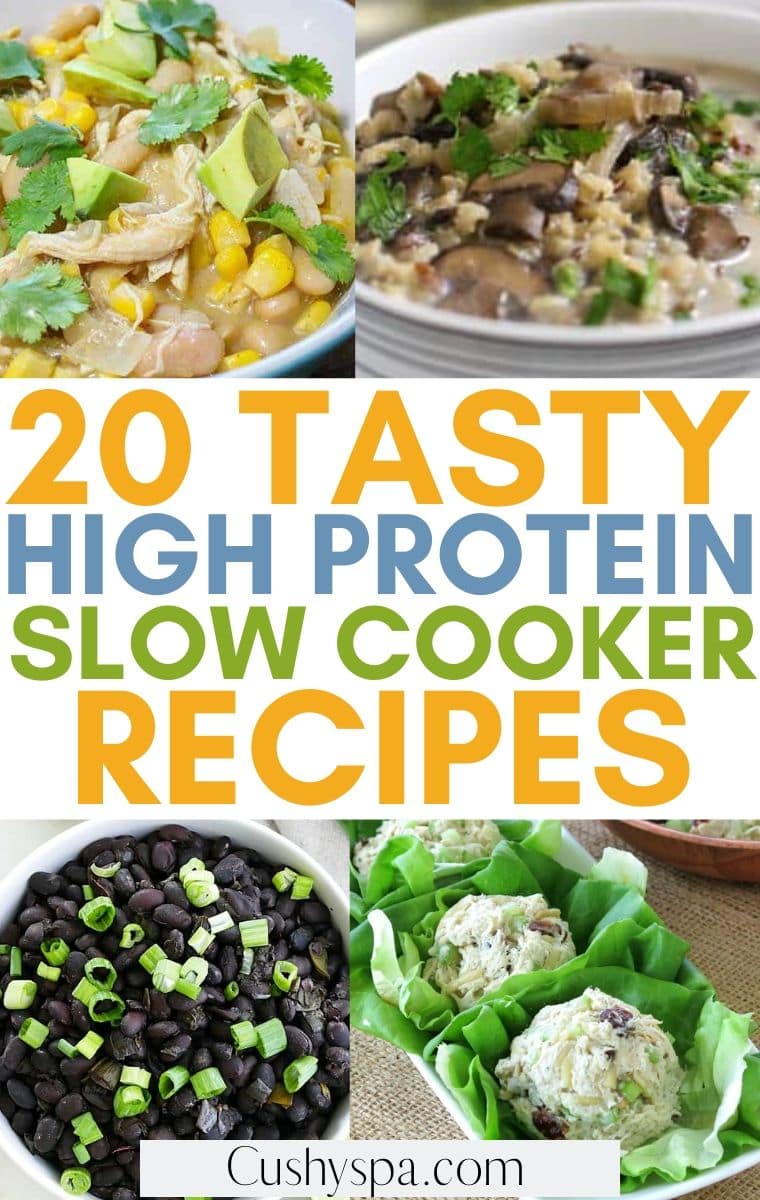 Are you trying to lose weight, but always feeling hungry? The problem could be that you're not eating enough protein.
Of all the macronutrients (protein, carbs, fat), protein helps you feel full the most. And when you feel full, you're less likely to overeat.
But unlike veggies, proteins take longer to cook. And since we all live busy lives, no-one wants to slave in the kitchen.
So, what's the solution? Slow cooker recipes. With slow cooker recipes, you just let your slow cooker do the cooking and come home to a delicious healthy meal.
Today, I'm sharing 20 high protein slow cooker recipes. They're not only delicious but good for you too.
This blog is supported by readers purchasing featured products. When you buy products with my links, I earn a commission at no extra cost to you. Here is my full affiliate disclosure.
Since they all involve slow cookers, make sure you have one. If you need one, I recommend this good quality yet affordable slow cooker. Let's get cooking!
1. Indian Butter Chicken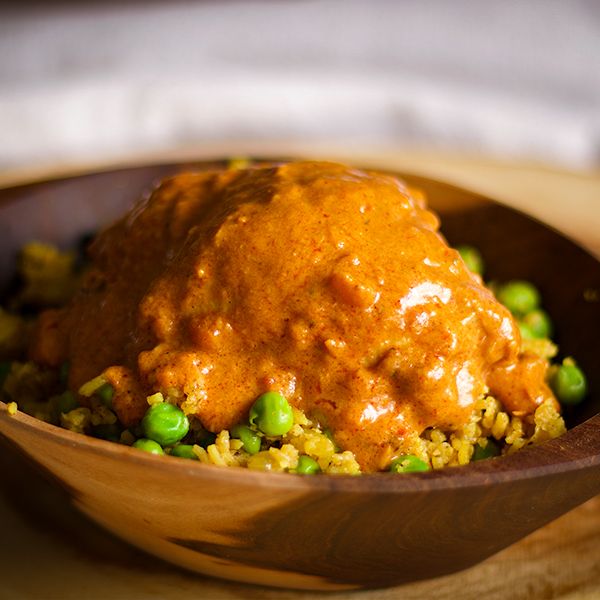 Credit: alittleandalot.com
I love Indian food, as I'm sure many of you do too. There's something about all the spices that make Indian food so irresistible.
This slow cooker Indian Butter Chicken is chock full of tender pieces of chicken. And the butter chicken sauce is packed with flavor.
That's because you're using aromatic spices like garam masala, curry powder, turmeric, and smoked paprika. The heavy cream makes it extra creamy and dreamy.
Now, if you don't eat dairy, not to worry. Simply make your butter chicken sauce using cashew cream; it will be just as delicious.
To make the cashew cream, just add cashews and water in a high powered blender. Here is a good budget blender that will do the job.
Or, if you don't have one, just soak your cashews in water until they get soft. Then blend with water in a regular blender or food processor.
Make sure you have some warm naan bread to mop up all that delicious sauce.
Per Serving:
Calories: 572
Fats: 35.7
Protein: 40.6g
Carbs: 25.4g
Fiber: 0g
Sugar: 8.1g
WATCH: 4 Cheap High Protein Meal Prep Ideas
2. Easy Slow Cooker Chicken Teriyaki Recipe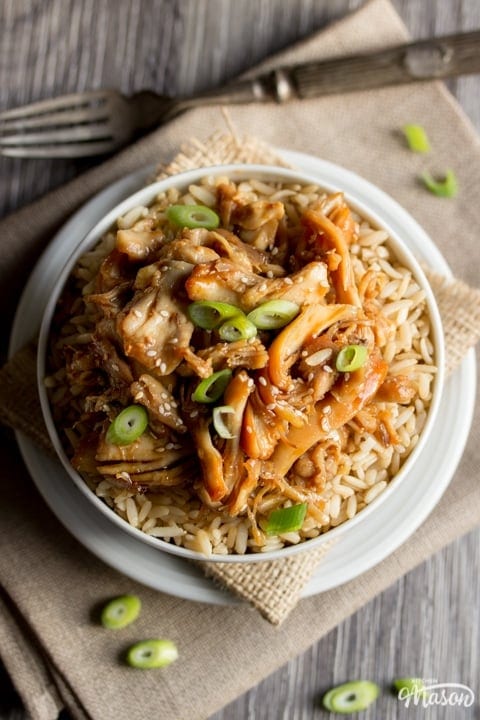 Credit: kitchenmason.com
Now's it's time for some Japanese eats. After all, who doesn't love a good Chicken Teriyaki?
This Chicken Teriyaki is pretty authentic. The chicken is moist and tender, and the aroma of the sauce is enticing.
It's sweet and has a nice umami flavor. What brings it over the top is the mirin.
Mirin is a Japanese rice wine that is used for cooking. It adds not only sweetness but umami flavor.
You can find mirin in the Asian section of your local grocery store. Or, you can stock up on some here.
Serve with rice. Preferably black rice or cauliflower rice, which you can make using a food processor like this with a vegetable steamer basket that's extra cheap.
Per Serving:
Calories: 557
Fats: 24g
Protein: 40g
Carbs: 42g
Fiber: 2g
Sugar: 26g
3. Terragon Chicken Salad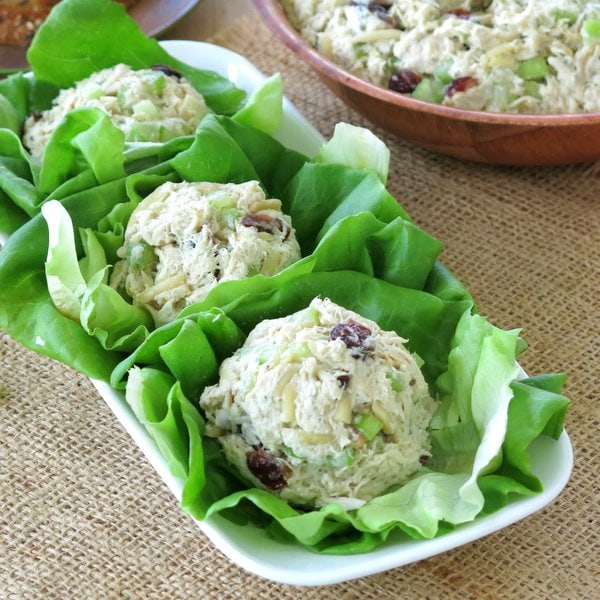 Credit: dinner-mom.com
Your classic chicken salad is so versatile. You can place it on lettuce, tortillas, or just plain bread.
But after a while, it can get kind of boring. This tarragon chicken salad is a nice take on your classic chicken salad.
It's creamy and just plain addictive. You'll keep coming back for more.
The cream cheese and Greek yogurt make it extra creamy while the celery and slivered almonds add a nice crunch.
The cranberries add sweetness, while the tarragon adds a bittersweet flavor that complements the salad perfectly.
The chicken is extra tender. That's because you're slow cooking it for 8 hours.
Once it's done, you'll be shredding your chicken and adding the rest of the ingredients to make the chicken salad.
You can shred the chicken with a fork. But for extra convenience, you can just use some meat shredder claws instead.
This salad makes a nice high protein lunch. You can also serve it as an appetizer on crackers. Yum!
Per Serving:
Calories: 312
Fats: 19g
Protein: 30g
Carbs: 5g
Fiber: 2g
Sugar: 2g
4. Crockpot Ranch Chicken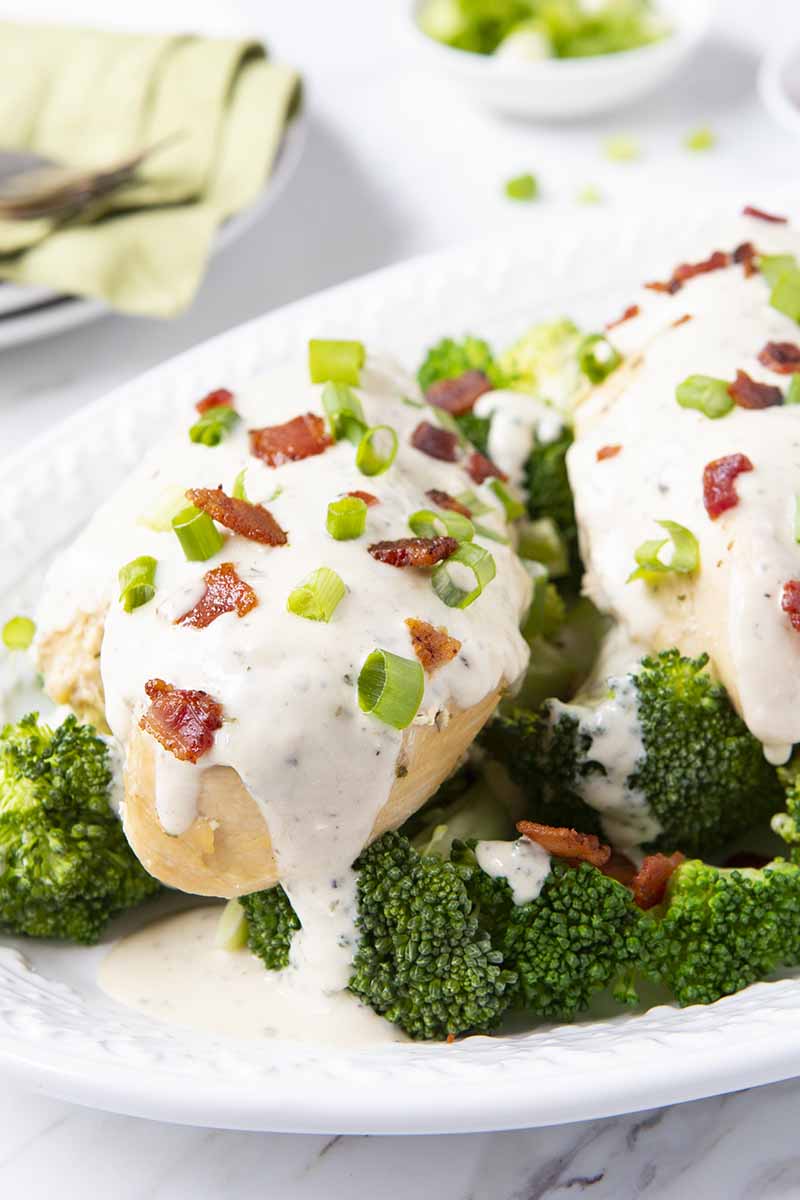 Credit: diabetesstrong.com
Life can be stressful or just plain tiring. For those days, you just want to kick back and relax and chow on some comfort food.
This crockpot ranch chicken is great for those days. Tender chicken breasts are drenched in a creamy ranch dressing sauce… Comfort eating doesn't get much better than this.
And since this recipe makes 4 servings, it's great for meal prep. Just make sure you store your leftovers in airtight storage containers so that they stay fresh longer. I like these BPA free glass containers because they don't leak toxic chemicals.
Top with crispy bacon and serve with rice or cauliflower rice.
Per Serving:
Calories: 362
Fats: 18.5g
Protein: 37.3g
Carbs: 9.7g
Fiber: 0.1g
Sugar: 3.5g
5. Lentil Sweet Potato Chilli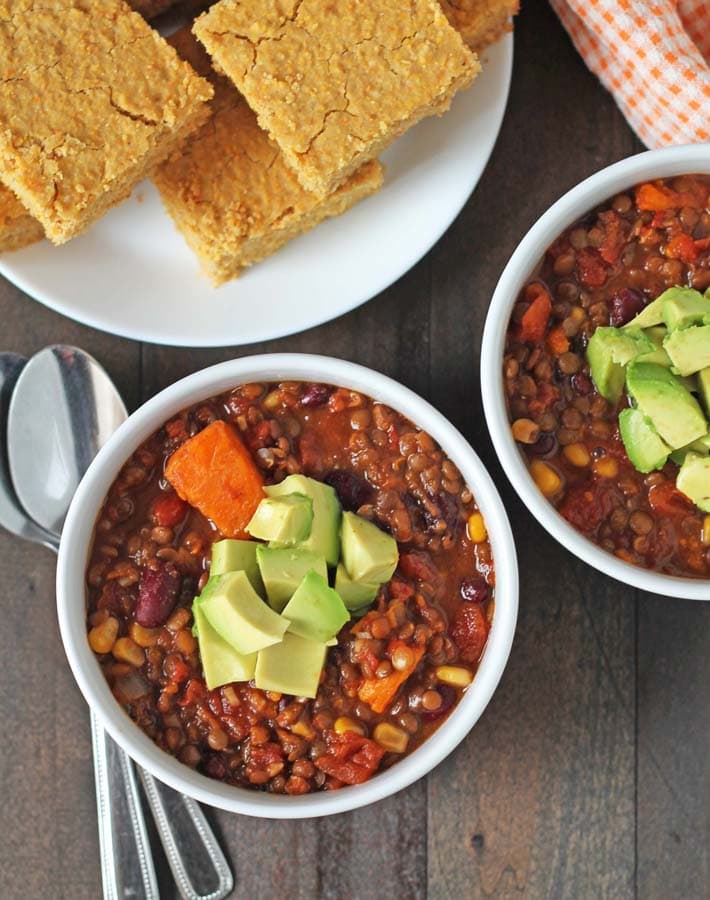 Credit: delightfuladventures.com
I'm a big fan of classic beef chili, as many of you probably are. But sometimes, a break from meat is good.
This lentil sweet potato chili is a nice change. And it's totally plant-based/vegan.
It turns what you think chili should be upside down. It's chunky, tomatoey, and tastes delicious. Just the way chili should be.
But most of the protein comes from lentils instead of red kidney beans. Also, you get sweetness from the sweet potato and corn.
As a bonus, it's pretty high in fiber. In fact, one serving provides a whopping 36% of your daily fiber needs.
Making it is super easy. Just dump your ingredients in your slow cooker, and away you go.
Serve with diced avocado for creaminess.
Per Serving:
Calories: 407
Fats: 1g
Protein: 22g
Carbs: 78g
Fiber:9g
Sugar: 15g
6. Easy Crockpot Chicken & Rice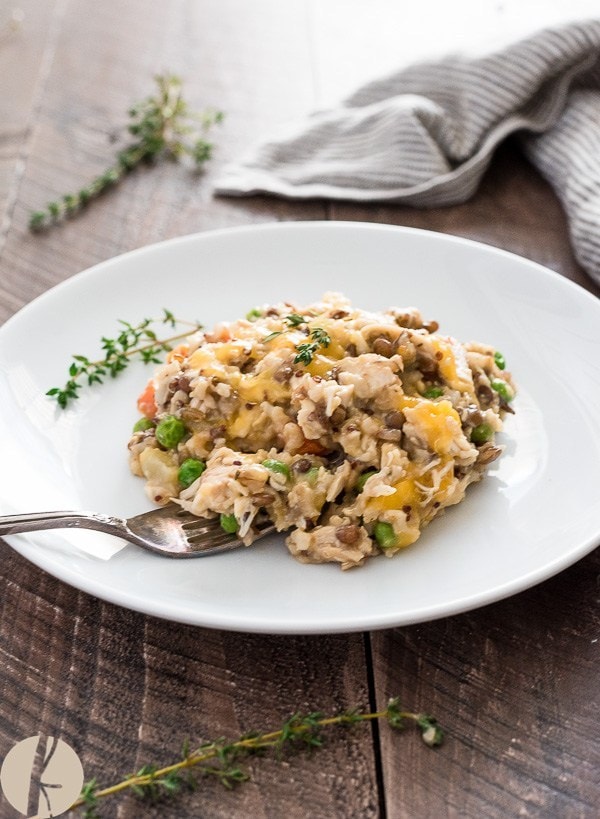 Credit: flavorthemoments.com
Creamy chicken and rice is one of those foods that is oh, so comforting, but not that great for you.
That's because it typically contains canned soup. Canned soups are high in sodium which is not good for your blood pressure.
This chicken and rice casserole is so delicious. Yet, it doesn't contain a single drop of canned soup.
It gets a ton of flavor from herbs and veggies like carrots, celery, and green peas. The ooey gooey cheese adds all the creaminess that you need.
As a bonus, you don't use white rice. Instead, you use a blend of lentils, wild rice, and quinoa.
This makes the casserole hearty and adds protein and fiber to boot.
Per Serving:
Calories: 223
Fats: 8g
Protein: 18g
Carbs: 21g
Fiber: 5g
Sugar: 3g
7. Veggie Loaded Mexican Chicken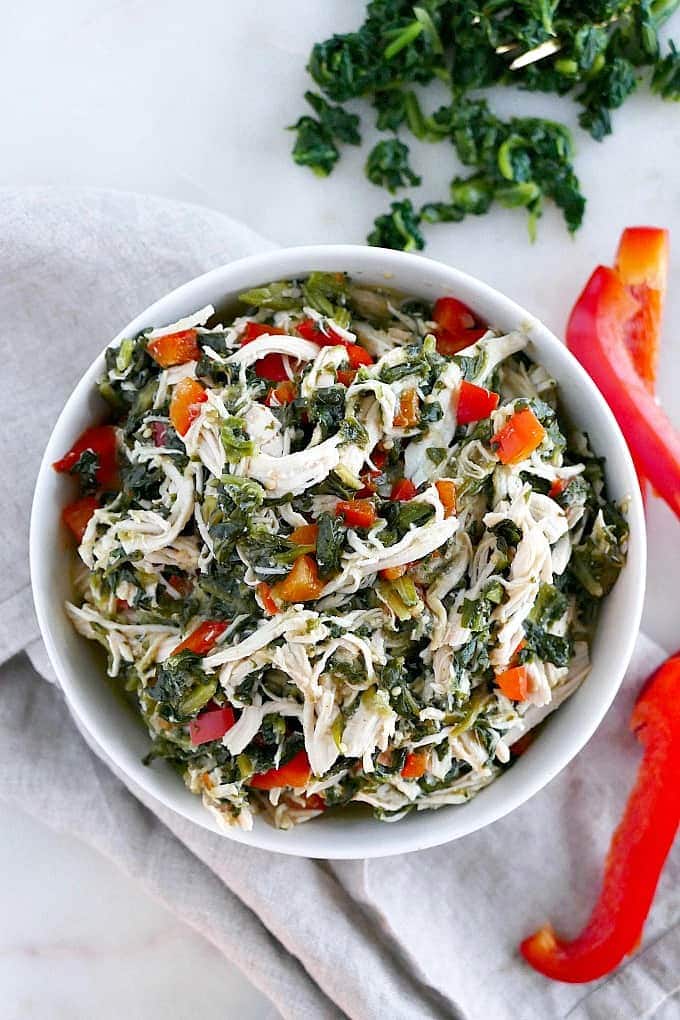 Credit: itsavegworldafterall.com
We all need some more veggies in our diet, myself included. But veggies can taste so bland if you know what I mean.
This veggie-loaded slower cooker Mexican Chicken is definitely not bland. The chicken and the veggies are bursting with flavor.
The salsa verde makes the dish super yummy. And it adds a Mexican twist too.
While the lime juice adds some acidity, it also helps you absorb the iron in the spinach much better.
This meal also makes a good freezer meal. That's because you can freeze it for up to 3 months.
Just make sure you store your leftovers in a good freezer-safe container. You don't want to lose your food to freezer burn.
Serve in tacos or a burrito bowl.
Per Serving:
Calories: 185
Fats: 4g
Protein: 26g
Carbs: 9g
Fiber: 2g
Sugar: 5g
8. Black Beans With Scallions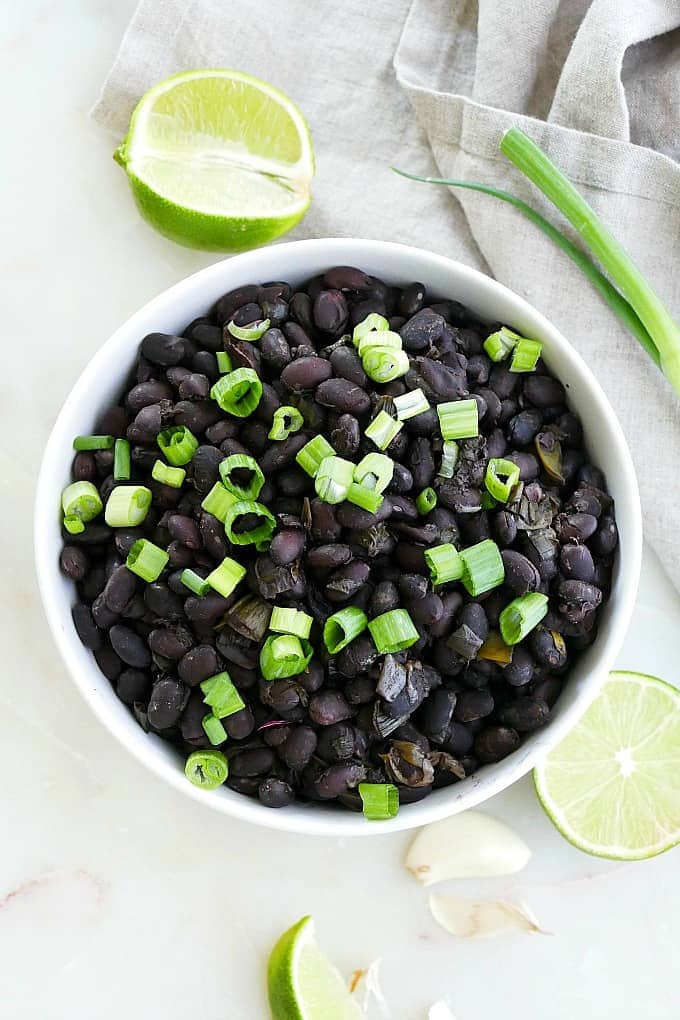 Credit: itsavegworldafterall.com
Need a dish for meatless Monday? Give these slow cooker black beans a try!
With these black beans, it's all about the garlic and the fresh scallions. They make the black beans so delicious.
Besides being delicious, one serving provides almost 50% of your daily fiber needs. So be prepared to have some good bowel movements.
They are also a good source of iron. So, they help keep your energy levels up.
What I love most about this dish is that you don't need a ton of ingredients. All you need are some dry beans, scallions, garlic cloves, bay leaf, veggie broth, and limes.
Serve with some brown rice. Easy, simple, and delicious!
Per Serving:
Calories: 275
Fats: 1g
Protein: 17g
Carbs: 52g
Fiber: 12g
Sugar: 3g
9. Beef Ragu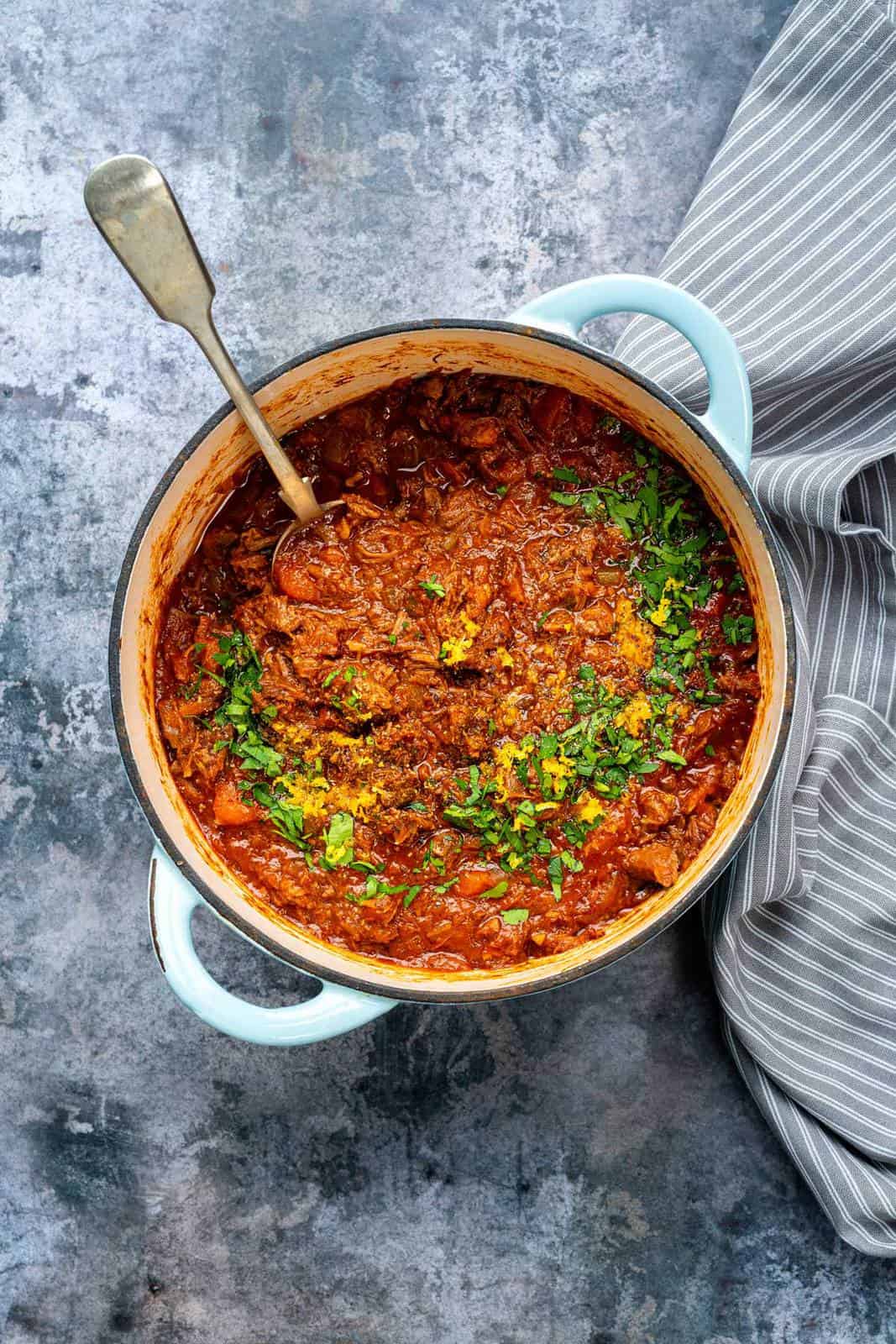 Credit: supergoldenbakes.com
I love Italian food, as I'm sure many of you do too. The creamy sauces, the cheese, the pasta.
This slow cooker beef ragu hits all the right spots. It's saucy, cheesy, and packed with melt in your mouth beef.
All it takes is 15 minutes of prep time; then you let the slow cooker do the work… Just the way I like to roll.
Now, it does take quite a while in the slow cooker; 9 hours to be exact. So, it's good to do the prep work in the morning before heading to work.
However, if you want it done much faster, you can also use an Instant Pot. If you don't have one, there's a great deal on this Instant Pot right now.
Serve over noodles, or if you're low carb, zucchini noodles. Buon appetito!
To make zucchini noodles, use this spiralizer here. It's cheap and convenient to use.
Per Serving:
Calories: 494
Fats: 33g
Protein: 37g
Carbs: 10g
Fiber: 2g
Sugar: 4g
10. Slow Cooker Asian Pot Roast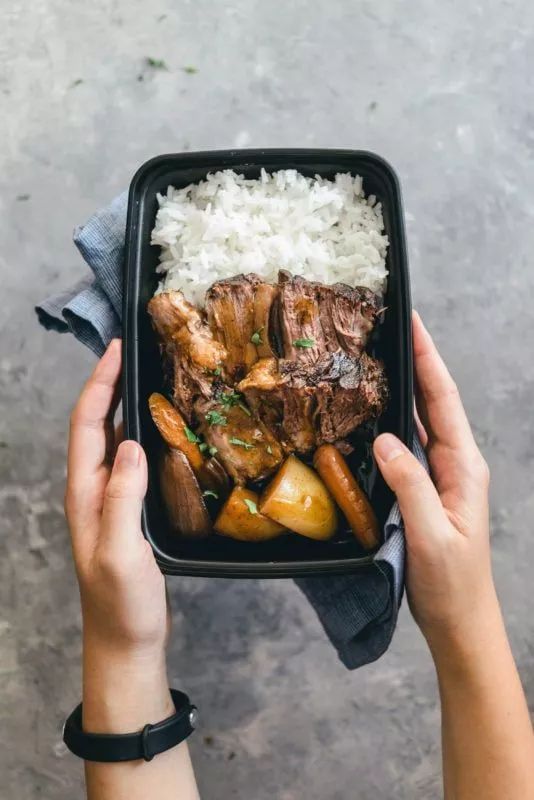 Credit: mealpreponfleek.com
Nothing says family dinner more than a pot roast on those lazy Sunday evenings. With all the fixings.
This Asian pot roast offers an Asian twist to your traditional pot roast. And it's pretty delicious.
The soy sauce and brown sugar add nice umami and sweetness while the five-spice powder adds tons of flavor.
And we can't forget about all the fixings. The carrots, potatoes, and onions are juicy and tender.
You can also make this pot roast gluten-free if you want. Just use coconut aminos instead of soy sauce.
The coconut aminos add not only umami but extra sweetness. You can find some low sodium coconut aminos here.
Per Serving:
Calories: 487
Fats: 19g
Protein: 49g
Carbs: 30g
Fiber:
Sugar:
11. Slow Cooker Turkey Chili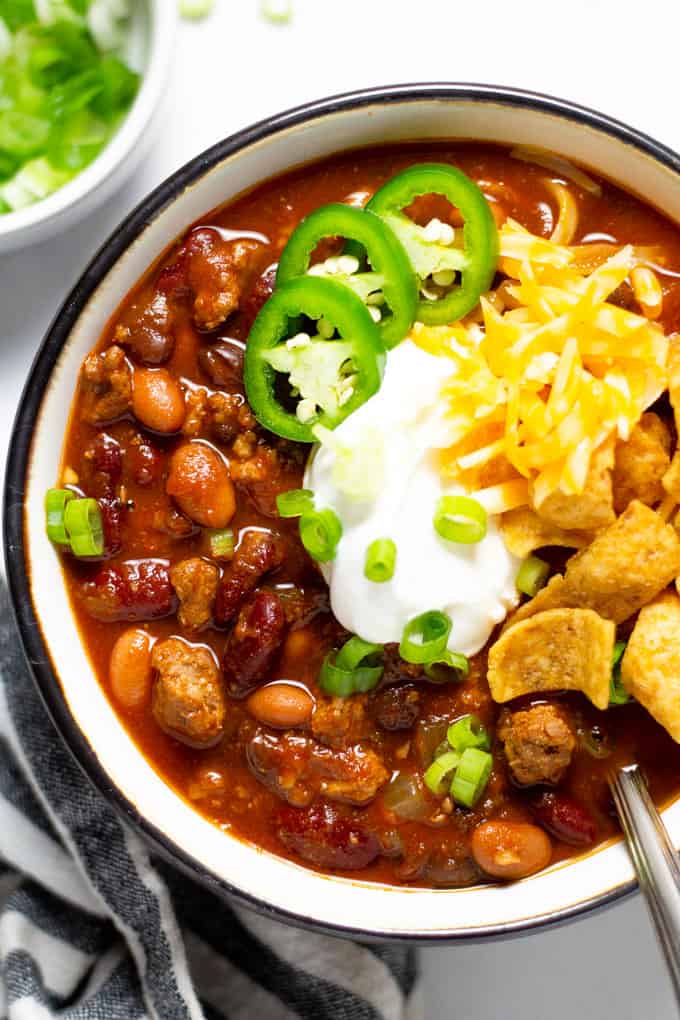 Credit: midwestfoodieblog.com
Had a rough day and need some comfort? This turkey chili is pretty comforting.
Unlike your regular chili, which contains ground beef, this one has ground turkey.
Now, ground turkey can be bland. That's because it has less fat than ground beef. However, this turkey chili will have you asking for seconds.
That's because it pops with Mexican flavor. The jalapeno and diced chilies in adobo add heat. Perfect if you like it spicy.
While the Worcestershire sauce amps up the flavor of the ground turkey. Meanwhile, the salsa adds more Mexican notes. If you like it super spicy, make sure you use spicy salsa.
The apple cider vinegar you add at the end really boosts the flavors to a whole other level. This is not your traditional chili; it's much better.
Besides being delicious, apple cider vinegar is good for you too. It helps you feel full and can even help you lose belly fat too.
Per Serving:
Calories: 326
Fats: 7.9g
Protein: 24.3
Carbs: 41.9
Fiber: 14.7g
Sugar: 5.9g
12. Slow Cooker Pepper Steak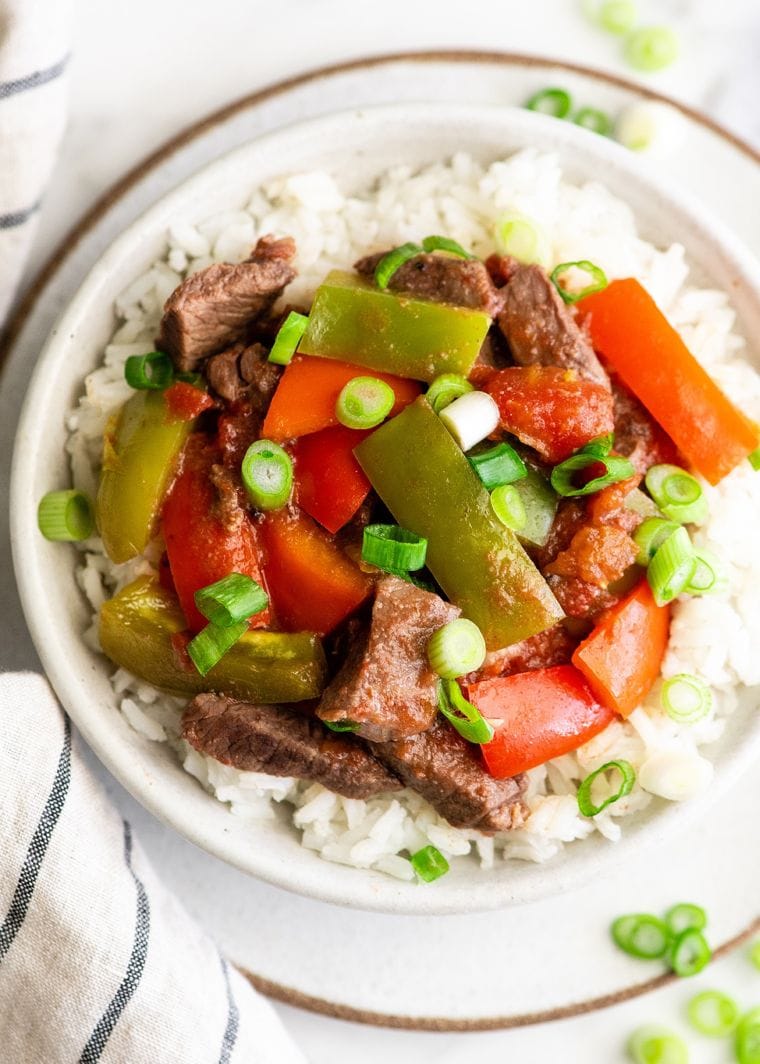 Credit: joyfoodsunshine.com
Kids are some of the pickiest eaters-ever. And the last thing you want to do is slave in the kitchen, only to have them eat crackers and cheese instead.
This protein-packed meal is kid-approved. It's also pretty delicious.
The steak is juicy-tender, and the soy sauce adds umami flavor. While the dab of honey adds just the right amount of sweetness…kids love anything sweet, right?
There are even some green and red bell peppers in there too. So, it's the perfect way to get your kids to eat their veggies.
Now, there are some diced onions in there. Some kids can get weird about them, so to hide them, just pulse them in a food processor until smooth.
Serve over rice or mashed potatoes. Or if you're low carb, cauliflower rice or cauliflower mash.
Per Serving:
Calories: 199.8
Fats: 11.4
Protein: 16.5
Carbs: 9g
Fiber: 1.4g
Sugar: 3.7g
13. Slow Cooker White Chicken Chili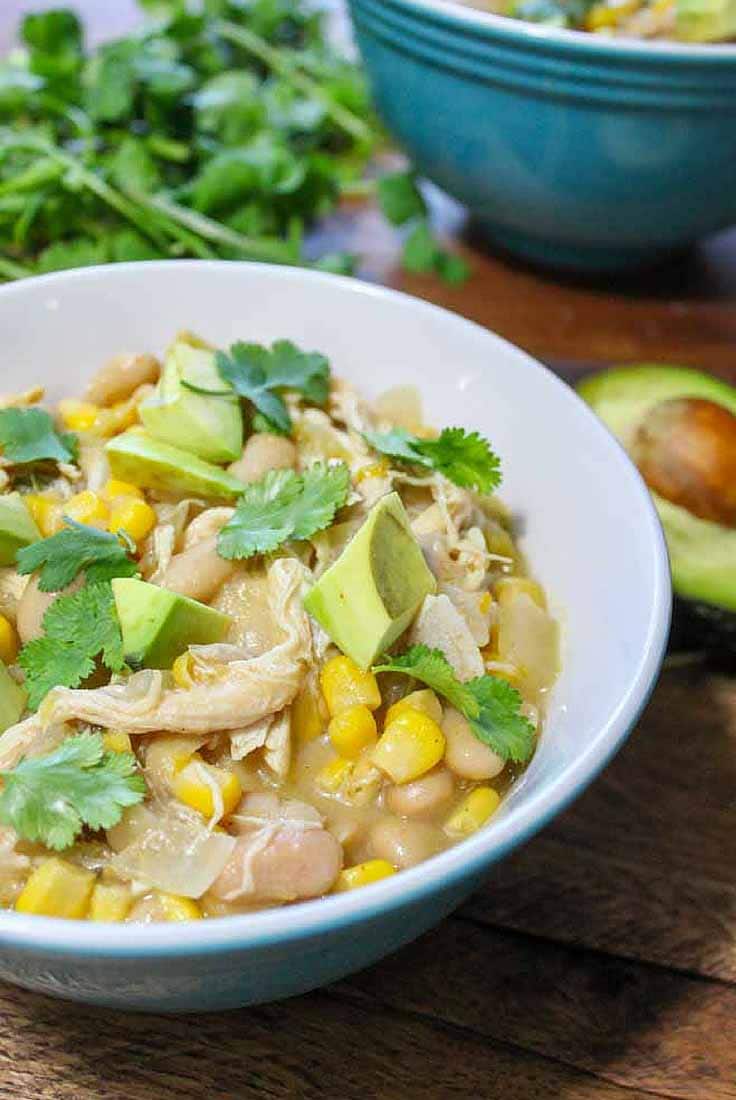 Credit: diabetesstrong.com
When it's cold outside, you just want to curl up. And read a good book, or binge-watch your favorite shows.
Then, just eat, chili…and have it magically cook itself. Well, I can't promise this chili will magically cook itself, but it comes pretty close to that.
It's creamy and packed with tender chicken breast. The cannellini beans and corn make it nice and hearty, while the green chilies add some heat to warm you up.
And it's packed with flavor from the seasonings and lime juice.
To make it, just dump your ingredients in your slow cooker and let the delicious aroma fill your house. Then towards the end, get some soup from your slow cooker and blend it with some yogurt in a blender… You don't want to skip this step.
Then, place in your slow cooker and cook 15 more minutes. Top with avocado slices for additional creaminess.
Per Serving:
Calories: 310
Fats: 7.4g
Protein: 24.3g
Carbs: 30.6g
Fiber: 8.5g
Sugar: 7.1g
14. Slow Cooker Pulled Chicken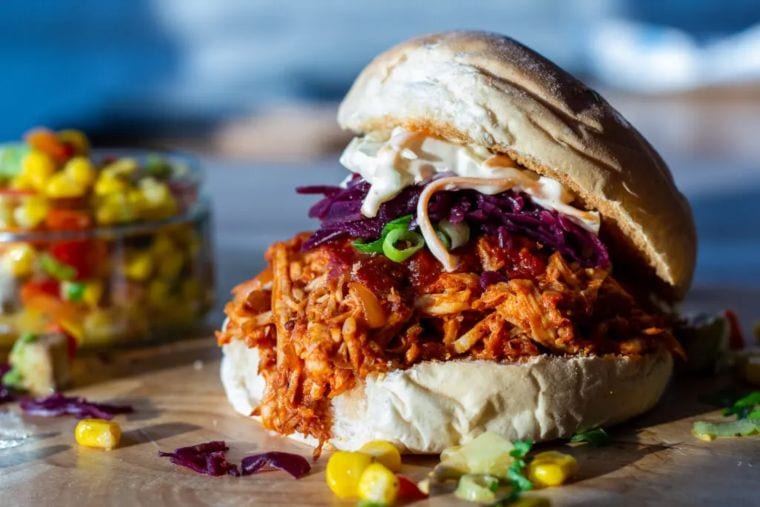 Credit: slowcookerclub.com
Pulled pork is delicious. But sometimes, you want something a little lighter, like this pulled chicken.
It tastes just as delicious, but with less fat. An added bonus if you're trying to cut down on fat.
The chicken is tender. But, it's the homemade barbecue sauce that makes this chicken sparkle.
It is sweet and savory, and smoky, and tangy. You'll want to use this sauce a lot.
You'll be using a lot of spices and seasonings to make it. So, make sure you have a good set of measuring spoons. I like these measuring spoons because they don't rust or stain.
Serve on a bun with a side of coleslaw.
Per Serving:
Calories: 409
Fats: 14g
Protein: 33g
Carbs: 40g
Fiber: 4g
Sugar: 28g
15. Slow Cooker Pulled Pork Sandwiches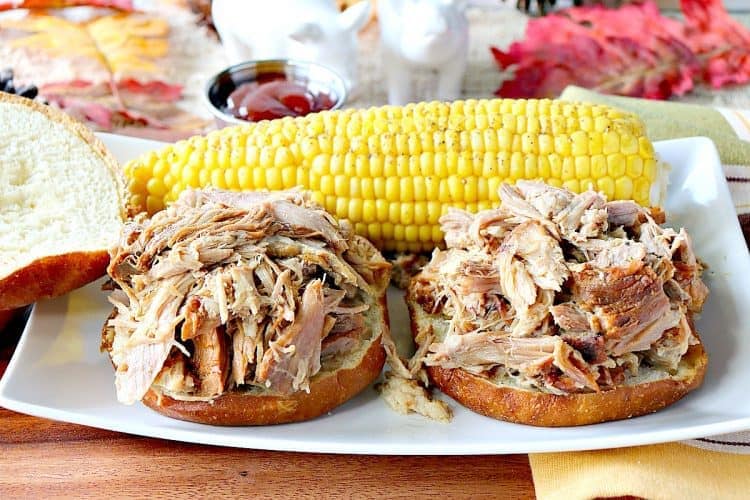 Credit: kudoskitchenbyrenee.com
Potlucks can be tricky situations. You want to prepare something that everyone will enjoy.
Yet at the same time, you don't want to spend tons of time in the kitchen. The solution to this is making slow cooker pulled pork sandwiches.
These are sure to be a winner. The pulled pork is tender and juicy.
The pineapple juice, apple cider vinegar, and brown sugar add tons of sweetness and tang.
While the horseradish adds a nice heat. Totally unexpected, but it works.
And to carry this pulled pork on the run, you may want to use a cook and carry a slow cooker. That way, there's less mess on the go.
Per Serving:
Calories: 152
Fats: 5g
Protein: 19g
Carbs: 4g
Fiber: 0g
Sugar: 3g
16. Slow Cooker Cream Cheese Chicken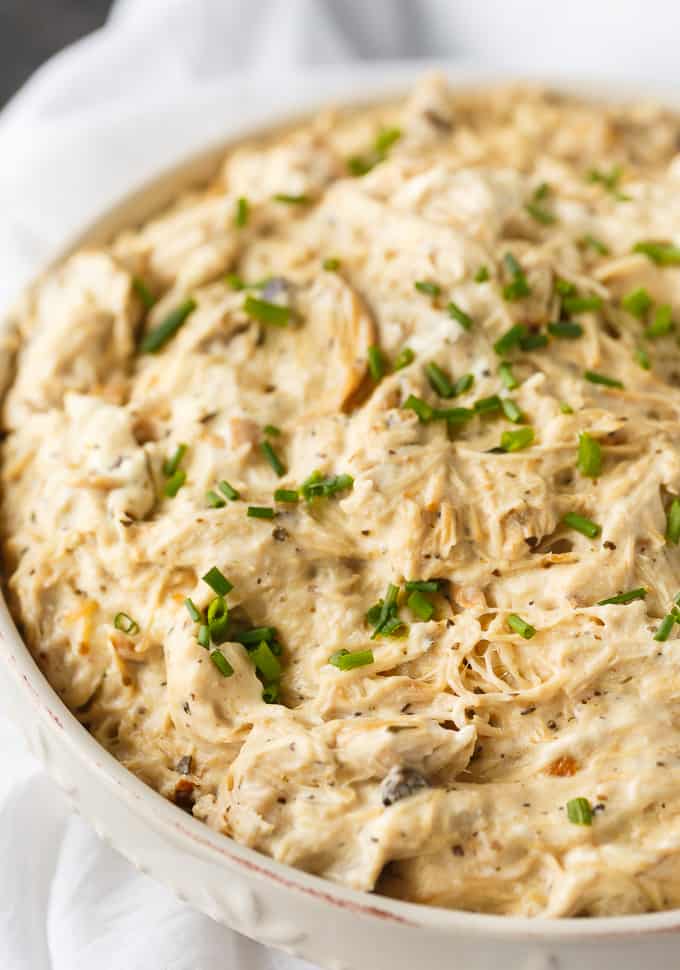 Credit: simplystacie.net
It's hard enough getting ready for work. So, the thought of prepping ingredients to pop in your slow cooker before heading out the door can be a hassle.
This dish takes only 5 minutes of prep time. That's it. So, you can prep your ingredients in the time it takes to make your cup of coffee.
And it makes the ultimate comfort food. It is creamy, smooth, and flavorful.
The cream cheese and cream of mushroom soup add creaminess. The chives add a mild onion flavor, while the celery seed adds some earthiness.
Serve with buns or warm biscuits.
Per Serving:
Calories: 603
Fats: 35g
Protein: 53g
Carbs: 18g
Fiber: 2g
Sugar: 3g
17. Slow Cooker Creamy Chicken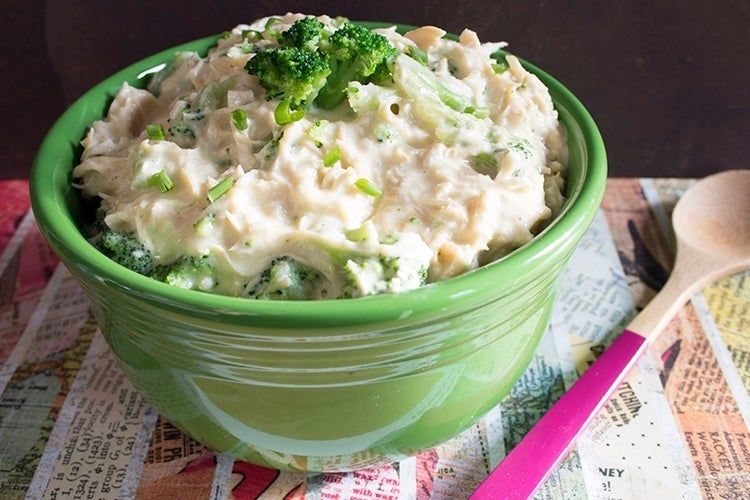 Credit: popculture.com
Are you going through some tough times? It's during those tough times that you need some comfort food.
This recipe makes comfort food a breeze. All it takes is 5 minutes of prep time.
And unlike a lot of comfort food, it is low in calories. So, you can help yourself to one serving or two without feeling guilty.
Besides being creamy and packed with cheese, it also has some broccoli too. So, you're getting fiber and antioxidants to boot.
Per Serving:
Calories: 271
Fats: 8g
Protein: 39g
Carbs: 15g
Fiber: 3g
Sugar: 5g
18. Crockpot Chicken Shawarma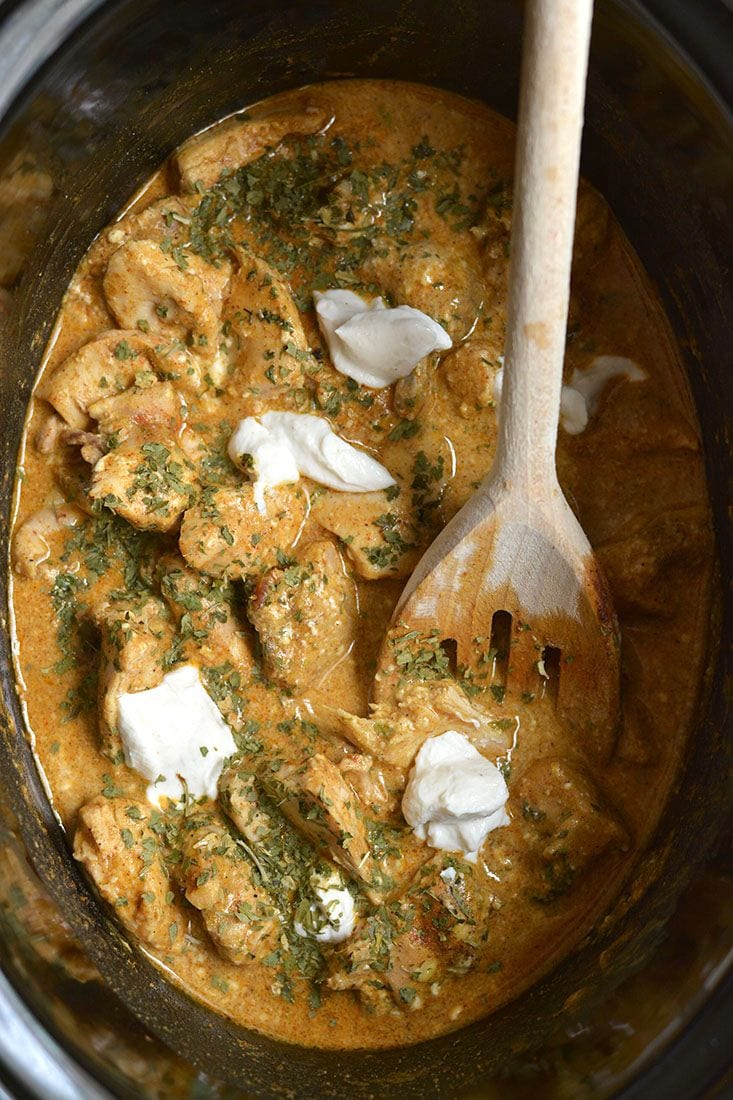 Credit: skinnyfitalicious.com
Need to satisfy your Lebanese food cravings? Then, give this chicken shawarma a try!
It's creamy, packed with tender chicken and lots of Mediterranean flavors. From the tahini to the Greek yogurt to the extra virgin olive oil.
And the great thing is this dish is a true-dump and go meal. Just dump all your ingredients into your slow cooker and come back to a homecooked Lebanese meal.
Serve with pita bread.
Per Serving:
Calories: 320
Fats: 17.1g
Protein: 37.3g
Carbs: 3.1g
Fiber: 0.6g
Sugar: 1g
19. Slow Cooker Chicken & Shrimp Jambalaya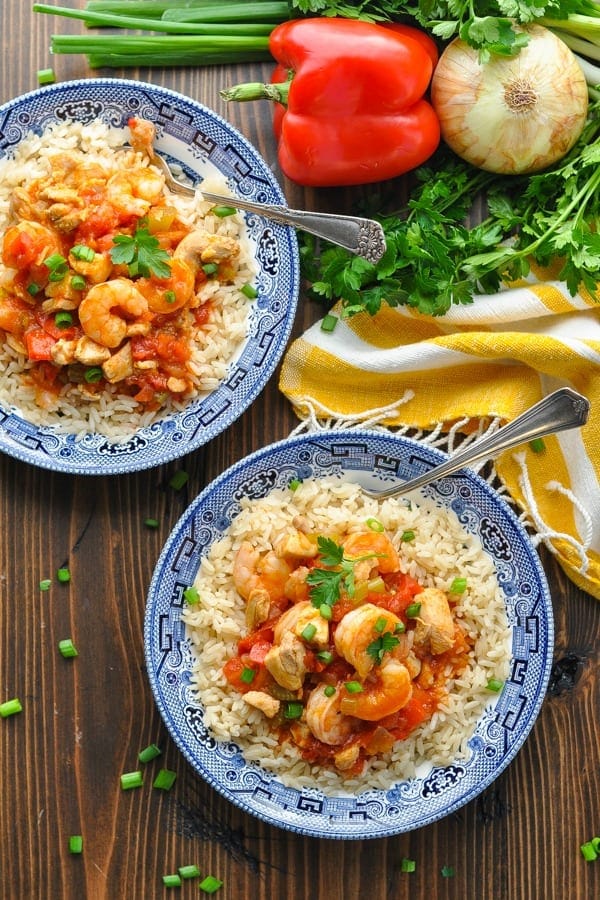 Credit: theseasonedmom.com
Need a light dish? Then try this chicken and shrimp jambalaya.
It's saucy and packed with Cajun flavors. The chicken is tender, while the celery and bell pepper add freshness.
Besides being delicious, it is low in calories. So, it's the perfect dish if you're trying to lose weight.
Serve over a bed of rice or cauliflower rice. To make cauliflower rice get a good quality food processor like this one here.
Per Serving:
Calories: 162
Fats: 3g
Protein: 24g
Carbs: 8g
Fiber: 2g
Sugar: 4g
20. Slow Cooker Wild Rice & Mushroom Soup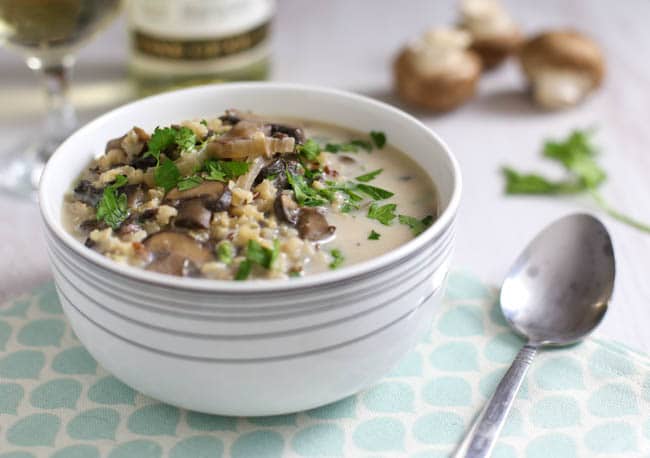 Credit: easycheesyvegetarian.com
Need another dish for meatless Monday? Give this soup a try!
It's creamy and hearty and packed with mushrooms. The mushrooms give a nice meaty texture, so you definitely won't miss the meat.
Besides being delicious, mushrooms are good for you too. They are packed with antioxidants which may help protect you from cancer. So eat up those mushrooms!
Per Serving:
Calories: 345
Fats: 3.2g
Protein: 17.1g
Carbs: 61.5g
Fiber: 7.2g
Sugar: 9.4g
Conclusion
Are you going to try any of these high protein meals you can make with a slow cooker? Share them with your family and friends!