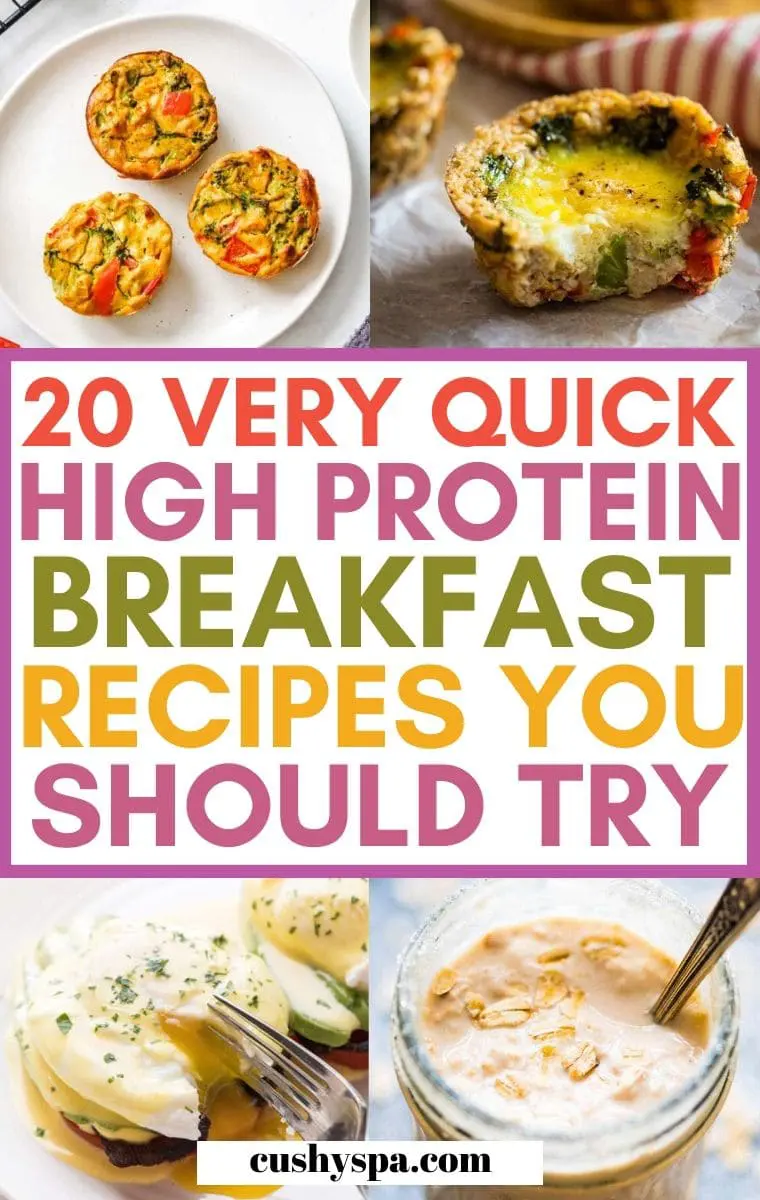 Breakfast is one of the most important meals of the day. And for a good reason.
Breakfast sets you up for the day. If you skip breakfast, you are more likely to binge later on.
Eating breakfast may also help you lose weight. In fact, one of the habits that successful dieters have in common is that they all eat breakfast.
But what sort of breakfast should you eat? A high protein breakfast!
Protein helps you get full and stay full. So, you are more likely to pass on those tempting muffins during break time.
Today, I have compiled 20 high protein breakfast ideas. They are not only high in protein but delicious as well. So dig right in!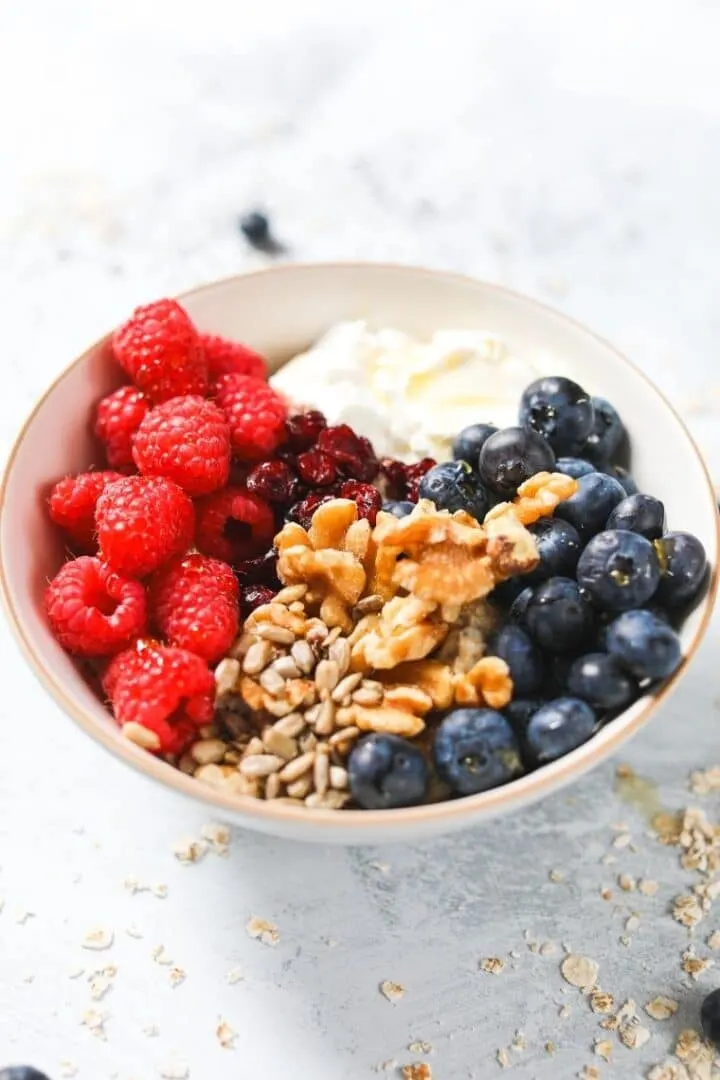 Looking for something fruity, naturally sweet, and easy to assemble? Look no further.
This protein breakfast power bowl is just what you need to start the day right. Full of nutrition, sweetness, and filling.
The best thing about this breakfast is that you can have it every day but mix it up with the toppings to keep the variety. You will never get bored of it!
Per Serving:
Calories: 641
Fats: 20g
Protein: 34g
Carbs: 87g
Fiber: 17g
Sugar: 19g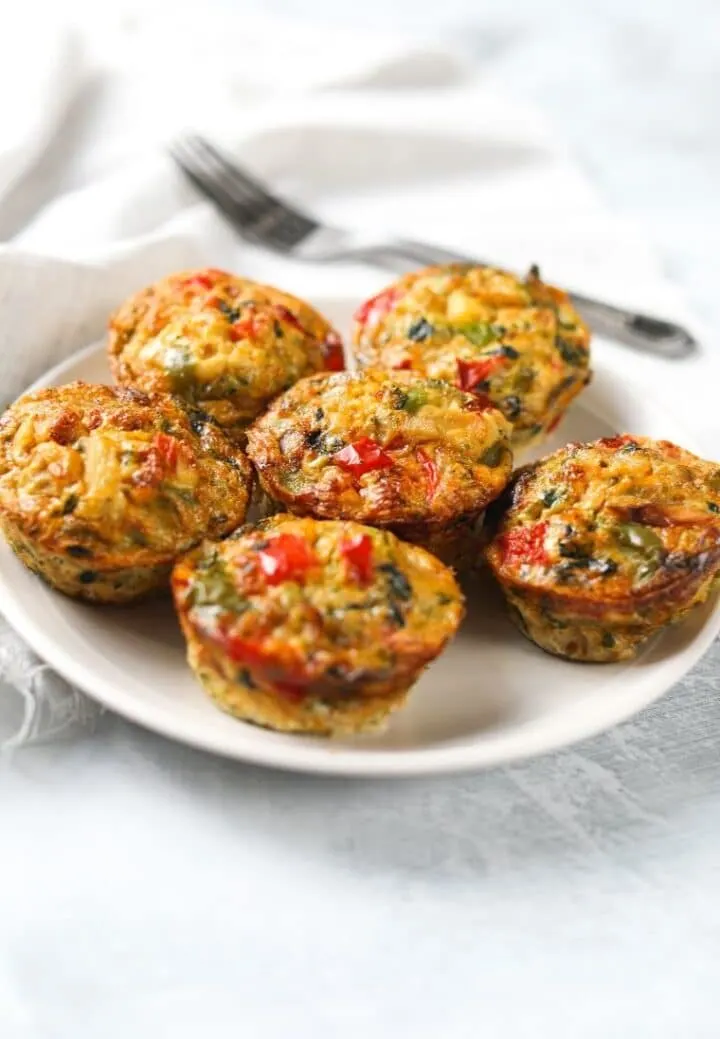 Savory and filling – these egg muffins are so delicious and easy to make. Mix in some veggies and you've got yourself a filling, low-calorie but high-protein breakfast!
Flavorful, easy to make, and yummy! Perfect on the weekends when you're tired of your regular scrambled eggs but still want the eggs!
Per Serving:
Calories: 81
Fats: 3.7g
Protein: 6g
Carbs: 6.1g
Fiber: 1.6g
Sugar: 2.9g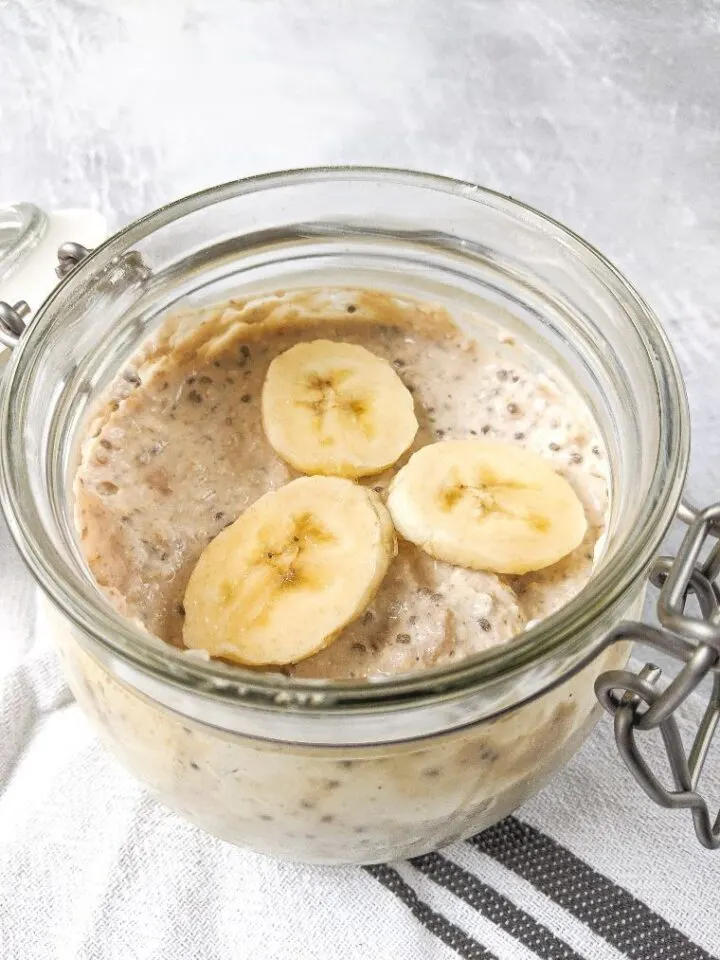 Sweet, nutty, and filling. These delicious overnight oats are so easy to make and you can have them ready for the morning.
The best thing is that you can add any toppings – fruits and change up the flavor. Bananas make it taste just right, though.
With a little bit of vanilla, yogurt, and maple syrup, you've got yourself a lovely breakfast.
Per Serving:
Calories: 461
Fats: 15g
Protein: 29g
Carbs: 57g
Fiber: 10g
Sugar: 16g
4. 4-Ingredient Fluffy Vegan Protein Pancakes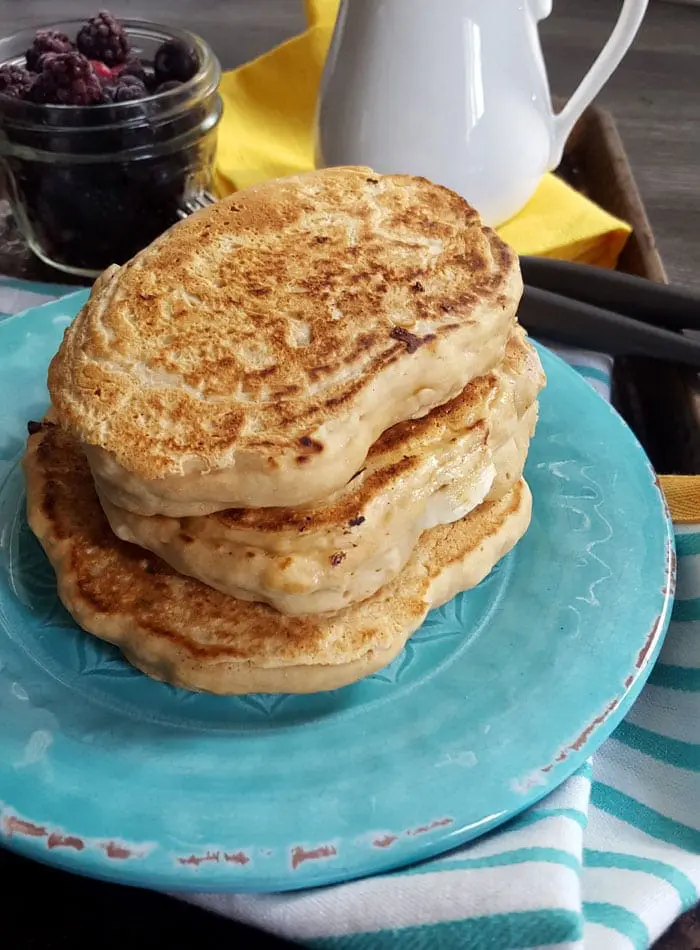 Credit: runningonrealfood.com
Are you vegan, or simply just trying to add more plants to your diet? Then, give these pancakes a try.
They are nice and fluffy with a hint of sweetness. And they only take ten minutes to make-so you can even make them on weekdays.
They are also much higher in protein than your regular pancakes. So, once you eat them, you feel full longer.
The key to making them high protein is to add vegan protein powder to your batter. This recipe uses brown rice protein powder, which you can find here.
And to sweeten the batter, you use maple syrup or liquid stevia like this one.
Top these pancakes with blueberries and maple syrup, or your favorite toppings.
Per Serving:
Calories: 295
Fats: 1.2g
Protein: 15.8g
Carbs: 59.9g
Fiber: 3.5g
Sugar: 0.2g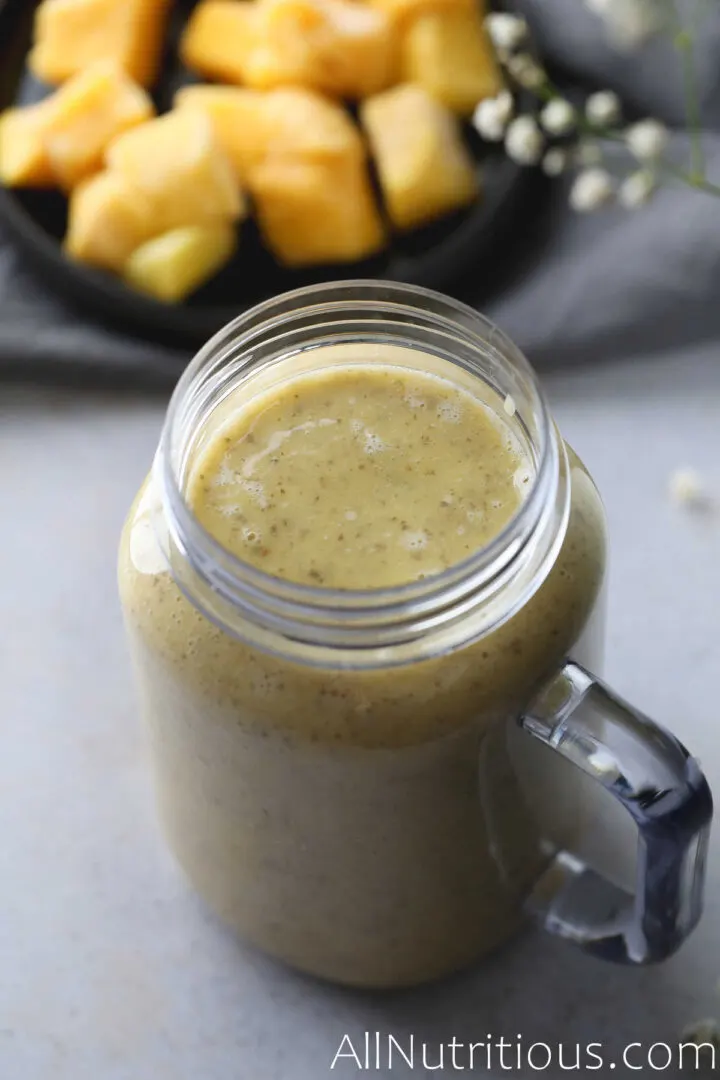 There is nothing quite as refreshing as a delicious fruit smoothie. You can make it extra filling with a bit of protein powder and vanilla extract.
Enjoy the refreshing flavors!
Per Serving:
Calories: 412
Fats: 5.8g
Protein: 30g
Carbs: 61g
Fiber: 9.3g
Sugar: 42g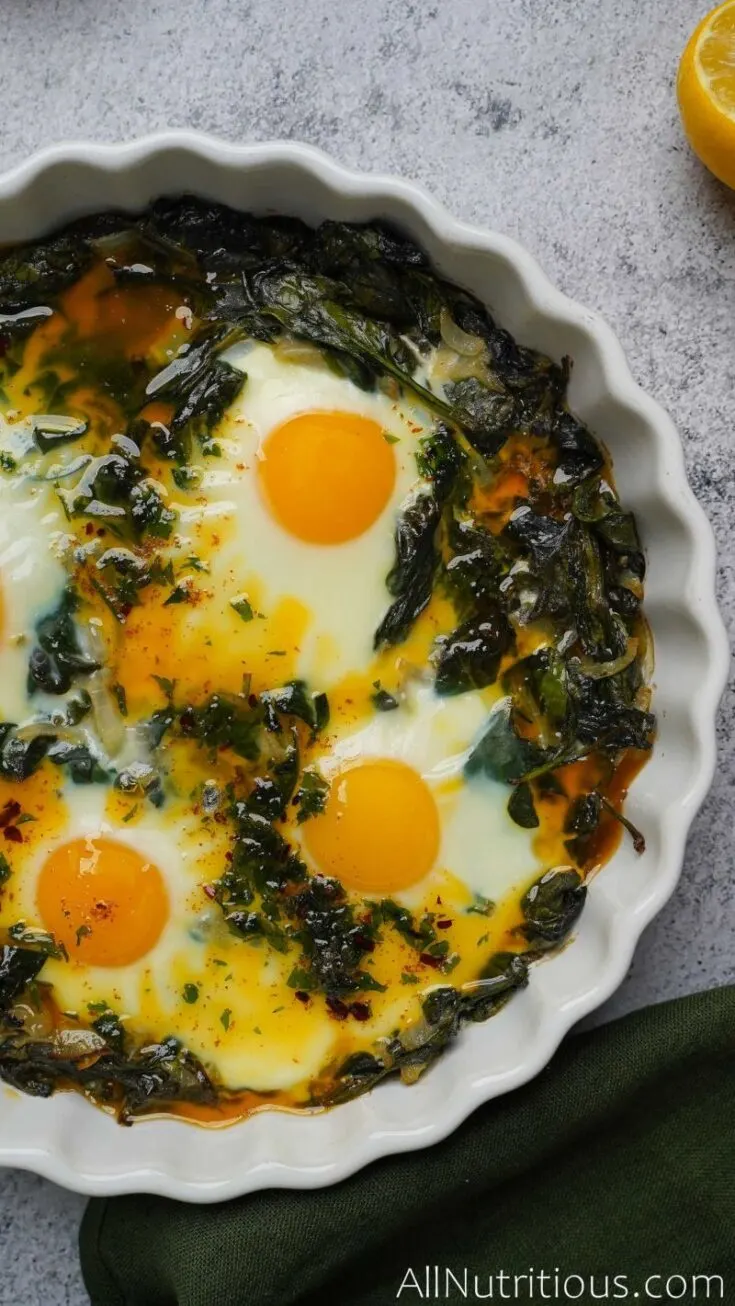 Do you love the eggs but are tired of having them the same way every day? Why not get some of the greens out and make oven-baked eggs?
Garlicky, buttery, and herby. Enjoy!
Per Serving:
Calories: 236
Fats: 18g
Protein: 13g
Carbs: 6.8g
Fiber: 2.1g
Sugar: 2.6g
7. Hummus Avocado Toast with Toasted Hemp Seeds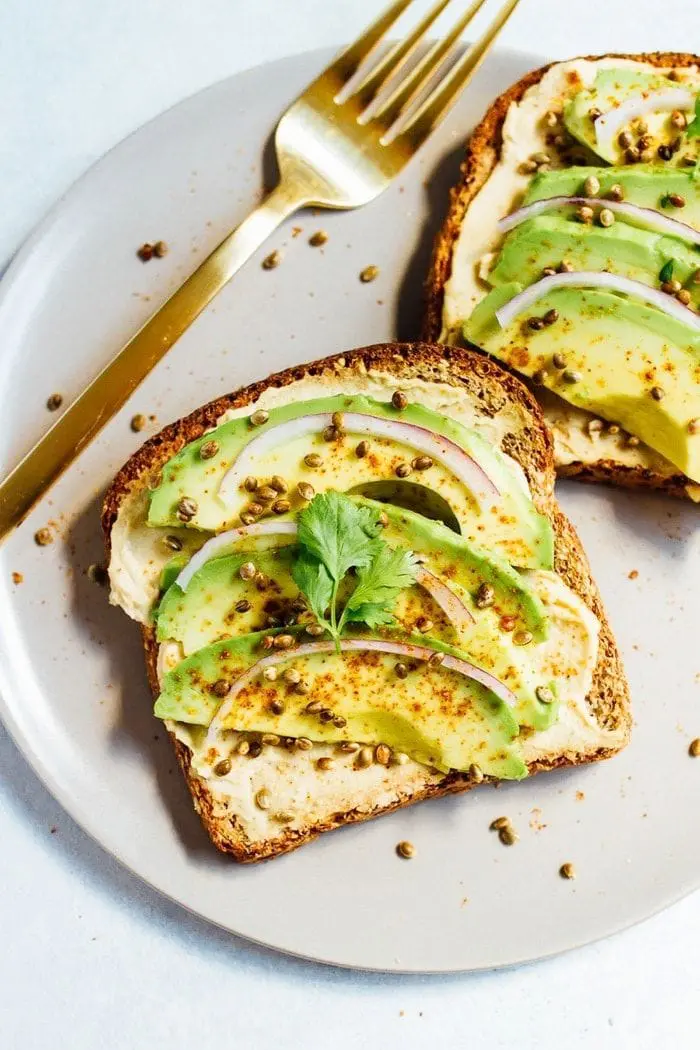 Credit: eatingbirdfood.com
Avocado toast is all the rage right now. And for good reason, it is so tasty and easy to prepare.
And the avocado provides monounsaturated fats. These not only keep you full but are good for your heart too!
But, as good as it is, your typical avocado toast doesn't have much protein. However, this one has it in spades; a good 18 grams of protein.
It's also packed with tons of flavor. The hummus and avocado add creaminess, while the red onions add natural sweetness.
Meanwhile, the toasted hemp seeds add a nice crunch, and the cayenne pepper adds some heat. Not a bad way to start your day.
Hemp seeds add crunch, but also tons of protein. Just 3 tablespoons provide 9 grams of protein.
They are also great for snacking on. If you would like to give them a try, you can find some here.
And all it takes is 5 minutes to make this delicious breakfast. So, it's perfect for breakfast on the go.
It could work as a high protein snack, as well!
Per Serving:
Calories: 462
Fats: 23g
Protein: 18g
Carbs: 50g
Fiber: 19g
Sugar: 3g
8. Avocado Bowls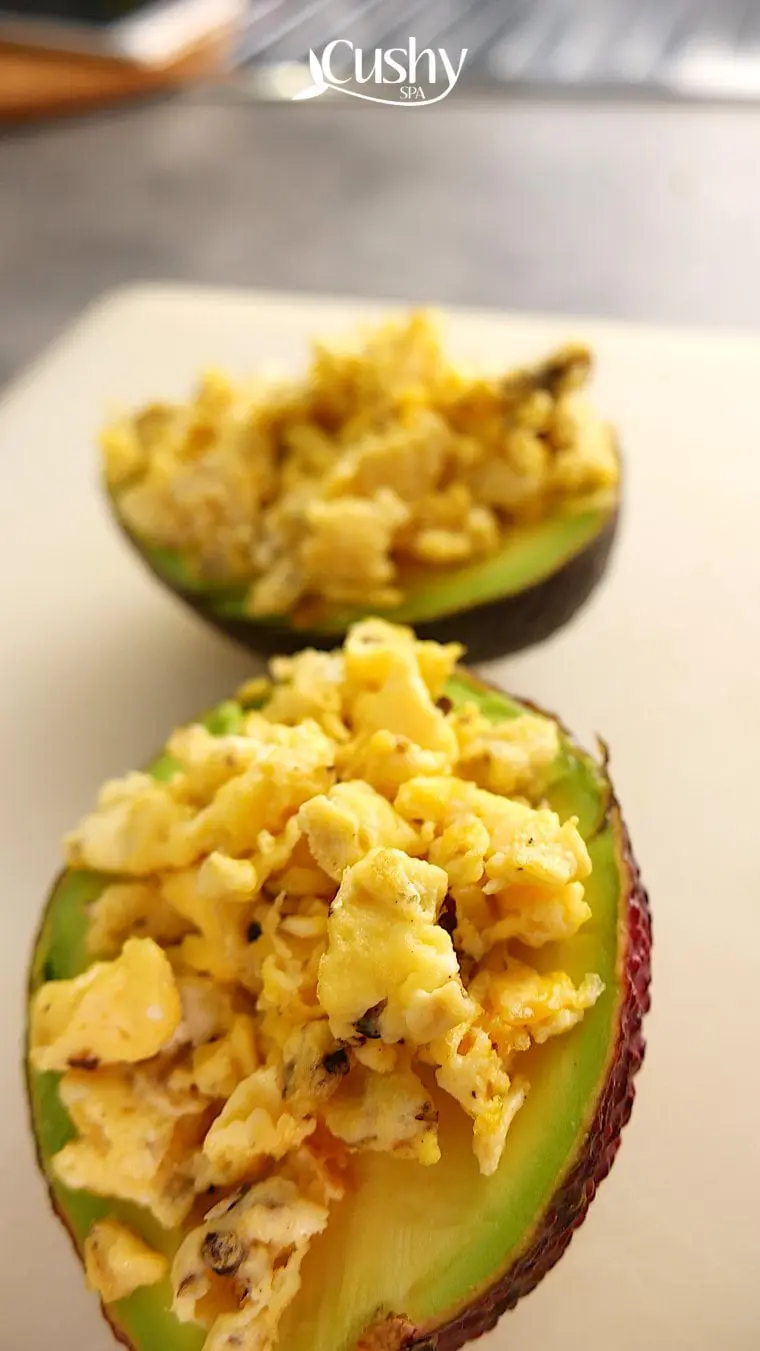 Credit: cushyspa.com
Are you on a low carb or keto diet? I have a dish for you.
Before keto, you may have eaten scrambled eggs with toast. But, now that you're on keto, regular toast is a no-no.
So, what can you do? Use avocado halves as your "toast"!
To do this, cut your avocado in half and scoop out the seed. Then, place your scrambled eggs in the avocado half. Easy, peasy, chicken dinner.
Per Serving:
Calories: 596
Fats: 55g
Protein: 14.9g
Net Carbs: 4.5g
9. Easy Vanilla Low Carb Protein Waffles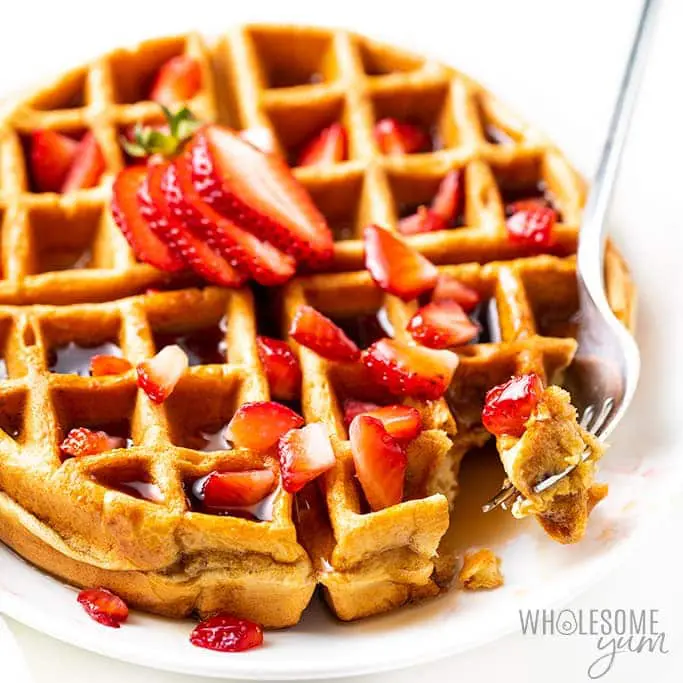 Credit: wholesomeyum.com
I love waffles, as I'm sure many of you do. But, your typical waffle is packed with tons of carbs and very little protein.
So, the carbs lead to a sugar high, and then a sugar low. And then, you begin the cycle of needing to eat more carbs.
These waffles are pretty tasty and have a waffle-like texture. You won't believe there's no flour in them.
And they won't leave you feeling hungry. That's because they are high in protein and fiber, which both keep you feeling full.
The secret to the high protein and fiber is that you use Atkins Vanilla Protein Powder which you can find here. One scoop provides 15 grams of protein, 5 grams of fiber, and only 2 grams of net carbs, making it perfect if you are on a keto or low carb diet.
Serve these waffles with some berries and your favorite regular or low-carb maple syrup. Here is a good one to use.
Per Serving:
Calories: 439
Fats: 32g
Protein: 29g
Carbs: 11g
Fiber: 6g
Sugar: 2g
10. Keto Bacon and Egg Breakfast Quesadilla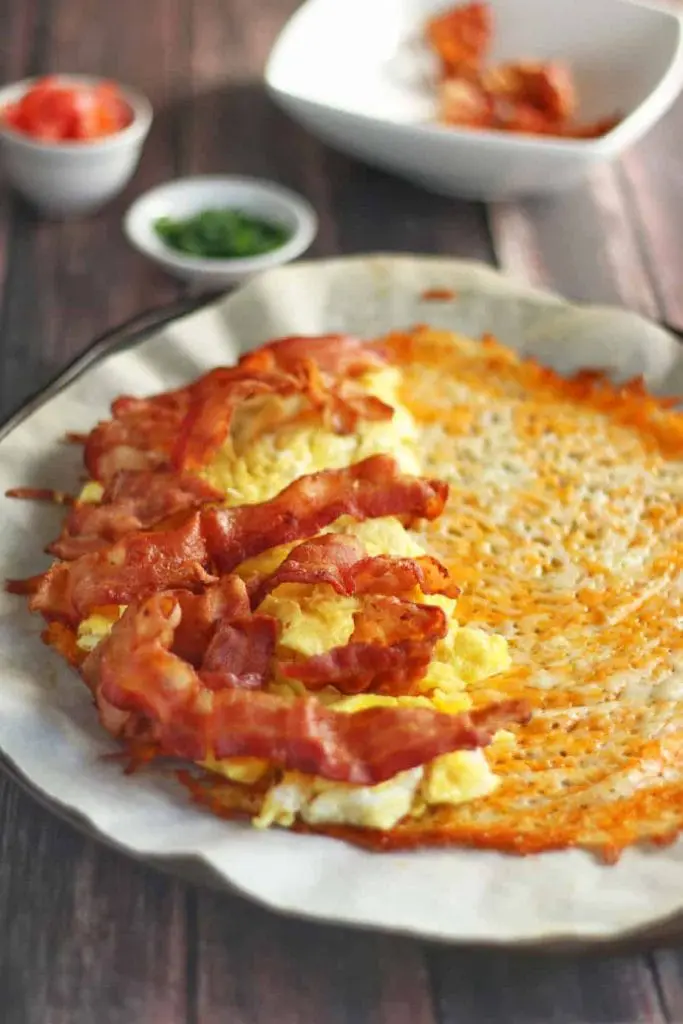 Credit: officiallyglutenfree.com
Are you tired of having bacon and eggs for breakfast? Then, try this keto breakfast quesadilla!
This quesadilla combines fluffy scrambled eggs and crunch bacon along with fresh green onion. But, the taco shell is truly the star of the dish.
The taco is crispy and crunchy and packed with cheese flavor. And the tomatoes provide a nice contrast to the crispy taco.
The secret to keeping the quesadilla keto is the taco shell. For the taco shell, you use baked cheese as your "taco" shell.
This dish uses mozzarella cheese and cheddar cheese. But if you like it spicy, you can use Pepper Jack cheese instead, and add some chilies as well.
Per Serving:
Calories: 450
Fats: 34.5g
Protein: 33.9g
Carbs: 4.7g
Fiber: 0.1g
11. Green Vegan Gluten-Free Protein Pancakes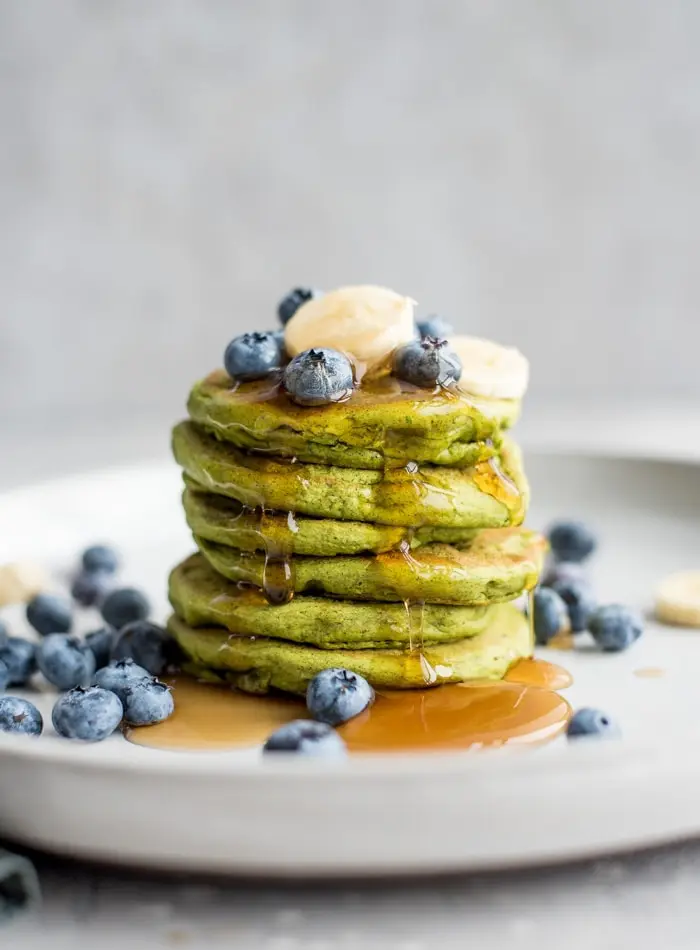 Credit: runningonrealfood.com
We can all get more veggies in our diet. One way we can do this is by having veggies at every meal; even breakfast.
This green protein pancake does just that. You sneak spinach into your pancake pancakes, and there you have it-green pancakes!
Now, don't be thrown off by the green color. These pancakes are sweet, not savory, and are delicious.
They are nice and fluffy too. But the best part is that these pancakes are packed with protein, a whopping 34 grams of protein.
Besides having protein powder in them, these pancakes also have chickpea flour.
Chickpea flour is high in protein. Just one cup provides 41% of your daily protein needs.
So, it is a pretty good source of protein, whether you are vegan or not. You can try some here.
These pancakes go great topped with some berries and banana. Yum!
Per Serving:
Calories: 338
Fats: 4g
Protein: 34g
Carbs: 43g
Fiber: 12g
Sugar: 2g
12. High Protein Snickerdoodle Muffins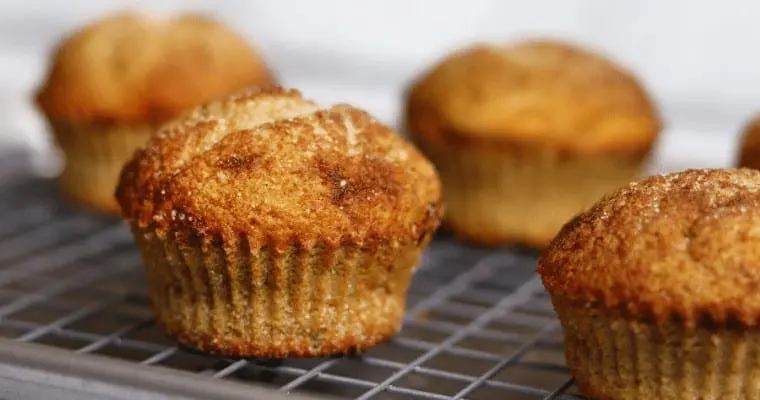 Credit: masonfit.com
Do you love Snickerdoodles? Then, you'll love these muffins.
They are Snickerdoodles in muffin form. They are super moist and have that nice cinnamon sugar taste to them- but with lots more protein, and way fewer carbs.
So, they are pretty filling…you can just eat one at a time. But, you'll probably want to eat two or three since they are that good.
And that's okay; they only contain 120 calories each. So, they won't blow your diet.
Per Serving:
Calories: 120
Fats: 7g
Protein: 10g
Carbs: 5g
13. Fireman's Overnight Breakfast Casserole Recipe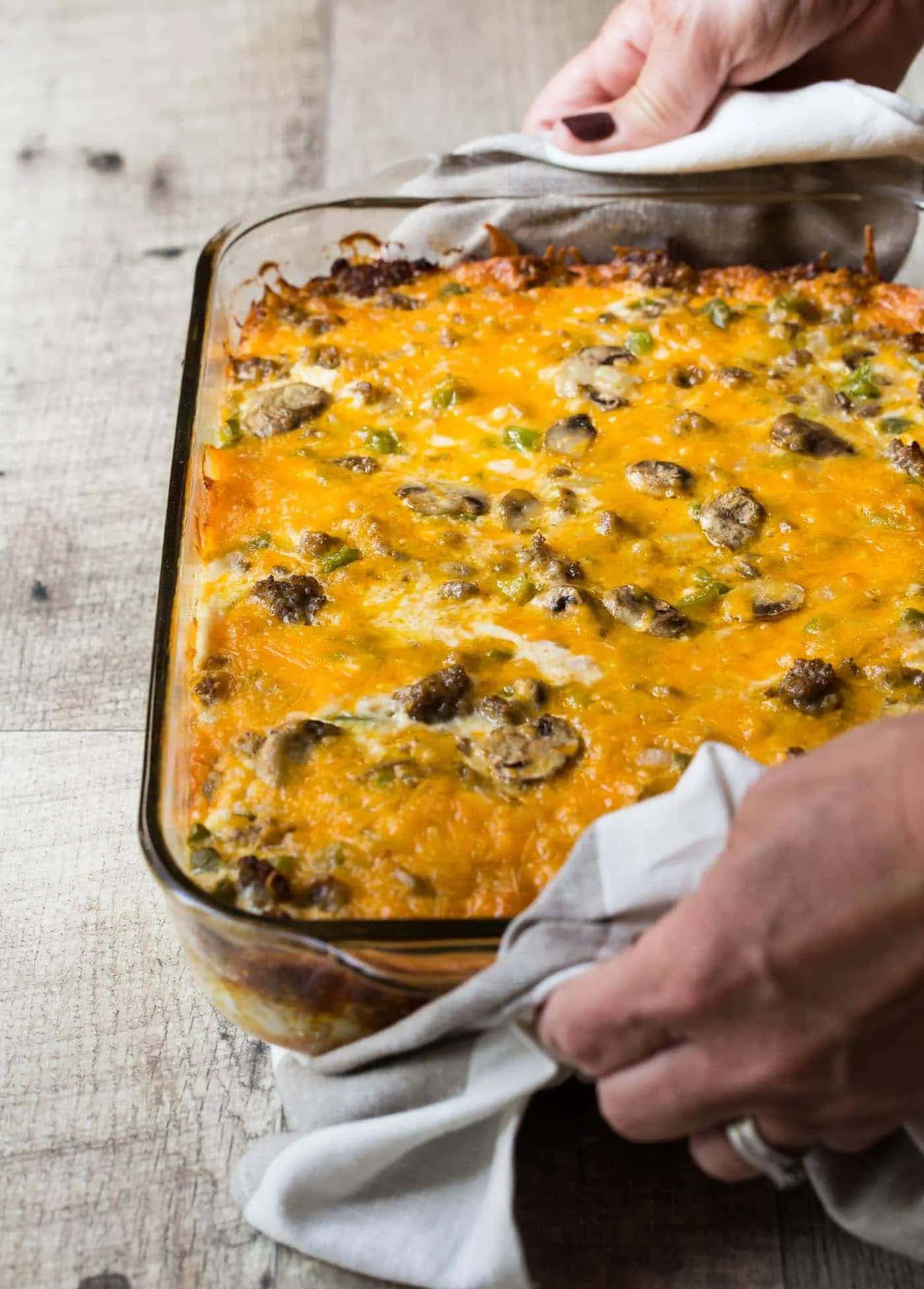 Credit: garnishwithlemon.com
Do you have overnight guests, and want to serve them a delicious breakfast? This is a great option.
This casserole is scrumptious. You have delicious breakfast sausage, bubbly cheese, eggs, tons of mushrooms, and green pepper for freshness. All served with a delicious mushroom cream sauce.
Your guests will be so impressed. They may never leave!
Per Serving:
Calories: 460
Fats: 37g
Protein: 25g
Carbs: 8g
Fiber: 1g
Sugar: 3g
14. Protein Breakfast Wraps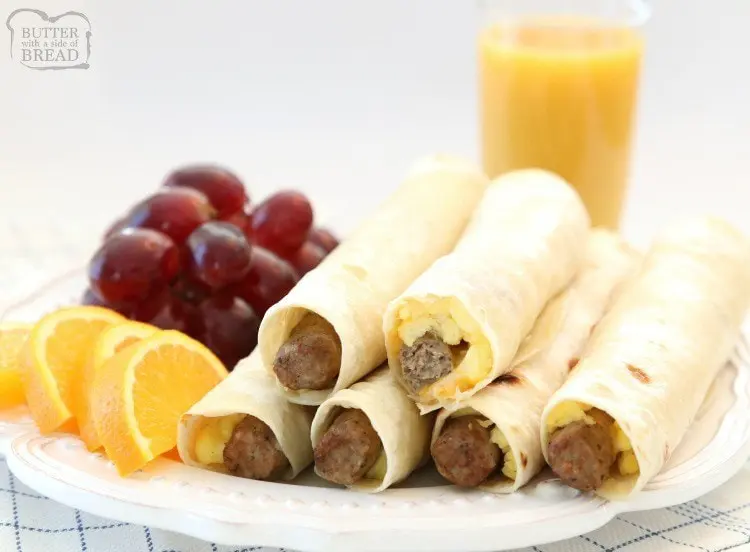 Credit: butterwithasideofbread.com
Who doesn't love breakfast wraps? They are a nice, hot breakfast that you can eat on the run.
So, they're perfect if you can't sit down to eat breakfast. Just grab one and go.
These breakfast wraps are filled with everything you expect from breakfast. You have nicely browned turkey sausage, fluffy scrambled eggs, melted Colby Jack cheese, all wrapped in a lightly buttered fresh tortilla.
And they're packed with protein and fat, so you feel satiated. And since each wrap contains only 194 calories, they make a nice light breakfast.
Per Serving:
Calories: 194
Fats: 14g
Protein: 13g
Carbs: 1g
15. Sugar Cookie Overnight Protein Oatmeal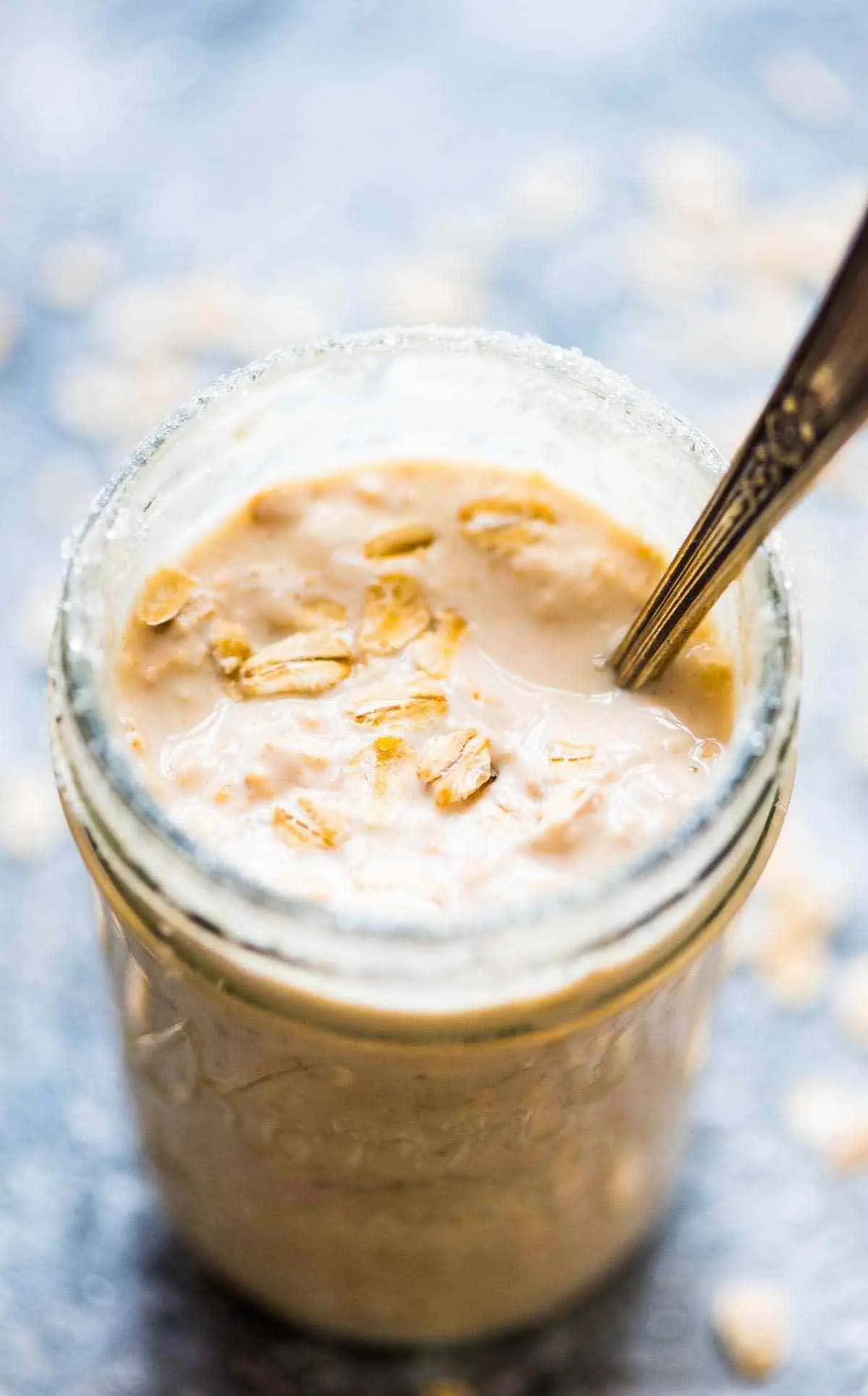 Credit: wellplated.com
Would you live on sugar cookies if you could? Then, you'll love this oatmeal.
Oatmeal is good for you. But it can taste kind of bland.
This oatmeal is anything but bland. It tastes just like a sugar cookie but in oatmeal form.
It's creamy and silky, and the coconut sugar adds just the right amount of sweetness.
These overnight oats last a week in the fridge. So, you can make a big batch, and have your breakfasts covered for an entire week. Meal prepping, in general, is a nice way to eat healthy on a lower budget! Something you should know!
For these oats, you'll need Optimum Nutrition Gold Standard French Vanilla Protein powder. It has a nice creamy vanilla flavor that beautifully complements the vanilla and almond extract, making the oatmeal taste like a sugar cookie. You can find some here.
If not oatmeal, try smoothies! These weight loss smoothies will increase your protein consumption and ensure you're staying on your fitness goals.
Per Serving:
Calories: 299
Fats: 4g
Protein: 26g
Carbs: 41g
Fiber: 4g
Sugar: 12g
16. Shakshuka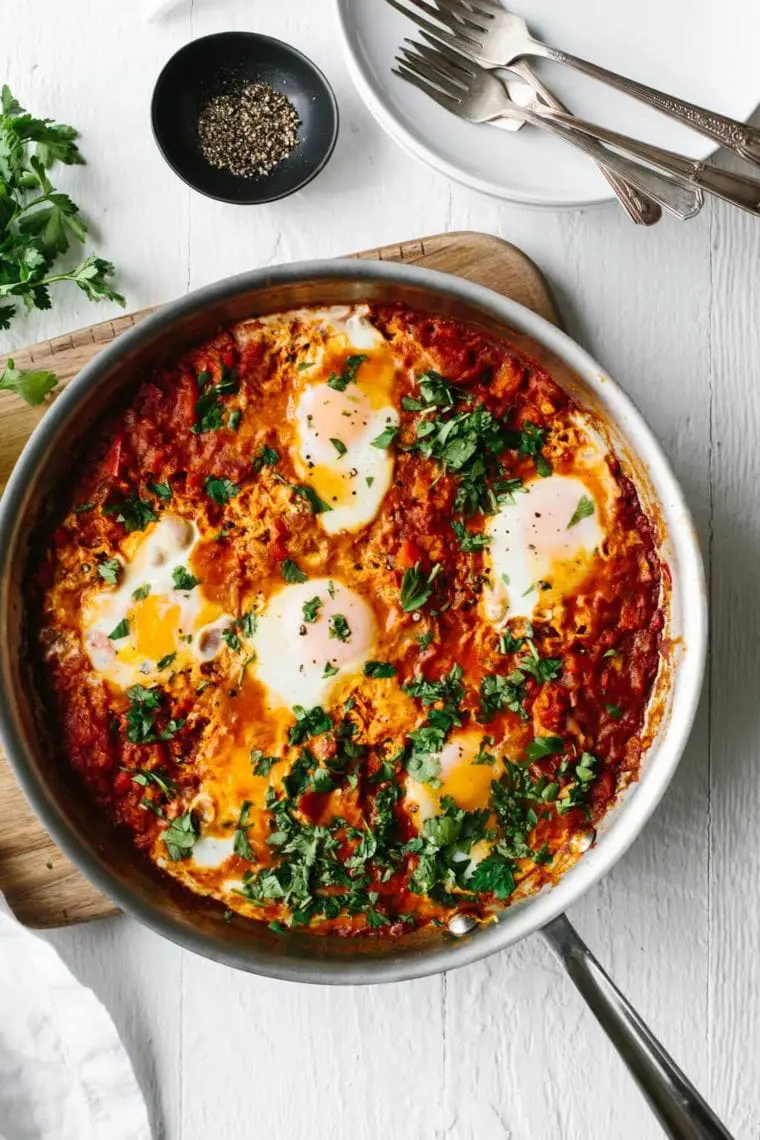 Credit: downshiftology.com
Do you love poached eggs? Then, give this Shakshuka a try.
Shakshuka is a dish made of poached eggs sitting in a sauce of tomatoes and spices.
This Shakshuka doesn't disappoint. It is delicious and very filling. The eggs are nicely poached, and the spices take the eggs from good to amazing.
Meanwhile, the tomato sauce adds freshness and complements the eggs perfectly. It is so perfect for dunking.
And talking about dunking, this dish goes well with a whole wheat pita or nice crusty bread.
Per Serving:
Calories: 122.2
Fats: 5.4g
Protein: 8g
Carbs: 9.7g
Fiber: 1.9g
Sugar: 5.5g
17. Breakfast in a Mug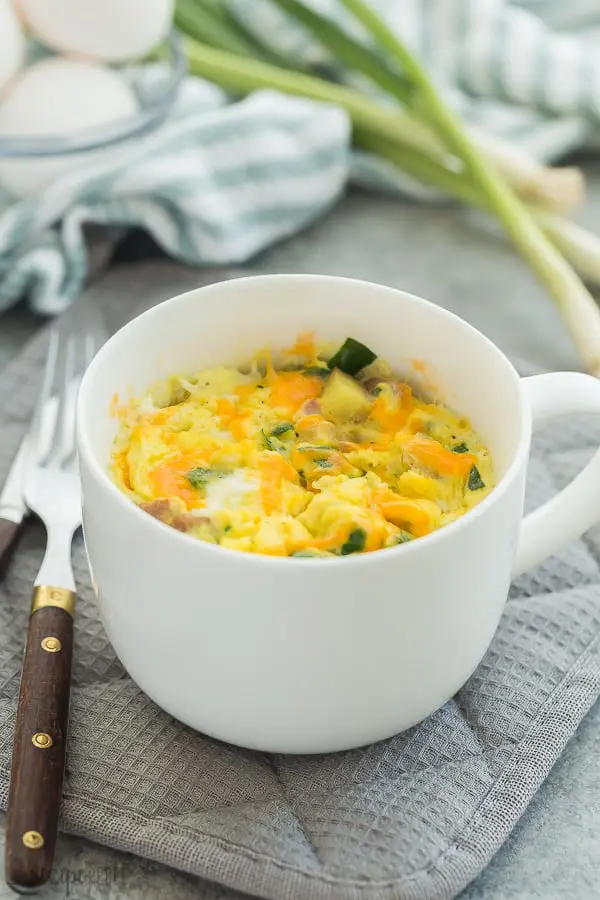 Credit: thereciperebel.com
Don't have a stovetop, but want a nice, healthy breakfast? Then, try this breakfast in a mug!
No, this breakfast in a mug isn't coffee. It's something more filling.
It's baby potatoes, ham, and cheese, seasoned with onions, green onions, and seasoning. The eggs come out nice and fluffy, and the potatoes are nice and soft. Definitely not something you would expect coming from a microwave.
And all it takes is 12 minutes to make, from start to finish. So, no more excuses for not eating a nice breakfast just because you don't have a stovetop.
Per Serving:
Calories: 305
Fats: 15g
Protein: 24g
Carbs: 16g
Fiber: 1g
Sugar: 2g
18. Banana Breakfast Cookies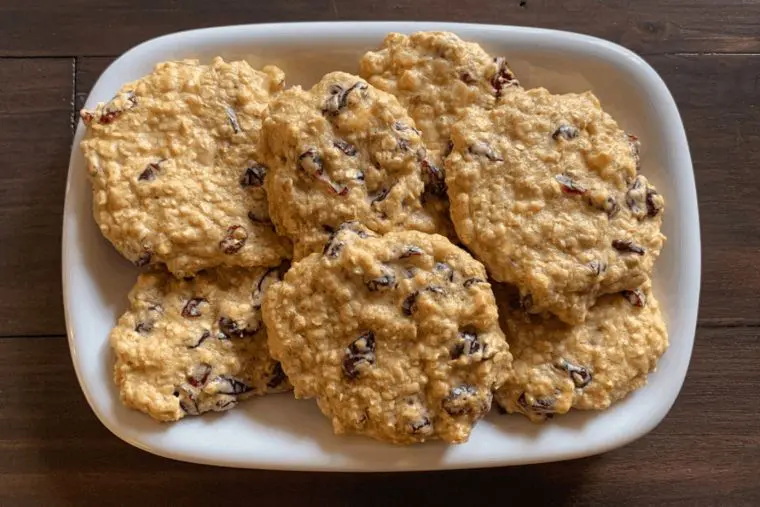 Credit: masonfit.com
Think you can't have cookies for breakfast? Well, think again!
These cookies are amazing. They are packed with good-for-you ingredients such as nuts and cranberries.
They are also soft and have a slightly chewy texture. Perfect if you like your cookies chewy.
And there's no fat added to the cookies. The banana helps bind the liquid ingredients and adds moistness.
So, these cookies are quite low in fat. Good if you are on a low-fat diet.
To make these cookies high protein, you'll be using some protein powder with a combination of whey and casein. Here is one you can get.
Per Serving:
Calories: 145
Fats: 4g
Protein: 9g
Carbs: 21g
19. High Protein Baked Blueberry Oatmeal Cups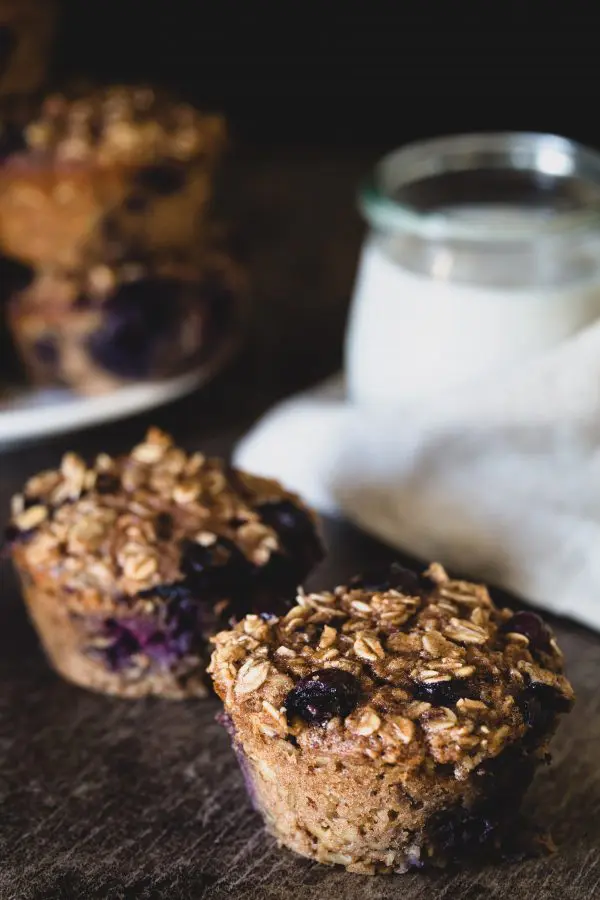 Credit: eatgood4life.com
Are you more of a muffin person? This one is for you!
Your typical blueberry muffin tastes delicious. However, it is full of regular flour, which is stripped of its nutrients.
These blueberry oatmeal cups are moist and packed with blueberry flavor. But they also contain healthier ingredients such as oat fashioned oats; no refined flour in these muffins.
Oats have tons of protein. They also contain beta-glucan fibers, which is a fiber that can reduce your cholesterol levels.
They are so light and dainty, perfect for eating on the go. And since they are pretty easy to make, they are perfect for meal prep.
To keep them nice and fresh, you can store them in a good BPA-free storage container or glass food containers like these that are more environmentally friendly.
Per Serving:
Calories: 190
Fats: 4.6g
Protein: 9.5g
Carbs: 27.7g
Fiber: 3.5g
Sugar: 6.2g
20. Vegan Egg Muffins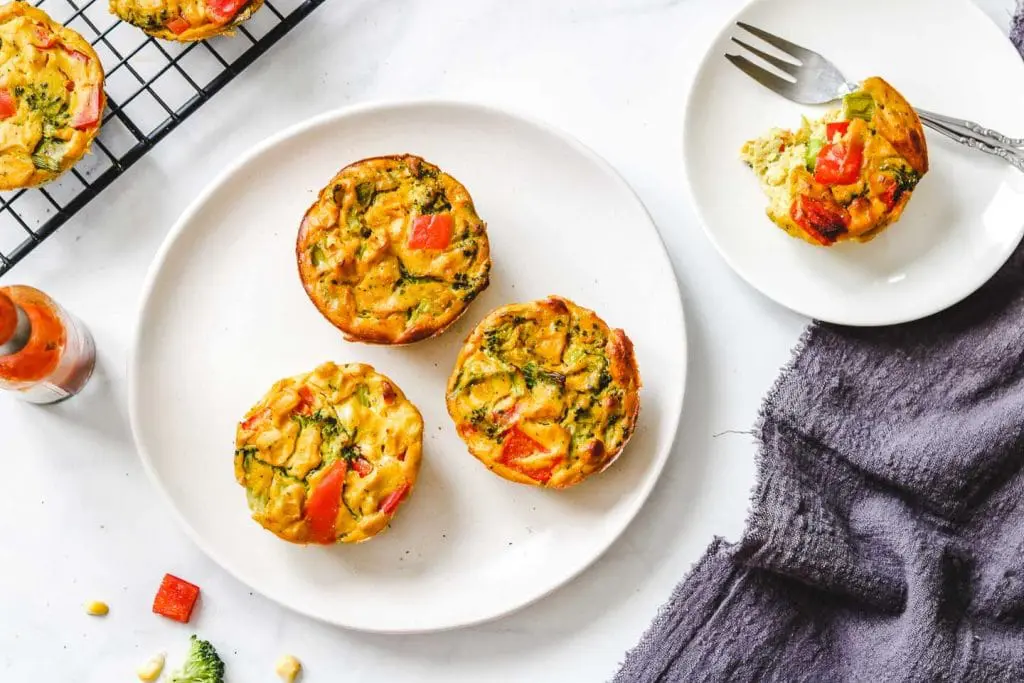 Credit: okonomikitchen.com
Do you miss quiche now that you're vegan? These egg muffins are sure to satisfy your cravings!
These muffins have an eggy taste and texture and look just like mini quiches. But they're not.
The tofu combined with the nutritional yeast and turmeric makes it taste like eggs. And the broccoli, scallions and red bell pepper add freshness and vitamins and minerals.
Making these egg muffins is pretty easy. Just sauté your veggies, then puree your tofu, and the rest of your ingredients in a food processor. This food processor should do the trick.
Then, place your tofu mixture and veggies in a bowl and stir. Then, place your "batter" in some muffins pans and bake for about 30 minutes. Easy, peasy, tofu breakfast!
Per Serving:
Calories: 94
Fats: 4.1g
Protein: 8.6g
Carbs: 5.8g
Fiber: 1.9g
Sugar: 1.75g
21. Egg Muffins with Savory Oatmeal Vegetable Crust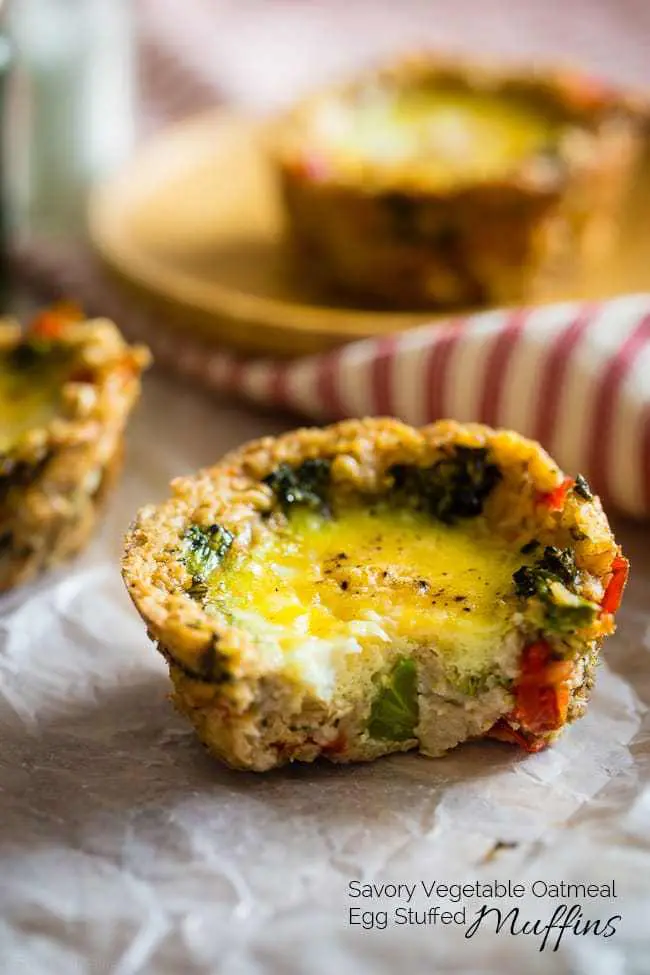 Credit: foodfaithfitness.com
I am a big fan of sweet muffins. But savory muffins are just as good!
These savory muffins are amazing. The oatmeal crust is loaded with colorful veggies; broccoli, red pepper, and onion.
Yes, I know the combination sounds kind of weird. You don't usually have oats with savory items, but it works.
Meanwhile, in the center of the muffin is a nicely set egg. This perfectly complements the savory crunchiness of the oatmeal crust.
So, give these muffins a try. You just may become a fan of savory oats.
Per Serving:
Calories: 81
Fats: 3.5g
Protein: 4.5g
Carbs: 8.3g
Fiber: 1.4g
Sugar: 0.7g
22. Keto California Eggs Benedict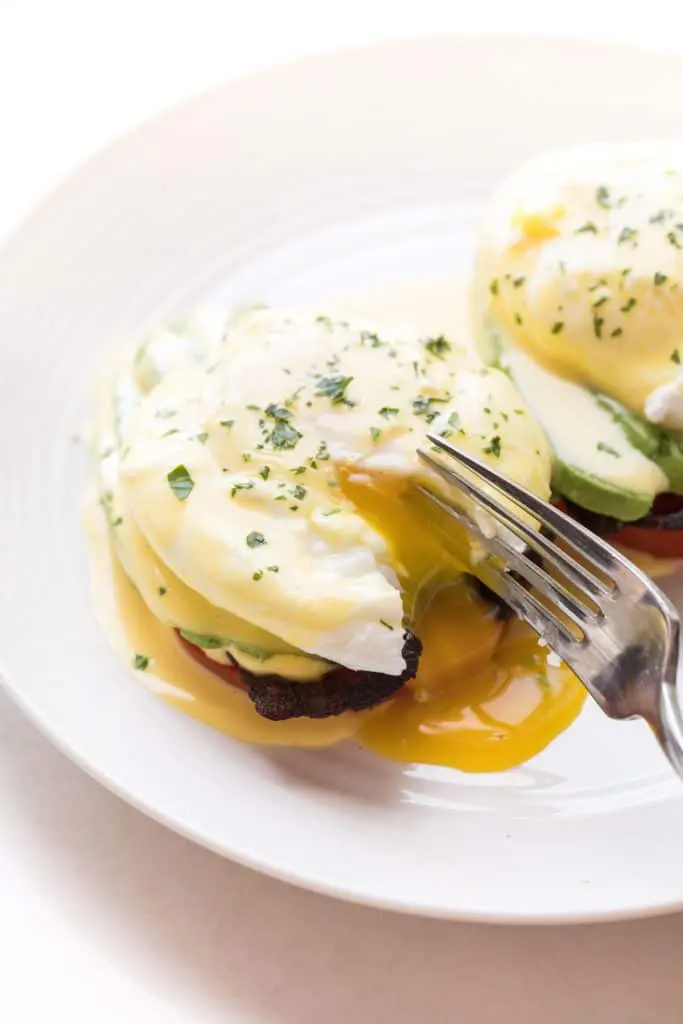 Credit: tasteslovely.com
Did you kiss Eggs Benedict goodbye once you started keto? Well, you can welcome them back again!
The eggs are perfectly poached, and the crispy bacon and luscious avocado add layers of flavor. To get the perfect poached eggs, you can use this non-stick poached egg maker. It's free of toxic chemicals and pretty sturdy.
Meanwhile, the Hollandaise sauce is creamy and has a nice tang. And instead of using English muffins as a base, you use tomato slices.
The tomatoes make the Eggs Benedict low carb and add freshness as well.
And not only are you getting a ton of protein, but you are also getting loads of fat. So, it makes for a pretty good start to your day if you're on a keto diet.
Per Serving:
Calories: 579
Fats: 50.6g
Protein: 22.7g
Carbs: 9.2g
Fiber: 4.6g
Sugar: 2.8g
23. Deviled Eggs with Bacon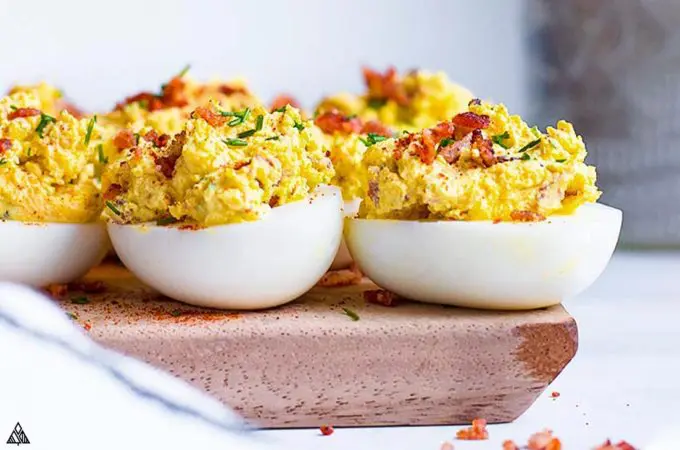 Credit: thelittlepine.com
Who says you can't have deviled eggs for breakfast? Especially when they're as tasty as these ones are.
You have delicious egg yolk mixed with creamy Greek Yogurt, crispy bacon, and fresh chives.
And seasoned with Dijon mustard and cayenne pepper for some kick. All nestled in a nicely boiled egg white. Yum!
Making these deviled eggs is pretty easy. It's just getting the eggs hard-boiled just right that can be tricky. To get your eggs just right, I recommend this egg cooker here; you can get a pretty good deal on it right now.
Per Serving:
Calories: 130
Fats: 11g
Protein: 5g
Carbs: 0g
Fiber: 0g
Sugar: 0g
24. French Toast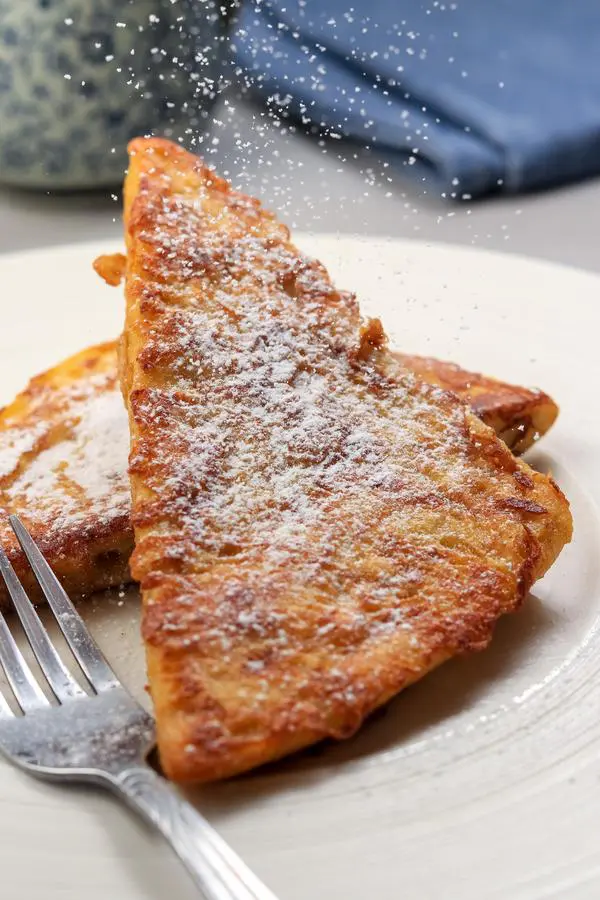 Credit: kimspireddiy.com
French toast is classic comfort food. It reminds you of the carefree days of childhood.
But, on a keto diet, they are a definite no-no. All because of the bread.
This French toast is nice and crispy and has a nice cinnamon taste-without all the carbs.
The secret to it being low carb is that you make your own keto bread using coconut flour, which you can get right here.
And making the bread is super easy. All you do is whisk together your bread ingredients, then cook in the microwave for 90 seconds. Yes, you read that right…only 90 seconds!
Then allow your bread to cool for a couple of minutes, before using it to make French toast.
Per Serving:
Calories: 568
Fats: 46g
Protein: 32g
Carbs: 5g
Fiber: 1g
25. Low Carb Breakfast Sandwiches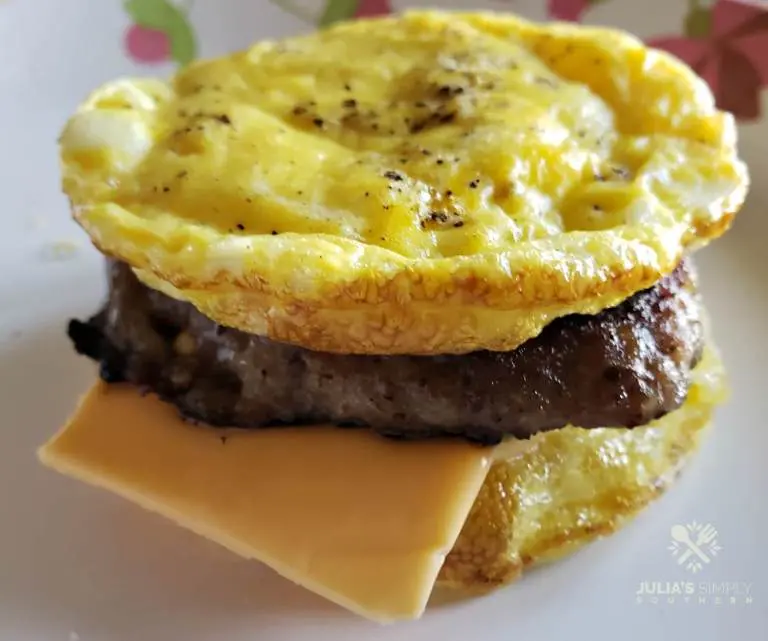 Credit: juliassimplysouthern.com
Don't you just love Breakfast sandwiches? But aside from being packed with protein, they are usually packed with carbs as well.
These Breakfast sausages are heavenly. You have nicely browned sausage patties and melted cheese wedged between two eggs that serve as your English muffins.
But, the eggs are not just any old plain eggs. They are cooked in a muffin pan so they have the perfect shape to hold your fillings.
With a Breakfast muffin like this, who needs a drive-through anyway?
Per Serving:
Calories: 255
Fats: 19g
Protein: 17g
Carbs: 3g
Fiber: 0g
Sugar: 1g
Conclusion
Are you going to make any of these high protein breakfasts? Which one is your favorite? Make sure to share them with your friends and family!