When the holiday season comes, whether be it Halloween, Christmas, or Easter, it's hard to keep up with your diet. Especially if you're on the keto diet and you have to keep your carb intake low.
Thus, eating any of the regular desserts can completely put you out of ketosis for weeks. It's ok to indulge on Holidays to feel the festive mood and you should definitely do that!
That's where being creative with desserts and making them low carb comes in handy. You can enjoy your favorite treats with your family without feeling like you're cheating.
Today I'm sharing multiple low-carb dessert recipes for the Holiday season!
Watch: 5 Quick Low Carb Desserts (2-11g Net Carbs)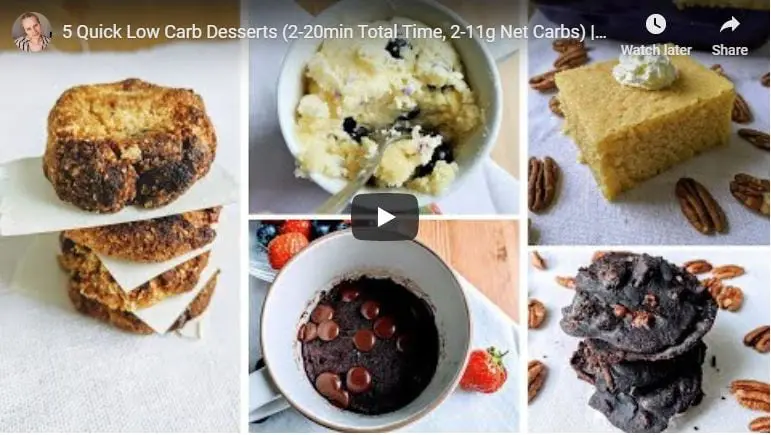 1. Healthy No-Bake Sugar Cookie Bars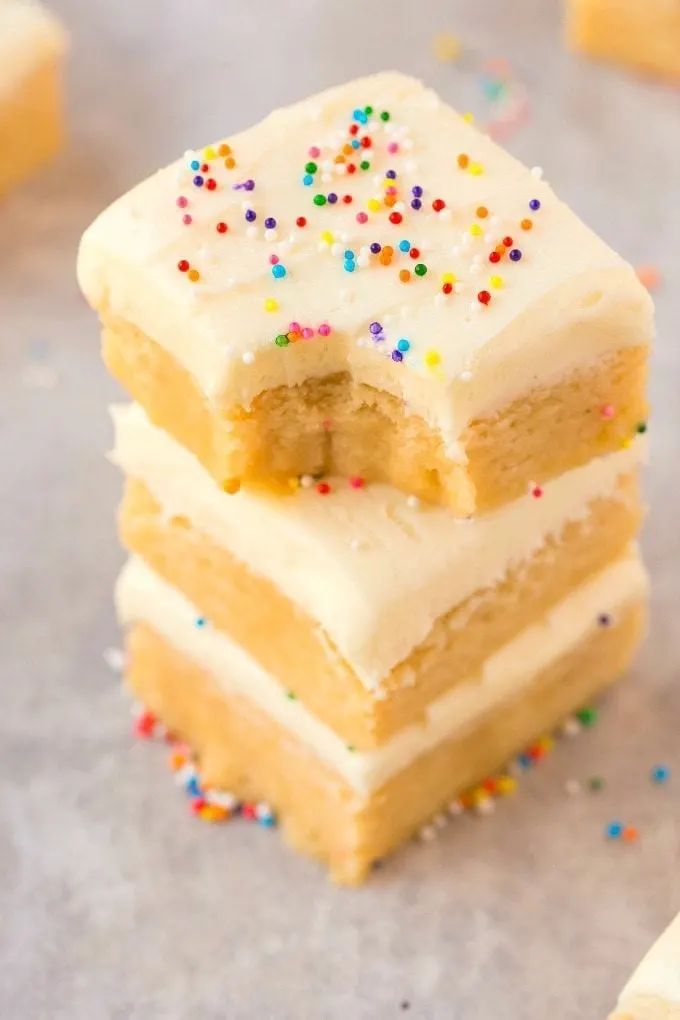 Source: thebigmansworld.com
These guilt-free sugar cookie bars are absolutely delicious. They're vegan and don't require any cooking.
They're soft and chewy which is unlike most cookies. Also, the vanilla frosting beautifully adds up to the flavor palette.
So, what's the secret here? Well, first of all, the recipe uses coconut and almond flour – which are lower in carbs and rich in fats and protein.
Here is a good quality almond flour you should go for. Also, this coconut flour will definitely work here too, what's great about it is that it tends to last longer.
So, you might want to buy double the almond flour if you're planning on baking in the future.
When you're using the maple syrup, make sure the one you get is low in carbs. This sugar-free option is quite good.
Otherwise, just cook and have fun with it. Also, you can totally improvise with the frosting!
Per Serving:
Calories: 149
Fats: 5g
Net Carbs: 4g
Protein: 10g
2. Chocolate Crinkle Cookies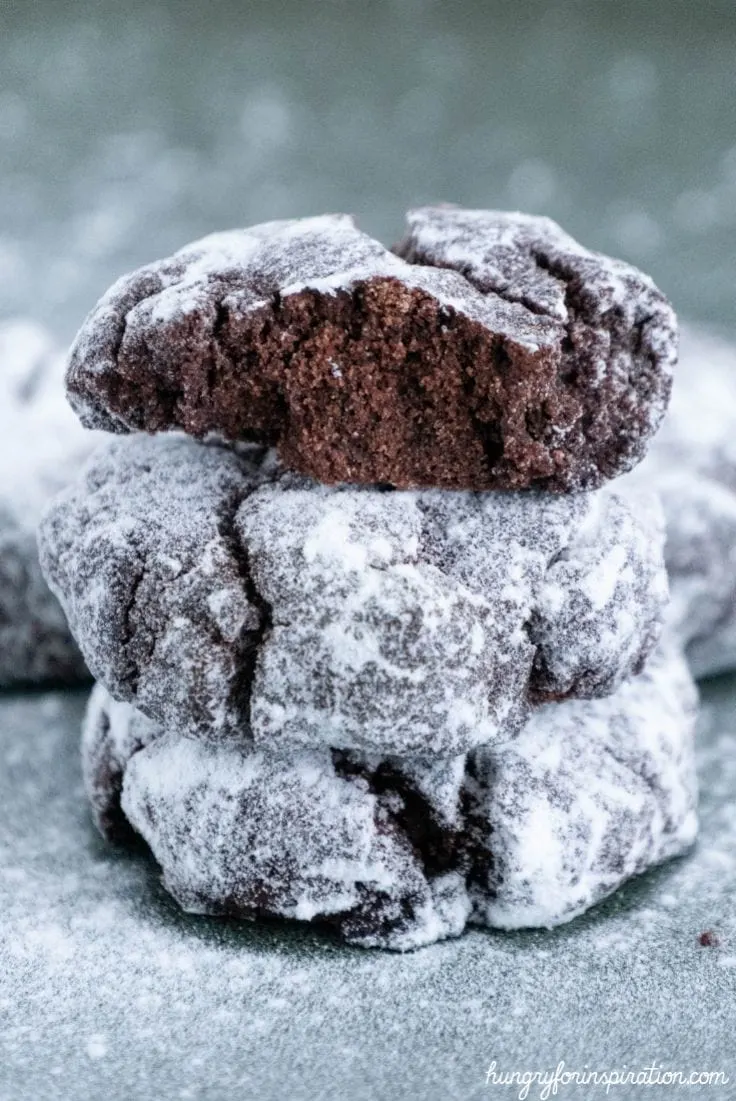 Source: hungryforinspiration.com
Christmas or any holiday isn't the same without cookies. When you are on the keto diet, the choice becomes very limited.
The good thing is that there are ways to cook low carb cookies at home that taste just as delicious as the regular ones. These chocolate cookies prove just that.
To keep these little treats sweet and tasty, make sure you use erythritol. Here is the one I recommend buying.
There have been multiple studies done on this sweetener. It's proven to be one of the healthiest ones out there as it doesn't affect your gut lining (source).
If you love cookies, check out these ketogenic Christmas cookie recipes.
Per Serving:
Calories: 52
Fats: 3.4g
Net Carbs: 0.7g
Protein: 3.8g
3. Low Carb Sugar Cookies
Source: lifemadesweeter.com
Soft, buttery and sweet. That's how cookies should exactly be. This particular cookie recipe is quite simple, the cookies go absolutely amazing with a tea or coffee.
The kids will surely love them! Make sure you get good quality, pure vanilla extract for these. Also, having Christmas themed cookie cutter set is essential. This set has quite a few beautiful shapes.
These will help you to make the cookies even more Christmas-like. Aesthetics matter, especially in the holiday season!
Per Serving:
Calories: 98
Fats: 9g
Net Carbs: 1g
Protein: 1g
4. Caramel Pudding with Toasted Coconut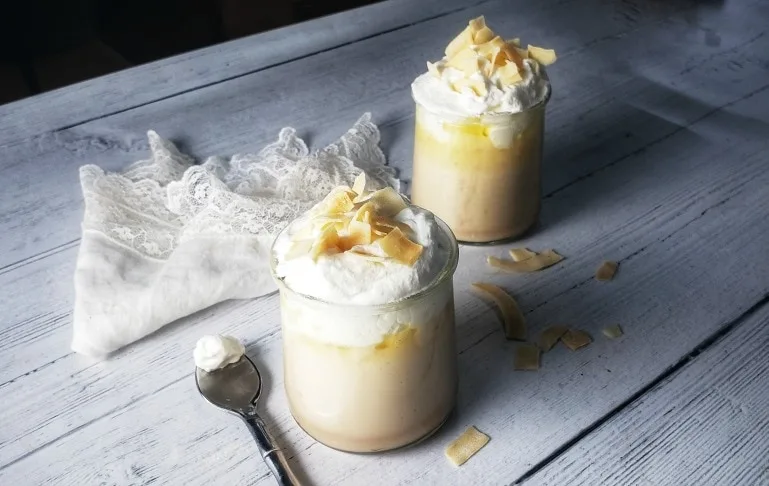 Source: thefitfork.com
Christmas without pudding is not Christmas! In fact, you should have pudding on any holiday.
It's just one of those perfect desserts you want to have after a two-course dinner. This pudding rich, creamy and has no sugar in it.
The sweetness of coconut totally makes up for it! However, a granulated sweetener truly helps here.
I do recommend erythritol but you could also use a mixture of stevia and erythritol. Here is one product that offers just that.
Stevia has a little bit more of a bitter taste. Which I know some people like. Erythritol, on the other hand, is blander but it doesn't have the same sensation regular sugar does.
Per Serving:
Calories: 346
Fats: 36.2g
Net Carbs: 3.6g
Protein: 2.5g
5. Chocolate Cheesecake Brownies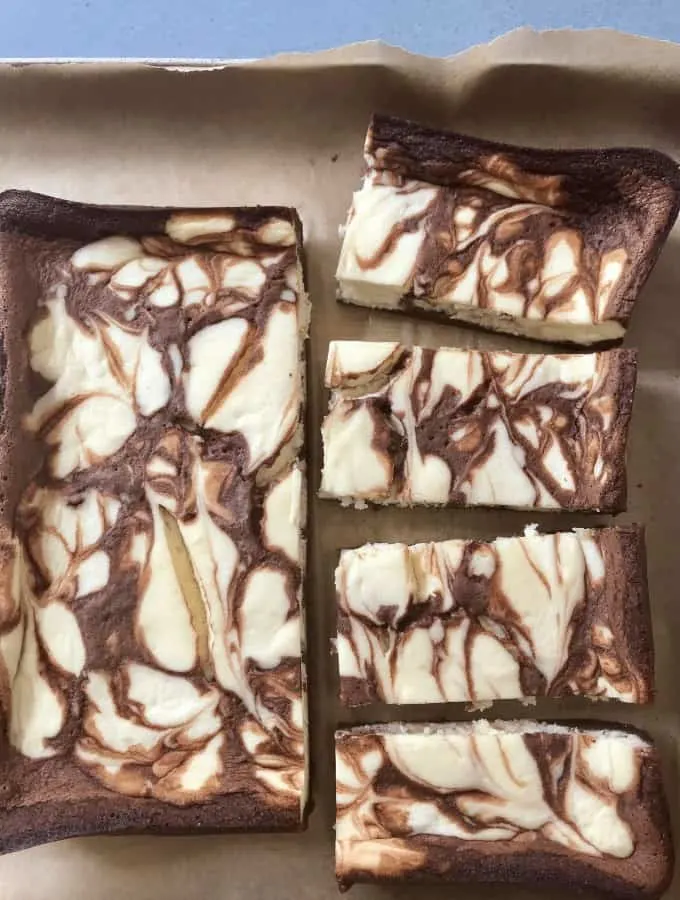 Source: twosleevers.com
Brownies are amazing but cheesecake brownies are even better. Obviously, the fact that these are low carb is really what makes the recipe stand out.
Make sure you get a powdered sweetener to achieve the ultimate sweetness. Otherwise, a blend of sugar-free chocolate and cream cheese will create the cheesecake brownies of your dreams.
Per Serving:
Calories: 274
Fats: 27g
Net Carbs: 2g
Protein: 5g
6. Chocolate Cake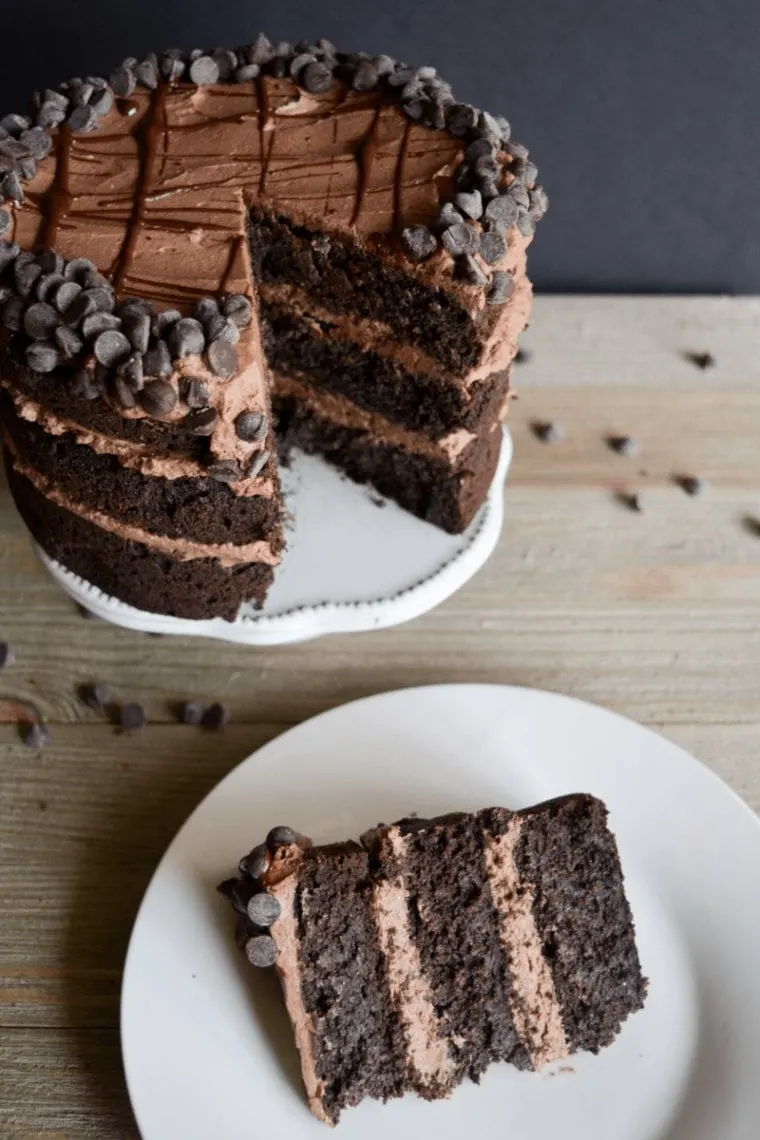 Source: heyketomama.com
There is nothing more special than making a cake for the holidays. It's just one of those desserts you want to have at home.
If you happen to be a massive chocolate fan who just love chocolate on chocolate, then this keto dessert is just for you.
Now, how do we achieve this sweet chocolate taste? Getting a bunch of unsweetened cocoa powder is the key here.
This organic raw cacao powder will do the job.
Per Serving:
Calories: 252
Fats: 22.7g
Net Carbs: 5g
Protein: 7.3g
7. Peppermint Melt-Away Bark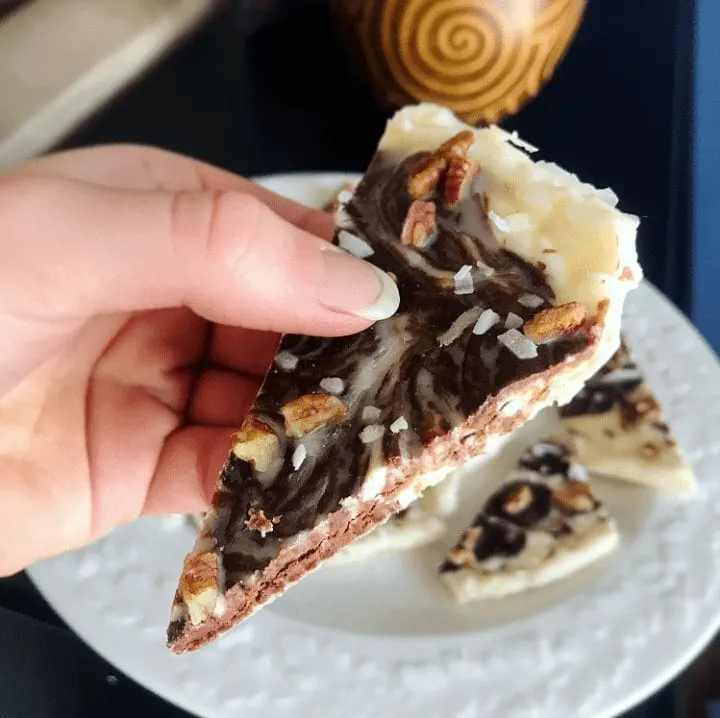 Source: mouthwateringmotivation.com
This a perfect after-dinner holiday treat. These crack peppermint barks are so easy to share and they're great for curbing your sugar cravings.
The combination of coconut oil and cream cheese, chocolate as well as peppermint extract creates something truly amazing.
Per Serving:
Calories: 84
Fats: 8.5g
Net Carbs: 1g
Protein: 1g
8. Pudding Cookies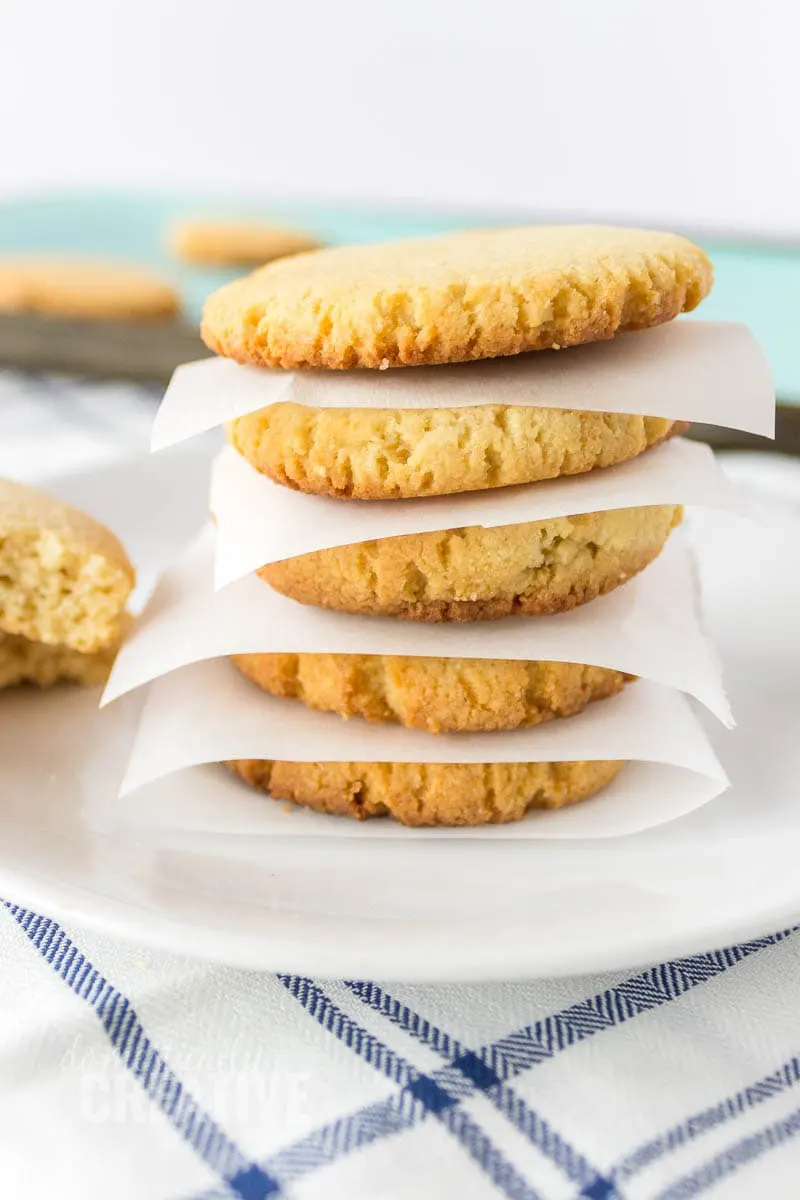 Source: domesticallycreative.com
Love pudding but also love cookies? This cookie batter uses pudding mix to make soft and chewy cookies.
If you want them to look perfectly round either use a dough scoop or roll the dough into a ball. Otherwise, feel free to play with some of the spices to create the flavors you'll love.
Per Serving:
Calories: 104
Fats: 9g
Net Carbs: 1g
Protein: 2g
9. Peanut Butter Truffles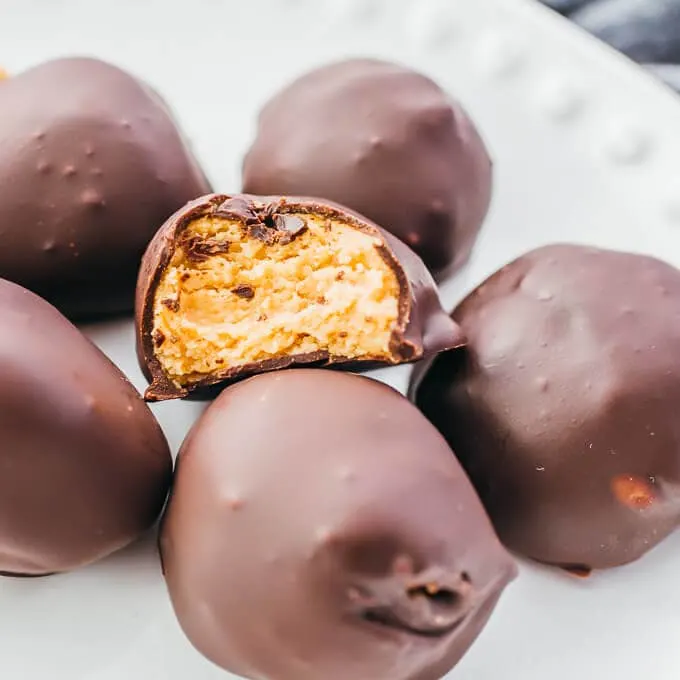 Source: savorytooth.com
These low carb treats are perfect for any holiday. They're full of fats, protein and low in carbs.
On top of that, you'll only need a few ingredients – six in total. Almond flour, coconut flour, unsweetened peanut butter, and coconut oil are some of the most important.
Here is good unsweetened peanut butter I usually recommend for recipes like these. It's organic!
Per Serving:
Calories: 110
Fats: 9g
Net Carbs: 2g
Protein: 4g
10. Red Velvet Keto Cookies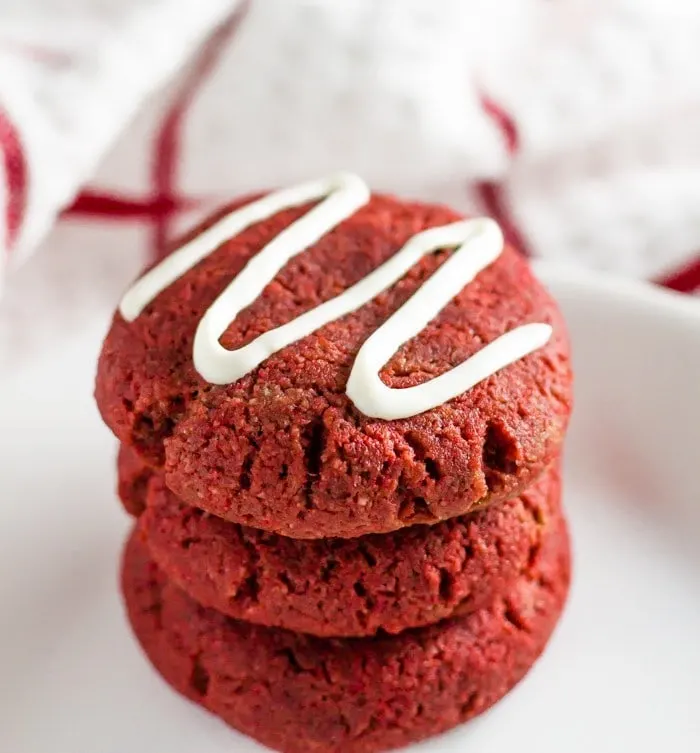 Source: sugarlesscrystals.com
If you're a fan of red velvet cake and cannot quite afford to make one this Christmas, make cookies instead. It's a much faster and convenient way to cook a nice little treat for the family.
The texture of these cookies is just so soft they'll melt in your mouth. To make them extra tasty, add a little bit of frosting that will enrich the cookies with sweetness.
Per Serving:
Calories: 168
Fats: 16g
Net Carbs: 2g
Protein: 4g
11. French Silk Pudding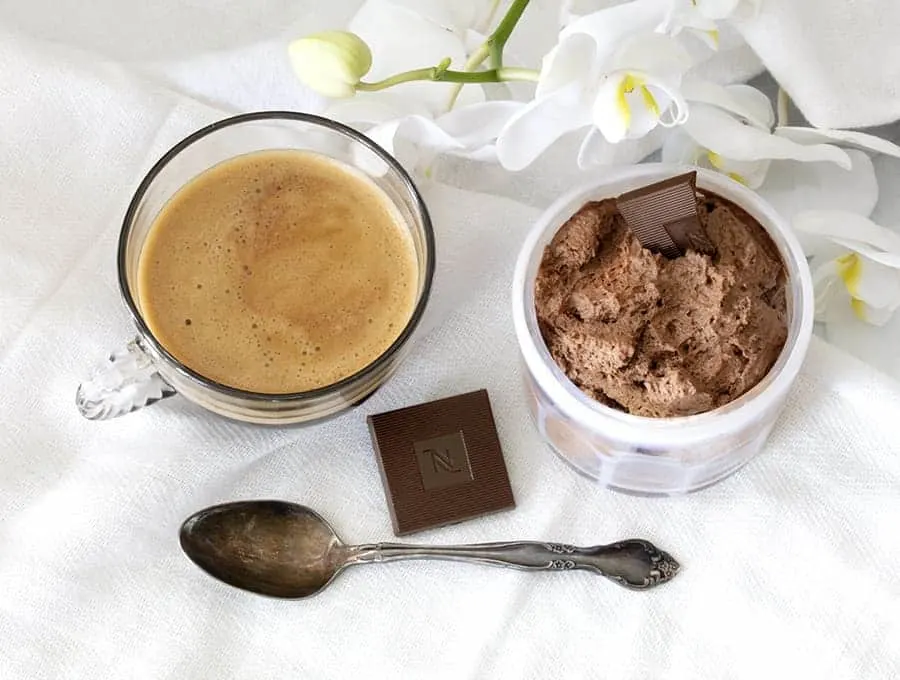 Source: twosleevers.com
If caramel pudding isn't exactly what you're looking for, here is another pudding idea for your holiday dinner table. This pudding is purely made out of chocolate.
However, it's still low in carbs and tastes absolutely delicious. So, pile up on unsweetened dark chocolate like this one here and start cooking for the holidays.
Per Serving:
Calories: 240
Fats: 25g
Net Carbs: 3g
Protein: 3g
12. Chocolate Fudge Keto Cookies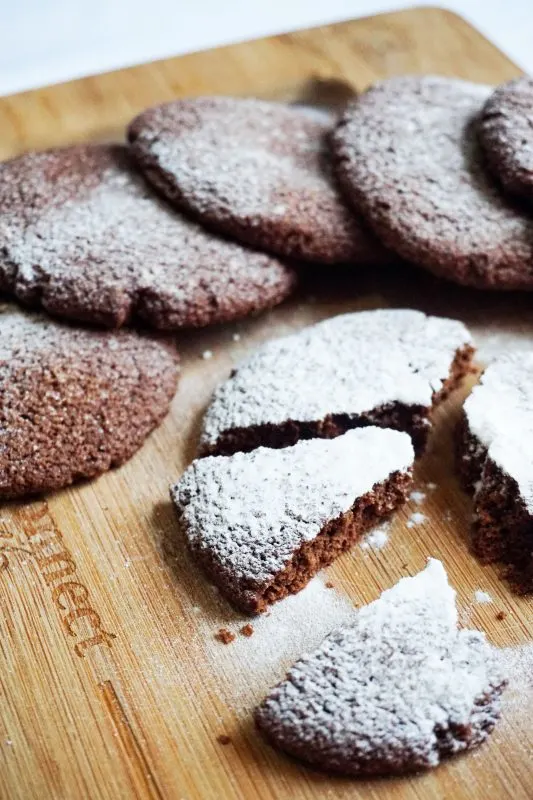 Source: ketoconnect.net
These fudge cookies are exactly what you want to have on your table when it's Christmas or Easter. While the recipe is quite simple, the cookies are super delicious.
Make sure you use sweetener and unsweetened cocoa powder to keep these cookies low carb. If you're need of more Christmas comfort food ideas, check this article here.
Per Serving:
Calories: 132
Fats: 11.6g
Net Carbs: 2g
Protein: 4.4g
13. Cream Cheese Chocolate Cookies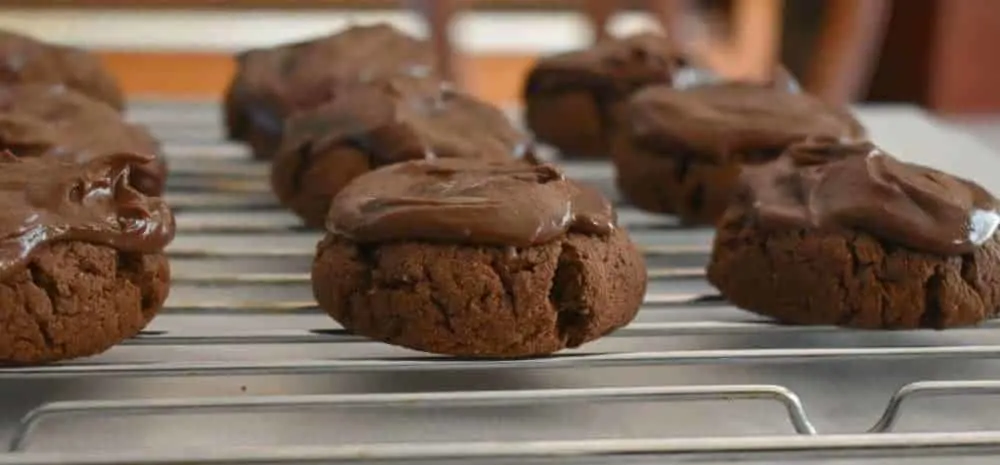 Source: fittoservegroup.com
These chocolate cookies will satisfy all the chocolate cravings you may have. The icing is made out of chocolate too.
Additionally, a little bit of espresso truly enriches the taste of the icing. These are personally my favorites because there is simply nothing better a combination of coffee and chocolate in this world!
Per Serving:
Calories: 188
Fats: 17.1g
Net Carbs: 5.1g
Protein: 3.5g
14. Pumpkin Cheesecake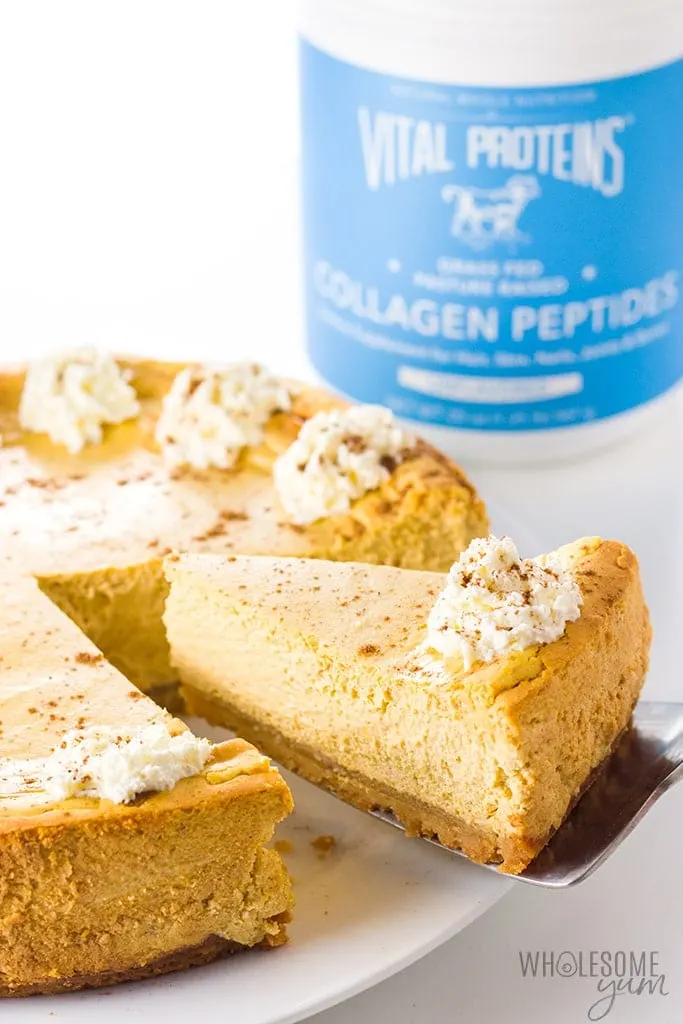 Source: wholesomeyum.com
If it's Helloween season and you're just looking to cook something delicious that also happens to be ketogenic, try this pumpkin cheesecake.
It's simple, yet delicious and nutritious. Totally one of the best desserts for the pumpkin season!
As most ketogenic desserts, this recipe uses almond flour. Here is the one I recommend.
Also, if you'd like to find out more ways on how you could use almond flour to make ketogenic meals, check out this article here.
Per Serving:
Calories: 280
Fats: 24g
Net Carbs: 5g
Protein: 10g
15. Raspberry Brownies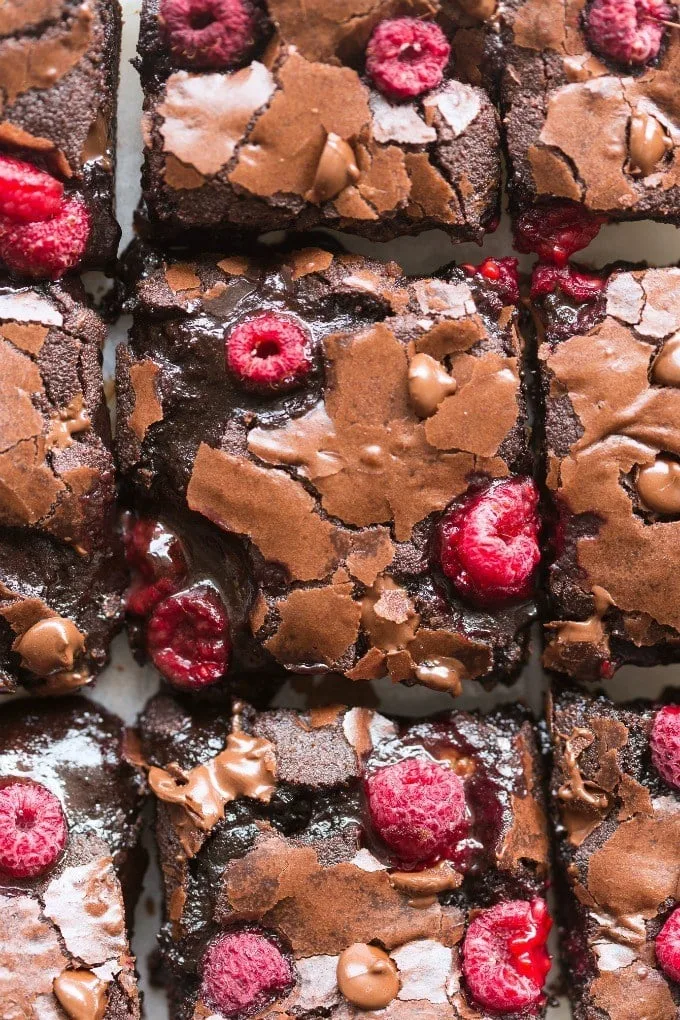 Source: thebigmansworld.com
I'm sure you love brownies. However, have you ever tried brownies with raspberries? Well, now that's something different.
Actually, raspberries beautifully complement the chocolaty taste of brownies. What I love about these brownies is that they incorporate flaxseeds which are full of fiber and omega-3,6 and 9 fats.
You can get a pack of ground flaxseeds here. Ground flaxseeds are easier to digest so you'll experience the benefits of the nutrients in it.
Per Serving:
Calories: 174
Fats: 12g
Net Carbs: 3g
Protein: 5g
16. Triple Chocolate Peppermint Biscotti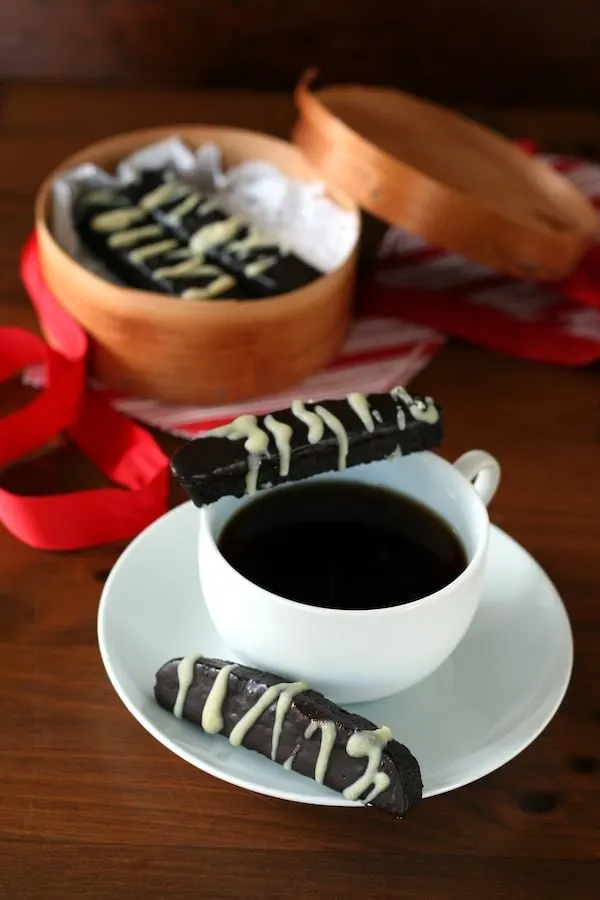 Source: asweetlife.org
If you've heard of biscotti before, you'll know that it's an Italian almond biscuit. They're dry and crunchy – thus go perfectly with a cup of tea or even milk.
Don't let the low carb diet to give up on your favorite desserts. Here is a ketogenic version of the regular biscotti recipe, so check it out!
Per Serving:
Calories: 150
Fats: 14g
Net Carbs: 2g
Protein: 4g
17. Pecan Glazed Pumpkin Pie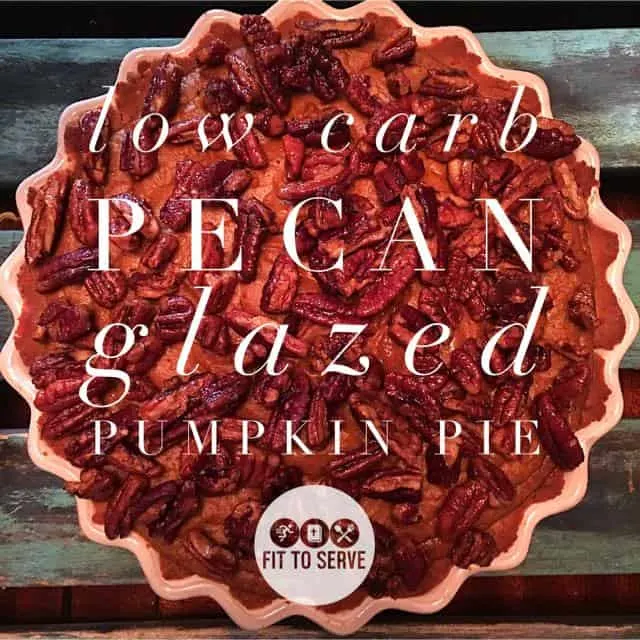 Source: fittoservegroup.com
Yet again another pumpkin dessert that's simply great for the autumn season! Pecan just goes so well with pumpkin it's amazing.
If you haven't tried anything like that, give this pie a try. It's fun to make and tastes absolutely delicious.
Make sure you're using a good sweetener – erythritol will work quite well here.
Per Serving:
Calories: 238
Fats: 22.8g
Net Carbs: 3.1g
Protein: 5g
18. Pumpkin Pie Keto Mug Cake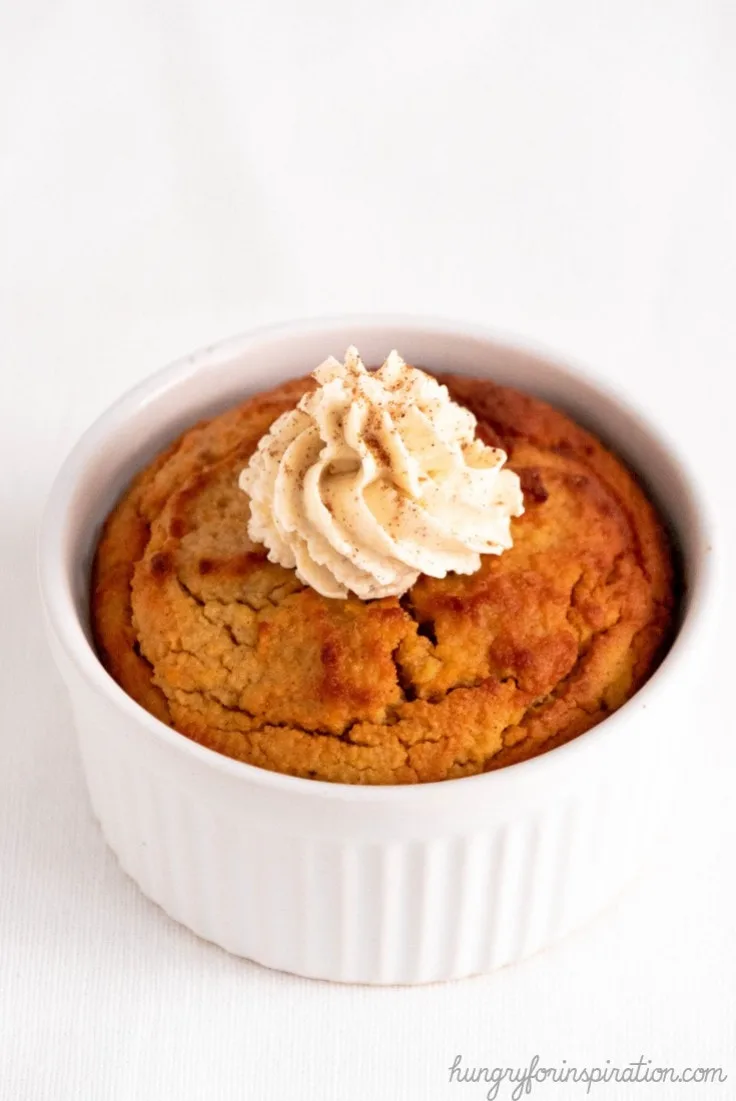 Source: hungryforinspiration.com
This pumpkin mug cake is the absolute best. It's easy to serve no matter how many guests you have.
Additionally, it's just an easily made dessert that can be quickly consumed. I'm all about quick desserts these days!
Here, the combination of spices is extremely important. That's what makes this treat so special.
So, make sure you pile on nutmeg, cinnamon, ginger, allspice, and cloves!
Per Serving:
Calories: 157
Fats: 10.8g
Net Carbs: 3.8g
Protein: 8.9g
19. Gingerbread Men Cookies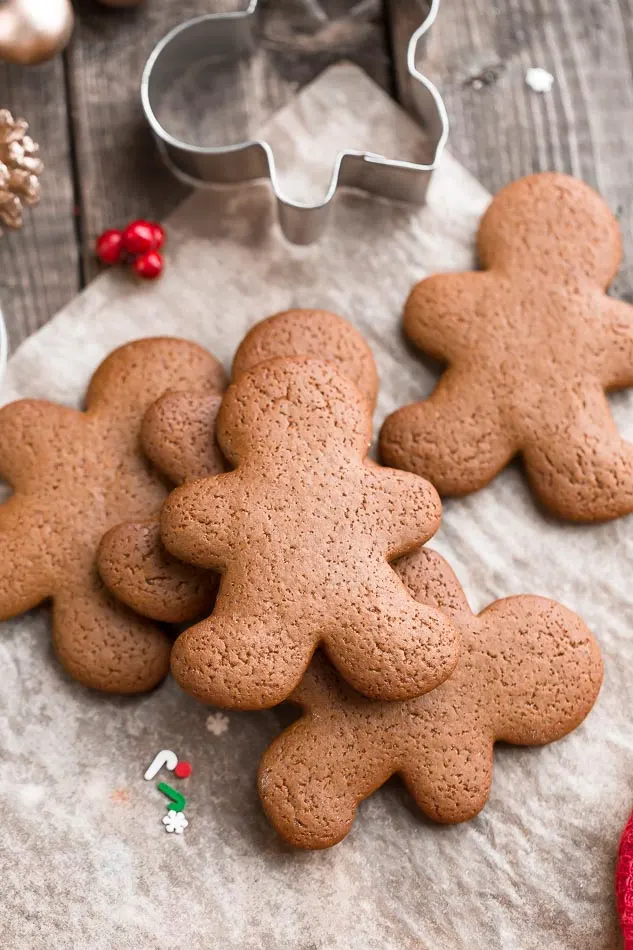 Source: lifemadeketo.com
These gingerbread men cookies are perfect for Christmas. The kids will love them and they just taste amazing.
There is nothing more special than eating gingerbread cookies for this particular holiday. If anything, I cannot imagine Christmas without it smelling like ginger.
To make these cookies you'll need xanthan gum to keep them together. You can get some here, it's usually very useful with most ketogenic recipes since we don't use regular wheat most of the time.
Per Serving:
Calories: 169
Fats: 15g
Net Carbs: 3g
Protein: 3g
20. Gingerbread Cupcakes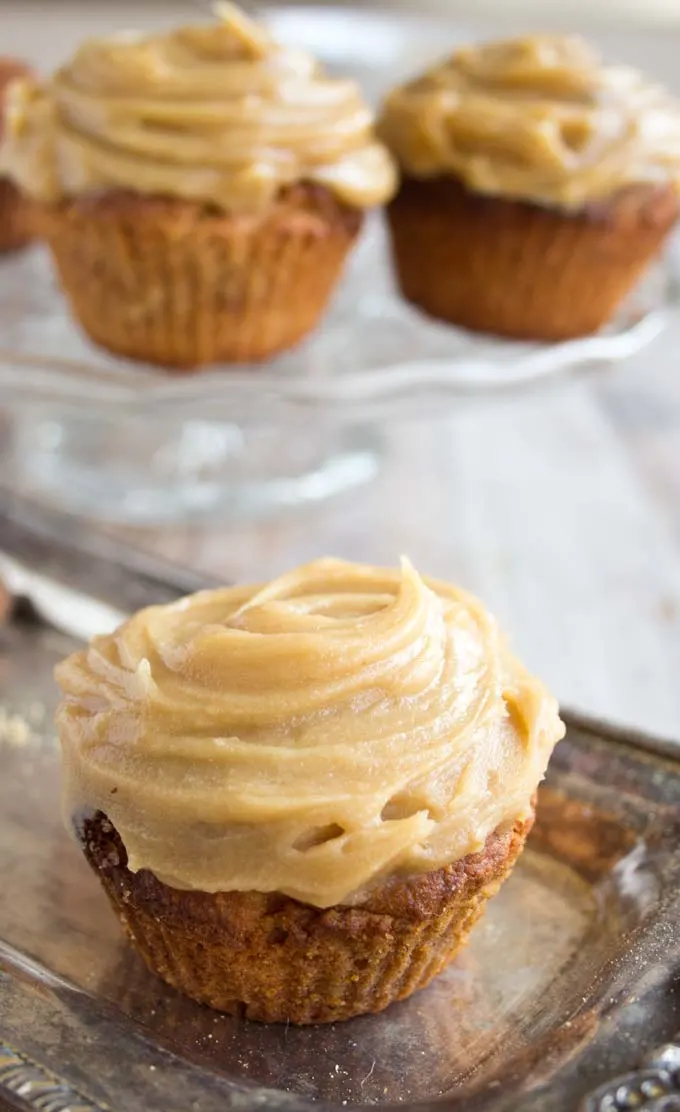 Source: sugarfreelondoner.com
These gingerbread cupcakes are just as delicious as they taste. Also, they're very fitting for the holiday season.
The sugar-free salted caramel icing makes them even better. It's the type of cupcakes you cannot stop eating once you start, so watch out!
Here is the sugar-free syrup you're going to need to use for the recipe. It's an overall good syrup to have if you ten to cook low carb desserts for your family.
Per Serving:
Calories: 398
Fats: 37.5g
Net Carbs: 3.8g
Protein: 6.1g
Conclusion
Enjoyed these holiday desserts? Are you going to cook them for Halloween, Christmas, Easter or any other holiday? Let me know in the comment section!