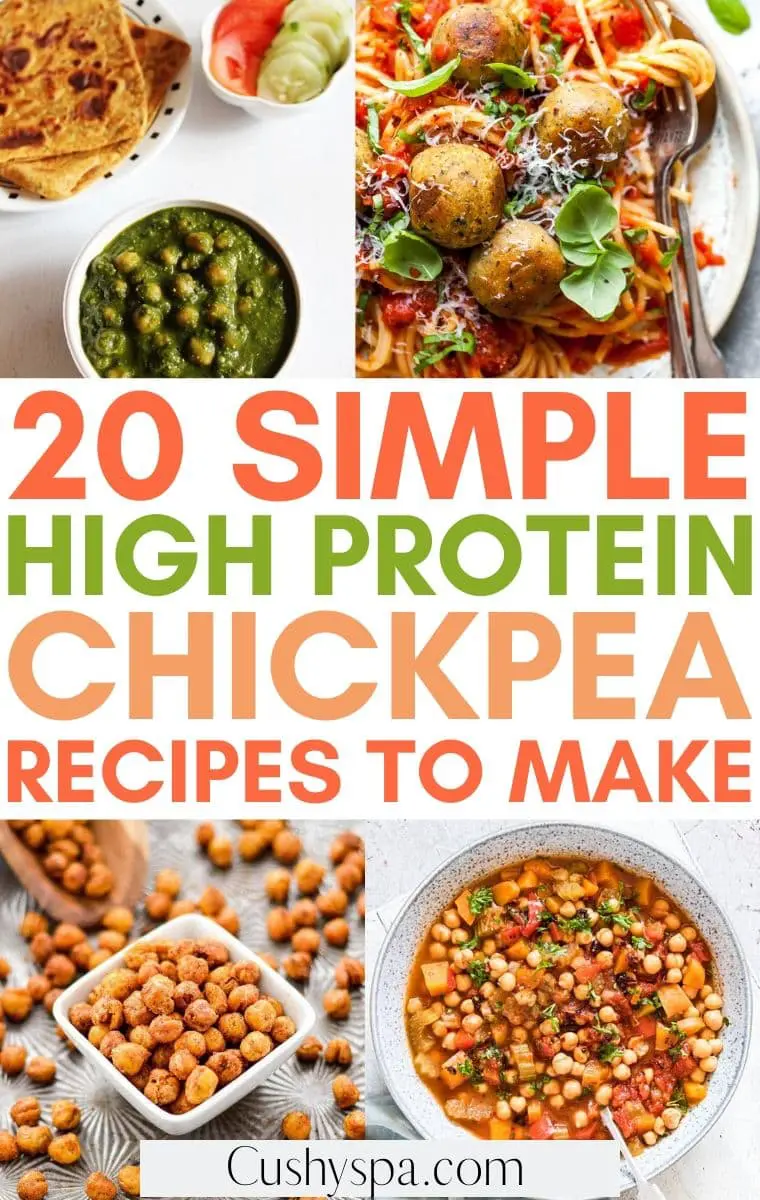 Are you trying to lose weight or bulk up? Then it's important to eat high protein meals.
Not only is protein important for building muscle, it also helps you feel full. And when you feel full, you eat less and lose weight.
Eating protein also boosts your metabolism. So, you end up losing even more weight.
But how do you boost the protein in your diet if you're vegan or vegetarian? By eating plant-based foods that are packed with protein.
Yes, all plant-based foods contain protein. But some contain more protein than most.
One of these is chickpeas. Just one cup of boiled chickpeas provides 30% of your daily protein needs, and half of your daily fiber needs to boot.
It's even an excellent source of magnesium, manganese, and phosphorus, which you need for healthy bones. So, bring on them chickpeas!
Today, I'm sharing 20 high protein chickpea recipes. They're not only tasty but vegan/vegetarian too. Let's tuck right in.
1. Chana Palak Recipe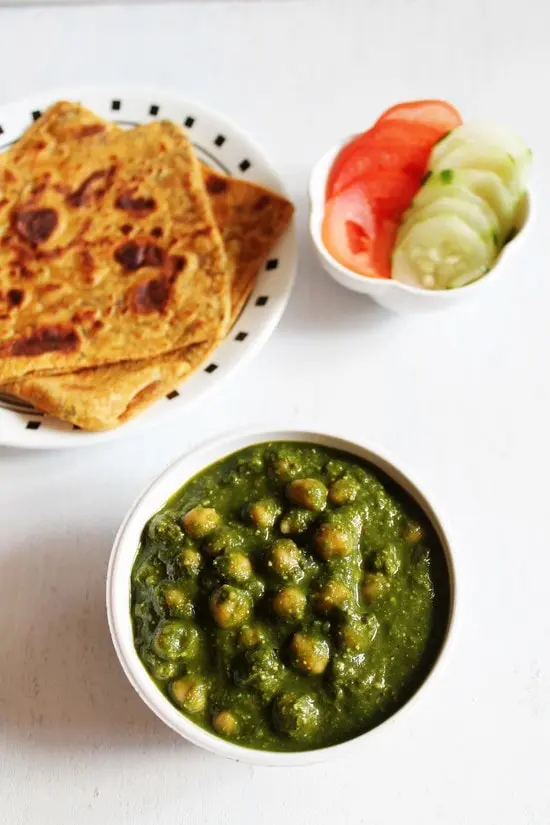 Credit: spiceupthecurry.com
In the mood for some Indian food? Well, this one's for you.
On the menu is Chana Palak. This is a chickpeas "curry" that is cooked with spinach in an onion and tomato-based gravy.
It tastes amazing. That's because it contains warm aromatic spices like coriander, garam masala, and cumin.
And the green chilies add some heat. While the cashew nut powder adds protein and texture too.
Make sure you have some naan bread. You'll definitely want to mop up all that sauce.
Want even more protein? You can serve it up with a high protein flatbread like this one made with lentils.
This is a great high protein meal prep idea!
Per Serving:
Calories: 330
Fats: 13.4g
Protein: 14.2g
Carbs: 42.3g
Fiber: 12.1g
Sugar: 9.2g
2. Chickpea Tomato Salad With Creamy Yogurt Dressing
Credit: theforkedspoon.com
Salads are so good for you. But often when you eat them, you feel like you're eating grass.
This chickpea tomato salad tastes like anything but grass. It's packed with roasted chickpeas, crisp red bell peppers, refreshing English cucumber, juicy tomatoes, and sweet red onions.
The jalapeno pepper and pepperoncini add some kick. Perfect if you like it spicy.
But the icing on top of the cake…ahem, salad, is the yogurt dressing. It's creamy and dreamy and complements the salad nicely.
Don't eat dairy? That's not a problem…you can use non-dairy yogurt instead of plain yogurt for the dressing.
Here is another delicious chickpea salad with veggies that you might like!
Per Serving:
Calories: 241
Fats: 7g
Protein: 10g
Carbs: 30g
Fiber: 7g
Sugar: 6g
3. Roasted Red Pepper Hummus
Credit: eatplant-based.com
I love hummus, as I'm sure many of you do too. It goes well with some many things; pita bread, cucumbers, celery, carrots…
But if you buy it from the store, it can be a bit pricey, particularly if you eat a lot of it. Plus, it has preservatives and added oil.
Added oil can be an issue. Particularly if you're following a whole-foods plant-based diet.
This hummus contains no oil and tastes just as delicious. The bonus? It takes only 10 minutes to make.
Making it is super easy. Just place all your ingredients in a blender or food processor, and pulse until smooth. This food processor should do the trick.
Your hummus should last about 7 to 10 days in the fridge. Just make sure you store it in an airtight container. Here are good quality glass containers just for that.
Per Serving:
Calories: 165
Fats: 7g
Protein: 7g
Carbs: 21g
Fiber: g
Sugar: g
4. Tea Infused Vegan Chana Masala
Credit: yuzubakes.com
Here's another Indian dish. You can never get enough Indian food, right?
When you think of tea-infused vegan chana masala, you probably think of some crazy science experiment. But, before you move on to the next recipe, let me tell you this: It's a.m.a.z.i.n.g!
It's creamy and flavorful…and the secret ingredient is milk oolong tea. The milk oolong tea gives the chana masala a delicate flavor that balances out the spices.
It's also pretty filling. That's because it's packed with not just protein, but fiber, which both keep you full.
To make it, all you'll need to do is fry some onions in a frying pan, then add your spices, frying them too.
Then you add your chickpeas, mixing everything together. Finally, you'll add your tomato paste and some freshly boiled loose leaf milky oolong tea and simmer away. You can find some milky oolong tea here.
Just one cup of it provides 26% of your daily manganese needs. It may help you lose weight too.
Serve with some warm naan bread.
Per Serving:
Calories: 429
Fats: 7g
Protein: 21g
Carbs: 74g
Fiber: 18g
Sugar: 13g
5. Quick Chickpea Curry
Credit: veggiedesserts.com
When you think of curry, you probably don't think it's quick. After all, it takes time to develop all those flavors, right?
This curry is pretty delicious. It tastes just like curry an Indian grandmother would make you.
It's warm and spicy, and so easy to make. In fact, you'll have it ready in 20 minutes.
The key to this curry are the spices. You'll be using cinnamon to add warmth.
And you'll be using cayenne pepper for some kick.
Serve with some basmati rice. This is a wonderful high protein lunch meal that will keep you full!
Per Serving:
Calories: 115
Fats: 8g
Protein: 6g
Carbs: 5g
Fiber: 1g
Sugar: 1g
6. Roasted Chickpea Cauliflower Sandwiches
Credit: bucketlisttummy.com
I'm all for sit-down lunches and dinners. But sometimes, you need to eat on the run.
And when you do, these babies come in handy. The crunchiness of the chickpeas works wonderfully with the creaminess of the goat cheese and the Greek yogurt.
Meanwhile, the sweetness of the corn and carrots balance out the blandness of the cauliflower.
If you're vegan, not to worry. Just skip the goat cheese and Greek yogurt and use tahini or hummus…they'll still be delicious.
This recipe can make for a lovely high protein snack.
Per Serving:
Calories: 155
Fats: 6g
Protein: 9g
Carbs: 19g
Fiber: 4g
Sugar: 5g
7. Avocado Chickpea BLT Sandwich
Credit: whereyougetyourprotein.com
Being vegan or vegetarian doesn't mean giving up on your favorites. Favorites like BLT sandwiches.
And this avocado chickpea BLT proves just that. You have creamy avocado chickpea mash topped with crispy bacon, fresh lettuce, and juicy tomatoes all on a bed of lettuce and sandwiched between two slices of bread.
And you'll be happy you're ditching the mayo, vegan or otherwise for this sandwich. The avocado not only provides creaminess but heart-healthy fats and fiber to boot.
So stop dreaming of that classic BLT. And savor this one instead.
Per Serving:
Calories: 376
Fats: 15g
Protein: 15g
Carbs: 49g
Fiber: 9g
Sugar: 7g
8. Garlicky Sesame Chickpeas With Coconut
Credit: kiipfit.com
We all live busy lives. And sometimes, or to be honest, most times, we don't have much time to spend in the kitchen.
But this doesn't mean you just have to eat a can of chickpeas and plain rice for dinner.
This chickpea dish is infused with flavors. From the umami of the soy sauce to the sweetness of the maple syrup.
From the heat of the black pepper to the crunchiness of the white sesame seeds. The unsweetened coconut flakes add some Thai flavors too.
Besides being tasty, coconut is good for you too. Coconut is rich in manganese, which you need for healthy bones.
Always be sure to use unsweetened coconut, which is much healthier. If you need to stock up on some unsweetened coconut flakes, you can get some here.
And all it takes is 15 minutes to cook this tasty dish. So, forget that boring can of chickpeas and have this instead.
Per Serving:
Calories: 370
Fats: 12g
Protein: 20g
Carbs: 51g
Fiber: 2g
Sugar: 3g
9. Healthy Baked Falafel
Credit: supergoldenbakes.com
I'm a big fan of falafels, as I'm sure many of you are. But, I'm not a fan of how greasy they can be.
These baked falafels are just as delicious as "regular" falafels. And they're healthier for you too.
That's because they are baked, not deep-fried.
To make these falafels, you'll be using soaked dried chickpeas; make sure you don't cook them.
Place your soaked dried chickpeas along with your other ingredients in a food processor, then process until it becomes paste-like.
Then form your falafel mixture into balls and place them on a tray lined with greaseproof paper. Then spray with some olive oil.
Serve with tahini.
Per Serving:
Calories: 48
Fats: 1g
Protein: 2g
Carbs: 8g
Fiber: 2g
Sugar: 2g
10. Best Vegan Wraps With Curried Chickpeas
Credit: lathiskitchen.org
Wraps are so convenient for those busy days. Just grab a wrap and go- no cutlery necessary.
These wraps are seasoned just right. The turmeric powder, coriander powder, garam masala and ginger paste make the curried chickpeas taste pretty authentic.
And they taste like they've been simmering for hours. But, they haven't; in fact, you only need 30 minutes to cook them.
The secret is that you use an Instant Pot. Not only are you saving time with an Instant Pot, you're also saving money by using dried chickpeas instead of canned chickpeas.
So, if you're planning on making this dish or other dishes that call for dried chickpeas or beans, make sure you have an Instant Pot for added convenience. If you're looking for an Instant Pot, there's a great deal on this one right now.
Per Serving:
Calories: 241.1
Fats: 22g
Protein: 30.7g
Carbs: 183.5g
Fiber: 51.4g
Sugar:
11. Crunchy Roasted Chickpeas
Credit: joyfoodsunshine.com
We can be so good about getting enough protein in our main courses. But our snacking can leave a lot to be desired, particularly if we're just snacking on potato chips.
Yes, potato chips are nice and crispy. But as we all know, they're not healthy.
These roasted chickpeas are crispy, crunchy, smoky, and savory. The spices give that extra oomph.
To make them, you'll be using 7 different spices. So, make sure you have a good set of measuring spoons to measure them. I like these ones here because they don't rust or stain.
Per Serving:
Calories: 53.3
Fats: 1.3g
Protein: 2g
Carbs: 8.7g
Fiber: 1.7g
Sugar:
12. Chana Chaat Recipe
Credit: vegrecipesofindia.com
Need some more high protein snacks? I've got you covered.
Chana Chaat is an Indian chickpea salad. However, it tastes much better than salad.
That's because you add a delicious combination of green chiles, black salt, onions, cumin, and lemon juice.
So you've got heat, savoriness, and tang. And the black salt adds a nice umami flavor that is very much like boiled eggs, so you can even add it to scrambled tofu to make it taste like scrambled eggs.
Per Serving:
Calories: 238
Fats: 3g
Protein: 11g
Carbs: 42g
Fiber: 11g
Sugar: 7g
13. Caprese Chickpea Salad
Credit: belleofthekitchen.com
Salads are a great way to get your fiber, vitamins, and minerals. But they tend to have very little protein, so you often need to serve them with a side dish to make sure you're getting enough protein.
This chickpea salad is the best of both worlds. It's packed with chickpeas, sweet red onions, baby arugula, grape tomatoes, avocado, and fresh mozzarella topped with olive oil and balsamic vinegar.
So, you get your protein and healthy fats, in addition to all your other nutrients.
And it takes only 10 minutes to make. Healthy eating doesn't get much easier than this.
Per Serving:
Calories: 337
Fats: 15g
Protein: 15g
Carbs: 36g
Fiber: 11g
Sugar: 7g
14. Slow Cooker Potato & Chickpea Tikka Masala
Credit: therecipewell.com
When you're feeling down or heartbroken, there's nothing like comfort food. It warms your heart and your soul.
But usually comfort food is packed with empty carbs and not enough protein. So, if you end up eating a lot of it, you end up with an expanding waistline…and that's not very comforting.
This potato & chickpea tikka masala is creamy, soothing, and just plain good for you. Chickpeas, sweet potatoes, bell peppers, and fire-roasted tomatoes are simmered in a tomato-based sauce, then topped with cashew cream. Yum!
To make the cashew cream, you'll need a high speed blender which you can find here. However, if you're not a fan of cashews, you can always just use coconut milk instead.
Serve with rice or naan bread. Check out more slow cooker recipes here.
Per Serving:
Calories: 418
Fats: 13g
Protein: 18g
Carbs: 63g
Fiber: 15g
Sugar: 15g
15. Easy Chickpea Salad With Feta & Mint
Credit: thebossykitchen.com
Are you bored of your classic chickpea salad? Then give this a try!
The crumbled feta cheese, cucumber, tomatoes, fresh mint, basil, and extra virgin oil give it a nice Mediterranean twist. And it tastes so good.
Now, this salad uses green onions. But to keep in line with the Mediterranean theme, you can use red onions instead…think of this salad as classic Greek salad with chickpeas thrown in.
Per Serving:
Calories: 149
Fats: 6g
Protein: 6g
Carbs: 20g
Fiber: 5g
Sugar: 7g
16. Instant Pot Moroccan Chickpea Stew
Credit: recipesfromapantry.com
When it's cold outside, you just want to sit by the fire. And eat a warm bowl of stew.
This stew is like a warm hug. It's super comforting and filled with fragrant spices.
Spices like cinnamon, coriander, and cumin. The minced ginger gives a bit of heat.
And the carrots, green onions, and celery add freshness and nutrition.
Since it makes 8 servings, it's perfect for meal prep. After all, the stew is always better the next day, right?
Make sure you store your leftovers in good airtight food storage containers to keep them fresh longer. I like these containers here because they don't contain toxic chemicals that will leach into your food.
Serve with crusty bread.
Per Serving:
Calories: 191
Fats: 3g
Protein: 10g
Carbs: 34g
Fiber: 9g
Sugar: 8g
17. Protein Chickpea Cookie Dough
Credit: skinnyfitalicious.com
Now, it's time for some chickpea cookie dough. Yes, you read that right, chickpea cookie dough.
After all, you need a treat now and then. And what better treat to have than cookie dough.
This cookie dough is sweet, but not too sweet. The peanut butter adds creaminess, while the maple syrup and dairy-free mini chocolate chips add some sweetness.
And it's good for you too. That's because it's packed with protein and fiber, so it helps keep you full.
The secret to it being so high in protein is that you use chickpeas in your cookie dough.
You also use Garden of Life Raw Organic Vanilla Protein Powder. It's a pretty clean protein powder as it is not only plant-based but contains no added sugar. If you'd like to give it a try, you can get some here.
Per Serving:
Calories: 215
Fats: 7g
Protein: 11g
Carbs: 26g
Fiber: 4g
Sugar: 11g
18. Chickpea Meatballs
Credit: dishingouthealth.com
Missing out on meatballs? You don't have to with these!
They're moist on the inside and nicely browned on the outside. Also, packed with flavor.
They're cheesy, smoky, and savory. You won't miss the meat.
Serve with pasta or zucchini noodles. To make zucchini noodles, just get a good quality spiralizer like this one here.
Per Serving:
Calories: 217
Fats: 8g
Protein: 12g
Carbs: 26g
Fiber: 5g
Sugar: 2g
19. Greek Vegan Chickpea Salad With Quinoa & Tahini Sauce
Credit: kopiaste.org
When summer comes, you think automatically of salads. Salads and a nice cocktail, if you're so inclined.
But many salads can leave you feeling peckish. And when you're peckish, you start eating all those foods that aren't good for you.
This salad is pretty filling, and the tahini sauce is light and refreshing-the perfect combination.
What makes this salad, so filling is that you're not only using chickpeas but quinoa as well.
Quinoa is rich in fiber and protein, which both keep you full. It's also a good source of iron, which you need to keep your energy levels up. If you're running low on quinoa, you can stock up on some here.
Per Serving:
Calories: 343
Fats: 11g
Protein: 19g
Carbs: 45g
Fiber: 9g
Sugar: 10g
20. Toasted Chickpea Sea Salad Sandwiches
Credit: sharonpalmer.com
Do you love creamy sandwiches? Then you'll love these.
They're creamy, tangy, sweet, and savory. The dried seaweed and miso paste adds a nice umami flavor; it's a party in your mouth.
As an added bonus, they also contain fresh fermented pickles with live active cultures. So, they're great for the health of your gut.
Besides adding a nice umami flavor, dried seaweed is good for you. It is a good source of iodine, which you need for a healthy thyroid gland.
It may also help you lose weight. That's because it contains fiber and fucoxanthin, a substance that may help burn fat. If you'd like to try it, you can pick up some here.
Per Serving:
Calories: 395
Fats: 9g
Protein: 15g
Carbs: 67g
Fiber: 9g
Sugar: 10g
Conclusion
Do you like any of these high protein chickpea meals? Share them with your friends and start using more of your pantry foods to eat healthy on a low budget!