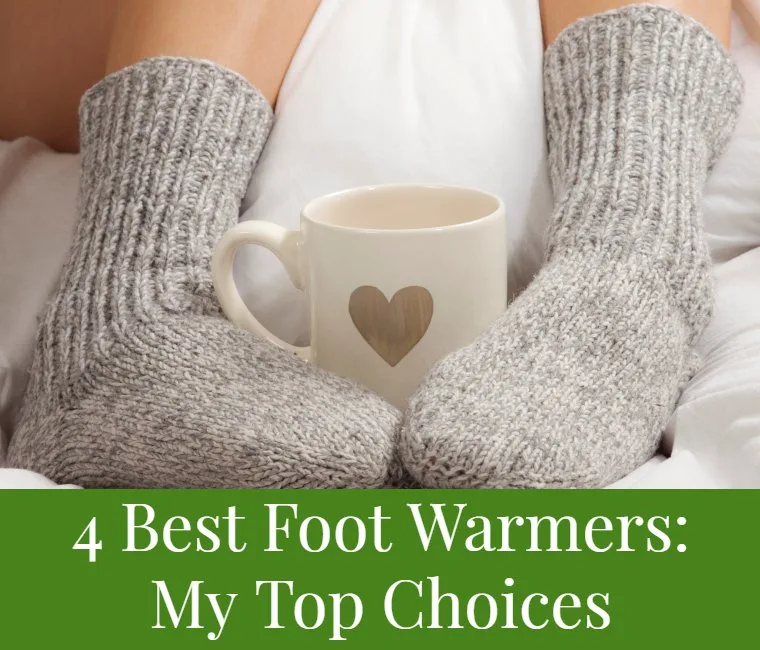 I had cold feet ever since I could remember. But, I loved my cold winters too and enjoyed spending time in the snow.
This blog is supported by readers purchasing featured products. When you buy products with my links, I earn a commission at no extra cost to you. Here is my full affiliate disclosure.
Although, it's not fun to get your feet so cold they hurt. That's a problem I have in winter even now. Often even when I'm at home.
When it comes to electric foot warmers, I feel like none of them fully deliver. But, I thought it would be a nice idea to share with you what I believe are the best foot warmers right now.
2 of them are electric (honestly, they're not perfect but the best ones I could find). The other 2 offer good ways to keep your feet warm in a natural way.
Top 4 foot warmers:
I've reviewed each product below so you can get an idea of what you're getting for what you're paying.
1. Gideon Massager and Foot Warmer
Click Here to Check Price on Amazon
I like the fact that this product is like a pocket where you can just slide your feet in. It's perfect if you spend a lot of time at your desk or watching TV.
The device is actually a massager too. It has 8 deep penetrating massaging nodes that'll please your feet.
Anyway, I feel like that's the reason why this foot warmer is a bit sturdier than the other ones for this very reason.
It also has a corded control, so it's quite easy to switch between different options. In case you're worried that you won't be able to use the heating option by itself, don't be.
You can totally do that, especially if you're not into feet massages. Also, the warmer, even though it's electric, is very quiet.
You can probably even use it in an office without disturbing others. The device shuts off after 15 minutes.
That's not something I'm fond of but if you're using a heater like that, it's best to heat the feet up and put socks on.
If that doesn't help, turn on the massaging. It'll help to fasten up circulation and your feet should feel better for a longer time.
Overall, this is a pretty cheap little device that can help your feet to stay warm for a longer time.
2. Heated Thermal Socks
Click Here to Check Price on Amazon
If your feet are cold all the time, you need thermal socks. As I've mentioned above, it's a good idea to use them with an electric heater or right after it.
Also, after a good massage when your circulation is flowing to keep as much of that heat in as possible.
These feel nice on the feet. They're quite long too and don't slip off. Work well with shoes, especially in winter.
Often, when socks are these thick, they're quite uncomfortable but these aren't. You can also get them in different designs.
Both for men, women and even kids. My own preference is a more colorful design.
These tend to really improve my mood. Don't expect them to be too stylish though!
They're not for a beauty contest but should keep your feet relatively warm.
3. PureRelief XL Heating Pad
Click Here to Check Price on Amazon
That's the only heating pad I could find that kind of living up to its price. It's great at heating up any part of your body. Including your feet!
But, the auto-shutoff function isn't great. The device only shuts down after 2 hours. There have been cases where it has burnt due to overheating.
So, use it, but carefully. The device is like a mat that you can just put on your back, your legs or your feet.
It's big enough (12" x 24" to be more precise) to help with any part of your body. Feels great on the skin too since it's made out of micro plush fibers.
The pad has 6 heating options ranging from 105F to 140F. Also, you can use a little bit of water to moisten it up and use it then.
Moist heat penetrates better into your body. It also feels much better than dry heat.
Just don't soak it completely to avoid damaging the pad. A little water will do the job.
Overall, this one is my favorite due to its versatile usage.
4. HeatMax Insole Foot Warmers
Click Here to Check Price on Amazon
My biggest problem in winters was getting cold feet no matter how warm my shoes were. It's not great.
Especially if your feet start hurting from the cold. These foot warmers help.
They are disposable and only work the first time you wear them but they do their job quite well.
Sometimes your feet heat up to the point where it's too hot. I think cold foot owners would love it.
Anyway, to activate the product, you need to shake it and then attach it to your sock.
Wear a thicker sock, just in case it might get too hot with these. I think they're relatively cheap since you get 16 pairs and can save your life if you have to work outside in winters.
How to Choose a Foot Warmer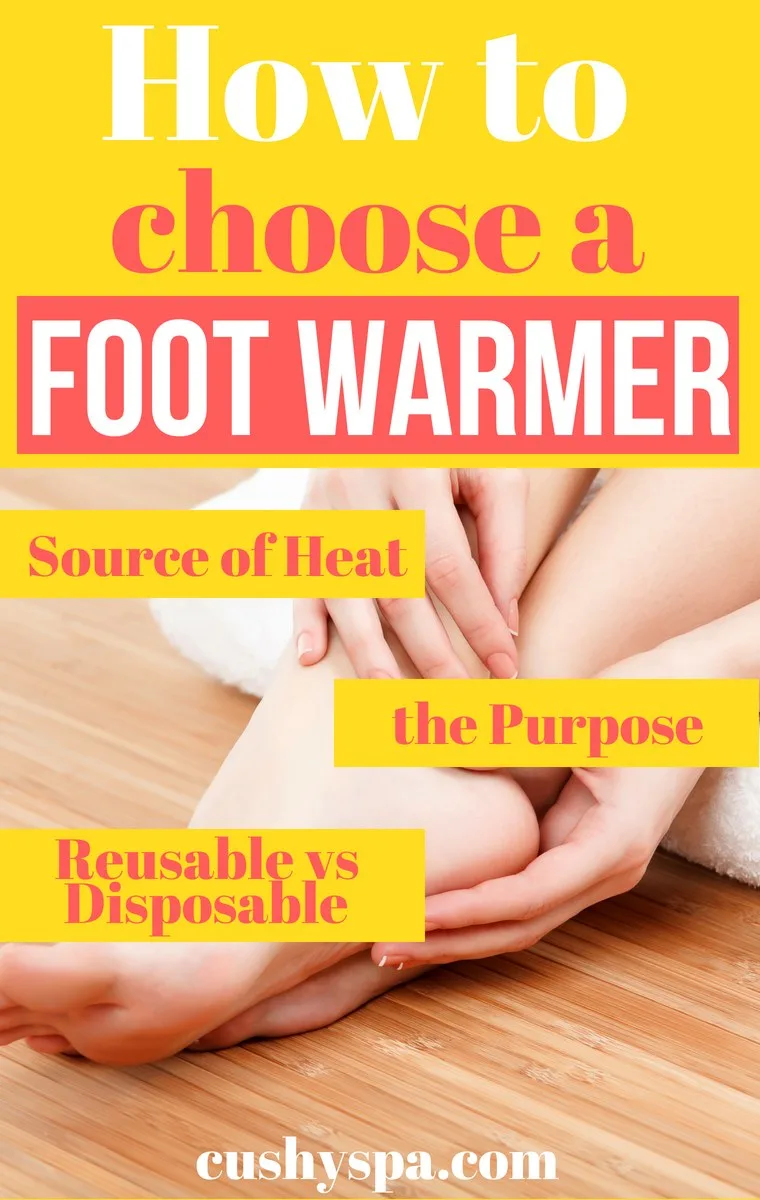 Here are a few things you need to consider when getting foot warmers. They are good to know, especially if you have no idea what you're looking for.
Sometimes a foot warmer might not be the right choice for you. You might just want to get a heated foot spa to use before the sleep.
1. Consider the Source of Heat
I've recommended both electric and non-electric foot warmers. I feel like electric warmers are good before you go to sleep.
But, you probably won't use heated socks if you need to avoid the cold while you're outside. If bad circulation is a huge problem, you might want to own both.
I know there are a lot of souls that struggle with falling asleep with cold feet, especially right after cleaning them.
In that case, an electric warming pad in bed would be most helpful.
2. Consider the Purpose of Use
As I've already mentioned. Some of us have pretty good feet, they simply get cold when we're outside.
For that purpose, you would only need warm socks. If you want to enjoy a little massage in the evening, electric foot warmers would work.
3. Reusable vs Disposable
Some foot warmers are reusable, others – disposable. When it comes to that, think about the price.
A calculation here and there might be useful to figure out how much it'll cost you in the long run.
I'm not a big fan of disposable foot warmers due to sustainability reasons. So, that's something to consider too.
Conclusion
Now that I've reviewed these 4 best foot warmers, what do you think? Do you suffer from bad circulation and cannot fall asleep at night?
Is there anything that has helped you? Please share your experiences in the comment section, I'd love to know!
My feet get so cold sometimes, I don't know what to do with myself! I'm sure many can relate!