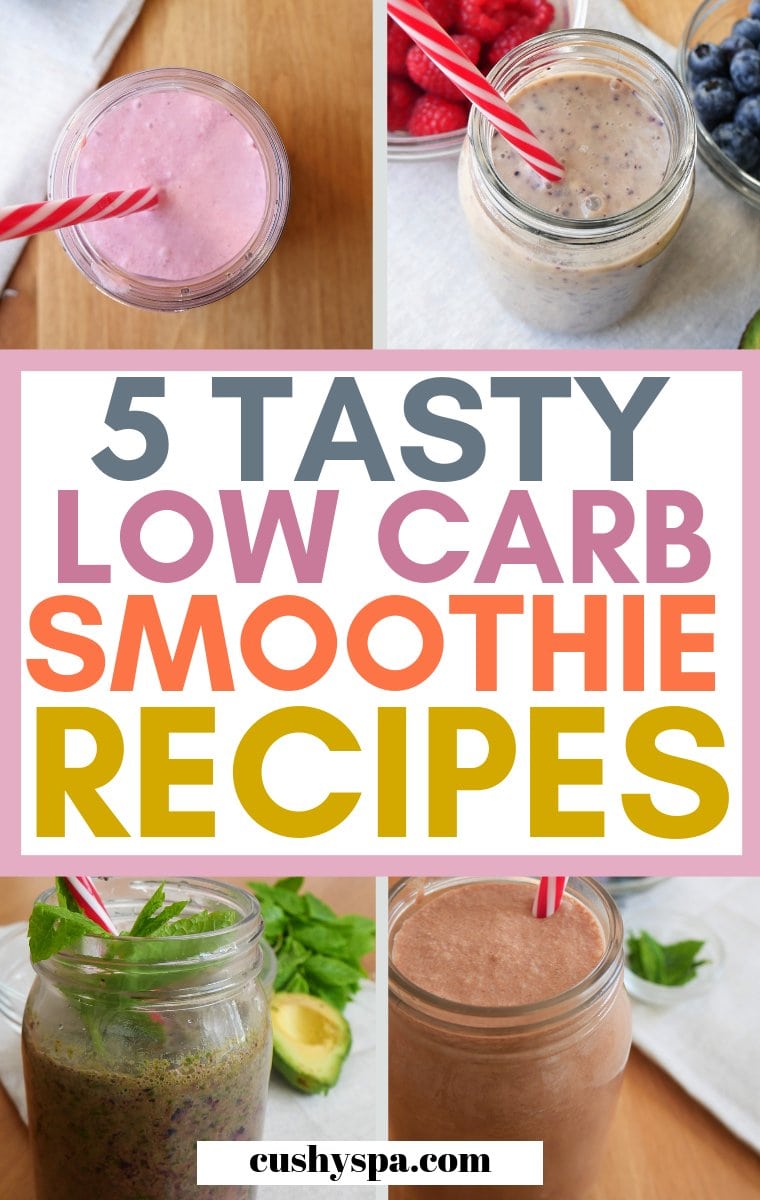 If you are a fan smoothies like me and recently started a low carb diet, you might have realized how many of the fruits actually contain a lot of sugar.
Thus, all of the sudden, you cannot drink your favorite banana smoothies. Unfortunately, they have way too much sugar to be worth drinking.
But, you love your smoothies? And you've already got used to having one at least every now and then?
This blog is supported by readers purchasing featured products. When you buy products with my links, I earn a commission at no extra cost to you. Here is my full affiliate disclosure.
Well, the good thing is that smoothies can be low carb too. We will use the ingredients you've probably never thought of putting into a smoothie and make it work.
5 Delicious Low Carb Smoothies You Should Try
Today, I'm sharing 5 of my favorite smoothies you can easily make at home. I promise they'll be just as refreshing and as filling as the ones you've been used to.
What's great about most of them is that they're high in fiber content, fats, and even protein. Also, I did make sure they stay on the low carb side.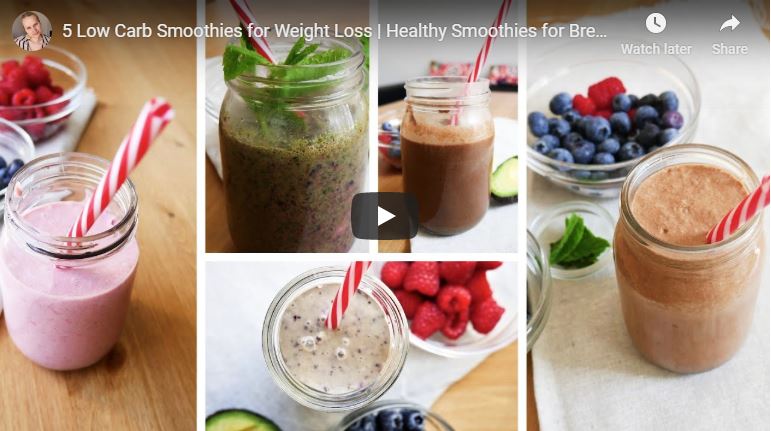 1. Raspberry and Coconut Smoothie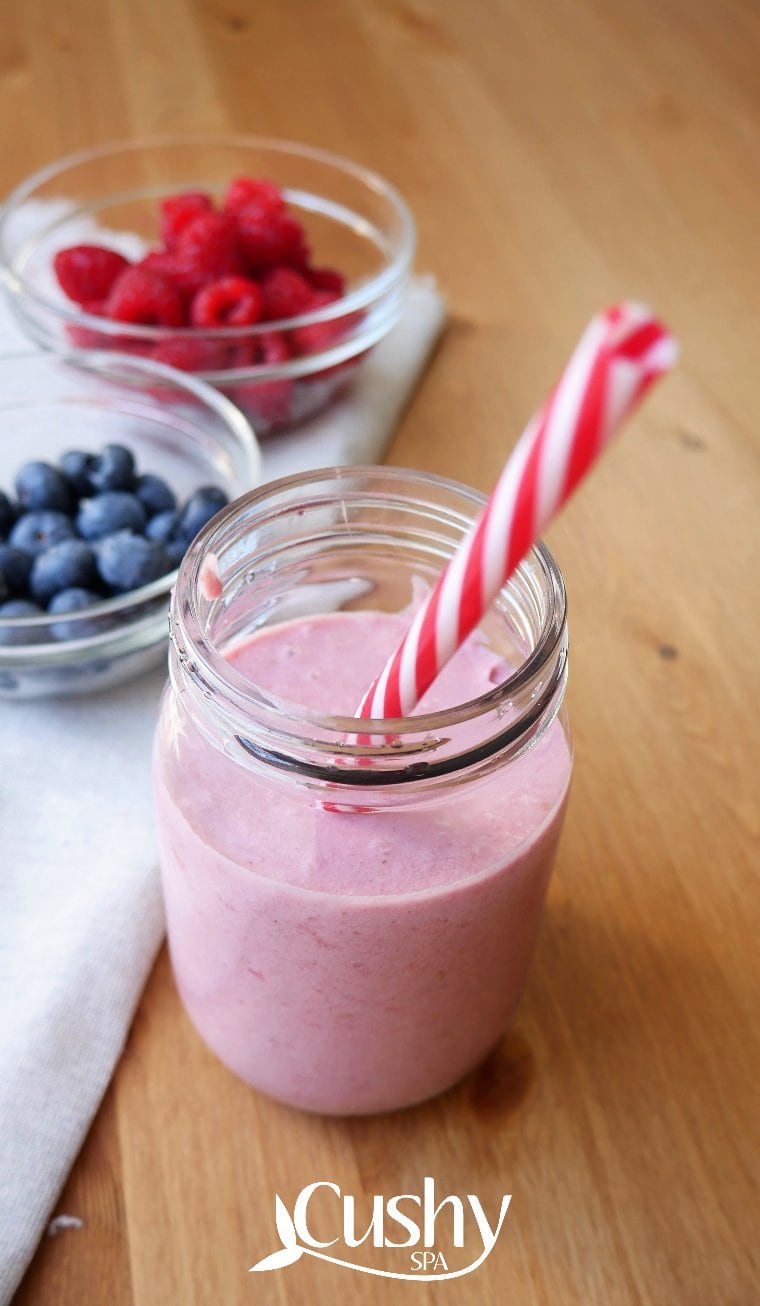 If you love raspberries and enjoy the taste of coconut cream, you're going to love this smoothie. While it's truly refreshing, it's also very filling.
If you start your morning with one of these, the hunger won't kick in until later. I'm a big fan of raspberries and I truly enjoy how they taste, so it's one of my favorite smoothies.
I'm using erythritol as a sweetener. While it's optional, it does make the smoothie taste a little bit better.
A combination of sweetness and acidity tastes simply amazing. Feel free to adjust the amount of sweetener you use based on how sweet you like your smoothies.
Do remember that coconut cream is slightly sweet by itself, so it does help. Overall, be careful with how much of the sweetener you use.
While erythritol is one of the healthiest sweeteners out there and it doesn't damage your gut lining, it might have side effects such as diarrhea, headaches, and nausea.
So, if you are on a keto diet, make sure you watch how your body reacts to it.
Ingredients:
1 cup coconut cream
2 tsp erythritol (optional)
½ cup raspberries
¼ tsp cinnamon
Nutritional Value:
Calories: 482
Fats: 49
Protein: 5
Carbs: 15
Fiber: 4
Net Carbs: 11
Instructions:
Add all the ingredients to the blender and blend.
2. Blueberry, Avocado and Almond Milk Smoothie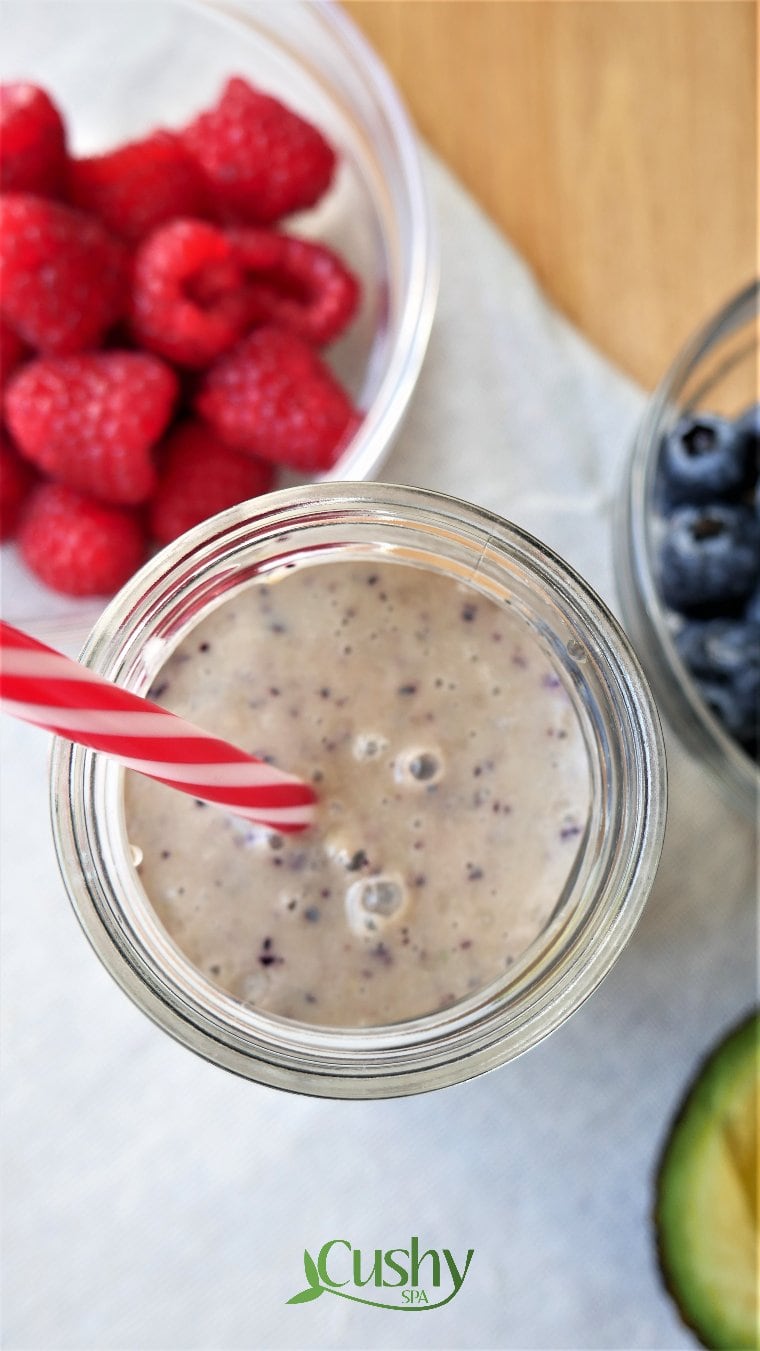 Blueberries are one of those berries that you can eat on a low carb diet. They are not as sweet as other berries or fruits and therefore do great for a ketogenic snack.
Blueberries contain a lot of water too which helps with the sugar content. Thus, a handful of these berries can both help with your sugar cravings and let you stay within your carb limits.
Thus, it's only natural I felt the need to make a smoothie with them. I've incorporated a little bit of avocado and almond milk to increase the number of fats this smoothie has.
Almond milk is great to use when you are on a low carb diet. That's mostly because it contains little to no carbs, unlike the regular milk which is high in sugar contents.
It's also great to use if lactose causes digestion issues. So, give this smoothie a try and enjoy the taste!
Ingredients:
½ cup blueberries
½ avocado
¾ cup unsweetened almond milk (or ½ cup almond milk and ¼ whipped cream)
2 tsp erythritol (optional)
Nutritional Value:
Calories: 182
Fats: 13
Protein: 3
Carbs: 18
Fiber: 7
Net Carbs: 11
Instructions:
Add all the ingredients to the blender and blend.
3. Green Chocolate Smoothie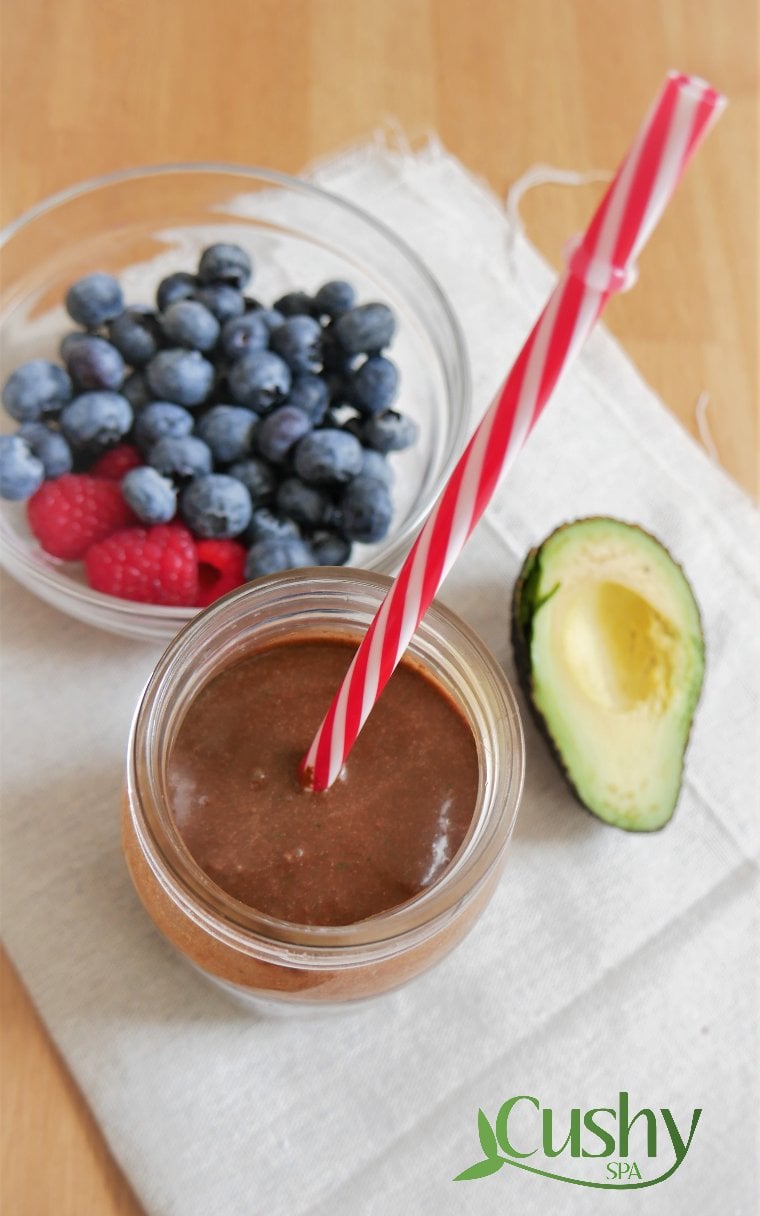 This smoothie gets quite thick! So, if you feel like adding a few ice cubes to introduce a little bit more water to it, go for it!
Also, feel free to play with the amount of erythritol you use. I know some of you probably love the taste of the cocoa powder. But, if you're not a big fan of the bitterness that it comes with, that's where the sweetener comes in handy.
While the smoothie is quite chocolaty, the fact that it has some greens in it and raspberries makes it even better.
The smoothie contains quite a bit of fiber which is great for starting your day and making sure that those bowels move just right.
If you love your cocoa and miss the taste of chocolate, try this recipe. Totally something different to start your day with!
Ingredients:
½ cup raspberries
½ cup coconut cream
1 cup spinach
3 tbsp cocoa powder
1/2 tbsp granulated erythritol (optional)
3-4 ice cubes (optional)
Nutritional Value:
Calories: 357
Fats: 26
Protein: 11
Carbs: 26
Fiber: 11
Net Carbs: 15
Instructions:
Add all the ingredients to the blender and blend.
4. Chocolate and Peanut Butter Smoothie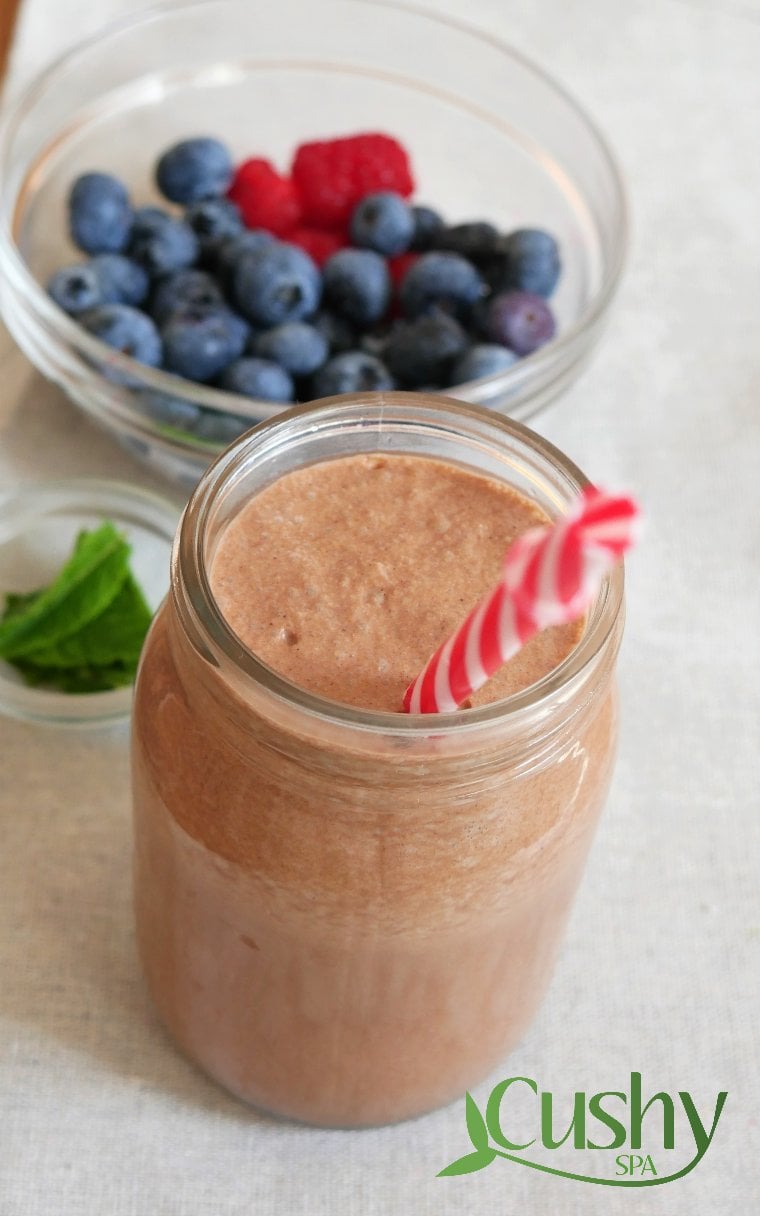 Now, there is nothing better than a peanut butter smoothie. That's of course if you love peanut butter.
I, personally, am a huge fan of peanut butter. It's the perfect sugar craving killer and full of healthy fats.
Overall, a great source of energy, especially when you're on the keto diet and struggle to level up the number of fats in your diet. Half of the fat in the peanut butter is made out of oleic acid.
It's a monosaturated fat that has multiple health benefits.
This smoothie is also very high in caloric value. So, if you do start your day with it, you'll be full for a while.
Otherwise, you can make it for lunchtime. Have it instead of a dessert! Either way, peanut butter tastes amazing with whipping cream, so you do need to give this one a try.
Unless you only enjoy fresh berry smoothies. This smoothie is a lot heavier.
Ingredients:
2 tbsp unsweetened peanut butter
1 tbsp cocoa powder
1/2 cup whipping cream
3/4 cup almond milk
2 tbsp granulated erythritol (optional)
Nutritional Value:
Calories: 667
Fats: 62
Protein: 13
Carbs: 20
Fiber: 4
Net Carbs: 16
Instructions:
Add all the ingredients to the blender and blend.
5. Avocado, Mint and Blueberry Smoothie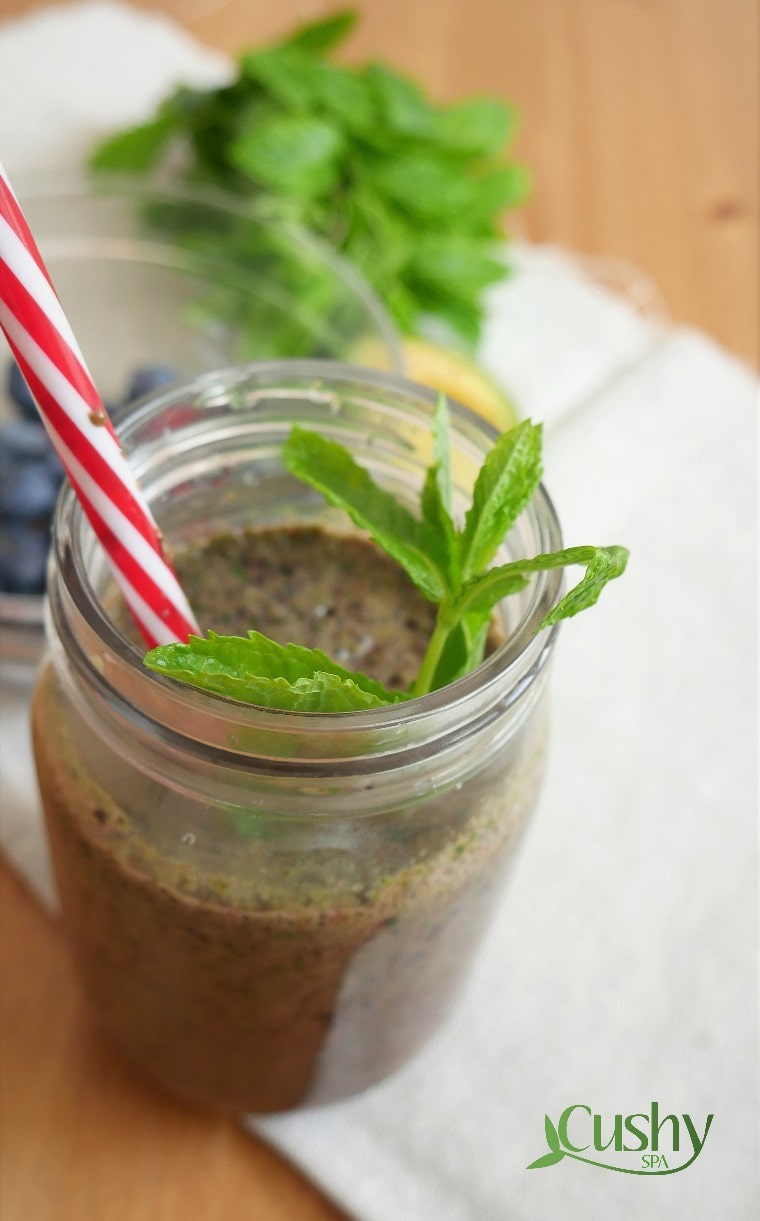 The impressive amount of fiber in this smoothie talks for itself. It's a refreshing treat for a hot summer day or warm spring morning.
Meanwhile, it does have quite a bit of protein and fat, which do make sure to fill you up for a while. While this smoothie is higher in net carbs than the previous options, it's absolutely worth trying.
It's filling, refreshing and naturally sweet. You don't need to add sweetener here to make it taste amazing.
However, you might want to add a little bit more of lemon juice in case you do enjoy higher levels of acidity. Don't forget that citrus fruits help to prevent constipation and thus improve digestion.
With the amount of fiber in this smoothie, you'll be set for the whole day anyway. It's highly nutritious, delicious and just fun to make!
Ingredients:
½ avocado
1 cup spinach
1/2 cup almond milk
5 mint leaves
2 tbsp fresh lemon juice
½ cup of blueberries
Nutritional Value:
Calories: 257
Fats: 13
Protein: 13
Carbs: 34
Fiber: 15
Net Carbs: 19
Instructions:
Add all the ingredients to the blender and blend.
Conclusion
If you love these low carb recipes, make sure to check out my other posts on low carb diet here. Otherwise, sharing is caring, so please click those share buttons and let the world know!