Cucumber slices with garlic cheese are a quick, easy low carb snack you can make in 10 minutes. It's a wonderful, refreshing appetizer that everyone will love, including your non-low carb friends. The recipe is low carb, keto-friendly, vegetarian, and gluten-free.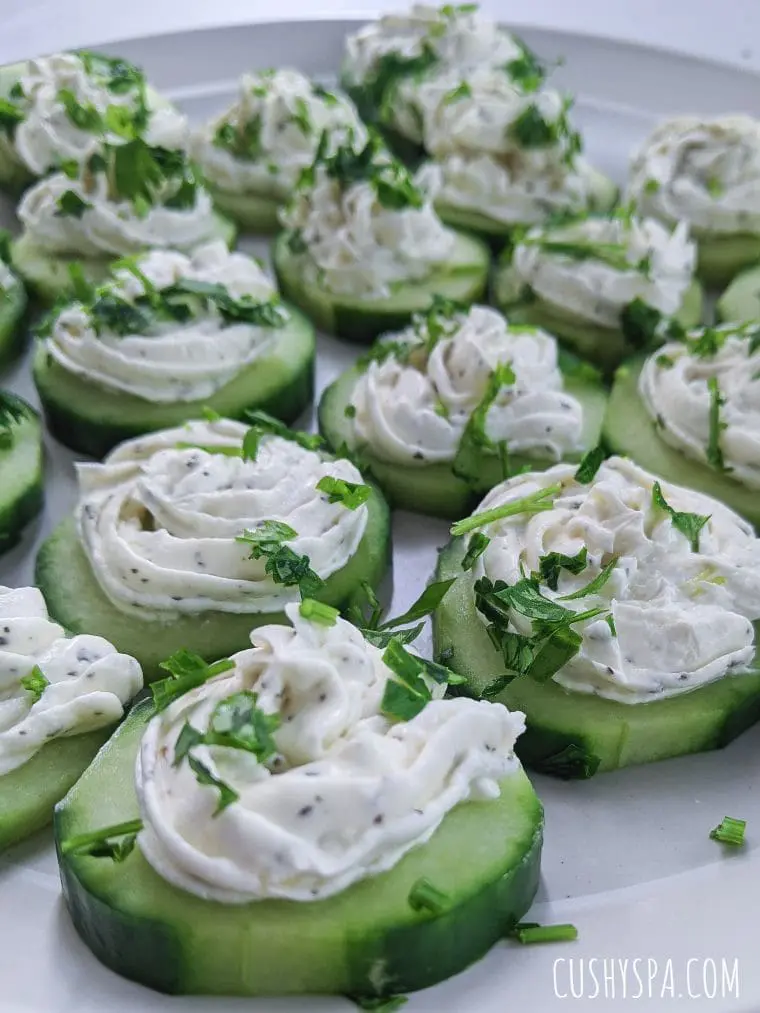 Sometimes you just want to make a quick, refreshing treat for you and your family. Other times, you have guests coming over in 30 minutes and want to make it more special with little to no effort!
Well, if you're ever in that situation, this is the recipe you want to try! These cucumber slice appetizers with garlic cheese are nutritious, delicious, and refreshing.
They are also low carb but don't even taste like it. My non-keto friends loved them, and I can tell you that they go well with a glass of wine!
So, whether it's a party or a small gathering, these cucumber appetizers are just a match for that. They are also healthy. Thus, if you're feeling like snacking a little more than usual, this might be the recipe to make.
We have times when we just want to eat non-stop! So, at least keep it healthy and easy!
Cucumber Slice Appetizers – Wonderful for Summer and Spring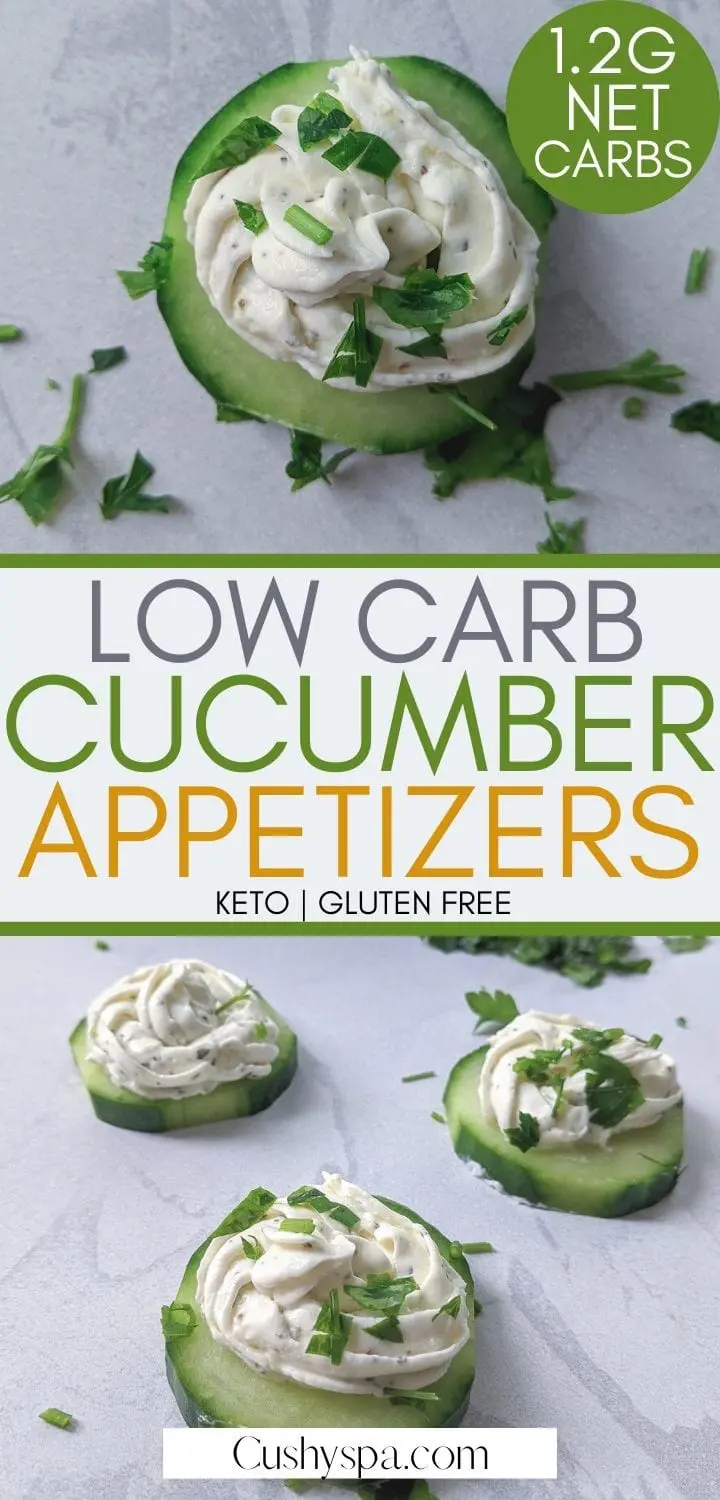 Cucumbers are just one of those vegetables that are very accessible. Some of you might even grow them in your garden.
Cucumbers are also low carb friendly. Thus, you'll see them get incorporated into low carb salads and side dishes.
This vegetable is low in calories and has only a few grams of carbs. That's mostly due to the fact that it's 95% water. (source)
All this water makes this vegetable extra refreshing. Thus, these appetizers are even more delicious in spring and summertime, when you're just craving for something quick and fresh!
Can You Prepare Cucumber Bites Ahead of Time?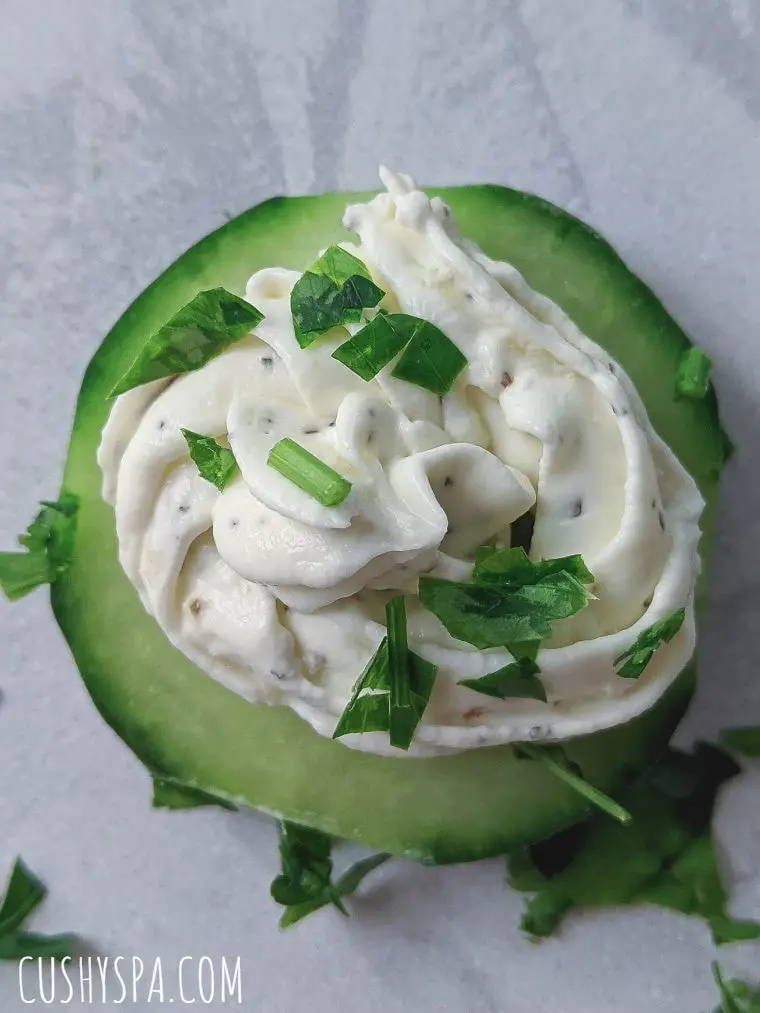 I don't know about you, but I like to be prepared. Especially if I'm having a party and I want to make more than one dish!
So, what can we prepare ahead with these cucumber slice appetizers? You can peel and slice your cucumbers and keep them in the Ziploc bag. I use reusable ones like these.
There is enough plastic waste out there already!
You can refrigerate the cucumber for up to 24 hours. If you keep it for longer, it will dry out.
The topping can be made ahead and stored in the fridge for up to a week! Just make sure to check the expiration date of the cheese you're using. If it's expiring in one day, then that's how long you have to eat it!
When it comes to making ahead of the actual cucumber bites, you still want to top them up with cheese just before serving. Make sure you let the cheese come to room temperature before doing that, it will help to pipe the cheese easier.
Cucumber Appetizers: What Do You Put On Top of Cucumber?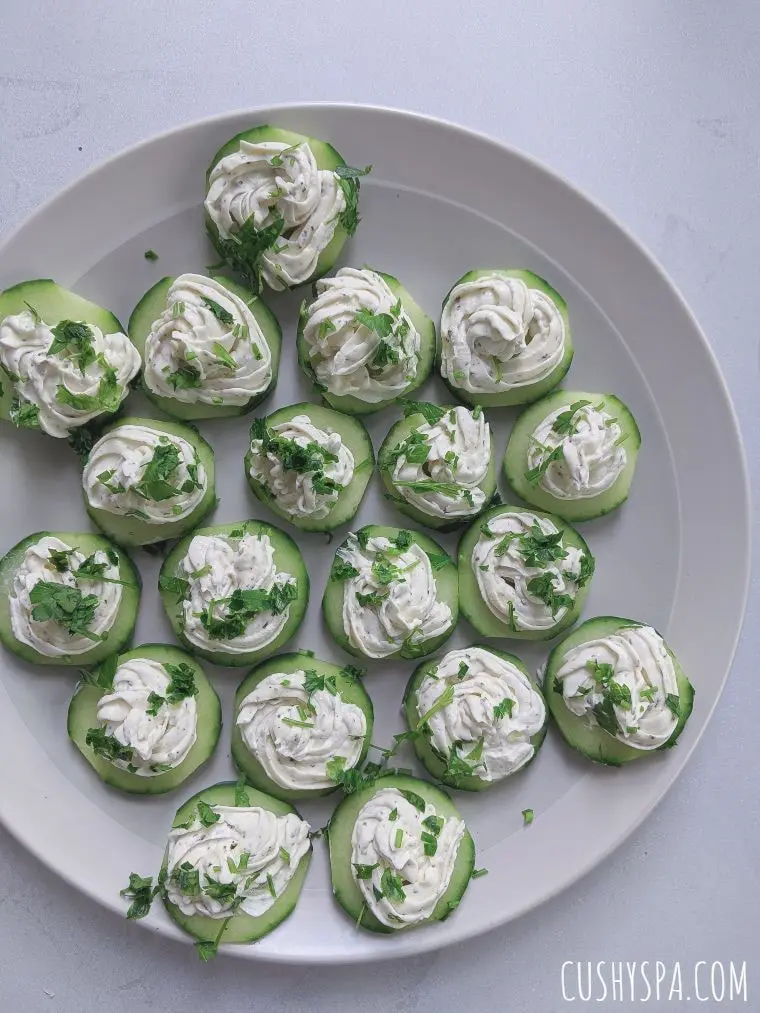 As I've already mentioned, for this recipe, we're going to use cream cheese and mix in some fresh garlic as well as dried basil. However, I've seen so many versions of cucumber appetizers. I thought it would be interesting to share what other options you have for the topping.
Greek yogurt – it goes particularly well with cucumbers. Just spread a little bit of it on cucumber slices and flavor it with a little bit of dill.
Tuna – top up your cucumbers with a bit of canned tuna and you and sprinkle over slices of green onion. This combination is delicious and nutritious. Also, it's higher in protein yet still low carb.
Hummus – that's a wonderful option to go for if you're vegan and want to enjoy a similar appetizer to these cucumber slices with garlic cheese. However, hummus is high in carbs, so the recipe would no longer be low carb. But, it's worth a try if you're vegan or have a dairy intolerance.
What Type of Cheese to Use?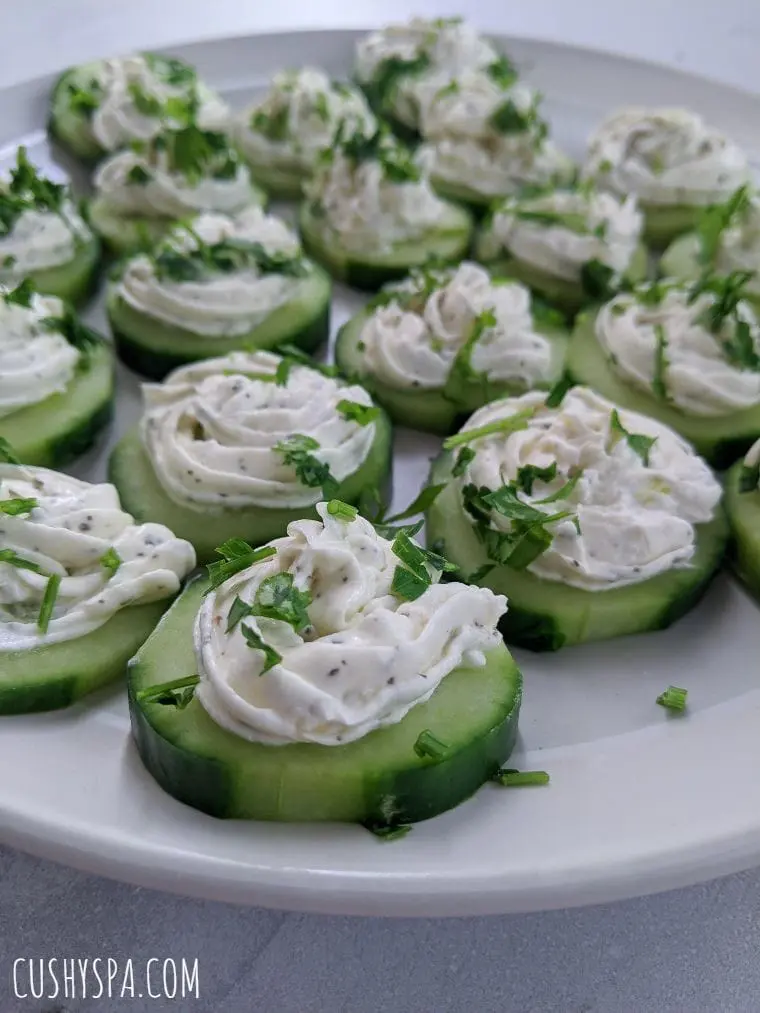 For this particular recipe, I am using Original Philadephia cheese and adding my herbs as well as fresh garlic. However, you could just as well use premade spreadable garlic and herb cheese. That would save you a little more time!
I think Philadelphia also has a cheese flavored that way. Thus, you have options out there!
However, don't feel afraid to get creative and try other cheeses too. You never know what combination of flavors you'll like the most, and since these snacks are so easy and quick to make, it's definitely worth the try!
What You'll Need to Make This Recipe: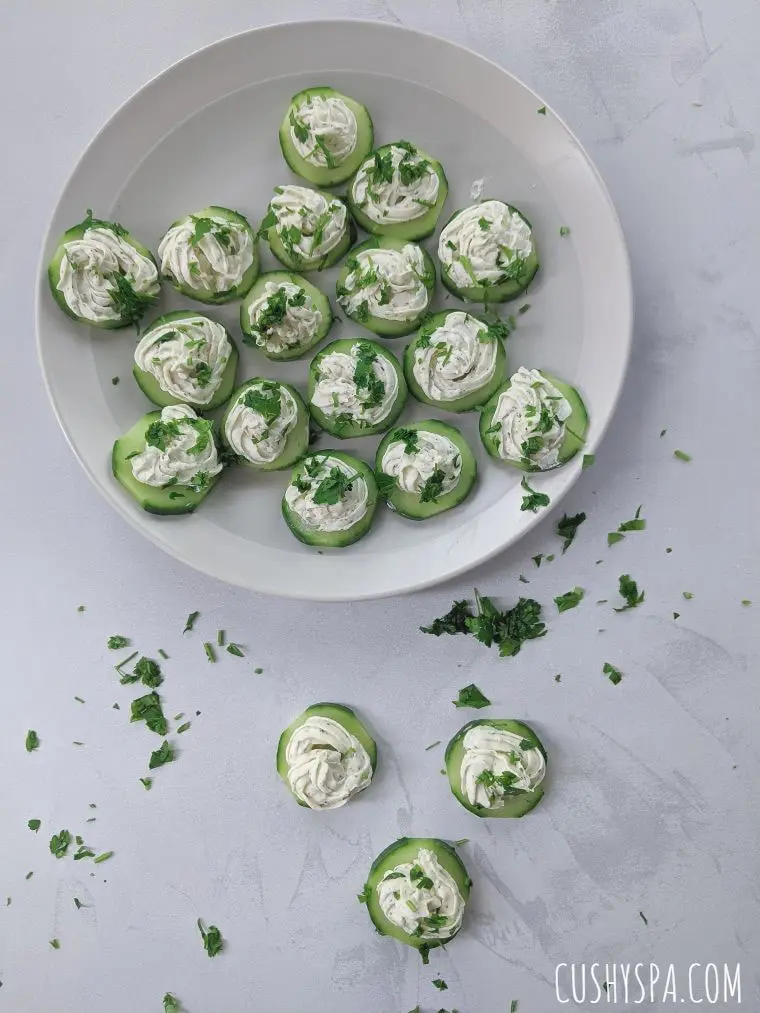 Reusable piping bags – to make these snacks look a little better, you could do with getting reusable piping bags. They are easy to wash, will last forever and won't create unneeded waste. These bags are useful for not only for making appetizers but also for desserts. They're very cheap too, so definitely worth the investment.
Watch: Keto Snacks You Can Make at Home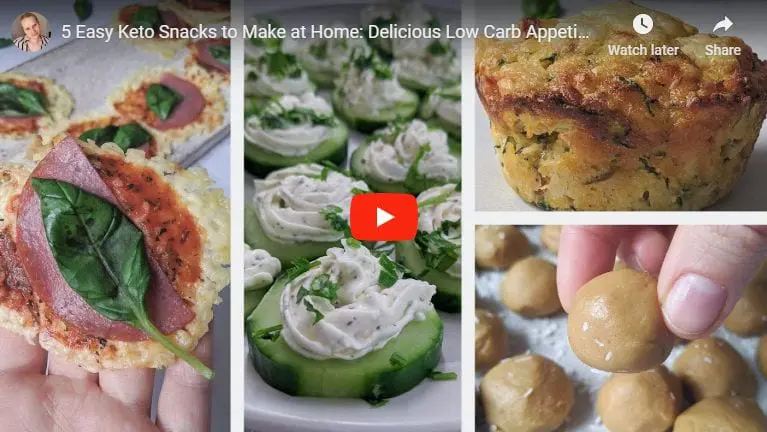 Other Recipes You Might Like:
30+ Delicious Ketogenic Snacks On the Go – these keto snacks require no cooking. You can just have them!
15 Low Car High Protein Snack Ideas – these recipes will give your imagination some food. Meal prep them for the week, and you'll have what to snack on for a long time.
25 Delicious Keto Snack Recipes – staying on a ketogenic diet can be challenging, especially when keto snacks are not so easy to get. Meal prep these little snacks, and you'll stay full throughout the day.
Keto Pizza Bites – another keto snack recipe of mine! For the times when you're craving pizza!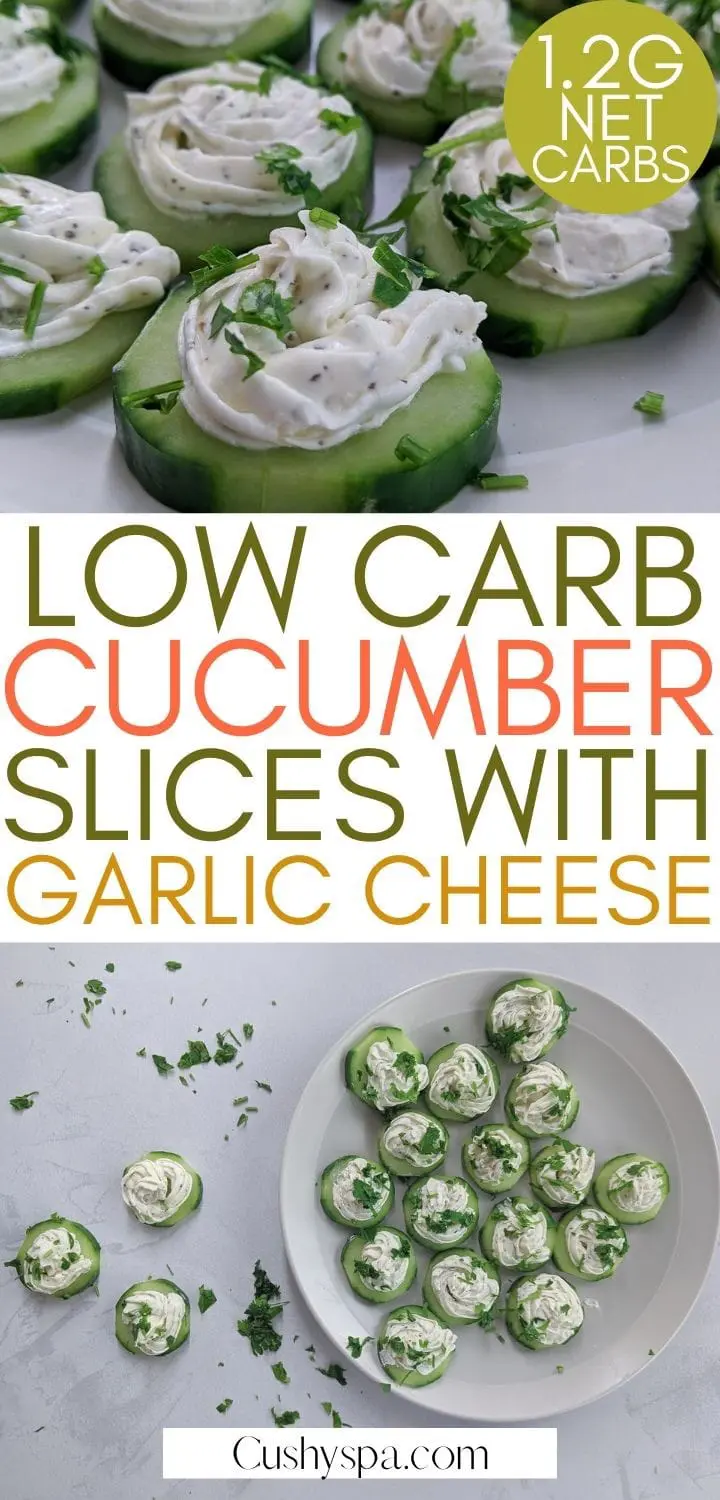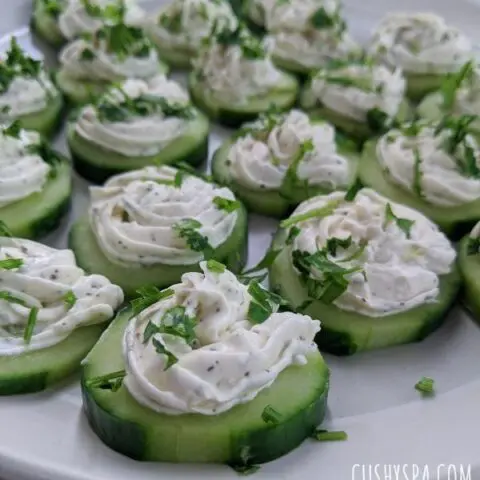 Cucumber Slice Appetizers with Garlic Cheese (Keto)
These quick cucumber slice appetizers with garlic cheese are keto-friendly and low carb friendly. They're the perfect quick snack if you want to stay in ketosis or a great appetizer for gatherings.
Ingredients
1 English cucumber
6.5 oz Original Philadelphia cheese
½ tsp dried basil
3 cloves of garlic, pressed
Fresh parsley
Instructions
Peel sides of cucumber and slice it into 3 mm thick pieces.
Peel garlic cloves, press them into the cheese and add in the dried basil. Mix it as well as you can.
Get a piping bag, fill it up with cheese. Then, pet-dry the cucumber and pipe the cheese on top of the cucumber slices.
Chop fresh parsley and sprinkle it over the cheese.
Nutrition Information:
Yield:

19
Serving Size:

1 cucumber slice
Amount Per Serving:
Calories:

27
Total Fat:

2.2g
Saturated Fat:

1.3g
Trans Fat:

0g
Unsaturated Fat:

0.7g
Cholesterol:

6.4mg
Sodium:

21mg
Carbohydrates:

1.4g
Net Carbohydrates:

1.2g
Fiber:

0.2g
Sugar:

0.5g
Protein:

0.6g
Nutritional values were obtained with automatic software using the amounts of products used. To get the most accurate representation of the nutritional values, you should calculate them with the actual ingredients used in your recipe. You are solely responsible for the nutritional information obtained to be accurate.