Trying to eat healthier but struggling to keep your snacks just as good? Check out these Whole30 snack recipes and keep yourself full throughout the day.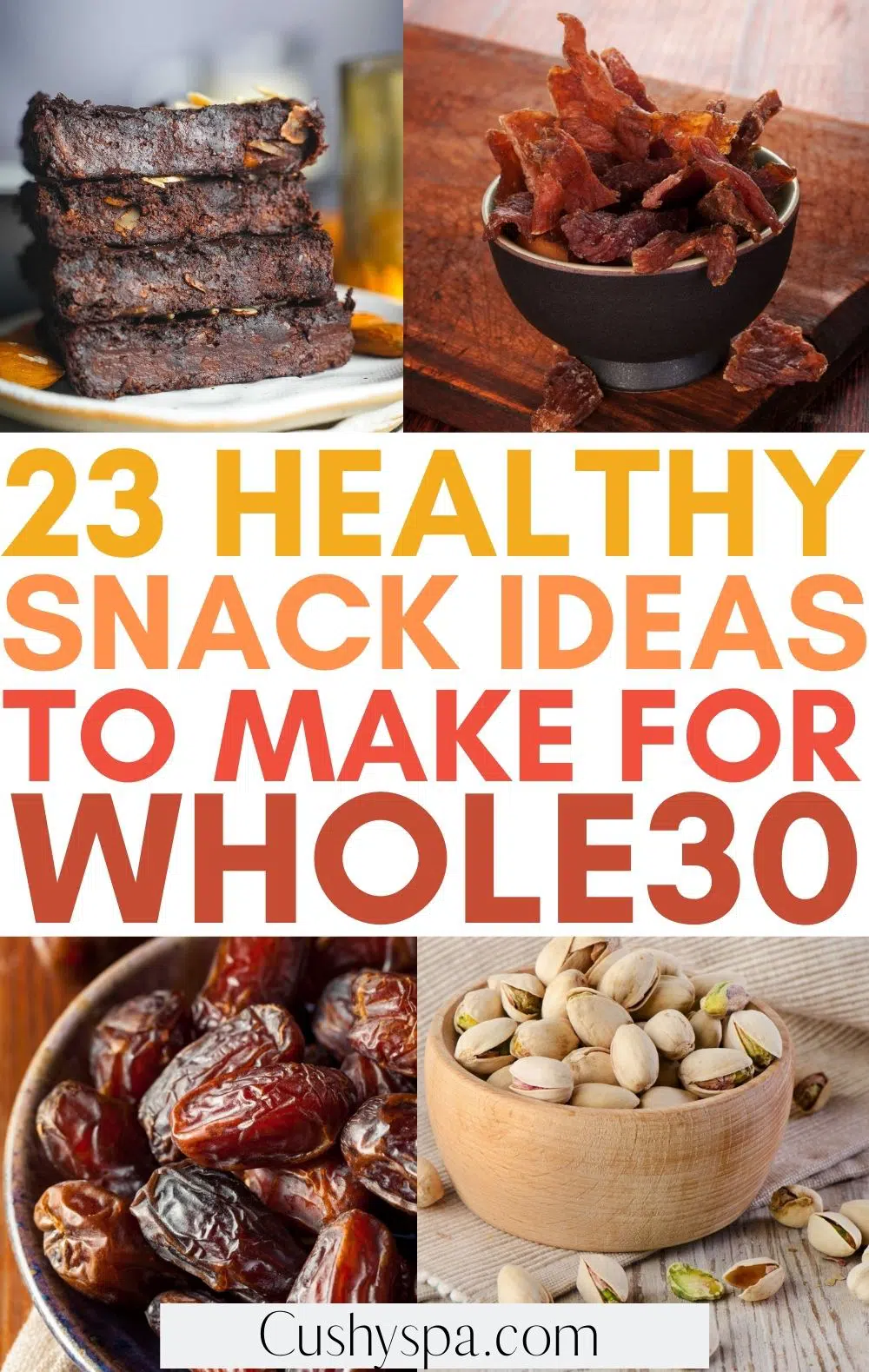 Healthy snacking can be quite hard. Snacking on Whole30 takes healthy snacking to another level of difficulty.
After all, you can't have dairy, legumes, and grains. So even healthy snacks like milk, whole wheat bread, and peanut butter are off-limits.
So what are you supposed to snack on when you're on Whole30?
Don't worry – I've got you covered.
Today I'm sharing 23 Whole30 Snacks. Not only are these snacks tasty, but they're nutritious too.
So they'll fuel you through your hunger attacks. Happy snacking!
1. Apples and almond butter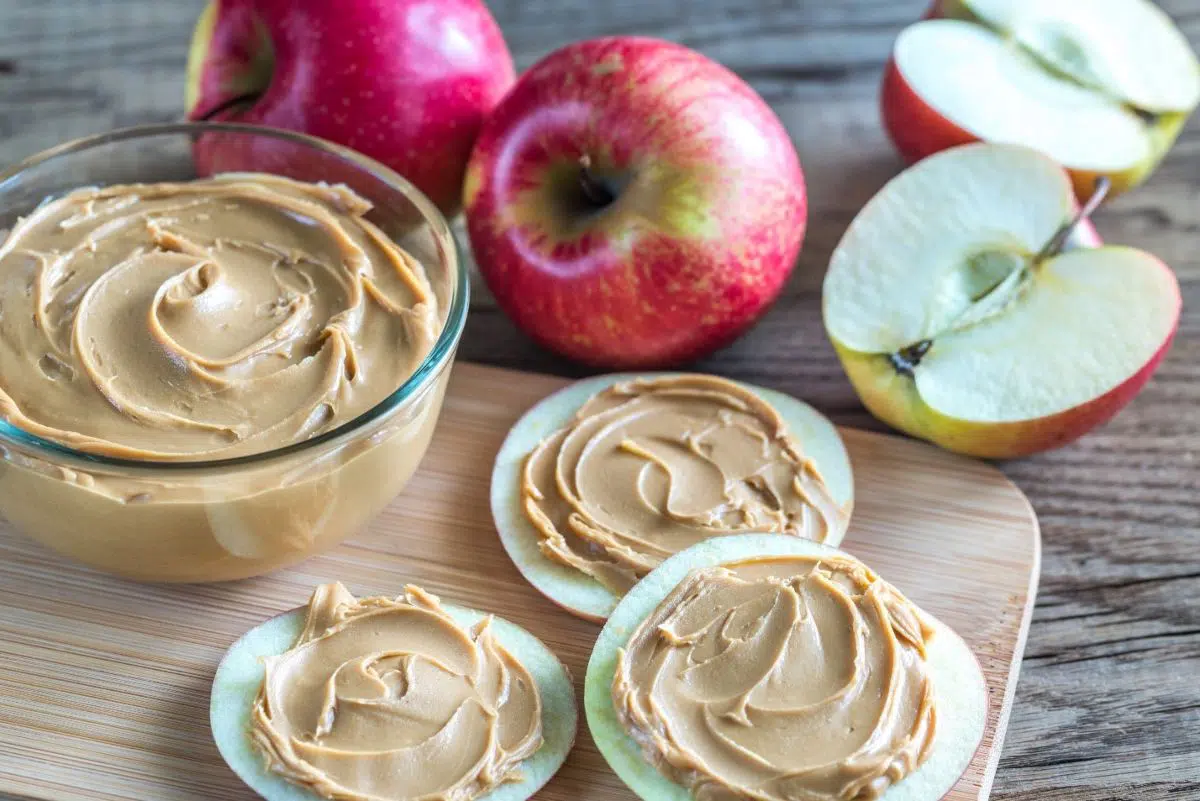 Do you love apples and peanut butter? Have apples and almond butter instead.
The creaminess of the almond butter pairs well with the crunchiness of the apples. And it's good for you too.
Just like peanut butter, almond butter is packed with plant-based protein. So, it fills you up – and keeps you away from those yummy donuts.
And it's packed with fiber. In fact, it has twice as much fiber as peanut butter.
So it does your gut a world of good.
Almond butter also contains more vitamins and minerals than peanut butter. It has almost three times as much Vitamin E.
And it contains double the amount of iron – and seven times more calcium. So load on the almond butter.
When choosing almond butter, make sure to read the label. That's because some brands contain added sweeteners.
This almond butter here contains only roasted almonds. So it's Whole30-approved.
2. Pistachios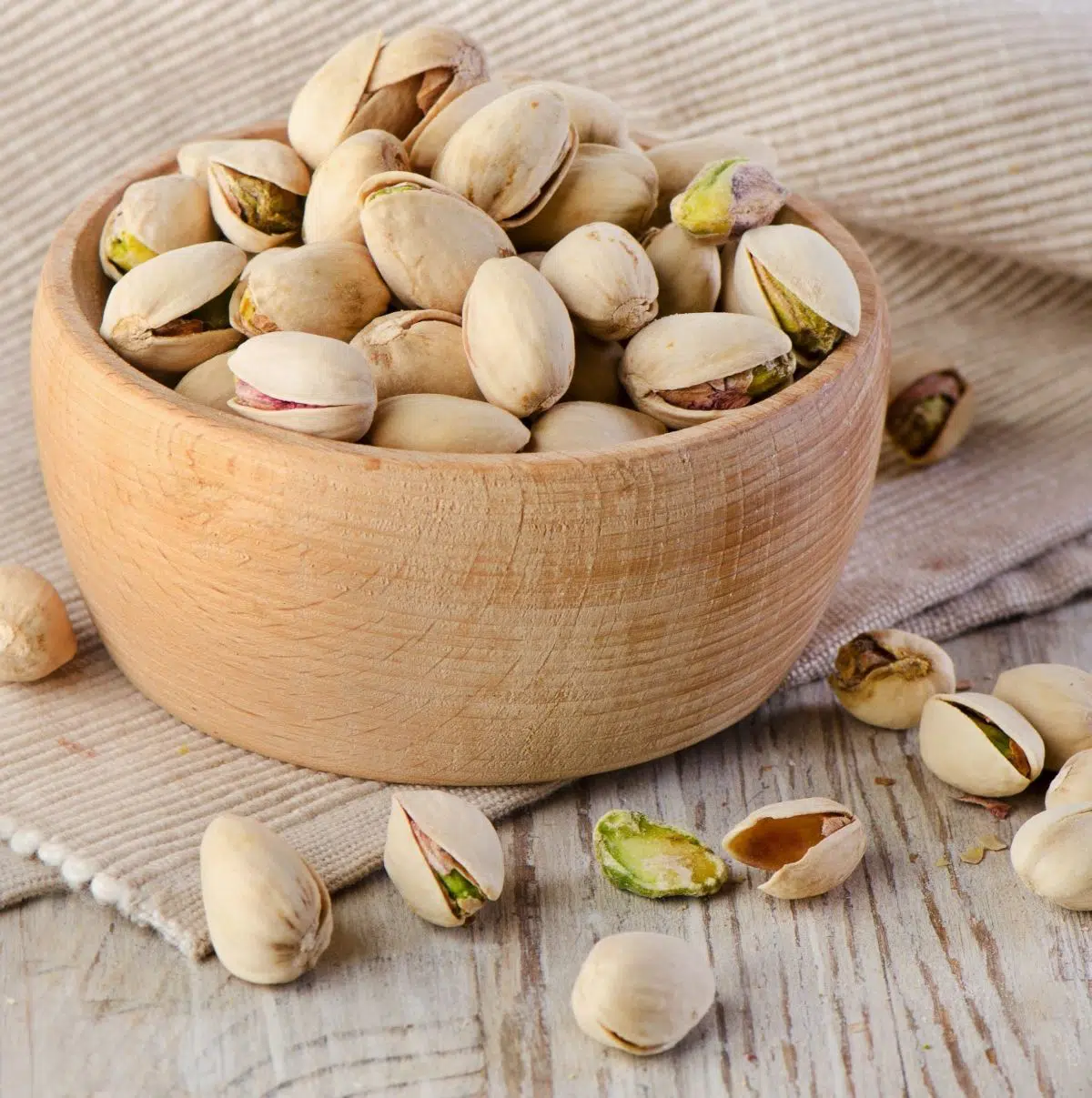 Want to treat yourself? Snack on some pistachios.
After all, what's not to love about pistachios. Not only are they crunchy and tasty, but they're also good for you too.
They contain bone-building minerals like manganese and phosphorus. They also contain lutein and zeaxanthin, which are important antioxidants for your eyes.
They may even help you lose weight. That's because they're rich in fiber and protein, which both keep you full. Yay!
Talking about losing weight: it's best to buy in-shell pistachios. That's because shelling takes time and slows down how fast you eat.
Need to stock up on some in-shell pistachios? You can get some right here. Check out more high protein snacks on the go.
3. Hemp seeds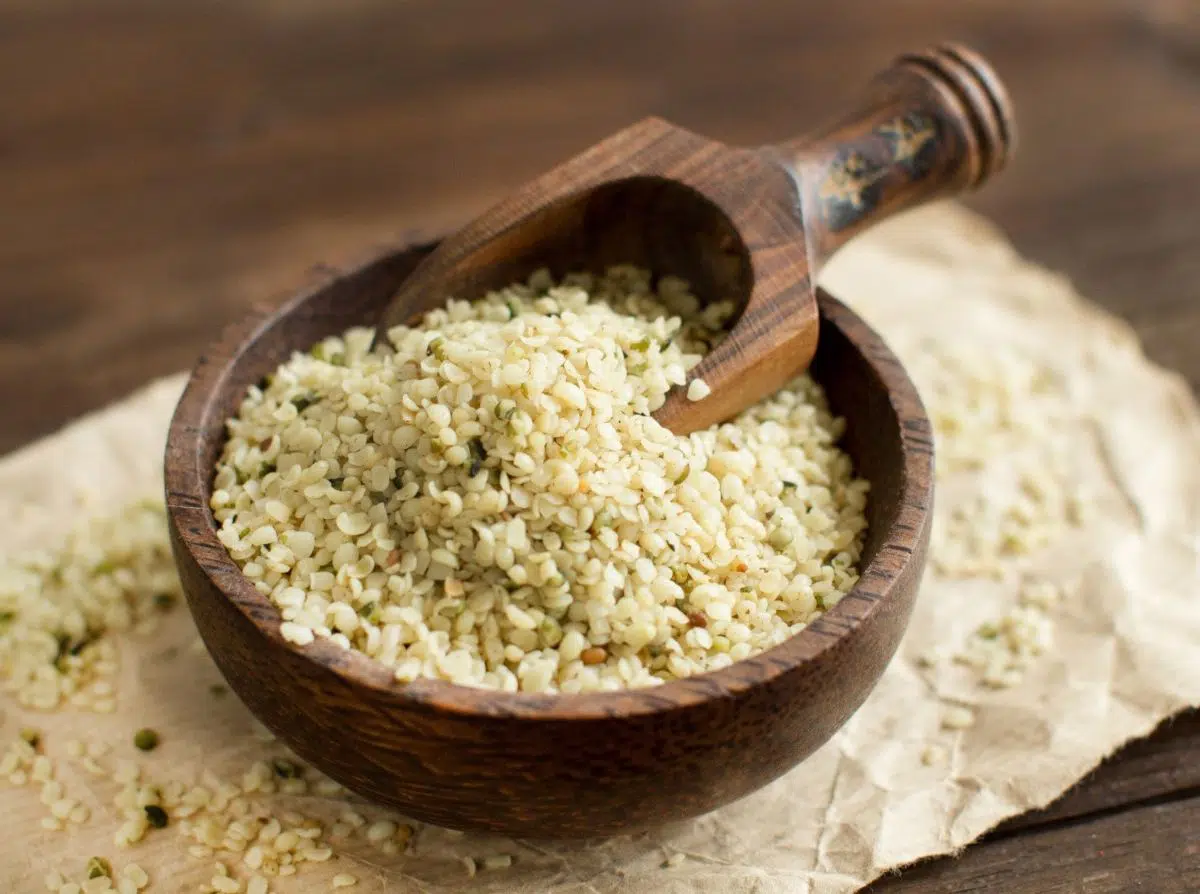 Want a boost of omega-3s? Eat some hemp seeds.
Hemp seeds contain a ton of plant-based omega-3s. They also have nitric oxide, which is vital for keeping your blood vessel walls nice and smooth.
Besides eating hemp seeds on their own, you can add them to trail mix. You can even add hemp seeds to smoothies and salads.
Don't have any hemp seeds on hand? You can get some here.
4. Pumpkin seeds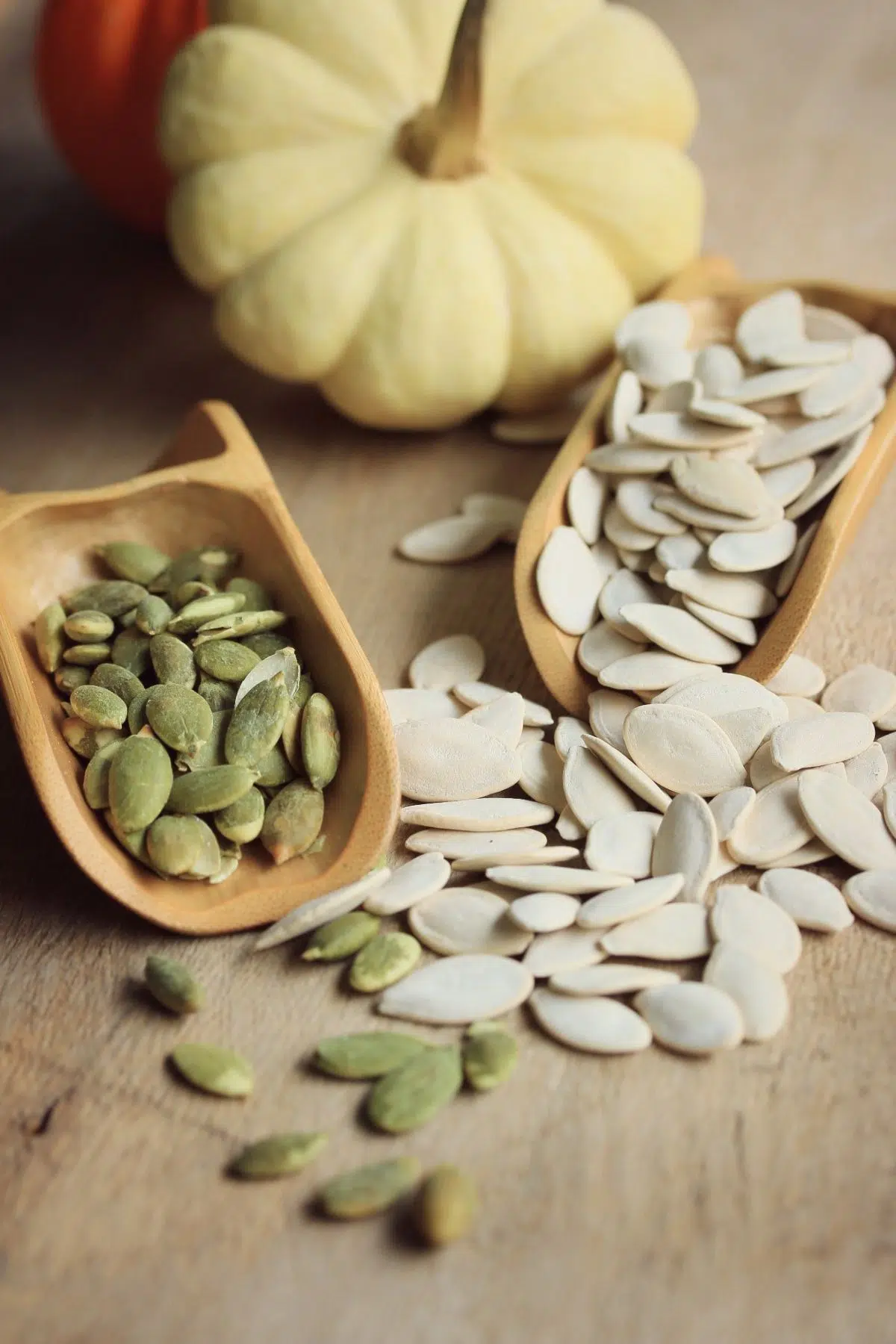 Want some more seeds to snack on? Try pumpkin seeds.
They're crunchy and nutty. And they're very healthy too.
One ounce of pumpkin seeds contains 1/3 of your daily magnesium and phosphorus needs. And it has more than 40% of your daily manganese needs.
So it's good for your bones. And it is a good source of plant-based protein.
Pumpkin seeds also have incredible health benefits. They may help you sleep better – and even improve sperm quality.
Besides snacking on these on their own, you can add them to smoothies. Or you can add it to coconut yogurt.
If you'd like to get some pumpkin seeds, you can get some organic ones here.
5. Seaweed Snacks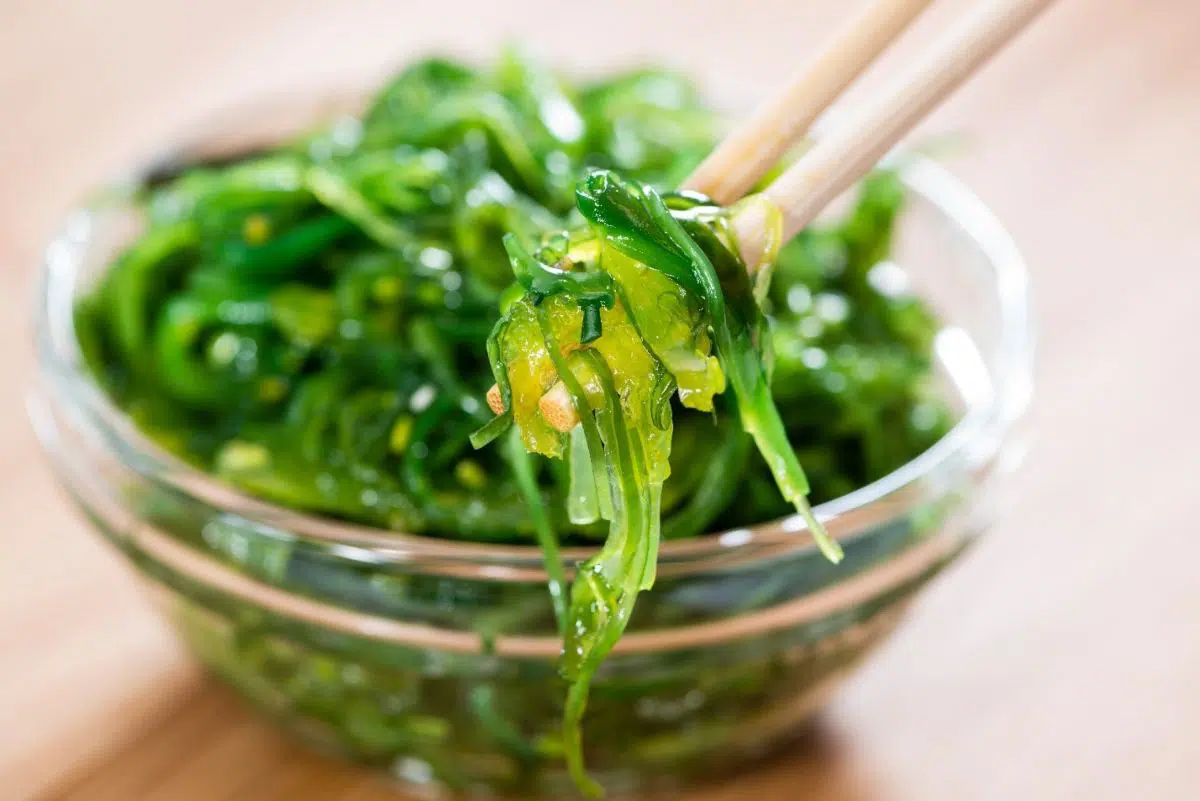 Are you craving something salty? Munch on some seaweed snacks.
They're salty, crunchy, and have a pleasant ocean taste. And they're super addictive.
Good thing seaweed snacks are good for you too. Seaweed snacks contain iron and tyrosine, substances you need for a healthy thyroid gland.
Seaweed snacks are also a good source of omega-3s and Vitamin B12.
Seaweed snacks may also help you lose weight. That's because they contain very few calories and fiber which fills you up.
They also contain fucoxanthin, an antioxidant that boosts your metabolism.
When choosing seaweed snacks, choose organic varieties like this one here. That's because organic seaweed snacks are less likely to contain vast amounts of toxic heavy metals.
6. Beef jerky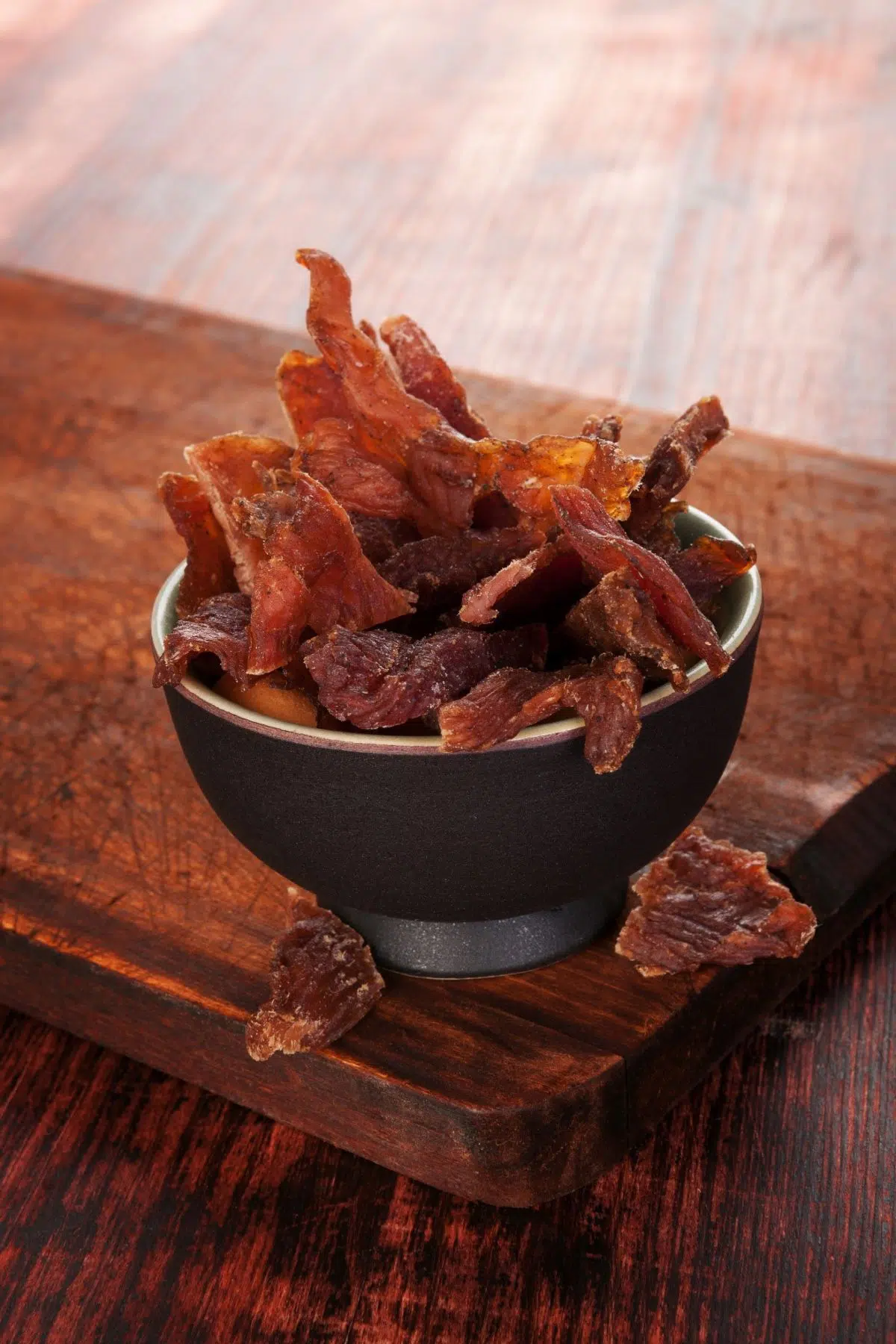 Are you more of a meat-lover? Then you'll love snacking on beef jerky.
It's chewy, savory, and full of smoky flavors. And it's great for eating on the go – no refrigeration required.
Beef jerky also contains a ton of protein. In fact, one ounce of beef jerky contains 9 grams of protein.
That's almost as much protein as 2 small eggs! And it provides 21% of your daily zinc needs.
Zinc helps boost your immune system – and it may even help treat acne.
To keep your Beef jerky Whole30-friendly, choose one that doesn't have sugar. This beef jerky here
And it's made from grass-fed beef. So it contains more heart-healthy omega-3s.
7. Bone Broth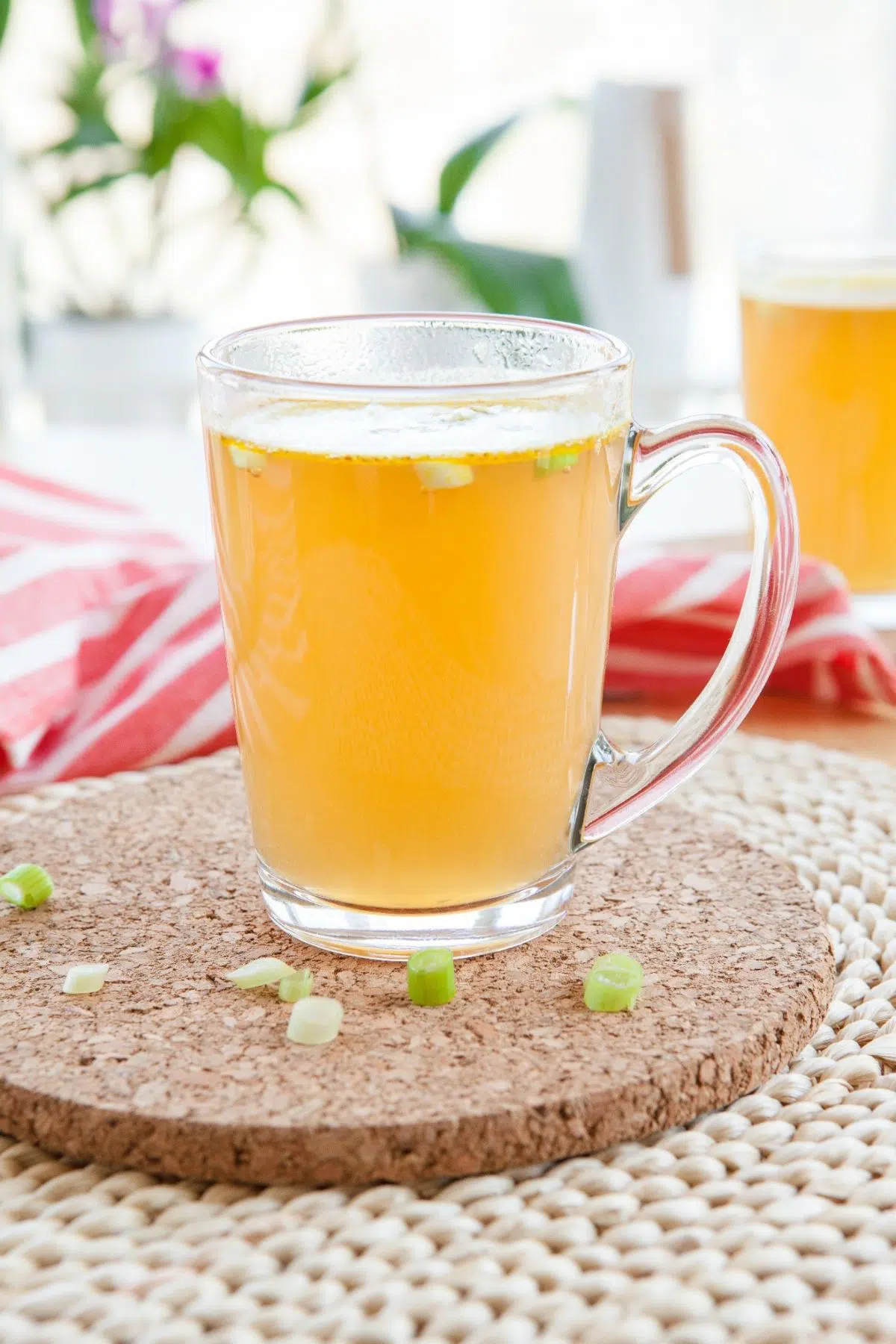 Is it cold and chilly outside? Warm up with a nice bowl of bone broth.
Not only is it comforting and delicious, but it's also nutritious too.
It contains minerals that build strong bones. These include calcium, phosphorus, magnesium, and potassium.
And it contains gelatin which may help with digestive issues. It may even help you lose weight.
That's because it's rich in protein which may help you eat less. If you need to stock up on some bone broth, you can get high-quality bone broth right here.
8. Guacamole and Veggies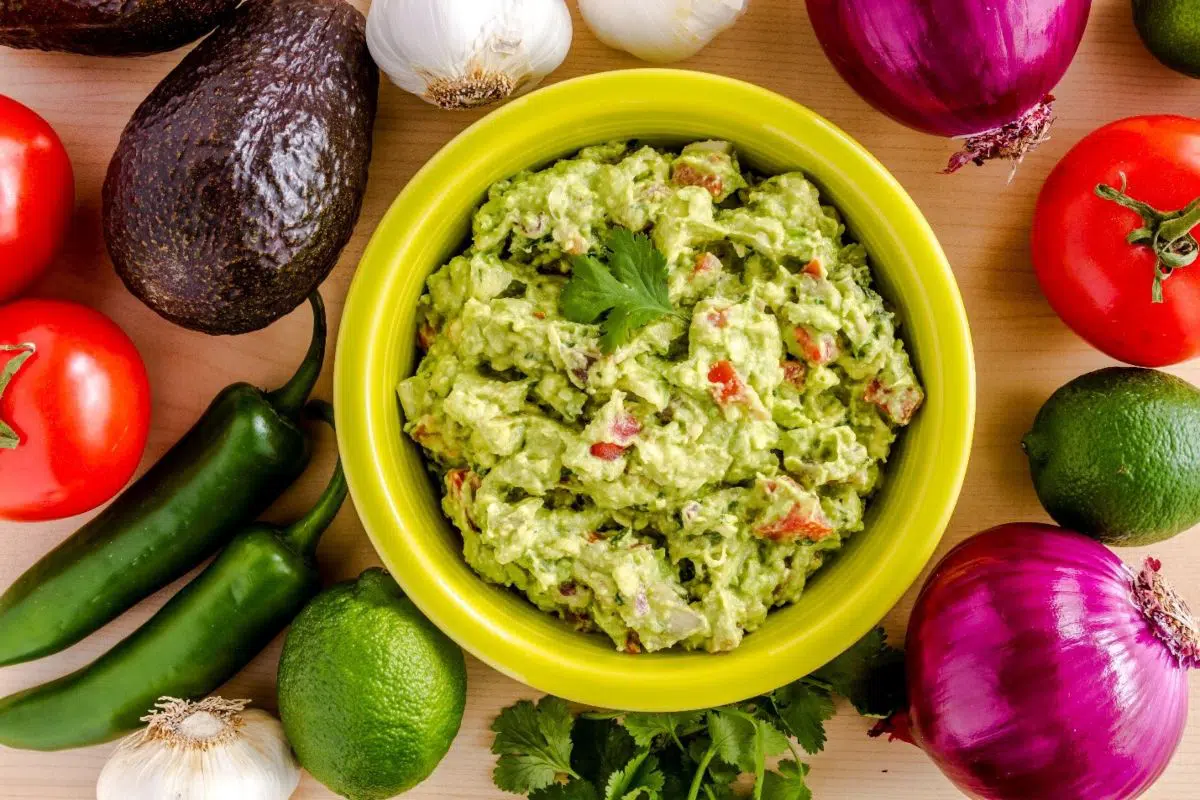 Many of us aren't eating enough veggies. In fact, just 9% of us are eating the recommended daily servings. Eek!
One way we can eat more veggies is to eat them with a yummy dip. After all, who doesn't love a good dip?
However, your typical dip contains dairy – a Whole30 No-No.
That's where having some good guacamole comes in handy. It's full of Mexican flavors – and is good for you too.
That's because it contains avocadoes. Avocadoes are rich in healthy fats, fiber, and potassium.
Guacamole is actually easier to make than you may think. All you need are avocadoes, onions, Roma tomatoes, garlic cloves, lime juice, salt, jalapenos, and fresh cilantro.
Halve your avocado and remove the pit using an avocado slicer. Then place your avocado in a bowl.
Mash well until nice and smooth. Add the rest of your ingredients, mixing well.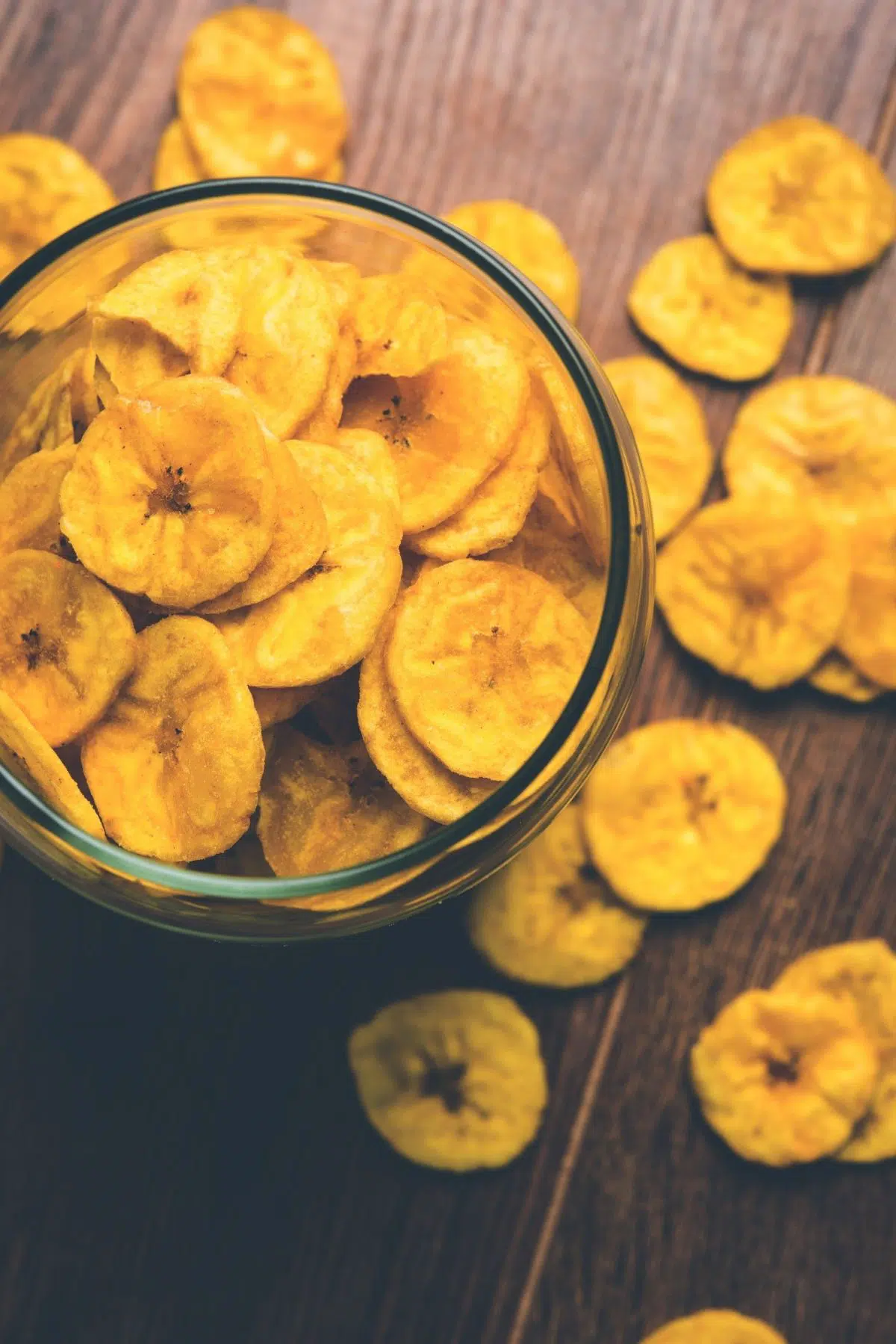 Craving potato chips? Have some plantain chips instead.
They're crispy, salty, and full of flavor – you won't miss those potato chips.
Plantains are also nutritious too. They contain Vitamin C, which gives your immune system a boost.
And they contain potassium which controls your blood pressure. They may even help you lose weight.
That's because they contain complex carbs. Complex carbs take a longer time to digest.
So they keep you satisfied longer than simple carbs.
To make these plantain chips, all you need are 3 ingredients. These are green plantains, avocado oil, and sea salt.
Start by removing the peel. Then slice your plantain very thinly using a mandolin-like this
Be careful – the blades are incredibly sharp! Toss your plantain slices with avocado oil.
Place on a parchment-paper-lined baking sheet, adding salt. Bake for about 15 minutes.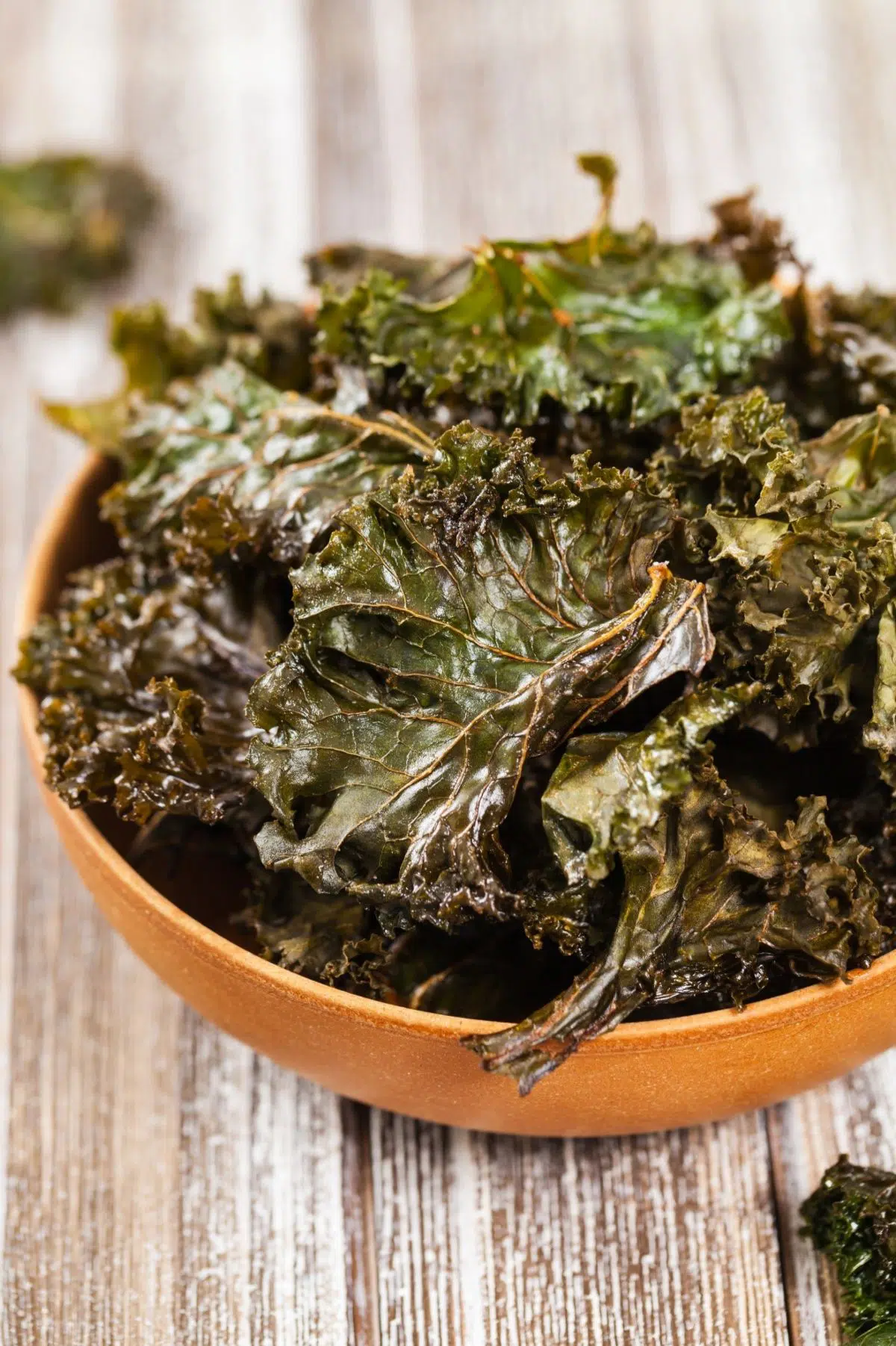 Not a huge fan of kale? You'll definitely be one after making these kale chips.
They're crispy, flavorful, and irresistible. I dare you to eat just one!
All you need to make them are 3 ingredients. These are kale, olive oil, and salt.
Remove the leaves from the stem. Then tear your leaves into bite-size pieces.
Wash and dry your kale really well. That's so your kale chips are nice and crispy.
For extra convenience, you can use this salad spinner to dry your kale. Drizzle your kale with olive oil and add salt.
Bake for about 10 to 15 minutes. Enjoy! Check out more low calorie snacks here.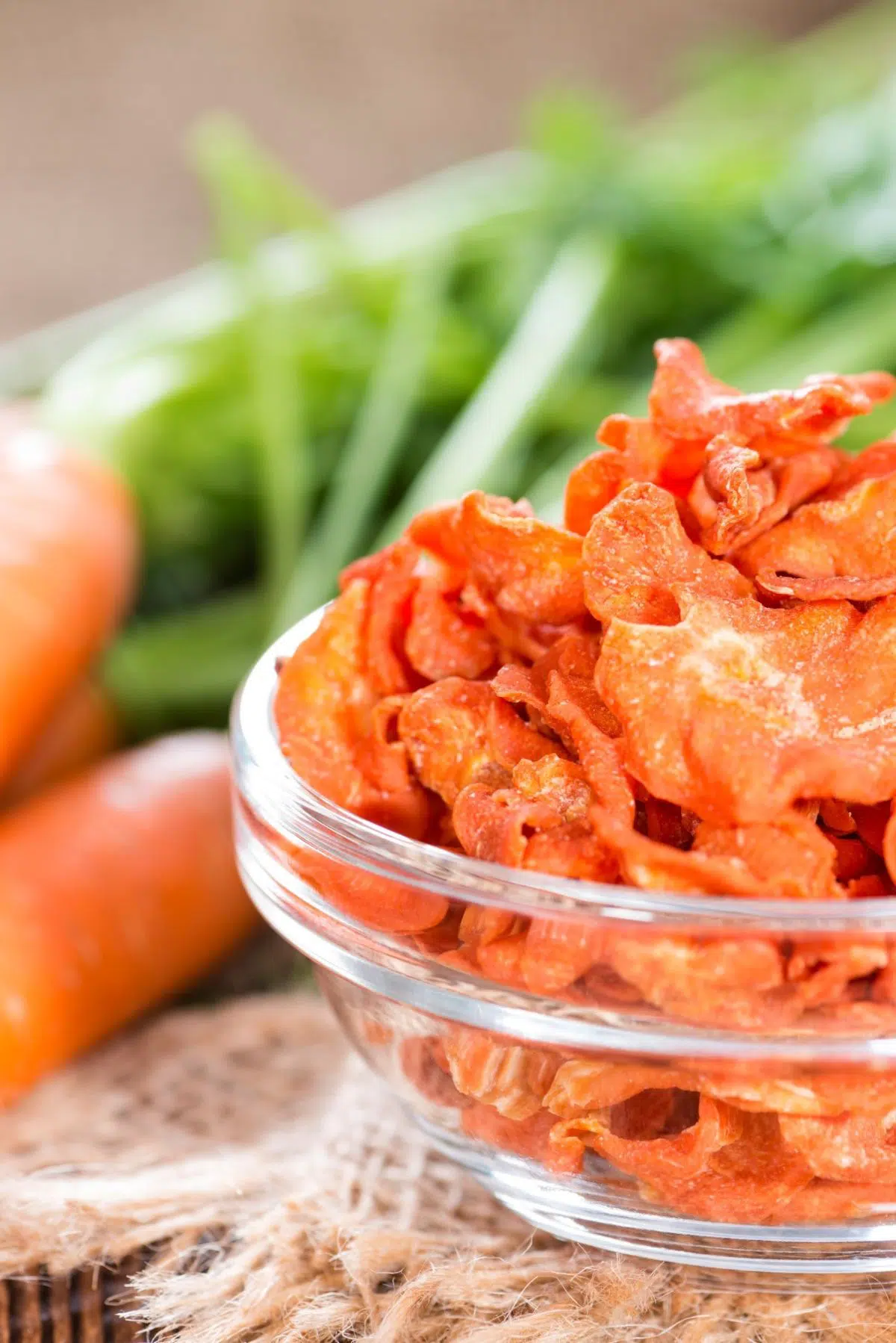 Craving something sweet and savory? Get hold of these Baked Carrot Chips.
They're crunchy and taste delicious. The carrots add natural sweetness.
And the garlic powder and black pepper add savory and spicy notes. It's the perfect bite.
12. Canned salmon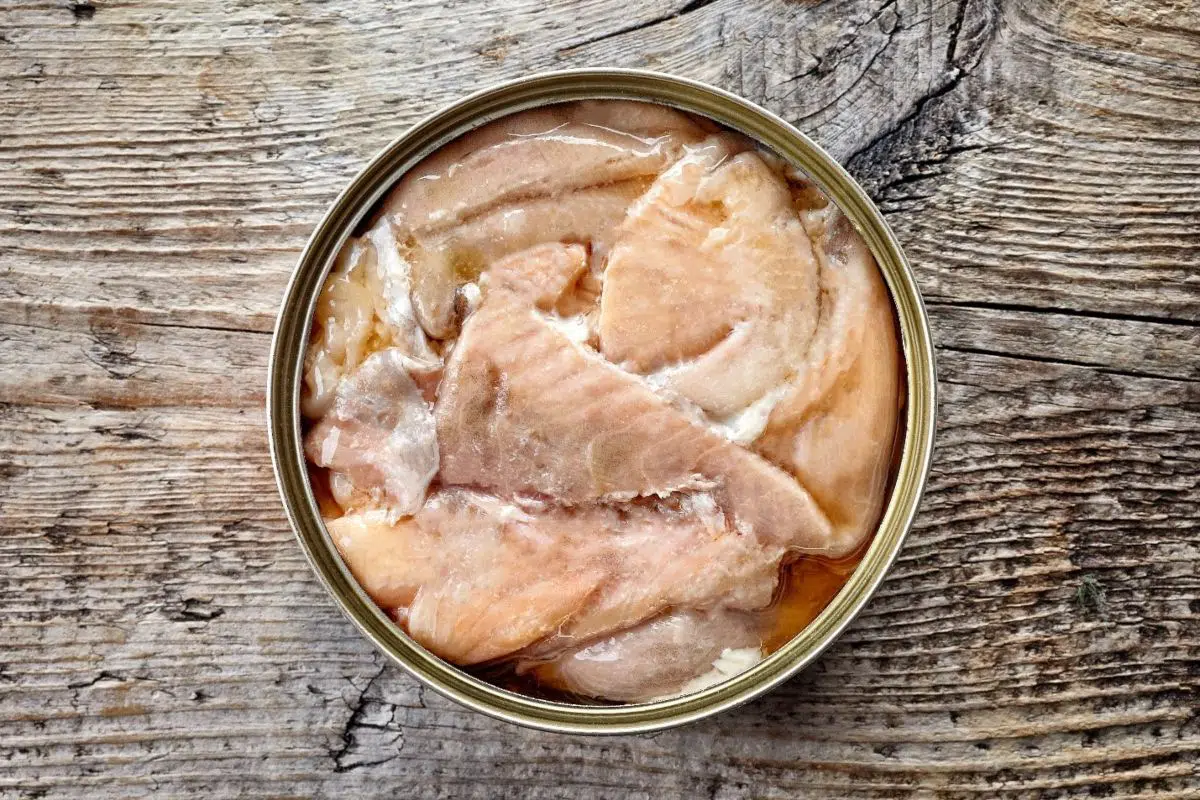 Do you love seafood? Open up a can of salmon.
It's flaky, tasty, and pretty convenient too. And it contains tons of protein.
So you can use it as a post-workout snack. It's also a rich source of omega-3s.
Besides using salmon as a snack, you can use it to top your salads. You can also use it to make salmon cakes and salmon burgers.
When choosing canned salmon, it's best to choose wild salmon. That's because it contains less artery-clogging saturated fats.
And it contains fewer calories and toxic pollutants. This canned salmon is not only wild, but it also has no added salt.
This is a perfect weight loss food.
13. Canned tuna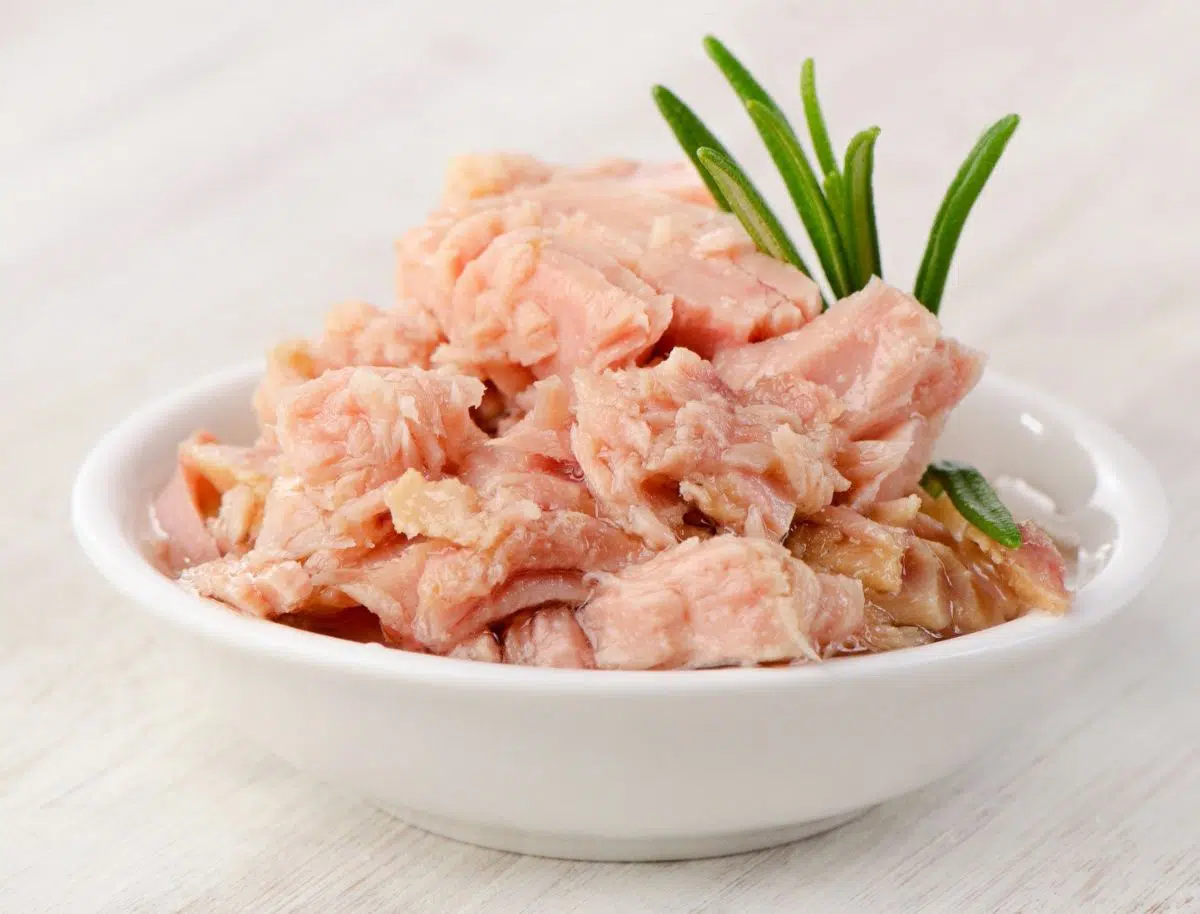 Here's some more seafood. After all, you can never have enough seafood, right?
Just like canned salmon, canned tuna is yummy and convenient. And it is cheaper than canned salmon.
So it's a very affordable high-protein snack.
Besides using tuna as a snack, you can use it to make Whole 30-approved tuna salad. You can also use it to make tuna patties.
If you're also trying to lose weight, look for tuna packed in water. That's because it contains ½ the calories of tuna packed in oil.
14. Hard-boiled eggs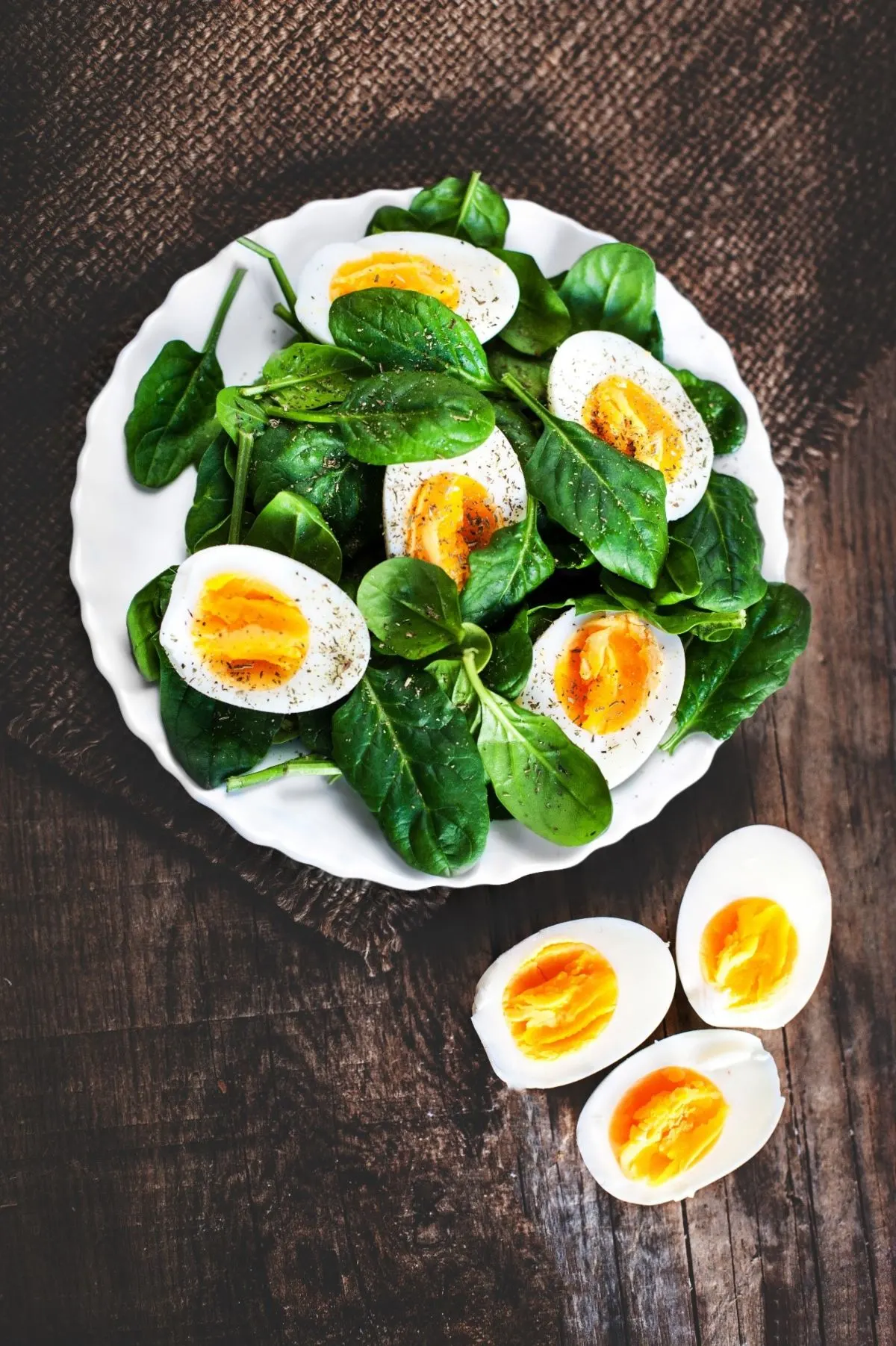 Hard-boiled eggs are another convenient Whole30 snack. And they're great on their own – or lightly seasoned with salt and pepper.
They're also a good source of vegetarian protein. One large hard-boiled egg contains 6 grams of protein.
And it provides 1/5 of your daily selenium needs. Selenium is a mineral that boosts your immune system – and your brain.
When choosing eggs, try and select free-range/pasture-raised eggs. They contain more vitamins and omega-3s.
So, they're better for you.
Do you hate cooking eggs on the stovetop? Some grocery stores sell hard-boiled eggs.
Or you can make yours with an egg-maker. This egg-maker here has an automatic shut-off feature.
So, it's pretty much hands-free.
15. Olives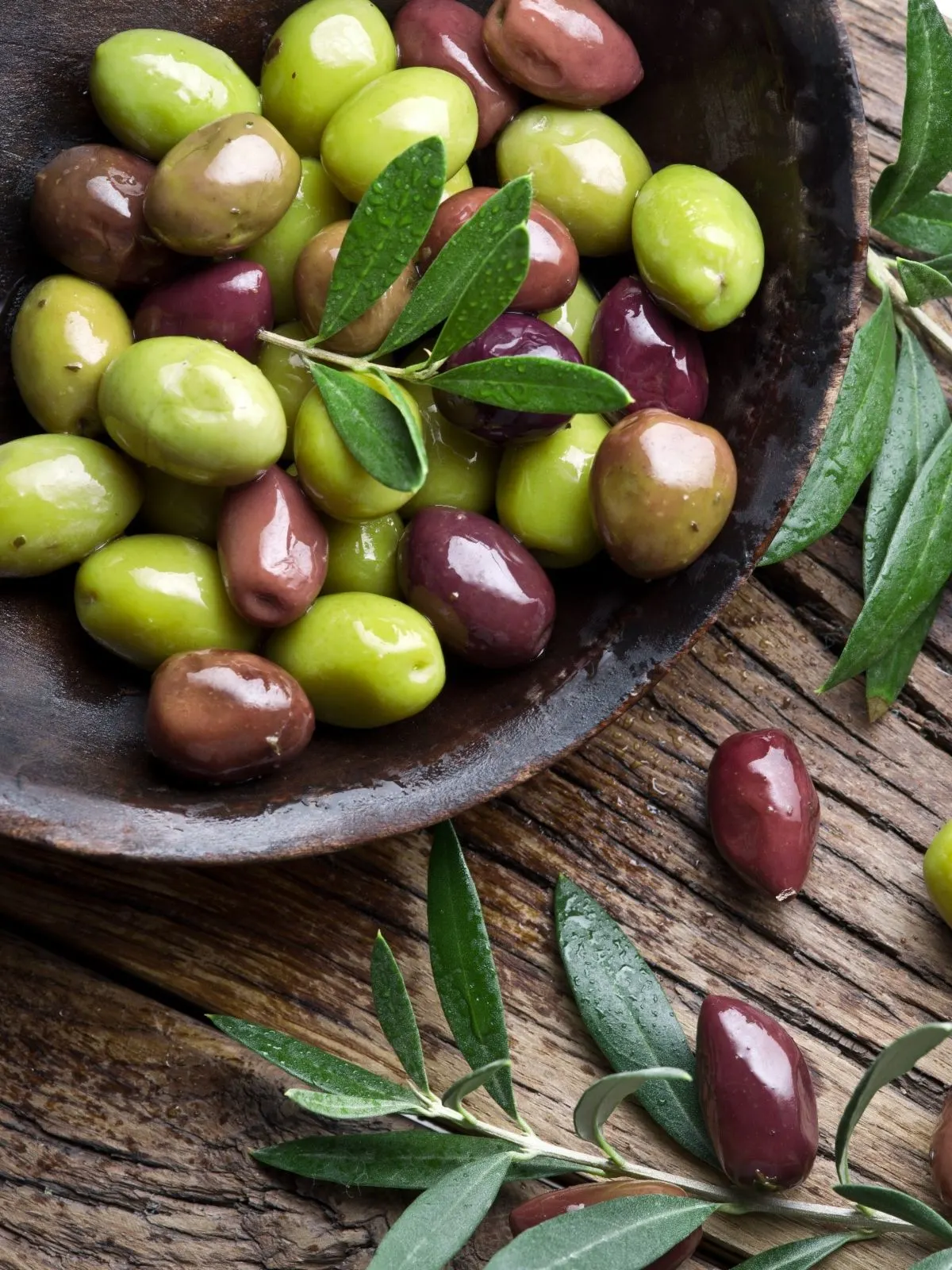 Do you love olives on your pizza? Then you'll love snacking on olives.
They're pretty tasty on their own. But you can also pair them with hard-boiled eggs, leafy greens, or whole30-friendly deli meat.
Besides being tasty, olives are highly nutritious. They are rich in heart-healthy monounsaturated fats.
And they're good sources of Vitamin E, a powerful antioxidant.
Want to carry your olives on the go? These olives are packed in recyclable plastic cups.
And they contain no liquid. So you don't have to worry about any spills.
16. Medjool dates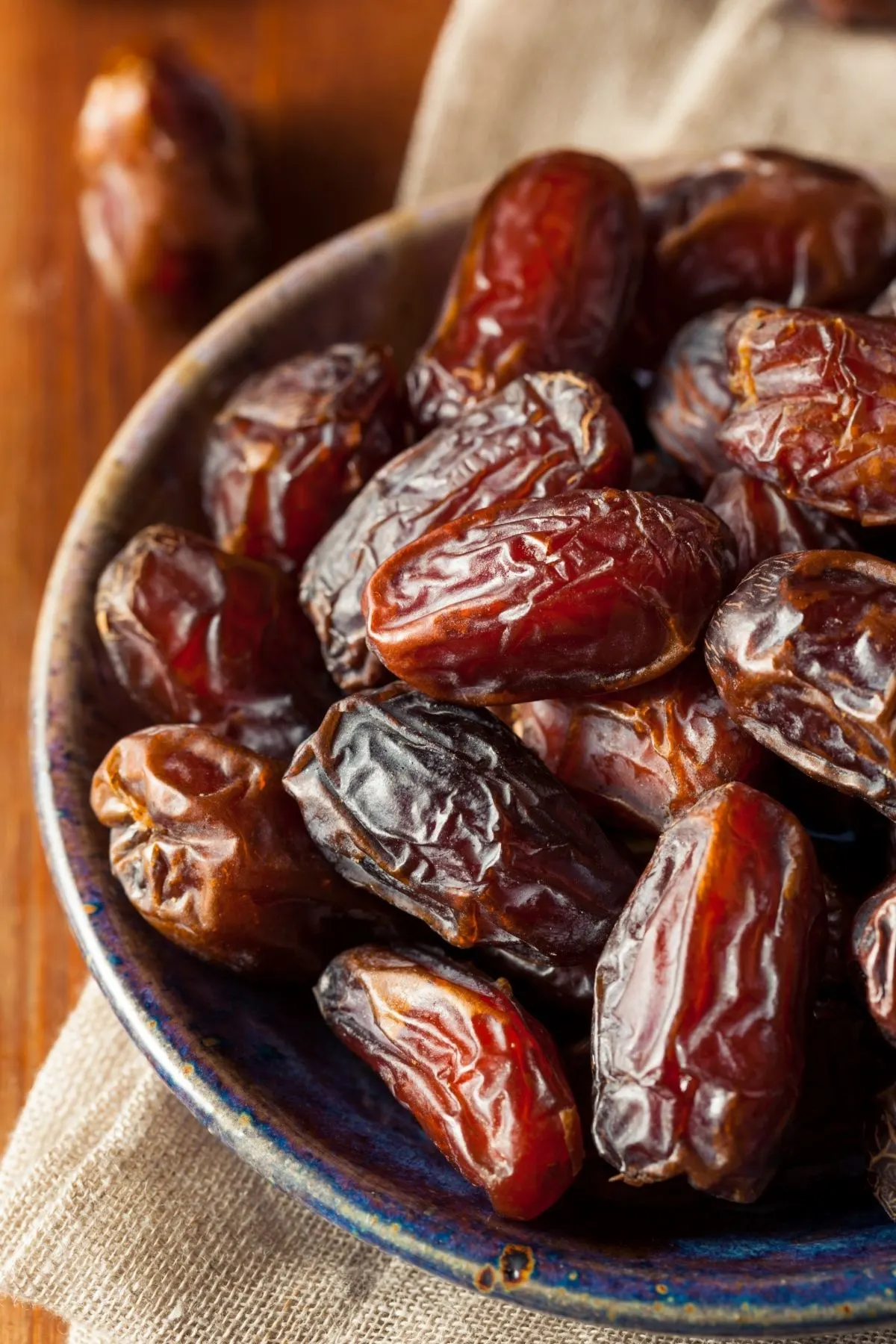 Do you have more of a sweet tooth? Medjool dates are sure to satisfy your cravings.
They're soft, melt-in-your-mouth, and have a nice caramel flavor. I like to call them Nature's candy.
Not only are Medjool dates tasty, but they are also high in antioxidants. They also contain fiber which supports healthy digestion.
Medjool dates may also be good for your brain.
Medjool dates are great on their own. But you can also stuff them with almond butter and sea salt.
It takes Medjool dates to a whole other level.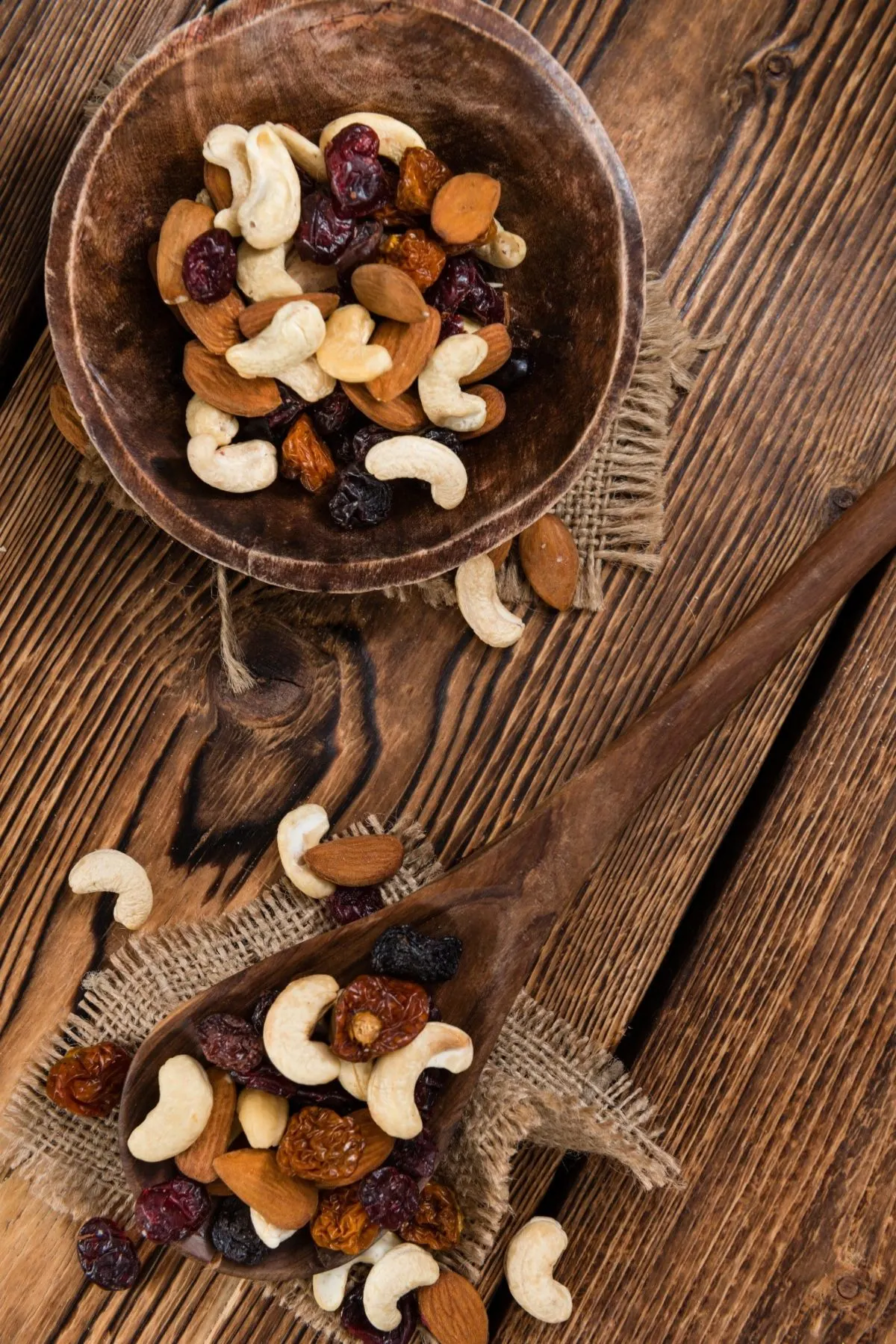 Need some more sweet snacks? Try this Whole30 Trail Mix.
It's crunchy, sweet, and nutty. You'll think you're cheating – on your Whole30 diet.
But you're definitely not. That's because it contains Whole30-approved foods like almonds, cashews, sunflower seeds, and goji berries.
To make it, all you need to do is mix your ingredients together. Then store it in an airtight container to keep it crunchy and fresh.
To do that, you can simply use this Mason jar here.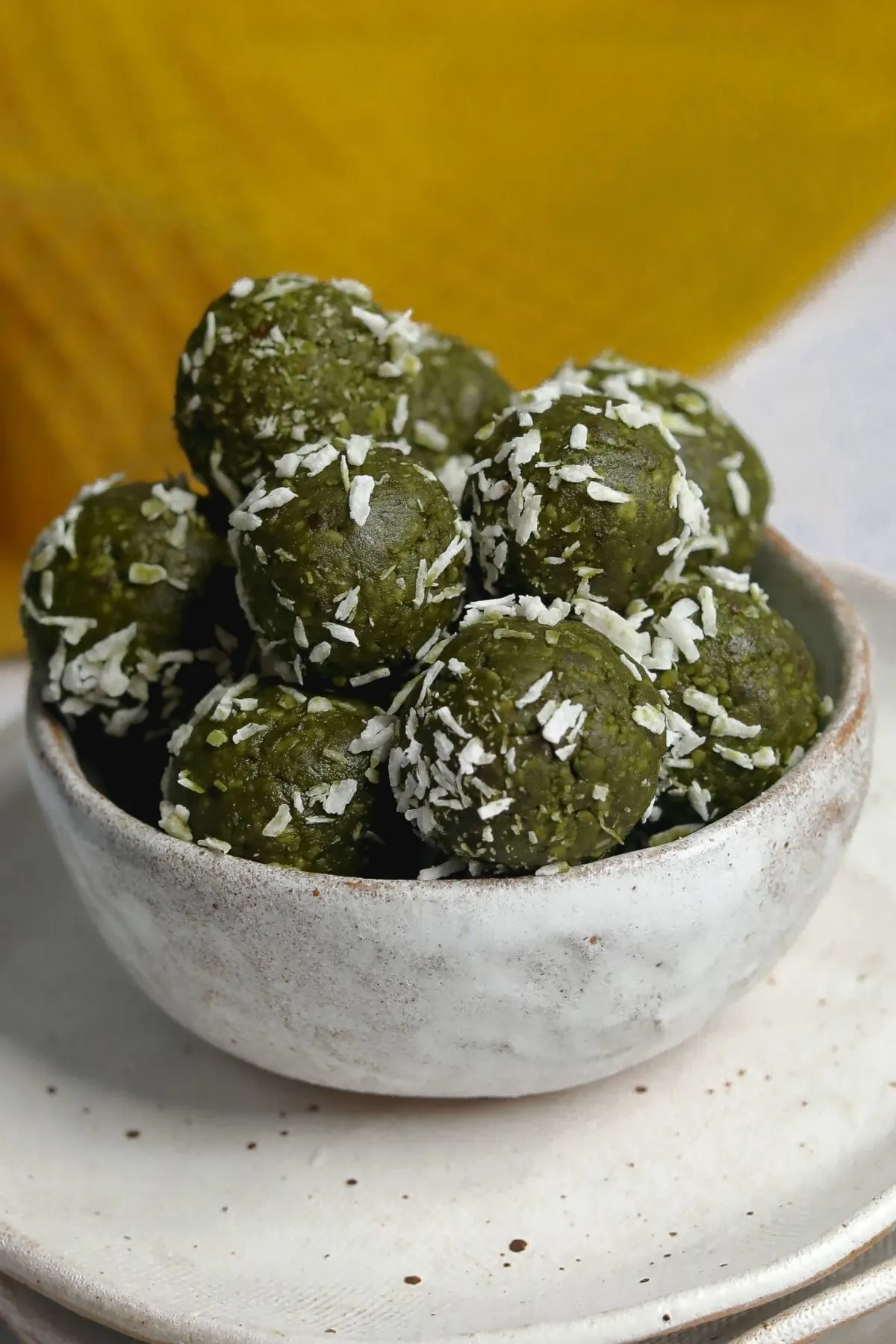 Need an energizing snack for your mid-afternoon slump? My Matcha Energy Balls are a great option.
They're soft morsels of yumminess. The matcha's earthy bitterness is offset by dates' sweetness.
And the cashews and shredded coconut add texture. It's an office party in your mouth.
Making these Energy Balls is super easy. Process your cashews to a flour-like consistency.
Then add your dates, pulsing for about a minute. Add sea salt, vanilla extract, and matcha green tea powder, which you can find here.
Pulse until combined. Then roll your mixture into small balls, coating them in shredded coconut.
Easy peasy.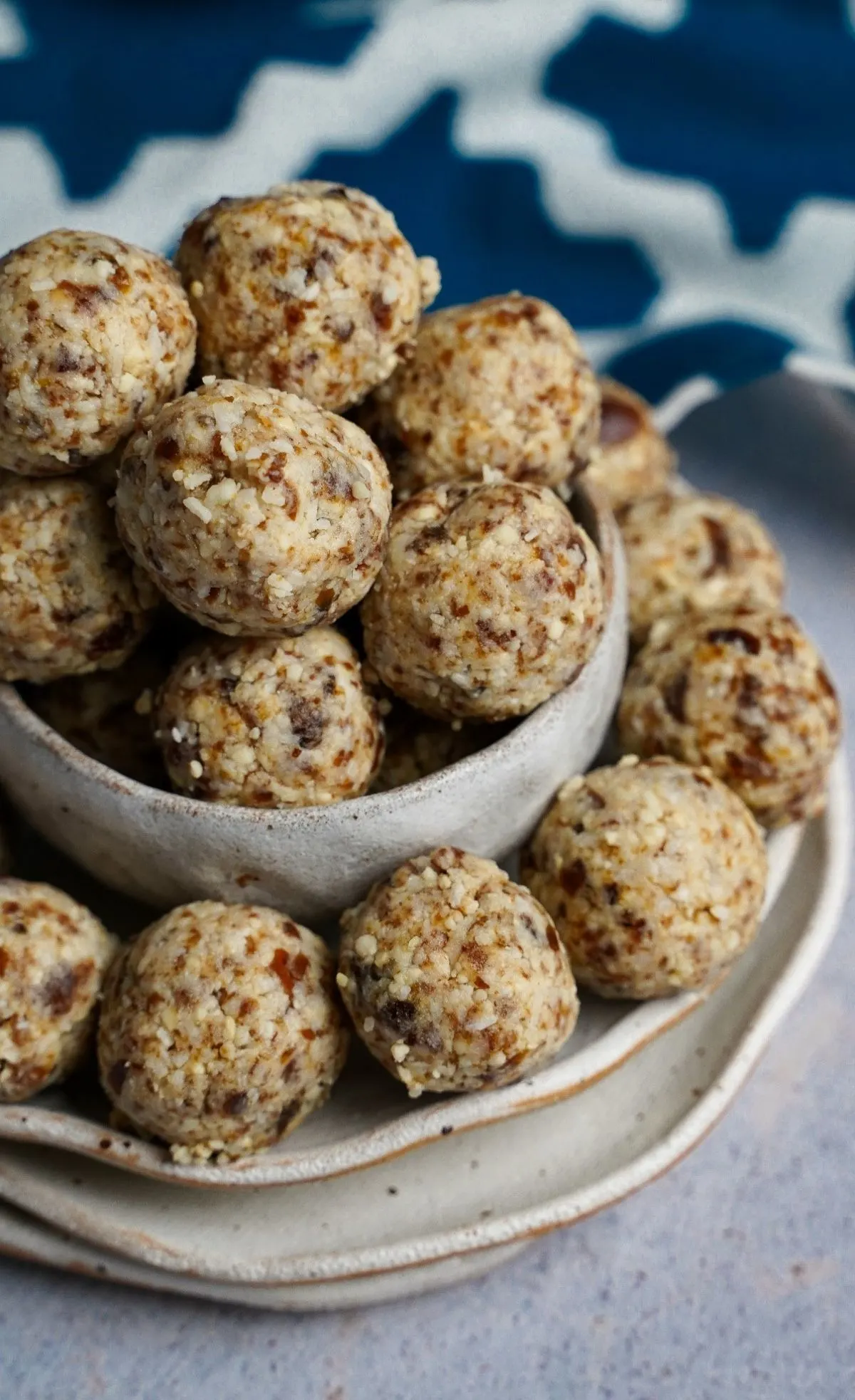 Looking for another easy homemade snack? Try my 5-Ingredient Cashew Energy Balls.
They're a nutty, sweet snack made using just 5 ingredients. These are raw cashews, dates, shredded coconut, vanilla extract, and sea salt.
And they contain only 58 calories. So they're perfect if you're also keeping track of your calories.
Best of all, these Energy Balls are freezer-friendly. So you can store a stash in your freezer for those midnight raids.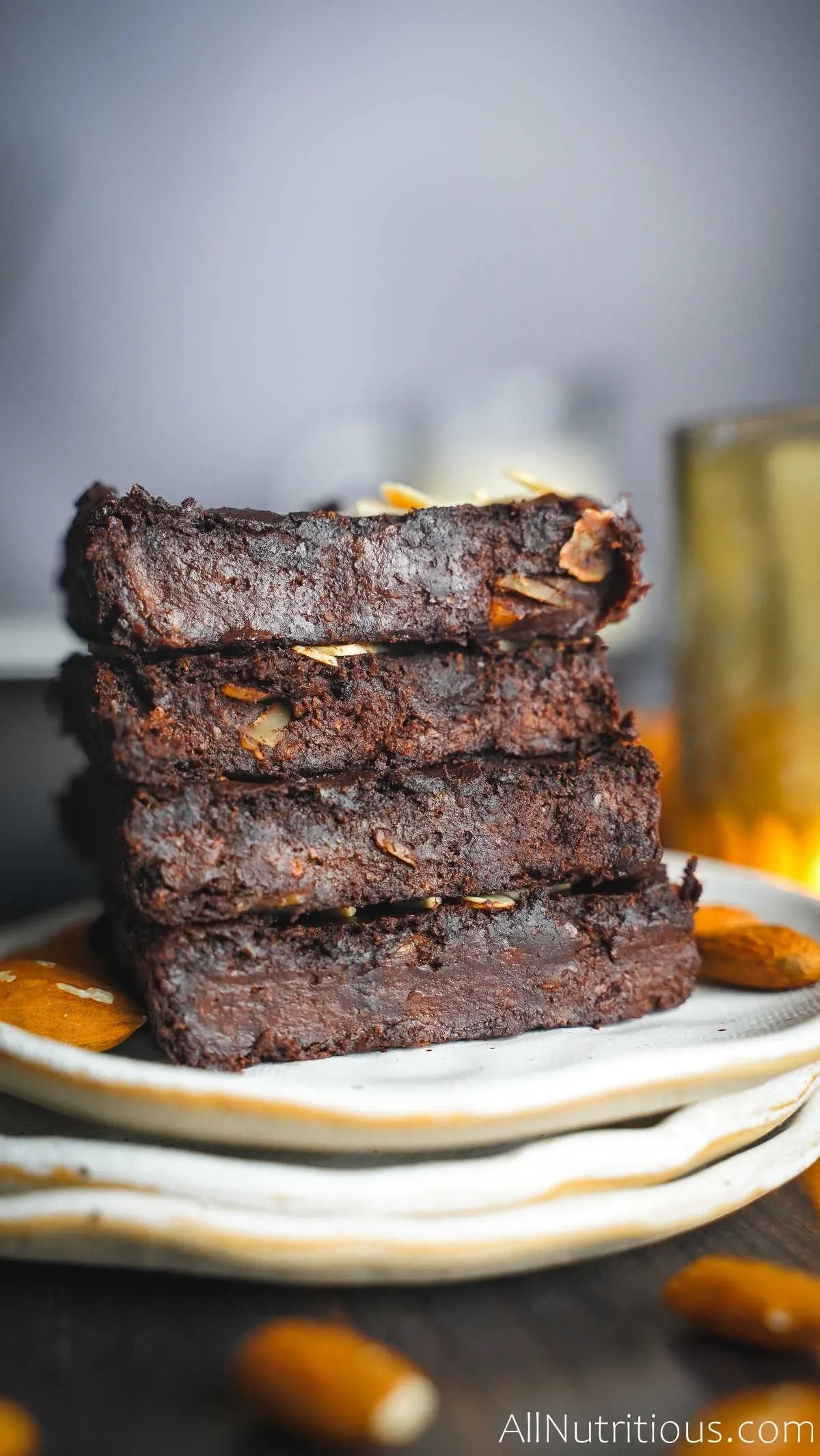 Thought Brownies were off-limits on Whole30? Think again.
These brownies are fudgy and full of chocolate goodness. You'll be licking your fingers.
And they're effortless to make. In fact, you can even make them with your kids – and get some brownie points.
It won't matter if they lick the batter, either. That's because these brownies don't contain any eggs.
And they don't contain dairy or grains either. So what do they contain exactly?
They contain wholesome ingredients like bananas, almond butter, cocoa powder, apple pie spice, and almond flakes.
Best of all, these Brownies take just 15 minutes of prep work. Then your oven takes over.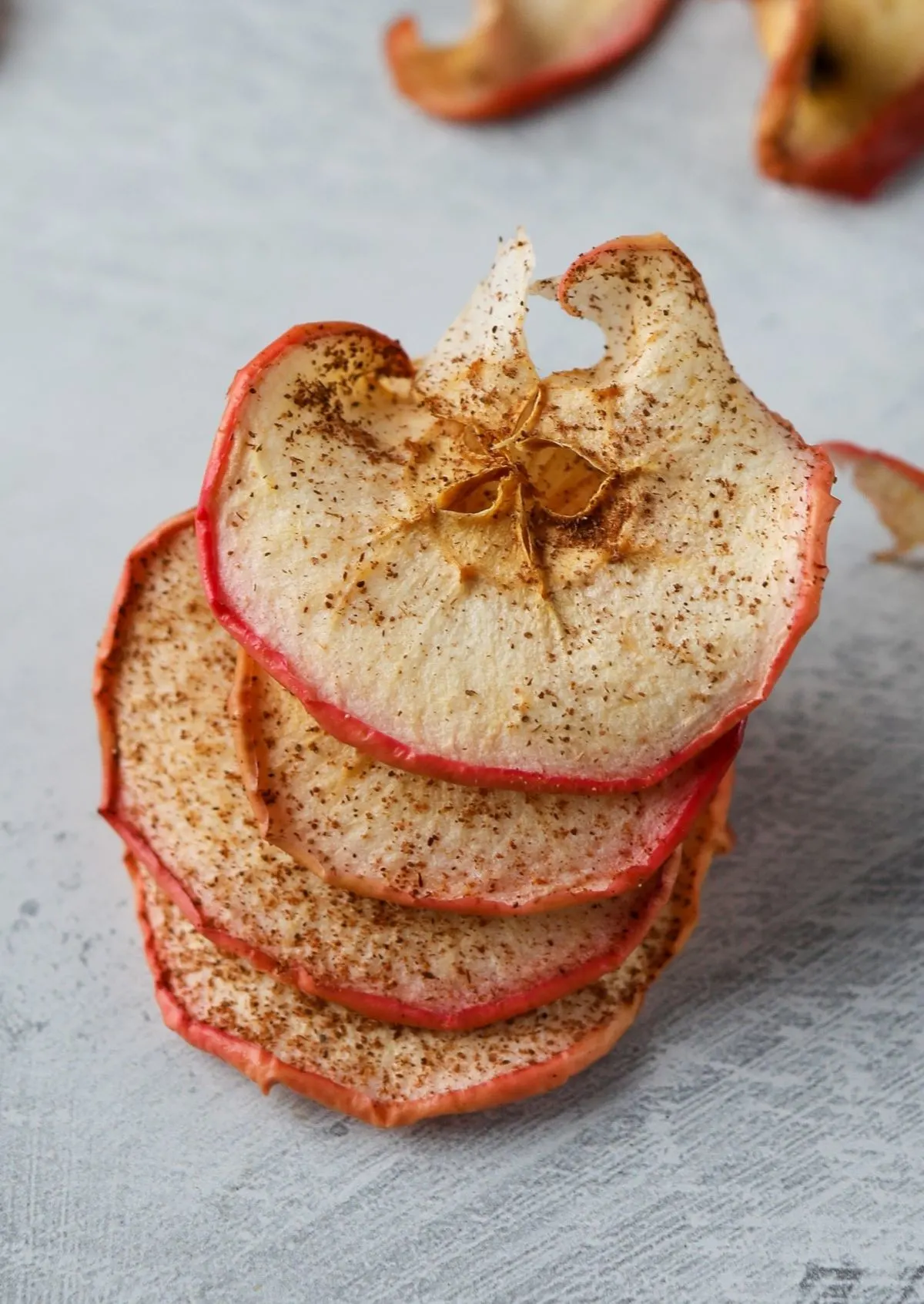 They say: "An apple a day keeps the doctor away." But sometimes, eating apple slices can get pretty boring.
These Baked Apple Chips are for times like that. You get all the goodness of apples – in chip form.
These Baked Apple Chips are crunchy and sweet. And the cinnamon topping is sure to warm your heart – and your taste buds.
Best of all, one Apple Chip contains just 7 calories. So you can have a couple.
22. Apple Sauce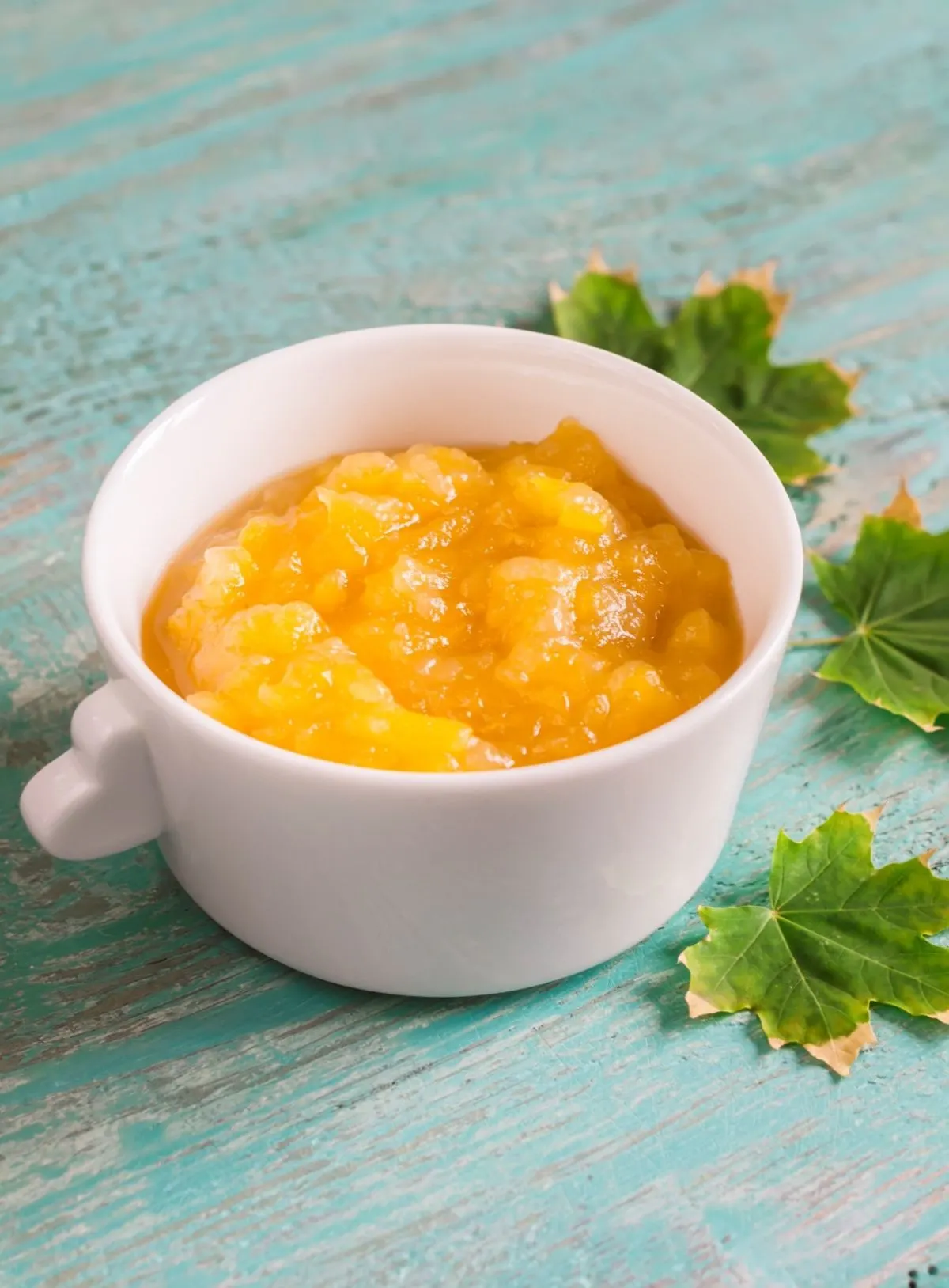 Craving more apple flavors? Have some apple sauce.
It's refreshing, sweet, yet tart. Like it even sweeter?
Add some cinnamon. Cinnamon brings out the sweetness – without adding any sugar.
If you can, make your own apple sauce. That's because commercial apple sauce is usually made without the peel.
So you're losing fiber and phytochemicals.
But if you're in a pinch, you can get this no sugar added applesauce. It comes in pouches for mess-free snacking.
23. Larabars
Craving chocolate bars? Have a Larabar instead.
They're rich, decadent, and naturally sweetened. Now some Larabars contain off-limit ingredients like peanuts.
So you'll want to read the ingredient list first. The Key Lime Flavored Larabar is one of the Whole30-friendly bars.
It contains dates, cashews, almonds, coconut, lime juice, and dried lime juice concentrates.