Are you counting your calories? These are low-calorie snacks that you can have on the go and will keep you under your calorie count.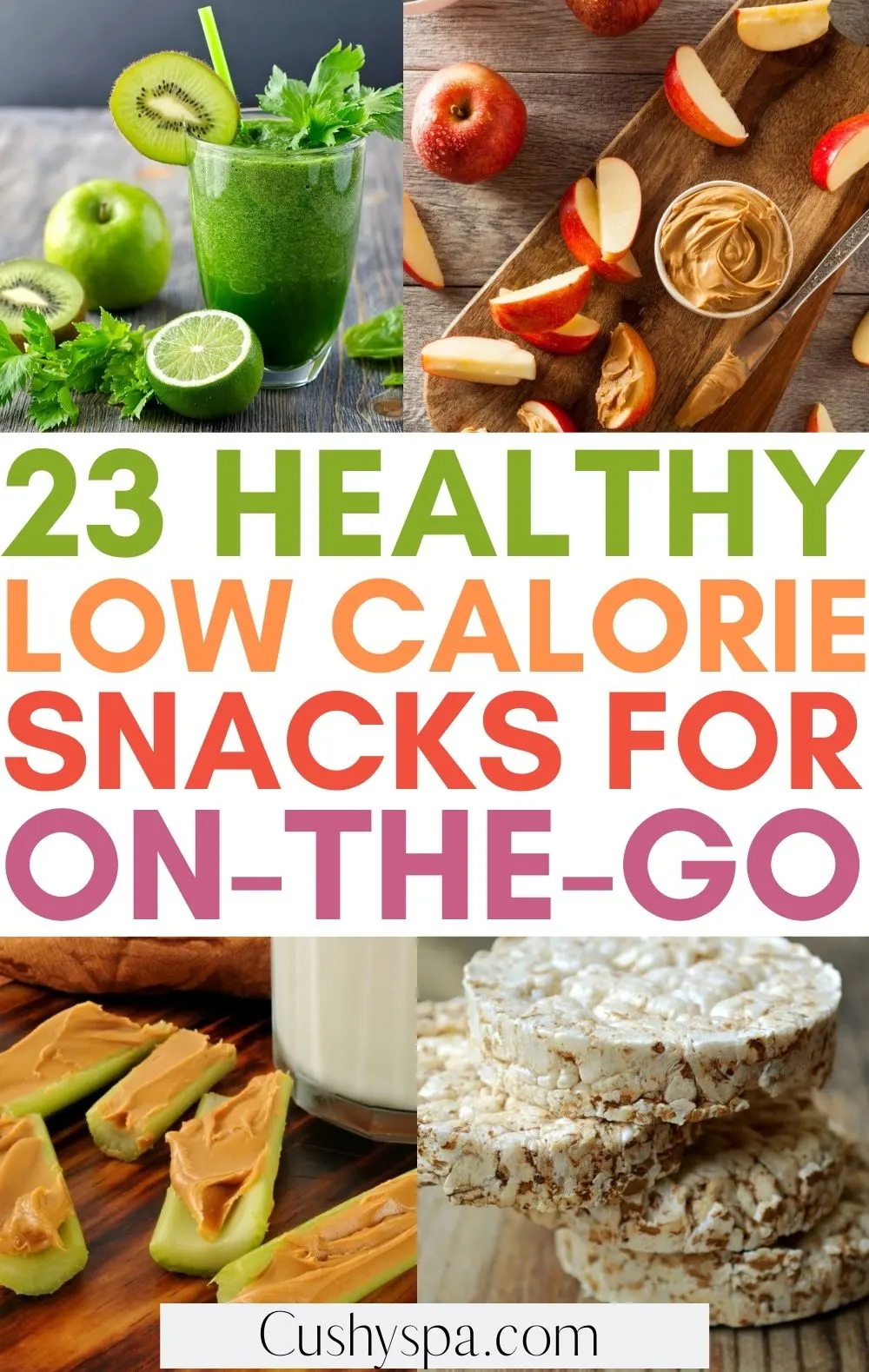 Are you trying to lose weight? Then you know that snacking on the go can be a minefield – of calories.
You head to the convenience store or vending machine. And you're faced with lots of choices – most of them unhealthy.
You see candy bars, cookies, and chips. And they all seem to be calling your name.
That's where having Low-Calorie Snacks on the Go comes in. Just pack them in your purse or lunch bag.
And when those hunger pangs come, you're ready. Easy peasy.
So today, I'm sharing 23 Low-Calorie Snacks on the Go. Not only are they low in calories, but they're also yummy too.
So you can eat your cake and have it too. Now that's a win-win situation.
To keep your snacks fresh, it's a good idea to store them well. These glass food storage containers are smaller in size.
So they are the perfect size for lugging around snacks. These small BPA-free plastic containers are also ideal for on-the-go snacks.
1. Baby Carrots and Hummus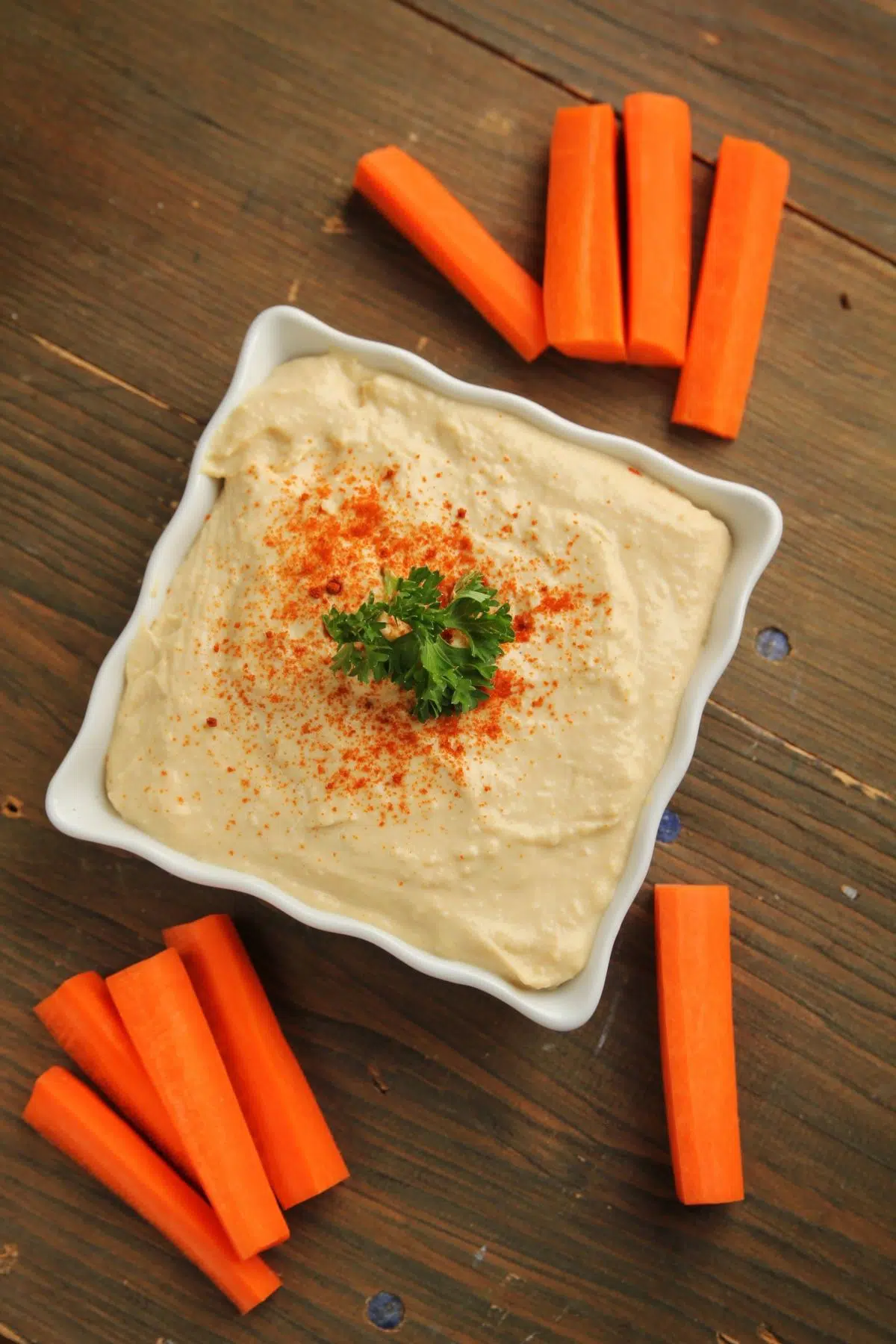 Do you have a sweet tooth? Pack some baby carrots and hummus.
Baby carrots are naturally sweet. They're also really low in calories.
In fact, a one-ounce serving of baby carrots contains under 10 calories. You can't get much better than that.
They're also pretty nutritious. Baby carrots contain potassium which is vital for blood pressure control.
They're also rich in beta-carotene, which promotes good vision.
To absorb more of the beta-carotene, eat your baby carrots with a fat source. One good fat source is hummus.
A one-ounce serving of hummus contains 47 calories. Besides having heart-healthy fats, hummus is rich in protein.
And it's also rich in fiber. These 2 factors make hummus great for weight loss.
In fact, people who eat hummus often are 53 percent less likely to be obese.
They also tend to have a smaller waist. Sweet!
For convenience, you can buy prepackaged hummus. However, a lot of commercially prepared hummus uses canola oil instead of olive oil.
That's because canola oil is cheaper. However, canola oil isn't as healthy as olive oil.
That's because canola oil is more refined. And it doesn't contain as many antioxidants.
To save money, you can make your own. It takes less than ten minutes to make – and is cheaper too.
You'll need canned chickpeas, tahini, lemon juice, olive oil, salt, and garlic. Add your ingredients to a food processor.
Then blend until smooth. This food processor should make it a breeze.
2. Hummus and Whole Wheat Pita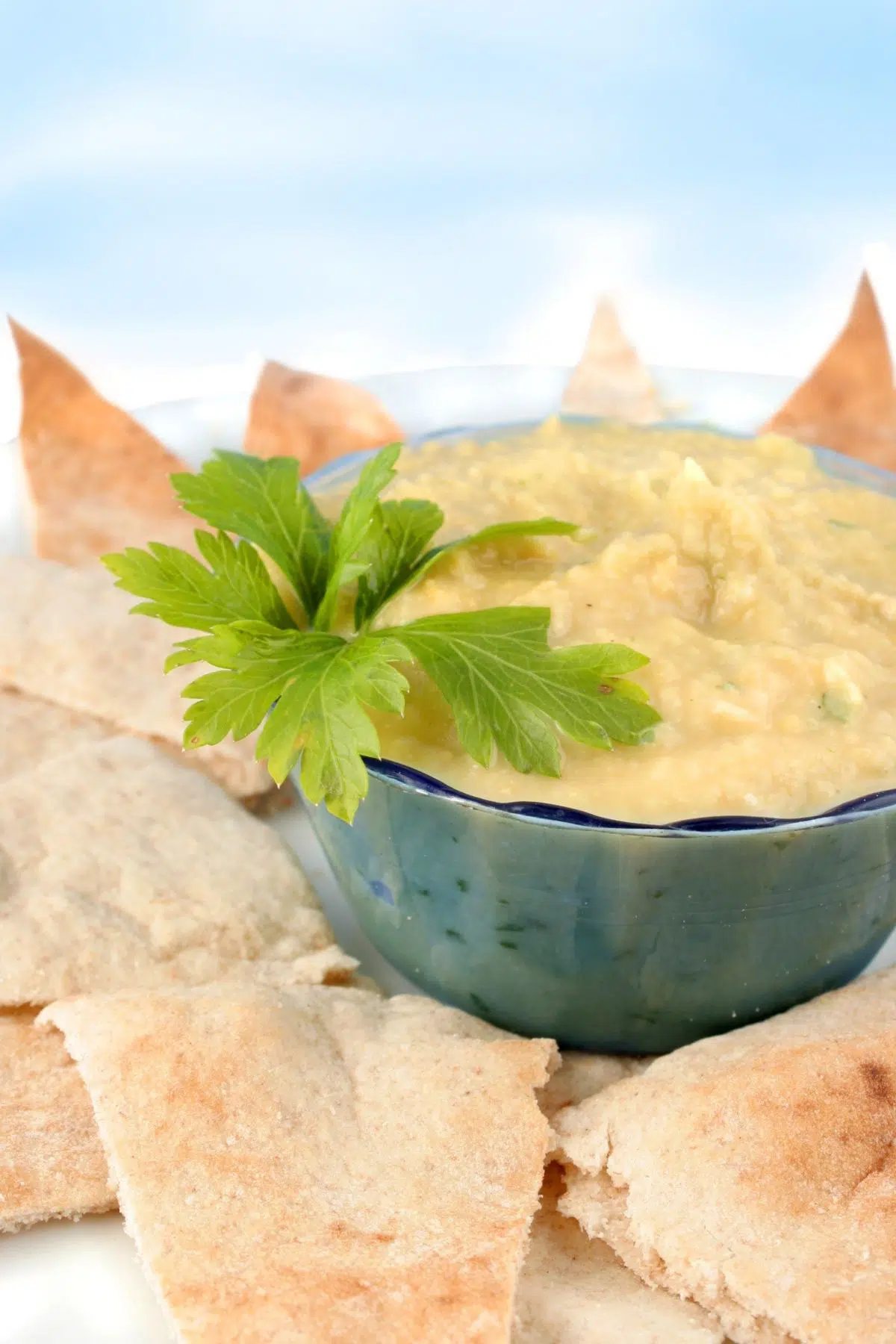 Craving some tastes of the Mediterranean? You can't go wrong with hummus and whole wheat pita bread.
One small whole wheat pita bread contains just 75 calories. It also contains fiber which fills you up.
It's also rich in bone-building manganese. It even contains selenium, a powerful antioxidant.
So, eat up that whole wheat pita bread.
Dipping your pita bread in the hummus can be pretty addictive. So watch your serving of hummus.
Try to stick to a serving size of one ounce of hummus. That way, your calorie count for your entire snack will be under 125 calories.
Looking for a whole wheat pita that is super filling? These oat bran and whole wheat pitas are a great option.
They contain double the protein of regular whole wheat pitas. And they have only 50 calories.
3. Beef Jerky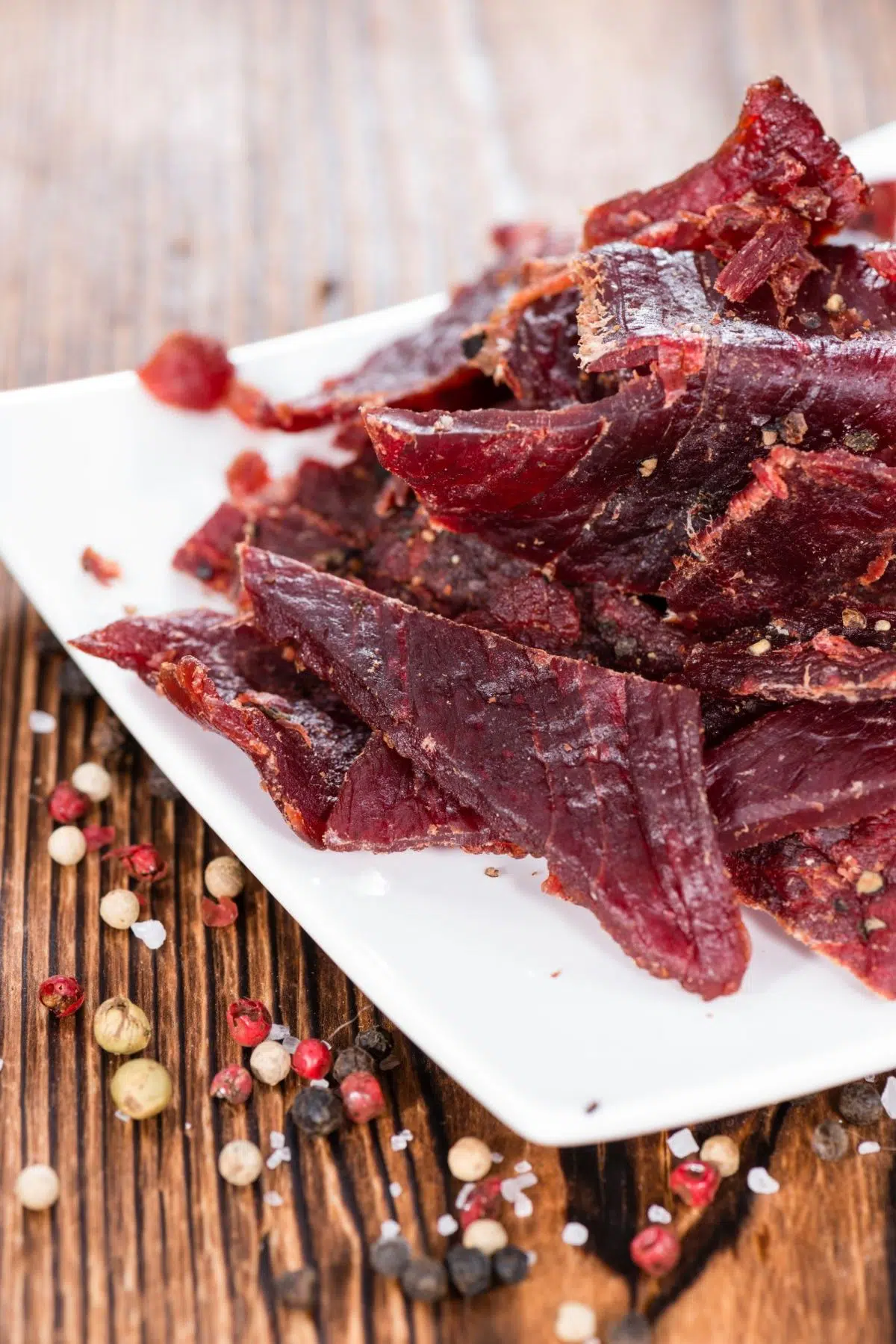 Are you a meat lover? You can't go wrong with beef jerky.
One large piece contains only 82 calories. And it's high in protein.
It also provides zinc, which boosts your immune system. Yay!
Keep in mind that most beef jerky is high in added salt. Too much salt isn't good for your heart.
So be sure to choose a beef jerky that is low in added salt.
This beef jerky here is low in added salt. And it has a mouth-wateringly good combination of spices.
4. Cheesy Popcorn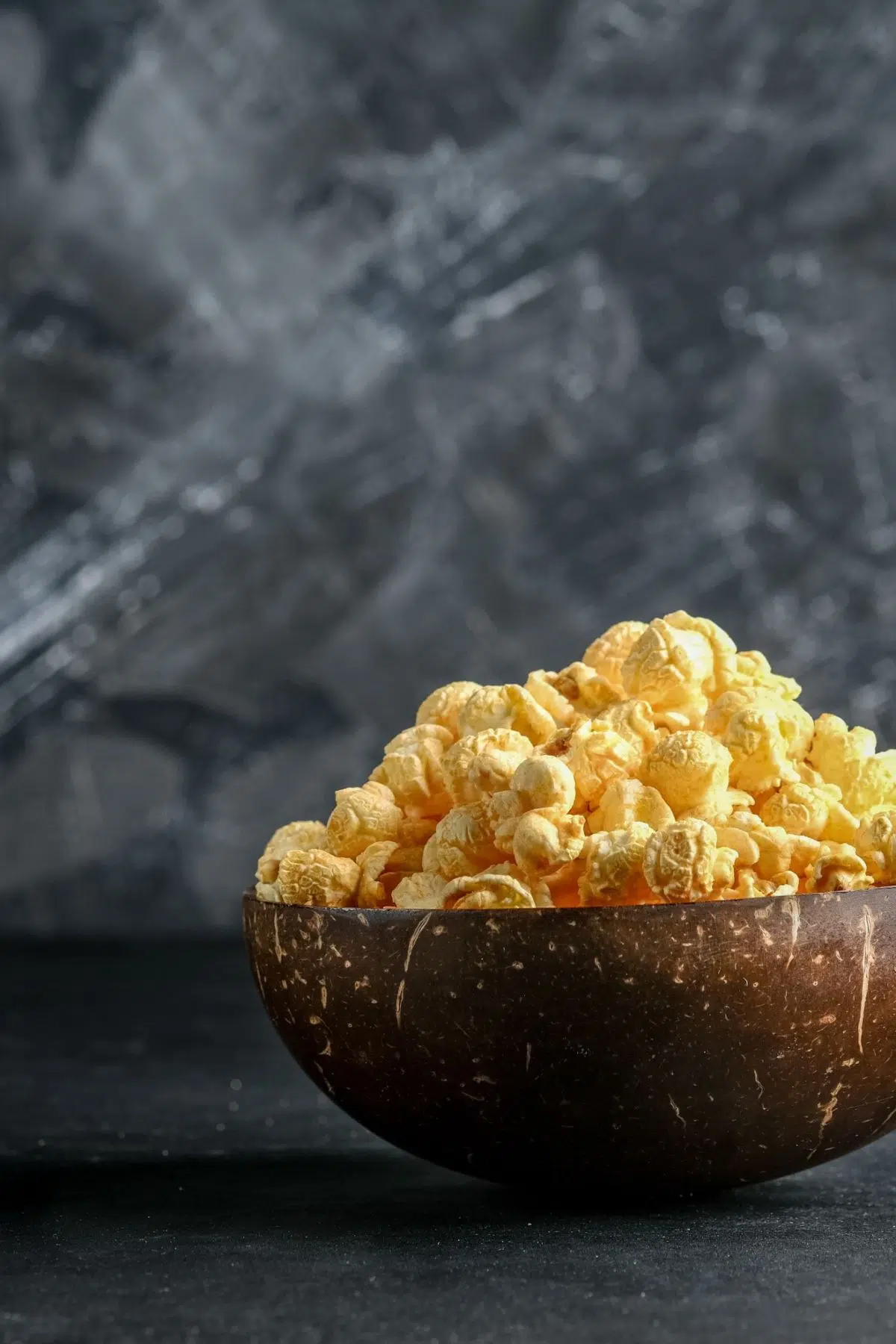 Yes, you read that right – cheesy popcorn. It's low in calories because you're air-popping the popcorn.
So, you're getting all of the goodness – without all the grease.
In fact, 3 cups of air-popped popcorn contain just 93 calories. And you're getting 15% of your daily fiber needs as well.
What's more, air-popped popcorn has a lot of volume. So it fills your stomach pretty well.
To get the cheesy taste, you can add this Parmesan Popcorn seasoning. One teaspoon contains 40 calories.
And it comes in 3 different flavors. So you won't get bored quickly.
Looking for a vegan-friendly cheesy seasoning? You can use nutritional yeast like this instead.
Not only does it give a lovely cheesy taste, but it's also low in calories. One teaspoon contains only 10 calories.
It's also very nutritious. It contains Vitamin B12, which you need for a healthy nervous system.
And it contains beta-glucans which may boost immunity.
5. Apples and Peanut Butter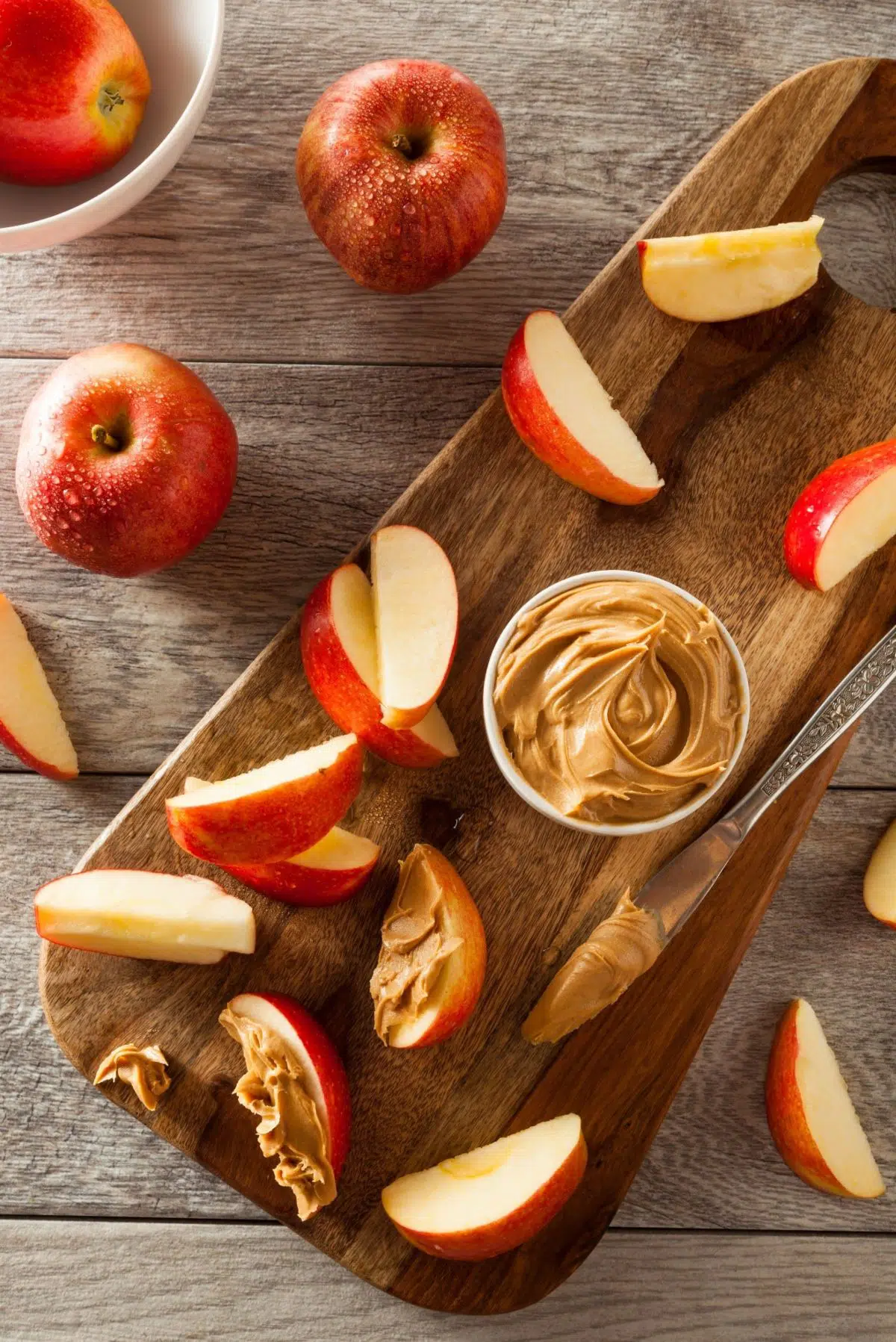 Tired of a plain old apple? Serve it with some peanut butter.
You've got the sweetness and crunchiness of the apple. And you've got the creamy nuttiness of the peanut butter.
It's a match made in snack heaven.
One small apple contains 78 calories. And it contains Vitamin C too.
Maybe that's why the saying goes: "An apple a day keeps the doctor away."
Apples may even keep those pesky pounds away. In fact, just by eating apples instead of, say, oat cookies, you lose more weight.
And that's even when the amount of calories is the same!
On the other hand, peanut butter is calorie-rich. So, you'll want to limit how much you use.
One tablespoon or less is a good ballpark.
I recommend using all-natural peanut butter like this one here. It contains just peanuts – no added sugar or salt.
One tablespoon contains 90 calories.
Looking to cut the calories even more? You can use powdered peanut butter.
Powdered peanut butter is made from roasted peanuts that have been pressed. Pressing the peanuts removes most of the oil.
So it contains fewer calories and fat than traditional peanut butter. For instance, one tablespoon of this powdered peanut butter has just 25 calories.
6. Celery and Peanut Butter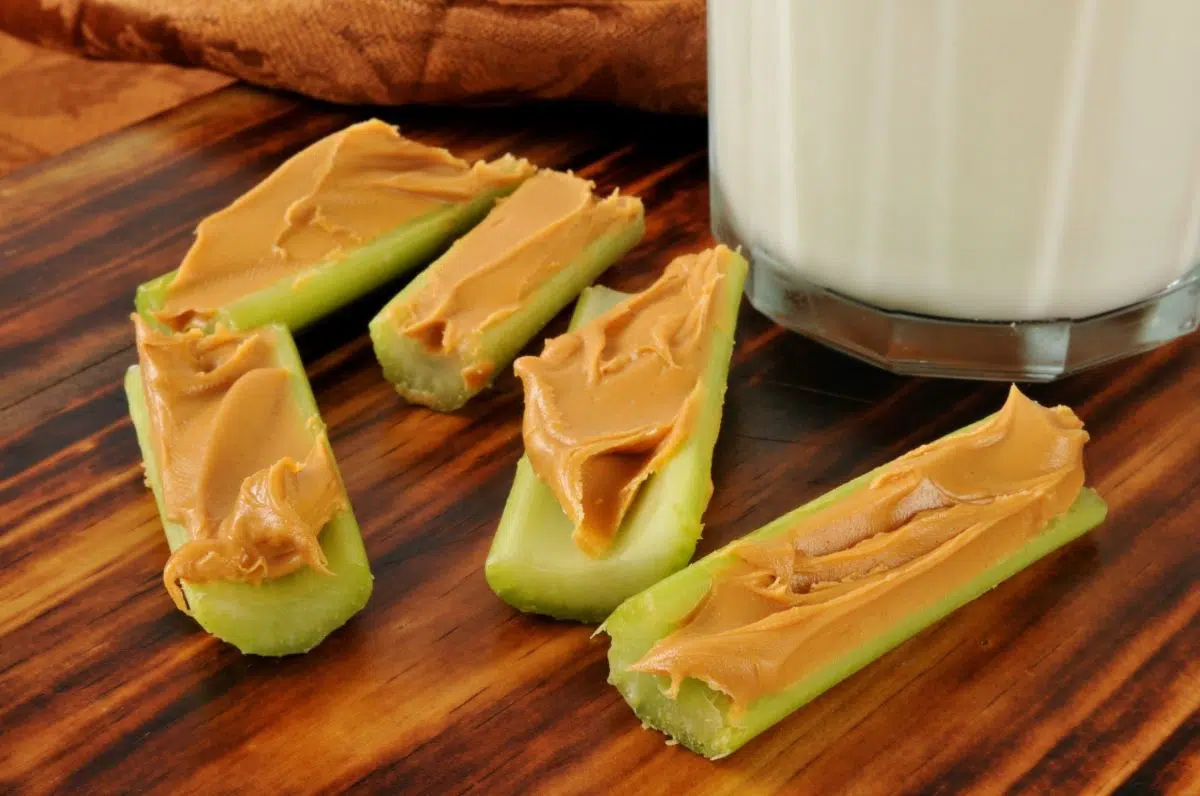 Can't get enough peanut butter? Serve it with some celery sticks.
One large celery stalk contains 10 calories. So, you can save your calories for a bit more peanut butter.
That same stalk of celery provides 23% of your Vitamin K needs. So it helps your blood clot.
Want to make this snack irresistible to your kids? Slather peanut butter on your celery stick.
Then add some raisins, aka "ants on a log." Your kids will be so delighted with the "ants."
They won't mind eating their veggies.
7. Celery and String cheese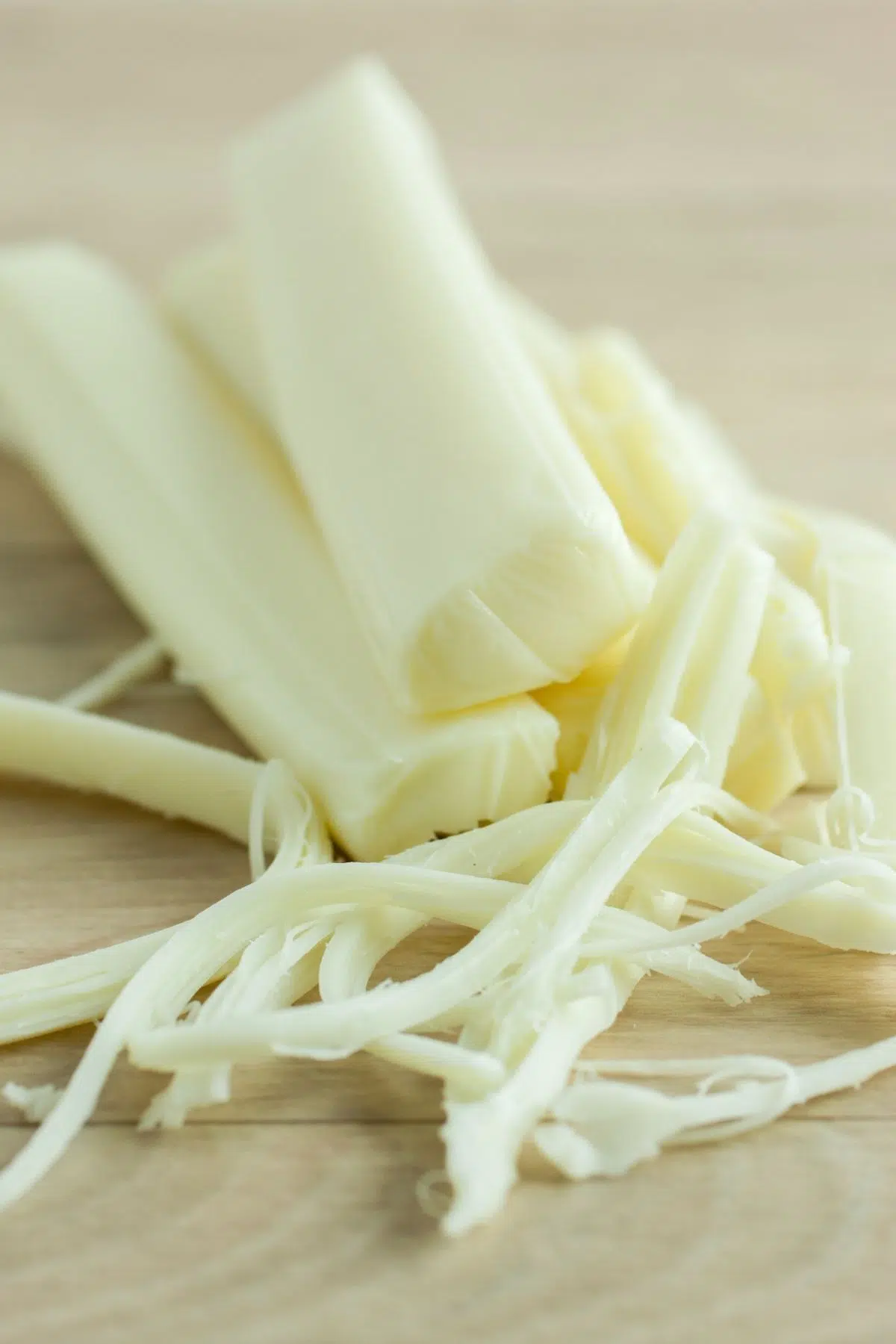 Not a fan of peanut butter? Serve your celery stick with low-fat string cheese.
One stick of low-fat string cheese contains 50 calories. It also provides 20% of your calcium needs.
So you're doing your bones a world of good.
It also provides 7 grams of protein. That's as much protein as one large-hard-boiled egg.
So it makes for a great post-workout snack.
8. Cottage Cheese and Blueberries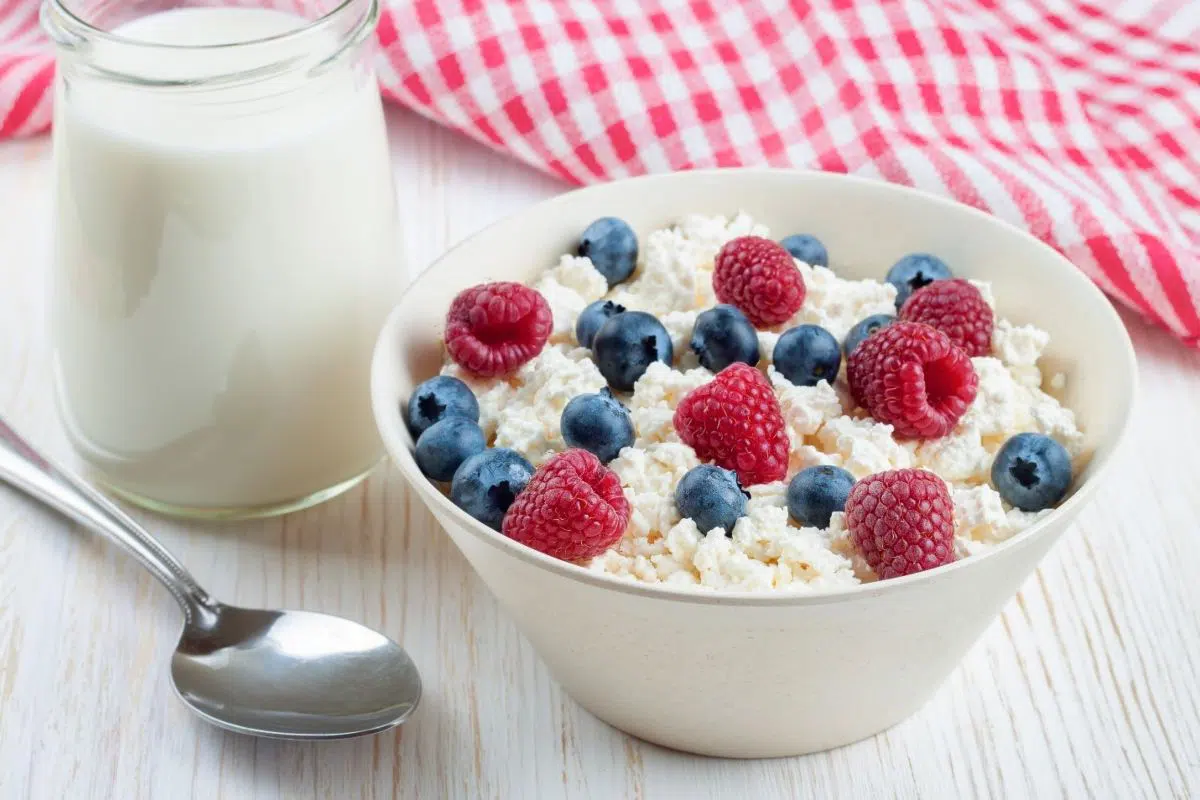 Looking for another great post-workout snack on the go? Have some cottage cheese and blueberries.
Now, cottage cheese can be pretty bland. But when you add blueberries, it tastes pretty good.
¼ cup of cottage cheese contains 48 calories. Cottage cheese is also a good source of protein and calcium.
Blueberries are a great low-calorie way to get your antioxidants. ½ a cup of blueberries contains 42 calories.
Blueberries are also good for your bones. That's because they contain manganese – who would have thought?
9. Greek Yogurt and Blueberries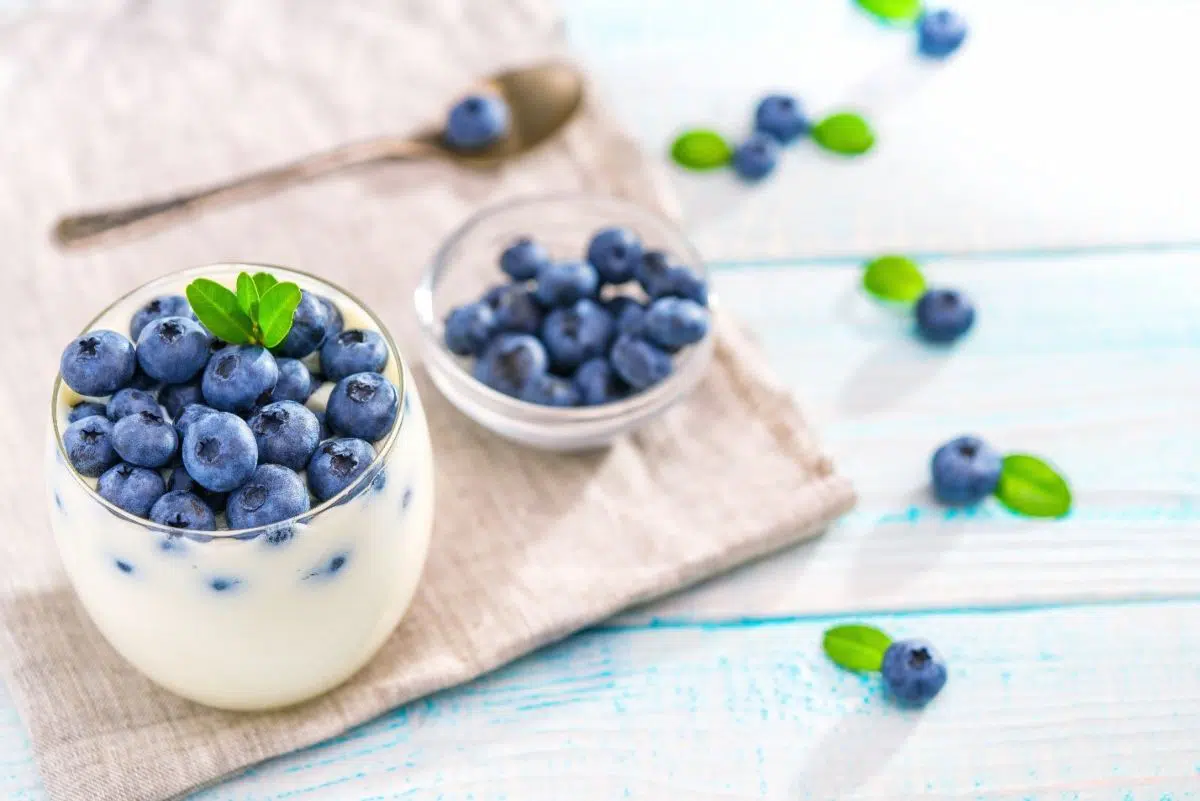 Need another great way to enjoy your blueberries? Serve them with Greek yogurt.
A 4-ounce serving of Greek yogurt contains 90 calories. Yet, it has twice as much protein as regular yogurt.
So it's even more filling. And it contains half as many carbs.
So, it's a great snack if you're on a low-carb diet. Paired with ½ a cup of blueberries, you're looking at just 132 calories.
As an added bonus, Greek yogurt is rich in probiotics. Probiotics can not only help you lose weight but belly fat as well.
10. Edamame Beans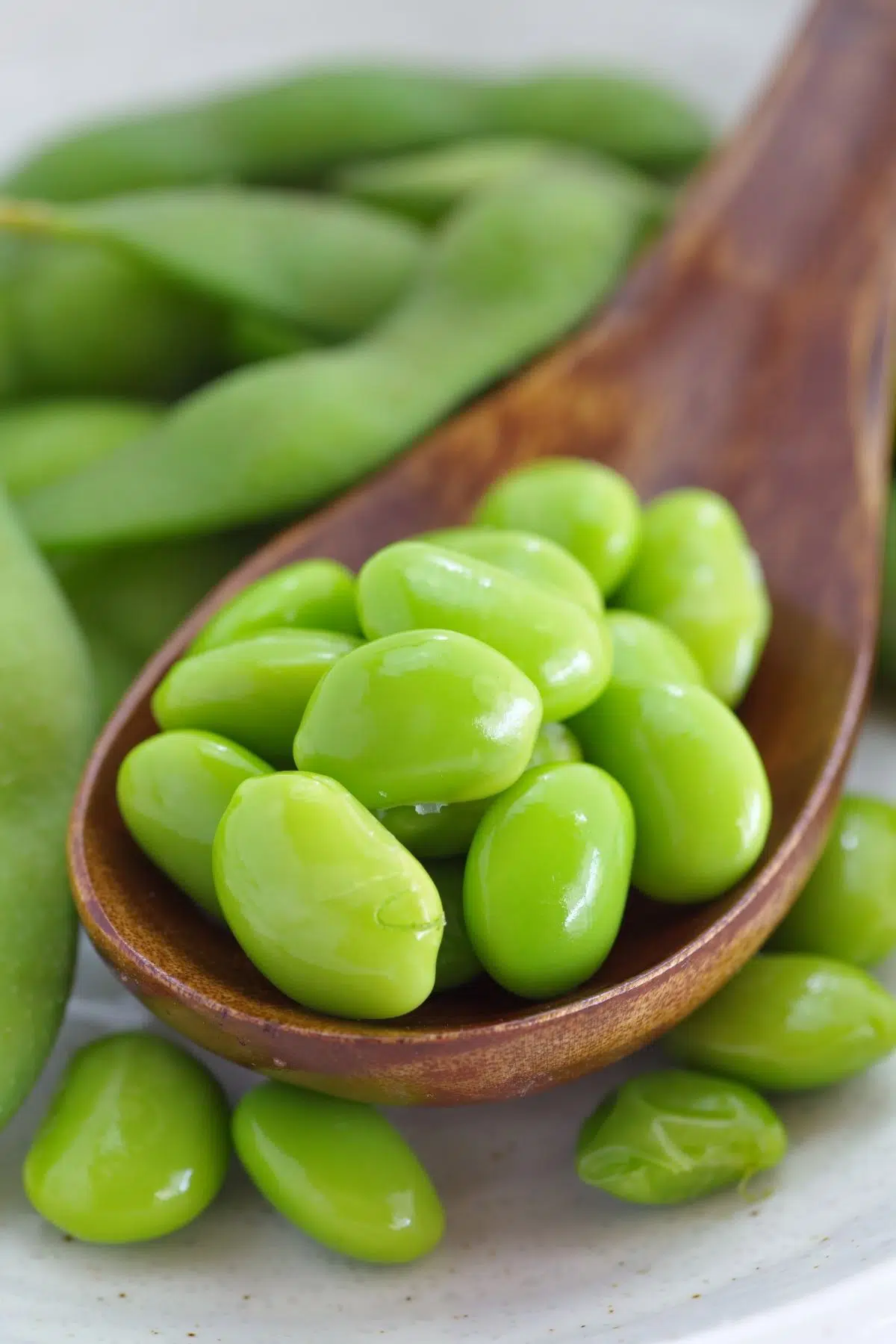 Looking for some Asian eats? Try some Edamame beans.
They're refreshing and crunchy – and so good for you too. ½ cup of cooked edamame contains 94 calories.
And it provides 9 grams of plant-based protein. So it's a great vegan-friendly snack.
It is also packed with nutrition. In fact, it is rich in manganese, folate, and vitamin K.
And it is a good source of copper, phosphorus, and magnesium. So, it is excellent for your bones.
To make edamame, you can roast it in the oven. You'll need frozen edamame, olive oil, salt, pepper, and garlic cloves.
Be careful not to use a lot of olive oil. That's so you keep your edamame low in calories.
Toss your ingredients together. Then spread them on a baking sheet.
Bake for 20 minutes, stirring halfway through.
Or, for extra convenience, you can buy dry-roasted edamame like this. It's roasted without oil, so it's low in calories.
11. Almonds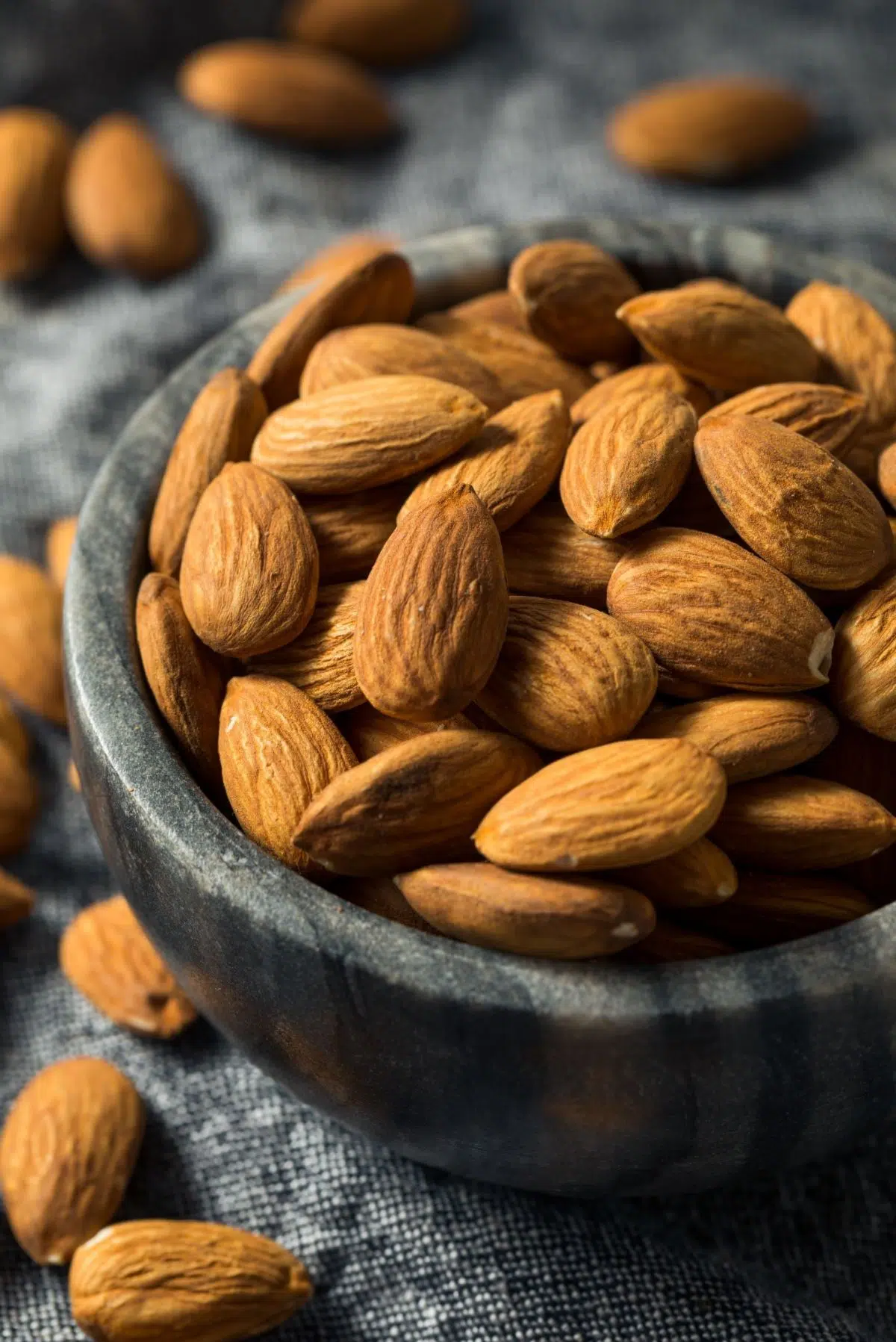 Craving the munchies? Snack on some almonds.
Almonds are quick, easy, and really good for you. A 1/2 oz serving contains just 80 calories.
They're also packed with protein which fills you up.
Almonds are also good for your bones. That's because they contain manganese, magnesium, and phosphorus.
They're also good for your skin. That's because almonds contain Vitamin E.
But most importantly, they're great for weight loss. That's because your body isn't able to absorb all the calories in almonds.
In fact, it doesn't absorb up to 15% of the calories in almonds. And eating almonds may boost your metabolism.
Now almonds can be blah on their own. So to amp up the taste, you can buy them roasted.
These almonds here are unsalted and dry roasted. So you're not getting extra calories from oil.
12. Pistachios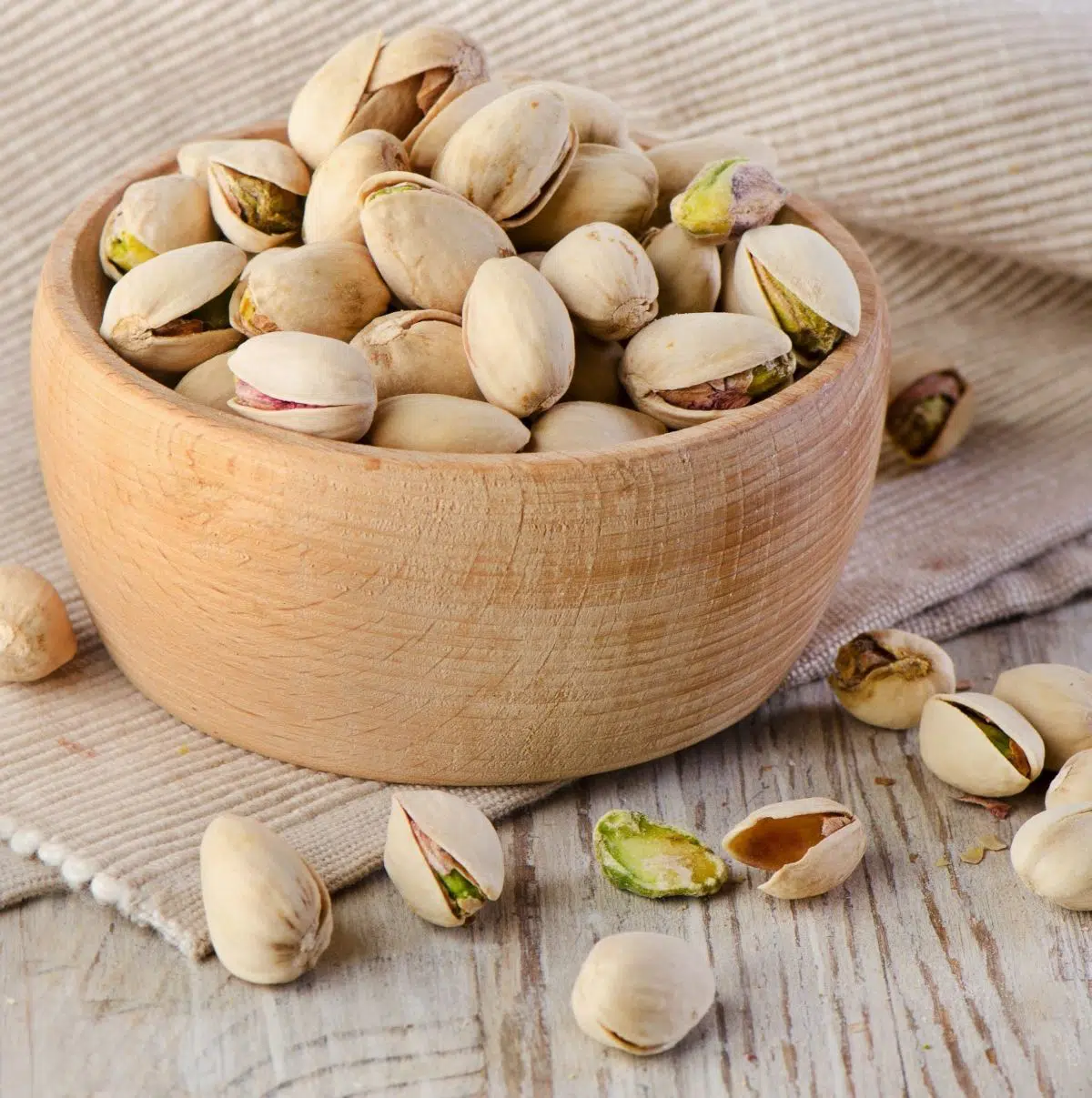 Looking for more nuts to snack on? Try some pistachios.
They are one of the lowest-calorie nuts you can find. A ½ oz serving contains 81 calories.
They also contain more protein than a lot of other nuts. In fact, they are second only to almonds.
If you can, get pistachios that are still in the shell. Removing the shell takes time and slows your rate of eating.
So, you're able to eat your pistachios more mindfully. And eating mindfully can reduce the number of pistachios – and calories that you eat.
In fact, people who eat in-shell pistachios eat about 40% fewer calories than those who eat shelled pistachios.
Need to stock up on some in-shell pistachios? You can get some here.
13. Hard-boiled Eggs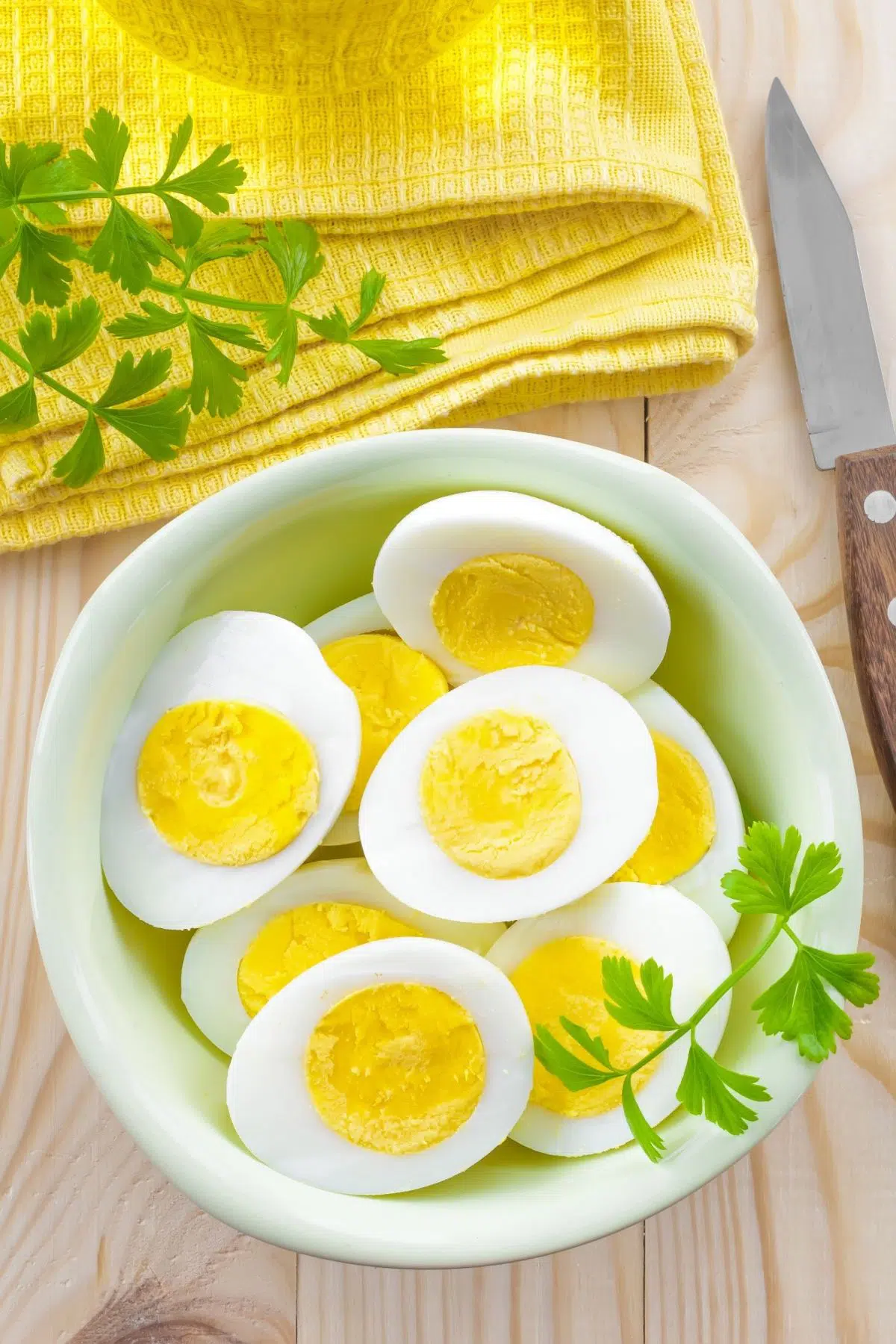 Thought hard-boiled eggs were just for breakfast? Think again.
They're convenient and easy to pack on the go. Just place one in your lunch bag, and add an ice pack like this.
That's so your hard-boiled eggs stay cold and safe to eat.
One large hard-boiled egg contains 78 calories. And they're an excellent budget-friendly source of protein.
They also contain choline. This is an essential nutrient that many people don't get enough of.
Choline is vital for your heart. And it helps boost your metabolism too.
If you can, choose pastured eggs. That's because they are more nutritious than conventional eggs.
Specifically, they contain more Vitamin A, E, and omega-3s. They also have less saturated fat.
Now it can be a hassle to make hard-boiled eggs on the stovetop. However, using an egg cooker can make it that much easier.
I recommend this egg maker here. It has an auto-shut-off function that prevents overcooking.
And it has a buzzer that tells you when your eggs are ready.
14. Kale Chips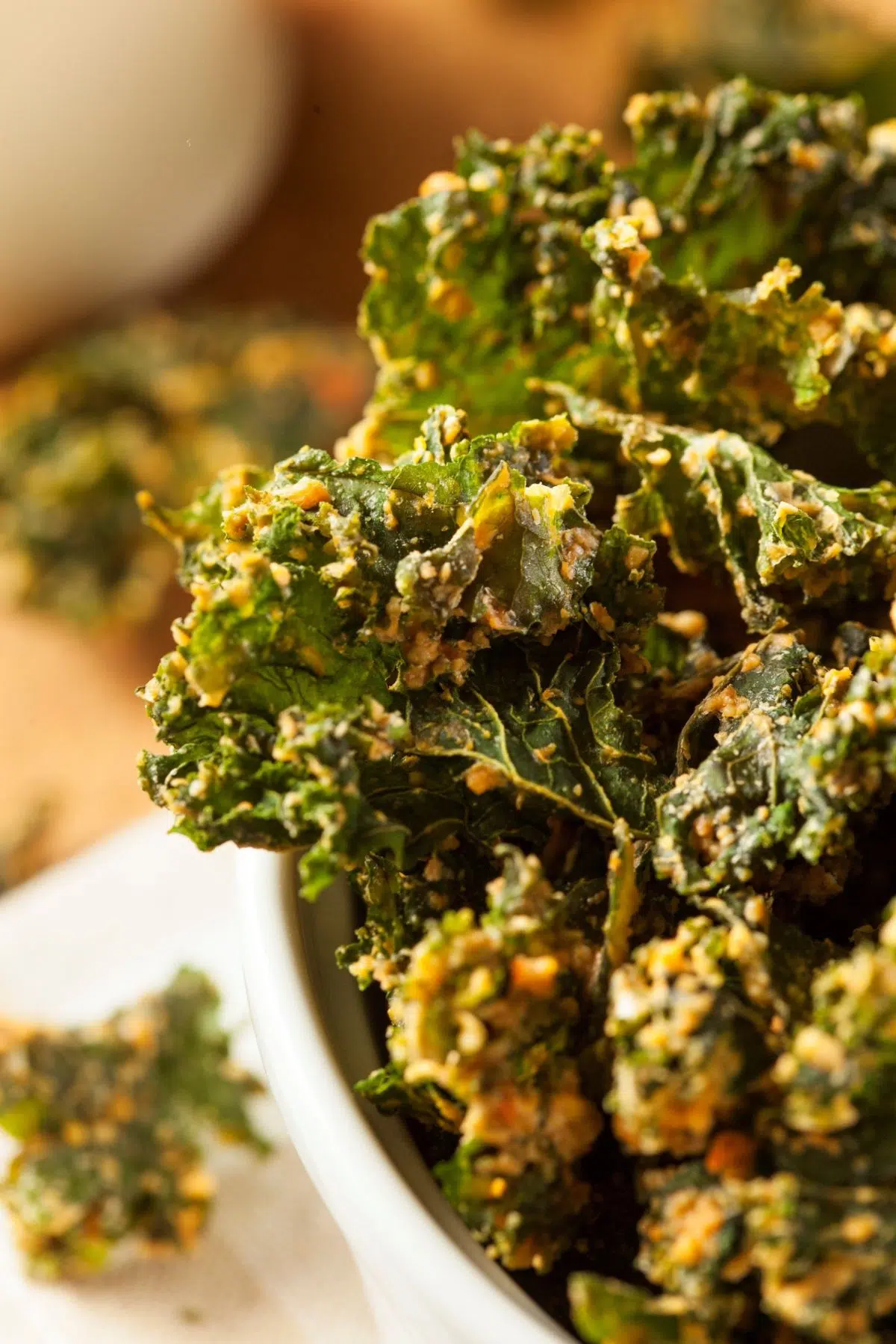 Don't like the taste of raw kale? Have some kale chips instead.
You get all the goodness of kale but in a yummier form.
You can make your kale chips from scratch. Or, for extra convenience, you can buy prepackaged kale chips like these.
One serving contains only 130 calories.
And they come in different flavors like original or Mango Habanero. Perfect if you like your chips spicy.
Want to make your kale chips yourself? You'll need some kale, olive oil, and salt.
Then you can make your kale chips in the oven or air fryer.
Using an air fryer is preferable. That's because it takes less time.
And your kale chips will come out crispier. You may even be able to get away with using less oil.
And using less oil means fewer calories.
Looking for an air fryer? You can get a good air fryer at a reasonable price here.
15. Green Smoothie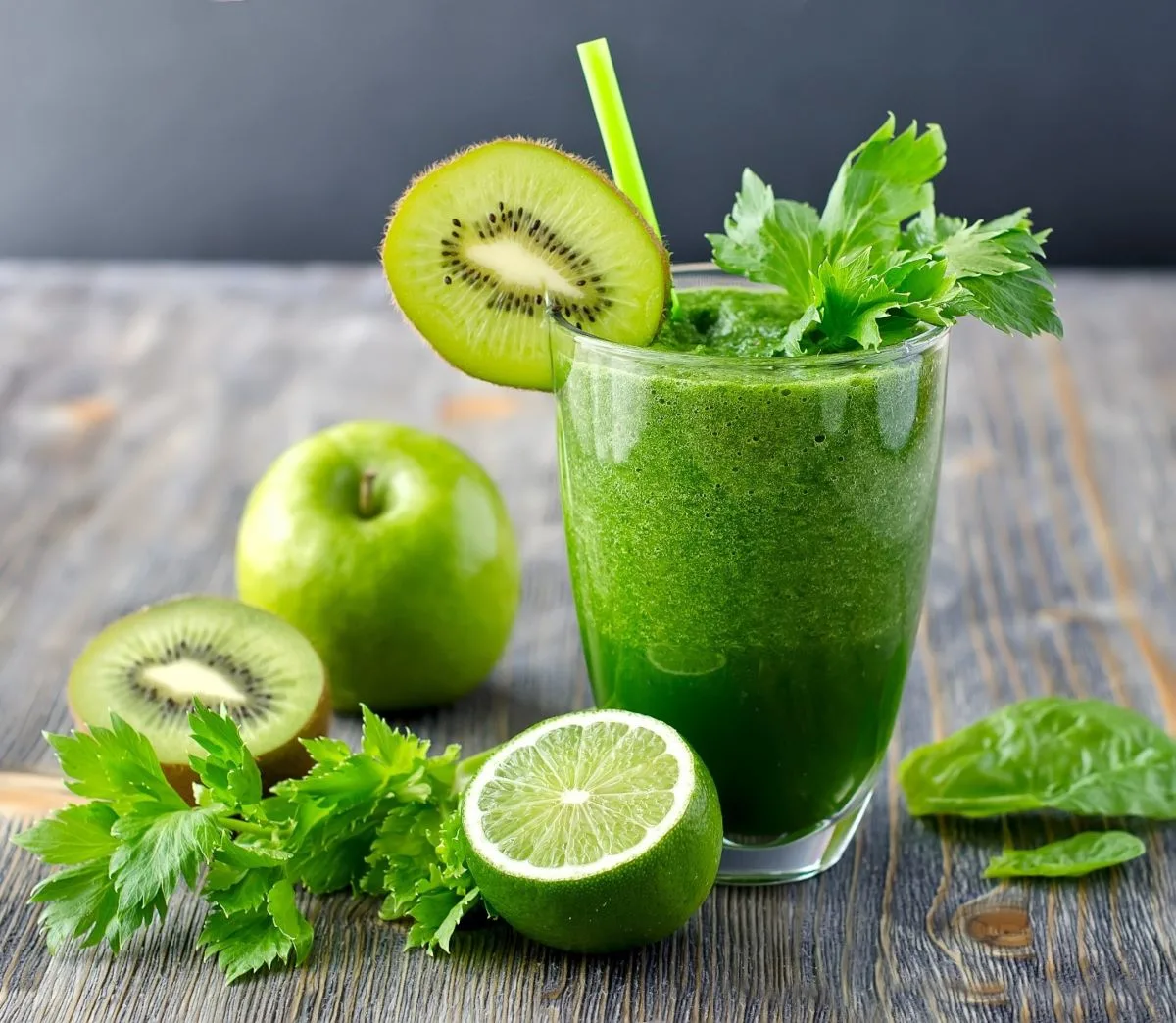 Looking for another yummy way to get your greens? Try this green smoothie.
One serving contains just 98 calories. And it has a lot of Vitamins A and C.
Best of all, it's creamy and delicious. That's because of the sweetness of the mango.
To make it, you'll need water, frozen mango, spinach, and kale. Place your ingredients in a high-speed blender.
Then blend until smooth.
To carry your smoothie on the go, make sure you use a good smoothie cup. This smoothie cup is eco-friendly and leak-proof.
It's also quite pretty – perfect for making a fashion statement.
16. Protein Shakes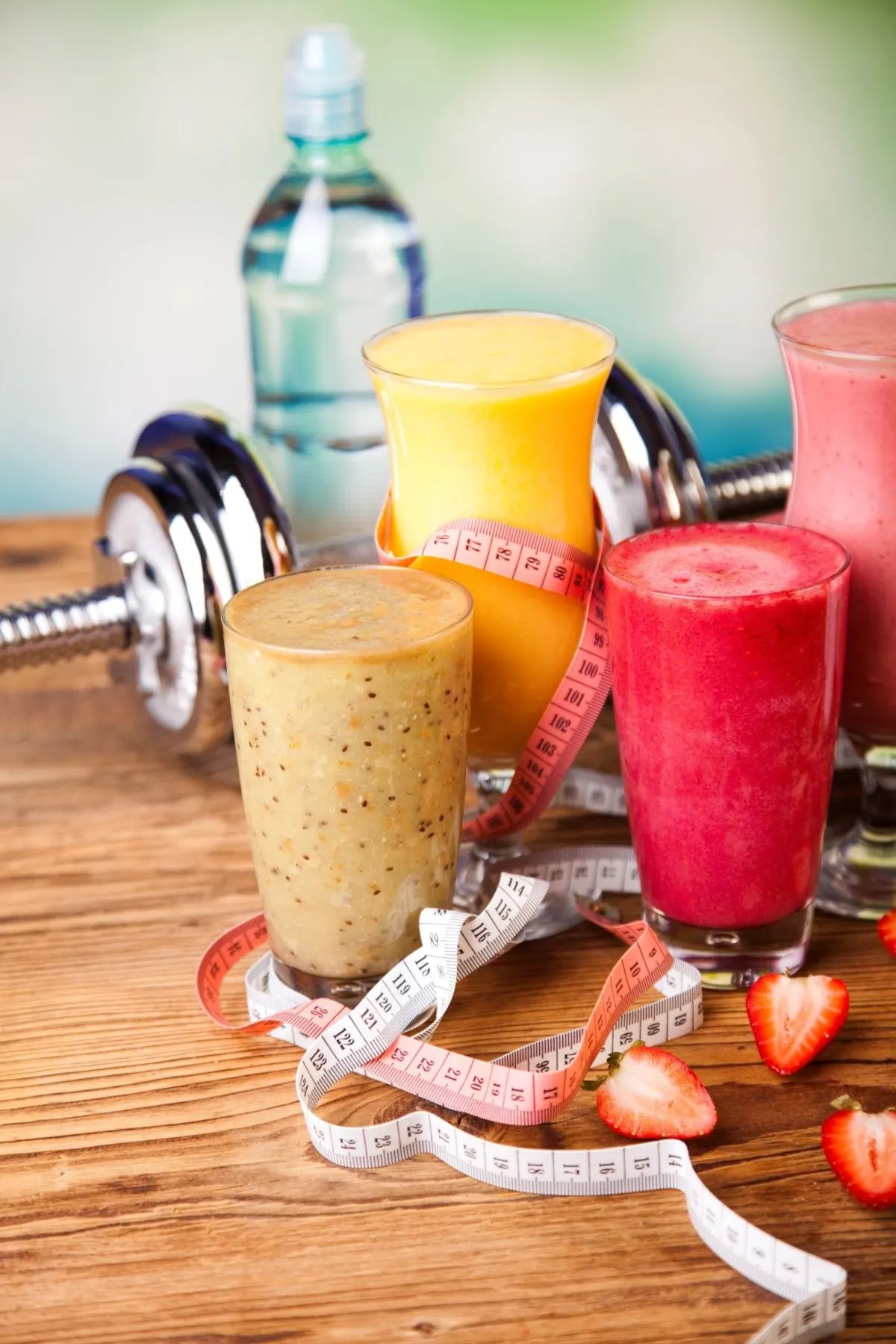 Do you work out a lot? Then you know how important protein is.
Protein helps your muscles recover from an intense workout. And it's great for losing weight and bulking up.
Powdered protein shakes are an easy way to get your protein on the go. Just add a scoop of protein powder to some water.
Now some protein powders have a ton of sugar. That's to make the shakes taste more like milkshakes.
This vegan protein powder contains zero grams of sugar per serving. And it has only 110 calories.
As an added bonus, it contains only one gram of net carbs. So it's perfect for low-carbers.
17. Low Fat Chocolate Milk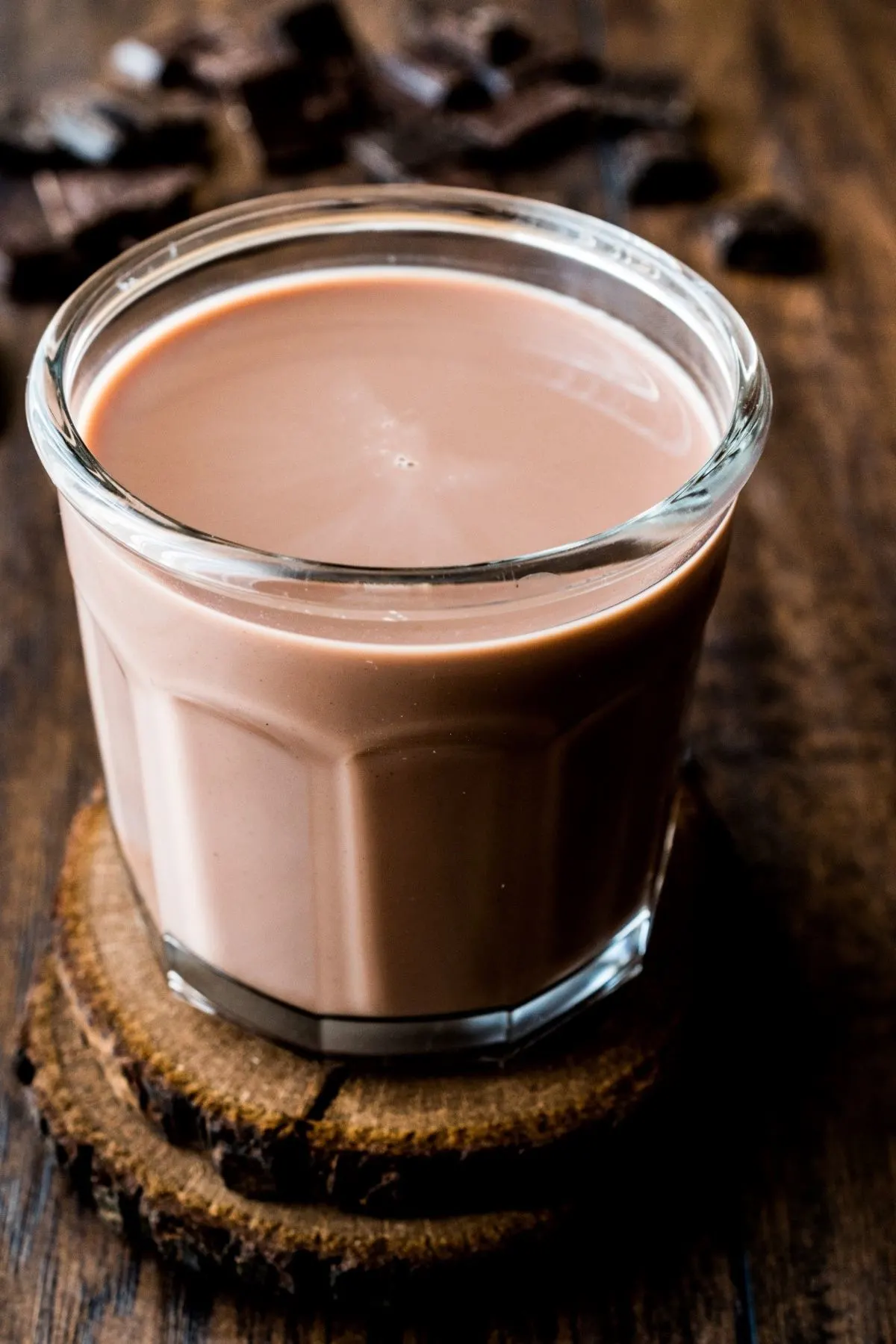 Looking for another good post-workout snack? Try some Low Fat Chocolate milk.
Besides being tasty, it's full of nutrition. One cup contains 157 calories.
And it's packed with protein. It also provides close to 30% of your calcium and phosphorus needs.
So, it's good for your bones.
You can also use chocolate milk to make fudgesicles. Just pour your chocolate milk into popsicle molds.
These popsicle molds here are BPA-free. So you're not worrying about nasty chemicals.
Place your popsicle molds in the freezer for 5 hours. Then enjoy a tasty treat.
18. Baked Tortilla Chips and Salsa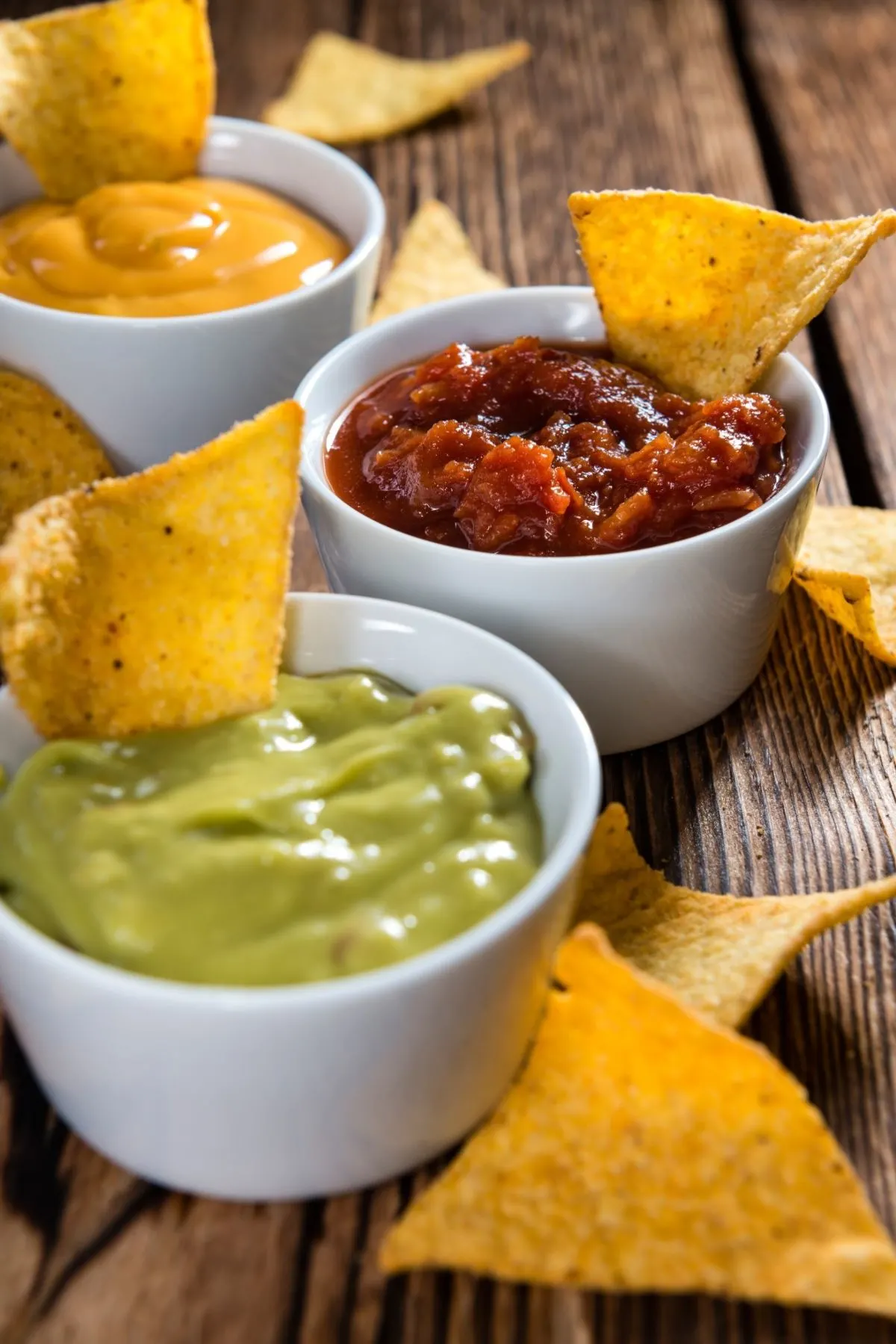 Craving some Mexican eats? Have some Baked Tortilla Chips and Salsa.
A serving of ten baked tortilla chips contains 75 calories. Meanwhile, a ½ cup serving of salsa contains 20 calories.
Now store-bought salsa can be pretty high in sodium. A ½ cup serving can provide 60% of your daily sodium needs.
So be sure to read the nutrition labels when choosing salsa. This low-sodium salsa would be a better option.
It provides about 70% less sodium than traditional salsa.
19. Tuna Salad and Cracker Snack Kits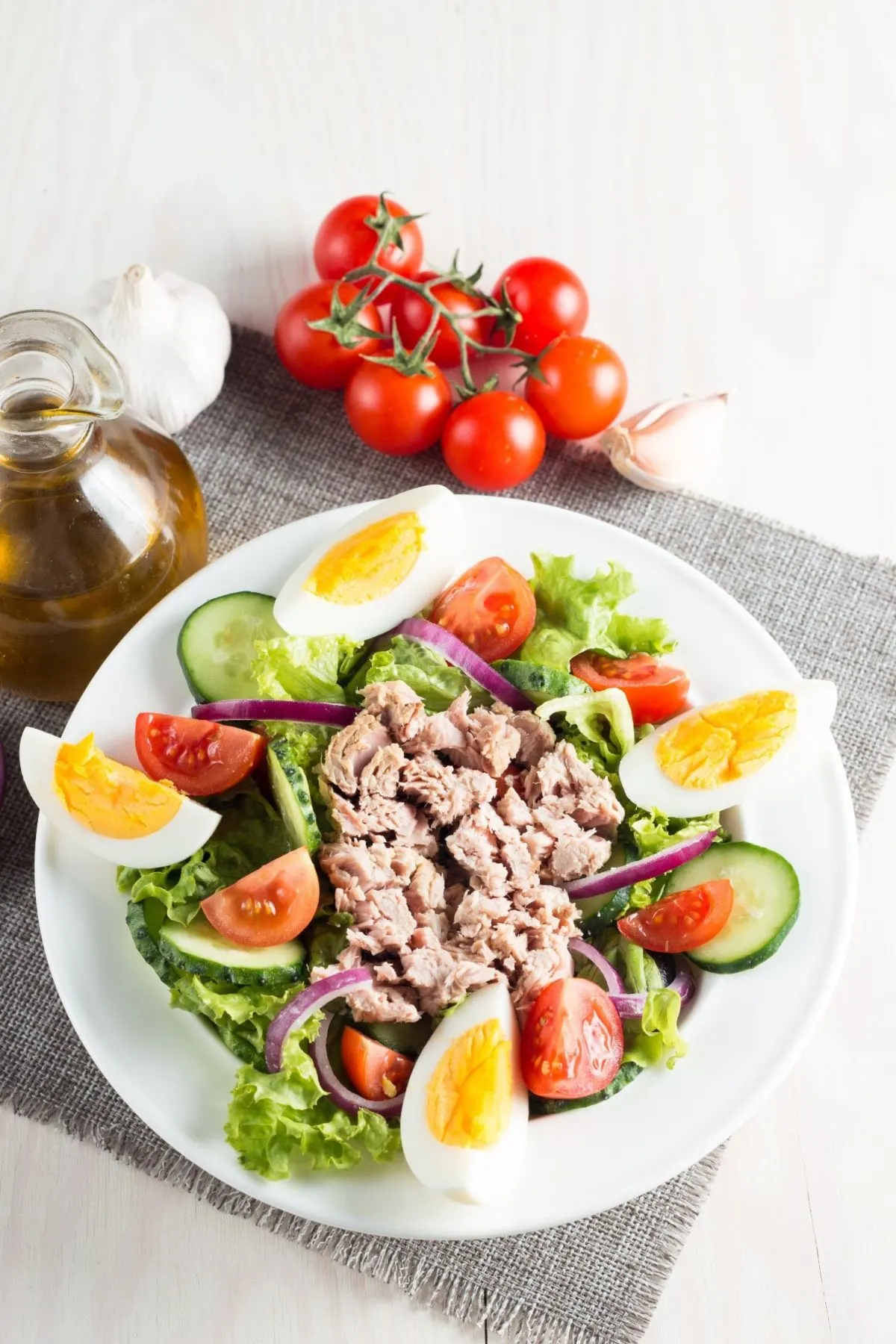 Need a snack that will boost your brain function? Have some tuna salad.
Tuna is full of omega-3s. Omega-3s boost your brain and memory.
Tuna is also good for your heart. It's also full of hunger-killing protein. Yay!
Pair your tuna salad with some crackers – and you've got one pretty yummy snack.
In the past, you would have to make the tuna salad yourself.
However, many tuna makers now have pre-made kits. This makes these snacks easy to tote along.
One such tuna maker is Bumble Bee. They have a variety of Tuna Salad Kits.
They're made with wild-caught tuna. So, it's better for the environment.
Most of the kits do contain anywhere from 240 to 330 calories. However, their Fat-Free Tuna Salad Kit here contains 150 calories.
20. Organic Roasted Seaweed Snacks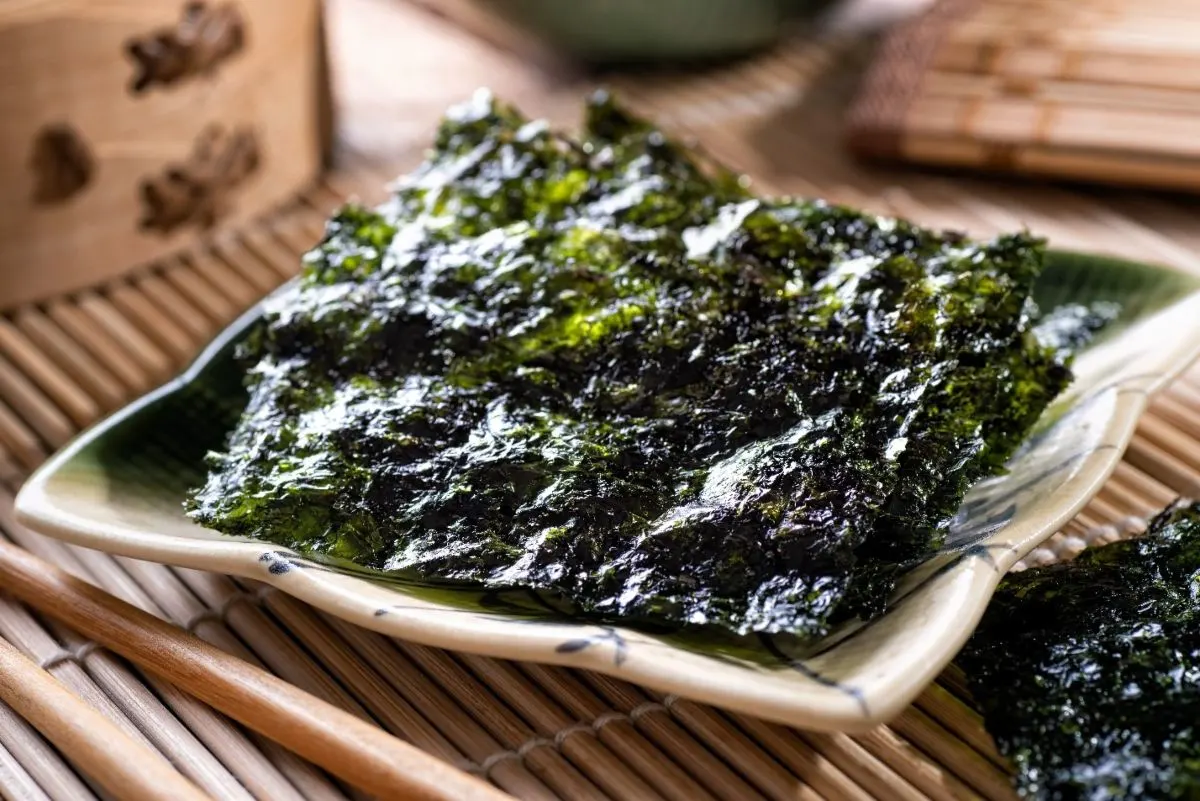 Need a vegan alternative to seafood? Try these roasted seaweed snacks.
They have that taste of the ocean you crave. And they contain only 25 calories per pack.
Besides being tasty, they're also nutritious. They are rich in omega-3s and iodine.
Iodine is essential for the thyroid gland. Iodine may also help with your immune response.
Besides being vegan-friendly, these snacks are keto-friendly and gluten-free. So they suit various diets.
You can get them in a variety of flavors. These include sea salt, Teriyaki, and Wasabi.
Want to give them a try? You can get some seaweed snacks here.
21. Brown Rice Cakes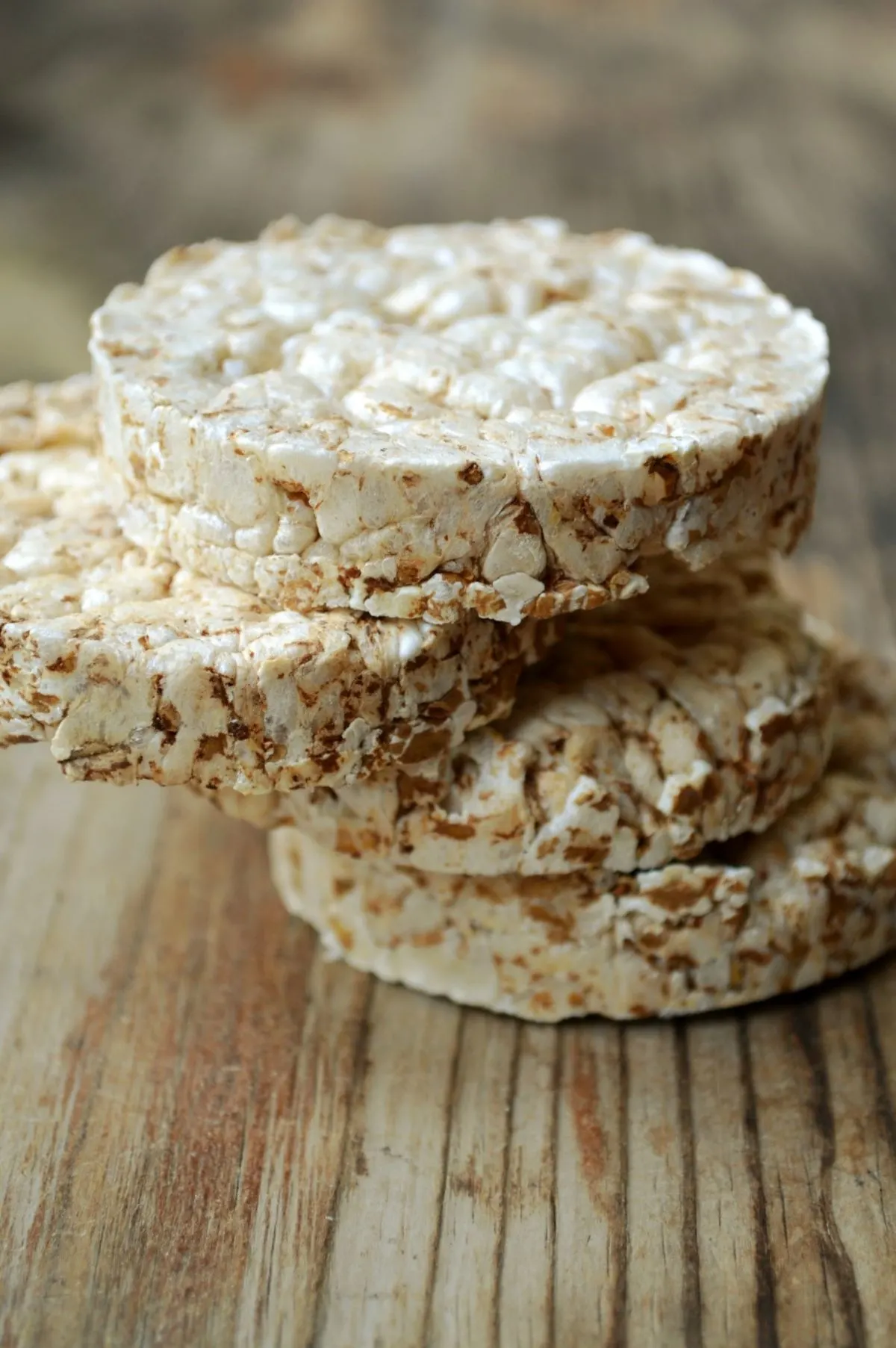 It can be a challenge finding gluten-free snacks on the run. Most of the snacks on the market contain gluten.
Or they can be accidentally contaminated with gluten. So they're a no-go if you have severe gluten allergies/intolerances.
These Brown Rice Cakes are certified gluten-free. So you can be reassured that they contain no gluten.
One rice cake contains just 70 calories. So you can have more than one.
They're crunchy and full of flavor. And they come in both savory and sweet.
So they suit your snacking preferences.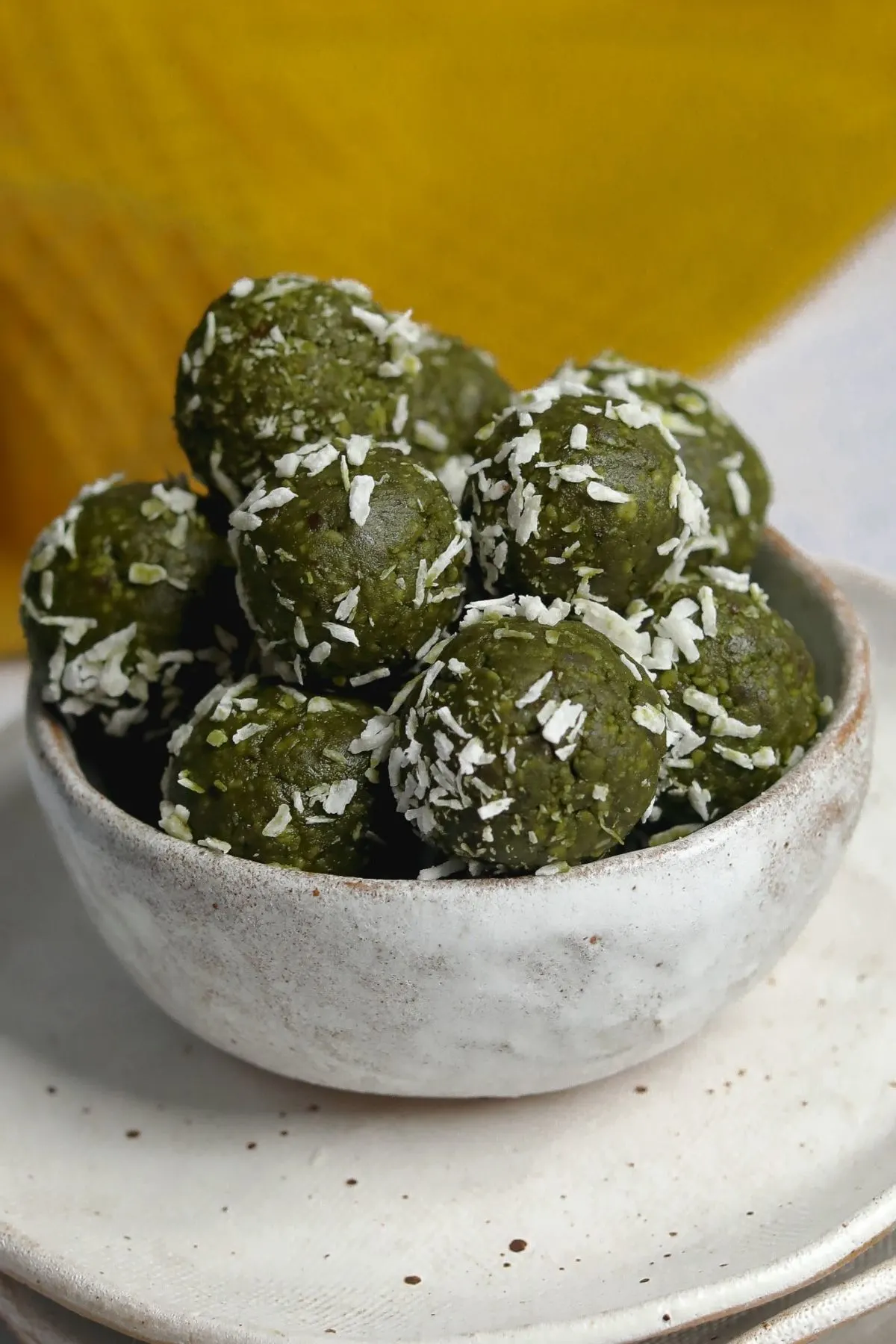 Afternoons at the office can be a train wreck. That's because of the dreaded mid-afternoon slump.
You just feel like sleeping at your desk. Oh no!
That's where my Matcha Energy Balls come in handy. One Energy Ball contains just 40 calories.
And they taste pretty good – if I may say so myself. They're earthy and not too sweet.
And they contain matcha powder. So you have a bit of a caffeine boost.
Matcha powder is also rich in antioxidants that reduce cell damage. If you need to stock up on some, you can get some here.
Making them is pretty straightforward. You'll need cashews, dates, vanilla extract, sea salt, shredded coconut, and matcha powder.
Place your cashews in a food processor. Then pulse until it becomes like flour.
Next, add your dates and process for one minute. Then add the remaining ingredients (minus the shredded coconut).
Pulse until combined. Roll your mixture into small balls and coat in shredded coconut.
Let cool for 2 hours in the fridge.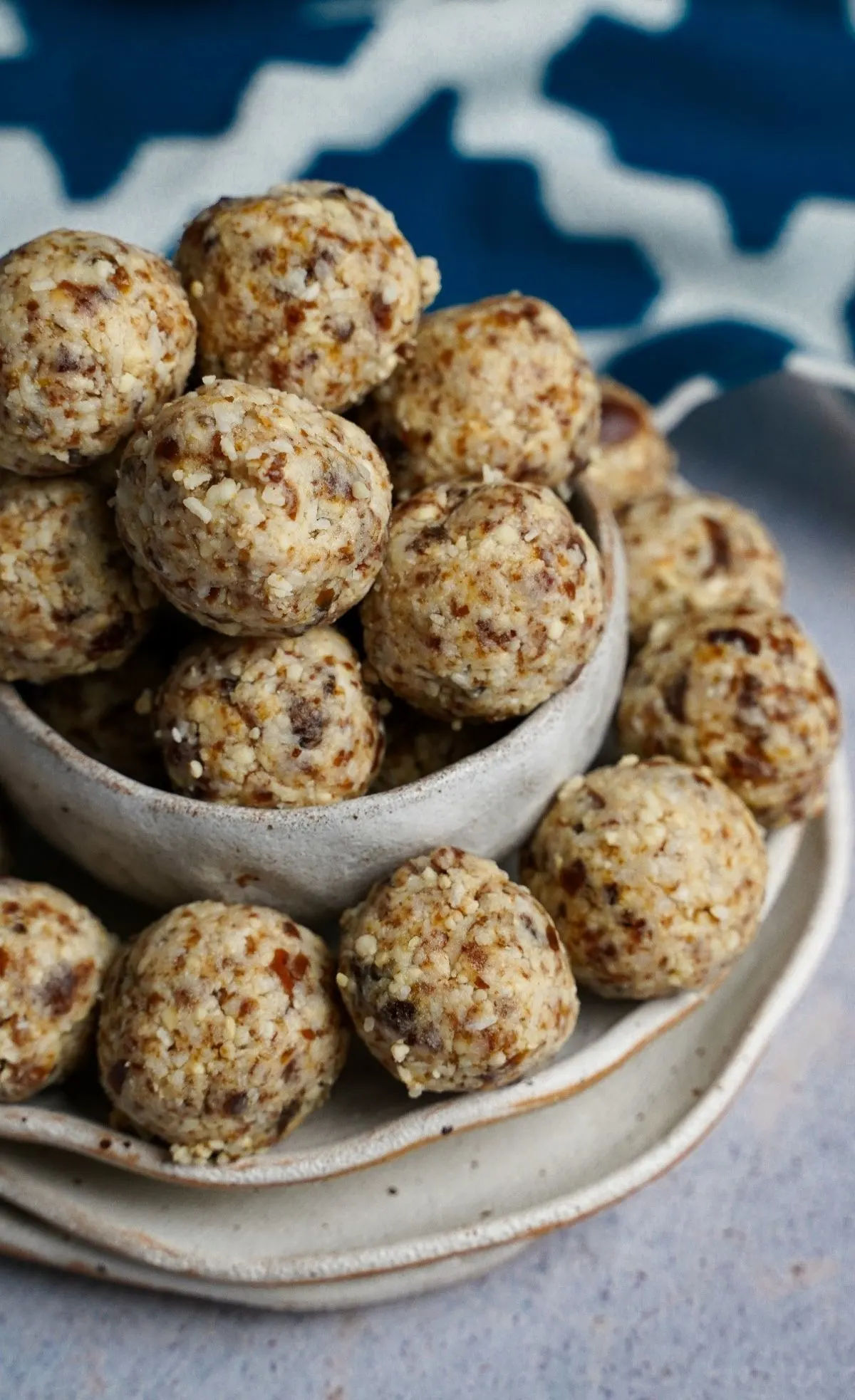 Need some more Energy Balls? Try my 5-Ingredient Cashew Energy Balls.
They contain only 58 calories. And they're sweet and full of nutty goodness. Yum!
What's more, one batch makes 27 energy balls. So they're perfect for meal prep.