On paleo diet and struggling ot keep yourself full when super busy? These paleo snacks are perfect little treats you can have throughout the day and enjoy!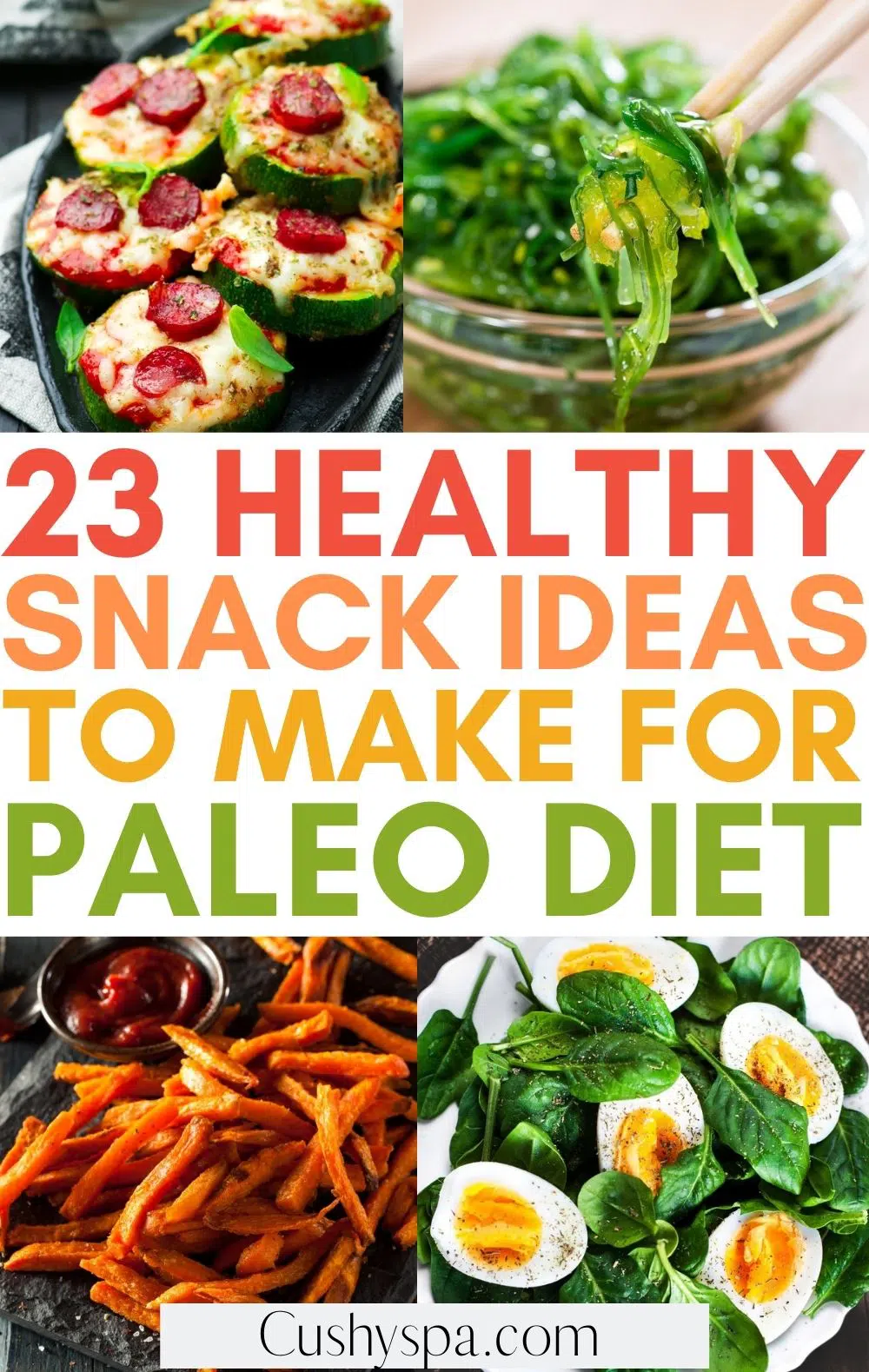 So you're cleaning up your diet – and you're ditching the processed foods and added sugars.
But you've decided to take it one step further. You've decided to go Paleo.
You'll be eating just like our ancestors – back to the basics.
You've got your Paleo breakfasts, lunches, and dinners covered. But snacks are kind of tricky.
After all, you can't have grains, dairy, or legumes. So typical snacks like yogurt, crackers, and peanut butter are off-limits.
Don't worry – I've got that figured out for you.
Today I'm sharing 23 Paleo Snacks. Not only are they delicious, but they're good for you too.
So what are you waiting for? Time to get snacking!
1. Meat Jerky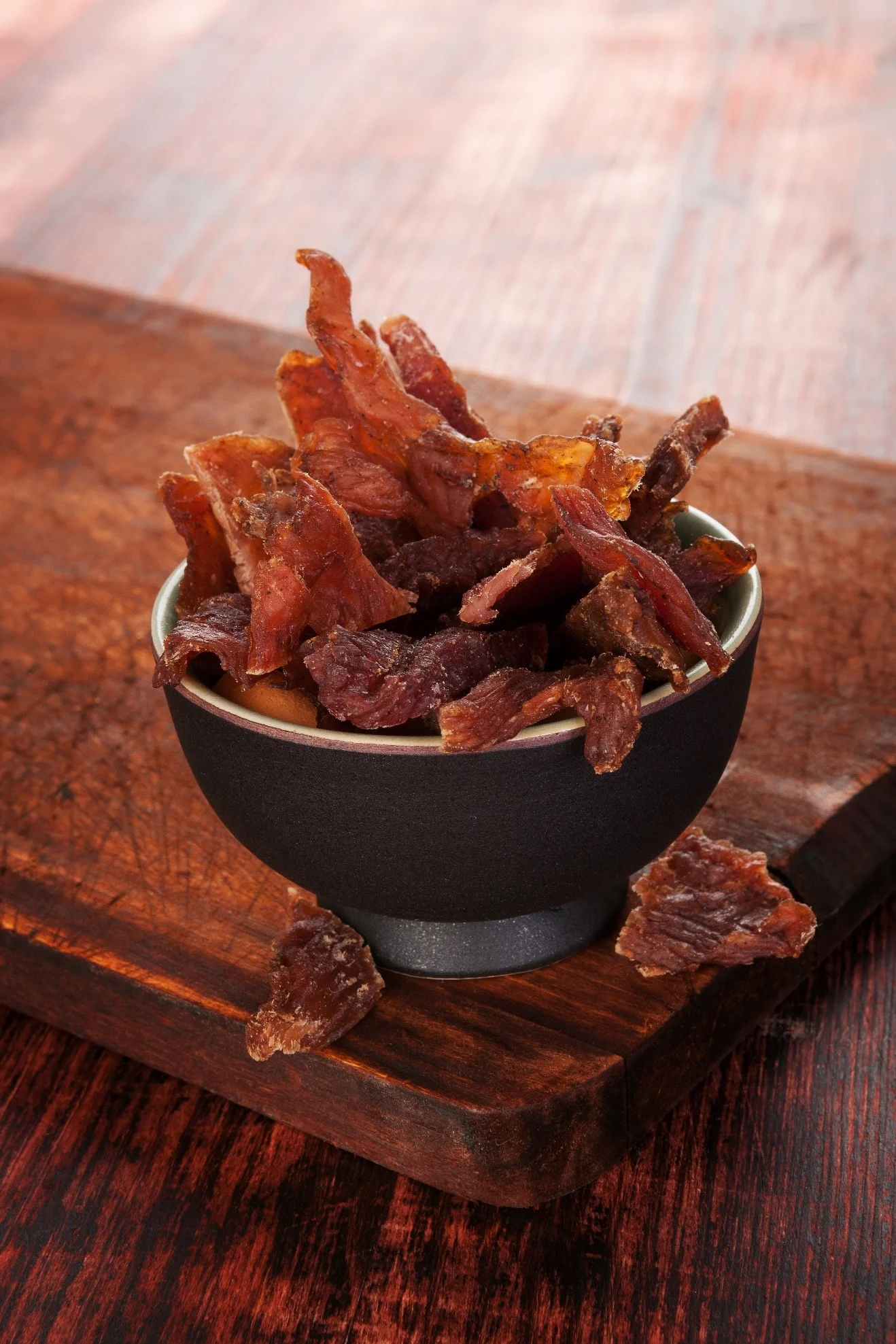 You can't get more caveman or cavewoman than meat. But you can't always whip out a drumstick on the go.
That's where dried meat snacks like meat jerky come in handy. You can grab a couple and put them in your purse.
And you don't need to worry about food safety. That's because Meat Jerky is good at room temperature.
So they're perfect for your busy lifestyle.
Plus, there are so many kinds. You can get beef, turkey, chicken, elk, pork … you name it.
So you won't get bored eating them.
When choosing beef jerky, look for those without added sugar. This one here contains zero sugar.
It also contains no added nitrates. This is also a nice high protein snack.
2. Hard-Boiled Eggs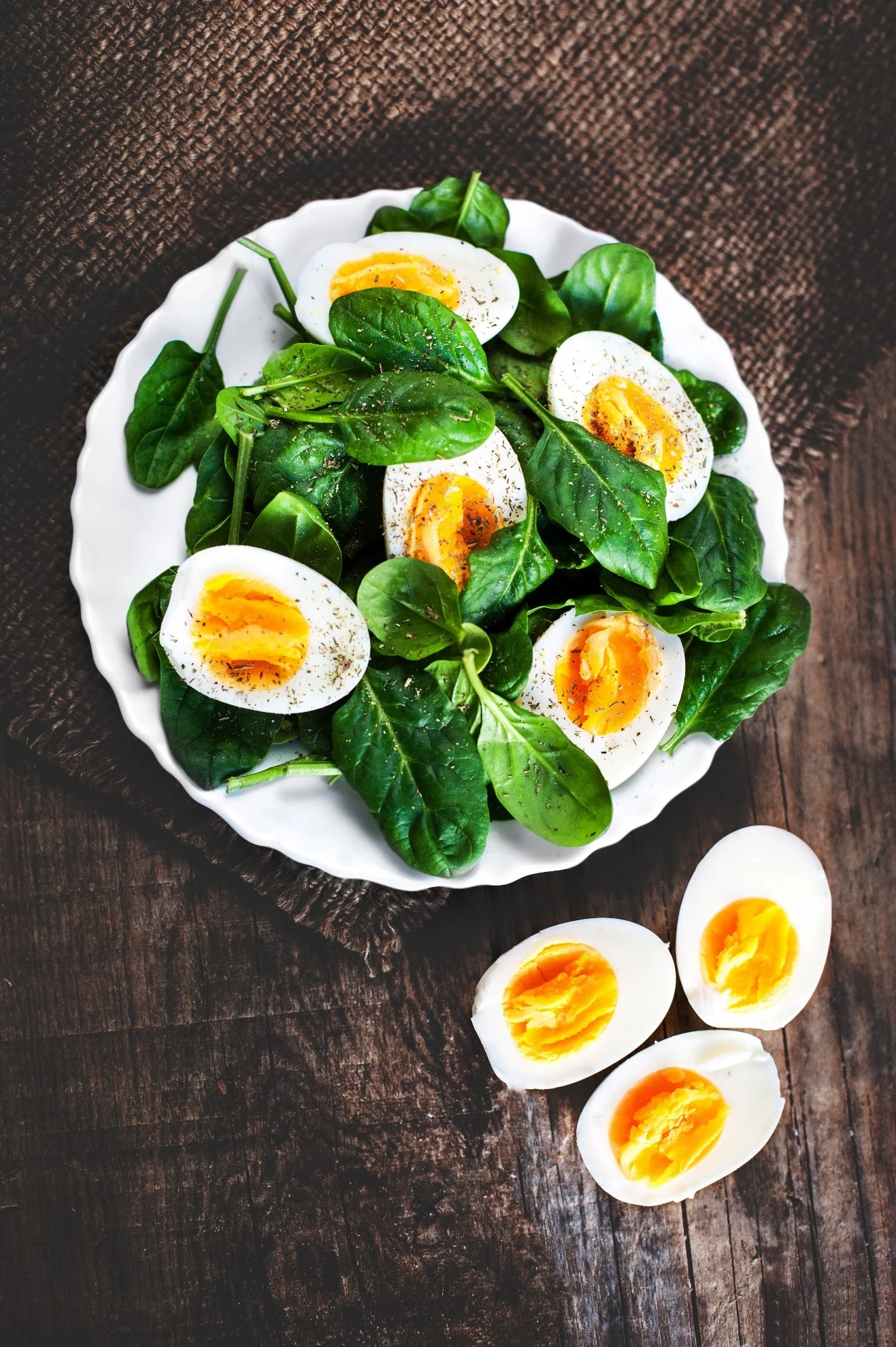 Hard-Boiled Eggs are another easy grab-and-go snack. Not only are they portable, but they're pretty nutritious too.
They're a good budget-friendly source of protein. One large hard-boiled egg contains 6 grams of protein.
Eggs also contain brain-boosting B vitamins. And they contain choline, an essential nutrient most people don't consume enough.
Now it can be hit-and-miss cooking the perfect hard-boiled egg. However, using an egg maker like this takes care of that.
3. Roasted Almonds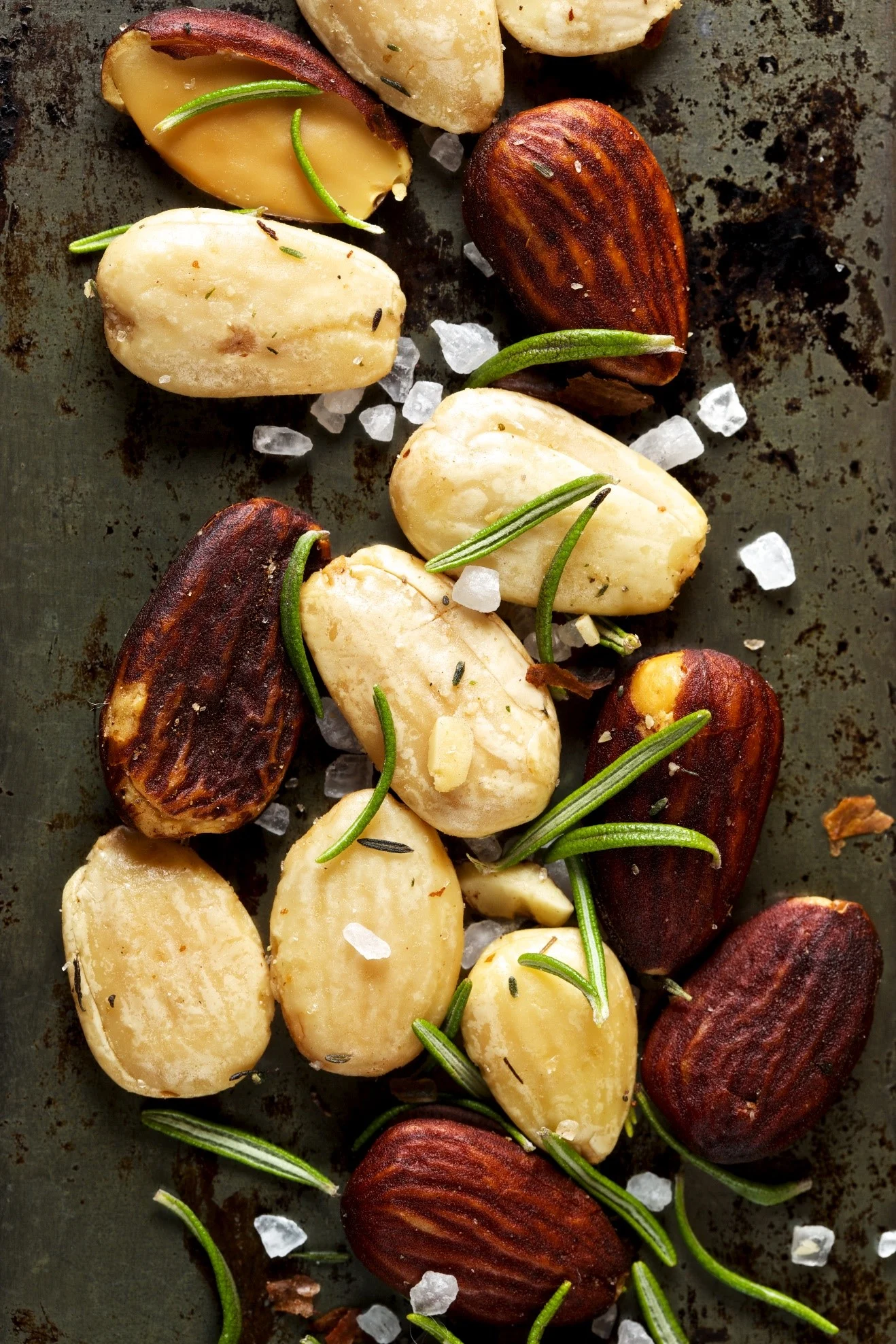 Roasted almonds are great for munching on. Not only are they tasty, but they're healthy too.
A 1-ounce serving contains 6 grams of protein. It also includes tons of heart-healthy fats.
Almonds are also rich in antioxidants and Vitamin E. They're also rich in magnesium, another nutrient many people don't get enough of.
After a while, it can get boring eating plain roasted almonds. But to shake things up a bit, you can spice them up with a seasoning blend.
If you like them spicy, you can season them with Cajun mix. If you want them sweet, you can add cinnamon. Yum!
4. Pumpkin seeds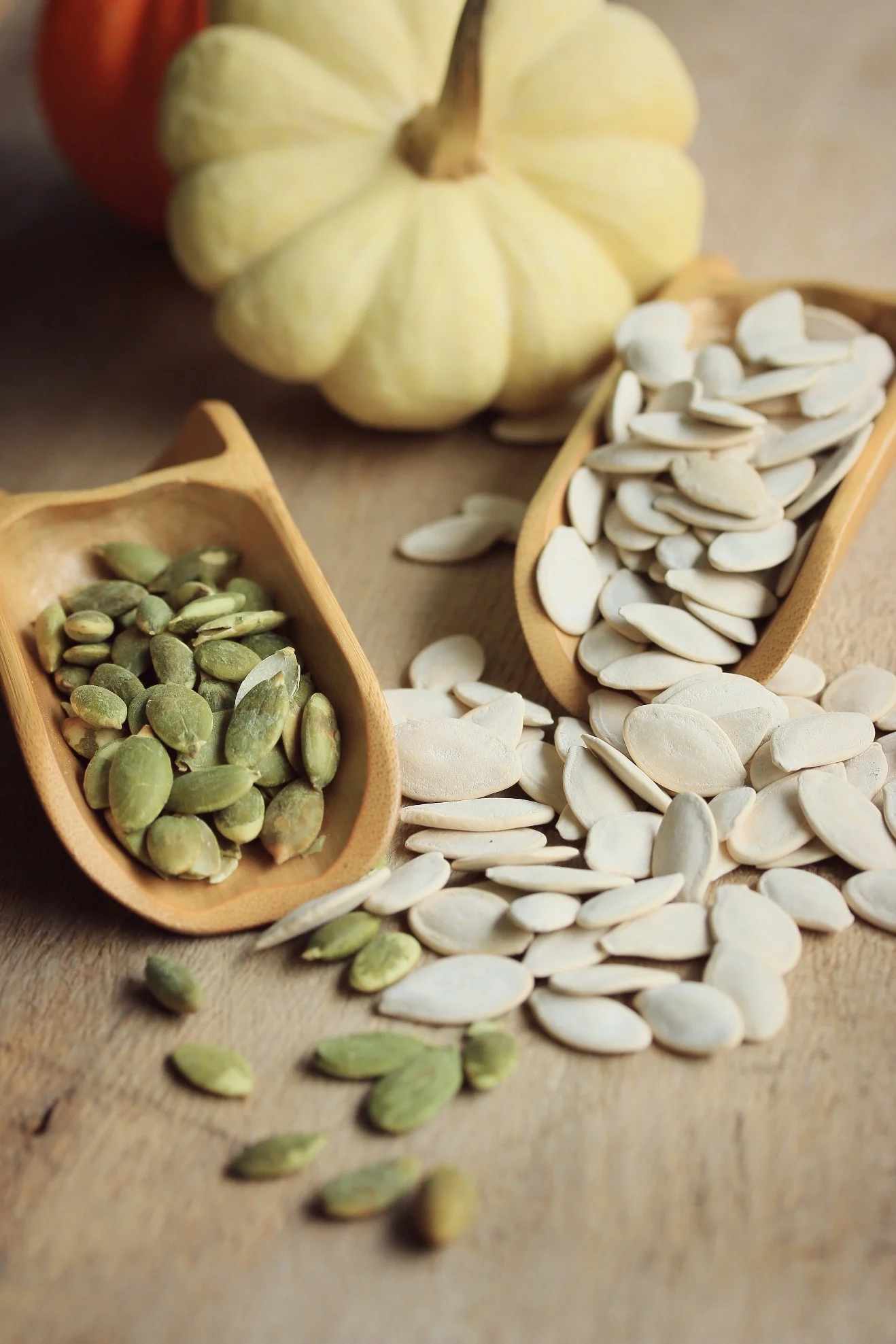 Pumpkin seeds are also perfect for munching on. And they pack a punch of nutrition.
1 1-ounce serving contains 7 grams of protein. And it's surprisingly rich in bone-building minerals.
It provides more than 30% of your daily magnesium and phosphorus needs. And it offers more than 40% of your daily manganese needs. Yay!
Besides eating them as is, you can use them to top your salads. You can also put them in smoothies.
If you're running low on pumpkin seeds, you can get some unsalted organic pumpkin seeds here.
5. Trail Mix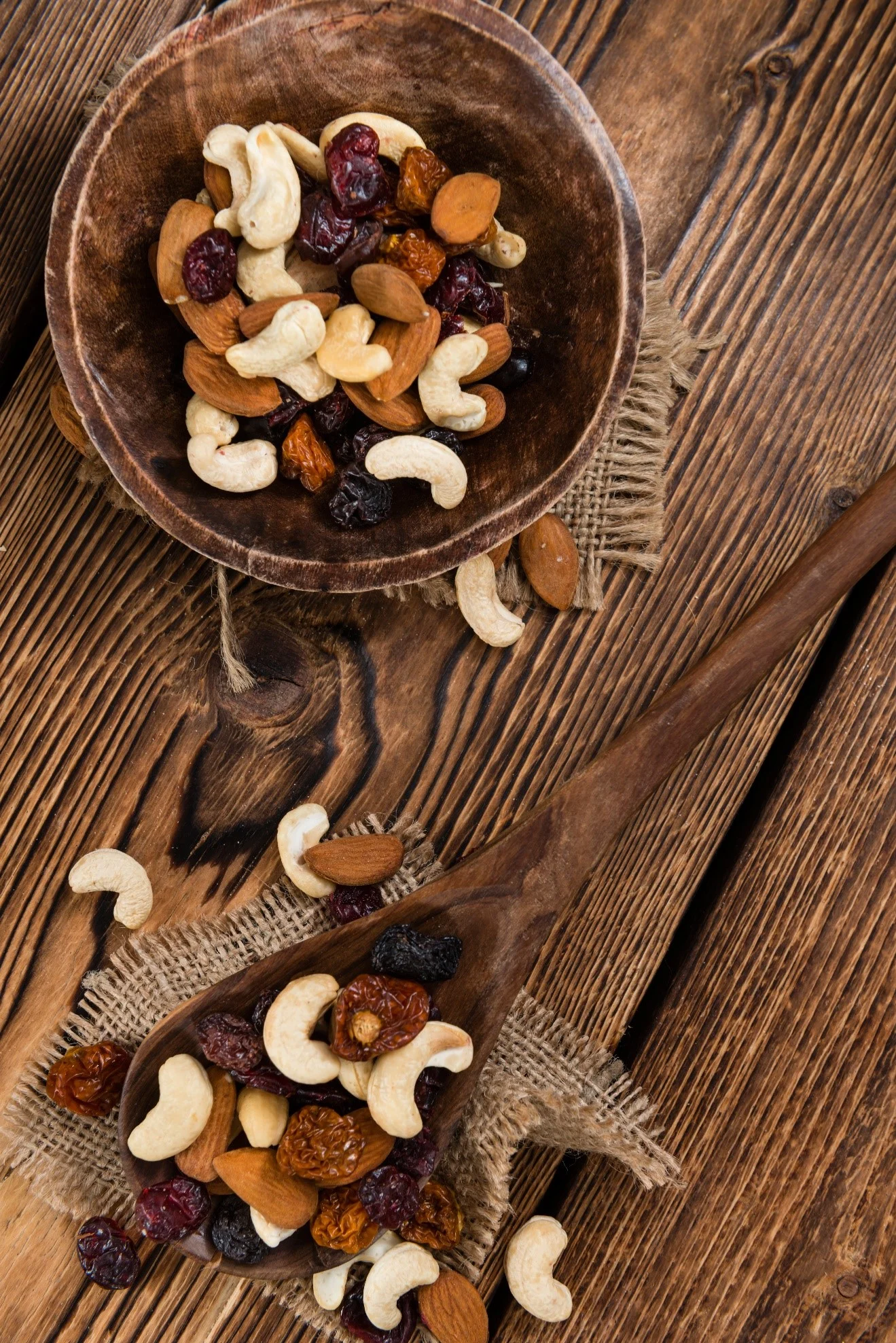 Sometimes, you don't want to eat nuts and seeds on their own. You want a buffet of them.
So, you can make your own trail mix. And you can customize it to your taste preferences.
Just mix together your favorite nuts, seeds, and dried fruit. Some of the most nutritious dried fruits include pomegranate, cherries, Goji berries, strawberries, and blueberries.
Just be sure to read the label of your dried fruits. You want to use no-added-sugar dried fruit like this.
6. Seaweed Snacks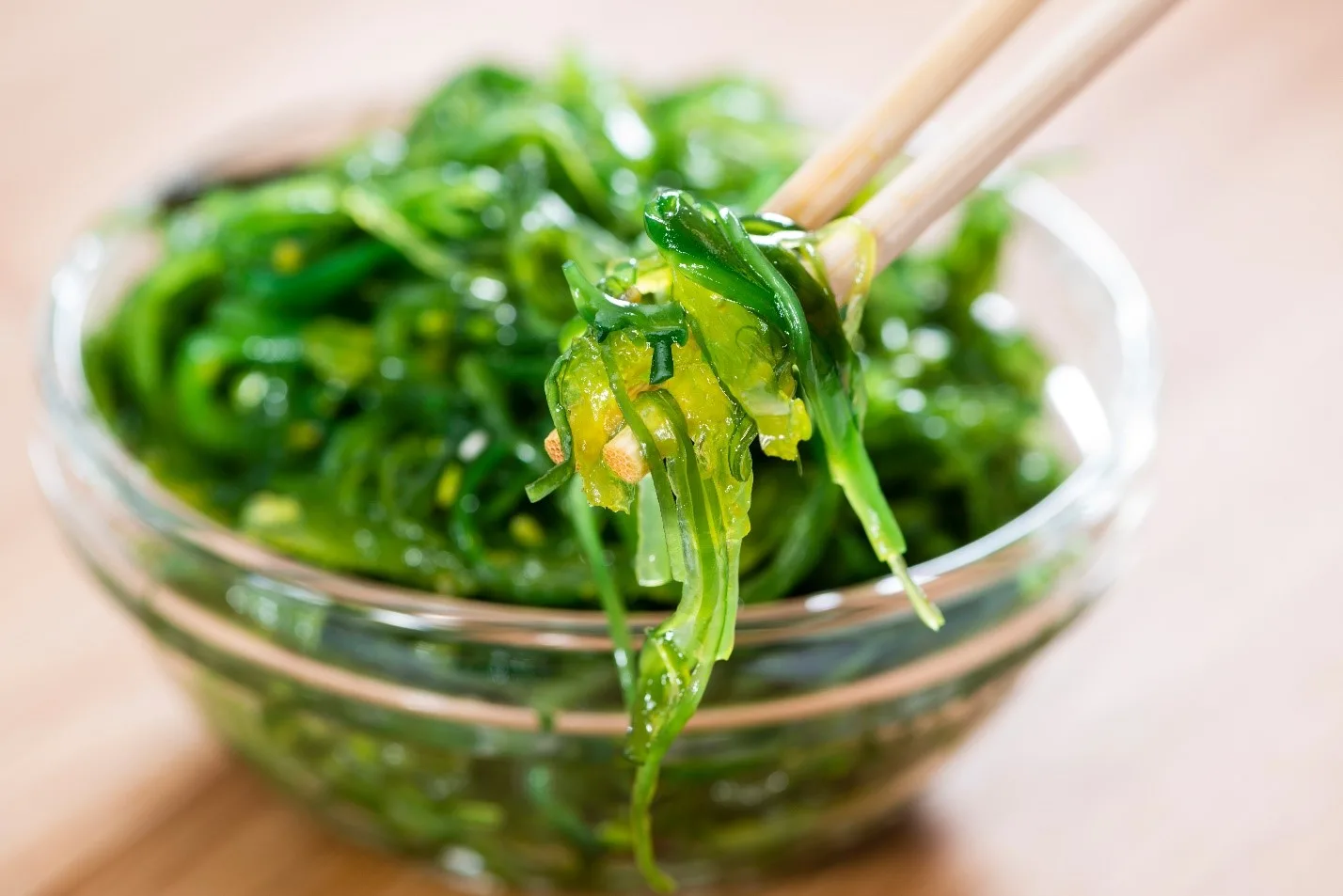 Potato chips are typical snack food. But they're a big No-No on the Paleo diet.
That's because they're highly processed.
Seaweed Snacks are a great alternative to potato chips. You satisfy that craving for crunchiness and saltiness.
And you get tons of nutrients as well. Seaweed snacks are chock full of heart-healthy omega-3s.
And they're low in calories. So you can snack on them to your heart's delight.
On the downside, seaweed snacks can contain toxic heavy metals. And if you eat a lot of seaweed snacks, these can accumulate in your body over time.
So, it's best to buy organic seaweed snacks like this. That's because they're less likely to have significant amounts of heavy metals.
Seaweed is a superfood to boost your healthy diet as well!
7. Kale Chips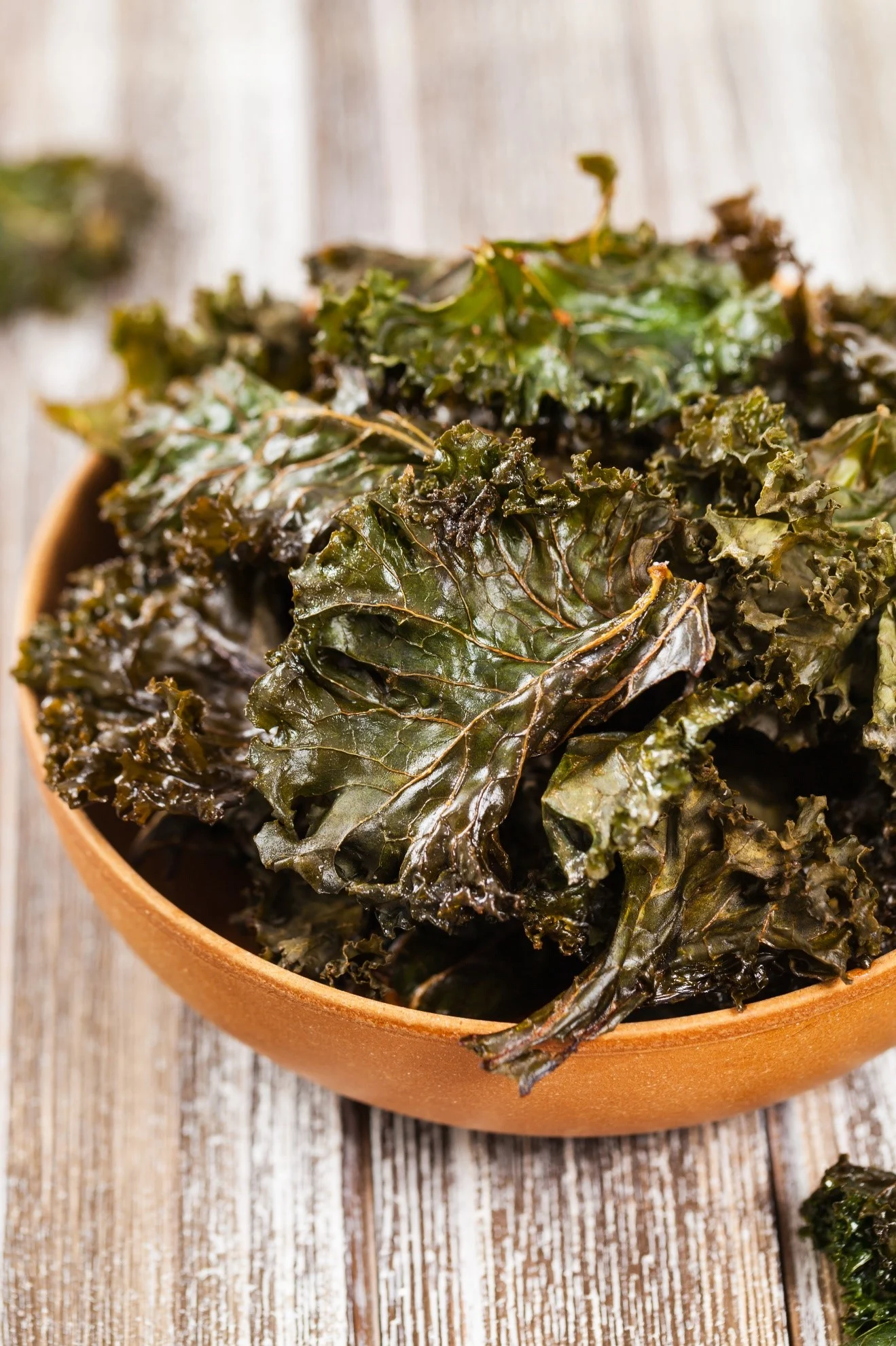 Kale Chips are another excellent alternative to potato chips. They can be just as addictive – but they're better for you too.
Making Kale Chip is relatively easy too. Just toss dry kale leaves with olive oil and salt.
Then bake in the oven at 350 degrees Fahrenheit for 10 to 15 minutes.
And there are so many seasonings you can use besides salt. You can use garlic powder, smoked paprika, chili powder, or even cayenne powder – the possibilities are endless.
Kale chips are amazing low calorie snacks!
8. Pork Rinds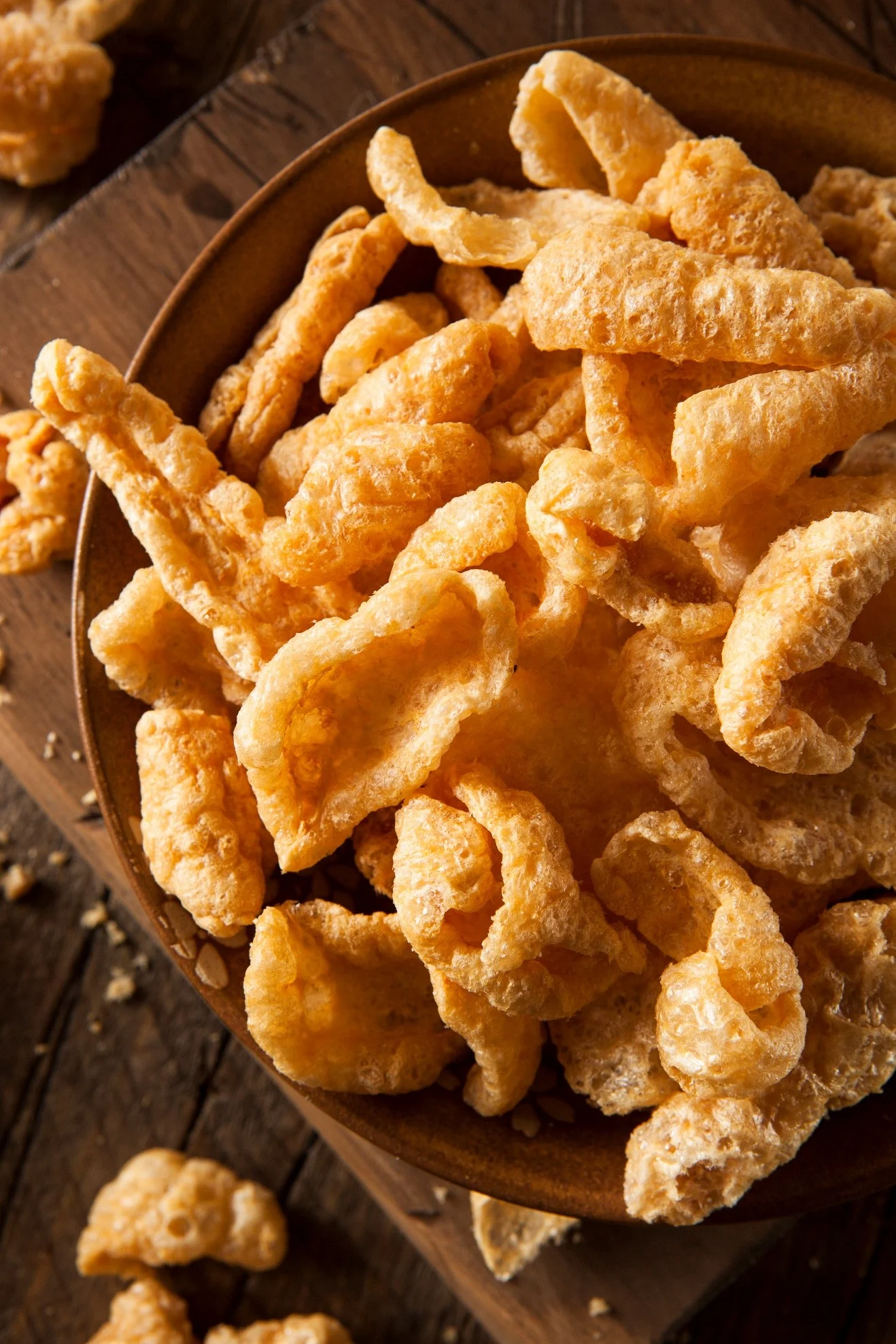 Pork Rinds are a terrific alternative to potato chips. They're crunchy and tasty – I dare you to eat just one Pork rind!
Good thing they're rich in protein. In fact, a 2 oz. serving contains 35 grams of protein.
The downside is that they contain a lot of sodium. So you may want to watch your serving size.
Need to stock up on some Pork Rinds? You can get some Pork Rinds here.
9. Sunflower Seed Butter and Apple Slices
Peanut Butter and Apple Slices are a classic snack combo. But peanut butter is in the no-go zone when it comes to Paleo.
However, Sunflower Seed Butter makes a great replacement. It's creamy and quite nutritious.
One tablespoon provides 2.8 grams of protein. And it's packed with heart-healthy fats.
In terms of taste, it has an earthy, roasted flavor. And it can be a bit bitter on its own.
That's why many brands add sugar to it. So make sure you choose unsweetened sunflower seed butter like this.
Still missing the sweetness of peanut butter. You can add unsweetened coconut to your sunflower seed butter/apple combination.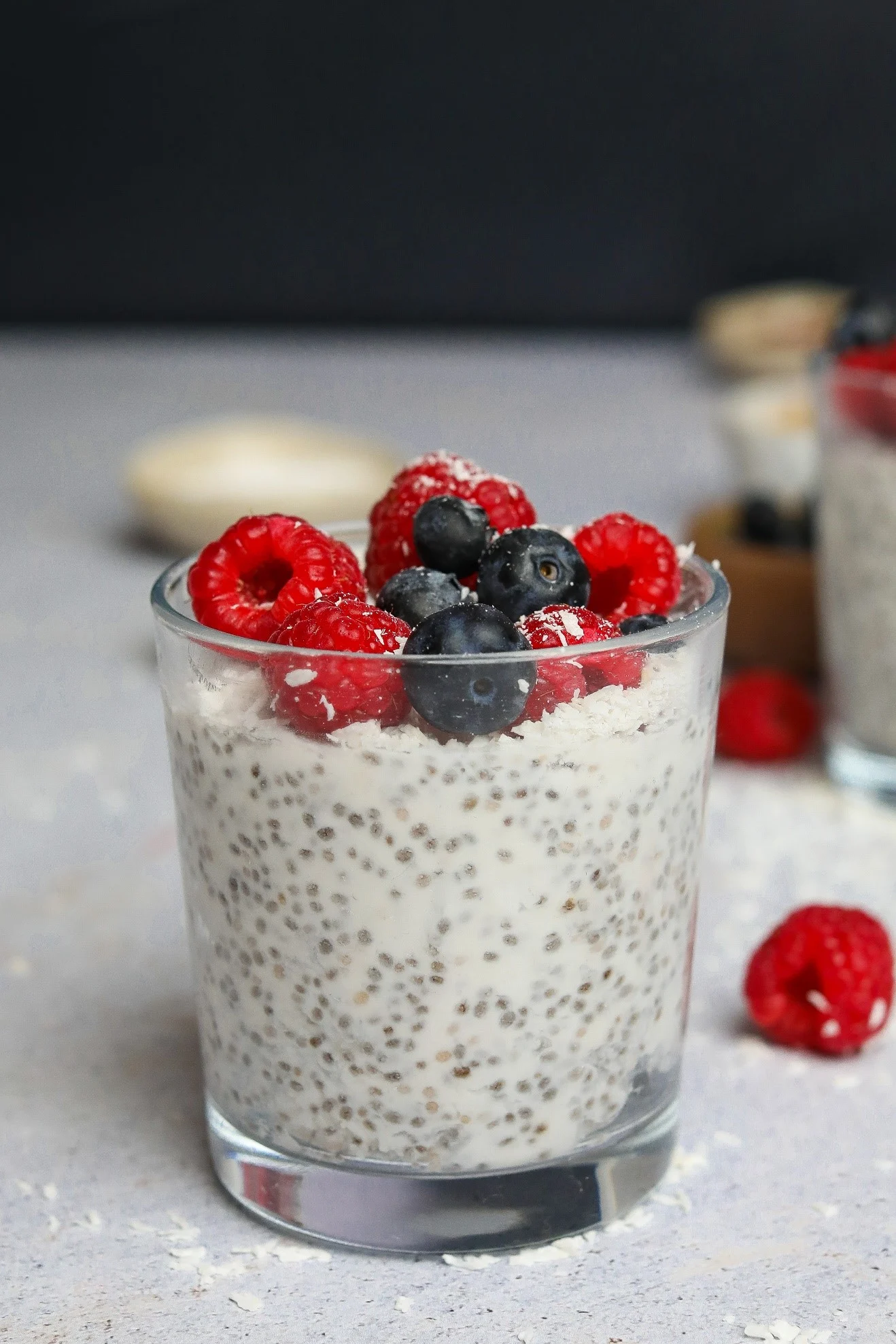 Chia Pudding is great not just for breakfast but for a snack. After all, what's not to love about the creamy, deliciousness of Chia pudding?
What's more, chia seeds are good for you too. They're a good source of plant-based omega-3s and protein.
Chia seeds may also help you lose weight. That's because they have lots of filling fiber.
To make this pudding, you'll need just 4 ingredients. These are honey, paleo-friendly vanilla extract, full-fat canned coconut milk, and chia seeds which you can get right here.
Place your coconut milk in a bow. Then add honey and vanilla extract, mixing well.
Finally, add the chia seeds, mixing well. Chill in the fridge for an hour or overnight.
11. Paleo-Friendly Protein Bars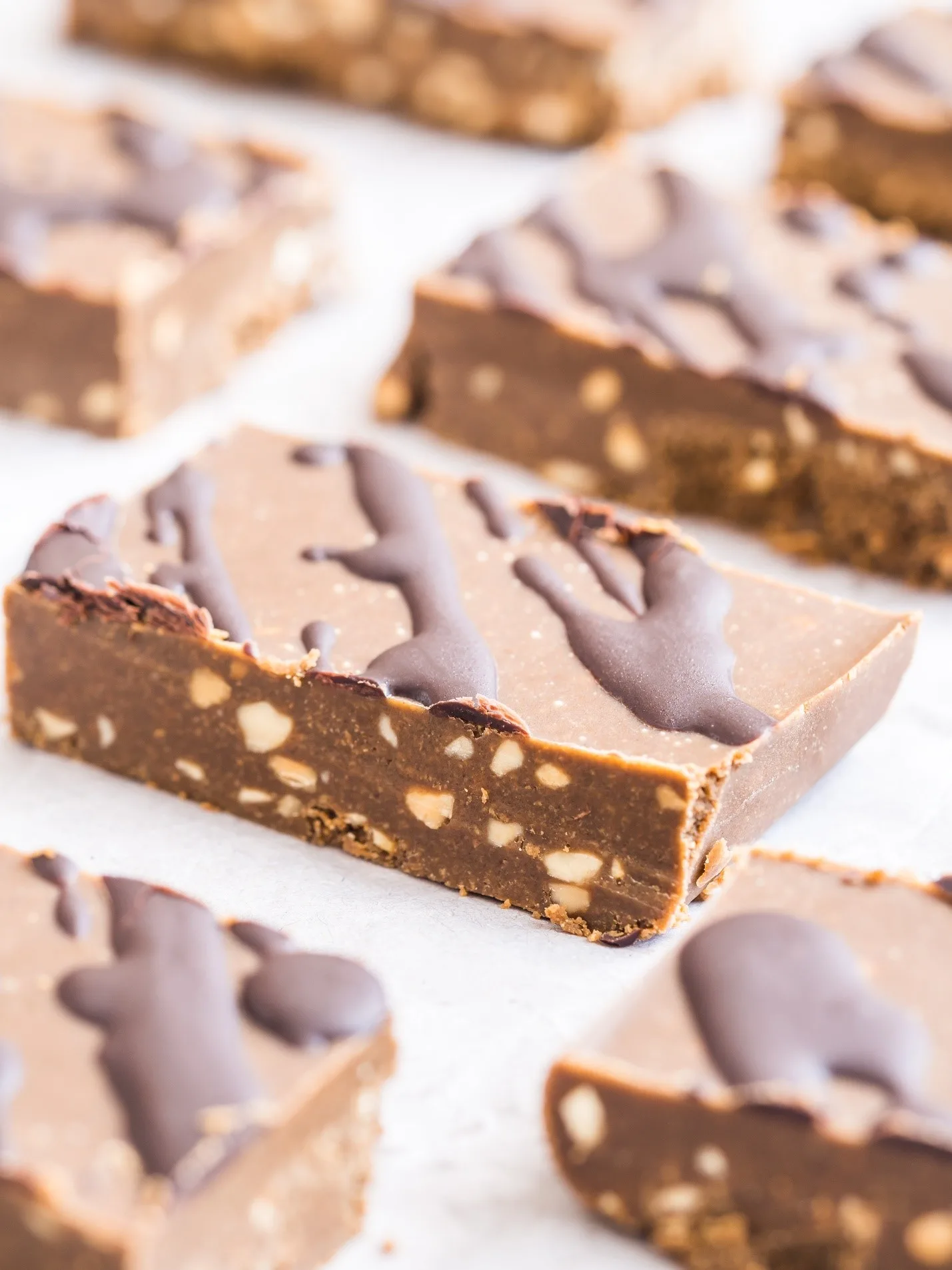 Working out really does a number on your muscles. So you need protein to rebuild them.
Protein Bars are an easy, convenient post-work-out snack. Just pack some in your gym bag – and you're good to go.
But many commercial Protein Bars contain ingredients that aren't Paleo friendly. So you need to be careful which ones you get.
I recommend these Caveman Foods Collagen Protein Bars. They're nutty and chocolatey.
So, they taste like a treat.
12. Bananas and almond butter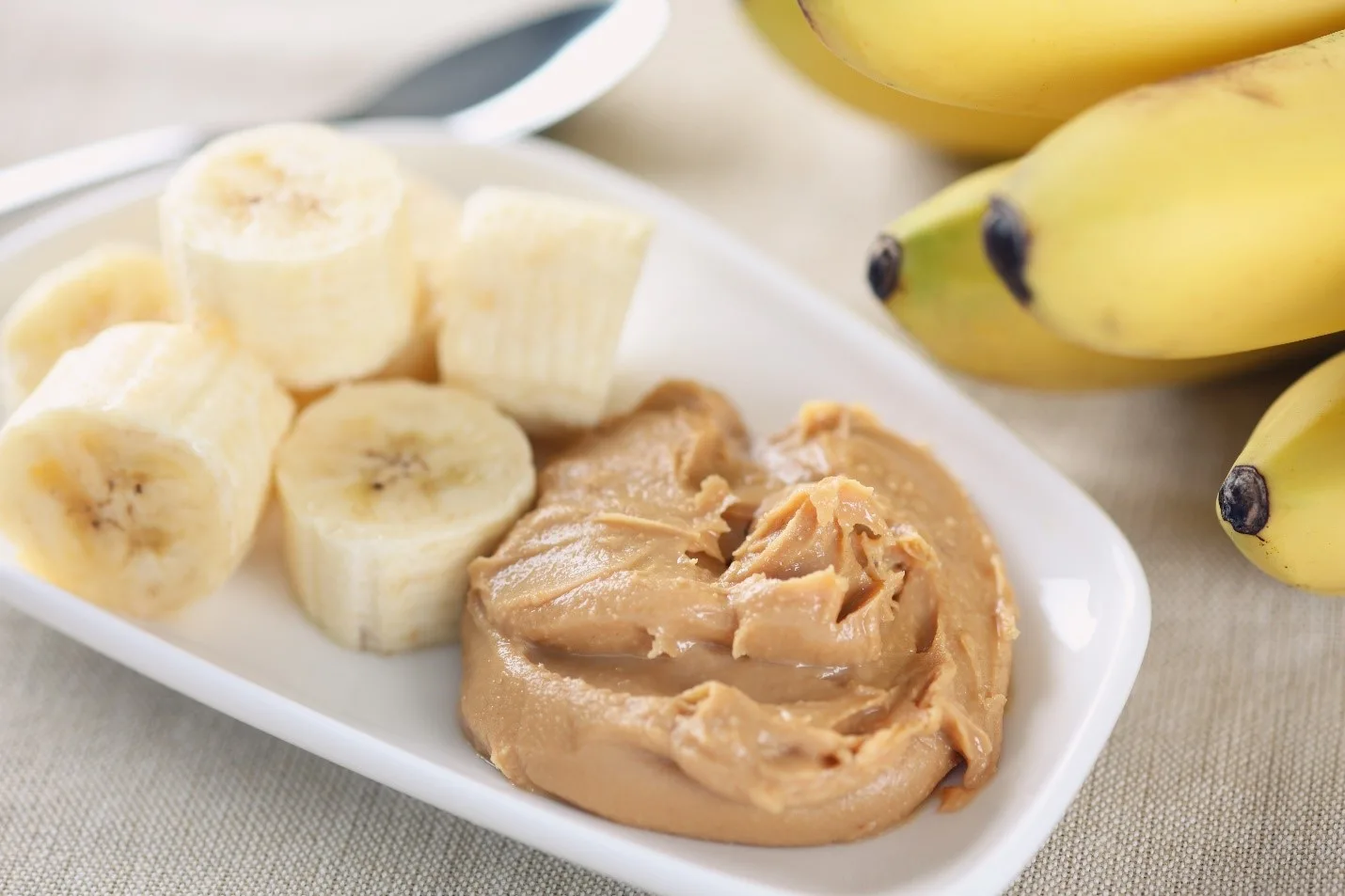 Bananas and almond butter are other great post-workout snack. You're getting the protein from the almond butter.
And you're getting the carbs from the bananas. Plus, bananas are rich in potassium.
So they replace the potassium you've lost from sweating.
Want to make your snack even yummier? Add some cinnamon or unsweetened coconut.
13. Canned salmon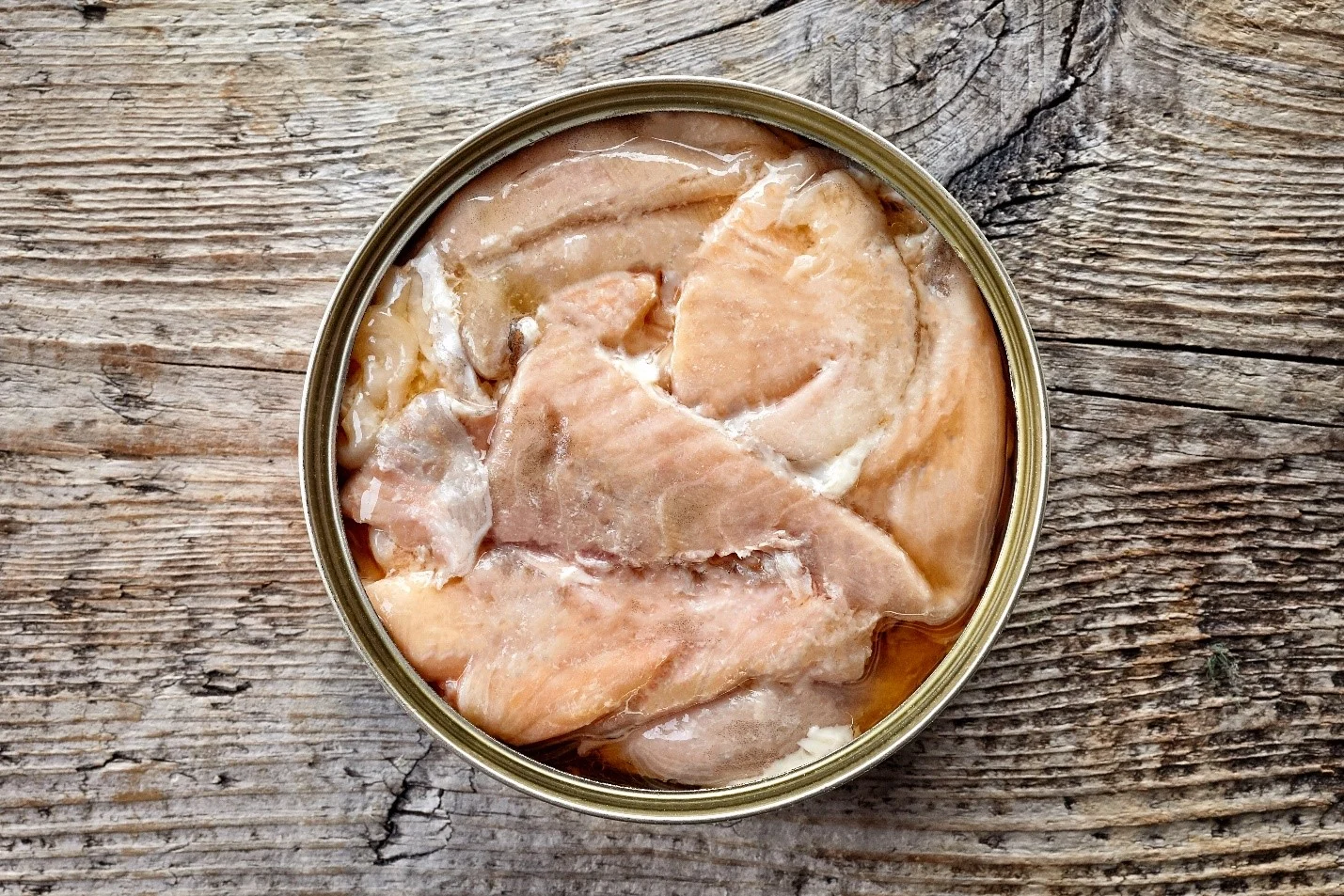 Health authorities recommend eating fish twice a week. That's because it's essential for heart health.
Canned salmon is rich in heart-healthy omega-3s. And it's a great source of protein too.
If possible, choose wild canned salmon instead of farmed canned salmon. It's lower in saturated fats.
And it contains less toxic heavy metals. This canned salmon here is wild and salt-free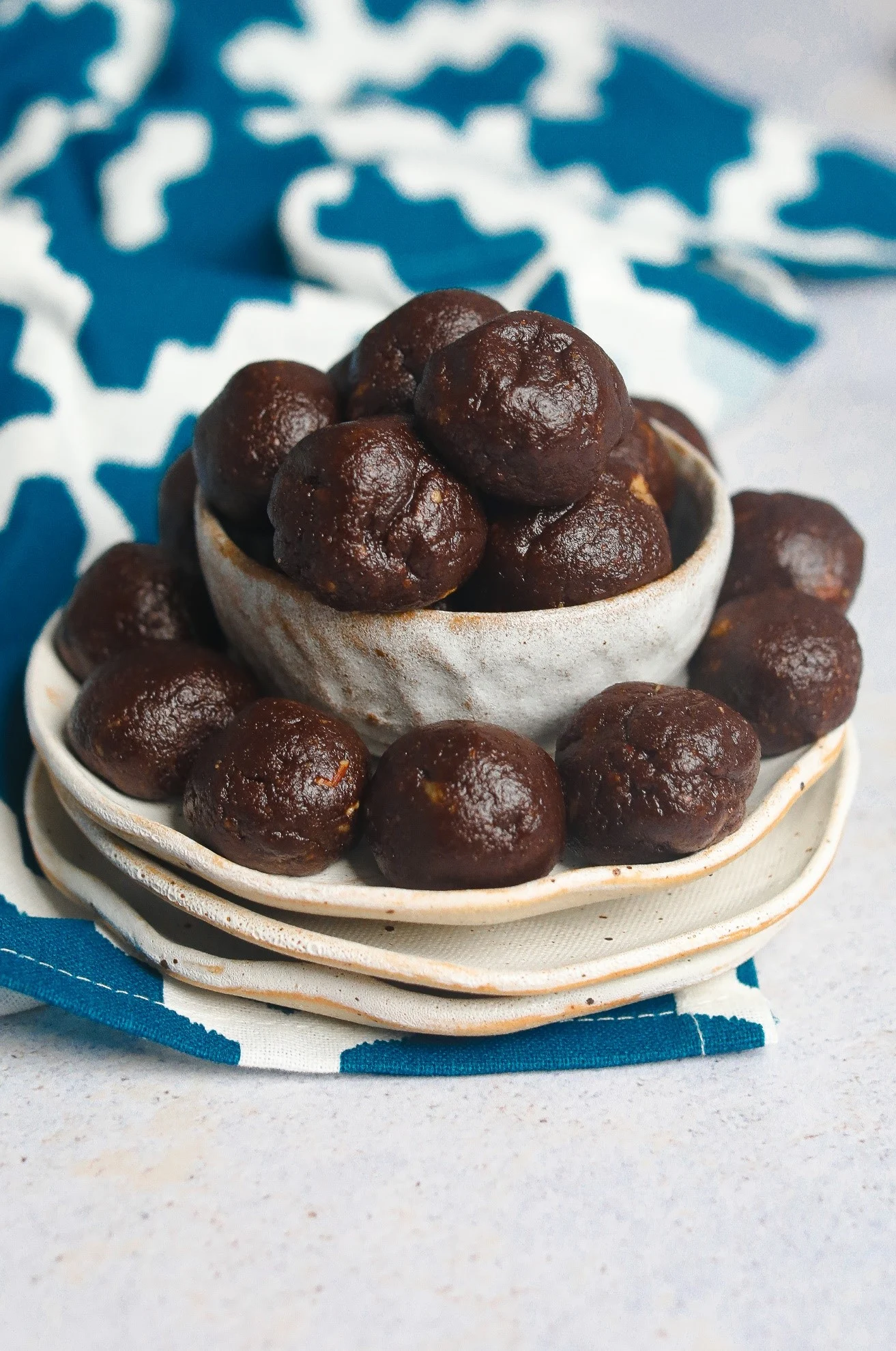 We all suffer from the mid-afternoon slump. You know – that time around 2:00pm every day.
Then you head to the vending machine for a nice pick-me-up.
These Almond Butter Energy Balls provide a nice boost of energy. They're sweet and melt in your mouth.
And the cocoa powder adds a nice boost of caffeine – perfect for waking you up.
Cocoa powder also has polyphenols that promote health. And it may also help you lose weight.
Making these Energy Balls is easy. Just place all your ingredients in a bowl, mixing well.
Then form balls using a cookie scoop like this. Or you can simply use your hands.
Place the balls on a parchment-paper-lined plate. Then place in the fridge.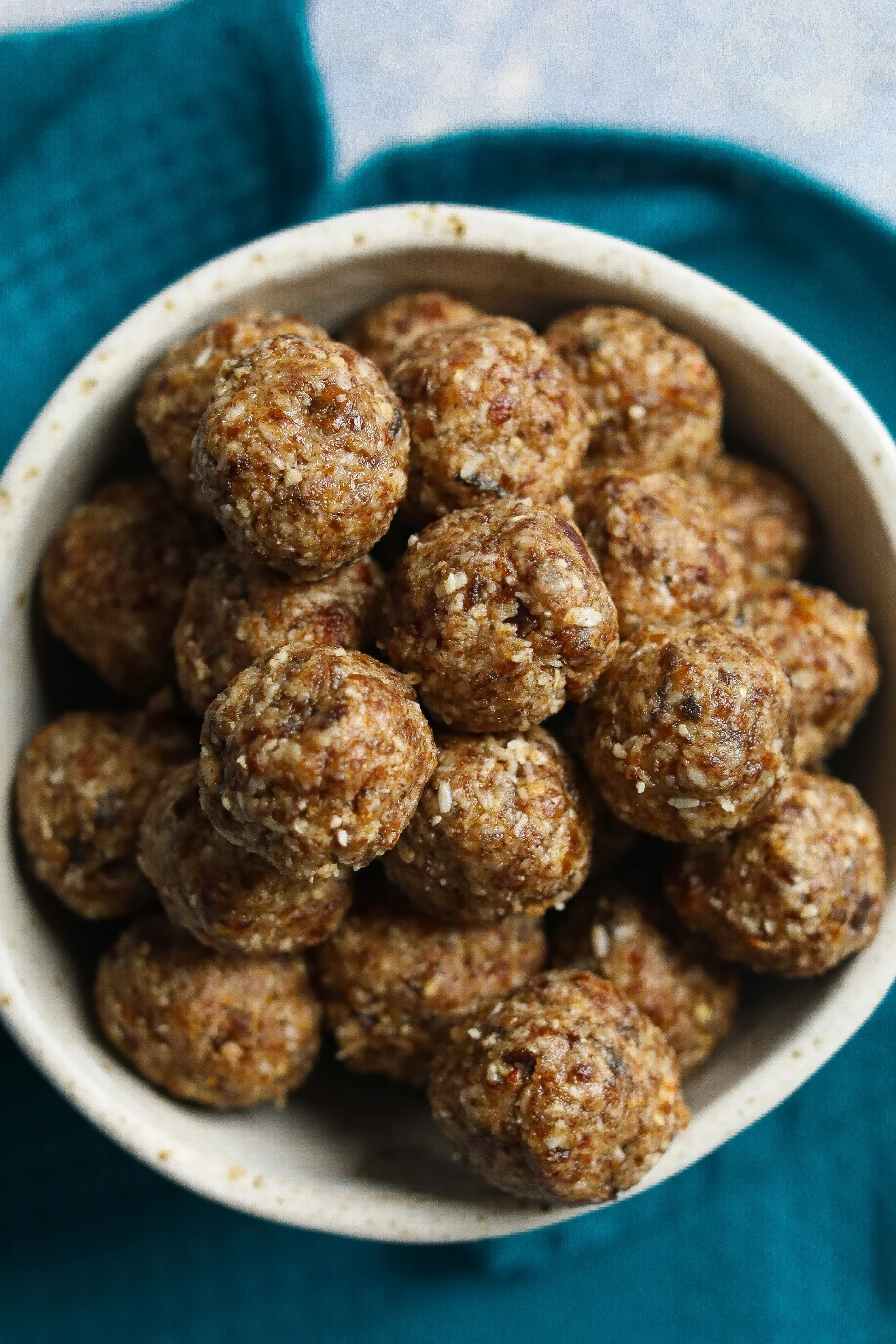 Sometimes feel a little hungry before bed. And drinking a gallon of water isn't going to cut it.
Having a small, nutrient-packed snack may help with that. These Date Energy Balls are perfect for that.
They're nutty and naturally sweetened with dates. And they don't contain any cocoa powder.
So these Energy Balls won't keep you up at night. This is a lovely healthy snack on the go!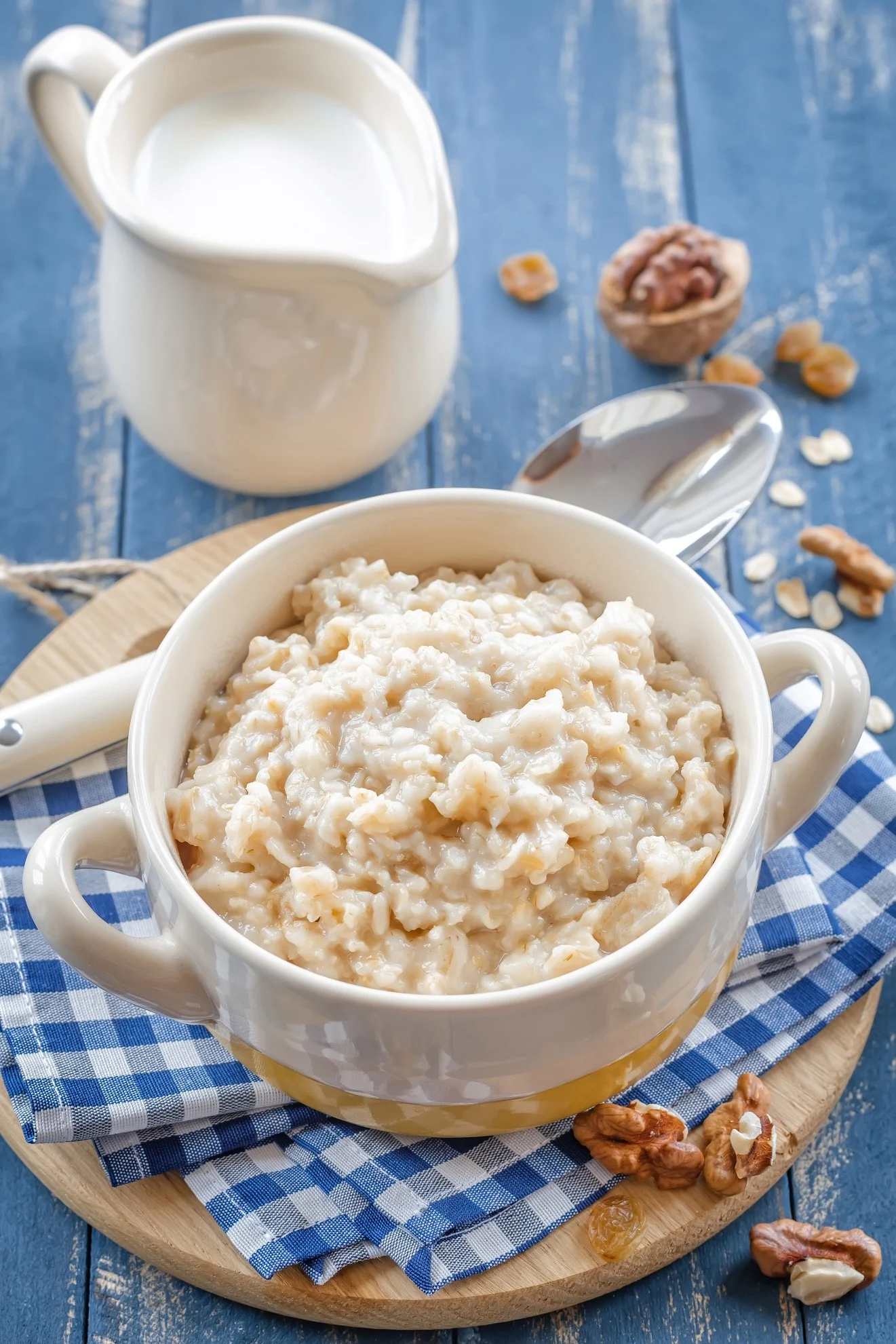 Oatmeal is so versatile. You can eat it for breakfast and as a snack.
And there are so many toppings you can add. Some yummy toppings include almonds, walnuts, berries, and cocoa powder (for those chocoholics).
This Paleo Oatmeal is a great way to enjoy oatmeal. It's creamy, yummy, and grain-free.
That's because you're using ground flaxseed as your oatmeal base. Besides being Paleo-friendly, ground flaxseed is quite nutritious.
It's rich in plant-based omega-3s and fiber. It's also a great source of plant-based protein.
Flaxseed protein fills you up – and it may even boost your immune system.
Besides using ground flaxseeds as oatmeal, you can add them to smoothies.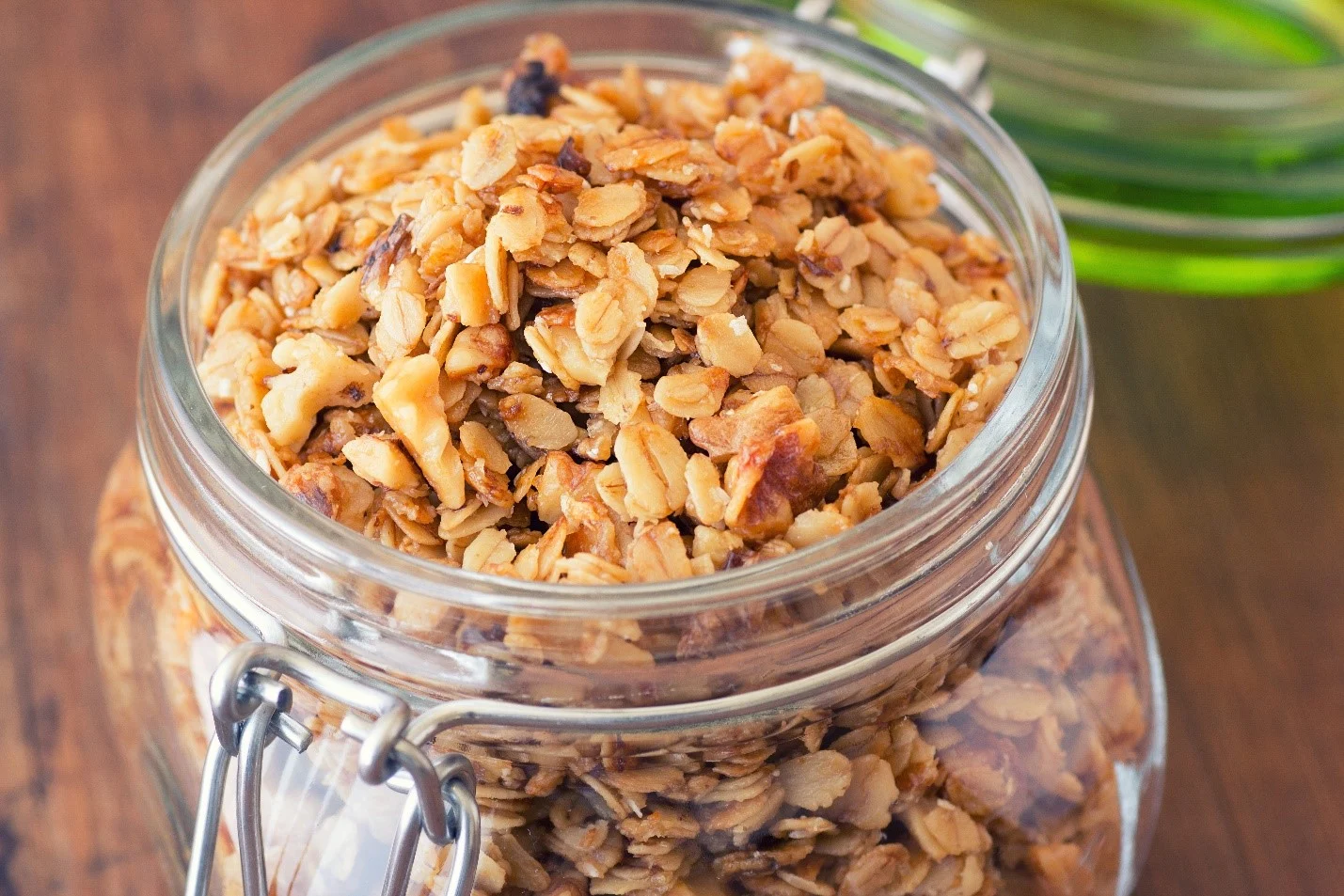 Granola is another great breakfast/snack food. But store-bought Granola often contains oats and brown sugar.
This Simple Grain-Free Granola is caveman/cavewoman approved. It's made with wholesome, tasty ingredients.
These include almonds, pecans, walnuts, chia seeds, and ground flaxseed. And it's naturally sweetened with coconut sugar.
I love coconut sugar because it's a healthier alternative to refined sugar. That's just because it has a lower glycemic index than refined sugar.
I also love the fact that this Granola makes 20 servings. And it keeps pretty well.
Obviously, make sure you store it in a container with a tight seal. This Mason jar would be perfect for that.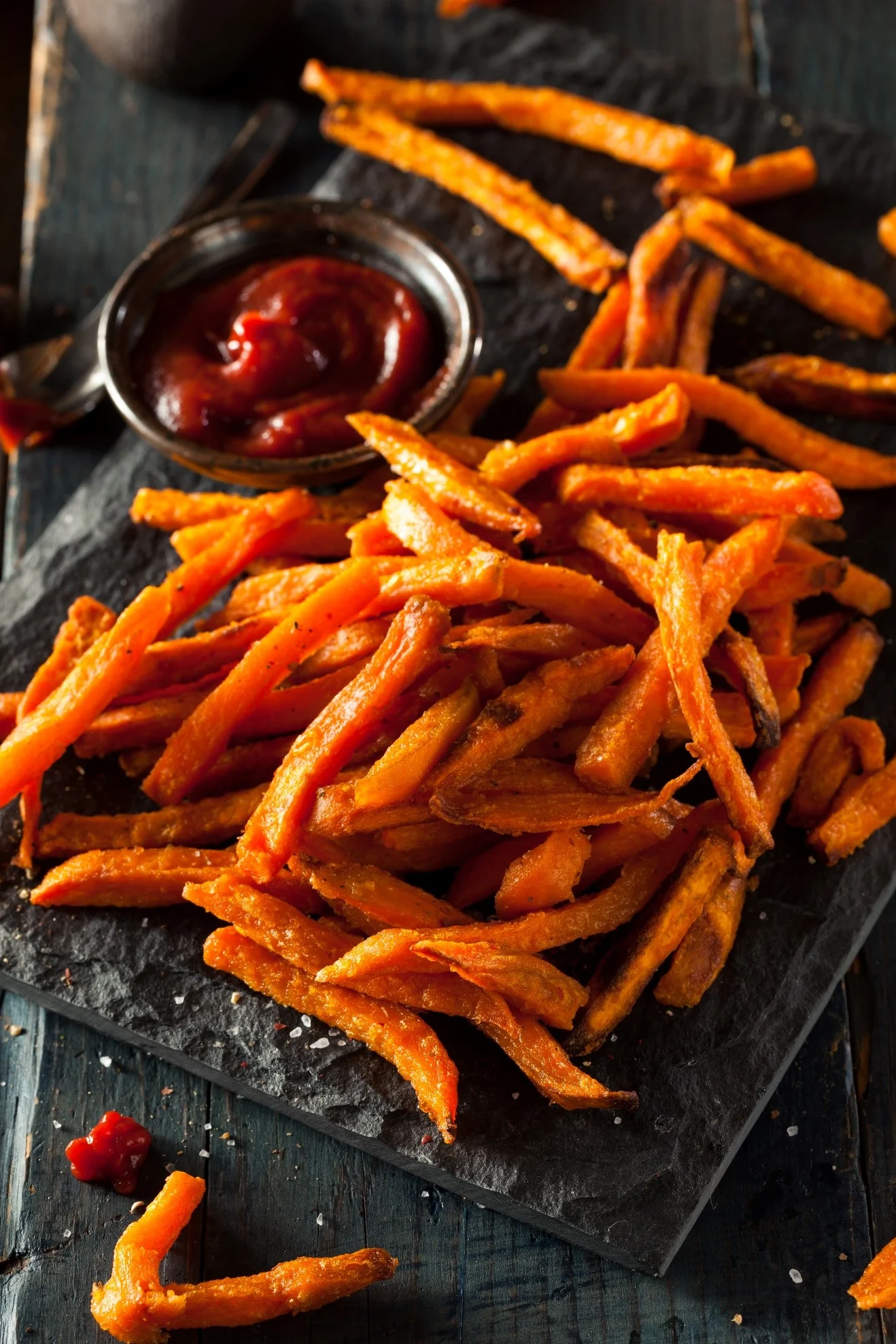 Everybody loves a good Macdonald's French fry. However, they're fried using vegetable oils.
They also contain additives too. Both of these are No-Nos on a Paleo diet.
These Sweet Potato Fries are made using olive oil. And they're made in an Air Fryer.
So, they're not only Paleo-friendly but healthier too. These Sweet Potato Fries are also crispy and flavorful.
That's because you're seasoning them with salt, garlic powder, paprika, and black pepper.
To make them, peel your sweet potatoes. Then slice them into thin sticks about ¼ inch thick.
Toss your sweet potato sticks with seasoning. Then air-fry for 12 minutes, turning halfway through.
Don't have an air fryer on hand? You can find one here.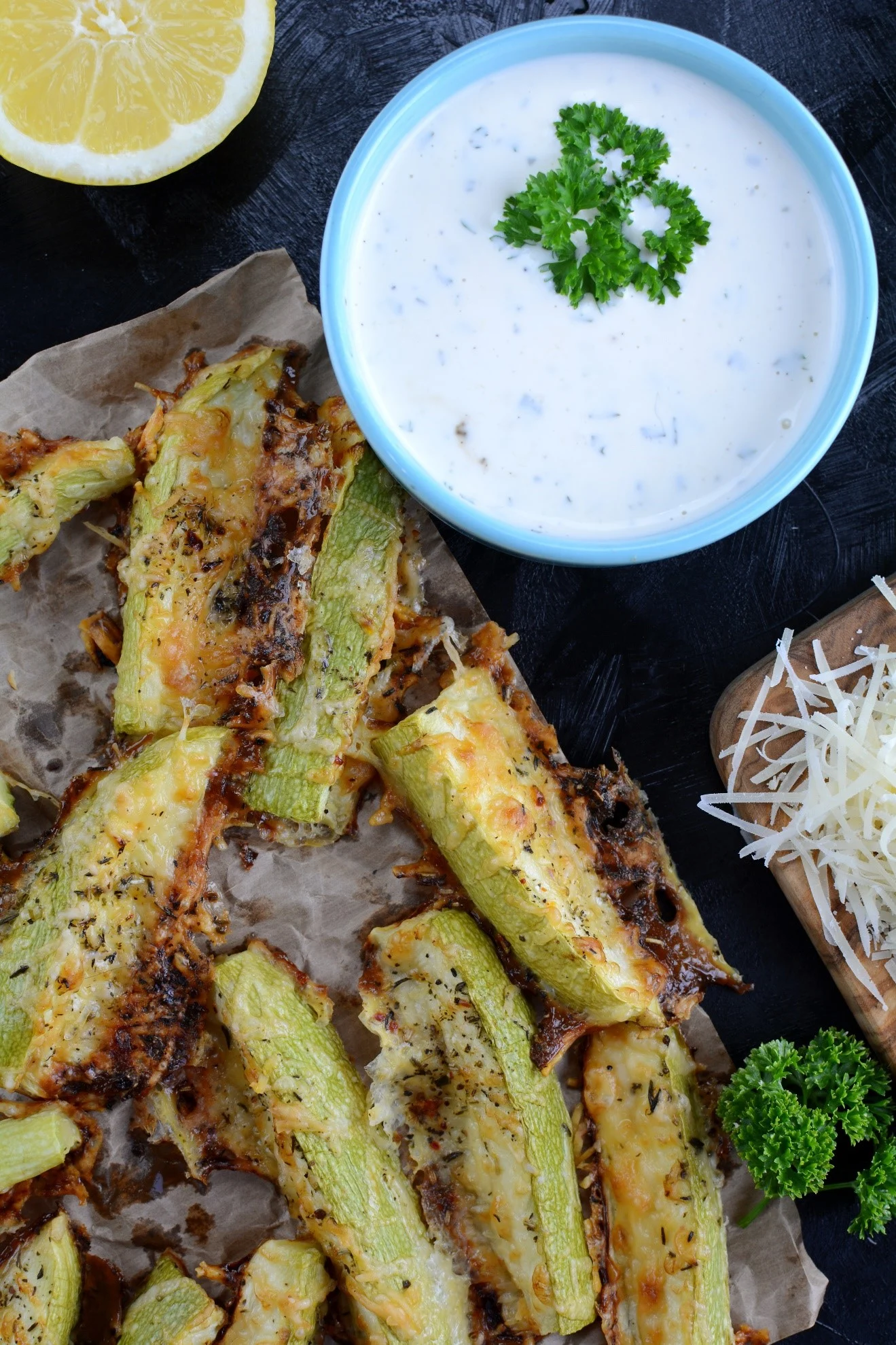 Eating more low-calorie vegetables is a great way to lose weight. And zucchini is very low in calories.
In fact, one large zucchini contains just 52 calories. But zucchini can be kind of bland.
These Air Fryer Zucchini Fries are pretty delicious, on the other hand. You're getting the savory from the garlic powder and onion powder.
And you're getting cheesiness from the nutritional yeast. You'll want to make these fries again and again.
This could be a great low calorie food as well!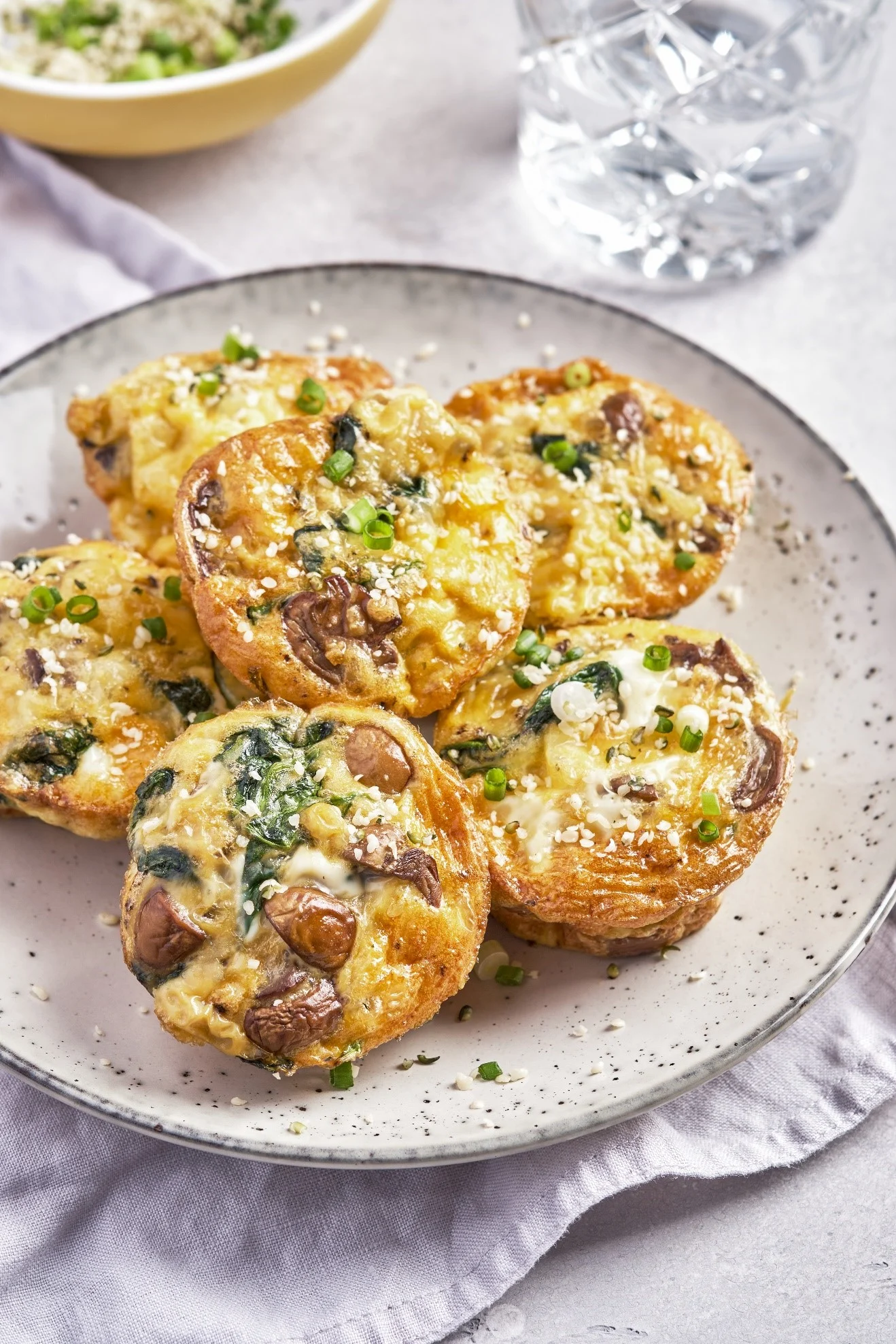 Hard-boiled eggs are a great Paleo-friendly snack. But sometimes you want something a little more interesting.
And these Healthy Egg Muffins fit the bill. They're portable and taste amazing.
They have a nice combination of ham and bell peppers. And they're lightly seasoned with salt and pepper.
So the taste of the eggs shines through.
21. Grilled Peaches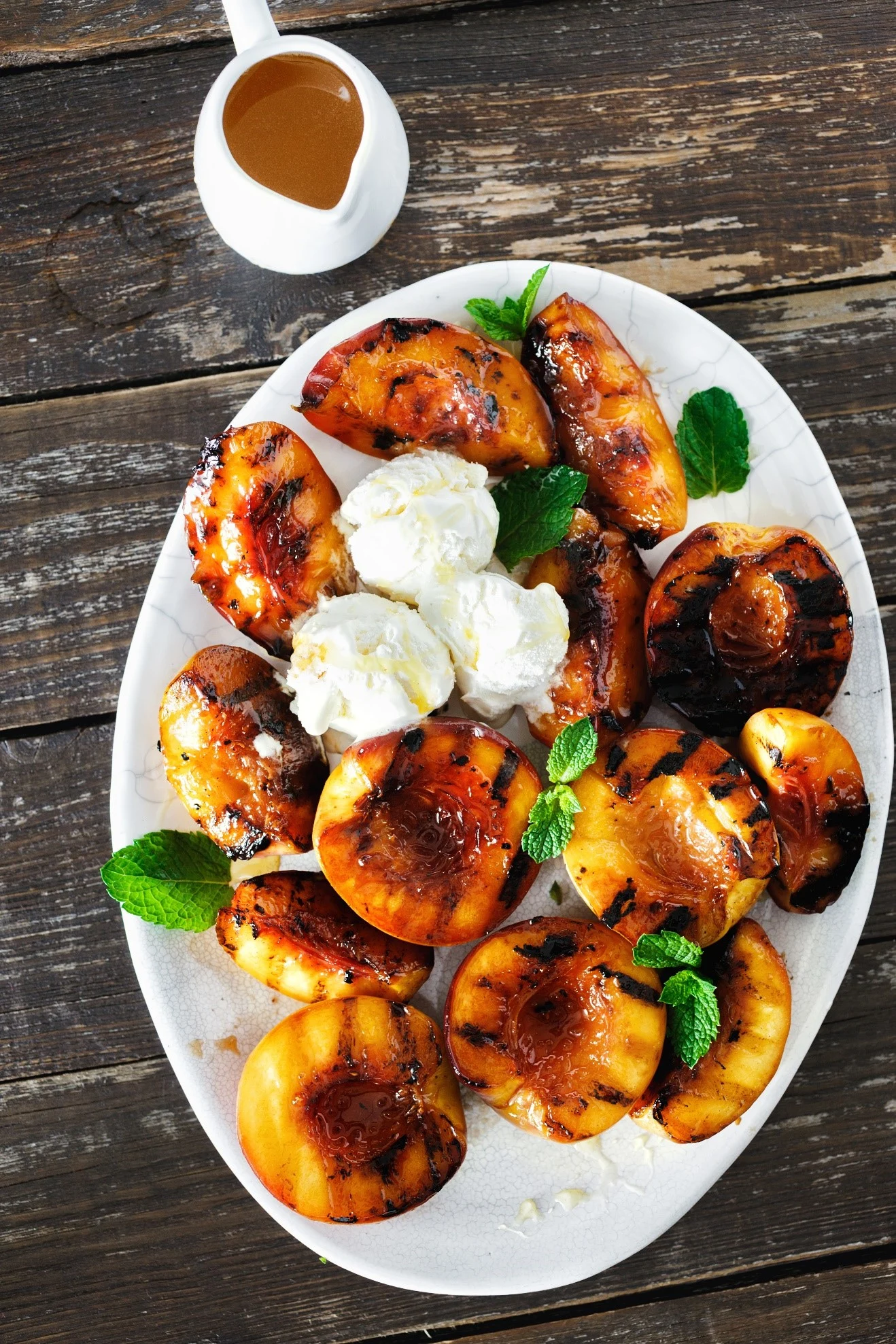 There's nothing like a freshly picked peach. But grilling your peaches takes them to a whole other level.
Grilling your peaches caramelizes them. So your peaches taste even sweeter. Yay!
Grilling peaches is actually very easy. Just cut your peaches in half.
Then brush the cut sides with a Paleo-approved oil like coconut oil. Grill flesh side down for about 5 minutes.
And if you don't have a grill, you can use a grill pan like this as well.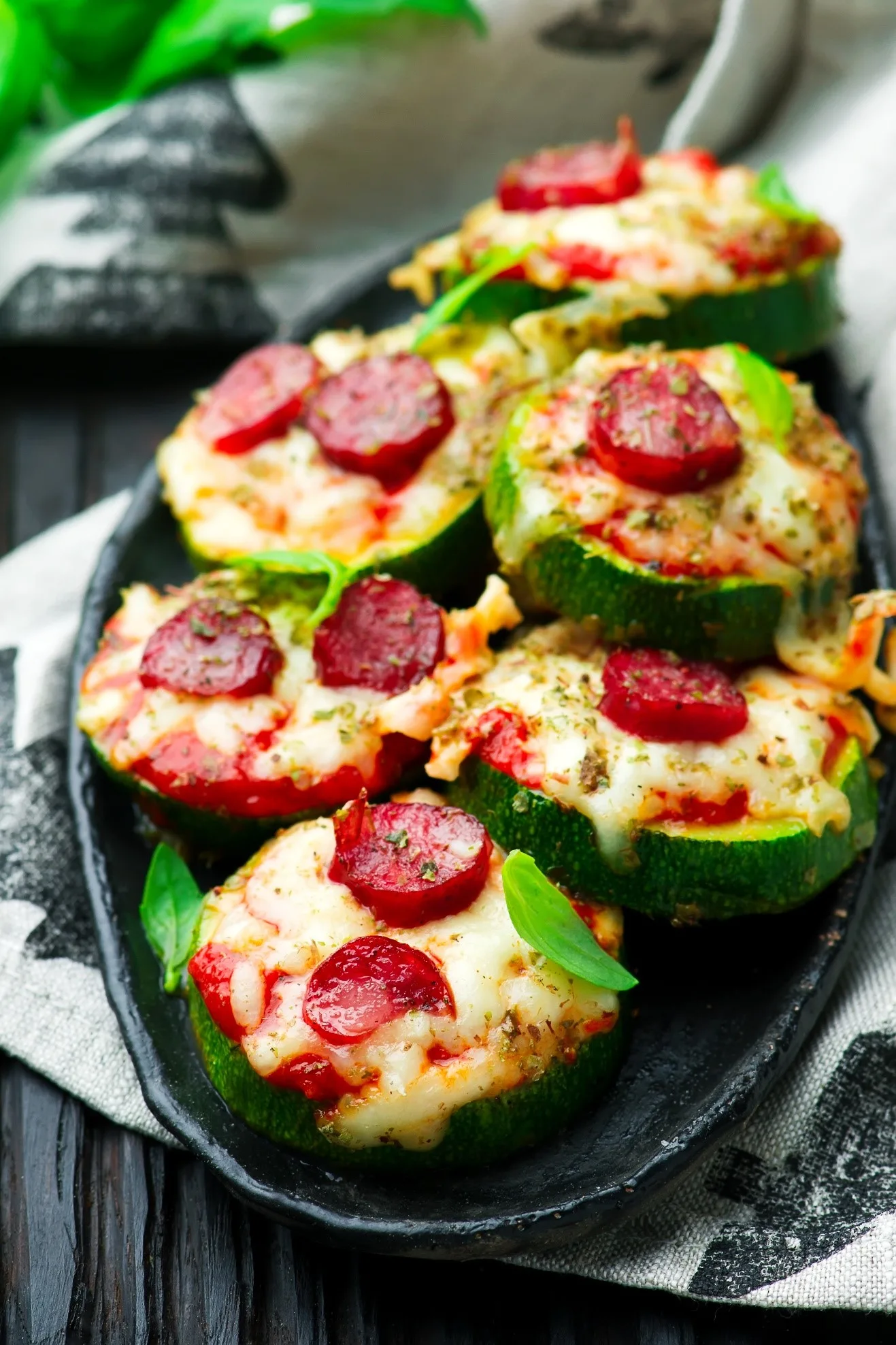 When game day comes, you want to have snacks on hand. And these Baby Pizza Bites are precisely what cavemen/women would have eaten – if they had T.V.
On the menu are grilled mushrooms. And they're topped with Italian sausage and marinara sauce.
They're pure morsels of deliciousness. Besides being yummy, mushrooms are nutritious too.
They are one of the richest sources of selenium, a potent antioxidant. And they contain potassium, which your heart and nerves need to function.
So bring on those Baby Pizza Bites!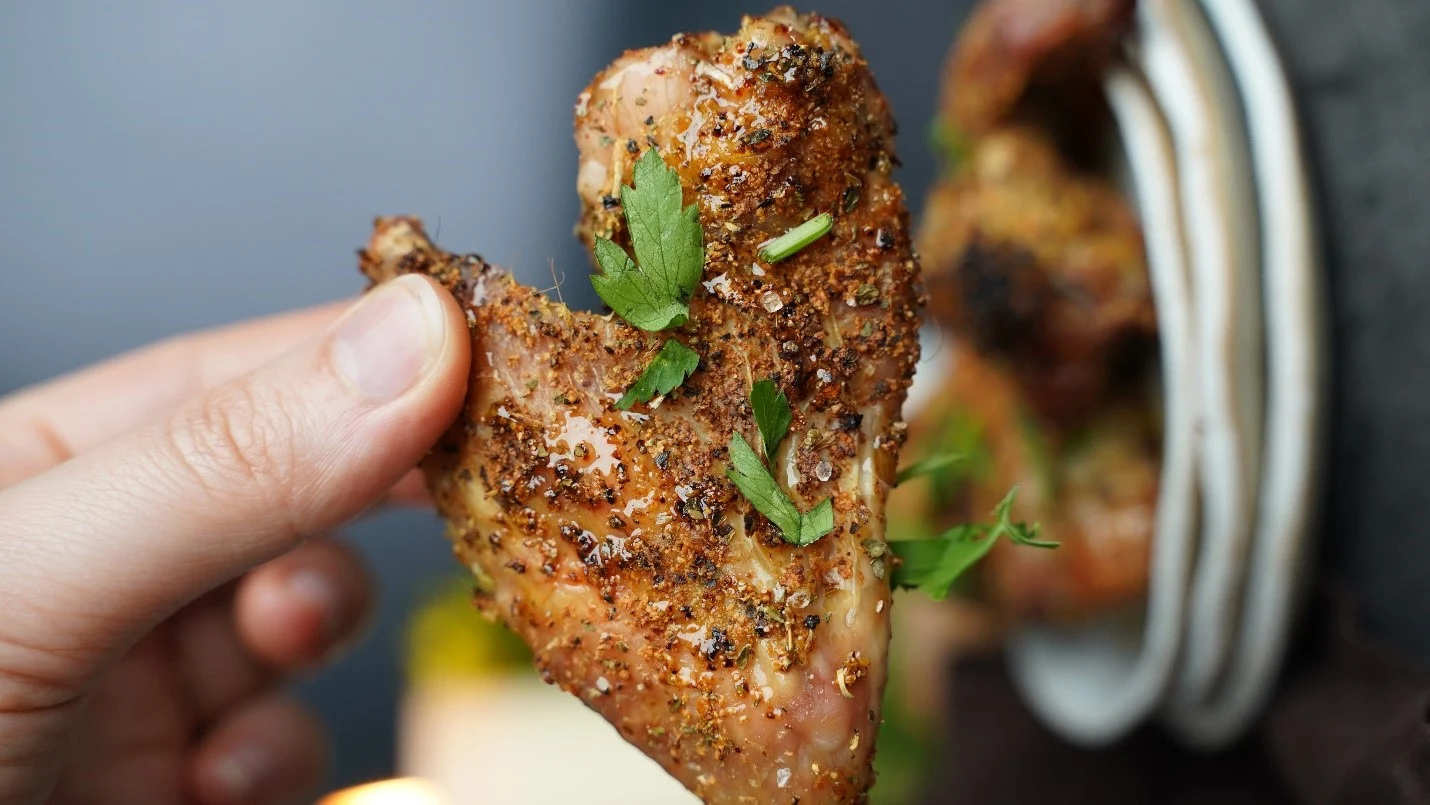 Here's another game-day snack. After all, you don't want your guests to be hungry, right?
These Chicken Wings are lip-smacking good. They're nicely seasoned with Italian seasoning.
And they're coated in honey for serious stickiness.
They're pretty easy to make too. Toss your chicken wings in Italian seasoning.
Then bake for about 40 minutes on a foiled baking sheet. You want your wings to get nice and crispy.
Then take your wings and drizzle them with honey. Bon appetit!