On a high protein diet but want to get your protein through vegetarian recipes? These high protein vegetarian meals are full of flavors, they're healthy and fun to make.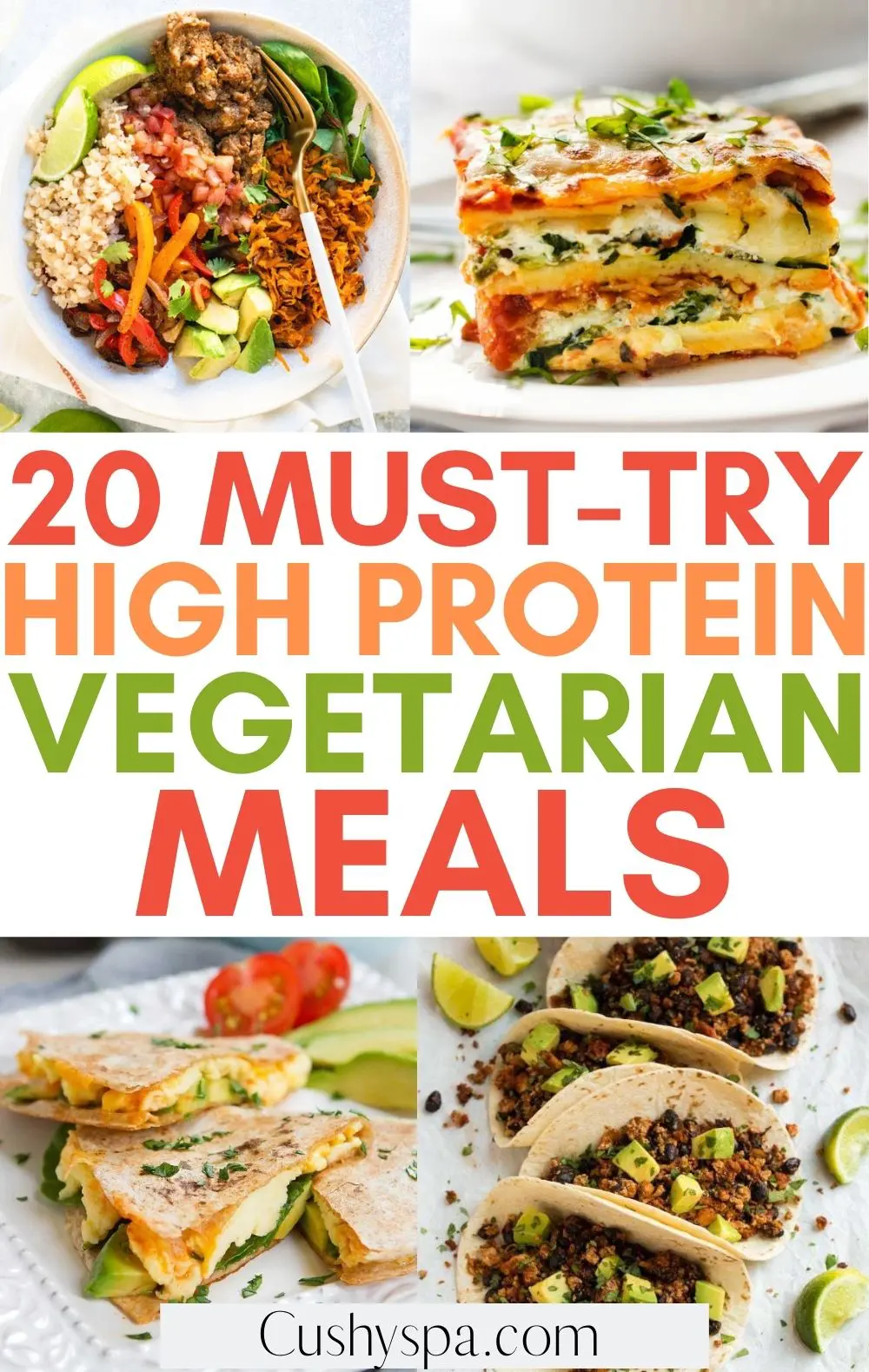 Want lose weight or build muscle on a vegetarian diet? If so, then you'll want to make sure your meals are high in protein.
That's because you need protein to repair and build your muscles after a workout.
And of all the macronutrients, protein fills you up the most. And when you're full, you're less likely to snack on those Cheesies that are calling your name.
As an added bonus, protein revs up your metabolism. So, you lose even more weight.
Today, I'm sharing 20 High Protein Vegetarian Meals. They're not only delicious, but they'll also help you get closer to losing weight and gaining muscle.
So, go ahead, and dig right in!
1. Lemony Lentil Stew With Kale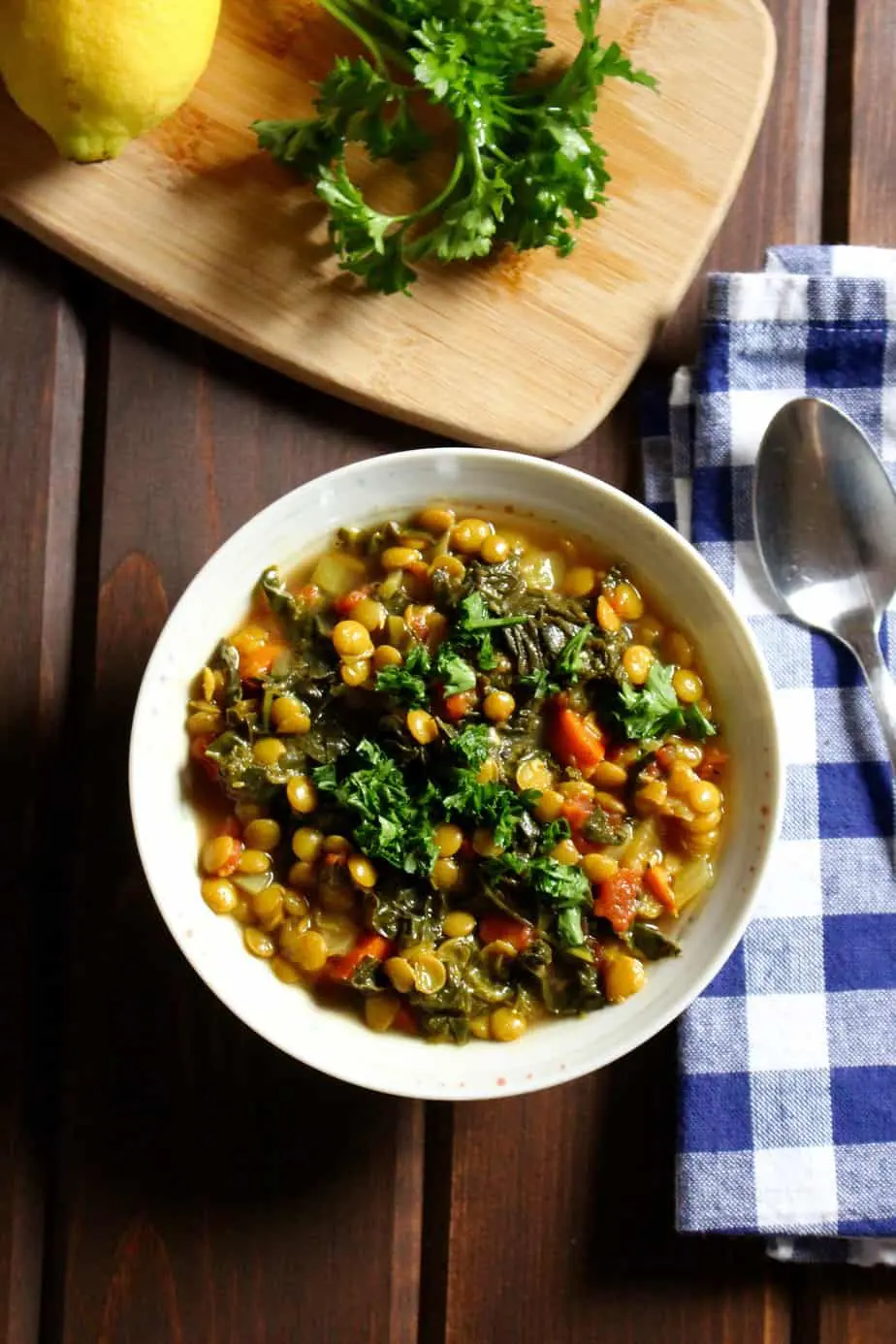 Credit: frugalnutrition.com
Whenever it's cold, all you want to do is cozy up the fireplace. And eat a nice bowl of stew.
This lentil stew is yummy, hearty, and oh, so comforting. The carrots, tomatoes, and kale add lots of color, and freshness too.
Besides being packed with protein, it has a ton of vitamins too. The meal is rich in Vitamins A and C, which are good for your immune system.
It's also rich in iron, which helps keep your energy levels up.
This stew is delicious on its own. However, you can serve it with a piece of crusty bread.
Loving this recipe? Check out these high protein vegan recipes.
Per Serving:
Calories: 369
Fats: 8.4g
Protein: 17.5g
Carbs: 62.1g
Fiber: 10.4g
Sugar: 13.4g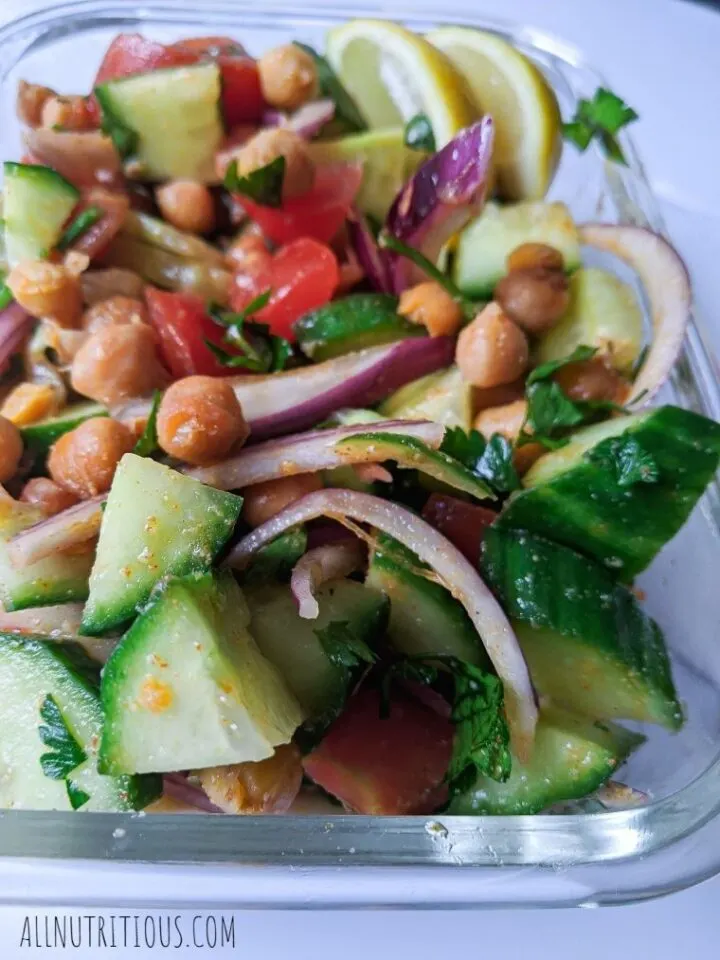 Chickpeas are an incredible source of protein when you're on a vegan or vegetarian diet. This is one of the legumes that are a natural source of protein, so give anything with chickpeas a try!
Want to up the protein in this delicious recipe? Add more cooked chickpeas to this refreshing, yummy, and filling meal, and you'll have even more protein in it!
Per Serving:
Calories: 790
Fats: 35g
Protein: 29g
Carbs: 97g
Fiber: 20g
Sugar: 23g
3. Cauliflower, Sweet Potato, & Chickpea Curry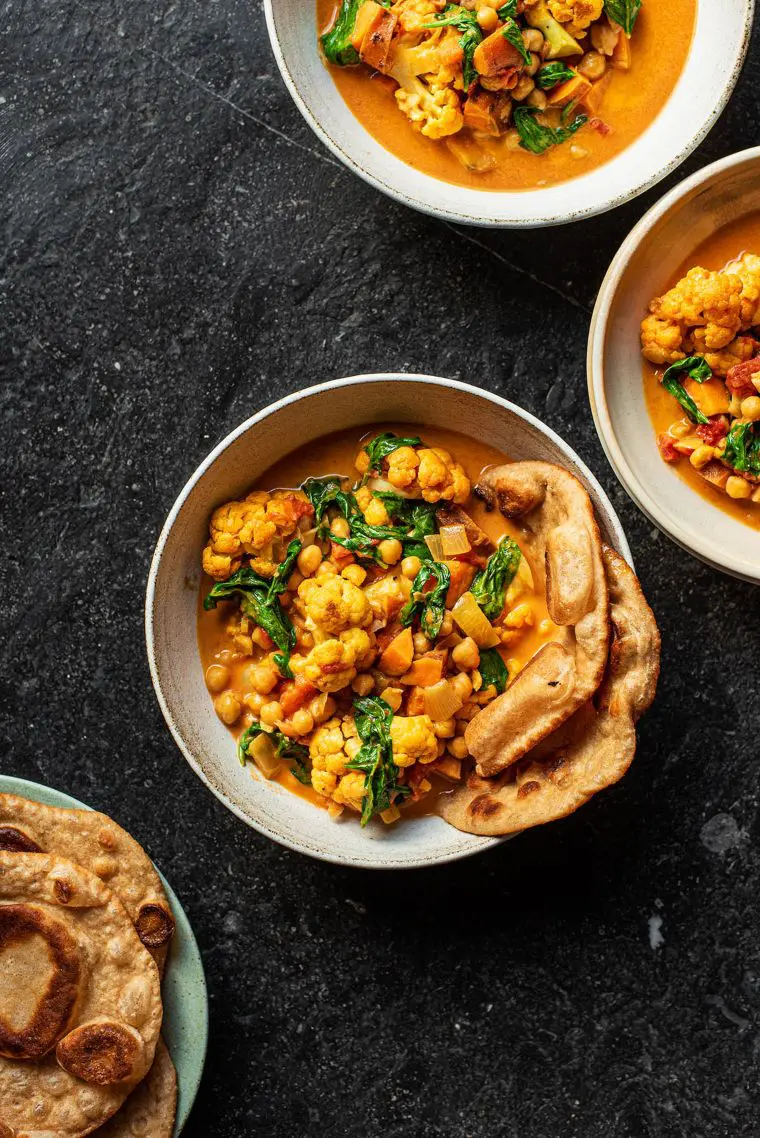 Credit: occasionallyeggs.com
In the mood for Indian takeout? Have this instead.
This curry is creamy, rich, and extra flavorful. That's because you're using 7 different spices. So, bring out those measuring spoons.
These stainless-steel measuring spoons are a nice option. They don't rust or get stained, so you'll have them for years.
Unlike your typical curry, this one is packed with veggies. You have sweet potatoes, cauliflower, and even spinach.
This curry is pretty filling. But feel free to use some naan to mop up all that delicious sauce.
Per Serving:
Calories: 335
Fats: 13g
Protein: 15g
Carbs: 36g
Fiber: 14g
Sugar: 12g
4. Slow Cooker Vegan Chili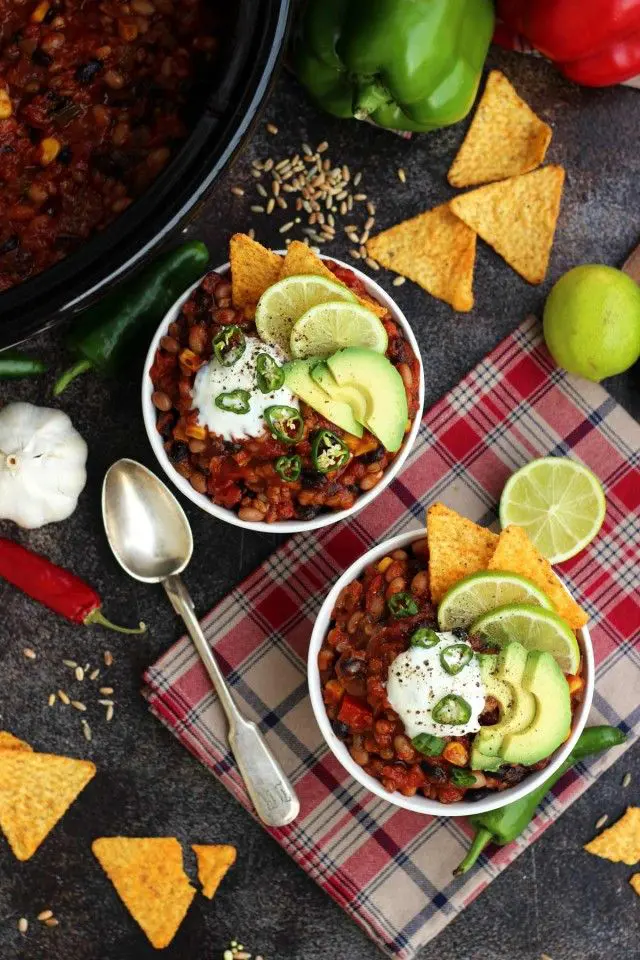 Credit: happykitchen.rocks
We all lead busy lives. We have to work, go to school, look after the kids, or even do all three.
So, it's no wonder you just want to sit back and relax in the evening. And binge-watch your favorite shows on Netflix.
This slow cooker vegan chili helps you do just that. All you need is a total of 15 minutes of prep time, then you let your slow cooker do the cooking. This slow cooker here should work just fine.
This chili is bursting with flavor. The sweet corn adds natural sweetness, and the diced tomatoes and tomato sauce add a nice acidity.
Meanwhile, the red chili peppers add a nice heat. Perfect if you like it spicy.
If you don't like it spicy or you're feeding the kiddos, feel free to leave out the peppers. It will still taste delicious.
Serve with avocado slices and tortilla chips.
Per Serving:
Calories: 260
Fats: 1g
Protein: 12g
Carbs: 52g
Fiber: 13g
Sugar: 4g
5. Moroccan Quinoa Carrot Salad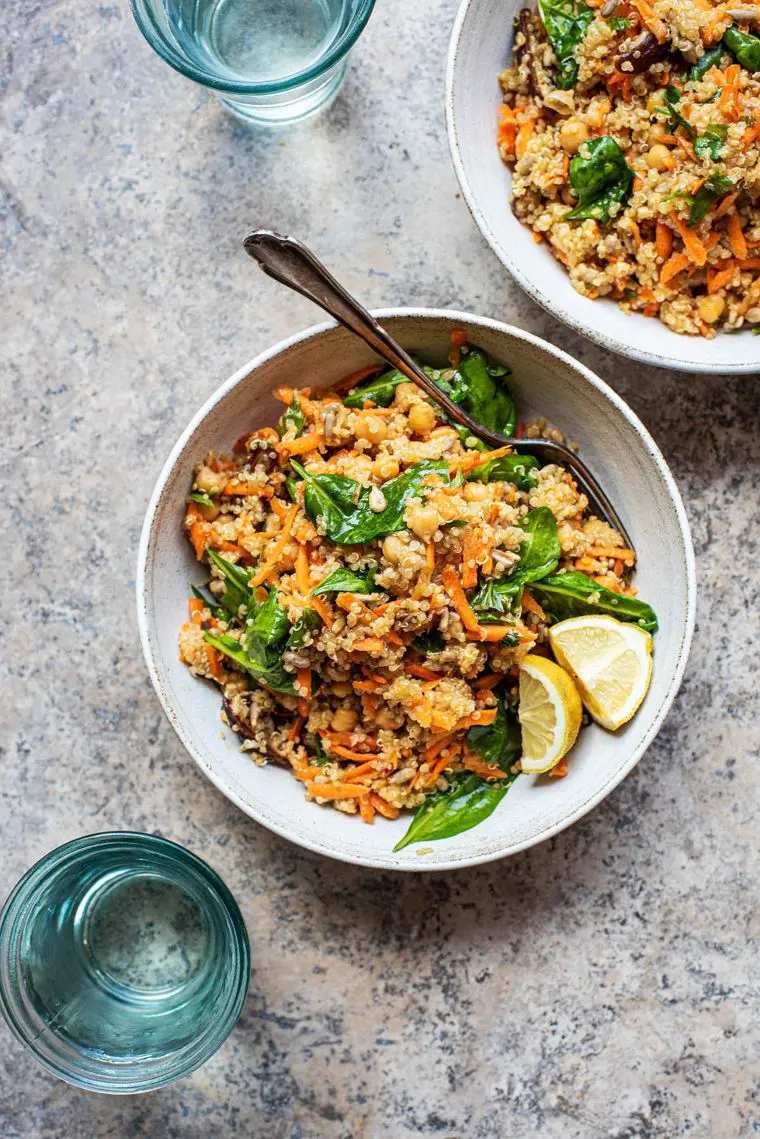 Credit: occasionallyeggs.com
I'm a big fan of salads, as I'm sure many of you are too. They're a great way to get your greens.
And as we all know, we could always use more greens, right? But how many times have you eaten a salad, then reached for a donut a few hours later?
The problem is that most salads have very little protein. So, they're not that filling.
This salad has a ton of protein. You've got protein from the chickpeas, quinoa, and sunflower seeds.
It's also full of fiber. In fact, it provides almost 80% of your daily fiber needs. So, it's great for your digestion.
Besides being nutritious, it's also delicious. The quinoa adds nuttiness, while the dates add natural sweetness.
Meanwhile, the sunflower seeds add a nice crunch.
Now, you don't have to eat this salad right away. That's because it lasts two to three days in the fridge.
So, to keep your salad tasting nice and fresh, it's a good idea to store it in quality airtight food storage containers.
These glass food storage containers keep your food fresh, and they don't leak nasty chemicals into your food.
Per Serving:
Calories: 434
Fats: 6g
Protein: 17g
Carbs: 31g
Fiber: 19g
Sugar: 5g
6. Best Vegan Black Bean Burgers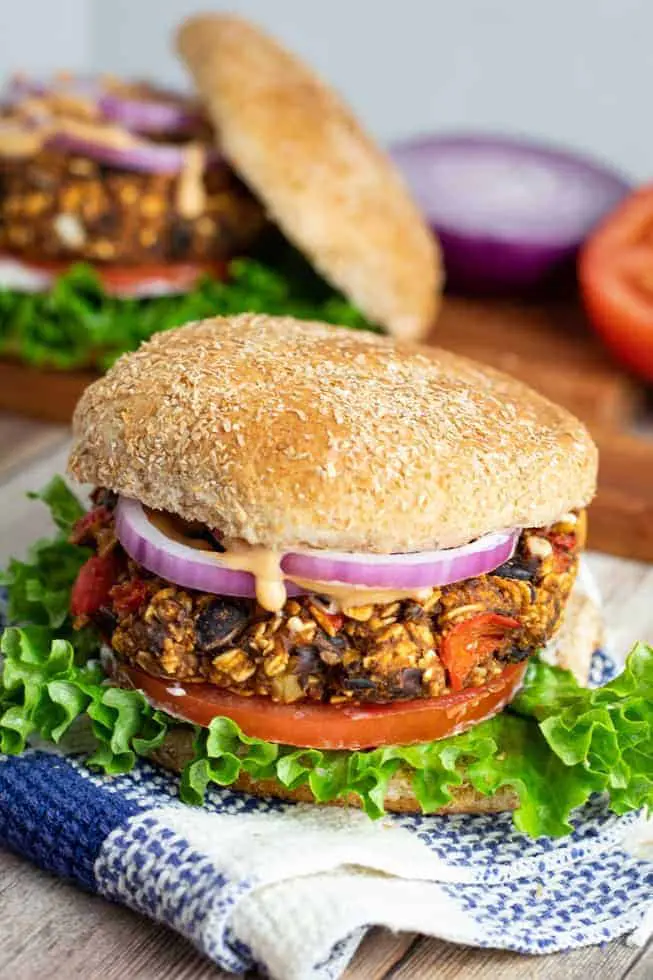 Credit: eatplant-based.com
Salads are good and all. But sometimes, you need a nice burger.
After all, we only live once, so we need to indulge once in a while. These vegan black bean burgers are sure to satisfy your cravings.
They're full of Southwestern flavors. Your tastebuds will be delighted.
And what's a good burger without some fries, zucchini fries, that is? These air fryer zucchini fries are a nice healthy option.
One serving contains only 69 calories.
Per Serving:
Calories: 253
Fats: 2g
Protein: 13g
Carbs: 47g
Fiber: 12g
Sugar: 5g
7. Garlic, Ginger, Lime Marinated Tofu & Quinoa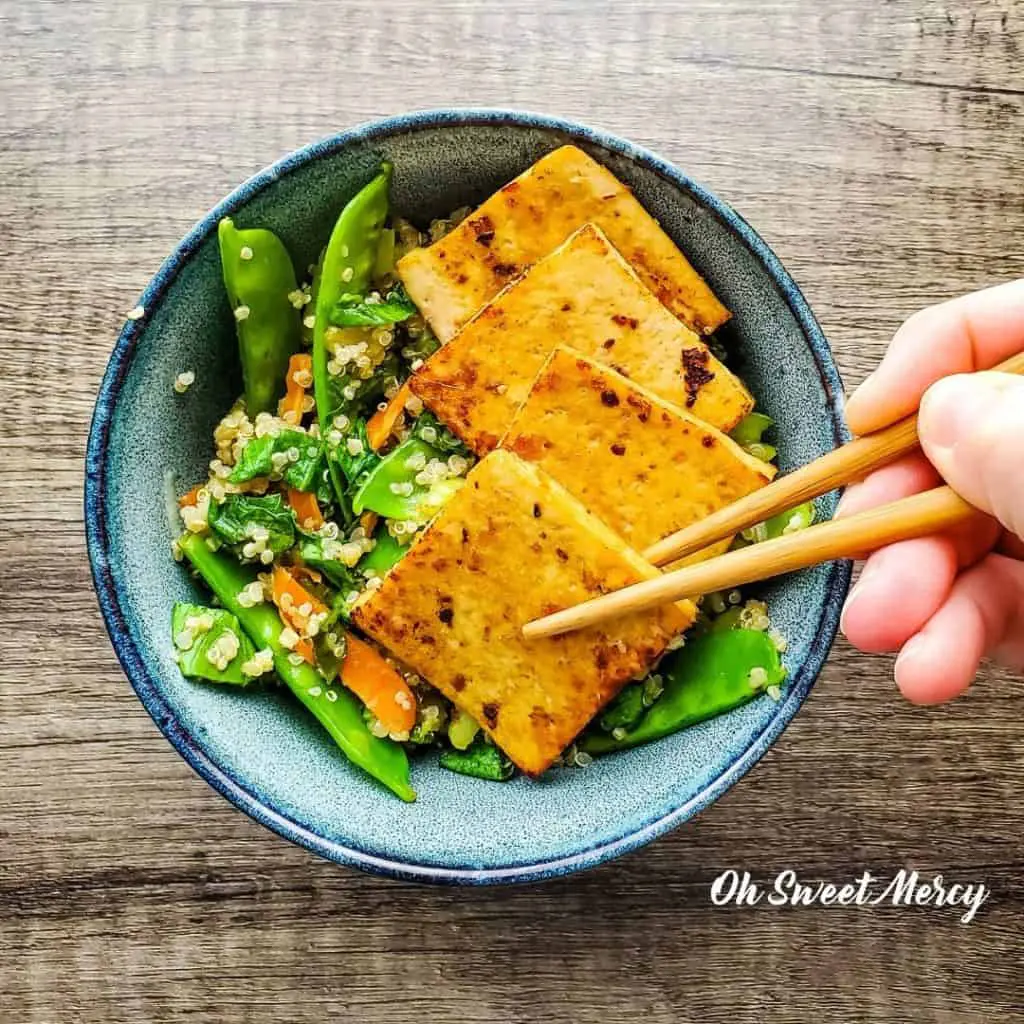 Credit: ohsweetmercy.com
Tofu is an incredible source of vegetarian protein. In addition to being high in protein, it's packed with calcium too.
So, it's good for your bones. Just be sure to choose calcium-set tofu to get that boost of calcium.
Now, tofu gets a bad rap. That's because, on its own, it's pretty tasteless. So, you definitely don't want to eat it without seasoning it first.
This tofu is really flavorful. That's because you're marinating it in a lime, garlic, and ginger marinade…no bland tofu here.
To make it, use an air fryer. It cuts down on the grease, so it's healthier for you too.
And less grease means fewer calories. So, air frying is better for your waistline. In case you're on the lookout for an air fryer, you can get a good one at a reasonable price here.
This dish is chock-full of Asian flavors. From the tofu to the baby bok choy, snow peas, and shiitake mushrooms.
You'll feel like you're eating at your favorite Thai restaurant. But much healthier. Check out more high protein pantry recipes like this here.
Per Serving:
Calories: 374.2
Fats: 11.5g
Protein: 23.6g
Carbs: 39.7g
Fiber: 8.7g
Sugar: 6.7g
8. Cheesy Spinach & Mushroom Breakfast Casserole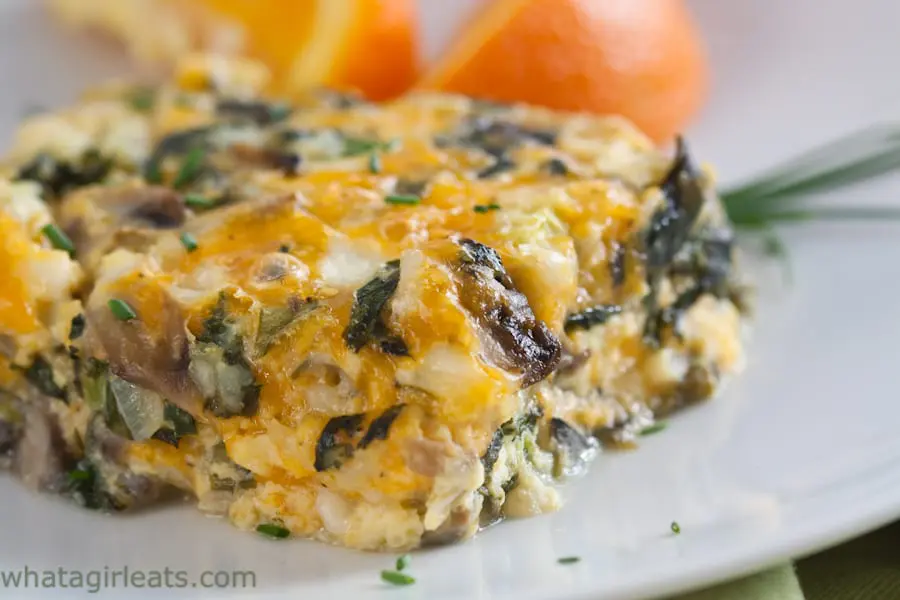 Credit: whatagirleats.com
Weekends are the perfect time to to lounge in your pajamas.
But eventually, you need to eat breakfast, right? This breakfast casserole is perfect for those lazy weekend mornings.
It's cheesy and packed with yummy goodness. You'll definitely want seconds.
It's also pretty nutritious. Additionally, a good source of calcium, which you need for good bones.
And the mushrooms contain brain-boosting B vitamins. They also contain selenium, a powerful antioxidant. So, eat up that breakfast casserole.
What I love most about this particular dish is that it makes 12 servings. So, you can freeze individual portions of it and reheat anytime the cravings hit. Bon appetit!
Per Serving:
Calories: 241
Fats: 18g
Protein: 16g
Carbs: 5g
Fiber: 1g
Sugar: 2g
9. Spaghetti Squash Lasagna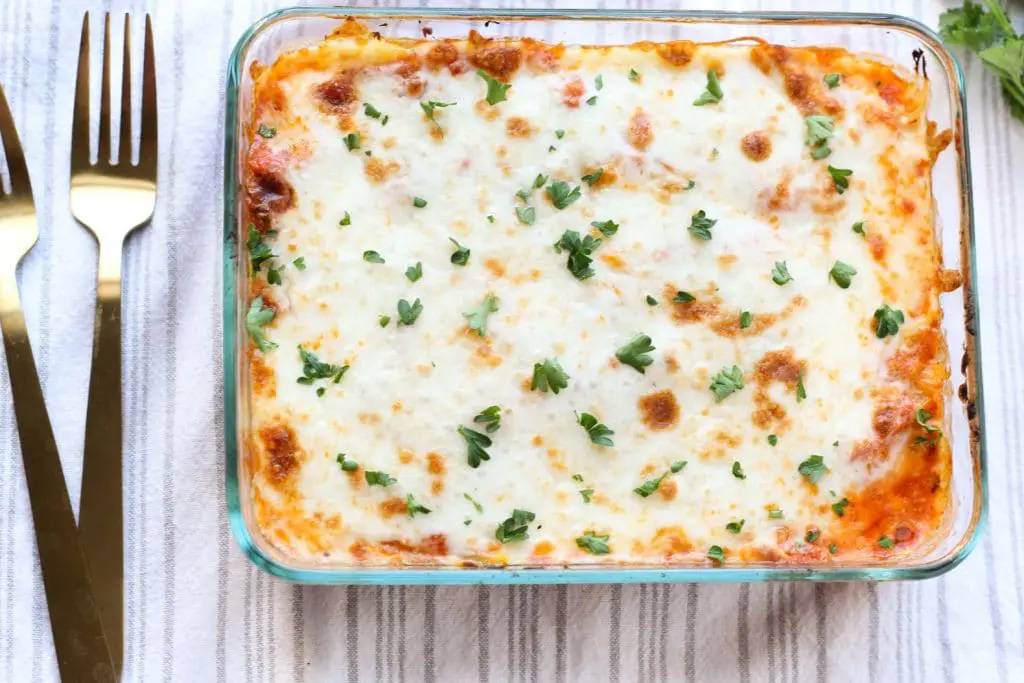 Credit: iheartvegetables.com
Do you have kids? Then you know the struggle is real- the struggle to get them to eat their veggies.
You start with a gentle nudge. The next thing you know, you end up like your mom. Sorry, mom!
This lasagna is full of vegetables. That's because you use shredded spaghetti squash instead of pasta for your lasagna.
But it's full of cheesy goodness, so your kids will love it. Double yay! This is a freezer-friendly meal!
Per Serving:
Calories: 240
Fats: 11.8g
Protein: 16.1g
Carbs: 17.8g
Fiber: 3.5g
Sugar: 9.1g
10. Whole30 Vegetarian Power Bowls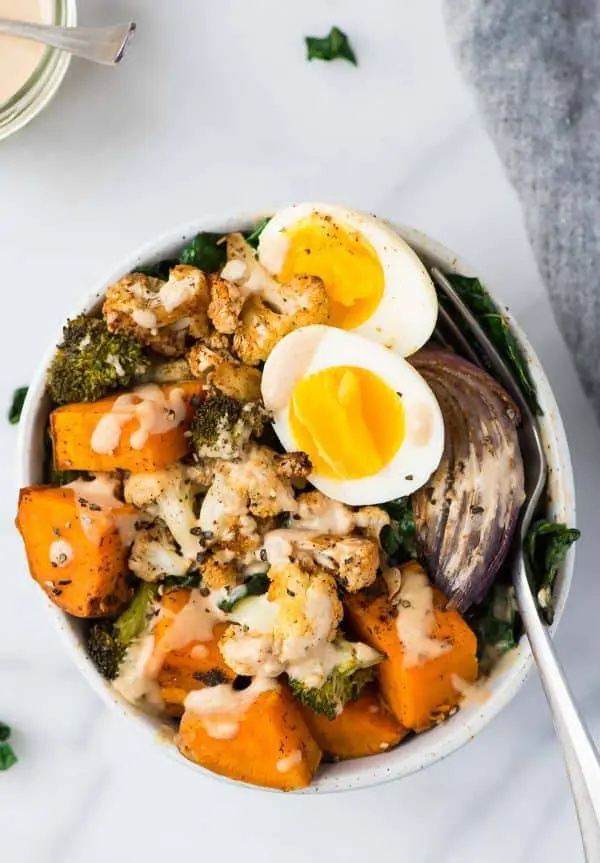 Credit: wellplated.com
But let's be fair, we adults could do with more veggies too. And one way you can up your veggie intake is by adding veggies to your breakfast.
And these Vegetarian Power Bowls are the perfect way to do this. They have eggs, your typical breakfast food…and whole lotta veggies.
You have veggies like broccoli, kale, and sweet potatoes. So, you start off your day on the right foot.
The homemade salad dressing is the perfect complement. It adds savory and tangy notes to the bowl.
Besides making a tasty breakfast, it's great for lunch too. You can eat it cold too, so you're not using your precious lunch hour waiting for the microwave.
Per Serving:
Calories: 361
Fats: 19g
Protein: 16g
Carbs: 35g
Fiber: 8g
Sugar: 6g
11. Tofu Tacos With Black Beans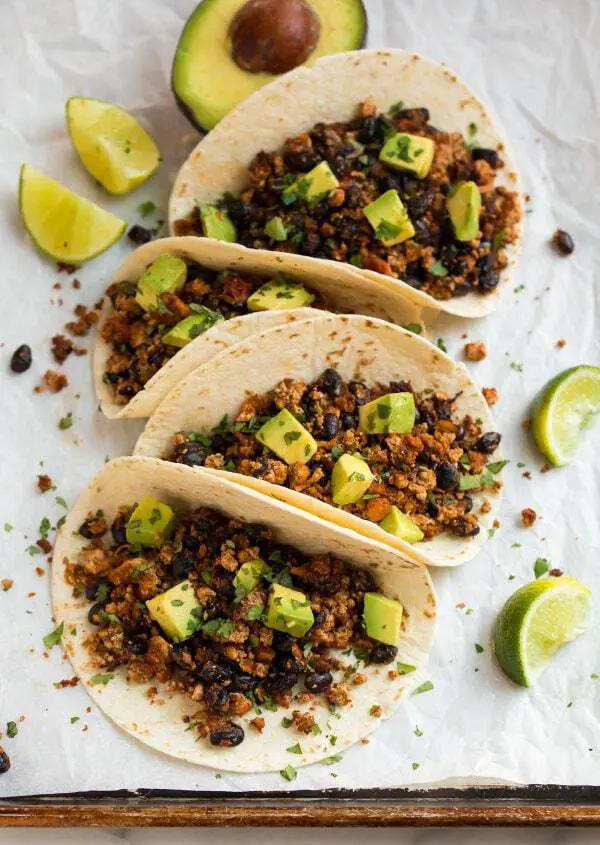 Credit: wellplated.com
Looking for a good meal idea for Taco Tuesdays? Give these tacos a try.
They're full of Mexican Flava. You definitely won't miss the meat.
What I like about the dish is the texture of the "ground beef". To make it, you crumble the tofu in a marinade and saute the crumbled tofu until it's dry.
You then add nutritional yeast, salsa, and nutritional yeast, and cook for a few minutes. Finally, spread your tofu mixture on a baking pan, and broil for 4 minutes, until nicely browned. Yum!
Per Serving:
Calories: 268
Fats: 13g
Protein: 17g
Carbs: 25g
Fiber: 7g
Sugar: 3g
12. Southwestern Style Baked Tofu Steaks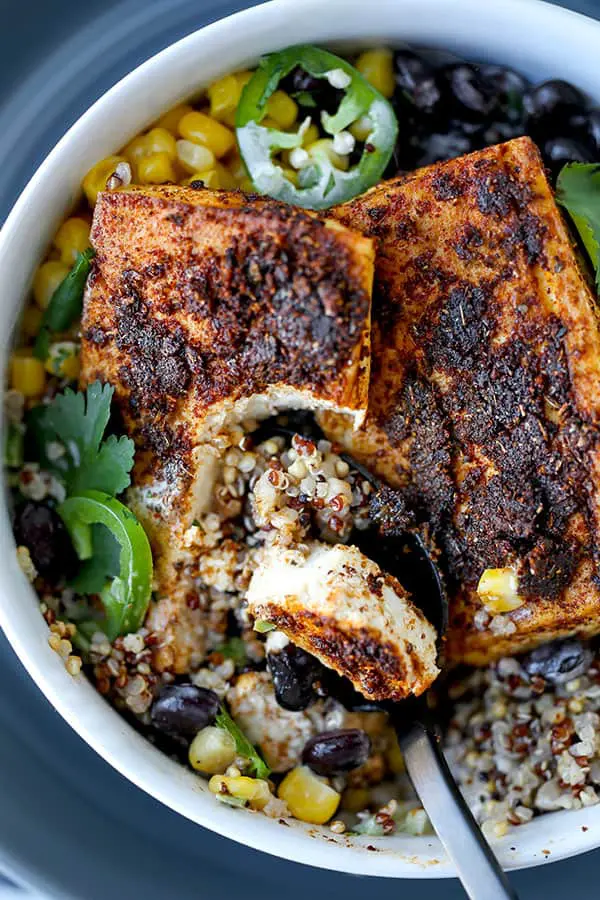 Credit: pickledplum.com
In the mood for some "steak"? Give these tofu steaks a try.
They're really meaty, just like regular steak. And they taste amazing…perfect for serving non-veggie friends and family.
Making them is pretty easy. You'll want to press your tofu first to get rid of the moisture.
Do this by wrapping your tofu in a tea towel and adding something heavy like books or cans. Or to avoid the hassle, you can simply use a tofu press like this.
Then, cut your tofu into 4 slices, place them on a parchment-paper-lined baking sheet. Top your tofu slices with your southwestern spice mix.
Finally, bake for 30 minutes, flipping partway through. Check out more sheet pan recipes here!
Per Serving:
Calories: 184
Fats: 15.3g
Protein: 9.3g
Carbs: 4.3g
Fiber: 1.9g
Sugar: 0.5g
13. Vegetarian Burrito Bowl With Cauliflower Rice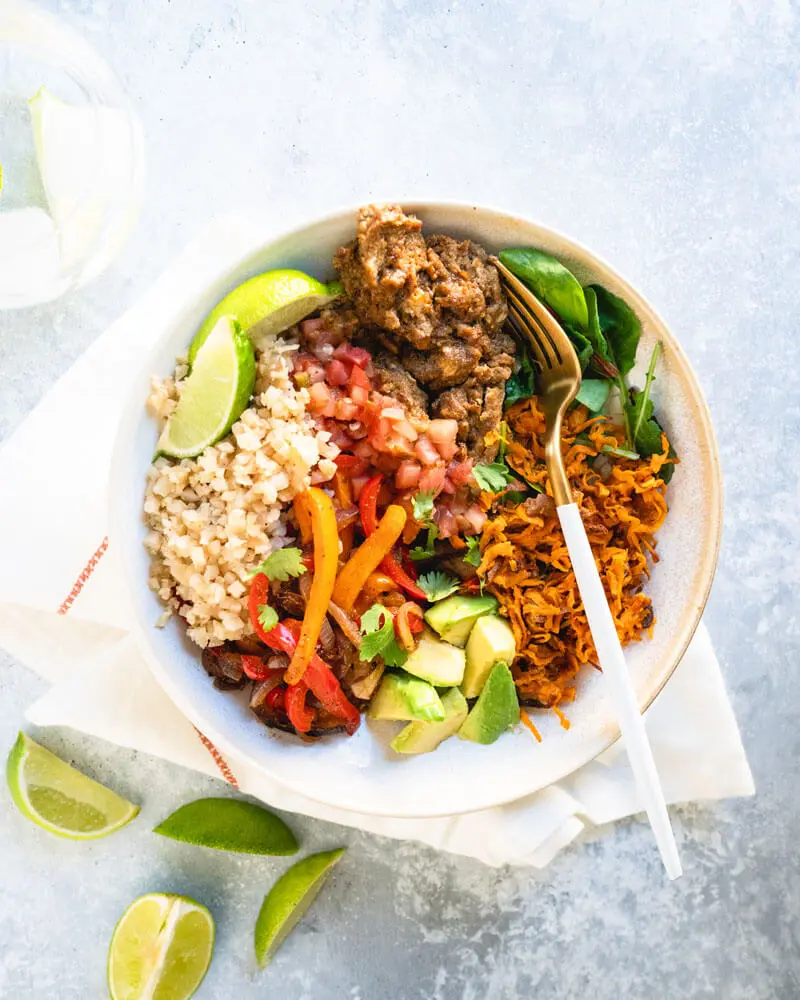 Credit: acouplecooks.com
It's nice having company over for dinner. You get to catch up with friends and eat good food.
But when you're vegetarian, and your guests aren't, making dinner can be a pain. Because you want your guests to be happy and well-fed.
This vegetarian bowl is sure to please your meat-loving guests. The chorizo eggs look like meat and taste like meat…your guests won't believe it's vegetarian.
But that's not all. The "chorizo" comes with fluffy cauliflower rice, creamy avocadoes, baked sweet potatoes, and a medley of veggies.
To make dinner prep easier, you can use prepackaged cauliflower rice, which you can get here. However, if you're on a tight budget, you can save money by making your own.
Making it is pretty easy. Start by cutting your cauliflower into pieces.
Afterward, place them in a food processor and pulse until it becomes like rice. This food processor should come in handy.
Per Serving:
Calories: 310
Fats: 18.5g
Protein: 12.4g
Carbs: 26g
Fiber: 5.6g
Sugar: 7.2g
14. Vegetarian Enchilada Casserole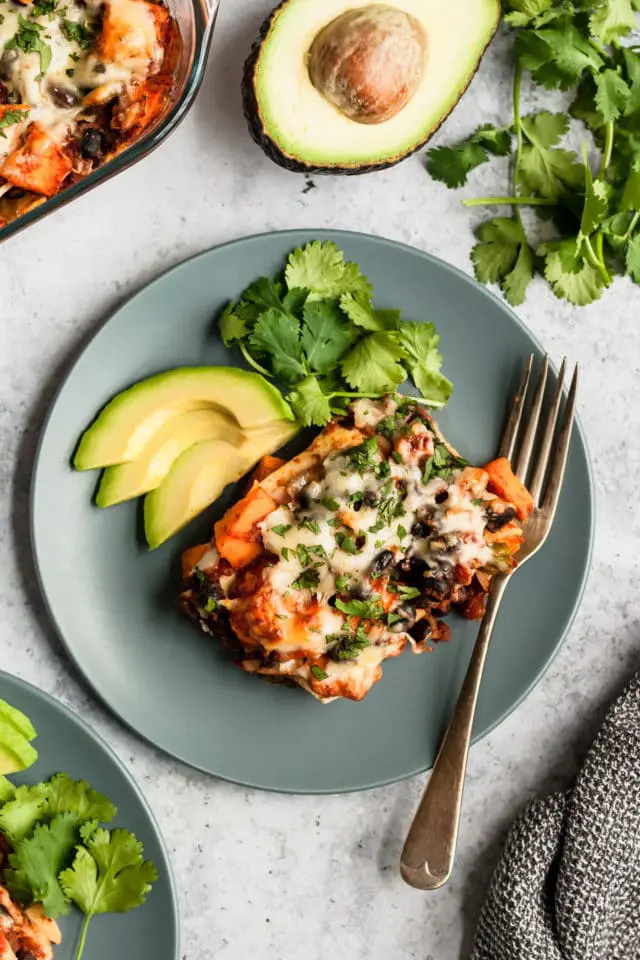 Credit: kimscravings.com
A fan of casseroles? You know just like me that after a while, they can get kind of boring.
This enchilada casserole ain't your regular casserole. That's because it's packed with Mexican flavors, from the black beans to the tortilla layers, to the salsa, to the bell peppers…it's a Mexican fiesta in your mouth.
Besides being tasty, it's pretty nutritious too. It has a ton of Vitamins A and C.
And it is rich in calcium, which you need for good bones.
This casserole is amazing just the way it is. But to make it complete, you can top it with sour cream, guacamole, or avocado slices.
Per Serving:
Calories: 185
Fats: 2.3g
Protein: 9.6g
Carbs: 31.5g
Fiber: 8.9g
Sugar: 7.1g
15. East Asian Tofu 'Beef' Bowls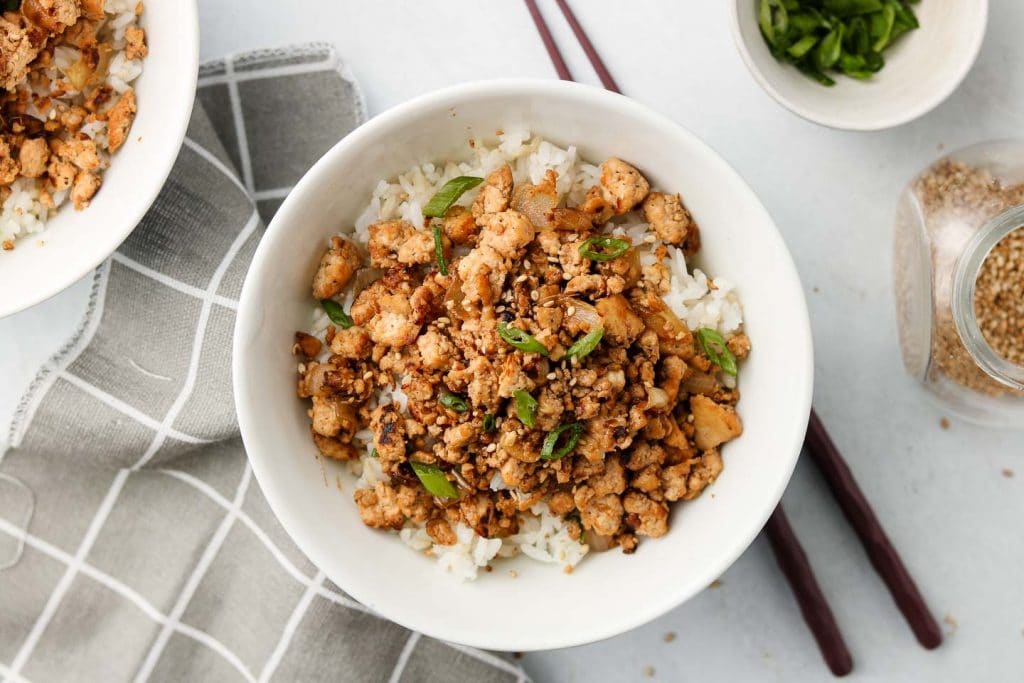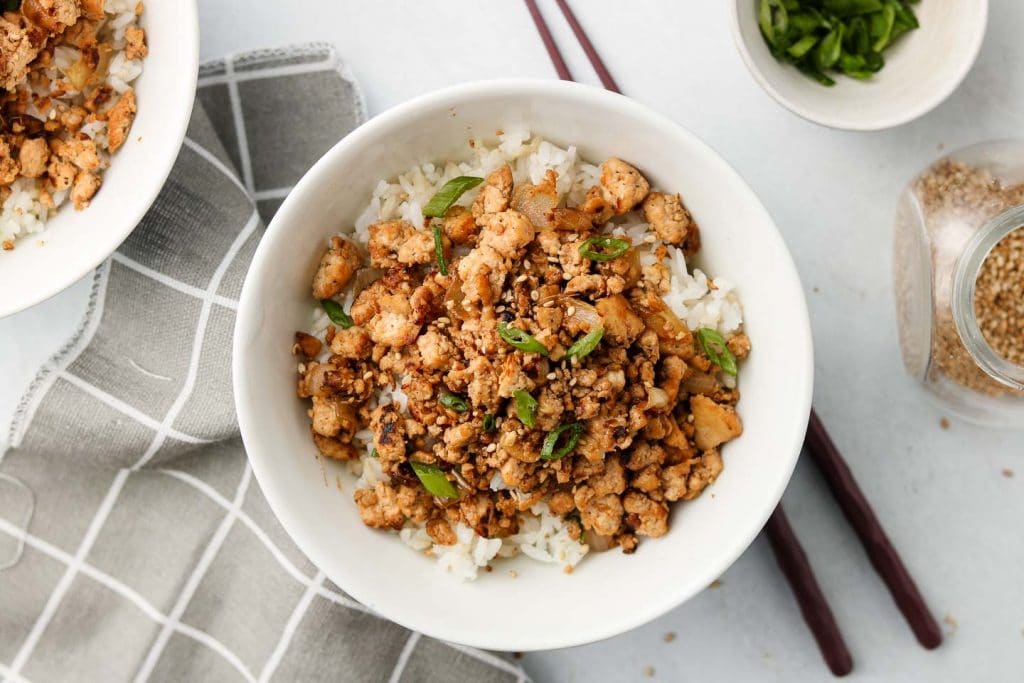 Credit: okonomikitchen.com
Sometimes you just want to chill. And order takeout.
These tofu "beef" bowls are for days like that. Made in just under 15 minutes!
So, they're even faster than takeout. The tofu crumbles are full of umami flavor, and they're really crumbly, just like ground beef crumbles.
They are lovely with veggies and cauliflower fried rice. Bon appetit!
Per Serving:
Calories: 218
Fats: 10.8g
Protein: 17.38
Carbs: 13.7g
Fiber: 1.08g
Sugar: 5.8g
16. Veggie Tofu Scramble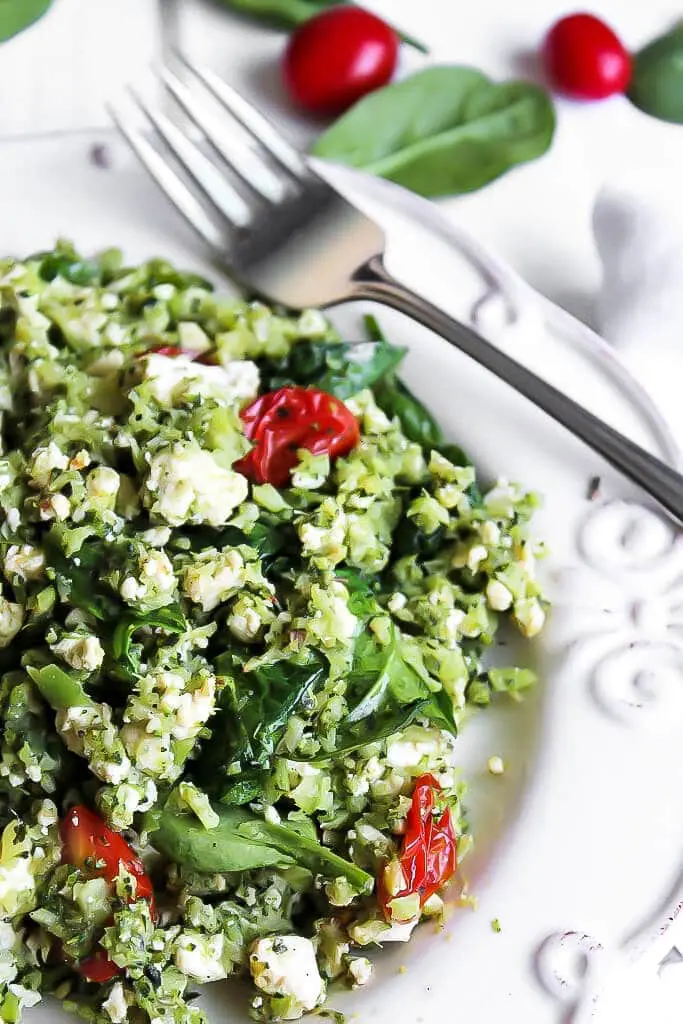 Credit: thehiddenveggies.com
Tired of having eggs for breakfast? Have this veggie tofu scramble instead!
It's simply delicious. It's also packed with a boatload of veggies.
There's zucchini, cherry tomatoes, broccoli, and baby spinach. The cheese adds a nice creaminess- healthy eating doesn't get much better than this.
It also has a ton of nutrition. You're getting plenty of Vitamins A and C.
It's also rich in potassium, which is essential for healthy blood pressure and iron.
Need to eat it on the run? No problem- make a breakfast burrito of it. I recommend these spinach herb tortilla wraps here.
One tortilla provides more than half of your daily fiber needs. Now, that's a whole lotta fiber!
Per Serving:
Calories: 337
Fats: 21g
Protein: 15g
Carbs: 24g
Fiber: 6g
Sugar: 7g
17. Spinach Avocado Breakfast Quesadilla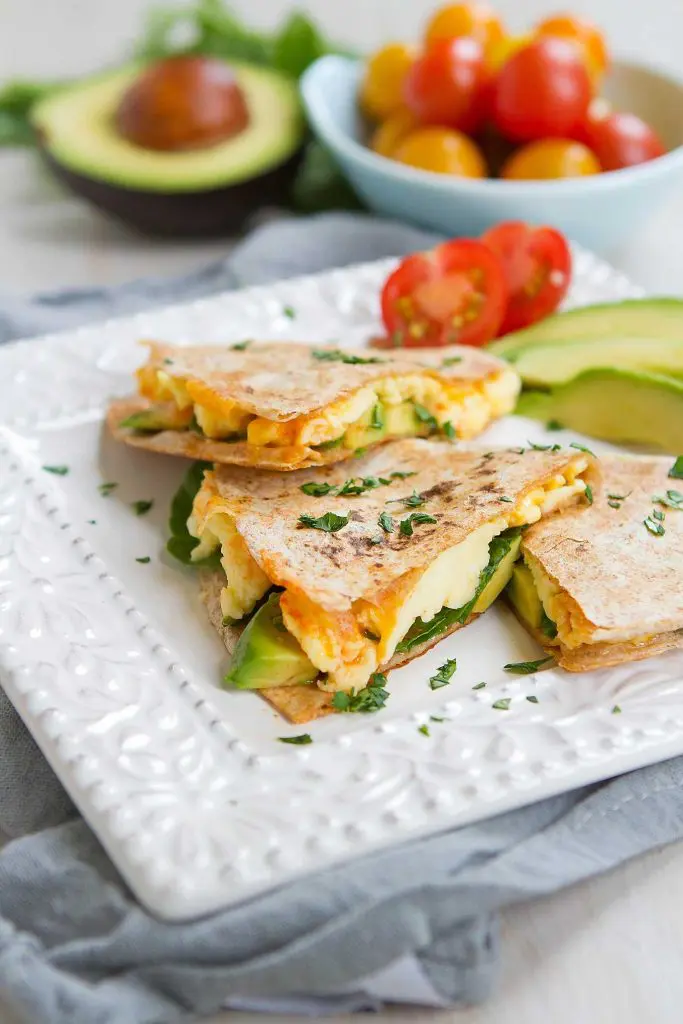 Credit: cookincanuck.com
Need a high protein dish that is also low in carbs? This breakfast quesadilla is a great option.
It's so scrumptious. You have ooey-gooey cheddar cheese, fluffy eggs, creamy avocado, and fresh spinach…it's a party in your mouth.
Best of all, one quesadilla contains only 5 grams of net carbs. Which is great when you're eating a low carb diet.
To keep it low carb –friendly, make sure you use a low carb whole wheat tortilla like this one here. It contains only 4 grams of net carbs per serving. As an added bonus, it has a good amount of protein too.
Per Serving:
Calories: 237.6
Fats: 15.4g
Protein: 18.6g
Carbs: 14g
Fiber: 9g
Sugar: 0.4g
18. Spicy Quinoa Lentil Wraps & Tahini Sauce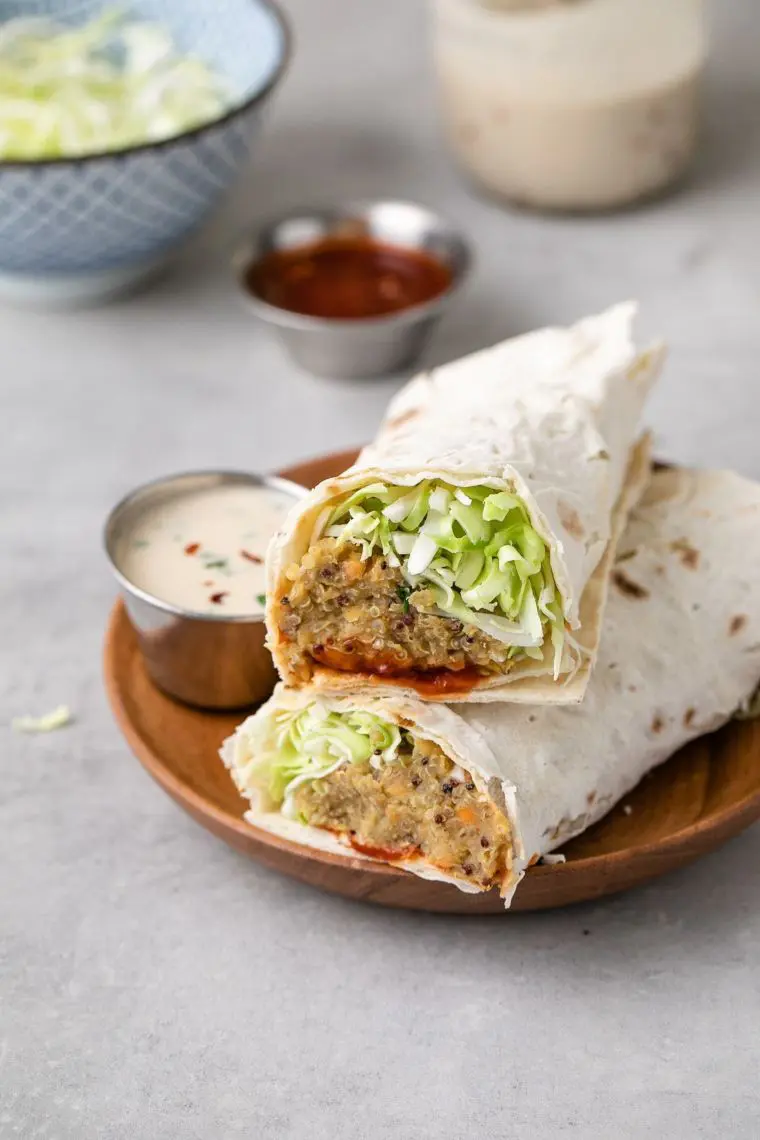 Credit: simple-veganista.com
It's nice going out for lunch with your coworkers. But after a while, it can get pretty expensive.
These spicy quinoa lentils wraps are restaurant quality. And they're budget-friendly too.
And the tahini sauce is perfect for dipping.
What I love most about these wraps is that they're so filling. They're packed with fat, protein, and fiber, which help keep you full.
So, you won't be reaching for those donuts that are calling your name.
Per Serving:
Calories: 465
Fats: 13.9g
Protein: 20.1g
Carbs: 68.7g
Fiber: 9.7g
Sugar: 2.9g
19. Gluten-Free Vegetarian Lasagna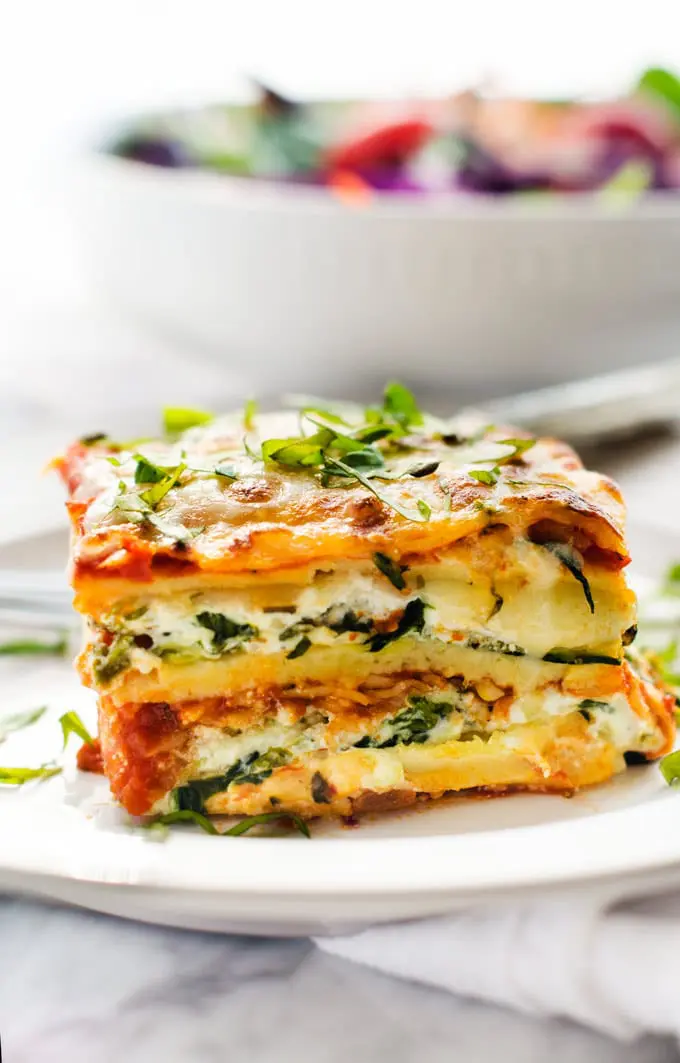 Credit: wendypolisi.com
Lasagna is so yummy. But if you're on a gluten-free diet, it's a No-No.
That's because lasagna noodles are typically made with wheat noodles. And as we all know, wheat contains tons of gluten.
With this vegetarian lasagna, you can get back to eating lasagna. It's cheesy, saucy, and even contains veggies.
So, it tastes good and is good for you too. Yay!
To keep it gluten-free, you'll be using gluten-free lasagna noodles. These lasagna noodles are made with brown rice.
So, they're not only gluten-free but better for you too.
One batch makes 12 servings. So, you'll have tons of yummy leftovers.
Per Serving:
Calories: 317
Fats: 14g
Protein: 18g
Carbs: 27g
Fiber: 1g
Sugar: 1g
20. Loaded Sweet Potato Nachos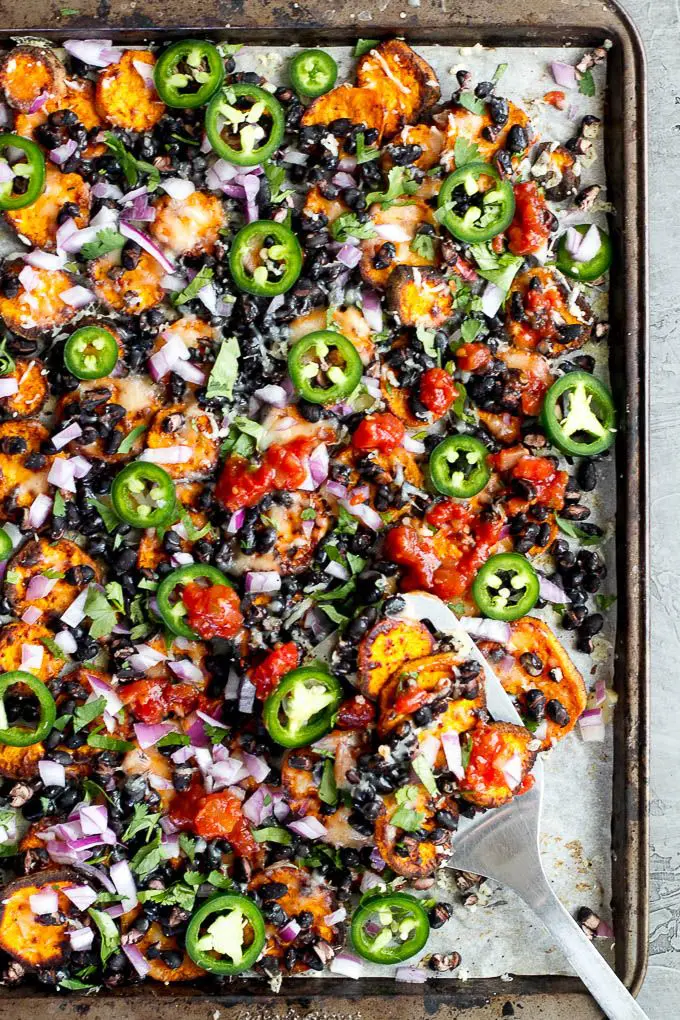 Credit: runningwithspoons.com
Looking for a healthier alternative to nachos? Try these sweet potato nachos instead.
Crispy sweet potato rounds are loaded with all your favorite nacho toppings. Toppings like black beans, cheddar cheese, red onions, and jalapeno peppers.
So, you have all the flavor of nachos…without all the calories.
What I love most about this dish is that it's a one-pan meal. So, you don't have a ton of pots and pans to clean at the end.
Per Serving:
Calories: 273
Fats: 13.1g
Protein: 10.7g
Carbs: 28.9g
Fiber: 6.2g
Sugar: 4.8g
21. Cauliflower Fried Rice With Crispy Tofu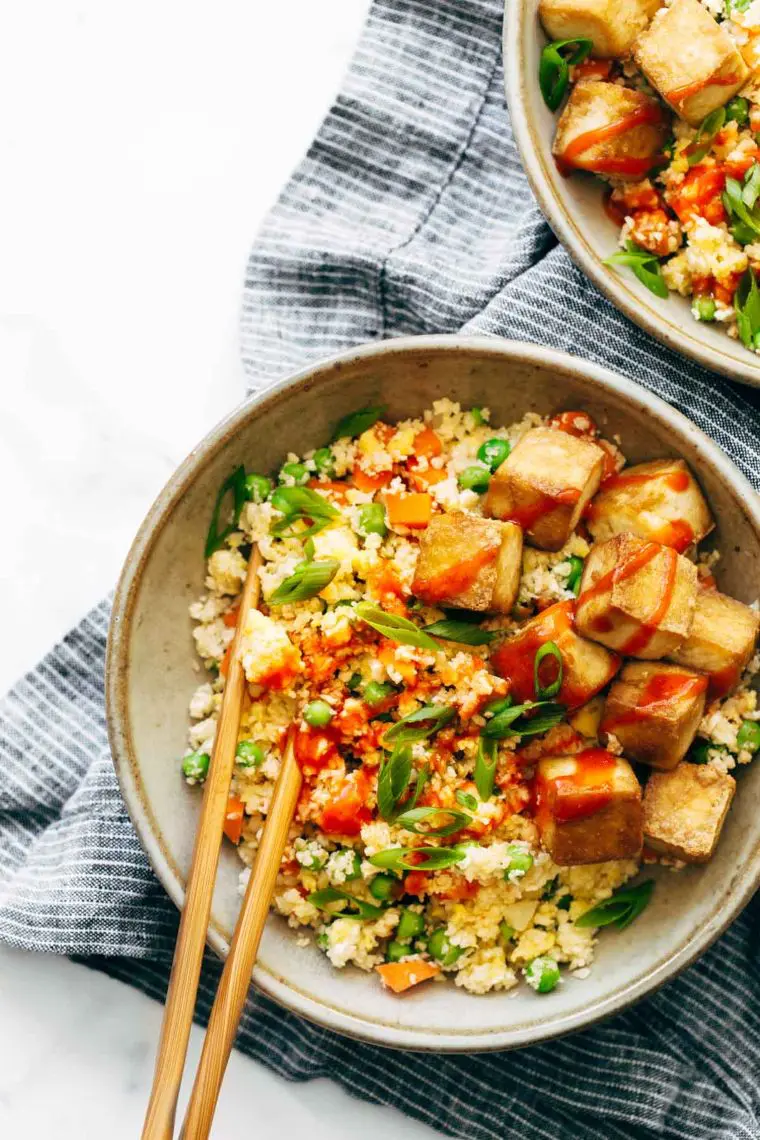 Credit: pinchofyum.com
Craving Chinese food? Then give this dish a try.
It tastes just like takeout. But it's better for your waistline…and your health.
That's because you use cauliflower rice instead of regular rice. Not only does it contain fewer calories, but it is also low carb, too- perfect if you're on a low carb diet.
It's also quite nutritious. Cauliflower rice contains B vitamins that you need for your brain.
It is also rich in immune-boosting Vitamin C. So, eat up that cauliflower rice.
Per Serving:
Calories: 297
Fats: 15.6g
Protein: 21.1g
Carbs:21.5g
Fiber: 6.8g
Sugar: 3.8g
Conclusion
What are you thinking about vegetarian meals? Let me know!