Count your calories better with these 400 calorie meals. Introduce these into your healthy diet and enjoy a healthy meal or two.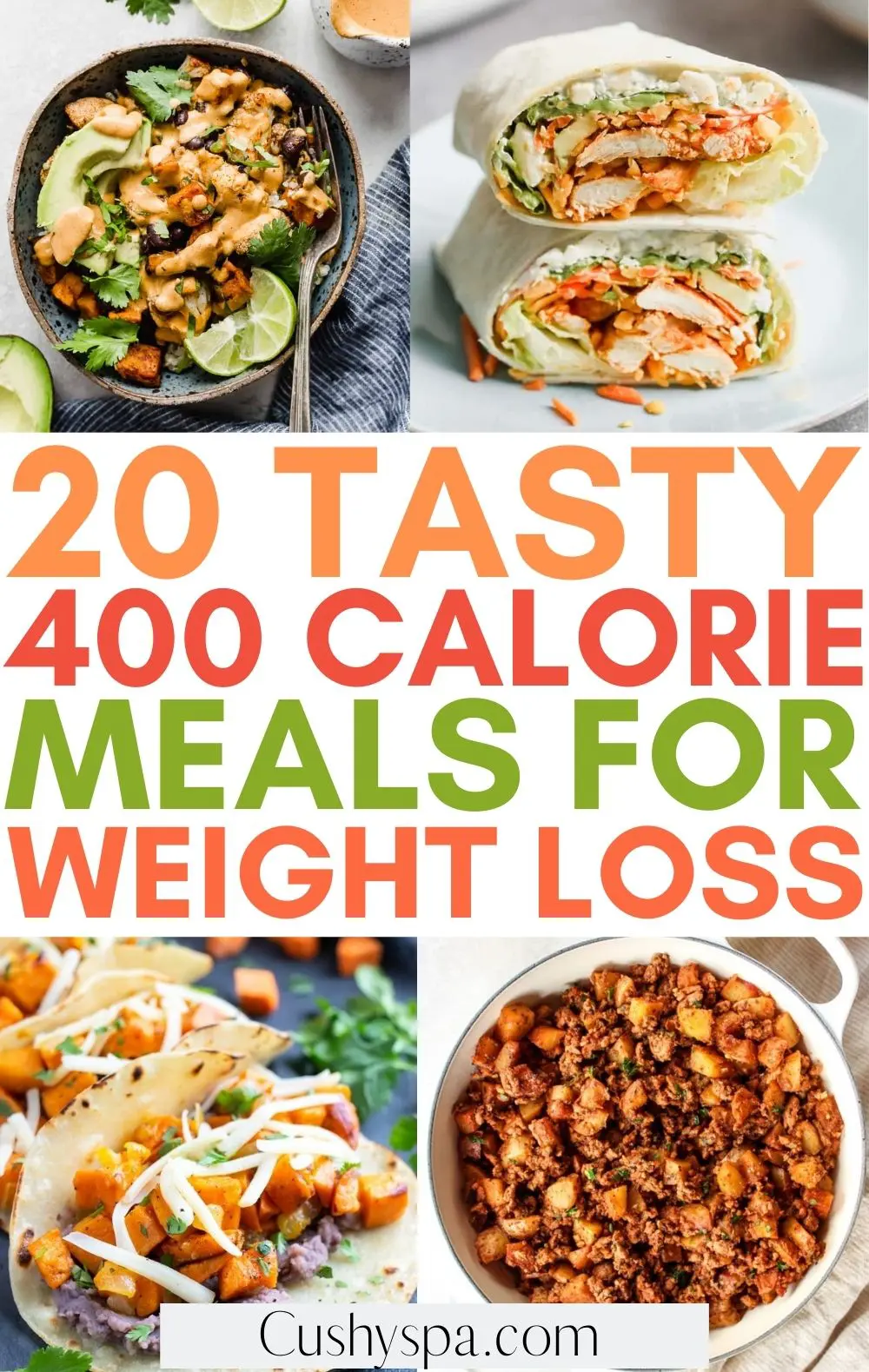 Are you looking to lose a couple of pounds? Then eating low-calorie meals is crucial.
But let's face it: low-calorie meals tend to lack the yummy factor.
And no matter how nice you want to look in your skinny jeans, eating tasteless food is no fun at all.
So, today I'm sharing 20 healthy 400 calorie meals. They not only taste great, but they'll help you drop some pounds.
Now that's what I'm talking about!
1. Stuffed Pepper Skillet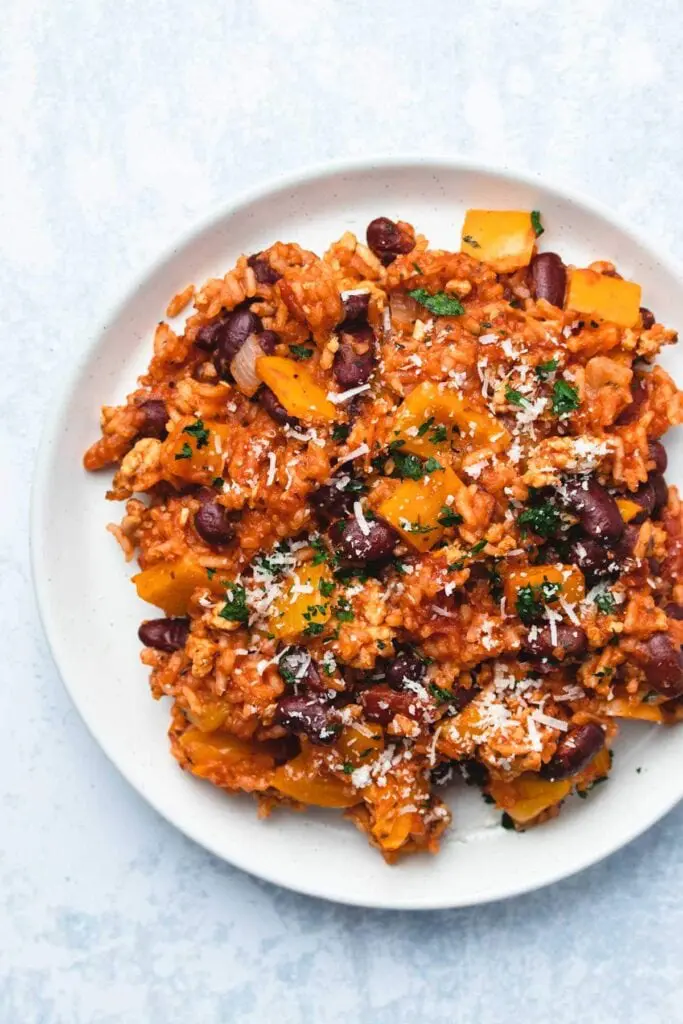 Credit: therecipewell.com
I love stuffed peppers, as I'm sure many of you do too. But I'm definitely not a massive fan of all the work they entail.
This stuffed pepper skillet gives you all the yummy tastes of stuffed peppers- without all the work.
There's nicely seasoned ground beef, fluffy rice, creamy red kidney beans, and fluffy rice.
What's more- it's a one-skillet meal. So, you don't have a bunch of pots and pans to wash later. Yay!
Besides being low in calories, this dish is rich in fiber. In fact, one serving provides about a third of your daily fiber needs.
So, it's pretty good for your tummy.
Per Serving:
Calories: 426
Fats: 10g
Protein: 27g
Carbs: 60g
Fiber: 8g
Sugar: 8g
2. Leftover Chicken, Kale, Quinoa & Pumpkin Salad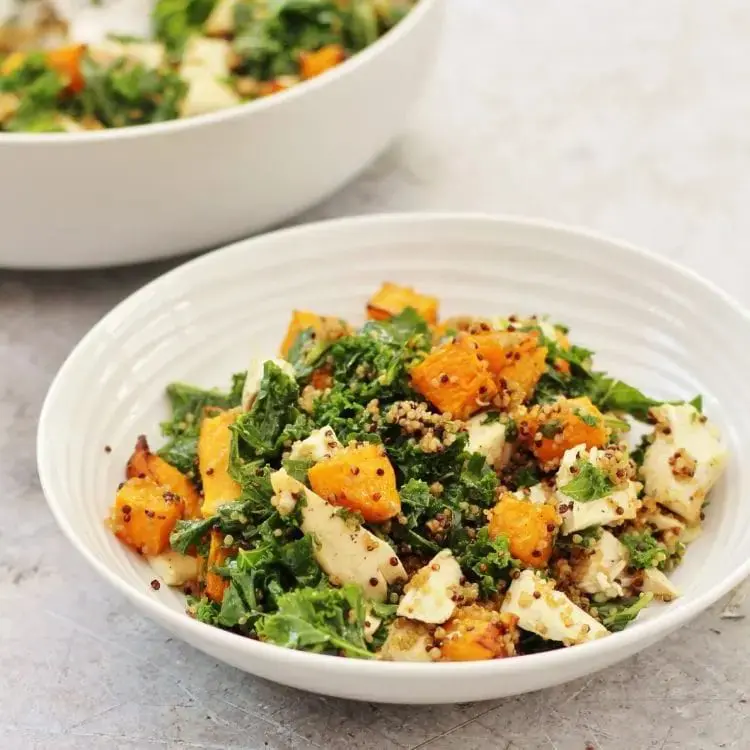 Credit: easypeasyfoodie.com
Wondering what to make with leftover chicken? Make this salad.
It's full of yummy fall flavors. The sweetness of the butternut squash melds out the bitterness of the kale.
And the fluffy quinoa ties this dish together beautifully.
The homemade dressing is nice too. It's sweet and tangy and has a hint of heat from the wholegrain mustard.
And unlike some other salads, this salad is quite filling. That's because the chicken and quinoa add plenty of protein.
Besides being a good source of plant-based protein, quinoa is so good for you. It is a rich source of manganese, magnesium, and phosphorus, vital for healthy bones.
It is also rich in flavonoids, which are antioxidants that have health benefits. As an added bonus, it doesn't contain gluten. If you'd like to stock up on some quinoa, you can get some here.
Per Serving:
Calories: 431
Fats: 31g
Protein: 15g
Carbs: 24g
Fiber: 2g
Sugar: 7g
3. Jerk Salmon With Mango & Avocado Salsa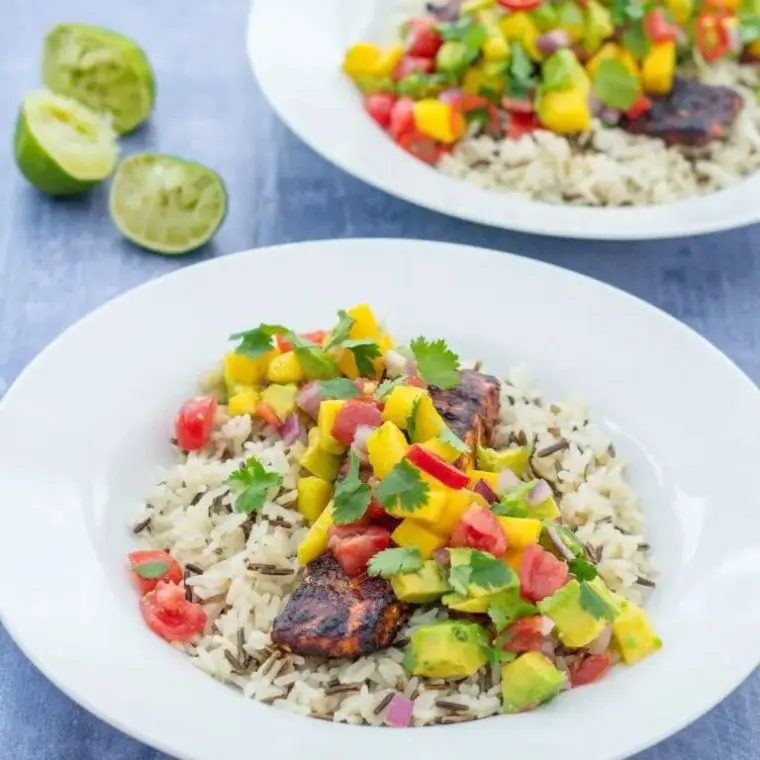 Credit: easypeasyfoodie.com
When it's wintery outside, you just want to escape to warmer climes; Warmer climes like the Caribbean.
This dish will surely transport you to the Caribbean. The salmon is spicy, smoky, and full of Caribbean flavors.
The mango and avocado salsa really bring this dish over the top. The sweetness of the mango and cherry tomatoes complement the savory of the salmon.
And the coolness of the avocado balances out the heat from the fish. It's a party in your mouth.
Besides rich in protein, salmon is rich in heart-healthy omega-3s. And it contains a ton of B vitamins which are essential for the health of your brain.
It even contains selenium, a powerful antioxidant. So, eat up that salmon!
Per Serving:
Calories: 402
Fats: 22g
Protein: 36g
Carbs: 16g
Fiber: 6g
Sugar: 6g
4. Spicy Pineapple Chicken Meal Prep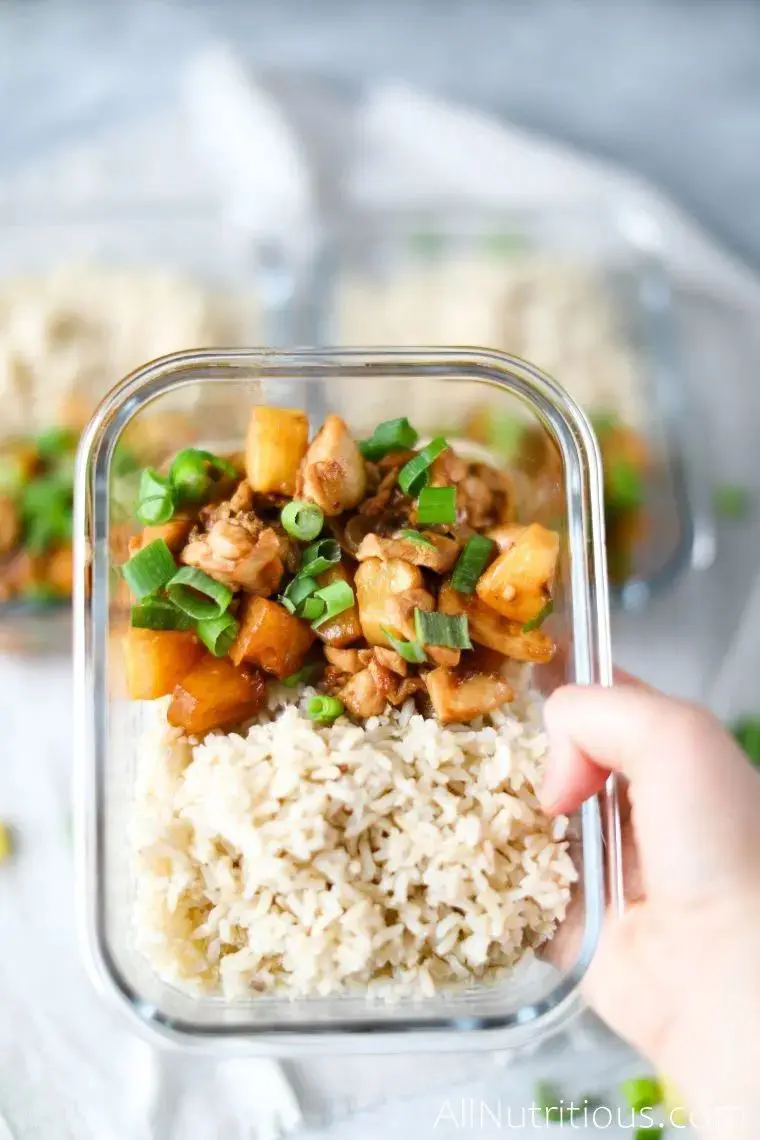 Credit: allnutritious.com
One of the things that have helped me lose weight is to meal prep my lunches. By having your lunches prepped, it's much easier to resist going to a restaurant for lunch.
Now don't get me wrong: I enjoy eating at restaurants. But the meals at most restaurants aren't exactly diet-friendly.
This Chicken Meal Prep is sure to delight your taste buds. This chicken is juicy and delicious.
The sweetness of the pineapple balances the savory onions and garlic. And the soy sauce adds umami notes.
The red pepper flakes, chili sauce, and jalapeno peppers provide some heat. Your taste buds will be so happy, and so will your waistline.
To keep your meal prep nice and fresh, be sure to store it in good airtight storage containers. These glass food storage containers here are a great option.
Not only are they leakproof, but they're also free of dangerous chemicals. However, if you prefer lighter containers, you can get these BPA-free plastic containers instead.
Per Serving:
Calories: 324
Fats: 10g
Protein: 31g
Carbs: 29g
Fiber: 1.8g
Sugar: 23g
5. Roasted Sweet Potato Cauliflower Quinoa Bowls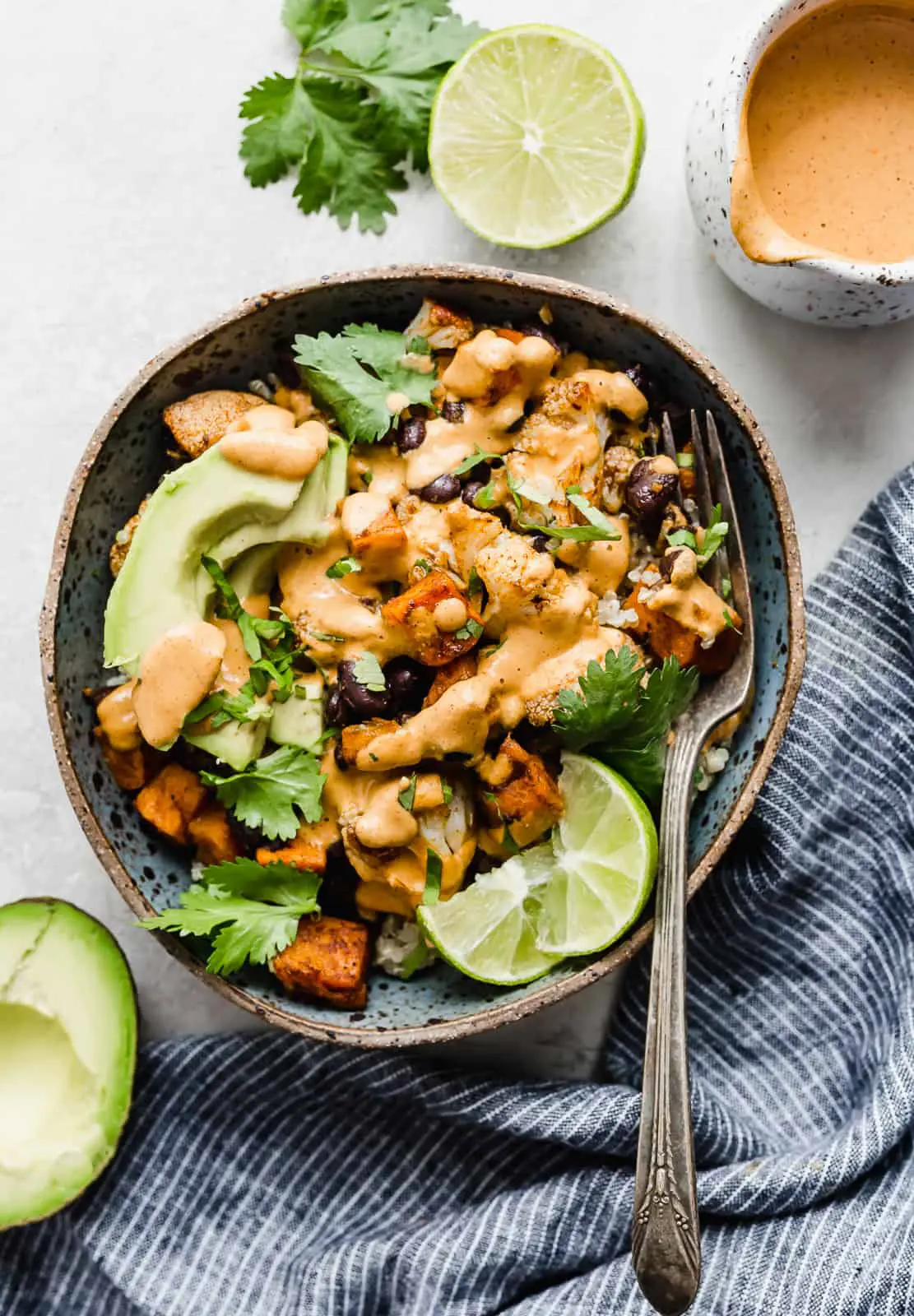 Credit: saltandbaker.com
Adding more veggies to your diet is an excellent way to lose weight. But veggies can be bland if not cooked properly.
And as good as they are for you, no one likes bland veggies.
There's nothing bland about these quinoa bowls. The cauliflower is nicely caramelized.
This makes it sweet, not bitter. And the roasted sweet potatoes add another dimension of sweetness.
And the black beans and quinoa make these bowls filling. But the kicker is the cashew cream sauce.
It definitely ties the whole bowl together. It adds moistness and some heat to the dish- perfect if you like it spicy.
Best of all, this is a sheet pan dish. So you can skip a ton of clean-up at the end.
Now that's how I like to roll.
Per Serving:
Calories: 427
Fats: 15g
Protein: 16g
Carbs: 61g
Fiber: 14g
Sugar: 7g
6. Spaghetti Squash Taco Bake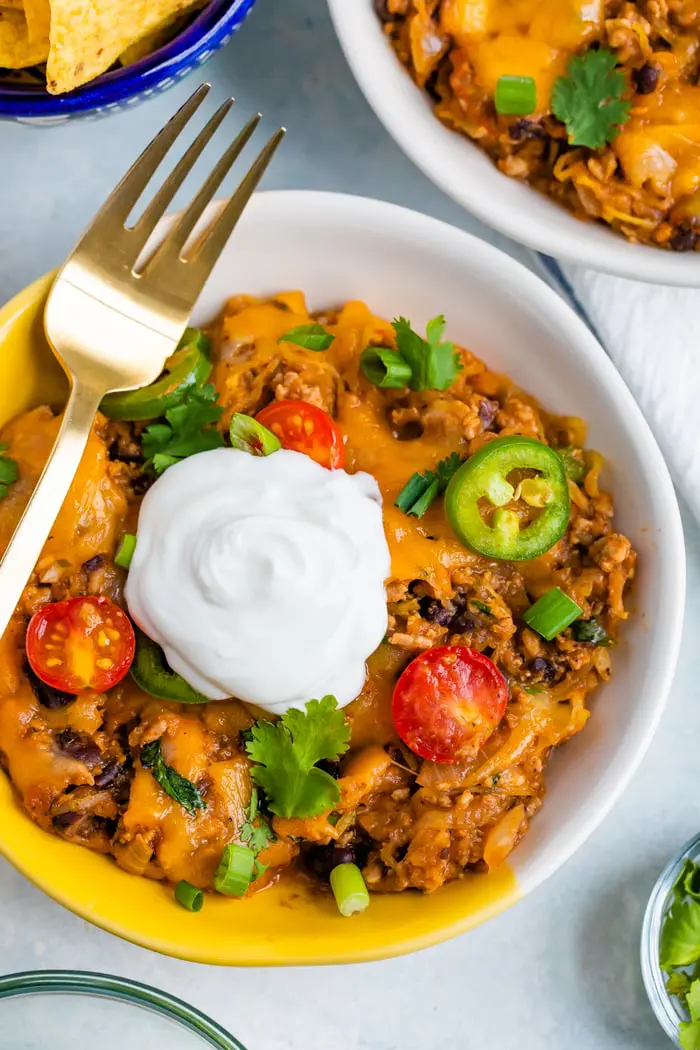 Credit: eatingbirdfood.com
Looking for another "veggie-full" dish? Here you go!
This taco bake is full of Mexican flavors, from the seasoning, black beans, jalapeno peers, and Mexican cheese. Healthy eating doesn't get much yummier than this.
And instead of ground meat, you'll be using ground turkey. Ground turkey is a great low-calorie source of protein.
That's because it contains less fat than ground beef. It is also a good source of brain-boosting B vitamins.
It is also rich in phosphorus, which is essential for healthy bones.
Winner winner, turkey dinner.
Per Serving:
Calories: 415
Fats: 22g
Protein: 31g
Carbs: 26g
Fiber: 7g
Sugar: 8g
7. Easy Cobb Salad Meal Prep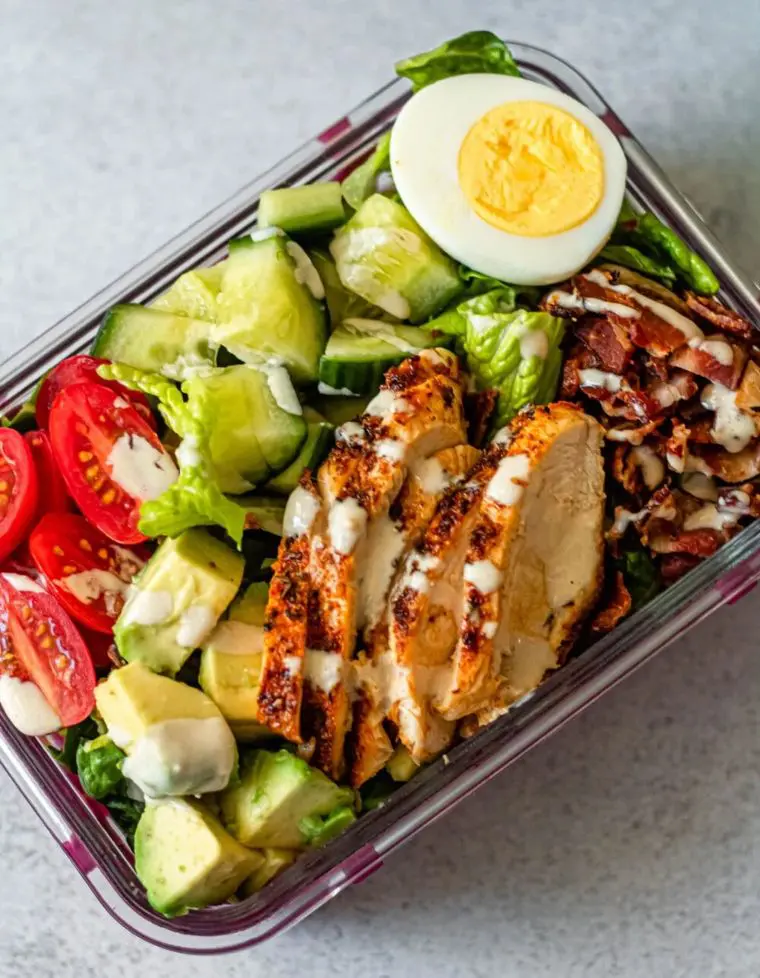 Credit: allthehealthythings.com
Salads are another great way to add more veggies to your diet. But a lot of salads taste like rabbit food.
This Cobb salad tastes like anything but rabbit food. It's full of delicious tastes and textures.
You've got juicy chicken breast, crispy bacon, creamy eggs, sweet tomatoes, luscious avocado, and refreshing cucumbers.
Besides being tasty, this salad is packed with protein. So it makes for a great post-workout meal.
And it is rich in Vitamin A. So, it's good for your peepers.
Per Serving:
Calories: 394
Fats: 27.1g
Protein: 29.6g
Carbs: 8.3g
Fiber: 4.6g
Sugar: 2.2g
8. Caprese Chicken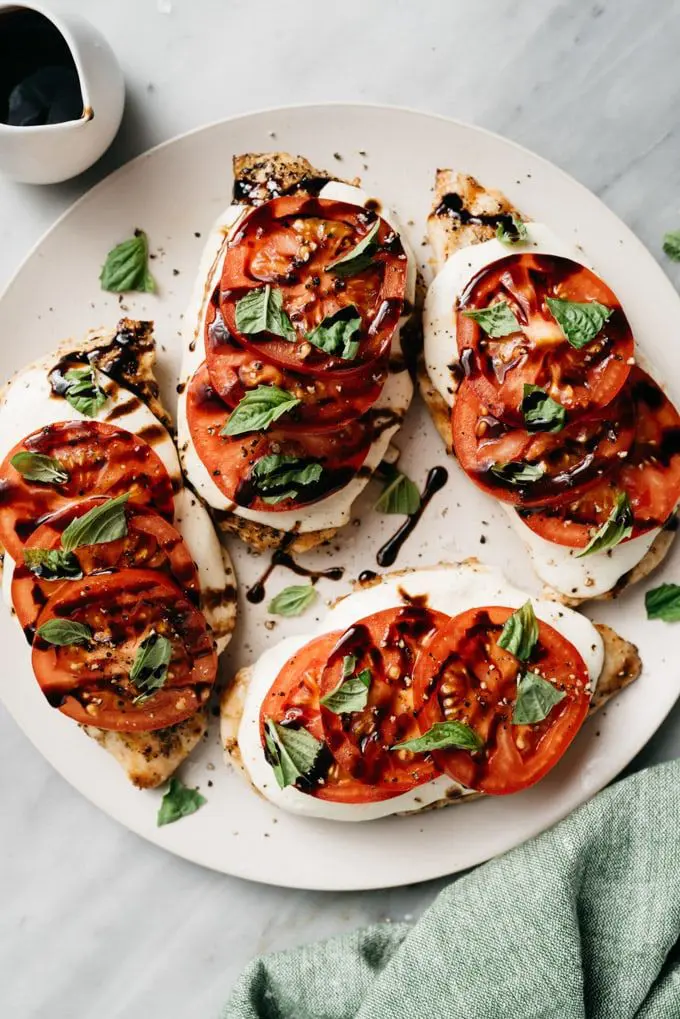 Credit: oursaltykitchen.com
I enjoy hosting dinner parties, as I'm sure many of you do too. But when you're trying to lose weight, party food can be a minefield of calories.
And as yummy as party food is, you still want to be ready for swimsuit season.
This Caprese Chicken is personal trainer approved. Tender, perfectly grilled chicken breasts are topped with creamy mozzarella, sweet tomatoes, and drizzled with a balsamic glaze.
Not only is it flavorful, but it's also pretty elegant. Your guests will be so impressed.
Yet, it takes only 25 minutes to make. So you can spend less time babysitting your grill and more time with your guests.
Don't have a grill? You can use a grill pan like this instead. You can use it on all types of cooking surfaces and even use it at campfires too.
This is a great low carb high protein meal everyone will love.
Per Serving:
Calories: 391
Fats: 18g
Protein: 49g
Carbs: 8g
Fiber: 2g
Sugar: 3g
9. Sheet Pan Shrimp Fajitas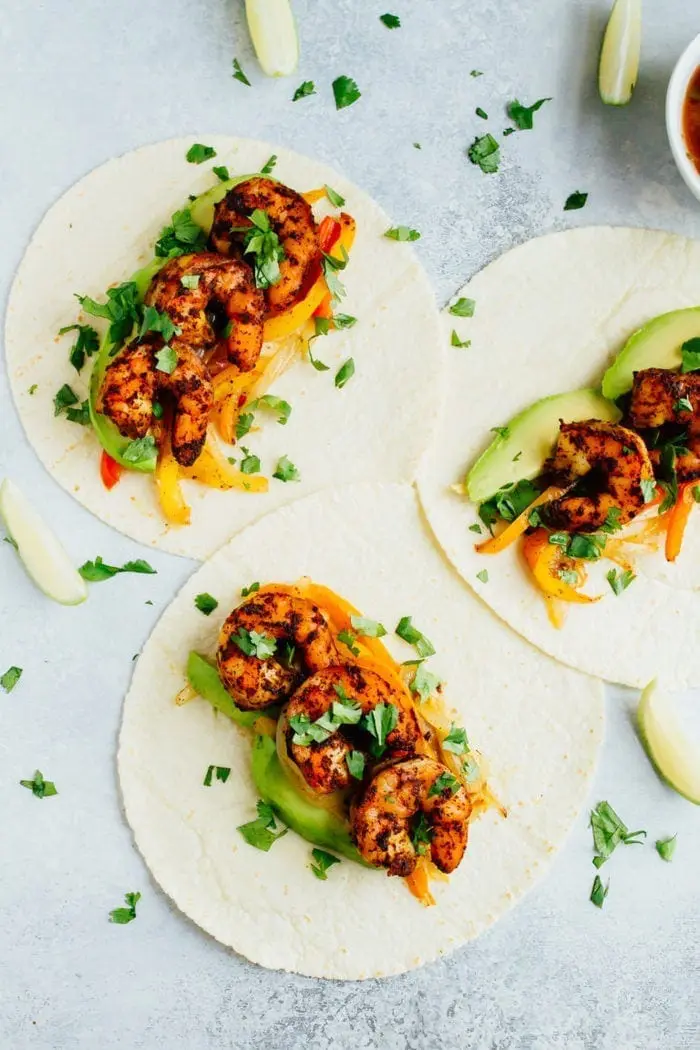 Credit: eatingbirdfood.com
Getting tired of Taco Tuesday? Have these shrimp fajitas instead.
Sweet bell peppers are paired with juicy, succulent shrimp for a taste that is Mmm mmm good.
Now, you'll be using 6 different spices. So, grab those measuring spoons. These ones are restaurant-quality. They're made with stainless steel, so they don't rust or bend.
Besides being delicious, shrimp packs a ton of nutrition. Not only is it rich in protein, but it is also an excellent source of selenium which may help reduce inflammation.
It also contains astaxanthin, an antioxidant that may be good for your brain. So, gobble up that shrimp.
What's more, this dish takes only 25 minutes to make. So, it's perfect for busy weeknight dinners.
Check out more high protein meals here.
Per Serving:
Calories: 397
Fats: 17g
Protein: 36g
Carbs: 42g
Fiber: 7g
Sugar: 9g
10. Healthy Ground Turkey Teriyaki Rice Bowl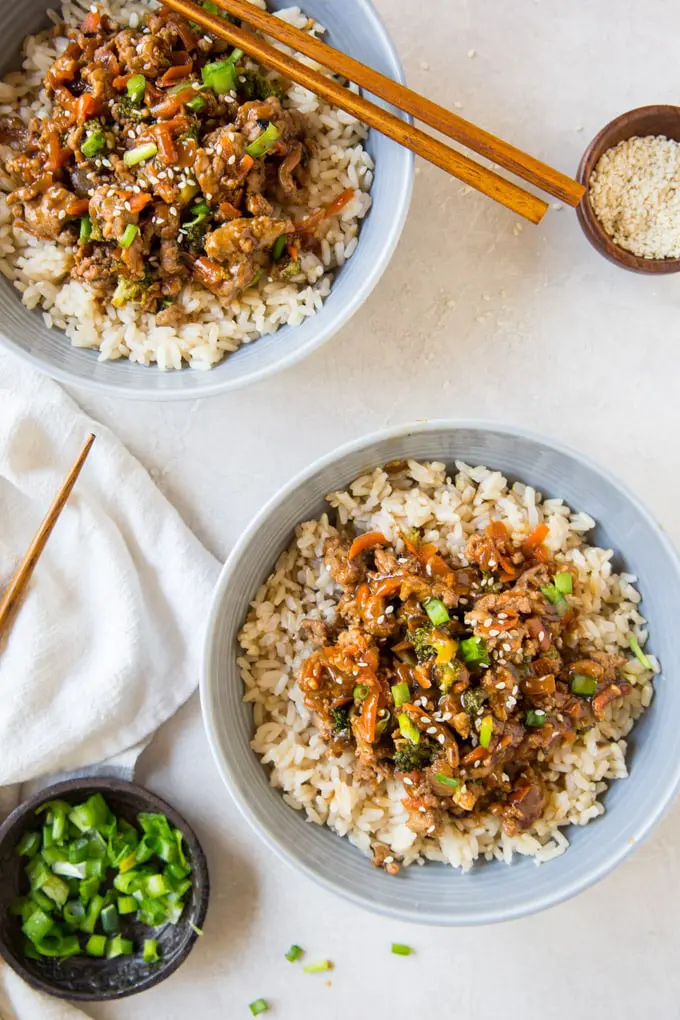 Credit: yellowblissroad.com
Are you having a difficult time trying to get your kids to eat their veggies? Serve them this Teriyaki rice bowl.
The homemade teriyaki sauce is sticky and sweet. And which kid doesn't love sticky, sweet sauces?
The carrots add extra sweetness, further masking the broccoli's bitterness—the acidity of the red wine vinegar balances out the sweetness.
Not a rice lover? You can use noodles instead. These noodles are perfect for a low-calorie diet. That's because they contain zero calories per serving.
Per Serving:
Calories: 380
Fats: 5g
Protein: 27g
Carbs: 56g
Fiber: 2g
Sugar: 12g
11. Mexican Meal Prep Bowls With Cauliflower Rice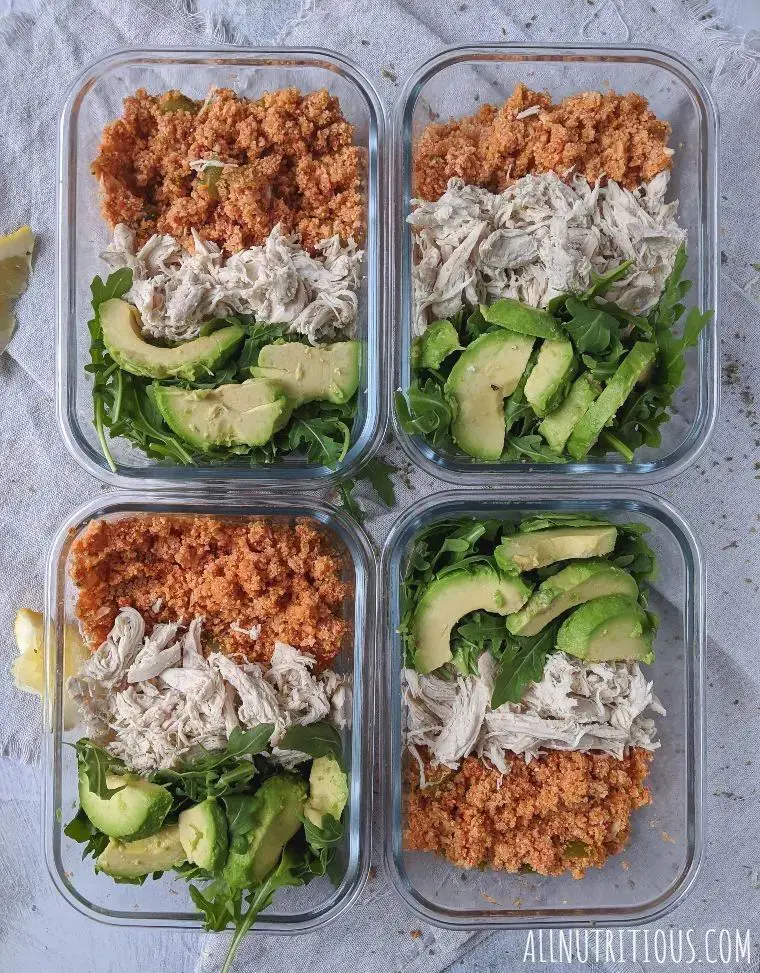 Credit: allnutritious.com
I'm a massive fan of Mexican food, as I believe many of you are too. But Mexican food tends to be heavy in carbs.
So if you're watching your carbs, too, Mexican food can be a big No-No. These Meal Prep Bowls are brimming with warm, spicy flavors.
Yet, they don't contain a ton of carbs. So, you can feel good eating them.
To keep the carb count low, you'll be using cauliflower rice instead of regular rice.
Cauliflower rice is not only low in carbs; it's pretty low in calories too. It is also nutritious too.
In fact, one cup of it provides almost 60% of your daily Vitamin C needs. It is also an excellent plant-based source of choline which supports your brain and nervous system.
If you're in a rush, you can simply use pre-packaged cauliflower rice, which you can get here. However, to cut down on costs, you can simply make it from scratch.
Cut your cauliflower into pieces, and place them in a food processor. Then puree until rice-like. This food processor should make easy work of it. It is quite powerful and can handle large volumes of food.
Per Serving:
Calories: 406
Fats: 17g
Protein: 48g
Carbs: 17g
Fiber: 8g
Sugar: 6.2g
12. Greek Chicken Bowls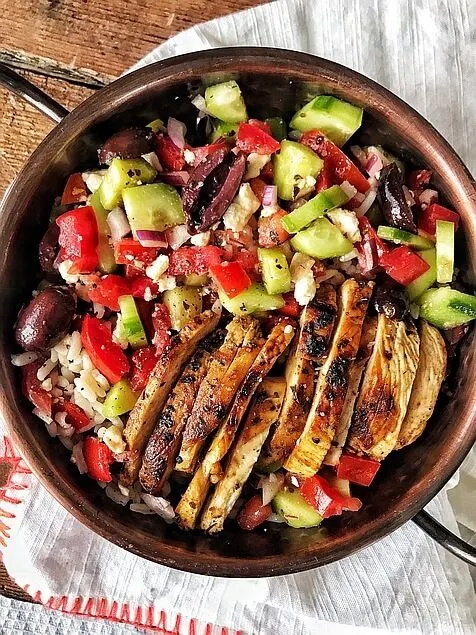 Credit: theskinnyishdish.com
Do you love Greek food? Then you've got to give these Greek Chicken Bowls a try.
The chicken is so juicy and flavorful. And the cucumber salad will keep you coming back for more.
The saltiness of the kalamata olives balances the sweetness of the red onions and Roma tomatoes. And the tangy vinegar complements the refreshing cucumber.
To ensure your chicken breasts are tender and tasty, you'll be marinating them. Make sure your chicken breasts are nice and thin before marinating them.
This will make them cook quicker. You can just cut your chicken breasts in half lengthwise with some kitchen scissors. Or you can pound them flat with a kitchen mallet like this. It's lightweight yet solid, making it easy on your arms.
With a dish like this, who needs to go to a Greek restaurant?
Per Serving:
Calories: 385
Fats: 13g
Protein: 44g
Carbs: 17g
Fiber: 2g
Sugar: 2g
13. Vegan Sushi Bowl With Pan-Fried Tofu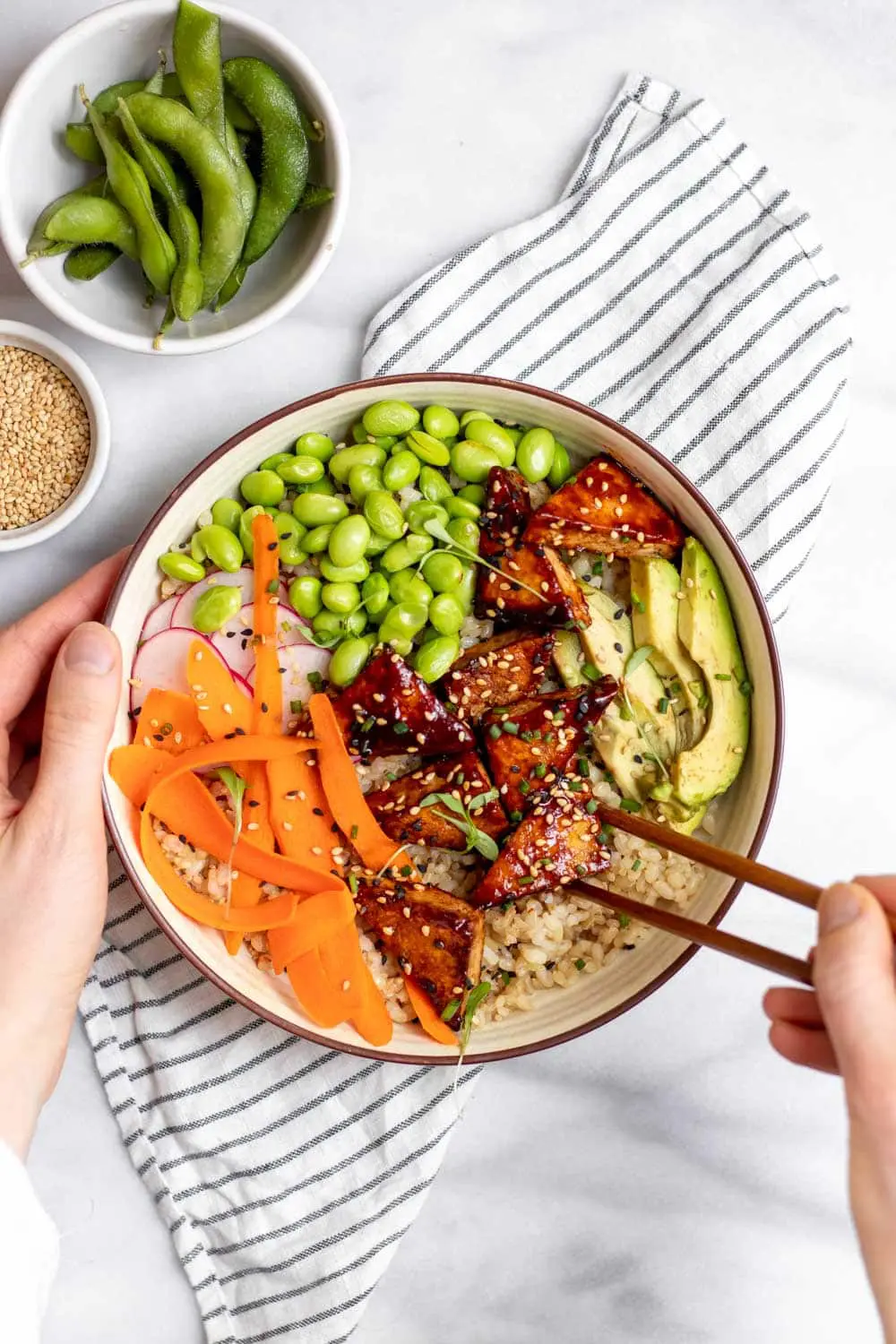 Credit: eatwithclarity.com
Looking to turbocharge your weight loss on a plant-based diet? Add some tofu.
Tofu adds a nice boost of protein, which helps you feel full. It also boosts your metabolism.
And it has bone-building minerals like manganese, calcium, and phosphorus. So, eat up that tofu.
However, tofu can be pretty bland if not seasoned properly. You won't have to worry about that with this pan-fried tofu.
It's sticky, spicy, and crispy- perfect for popping right into your mouth.
And it's accompanied by fluffy rice, creamy avocado, sweet carrots, refreshing cucumber, and radishes. Your taste buds will be doing a happy dance.
To ensure that your tofu is nice and crispy, you'll want to make sure you use extra firm tofu. Also, you'll want to remove excess moisture from your tofu.
You can do this by wrapping your tofu in a clean kitchen cloth. Then place some heavy books on it.
Or, to make it even more comfortable, you can use a tofu press. This one here is pretty easy to clean up.
Per Serving:
Calories: 444
Fats: 19g
Protein: 15g
Carbs: 44g
Fiber: 8.1g
Sugar: 0g
14. Garlic Butter Ground Turkey With Cauliflower Skillet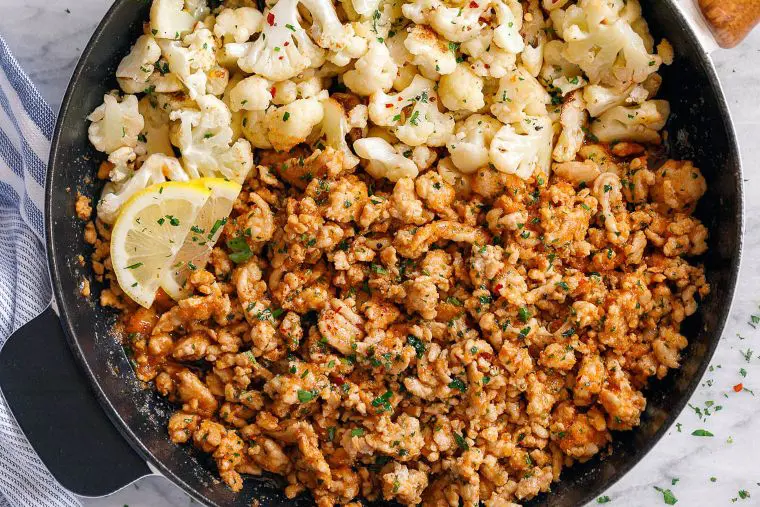 Credit: eatwell101.com
Looking for a healthy alternative to Hamburger Helper? This Cauliflower Skillet is a great option.
It's tasty, creamy, comforting, and so good for you. That's because you're replacing the pasta with cauliflower.
And unlike Hamburger Helper, this dish has a more robust flavor profile. The hot sauce adds heat.
Meanwhile, the soy sauce and sesame oil add some umami Asian flavors. And the garlic butter turns bland ground turkey into a mouthful that is so decadent.
This is definitely an upgrade to your childhood favorite.
Per Serving:
Calories: 415.59
Fats: 26.11g
Protein: 30.65g
Carbs: 16.3g
Fiber: 2.53g
Sugar: 4.62g
15. Low Carb Chicken Shawarma Bowls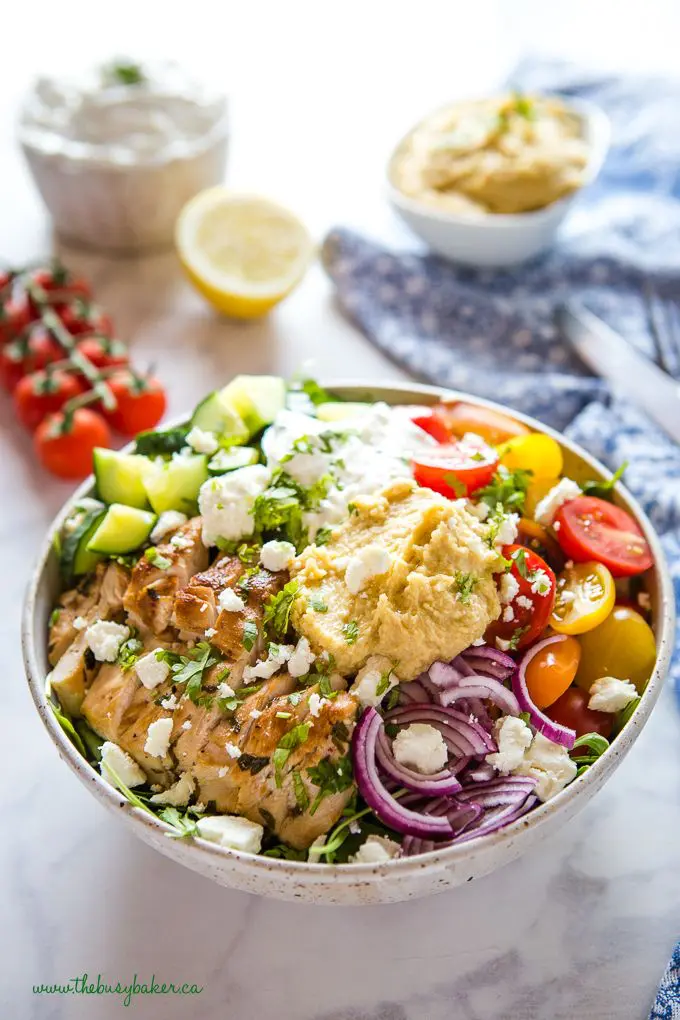 Credit: thebusybaker.ca
Are you also watching your carbs too? If so, Lebanese food can be a hard pass.
That's because Lebanese food often contains carb-heavy foods—Carb heavy foods like rice and pita bread.
With these Low Carb Chicken Shawarma Bowls, you can eat your cake, ahem, Shawarma bowls, and have them too.
These Bowls are brimming with delicious Mediterranean flavors, from the mint-laden, creamy garlic sauce, mint and garlic flavored chicken breasts, creamy feta cheese, sweet cherry tomatoes, and crunchy cucumbers.
Still, miss the pita bread? You can add some low-carb pita bread like this. Not only is it low in carbs, but it is also high in protein as well. So it fills you up.
Per Serving:
Calories: 386
Fats: 15g
Protein: 37g
Carbs: 15g
Fiber: 2g
Sugar: 7g
16. Black Bean Sweet Potato Tacos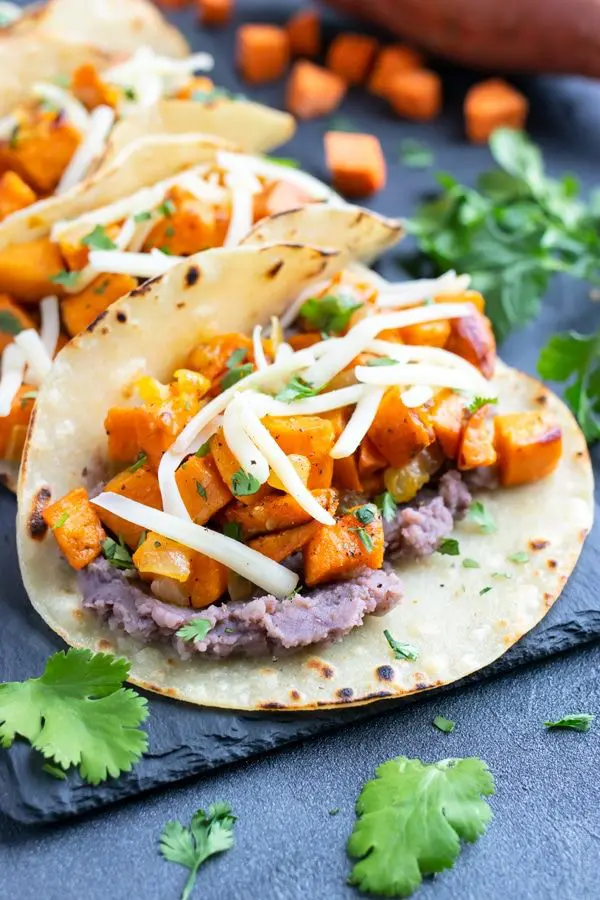 Credit: evolvingtable.com
Want to combine Taco Tuesday with Meatless Monday? Try these Sweet Potato Tacos.
The sweet potatoes and caramelized onions add a yummy sweetness. Meanwhile, the cheese and refried beans make it super filling- you definitely won't miss the meat.
And if you want to make it vegan, you can simply leave out the cheese. Or you can use vegan cheese or avocado to add creaminess.
Besides adding creaminess, avocados are rich in fiber. And they contain heart-healthy monounsaturated fats.
Like it spicy? Just add some Sriracha sauce or some hot salsa like this. It is all-natural and doesn't contain any harmful additives.
Check out more high protein vegetarian meals here.
Per Serving:
Calories: 435
Fats: 16g
Protein: 12g
Carbs: 60g
Fiber: 11g
Sugar: 6g
17. Buffalo Chicken Wrap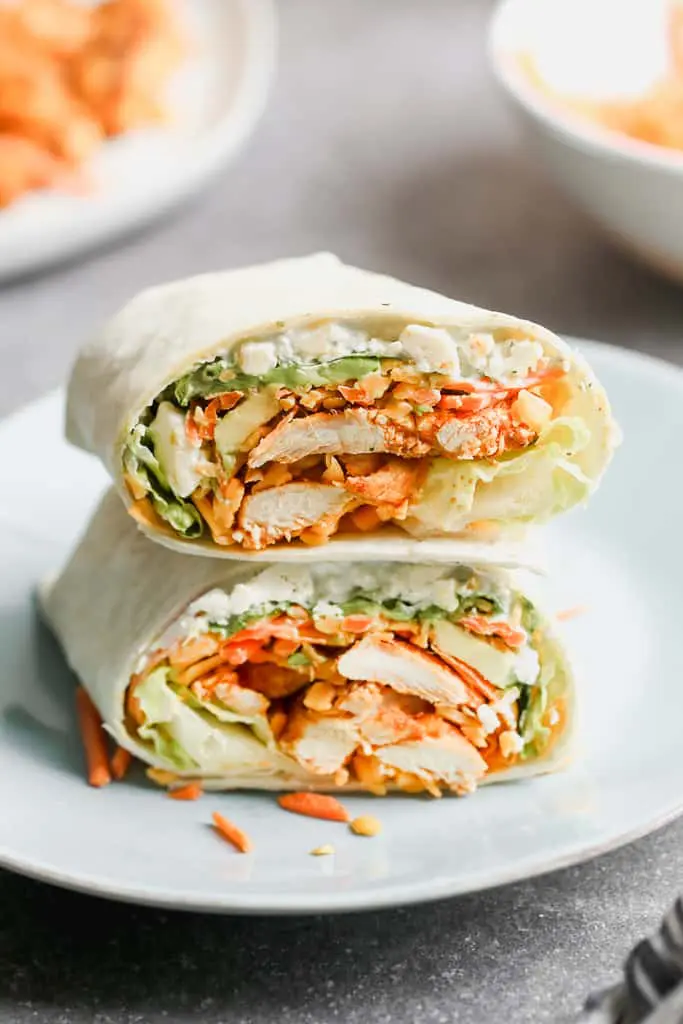 Credit: tastesbetterfromscratch.com
Are you a fan of everything spicy? Then you'll love these Buffalo Chicken Wraps.
The spiciness of the Buffalo Chicken is tempered by the coolness of the Ranch dressing and cheddar cheese.
Meanwhile, the carrots add crunch, and avocado adds coolness. It's a nice balance of tastes and textures.
What's more, you can eat them with one hand. So, they're the perfect grab-and-go lunch.
Per Serving:
Calories: 448
Fats: 20g
Protein: 8g
Carbs: 6g
Fiber: 2g
Sugar: 1g
18. Chicken Fajita Stuffed Peppers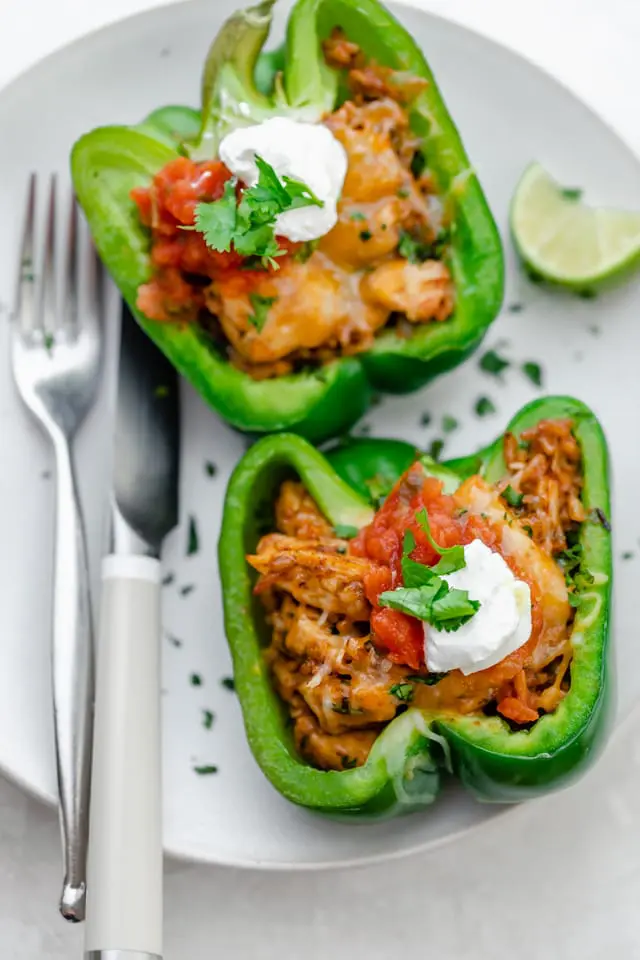 Credit: feelgoodfoodie.net
Did someone say Chicken Fajita Stuffed Peppers? You had me at Chicken Fajita…and Stuffed Peppers.
These stuffed peppers are so delicious. They're cheesy and full of incredible Tex-Mex flavors.
And unlike traditional stuffed peppers, you're using chicken breast instead of ground beef. So, you're cutting down on the calories without skimping on the protein. Yay!
Now you'll be using cheddar cheese for these stuffed peppers. But to add even more Tex-Mex flavors, you can use Pepper Jack cheese instead.
Per Serving:
Calories: 441
Fats: 19g
Protein: 42g
Carbs: 25g
Fiber: 3g
Sugar: 5g
19. Ground Turkey & Potato Skillet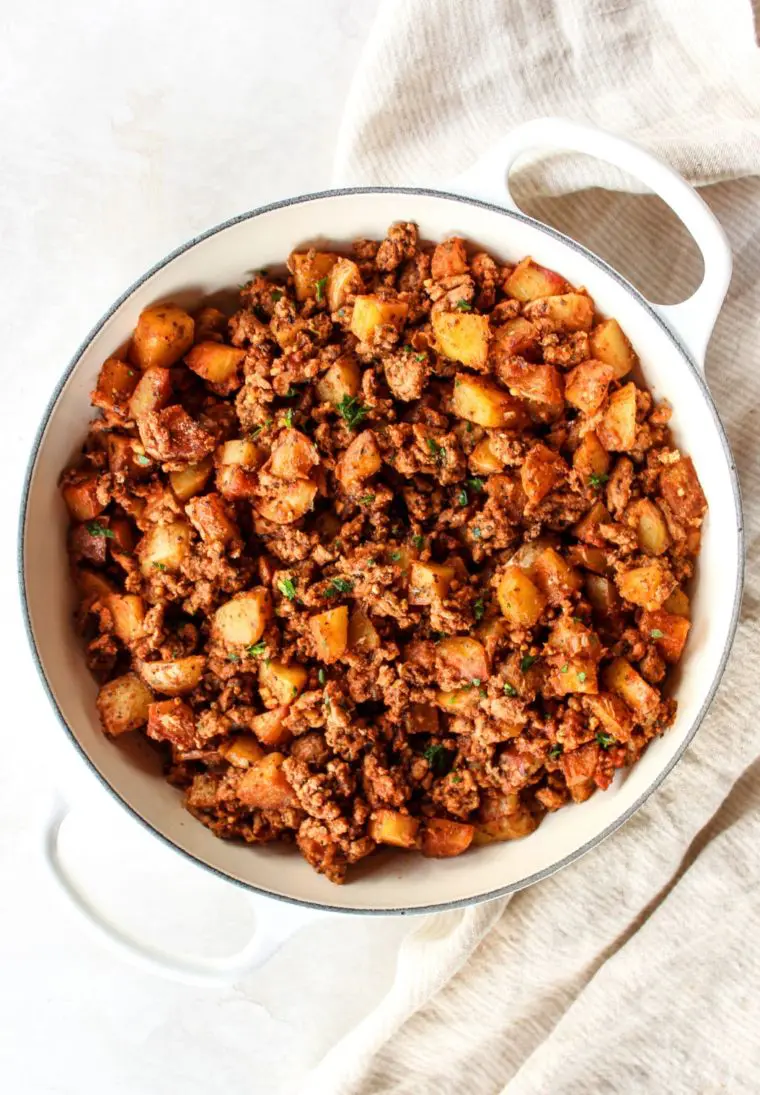 Credit: thewholecook.com
Need dinner ready in 1, 2, 3? Make this Ground Turkey & Potato Skillet.
It's ready in only 25 minutes. Nicely browned ground turkey and potatoes are mixed with a medley of spices- 8 to be exact.
So, your turkey and potatoes come out tasting pretty yummy, not bland.
To make sure your potatoes take less time to cook, make sure you dice them really small. Nobody likes undercooked potatoes!
Serve with some steamed veggies.
Per Serving:
Calories: 437
Fats: 17g
Protein: 27g
Carbs: 46g
Fiber: 7g
Sugar: 4g
20. Tuscan White Bean Skillet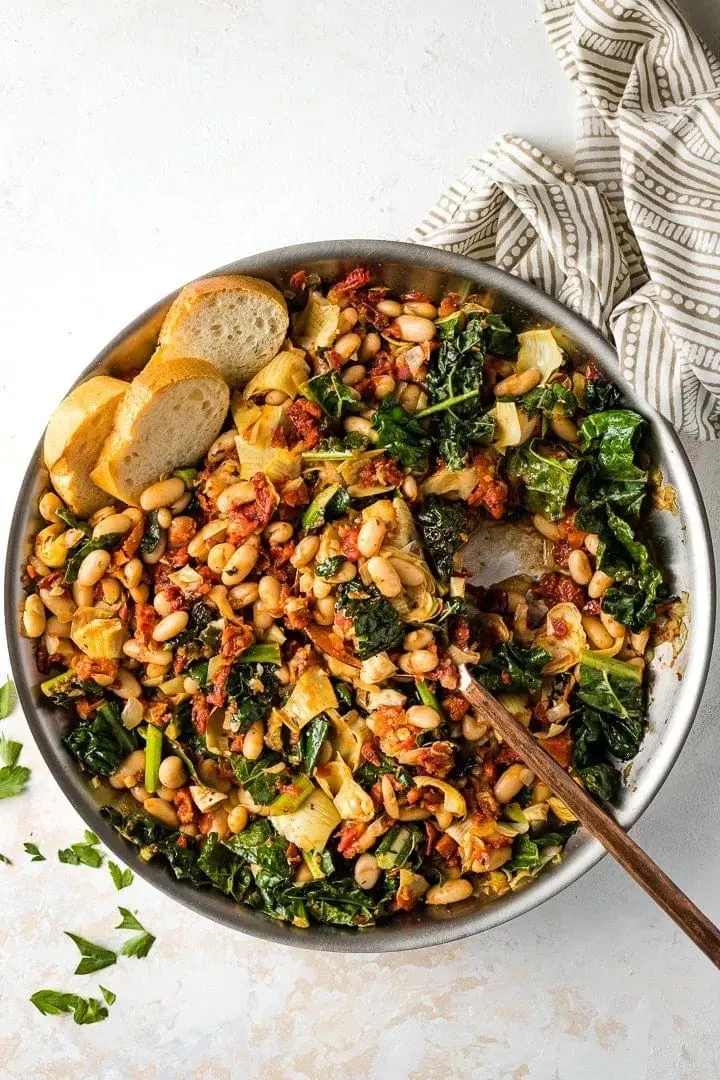 Credit: nourish-and-fete.com
Want a vegan skillet dish instead? This is for you.
It's bursting with yummy, fresh Italian flavors. The tanginess of the sun-dried tomatoes balances the saltiness of the artichoke hearts.
And the Cannelini beans add tons of plant-based protein. Meanwhile, the kale makes the skillet nice and fresh.
Kale is also pretty nutritious. It is chock full of Vitamin K, which helps your blood clot.
And it has a ton of antioxidants which have health benefits.
Buon appetito!
Per Serving:
Calories: 383.89
Fats: 15.08g
Protein: 16.38g
Carbs: 52.46g
Fiber: 14.67g
Sugar: 4.62g