Sometimes you just need a quick healthy meal. These 500 calorie meals are yummy, nutritious, and great for staying in a caloric deficit.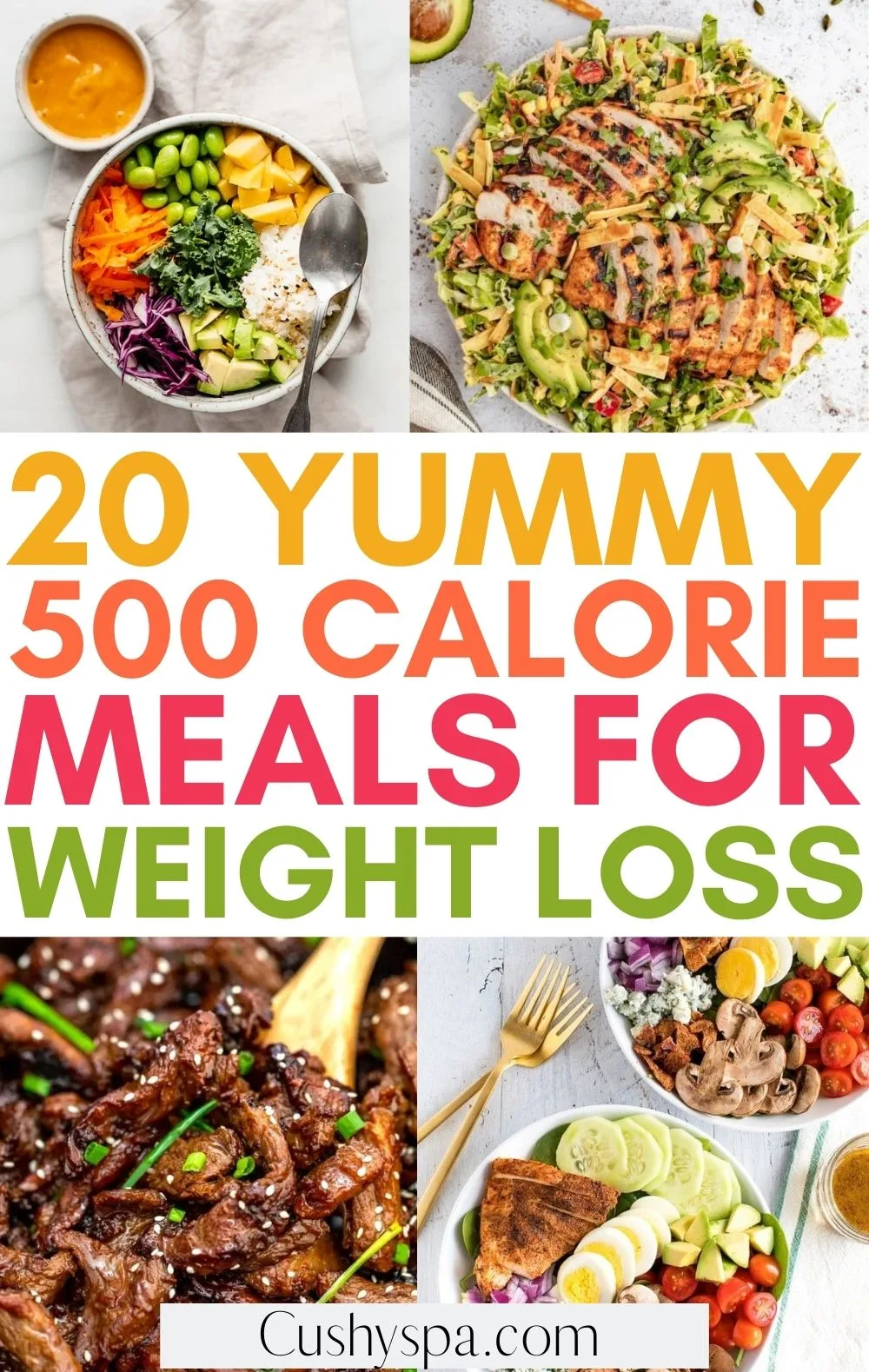 Are you trying to shed a couple of pounds? Then it's essential to watch your calories.
But low-calorie meals can be kind of bland. And no matter how good you want to look in your swimsuit, eating bland food just doesn't cut it.
So today, I'm sharing 20 Yummy 500 Calorie Meals. They're not only low in calories but taste great too.
So you can literally eat your cake and have it too.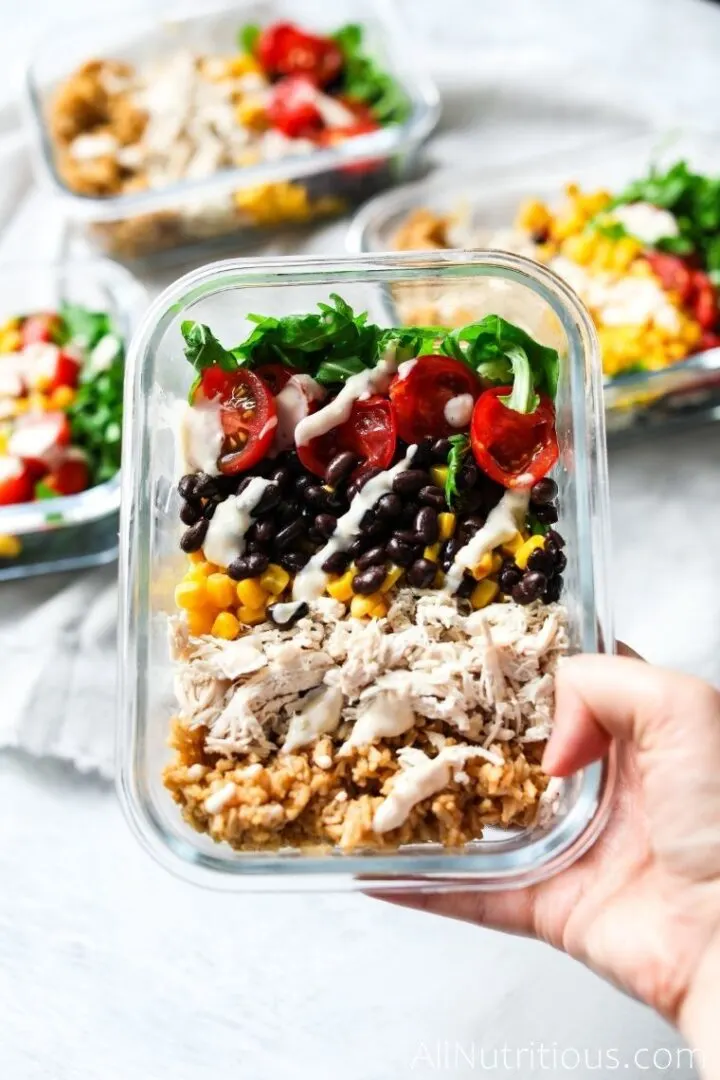 Credit: allnutritious.com
When you're trying to lose weight, restaurants can be a No-go. That's because the food at restaurants tends to be full of calories.
With these Chicken Burrito Bowls, you'll feel like you're eating at Chipotle. Taco-seasoned ground chicken is paired with sweet corn, creamy black beans, juicy tomatoes, and spiced rice.
What's more, this dish takes only 35 minutes to make. So, it's easy to whip up on a busy weeknight.
Per Serving:
Calories: 520
Fats: 13g
Protein: 37g
Carbs: 64g
Fiber: 9.5g
Sugar: 4.2g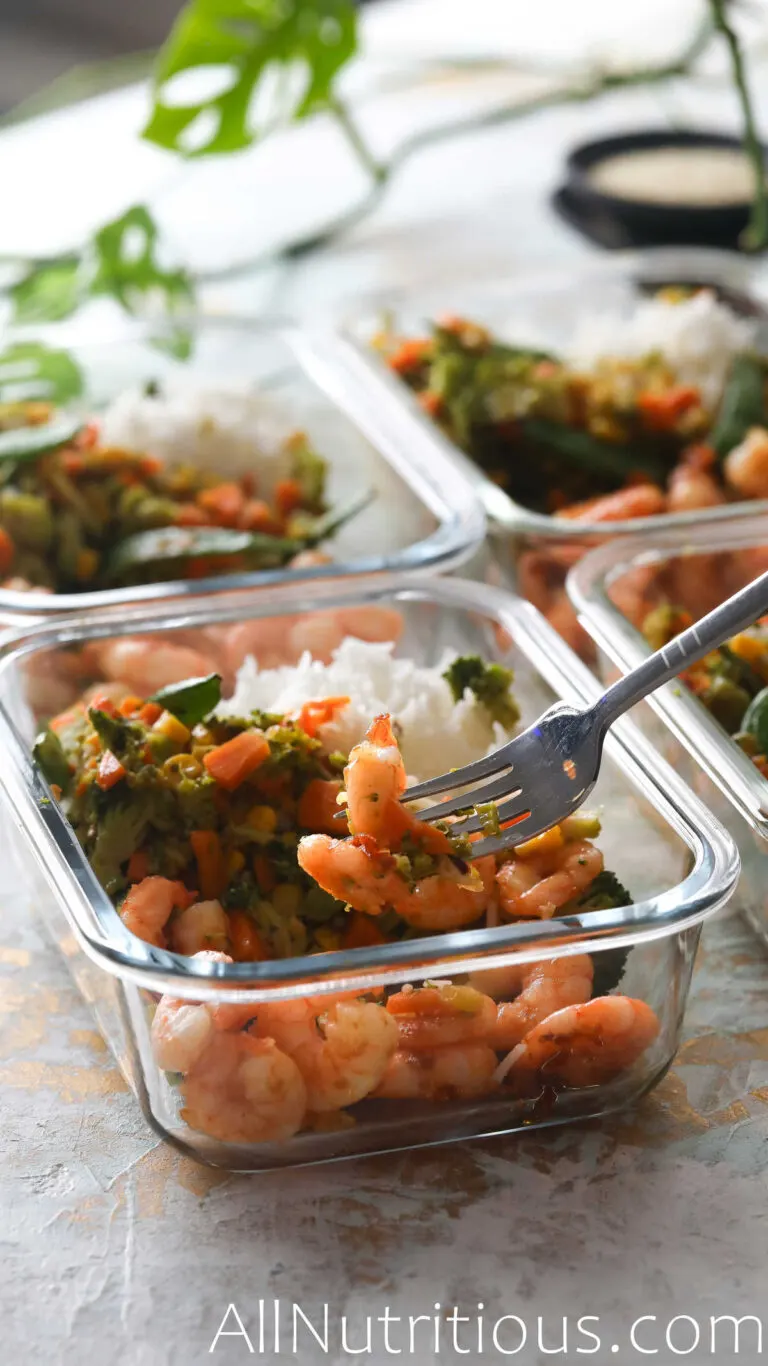 I love a combo of garlic, honey, and shrimp. Shrimp is an incredible source of protein, and if you love seafood, this recipe is for you.
Full of flavors – umami and sweet, a perfect Asian lunch or dinner the whole family will love. If you love Asian cuisine but are looking for a healthier recipe with fewer calories – this meal prep recipe is just that.
It goes perfectly with a side of cooked vegetables (and yes, calories are included for the veggies and the rice, too). You're welcome!
Per Serving:
Calories: 436
Fats: 6.2g
Protein: 26g
Carbs: 72g
Fiber: 7.5g
Sugar: 17g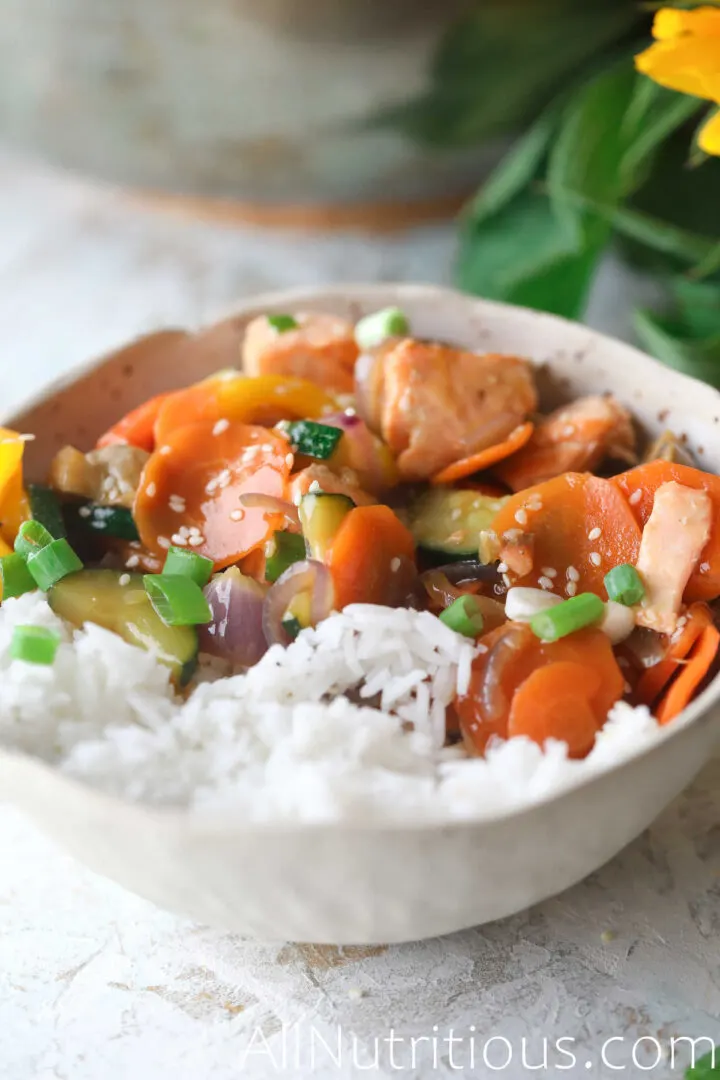 Sometimes, when you've got some leftover salmon lying around, there is no better way to use it than to put it into a stir fry. This salmon recipe is just for that!
Sweet and umami, full of flavors, with veggies yet high protein – the perfect 500-calorie recipe you've been looking for.
What's good about it is that you can easily make it gluten-free with coconut aminos instead of soy sauce. It's also dairy-free and high in protein!
Per Serving:
Calories: 488
Fats: 29g
Protein: 30g
Carbs: 31g
Fiber: 4.6g
Sugar: 19g
4. Keto Zucchini Lasagna Skillet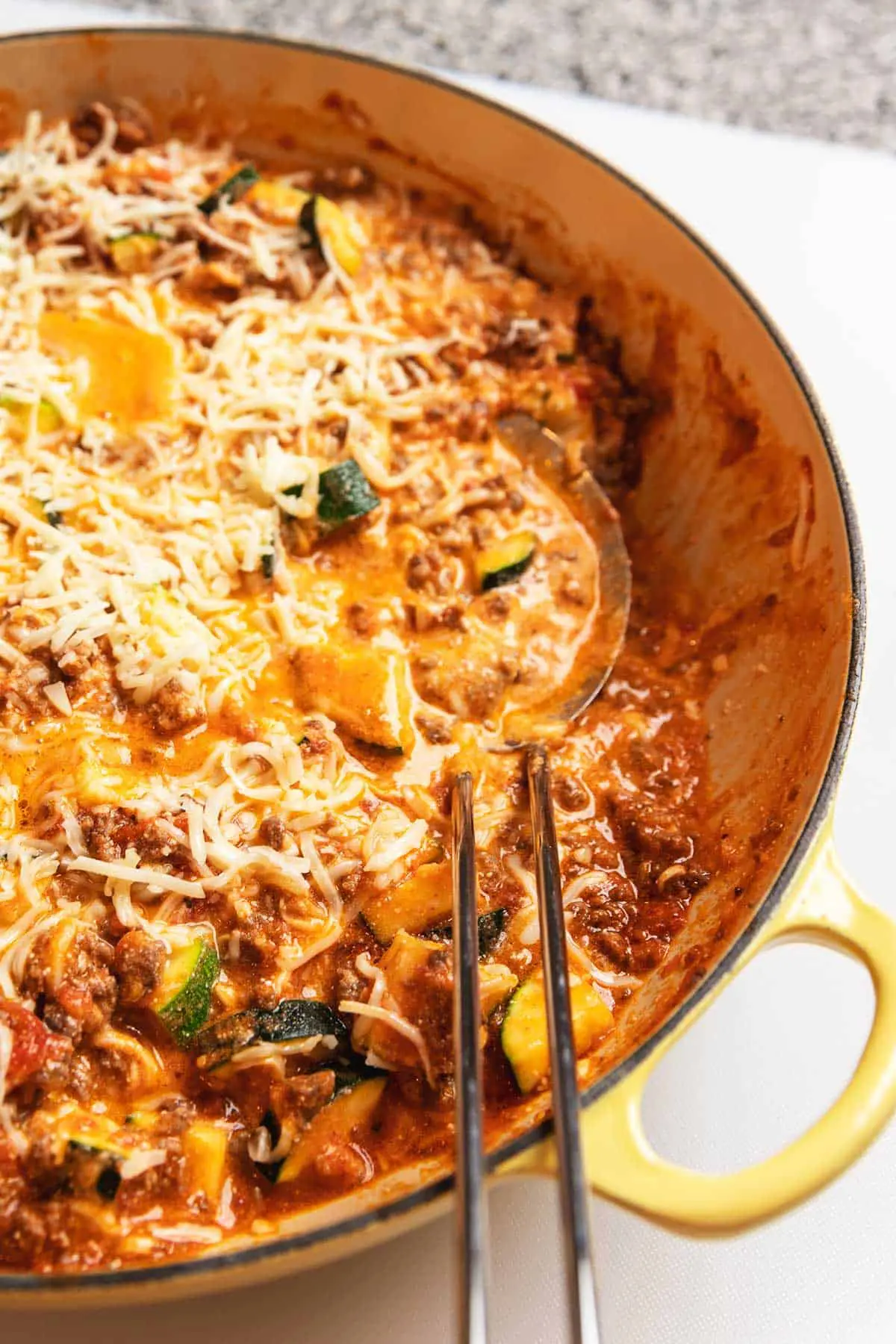 Credit: jenniferbanz.com
Are you trying to watch your carbs too? If so, lasagna can be a minefield.
Just one piece can run you close to 35 grams of net carbs. That's almost double your daily carb allowance.
And as yummy as it is, it's not worth ruining your ketosis. This Zucchini Lasagna Skillet is keto-approved.
It has all the deliciousness of a lasagna- but without all the carbs. In fact, I prefer this version myself because the zucchini adds freshness and a good dose of Vitamin C.
What's more, one dish makes 6 servings. So, it's excellent for high protein meal prep.
Just ensure you store your leftovers in quality air-tight containers to keep them fresh longer. I recommend these containers here.
On the other hand, if you would like lighter containers, these plastic containers here are an excellent option since they don't contain BPA or other toxins.
Now, this skillet dish does contain ground beef, which has a high carbon footprint. As a result, you may want to eat it less often or use ground chicken or pork instead.
Per Serving:
Calories: 500
Fats: 36g
Protein: 36g
Carbs: 9g
Fiber: 2g
Sugar: 0g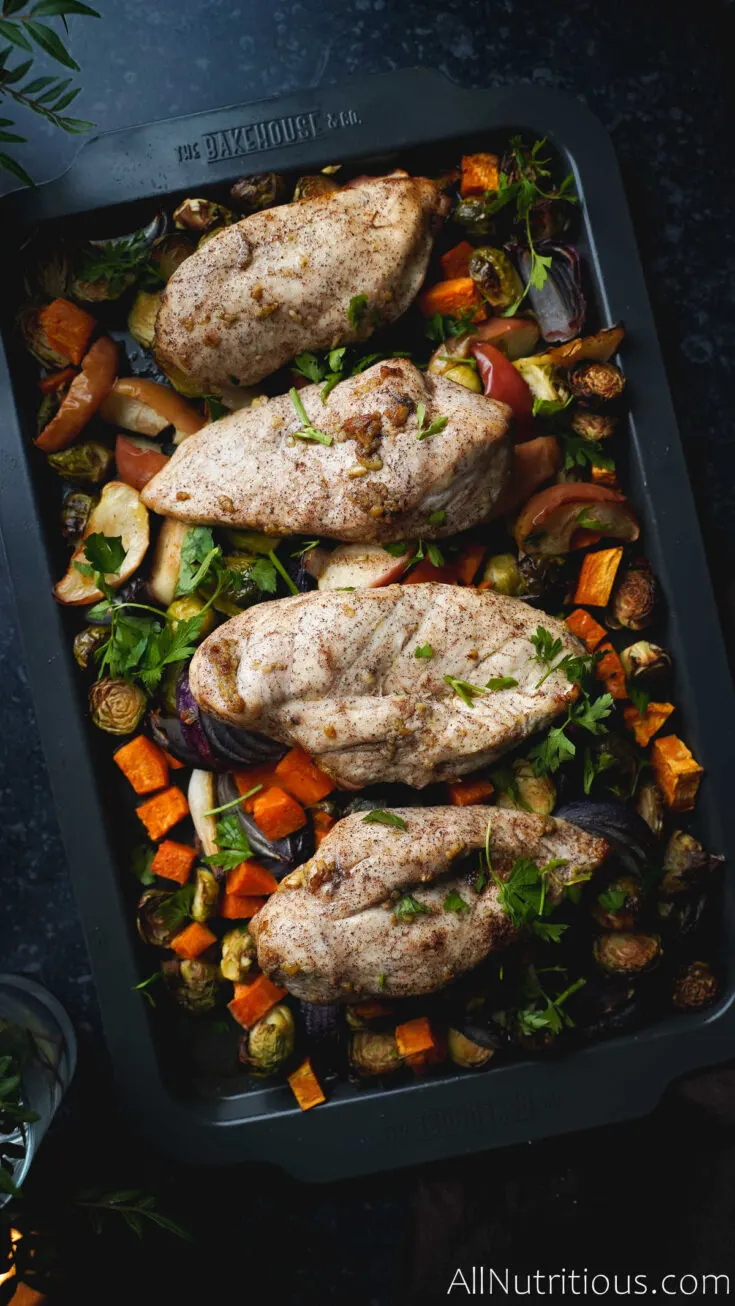 Credit: allnutritious.com
Chicken breasts are excellent diet food. They contain a lot of hunger-blasting protein. They're also low in fat, so they're lower in calories.
But let's face it: chicken breasts aren't particularly tasty. In fact, they can taste just like cardboard.
These chicken breasts are tender and spicy. You definitely won't mind eating them.
The sweet potatoes and caramelized roasted broccoli offer a nice contrast to the spiciness of the chicken breasts.
As an added bonus, this dish is a sheet pan meal. This makes clean-up a breeze.
To make sure your chicken breasts cook fast enough, make sure you pound them thin first. This meat tenderizer should come in quite handy. Even though it is pretty strong, it doesn't weigh much. So it's easy on your hands.
Besides being delicious, this dish is also brimming with nutrition. It is rich in immune-boosting minerals such as Vitamins A and C.
And it contains potassium, which is vital for healthy blood pressure. This chicken dinner is undoubtedly a winner.
Per Serving:
Calories: 471
Fats: 16g
Protein: 48g
Carbs: 37g
Fiber: 8.4g
Sugar: 16g
6. Korean Chicken Meal Prep Bowls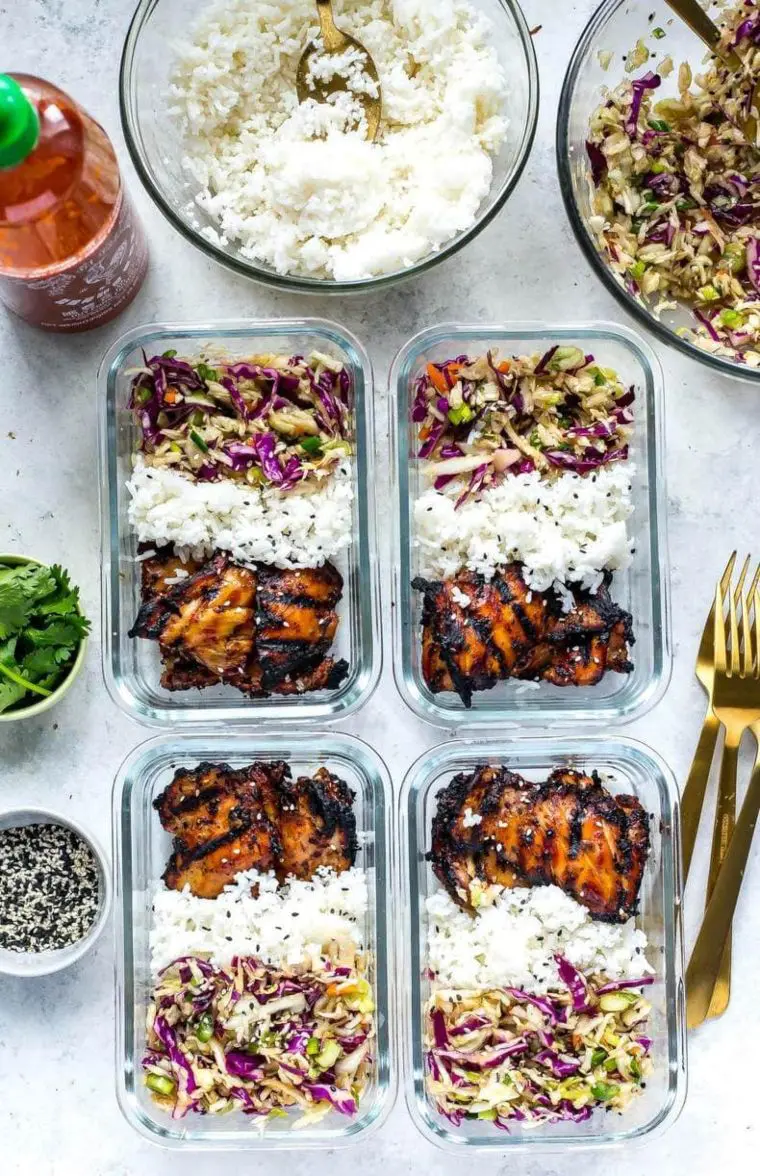 Credit: thegirlonbloor.com
Lazy summer days are perfect for lazing by the pool. And what's summer without a good barbecue?
But summer fare like hot dogs is not exactly diet-friendly. These Korean Chicken Meal Prep Bowls are personal-trainer approved.
Not only are they low in calories, but they're also full of protein too. So, they also make for a great post-workout meal.
The chicken is juicy on the inside and nicely grilled on the outside. And the sesame slaw will keep you coming back for more.
With a dish like this, who needs hot dogs? Check out more meal prep recipes here.
Per Serving:
Calories: 520
Fats: 13g
Protein: 49g
Carbs: 49g
Fiber: 4g
Sugar: 8g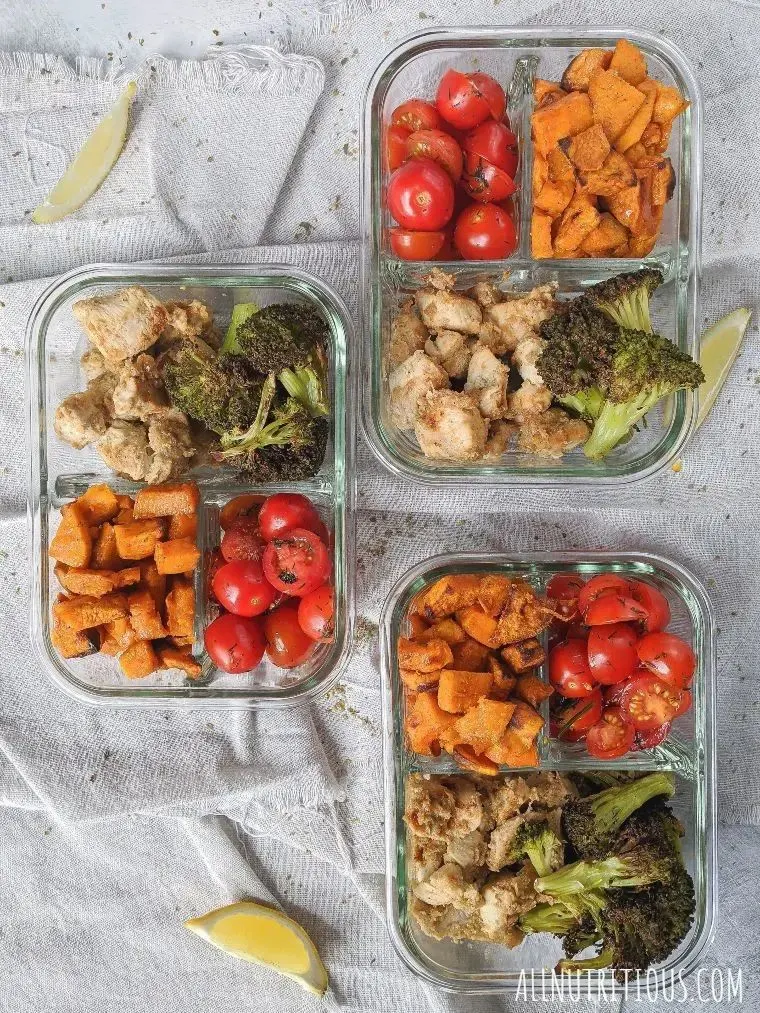 Credit: allnutritious.com
When you're trying to lose weight, it's also important to watch out for sweet treats. Cookies and donuts taste nice, but as we all know, they have tons of calories.
And all those calories go straight to your waistline.
This Lemon Chicken Meal Prep is a perfect way to indulge your sweet tooth. The sweet potatoes and cherry tomatoes add natural sweetness.
And since the broccoli is roasted, not steamed, the broccoli is sweet too. Meanwhile, the savory chicken provides a nice balance to the sweetness of the veggies.
Besides adding sweetness, sweet potatoes are chock full of nutrition. They are rich in Vitamins A and C.
They are also excellent sources of manganese, which is essential for healthy bones. And they contain antioxidants that fight free radical damage.
So, eat up those sweet potatoes!
Per Serving:
Calories: 500
Fats: 23g
Protein: 40g
Carbs: 35g
Fiber: 7.3g
Sugar: 11g
8. Vegetarian Quesadillas With Black Beans & Sweet Potato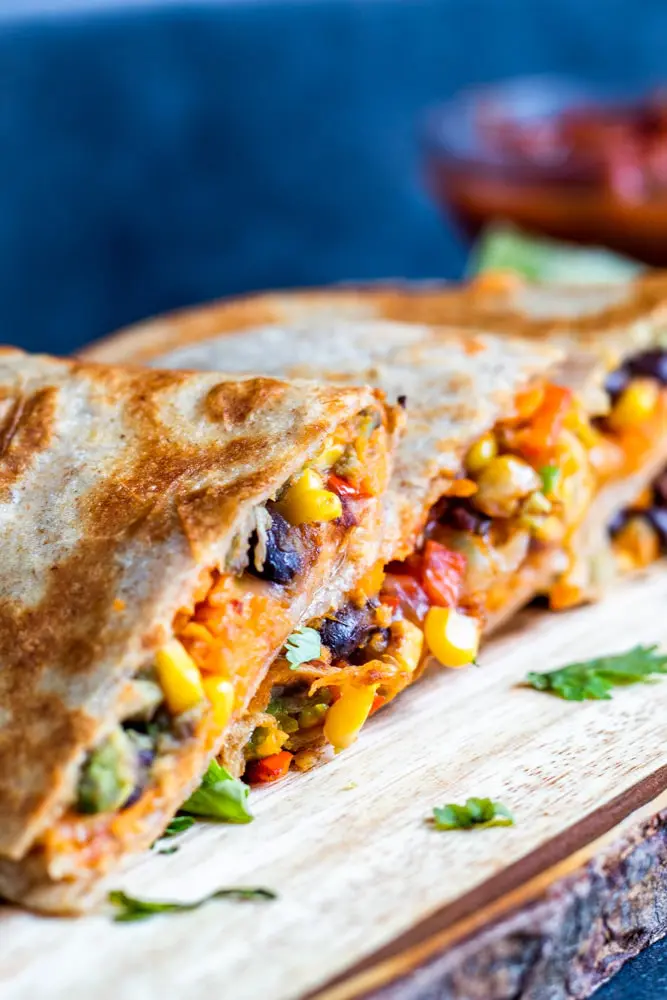 Credit: erhardtseat.com
Are you the only person in your family on a diet? That can be a pain.
Often, your family doesn't want to eat diet food. So, you end up making separate meals- and that's not fun.
These quesadillas are a dish your entire family will happily devour. They're full of ooey gooey cheese.
And the sweetness of the corn, sweet potatoes, and bell peppers balances the saltiness of the cheese.
Meanwhile, the avocados add extra layers of creaminess. And the beans make it pretty filling.
Like it spicy? Feel free to add some jalapeno peppers.
Per Serving:
Calories: 481
Fats: 26.3g
Protein: 12.9g
Carbs: 38.7g
Fiber: 11.4g
Sugar: 6.5g
9. Spicy Ranch Chopped Chicken Cabbage Salad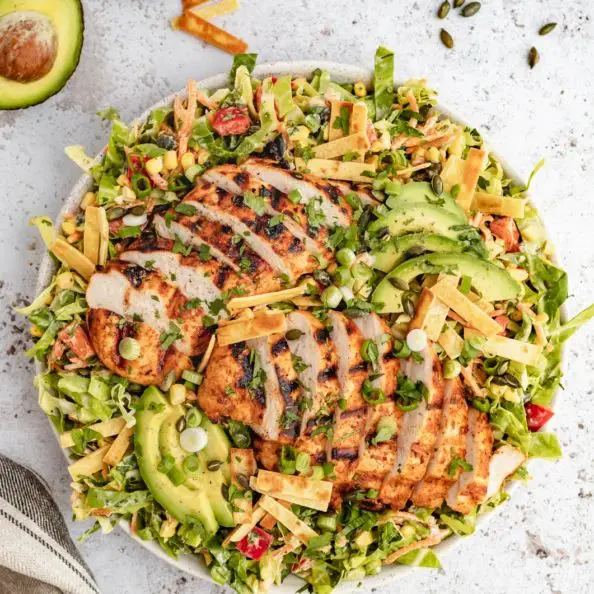 Credit: ambitiouskitchen.com
Salads can be a great low-calorie meal option. But often, your typical salads can leave you feeling peckish.
You won't be reaching for the donuts with this salad. That's because it contains close to 38 grams of protein.
So, it leaves you feeling satisfied and able to resist those pesky donuts.
And it is full of incredible tastes and textures. The green cabbage's crunchiness and red bell peppers are a nice contrast to the chicken's moistness.
The sweetness of the corn and carrots is balanced by the heat from the jalapeno pepper.
And the spicy Greek yogurt ranch is so good- you'll want it on everything.
Per Serving:
Calories: 492
Fats: 20.9g
Protein: 37.8g
Carbs: 45.2g
Fiber: 7.6g
Sugar: 14.1g
10. Baked Italian Chicken & Vegetables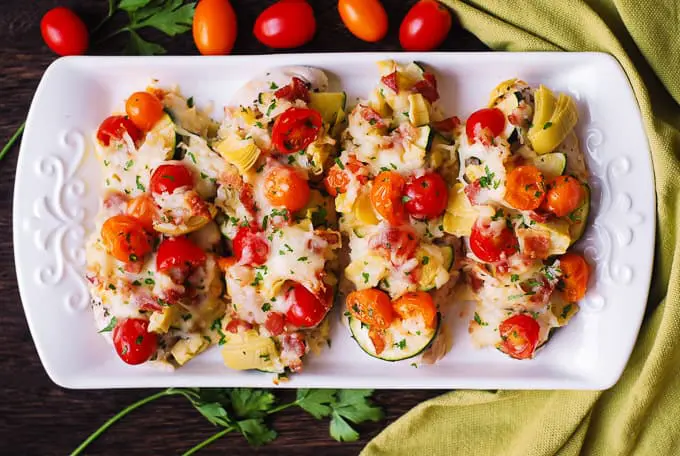 Credit: juliasalbum.com
Do you love hosting dinner parties? Me too!
But when you're on a low-calorie diet, it can be a struggle hosting them. After all, you don't want your guests eating rabbit food, right?
This dish tastes nothing like rabbit food. Succulent, juicy chicken breasts are topped with melted mozzarella cheese, zucchini, artichokes, and cherry tomatoes.
So, they're full of lovely Italian flavors.
What's more, this dish takes only 10 minutes to prep. Then you let your oven do the baking.
Now that's how I like to roll.
Per Serving:
Calories: 548
Fats: 29g
Protein: 59g
Carbs: 6g
Fiber: 1g
Sugar: 2g
11. BBQ Chicken Bowls With Sweet Potatoes & Coleslaw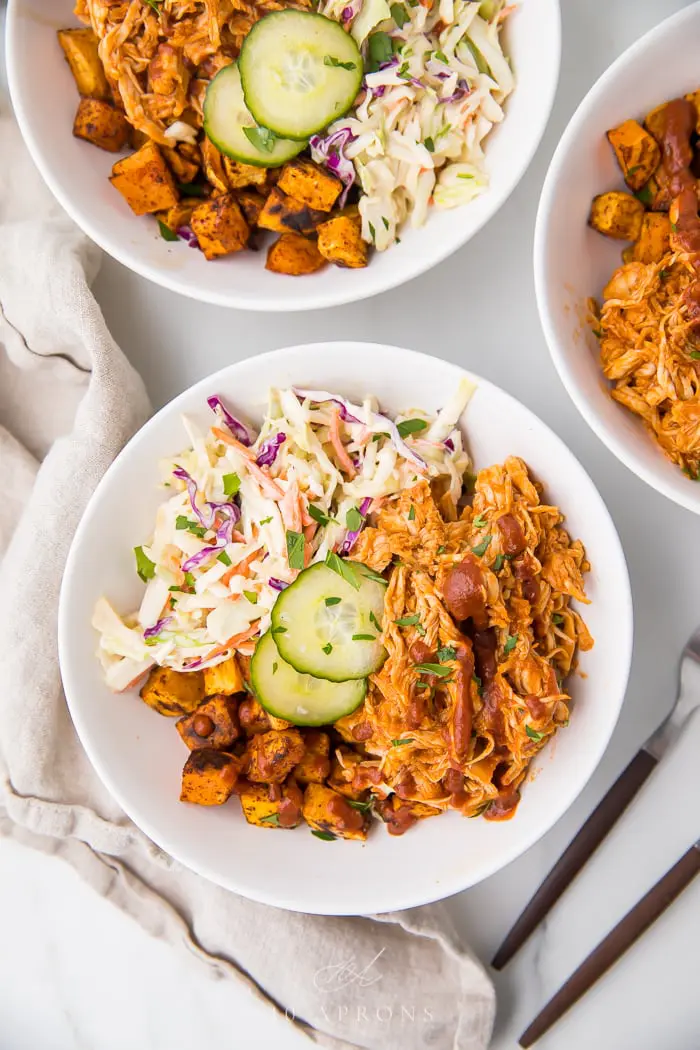 Credit: 40aprons.com
Here's another chicken dish. After all, you can never have enough chicken, right?
This barbecue chicken is a tasty combination of sweet, smoky, spicy, and savory thanks to the homemade Chipotle Barbecue Sauce.
And the cinnamon and chili powder add warmth to the sweet potatoes. Meanwhile, the coleslaw and homemade dill pickles really elevate the dish. You'll feel like you're eating at your favorite barbecue joint- just saying.
To get your chicken juicy-tender, you'll be cooking it in an Instant Pot. So make sure you have one.
If you don't have one yet, you can get a high-quality yet budget-friendly one here.
Per Serving:
Calories: 503
Fats: 28g
Protein: 15g
Carbs: 46g
Fiber: 2g
Sugar: 26g
12. Vegan Sweet Potato & Black Bean Burrito Bowl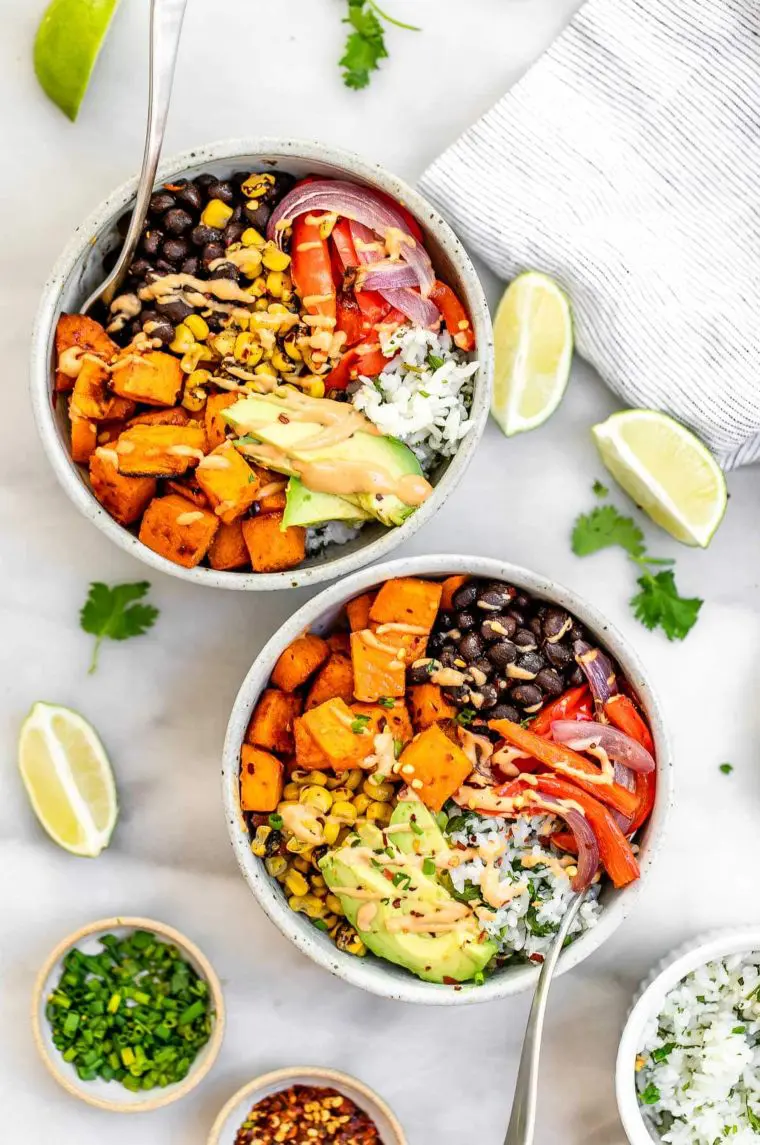 Credit: eatwithclarity.com
A lot of us are adding more plant-based meals to our menus. And for many reasons.
Not only does eating plant-based have health benefits, but it can also be helpful for weight loss. So, eat those plants.
This Black Bean Burrito Bowl is super flavorful and filling. You definitely won't miss the meat.
The spicy Tahini dressing melds wonderfully with the sweetness of the sweet potatoes, red bell peppers, and red onions.
Meanwhile, the avocado and black beans add creaminess. It's a fiesta in your mouth.
Besides adding creaminess, black beans are good for you. They are rich in plant-based protein.
And they contain a ton of fiber which is good for digestion. They are even rich in manganese and magnesium, which are essential for healthy bones.
Check out more vegan meals here.
Per Serving:
Calories: 503
Fats: 17.5g
Protein: 14.5g
Carbs: 64g
Fiber: 13.6g
Sugar: 5g
13. Taco Stuffed Sweet Potatoes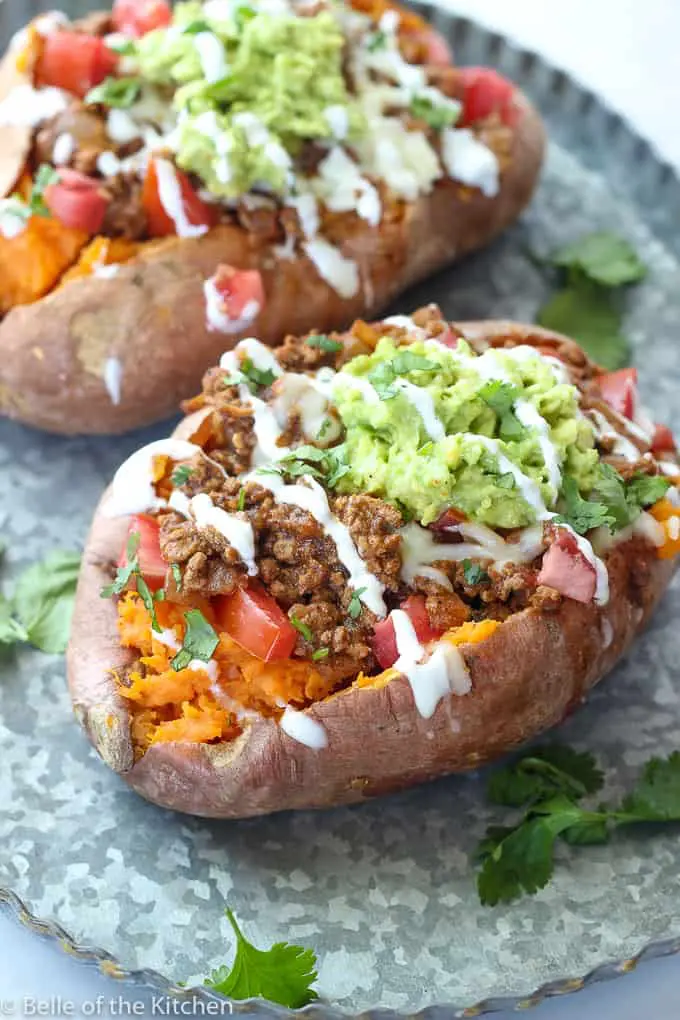 Credit: belleofthekitchen.com
Did someone say Taco Stuffed Sweet Potatoes? You had me at Taco…and Stuffed Sweet Potatoes.
These stuffed sweet potatoes have a yummy combination of flavors. There is savory Taco-seasoned ground beef, citrusy salsa, and sweet potatoes.
And if you have room in your calorie bank, you can add creamy toppings: toppings like guacamole or Mexican blend cheese. Yum!
Best of all, these stuffed sweet potatoes are ready in only 20 minutes. So, they are perfect for busy weeknight dinners.
Per Serving:
Calories: 493
Fats: 6g
Protein: 31g
Carbs: 80g
Fiber: 13g
Sugar: 19g
14. Chicken Rice & Black Bean Burritos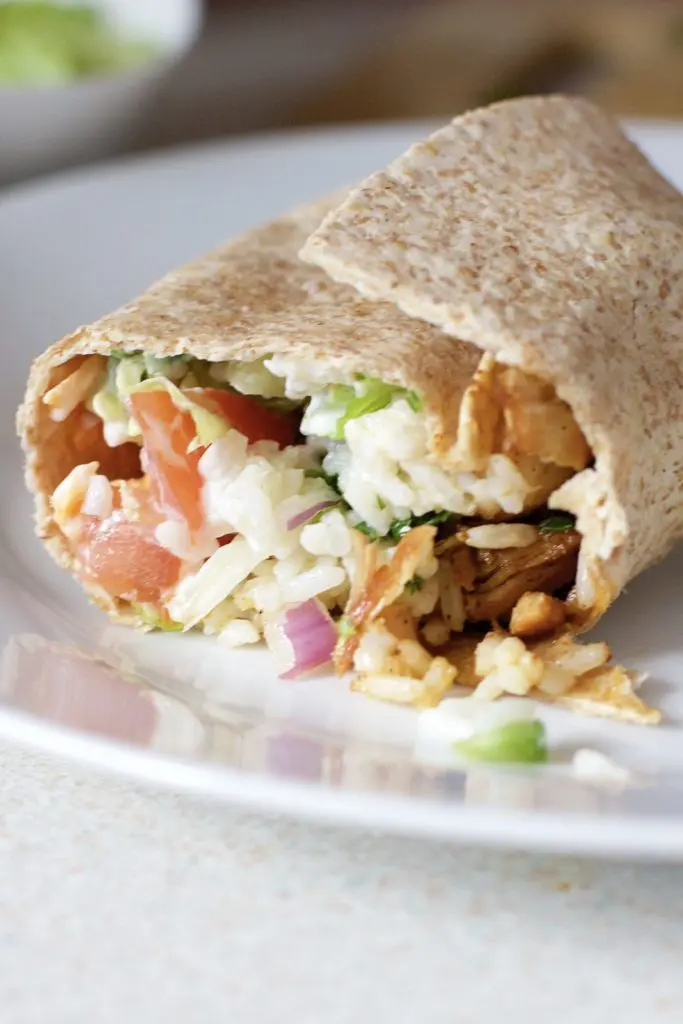 Credit: northsouthblonde.com
Need some more Mexican eats? These burritos are for you.
Warm corn tortillas are filled with tangy cilantro lime rice and perfectly seasoned blackened chicken for a taste that is Mmm mmm good.
Now you'll be using several spices- 9 to be exact. So, get your measuring spoons out. These ones here are made with premium stainless steel. This makes them stain and rust-resistant.
Like it spicy? Feel free to add some Frank's Red Hot Sauce, which you can get here.
Per Serving:
Calories: 526
Fats: 27g
Protein: 43g
Carbs: 27g
Fiber: 8g
Sugar: 3g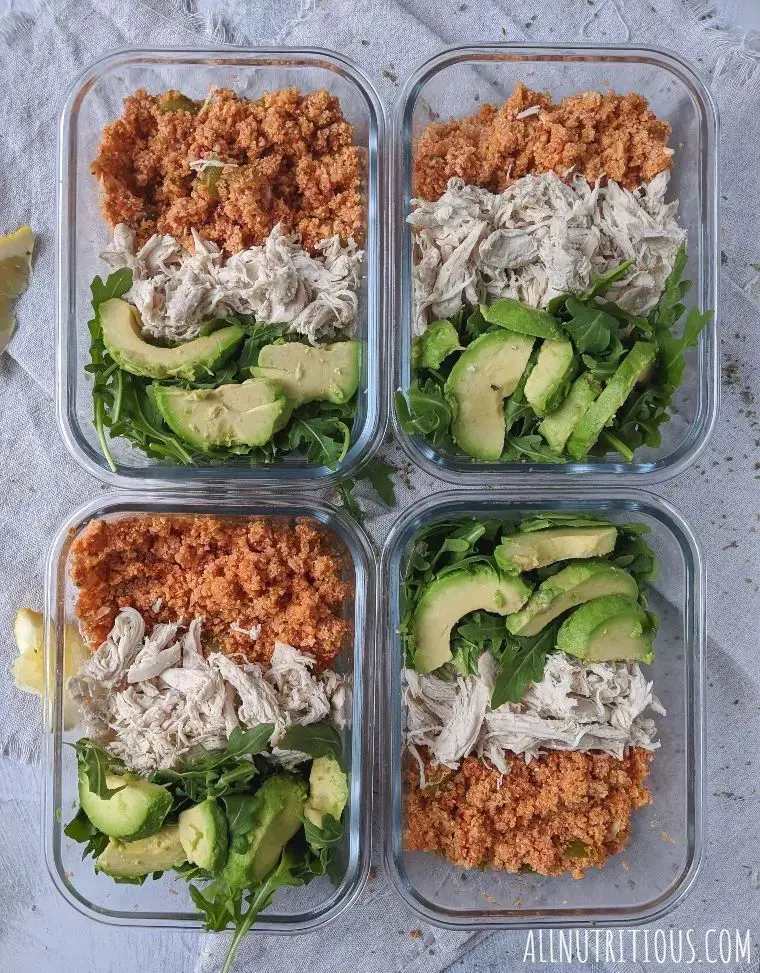 Credit: allnutritious.com
I really enjoy Mexican food, as you can tell. And I believe many of you do too.
However, if you're also trying to watch your carbs, Mexican food can be a No-No. That's because Mexican food often contains lots of carb-filled foods.
This includes foods such as tortillas, beans, corn, and rice. So, what's a gal or guy supposed to do?
Make my Mexican Meal Prep Bowls. They're full of warm, spicy Mexican flavors but only contain about 2 grams of net carbs.
To keep these Mexican Meal Prep Bowls low in carbs, you'll be using cauliflower rice in place of regular rice.
You'll also be using low-carb veggies such as rocket salad instead of corn. You'll also be adding avocadoes.
Avocadoes are a great low-carb veggie. Not only are they low in net carbs, but they are also rich in fiber, which keeps you full.
And they are rich in heart-healthy monounsaturated fats too. So, you're not only kicking up your ketosis but helping your heart also.
Per Serving:
Calories: 406
Fats: 17g
Protein: 48g
Carbs: 17g
Fiber: 8g
Sugar: 6.2g
16. Instant Pot Lasagna Soup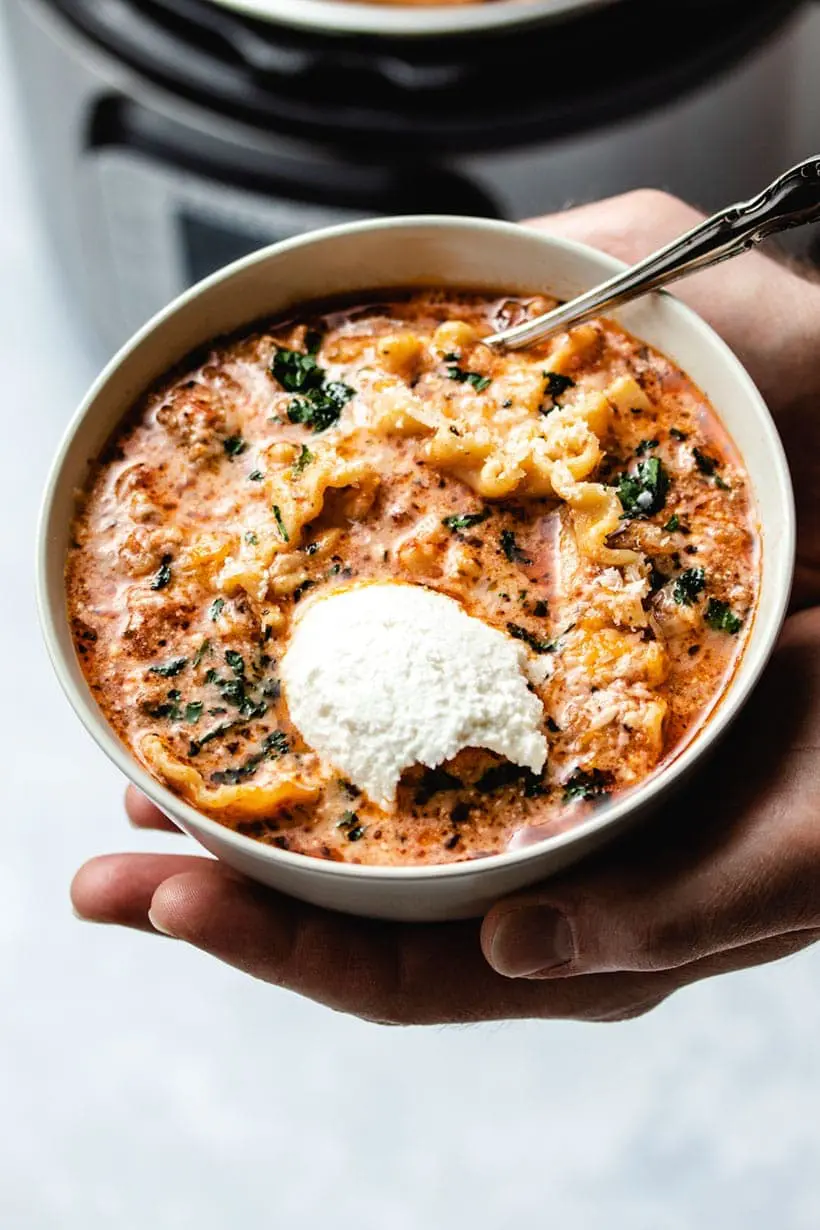 Credit: therecipewell.com
Can't decide whether to have lasagna or soup? Have both!
This soup is packed with pasta, ground beef, and cheese. In fact, you have 3 kinds of cheeses- parmesan, mozzarella, and ricotta.
So, you'll be in cheese lovers' heaven. The marinara sauce and Italian herbs add even more Italian flavors.
Not only is this soup yummy, but it's also good for you too. It has a lot of immune-boosting Vitamin A.
It is also rich in calcium which you need for healthy bones.
Now it does contain a lot of sodium. So if you're watching your sodium, make sure you use low sodium ingredients such as low sodium marinara sauce for this dish.
Buon appetito!
Per Serving:
Calories: 510
Fats: 20g
Protein: 43g
Carbs: 39g
Fiber: 3g
Sugar: 7g
17. Korean Beef Bulgogi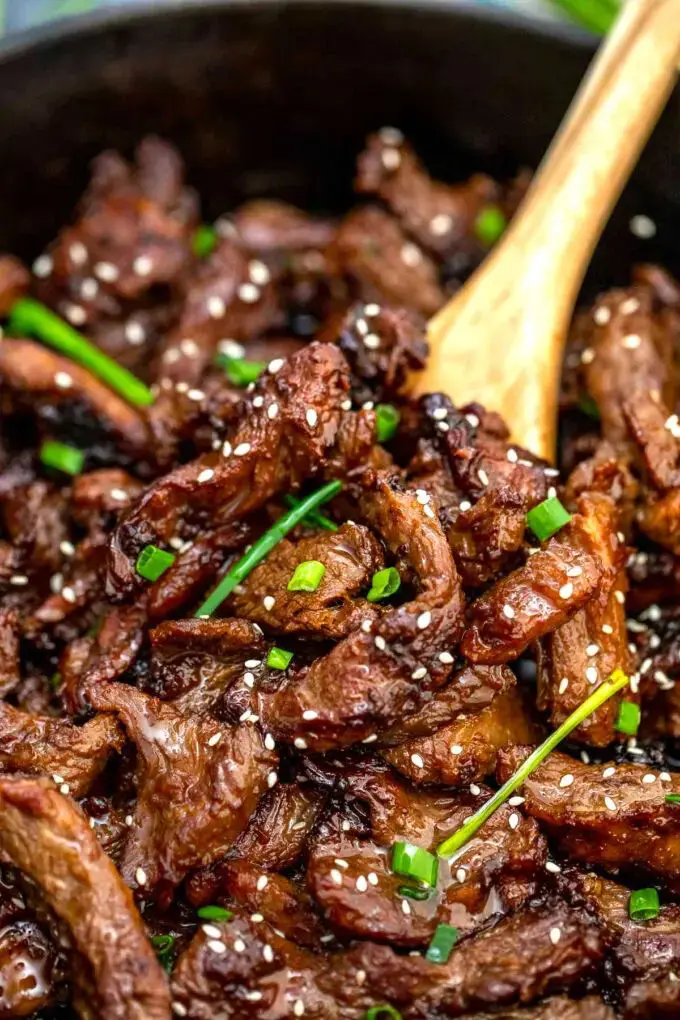 Credit: sweetandsavorymeals.com
Craving Korean food? Give this Korean Beef Bulgogi a try.
On the menu is Beef Bulgogi. In case you don't know what it is, it is simply Korean BBQ beef.
And this Korean Beef Bulgogi is as good as they come. It is melt-in-your-mouth good.
The soy sauce adds yummy umami flavors. Meanwhile, the pear and light brown sugar add sweetness.
And the red pepper flakes and fresh ginger add nice heat. Meanwhile, the sesame seeds and green onions add Korean flare.
To get your steak nice and tender, you want to marinate it for at least 2 hours. For best results, marinate it overnight.
And what would an Asian dish be without noodles? To keep it light, you can use these plant-based Shirataki Noodles. Not only do they contain zero calories, but they are also good sources of fiber too. So, you feel full after eating them.
Per Serving:
Calories: 503
Fats: 27g
Protein: 50g
Carbs: 14g
Fiber: 1g
Sugar: 11g
18. Quinoa Power Bowls With Maple Chipotle Brussels & Smoky Butternut Squash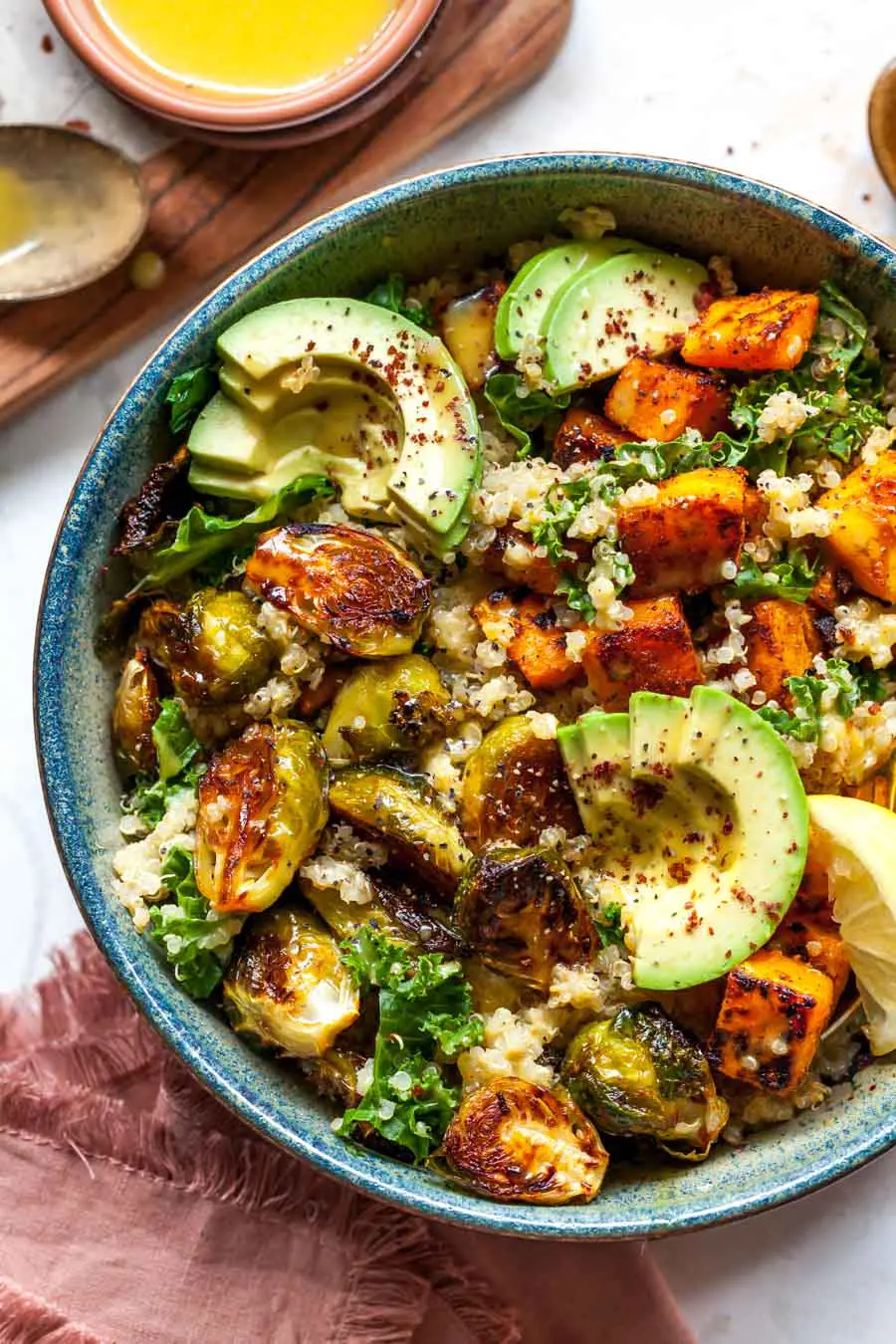 Credit: dishingouthealth.com
Many of us dreaded eating Brussels sprouts as kids. And for a good reason.
They were often steamed. And no amount of butter could disguise just how bitter they are.
With these Quinoa Power Bowls, you'll discover a new-found love for Brussels sprouts. Because the Brussels sprouts are roasted instead of steamed, they're actually sweet.
And they're tossed in adobo sauce, maple syrup, and salt. This adds even more sweetness, as well as spicy and savory notes.
You'll also be roasting some butternut squash with your Brussels sprouts. So, you'll be adding even more sweetness to your plate. Yay!
Along with the veggies, you'll be having some quinoa. Quinoa is an excellent source of plant-based protein.
It is one of the few sources of plant-based protein that is a complete protein source. That means that it contains all the amino acids that your body requires.
Quinoa is also good for your bones. That is because it is chock full of bone-building minerals like manganese, magnesium, and phosphorus.
As an added bonus, it doesn't contain gluten. If you'd like to stock up on some quinoa, you can get some here.
Per Serving:
Calories: 517
Fats: 24g
Protein: 14g
Carbs: 67g
Fiber: 14g
Sugar: 14g
19. Cauliflower Shawarma Grain Bowl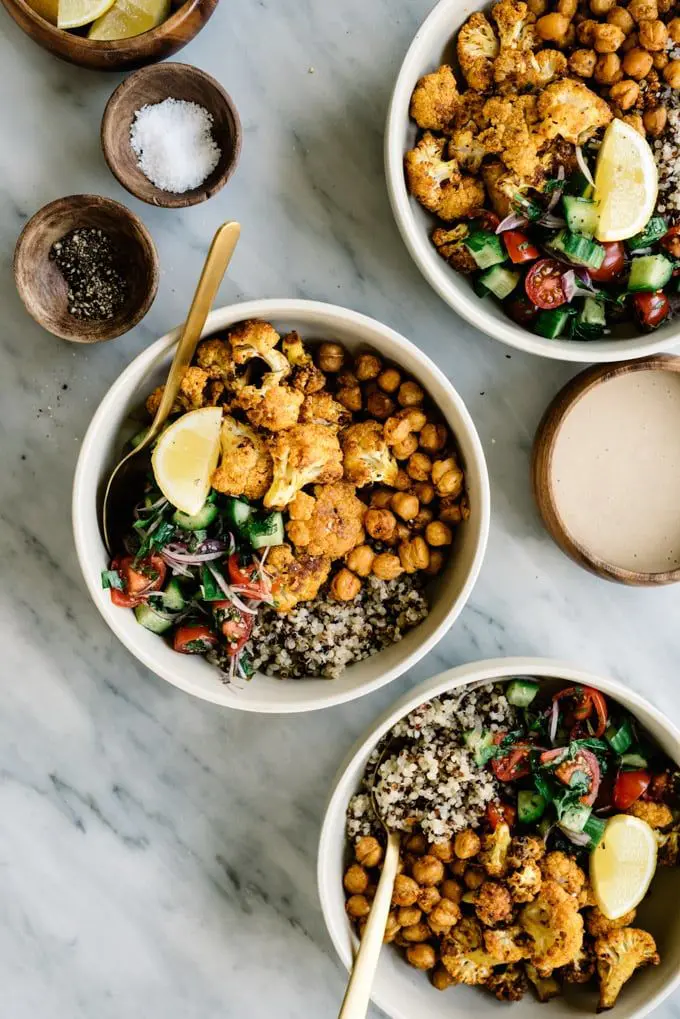 Credit: oursaltykitchen.com
Looking for more plant-based options? This Grain Bowl is a great option.
On the menu is perfectly seasoned cauliflower that has been nicely caramelized. The crispy chickpeas add a nice crunch.
The tomato and cucumber salad add brightness and freshness. And the fluffy quinoa makes the bowl more filling.
And the Tahini dressing adds creaminess and ties the bowl together wonderfully.
Making the Tahini dressing is pretty easy. Just put your tahini, lemon juice, olive oil, water, salt, and pepper in a blender and blend until smooth. This blender is excellent not only for making dressings but making smoothies and frozen drinks too.
Per Serving:
Calories: 505
Fats: 21g
Protein: 18g
Carbs: 64g
Fiber: 17g
Sugar: 6g
20. Blackened Chicken Cobb Salad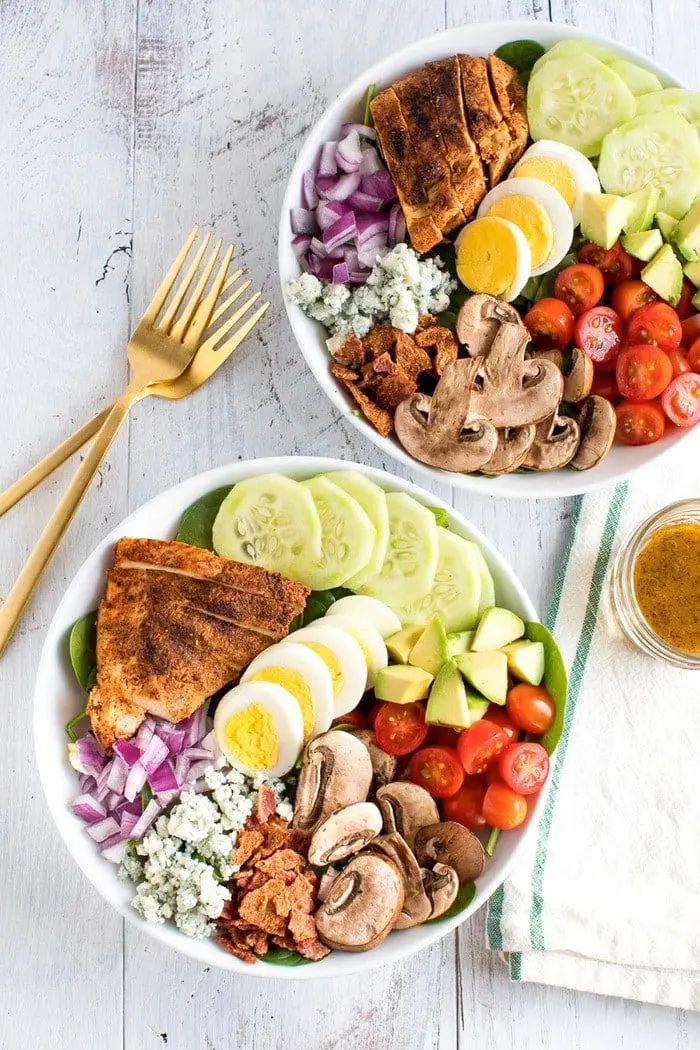 Credit: eatingbirdfood.com
We all could do with more greens in our diet. And salads can be an excellent way to add more greens.
But many times, they taste very much like rabbit food. And who wants to eat rabbit food- except perhaps rabbits?
This Cobb Salad is nothing like rabbit food. That's because it's full of yummy foods.
Thes include tender, warm blackened chicken, hard-boiled eggs, creamy avocado, sweet red onions, refreshing cucumber, crispy turkey bacon, spinach, and savory baby Bella mushrooms- what a mouthful!
So, you get a symphony of flavors and textures in every bite. Eating healthy can't get much yummier than this!
Per Serving:
Calories: 475
Fats: 25g
Protein: 46g
Carbs: 17g
Fiber: 9g
Sugar: 5g
21. Vegan Buddha Bowls With Spicy Mango Sauce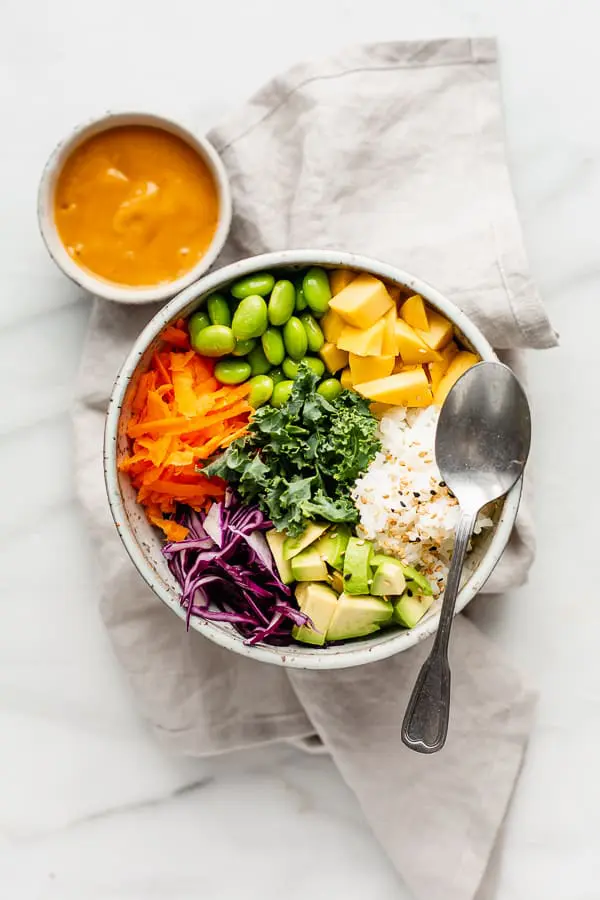 Credit: choosingchia.com
Looking for another veggie-forward dish? Give these Buddha Bowls a try.
They are full of flavor. The mangos and carrots add sweetness, and the avocados add creaminess and much-needed fat.
Meanwhile, red cabbage adds crunchiness. But the spicy mango sauce is definitely the star of this dish.
It has a nice balance of tanginess, sweetness, savory, and heat. So make sure you make extra- you'll be glad you did.
Don't like it spicy? You can simply leave out the sambal oelek or use this sweet chili sauce instead.
Per Serving:
Calories: 486
Fats: 15g
Protein: 15g
Carbs: 78g
Fiber: 10g
Sugar: 24g
22. Teriyaki Salmon With Broccoli & Rice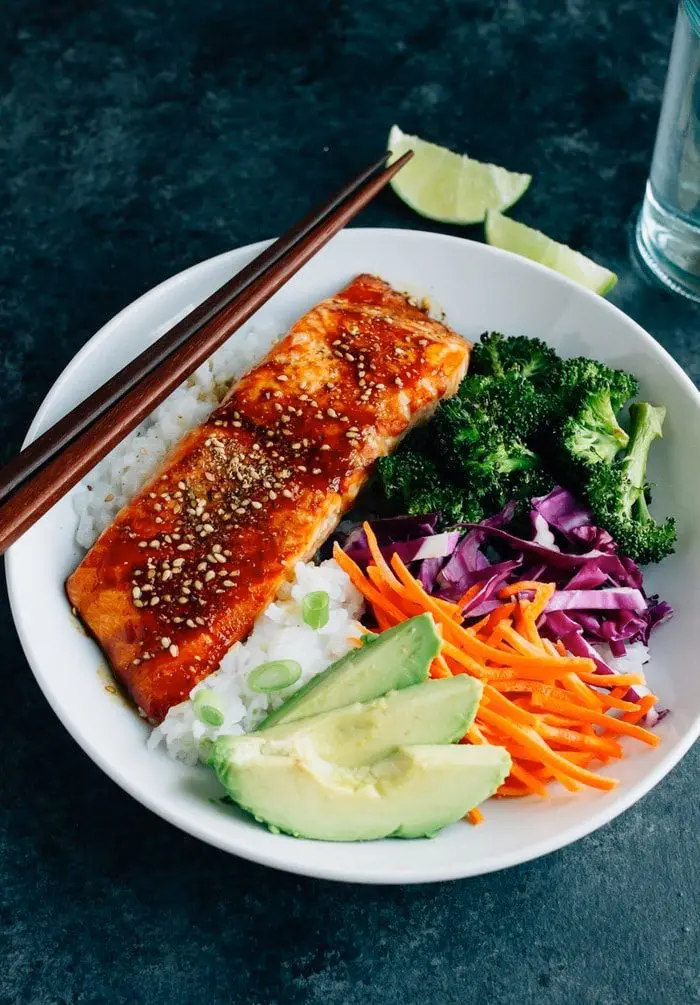 Credit: eatingbirdfood.com
Craving Japanese takeout? Have this instead.
Your tummy and your wallet will thank you. The homemade Teriyaki sauce adds sweetness and umami flavors to the tender, flaky salmon.
The juiciness of the salmon is complemented by the crunchiness of the red cabbage and carrots.
Aside from being delicious, salmon is good for you too. It is rich in heart-healthy omega-3s.
And it contains several brain-boosting B vitamins. It even contains selenium, which is a potent antioxidant. So, finish up that salmon.
Per Serving:
Calories: 539
Fats: 23g
Protein: 35g
Carbs: 56g
Fiber: 10g
Sugar: 12g